From Ian:
It Is a Tree of Life
Review of 'Squirrel Hill' by Mark Oppenheimer
SQUIRREL HILL is a book for Jews (and Gentiles) everywhere, but it is particularly a book for those of us who grew up Jewish in Pittsburgh. (The house where I grew up is a 15-minute walk from Tree of Life, although we were members of the larger Reform synagogue, Temple Sinai.) Fellow residents, both former and current, will recognize many of the places and names; at one point in the book I paused, read aloud a passage Oppenheimer transcribed from a Jewish journalist's recounting of her work with the city's liberal Chevra Kadisha, and then told my wife that I had had a crush on said writer for most of elementary school.

In that regard, Squirrel Hill showed me how unusual the neighborhood was as a place to grow up. Being raised Jewish in Pittsburgh is a bit like how Oppenheimer's podcast co-host Liel Leibovitz recently described being Jewish in Israel: "You are Jewish by osmosis. You just open the window and breathe in a lot of Jew." It offers what Oppenheimer describes as "an idyllic Jewish life in a modern urban shtetl"—so if the dream of being fully Jewish and fully American is possible anywhere, it's there.

But it is all too easy—in Squirrel Hill, and in modern liberal Jewish life—for Jewish identity to stop being a choice, for it to become something that happens to us but to which we do not contribute. I grew up unselfconsciously Jewish because of the environment in which I lived. It was only after I left Squirrel Hill (and after I fell in love with a non-Jewish woman and spent years watching her work on conversion for her and our son) that I began to understand that for most American Jews, being Jewish is not something you "breathe in"—it's something you choose, or don't choose, every day.

The choice to be willfully, deliberately Jewish always means accepting the risks that go with it—of anti-Semitism that can be subtle and, in its violent expressions, unsubtle. A place like Squirrel Hill hints at a world in which being Jewish is easy and free from fear, but the Tree of Life shooting shows that even there it is not.

That's why the best stories in Squirrel Hill are those of people who, face-to-face with the scourge of anti-Semitism, chose to become more Jewish, rather than less. There's Lynn Hyde, married to a Jewish man but who had always stopped short of converting—until she realized that if the shooter had entered the synagogue where she and her husband were praying, he wouldn't have bothered to ask if she wasn't Jewish before shooting her. Or Robert Zacharias, the computer artist who responded to the shooting by starting to wear a kippah everywhere he goes and grappling with all the discomfort that being publicly and visibly Jewish brings. Even Ron Symons, the Reform rabbi who walked with his Orthodox brothers during the funeral procession, captures this: In mourning another Jew, we are all Jewish together.

These stories and others are the closest thing Squirrel Hill offers as an answer to the question it poses. To be Jewish has always meant to be Jewish after tragedy—after the fall of the Temple, after the exile, after the Holocaust—and therefore through overcoming it. That choice to overcome, to be Jewish over and against the desires of violent anti-Semites, is the way Jews continue to preserve and build places like Squirrel Hill.
Emily Schrader:
Expo 2020 is a stunning example of tolerance
Interestingly, absent from Israel's pavilion was any mention of its history or any political messaging whatsoever. In fact, Israel didn't even display a map. Sadly, the same cannot be said for the Palestinian pavilion. While also a beautiful display of culture, their displays were highly politicized in a way that seemed out of place: from heavy Jerusalem imagery throughout the exhibit to maps displaying the entirety of Israel as Palestine.

They also had a coloring activity to color the map of Palestine and an interactive map of Israel, which they labeled Palestine, urging visitors to mark off where they are from on the map. Finally, their pavilion prominently featured sweeping nature shots of "Palestinian" cities today, including Acre, Haifa, Nazareth and Masada. The problem with this is, of course, that they aren't Palestinian cities at all; they are Israeli and they are even within the 1967 borders.

While the rest of the participating countries, even enemy states, presented a forward-facing, apolitical perspective of their countries, the Palestinian pavilion used the expo, a symbol of tolerance and acceptance, to once again push political messaging and look backward instead of forward. The contrasting narratives were blatant and once again demonstrated that instead of progressing toward a brighter future for all the region and the Palestinian people, the Palestinian leaders are hell-bent on missing every opportunity they can.

Meanwhile, the UAE leads the way for the entire Arab world presenting a path forward for peace and collaboration instead of war. Of course, this doesn't mean agreement on every political issue, but it does mean an open line of communication and understanding to create a better world.

I would be remiss not to note the striking similarities between the vision of the UAE's leaders and the State of Israel. Both nations are states that developed something stunning out of virtually nothing. Both nations massively developed only in the last decades, and both nations continue to expand and improve the world through technology, business, innovation and yes, peace.

It is only natural then, that the UAE and Israel, both nations of dreamers, continue setting an example for the region and the world of what the future can be.
Pop icon Justin Bieber announces 2022 concert in Tel Aviv
Justin Bieber is coming to Israel, planning to perform October 13, 2022, in Tel Aviv's Ganei Yehoshua, as part of his Justice World Tour.

The Canadian pop singer, discovered when he was just 13 (he's now 27), has concerts planned in five continents through March 2023, kicking off the tour in North America. The new dates were announced Monday, with more shows to be announced for Asia and the Middle East.

Bieber hasn't toured like this since 2016. The pandemic sidelined his previously announced 2020 concert dates.

The tour begins in 2022 in North America, kicking off in San Diego on February 18, moving to Mexico in May before heading to Scandinavia, South America, South Africa and the Middle East in September and October, followed by Australia and New Zealand in November and December and the UK and Europe in early 2023.

"We worked hard on this tour and created the best event we've ever done," said Bieber in a statement. "I can't wait to share it with fans around the world. I'll see you soon."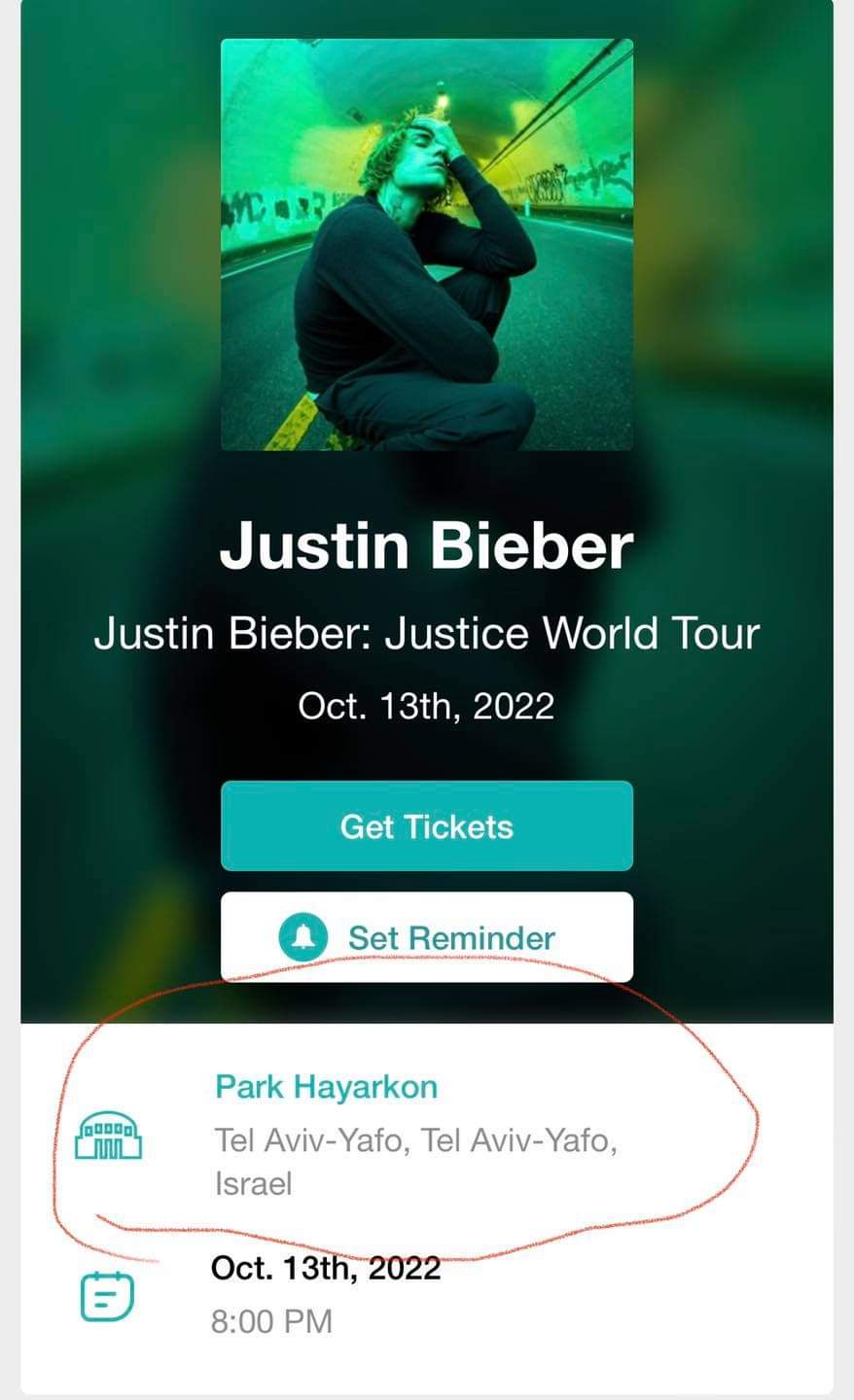 Israel's Ice Cream Battle Heats Up
Since Ben & Jerry's announced in July that it would no longer sell its ice cream in Gaza and the West Bank, its British owner, Unilever PLC, has sought to do damage control. Now Unilever faces an unlikely player in international statecraft: U.S. state attorneys general.

Unilever Chief Executive Officer Alan Jope has said it rejects the Boycott, Divest and Sanctions (BDS) movement against Israel. Unilever has also announced that it would find a new arrangement for Ben & Jerry's to remain in Israel, but not in the occupied territories, after the contract with its current Ben & Jerry's distributor expires next year. Unilever more recently has promised to continue to sell its many supermarket brands in Israel.

None of this has satisfied U.S. state attorneys general. In Washington this week, representatives of 11 Republican state attorney general offices gathered on the sidelines of the Federalist Society conference to discuss strategies for using their powers to target Iranian banks, Chinese corporations — and the participation of a Unilever subsidiary in the BDS movement.

U.S. states are increasingly asserting themselves in foreign policy. They can target banks in their states that have corresponding relationships with banks that do business with Iran, for example. Or they can divest their multibillion-dollar pension funds from funds that invest in Chinese companies that are not subject to U.S. laws.

This strategy is now being used to target Unilever.
PreOccupiedTerritory:
NY AG Investigates Unilever Over Ben & Jerry Being Insufferable (satire)
New York State's law enforcement arm began an inquiry into the international conglomerate that holds a controlling stake in an ice cream manufacturer with a socially conscious brand, in the face of cumulative evidence that the manufacturer exhibits an intolerable level of sanctimony and self-righteous preening despite questionable progressive credentials.

State Attorney General Letitia James announced an investigation into Unilever, Inc., today, following the emergence of repeated indications that Ben & Jerry's, a brand they acquired from the eponymous founders years ago, espouses "woke" principles in a selective, hypocritical, and distorted fashion, all while claiming to adhere to the politically liberal principles of Ben Cohen and Jerry Greenfield. Cohen and Greenfield still serve as spokesmen for the brand, and have struggled to articulate a consistent justification for the brand's policies.

"I believe we have enough evidence that they are insufferable wokescolds," stated James at a press conference. "Our office began receiving complaints more than ten years ago, but at the time we did not view the level of sanctimony as actionable. However, in the wake of the company's bizarre decision to boycott Jews living in the ancestral Jewish heartland, even as the company maintains a flourishing business in places with governments that have far, far worse records on human rights than Israel, we determined we had to step in. If the board of Ben and Jerry's refuses to remedy its insufferable policies and rhetoric, then its parent company must answer for those violations."
Duke Professor's Distorted Lens into Israel/Palestinian Conflict
Israel exhibits a "colonial systematology about nativeness" in the treatment of online smartphone pictures of the Israeli-Palestinian conflict, stated Duke University associate professor of anthropology Rebecca Stein during a Nov. 4 webinar.

This presentation, at George Washington University's Institute for Middle East Studies (IMES). of her new book, Screen Shots: State Violence on Camera in Israel and Palestine, exposed her incorrigible anti-Israel bias.

That bias is evident in her Duke classroom, where last spring she announced to her class on social media in the Middle East that "she doesn't care what prior knowledge or experience [class members] have on the topic," as the only documents to be discussed were those she introduced.

As IMES associate director Shana Marshall moderated, Stein explained how her book examines the effects of widely disseminated smartphone cameras among clashing Israelis and Palestinians. These "proliferating cameras across the political theater of military occupation in the hands of all constituents" are "all aimed at the scene of state violence." "A lot of this book is spent in the offices of B'Tselem, Israel's oldest human rights organization" from 2010-2016, she added, a whitewashed description for a militantly anti-Israel organization.

B'Tselem and Stein, both supporters of the Boycott, Divestment, and Sanctions (BDS) economic warfare campaign against Israel, are ideological allies. She has previously described the 2000-2005 Second Intifada's bloody terrorism as amounting to "mass demonstrations." She has also praised the "Israel Studies" program at Birzeit University near Ramallah, a historic breeder of anti-Israel violence dubbed "Terrorist University" by some. In another book presentation, she claimed that Israel's "occupation has been going on since 1967 and has been expanding and normalizing ever since," even though Israel has withdrawn from significant Palestinian territories like the Gaza Strip.
South Africa's Biggest Media Outlet Waging Anti-Israel Smear Campaign Over Miss Universe Pageant
The whipped-up controversy over the upcoming Miss Universe beauty pageant being held in Israel took another turn this week when the South African government announced it was withdrawing its support for the reigning Miss SA.

In a statement, the country's sports, arts & culture ministry accused the Miss South Africa pageant of "intransigence and disregard of advice" for pushing ahead with plans for its winner Lalela Mswane to compete on the global stage.

The government also disclosed it had been pressuring the SA reps to boycott Israel for some time under the pretense that it was trying to protect Mswane from the apparent reputational damage her appearance might cause:
What during initial consultations appeared like engaging, constructive and progressive discussions, was later met with an unpleasant demeanour that is intransigent and lacking appreciation of the potential negative impact of such a decision on the reputation and future of a young black woman.

The atrocities committed by Israel against Palestinians are well documented and Government, as the legitimate representative of the people of South Africa, cannot in good conscience associate itself with such.

While the Miss Universe Organization (MUO) bills the competition as a "global, inclusive" event that "celebrates women of all cultures and backgrounds," this has not prevented some 'activists' from desperately trying to politicize it.

The manufactured furor started after the Israeli Ministry of Tourism revealed in July that the coastal resort city of Eilat had been chosen as the host, in part because of Israel's world-leading COVID-19 vaccination drive that made it an attractive choice for a huge gathering of international visitors.

The backlash from both pro-Palestinian actors and those in South Africa who identify with the false "apartheid" analogy that is frequently used to smear the Jewish state was immediate.
The South African gov has withdrawn support for Miss #SouthAfrica to compete in #MissUniverse in #Israel ????
Apparently the ANC only supports black women achieving their goals when it suits their political agenda

Pretty sad for a party that fought against South African apartheid pic.twitter.com/kRBbIoZG8c

— Emily Schrader - ????? ?????? (@emilykschrader) November 15, 2021
Antisemitic Bullying at Record Levels in UK Universities, Up 59% Over Previous Year
Antisemitic bullying of British Jews on university campuses has reached record levels, rising by 59 percent since the previous year, according to an organization that works to protect the Jewish community in the UK.

There were 111 antisemitic incidents recorded in the 2020-2021 school year at universities in the United Kingdom, The Times reported, citing data shared by Community Security Trust (CST) nonprofit.

In one such incident, a Glasgow University student was told to "go gas herself." In another, a student was sent a digitally altered picture of her head severed by a guillotine.

The CST said 64 of the 111 incidents it recorded this year happened during the outbreak of hostilities between Israel and Palestinian terrorist groups in the Gaza Strip this May.

Both the University of Bristol and University of Warwick each witnessed 11 incidents — the highest total for any single school. Ten incidents occurred at University College London, nine at the University of Oxford, and eight at the University of Birmingham, where a Jewish student was assaulted in a residence hall.

At the University of Bristol, 10 incidents of antisemitism were reported after former sociology professor David Miller, who was recently fired following allegations that he promoted antisemitic conspiracies
NEVER AGAIN IS NOW Podcast: U.K. -- David Hirsh: Antisemitism on the left -- Ep. #27
David Hirsh is a senior lecturer in sociology at Goldsmiths, University of London, and the author of the book CONTEMPORARY LEFT ANTISEMITISM, published in 2017, in which he provides a sociological understanding of contemporary antisemitism.
"Lucinda Bathie, 22, former president of the Glasgow University Jewish Society, was told to "go and gas yourself". She was also pelted with avocados and called a "dirty Jew" when she wore her Star of David necklace." @CST_UK @thetimes #antisemitism https://t.co/UVKmrXGQyg

— Board of Deputies of British Jews (@BoardofDeputies) November 15, 2021
All I hear is Let's Go Brandon https://t.co/ewAo3U9vPY

— The Daily Wire (@realDailyWire) November 15, 2021
Supporter of Palestinian Terrorism Against Israel Announces Run for Congress
There are a few things Michigan voters may want to know about their newest congressional candidate.

Huwaida Arraf is a lawyer and self-described Palestinian activist who co-founded the International Solidarity Movement (ISM), which, among other things, was probed by the FBI as part of a terrorism investigation between 2004 and 2006.

While ISM claims to be a "Palestinian-led movement committed to resisting the Israeli occupation of Palestinian land using nonviolent, direct-action methods and principles," part of its mission statement, which has since been excised from its website, expressed support for the "Palestinian right to resist… via legitimate armed struggle."

Similar to the Gaza Strip's terrorist rulers Hamas, ISM and Arraf seem to have no problem with using volunteers as human shields – a fact ISM has even bragged about on its website.

In 2002, amid the height of the Second Intifada in which waves of Palestinian suicide bombings were launched against Israeli civilians, the ISM sent a number of 'activists' to protect terrorists who were holed up inside the Church of the Nativity, in the West Bank town of Bethlehem.

During the 39-day standoff, Arraf personally organized a mission to bring food and water to the terrorists inside the church.

In 2003, Tel Aviv's popular seafront bar Mike's Place was targeted by two British-born Muslims in a terror attack that killed three Israeli civilians and injured dozens more. The suicide bombers, who were operating under the guidance of Hamas and Al-Aqsa Martyrs Brigades, had arrived in Israel from Jordan via the Allenby Bridge and, just days before the attack, visited the ISM at its office in Gaza.
??NEW??

We found tweets by Huwaida Araf, a candidate for Congress, that supported the desicration of the Warsaw Ghetto along with other antisemitic remarks.

Arraf co-founded the International Solidarity Movement which was investigated by the FBI for ties to terrorism pic.twitter.com/px7Fnh1qMF

— GnasherJew®????? (@GnasherJew) November 16, 2021
Thankfully this antisemitic disaster has zero chance of being elected. pic.twitter.com/prBTegAmUE

— StopAntisemitism.org (@StopAntisemites) November 15, 2021
New Congressional Candidate Is Proudly Anti-Israel
Nida Allam, a 27-year-old progressive activist and Durham, North Carolina County Commissioner, announced last week that she will run for the Congressional seat of retiring Rep. David Price (D-NC).

I first researched Allam during her 2019 campaign for County Commissioner, due to her anti-Israel positions. What I found was a history of abhorrent statements that extended far beyond Israel.

In 2018, Allam tweeted, "This is the United States of Israel," which is consistent with centuries-old antisemitic propaganda that Jews seek to dominate the world.

In 2013, Allam tweeted, "F*** the police," and she has made many offensive and hateful posts over the years.

I spoke with award-winning Durham columnist and Black minister, Carl W. Kenney II, who told me that Allam's use of the N-word in a 2014 tweet is "appalling."
.@jvplive activist and @UCBerkeley grad Paul Michael Irvin makes a disgusting comparison: "to be a Zionist Jew...is to become a Nazi yourself."https://t.co/QX0Ssmn4ZU pic.twitter.com/6wQSPIUWa1

— Canary Mission (@canarymission) November 16, 2021
Sign Petition: Demand NYT, BBC Stop Featuring Antisemites & Anti-Israel Terrorism Apologists
The New York Times is once again facing tough questions about its objectivity and impartiality regarding its coverage of Israel, as it has emerged that one of its most recent hires previously blamed the Jewish state for the actions of Palestinian suicide bombers who murdered hundreds of Israelis in the 2000s.

On November 3, The Times announced that it was welcoming to its Jerusalem bureau Raja Abdulrahim, who while studying at the University of Florida penned a guest column for the school newspaper titled, "Palestinians driven to bombing."

The article claimed:
Another suicide bomber has attacked and the finger pointing has begun in every direction. But the fact is that the finger belongs not on the Palestinian Authority or some 'Islamic militant group,' it belongs squarely on Israel and the Israeli Defense Forces."

Between 2000 and 2005, 141 Palestinian suicide attacks killed 587 people. In 2002 alone, there were no fewer than 47 lethal suicide bombings, which left 238 dead and many more injured. Among those killed were Holocaust survivors and pregnant women along with their unborn babies, as perpetrators deliberately targeted civilians.

They struck buses, cafes, discos, shopping malls and busy streets in a bid to kill as many Israelis as possible.

The New York Times is not alone.
Guardian op-ed tries, and FAILS, to undermine Bari Weiss
A post at Bari Weiss's Substack blog announced that a new university would be opening, the aim of which is to fight back against cancel culture and the corresponding assault on free speech, academic freedom, civil discourse and liberalism within American higher education. The new institution is dedicated to the proposition that the pursuit of truth should be the central aim of any university – not ideological uniformity in the service of advancing radical and illiberal agendas.

Weiss is among the founding trustees of the new university.

It didn't occur to us that the Palestinian issue had anything to do with the new academic venture. But, according to Brooklyn College professor and Guardian columnist Moustafa Bayoumi, we were wrong. His Nov. 12th op-ed is based on the premise that pro-Palestinian academics are 'silenced' at American universities, and that pro-Palestinian voices are the ones being cancelled.



The evidence he cites is full of holes.

He writes:
A few years ago, for example, one of the world's most recognized philosophers, Judith Butler, came to my campus in Brooklyn with a highly respected Palestinian activist, Omar Barghouti, as part of a national speaking tour….Not only was my college then subject to extraordinary outside pressure to call off the event, but members of New York's city council even threatened to withhold funding to the campus if the event proceeded

However, he then concedes that the event wasn't cancelled, and Barghouti gave his speech at the college.

Bayoumi's next example of a pro-Palestinian voice being 'cancelled' is the denial of tenure to DePaul University Professor Norman Finkelstein in 2007. He claims that "Israel-aligned Harvard professor Alan Dershowitz aggressively lobbied the university to deny the younger professor his job", but fails to cite evidence that the criticism of Finkelstein by Dershowitz – who's not affiliated with DePaul University – had anything to do with his not getting tenure.

DePaul fiercely rejected the suggestion that outside pressure had anything to with their decision, and there is ample evidence that the decision was based on criticism of the quality of Finkelstein's scholarship.

Bayoumi then cites the case of Steven Salaita, who was denied a tenured professorship at the University of Illinois due to objections raised over what he describes as tweets "criticizing Israel". However, as we noted in a recent post, Salaita's tweets were not merely 'critical' of Israel. They were explicitly antisemitic.

Bayoumi then writes that, "from 2014 to 2020, the organization Palestine Legal has documented 1,707 incidents of suppression of speech concerning Palestine in the USA". This is extraordinarily deceptive.

If you read Palestine Legal's reports, their numbers are mainly incidents involving mere criticism of Palestinian activism or events. In the overwhelming majority of the cases we reviewed in their annual reports, few pro-Palestinian student or academic (or conference) were actually 'cancelled'. One of the few exceptions involves their complaint that university events featuring Leila Khaled (an unrepentant PFLP terrorist), who they refer to as merely an "activist", were cancelled by tech companies such as Zoom who were merely abiding by anti-terrorism laws.
BBC News whitewashes pro-Iran groups at LSE anti-Israel demo
On November 10th a report was published on the BBC News website's regional 'London' page under the headline 'Israeli ambassador protest: LSE investigating threats against Tzipi Hotovely'.

On November 11th a follow-up report by Karishma Patel of the BBC Asian Network was published on the same regional page under the headline 'Israeli ambassador LSE debate: Organiser says protest has been mischaracterised'.

Neither of those reports appeared on the BBC News website's 'Middle East' page but they were posted in its 'updates' section. An Arabic language version of the earlier report was published on the BBC Arabic website.

The events outside the London School of Economics that are the topic of both those reports are described in vague terms.
Amy Spitalnick is bankrupting neo-Nazis in court
With the closely watched trial against neo-Nazi activists alleged to be behind the deadly 2017 "Unite the Right" rally in Charlottesville, Va., underway, Amy Spitalnick, executive director of Integrity First for America, the organization behind the lawsuit, joined Jewish Insider's "Limited Liability Podcast" to discuss the ongoing litigation. Spitalnick, who spoke during a recess in the trial, offered her insights into the legal and security difficulties in confronting neo-Nazis in court.

Accountability: "The general lack of accountability in the aftermath of Unite the Right is really why we believe this case is so important. What became crystal clear in the days after the violence is that what happened was no accident, but rather it was planned meticulously in advance on social media, where leaked Discord chats that came out in mid-2017 illustrated how these defendants — the people who are now defendants in our lawsuit and their co-conspirators — talked about everything in advance, from what to wear, what to bring for lunch, to which weapons to carry, to whether they could hit protesters with cars and then claim self-defense. And it was very clear that again, [it] wasn't an accident, wasn't a simple clash between two sides, but rather was a meticulously planned, racially motivated conspiracy to attack people."

Price to pay: "Suing Nazis isn't cheap or easy in general. It's harder when those neo-Nazis try every trick to avoid accountability, including dropping phones in toilets or otherwise. And it's even harder when we have a global pandemic. And so all of those factors combined made it take about four years to get to this moment. We first filed this case [in] October of 2017. The trial started nearly four years to the day. In 2018, the court threw out the defendants' motions to dismiss the case in a really, I think, well-written, important opinion… Since then, for the last three years, we've been in this discovery process."
NYPD Investigating Threat at Kosher Bagel Store: 'Remove Those Israeli Flags or I'll Burn the Building Down'
The NYPD is investigating an apparently antisemitic incident of aggravated harassment at a kosher bagel store in New York, over Israeli flags hung outside the establishment.

The incident took place at Bagels & Co. at 188-02 Union Turnpike in Queens, police said.

A young man approached an employee and customers and said, "Remove those Israeli flags and shut the business down or I'll burn the building down."

Caught on security cameras, the suspect can be seen wearing large gray headphones, a light-colored long-sleeved hoodie and a backpack. The unidentified male was recording the episode on his cellphone throughout.
Suspected Austin Arsonist Confessed to Crime in Journal: 'I Set a Synagogue on Fire'
A man accused of setting fire to an Austin, Texas synagogue confessed to the crime in his journal and possessed antisemitic materials, according to a criminal complaint made public on Monday.

Franklin Barrett Sechriest, 18, a Texas State University student, was arrested Wednesday on suspicion of using a liquid accelerant to start a fire at the entrance to Congregation Beth Israel on Oct. 31, which caused some $25,000 in damage.

Already facing state charges, Sechriest was hit with federal arson charges on Friday. He remained in federal custody Monday.

A federal criminal complaint and attached arrest affidavit, uploaded online by George Washington University's Program on Extremism, include journal entries by Sechriest that appear to confess to the arson — in particular, the phrases "scout out target" and "I set a synagogue on fire."

In chilling fashion, these phrases are scattered among such banal entries as "wake up, log dream," "return home for food," and "meme on Telegram."
Police: Group attacks man in Brooklyn while making anti-Jewish remarks
The NYPD's Hate Crime Task Force is searching for a group of five people who attacked a man in Brooklyn as they made anti-Jewish remarks.

Police say the assault took place Thursday night on Empire Boulevard in Crown Heights.

Officers say the group approached a 25-year-old man, made anti-Semitic remarks, then hit him in the head.

The victim was not seriously injured.
BREAKING: NYC Public School Teacher's Job Threatened for Wearing Zionist T-shirt to School

Teachers there wear BLM and other political t-shirts, but only the Zionist was threatened!

I received no response to a letter of inquiry sent to @DOEChancellor https://t.co/asHVg4Q6f4 pic.twitter.com/6en9GMrlaf

— Dov Hikind (@HikindDov) November 15, 2021
Two Men Convicted in Vandalism of Synagogue in Ontario, Canada
Jewish groups in Canada praised the hate crimes conviction of two men in Hamilton, Ontario, who vandalized a synagogue there back in 2019.

Liam Greaves and Blake Trautman, both 19 at the time of the incident, spray painted a swastika and the words "No Jews" along with anti-black graffiti on the parking lot of Beth Jacob synagogue. The vandalism took place on a Friday night that fell between Rosh Hashanah and Yom Kippur. Both men said they had been drinking at the time, according to news reports.

In an interview with the Canadian Jewish News, Rabbi Hillel Lavery-Yisraeli said the incident was "unimaginably frightening" and "Our sanctuary was full that day with members of all ages, including Holocaust survivors—people who, 70 years later, thought they had left all of that behind them and had found a new sanctuary in Canada."

"There is no way to undo the feeling of fear it created to think some of our neighbors still identify with Nazi ideology," he added. "Even two years later, some Jewish teenagers are still afraid to come to the synagogue because of this."

Michael Mostyn, CEO of B'nai Brith Canada, which provided a victim-impact statement in the case, said, "we are encouraged that the two men came forward and apologized for this hateful act. This case would not have been solved had the two not stepped forward. Nonetheless, they caused grave alarm with their hateful sentiments. There is never any excuse for such vile acts."
With Six Incidents Every 24 Hours, No Let-Up in Antisemitic Outrages in Germany During 2021, Government Figures Reveal
New statistics released by Germany's federal government on Monday showed no let-up in the number of antisemitic incidents this year, with an average of six incidents targeting Jews every 24 hours.

As of Nov. 5, a total of 1,850 antisemitic crimes had been reported during 2021, the federal government said in response to a data request from Petra Pau, a leader of The Left Party and the vice-president of the Bundestag, Germany's parliament. The data was gathered from the case statistics of the Federal Criminal Police Office (BKA) on politically motivated crime, the news outlet Welt reported.

Antisemitism policy experts expressed the fear that the final toll of incidents in 2021 could exceed that of previous years. In 2019, 2,032 antisemitic incidents were reported in Germany, while in 2020 — a year defined by the COVID-19 pandemic lockdown — the total increased to 2,351.

Of this year's incidents, 35 have involved physical violence, with 17 people injured as a result of antisemitic attacks.

According to Welt, only 930 suspects have been identified. Just five people have been arrested and a further two arrest warrants have been issued, resulting in criticism of police inaction from some politicians.

"The culture of impunity motivates offenders to commit crimes and demotivates victims to report them," Petra Pau commented. "Antisemitic crimes must finally be consistently prosecuted."
'No Right to Nazi Propaganda': Protestors March Against Neo-Nazi Rally in German Town
A group of about 150 far-right extremists and neo-Nazis marched over the weekend in residential areas of a German town for a torchlight commemoration of Adolf Hitler's deputy Rudolf Hess, prompting a greater show of force by counter-protestors.

Members and far-right supporters of the German "Third Way" party participated on Saturday in the annual march in the Bavarian town of Wunsiedel to pay tribute to the World War II-era Nazi leader, who was once buried there. About 250 counter protestors responded by taking to the streets to demonstrate against right-wing extremism, according to a local police report.

"With their planned march, the neo-Nazis show their contempt for our history and the victims of the Shoah," commented Josef Schuster, president of the Central Council of Jews in Germany. "Even more important are the counter rallies. I am happy about every courageous person who opposes right-wing extremists."

Participants in the counterdemonstrations included members of the network Wunsiedel ist bunt (Wunsiedel is colorful), as well as churches and a grammar school. They gathered at the town's train station before moving to the city center, police said.

"There is no right to Nazi propaganda, not in Wunsiedel or other places. We stand together against fascism," the counter-protesters were heard shouting.
Jewish politician @myriambregman in Argentina continues to be targeted by antisemites.

Approx. 12,000 Nazis fled to South America after the Holocaust to avoid persecution for their crimes. https://t.co/xGjqj3VI3M

— StopAntisemitism.org (@StopAntisemites) November 15, 2021
IsraAID celebrates 20 years
When a small group of Israelis arrived in Haiti within 48 hours of a devastating earthquake hitting the island nation in 2010, it was awe-inspiring. They had traveled 6,500 miles, while the United States, situated much closer to the disaster, would take more days to assemble and deliver humanitarian aid.

The Israelis were dispatched by IsraAID, an organization founded in 2001 that has over the course of two decades developed into Israel's leading non-profit humanitarian relief organization. The capacity to quickly mobilize skilled teams and supplies and transport them to points of disaster on most continents is remarkable. It is putting into action the Jewish tradition of responding generously and compassionately to those who suffer a natural disaster.

"We usually arrive on the ground within the first 72 hours to provide medical support, trauma counseling, access to clean water," said IsraAID CEO Yotam Polizer at the group's recent 20th-anniversary celebration in Tel Aviv.

Over those past 20 years, IsraAID has responded to a range of crises, including earthquakes, hurricanes, floods, and refugees in more than 50 countries, and is currently active in 14 countries.

What has long distinguished IsraAID from many other, and often much larger, relief organizations is its commitment to remain on-site long after the initial outpouring of support and attention.
FIDF holds sixth annual bike ride in Israel in support of soldiers
Friends of the Israel Defense Forces (FIDF) held its sixth annual cycle ride on Friday when over 40 of the group's supporters from the United States and several wounded veterans embarked on a six-day cycling tour of Israel in support of IDF soldiers.

The cyclists visited several IDF bases during their ride, from the Mount Hermon army base to the 91st Galilee Division, which oversees military security along the border with Lebanon.

FIDF is an NGO established in 1981 that offers social, educational and cultural programs designed to celebrate and honor IDF soldiers. The wounded IDF veterans participation was facilitated through the NGO's Wounded Soldiers program.

The veterans, who lost their legs during their service in combat, were given prosthetic legs by the FIDF.

"The ride was an unforgettable journey, going from the Galilee and the Golan Heights all the way to Jerusalem," said Gilbert Chaim, an FIDF supporter from Miami.

"We enjoyed six days of awesome cycling, great friendships and good moments to share, all for an important cause: supporting our soldiers and the future of Israel."
Wow!! The community rallied with an incredible show of support for the work of @StandWithUsUK fighting antisemitism & supporting Israel. From an initial goal of £450,000, you helped raise over £750,000!
We felt the love!
Now the work intensifies!
??????????https://t.co/YjMmczlhlM pic.twitter.com/9w8JgVQ0eO

— Michael Dickson (@michaeldickson) November 16, 2021
Newly found ancient fortified building seen as 'tangible evidence' of Hanukkah story
Weapons, burnt wooden beams, dozens of coins and a Hellenistic fortified structure have been unearthed at an archaeological dig in a central Israel forest in what the Israel Antiquities Authority says was evidence of a battle between the Hasmoneans and Greek Seleucids some 2,100 years ago.

The discovery in the Lachish Forest was announced Tuesday by the Israel Antiquities Authority to coincide with the upcoming Hanukkah festival.

"The excavation site provides tangible evidence of the Hanukkah stories. It appears that we have discovered a building that was part of a fortified line erected by the Hellenistic army commanders to protect the large Hellenistic city of Maresha from a Hasmonean offensive," said the excavation directors in a statement.

"However, the finds from the site show that the Seleucid defenses were unsuccessful; the excavated building was badly burnt and devastated by the Hasmoneans," they added.

In a statement, the IAA said the excavations had uncovered a 15-by-15-meter building that had been designed as a well-fortified unit in around 112 BCE.

The walls were over three meters thick and built with large stones arranged in a slope on the outer side, to prevent them being scaled.
The #Warsaw ghetto was sealed with 380,000 Jews trapped inside #OnThisDay 1940, with the Jews of Warsaw entirely cut off from #Poland & the outside world.

In less than 3 years, over 80,000 Jews died and another 250,000+ deported to Treblinka and murdered.

[Via @yadvashem] pic.twitter.com/t2rMYd90I8

— Arsen Ostrovsky (@Ostrov_A) November 16, 2021