From Ian:
UN Watch:
UN Chief Should Rescind Ban on Naming Antisemitic UNRWA Teachers
A watchdog group today appealed to UN Secretary-General Antonio Guterres to intervene after the UN Human Rights Council president on Friday cut off a speech for naming antisemitic teachers who work for UNRWA, the UN agency that runs schools for Palestinians.

In an unprecedented and controversial move, President Nazhat Shameem Khan cut off Hillel Neuer for what she said were unacceptable "personal attacks." She then ruled his statement "out of order."

Khan interrupted the Geneva-based human rights activist as he began to present examples from UN Watch's recent report that exposed over 100 antisemitic UNRWA teachers, a study that has already prompted UNRWA investigations — and, according to Al Jazeera, suspensions.

"I have noticed that in the course of this video, derogatory, insulting and inflammatory remarks have been made which in particular refer directly to specific individuals," said the council president, reading from prepared remarks.

"This amounts to personal attacks against those individuals and it is not acceptable in this forum. This statement is out of order," ruled Khan, who then gave the floor to the Palestinian Return Centre, a group linked to the Hamas terrorist organization.
Gilad Erdan Israel Ambassador Today, the UN tried to silence the truth. UN personnel prevented me from bringing in a photo showing the antisemitism and incitement that exists among UNRWA teachers. Despite their best efforts, I will always continue to fight to defend Israel. pic.twitter.com/DCrITSfGji

— Eye On Antisemitism (@AntisemitismEye) October 5, 2021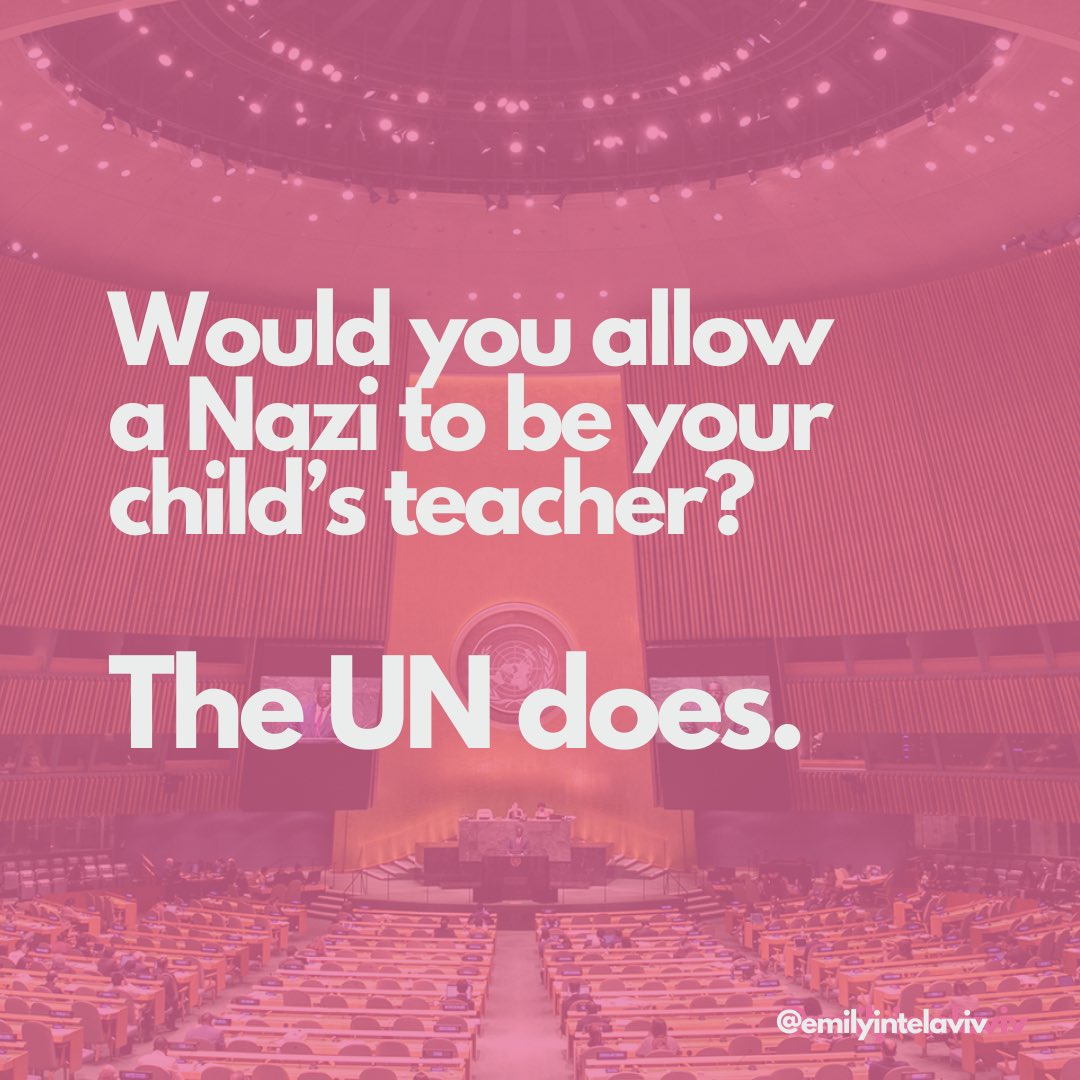 BREAKING: B'TSELEM ACTIVIST WAS CAUGHT ON CAMERA SETTING PALESTINIAN PROPERTY ON FIRE, AND THEN TRYING TO BLAME THE JEWS.@EUinIsrael @btselem @DTzantchev @Ofer_Hadad pic.twitter.com/rjH9sqRZwv

— ????? ??? | MyIsrael (@MyIsraelorgil) October 5, 2021
Biden Admin Reverses State Department Declaration of Strategic Talks with 'Palestine'
The State Department is walking back comments from its controversy-prone spokeswoman, Jalina Porter, who stated last week that the Biden administration is engaged in strategic discussions related to "Palestine."

Porter's reference to "Palestine" stunned State Department officials because it would represent a monumental shift in decades of U.S. policy regarding the Israeli-Palestinian conflict, sources told the Washington Free Beacon. The State Department's longstanding policy, upheld across multiple administrations, is that "Palestine" refers to the conditions on the ground prior to Israel's creation in 1948, and that any new nation called "Palestine" will have to be forged in direct negotiations between Israel and its Palestinian neighbors.

"There is no change to our policy," a State Department spokesman told the Free Beacon. "We believe that a negotiated two-state solution is the best way to resolve the Israeli-Palestinian conflict. The Biden-Harris administration also believes both Israelis and Palestinians deserve to live safely and securely and enjoy equal measures of freedom and prosperity. Our interest remains in supporting peace and stability which requires thoughtful and constructive engagement with both Israeli and Palestinian leadership."

Porter's public missteps are causing headaches for career officials, who are finding it difficult to prepare her for briefings, according to a career diplomat who requested anonymity in order to speak candidly.

"She often goes off script from established policy and agreed upon talking points, causing gaffes that confuse allies and journalists alike," the source told the Free Beacon. "Career State Department staff have grown increasingly frustrated, as we are often the ones having to clean up after her verbal messes. It's gotten to the point where the building doesn't know what to do with her or how to help her."

The State Department's about-face comes after Porter told reporters at a press briefing last week that Biden administration officials have been engaged in discussions with their Palestinian counterparts on issues "surrounding Palestine"—a comment that raised eyebrows among diplomats inside the State Department because the United States has never recognized a nation called "Palestine." Porter's remarks were off-script and not cleared with career officials who handle the portfolio at the State Department, according to sources familiar with the matter.
'Peace with more Arab nations not a question of if, but when'
How do you build community? From knowing its fundamentals, with consistency, and with a lot of faith. These seem to be the ingredients that precisely define the personality of Rabbi Dr. Eli Avidai, who has been appointed as the Senior Rabbi of the Jewish community in the Emirates, with the goal of developing and broadening it. "There are already plans for the whole required infrastructure – school, mikveh, community center and synagogue; everything is in process."

Aside from his wide education – the rabbi speaks six languages and is an expert on Sephardi Jewry, history, philosophy and comparative law – Abadie founded the Manhattan East synagogue and serves as its rabbi. In addition to this, he founded in New York a synagogue named after the Jewish banker Edmond Safra, as well as a community center named after Moise Safra, Edmond's brother.

On a complementary level, his genealogical background is also perfect for the job: Avidai was born in Lebanon (his parents are from Syria), and is descended from a rabbinical lineage dating back to 15th century Spain. "I left Lebanon when I was 10," he says. "Then it had the scent of an extremely Western culture, an open and geopolitical place."

Abadie had a similar feeling during his visit to Dubai two and a half years ago, which became more dramatic than he thought at the beginning. "I noticed that everyone spoke English and the style was European-American, alongside signs in Arabic of course. I started to develop relationships with the Emiratis. Masks fell and doors were opened. When I quote for them proverbs in Arabic, which I grew up on, it's something that brings us together in a way that's impossible to describe. The connection is immediate and we speak straightforwardly."

Thanks to his deep knowledge of the Koran, Muslim religion, and culture, Abadie has been present for decades at interfaith conferences attended by Jews, Muslims, and Christians. Because of this, many Emiratis are interested in learning Hebrew and Judaism in order to learn from up close the similarity between the two religions. They say to me: 'We are sister religions, and it's a shame that more than 70 years passed before the possibility opened for us to create this connection.'"
Newsflash, Media: Israel's Arab Minority Does Not 'Largely Identify as Palestinian'
Keeping in line with the theory of intersectionality, sociologists over the last decades have increasingly stressed the value of the self-definition of identity as a tool of empowerment. Contributors to newspapers, like The New York Times, have argued that it is crucial for minorities to "negotiate racial identities that reflect our heritage, culture, and experience, which includes how others perceive us."

Why, then, when it comes to Arabs in Israel are international news outlets seemingly intent on defining their identity for them?

For example, in recent reporting on the crime wave in Arab-majority towns in Israel, BBC Middle East correspondent Tom Bateman described these localities as "Israel's Palestinian towns." Outlets like the NYT, The Washington Post and NBC News have also referred to the country's largest minority as "Palestinians in Israel." So have high-profile individuals such as US Congresswoman Ilhan Omar (here) and Human Rights Watch's Ken Roth (here).

This depiction of Arab Israeli identity not only runs counter to the facts on the ground — Arabs are granted equal rights and are citizens of the State of Israel, not of a non-existent "Palestine" — but also disregards that the vast majority of them do not self-identify as "Palestinian."

Rather, data shows that they consider themselves primarily "Israeli Arab" or simply "Israeli."

Indeed, experts have started to notice that deepening integration into Israeli society is impacting the way Arab Israelis view themselves. The Pluralism Index, compiled by the Jerusalem-based Jewish People Policy Institute, last year recorded a sharp decline in the number of people in Israel who consider their primary identity to be "Palestinian."

The 2021 elections brought Arab parties and voters closer to full-partner status in the Israeli political game. This is also likely an outcome of processes noted in last year's Index, where we reported a dramatic rise in the percentage of Arab Israelis who define their primary identity as "Israeli," and a correspondingly steep drop in the percentage of those who identify as "Palestinian." [2021 Pluralism Index]

According to the survey, 51 percent of non-Jews in Israel said they identified as "Arab-Israelis," compared to just 7 percent who said that they primarily viewed themselves as "Palestinian." Additionally, just under a quarter of non-Jews described themselves as simply "Israeli."

The survey also asked respondents to rate how much they agree with the phrase "I feel like a real Israeli." Most Arabs responded that they either agree completely (65%) or somewhat agree (33%) with the statement.
Time to stop pretending that @KenRoth of @hrw is anything but a raging antisemite with an Israel obsession, masquerading as a 'human rights leader.' https://t.co/tPM6y1D9gV

— Arsen Ostrovsky (@Ostrov_A) October 6, 2021
Khaled Abu Toameh:
Why Arabs Are Annoyed With the Europeans
The European Parliament... has enraged many Arabs by calling for boycotting Expo 2020 Dubai...

The timing of the resolution is problematic. It implies that the European Parliament is seeking to punish the UAE for signing a peace treaty with Israel. The resolution coincided with the first anniversary of the signing of the Abraham Accords, the term used to refer to peace agreements between Israel and the UAE and Bahrain.

By singling out the UAE, the European Parliament has chosen to side with the enemies of peace, cooperation and normalization between Israelis and Arabs.

Worse, the European Parliament saw no reason to call out Hamas and Palestinian Islamic Jihad for their daily human rights violations against Palestinians in the Gaza Strip.

Resolutions such as the one taken by the European Parliament are the kind that give the enemies of peace in the Middle East -- evidently now including the European Parliament -- ammunition to keep fighting to achieve their goal of destroying Israel.

They are opposed to the existence of Israel. They do not want to see Israel in the Middle East. Most of them want to replace Israel....

"[The decision] raises a question mark about the real reasons that led to this hostility practiced by the European Parliament towards a country that has achieved a lot on human rights issues.... The European Parliament is supposed to support these issues, not the exact opposite." — Mona Ali Al Motawa, prominent writer from Bahrain, Al-Watan, September 21, 2021.

[T]he UAE does not need "a certificate [of honor] from malicious entities and will not be affected by desperate attempts to disrupt its achievements." — Saudi columnist Dr. Ali Al-Kheshaiban, Al-Ain, September 22, 2021.

Some very vocal Arabs, in short, are loudly telling the Europeans to mind their own business.
Amb. Alan Baker:
Mahmoud Abbas' Message of Hopelessness and Hostility at the UN
PLO Chairman Mahmoud Abbas' statement to the UN General Assembly on September 24, 2021, was almost identical to Yasser Arafat's statement at the 2001 Durban Conference. Nothing has changed in the Palestinian message and narrative.

Citing the "Nakba" (catastrophe), Abbas deliberately inverted history and ignored decades of organized violence by Arab groups and forces against Jewish communities, including massacres of Jews in 1920, 1921, 1929, 1936, and 1938, all aimed at terrorizing the Jewish residents and removing any Jewish presence from the area.

He misled the General Assembly into believing that General Assembly Resolution 194 (III) created a "right of return" for Palestinians. The truth is that the resolution was a non-obligatory recommendation and did not create legal rights.

In violation of UN resolutions and international conventions criminalizing the financing of terror, Abbas blatantly and unabashedly defended and justified the PA's "pay to slay" policy that provides salaries to prisoners guilty of acts of terror and murder, knowing that such payments serve as incentives and encouragement for more acts of terror.

To come to the UN General Assembly with delusional, misleading, and misguided accusations and threats does not serve the interests of peace and does not advance the chances of a return to peace negotiations one iota.
Shaked to Emirati paper: Israel will not consider Palestinian state
Interior Minister Ayelet Shaked, currently visiting the United Arab Emirates, says in an exclusive interview to the Emirati news outlet The National that Israel under Prime Minister Naftali Bennett will not consider the establishment of a Palestinian state.

Shaked told The National that the Bennett-Lapid coalition government had agreed not to tackle any issues that could cause rifts, including the Israeli-Palestinian conflict.

According to Shaked, the government's stance was that "economic peace" would improve the lives of the Palestinians and in favor of mutual industrial zones. However, she stressed that Israel would "definitely" not support a Palestinian "state with an army."

The National pointed out that Shaked rejects the labeling of Israeli settlements "illegal," preferring to call them "territory under dispute." In the interview, she called the Boycott, Divestment, Sanctions movement against Israel "hypocrites."

"BDS is a new form of antisemitism," Shaked said.
Civil Society Organizations Issue Impassioned Appeal to African Union to Reaffirm Israel's Observer Status
A growing number of African civil society organizations have endorsed a petition urging the African Union (AU) to reaffirm the admission of the State of Israel as an observer member at its Executive Council meeting next week.

Israel was accepted as an observer by the AU in July, when Chad Aleli Admasu, the Israeli Ambassador to Ethiopia and Burundi, presented his credentials to Moussa Faki Mahamat, chairman of the African Union Commission, at the bloc's headquarters in the Ethiopian capital, Addis Ababa. The Jewish state had previously held observer status with the AU's predecessor, the Organization of African Unity, but had been thwarted for nearly 20 years in its bid to rejoin the regional grouping until the breakthrough this past summer.

Hosted by the Africa-Israel Chamber of Commerce (AICC), the petition declares that the "recent decision to grant Israel observer status in the African Union is of vital importance."

Noting that at "the beginning of the African states' liberation from colonial rule in 1957-1960 … the State of Israel was among the first countries to extend substantial assistance to the newly independent countries and their awakening peoples," the petition lists a range of current development programs undertaken by Israel on the continent in education, healthcare and agriculture.

"The admittance to the African Union of Israel is part of the continent's drive towards a better future," it states. "We call on all those with a vision for this future to support the Israeli-African cooperation for the benefit of all the peoples of our beloved continent."
Saudi textbooks show dramatic improvement in depictions of Jews — study
Saudi Arabian textbooks showed significant improvement in 2021 in their treatment of non-Muslims and of violence in the name of Islam, according to a study by an Israel-based research organization.

The removal of explicitly antisemitic and anti-Christian material is part of a trend of moderation in Saudi schools, said the IMPACT-se report titled "A Further Step Forward: Review of Changes and Remaining Problematic Content in Saudi Textbooks 2021–22," released in late September.

"The greatest changes have been made to lessons dealing with Jews, Christians, non-believers, and violent jihad; twenty-eight lessons featuring demonization of the other and religious intolerance were removed or heavily modified," read the report. "An entire textbook unit on jihad was scrapped. While problematic material remains in Saudi textbooks, these represent profound changes in these categories."

A 6th-grade lesson on Muhammad visiting a sick Jewish boy and saving him from hell was changed to focus only on the visit, highlighting the importance of righteous conduct toward non-Muslims.

A now-removed 10th- to 12th-grade lesson on the Al-Aqsa Mosque formerly accused the Jews of violating "the very sanctity" of the mosque by turning it into a marketplace for money lenders and claimed that Jews lost interest in the Temple Mount and forgot its location.
Sharaka #Bahrain delegation visiting the old city of Jerusalem pic.twitter.com/ykfvu8og7l

— Sharaka - ????? (@sharakango) October 6, 2021
An official delegation from Bahrain has visited the western wall in Jerusalem today. The local Arabs aren't that happy! Via @amirtsarfati pic.twitter.com/nnb1BVzplJ

— Eye On Antisemitism (@AntisemitismEye) October 6, 2021
I know it's a shocker for you (??), but Hamas' online propaganda wing "Quds News" are lying: There's no "protection by Israeli forces" in the video because no one needs it at the Western Wall. This is a holy place. It's open 24/7. Every person is welcomed there. ???????????????????????? https://t.co/lbSlxm02X4

— Ido Daniel ???? (@IdoDaniel) October 6, 2021
Bombshell: Jerusalem Court Approves Jewish Prayer on Temple Mount
Jerusalem Magistrate's Court Judge Bilha Yahalom on Wednesday revoked a restraining order that was handed to a Jew who prayed on the Temple Mount, and confirmed that it is permissible for Jews to pray quietly in the holiest Jewish site, Israel Hayom reported. This constitutes the first explicit legal decision allowing Jews to pray quietly inside the Temple Mount compound.

According to the group Yera'eh that promotes Jewish ascent to the Temple Mount, a record number of Jewish worshipers prayed on the Temple Mount in the summer: 4,239 Jews conducted prayer there during the month of Av, 5780. This is a jump of 76% compared to the same month in 5779 during which 2,759 Jews prayed on the Temple Mount.

Last Yom Kippur, a policeman approached Rabbi Aryeh Lipo, a frequent and well-known visitor to the Temple Mount, who was quietly praying and ordered him to leave the place because he was praying. Rabbi Lipo was promptly yanked from the site for allegedly violating the rules there. Rabbi Lipo petitioned the court, claiming that he had not done anything wrong and that Jewish prayers had been conducted on the Temple Mount regularly.

The Magistrate's Court accepted Rabbi Lipo's appeal and ruled that Jews were indeed allowed to pray quietly on the Temple Mount.

"The appellant is on the Temple Mount on a daily basis and is familiar with the accepted procedures at the place, and indeed admits that he prayed there," Judge Yahalom wrote in her ruling. "In this sense, it is clear why the respondent (Israel Police – DI) is apprehensive and why it ordered the removal. On the other hand, it is precisely his daily arrival at the Temple Mount that indicates that this is a matter of principle and substance for him."
Israel's National Security Adviser Eyal Hulata in DC for Iran talks
Alleged Iran-hired hitman not cooperating with Cyprus authorities
The hitman alleged to have been hired by Iran to kill Israeli businessmen in Cyprus is not cooperating with the authorities, Cypriot media reported on Wednesday.

The 38-year-old Azeri man, who holds a Russian passport, would not answer any of the police's questions other than to tell them where he rented two cars in Ayia Napa in Cyprus, one of which had a loaded pistol with a silencer inside it, the Philenews site reported.

The case drew attention in Israel because billionaire Teddy Sagi said earlier this week that he was tipped off by the Israeli authorities – likely the Mossad – that assassins were after him, and he escaped from Cyprus, where he lives, to Israel.

Prime Minister Naftali Bennett's spokesman Matan Sidi said on Monday that the attempted murder was an Iranian terrorist attack, and that the assassin was targeting Israeli businessmen, not Sagi specifically.

Similarly, Philenews reported that Cypriot police do not think the suspect's target was Sagi, but other senior executives in Sagi's company on the EU member-state island.

Cyprus police have not confirmed that Iran was behind the attack, however.

The Azeri-Russian hitman intended to hit his target and then escape to Turkish-occupied northern Cyprus through a pedestrian crossing, on an electric scooter. He reportedly did not arouse suspicion when he appeared on surveillance cameras.
Cleared for landing.

Blue Flag, the largest & most advanced exercise yet to be hosted by the IAF, will begin in 2 weeks. Participating aircraft have touched down in Israel.

????+????+????+????+????+????+????+???? will drill operational scenarios & work to strengthen alliances. pic.twitter.com/CJ0cEatPxN

— Israel Defense Forces (@IDF) October 6, 2021
Palestinian charged with attempted murder over terror stabbing in Jaffa
Prosecutors on Wednesday filed an indictment against a Palestinian man for the alleged terror stabbing in Tel Aviv on the eve of Yom Kippur, the holiest day of the Jewish calendar, during which a man was seriously hurt.

Mohammed Haroub, 30, was charged with "a terrorist act of attempted murder, a terrorist act of aggravated assault," and illegally entering Israel from the West Bank.

Prosecutors said Haroub stabbed the victim with a screwdriver, assuming he was Jewish.

"The defendant, who believed that the plaintiff was a person of Jewish descent, approached him without being noticed, shouting at him in Arabic 'Jew, Jew,' hit him over the head with a bottle of water next to him, and stabbed him with the screwdriver in his upper body, with the intention of causing his death," a statement from the Justice Ministry said.

The victim, a 49-year-old man from East Jerusalem, shouted back at the assailant in Arabic during the attack that he was not Jewish, but Haroub ignored his calls, the indictment read.
Ruthie Blum:
Meretz's pilgrimage to Ramallah
If anything illustrates the farcical nature of the current makeup of the government in Jerusalem, it's the parley in Ramallah on Sunday evening between Palestinian Authority leader Mahmoud Abbas and a delegation of Israel's Meretz Party, headed by Health Minister Nitzan Horowitz.

Horowitz didn't even bother to obscure his exit from a meeting of the ministerial committee on fighting the coronavirus, which hadn't convened since the end of August, in order to make his appointment at the Muqata. But then, his role as the country's most senior official charged with handling the pandemic is secondary to his true ambition: Palestinian statehood by way of an Israeli withdrawal to the 1947 armistice lines.

Ditto for the two Meretz members – Regional Cooperation Minister Esawi Frej and faction head Knesset member Michal Rozin – who accompanied him. The purpose of their little gathering was twofold.

Firstly, it was to show their voters that, despite their party's sitting in a coalition with and under politicians traditionally from the right, it's still committed to Israeli capitulation at all costs. Secondly, it was to signal to Abbas that he has the power to achieve their shared goal.

In one respect, he's correct. Every party in the coalition possesses the leverage to cause it to fall.

But just like any of the strange bedfellows able to use this option as a threat, none has the desire to follow through with it. They all realize that in such an event, what awaits them on the "day after" is political exile.
Honest Reporting: The Ideological Similarities Media Bury: PA PM, Hamas Terrorists Envision Israel's Destruction
Barely 72 hours before this week's widely-reported "peace meeting" between Mahmoud Abbas and two Israeli ministers, Palestinian Authority Prime Minister Mohammad Shtayyeh hinted at destroying Israel.

An Arabic-language outlet reported that Shtayyeh said that "there is no solution to the Palestinian issue on the horizon," and that this would entail the replacement of Israel with a Palestinian state extending "from the [Jordan] River to the [Mediterranean] Sea."

The comments came shortly before ministers from Israel's left-wing Meretz political party met with PA President Abbas in Ramallah, ostensibly to "keep the two-state solution alive." For his part, Abbas ahead of the gathering spoke with the families of two Palestinian terrorists recently killed while attempting attacks on Israelis.

Meanwhile, in the Gaza Strip, leaders of the US-designated Hamas terror group attended a conference geared towards the "liberation of Palestine" -- a euphemism for the eradication of Israel. Participants reaffirmed their commitment to not relinquish "a single inch" of territory and called for the ethnic cleansing of all Jews except for the "educated" and "experts" who would "not be allowed to leave."

Notably, Abbas previously said that there are no ideological disagreements between his ruling Fatah faction and Hamas.
Fatah Official Abbas Zaki: Israelis Are Sons of Bitches, Murderers; We Will Make Them Swallow Poison One Drop at a Time; They Are Messengers of Instability, While We Are Messengers of Peace #Palestinians #Fatah pic.twitter.com/YGM9fj20dd

— MEMRI (@MEMRIReports) October 6, 2021
Ottawa, Canada Rally in Support of Palestinian Prisoners: Bring Us Back to '48; Millions of Martyrs Marching to Jerusalem #Canada #Palestinians pic.twitter.com/bI497VBdCQ

— MEMRI (@MEMRIReports) October 6, 2021
PMW:
Fatah mocks Hamas for using children as human shields when attacking Israel
During Hamas' war against Israel in May, Israel condemned Hamas for using civilians as human shields. During the war, the PA and Fatah supported Hamas' terror campaign and even encouraged Palestinians and Israeli Arabs to riot against Israeli civilians.

However, a few months later, Fatah is acknowledging that the Hamas war tactic was immoral because they used civilians including children as human shields.

A striking example of this is Fatah's posting the above cartoon on the official website of the Fatah Commission of Information and Culture. Accompanying the cartoon showing Hamas using an infant as a shield, are the words "Without explanation." [Website of the Fatah Commission of Information and Culture, Aug. 29, 2021]

Similar criticism was expressed by Fatah in this cartoon depicting a man with "Hamas" written on him making a "V" for victory with one hand, while putting his other hand around the shoulders of a man with "The Palestinian people" written on him. The "Hamas" man is holding a target over the other man's heart.
Hamas Is Building a Second Front Against Israel in Lebanon
In recent days, a senior Iranian military commander boasted that his country has built "six armies outside its borders that work for it."

What the officer did not say, however, is that one of these terror armies — Hamas — is busy building a second front against Israel in Lebanon, and that it is trampling on Hezbollah's toes in the process. While Hezbollah monitors Hamas' activities in Lebanon, this is not always sufficient to control its activities.

Maj. (res.) Tal Beeri, director of the research department at the Alma Research and Education Center, which sheds light on security threats to Israel emanating from Syria and Lebanon, is preparing a major investigative report into Hamas' presence in Lebanon — and his findings are surprising.

The report, which is scheduled to be released later this month, identifies Hamas' working plans, senior military operatives, and the location of some key Hamas sites on Lebanese territory. It also analyzes the significance of this activity in regard to Sunni Hamas' relationship to the radical Shiite axis that is led by Iran.

"Hamas' activities in Lebanon, like those of Hezbollah, can be divided along two central axes," Beeri, who served for 20 years in the IDF's Military Intelligence Directorate, told the Investigative Project on Terrorism. "The first is the political-civilian sphere, and the second is the military-terrorist area."
The family of Nizar Banat, who was beaten to death by Palestinian security officers: The Palestinian Authority is threatening us and trying to silence us. pic.twitter.com/lTlaQcZsyP

— Khaled Abu Toameh (@KhaledAbuToameh) October 6, 2021
As Lebanese got poorer, politicians stashed wealth abroad, Pandora Papers show
A trove of leaked documents confirmed that for years, Lebanon's politicians and bankers have stowed wealth in offshore tax havens and used it to buy expensive properties — a galling revelation for masses of newly impoverished Lebanese caught in one of the world's worst economic meltdowns in decades.

Some of the newly outed holders of offshore accounts belong to the same ruling elite that is being blamed for the collapse and for derailing the lives of ordinary Lebanese who have lost access to savings and now struggle to get fuel, electricity and medicine.

Bold-faced names in the leaked documents include the longtime central bank governor, a pivotal figure in the failed policies that helped trigger the financial crisis, as well as Prime Minister Najib Mikati and his predecessor.

The documents, named the "Pandora Papers," were examined by the International Consortium of Investigative Journalists, with the first findings released Sunday. The ICIJ report exposes the offshore secrets of wealthy elites from more than 200 countries and territories.

It was based on a review of nearly 11.9 million records obtained from 14 firms that provide services in setting up offshore firms and shell companies. Clients of such firms are often trying to hide their wealth and financial activities.
Lebanon's latest complaints of alleged Israeli violations of UN Res. 1701 prove it has a real beef with Israel. Those devious Mossad cows! ?????? https://t.co/SSmKoqbGxt pic.twitter.com/cAn5anDmzP

— Simon Plosker (@SimonPlosker) October 6, 2021
Fars News in Iran says third Iranian tanker carrying fuel entered Syrian port pic.twitter.com/Q6S61wITEm

— Seth Frantzman (@sfrantzman) October 6, 2021
Iran optimistic Vienna nuclear deal talks will restart 'soon'
Iran's Foreign Minister Hossein Amir-Abdollahian said in Moscow on Wednesday that he expects negotiations on the Iran nuclear deal to restart in Austria soon.

"We are now finalizing consultations on this matter and will soon restore our negotiations in Vienna," he told reporters after talks with Russian Foreign Minister Serge Lavrov.

The 2015 nuclear deal gave Iran sanctions relief in return for tight controls on its nuclear program.

In 2018, then-US President Donald Trump withdrew from the multilateral accord and began reimposing sanctions.

Tehran has gradually rolled back its nuclear commitments since 2019.

US President Joe Biden reversed Trump's decision to pull the United States from international negotiations on curbing Iran's nuclear ambitions.

But talks in Vienna to revive the deal have been at an impasse since June, when Iran's ultraconservative new President Ebrahim Raisi was elected.

Lavrov said Wednesday that the negotiations "should be resumed as soon as possible," and called on the United States to return to its obligation under the accord.
Iran suspected behind cyberattack on Mideast aerospace, telecom firms
Security researchers on Wednesday published a report tying cyberattacks on a number of aerospace and telecommunications companies, mainly in the Middle East, to Iranian state-sponsored groups.

MalKamak, a cyberespionage group believed to be tied to other known Iranian government-sponsored groups such as Chafer APT (also known as APT39 or Remix Kitten), was responsible for the recent hack attack, US-Israeli cybersecurity firm Cybereason reported.

The company did not name specific victims, but said they mainly included a "select few" companies in the Middle East, with others in the US, Europe and Russia. Though Israel was not mentioned, Israel's Channel 12 news reported that Israeli companies were among the list of targets in the Middle East, without providing a source or details.

According to Cybereason, the end goal of the hack was the theft of information about their infrastructure, technology, and critical assets.

The Iranian group used a remote access Trojan called ShellClient, which had been in use since at least 2018, to obtain information from the companies. Cybereason said the threat was still active as of September.

The Trojan itself is controlled via the Dropbox file-sharing platform, which apparently made it difficult to detect.