From Ian:
The Israel test of the Democratic Party
The radical left, it seems, never misses an opportunity to snub the Jews and vilify the Jewish state. True to The Israel test's thesis, this attitude has not been relegated to criticism of Israel but has evolved into a politics of victimhood, a self-loathing of America.

Yet antisemitism is not a winning issue in the free world, and in America, these strident voices still represent a fringe minority of the Democratic Party. The recent special election in Ohio's 11th District bears this out. Backed by socialist Sen. Bernie Sanders (I-Vt.) and the Squad, a radical leftist, Nina Turner, at one point enjoyed a 35-point lead in the polls. But as the election approached, her advantage narrowed. Ultimately, she lost the race to Shontel Brown, a centrist Democrat and friend of Israel supported by Hillary Clinton and the Congressional Black Caucus. The proof is on the ballot.

The defeat of the leftist radicals is not just an American phenomenon; a similar result occurred in the U.K. in 2019. Labour Party leader Jeremy Corbyn single-handedly alienated the British Jewish community with his antisemitic and anti-Zionist rhetoric and positions. This community represents only 0.5% of the general British population. Nevertheless, in late 2019 Corbyn suffered a massive defeat in the elections, with the worst Labour showing since 1935. In 2020, he was suspended from the Labour Party.

In the U.S. Congress, radical leftists remain but marginal group, the Squad notwithstanding. And the American public soundly passes the Israel test. To stay vibrant and relevant, the Democratic Party needs to do the same. It must unite around its support of Israel and disavow the radicals who are out of touch with the American public.

This is a pivotal moment for the Democratic Party. To keep from splitting at the seams, Democrats must choose to stand with Israel, as they historically have and as most of them continue to do. If the Democratic Party recognizes that the Israel test will determine its future, it can muster the integrity to withstand the radicals, reclaim its time-honored support for Israel, and return to the deserved vitality it once enjoyed.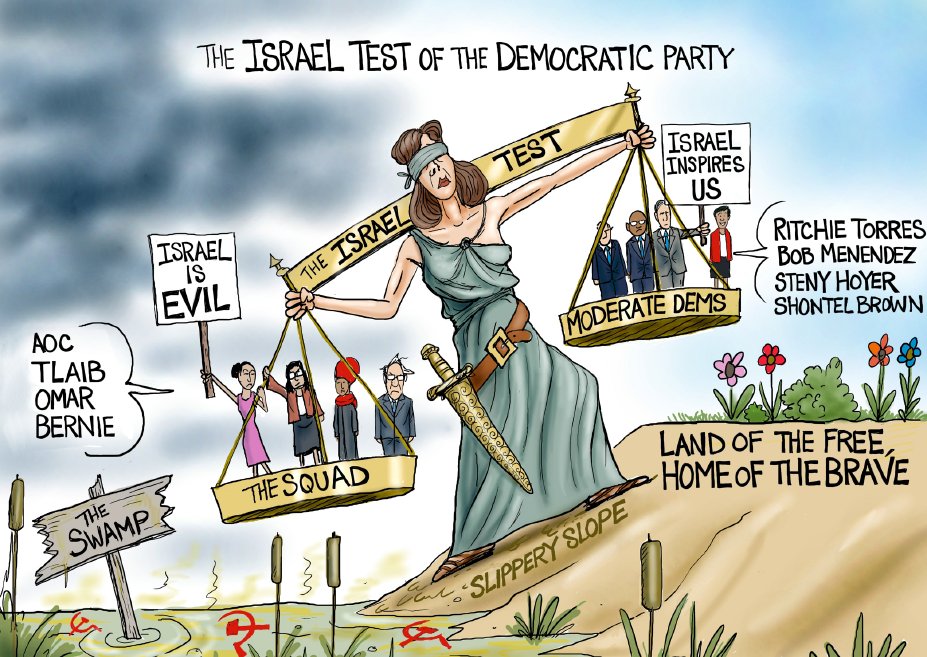 Caroline Glick:
Progressives can't handle inconvenient truths
The leftist-progressive camp's relationship with reality is at best ambivalent and more often than not pathological. For progressives, the narrative, rather than reality is what counts. According to the leftist-progressive narrative, antisemitism in America is the provenance of the political right, not the left. As a result, Barber merely "echoed" European blood libels that are deeply dangerous and harmful to the Jewish community. He didn't deliberately craft and disseminate slanderous statements to harm the Jewish state and its supporters in America.

Wiesel gave Barber a pass for his antisemitism initiative not because there is any question about his views – he stated them plainly and publicly. Wiesel gave him the benefit of the doubt because Barber is a progressive. And as a progressive, Barber can't be an antisemite. He can only be ignorant. And his ignorance can be remedied through a "conversation," and maybe a trip to Israel.

In a similar fashion, in the leftist-progressive narrative, the Palestinians are the victims of "Zionist colonialists." For progressives, champions of the Palestinian struggle against Israel must be good people because they are on the side of the oppressed. On the other hand, those who oppose the Palestinians and side with Israel must be bad, because Israel is the bad oppressor.

Both Lapid and Wiesel are soft progressives. As such, they try to be simultaneously on the side of reality and on the side of the narrative. But they can't, because there is no connection between the two.

Barber isn't interested in learning the truth about the Palestinians' hundred-year war against the Zionist movement and the Jewish people. He is interested in attacking the Jewish state. And Zank and Boston University want to help him to achieve his goal by giving him a pulpit embossed with the name of one of Israel's greatest late champions.

Likewise, the EU, the Ford Foundation, the Open Society Institute, the UN and EU member states don't fund organizations that facilitate the Palestinian war against Israel, including terror groups because they are ignorant of their goals. The donors fund these organizations because they support their goal of destroying the Jewish state.

Labor leader and Transportation Minister Merav Michaeli, Meretz head and Health Minister Nitzan Horowitz and their fellow government ministers are harshly criticizing Gantz's designation of the six Palestinian groups as terror organizations for two reasons. First, their partners on Israel's far-left from B'Tselem, Yesh Din, Breaking the Silence, Peace Now, the Association for Civil Rights in Israel and others are funded by the same donors that fund the terror groups. And second, Israel's far-left politicians are critical of Gantz's move because they have adopted the progressive camp's narrative of Palestinian victimization at the hands of their countrymen.
Hating Jews is Becoming a Leftist Purity Test
The answer is all around us.

Compelling people who used to be Democrats, then liberals, then progressives, and finally dogmatic leftists to jump through one more hoop makes them more willing to do anything.

And if there's anything that history teaches about the Left, from Stalin to Mao, from Che to Pol Pot, from Kim Jong-Il to Mengistu there will come a time when ordinary people will indeed be expected to do "anything", whether it's to kill or to be killed in the name of the revolution.

Anti-Semitism is just one more stop on the extremist expressway. Like critical race theory and much of the rest of identity politics, it divides people into those who deserve to be beaten and those who deserve to do the beating to distract everyone from the fact that the leftist ideology of victims and oppressors is really about creating plenty more of both as grist for its political mill.

The Sunrise Movement claims that the planet is on the verge of destruction and Black Lives Matter insists that the greatest threat to black people are police officers, both are absurd lies, but like anti-Semitism they're really weaponized distractions for a massive power grab.

Meanwhile the same American Jewish establishment that was convinced that the answer to anti-Semitism was social justice can't help but double down on it even as it is becoming inescapably obvious that social justice isn't the answer to anti-Semitism: it is anti-Semitism.

Organizations like NCJW or RAC embrace the extreme margins of the Left and are baffled when the anti-Semitism from those margins not only intensifies, but burns hotter than ever. The purity tests intensify with each concession: each willingness to embrace Sarsour, Omar, and whatever leftist social justice bigot follows on their heels only leads to worse hatred.

The leftist anti-Semitism that began on college campuses is defining a leftist America.
Melanie Phillips:
The crucial gift of being 'a people apart'
Distressingly, more and more Jews are turning against Israel and recycling anti-Jewish narratives.

This is particularly true in America, where the majority of Jews support the Democratic Party which has largely signed up to "intersectionality," the dogma of overlapping systems of presumed prejudice based on race, gender and class.

Earlier this year, David Bernstein, the former head of the Jewish Council for Public Affairs, launched the Jewish Institute for Liberal Values.

This aims to counter the core of intersectionality — critical social justice theory — that divides the world into oppressors and oppressed along Marxist lines. This theory also places Jews squarely in the oppressors' camp, holding that they are not worthy of self-determination or permitted self-definition.

Bernstein is so worried by the embrace of this dogma by liberal Jews and the way it has captured mainstream Jewish organisations that he wants a "strategic reset" for the Jewish community.

In an essay for eJewish Philanthropy earlier this month, he wrote: "Aligning ourselves too closely with the progressive movement, especially insofar as such alignment requires conformity to its pieties and credos, gives succour to an ideology that will ultimately harm us. Many of the civil rights causes supported by the progressive left are no longer consonant with Jewish interests and values".
Judith Butler: https://t.co/dYPeVIQH4G pic.twitter.com/gf1J9bY4Mw

— David Hirsh (@DavidHirsh) October 29, 2021
We've waited 24 hours to see if @jvplive would commemorate the deadly terror attack in the Tree of Life synagoge in Pittsburgh. Exactly 0 tweets were found. Why is it that they don't care about Jews, yet call themselves "Jewish"? pic.twitter.com/EbnKHUwfNI

— Club Z (@ClubZTeens) October 28, 2021
Using Nazi symbols to protest vaccines is disgraceful
Protecting public health should never be equated to the horrors committed by the Nazi regime during the Holocaust. Encouraging vaccinations does not compare to schemes hastening the mass murder of millions of innocent people. Tying the Holocaust to anti-vaccine and anti-mask protests is as shocking as it is inaccurate and offensive. Policies designed to save lives do not equate with policies devised to mete out death.

Such offensive analogies by opportunists and fringe groups are an act of moral outrage. By brandishing distrust or outright disdain of research and science, they ridicule history.

To be sure, we respect and defend the right to protest. Freedom of expression and the right to assemble are core American values which we cherish. Even so, we condemn the use of antisemitic and other hate-filled slurs or symbols, which are causing deep pain and offense, intentional or not.

We believe Utah must be better than this. We believe we can disagree without hating each other.

We can make Utah an example to the nation.

We have witnessed how anti-mask and anti-vaccination demonstrations have become hotbeds of Holocaust trivialization and antisemitic conspiracy theories across the United States and abroad.

It is a testament to the need for continued and intensified Holocaust education across all ages. And it demands a strong and unequivocal call to action.

We must return to civility, whenever we disagree, through reasoned and thoughtful engagement in our collective desire to end the COVID-19 global pandemic.

Utahns can lead the way.
Israel obsession persists at top of Labour, study reveals
New research marking tomorrow's first anniversary of the damning EHRC report on Labour antisemitism has revealed that the highest echelons of the party remain obsessed with Israel and tweet about it more than they do on the horrors unfolding in Yemen, Syria and Iran combined.

Labour leader Sir Keir Starmer is facing calls to act after an analysis of frontbenchers' Twitter activity over the past 12 months showed that shadow ministers posted or shared 832 tweets about Israel and the Palestinians compared to 674 on Iran, Yemen and Syria.

The study, by anti-extremism group Mainstream UK, also showed that the number of frontbench tweets about Israel and the Palestinians was more than twice the number of posts about Russia (293) and almost twice the number about China (483).

Only Afghanistan provoked more posts after Britain and the US ended their 20-year military presence in August, fuelling a humanitarian crisis as thousands sought to flee the country in now in the hands of the Taliban.

Mainstream said the individual posts, while not antisemitic in themselves, showed an ongoing obsession with Israel that was not confined to the hard-left of the Labour Party and set the tiny country apart from any one of more than 200 other territorial conflicts across the world.

According to the international definition of antisemitism adopted by Labour, holding Israel to standards "not expected or demanded of any other democratic nation" could be seen as antisemitic.
Starmer's clean-up is not over
The new research from the anti-extremism campaign Mainstream shows the state in which Jeremy Corbyn's terrible leadership left Labour: obsessed with Israel, blaming one side for a complex conflict and hardly a word to say about Hamas.

No one thinks the Israeli-Palestinian conflict is not important, but with more than 200 territorial disputes going on around the world, why does this one attract so much attention from Labour's frontbench? Over 233,000 people have died in Yemen's bloody civil war and twice as many — including thousands of Palestinians — have been killed in Syria. Iran has played a major part in prolonging both and threatens not just Israel's existence but the whole region with its nuclear weapons programme.

Despite all that, Labour's shadow ministers have tweeted about Israel and Palestine more than Syria, Yemen and Iran put together.

Some of the tweets – those by Lisa Nandy and her team, for example – are fair and balanced, but so many of the others are a complete disgrace in the way they demonise Israel and hold it to standards never applied to other countries or conflicts.

Where is the widespread condemnation of the genocidal terrorists of Hamas who run Gaza the way Isis ran its caliphate in Syria, fire thousands of rockets at Israeli civilians and are the biggest barrier to solving the conflict?
Emina Abraham apparently defended Grace Abdo when she screamed at Cllrs trying to adopt @TheIHRA definition of antisemitism

Bravo @kier_starmer on your inspired choice of Emina as head of Labour complaints, there will be antisemites in @UKLabour forever 1/https://t.co/DiqLupq5i2

— GnasherJew®????? (@GnasherJew) October 28, 2021
I am shocked, *shocked*, I tell you, that the @ucu General Secretary who oversaw the deliberate erasure of Jews from its 2019 Holocaust Memorial Day events cannot simply condemn antisemitic behaviour by fellow union members... ?? https://t.co/mT2JMrOf2I

— Queen of Broccoli ???? (@jobellerina) October 27, 2021
Council worker who claimed 'Zionists collaborated with Nazis' wins back job
A London council must reinstate a worker who was filmed claiming that the Zionist movement collaborated with the Nazis – and pay him roughly £70,000, an appeals tribunal has held.

Stan Keable, an employee of Hammersmith and Fulham Council, was filmed making the remarks in an exchange with a protester on the 2018 Enough is Enough demo against antisemitism in Labour.

The self-proclaimed anti-Zionist was on a counter-demo with Jewish Voice for Labour when he made the remarks, captured by a third party in a widely-viewed Twitter video.

After his comments were criticised by local MP Greg Hands and the leader of the council, town hall officials fired the public protection and safety officer, claiming misconduct.

But a tribunal ruled that he was unfairly dismissed, and ordered he be reinstated with compensation for lost earnings – which was upheld on Tuesday after an unsuccessful appeal from the council.

Ian Austin, the dismissing officer, told the tribunal that the council accepted that the remarks were intended to be a reference to the 1933 Haavara Agreement.

The town hall also said it accepted that Mr Keable made the comments in a personal capacity, and did not publish the remarks himself.
New York pension fund joins exit from Unilever over Israel restrictions
New York's $268 billion state pension fund on Thursday became the latest to restrict its holdings in Unilever Plc (ULVR.L) in response to sales limits imposed by the company's Ben & Jerry's ice cream brand in the Israeli-occupied Palestinian territories.

In a statement sent by a spokesman, New York State Comptroller Thomas DiNapoli said a review found the company and its subsidiary "engaged in BDS activities," referring to the "Boycott Divestment Sanctions" movement that seeks to isolate Israel over its treatment of the Palestinians.

The New York State Common Retirement Fund has total Unilever equity of $111 million, the spokesman said. The fund is the third-largest U.S. public pension fund.

Pension officials in other states including New Jersey, Arizona and Florida have also moved to sell shares in Unilever or restricted the purchase of new stock for similar reasons.
David Unterhalter and BDS: Not the first campaign against Jews being judges
BDS says that somebody connected to his Jewish community cannot be a judge because the values of his community are incompatible with the values of his country.

If a Jewish person cannot be a judge, can they be a doctor or a teacher? Can they be a writer or a social worker? Can they even be tolerated as a fellow citizen?

You might think that an organisation which teaches South Africans to regard most Jews and their communal organisations as racist and therefore evil, might be shy to enter a discussion about antisemitism.

Jews have been targeted before by movements which said that Jewish values were incompatible with the values of the wider community around them. This is not the first time that people campaigned against Jews being judges. This is not the first time that people looked at Jewish judges and saw only representatives of "the Jews" wearing the robes, rather than judges who happened to be Jewish. This is not the first time that Jews have been subject to boycott campaigns.

Having defined our Zionism, the BDS campaign proceeds to attempt also to define the antisemitism that we experience.
Antisemitic graffiti discovered at @LSU (Lockett Hall) including the words 'Heil Hitler' and a swastika

This is what it's like being a Jewish college student in America 2021 - dealing with the same antisemitism our grandparents and great grandparents dealt w/in Nazi Germany 1939 pic.twitter.com/fU0NLfO5uP

— StopAntisemitism.org (@StopAntisemites) October 28, 2021
In Hadid family, anti-Israel apple doesn't fall far from tree
The Hadid family are back at what they do best: inciting against Israel. Mohamed Hadid, the real estate developer and father of supermodels Gigi and Bella, shared a photograph on Instagram on Wednesday that showed a Palestinian woman allegedly being pulled away from her son's grave by Israeli police officers before the site was to be demolished to make way for a theme park.

The photograph was a screenshot of a video originally posted on the Islamic Quotes and Muslim News Instagram page that showed a Palestinian mother crying over her son's grave seemingly being pulled away by someone who looks like a police officer.

The original post, which received over 145,000 likes, was captioned, "A Palestinian mother was forcibly removed from her son's grave because the Israeli oppressors want to build a theme park over the cemetery. They won't even allow the dead to rest." The video was most likely taken during construction works near a Muslim cemetery in Jerusalem.

Hadid, who has 1.3 million Instagram followers, accused Israel of "not respecting the dead." His post garnered thousands of anti-Israel comments and more than 42,900 likes.

"They don't respect the living. How do you expect them to respect the dead?" one user wrote. Others described the event as "vile," sickening" and "an absolute disgrace." Another outraged user wrote, "Allah is watching and he will avenge every innocent Palestinian affected one day be sure of it."

The Israel Nature and Parks Authority denied the allegations and said it did not conduct construction work within the cemetery itself. It further stressed that Israel was not building a theme park, but a national park that would "benefit the entire public, especially residents of the area."
UEFA Announces Disciplinary Penalty Against FC Union Berlin Following Antisemitic Abuse at Match Against Maccabi Haifa
The governing body of European soccer on Friday announced disciplinary action against German club Union Berlin following the antisemitic actions of some of its fans during a Europa Conference League match against Israeli side Maccabi Haifa.

Two section of Union Berlin's stadium reserved for home team supporters will be closed for the match against Dutch side Feyenoord on Nov. 4, UEFA said. UEFA ordered the display a banner with the wording "#NoToRacism" and the UEFA logo in those sectors of the stadium.

Union Berlin play at the Olympic Stadium in the German capital — a venue originally built for the 1936 Olympic Games staged by the Nazi regime.

Union's 3-0 victory over Maccabi Haifa was marred by ugly antisemitic chants and threatening behavior directed at the Maccabi fans by a section of Union's support. In a tweet posted during the match, members of the German-Israeli Society Youth Forum who were in attendance reported that they were "threatened by Union fans, pelted with beer and insulted, among other things, as 'sh**ty Jews.'"
French court clears far-right party founder Le Pen over antisemitic 'oven' quip
French court on Friday cleared the 93-year-old founder of France's main far-right party, Jean-Marie Le Pen, of charges of inciting racial hatred with comments targeting a Jewish pop singer.

Le Pen has a string of hate speech convictions that eventually prompted his daughter Marine Le Pen to expel him from the National Front's leadership in 2015, in a bid to achieve mainstream respectability.

The senior Le Pen has continued to spark outrage with statements regarding Jews, Muslims, blacks and immigrants, including with his insistence that the Nazi gas chambers were just a "detail" of World War II history.

The latest trial stems from a 2014 video on the party's website in which Le Pen railed against artists who denounced his extremist stances, including Madonna and French tennis star-turned-singer Yannick Noah.

Asked about the French singer and actor Patrick Bruel, Le Pen referred to his Jewish origins with a pun evoking the Holocaust — "I'm not surprised. Listen, next time we'll do a whole oven batch!"
Far-right group Patriotic Alternative flyer Jewish homes in Borehamwood calling to ban kosher meat
It has been reported that the far-right group Patriotic Alternative has posted flyers through Jewish homes in Borehamwood calling for the ban of kosher and halal meat.

Patriotic Alternative is known for its efforts to recruit youth to its white nationalist ideology. Previously, the far-right group published an online "alternative" home school curriculum condemned as "poison" and "hateful" and attempted to recruit children as young as twelve through livestreaming events on YouTube, according to The Times.

It is led by the former head of the youth wing of the BNP, Mark Collett, who is reported to have dabbled in Holocaust denial, collaborated with the infamous American antisemite David Duke, and espoused antisemitic and racist views.

Police have reportedly increased patrols in the area. A Hertfordshire Constabulary spokesperson said: "We are aware a number of residents in Borehamwood have received leaflets through their doors that have caused distress and offence," said a force spokesperson. While no crimes have been committed, this has been recorded as a hate incident and we would like to reassure you that we take such matters very seriously. As a result, you will be seeing additional police patrols in the area."

Leader of the Hertsmere Labour group, councillor Jeremy Newmark, said: "[The leaders of the Conservative and Liberal Democrat groups] share my view that there is no room for Patriotic Alternative in Hertsmere. They will not be allowed to get a foodhold round here."
U.S. judge sentences Manitoban ex-reservist Patrik Mathews to 9 years in prison for role in neo-Nazi plot
The evidence presented in court demonstrates the pair subscribed to what's known as accelerationism ideology, a belief held by white nationalists that accelerating the collapse of society through violence would lead to a white ethno-state, said Elizabeth Yates, a senior researcher National Consortium for the Study of Terrorism and Responses to Terrorism (START) at the University of Maryland.

The terrorism enhancement indicates the judge accepts that Mathews and Lemley were trying to advance these beliefs.

"They're not merely waiting for this to occur, they are hoping to take advantage of specific instances and events to try to create more violence," she said.

Yates said members of The Base espouse some of the most extreme and explicitly racist views in all of the alt-right movement.

"Their rhetoric are some of the worst of the worst."

A third defendant, William Bilbrough IV, was sentenced to five years in prison last December for helping Mathews enter the U.S. illegally.

Mathews is also facing separate charges for what is described as the ritual beheading of an animal during a paramilitary training camp in Georgia.
Jewish group slams 18-year-old granted Nazi scholarship
This week, a prominent Jewish group slammed a German neo-Nazi group for hosting an 18-year-old Spanish "fascist."

In February, Isabel Peralta received a 10-month scholarship from neo-Nazi group "Der III Weg" (the Third Way), based in Dusseldorf, "to learn techniques for propaganda and combat."

She said it was her "absolute obligation to fight for Spain, to fight for Europe, which are now weak and have been sold off by the enemy. Only the disguise will differ, the enemy will always be the same, the Jew... The Jews are to blame and the Blue Division fought for this."

The Third Way is known to hate refugees, particularly those of Muslim descent.

The Simon Wiesenthal Center's Director for International Relations Shimon Samuels fired back, calling Peralta an antisemite who should be charged for hate speech. He warned to "watch out for Isabel."
Investigator Says Maine Homeowners Wrongly Evicted Black Jewish Tenant After He Refused to Remove Mezuzah
A pair of Maine homeowners discriminated against one of their tenants because he was a Jewish man, a state investigator has found.

Local NBC affiliate News Center Maine reported Thursday that the investigator recommended to the Maine Human Rights Commission that it rule Mark and Michelle Fortin evicted the man based on his religion after he placed a mezuzah on his door.

The man, who was not identified, is also Black.

He was a tenant of the Fortins' since June 2020, and placed the mezuzah in Feb. 2021. Two months later, he was told to remove it.

The tenant refused, citing the Jewish stricture to affix the ritual scroll to his doorpost. The Fortins then terminated his lease, and asked the police to monitor him during a final walkthrough of his apartment.

The Fortins acknowledged that the mezuzah was the reason for the eviction, saying it constituted a violation of the lease. But they also claimed that the tenant had kept a trailer on the property that was not removed as promised.
Israel Sees World's Steepest Decline in COVID Morbidity
With 41 percent fewer cases per day, Israel this week saw the biggest drop in coronavirus morbidity anywhere in the world, according to global trackers.

Only 651 new cases of coronavirus were logged on Thursday, compared to the average of between 5,000 to 6,000 new patients recorded daily two months ago.

According to the Health Ministry, the number of active cases was at 9,354 on Friday morning, dropping below the 10,000 mark for the first time in more than three months.

The drop in morbidity has led health officials to estimate that the fourth wave of the pandemic, driven by the highly contagious delta variant, was definitively over in Israel, allowing the relaxation of travel restrictions.

The achievement has been chalked up to the Jewish state's world-leading vaccination campaign, including a rollout of the booster dose of the vaccine received by nearly 4,000,000 Israelis.

The number of patients in serious condition on Friday morning was at 227, including 133 on artificial lung ventilation.

Six people have died from the virus in the past 24 hours, bringing Israel's overall pandemic death toll up to 8,081.
Trials for Israeli COVID-19 vaccine pill set to kick off in South Africa
The Israeli inventors of an oral coronavirus vaccine have received the green light to start clinical trials in South Africa, and expect to be up and running next month.

Oramed Pharmaceuticals has received clearance from the South African Health Products Regulatory Authority to start patient enrollment in a Phase 1 clinical trial for its Oravax pill.

"We're excited to be moving ahead with clinical trials of our oral COVID-19 vaccine in South Africa," Nadav Kidron, CEO of Oramed, the company behind the pill, told The Times of Israel, adding that as boosters are increasingly recommended, his pill could provide an effective way of keeping vaccinations up to date.

The South Africa trial is expected to run concurrently with a Tel Aviv trial that will start soon when approvals by Israel's Health Ministry are finalized.

The vaccine will be suitable for use as an initial inoculation or a booster, Kidron added, noting that for either use it has "many benefits."

He said: "These include ease of distribution and the fact that most people prefer to take a pill rather than a shot, especially in Africa. Especially in countries with low vaccination rates, a safe, effective and easy to swallow vaccine could be a game-changer in combatting the virus and getting life back to normal." (h/t Charlie in NY)
Global Ranking Puts Tel Aviv University 5th for Entrepreneurship, as Only Non-US Institution
Tel Aviv University scored fifth place in the world for entrepreneurship, according to a global ranking of higher education institutions conducted by innovation policy advisory and research firm Startup Genome.

The only non-American institution ranked in the top 10, Tel Aviv University, came in behind Stanford University, MIT, UC Berkeley and Harvard. Other leading institutions in the 2021 ranking included Cornell, Wharton School of the University of Pennsylvania, and Columbia University.

"This is a very significant achievement for both Tel Aviv University and the State of Israel," commented Prof. Moshe Zviran, Dean of the Coller School of Management at the Tel Aviv University. "The Startup Genome ranking is a standard of entrepreneurial excellence of the highest level in the world."

The ranking is measured by the involvement of alumni of the world's top universities in entrepreneurship, and in the establishment of "scaleup" companies that have advanced beyond the startup stage and are worth at least $50 million. According to the ranking, about 1,300 Tel Aviv University alumni have founded active companies in a wide range of fields, with about 40 making it to the status of scaleup companies.

"Israel in general, and TAU as its leading entrepreneurial university, form fertile ground for uniquely creative young entrepreneurs who establish independent companies and hold key positions in the world's leading corporations," said Prof. Zviran. "The rich toolbox which our students acquire during their studies serves them well when they enter the job market."
Special project: Israel's complete list of unicorns
Covid-19 provided the boost - and Israel has become a production line for unicorns that are rapidly reaching the coveted IPO. With some of these tech companies starting to reach a value of $10 billion, Israeli companies are no longer in a hurry to leave overseas in an attempt to establish their status and they continue to conduct their operations from within Israel.
AdTech - AppsFlyer, Innovid Media
AI - Gong.io, Earnix
Big data - Pagaya Technologies, Redis Labs, Infinidat, BigID, Sisense
Cloud Computing - OwnBackup, Cato Networks, Drivenets
Crypto - Fireblocks, Celsius
Cybersecurity - Snyk, Cybereason, Transmit Security, Armis Security, Wiz Inc., Axonius Solutions, Orca Security, Aqua Security, Claroty
E-commerce - Forter, Trax Solutions Retail, Yotpo, Sunbit Payment Software
Fintech and Insuretech - eToro, Rapyd Financial Technologies, Next Insurance Inc, Melio Payments Inc, Tipalti Solutions, Fundbox, HoneyBook Event Planning
Gaming - Moon Active
HealthTech - K Health, Insightec, OrCam Technologies
HRTech - Papaya Global, Deel, Hibob
Mobility - StoreDot, Hailo Technologies
Printing - Landa Corp
Semiconductors - NextSilicon, Valens Semiconductor
Software and Applications - VAST Data, Via Transportation, Gett Inc, Bringg, JoyTunes, Lightricks, Verbit Software
Japan's Renesas buys Israeli Wi-Fi chipmaker Celeno for $315m
The Japanese chipmaker giant said that the Ra'anana-based company's proven Wi-Fi capabilities will strengthen its low-power connectivity.

Japanese chip giant Renesas Electronics Corp. (TSE 6723) announced today that it has entered into a definitive agreement to acquire Israeli Wi-Fi chipset solutions developer Celeno Communications in an all cash deal for $315 million including milestone payments.

Renesas said that the deal has been unanimously approved by the boards of directors of both companies and should close by the end of calendar year 2021, subject to customary closing conditions.

Headquartered in Ra'anana, Celeno has developed a wide range of wireless communication solutions, including advanced Wi-Fi chipsets and software solutions, for high-performance home networks, smart buildings, enterprise and industrial markets. Celeno produces the industry's most compact chipset offerings for Wi-Fi 6 and 6E deliver strong Wi-Fi network performance and increased security with low latency and low power consumption.

Renesas said that Celeno's field-proven Wi-Fi and software capabilities are highly complementary to it and bring a combination that creates comprehensive, end-to-end embedded solutions for addressing the fast-growing markets for low-power connectivity in IoT, infrastructure, industrial and automotive applications.
December fast approaching. Big month for Israel.

Very, very bad month for the boycotters. Miss Universe in Eilat and the UCI Track Championship Finals in Tel Aviv.

Not sure that's exactly what the BDS had in mind! pic.twitter.com/mYI6FjXIzs

— Self Declared Zionists (@SussexFriends) October 29, 2021
Newly Discovered Documents of Yemenite Olim Testify to Jewish life in Jerusalem's Kfar HaShiloach
Original documents belonging to Yemenite Olim from the 1880s who lived in Kfar HaShiloach were recently discovered and brought to light. These documents are thrilling testimonies of the Jewish life in the village situated right outside the walls of Jerusalem's Old City.

The Jewish presence in Kfar HaShiloach dates back to 1881 when Yemenite Jews came to Jerusalem and established a community, and at its height, ran five synagogues and numbered some 160 families.

Encountering Arab violence and attacks for several years, the community was forced to finally abandon the area in 1939, and the synagogues were desecrated by Muslim attackers.

Israel reunited its capital in 1967, and the Jews began to return to the area some 20 years ago, reacquiring one property after another, including some of the synagogues.

The newly discovered documents were part of an estate left by Mazal Cohen, a member of the Tabib family, a Palmach fighter who was a candidate to light a beacon in 2017 during Israel's 69th Independence Day. they were handed over by her son Ronen Cohen to Gadi Bashari, Chairman of the Kfar HaShiloach Public Council and member of the board of directors of the Zionist Archives.
What a joy & privilege it was celebrating 20 years of @IsraAID, a truly remarkable #Israeli humanitarian organization, helping communities around the world affected by disaster. They are not only first on the ground, but are committed long after everyone goes. Bravo, so proud! pic.twitter.com/pfL61SKLmU

— Arsen Ostrovsky (@Ostrov_A) October 28, 2021