From Ian:
Ruthie Blum:
The bigger picture behind the narrow Gantz-NGO controversy
It's hard to believe that Israel's defense minister would lie about such an event, the veracity of which would be easy to check. Nor would it make sense for him to have targeted specific groups without evidence. Moreover, the watchdog group NGO Monitor said that Gantz's announcement confirms what its research has shown for years.

Whether the defense minister is right or wrong about the NGOs he singled out, however, the brouhaha brings to light two larger points that the Israeli government keeps trying to deny or sweep under the carpet. One is that false assertion that the "diversity" of political parties that make up the coalition is an advantage, not a hindrance.

The second is the ridiculous claim that the government – now led by Prime Minister Naftali Bennett but squeezed hard by parties to his left – has the Biden administration in the bag. Oh, and that this "change government" will "bridge" the partisan Democrat-Republican divide on Israel that former Prime Minister Benjamin Netanyahu supposedly created and cultivated.

Well, the PFLP-NGO scandal is only the latest among many internecine spats that have been rocking the shaky coalition. This doesn't mean that it's going to fall, mind you, as every one of its members still has more to lose than gain by quitting and toppling it.

But the explosion illustrates, yet again, that the only way for it to function is through the capitulation – not "compromise," as its champions like to euphemize – of one side to the other. And the right hasn't been winning the tug of war.

The genie that Gantz let out of the bottle belies the similar pipe dream of improved relations with the Democrats across the ocean. As anyone paying attention is aware, the battle in the United States, like that in Israel, is ideological.

Ironically, the left knows this full well. It's about time for Bennett and his buddies to acknowledge that the split within both countries and between the two cannot be mended with masking tape.

Gantz, who's being pummeled by the Palestinians and their apologists at home and around the world, is being forced to learn that lesson. As someone who himself campaigned on a ticket of "restoring" relations with the Democrats, he ought to be eating his hat – and a hunk of humble pie – while sticking to his guns against those groups whose work and cashflow should be stopped.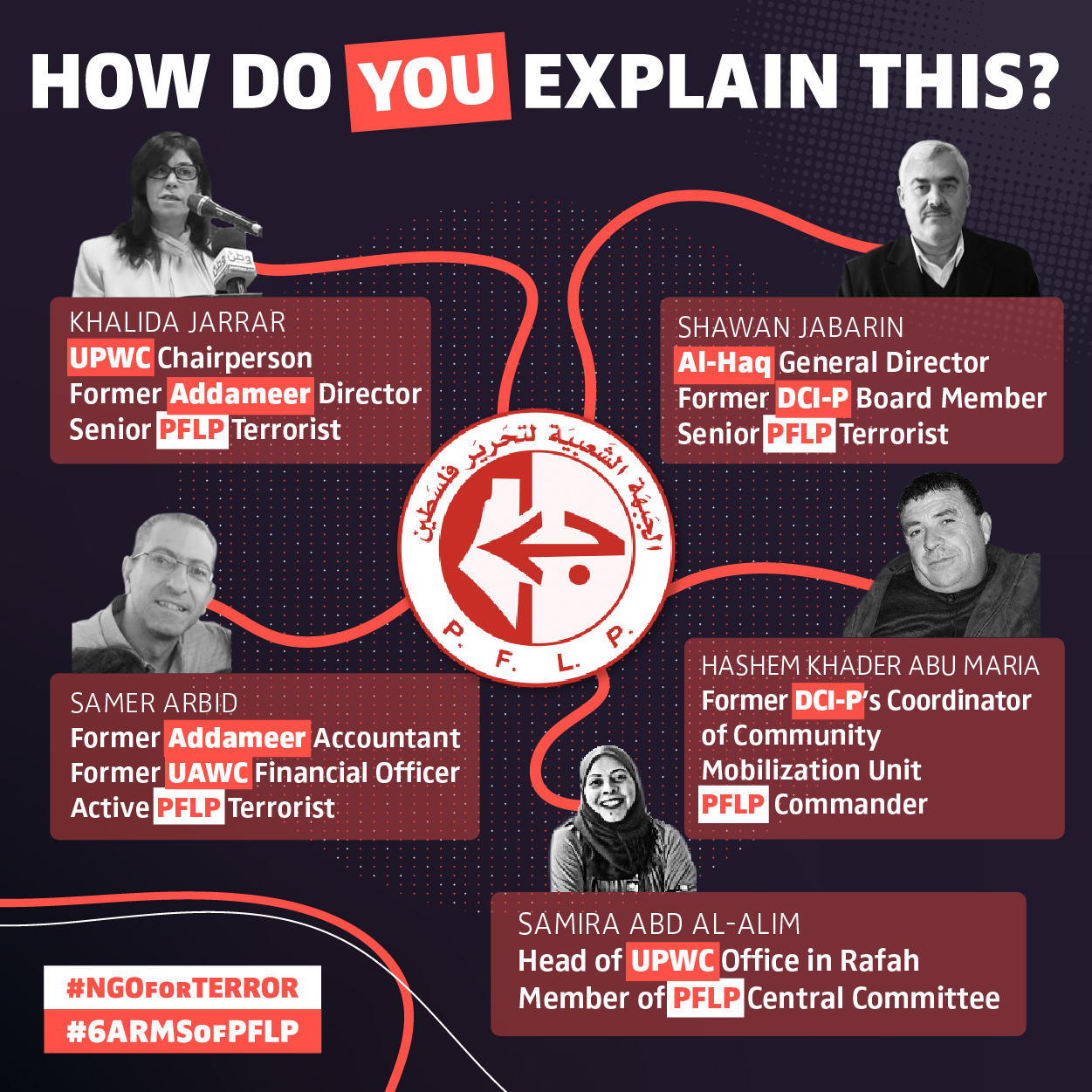 Richard Kemp:
Jerusalem Consulate: A Nail in the Coffin of Peace
This may seem like just another diplomatic facility to issue visas, promote trade and take care of US citizens, with no greater consequence than the US consulate in Edinburgh, UK. But it is far more than a mere office for paper-shuffling diplomats. It amounts to a de facto US embassy to the Palestinians on Israeli territory. Its true purpose is to undermine Israeli sovereignty in its own capital city and will jeopardise future prospects for peace between Israel and Palestinian Arabs.

As well as betraying Israel, Biden's irresponsible diplomatic signalling — which also appeases his hard-left supporters — is a betrayal of the Palestinian people. They have suffered too long and too hard under the hostility of their leadership, which has consistently refused to entertain all proposals for peace with Israel that could lead to the establishment of their own state.

Successive Palestinian leaders have been encouraged in their intransigence by the US and Europe who have for decades extracted concession after concession from Israel while Palestinians make none.

The intended consulate in Israel's capital will... encourage greater support for Hamas, the terrorist group that rules Gaza....

That this is not mere bureaucratic reshuffling can also be understood from the Biden administration's determination to do it in the face of Israeli government opposition and despite it potentially breaching Israel's Basic Law, US law and the 1963 Vienna Convention, which does not allow a consulate to be opened without host nation consent.

In addition, opening a consulate in the same city as an existing embassy — an unprecedented move — reinforces its immense political significance. Especially as there is no practical purpose for the new facility, with the embassy already incorporating a department devoted exclusively to Palestinian affairs.

Following his validation in Afghanistan of this damning indictment, Biden now has a chance at last to get something right by abandoning his plan to undermine a close ally, reduce the prospects of peace and sentence the Palestinian people to more decades of suffering.
i24NEWS:'This is the beginning of undoing the recognition of Jerusalem' says Prof. Kontorovich
Interview with Prof. Eugene Kontorovich, Director of the International Law Department, Kohelet Policy program.

Kontorovich analyzes the latest on Israel-US relations
Amb. Alan Baker:
Are the Palestinians Changing their Legal Tactics in the International Courts?
Palestinian Authority Chairman Mahmoud Abbas' desire to petition the International Court of Justice on the "issue of the legality of the occupation of the land of the Palestinian state and the relevant obligations for the United Nations and States around the world in this regard" opens a "Pandora's box" of questions.

A legal situation of "occupation" is, in and of itself, not inherently illegal. On the contrary, it is a legally acknowledged situation in international law and practice.

To raise the question before the international court as to whether there exists a "Palestinian state" would appear to be presumptuous and even pre-empt and prejudge the outcome of the negotiation process. There exists no internationally accepted and binding document attesting to the existence of any Palestinian state.

It is unclear if those advising the Palestinian leadership fully understand the distinction between the status and functions of the two different international judicial bodies, the International Criminal Court and the International Court of Justice.

The Palestinian leadership alleging before the UN and ICJ that Israel is violating the Oslo Accords would be ironic, in light of the long list of fundamental breaches of those accords by the Palestinians.

It remains improbable that the Palestinian leadership could establish any viable cause of action in the ICJ against Israel, based on the Oslo Accords.
For Biden and Bennett, the honeymoon is over - analysis
It was a young Joe Biden, threatening aid to Israel over settlement construction, who was the target of former prime minister Menachem Begin's famous "I am not a Jew with trembling knees" remark.

And, lurking in the background is the matter of the Jerusalem consulate to the Palestinians, which the Biden administration wants to reopen and the relevant parties in the current government strongly oppose. Officials in Jerusalem say there is not much pressure from Washington on the matter. But there is a pervasive sense among those involved that the Americans may become more vocal on the matter after the budget vote – only a week away – even if there wasn't an actual agreement between the sides on timing.

Bennett has tried to get the Biden administration on board with an "agree to disagree" approach on settlements and on Jerusalem. In his own comments in briefings, as well as those of his aides, they say that they explain that there is a political deadlock in such a diverse coalition and he cannot take controversial steps, so settlement construction is only continuing in moderation and there will not be a consulate to the Palestinians on Israeli sovereign land.

The problem with that approach is that the political camp that the diverse coalition is holding back from building even more in the settlements is Bennett's own. It may not be as simple as Bennett himself deciding whether there will be a settlement freeze or not, but it's pretty close to that, and the Biden administration knows it.

Especially after the budget passes next week – if it passes – the shaky coalition will look like even more of an excuse. What's really going on is that Bennett's opposition to freezing building in Judea and Samaria and opening the consulate for the Palestinians is ideological, plus his only hope at getting votes in the next election is to appeal to the moderate Right, which won't stand for either of those things.

A clash between Bennett and Biden is inevitable, because they disagree with one another on matters of principle. The question is what amount of pressure will the Biden administration apply on those disagreements, and this week makes it seem like they are ramping it up.
We built peace for the region with Arab partners. Do not take us backwards by traveling with terrorists who pay their own to kill people in Israel.

Bad for US security -- both home and abroad.https://t.co/Dm7lYgbD3i

— Mike Pompeo (@mikepompeo) October 27, 2021
But the Israeli gov't must also understand that all its recent concessions to PA have in no way blunted @SecBlinken's hostility, and never will. https://t.co/qc0lpq9XXP

— Eugene Kontorovich (@EVKontorovich) October 27, 2021
Thank you to my dear friend @ShaharAzani for having me on @JBSTVORG, to discuss the one-year anniversary of the #AbrahamAccords, and the impact they've had inside #Israel and around the region.

cc. @sharakango @The_ILFhttps://t.co/kuBXSZGmDB

— Arsen Ostrovsky (@Ostrov_A) October 26, 2021
Republican senators introduce bill to block reopening of Jerusalem consulate
A group of 35 Republican senators has introduced a bill to block the Biden administration from reopening the US consulate in Jerusalem.

The "Upholding the 1995 Jerusalem Embassy Law Act of 2021" proposal, spearheaded by Senators Bill Cassidy, (Republican-Lousiana) and Bill Hagerty (Republican-Tennessee), aims to prevent the US administration from relaunching the de facto mission to the Palestinians in Israel's capital.

With Republicans lacking a majority in both houses of Congress and with no Democrat likely to back legislation aimed at thwarting a key Biden administration policy initiative, the GOP bill has virtually no chance of passing.

The consulate was shuttered by former US president Trump in 2019 and its staff were folded into the US embassy, moved to the city a year earlier, in what the Palestinians view as a downgrading of their ties with the US.

US officials maintain that reopening the consulate is simply a return to the pre-Trump status quo and part of Biden's pledge to renew relations with the Palestinians that were severed during the previous administration. Moreover, they point out that nearly a dozen other countries already operate consulates in Jerusalem that serve the Palestinians.

However, Israel is opposed to the Biden administration's plan to reopen the consulate, viewing it as an encroachment of their sovereignty in the city and one that will lead to a flood of other countries moving to open diplomatic offices in Jerusalem to serve the Palestinians.

"President Biden continues to push forward his inflammatory plan to establish a second mission in Israel's capital city of Jerusalem—one for the Israelis and a second one for the Palestinians—despite the fact that this plan violates the Jerusalem Embassy Act of 1995 and is completely opposed by the Government of Israel," said Hagerty in a Tuesday statement introducing the bill.
What's the point of @AIPAC? https://t.co/02wWlqBYpa

— Caroline Glick (@CarolineGlick) October 27, 2021
Israel declines to sign UN statement on China's treatment of Uyghurs
Israel chose not to sign a United Nations statement expressing concern about the welfare of the Uyghurs, a Muslim minority group in China that has been forced into "re-education camps," which some have likened to concentration camps.

While the United States, United Kingdom, Germany and Australia were among the group of 43 countries that signed the statement last week, an Israeli diplomatic official told The Times of Israel that the Israeli government had "other interests that it has to balance" in its relationship with China.

The two nations have grown closer over trade ties in recent years.

The U.N. statement calls on China to "ensure full respect for the rule of law and to comply with its obligations under national and international law with regard to the protection of human rights."

Israel's Foreign Ministry told The Times of Israel in a statement: "Israel expresses its concerns about the Uyghurs in various diplomatic tracks. One example of this was our signing onto the Canadian statement [on the Uyghurs] in June at the Human Rights Council. Our position on the issue has not changed."
Israel Among Candidates Being 'Considered' for US Visa-Waiver Status
Israel is one of four countries being considered by the United States for visa-waiver status, U.S. Homeland Security Secretary Alejandro Mayorkas said on Tuesday.

"We have four candidates in the pipeline: Israel, Cyprus, Bulgaria and Romania; we're very focused on the program," Mayorkas told a travel-industry gathering, Reuters reported.

Mayorkas also pointed to the economic and other "benefits" of allowing non-citizens to visit America for up to three months without a visa, according to the report.

Following Israeli Prime Minister Naftali Bennett's meetings in August with U.S. President Joe Biden, the White House stated that the latter emphasized that his administration would strengthen bilateral cooperation with Israel in multiple ways, "including by working together towards Israel's inclusion in the Visa Waiver Program." The two leaders directed their respective teams to "enhance consultations as Israel works on addressing the program's requirements," the statement continued.

Earlier in August, Mayorkas met with Israeli Ambassador to the U.S. Gilad Erdan, and the two discussed the issue of the Visa Waiver Program, administered by the State Department's Bureau of Consular Affairs.

Erdan told Mayorkas that Israelis who finish their national or military service and are looking to travel and work abroad, but not to make a permanent move, are often refused visas. After the meeting, Erdan said that Mayorkas had been "surprised" by the figures.
'It's an ilussion, it's a mirage. Don't make your visa free travel plans yet,' says @EVKontorovich on the #US visa waiver program with #Israel pic.twitter.com/kS3E6E7JtK

— i24NEWS English (@i24NEWS_EN) October 27, 2021
First public Israeli flight lands in Saudi Arabia
An Israeli private jet landed in Riyadh, Saudi Arabia on Tuesday morning, per KAN news, marking the first time a public flight from Israel has ever landed in the Kingdom of Saudi Arabia.

The news comes just a day after the first flight from Saudi Arabia landed in Israel, as an Emirati 737 Royal Jet landed in Ben-Gurion airport Monday evening.

This is the latest among improving regional ties for Israel: agreements to normalize ties with four nations — UAE, Bahrain, Morocco and Sudan — Have been realized since the 2020 Abraham Accords.

While there remain no commercial flights between Saudi Arabia and Israel, as the two states share no official relations, the flights are a considerable advancement in Saudi-Israeli relations, as both nations finally opened their airspaces to each other just last year.

Surrounded by nations that have clashed with Israel in the past, free air travel is not something that is taken for granted in Israel. Along the 2020 normalization of ties with Bahrain, Sudan, Morocco and the UAE was the opening of airspaces to Israeli flights, along with announcements of direct flights to Dubai, Morocco, and Bahrain.
UN rights chief slams 'arbitrary' Israel decision to outlaw Palestinian groups
UN human rights chief Michelle Bachelet said Tuesday that Israel's blacklisting of six Palestinian rights organizations for their alleged ties to the Popular Front for the Liberation of Palestine (PFLP) terror group was an attack on human rights defenders, on freedoms of association, opinion and expression and on the right to public participation.

She called for the move to be immediately revoked.

The United Nations High Commissioner for Human Rights said anti-terrorism legislation should not be applied to legitimate human rights and humanitarian aid activities.

"The organizations… face far-reaching consequences as a result of this arbitrary decision, as do the people who fund them and work with them," said Bachelet.

"The crucial work they perform for thousands of Palestinians risks being halted or severely restricted," she added.

On Friday afternoon, Defense Minister Benny Gantz announced that the six Palestinian civil society groups — including highly prominent ones with significant backing and oversight from the European Union and other international bodies — were being designated as terror organizations, asserting that they worked on behalf of the PFLP.
NGO Monitor:
Clarifying the Record on Israel's Recent Terror Designations: A Response to Lieblich and Shinar
Concurrent with the Israeli investigations, following the Shnerb murder, the European Union and several European states have been debating issues surrounding the allegations concerning the PFLP and "affiliated" NGOs, including the legality of their funding, and have implemented new regulations and launched their own investigations. For instance, in 2019, the EU introduced a new requirement to its NGO funding contracts that "Grant beneficiaries and contractors must ensure that there is no detection of subcontractors, natural persons, including participants to workshops and/or trainings and recipients of financial support to third parties, in the lists of EU restrictive measures" (General conditions, Annex G.2, Annex II, Article 1.5 bis). In the Palestinian context, the list of EU restrictive measures includes measures taken against Hamas, Izzedine al-Qassam Brigades, Al-Aqsa Martyrs Brigade, Islamic Jihad, and the PFLP.

According to various reports, at a December 2019 meeting, a number of European officials responded sympathetically to NGO complaints regarding the new funding stipulation. In turn, this reaction prompted concern from within the European Parliament that the EU was disregarding counter-terror measures with regards to Palestinian NGOs. This prompted a statement at a May 19, 2020 meeting of the European Parliament Committee on Foreign Affairs (AFET) by the Commissioner for Neighborhood and Enlargement, Olivér Várhelyi, that he had instructed the heads of EU delegations to Israel, the West Bank, and Gaza to "look deep" in to the allegations that some EU funds go to terror-linked or -supporting NGOs, declaring that such funding "will not be tolerated."

Similarly, on June 1, 2020, EU Ambassador to Israel Emanuele Giaufret insisted in a media interview that the EU "does not support organizations linked to the Popular Front. If there is evidence of improper use of EU funds, we will investigate it."

As a direct result of these developments, the European Parliament declared, in an April 2021 vote on its annual budgetary report, that EU funds cannot be allocated or linked to any cause or form of terrorism and/or religious and political radicalization. In addition, for the first time, the Parliament called on the European Commission to ensure that EU funds to disqualified grantees are proactively recovered, and recipients involved in terrorism are excluded from any future EU funding.

And in August 2021the EU Anti-Fraud Service (OLAF) opened a preliminary terror financing investigation into European Commission support for PFLP-linked Palestinian organizations. Investigations are also on-going in Belgium, the Netherlands, and Spain.

Conclusion
The authors conclude their piece with: "the reasons are too murky, the interests too conflicting, and the stakes are far too high for this extreme action to pass as tolerable. In general, no legal system worthy of its name should provide for the designation of human rights groups as 'terrorist organizations' by decree." Despite neither murky reasons nor conflicting interests, this emotional plea begs questions: How are human rights groups defined? Merely by self-appellation? As noted in the UN definition, to be deemed a human rights defender, one must act "peacefully." One "cannot deny some human rights and yet claim to be a human rights defender because he or she is an advocate for others." How then, can a group that is founded by, chooses to appoint to its board, or employ members of a terrorist group – a group that intentionally targets civilians – be deemed a human rights NGO? What does it say about certain sectors of the international community that these affiliations are ignored? Why should a group, simply because it claims it is working for "human rights" be immune from criminal law or counterterror regulations?

One can and should fully debate the merits of Israel's 2016 Counterterror Law. But obfuscating the record as the authors have done in their post is no way to do so.
The way anti-Zionists name their organisations is truly Orwellian:

???? Defence for Children was linked to the PFLP terror group.

?? Jewish Voice for Peace want Israel destroyed.

And it works… westerners trip over themselves to defend these orgs.#6ArmsOfPFLP#NGOforTerror pic.twitter.com/zNt1qdwEQJ

— Israel Advocacy Movement (@israel_advocacy) October 27, 2021
In case any one wasn't sure on what side of the issue Israeli NGO BTselem is, here they are "in solidarity" with the 6 Palestinian NGOs designated as terrorists at the Al Haq offices. Instead of condemning the cynical use of NGOs to fund terror, they're siding with the terrorists https://t.co/KoH6HjZkRU

— Emily Schrader - ????? ?????? (@emilykschrader) October 27, 2021
But of course. Anuradha Mittal (@Mittaloak), the Chair of @benandjerrys board, which led campaign to boycott the ENTIRE State of #Israel, would now be showing solidarity with the 6 #Palestinian #PFLP terror affiliated organizations! cc. @Unilever pic.twitter.com/mEBcMJeJ2w

— Arsen Ostrovsky (@Ostrov_A) October 27, 2021
Media Blast Israel for Banning Palestinian Terrorist Front Groups, Give Turkey's Erdogan Pass for Real Civil Society Crackdown & Harboring Hamas Leaders
From Silencing Dissent to Supporting Terror Attacks: Erdogan and Israel

On September 26, Erdogan appeared on CBS News' Face the Nation, during which he had the following exchange:
MARGARET BRENNAN: He [US President Joe Biden] said you're going to have to pay a price for some of your actions. He said this when he was a candidate and he talked about human rights abuses. Has he ever talked directly to you about what he meant?

PRESIDENT ERDOĞAN: Well, on the contrary, he never mentioned any of these issues to me. And, I know whenever we got together, he's very respectful towards me. And ever since the days when he was the vice president, he was always very respectful — that's how he approached me…."

Kudos to CBS News for even bringing the matter to the public's attention.

Most media, however, are turning a blind eye to Erdogan's increasingly tyrannical rule, thereby blurring the distinction between those governments that concertedly shutter legitimate human rights organizations and those that take necessary steps to protect citizens from acts of terrorism.

Not surprisingly, the reluctance by many prominent news organizations to shine a spotlight on Erdogan's consolidation of power is mirrored by their apparent unwillingness to mention the Turkish leader's long history of antisemitic outbursts.

And this rhetoric has real-world, violent implications for Israelis.

In this respect, Erdogan continues to host leaders of Hamas, designated as a terrorist group by many Western countries. Ankara has been accused of allowing the Gaza Strip's rulers — who in May initiated an 11-day conflict in which more than 4,000 rockets were fired by Palestinian terrorists at Israeli population centers — to plot terror attacks against the Jewish state from Turkish soil.

Perhaps news organizations ostensibly dedicated to reporting facts should refocus their energies and resources.

Erdogan's threat to expel the ambassadors of France, Germany, Finland, Denmark, the Netherlands, Norway, Sweden, New Zealand, Canada and the United States — most of them NATO members alongside Turkey — because of their concerted efforts to free a Turkish civil rights leader elicited coverage of a decidedly uncritical nature.

By contrast, Israel's move to protect its citizens by designating several Palestinian NGOs as terrorist front groups unleashed a torrent of skewed reporting.

As a result, news organizations have done a disservice to individuals who, in reality, are dedicated to advancing human rights and, instead, effectively helped promote the destructive anti-Israel cause of terrorists.
Day after US rebuke, settlement construction plans clear major hurdle
Israel moved forward on Wednesday with plans to build some 3,000 housing units in Judea and Samaria, a day after the State Department said it was "strongly opposed" to the proposals in what was the strongest rebuke yet of the Biden administration on Israeli policy.

An Israeli defense official said a planning forum of Israel's liaison office with the Palestinians gave preliminary approval for plans to build 1,344 housing units and its final go-ahead for projects to construct 1,800 homes.

The move could set off a potential clash between Israel and Washington, although both Prime Minister Naftali Bennett and US President Joe Biden have in recent weeks stressed their desire to work on common goals and find a way to resolve longstanding differences regarding such contentious issues.

The United States had already voiced strong opposition to the plans to advance the settlement units, saying such moves would damage prospects of a two-state solution to the Israeli-Palestinian conflict.

Ahead of the planning committee's meeting, Israel on Sunday published tenders for about 1,300 new settlement homes, triggering a strong response from the State Department on Tuesday, in which it said it was "deeply concerned." State Department spokesman Ned Price also said that efforts to retroactively legalize outposts that have not been formally approved were "unacceptable."
In call with Gantz, Blinken said to protest 'unacceptable' settlement building
US Secretary of State Antony Blinken and Defense Minister Benny Gantz held a "tense" phone call Tuesday on Israel's advancement of plans to build thousands of new settlement homes, according to a report on Wednesday.

The report by Axios, which quoted three Israeli officials familiar with the call, said Blinken phoned Gantz and told him the construction plans are "unacceptable," citing both the number of housing units set to be approved and their locations in the West Bank.

The top US diplomat, who is the most senior Biden administration official to protest the Israeli plans, reportedly asked Gantz to consider the American opinion on settlements in the future.

Gantz responded that he tried to reduce the number of approvals as much as possible and said he understood the US concerns and would take them into account, according to the report.

The defense minister reportedly also highlighted plans to approve 1,300 new Palestinian homes and noted that he has faced backlash from the Israeli right for meeting with Palestinian Authority President Mahmoud Abbas and approving some Palestinian family reunifications.

"The Americans gave us a yellow card," a senior Israeli official was quoted as saying by Axios.
Bill to memorialize Kafr Qasim massacre toppled as Arab MKs trade accusations
The Knesset struck down a proposal on Wednesday that would have seen the state formally accept responsibility for the 1956 Kafr Qasim massacre, as Arab Israeli parliamentarians traded accusations over the matter.

The bill, proposed by the opposition's Arab-majority Joint List party, never had any real chance of passing, and was seen by Arab MKs in the coalition as a tool wielded by the Joint List to attack them.

"The change government, the unity government, the supposed Jewish-Arab government, toppled the bill to memorialize the Kafr Qasim massacre," fumed Joint List MK Aida Touma-Sliman following the debate. The bill fell by a margin of 93-12 with no abstentions.

During the massacre, Border Police officers killed 48 Arab Israeli men, women and children for violating a wartime curfew near Kafr Qasim. The Supreme Court later ruled that although the officers were merely following orders, the draconian directive to shoot all violators was blatantly immoral and illegal. The policemen received prison terms but were all quickly pardoned.

Touma-Sliman's bill would have seen the state formally accept "full moral responsibility for the massacre" and mandate an hour of instruction on the incident in Israeli schools. It would also require that the state work to publicize any remaining classified documents relevant to the massacre.

Many of the coalition's left-wing members — especially from the Islamist Ra'am and left-wing Meretz parties — have supported such bills in the past. With both the coalition and much of the opposition firmly against the bill, the Arab coalition members were granted freedom from coalition discipline to vote as they wished.
Palestinian man convicted of murdering Esther Horgen
The Salem Military Court on Wednesday convicted Palestinian Mohammad Maroh Kabaha for the murder of Esther Horgen on December 20, 2020, following his confession.

According to the indictment filed in February, Kabaha planned the attack some six weeks in advance.

One reason was to avenge the death of his friend Camal Abu Wae'r – a Palestinian prisoner who fell sick and died in jail.

Looking for a place to carry out an attack, Kabaha allegedly went through a hole in the security barrier, and found that a number of Israelis took strolls in the Reihan Forest.

On December 20, while smuggling cigarettes in the forest near the fence, he spotted Horgen, who was walking alone.

When their eyes met, she tried to run and scream, but he caught up to her after a race of about 15 meters and threw her to the ground.

He then allegedly smashed her head repeatedly with a large rock until she was dead.

Following this, he went home, showered, changed his clothes and fled into the hills.
Air Force commanders from the US, Italy, the UK, Greece, Cyprus, Norway, the UAE, India, and the Netherlands, as well as ambassadors from France, the UK, Greece, and Germany, came together today to cooperate and learn from each other at the international #BlueFlag2021 exercise. pic.twitter.com/ZHLTQX8sYe

— Israel Defense Forces (@IDF) October 26, 2021
Sheikh Jarrah families called Hamas leader Ismail Haniyeh and praised Hamas for its 'brave resistance' during the last war with Israel. Haniyeh told the families that they should reject any compromise offered by Israeli courts. pic.twitter.com/FSGHwMeK1K

— Khaled Abu Toameh (@KhaledAbuToameh) October 27, 2021
Israel shuts down culture festival in East Jerusalem, claiming PA funding
Israel has blocked a cultural festival at a French-protected site in East Jerusalem, claiming it was sponsored by the Palestinian Authority without Israeli permission, an assertion organizers denied Wednesday.

The scheduled three-day festival at Abraham's House for religious pilgrims, with performances by Palestinian arts groups, was supported by the United Nations Development Program (UNDP), Finland and Austria.

Abraham's House manager Bernard Thibaud told AFP that performances had already begun for children on Tuesday when police arrived and shut it down, adding that he was "shocked and ashamed" by the cancellation.

The French consul general in Jerusalem as well as the consulate's religious affairs adviser had also already visited the festival, diplomatic sources told AFP.

In the cancellation order, Israel's Public Security Minister Omer Barlev wrote that the event was being held "with sponsorship and funding of the Palestinian Authority, and this without written permission."

Police who came to the venue wore plain clothes and traveled in unmarked cars, the diplomatic sources said.
MEMRI:
Palestinian Authority Mufti Of Jerusalem Sheikh Muhammad Hussein: The Occupation Of Palestine Will End, Jerusalem Will Be Liberated And Returned To The Fold Of Islam
Palestinian Authority (PA) Mufti of Jerusalem Sheikh Muhammad Hussein said that the "injustice will come to an end" as will "the occupation," and that Jerusalem will be "liberated" and returned to the fold of Islam. He made his remarks on a show that aired on Palestine TV on September 29, 2021. Mufti Hussein added that Palestine was occupied by different nations throughout history, but the Palestinian people had always remained on the land since the Canaanite era. He further said that "falsehood will come to an end."

On May 21, 2021 Mufti Hussein's Friday sermon at the Al-Aqsa Mosque was interrupted by angry worshippers, who chanted: "The dogs of the PA get out!" and accused him of being a spy (see MEMRI TV clip no 8864) and on May 25, he appeared in an event honoring the "martyrs" of Gaza and Jerusalem, saying that martyrdom is a "badge of honor," bestowed by Allah (see MEMRITV clip no 8900).

The Palestinians "Have Been Firmly Established Upon This Land Since The Canaanite Era... And Will Remain Here Until Judgement Day"

Sheikh Muhammad Hussein: "Without a doubt, the injustice will come to an end and so will the occupation, no matter what occupation it is. When you examine the history of Palestine, you see that it has been occupied by many nations, and many invaders have invaded it, but ultimately all the occupiers and invaders have left, while the Palestinians – who have been firmly established upon this land since the Canaanite era – remain here, and they will remain here until Judgment Day, as the Prophet Muhammad said.

"Jerusalem Will Be Liberated And Will Return To The Fold Of Islam"
Palestinian official: Jews will be permitted to visit Al-Buraq (Western Wall) after the establishment of a Palestinian state. Al-Buraq belongs to Muslims.

— Khaled Abu Toameh (@KhaledAbuToameh) October 27, 2021
PMW:
Young girls sing "we'll sacrifice our lives" on PA TV Girls sing in honor of terrorist prisoner who stabbed 4
What could be more appropriate than a song about dying for Allah and "Palestine" to celebrate a wedding anniversary? What could be cuter than 2 young girls singing the song? And what could be more damaging than the PA's constant brainwashing of Palestinian children and adults that "Martyrdom" is good, prestigious, and what Allah desires?

On occasion of the wedding anniversary of imprisoned terrorist Khaled Al-Baseti who is serving 21-years for stabbing 4 Israelis, the PA TV program for and about Palestinian prisoners, Giants of Endurance, sent him greetings from his relatives. Among the well-wishers were two young girls singing a song that advocates dying for "freedom" and for "Palestine":
"In the name of freedom we'll sacrifice our lives
In the name of freedom we'll sacrifice our lives
Palestine is Arab, Palestine is Arab, O land of struggle
We don't forget your land, O Palestine
And whoever attacks, their life is in my hands, their life is in my hands"

[Official PA TV, Good Morning Jerusalem, Oct. 22, 2021]

For decades, Palestinian Media Watch has documented the PA policy to encourage children to become "Martyrs" and sacrifice themselves for Palestine. One striking example of this PA child abuse is the following poem recited by a young girl, in which a mother tells her son that he is "meant for Martyrdom," and that "Our weapon is our Islam, and our ammunition is our children":
PA TV cartoon demonizes Israel as being a virus like the Coronavirus
The Democratic Front for the Liberation of Palestine condemned the recent coup in Sudan and calls for the restoration of the ousted civilian government. https://t.co/modOYRU4Bc

— Joe Truzman (@JoeTruzman) October 26, 2021
2/2 Algerian FM Ramtane Lamamra: We Respect the Sovereign Decisions of Arab Countries to Strike Ties with Israel pic.twitter.com/uvAIQh9GhD

— MEMRI (@MEMRIReports) October 27, 2021
Lebanese Minister of Information George Kurdahi before Assuming Office: I support a "Temporary" Military Coup in Lebanon; #Houthis in Yemen Are Defending Their Land against Foreign Aggression by #KSA, #UAE @GKordahi pic.twitter.com/gtHoXAIKeP

— MEMRI (@MEMRIReports) October 27, 2021
Iran negotiator says nuclear talks with six powers will resume by end of November
Iran's talks with six world powers aimed at reviving a 2015 nuclear deal will resume by the end of November, its top nuclear negotiator said on Wednesday, as Western concerns over the Islamic Republic's nuclear advances grow.

"Had a very serious & constructive dialog with @enriquemora_ on the essential elements for successful negotiations. We agree to start negotiations before the end of November," Ali Bagheri Kani wrote on Twitter after meeting EU officials in Brussels.

"Exact date would be announced in the course of the next week," he added.

In April, Tehran and six powers started to discuss ways to salvage the 2015 nuclear pact, which three years ago then-US President Donald Trump abandoned. Trump then reimposed harsh sanctions on Iran that have devastated its economy by squeezing its oil exports.

But the talks have been on hold since the election of Iran's hardline President Ebrahim Raisi in June, who is expected to take a tough approach if the talks resume in Vienna.
Iran cyberattack: 4,300 gas stations disrupted, Raisi decries attempted disorder
Around 4,300 gas stations across Iran were disabled by Tuesday's cyberattack, it was revealed by Iran's state news agency IRNA, lasting until Wednesday when gasoline distribution returned to normal.

Iranian president Ebrahim Raisi stated that the cyberattack was meant to create disorder, according to the Associated Press, stating that "there should be serious readiness in the field of cyberwar and related bodies should not allow the enemy to follow their ominous aims to create problems."

The cyberattack disrupted the sale of heavily subsidized gasoline across the Islamic Republic, which Raisi said on Wednesday was designed to create "disorder and disruption."

The details of the attack and its source are under investigation, Abul-Hassan Firouzabadi, Secretary of the Supreme Council to Regulate Virtual Space, told IRNA.

While the origin of the attacks is unknown, some have speculated that it was caused by the US, Israel or local Iranian anti-regime groups. The Oil Ministry said that only sales with smart cards used for cheaper, rationed gasoline were disrupted, Iranian news outlet SHANA reported.
Major cyberattack hits #Iran with attackers preventing Iranians from getting fuel with screens giving the number of the Ayatollah to ask him "where is the gas?" Street signs also read "Khamenei, where is our fuel?" in reference to the fuel that Iran sent to Hezbollah in Lebanon pic.twitter.com/Egbufuja6C

— Emily Schrader - ????? ?????? (@emilykschrader) October 26, 2021