From Ian:
---
Israel announces 4th, 5th deaths in pandemic; 2,170 diagnosed with coronavirus
The Health Ministry on Wednesday morning said that five people have now died in Israel in the coronavirus pandemic.

Sheba Medical Center at Tel Hashomer announced the death of a 76-year-old man, Israel's fourth fatality from COVID-19.

The man reportedly had serious health issues before he contracted the virus. He was not immediately named.

According to Hebrew media reports, the fifth victim was an 87-year-old man who arrived at the Mayanei Hayeshua Medical Center in Bnei Brak on Tuesday with breathing difficulties. He was tested after he died and diagnosed with the coronavirus.

The Health Ministry announced Wednesday afternoon that the number of people diagnosed with coronavirus in Israel is now 2,170, an increase of 240 since Tuesday, which had seen the largest single-day jump in cases since the crisis began.

According to the ministry, 37 people with COVID-19 are in serious condition, and 54 are in moderate condition. Another 1,876 people have mild symptoms.

There have now been 58 Israelis who have recovered from the virus.
Israel Health Ministry: Coronavirus Spread Matches "More Optimistic Scenario"
Health Ministry Deputy Director-General Itamar Grotto said on Monday that although the number of confirmed coronavirus cases in Israel keeps climbing steadily, the figures match the ministry's "more optimistic" predictions.

"There are no exponential leaps [in numbers of cases]," Prof. Grotto told Ynet. "I hope we will maintain this level of new cases. This is how we know that the steps we've taken are starting to be effective."

"We'll have to wait a couple of days to see whether these steps are working. In another two weeks, they will start affecting the rate of severe illness and mortality rates."

Grotto said that the number of coronavirus tests conducted by health authorities, which stands at a few thousand a day, is increasing and will even double by next week.

"I think we've definitely reached our goal," Grotto said. "Now, our next goal is to maintain these figures for the next couple of days and then reach 7,000-8,000 tests a day."
"We hope to reach at least 7,000 this week and then double that figure by next week."

The Health Ministry's official goal is to reach 5,000 tests a day until next week and 10,000 within two and a half weeks, but according to the ministry's data, only 3,230 coronavirus tests were conducted in the last 24 hours. Professor Grotto estimates that over 30,000 tests for the pathogen have been conducted in Israel so far.

Grotto repeated his earlier estimate that up to 20,000 Israelis could die from the coronavirus if the spread of the disease spins out of control, but that number would be still a negligible number out of the total mortality rate.
New virus rules keeping people within 100 meters of home go into effect
The government on Wednesday announced a raft of new restrictions that came into effect from 5 p.m. for a seven-day period, including a prohibition on people venturing more than 100 meters from their homes, apart from under certain circumstances, and the shuttering of synagogues.

The regulations permit Israelis to leave their homes only for the following activities:

1. Going to work and coming back, within previously specified regulations on who is allowed to work;
2. Stocking up on food, medicine and necessary goods and to receive essential services;
3. Receiving medical care;
4. Donating blood;
5. For legal proceedings;
6. To attend a demonstration;
7. Going to the Knesset;
8. Receiving care in a social work framework;
9. A short walk of no more than 100 meters from one's home either as an individual or with others from the same residence for an undefined "short period of time";
10. Helping a person with a medical problem or other difficulty that requires support, such as old age or physical infirmity;
11. Going to an outdoor area for prayer, a wedding, funeral or circumcision with fewer than 10 people at a distance of two meters apart. A woman can go to immerse in a mikveh provided that she has coordinated her arrival in advance;
12. Taking children to educational frameworks for those whose parents are essential workers (in accordance with previous orders);
13. Taking children whose parents do not live together from one residence to another;
14. Transferring a child whose sole caregiver is required to leave for an essential purpose.

In addition, public transportation was reduced to around 25 percent of services and taxis will only be permitted to take one passenger unless the second is an escort for medical reasons. All passengers must sit in the back seat of the vehicle with the windows open.
The entire #CoronaVirus strategy in 2 minutes! Simple, yet effective breakdown by #Israel's Defense Minister @naftalibennett: pic.twitter.com/hDEUzijW0x

— Arsen Ostrovsky (@Ostrov_A) March 25, 2020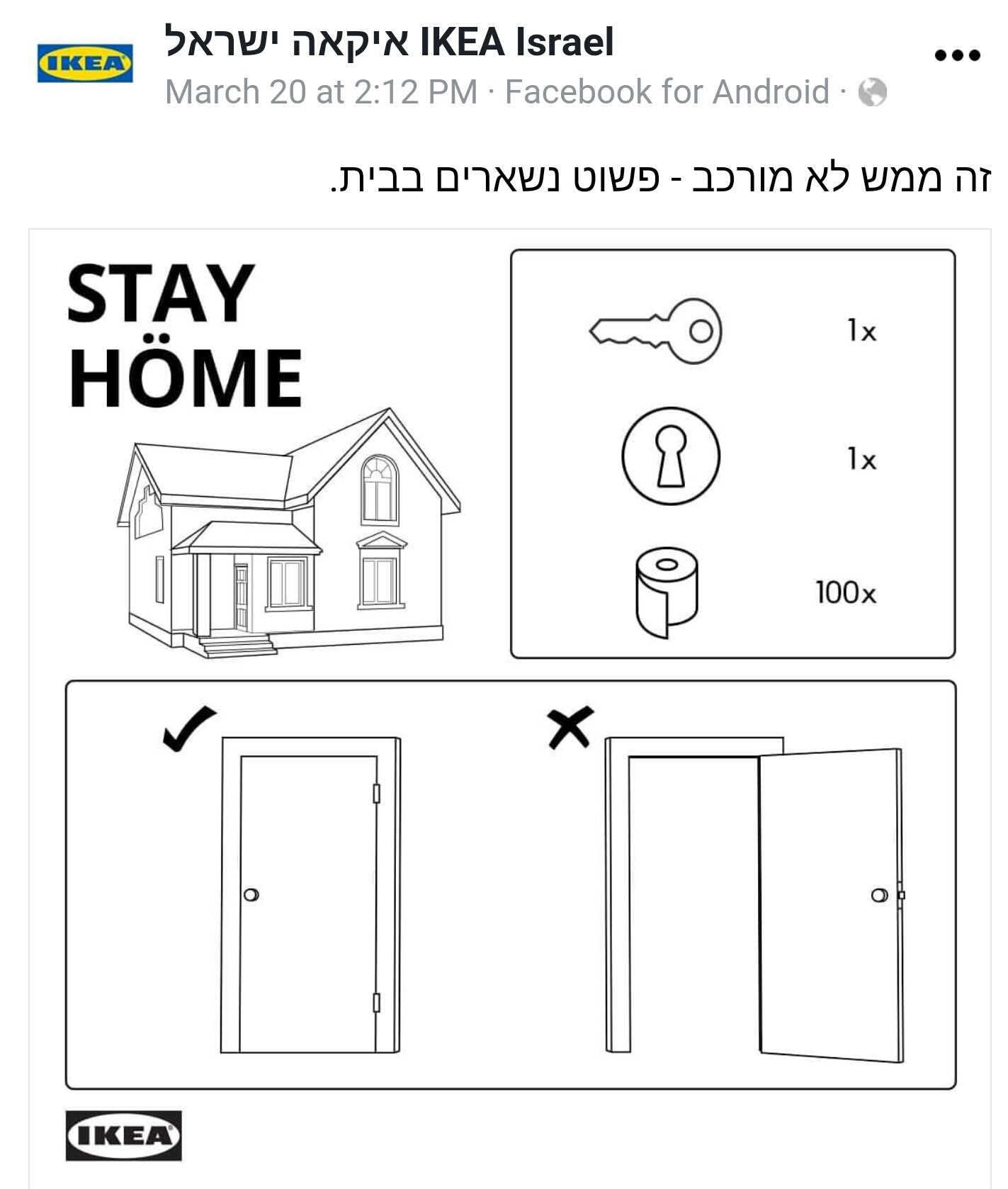 Coronavirus treatment other than vaccines may be available soon
While a vaccine against the novel coronavirus is expected to take upward of a year to develop and test, other treatments for the deadly threat could be just a few months away, health experts say.
More than 410,000 people have been diagnosed with COVID-19 and over 18,000 have died. Several countries have gone into lockdown as the number of those infected by the highly contagious disease continues to rapidly rise.

Scientists around the world are racing to develop treatments and vaccines, which will have to undergo several rounds of testing and clinical trials before moving on to mass production.

"More than 20 vaccines are in development globally, and several therapeutics are in clinical trials," a spokesperson for the World Health Organization told The Media Line. "No treatment and vaccine exist yet but researchers around the world [are working] hard for it."

While a vaccine will likely take between 12 and 18 months to be proven safe and effective and be produced for mass use, other effective treatments could emerge much sooner.

Prof. Peter Jay Hotez, a prominent virologist and the dean of the Baylor College of Medicine's National School of Tropical Medicine in Houston, Texas, told The Media Line that the earliest treatment that could work against COVID-19 would be a convalescent serum antibody therapy, in which the antibodies of a person who has recovered from the virus are injected into a sick patient.
Ruthie Blum:
The diseased attitude of the 'coronavirus rebels'
Some 1,100 Israeli backpackers were airlifted from Peru a few days ago when they were unable to find flights back home when the coronavirus-necessitated border closures left them stranded. Dozens of the exhausted 20-somethings threw a hissy fit upon landing at Ben-Gurion International Airport.

Though greeted graciously by the ground crew, the backpackers – who had begged the government to rescue them from their treks in South America – behaved like a bunch of entitled brats.

Peru, like practically every country in the world, was about to go on lockdown for an unspecified period. Getting stuck in a foreign land – far away from one's family and without fluency in the local language – is nothing to sneeze at. Especially these days, when every sneeze is interpreted as a symptom of COVID-19.

Israeli Foreign Minister Israel Katz promptly responded to the tearful pleas for help from the young travelers, who were encountering great difficulty in purchasing airline tickets due to a dearth of available seats and to the exorbitant fees now being charged for them.

In a mission of the sort that does the Jewish state proud, Katz dispatched four El Al 787 Dreamliners to Lima to pick up the distraught Israelis and return them safely to Tel Aviv – at no cost to them or their anxious parents, many of whom, by this point, had been fired from their jobs or put on unpaid leave, thanks to the shuttering of businesses.

Rather than express gratitude at being back on Israeli soil (as most of their fellow passengers did), these 30 or so backpackers not only refused to sign a form obligating them to self-quarantine for the following two weeks but began to shout at and taunt immigration officials by coughing on them.
Spain's death toll hits 3,434, surpassing China's
Spain's coronavirus death toll overtook that of China on Wednesday, rising to 3,434 after 738 people died over the past 24 hours, the government said.

Across the world, only Italy now has a higher death toll than that of Spain. In China, where the virus emerged late last year, 3,281 people have died.

The spiraling number of deaths came as Spain entered the 11th day of an unprecedented lock-down to try and rein in the COVID-19 epidemic that has now infected 47,610 people, the health ministry said.

As the authorities stepped up testing, the number of cases showed a 20 percent increase on the figures for Tuesday, while the death toll showed a 27 percent rise over the same period.

Despite the national lockdown imposed on March 14, which is to be extended until April 11, both deaths and infections have continued to mount, with officials warning this week would be particularly bad.

"We are approaching the peak," the ministry's emergencies coordinator Fernando Simon said in announcing the figures.

Health authorities are hoping it will soon become clear whether the lock-down is having the desired effect.
World Health Organization: Coronavirus infections in Italy finally slowing
The World Health Organization has said that Italy's coronavirus epidemic may peak this week, according to a report by the Italian wire service ANSA.

"The slowing in the pace of growth is an extremely positive factor, and in some regions I believe we are close to the drop-off point of the curve, therefore the peak may be reached this week and then fall away," WHO deputy director Ranieri Guerra told Radio Capital.

"I believe that this week and the first days of the next will be decisive because they will be moments in which the government's measures of 15-20 days ago should find an effect," he said, referring to a nationwide lockdown.

On Tuesday, the rate of infections was at eight percent for the second consecutive day after having peaked at 50% at the start of March.

Italy currently has 69,176 confirmed infections, while 6,820 people have died, the highest death toll in the world.

"The measures we took two weeks ago are starting to have an effect," civil protection service chief Angelo Borrelli told Italian media on Tuesday.
This is a Special public service announcement: #GhostTown2020 ?? feat. @BorisJohnson

Enjoy, share the message, and most importantly #StayHomeSaveLives pic.twitter.com/uehbt97Q2W

— The Specials (@thespecials) March 24, 2020
Muslim Extremists Exploit Coronavirus to Promote Terrorism, Hate; and Other Muslims that Need the World's Help
According to the report, the Muslim Brotherhood and ISIS have, through a number of fatwas, called on Muslims to produce "human biological weapons" to attack the enemies of Islam.

In addition, 35% of the fatwas judged that the outbreak of the virus underscored the need for women to wear the niqab.

The report noted that Islamist cleric Osama Hijazi recently claimed that wearing the niqab is an "effective treatment" for the coronavirus.

The bad news is that extremist Muslims and their allies are again exposing their contempt for human life, including the life of Muslims who oppose their ideology, terrorism and jihad. These are the Muslims that urgently need the world's help.
NGO Monitor:
Human Rights Watch Misses the Mark on COVID-19
On March 19, 2020, Human Rights Watch (HRW) published a short but meaningless report on the "Human Rights Dimensions of COVID-19 Response."

In particular, the report exposes HRW's lack of credibility in the area of public health and epidemiology, primarily attacking government measures to prevent widespread death from the virus. As with other areas of policy making, HRW does not consult with real experts in crafting its so-called analysis – relying on a singular academic article and the UN High Commissioner for Human Rights Michelle Bachelet. HRW further provides no concrete alternative policy recommendations that would do a better job of balancing the competing rights challenges. Instead, HRW suffices with generalities that contribute nothing of significance.
Lack of Health Expertise

- HRW emphasizes that "quarantines, lockdowns, and travel bans" must "comply with rights norms," but does not consider the fundamental "right to life" of all individuals.
- According to HRW, "Broad quarantines and lockdowns of indeterminate length rarely meet [human rights] criteria…Because such quarantines and lockdowns are difficult to impose and enforce uniformly, they are often arbitrary or discriminatory in application." No evidence and citations to health experts or research studies are provided for this broad ideological claim.

Criticizes Existing Measures without Providing Concrete Policy Alternatives
- HRW asserts that "Governments should avoid sweeping and overly broad restrictions on movement and personal liberty, and only move towards mandatory restrictions when scientifically warranted and necessary and when mechanisms for support of those affected can be ensured" without providing any assessment of what "overly broad restrictions" might mean or when they might be warranted.
- HRW provides generic critiques of Chinese and Iranian repression of dissidents and violations of freedom of expression. Their analysis offers nothing new to the discussion and therefore falls short of holding these regimes accountable.
Gerald M. Steinberg:
Hope is nice, but demonization of Israel is unlikely to change
President Reuven Rivlin tried to provide some optimism amidst the gloom and doom of the corona epidemic. Noting the cooperation between Israel and the Palestinian Authority, he tweeted: "I just spoke to PA chairman Mahmoud Abbas. Our ability to work together in times of crisis is also a testament to our ability to work together in the future for the good of us all." This peaceful scenario is worthy of the Jewish prophets – particularly Isaiah and Micah.

Unfortunately, the reality now, as it was then, is quite different. In contrast to the optimism, the Palestinians and their allies are currently moving at full speed to continue their campaign of demonization targeted at Israel.

Most notably, Palestinians, in coordination with an army of NGOs, are pressing the effort in the International Criminal Court to take the false "war crime" accusations to the next stage – a pseudo-investigation of Israel.

Over the past week, a number of these groups have submitted briefs (many of which go beyond absurd in stretching the truth in history and facts) to prop-up Prosecutor Fatou Bensouda's weak attempt to justify this travesty. The NGO list includes Al Haq, Al Mezan and the Palestinian Center for Human Rights (PCHR), which work very closely with the PA in this campaign and are funded by European governments.

Among their Israeli allies, the Israeli left-wing group B'Tselem wrote a report accompanied by a media campaign, (also enabled by European funders). As usual, B'Tselem blamed Israel exclusively for the conflict, erasing the long history of rejectionism and terror, and even accused Israel of exploiting the Holocaust in rejecting the ICC prosecutor's arguments. Breaking the silence, Gisha and other NGOs continued to blame Israel for not doing enough to stop the spread of the coronavirus among Palestinians, repeating their one-line agenda – "occupation, occupation, occupation" – including for Gaza, where the "occupation" ended almost 15 years ago.

In parallel and also flying in the face of Rivlin's optimism is the continuation of the discriminatory boycott, divestment, sanctions campaign (BDS), which is trying to exploit their latest "achievement" in the form of a UN Human Rights Council (HRC) blacklist of selected businesses falsely accused of violating international law.
Israel unemployment rate nears 20% with some 800,000 registered as out of work
Unemployment continued to rise on Wednesday, reaching 19.6 percent with a total of 657,876 new registrants since the start of the month.

The numbers are expected to grow in the coming days as the government further tightens restrictions on work and movement in an attempt to stop the spread of the coronavirus.

The head of the National Employment Service said Tuesday that 1 million Israelis could be unemployed by Passover in two weeks.

Some 90% of people registering with the service have been placed on unpaid leave and the unemployment service expects 10%-20% of those to lose their jobs on a permanent basis when the coronavirus crisis comes to an end.

The Tel Aviv Stock Exchange opened with a positive trend on Wednesday morning, but leveled out as trading progressed.

The TASE jumped on Tuesday after weeks of steady decline as world markets recouped some of their losses amid hopes of financial aid packages aimed at mitigating the devastating losses caused by the coronavirus pandemic.

The Bank of Israel has taken a more assertive stance toward boosting the economy in recent days, while US markets climbed ahead of Congress agreeing on a massive fiscal stimulus package.

Bank of Israel chief Amir Yaron on Tuesday called for a NIS 15 billion ($4.2 billion) "safety net" for businesses.
Israeli Defense Ministry Launches COVID-19 Voice-Test Study
An analysis of coronavirus patients' voices could yield a "vocal fingerprint" to help detect COVID-19 symptoms in others and prioritize testing and treatment, the Israeli Defense Ministry said on Tuesday.

Starting this week, an Israeli startup company working with hospitals and academic institutions will sample voices of confirmed coronavirus patients through a mobile application in a research project led by the ministry.

"These voice samples will be analyzed using an AI (Artificial Intelligence)-based algorithm in order to identify the unique vocal 'fingerprint,'" the ministry said in a statement.

The coronavirus affects the respiratory system and signs of distress can be reflected in the patterns of a person's voice and breathing.

Tal Wenderow, president and CEO of Vocalis Health, the company that developed the mobile app, said that the algorithm would be used for remote diagnosis and monitoring.

At this stage, the app would only be used by medical staff together with the patients taking part in the study, but the company's website allows for anyone to take part and send a voice sample to the researchers.

Researchers hope that healthcare systems would be able to use the data to prioritize testing and hospitalization, allowing patients with light symptoms to stay at home.

The ministry said the monitoring system "can be conducted from afar, in order to prevent the spread of the disease and overburdening of the national healthcare system."

Initial results of the study were expected within six weeks.
Israeli Soldiers' New Frontier: Delivering Food to Grandma
As Israel's defense establishment plays an increasingly important role in the nation's battle against the coronavirus pandemic, the Israel Defense Forces announced on Tuesday that it will take responsibility for the country's elderly population, considered to be the highest-risk group for coronavirus infection.

With the encouragement of Israeli Defense Minister Naftali Bennett, the military has decided to launch a national operation to ensure that the elderly population receives food, medical supplies and assistance in quarantine.

In a related development, Israel's Social Equality Ministry is promoting a plan to compensate retirement-age workers who are out of a job due to the coronavirus shutdown but ineligible for unemployment benefits due to their age.

After the ministry was flooded with requests from retirement-age newly unemployed, the Treasury is now working on emergency measures that will provide relief to that demographic.

"We must provide an anchor for the elderly at this time, and not add financial pressure to their emotional stress," said Social Equality Minister Gila Gamliel.

Gamliel said she would continue to keep tabs on the plan to allocate additional funds to retirement-age unemployed citizens.
Decathlon turns scuba gear into ventilators to help fight coronavirus
Sporting goods giant Decathlon is contributing to the fight against coronavirus by sending makeshift ventilators to hospitals in northern Italy.

While Decathlon, the French sporting goods retailer which is the largest such retailer in the world, typically doesn't sell ventilators, it does sell scuba gear, which they hacked and enhanced with specific components made by 3D printers to work as ventilators.

The conversion of their line of Easybreath scuba masks was done alongside the Rome-based Institute of Studies for the Integration of Systems (ISINNOVA), and was prompted by a request from the head physician of a hospital in Gardone Val Trompina in the Italian region of Lombardy, which is one of the regions hit worst by the coronavirus, to address the ventilator shortage, Cycling Weekly reported.

ISINNOVA uploaded the means of converting a scuba mask into a functioning ventilator online, creating a video detailing the process. This is to ensure other hospitals can use Decathlon scuba gear to make ventilators themselves. The specific 3D-printed valve – which they called the "Charlotte Valve" – used is patented, but the entire initiative is nonprofit, with the 3D-printed
Tributes Pour in After Leading UK Rabbi Dies of Coronavirus
Tributes poured in on Tuesday at the news that a leading UK rabbi had died of coronavirus.

Dayan Rabbi Yehuda Yaakov Refson, the senior rabbi of the Leeds Jewish community, passed away on Sunday at the age of 73.

Britain's Chief Rabbi Ephraim Mirvis called Refson an "outstanding scholar and educator" and "devoted, caring, and principled."

According to Chabad.org, Refson served as a Chabad-Lubavitch emissary in Leeds, rabbi of the Shomrei Hadass Synagogue and director of the Leeds Menorah School. He was also the head of the regional Beit Din.

He was born into a small Jewish community in Sunderland in the UK, studied in France and served as a judge and yeshiva head in Brooklyn before returning to England in 1973.

Refson relocated to Leeds in 1976 and became one of the leaders of the Jewish community there. He is survived by his wife and eight children.
Rabbi Romi Cohn, Holocaust survivor and rescuer, dies of coronavirus at 92
Rabbi Avrohom Hakohen Cohn survived the Holocaust and went on to fight the Nazis in his native Czechoslovakia. He is credited with saving the lives of 56 families during the genocide.

In January, Cohn, known as Romi, delivered the opening prayer in the U.S. House of Representatives for the 75th anniversary of the liberation of Auschwitz and International Holocaust Remembrance Day.

On Tuesday morning Cohn, died at 92 after being hospitalized with the coronavirus, according to the Yeshiva World News. He was a real estate developer who lived on New York City's Staten Island.

Cohn wrote a book about his experiences during World War II titled "The Youngest Partisan," Yeshiva World News reported.
MEMRI:
Palestinian Writers: The Coronavirus Is A Biological Weapon Employed By U.S., Israel Against Their Enemies
The coronavirus outbreak has been accompanied by the circulation of many conspiracy theories about the origin of the virus, which were published, inter alia, in the Arab media and especially in the Palestinian media.[1] While Palestinian Authority (PA) government spokesman Ibrahim Milhem said that the PA is taking measures against the virus in coordination and collaboration with Israel,[2] some in the Palestinian media accused Israel and the U.S. of spreading the coronavirus in the world for various reasons: in order to weaken China and Iran, to help Trump's reelection campaign and/or to facilitate Israel's takeover of the region.

The following are excerpts from three such articles:
Writer In Palestinian Al-Quds Daily: The Coronavirus – A Biological Weapon Employed By U.S., Israel Against China, Iran

According to Rasem 'Abidat, an activist of the Popular Front for the Liberation of Palestine (PFLP) and a columnist for the Palestinian daily Al-Quds, based in East Jerusalem, the coronavirus is a biological weapon that the U.S. and Israel decided to employ against China and Iran after failing to harm them by conventional means. He wrote: "As part of the era of globalization and barbaric capitalism, which considers nothing but its own interests and profits and is willing to objectify people and trample them, a heated conflict is currently raging between the U.S. – the emblem of barbaric capitalism and monopolizing cartels… [cartels] whose role is to preserve its interests and global economic dominance – and China, which, as a rising economic [player], aspires to become the world's leading economic superpower within the next ten years, and [thus] poses a serious threat to the American economy and interests. The U.S. tried to stop China's momentum by imposing tariffs on Chinese imports, but China prevented this by responding with similar sanctions… Hence, the intelligence circles, the tycoons and the mafia of the large American military and commercial monopolies had to seek a new way to defeat the Chinese economy…

"Iran is another permanent source of concern for the U.S., because, despite America's withdrawal from the deal on Iran's nuclear program, and despite the economic sanctions on Iran, which are unprecedented in human history… the pressures and siege only increased Iran's determination and its adherence to its positions, and enhanced its power and regional influence, with the support of allies such as Syria, the Lebanese Hizbullah, the Iraqi Al-Hashd Al-Sha'bi, the Houthis in Yemen and the Palestinian resistance forces. This harms America's interests and plans in the region, which are based on… dismembering and reconfiguring its countries along religious and sectarian lines, so as to make Israel the regional leader and ensure its [continued] survival.

"Faced with these dangers – an American loss of global military and economic hegemony and a threat to Israel's existence – Israel and the U.S. had no choice… but to resort to biological weapons, for the economic solutions and military options were unable to halt China's advance and its economic takeover of the world. The sanctions on Iran likewise failed to prevent its consolidation as a regional power. This begs the question: Did the U.S. and Israel choose the option of [waging] biological warfare by spreading the coronavirus, which can deliver a decisive blow to China and Iran, on the assumption that this would lead to China's economic retreat and collapse and also undermine Iran while destabilizing its domestic economy and security, enabling to defeat it from within?..."[3]
PMW:
Despite Corona crisis: PA's 1967 borders proposal is part of stages plan to replace Israel, indicates Fatah official
Top Fatah official Tawfiq Tirawi hasn't let the Corona crisis affect his policy of denying Israel's right to exist and promote the notion that all of Israel is "Palestine," or in his words: "Palestine is all of Palestine."

In an interview earlier this month, Tirawi, who is a Fatah commissioner and member of its Central Committee, repeated his view that the 1967 borders – which the PA claims it will be content with as "Palestine" - is not the PA goal. All Israeli cities such as "Haifa, Jaffa, Acre," he says are also "Palestine":
Tirawi: "My homeland is Nablus, Jenin, Haifa, Jaffa, Acre. (Last three are Israeli cities). Therefore, my homeland is all of Palestine, and this is what I was brought up on. And I always say that Palestine is all of Palestine. This is far from the plans that were offered [at Oslo] in order to achieve something for our people… When the Palestinian leadership established the Fatah Movement [in 1965], it offered proposals. Then following the first proposal, for all of Palestine – the first proposal [in 1965, sought] a democratic state that will include the Muslims, Christians, and Jews. [In 1993, Fatah] raised the issue of the [smaller] Palestinian state on the 1967 borders. This was so that we would achieve something for our people. However, I say to you: Are we forgetting that Jaffa is ours? No. That Acre is ours? No. That Nazareth is ours? No. (All three are Israeli cities). I am convinced of this, and this is my viewpoint that I am always saying and presenting. Always."
[Facebook page of Fatah Central Committee member Tawfiq Tirawi, March 10, 2020]

Recently, Tirawi also participated in an event at which a huge poster with the PA map of "Palestine" that presents all of Israel as "Palestine" together with the PA areas was displayed. The map is made up of puzzle pieces in the colors of the Palestinian flag.
Posted text: "[Fatah Central Committee member and Fatah Commissioner of Popular Organizations] Maj. Gen. Tawfiq Tirawi participates in the inauguration of the 2020 Working Women's National Camp in the Jericho and [Jordan] Valley district"
[Facebook page of Fatah Central Committee member Tawfiq Tirawi, March 2, 2020]
PA daily slams Israel for closing mosques, Hamas for not closing mosques
The official Palestinian Authority daily Al-Hayat Al-Jadida slamming Israel on Sunday for closing mosques during the coronavirus outbreak - while simultaneously slamming Hamas for keeping mosques open.

The lead article adorning Al-Hayat Al-Jadida's front page detailed the Islamic Wakf Council's criticism of Israel for fining the council's chairman Abdul Azim Salhab NIS 5,000 for not closing the al-Aqsa Mosque on the Temple Mount on Friday. According to the article, Salhab claimed that Israel was simply taking advantage of the coronavirus outbreak, exploiting it as a means to harm Muslims by closing the mosque. He added that the Wakf opposed the closure and will keep it open for worshipers "so that they will pray in the optimal manner that protects their health and welfare," Palestinian Media Watch reported.

The Wakf later agreed to close the mosques, but not for individual Wakf members, who continue to pray at the site, though keeping a distance from one another.

It should be noted that the PA Religious Affairs Ministry has recommended that Palestinians should avoid mosques and instead pray at home due to the risk of contracting COVID-19.

However, the accompanying editorial criticised Hamas for refusing to close mosques and not follow the PA's steps to contain the coronavirus outbreak.

"The greatest sources of authority in the Arab world on everything connected to the Islamic religious rulings have all ruled that it is permitted to pray at home, and that one should not go to the mosques these days. This is in order to prevent contact, which is one of the most dangerous paths of spreading the life-threatening coronavirus," the editorial stated, according to PMW.
Ramallah: President Abbas congratulates the Chinese president on China's 'victory' over #coronavirus, says Palestinians were guided by Chinese measures to contain the pandemic. pic.twitter.com/jPbQhaBslJ

— Khaled Abu Toameh (@KhaledAbuToameh) March 25, 2020
A member the Palestinian militant group al Aqsa Martyrs Brigades was released today from an Israeli prison. A large crowd gathered in the Jenin camp to celebrate his return. pic.twitter.com/Og3A4BagqY

— Joe Truzman (@Jtruzmah) March 24, 2020
U.S. Designates Iran-Backed "League of the Righteous" as Foreign Terrorist Organization
The U.S. Department of State has added Asaib Ahl al Haq, an Iranian-backed Iraqi Shia terror group also known as "League of the Righteous," to its list of Foreign Terrorist Organizations. Additionally, the group's leader, Qais al Khazali, and his brother, Laith al Khazali, have been listed as Specially Designated Global Terrorists.

Both Qais and Laith were in U.S. custody for two years between 2007 and 2009.

The League of the Righteous "and its leaders are violent proxies of the Islamic Republic of Iran," Secretary of State Mike Pompeo said in the press release that announced the designations. "Acting on behalf of their masters in Tehran, they use violence and terror to further the Iranian regime's efforts to undermine Iraqi sovereignty."

State's designation acknowledged the League of the Righteous "is extensively funded and trained by Iran's Islamic Revolutionary Guard Corps (IRGC) Qods Force." Qods Force is the expeditionary arm, the special operations branch of the IRGC tasked with spreading Iran's Islamic Revolution throughout the world.

According to State, the League of the Righteous "has claimed responsibility for more than 6,000 attacks against U.S. and Coalitions forces since its creation in 2006. AAH has carried out highly sophisticated operations, including mortar attacks on an American base, the downing of a British helicopter, and an attack on the Karbala Provincial Headquarters that resulted in the capture and murder of five American soldiers."

While the League of the Righteous is responsible for thousands of attacks on U.S. forces, the assault on the Karbala Provincial Joint Communications Center in 2006 was particularly brazen and significant. The operation was plotted with the help of Qods Force as the League of the Righteous fighters who carried out the attack trained in an Iranian mock up facility. The plan was to bring captive American soldiers to Iran.

Qais issued the order to kidnap and, later when the operation hit a roadblock, executed five American soldiers.
Denmark Charges Norwegian Citizen Over Alleged Iranian Assassination Plot: Prosecutor
Denmark's state prosecutor said on Wednesday it had charged a Norwegian citizen with assisting an Iranian intelligence service plan an assassination on Danish soil.

The Norwegian, who has Iranian heritage, was arrested in October 2018 over a suspected plot to kill an Iranian Arab opposition figure in Denmark.

In a statement, the state prosecutor said the man had now been charged with collecting and passing on information to an Iranian intelligence service for use in carrying out an assassination in Denmark. It said the suspect was also charged with attempted manslaughter.

The 40-year-old Norwegian citizen has pleaded not guilty to all charges, his lawyer told Reuters. The trial is scheduled to begin in a Roskilde court on May 1.

The alleged attempt to eliminate a leading member of the opposition Arab Struggle Movement for the Liberation of Ahvaz (ASMLA) was prevented after a major police operation in Denmark in September 2018 during which borders were temporarily closed.
Thousands to Attend Terrorist Funeral in Coronavirus-Ravaged Iran
Iran's Islamic Revolutionary Guard Corps (IRGC) hosted a funeral attracting thousands for Hossein Assadollahi, a senior terrorist leader and veteran of the Iran-Iraq war, on Monday.

Photos and video of the ceremony – which attracted notably minimal attention in Iranian state media outlets like PressTV, the Fars News Agency, and others – show mourners tightly packed in public spaces, a prime location to infect a large number of people with a contagious disease. As the world faces a pandemic caused by the Chinese coronavirus originating in central Wuhan, public health experts have universally agreed that "social distancing" – avoiding contact with individuals as much as possible and abstaining from organizing into large groups – is necessary to slow the rate of infection of the coronavirus so as to not overwhelm the world's healthcare systems.

Iran's healthcare system has, by all measures, been overwhelmed for months. While Iran claims only 24,811 confirmed cases of coronavirus in the country and nearly 2,000 deaths, reports citing whistleblowers and dissidents in the country have published evidence suggesting the death toll is much higher. The National Council of Resistance of Iran (NCRI), the largest Iranian dissident group, announced on Tuesday that it had documented over 10,500 deaths at the hands of the virus in Iran, citing sources within the country.

The NCRI also noted an increase in the number of arrests of people for "spreading rumors" about the true extent of the outbreak.

The Iranian regime has largely responded to the outbreak by empowering the IRGC, a U.S.-designated terrorist group and not a medical organization, to lead the nation's coronavirus response. Supreme Leader Ayatollah Ali Khamenei has claimed the Chinese virus is a biological weapon, implying the United States deliberately spread it in Iran. This weekend, Khamenei rejected a U.S. offer of humanitarian aid, partially on the grounds that he claimed America could use the aid to spread more "poison" in the country.
Secretary of Iran's High Council for Human rights Ali Bagheri Kani: America Is the Great Satan, Acts Inhumanely Even During COVID-19 Pandemic; Countries That Do Not Cooperate with Us Are Responsible for Spreading the Virus pic.twitter.com/WWEEwGxAUH

— MEMRI (@MEMRIReports) March 25, 2020
MEMRI:
Turkish Columnists Praise Jihad, Martyrdom, And Caliphate: 'Jihad Is A Valid Ruling Until The Day Of Judgement... If The Muslims Are Unified, [The Unbelievers] Will All Be Like Dogs At Our Door'
Recent columns in the Turkish press praise jihad and martyrdom and yearn for a caliphate. Burhan Bozgeyik wrote on March 20, 2020: "Jihad is a valid ruling until the Day of Judgement. Jihad will not be abandoned... If the Muslims are unified, [the unbelievers] will all be like dogs at our door." Mustafa Kasadar wrote on February 10: "This ummah has gotten its dignity and honor from jihad and martyrdom." Muzaffer Dereli wrote on March 6: "If we get scared when war and jihad are mentioned, this shows the weakness of our faith."

Mustafa Çelik wrote on March 11: Democracy, which was imposed as an ideology after the abolition of the caliphate, is a dress of the Greek philosophers that was put on the Muslims... Governing without that which Allah has sent down is a cruelty composed of darkness... If Islam's state governs the world on its own, Allah will lift off of us the despicableness that is thought to be irremovable!" The government-issued sermon for February 28 said: "Our troops obey the call of our prophet to 'make jihad with your hands, your words, and your property.'"

Following are translated excerpts from the columns and sermon.

"Jihad Is A Valid Ruling Until The Day Of Judgement – Jihad Will Not Be Abandoned... If The Muslims Are Unified, [The Unbelievers] Will All Be Like Dogs At Our Door "

In a March 20, 2020 column, Burhan Bozgeyik wrote: "There cannot be Islam without a state. There must be a state, an administrator of all Muslims. This is the truth. Allah's rulings will be dominant in all areas (the sayings and actions of Muhammad are included in these rulings). All Muslims will be brothers, will be united. A Muslim will never draw a weapon on another Muslim. Jihad is a valid ruling until the Day of Judgement. Jihad will not be abandoned. If jihad is abandoned, despicableness will come on its own. The unbelievers will be expelled from every handsbreadth of Muslim land... Let's say it outright: To hell with all of the cruel unbelievers who, in the language of the Quran, are all filth. If the Muslims are unified, they will all be like dogs at our door."[1]

"Our Troops Obey The Call Of Our Prophet To 'Make Jihad With Your Hands, Your Words, And Your Property'"

The February 28 Friday sermon issued by Turkey's Ministry of Religious Affairs read in part: "Our troops are always beside the oppressed against the tyrant. They are at the front for the good of the world, and they take cover in the name of humanity. They are on expedition to run to help those whose rights are taken from them. Our troops stand tall on their feet on the side of truth and against falsehood, having faith in the [Quran 17:81] verse 'And say: "Truth has come and falsehood has collapsed. Verily, falsehood is condemned to collapse.' Our troops run from victory to victory being bound from their hearts to the [Quran 3:139] verse: 'Do not become loose, do not be saddened. If you have faith, you will be superior.' Our troops obey the call of our prophet to 'make jihad with your hands, your words, and your property' and say 'stop' to the brazen raid of the enemy."[2] Turkey's Ministry of Religious Affairs, which prepares the sermons that are given each week at the country's 84,000 mosques, issued this sermon amid fighting in Idlib between the Turkish military and Turkish-backed jihadi factions on one side and the Syrian military on the other.

"This Ummah Has Gotten Its Dignity And Honor From Jihad And Martyrdom"
Sudanese Preacher Abdallah Hassan Jiballah: Hatred, Hostility towards the Jews Is Part of Islam; It Is Forbidden to Normalize Relations, Form Alliances with Them pic.twitter.com/Zzmn4ENVSv

— MEMRI (@MEMRIReports) March 25, 2020
---
---
We have lots of ideas, but we need more resources to be even more effective. Please
donate today
to help get the message out and to help defend Israel.