From Ian:
---
'Jerusalem stands with the world,' city walls declare
The Israeli flag lit up Jerusalem's city walls Thursday night, carrying the slogan "Jerusalem stands with the world," in a move seeking to reflect solidarity with nations worldwide during the global coronavirus pandemic.

The move followed an initiative by Israel Hayom, which called on all Israelis to fly the blue and white flag at home in this time of crisis.

"Just as the coronavirus does not differentiate between the people it threatens, our flag does not differentiate between the people it safeguards. Look at the flag and remember, we are together, always," Boaz Bismuth, Israel Hayom's editor-in-chief, wrote in an opinion piece Thursday.

Jerusalem Mayor Moshe Lion said in a statement, "Jerusalem, the eternal capital of Israel, lit up the Old City walls with the Israeli flag this evening [Thursday] as a sign of the tremendous strength of our society.

"Even during the coronavirus outbreak that is spreading in Israel and around the world, we will stand firm and win, as the people of Israel have done throughout history," he said.

Boaz Bismuth, Israel Hayom's editor-in-chief, praised Lion's initiative, saying, "I am pleased and thankful for Jerusalem Mayor Moshe Lion's response and his decision to illuminate the Old City walls with the Israeli flag.

"There is nothing more symbolic and unifying for Israelis than the flag. These challenging times call for national pride and unity. "
Netanyahu tells Israelis: Now it's an order — you must stay at home
Netanyahu said the mandatory regulations would come into effect immediately after their overnight Thursday-Friday approval and would remain in force for an initial period of seven days.

"The purpose of these instructions — to ensure as few people will be infected and will infect [others]," Netanyahu said.

Netanyahu acknowledged the move was "unlike any since the founding of the State of Israel," but said the country has never before faced anything like the coronavirus.

There was no immediate information on what the punishments would be for violators of the Health Ministry directives, which were originally announced Tuesday.
A man wearing a face mask cycles down Jaffa Street Jerusalem on March 19, 2020. (Yonatan Sindel/Flash90)

The regulations permit people to leave their homes only for the following activities:
1. Going to work and coming back;
2. Stocking up on food, medicine, necessary products and to receive essential services;
3. Receiving medical treatment;
4. Donating blood;
5. Participating in demonstrations;
6. Unorganized sports activity in groups no larger than five people;
7. Brief walks for a short time and to a place close to the person's residence, without coming close to people they don't live with;
8. Going to a wedding, funeral or for prayer;
9. Helping a person who due to their age, medical conditions or a disability, requires assistance;
10. Going out for a vital need that hasn't been specified in articles 1-9.

During all those activities, people should maintain a distance of two meters, or six feet, from anyone, as much as possible. People staying in the same household do not need to keep that distance from one another.
Coronavirus: Infected Israelis hit 705 as emergency orders roll out
The Health Ministry guidelines to fight the spread of coronavirus will no longer be recommendations or requests. Rather, overnight Thursday the government signed existing restrictions into legally enforceable orders, hours after Prime Minister Benjamin Netanyahu declared a national state of emergency.

Going forward, for the next seven days, whoever breaks these orders will be subject to fines.

"There has not been anything like this since the establishment of the state," the prime minister said. "There has actually been no such thing like this in the last 100 years."

"It is not going to be easy; I am asking for your cooperation."

In general, the new orders include that Israelis are not allowed to leave their homes unless "absolutely necessary." Visiting parks, beaches, pools, libraries and museums is prohibited, as are all social interactions. Work that can be done from home should be.

Currently all "essential" services will remain open, including supermarkets, pharmacies and most medical services. In addition, while Israelis are encouraged to work from home, employees who need to travel to work will be able to do so.

The announcement came on the backdrop of the largest spike in the number of infected Israelis: 677, according to the Health Ministry. At press time Wednesday, 433 Israelis had been diagnosed with SARS-CoV-2 - an increase of 244 patients in one day.
Shocking coronavirus study says people could be locked down for 18 months
The United States and United Kingdom received information from an Imperial College London coronavirus report that was published on March 16.

Dozens of experts had informed policy makers that modeling showed millions would die and that health systems would be overwhelmed, the report said. A fight against the virus could go on for 18 months, it said.

To mitigate the disaster, new measures would need to go into place immediately and last for months before being relaxed. Life would never be the same, the report said.

This shocking study appears to have caused both US President Donald Trump and UK Prime Minister Boris Johnson to shift course and increase testing and measures.

In Israel, the virus threat was taken seriously much earlier, but cases have increased to beyond 500 nevertheless. Israel has more cases per capita than either the UK or US. With a very limited capacity in hospitals, Israel is correctly concerned about what the models produced at the Imperial College and by other experts show.

These models don't only affect Israel, they affect the entire Middle East. Jordan is closing off roads with the army. The Gulf states are stopping flights. The Kurdistan region of Iraq is under curfew.

The language of the coronavirus crisis, such as "flattening the curve," concerns of ventilators and intensive-care units and social distancing, are all found in the March 16 study.

We can conclude that Israel is entering into this model, hoping to mitigate the peak of deaths or flooding of hospitals that could occur if the virus spread too quickly.
Israeli Doctor on Coronavirus Frontlines
Dr. Elli Rosenberg runs the coronavirus unit at the Soroka Medical Center in Beersheba. He told JTA: "What we're trying to do is maximize patient care with minimal staff exposure."

"Technology helps. A coin-sized monitor taped to their chest - developed by an Israeli startup company - continuously transmits vital signs by Bluetooth to our control center."

"We also have tablets for the patients that measure their temperature and can serve as a stethoscope. Students and faculty from the engineering department at Ben-Gurion University are building a telemedicine robot to our specifications."

Q: What's your take on Israel's handling of the pandemic?
Rosenberg: "In the beginning, I thought this was handled way too aggressively and that the measures the government decided on were extreme."

"As time progressed, especially with examples coming in from different countries around the world of how governments responded and what the consequences were - for better and for worse - I slowly shifted to the point right now where I hope we're not too late with the actions we're taking."

"If we want to beat this, social distancing and personal hygiene and increased testing have to be implemented and enforced at the highest level." (h/t Zvi)
Elite IDF tech unit working to develop medical equipment, protective gear
The Israel Defense Forces has been working to develop protective gear and improvised medical equipment to assist health care workers as part of the country's efforts to combat the coronavirus outbreak, the military said Thursday.

On Friday, the Defense Ministry said that it too had begun working on the issue, tasking its research and development department with creating technologies and products to help address pandemic.

Military Intelligence Directorate's 81st Technological Unit has focused on tackling several main issues: ventilators, protective equipment and improved data collection.

The Defense Ministry team will be led by Brig. Gen. (Res.) Dani Gold, head of the Directorate of Defense Research and Development, also known by its Hebrew acronym MAFAT, and it will focus its efforts on a number of key areas: quick diagnosis and early detection of virus carriers, prevention of virus transmission and infection, medical monitoring and prevention of infection within hospitals, and manufacturing protective equipment for medical staff.

"The team is using advanced technology, both civilian and military, to develop the aforementioned capabilities. This includes the use of big data, artificial intelligence, command and control systems, various sensors and mobile technology," the ministry said.

The group is meant to be "inter-institutional and multidisciplinary" and will include officials from the Health Ministry, Finance Ministry, Israel Defense Forces, Innovation Authority and National Security Council, as well as representatives from civilian institutions like hospitals, defense contractors, startup companies, think tanks and academic institutions, the Defense Ministry said.

"The brightest minds in the country, from all the various sectors, are committed and working around the clock in order to identify and develop the technological solutions that will contribute to the national effort to cope with the corona pandemic. We hope to share good news with the State of Israel, as soon as possible," Gold said.

The Military Intelligence unit has been working to find a way to easily convert simple breath regulating devices known as CPAP machines into ventilators; these are in short supply and are expected to be needed as the number of coronavirus cases grows, the military said.
Unit 81 is using its technological expertise to develop a breakthrough in the fight against #COVID19 together with @IsraelMOH & @MDAis. Here's how:

• Adapting the BiPAP home ventilating device to be able to ventilate coronavirus patients. A prototype is currently underway. pic.twitter.com/4ojRsOw5UU

— Israel Defense Forces (@IDF) March 19, 2020
Teva to send US millions of malaria pills with potential to help COVID-19
Israeli generic drug giant Teva announced Friday that it will provide ten million doses of its anti-malarial drug hydroxychloroquine, which could potentially prove effective in fighting the coronavirus pandemic, to US hospitals free of charge.

The company said six million doses will be delivered to US hospitals by March 31, and more than ten million in a month.

"We are committed to helping to supply as many tablets as possible as demand for this treatment accelerates at no cost," Teva executive vice president Brendan O'Grady said.

US President Donald Trump touted the potential use of chloroquine on Thursday after encouraging results in China and France, although many experts warn of caution.

In France, the Sanofi laboratory said it was ready Tuesday to offer millions of doses of hydroxychloroquine to potentially treat 300,000 patients.

The hydroxychloroquine molecule, also used for decades in autoimmune diseases like lupus or rheumatoid arthritis, could indeed have an effect on the elimination of the virus, said Professor Didier Raoult, director of France's Institut Hospitalo Universitaire (IHU) for the study of infectious diseases.
.@DrTedros @WHO: When China was crushing its heroic citizens who tried to sound the alarm about the virus, you falsely praised them. Will you now condemn their dangerous lies? https://t.co/n36vABBzbV

— UN Watch (@UNWatch) March 19, 2020
In Israel, Stiff Upper Lips and Gallows Humor Greet the Coronavirus
Many of the online jokes, as well as the complaints toward governmental decisions, have to do with the current life of parents of young children. Schools and kindergartens are closed until at least the end of the Passover vacation, in mid-April, and the kids are at home. The evening it was announced that school's out, a new meme circulated parents' Whatsapp groups: "Wait a minute, they're closing the schools with the kids inside, right?" Wrong. The kids are at home, but they're not on vacation; they're practicing what is known as distance learning. This means they're hogging the computer. If one household has more than one kid in school and possesses a number of computers smaller than that amount of children plus the number of adults that need to work from home, they're in big trouble. And since this whole distance learning business is a new concept, to teachers and pupils alike, the ones having to figure it all out—like why is the geometry website down—are the parents. Like we don't have enough on our plates.

All things considered, Israelis seem to be handling the crisis pretty well. Between Netflix, online yoga classes, and art-projects with the kids, some are actually enjoying this time off. The fact that they are exempt from Shabbat dinner with the in-laws is often just a bonus. Being used to hardship, Israelis know how to keep sane and cheerful in these troubled times. Many stock up on weed instead of toilet paper. And while the country imposed bans on mass gatherings, people cancel self-imposed bans—on alcohol, cigarettes, and carbs. During coronavirus, all bets are off. Israelis know that in a time like this they should do whatever gets them through the night. If that means a marathon of illegally downloaded movies and take-away pizza (delivery is still allowed at the moment), then so be it.

Israelis like to complain about the little things. They like to bitch and whine. Generally speaking, most of them are probably not as worried of the potential danger of contracting the virus, as much as they are bummed out by the sacrifices that need to be made. But this is not going to last forever. And after all of this is over, Israel is expecting a post-coronavirus baby-boom, plus a long line at the rabbinical courts to get a divorce.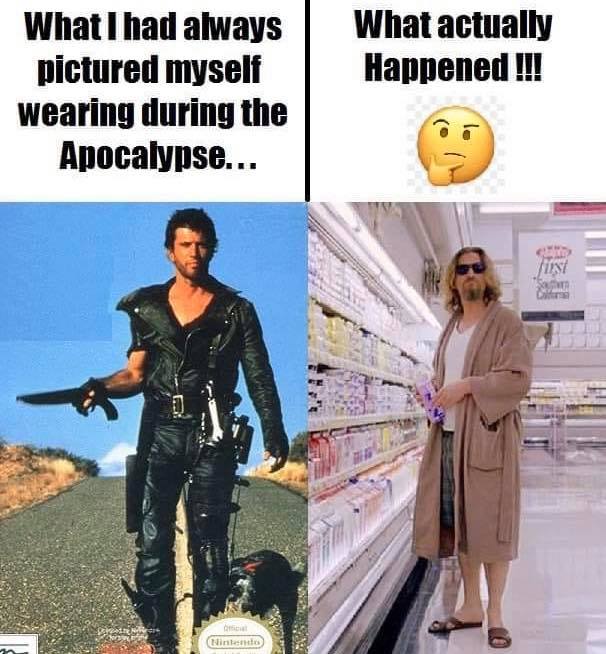 Plague of locusts set to descend upon Middle East in time for Passover
A plague of locusts the likes of which have been unseen for over 30 years is about to hit Africa and the Middle East. Adding to the perfect biblical storm, the current coronavirus pandemic is affecting travel of international experts and in-country gatherings for training to combat the locust threat, said Rome-based Senior Locust Forecasting Officer Keith Cressman on Monday.

Cressman works at Locust Watch, a division of the United Nation's Food and Agriculture Organization, which gives emergency assistance to countries facing desert locust invasions and constantly monitors the status of potential infestations. According to the organization's most recent forecast report, there are new "extremely alarming" swarms forming in Horn of Africa.

Cressman, who has worked with the organization for over three decades, told The Times of Israel on Monday that the previous time the region has been in such danger was during the plague of 1987-1989.

The Desert Locust (Schistocerca gregaria) "is the most destructive migratory pest in the world," according to the Locust Watch website. As depicted in the Book of Exodus, when the highly mobile swarms of Desert Locust form, "they are ravenous eaters who consume their own weight per day, targeting food crops and forage."

While one locust may not seem a major fresser (eater, Yiddish), the swarms can grow to millions of individuals, "with the capacity to consume the same amount of food in one day as 35,000 people."
New study says 'high temperature and high relative humidity significantly reduce' spread of COVID-19
A team of researchers unveiled the results of a new study last week that looked at how temperature and humidity may affect the transmission of COVID-19, the illness caused by the new coronavirus.

According to the researchers' findings, "High temperature and high relative humidity significantly reduce the transmission of COVID-19." An increase of just one degree Celsius and 1% relative humidity increase substantially lower the virus's transmission, according to the data analyzed by the researchers.

The study is the latest in a limited but growing body of research, not all of which has been peer-reviewed, that examines the effect of weather on the spread of the SARS-Cov-2 virus, which causes the COVID-19 illness.

The researchers studied 100 different Chinese cities that each had more than 40 cases of COVID-19 from Jan. 21 to 23. According to AccuWeather Senior Weather Editor and Meteorologist Jesse Ferrell, the decision to study transmission on those dates was critical because that time period was before China intervened on Jan. 24 to stop the spread of the virus. Analyzing that timeframe allowed researchers to observe the natural spread of the virus before public health measures, which have since helped reduce the spread drastically in China, were implemented.

That step was one of several sound methods taken by authors Jingyuan Wang, Kai Feng, Weifeng Lv of Beihang University, and Ke Tang from Tsinghua University, according to Ferrell. He also commended the authors' accounting for GDP per capita, which normalized the differences in health care facilities, and the normalizations for population density.

The paper showed that the direct impacts of air temperatures and humidity levels could be seen plainly in the severity of outbreaks during the earlier stages of the virus spread.
2/ RAMALLAH (WAFA) – President Mahmoud Abbas received a call from his Israeli counterpart Reuven Rivlin. Abbas welcomed this Israeli initiative calling for coordination of efforts to confront the spread of this dangerous pandemic in the region & the world. https://t.co/4TF2I872ZB pic.twitter.com/gnQiQ08qXO

— UN Watch (@UNWatch) March 19, 2020
Israel Cooperates With Palestinians to Fight Coronavirus
Israel has sent hundreds of coronavirus testing kits to the Palestinian Territories and Gaza as part of Israeli & Palestinian cooperation to combat the outbreak of COVID19.
2/ Citing 25 current and past UNRWA directors, the ethics report said an "inner circle" comprising Krahenbuhl, his deputy, chief of staff and senior adviser had bypassed normal decision-making processes and sidelined senior staff, reports the @nytimes. https://t.co/qLDQtrVS86

— UN Watch (@UNWatch) March 20, 2020
Palestinians Defy Leaders' Health Crisis Ban on Work in Settlements
Palestinians on Thursday defied their government's call to cease work in Israeli settlements over coronavirus concerns, saying bringing money home to their families came first.

More than 500 cases of infection have been confirmed in Israel, and nearly 50 in the West Bank, where the Palestinian Authority (PA) exercises limited self-rule.

PA Prime Minister Mohammad Shtayyeh asked the some 25,000 Palestinians who work in settlements in East Jerusalem and the West Bank — areas Israel captured from Jordan in the 1967 Six-Day War — to stay home from Thursday as part of efforts to reduce transmission.

But in the West Bank settlement of Ramat Givat Zeev, Palestinian day laborers dismissed the PA's order and shrugged off virus fears.

"You have to adapt, put yourself in a bit of danger so you can provide food for your children," said Omar Hamad, a construction supervisor from Ramallah. "We have rent, we have expenses, we have lots of things."

The wrangling sheds a light on how workers in the interwoven Israeli and Palestinian economies might push back on coronavirus restrictions that could threaten their jobs and income.
Khaled Abu Toameh:
Palestinian Leaders Use Coronavirus to Attack Israel
On March 18, Israel delivered hundreds of kits for detecting the coronavirus into the Hamas-ruled Gaza Strip, together with equipment for medical protection. This is the same Gaza Strip from which Hamas and other Palestinian terror groups have been firing thousands of rockets at Israel for the past few years, and launching party-balloons carrying hidden bombs as recently as last week. In February alone, more than 40 rockets were launched into Israel from the Gaza Strip.

The Palestinian leaders, who are pursuing their efforts to prosecute Israelis for "war crimes," have been concealing from their own people and the international community the fact that Israel is assisting them in the war on the coronavirus.

For Palestinian leaders, it seems that the war on Israel is more important than the battle against a pandemic and saving the lives of their own people. Yet, these leaders and their families, if they are diagnosed with the disease, will undoubtedly be the first to rush to Israel to seek medical treatment there.
Clashes in East Jerusalem as police limit Old City access amid pandemic
Clashes were reported between Palestinians and police around Jerusalem's Old City on Friday, with at least one arrest made, as authorities sought to limit access to Friday prayers at the Temple Mount to prevent the spread of coronavirus.

Riots were reported outside the Old City after police prevented Palestinians from reaching the site and closed the Old City doors to anyone except local residents. Police used riot-control methods to disperse the crowd.

Friday prayers were held in Jerusalem's Al-Aqsa mosque compound, though in a severely downscaled format, despite Muslim prayer sites being closed across the globe.

The Jordanian Waqf religious authority which runs the site on the Temple Mount, Islam's third holiest, closed the mosque itself, leaving worshippers to pray in the plaza outside.

Just a few hundred faithful attended, compared with the 30,000 who usually take part. Worshipers gathered in small groups, but rain forced them to gather in sheltered spots in violation of Health Ministry rules.

The decision by the Waqf came as Saudi Arabia has closed the religion's two holiest spots, in Mecca and Medina, to worshipers.
PMW:
Unrepentant released spy: We will "liberate" all of Palestine from "the Zionist enemy"
A spy recently released from Israeli prison is unrepentant and promises to "liberate" all of Palestine - the Palestinian euphemism for destroying Israel. He refers to Israel not by name but as "the Zionist enemy." He also promises to "liberate" what he calls the "Syrian Golan."

Sidqi Al-Maqt is a spy from the Druze and former Syrian village Majdal Shams in the Golan Heights. He spied against Israel, providing Syria with information about the Israeli army and was imprisoned in the 1980s. Recently released, Al-Maqt spoke at an event in his honor held by the PLO Commission of Prisoners' Affairs. Note the Syrian flag at the event:

Released spy Sidqi Al-Maqt: "Your enemy is our enemy. It is the one that occupies Palestine, the Zionist enemy, and the same enemy occupies the Syrian Arab Golan. We will … confront this enemy until we liberate all of our occupied Arab land, all of the Golan and all of Palestine, and we won't relinquish one bit of our occupied Arab land in Palestine and the Golan… We will confront the enemy for our causes, and we will pay any price. Our blood and our soul for Syria and for Palestine, and we won't renounce this path."
[Official Fatah Facebook page, March 2, 2020]

In his speech, Al-Maqt also praised several of the most notorious terrorist murderers: Arch-terrorist Abu Jihad who orchestrated the murder of at least 125 Israelis; Abu Iyad (Salah Khalaf) who headed the terror organization Black September and planned the murder of 11 Israeli athletes at the Munich Olympics in 1972; and Dalal Mughrabi who led the most lethal terror attack against Israel in which terrorists murdered 37 Israelis among them 12 children:
As Coronavirus Hinders the IAEA, Who Will Monitor Iran's Nuclear Program?
While the Iranian regime continues to call for sanctions relief in response to the coronavirus crisis, the regime appears rather content with the pandemic's debilitating impact on the International Atomic Energy Agency (IAEA). Inspectors remain stuck in Vienna or quarantined in their hotels in Iran to avoid exposure to the virus, which continues to spread quickly throughout Iran.

Bloomberg reports a potential "depletion of the International Atomic Energy Agency's roster of inspectors." Experts are now considering wider implementation of the remote monitoring technology installed at the Natanz enrichment plant and other Iranian facilities pursuant to the 2015 nuclear deal, formally known as the Joint Comprehensive Plan of Action (JCPOA).

"Staff safety is our paramount concern," IAEA Director General Rafael Grossi told the IAEA Board of Governors (BoG) at a meeting last week in the Austrian capital. Grossi instructed his deputies to "consider whether staff travel is essential."

This challenge to verification and monitoring in Iran comes at a decidedly inconvenient moment. The IAEA is now investigating potential Iranian nuclear violations that were exposed by the documents Israel removed from a secret nuclear warehouse in the outskirts of Tehran in 2018.

Last week's BoG meeting noted Iran's violations of the JCPOA and mentioned man-made uranium particles found in a facility in Turquzabad, south of Tehran. The meeting also noted Tehran's refusal to grant access to some undeclared sites, in direct violation of Iran's obligations under its Comprehensive Safeguards Agreement (CSA) and the CSA's Additional Protocol. The BoG also discussed Iran's efforts to clean suspected undeclared nuclear sites and to obfuscate investigations.
IMF Loan Request Exposes Severity of Iran's Financial Crisis
Since the 1979 revolution, Iran has never asked the IMF for help and has criticized it for ideological reasons. Now the coronavirus outbreak has aggravated Iran's existing economic woes. It has led to a collapse in Iran's hard currency income, with the country's tourism sector coming to a halt and cross-border trade between Iran and neighboring nations, including Iraq, being suspended.

Iran has changed its policy of not seeking help from the IMF because the country is unable to withdraw the $5 billion it needs from its National Development Fund (NDF).

Perhaps it would be more useful if the IMF supplied medicine and medical equipment instead of agreeing to a $5 billion loan. This would ensure that no money is diverted to financing Iran's regional projects or its ballistic missile/nuclear program.
US to Iran: Coronavirus won't save you from sanctions
The United States sent Iran a blunt message this week: the spread of the coronavirus will not save it from US sanctions that are choking off its oil revenues and isolating its economy.

Iran is the Middle Eastern nation worst hit by coronavirus, with its death toll climbing to 1,284 and one person dying from it every 10 minutes and 50 becoming infected every hour, the health ministry said.

The United States, which argues that its "maximum pressure" campaign to curb Iran's nuclear, missile and regional activities does not stop the flow of humanitarian goods, imposed new sanctions this week.

The Trump administration blacklisted five companies based in the United Arab Emirates, three in mainland China, three in Hong Kong and one in South Africa for trade in Iran's petrochemicals.

"Washington's increased pressure against Iran is a crime against humanity," an Iranian official told Reuters. "All the world should help each other to overcome this disease."

Some analysts suggested the Trump administration should do more to speed the flow of humanitarian goods into Iran, though they saw little evidence to suggest this was in the offing.

"Our policy of maximum pressure on the regime continues," Brian Hook, the US Special Representative for Iranian Affairs, told reporters. "US sanctions are not preventing aid from getting to Iran."

On Monday, China called on the United States to give Iran sanctions relief for humanitarian reasons but US officials, foreign diplomats and analysts saw no signs of this.

"While Iran is an epicenter of this virus outbreak and facing true economic catastrophe ... there will be no relief on sanctions," said Elizabeth Rosenberg of the Center for a New American Security think tank.

Hook said Washington sent a diplomatic note to Tehran offering help with coronavirus "and it was quickly rejected."

He also blamed Iran's leadership for its coronavirus woes, saying that Iran "spends billions on terrorism and foreign wars" and that if it spent one tenth of this "on a better health care system, the Iranian people would have been much better off."
Ayatollah's American Allies Seize on Pandemic in Fresh Push for Sanctions Relief
The architects of the Obama administration's self-described pro-Iran echo chamber have used the coronavirus outbreak to argue that U.S. sanctions are to blame for the virus's aggressive spread across the Islamic Republic—a line the Iranian government is also peddling.

Former Obama officials and their allies have argued that the United States is depriving Iranian citizens of much-needed food and medical supplies by continuing to impose sanctions as the coronavirus has devastated the country. Trump administration officials say, however, that humanitarian channels have remained open to Iran since before the virus erupted.

Ben Rhodes, the Obama deputy national security adviser and creator of what he described as an echo chamber—media and think-tank support for the Obama administration's efforts to ink the landmark nuclear accord—argued that the United States is committing a "moral abomination" by refusing to lift sanctions.

"It is a moral abomination that the United States is continuing to enforce sanctions on Iran while its people die because of a virus that threatens all humanity," Rhodes wrote on Twitter.

These arguments were soon echoed by MSNBC host Chris Hayes who called the U.S. sanctions against Iran "sociopathic madness."

"I understand there is so so much pressing news and things we need to be doing right now, but refusing to relax sanctions against Iran right now is sociopathic madness," Hayes wrote on Wednesday.

The Trump administration is aggressively pushing back against these claims, citing current sanctions exceptions for critical medication and humanitarian supplies. These channels have been open since before the coronavirus broke out and they continue to provide Tehran with the ability to counter the virus's spread, these officials said.
Iranian national admits to planning terror attacks in Germany
The 35-year-old Iranian man, Fatah Mohammed Abdullah, confessed on Friday in a British court to inciting terrorism in Germany and planning to deliver explosives for the attacks.

The Guardian paper said Mohammed Abdullah "bought more than 8,000 matches, fireworks, fuses, explosives precursors – or substances that could be used to manufacture explosives – and a remote control detonator."

The paper added that "His intention was to help Omar Babek and Ahmed Hussein commit acts of terrorism in Germany."

According to the Guardian , "charges against the defendant state that between 9 April 2018 and 11 December 2018, he encouraged others to commit terror attacks in the country, including by driving a car into a crowd, attacking people with a meat cleaver and setting off bombs."

The court proceeding took place in Liverpool. British counter-terrorism officials arrested the Iranian national in December.

Mohammed Abdullah arrived to the UK from Iran in 2005, according to BBC, which noted that the British authorities allowed him to remain until 2010.
Pompeo Says US Citizen Detained in Iran Since 2018 Released on Medical Furlough
US citizen Michael White who has been detained in Iran since 2018 has been released on Thursday on medical furlough, US Secretary of State Mike Pompeo said, adding that the US navy veteran was currently under the custody of the Swiss government.

"His release on humanitarian grounds was conditioned upon him staying in Iran. Michael is now in the custody of the Swiss embassy and will undergo medical testing and evaluation," Pompeo said in a statement.

On Tuesday, Pompeo in a press conference said Tehran was considering freeing some US citizens and urged them to do so as a humanitarian gesture because of coronavirus. Iran has reported 16,169 coronavirus cases and 988 deaths in one of the worst national outbreaks outside of China, where the pandemic originated.

It is not clear exactly how many Americans Iran may hold, but they include father and son Baquer and Siamak Namazi and possibly Robert Levinson, a former FBI agent missing since 2007.

The United States said it has offered humanitarian help to Iran as it dealt with the coronavirus, but said it would maintain its maximum-pressure campaign to choke off Tehran's ability to export its oil. It has blacklisted new companies earlier this week on companies for engaging in "significant transactions" to trade in Iranian petrochemicals.
Lebanese-American Amer Fakhoury Released From Prison in Beirut
Lebanese-American Amer Fakhoury, who was detained in Lebanon in September, has been released and is on his way back to the United States, US President Donald Trump said on Thursday.

Fakhoury, a 57-year-old New Hampshire resident, was accused of overseeing the torture of Lebanese at a prison in south Lebanon in the 1980s and 1990s while part of an Israel-backed militia, a charge he denies.

The case prompted US Senators Ted Cruz and Jeanne Shaheen to introduce a bill that would sanction Lebanese officials involved in detaining US citizens in Lebanon, though the legislation had yet to go up for a vote.

"Fakhoury is on his way back to the United States … He's battling late-stage cancer," Trump told a news conference in which he also thanked the Lebanese government.

A Lebanese military court on Monday acquitted Fakhoury, citing the expiry of statute of limitations, a move that drew criticism from local media and politicians. Other Lebanese judicial authorities later ordered his travel ban and retrial, according to state media.
WATCH: To the people of #Iran, the people of #Israel have a very special message for you.

We wish you a Happy Nowruz! May the coming spring bring only good health and blessing. The people of Israel stand with you - always. pic.twitter.com/A5ragiaJWt

— StandWithUs (@StandWithUs) March 20, 2020
---
---
We have lots of ideas, but we need more resources to be even more effective. Please
donate today
to help get the message out and to help defend Israel.