From Ian:
---
Pierre Rehov:
Exposing the Truth About the Gaza Riots
Islamist organizations attacking Israel have always had a propagandist's keen sense of vocabulary in their communication with the Western world.

Rightly convinced that few of us are able or even interested in deciphering their original speeches — which reveal their true intentions — they have been flooding us for decades with erroneous concepts and false claims, all playing on our desperate desire to do "good" and fight for the oppressed. They try to use our own history and heartstrings to make us react in a way that will be favorable to them.

And over the years, their terminology has been accepted by everyone, including — it must be said — in Israel itself.

For weeks, Hamas and other terrorist organizations have undertaken what they want the world to believe is a peaceful and "pacifist" popular uprising.

Once again, their deceptive use of vocabulary is clever and manipulative. On one level, these "protests" are peaceful demonstrations, thereby serving as cover for multiple attempts to destroy the separation barrier between Gaza and Israel, kidnap soldiers, kill Israeli and Jewish civilians, and launch terrorist attacks.

Why are the Palestinians "protesting" at the fence? The true answer is to destroy and overrun the Jewish state. But according to Hamas, they are simply seeking a "right of return" for the descendants of "refugees."

Buses chartered by Hamas and Islamic Jihad — decorated with giant keys and illuminated names of missing villages supposed to symbolize this "right of return" — show up every Friday in front of mosques and schools in Gaza. Hamas has created a manipulated population, ready to kill themselves for these cynical or obsolete words and ideas.
MEMRI:
Palestinian Authority Supreme Shari'a Judge And Abbas' Advisor Mahmoud Al-Habbash: The Jews Have No Connection To Jerusalem; This Is An Imperialist Myth And Distortion Of History
Mahmoud Al-Habbash, the PA Supreme Shari'a Judge and President Mahmoud 'Abbas's advisor for religious affairs, said at a June 4, 2018 conference that the struggle in Jerusalem is between the rightful owners of the city – the Muslims and Christians – and "some foreign Western imperialists that have no connection to this soil." He added that the state of Israel is an imperialist Western enterprise whose purpose is to weaken and divide the Arab world, and that the claim that the Jews have a historical connection to Jerusalem is nothing but a distortion of history.

The conference at which Al-Habbash spoke, organized by "the Muslim-Christian Council for the Salvation of Jerusalem and the Holy Places" and the Organization for Muslim Cooperation (OIC) under the title "The Monotheistic Religions against the Judaization of Jerusalem and Its Holy Places," was also attended by other PA officials, including the Palestinian Mufti, as well as other Christian and Muslim religious leaders, and ambassadors.

The following are translated excerpts fromn Al-Habbash's statements at the confrence:
"The battle for Jerusalem is not a religious one; it a political battle between the rightful owners [of the city] and the imperialists. This obligates us to raise the Arab and Muslim world's awareness of the Arab, Muslim and Christian identity of Jerusalem...

"We must be careful when using a particular term or word in connection with Jerusalem, for this is not a conflict with the Jews, but a struggle between the [real] residents and owners of Jerusalem, who are Muslim, Christian and Arab, and some foreign Western imperialists that have no connection to this soil. The catastrophe of Jerusalem did not begin in 1967 or 1948, or with the Balfour Declaration. It began much earlier, about 450 years ago, when imperialist calls began to be heard in the West.

"Palestine is not the [Jewish] Promised Land or the land of the [Jewish] forefathers – for if it is, why did they consider it as [only] one of several options when they started looking for a place for their state?...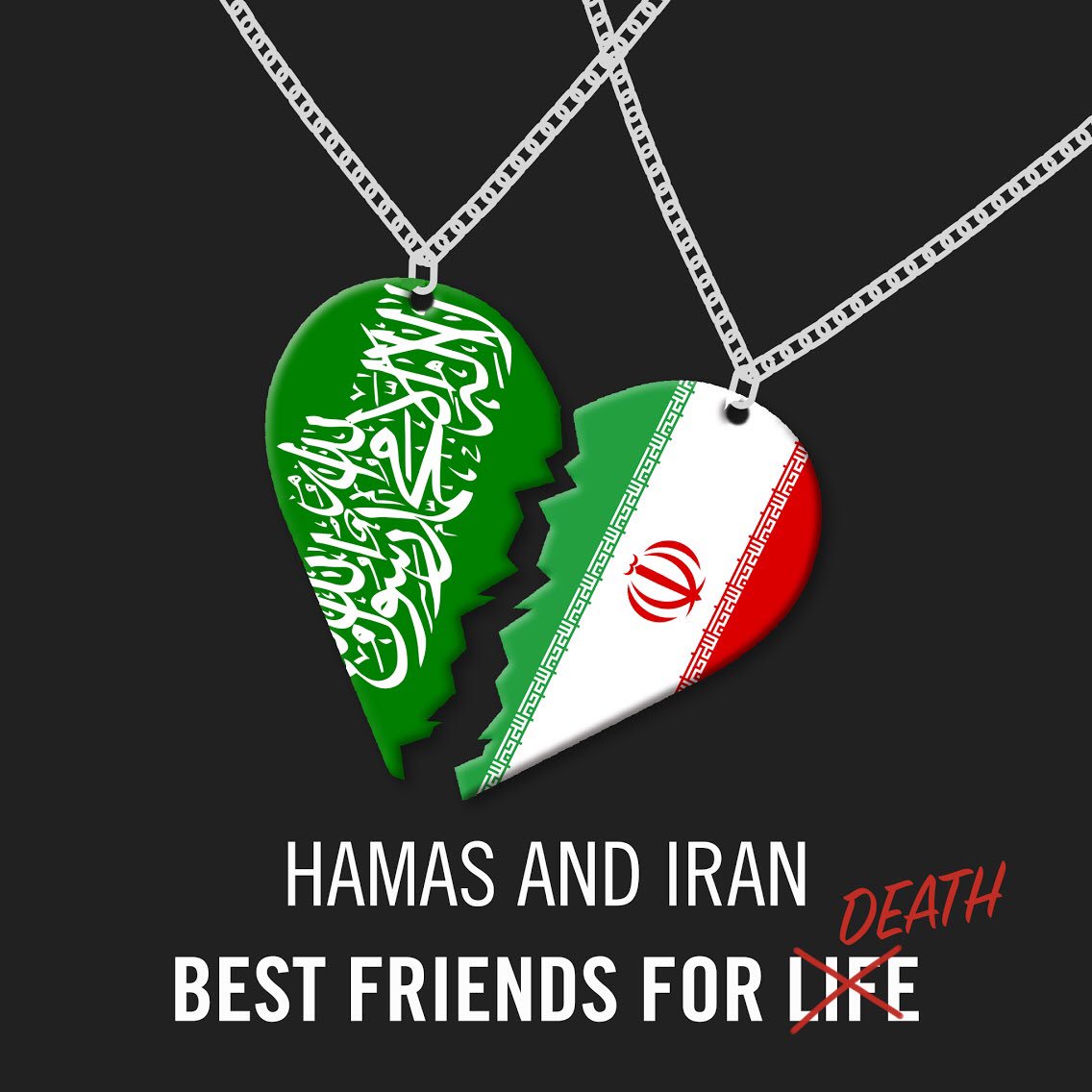 Suspect in rape, murder of German-Jewish teen Susanna Feldman arrested in Iraq
The German government said a young Iraqi man suspected in the rape and murder of a 14-year-old Jewish schoolgirl in western Germany has been arrested in his homeland.

The Interior Ministry said 20-year-old Ali Bashar was arrested by Kurdish security forces in northern Iraq early Friday at the request of German police.

The body of the girl, named as Susanna Maria Feldman, who had been missing since May 22, was found Wednesday buried on the outskirts of the western German city of Wiesbaden.

Bashar was a suspect in a string of previous offenses in the area, including a robbery at knifepoint. The dpa news agency reported that the victim knew Bashar's brother.

He is believed to have arrived in Germany in October 2015, at the height of the migrant influx to Germany, and was appealing the rejection of his asylum application.
David French:
It's Time for an Iran-Deal Reckoning
The Obama administration's 'norms' and 'values' included deception and weakness.

The "scandal-free" Obama administration sure liked to lie a lot. This morning, America awoke to yet another revelation that Obama officials misled Congress about their dealings with Iran.

A Senate Permanent Subcommittee on Investigations report alleges that the administration secretly sought to give Iran access — albeit briefly — to the U.S. financial system by sidestepping sanctions kept in place after the 2015 nuclear deal, despite repeatedly telling Congress and the public it had no plans to do so. Specifically, the Obama Treasury Department issued a license that would have allowed U.S. banks to participate in a scheme to convert $5.7 billion in Iranian funds into U.S. dollars and then euros. The American banks declined to participate, "citing the reputational risk of doing business with or for Iran." The license wasn't unlawful, but, to quote the Associated Press, it "went above and beyond what the Obama administration was required to do under the terms of the nuclear agreement."

In other words, the Obama administration tried to do Iran an immense financial favor, one not required by the deal itself, to uphold the mythical "spirit" of the agreement (yes, that's their off-the-record excuse). Iran had reportedly complained that it "wasn't reaping the benefits it envisioned," and the Obama administration attempted to help — even though it had publicly assured Americans that "Iran will be denied access to the world's most important market and unable to deal in the world's most important currency."

Keep in mind, this attempted favor happened even as the Obama administration's pie-in-the-sky hopes for the deal were crumbling before the world's eyes. It was the administration's hope that lifting sanctions, bringing Iran back into international markets, and providing it with immense sums of cold, hard cash would somehow make the jihadist regime want to "fully rejoin the community of nations." Commerce and forbearance would work their magic, Iran would moderate, and we'd have peace in our time.
Caroline Glick:
Emmanuel Macron's Dandruff Diplomacy
Macron's skillful diplomacy and fine judgment was on display once again on Tuesday. Standing next to visiting Israeli Prime Minister Benjamin Netanyahu, Macron decided that the best way to prove his importance was by attacking Trump.

This time Macron didn't do it by physically assaulting him on live TV. Instead, Macron chose to blame Trump for the lethal consequences of Hamas's three-month-old terror operation against Israel along the Gaza-Israel border.

Some 110 Palestinians have been killed by Israeli forces deployed along Israel's border with Gaza to protect Israel from Hamas penetration and terror. Hamas has acknowledged that at least half of the fatalities were its terrorists.

In the framework of this ongoing operation, Hamas buses hundreds of non-combatants to the border to serve as human cannon fodder. Hamas terrorists, interspersed among the crowds, use civilian cover to launch various types of assaults against Israel. These assaults have included border infiltration, mortar and rocket attacks, Molotov cocktails, and destruction of sections of the border fence.

Over the past week, the center of Hamas's efforts against Israel moved to environmental terrorism. Hamas terrorists have launched hundreds of kites carrying Molotov cocktails and other incendiary devices across the border. Thousands of acres of farmland and nature reserves have been scorched.

Standing next to Netanyahu on Tuesday, Macron ignored all of that. He alleged that Hamas's violent assault against Israel is a consequence of Trump's decision to move the U.S. Embassy in Israel to Israel's capital city, Jerusalem, on May 14. Macron claimed that the embassy move provoked violence and did not promote peace.

In his words, "If this leads to people dying it's not a celebration."
Giuliani: Palestinian Authority a 'renegade group' of 'terrorists and thieves'
The Argentinian national team's decision to succumb to threats and cancel its exhibition match in Israel Saturday night is "outrageous," Rudy Giuliani told The Jerusalem Post on Thursday.

Giuliani, in Israel until Sunday for a number of speaking appearances, said: "You should never succumb to fear induced by terrorists."

Giuliani, the combative ex-mayor of New York City during the September 11, 2001 terrorist attacks, noted that the Argentinian national team already agreed to play in Israel, and the only reason they backed out was because of fear.

"You don't let terrorism frighten you into not doing what you already agreed to do," he said. "Had they not agreed to it in the first place, it would be one thing; but having agreed to it, you have to have the courage to go through with it."

Regarding the threats to the lives of the players and the team's security consideration, Giuliani said: "It seems to me this is a very wealthy organization.

You get protection and move forward."

Giuliani, who is currently US President Donald Trump's personal lawyer, said that in the immediate aftermath of 9/11 he would appear on television and urge people to come to New York to demonstrate that "terrorism cannot affect us."

"Resilience is a defense to terrorism," he said.
Gaza is going to get worse before it gets better
Hamas cannot retreat, cannot shed its ethos of permanent struggle and leave nothing to show for the long years of suffering it has inflicted on Gaza.

Israel, meanwhile, believes there is no purely military solution to Hamas's domination of Gaza, and that the terror group's unabashed exploitation of Gaza's resources and capital for its war effort means that the only way to meaningfully limit its capabilities is to limit the resources and capital available for exploitation in the first place.

This is a siege, but a strange one. Inflicting too much suffering on Gaza would amount to a victory for Hamas's narrative – Israel as strong and cruel – and so would constitute a strategic setback for Israel. But winning the staring contest is also vital to denying Hamas its second narrative of Israel as weak and retreating. Israel's dual need to limit Hamas's operational space without imposing too high a cost on Gaza is at the root of some of the Israeli defense establishment's most celebrated recent innovations, including Iron Dome, the IDF's new tunnel-detection technology, and, more recently, kite-hunting drones.

Hamas, meanwhile, will continue to do its utmost to destabilize this strategy with new modes of attack and new efforts to draw Israel into direct confrontation with Gazan civilians.

It is not clear if Israel's final goal – Hamas's internal domestic collapse – is likely to happen any time soon. Hamas's final goal – Israelis fleeing their country – is not going to happen either.

The Israel-Hamas standoff isn't going anywhere anytime soon, and, presumably, neither is the international diplomatic community's role as loudly moralizing but strategically befuddled observer.
'They burn, we plant' campaign launched
Residents of Israeli communities surrounding the Gaza border will begin a massive tree-planting campaign this week in response to the destruction that has been caused by incendiary kites from Gaza.

The project is the initiative of Ofir Levstein from Kfar Aza, and Friday marks the beginning of the week-long campaign.

"The Sha'ar Hanegev [regional council] community, from all the neighborhoods, are invited to the tree-planting event this weekend," Levinstein wrote in a post on Facebook.

"Families, farmers, the old and the young – everyone is invited... We're taking responsibility and creating the reality. They burn and we plant," he wrote.

He mentioned Nir Am, Erez, Nahal Oz, Kfar Aza and Miflasim as communities in need of restorative efforts.

Keren Kayemeth LeIsrael – Jewish National Fund (KKL-JNF) is joining the residents in the campaign and will supply thousands of tree seedlings to be distributed and planted by residents.
Hamas leader threatens to 'bring down walls of Gaza' in mass Friday protest
Ismail Haniyeh, the Gaza leader of the Hamas terror group's political bureau, said Thursday that Palestinian protesters will "bring down the walls" surrounding the Strip during mass demonstrations expected on the border Friday.

"We shall continue to knock on the doors of this huge prison, and we shall eventually bring down its walls," Haniyeh said in an English-language column for the Middle East Eye, a Britain-based website whose coverage on Israel is overwhelmingly critical.

Haniyeh added that if Palestinians can't gain their "right to freedom, independence and honorable living" by peaceful means, "it is our right to resist occupation through all possible means, including armed resistance."

In the op-ed, Haniyeh claimed that the mere fact that no Israelis have been hurt in the demonstrations was "proof" that they were nonviolent, despite vast recorded evidence to the contrary.
Three said killed in clashes as 10,000 protest on Gaza border
Three Palestinians were reported killed, one of them a teenager, as approximately 10,000 people took part in mass demonstrations at the Gaza Strip border on Friday afternoon for the 11th week in a row, according to Israeli assessments.

Over 100 people were injured by live fire in clashes along the security fence, according to the Hamas-run Gaza health ministry.

The military said protesters hurled grenades, improvised explosives and rocks at soldiers, burned tires and flew dozens of incendiary kites and balloons into Israeli territory, speaking a number of fires.

In addition to kites and balloons outfitted with pouches of burning fuel — which have become a regular occurrence at protests — the army said it had intercepted a number of airborne explosive devices that were being flown into Israel.

Troops fired tear gas canisters at the mobs of demonstrators. The Israel Defense Forces also confirmed that live rounds were fired in accordance with its rules of engagement.
Despite concerns, senior IDF technology officer says anti-kite drones a success
Using drones, a group of conscripted soldiers and hobbyists pressed into service have managed to bring down over 500 fire kites and balloons launched by Palestinians in the Gaza Strip toward Israeli territory over the past 10 weeks, a senior officer said Thursday.

The Israeli military anticipated that many more so-called "terror kites" and "terror balloons" would be flown into Israel from Gaza on Friday as part of large-scale "March of Return" protests organized and supported by the Hamas terror group, which rules the coastal enclave.

The Israel Defense Forces has access to several varieties of small unmanned aerial vehicles, along with a host of detection and tracking technologies, that it uses to intercept these incoming airborne arson devices, said Col. Nadav Livne, head of the IDF Ground Forces' research and development branch.

Standing on a hill outside Kibbutz Nahal Oz, overlooking the Gaza border, Livne told a scrum of reporters that the military believes its drone effort was a success. He denied a claim made by the Kan public broadcaster on Saturday night that the initiative had been deemed a failure due to a comparatively low success rate.
Defense contractor Rafael 'working on solution' to Gaza's incendiary kites
Top Israeli defense company Rafael Advanced Defense Systems is working on a solution to combat the problem of incendiary kites launched from the Gaza Strip, a top official from the military contractor said Friday.

"We are working on a solution to the kites, we do have some solutions and we are in continuous contact with the IDF so that we will be able to deliver those solutions," Dr. Ran Gozli, head of Rafael R&D, told Army Radio.

"It's an ongoing process, and we prefer to show you [its results], so for now I'll just say that we are working on it," he said.

Rafael is one of the largest defense contractors in Israel, responsible for the Iron Dome missile defense system, its seaborne equivalent C-Dome, the Spike surface-to-surface missile and other arms. The Iron Dome system was developed to shoot down incoming rockets and missiles from Gaza, which it did effectively during the 2014 conflict with Hamas.
— IDF (@IDFSpokesperson) June 7, 2018
Latvian FM decries 'disproportionate' response to Gaza riots
Israel responded proportionally to recent missile attacks from the Gaza Strip but not in dealing with the rioting along the Gaza fence, Latvian Foreign Minister Edgars Rinkevics told The Jerusalem Post on Thursday.

Rinkevics, who arrived early Thursday morning for a two-day visit to Israel and the Palestinian Authority, said that in his country's opinion, the use of Israeli force "on the Gaza issue" has been "disproportionate, and we call for a more proportionate use of force."

He added that "We are not turning a blind eye to how those attacks [the Gaza riots] were instigated."

Asked what in his mind would be a proportionate response to a rocket falling on the courtyard of a kindergarten, as happened last week and was one of the triggers to an intensive IDF pounding of Hamas and Islamic Jihad positions in Gaza, Rinkevics said, "I am not discussing missiles – I think those are absolutely issues where Israel is responding in a proportionate way."

Rather, he said, the "disproportionality" happened on May 14, the day when the US Embassy moved to Jerusalem and 61 Palestinians were killed in riots along the Gaza fence.

"How would Latvia respond if 40,000 people, from wherever, were on your border, wanting to come in, and saying they want to kill you? What would you do?" he was asked.
IsraellyCool:
An Open Letter to the Media
Dear News Media,

Day after day, we are bombarded with news of the violence taking place on the Israeli border with Gaza. We have some questions for you in light of this:


Why are you so obsessed with Israel (front page headlines) and their treatment of Gazans when there is much more violence and bloodshed in the region and many more innocent lives being lost?
Why is violence in Gaza more important than the protests and eruption of violence taking place in South Iran at the same time? Or the death toll of Kurds in Afrin at the hands of the Turks? Or Egyptian operations against terrorists in the Sinai?
Why are Palestinians who died at the hands of Israelis more important to you than the Palestinians being slaughtered or displaced in the Yarmouk refugee camp in Syria or in refugee camps in Iraq?
Why do you give so much coverage to 60 Palestinian deaths when Hamas has publicly and proudly admitted that 50 of them were part of the terrorist group, and three were members of Palestinians Islamic Jihad?
Wouldn't every other country in the world try to protect its border when people who have declared their genocidal intentions try to breach it?
Report: Gazans to dress like concentration camp prisoners in protest
Palestinians are expected to protest along the Gaza border fence on Friday wearing clothing made to resemble uniforms worn by prisoners in concentration camps in the Holocaust, Channel 2 News reported on Thursday.

The report says Gazans wearing the uniforms will march toward the border fence and Hamas intends to incite people to try and cross the fence.

The report also cites Palestinian media and social media saying at least 1,500 terror kites are being prepared for the protests.
IsraellyCool:
Is This Today's Potential Future Darwin Awards Winner?
The palestinian news sites are posting photos of one of their rioters, supposedly hit in the face with a gas canister. For example:



I can't say I am an expert in gas canister face impact incidents – I tend to stay away from violent riots – but the "Puff the Magic Dragon" look seems a bit odd to me. Did this rioter happen to catch the canister with his mouth?

My theory: this guy was being a dumbass
UK Jewish Groups Slam Corbyn Over Remarks on Gaza Border Deaths
UK Jewish groups have taken Labour leader Jeremy Corbyn to task after he called Britain's lack of support for an independent probe of recent deaths in Hamas-orchestrated riots on the Israel-Gaza Strip border "morally indefensible."

Sheila Gewolb — senior vice president of the Board of Deputies of British Jews — said on Wednesday, "Every country has the right to defend its own borders. Jeremy Corbyn's statement failed to show any appreciation for the threats that Israel faces, nor for the fact that terrorist organizations Hamas and Islamic Jihad have admitted that many of those on the front line were their own operatives, under order to breach the border fence and 'tear out the hearts' of Israeli civilians living on the other side."

"If Mr. Corbyn wants to be a credible peace broker he has got to show that he understands Israel's security needs," Gewolb continued. "He also has to answer the question about what he would do if hundreds of members of a terrorist organization like Daesh were trying to breach a UK border fence, under orders to kill British citizens."

Paul Charney — chairman of the British Zionist Federation (ZF) — said, "The ZF is disappointed but sadly not surprised by Mr. Corbyn's statement on Gaza that was read at the small demonstration yesterday. To make a statement about Gaza on the day that acres and acres of Israeli land had been burnt by rioters launching firebombs attached to kites, with no mention of Hamas, Islamic Jihad, Egypt, or the continued attempt to breach Israel's border from below ground and above is exactly as Mr. Corbyn said, 'morally indefensible.'"
Today is Al-Quds Day, a day Iran created as a platform for Hamas to incite violence and hate against Israel

pic.twitter.com/ZfkDnpw2CF

— IDF (@IDFSpokesperson) June 8, 2018
Marking anti-Israel 'Quds Day,' Iranians take to the streets
Iranians have begun anti-Israel "Jerusalem Day" rallies across the country to condemn Israel's control of the holy city.

The rallies, including one at Tehran University, were expected to last through Friday prayer ceremonies.

Chanting "Death to Israel," demonstrators protested Israel's control of Jerusalem, the city where Muslims believe Islam's Prophet Muhammad began his journey to heaven. Palestinians want East Jerusalem for their future capital.

Iran does not recognize Israel and supports anti-Israeli terror groups such as Hamas, which rules Gaza, and Lebanon's Hezbollah.

Demonstrators also chanted anti-American slogans to condemn the US decision to move its embassy to Jerusalem on May 14.

The official Fars News Agency said in its report of the protests that "millions of Iranians from all walks of life" were taking part in "nearly 900 Iranian cities." There is no independent report on the numbers of participants in the rallies.
Scores of Syrians, Palestinians march through Damascus to mark Quds Day
Scores of Syrians and Palestinians commemorated Quds Day Friday by marching through the streets of Damascus while chanting anti-Israel slogans.

The protesters walked from the Hamidyeh market in the old city of Damascus to the Umayyad Mosque waving Syrian and Palestinian flags.

Hamid Hassan, 73, a Palestinian, said that the event "means a lot to us. Jerusalem is an Arab land and it's the land of all religions."

He added: "We will continue to offer martyrs until we liberate it. We will never kneel."

Rallies are also taking place in Iran and across the Muslim world. Chanting "Death to Israel," demonstrators in Tehran protested Israel's control of Jerusalem, the city where Muslims believe Islam's Prophet Muhammad began his journey to heaven. Palestinians want East Jerusalem for their future capital.
Iraqi Shiite militias mark al-Quds Day with military march
Thousands of Iraqi Shiite Muslims marched through Baghdad's Palestine street on Friday (June 8) for al-Quds (Jerusalem) Day, an annual day of solidarity with the Palestinians.

The late founder of the Islamic Revolution, Ayatollah Khomeini, in 1979 proclaimed the last Friday of Ramadan, the fasting month for Muslims, as al-Quds day to show solidarity with the Palestinians.

Men in military uniforms carried Palestinian and Iraqi flags as well as banners with photographs of Ayatollah Khomeini and burnt an Israeli flag.

Al-Quds day is held in several Arab and Muslim countries. In Iran, tens of thousands took part in anti-Israel rallies across the country in solidarity with the Palestinians. They chanted "Death to Israel" and "Death to America", burning the Israeli flag.
Morton Klein:
Time for Free Nations to Leave the UN Human Rights Council
Last week, U.S. Ambassador to the United Nations Nikki Haley attempted to have the U.N. Human Rights Council cease its perpetual preoccupation with condemning Israel. But our European allies would have none of it.

Europe refused to join the U.S. in seeking to terminate the Council's permanent agenda item devoted to Israel –– the only country singled out in that fashion.

Nearly a year ago, Ambassador Haley warned the UN to reform the Human Rights Council or expect a U.S. exit from the body.

That moment might now be in the offing. If so, not a moment too soon.

The Human Rights Council was created in 2006 to supersede its corrupt predecessor, the UN Human Rights Commission, which at its end counted six of the most politically repressive regimes — Cuba, Saudi Arabia, Sudan, Libya, China and Vietnam — as members. Iran, a country known for "honor killings" of wives and daughters, led the commission's women's rights committee; Saddam Hussein's representative once presided over its disarmament panel.

A satirist could scarcely conceive so perverse a record. But the Human Rights Council, which replaced the Human Rights Commission, has at the very least equaled it.
'Vote to Condemn Hamas': US Official Outlines New Tactic in Support of Israel at UN Security Council
On June 1, the UN Security Council found itself in the unprecedented position of having to vote on competing resolutions concerning the latest round of violence on the Israel-Gaza border.

Unprecedented, because for the first time, the council — the UN's supreme body — was asked to vote on a draft, submitted by the United States, that condemned Hamas for orchestrating the confrontations around the "March of Return."

At the same time, the council was also asked to vote on a draft submitted by Kuwait, one of its nine non-permanent members, that placed all the blame for the violence on Israel. In the end, both drafts were defeated, the Kuwaiti text by the US exercising its veto, and with four countries — The Netherlands, Poland, Ethiopia and the UK — abstaining. The American-supported text was opposed outright only by Bolivia, Kuwait and Russia, with the remaining eleven members of the Council deciding to abstain.

Commenting on last week's vote, an official at the US mission to the UN stated that it was "telling that 11 countries chose to abstain, and only three chose to embrace the Hamas position."

"There was a great deal of discomfort among those 11 nations about having to abstain on whether they consider Hamas activity to be terrorism," the official observed, as part of a wider discussion with The Algemeiner on Tuesday examining the more proactive strategy in support of Israel that US Ambassador Nikki Haley is rolling out at the UN.

At the heart of that strategy, the official explained, is the willingness to submit resolutions to the UN Security Council that underline Israel's right to defend itself, or that spotlight American and Israeli adversaries, such as Iran, its Lebanese proxy Hezbollah, and Hamas.
Netanyahu said to snub EU foreign policy chief, causing her to nix Israel visit
Prime Minister Benjamin Netanyahu refused a request by European Union Foreign Policy chief Federica Mogherini to meet in Jerusalem next week, causing her to cancel her planned trip to the country, Hebrew-language news outlets reported Friday.

Mogherini, currently in Jordan, was set to visit the Israeli capital to take part in the American Jewish Committee's annual Global Forum conference in Jerusalem, which begins Sunday.

But her request to meet with Netanyahu on the sidelines of the conferences was reportedly turned down, leading her to cancel her trip.

A top diplomatic source told Hadashot TV news Mogherini "was invited by the conference" and not by Israeli leaders. "Her positions are very hostile to Israel," he added.
Zimbabwe opposition pledges upgraded ties with Israel if it takes power
Zimbabwe's main opposition party announced Thursday it will establish formal ties with Israel — a major foreign policy shift — and create a $100 billion economy within a decade if it wins July 30 elections.

The MDC-T, which has re-energized under 40-year-old leader Nelson Chamisa, launched its election manifesto while the state broadcaster, which is closely aligned with the ruling party, provided rare live coverage.

Deepening political ties with Israel by opening an embassy there would mark an important shift for Zimbabwe, which has close relations with the Palestinians, who have maintained a diplomatic mission in the southern African country since 1980.

Israel and Zimbabwe have had partial diplomatic ties since 1993, but have never exchanged ambassadors. Zimbabwe staunchly supported the Palestinians during the 1980s, comparing Zionism to the Apartheid regime in South Africa, with state run publication The Herald questioning Israel's right to exist.
Iran: Israel, Saudi Arabia provoke Middle East chaos
The speaker of Iran's parliament Ali Larijani said on Friday that security in the Middle East could be threatened if Tehran was further pressured by its arch foes Israel and Saudi Arabia.

Tens of Thousands of Iranians took part in anti-Israel rallies across the country to mark Iran's Quds (Jerusalem) Day, in which Iran demonstrates solidarity with the Palestinians. They chanted "Death to Israel" and "Death to America," burning the Israeli and American flags.

"Israel and Saudi Arabia are the source of chaos in the region. The Saudi Arabia-Israel-American triangle wants to turn the region into a chaotic scene," state television showed Larijani telling demonstrators "The region's security will be threatened if they corner Tehran."

Israel has strongly backed President Donald Trump's decision to pull out of the 2015 nuclear deal with Iran. Washington has reimposed sanctions on Iran and demanded that it make sweeping changes from dropping its nuclear program to pulling out of the Syrian civil war.

Supreme Leader Ayatollah Ali Khamenei said on Monday he had ordered preparations to increase uranium enrichment capacity if the nuclear agreement collapsed despite European efforts to keep it alive.
Iran to Complete Facility to Build Centrifuges in a Month: TV
A facility in Iran's Natanz nuclear plant to build advanced centrifuges will be completed in a month, Iran's nuclear chief said on Wednesday, as Tehran prepares to increase its uranium-enrichment capacity if the nuclear deal collapses after the US exit.

"After the Supreme Leader's order we prepared this center within 48 hours. We hope the facility to be completed in a month," Ali Akbar Salehi, the head of Iran's Atomic Energy Organization, said on Wednesday on state television.

Supreme Leader Ayatollah Ali Khamenei said on Monday he had ordered preparations to increase uranium enrichment capacity if the nuclear agreement with world powers collapsed.
Syrian Opposition Figure Osama Al-Mallouhi: Israel Wants Al-Assad; It's As If They Want Syrian Blood for Their Passover Matzos

pic.twitter.com/wRF3F2vXLB

— MEMRI (@MEMRIReports) June 8, 2018
---
---
We have lots of ideas, but we need more resources to be even more effective. Please
donate today
to help get the message out and to help defend Israel.