From Ian:
---
Shin Bet: Israel busted large Hamas cell planning Jerusalem, Tel Aviv bombings
Israeli forces uncovered a large and highly active Hamas terror cell operating out of the Palestinian city of Nablus earlier this year that was allegedly planning to conduct a number of bombings and shooting attacks in Israel and the northern West Bank, the Shin Bet security service revealed Sunday.

"In recent months, the Shin Bet, Israel Defense Forces and Israel Police uncovered a Hamas terror cell, extraordinary in its size and level of activity, which operated in the Nablus area," the Shin Bet said in a statement.

"During the suspects' interrogations by the Shin Bet, it was determined that the cell planned to carry out terrorist bombings in central cities in Israel and the northern West Bank, including a bombing in Tel Aviv, a suicide bombing and an explosive attack in Jerusalem, a bombing in the Itamar settlement and shooting attacks in the Samaria region," the security service said, referring to the biblical name of the northern West Bank.

The Shin Bet said it arrested more than 20 suspected members of the Hamas cell in late April, including its two leaders: Mutassem Muhammad Salem, 35, and Fares Kamil Zebidi, 33.

According to the security service, this cell began operating in October 2017.
'Hamas terror plot proves Israel must control Judea, Samaria'
Today's revelation of a Hamas terror cell plotting a series of major attacks on Israeli cities and other targets is further proof Israel must maintain full security control over the entire area of Judea and Samaria, Prime Minister Binyamin Netanyahu said Sunday afternoon.

The comments came following a report by Israel's Shin Bet internal security agency, which revealed that a massive Hamas-led terror cell operating out of the Palestinian Authority- controlled city of Shechem (Nablus) had been arrested at the end of April while it was in the midst of planning a series of bombing attacks.

According to the report Sunday, the cell included more than 20 terrorists, and was planning for a string of bombing attacks – including suicide bombings – and shooting attacks in Jerusalem, Tel Aviv, the town of Itamar in central Samaria, and other locations across Israel.

In response, the Prime Minister said the revelation is further evidence of the importance of maintaining Israeli control over all areas "west of the Jordan".

"The ISA, the IDF and the Israel Police have thwarted a Hamas terrorist cell that sought to carry out horrific attacks in Jerusalem and Tel Aviv, from Nablus in Judea and Samaria," Netanyahu said in a statement. "Hamas is trying to attack us from both Gaza, and Judea and Samaria. This is why we will continue to maintain security control of all areas west of the Jordan River."
NGO Monitor:
European Union Funding for "Accountability" Against IDF Soldiers
In November 2017, the EU approved a €269,975, four-year grant to an Israeli legal NGO, Yesh Din, for a project designed to increase "Israeli security forces personnel (ISFP) accountability for forcible home entries in line with democratic standards and international humanitarian and human rights law." Yesh Din is carrying out these efforts in partnership with Breaking the Silence and Physicians for Human Rights-Israel (PHR-I).

As reported in Israel HaYom (June 17, 2018), the activities undertaken as part of this project reveal the highly politicized premises under which these NGOs raise money from European governments.

In a funding appeal submitted to the UN, Yesh Din alleges, "…the military justice system grants nearly complete impunity for Israeli security forces personnel and their conduct" regarding "Forcible Home Entries (FHEs)" (emphasis added). The three Israeli groups intend to address these supposed deficiencies by "Appealing decisions to close investigations on a case-by-case basis" and "Filing petitions to High Court of Justice on specific cases and principled matters" (emphases added).

This project and the rhetoric surrounding it are part of a wider "lawfare" strategy of pressing "war crimes" cases against Israeli officials in foreign courts and in the International Criminal Court (ICC). The threat of ICC intervention and other examples of lawfare is a central concern for Israeli decision-makers.
Retired General Gets Smacked Hard For Using Holocaust To Score Political Points
Thousands of people blasted former CIA and NSA chief Michael Hayden on Saturday after he compared the Trump administration's immigration policies to Nazi concentration camps that were used to murder millions of Jews during World War II.

Hayden's comparison came less than 24 hours after two MSNBC analysts declared that the Trump administration was throwing children into concentration camps.

"Other governments have separated mothers and children," Hayden tweeted.

The reaction to Hayden's tweet was overwhelmingly negative: (h/t jzaik)
This is a former director of the CIA. He's comparing a long-standing, bi-partisan U.S. law enforcement policy to a Nazi concentration camp. How could someone with such rash judgement ever have been in charge of American intelligence? https://t.co/Jf93mnHFuB

— Ezra Levant 🇨🇦 (@ezralevant) June 16, 2018
The answer to Hamas terror kites - not proporotional, but exponential!
Nice guys finish last in this region where the strong horse is the only one respected...especially when your real and potential enemies vastly outnumber you.

In the past, Israel gained no acceptance by trying to do this the "right" and "moral" way.

While dropping leaflets warning non-combatants to get out of the way (thus telegraphing its punch and losing the element of surprise), going house-to-house, deliberately putting its sons in greater harm's way going after the rats in their dens, it was accused of massacres and such anyway. It even got taken to court for building a barrier designed to protect its kids from Arab decapitators and disembowelers.

Arabs dealing with their own "headaches" blasted masses from afar…no snipers carefully selecting individual targets or aiming at non-lethal body parts as the Jews have done. That's why--despite the scores of thousands of civilians and organization members Hamas has thrown at Israel's border with the intent to invade and kill--less than two hundred attackers have been killed so far. For comparison purposes, Assad Sr. killed some 20-30 thousand Sunni Arab "problems" in just one month in his famous Hama Solution several decades ago, and Assad Jr. is current proof that the acorn does not fall far from the tree.

The Geneva Conventions specifically state that combatants cannot use their civilian populations as human shields...something Arabs do all the time. Notice the Arab mothers with babes in arms bussed to the Gaza border with Hamas fighters interspersed among them. And those Conventions also state that the presence of civilians does not eliminate going after legitimate military targets. Any "innocents" killed have their own heroes to blame.

So, Israel must do what it must do--and in high gear, full speed ahead.

After dishing out a few rounds like this, again--where each Arab assault is followed by using an exponential Israeli version of America's own "Powell Doctrine'' (i.e., unleashing overwhelming force upon the enemy) --then Israel can step back and let the dust settle—and later up the ante further as need be.
Airstrike targets car of Gaza balloon and kite launch 'leader'
The Israeli military said Sunday its aircraft had targeted a leading Gazan figure launching incendiary balloons and kites into Israel.

The strike appeared to be the latest instance of the army attempting to warn off Gazans launching balloons and kites at Israel, which have led to daily blazes in fields in southern Israel and raised fears of balloon-borne IED attacks.

"Our forces launched an airstrike against the vehicle of one the leaders of a cell relating to incendiary and explosive kites and balloons. The attack was carried out in response to the ongoing launching of incendiary and explosive kites and balloons into Israel," the army said in a short statement.

The army did not name the person targeted or say if they were hit in the airstrike.

The Palestinian Shehab news agency, linked to Gaza's Hamas rulers, reported that the airstrike had hit an empty vehicle outside a mosque in Shejaiya, a suburb of Gaza City, early Sunday morning.
Air force targets Gazans launching fire balloons at southern Israel
An Israeli drone fired a warning shot at a group of Gazans who had flown incendiary balloons into Israeli territory on Sunday, apparently sparking a number of blazes, Palestinian media reported.

The Israeli military confirmed it used "an aircraft" to fire a warning shot at the cell.

According to the Hamas-affiliated Shehab news, the would-be balloon launchers were operating out of a number of tents set up east of the city of Khan Younis in the southern Gaza Strip. There were no immediate reports of injuries.

At least six fires were reported in the nearby Sha'ar Hanegev region of southern Israel as of Sunday afternoon.

The blazes forced authorities to temporarily close the road leading to Kibbutz Kissufim, a Sha'ar Hanegev spokesperson said.

Local firefighters were working to extinguish the fires.
For 3rd time in a day, IDF conducts airstrikes over Gaza 'fire balloons'
The Israeli Air Force attacked three targets connected to a group of Palestinians who had launched incendiary balloons into southern Israel on Sunday evening, in the third round of airstrikes of the day, the army said.

The airstrikes, which caused no casualties, came as multiple balloons with small explosive devices touched down in southern Israel and others bearing pouches of burning material set fire to large swaths of land in the area.

Palestinian media reported that the early evening strikes were conducted by a drone east of the Bureij refugee camp in the central Gaza Strip.

The army said it first fired a warning shot near the Palestinians who were launching the balloons toward Israel. Approximately half an hour later, the Israel Defense Forces said it conducted a second round of strikes, hitting the tent in which the group was operating and a car that had been used to bring people to the area.

No Palestinian injuries were reported.
@CarolineLucas, an environmental disaster is happening on the Gaza border. Rare flowers, bee hives, nature reserves & woodland are going up in flames. The fires have been caused by kites launched from Gaza. Will @TheGreenParty condemn this or simply (predictably!) remain silent? pic.twitter.com/MW3U8r84Jt

— SussexFriendsIsrael (@SussexFriends) June 17, 2018
IsraellyCool:
Ammunition Manufacturer to Israel Haters: Stop Using Our Photos & Making Stuff Up!
A month ago, I debunked a blood libel being disseminated by Israel haters.

They were claiming IDF soldiers were using explosive bullets, but (not surprisingly) it turns out this was a lie, and they had ripped photos taken from an ammunition store website.

Now the manufacturer of the bullets – Black Butterfly Ammunition – has shared my post, in a clear display of annoyance towards the Israel haters who are disseminating this falsehood.



They are clearly as annoyed as we are that the Israel haters are willing to lie and sully the reputations of the innocent to advance their evil agenda.
Islamic Jihad gives CNN a tour of Gaza tunnel, shows off rocket launcher
A US reporter was granted access to a Palestinian Islamic Jihad tunnel in the Gaza Strip, as well as to training exercises during which members of the terror group showed off a rocket launcher they claimed had recently been used to fire at Israel.

In a video clip published Sunday, CNN's Ian Lee spoke with the Islamic Jihad about why it indiscriminately fires rockets at Israel and what it hopes to achieve with the attacks. Lee was blindfolded as he was brought to each location on his tour, apparently to prevent him from identifying the location.

The tour, during which Lee walked with armed fighters through a tunnel "somewhere in the Gaza Strip," came two weeks after Islamic Jihad was involved in the heaviest exchange of fire between Israel and the Gaza Strip since the 2014 50-day war known as Operation Protective Edge.

Lee described the concrete tunnel, which had the straight walls and low arched ceiling commonly seen in such passages dug by the Palestinians, as hot and humid, saying "it feels claustrophobic."

An Islamic Jihad fighter, identified only as Abu Abdallah, explained in Arabic that the tunnels are used for moving fighters so that they can "play their role and defend the Palestinian people."
CNN's Ben Wedeman Falsely Reports No Soldiers Injured in Gaza Border Violence
CNN's Ben Wedeman Falsely Reports No Soldiers Injured in Gaza Border Violence

In a June 7 broadcast and online here, Ben Wedeman incorrectly reported that in the course of the ongoing "March of Return" violence at the Gaza border, "No Israeli soldiers were killed or injured during the protests."

The IDF Spokesperson's Unit has confirmed to CAMERA that in the course of the "March of Return" clashes, between March 30 and June 12, 11 soldiers have been injured in the violent events at the border. This figure does not include soldiers injured by rocket and mortar attacks during this time period.

CAMERA has relayed the information to CNN and urges the network to correct. Stay tuned for an update.
More than just sport
Hundreds of millions of soccer fans across the globe are fixing their collective gaze on the World Cup in Moscow. This tournament, though, is more than just sport. First and foremost, this is a cynical, calculated political game, and only then do we get around 90 minutes of utter enjoyment on the field.

The decision to hold the tournament in Moscow is a political statement. Putin's Russia is sparing no cost to leverage the event, to show its citizens and the world its power. This time, unlike the Moscow Olympics in 1980, European countries and the United States didn't boycott the competition, despite Russia's invasion of Ukraine and occupation of Crimea. After all, when it comes to the Russians it's best not to quarrel.

The next World Cup in 2022 will be played in Qatar, just about the last place one thinks about when talking about soccer. This desert kingdom spent tens of millions of dollars, at least, to bribe the decision-makers at FIFA, soccer's world governing body, to secure the delusional approval to host the tournament on its soil. Qatar announced it would even allow Israeli fans to attend.

In the meantime, Qatar's newfound spirit of sportsmanship was recently on display with its support, encouragement and cash for the Palestinian campaign of pressure on the Argentinean national team to cancel its friendly match against the Israeli team in Jerusalem. It also supports the browbeating politico Jibril Rajoub – formerly of the Palestinian Authority security apparatus and another paragon of sportsmanship in his own right, to push for Israel's expulsion from FIFA and to boycott it. But the truth is that hosting the tournament is important to Qatar mostly to anger its older brother, Saudi Arabia, with whom it is mired in an ongoing diplomatic row.
BBC News and BBC Sport ignore FIFA's Jibril Rajoub disciplinary
As was documented here earlier this month, the BBC News website's framing of the reason for the cancellation of a football friendly between Israel and Argentina was glaringly apparent in the article's headline – "Argentina cancels Israel World Cup friendly after Gaza violence" – and in its tagging – "Gaza border clashes" – as well as its opening lines.

"Argentina has cancelled a World Cup warm-up match with Israel, apparently under political pressure over Israel's treatment of Palestinians in Gaza."

Using the same tag the BBC News website also promoted a report by 'BBC Minute' that framed the story in the same way.

"Argentina has cancelled a World Cup friendly against Israel that was scheduled to take place in Jerusalem. It's apparently under political pressure over Israel's treatment of Palestinians in Gaza."

Listeners to that edition of "the dynamic 60-second news bursts aimed at younger audiences around the world" were told by the BBC's Middle East correspondent Yolande Knell that:

"…if the Argentinians played their game here in Jerusalem then they would be ignoring Israel's occupation of the eastern part of the city and also those deadly protests that have been taking place along the Israel-Gaza border."
UN to issue written report against Jewish settlements
In yet another anti-Israel measure in the United Nations, Secretary General António Guterres is expected to release, for the first time next week, a written report against Israeli settlements beyond the Green Line. The report is an extension of Resolution 2334 and was produced due to pressure on Guterres applied by Sweden and France.

Resolution 2334 determined that Israeli communities in Judea and Samaria, east Jerusalem and the Golan Heights were illegal. The resolution was passed during the Obama administration when, counter to longstanding policy, the U.S. abstained rather than vetoing it when it was proposed.

According to the resolution, every three months the secretary-general must provide the Security Council with a report on its implementation. Thus far, the secretary-general hasn't issued a written report, sufficing instead with an oral report from his Middle East envoy, Nickolay Mladenov. In recent weeks, however, the French and Swedes have pushed behind the scenes for Guterres to produce a written report, exploiting the mass protests on the Gaza border and condemnations of Israel to enlist support from 10 Security Council member-states – the number obligating the secretary general to issue a written report.

Guterres' report is expected to focus on Israeli construction beyond the Green Line; particularly, among other things, on how many new structures have been built.
Ministers approve bill outlawing filming of IDF troops
A bill that would make it illegal to distribute video or audio footage of IDF soldiers advanced in Sunday's meeting of the Ministerial Committee on Legislation, but it will be rewritten before it is brought to a vote in Knesset committees after the Attorney-General's office ruled it illegal.

The controversial bill, proposed by Yisrael Beytenu faction chairman Robert Ilatov, would subject violators to up to five years in prison and 10 if national security was harmed.

The legislation has been called the Elor Azaria bill, after the IDF soldier who killed a subdued Palestinian terrorist and was convicted after a video of the incident was circulated by the left-wing organization B'Tselem.

"The time has come to end this practice of left-wing organizations and activists, backed by foreign entities, having a free hand to videotape IDF soldiers while they fulfill their duty," Ilatov said. "We have a responsibility to give our soldiers the optimal conditions for fulfilling their mission without having to worry that some left-wing organization will try to shame him."

The bill will be brought to a vote in a preliminary reading in the Knesset Wednesday and will pass with the coalition's support. The bill will need to be completely rewritten in Knesset committees in order to make it legal and withstand challenges in court.
Israeli Girl Stabbed by Palestinian Terrorist in Afula: It's a 'Miracle' I'm Alive
The 18-year-old Israeli girl who was seriously wounded in a Palestinian stabbing attack in Afula earlier this week said on Sunday it was a "miracle" she was still alive, the Hebrew news site Walla reported.

Speaking from Haemek Medical Center, where her condition has begun to improve, high school student Shuva Malka said, "I feel this stabbing incident was not something private for me, but rather of all the people of Israel. It's a reminder that we must move forward, and grow from it."

Malka thanked the hospital staff for the treatment she received and the people of Israel for "the prayers that greatly strengthened us and made noise up above."

"The security forces did everything they could, and I thank them, we don't have any anger," she added.

"Everyone who came here [to visit] is an example of what a sweet people we have," she went on to say. "Simply a wonderful people."
@KingAbdullahII of Jordan,
You harbor #AhlamTamimi, the loathsome murderer of our daughter Malki. See how proud she is. Why do you refuse to extradite her to the US to face federal charges as an @FBIMostWanted terrorist? Your politicians and diplomats ignore us; we will not stop. https://t.co/FoUuSsx0rC

— This Ongoing War (@ThisOngoingWar) June 16, 2018
Riot Breaks Out in Israeli Security Prison over Cookie Pic
Nine security prisoners were placed in solitary confinement after a warden was injured Friday in a riot at the Nafha Prison south of Dimona in the Arava desert. The riot began with a twitted image of two security inmates sitting on the floor of a cell at the prison, making cookies for Eid al-Fitr, the holiday that concludes the month of Ramadan.

The image was twitted by Pal Today TV, accompanied by the caption: "The prisoner Khalil Abu Arram, the son of Yatta City, is preparing the cookies inside the occupation prisons."

Last July, Khalil Abu Arram broke into the home of a Jewish family in Neve Tzuf-Halamish in Samaria and stabbed three family members to death while they were having Shabbat dinner. A local resident, an armed soldier, saw the event through an open window and arrested the terrorist, receiving many accolades for not sticking a bullet in his head. The terrorist is serving a life sentence, pending on the next prisoners exchange.

When the Israel Prisons Service became aware of the tweet, the wardens went about searching Abu Arram's cell, figuring either he or his fellow inmate had uploaded the picture, and if they did, there must be a contraband cellphone in there someplace.
PreOccupiedTerritory:
Hamas To Advise Kim On Oppressing Own People For Political Gain (satire)
A spokesman for Hamas told reporters today (Wednesday) that while the long-term outcome of the warming relations between the US and North Korea remains undetermined, Kim Jong-un's administration in Pyongyang could benefit from more than a decade of experience that the organization has accrued since overthrowing Fatah in a violent coup in 2007.

"Mr. Kim has much to learn from us, and we are willing teachers," stated Yahya Sinwar, who leads the movement within the Gaza Strip. "The many parallels between our situations invite collaboration across a range of issues, but most importantly, we have much in common in our preference for conflict over prosperity. Both societies stand to gain from a sharing of information and expertise in that arena."

"Of course our situations differ somewhat, in that non of our people are starving, thanks to the UN, whereas Kim starves his own people," continued Sinwar. "But the principle remains the same. He diverts crucial resources that could feed his people into his nuclear and military programs, whereas we allocate every available dollar to tunnels for attacking Israel and smuggling or hiding weapons for killing Israelis, but overall, we're engaged in the same kind of activity, and I'm sure we can help each other out."

"It's telling that the Trump-Kim summit took place in Singapore," remarked Ismail Haniyeh, whom Sinwar succeeded in Gaza and now heads Hamas's political echelon from Qatar. "It's always Singapore that our critics cite in noting that we have chosen to make fighting Israel our only priority rather than invest in peaceful infrastructure and economic enhancements – that we could be like Singapore if we stopped making jihad our raison d'être. Well, we'd rather be like North Korea, thank you very much. We already have so much in common: an alliance with Iran, ties to Syria, a knack for abusing our own people, taking and holding foreign hostages, and a dream of conquering territory that we have pursued for decades despite that quest condemning our people to prolonged suffering."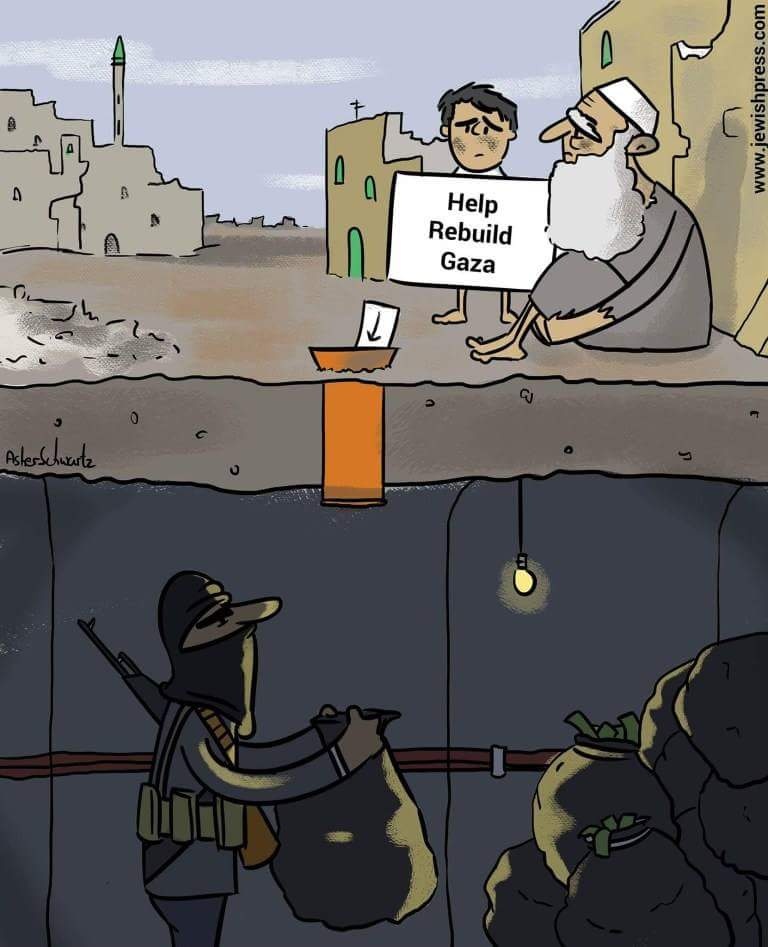 McLean goes back to the basics
Those among the sold-out crowd at the Ra'anana Amphitheater Saturday night who showed up expecting to encounter a folkie troubadour offering up heartfelt acoustic ballads only got that version of Don McLean a couple of times.

The other Don McLean onstage fronted a hot, Nashville-based band of veteran players who took their cues from Buddy Holly and Carl Perkins in serving up dollops of rockabilly, country and rock & roll, with McLean acting as the 1968 Elvis, setting the driving pace with his acoustic guitar and vocals.

The two McLeans coexisted peacefully, careening from rave ups like Elvis's "Little Sister" and Marty Robbins' "You Got Me Singing the Blues" to his own "And I Love You So" and "Crossroads."

McLean was the consummate professional in presenting his master class of the Great American Songbook. The 72-year-old's vocals, despite displaying occasional difficulty hitting the high notes – which he chalked up to a recent illness – were strong and sounded like the singer of 45 years ago.

His breezy style, sometimes bordering on Vegas glib, included frequently long, in-between song raps on styles of music, down-home life lessons and his band's illustrious resumes (including songwriting and studio work with George Jones and Merle Haggard).
Torah scrolls disappear from Damascus synagogue in fog of Syria war
Jewish artifacts, including ancient parchment Torahs from one of the world's oldest synagogues, have gone missing from the Syrian capital amid the tumult of ongoing civil war, with some precious items reportedly surfacing abroad.

Activists say the artifacts, moved from the now-destroyed Jobar Synagogue in Damascus's eastern Ghouta suburb when it was taken by rebels, were allegedly put into safekeeping to avoid theft and damage in 2013, but twice since then local officials have discovered some are missing.

The main missing cache, they say, contained Torah scrolls written on gazelle leather as well as tapestries and chandeliers, and was given to a militia by a local council for safekeeping when rebels surrendered the neighborhood to government forces earlier this year. That group, the Islamist-inspired Failaq al-Rahman brigade, later said that it was not in possession of the items after the council arrived at a new rebel base in Syria's north after evacuating earlier this year.

Another set of objects appears to have been stolen by a Syrian guardian entrusted by the local council to hide the items in his home. The man, whom officials involved declined to name, disappeared with the artifacts in 2014 before some allegedly resurfaced in Turkey.
US diplomat who helped Jews flee Holocaust honored in Virginia
A state historical highway marker will be dedicated this month to a diplomat from Virginia who helped 1,200 Hungarian Jews escape the Holocaust.

Lynchburg native James Rives Childs served in the U.S. Army as a code breaker in France during World War I. After working for the American Relief Administration in the Balkans and the Soviet Union, Childs began a 30-year diplomatic career.

During World War II, as chargé d'affaires for the American Legation in Tangier, Morocco, he helped Hungarian Jews obtain visas to Spanish Morocco.

In 1946, President Harry Truman presented Childs with the Medal of Freedom. Childs also served as a U.S. ambassador to Saudi Arabia and Ethiopia. Childs died in Richmond in 1987.

The highway marker will be dedicated in Lynchburg on June 25
Dutch King, Lithuanian president honor unsung Holocaust hero
Lithuania's president and the King of the Netherlands on Friday unveiled a special light installation dedicated to a Dutch diplomat credited with saving over 2,000 Jews during the Holocaust.

The multi-media monument in the Baltic state's second city of Kaunas symbolizes the lives saved by Jan Zwartendijk, who helped issue visas to Jews in the summer of 1940.

"I am very proud to light the installation for the silent hero who had never boasted that he saved people," Lithuanian President Dalia Grybauskaite said at the ceremony, standing alongside Dutch King Willem-Alexander.

"Both the Netherlands and Lithuania are proud of him. He saved nearly 2,500 Jews, risking his own life," she added.

Zwartendijk, the director of the Philips company in Lithuania, was appointed the acting Dutch consul in July 1940, weeks after the Red Army entered the Baltic state.
On a bike, ex-child refugee retraces escape from Nazi Germany
Paul Alexander was just a toddler when his mother handed him to a volunteer nurse on a train leaving Nazi Germany in 1939.

Now 81, the former refugee child will on Sunday begin retracing that journey to freedom — but this time by bicycle as part of a commemorative ride to pay tribute to the Kindertransport [child transport] program that saved him and thousands of Jewish children eight decades ago.

"I did this journey 79 years ago when I came out from the hatred of Nazi Germany to the safety in England. I'm going to do that ride," he told AFP.

"The thought that came to my head is that this is my answer to Hitler, to sort of prove to myself, to show the world and to express my thanks for succeeding in life and being a happy married man with a family."

Alexander will be doing the 600-mile (1,000-kilometer) bike journey with his 34-year-old son and 15-year-old grandson.

Besides the trio, 39 other cyclists will be on the six-day journey, starting Sunday, taking them from Friedrichstrasse in Berlin to Liverpool Street in London, via the Netherlands then aboard an overnight ferry to Harwich in England.
---
---
We have lots of ideas, but we need more resources to be even more effective. Please
donate today
to help get the message out and to help defend Israel.