From Ian:
---
David Horovitz:
Prince William says Israel ties are soaring. But visit signifies more than that
Britain cherishes its longstanding relationships with others in this part of the world — notably including the Jordanians, the Saudis, and others in the Gulf. The royal family has played a central symbolic role in strengthening those ties, with innumerable reciprocal visits. Those royal visits have gone ahead — and high-volume trade relations, including colossal arms sales, have been maintained through the decades — despite widespread criticism at home of the human rights records of some of these regimes.

Sensitive to the interests and concerns of its partners in this part of the world, and well aware that official royal visits to Israel would not sit well with them, the royals for decades steered clear of the Jewish state.

Today, however, those interests and concerns have started to shift. Britain's other allies nearby are preoccupied with the threats posed by the rapacious regime in Tehran. And in that face-off, they and Israel are on the same side.

Prince William's optimistically declared "non-political" visit has yet to enter its more complicated diplomatic phase, when he meets the Palestinians and, especially, when he visits Jerusalem's Old City — in what Israel regards as its sovereign capital, and what the prince's official itinerary, to Israel's dismay, designates as part of the "occupied Palestinian territories."

But for Israel, an argument over terminology is a very small price to pay for the endorsement of legitimacy provided by a young, well-liked, sensible, and very senior British royal.

The Saudis are being extremely careful in publicly acknowledging the improving nature of their links with Israel. But Prince William's visit, a substantive milestone in its own right for Israel, is also assuredly a significant indication of a wider positive shift in relations hereabout.
Melanie Phillips:
HRH, the FCO and the big lie about Israel
Given all this, one might well ask why the British government sticks to these fictions of Israeli illegality. After all, Theresa May is sympathetic to Israel.

Earlier this week, the Foreign Secretary, Boris Johnson, condemned the UN Human Rights Council for its institutionalised anti-Israel behaviour.

One principal reason is surely that the UK is part of a European progressive order for which international law is the expression of its ideology, elements of which are inimical to the security and even the existence of the state of Israel.

Out of the carnage of two world wars grew the core progressive belief: that the western nation state is the source of nationalism, prejudice and aggression, and so any war in its own defence is by definition unjustified.

In place of the nation state should come a new international order based on transnational institutions and laws representing the brotherhood of man: the UN, EU, international law and human rights law.

War must be replaced by law through negotiation, conflict resolution, peace processes. There can be no victory or defeat. Questions of right and wrong, who is the aggressor and who the victim, are irrelevant. In a fight between God and the devil, western progressives would split the difference and call that a triumph.

So the fact that Palestinian identity is a fiction invented solely to destroy the Jewish claim to Israel is ignored. The evidence that international law upholds Israeli actions is dismissed. The way the UN and international law have been hijacked to destroy Israel is denied.

In Mandatory Palestine, Britain betrayed its legal obligations to the Jews. The FCO has a history of Arabism and antisemitism. Progressive transnationalism seems to have allowed it to progress from all that straight into lawfare against Israel without even passing "Go."
Melanie Phillips:
Crying children, Trump peace plan, Prince William visit
Please join me here as I discuss with Avi Abelow of Israel Unwired the row over the "crying migrant children" at the Mexico/US border; whether the supposedly mould-breaking new Trump Middle East peace plan will turn out to be anything other than more out of the same old useless US Middle East peace plan mould; and the significance of Prince William's trip to the Middle East, the first official visit to Israel ever by a member of the British Royal Family.
"We've heard for so many yrs stories that Israel is going face this diplomatic tsunami. So far, thats a tsunami spinning in Israel's favor." - my @i24NEWS_EN segment yesterday, on visit of Prince Williamhttps://t.co/AdiLIGCvvw

— Eugene Kontorovich (@EVKontorovich) June 26, 2018
Prince William visits Yad Vashem, honors great-grandmother who rescued Jews
Britain's Prince William, making the first ever official visit to Israel by a member of the royal family, on Tuesday visited the Yad Vashem Holocaust museum in Jerusalem, where he took part in a wreath laying ceremony and met with Jews who were rescued by Britain as children.

Before he laid a wreath at the Hall of Remembrance, the prince toured the Holocaust History Museum and the Museum of Holocaust Art, where he signed the museum's guestbook.

"It has been a profoundly moving experience to visit Yad Vashem today. It is almost impossible to comprehend this appalling event in history. Every name, photograph and memory recorded here is a tragic reminder of the loss suffered by the Jewish people. The story of the Holocaust is one of darkness and despair, questioning humanity itself," he wrote.

"We must never forget the Holocaust — the murder of 6 million men, women and children, simply because they were Jewish. We all have a responsibility to remember and to teach future generations about the horrors of the past so that they can never reoccur. May the millions of Jewish people remembered by Yad Vashem never be forgotten," added the prince.

William also referenced his great-grandmother, Princess Alice of Battenberg, who is recognized by Yad Vashem as a Righteous Among the Nations for helping save a Jewish family in Greece during the Holocaust.
PM, Prince William meet descendants of Holocaust survivors
Prime Minister Binyamin Netanyahu and his wife Sara, together with Prince William, met today with the descendants of Haimaki and Rachel Cohen, who were saved during the Holocaust by Princess Alice, Prince William's great-grandmother.

Netanyahu described the meeting: "There was a very moving moment in Prince William's visit. He is the great-grandson of Princess Alice. He met descendants of the family that she saved in Greece. She was there and protected a Jewish family from the Gestapo. We just met her descendants that met with him. I told him that he must be very proud of his great-grandmother for saving defenseless Jews. And as Prime Minister of Israel I am very proud that Jews are no longer defenseless. We have, thank G-d, an army to defend ourselves by ourselves."

Earlier today, Prince William, the Duke of Cambridge, arrived at the Yad Vashem World Holocaust Remembrance in Jerusalem, where he met with Holocaust survivors and laid a wreath in the memorial tent
Rivlin asks Prince William to take 'message of peace' to Abbas
President Reuven Rivlin on Tuesday asked visiting Prince William to convey to Palestinian Authority President Mahmoud Abbas a "a message of peace."

Hosting the Duke of Cambridge in his official Jerusalem residence, Rivlin said the Palestinians need to accept that Jews have returned to their ancestral homeland and that it was about time Israelis and Palestinians end their conflict.

"I know that you're going to meet President Abbas. I would like you to send him a message of peace," Rivlin told his royal guest.

"And tell him it is about time, it is about time that we have to find together the way to build confidence. To build confidence as a first step to bring to [an] understanding that we have to bring to an end to the tragedy between us" that has been going on for 120 years, he said, speaking in English.

Prince William — the first member of the British royal family to make an official visit to Israel since the state was founded in 1948 — also expressed the hope for peace in the Middle East, though his formulation was very vague, steering clear of endorsing any political position.

"I, like you, look forward to understanding lots about the region and about hoping that peace in the area can be achieved," he said. "So I am very much looking forward to really absorbing and understanding the different issues, the different cultures, the different religions, culminating in a visit, which will be very symbolic and very interesting for me, in the Old City on Thursday which I am very much looking forward to seeing."
A history lesson for Prince William: Judea, Samaria, Oslo et al
An anti-Israel legacy

The reason for Britain's anti-Israel bias is explained by Toby Green in his book "Blair, Labor and Palestine: Conflicting views on Middle east Peace after 9/11":
"Britain's imperial history in the region left an important institutional legacy in the Foreign Office...Britain maintained very close relations with Gulf Arab rulers, and there remained large number of diplomats learning Arabic and spending much of their carers in one of Britain's 22 missions to Arab States. By contrast there are relatively few diplomats with experience of Israel. Given the importance of contacts in the Arab World, a posting in Israel was for many years regarded as an unhelpful career move for a British diplomat...

In 2002, after a disagreement over a meeting with Yassir Arafat, Israeli Prime Minister Ariel Sharon told British Prime Minister Tony Blair's envoy Lord Levy sarcastically that "the British Mandate is now finished",

Netanyahu should learn from Sharon - perhaps only that - and respond the same way to those who want to take Jerusalem's Old City from the Jews. During the Jordanian occupation (supported by the UK), Jews were not allowed to pray at Jerusalem's Western Wall. Now, thank G-d, the Jews can pray there, and Netanyahu must tell the British it will continue to be that way.

Boycotts against Israel are not new. In the past Israel suffered arms embargoes, a ban on the sale of North Sea Oil, and Arab boycotts on British and European firms doing business in Israel. Israel endured those embargoes yet it never gave up on its sovereignty over Jerusalem.
Prince William kicks it on Tel Aviv beach, kicks ball around with kids
Royals, they're just like us! Kind of.

Visiting British Prince William took a break from his busy schedule of meeting dignitaries and being feted to take a stroll on Tel Aviv's beach and played a game a footie with a group of Jewish and Arab kids.

Sauntering down Tel Aviv's Frishman beach, a smiling William shook hands with crowds of well-wishers and slurped down watermelon under a public pergola on the sand with a group of young Israelis.

"It's a fantastic beach," declared the Duke of Cambridge, keeping his cool in the 30° C heat despite sporting a button-down long sleeved shirt, long pants, and closed shoes.

Trailed by crowds craning to see him, William, who is making the first-ever official trip to Israel by a British royal, chatted with Tel Aviv Mayor Ron Huldai and inspected a lifeguard lookout hut.

He also learned about the game of footvolley, a sandy hybrid of soccer and beach volleyball.
UK-Israel Tech Partnership Results in 54 Deals Worth $112.8 Million
The UK Israel Tech Hub, based in the British Embassy in Israel, has led to 175 tech partnerships and 54 deals worth a cumulative £85 million ($112.8 million), according to a new report on its impact.

The potential UK economic impact of the UK-Israel innovation partnerships established through the hub since 2011 is £800 million ($1.062 billion), according to the June 2018 report.

The hub focuses on sectors such as retail, insure-tech, cyber, healthcare, mobility, smart cities, ed-tech, and Arab-led technology.

Some highlights of the report:
More than 150 UK companies and 490 Israeli companies engaged in hub activities during 2016-2017. Twelve UK-Israel cybersecurity deals are in progress following TeXchange 2017, the hub's flagship innovation exchange program.
BBC News website adopts selective history in royal visit article
Dymond's portrayal of the fact that the British government chose to terminate its administration of the mandate originally granted by the League of Nations is similarly unhelpful to anyone hoping to understand the history behind the royal visit.

"When Palestine slipped from the hands of an exhausted and broken post-war Britain in 1948, the Prince's great-grandfather George VI was on the throne."

Dymond found it appropriate to mention just one episode of political violence in his account:

"When Prince William lays his head this week at his Jerusalem hotel, the King David, he will be at the site of one of the worst attacks on British forces during the Jews' battle for independence. It was an attack condemned at the time as Jewish terrorism."

However, he failed to provide readers with any meaningful information on the Arab rioting and revolt – or the ensuing British restrictions on Jewish immigration to Mandate Palestine before, during and after the Second World War.

"From the Balfour declaration to the White Paper, the promises and pledges that Britain has made to different parties at different times in Palestine are now part of the region's collective memory."

Significantly, Dymond refrained from clarifying to the domestic audiences reading his article on the BBC News website's Middle East page that the British government failed to meet the primary remit with which it was entrusted under the terms of the Mandate for Palestine: the establishment of a Jewish national home:
BBC R4's 'Today' forces Brexit and Gaza into royal visit report
BBC audiences have of course heard similar analysis from Bowen in the past and in this case too, the person charged with making "a complex story more comprehensive or comprehensible for the audience" elected not to inform them of the involvement of Hamas and other terror groups in the planning, organisation and financing of the recent violence along the border between Israel and the Gaza Strip.

Once again he avoided reminding audiences of the fact that Israel completely withdrew from the Gaza Strip almost thirteen years ago – relinquishing all territorial claims to it – and failed to make any mention of Hamas' existential commitment to Israel's destruction as expressed in its founding charter, in the 'rationale' behind its 'Great Return March' and in its continued employment of terror against Israeli citizens.

In other words, not only does the BBC continue to promote its politically motivated account of the latest chapter of Hamas-initiated violence while erasing essential context, it even does so in reports on an unrelated royal visit because, for the BBC, there's a Gaza "angle on everything".
Democratic Congresswoman Compares CBP Practices to Auschwitz, But Uses Obama-Era Photos
Thursday evening, Rep. Jackie Speier (D-CA) [endorsed by J Street] compared U.S. Customs and Border Protection confiscating items from detained immigrants crossing the border to images from Auschwitz. The pictures in the story Speier cited were from an artist's exhibit using items confiscated from 2007 to 2014, mostly under the Obama administration.

"CBP takes away rosaries, shoes, wallets and toothbrushes from detained immigrants; what they call "non-essential" personal property," Speier tweeted. "The images in these photos shockingly resemble the shoes collected from Auschwitz – and it's revolting and chilling."

The New Yorker article linked in Speier's tweet is about Tom Kiefer, a janitor with CBP from 2003-2014, who started taking items confiscated from immigrants crossing the border for his art project "El Sueño Americano" in 2007.

Many in the media have also tried to tie the Trump administration's immigration policies to Nazi imagery.
CBP takes away rosaries, shoes, wallets and toothbrushes from detained immigrants; what they call "non-essential" personal property. The images in these photos shockingly resemble the shoes collected from Auschwitz – and it's revolting and chilling. https://t.co/DgX1LbACKK pic.twitter.com/YTSyHa0FiU

— Jackie Speier (@RepSpeier) June 22, 2018
Kiwi Commentators Reveal Holocaust Ignorance.
Amongst the recent legitimate outcry about the Trump administration's policy of separating children from their parents on the southern border of the United States, many commentators around the world have been quick to raise analogies with the treatment of Jews by the Nazis.

In New Zealand, cartoonists and columnists made the same comparison, in several cases revealing a concerning historical ignorance about the unique scale, nature and horror of the Holocaust.

The Otago Daily Times, for example, published this cartoon by Garrick Tremain, which wrongly suggests that the Nazis were more humane than the Trump administration as they did not separate children from their parents.Jewish children were in fact separated from their parents on arrival at the death camps, and sent immediately to their deaths, as the Nazis did not see an economic purpose in keeping them alive. In an effort by desperate parents to save their lives, many Jewish children were taken from their parents, never to see them again, and passed to non-Jews to hide them. Those children who survived suffered lifelong trauma and grief from the separation.
TETCHY CORBYN PROMISES TO VISIT ISRAEL
'I'm more than happy to visit anywhere': Labour leader @jeremycorbyn tells Sky's @lewis_goodall that he will visit #Israel

Find out more about his plans here: https://t.co/m3fhajxSLB pic.twitter.com/DSx8WvWm6l

— Sky News (@SkyNews) June 25, 2018
IsraellyCool:
George Galloway Lashes Out Against the "Zionists" Who Mock Him
It seems having his epic dumbassery pointed out to him really seems to have gotten to Israel hater George Galloway.




"Hyenas den of Zionism"? Not quite "cornucopia of madness" but I'll take it.

Note also his mockery of the religious beliefs of "Zionists." Looks suspiciously like mocking Judaism, which it surely can't be, because George denies being antisemitic and even likes to sue those who suggests he is.

Anyway, being called crazy by George is one of the biggest validations of one's sanity you can get.
IsraellyCool:
George Galloway's "Hero" is a Vile Antisemite
Following George "anti-Zionist-not-antisemitic" Galloway's tweets for material (yes, George, it is easy to do, even though you blocked me years ago), I have noticed he has retweeted someone called Partisangirl a fair bit.

It turns out, George is quite the fanboy.

"Partisangirl" is someone called Maram Susli (also known as Mimi al-Laham, Syrian Girl and Syrian Sister), and is a Syrian-Australian YouTuber with a relatively large following. She is on team Bashar Assad in the Syrian civil war.

Oh, and she is a vile Jew hater.

She first came to my attention when she did this video with fellow anti-Zionist-not-antisemite Ryan Dawson (who can't seem to keep his hands off her).

So I investigated further. Like all antisemites before her, she would claim she is only "anti-Zionist", and that antisemitism is a tool to silence her.
Ilhan Omar: Why I hate Israel
State representative Ilhan Omar has yet to complete her first term in the Minnesota legislature, where she has accomplished approximately nothing of substance, though she has now secured the DFL endorsement to succeed Minnesota Fifth District Rep. Keith Ellison in Congress. In the brief Weekly Standard article "The anti-Israel seat," I conclude with observations related to Omar's frank hatred of Israel. She doesn't sugarcoat it. She calls Israel an "apartheid regime."

That is a defamatory falsehood with a shabby provenance. In Omar's case, it is something more than an impulsive comment in a recent tweet. It represents her considered judgment. One can see it at work in her remarks on the floor of the Minnesota House in opposition to a bill (HF 400) opposing the boycott of Israel promoted by so-called BDS groups harking back to the "Zionism is racism" lie of the 1970's.

The anti-boycott bill had strong bipartisan support in both houses of the Minnesota legislature. I believe that Republican Rep. Ron Kresha sponsored the bill in the house along with (my cousin) DFL Rep. Jon Applebaum.

Omar spoke against the bill on the floor of the house in February 2017. First she played her song of identity politics in the key of nobody knows the trouble I've seen: "I think I know a little bit about discrimination. I face it every single day. I carry multiple identities that are constantly, constantly being discriminated against." Then she launched into this disquisition, likening Israel to the racist South African regime while distinguishing the Jewish people from the Jewish state:
Foreign-Funded NGOs, Political Power, and Democratic Legitimacy
Twenty years ago, when I began to research the political power of non-governmental organizations (NGOs), particularly those active in the realms of human rights and international law, there was essentially no critical analysis of these groups. The academic discussion largely accepted NGOs' self-definition as politically neutral promoters of liberal democratic norms. But the reality of NGO political power is quite different.

When local political NGOs get significant funds from foreign governments, they are readily labeled as representing the particular interests and perspectives of outsiders.

In the Israeli case, out of over 200 active NGOs with human rights and international humanitarian law agendas, 39 from a very narrow part of the political spectrum have received $150 million over the past five years - 2/3 of it from the EU and Western European governments. All 39 stridently oppose the government's policies regarding the West Bank, and a number promote allegations of "war crimes" and apartheid.

In the Israeli case, external government funding empowers a few selected actors playing very visible roles on highly polarized issues to gain a distinct advantage over others in the marketplace of ideas.

Special-interest NGOs with large budgets lobby politicians, buy extensive media coverage, hold events, and flood the courts with political cases, generating more media attention for their cause.

This imbalance is amplified by the extensive use of foreign government funds in seeking to influence Israeli institutions and public opinion from outside the country.
A Jewish Youth Group Proves It Has No Love for Israel
As the millennial cohort swings left, a group of young Jewish activists calling themselves IfNotNow (INN) is appealing to a wide swath of Jewry with proclamations of social justice and progressive ideals. But this seemingly open and inclusive stance is a soft veneer for Israel-bashing rhetoric. Worse, INN's public agitations at times fuel antisemitic sentiments.

The group seeks to influence public institutional change in Jewish organizations that support the State of Israel. The most recent target of the group's efforts was the National Ramah Commission, responsible for providing over 11,000 children — including myself some years ago — with a fun, Jewish summer experience that instills a love for Israeli culture and Jewish traditions.

During my days at the camp, I recall the "promotion" of Zionism manifested through eating Israeli food, singing Israeli songs, and immersing in Israeli cultural life. INN must take umbrage at this, because they recently attempted unsuccessfully to politicize the camp experience by imploring Ramah leadership to teach about Israel's "occupation" policies and practices.

Wouldn't an inclusive stance encourage a measured analysis of complex Israeli politics and a love for the Jewish homeland instead of absolute condemnation?

A good window into the motives of an organization involves looking at its leadership. The founder of INN, Simone Zimmerman, served a brief stint as the coordinator of Jewish outreach for Bernie Sanders' presidential bid, but was let go after her vitriolic and unwaveringly anti-Israel Facebook posts were exposed. Zimmerman was too left-wing and anti-Zionist for Bernie Sanders' liking — something extremely telling about the founding principles and doctrines of INN.
Canadian Professor Accused of Holocaust Denial Blames Jewish Families for 'Islamophobia Industry'
A Canadian professor under investigation over allegations of Holocaust denial has been condemned by a prominent Jewish human rights group for "peddling fresh antisemitic conspiracy theories."

In a June 15 episode of his online show False Flag Weekly News, Anthony Hall of the University of Lethbridge in Alberta accused "philanthropic families of Jewish background" of funding "the Islamophobia industry." He then claimed that "false-flag terrorism is a possible related subject."

Hall's comments were brought to light by B'nai Brith Canada, which in 2016 also helped expose his controversial views on Mideast affairs, the 9/11 attacks, and the Holocaust — including his call for "open debate" on the genocide in video testimony for a group founded by Holocaust denier Bradley Smith.

"It is disappointing, though frankly not surprising, to see Anthony Hall fall back on his antisemitic conspiracy theories as he faces professional difficulties," said B'nai Brith Canada CEO Michael Mostyn. "Hall continues to demonstrate why he is unfit to teach students at the University of Lethbridge, or at any other self-respecting academic institution."
Palestinian flags flown at Chicago Dyke March a year after Star of David banned
The Chicago Dyke March, a queer pride parade, prominently featured Palestinian flags one year after ejecting marchers waving flags featuring the Star of David.

Participants in Sunday's march can be seen waving Palestinian flags in a video posted by the Windy City Times, a newspaper serving Chicago's LGBT community. Marchers also waved Mexican, Puerto Rican and rainbow flags, and chanted "No pride in occupation, no pride in deportation," according to the newspaper.

The march this year was explicitly "a very pro-Palestinian event," according to the Windy City Times.

Last year, three women were ejected from the Dyke March for waving rainbow flags emblazoned with Jewish stars. Critics accused the march of anti-Semitism, and one woman at the march wrote on Facebook that "Removing those flags, and the people who marched with it, shows a deep level of ignorance, and yes, it also shows antisemitism masquerading as liberal values."

One of the ejected women, Laurel Grauer, works for A Wider Bridge, a pro-Israel LGBT group.

"People asked me if I was a Zionist and I said 'yes, I do care about the State of Israel, but I also believe in a two-state solution and an independent Palestine,'" Grauer said last year. "It's hard to swallow the idea of inclusion when you are excluding people from that. People are saying 'You can be gay but not in this way.' We do not feel welcomed. We do not feel included."
New York Times' Israel Coverage Is Literally Worse Than Al Jazeera's
How bad is The New York Times' coverage of Israel?

In the case of at least one story (actually, that now makes it at least two stories, if you count this one I wrote about last year), it's literally worse than Al Jazeera.

A Bedouin village called Khan al-Ahmar was the subject of articles in The New York Times and on AlJazeera.com, the website of the satellite network geared to an Arab audience and controlled by the al-Thani family that rules the Persian Gulf emirate of Qatar. The comparison is illuminating.

The Al Jazeera article reports that the community numbers 180 individuals. The Times article includes no count of the population of the village. The Times does however, include a photo cutline reporting that "For decades, Israel has wanted to clear a large section of the West Bank of several thousand Bedouins to make room for Jewish settlements." The Times article also uses similar language in its third paragraph: "For decades, Israel has wanted to clear a large section of the West Bank of several thousand Bedouins." That Times language gives readers the false and inaccurate impression that the population of this village is much larger than it actually is.

The Times article mentions that of three Israeli judges who ruled on the matter, "two of them" were "current or former settlers." The Al Jazeera article didn't get into the question of where the judges used to live. It thus avoided the odd combination of detail and imprecision that characterizes the Times' formulation. Was the "former settler" among the judges someone who lived briefly in a settlement decades ago and has since renounced the settlement project? Were two of them former settlers, or two of them current settlers, or was one a former settler and one a current settler? And does the Times have any evidence that that former settler status, rather than the law and the facts of the case, is what influenced the judgment?
For The Washington Post, Jewish Blood Isn't Cheap — It's Just Not Worth the Ink
"If it bleeds, it leads" is an old adage describing the media's tendency to prioritize stories involving violence. But this is not the case, it seems, if it's Israelis who are doing the bleeding. And not if you're The Washington Post covering the Arab-Israeli conflict.

Beginning in late March 2018, Hamas undertook a nearly two-month-long operation dubbed the "Great Return March," in which the Gaza-based terror group sent its operatives — many of them armed — to breach Israel's sovereign border. In an attempt to create civilian casualties, terrorists were interspersed among unarmed civilians and tires were burned and mirrors used to obscure the vision of IDF snipers seeking to target Hamas terrorists.

Nonetheless, the Israeli targeting was largely successful. Of the 124 Gazans killed during the event, "more than 80%" were "terrorist operatives or affiliated with terrorist organizations," according to a June 12, 2018 analysis by the Meir Amit Intelligence and Terrorism Information Center. Hamas itself not only admitted that many of those killed were its operatives, but also conceded that they were "deceiving the public" by claiming that the March was one of "peaceful" resistance.

Media coverage of the Hamas-led operation, however, was uniformly awful — as CAMERA has documented. And The Washington Post was among the worst.

The Post regurgitated casualty claims by Gaza's "Health Ministry," but failed to inform readers that the ministry is a Hamas entity that shares the group's goals of delegitimizing and destroying Israel. The "ministry" is not, as The Post would have readers believe, a credible source.
Toulouse Imam Mohamed Tatai Recounts Antisemitic Hadith and Prophecies that Israel Will Soon Come to an End pic.twitter.com/w1s26bBL9P

— MEMRI (@MEMRIReports) June 26, 2018
Stop Algeria claiming Jewish heritage as its own!
On 31 July 2018, The Cultural Property Advisory Committee in the US will meet to review Algeria's request for US import restrictions on archaeological and ethnological material. On the surface, a country cannot be faulted for wanting to safeguard its archaeological and cultural heritage. But every Memorandum of Understanding (MOU) signed between the US and Arab countries legitimises the appropriation of moveable Jewish heritage - scrolls, documents, artefacts - seized by Arab governments from their expelled and dispossessed Jewish communities. The best example of this is the Iraqi-Jewish archive: a campaign has been underway to stop the archive from returning to Iraq. But this case is just a symptom of a much larger picture of abuse, argues JIMENA.

Unfortunately, the Iraqi Jewish Archive case is only one of several instances where our American Government has signed agreements recognizing Arab governments' seizures of Jewish property. Our government has been signing Memorandums of Understanding (MOUs) – agreements between the US and foreign governments that blockade the entry of art and cultural property to the USA and deny Jews from Arab countries the rights to their historic heritage. The signing of MOUs with Middle Eastern countries validates those countries' confiscation of Jewish property and heritage and simultaneously denies the rights of Jews and other religious minorities to their cultural patrimony.

The signing of the MOUs is done under the auspices of The Cultural Property Implementation Act (CPIA). This law provides for the US to enter into agreements with foreign nations to temporarily restrict the import of "significant" cultural items as part of a multi-nation effort to deter looting of ancient archeological sites. Over time the State Department has broadened the scope of the law to provide for "near permanent" bans on the import of ALL cultural items to the present time. The MOUs recognize those nation's claims and seizures of all cultural property, including the personal property of individuals and the communal property of religious and ethnic groups.
PreOccupiedTerritory:
Khazar World Cup Team Puzzled By Antisemitic Slurs (satire)
Nizhny Novgorod, June 26 – Team and staff members of this mostly Muslim and Christian west-Asian national team voiced confusion today after repeated encounters with fans of opposing teams in the world soccer championship hurling anti-Jewish epithets at them.

Players on Khazaria's national squad told reporters this afternoon that they have no idea why fans carrying the flags and colors of various Arab and Muslim countries' teams keep directing antisemitic slurs their way, as neither they nor the country they represent in the quadrennial World Cup tournament are Jewish.

"I'm so confused," admitted coach Amnat Azhid. "I mean, you expect some good-natured taunting in games such as these, but usually the insults make some sort of sense. Here we come, ready to encounter some insults directed at our abilities, maybe if they're rude then something about our mothers, but this is plain weird."

Striker Albi Gobsmakt asserted that he usually takes the lead in giving as good as the team gets when it come to insults and taunting from opposing players and fans, but found himself at a loss to respond to what they have encountered so far at the World Cup. "Half the time I'm not even sure they're talking to or about us," he conceded. "My heart's not in it if I can't feel the burn, the challenge. It's just bizarre."
US Army inks $193 million deal to buy Israeli tank defense system
The US Army on Tuesday awarded a contract worth nearly $200 million for Israel's TROPHY defense system to shield its Abrams tanks, according to the Rafael Advanced Defense Systems contractor.

The systems, which block incoming anti-tank missiles, will be supplied to the US Army by the Armerican defense contractor Leonardo DRS, Inc., which partnered with Rafael to manufacture them.

The TROPHY, known in Hebrew as me'il ruach, or windbreaker, is an active defense system manufactured by Rafael that is designed to protect tanks and other armored vehicles from missiles and rockets.

It was first developed by Rafael and the Israel Aircraft Industries' Elta Group and was declared operational in 2009.

The system is made up of a radar detection system that spots incoming missiles and predicts their trajectories, and launchers that fire buckshot-like metal pellets, which cause the incoming missile or rocket to detonate away from the tank.
Israeli Consulate truck at NYC LGBT Pride March
The Israeli Consulate in New York participated Sunday in the annual LGBT Pride March in the city.

Israeli DJ Aron Abikzer played the country's latest electronic hits as LGBT and Israeli flags were waved side by side.

Consul General of Israel in New York Dani Dayan was a prominent figure at the event, surrounded by many flag-waving dancers on one of the parade trucks. He took pictures with passersby, including Alexis Michelle—a well known drag queen from the popular RuPaul's Drag Race reality show.

Dayan said during the event, "What surprised me the most is the excitement with which we were accepted by the thousands of people on sides of the road. This is not a pro-Israel crowd you'd find at AIPAC events. People were dancing to the songs 'Toy' by Netta Barzilai and 'Tel Aviv' by Omer Adam.

"We didn't come here to pretend everything's perfect. We're marching due to awareness that there's a long way ahead of us and we're striving to do better," added Dayan.

Almog Elijis, a spokeswoman for the Israeli consulate in New York, said: "Israel has become a regular guest at the New York Pride Parade. It was exciting and powerful to see thousands of New Yorkers, tourists and locals cheering Israel on the side of the road. The Consulate's staff has been preparing for the event for weeks and the final result is a proud and colorful delegation."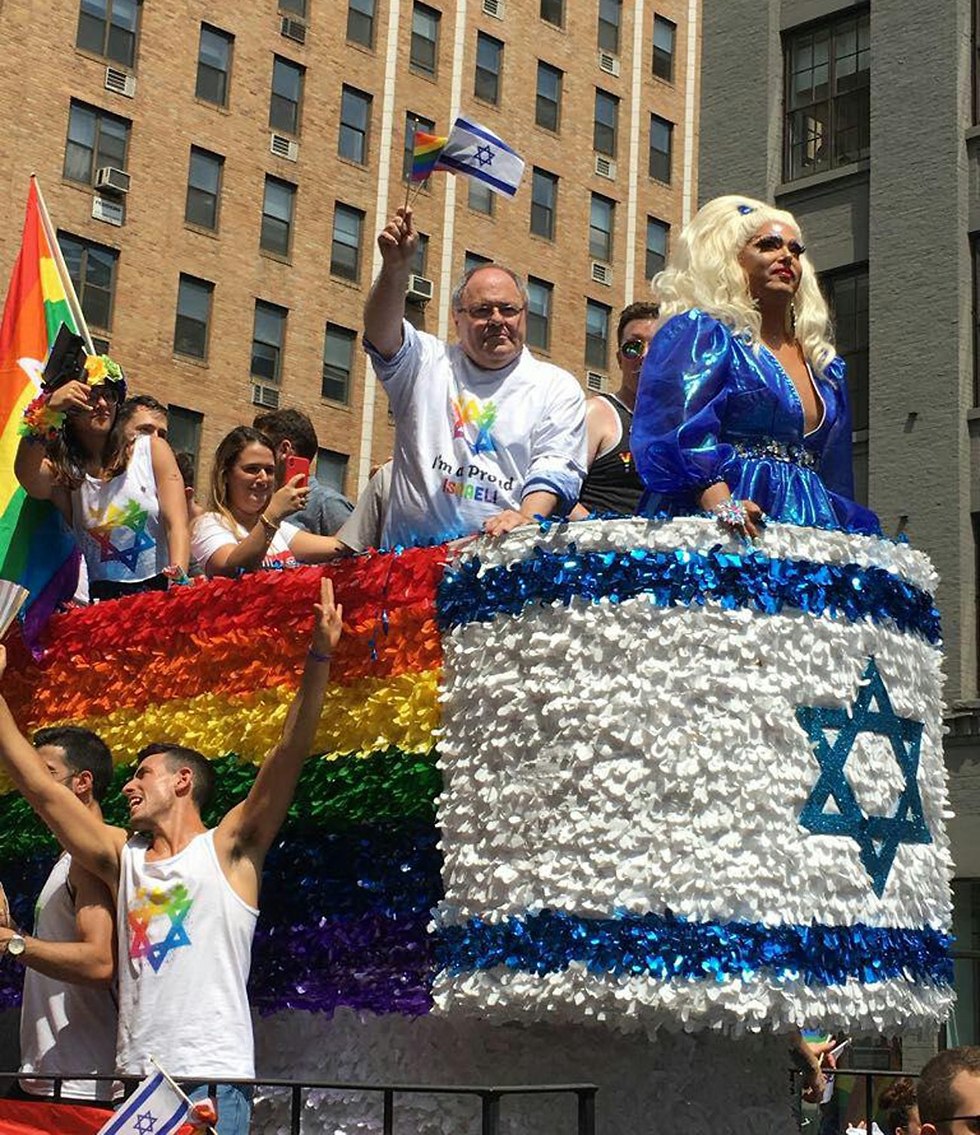 Guatemalan streets renamed 'Jerusalem the capital of Israel'
Israel and Guatemala's close ties are on full display in the Latin American country, where as part of a new project, cities across the country are renaming streets and traffic circles "Jerusalem the Capital of Israel."

The project is the initiative of Israel's Ambassador to Guatemala Matty Cohen. On Friday, Cohen, along with Mayor Jorge Antonio Orellana Pinto, took part in the first such renaming ceremony on the main street of the southern city of Guastatoya, Friday.

Describing the atmosphere at the ceremony, Cohen said, "Hundreds of people, including children, stood along the street and waved Israeli flags, and even the stores along the road had hung Israeli flags."
IsraellyCool:
Jerusalem of Gold…As Sung by Japanese Tourists
A group of Japanese tourists walk into an optician store..no, this is not the opening of a joke, but rather the beginning of a quite wondrous occurrence.

They asked to sing iconic Israeli song Yerushalayim Shel Zahav (Jerusalem of Gold), which they did. Beautifully.

For the record, their pronunciation was great.
---
---
We have lots of ideas, but we need more resources to be even more effective. Please
donate today
to help get the message out and to help defend Israel.