From Ian:
---
Khaled Abu Toameh:
How Palestinians Silence Palestinians
The talk that Al-Dayeh would soon be prosecuted before a Palestinian Authority "military" court aroused further surprise. Was the former bodyguard arrested, many wondered, for committing a serious security-related offense?

Speculation on the Palestinian street even reached the point of considering whether Al-Dayeh was being charged with spying for Israel. Or, perhaps this was the man who had put the "poison" in Arafat's soup and which, according to the conspiracy theorists, led to the death of their beloved leader and hero – Arafat.

For years, Palestinian leaders and officials have been telling us, without any evidence, that Israel was behind the "assassination" of Arafat and that it was carried out with the help of a Palestinian, whose identity remains unknown to this day. Could it be, they wondered, Al-Dayeh?

None of the above. Al-Dayeh apparently did not commit any crime against Palestinian security. Nor was he involved in the "assassination" of his father figure and boss.

According to Al-Dayeh's lawyer, Rawya Abu Zuheiri, her client is suspected of "bad-mouthing" senior officials and criticizing corruption of Palestinian leaders on Facebook. Al-Dayeh, she said, has been under interrogation on suspicion of establishing and managing two Facebook pages – "Sons of the Martyrs" and "No to Corruption." The Palestinian Authority claims that both accounts were used to wage a smear campaign against top Palestinian officials and accuse them of financial and administrative corruption.

Such are the main charges against Al-Dayeh; they are not related to any security issues, according to his lawyer. He has been ordered remanded into custody for 15 days for violating the Palestinian Authority's controversial Electronic Crimes Law. His lawyer, however, says there is only one small problem regarding the charges against Al-Dayeh: The man cannot read or write, and as such there is no way he could have posted the offensive remarks on Facebook. In other words, the lawyer is telling is that the man who was entrusted with the personal security of Arafat and was his closest confidant is illiterate.
Sohrab Amari:
Iranians Shatter a New York Times Myth
So much for the New York Times theory that, thanks to Trumpian and Saudi bellicosity, the Iranian people have closed ranks behind their rulers. In November, the paper's Tehran bureau chief, Thomas Erdbrink, devoted an extended feature to making this case, and it proved wildly popular with the pro-nuclear deal crowd in Washington.

"After years of cynicism, sneering or simply tuning out all things political," wrote Erdbrink, "Iran's urban middle classes have been swept up in a wave of nationalist fervor." He went on: "Mr. Trump and the Saudis have helped the government achieve what years of repression could never accomplish: widespread public support for the hard-line view that the United States and Riyadh cannot be trusted."

Erdbrink's argument echoed rhetoric from Iranian Foreign Minister Javad Zarif. Responding to October's announcement of new U.S. sanctions against the Islamic Revolutionary Guard Corps, Zarif tweeted: "Today, Iranians–boys, girls, men, women–are ALL IRGC."

Or not.

This week, tens of thousands of Iranians took to the streets to register their anger, not at Donald Trump or the House of Saud, but at the mullahs and their security apparatus. It was economic grievances that initially ignited the protests in the northeastern city of Mashhad. But soon the uprising grew and spread to at least 18 cities nationwide. And the slogans shifted from joblessness and corruption to opposition to the Islamic Republic in toto. These included:

"Death to [Supreme Leader Ali] Khamenei!"

"Death to Hezbollah!"

"Not Gaza, Not Lebanon, Our Life Only for Iran!"

"We Will Die to Get Our Iran Back!"

"Clerics Out of Our Country!"
Elliott Abrams:
The Iran Protests -- and The New York Times
The Times story is written by its bureau chief in Tehran, Thomas Erdbrink, one of the very few Western reporters (he is Dutch) accredited to report for U.S. media. Must he pull punches for fear of being expelled from Iran? After all, this is a regime that has invaded embassies (most recently, for example, the British Embassy in 2011) and in 2009 the entire BBC bureau there was shut down and the BBC's correspondent expelled. In 2014, Washington Post reporter Jason Rezaian was arrested and then imprisoned for 18 months. He and his wife are now suing the government of Iran for their maltreatment and torture while in captivity.

So perhaps it is wise for reporters in Tehran to watch what they say. But the Times's report and headline that these are merely economic protests are misleading. Both should be corrected.

Meanwhile the U.S. Department of State issued a very strong statement on these protests—which rightly regards them as political:

We are following reports of multiple peaceful protests by Iranian citizens in cities across the country. Iran's leaders have turned a wealthy country with a rich history and culture into an economically depleted rogue state whose chief exports are violence, bloodshed, and chaos. As President Trump has said, the longest-suffering victims of Iran's leaders are Iran's own people.

The United States strongly condemns the arrest of peaceful protesters. We urge all nations to publicly support the Iranian people and their demands for basic rights and an end to corruption.

On June 14, 2017, Secretary Tillerson testified to Congress that he supports "those elements inside of Iran that would lead to a peaceful transition of government. Those elements are there, certainly as we know." The Secretary today repeats his deep support for the Iranian people.

The Iranian people rose up against their oppressors in June 2009. Now we are again seeing that this regime rules by brute force, is widely despised, and would be dismissed by the people if ever they got a chance to vote freely.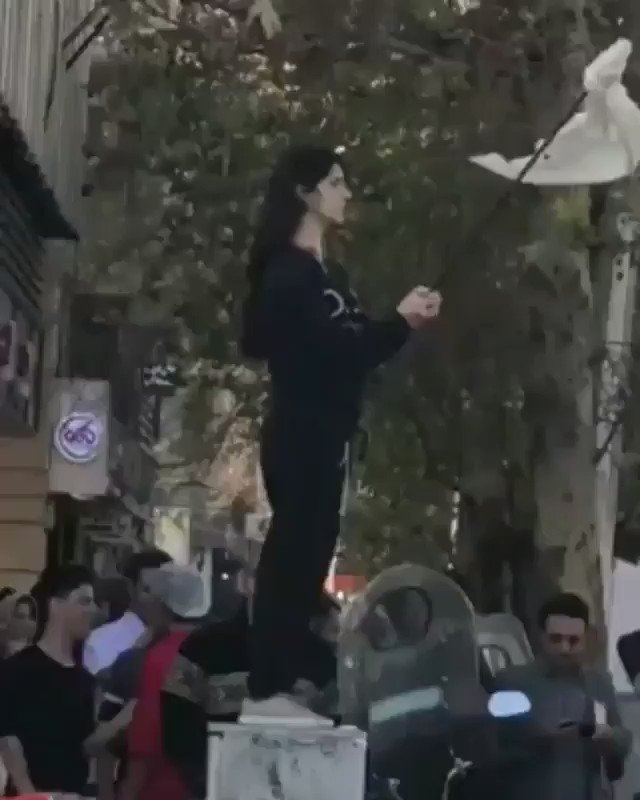 The Islamic Brew of Racism, Apartheid, and Slavery
While the world is in a dither about America recognizing Jerusalem as Israel's capital, it is, predictably, totally unconcerned about the constant and ongoing practice of "legally or culturally enforced discrimination and/or persecution based on a person's race or national identity" – to wit, apartheid – in the Muslim world. Consider that:

- Arab League states discriminate against and exclude Palestinians because of their national identity.
- Palestinian refugees have been denied citizenship for two generations or more in Syria, Egypt, Lebanon, Kuwait, Saudi Arabia, and Iraq.
- Palestinians have been expelled from many Middle Eastern countries – e.g., Kuwait, Jordan, Libya, and Iraq.
- In Lebanon, Palestinians must live in designated areas, cannot own homes, and are barred from 70 occupations.

And yet, every year, universities across America host Israel Apartheid Week despite the fact that "Israel actually is the only apartheid-free state in the Middle East – a state whose Arab population enjoys full equality before the law and more prerogatives than most ethnic minorities in the free world, from the designation of Arabic as an official language to the recognition of non-Jewish religious holidays as legal days of rest."

Contrast this with the fact that Muslim religiously based apartheid continues, since "Muslims historically view themselves as superior to all others and consider non-Muslims or kuffars as dhimmis." Thus, Christians, Jews, and Bahá'í remain second-class citizens throughout the Muslim world. Racism is rampant in the Arab world, and "Africans of sub-Saharan descent are held in deep contempt, a vestige of the region's historical role as epicenter of the international slave trade."

And while Palestinian refugees are championed by the Arab world, they are treated like outcasts. Khaled Abu Toameh writes, "[I]t was revealed that the Iraqi government has approved a new law that effectively abolishes the rights given to Palestinians living there. The new law changes the status of Palestinians from nationals to foreigners." In sum, "[t]he hypocrisy of the Arab countries is in full swing. While they pretend to show solidarity with their Palestinian brothers, Arab governments work tirelessly to ethnically cleanse them. Palestinian leaders, meanwhile[,] care nothing about the plight of their own people in Arab countries. They are much too busy inciting Palestinians against Israel and Trump[.]"
Palestinian envoy to Pakistan shares stage with Mumbai attacks mastermind
India harshly protested to the Palestinian Authority Friday, after the Palestinian ambassador to Pakistan shared a stage in a rally held in the Pakistani city of Rawalpindi with leader of the Lashkar-e-Taiba terrorist organization and mastermind of the 2008 Mumbai terrorist attacks Hafiz Muhammad Saeed.

Indian media outlets reported the country's government announced its displeasure to the Palestinians in no uncertain terms. Spokesman for the Indian Foreign Ministry Raveesh Kumar said, "We are taking up the matter strongly with the Palestinian ambassador in New Delhi and with the Palestinian authorities."

Palestinian ambassador Walid Abu Ali's photos from Pakistan were disseminated on social media after it was reported he had attended a rally organized by the Difa-e-Pakistan Council in a Rawalpindi park.

The Difa-e-Pakistan Council, or Defense of Pakistan Council, is an umbrella organization for some 40 religious and extremists' group from Pakistan that regularly attacks India.

The organization's leader is Saeed, accused by India of masterminding the November 2008 terrorist attacks in Mumbai that claimed the lives of 173 people. Saeed is on the United Nations and United States' list of recognized terrorists, at India's request.

The rally was intended to exert pressure on Pakistani Prime Minister Shahid Khaqan Abbasi to convene an Islamic summit meeting to "defend Jerusalem from Israel."

The Palestinian ambassador's presence at a rally organized by Lashkar-e-Taiba could be considered a slap in the face to India, who only last week voted in the UN in favor of a resolution disavowing President Donald Trump's decision to recognize Jerusalem as Israel's capital.

Indian media reported New Delhi was "surprised and shocked" at Abu Ali's attendance of the rally. (h/t Zvi)
Why I Left Iran to Play Chess in America
Right now in Riyadh, Saudi Arabia, the World Chess Championships are underway. But some world champions are noticeably absent: The Israeli players were blocked from participating when Saudi Arabia denied them visas.

Chess — a game that I have loved since I first sat down at a board — is pure. It doesn't care about gender, ethnicity, nationality, status or politics. But too often the countries, organizations and people who enforce the rules in the world of chess are anything but.

This is a subject I know something about.

I was the second-highest-ranked player for girls under 18 in the world in 2016. I am the second-highest-ranked female chess player in Iranian history. And yet my passion for the game has taken me thousands of miles away from my home in Tehran to seek citizenship here in the United States.

From 2011 until 2015 I played for the Iranian national team. I had to follow the official Iranian dress code, which requires women to cover their hair in public. I understood that being a member of the team meant that I was an official representative of the country, so I never broke the rules. But I chafed under them.

By 2015, when I was 17 years old, it was clear to me that other things mattered more to the federation than talent. Just one example: I had won the Asian championship three times in a row when I arrived at the tournament in India in 2014. I was favored to win, given my record. Yet federation officials weren't focused on my game, but on my clothing. On the very first day of the tournament, they told me my jeans were too tight. I told them I would not participate in the round unless they stopped scolding me.

In the end, I played and won that tournament in India. But time and time again, those in charge of the Iranian national team showed that they cared more about the scarf covering my hair than the brain under it.
GOODBYE, OBAMA: Trump State Department Supports Iran Protesters, Says Iran Exports 'Bloodshed'
On Friday, the Trump Administration showed in one more way why it is 180 degrees from the Obama Administration terms if foreign policy. As peaceful protests against the Iranian theocratic and despotic regime occurred in Iran, the State Department issued a statement supporting the protesters and bluntly stating that it "strongly condemns the arrest of peaceful protesters."

The statement also took no protesters regarding the effect of the theocratic regime on Iran, asserting, "Iran's leaders have turned a wealthy country with a rich history and culture into an economically depleted rogue state whose chief exports are violence, bloodshed, and chaos."


— Tobias Schneider (@tobiaschneider) December 29, 2017



The State Department's support of the protesters challenging the Iranian regime are a welcome sign after the Obama Administration's pusillanimous reaction when Iranian reformers launched their Green Revolution on June 12, 2009 after the announcement that Mahmoud Ahmadinejad had been re-elected as Iran's president.

On June 15, Obama would only say, "The world is watching and inspired by their participation, regardless of what the ultimate outcome of the election was," despite the widespread conviction that the election had been stolen. As Wall Street Journal chief foreign correspondent Jay Solomon wrote in his book, The Iran Wars, the White House instructed the CIA to eschew giving help to the protesters. Solomon wrote, "The Agency has contingency plans for supporting democratic uprisings anywhere in the world. This includes providing dissidents with communications, money, and in extreme cases even arms. But in this case the White House ordered it to stand down."
Report: 3 protesters shot dead by Revolutionary Guards as Iran rallies intensify
Three Iranian protesters were shot dead by the Revolutionary Guards at a Saturday night demonstration in central Iran, the Saudi-owned Al-Arabiya network reported, citing local reports.

There was no immediate confirmation of the incident, which reportedly took place in Doroud, in the Loerstan province.

Footage from Iranian opposition websites showed thousands participating in the nationwide anti-regime demonstrations, with some calling for the death of Supreme Leader Ayatollah Ali Khamenei.

Iranian social media accounts posted videos of demonstrators tearing down regime billboards featuring Khamenei's photo.

A swirl of online rumors, combined with travel restrictions and a near-total media blackout from official agencies, made it difficult to verify footage.

The semi-official Fars news agency said 70 students protested at Tehran University, throwing rocks at police. They reportedly chanted "Death to the dictator," in reference to Khamenei.
Iranian protests escalate, government cancels schools and trains
Anti-government protests broke out in Iran for the third day running on Saturday as separate state-sponsored rallies were staged to mark the end of unrest that shook the country in 2009, according to Iranian news agencies and state media.

State television showed a rally in the capital Tehran as well as marchers carrying banners in support of Supreme Leader Ayatollah Ali Khamenei in Mashhad, Iran's second largest city where protests over prices turned political on Thursday.

Iranian authorities have arrested 50 people since protests erupted across the country on Wednesday.

State-sponsored mass rallies were scheduled in more than 1,200 cities and towns, state TV said - events held annually to commemorate the end of months of street protests that followed Mahmoud Ahmadinejad's disputed re-election as president.

The Iranian government declared that trains and schools will be closed on Sunday because of the protests.
On 3rd day of anti-regime protests, Iran blames US, Israel for stirring unrest
Iranian state-controlled media on Saturday characterized the worst anti-regime protests in eight years as masterminded by American, British, and Israeli spies seeking "to stir unrest" in the Islamic republic.

The regime on Saturday warned protesters against holding fresh demonstrations, and organized rallies by hardline supporters, after protests spread Thursday and Friday into several cities including Tehran. Fifty-two people were arrested in Iran's second most populous city of Mashhad on Thursday. State news channel IRINN said it had been banned from covering the protests.

The semi-official Fars News Agency said pro-regime demonstrators, in "resolutions" issued at the end of counter-rallies on Saturday, had warned against "any kind of move masterminded by the anti-revolutionary forces and the US, British, and Israeli spy agencies to stir unrest and dissidence in Iran."

It claimed Washington, London, and Jerusalem played "pivotal roles" in the 2009 Green Movement protests against the reelection of president Mahmoud Ahmadinejad.

Fars said pro-regime protesters had "further reiterated their everlasting allegiance to Supreme Leader of the Islamic Revolution Ayatollah Seyed Ali Khamenei."
Alan M. Dershowitz:
Debating BDS with Cornel West
West argued that BDS would encourage Israel to make peace with the Palestinians. I replied that Israel would never be blackmailed into compromising its security, and that the Palestinians are disincentivized into making compromises by the fantasy that they will get a state through economic and cultural extortion. The Palestinians will get a state only by sitting down and negotiating directly with Israel. I told my mother's favorite joke about Sam, an Orthodox Jew, who prayed every day to win the N.Y. Lottery before he turned 80. On his 80th birthday, he complains to God that he hasn't won. God replies, "Sam, help me out a little – buy a ticket." I argued that the Palestinians expect to "win" a state without "buying a ticket" -- sitting down to negotiate a compromise solution.

The debate in its entirety – which was conducted in front of an audience of business people in Dallas, Texas, as part of the "Old Parkland Debate Series" – continued with broad arguments about the Israeli-Palestinian conflict, the refugee situation, the peace process, terrorism and other familiar issues. It can be seen in full on CSPAN. I think it is worth watching.

The audience voted twice, once before the debate and once after. The final tally was 129 opposed to BDS and 16 in favor. The vote before the debate was 93 opposed and 14 in favor. I swayed 36 votes. West swayed 2. The anti-BDS position won overwhelmingly, not because I am a better debater than West – he is quite articulate and everyone watching the CSPAN can judge for themselves who is the better debater – but because the facts, the morality and the practicalities are against BDS.

The important point is never to give up on making the case against unjust tactics being employed against Israel. In some forums – at the United Nations, at numerous American University campuses, in some parts of Western Europe – it is an uphill battle. But it is a battle that can be won among open-minded people of all backgrounds. BDS lost in Dallas. BDS lost in a debate between me and an articulate human rights activist at the Oxford Union. BDS is losing in legislative chambers. And if the case is effectively and honestly presented, it will lose in the court of public opinion.
Cornel West and Alan Dershowitz Debate Israeli Palestinian Conflict & BDS Movement (starts 1:30)
Five Key Moments in US-Israel Relations in 2017
Love him or hate him, 2017 was a year dominated by President Donald Trump.

The US-Israel relationship was no stranger to that phenomenon, ranging from Trump's visit to the Jewish state in May, to his historic decision on Jerusalem in December. At the same time, some of this year's other major stories in the Israeli-American arena had little or nothing to do with Trump.

Here are five key moments in US-Israel relations that took place during the past year:

Trump's policy changes on Jerusalem
On December 6, Trump recognized Jerusalem as the Israeli capital, and declared plans to eventually move the US embassy in Israel to that city. The president called the policy changes "long overdue," and said that recognition of Jerusalem as the capital is "obvious" given that all of Israel's government bodies — from the Knesset to the prime minister's residence — are located there.

"This is nothing more or less than a recognition of reality," said Trump. "It is also the right thing to do."

Prime Minister Benjamin Netanyahu said that Trump's decision reflected the "commitment to an ancient but enduring truth, to fulfilling his promises and to advancing peace."

A 'new sheriff in town' at the UN
Trump's Ambassador to the United Nations, Nikki Haley, has been determined to change the culture of bias against Israel at the world body. At the AIPAC Policy Conference in March, Haley described herself as the "new sheriff in town" at the UN, and vowed that she would "kick [anti-Israel elements] every single time" that they displayed their bias.

Indeed, Haley has taken aim at UN bodies that have repeatedly and disproportionately targeted Israel, including the Human Rights Council and the UNESCO cultural agency. In October, the US announced that it would pull out of UNESCO due to its "anti-Israel bias."

In the wake of Trump's announcement on Jerusalem, Haley blamed the world body for being the real obstacle to Israeli-Palestinian peace, and vetoed a UN Security Council resolution that called for the withdrawal of the US recognition of Jerusalem. When the same resolution was passed by the UN General Assembly, Haley said that the vote "will be remembered." And before the vote, she said that the US would be "taking names" of countries that supported the UN condemnation of Trump's Jerusalem move.

Haley's series of moves defending Israel at the UN came after the departing Obama administration, in December 2016, refused to veto a Security Council resolution that condemned Israel's settlement policy and described eastern Jerusalem as "occupied Palestinian territory."
Trump Is Right: Terrorism and Iran Are the Middle East's Major Problems
If, therefore, the Arab war on Israel is a distinct conflict generally unrelated to other regional flash points, it should be obvious that for the US to declare it to be the head and font of all the region's woes is both absurd and damaging to American interests, for several reasons.

First, it is nonsense — and nonsense is a poor and reckless basis for policy. Whatever international pieties the US thereby observes, flat-earth pronouncements of this type communicate to an Arab world that knows better a message of American incomprehension and thus a lack of credibility.

Second, an Israeli/Palestinian peace agreement, were it even presently attainable, would not solve other regional problems, which are rooted in the region's ideological and religious pathologies.

Third, asserting the centrality of Israelis and Palestinians to regional turbulence benefits no-one but Arab despots, who avail themselves of US preoccupation with this issue to continue, blissfully unhindered, in incubating radical Islamic movements and repressing their subjects. This in turn leads successive administrations into pursuing foredoomed Arab/Israeli diplomatic initiatives, whose inevitable failure is then attributed to America and Israel.

How precisely this serves American interests has yet to be explained.

Accordingly, making a fetish of an alleged Israeli/Palestinian 'peace process' squanders American resources, credibility and standing.

Why should the US talk up a bogus peace process? Why should Washington go out of its way to reap failure and blame?

President Trump's officials are still at work framing the contours of an 'ultimate deal.' However, if the new strategy is any guide, it will be wisely prioritizing dealing with the genuinely regional threats that confront America and its allies, not on seeking the Holy Grail of an Israeli/Palestinian Arab peace.
Anger at German FM after he repeats that Israel is an apartheid regime
German foreign minister Sigmar Gabriel reiterated his description of Israeli policies in the disputed territories as embodying the former apartheid regime in South Africa, prompting fierce criticism on Friday from Jewish human rights organizations and a leading German Jewish activist.

"There are two central narratives to Jewish history in the 20th century, the Holocaust and the establishment of the State of Israel. Sigmar Gabriel has already tried to undermine the core of each of them.

By falsely claiming that Israel is an 'apartheid state,' he denies its democratic basis, which is a central tenet of Israeli statehood since its establishment, and legitimizes unjust attacks on the Jewish state for sins committed on a regular basis by all its neighbors but not by Israel," Dr. Efraim Zuroff, the head of the Jerusalem Office of the Simon Wiesenthal Center ,told The Jerusalem Post.

Zuroff, the organization's Chief Nazi-Hunter, added, "In the past Gabriel claimed that Social Democrats suffered the same fate as Jews during the Third Reich, a ridiculous assertion with no basis in fact, that undermines the uniqueness of the Holocaust and falsely relativizes the uniquely horrific fate of European Jewry at the hands of the Nazis and their helpers."
German Jewish Leader Warns That Jews May Require Police Protection As Anti-Semitism Escalates
Former president of the Central Council of Jews in Germany Charlotte Knobloch claims that Jews are increasingly under threat in public and may require police protection to lead a normal life without harassment and violence.

Ms Knobloch, who is now the President of the Jewish Community of Munich and Upper Bavaria, said that Jews are increasingly under threat, Die Welt reports.

"Aggressive anti-Semitism, from verbal hostility on the Internet and in the analogue world to desecration and destruction to physical attacks are commonplace in Germany," she said.

"Jewish life can only take place in public under police protection and the strictest security precautions, or it must be completely cancelled for security reasons," Knobloch added.

The Jewish leader spoke about several recent anti-semitic cases including the vandalism of a Menorah in the city of Heilbronn, and the cancellation of a public Menorah lighting in Mülheim/Ruhr due to security issues.
France sets up tax dept to investigate Jews
In Paris's 12th arrondissement, on Bercy Street by the banks of the River Seine, on the 13th floor of the Ministry of Finance is France's tax authority headquarters. Something has been afoot there recently that is liable to upset French Jews and spook their relations with the country in which they live. Under the radar, a secret department has been created with the sole purpose of handling tax evasion by French Jews. "Globes" can reveal for the first time the details of the secret department that is targeting Jews in France and new immigrants from France in Israel.

Sources inform "Globes" that over the past year, the tax authority in the Fifth Republic founded a special department for dealing with French Jews. The department currently has 20 Hebrew-speaking employees, and is in the process of hiring five more. This extraordinary department is one of a kind. Tax authorities do not usually establish departments targeting a specific nationality or religion. The action is astonishing, especially when the country involved is France, which is constitutionally defined as a secular republic that refrains from "marking" people according to their religion. Tax authorities around the world do establish teams to deal with sectors whose tax reporting is questionable. They target a specific market when there is concern that it contains a large amount of unreported capital, such as the real estate market or the diamond market. Setting up a specific department dealing with a designated nationality or religion, however, is not an accepted practice.

The only "department" ostensibly close in character to this secret French department is a new department established in the US Internal Revenue Service (IRS) for dealing with cases of Israelis, American-Israelis, and Americans with assets and money in Israel. This US department, however, resulted from the Foreign Account Tax Compliance Act (FATCA) signed by Israel and the US, in which huge amounts of information are transferred by the countries about their taxpayers, and someone has to handle that information. This was not the purpose for which the department was set up in the French tax authority. (h/t Jewess)
Michael Oren says IDF should 'shoot to kill' suspected terrorists
Michael Oren tweeted that the Israel Defense Forces should "shoot to kill" suspected terrorists, rather than just "neutralize" them.

Oren, a former Israeli ambassador to the United States who serves as a deputy minister in Israel's Knesset, made the call for extrajudicial killing while tweeting Wednesday about Omar al-Abed, who was convicted on the same day of murdering three Israelis in a July attack on the West Bank settlement of Halamish.

Oren tweeted that al-Abed, whose name he spelled differently, attacked medics after being "neutralized" by Israeli forces. Israel uses the term "neutralized" to describe a suspected terrorist who no longer poses a physical threat. Oren said that al-Abed "sat healthy and smiling in court" at his military court date Wednesday, despite having committed the attack.

In July, Al-Abed entered a home in Halamish and stabbed three family members to death as they were eating Shabbat dinner. The military advocate general is seeking four consecutive life sentences for Al-Abed.

The question of when it is appropriate for soldiers to kill suspected terrorists became a divisive topic in Israel last year after Elor Azaria, an IDF medic, shot dead an alleged terrorist who was incapacitated and lying on the ground. Despite protests on Azaria's behalf, he was convicted of manslaughter in January and sentenced to 18 months in prison, later shortened to 14 months. Leading Israeli politicians, including Prime Minister Benjamin Netanyahu, have called for Azaria to be pardoned, but Israeli President Reuven Rivlin rejected the pardon requests in November.
— i24NEWS English (@i24NEWS_EN) December 30, 2017
Ahed Tamimi case is about child exploitation by anti-Israel activists
The Tamimi Clan of Nabi Saleh and their Western supporters exploit children in order to obtain viral video and photographs.

The children are used to try to provoke Israeli Border Police and soldiers. If the provocation is successful, which it almost never is, they get a photo of an Israeli being brutal towards a child. In almost every case, though, there is no reaction from the soldiers, so the video and photos are spun as reflecting "brave" Palestinian children and the "weak" Israeli soldiers.

The Tamimis are experts at manipulating images and press coverage of these child demonstrators.

The leading proponent of this tactic is Bassem Tamimi and others in the Tamimi media operation. For extensive documentations, including social media, videos and images, see our posts, Bassem Tamimi and the Use of Children as Political Props and Palestinian Child Exploitation – 10-year old "Journalist" Janna Jihad.

The children are then raised as symbols of Palestinian resistance and glorified not only by Palestinian social media, but by Western left-wing anti-Israel supporters of the Tamimis.
Bassem Tamimi Promotes The Use of Children

There is nothing organic or natural to children becoming provocateurs trying to incite confrontation. It is all planned and deliberate by the Tamimis as part of their media strategy.

To Bassem, in his own words, children must be at the forefront of what he calls the "national movement," which in the case of the Tamimis includes terror-support.

Bassem promotes even young children participating:
Three kinds of anti-Semitism in Labour ranks, Momentum leader admits
The Labour Party has three separate "categories" of anti-Semitism but has "a lot of denial" that the problem exists, the founder of the Corbynite group Momentum has admitted.

Jon Lansman, who is himself Jewish, said Labour must do more to "stamp out" anti-Semitism in the party, though he said there is no "one size fits all" solution to the problem.

Mr Lansman, 60, has successfully shifted the Labour Party to the far Left by marshalling support for far-Left candidates in the general election, as well as backing Mr Corbyn's leadership.

The party has been dogged by growing accusations of anti-Semitism under Mr Corbyn, who has in the past described the anti-Israeli militant groups Hamas and Hezbollah as "friends". Speaking at the Limmud Festival of Jewish learning and culture in Birmingham, Mr Lansman said: "There is anti-Semitism in the Labour Party, I think it falls into three categories.

"There's the kind of petty remarks about big noses, which are dreadful, completely unacceptable anti-Semitism. People make petty xenophobic remarks and some are made against Jews. I don't think there's much of that in Labour.

"There's the anti-Semitism that arrives from the Israel-Palestine conflict. We all understand that when that conflict heats up, it results in dreadful anti-Semitism. It shouldn't result in that, but it does.

"The third type is extremely rare, it's the real old-school anti-Semitism that believes in blood libels and so on. I don't think there's a lot of that. But there is a lot of denial of anti-Semitism." (h/t Zvi)
Edgar Davidson:
Leftists' definition of what is and isn't antisemitism
This actually applies not just to leftists but to most of the main stream media, including especially Jewish newspapers such as the Jerusalem Post and Jewish Chronicle which have been at the forefront of pushing the "Criticising Soros is antisemitic" nonsense (while insisting that people like Corbyn are not antisemites)..
Lorde, Did She Pick a Bad Time to Boycott Israel!
Pop singer Lorde, in explaining her decision to cancel a performance in Israel, described herself as an "informed young citizen," who finally read up on the Israeli-Palestinian conflict, Billboard magazine reported on December 24.

Events of the week though have conspired to show that that pop star is far from being fully informed about the conflict and is just a recent rare trophy for the Boycott, Divestment and Sanction (BDS) campaign that seeks to delegitimize Israel. Though the founders of BDS are quite clear in their statements that their goal is to destroy Israel, they cloak the campaign in the language of Palestinian rights.

The campaign itself, often overstates or even lies about its successes. For years BDS claimed that the American rock band The Pixies and legendary guitarist Carlos Santana had joined the boycott Israel. Both had canceled concerts for their own reasons but subsequently performed in Israel, demonstrating that they weren't part of the campaign.

Other artists have stood up to the pressure tactics of the BDS campaign. This year, notably, Nick Cave of the Bad Seeds and Thom Yorke of Radiohead spoke out against BDS as they performed in Tel Aviv.

Yorke called BDS "offensive" and "partronizing" in an interview with Rolling Stone magazine ahead of his bands trip to Israel.
Lorde Is Swimming in Antisemitic Waters
Come to think of it, did I mention that Lorde has not cancelled her plans to perform in St. Petersburg and Moscow? That's odd — because the Russian government has been credibly accused not only of abetting Syrian President Bashar al-Assad's government as it slaughtered tens of thousands of civilians, but also of itself targeting hospitals in Aleppo. And the Aleppo campaign was merely an update of Russian President Vladimir Putin's brutal, civilian-targeting campaign in Chechnya. If Lorde accepts the logic of Sachs and Abu-Shanab, then her concerts in Russia will support all these actions, not to speak of Russian aggression in Ukraine. They will also support Russian authoritarianism, which the Freedom House amply documents in its assessment of Russia as "not free." The Putin administration has almost no regard for political freedom, civil liberties or freedom of the press. But we won't think Lorde's concerts are pro-Putin, because the logic Lorde has accepted is a sort of magic logic that — what luck — applies only to Jewish states.

The singling out of Israel by the BDS movement, the United Nations and others as the country most deserving of reproach is antisemitic on its face. Nonetheless, that Lorde was hoodwinked by BDS reflects not personal anti-Jewish bias, but something worse — the infiltration of such bias into the terms of our ordinary political discourse. Lorde, like many others more or less honestly trying to do the right thing, is swimming in polluted waters.
Jerry Seinfeld spotted at Tel Aviv's 'best' falafel shop
Hours after landing in Israel, the comedian Jerry Seinfeld was spotted at a well-known falafel eatery ahead of his two shows there.

Wearing a blue polo shirt and a New York Mets baseball cap, Seinfeld was photographed ordering food on Friday at Falafel Hakosem, an eatery situated half a mile east of the US Embassy in Tel Aviv.

Israel's Channel 2's food critic earlier this year proclaimed the falafel joint the best of its kind in Tel Aviv, Ynet reported.

Seinfield, one of the most famous Jewish comedians of all time, is scheduled to perform at Tel Aviv's Menorah Mivtachim Arena on Saturday night. He performed four sold-out shows in a row there during his previous visit to Israel in 2015.
2017 breaks tourism record with 3.6 million visitors
Some 3.6 million tourists visited Israel in 2017.

The figure, an all-time record, represents a 25-percent increase over the previous year, the Israeli business daily Globes reported, citing Tourism Ministry statistics.

The largest number of tourists, close to 700,000, came from the United States. Tourists from Russia represented the second-largest group, with some 307,000 tourists. They were followed by France, with 284,000, Germany with 202,000 and the United Kingdom with 185,000.
Jewish men pray at the Western Wall on June 1, 2017. (Dudi Cohen/Flash90)

Some 59% of the tourists were visiting Israel for the first time, according to Globes. Twenty-five percent said the purpose of their visit was religious or a pilgrimage. Some 24% said they were visiting relatives and friends, and 23% said they were planning on touring and hiking. Six percent came with an organized tour package.

Jerusalem was a destination for 78% of tourists in 2017, followed by Tel Aviv-Jaffa at 67%, the Dead Sea at 49 percent and Tiberias and the Galilee region at 35%.

The Tourism Ministry reported that the 2017 tourism contributed some $5.8 billion to Israel's economy.
---
---
We have lots of ideas, but we need more resources to be even more effective. Please
donate today
to help get the message out and to help defend Israel.