From Ian:
---
Congressman: Investigate Obama protection of Hezbollah
A Republican Congressman urged Congress to launch an investigation into a report that the Obama Administration shielded the Iran-controlled Hezbollah terrorist organization in order to protect the nuclear deal with Iran, Fox News reported.

Rep. Robert Pittenger (R. N.C.) asked House Oversight Committee Chairman Trey Gowdy to open the investigation after Politico reported that the Obama Administration had deliberately derailed a years-long investigation of the terror group's involvement in the drug-trafficking business to avoid tensions with Tehran during negotiations with the rogue regime.

In 2008, the Drug Enforcement Administration launched what was dubbed "Project Cassandra", a secret criminal investigation into the Lebanon-based Shi'ite terror group Hezbollah.

According to an investigative report published by Politico Monday, a team of DEA agents aided by dozens of US and foreign security and law enforcement agencies spent eight years mapping out Hezbollah's intricate web of organized crime operations, massive drug dealing and other money-making schemes around the globe aimed at funding the terror group's operations in the Middle East.

Hezbollah, an Iranian proxy in Lebanon, conducted hundreds of terror attacks against Israeli forces during the 1980s and 1990s, and was responsible for the 1983 bombing of a US Marine Corps barracks in Beirut which left 305 people dead, including 241 American servicemen.

In 2006, Hezbollah carried out an unprovoked attack on Israeli forces inside Israeli territory, killing three, and taking two captive. The attack sparked a month-long war between Israel and the Shi'ite terror group, which pounded northern Israel with missiles, rockets, and mortar fire.

But the Lebanese terror group has also demonstrated a global reach, aiding the perpetrators of the 1992 suicide bombing of the Israeli embassy in Argentina which killed 29, and being widely suspected of carrying out the 1994 bombing of a Jewish center in Buenos Aires, killing 85.
Lapid: If Obama blocked Hezbollah probe, he should give back Nobel
Israeli politicians lashed out at former US president Barack Obama after an exposé in Politico alleged that his administration had blocked a major investigation into Hezbollah's global drug trafficking activities so that Iran would sign the 2015 deal to curb its nuclear activities.

"Obama must return his Nobel Peace Prize," if the Politico story is correct, Yesh Atid chairman Yair Lapid said.

"Israel warned repeatedly that there can be no connection between the nuclear deal and anti-terror activity, certainly against Hezbollah... We also warned of this specifically, because of the proven link between Hezbollah and Iran."

Regional Cooperation Minister Tzachi Hanegbi wrote on Facebook that the report is not surprising, due to Obama's "persistent efforts to give Iran, Nasrallah's patron, legitimacy at any price.

"Up until the Obama Administration, every American President fought terrorism uncompromisingly... I am convinced that the Trump administration will not turn from that tradition, and that the outrageous and mistaken policy that was revealed this week will not be repeated," Hanegbi said.

The Politico piece details the efforts of the US Drug Enforcement Administration, which launched Project Cassandra in 2008. The group tracked Hezbollah's global criminal-syndicate operation, backed by Iran, including drug and weapons trafficking worth $1 billion annually.

But while DEA gathered evidence, including of Iran-backed activities in Latin America and the US, Politico charged that the Justice Department and other US authorities refused to file charges against major players.

This included, according to Politico, "Hezbollah's high-profile envoy to Iran, a Lebanese bank that allegedly laundered billions in alleged drug profits, and a central player in a US-based cell of the Iranian paramilitary Quds force."

Thinking outside the box
The Nobel Peace Prize is considered a most prestigious award. Politicians who are awarded it enjoy international glory. But twice in recent decades, the glory has been replaced by ridicule. In 1994, the prize was awarded to Yitzhak Rabin, Shimon Peres and Yasser Arafat for their efforts to reach peace in the Middle East and for signing the Oslo Accords. In 2009, it was awarded to then-U.S. President Barack Obama, only a few months after he was sworn in as president, for his efforts to strengthen international diplomacy and cooperation between peoples.

Over the past 24 hours, fascinating reports have been published about the two bizarre Nobel prizes. For years, statesmen have operated on the assumption – unchecked and absolutely false – that the Israeli-Palestinian conflict is preventing peace in the Middle East and is the basis of the Islamist terrorist that is striking worldwide. Given that assumption, Israel has been under immense pressure to withdraw, concede, and give in.

The Oslo Accords led to the delusion that peace was closer than ever and despicable murderers would beat their swords into plowshares and release doves of peace. It quickly turned out that the way the Palestinians saw it, the Oslo Accords were designed to deceive the Israeli leadership. They had lethal results, and the international pressure on Israel encouraged the Palestinians' recalcitrance and violence. President Barack Obama was a friend to the Palestinians, and only Prime Minister Benjamin Netanyahu's firm stance and maneuvering allowed Israel to work successfully with the hostile president.
No moral backbone
This latest affair is like a tunnel that sends us back through time to the end of World War II and the start of the Cold War, when the administration of then-President Harry Truman stopped at nothing to enlist some 1,600 Nazi scientists, engineers and technicians, particularly in the field of missile development. That campaign, which was dubbed Operation Paperclip, is now considered the essence of immoral, inhumane conduct, which ignored the crimes against humanity the candidates had committed.

It is becoming clear that the liberal President Obama did not learn from history, and in complete contradiction of his saintly statements, effectively gave a green light to an entire web of ongoing crimes, based on his perception – ridiculous in itself – that it was in America's national interest to do so.

To sum up, Obama not only refrained from taking action against the ruler of Syria when he crossed all the red lines that had been drawn on chemical warfare but also contributed – if indirectly – to Assad building up his chemical arsenal and deploying it against his own civilian population. Obama deserved a Nobel Prize for his Machiavellian, opportunistic and immoral conduct, which also hurt the security of the U.S.'s partner, Israel.
Pence Delays Upcoming Trip to Israel, Egypt Until 2018
Vice President Mike Pence will be delaying his upcoming trip to Israel and Egypt for the second time in the last week, according to his office.

Spokespeople for the Knesset, the name for Israel's Parliament, the Israeli Foreign Ministry, and Pence's office confirmed to CNN and Haaretz last Thursday that the vice president's visit would be postponed until this week. However, Pence's office confirmed on Monday that his visit would be pushed back again until January 2018, Politico reported.

Pence, who was originally scheduled to arrive in Israel on Sunday and then rescheduled to leave on Tuesday for a brief visit in Egypt before arriving in Israel for a multi-day trip, will not be making the trip to the Middle East until he sees "the tax cut through to the finish line."

"The largest tax cut in American history is a landmark accomplishment for President Trump and a relief to millions of hardworking Americans," his office said in a statement. "The Vice President is committed to seeing the tax cut through to the finish line. The Vice President looks forward to traveling to Egypt and Israel in January."

Pence's Middle East visit was shaping up to be a victory lap after President Donald Trump officially announced earlier this month that he recognizes Jerusalem as the capital of Israel.
Mattis: Iran Working to Destabilize Middle East
"Everywhere you find turmoil [in the Middle East], you find Iran's hand in it," Defense Secretary James N. Mattis told reporters at the Pentagon yesterday.
Reporters surround Defense Secretary James N. Mattis during an impromptu Pentagon news conference.

During an impromptu news conference, Mattis addressed questions about Iran and U.S. efforts to expose Iran's malicious behavior.

He praised U.S. Ambassador to the United Nations Nikki Haley's Dec. 14 presentation at Joint Base Anacostia-Bolling here that highlighted Iran's illegal arms program. Haley stood in front of an Iranian missile that Iran's proxy – the Houthis – fired at Riyadh International Airport, a civilian target in Saudi Arabia. The missile didn't hit the airport, but if it had, it potentially could have killed hundreds of innocent civilians.

Haley's briefing included physical evidence that Iran is providing ballistic missiles to the Houthis, Mattis said. "What we are doing in that region," he added, "is standing by allies and partners, and we're on one hand exposing, on the other hand helping them build their own capability to reject Iranian influence."
Don't Forget Qatar and Turkey
US National Security Advisor Gen. H.R. McMaster underlined an important point last week that deserves a wider audience.

Speaking at a conference in Washington, DC, McMaster highlighted two countries that he said were playing a key role in advancing radical Islamist ideology through the Muslim community's "charities, madrassas and other social organizations."

Not Pakistan. Not Libya. Not Shia Iran. The two countries named by McMaster have been regarded for most of the past century as stalwart allies of the West. One is a member of the NATO alliance, and a candidate country for EU membership. The other hosts the most vital American military base in the Middle East, home to the headquarters of CENTCOM and the location of more than 9,000 US troops.

These two countries are Turkey and Qatar. And the promotion of radical Islam, McMaster said, is "now done more by Qatar, and by Turkey."

It's not the first time that the Trump White House has linked Qatar with the promotion of terror. Trump himself said back in June — at the start of the blockade of Qatar by Saudi Arabia, Egypt, Bahrain and other Arab states –that "the nation of Qatar has historically been a funder of terrorism at a very high level." The evidence of fundraising, money channeling and money laundering in Qatar on behalf of Islamist groups ranging from Islamic State to the Palestinian Hamas has been mounting for more than a decade.
Majority of Israelis want coexistence, few willing to live next to Arabs
While the vast majority of Israeli Jews and Arabs support coexistence, only a fraction of Jews are willing to have Arabs as neighbors, painting a bleak portrait for practical steps forward, according to a recent study by The Center for a Shared Society at Givat Haviva.

According to the study, 84.3% of Arabs and 63.7% of Jews support the idea of ​​coexistence. However, only 13% of Jewish Israelis said they would like to live next door to Arab neighbors.

Based on the findings, Yaniv Sagee, director of Givat Haviva, concluded that "there is still not enough maturity and understanding among the Jewish public for practical steps for living together. The majority of the Jewish public is unwilling to relinquish resources and positions of power to promote equality for Israel's Arab citizens, and to build deeper partnerships in order to promote equality for Arab society. On the other hand, the overwhelming majority of the Arab public aspires to greater integration into government systems."

Among its other findings: more than half of Jewish respondents visited an Arab neighborhood over the past year, while 56.4% of them want their children to learn Arabic from an early age.

The figures for Arabs are much greater: over 90% said that they visited Jewish communities over the past year, while 84.2% are interested in teaching their children Hebrew from an early age.
Israel rejects meetings with far-rightists in new Austrian government
Israel said Monday it would work with the new Austrian government "for the moment," but would limit contacts with ministries run by the far-right Freedom Party (FPOe) to civil servants.

A government statement said Prime Minister Benjamin Netanyahu, who also holds the foreign ministry portfolio, is in "direct contact" with Austrian Chancellor Sebastian Kurz of the conservative People's Party (OeVP).

It said Netanyahu had instructed the Foreign Ministry to draw up guidelines on how the Jewish state would "conduct itself" in its dealings with the new ruling coalition in Vienna.

"For the moment, Israel will maintain working relations with the professional echelon of the government ministries headed by a minister from the Freedom Party," the Hebrew-language statement added.

The UN High Commissioner for Human Rights said on Monday that Kurz's decision to take hard-right positions on things such as immigration to win support marked "a dangerous development… in the political life of Europe."

Founded by former Nazis, the FPOe emerged as Europe's strongest far-right force in the late 1990s.
German FM likens Israeli policy in Judea and Samaria to apartheid
German Foreign Minister Sigmar Gabriel on Monday compared Israel's policies in Judea and Samaria to the apartheid regime in South Africa.

In a discussion about anti-Semitism with Arab and Muslim activists in Berlin, held following anti-Israel demonstrations in Germany over U.S. President Donald Trump's Dec. 6 recognition of Jerusalem as Israel's capital, Gabriel asserted that the German government has denounced Trump's decision and reserves the right to criticize Israeli policies.

According to a report in the Berliner Zeitung newspaper, one of the participants argued that "rather than talk about the Palestinians' suffering under [Israeli] occupation, Germany focuses on alleged anti-Semitism among its youth."

Gabriel replied, "That's not true. The German government immediately expressed criticism over Trump's decision and we reserve the right to criticize the policies of the Israeli government."

He then mentioned that he visited Hebron several years ago and what he saw there reminded him of the apartheid regime.
IsraellyCool:
Fomer Saudi Ambassador to US Turki al Faisal Reveals He is Against Israel's Very Existence
In an LA Times op-ed, Turki al Faisal, former Saudi ambassador to the US, has criticized US President Donald Trump's recent Jerusalem announcement.

But that is all window dressing. He reveals his true feelings in one of the early paragraphs.

President Trump recently announced his decision to relocate the American embassy in Israel from Tel Aviv to Jerusalem and to recognize Jerusalem as Israel's capital.

"We cannot solve our problems by making the same failed assumptions and repeating the same failed strategies of the past," Trump said Dec. 6. "I've judged this course of action to be in the best interests of the United States of America and the pursuit of peace between Israel and the Palestinians."

No, Mr. Trump: You are making the same failed assumptions and repeating the same failed strategies of the past. With this act, you repeat the failed assumptions and strategies of your predecessor President Truman, who, against the advice of his secretary of State, the distinguished Gen. George Marshall, recognized Israel as a state, precipitating a historic injustice that has allowed that state to oppress the Palestinian people and occupy their and other Arab lands. Bloodshed and mayhem followed Truman's act, arguably an opportunistic move in order to make electoral gain. Bloodshed and mayhem will definitely follow your opportunistic attempt to make electoral gain.

By condemning President Truman's recognition of Israel in 1948 as an "historic injustice", he is revealing he opposes Israel's very existence. And this is coming from a Saudi, who are supposedly making overtures towards Israel as Iran looms as a common threat.

In this way, he is indicative of most of the Arab and Muslim world. They are not interested in no war. They are interested in no Israel.

My suggestion to Turki al Faisal is to concentrate on the "historical injustices" on his doorstep instead of trying to delegitimize the very existence of the best thing to happen to the Middle East since ever. To paraphrase his own words
East Jerusalem man sentenced to 15 years for 2016 terror attack
An East Jerusalem terrorist was sentenced to 15 years in jail Tuesday for carrying out a terror attack last year in Jerusalem that injured two Israelis.

Silwan resident Murad Rajabi, who was 20 years old at the time of the attack, was sentenced in the Jerusalem District Court after confessing to carrying out the combined car-ramming and stabbing attack on October 19, 2016.

According to the indictment, Rajabi took an 11-centimeter (4-inch) kitchen knife and set out with the intent to kill Jews. He was riding his motorcycle on Jerusalem's Hebron Road when he saw two religious-looking Jewish men, Vadim Balkitzky and Yaakov Lomega.

Rajabi accelerated, drove up on the sidewalk and hit Lomega from behind with his motorbike. He then removed his helmet and attacked Balkitzky, who fought with him, causing the knife to fall from his hand. Rajabi hit Balkitzky in the face three times with his helmet.

Along with another friend who was nearby, Balkitzky was able to push Rajabi to the ground and subdue him.
Should Israel return bodies of terrorists? HR Faces Fatah on live TV
Within hours after a controversial Israeli Supreme Court decision, HR's Daniel Pomerantz was debating Fatah's Ahmed Gonheim live on "The Rundown" on i24 News.
Saudi Arabia Intercepts Houthi Missile Fired Toward Riyadh
Saudi air defenses intercepted a ballistic missile fired towards the capitalRiyadh on Tuesday, the Saudi-led coalition said, the latest attack by a Yemeni group that could escalate a proxy war between the kingdom and regional rival Tehran.

There was no immediate report of casualties or damages.

A spokesman for the Iran-aligned Houthi movement said a ballistic missile targeted the royal court at al-Yamama palace, where a meeting of Saudi leaders was under way.

Saudi Arabia has not confirmed this account or whether a meeting of its leaders was taking place.

"Coalition forces confirm intercepting an Iranian-Houthi missile targeting (the) south of Riyadh. There are no reported casualties at this time," the government-run Center for International Communication wrote on its Twitter account.

Saudi Arabia and Iran are locked in struggle for influence in the Middle East. Riyadh is especially sensitive to the civil war in its backyard Yemen, a conflict that has killed more than 10,000 people and displaced over two million.

A Saudi-backed coalition has launched thousands of air strikes against the Houthis and allied forces since intervening in the war on behalf of the government nominally based in Aden.
Passenger files appeal against Kuwait Airways decision in anti-Israeli discrimination case
The Israeli passenger who was barred from boarding a Kuwait Airways flight he had booked last year today filed an appeal against the Frankfurt District Court's verdict on his case. Last month, the court found in favour of Kuwait Airways, legitimizing its policy of discriminating against Israelis. The appeal was submitted by Nathan Gelbart, the German counsel for The Lawfare Project, a legal think tank and litigation fund that fights anti-Jewish and anti-Israeli discrimination around the world.

The appeal argues that the verdict applied the racist law of a radical, totalitarian regime and allowed it to overrule German national air transportation laws that obligate every air carrier to transport any passenger with valid travel documents. In doing so, the court has aided and abetted Kuwait in imposing its antisemitic, anti-Israeli laws even though such discrimination is illegal in Germany. According to an archaic 1964 Kuwaiti law, all relations with Israeli citizens are prohibited.

The original verdict in favor of Kuwait Airways' racist policy triggered outrage across Germany. Foreign Ministry State Secretary, Michael Roth, described it as "incomprehensible", while State Secretary of the Ministry of Justice, Christian Lange, wrote to Chancellor Angela Merkel asking her to "personally ensure that the landing rights of Kuwait Airways in Germany are immediately withdrawn."

The Acting Minister of Transport, Christian Schmidt, has now written to the Kuwaiti Minister of Labor, Economics and Social Affairs, Hind Al-Sabeeh, regarding what he called the "disconcerting" policy of Kuwait Airways. It is "fundamentally unacceptable to exclude citizens because of their nationality," wrote Schmidt. Kuwait and Germany have had a bilateral aviation agreement since 1974. Any changes in that agreement must follow consultations. If, for example, Germany was to limit Kuwait Airways' landing rights, Schmidt's letter to the Kuwaiti minister would be an essential step in that process.

In addition, since the verdict, three regional parliaments in Germany—Bayern, Hessen, and Nordrhein-Westfalen—have passed resolutions condemning Kuwait Airways for its racist policy.
Jewish commissioner fired for failing to back BDS movement
A member of the Berkeley City Council has been accused of applying a political litmus test regarding support for Israel to a sitting commissioner, who was dismissed when he did not provide a sufficient answer.

According to a Dec. 14 article in Berkeleyside, Cheryl Davila, who was elected to the Berkeley City Council last year, dismissed Transportation Commissioner Ben Gerhardstein last month after he declined to state a position on whether Berkeley should divest from companies that do business with Israel.

Gerhardstein, who was appointed by a former City Council member, provided Berkeleyside with an email chain backing up his assertion.

"You indicated that a non-transportation issue was important to you in selecting a transportation commissioner," Gerhardstein wrote to Davila on Nov. 27 after he had been removed from the commission. "During our first meeting, you noted that as a Human Welfare and Community Action Commissioner, you authored a recommendation to Council to divest from companies benefiting from the Israeli occupation of Palestinian territories, which raised your profile.

"You said that the issue was important to you and you asked whether I was pro-Palestinian (and supported divestment) or a Zionist. You noted that you were asking all potential District 2 commissioners this question and suggested that you were only interested in appointing divestment supporters to commissions."
Few US college students want to boycott Israel, study of 4 campuses finds
A study of four US colleges found little support for academic boycotts of Israel among the students.

At each of the schools studied — Brandeis, Harvard, the University of Pennsylvania and the University of Michigan — less than 15 percent of non-Jewish students expressed support for a boycott of Israeli academic institutions and scholars, according to a study by the Steinhardt Social Research Institute at Brandeis. Only 7% of students at Michigan and Harvard expressed support for an academic boycott of Israel, while that number was 8% and 12%, respectively, at Penn and Brandeis.

At each of the campuses, Jews make up more than 10% of the undergraduate student body.

The study, which was released this month, also found that relatively few Jewish students were exposed to anti-Semitism, though a higher proportion were exposed to hostile remarks about Israel.

Fewer than one in five Jewish students said they experienced discrimination due to their faith. For most kinds of discrimination the number was lower, but the report included what the study termed as "microaggressions," which included being asked in class to offer the perspective of one's identity group as well as being the object of jokes or teasing. Between 7% and 21% of Jewish students at the schools said they had been the subject of microaggressions or teasing.
Australian Student Union Condemns Campus Antisemitism Amid Rise in National Incidents
The National Union of Students (NUS) in Australia adopted a resolution on Thursday condemning antisemitism and pledging to counter its rise on university campuses.

The motion — brought forth by the Australasian Union of Jewish Students (AUJS) during the NUS National Conference — recognized the International Holocaust Remembrance Alliance's definition of antisemitism, which includes "denying the Jewish people their right to self-determination."

It also committed the NUS to working with the AUJS — which represents some 9,000 Jewish students in Australia and New Zealand — to ensure that its programs and spaces "are inclusive and welcoming of Jewish voices and perspectives."

To this end, the NUS agreed to endeavor to provide kosher food options at its events; to help AUJS ask universities for special consideration for Jewish students who would otherwise be required to take exams on Jewish holidays and the Sabbath, and to ensure that observant students have access to appropriate religious facilities; and to work with AUJS to survey the effects of antisemitism on Australian campuses.

Moreover, the NUS will formally recognize January 27th as International Holocaust Remembrance Day, and work with AUJS to educate students on the genocide.

Student groups affiliated with both the left and right wings of the Australian Labor Party, as well as the ruling Liberal Party and independent delegates, all supported the motion — with the exception of the Marxist group Socialist Alternative, which held about 17% of the votes on the conference floor, AUJS's national political affairs director, Ariel Zohar, told The Algemeiner.
BDS activists demand details on Israel's anti-BDS policy
In an act of flagrant gall, anti-Israel boycott activists have brazenly petitioned the very court they are boycotting, demanding that it order the Justice Ministry to reveal the details of its classified project to combat the boycott, divestment and sanctions movement against the Jewish state.

In late November, Israeli BDS activists Kobi Snitz, Sahar Vardi, Ofer Neiman, Professor Rachel Giora and attorney Itay Mack, claiming a violation of freedom of information rights, petitioned the Jerusalem District Court to instruct the Justice Ministry to release information about a secret project against BDS activists in Europe.

The activists want the state to reveal the identities of the international law firms working on the project and the nature of the services they are providing the Justice Ministry.

Snitz is a co-founder of Boycott from Within, an association of Jewish and Arab Israelis who support boycotting Israel. Snitz is also a managing member of Anarchists Against the Wall, a group that opposes the security barriers between Gaza and the West Bank and Israel.

According to the petition, the Justice Ministry admitted to secretly funding foreign law firms to combat BDS activists and activities carried out by citizens and non-governmental organizations in Europe.
Haaretz Corrects About Judaism's Holiest Site
CAMERA's Israel office today prompted correction of an article in Haaretz's English edition which wrongly identified the Western Wall as "Judaism's holiest site." The article, which appeared online Dec. 15 ("Despite Trump's Recognition of Jerusalem as Israel's Capital, Pence's Visit to Western Wall Expected to be 'Private'"), and in print on page two yesterday, erred:

U.S. Vice President Mike Pence is expected to visit the Western Wall on Wednesday during his scheduled trip to Israel next week, but the visit is planned as a "private" one that is not officially part of his trip. Pence's family and the rabbi of the Western Wall will accompany him to Judaism's holiest site, located in Jerusalem's Old City.

The erroneous description of the Western Wall as "Judaism's holiest site" does not appear in the Hebrew version of the same article by Noa Landau. (For additional examples in which erroneous information about Israel appears in Haaretz's English edition, but not in the corresponding Hebrew articles, please see "Haaretz, Lost in Translation.")

The Temple Mount, not the Western Wall, is Judaism's holiest site. This is a point which has been corrected multiple times by a wide variety of major media outlets including The New York Times, The Independent, The Washington Post, and most recently – just this week – The Associated Press. The Western Wall is the holiest site where Jewish prayer is permitted. Haaretz also corrected this previously in 2014.
The Guardian:
To fight European antisemitism, we must first face up to it
There is a growing awareness of the problem at EU level. The European parliament passed its first resolution on "combating antisemitism" in June. The text refers to a "working definition" which points out that antisemitism must not be seen as limited to the targeting of Jews. It can target non-Jews, as was the case when cartoons of Emmanuel Macron, carrying echoes of the 1930s, referred to his prior work at the Rothschild bank.

As for the far-left, anti-Zionist brand of antisemitism, EU-validated guidelines say: "Manifestations might include the targeting of the state of Israel, conceived as a Jewish entity. However, criticism of Israel similar to that levelled against any other country cannot be regarded as antisemitic." A red line is crossed when criticising Israel becomes a criticism of Jews. A legal definition of antisemitism helps the authorities collect data, which is currently patchy. The EU agency for fundamental rights has now announced a new survey investigating discrimination and hate crime against Jews living in the EU.

Trump's announcement on Jerusalem caused consternation in many parts of the world. But the events that followed in Europe should serve as a wake-up call. A diverse continent directly affected by events in the Middle East must address new realities. Acknowledging them is the first step. More efforts are needed in education, and more scrutiny on social media. Now is not the time for blinkers or awkward silence.
NJ Imam Who Urged Murder of Jews to Be 'Suspended,' Islamic Center of Jersey City Announces
The New Jersey imam who issued a call for the killing of Jews is to be suspended for one month and will have to submit all future sermons for vetting, the Islamic Center where he serves announced on Monday.

Ahmed Shedeed — president of the Islamic Center of Jersey City, where Imam Aymen Elkasaby delivered his incendiary sermon on December 8 — told The Algemeiner that he condemned Elkasaby's remarks, "which falsely demonize an entire people."

In an emailed statement, Shedeed outline a number of steps being taken with regard to Elkasaby — who denounced Jews as "apes and pigs" and exhorted followers to "count them one by one, and kill them down to the very last one," in a furious response to US President Donald Trump's decision to recognize Jerusalem as Israel's capital.

"Imam Aymen Elkasaby has been suspended without pay for one month," Shedeed said. "The Imam must undergo training with Imams with more interreligious experience."

Shedeed added that Elkasaby "will be permitted to deliver sermons only upon approval from the Imams' Council of the Metropolitan Area and by Dr. Ali Chaudry, leader of the NJ Interfaith Coalition."
Houston Imam Raed Saleh Al-Rousan: 'Good Tidings' – Muslims Will Kill Jews On Judgment Day; 'Do Not Tell Me That Palestine Is The Country Of The Jewish [People]' pic.twitter.com/hK6EGuOyaw

— MEMRI (@MEMRIReports) December 19, 2017
Canadian synagogues targeted with 'Jewry must perish' hate mail
Canadian police have opened an investigation into a spate of anti-Semitic hate mail sent to several synagogues in Canada over the weekend.

B'nai Brith Canada said synagogues in Toronto, Montreal, Hamilton and Edmonton received identical letters featuring a swastika inside inside a bleeding Star of David with the phrase "Jewry must perish."

"It's scary. It's obviously a hate letter," Julian Lewin, executive director of Shaare Zedek in Montreal, told Radio-Canada on Sunday.

Michael Mostyn, chief executive officer of B'nai Brith Canada, warned of the resurgence of anti-Semitic vandalism across the country.

"Sadly, we've seen the swastika make something of a comeback this year, defacing the walls of high schools, university campuses, and public property," Mostyn said in a statement. "Today, it is more imperative than ever that we condemn this symbol of racism and hatred."

The letters coincide with the Jewish festival of Hanukkah, which began December 12 and ends the evening of December 20.
Sweden releases synagogue firebomb suspect over lack of evidence
A Swedish prosecutor said Tuesday that one of two men held for allegedly throwing firebombs at a synagogue in the Swedish city of Gothenburg has been released.

Stina Lundqvist said the 18-year-old man, who was not further identified in line with Swedish practice, remains a suspect in December 10 attack in Sweden's second largest city.

She said there was not sufficient evidence to keep him jailed while police investigate the attack. No one was injured and the firebombs didn't damage the building.

Days after the Gothenburg synagogue was firebombed, a building in a Jewish cemetery in the Swedish city of Malmo was targeted in an apparent arson attack.

The two burning objects thrown at the cemetery's chapel did not cause injuries or any damage.
9 new Nazi war crimes cases sent to German state prosecutors
The main federal agency that investigates Nazi war crimes in Germany has turned over nine new cases to state authorities for possible prosecution.

Berlin's taz newspaper reported Monday that the cases involve guards from the Auschwitz death camp, and the Mauthausen, Buchenwald and Ravensbrueck concentration camps. Mauthausen was in Austria and Auschwitz in Nazi-occupied Poland.

Head prosecutor Jens Rommel, who confirmed the taz story to the dpa news agency, says most of the suspects are in their early to mid-90s.

Rommel's office doesn't have the authority to press charges, so state prosecutors will now have to decide whether there's enough evidence to file charges.
Kazimierz Piechowski, leader of daring Auschwitz escape, dies at 98
Kazimierz Piechowski, a non-Jewish political prisoner who led a daring escape from the Auschwitz death camp in 1942 using the truck of its commandant, has died at 98.

Piechowski died Saturday in Gdansk, Poland.

He was one of four men in the escape plan involving stolen SS uniforms and weapons, and the truck of Rudolf Hess. Piechowski denied rumors that the men later sent a postcard to Hess thanking him for the vehicle.

Driving toward the gate of the camp, Piechowski recalled to The Guardian in an interview several years ago that he yelled in German, "Wake up, you buggers. Open the gate or I'll open you up."

Piechowski, who was among Polish Boy Scouts sent to the camp as political prisoners in 1940, joined the partisan resistance following his escape.

One of the other escapees smuggled out of the camp what allegedly was the first detailed document about the crimes being carried out at Auschwitz, where 1.1 million people were killed, most of them Jews. It was given to the partisans.
Personal photos capture Holy Land stories of British World War I soldiers
The famous photo of General Allenby entering Jerusalem in December 1917 might be the defining image of British victory over Ottoman forces during World War I.

Allenby, the commander of the "Egyptian Expeditionary Force," dismounted from his horse and entered the city on foot as a sign of respect for the holy city. Despite this, the pomp and circumstance of the ceremony cannot be missed in photographs from the event.

Far away from the celebrations, however, World War I represented the first time that British soldiers could carry a personal camera with them into a military expedition.

This enabled them to document their experiences and discoveries as they battled and journeyed in the Holy Land - a destination with more than military significance for the Protestant British forces.

The National Library of Israel is home to a number of private albums from both sides of the conflict. The albums showcase not only army life but also religious sites, inhabitants and scenery.

One perfectly preserved album in the library's collection was compiled by a soldier said to have fought in the British Army's 74th Cavalry Battalion, although his exact identity is unknown. The soldier's captions provide a further insight into the journey traveled by British forces.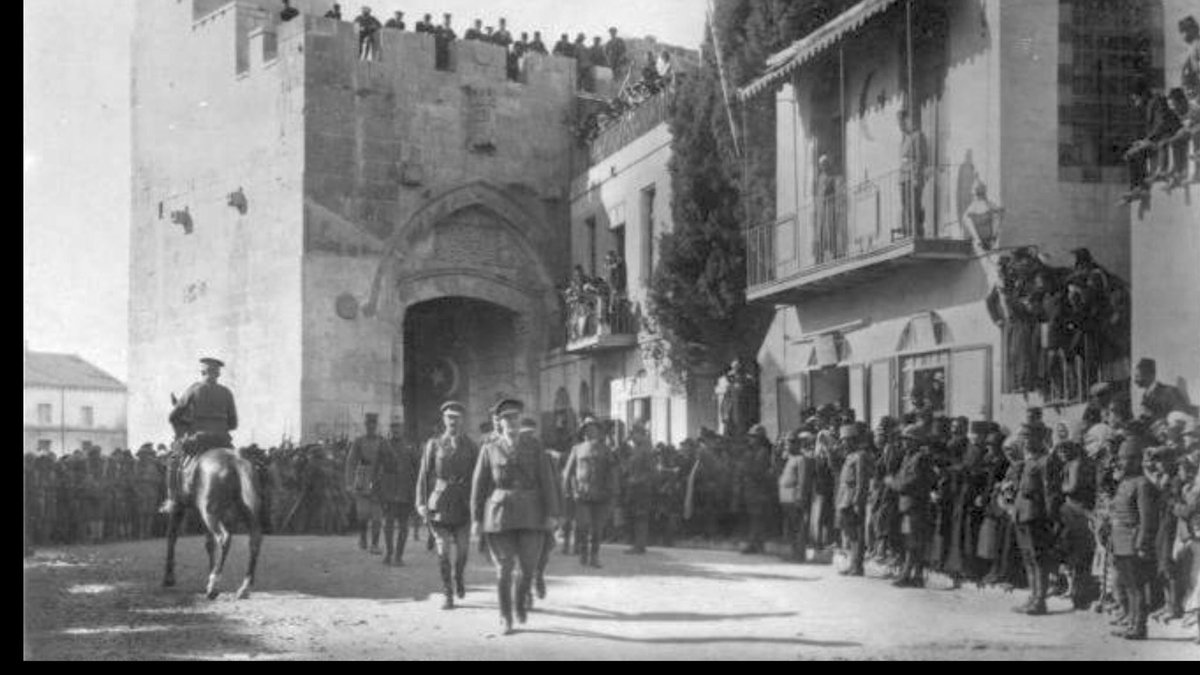 Jerry Seinfeld Jokes About Israeli-Palestinian Peace Process, Reveals Why He Won't Have Trump on His Show
Comedian Jerry Seinfeld tried a joke about the Middle East peace process on an Israeli reporter during their recent interview leading up to his upcoming shows in the Jewish state.

When a reporter from Israel's Channel 2, Dana Weiss, asked the Jewish-American comedian and writer to practice a new joke on her, Seinfeld asked, "What is the latest on the peace initiative?" Weiss replied, "They're working on it. Trump's working on it," to which Seinfeld added, "Oh yeah, it'll be fine." Weiss found the remark funny and then asked Seinfeld to try on her a joke he's working on for Israeli audiences and he said, "I just did!"

Seinfeld then talked about making jokes focused on politics. He said, "It's not really my world. Comedians talk about the things that make them laugh and politics is not really my world of comedy." The Seinfeld star previously said President Donald Trump was "God's gift to comedians," but admitted during his Channel 2 interview that he would not have the commander-in-chief on his show "Comedians in Cars Getting Coffee." He said about Trump, "He doesn't have any comedic talent…If you have humor then you can be on the show."

Seinfeld is bringing his family with him to Israel when he returns there to perform two shows in Tel Aviv on December 30. He also talked with Channel 2 about living on a kibbutz and how his career as a comedian started in Israel.
---
---
We have lots of ideas, but we need more resources to be even more effective. Please
donate today
to help get the message out and to help defend Israel.