From Ian:
---
Ben Shapiro:
Jerusalem Move Blows Up Mideast Myths
Recognizing this truth means setting a serious groundwork for peace. No divorce can be negotiated without a common frame of negotiable items. Jerusalem is not negotiable. End of story. Trump recognized that, and in doing so, he undermined the chief rationale driving Palestinian terrorism: the delusional hope that spilling enough blood would cause the West to push Israel into surrendering its spiritual and physical capital.

Trump's move also fostered peace by formally recognizing that Israel's new alliances with Egypt, Jordan and Saudi Arabia against Iran are more important than any religious dispute over Jerusalem. There have been no serious protests from any of those governments — each of which attacked Israel in 1948, 1967 and 1973. Those governments now recognize that Israel is an important strategic ally in the region.

The lack of blowback from Trump's decision has left only two groups angry: Democrats and the media. Democrats are angry because they have been publicly humiliated: The Senate voted 90-0 to recognize Jerusalem as Israel's capital not six months ago, and yet Democrats were now forced to denounce Trump for taking their words seriously. The media are angry because they have spent years building the myth that conflict in the Middle East centers on Israeli intransigence. Now it's clear that it was Muslim intransigence all along that caused conflict, and that Muslim willingness to side with Israel against Iran supersedes religious conflict.

So, well done, President Trump. And thank you for speaking plain truth and acting bravely when most were willing to offer empty only verbiage backed by inaction and fear.
Eli Lake:
Nikki Haley Confronts the U.N.'s 'Jackals'
When U.N. member states vote Thursday on a resolution condemning America's recognition of Jerusalem as Israel's capital, Ambassador Nikki Haley will be watching. As she tweeted Tuesday, "The U.S. will be taking names."

President Donald Trump endorsed the threat Wednesday at the opening of a cabinet meeting, suggesting that countries that vote against the U.S. in the U.N. General Assembly will potentially lose foreign assistance.

It's easy to shrug off this bravado. The U.N. provides members with an accounting of all votes in the General Assembly, so there's no need to "take names." What's more, it's only a symbolic resolution. Haley vetoed a potentially substantive one on Monday at the U.N. Security Council.

But dismissing Haley's threat misses the significance of Trump's course correction at the United Nations. Trump's predecessor used the U.N. to validate American foreign policy. Barack Obama sought a Security Council resolution to intervene in Libya -- without bothering to get Congress to authorize that military action. And while he didn't end up going to the U.N. when a rampage of the Islamic State in 2014 led him to re-intervene in Iraq and Syria, Obama generally placed great weight on the U.N.'s approval of U.S. foreign policy. He loathed using America's veto to protect Israel from the inevitable one-sided pro-Palestinian resolutions that burble out of Turtle Bay.

When Obama's envoys did exercise that veto, the administration made sure to signal that it agreed with the principal of condemning Israeli settlements, but opposed the venue. Haley's predecessor, Samantha Power, finally did abstain from a resolution that declared East Jerusalem occupied territory a year ago. She did so -- to a standing ovation at the U.N. Security Council -- when Obama had less than a month left in office.
Trump Tells Countries Favoring U.N. Resolution Against His Jerusalem Decision: I'll Cut Off Your Financial Aid
On Wednesday, President Trump, who absolutely refuses to be bullied by countries around the world that are vilifying him for recognizing Jerusalem as Israel's capital, struck back.

The U.N. General Assembly is holding an emergency session on Thursday that was requested by Arab and Muslim countries to vote on a draft resolution calling for Trump to rescind his decision.

Trump let them have it with both barrels, asserting, "They take hundreds of millions of dollars and even billions of dollars, and then they vote against us. Well, we're watching those votes. Let them vote against us. We'll save a lot. We don't care."

On Monday, the 15-member U.N. Security Council voted on an Egyptian-drafted resolution that expressed "deep regret at recent decisions concerning the status of Jerusalem." Only the U.S. voted against the resolution.

The five permanent members of the Security Council are the U.S., the United Kingdom, France, China, and the Russian Federation. The current non-permanent members are Bolivia, Egypt, Ethiopia, Italy, Japan, Kazakhstan, Senegal, Sweden, Ukraine, and Uruguay.

Israel has never sat on the Security Council since it was established in 1946, while Iran, Cuba, Syria, Iraq and Pakistan have all had at least one turn.

On Tuesday, U.S. Ambassador to the U.N. Nikki Haley issued a letter to dozens of U.N. states bluntly stating that Trump had asked her to "report back on those countries who voted against us."

Haley followed with a terse Twitter message: "The U.S. will be taking names."
Referencing tomorrow's UN vote criticizing the US embassy move. In the words of the President, "Let them vote against us, we'll save a lot."

pic.twitter.com/eUGWD4cCBR

— Nikki Haley (@nikkihaley) 20 December 2017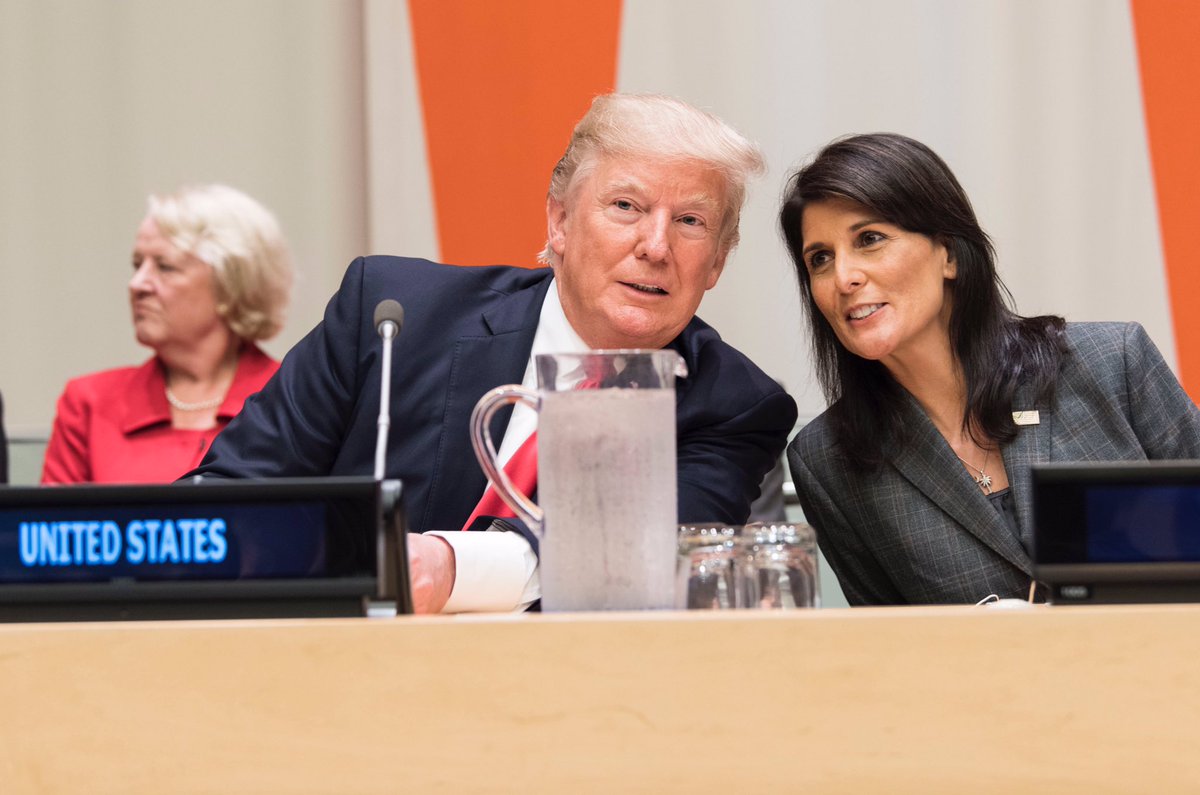 Palestinian minister slams US 'threats' ahead of UN Jerusalem vote
Palestinian Authority Foreign Minister Riyad al-Malki on Wednesday accused Washington of "threatening" member countries of the UN General Assembly ahead of a vote on rejecting the US decision to recognize Jerusalem as Israel's capital.

Malki said American officials were "committing another mistake when they have distributed this famous letter trying to threaten countries, (and) threaten their sovereign decision to choose how to vote."

He spoke at a press conference with his Turkish counterpart Mevlut Cavusoglu in Istanbul, shortly before both men left for New York.

On Tuesday, Nikki Haley, Washington's UN envoy, warned countries that she would report back to US President Donald Trump with the names of those who supported a draft resolution rejecting the US recognition.

The UN General Assembly will hold an emergency session on Thursday to vote on the proposed measure, after the US vetoed a similar resolution for the Security Council.

"This is really a new definition of world order in politics and it seems that the American administration… are putting their stamp on a new political reality that many countries will reject," Malki said.

Turkey and Yemen requested the urgent meeting on behalf of the Arab group of countries and the Organization of Islamic Cooperation (OIC).

The two countries circulated a draft resolution on Tuesday that mirrors the vetoed measure, reaffirming that any decision on the status of Jerusalem has no legal effect and must be rescinded.

Malki said the UN session would show "how many countries will opt to vote with their conscience."

"They will vote for justice and they will vote in favor of that resolution that was presented by both Yemen and Turkey on behalf of the Arab group and OIC," he said.
Twilight over the "Palestinian Cause"
Reports from the West Bank after the Six Day War show that the Arabs interviewed defined themselves as "Arabs" or "Jordanians", and evidently did not yet know that they were "the Palestinian people". Since then, they were taught it. They were also taught that it is their duty is to "liberate Palestine" by killing Jews. The Palestinians are the first people invented to serve as a weapon of mass destruction of another people.

"The Palestinian people does not exist. The creation of a Palestinian state is only a means for continuing our struggle against the state of Israel for our Arab unity. In reality, today there is no difference between Jordanians, Palestinians, Syrians and Lebanese." — PLO leader Zuheir Mohsen, interview in the Dutch newspaper Trouw, March 1977.

Since the collapse of the Soviet Union, the European Union has become the main financier of the "Palestinian cause", including its terrorism. They are also contributing to war.

Iran, strengthened enormously by the agreement passed in July 2015 and the massive US funding that accompanied it, has been showing its desire to become a hegemonic power in the Middle East.

The grand mufti of Saudi Arabia, Sheikh Abdulaziz ibn Abdullah Al ash-Sheikh, recently issued a fatwa saying that "fighting the Jews" is "against the will" of Allah and that Hamas is a terrorist organization.
The analysts' delusions
This Monday, two nearly simultaneous events in New York and Washington illustrated the inconceivable gap between the burgeoning reality of the Trump era and the world of delusions and rigid thinking that still characterizes the U.N. Security Council when it comes to the status of Jerusalem.

In the capital, the 45th president rolled out his new security doctrine, the central tenet of which is his intention to unilaterally withdraw, if only in part, from a series of alliances, treaties, and multinational agreements for which the U.S. has borne the main financial burden for many years and which do not necessarily align with America's national interest, as defined in the president's speech.

At the same time, at the U.N. headquarters in New York, the U.S. vetoed an Egyptian resolution that the Security Council override the White House's decision to recognize Jerusalem as the capital of Israel. The Egyptian resolution was supported by the other 14 members of the UNSC.

A number of observers in Israel and the U.S. opted to focus on the vote in the Security Council, and to see it as clear evidence of the supposed isolation of the U.S., which they portrayed as remaining on its own in international surroundings. Nothing could be more absurd. If the analysts had looked at what was happening in the White House, they might have realized that it was the American Gulliver who had set out on the path of "America first," which means setting new priorities for the country's diplomatic and strategic actions.
An American paradigm shift
The vote at the United Nations General Assembly on Thursday represents a convergence of two forms of hatreds. The first is the familiar anti-Israel hatred that has become part and parcel of the United Nations. The second is the irresistible urge of international forums and institutions to spite the unconventional Trump administration and its straight-shooting president, who has refused to use diplomatic and convoluted lingo and actually means what he says.

Unlike past votes on anti-Israel resolutions, this time the draft resolution has nothing to do with our actual conduct but everything to do with our very existence and with the U.S. decision to implement the Jerusalem Embassy Act, which has received bipartisan consensus for more than two decades. Or as U.S. Ambassador to the United Nations Nikki Haley recently said, Trump's presidential proclamation on Jerusalem represents "the will of the American people."

In 2011, when Israel was trying to derail the Palestinians statehood bid at the U.N., I attended a high-level meeting between Israeli and American officials. When the Israelis asked that the U.S. State Department instruct American ambassadors worldwide to torpedo the Palestinian effort, one of the American officials responded: "The United Nations General Assembly gives the U.S. only one vote, just like all other states, and we have very limited clout."

While the official was technically correct, the subtext was that the United States was unwilling to have Israel's back in diplomatic forums. But even though the Palestinians had eight years to advance the peace process with the friendliest administration they could imagine, the Obama administration, the peace process remained at an impasse.
PM calls UN 'House of Lies,' preemptively rejects vote on Jerusalem
Calling the United Nations a "House of Lies," Prime Minister Benjamin Netanyahu preempted by some five hours a vote scheduled to take place there Thursday on the status of Jerusalem and said that "Israel completely rejects the vote even before it takes place."

"Jerusalem is our capital, we will continue to build it, and the embassies of countries – first that of the United States – will move to Jerusalem," he declared. "This will happen."

Netanyahu's words came at a dedication ceremony for the new Assuta Medical Center in Ashdod. The UN is expected to easily pass a resolution in the General Assembly pushing back against US President Donald Trump's recent decision to recognize Jerusalem as Israel's capital and move its embassy there. A similar resolution in the Security Council was vetoed on Monday by the US.

The vote will have no binding impact, but is being watched carefully because of Trump's threat to take retaliatory measures by cutting aid against countries who vote against it.

"I want to thank President Trump and Ambassador [Nikki] Haley for their courageous and uncompromising stand with Israel and the truth," Netanyahu said. "In the end the truth will win out."
The UN Debates Jerusalem: A Primer
Full text of UN resolution rejecting Jerusalem recognition
'I wonder why Israel even stays in the UN'
Representatives of 193 United Nations member states gathered at General Assembly emergency session Thursday to vote on a controversial proposed resolution targeting Israel and tacitly condemning American recognition of Jerusalem as Israel's capital city.

On December 6th, President Donald Trump announced that he was reversing decades of US policy vis-à-vis the Israeli capital, declaring that the US recognized Jerusalem as Israel's capital city. The president also announced that had ordered the State Department to being work to relocate the US embassy from Tel Aviv to the Israeli capital.

The move, praised by the Israeli government and some US lawmakers, drew criticism from many European leaders and much of the Arab world.

Egypt's UN delegation, which currently holds one of the ten temporary seats on the UN Security Council, submitted a proposal condemning the US recognition of Jerusalem, and declaring it null and void in international law.

On Monday, the US vetoed the resolution, which was backed by all 10 temporary Security Council members and the four other permanent member states – China, Russia, the UK, and France.

By Tuesday, it was reported that Arab states were planning a similar resolution in the General Assembly.
PMW:
US Amb. Nikki Haley is a vulture, in official PA daily cartoon
The official PA daily depicted US Ambassador to the UN Nikki Haley as a vulture in the cartoon above, in response to Haley's warning to countries voting against the US recognition of Jerusalem as the capital of Israel in the UN General Assembly today. [Official PA daily Al-Hayat Al-Jadida. Dec. 21, 2017]

This week, US Ambassador to the UN Nikki Haley posted on her Facebook page a warning to countries receiving American aid, regarding today's UN General Assembly vote on a resolution condemning US recognition of Jerusalem as the capital of Israel:
At the UN we're constantly asked to do more and give more-- in the past we have. So, when we make a decision, at the will of the American people, about where to locate OUR embassy, we don't expect those we've helped to target us. On Thursday there will be a vote at the UN criticizing our choice. And yes, the US will be taking names. #TakingNames."

Haley also sent a message to other UN member states: "As you consider your vote, I want you to know that the President and the U.S. take this vote personally. The President will be watching this vote carefully and has requested I report back on those countries who voted against us."
Trump warns over UN, but he likely can't stop feeding the hand that bites
US President Donald Trump's threat to cut aid to countries that vote for a UN resolution condemning his recognition of Jerusalem as Israel's capital is likely just that — a threat.

But in merely issuing the warning, the president managed to both assert what he expects from allies in exchange for the money and highlight the importance of this particular issue for the White House — even at the expense of national security commitments normally seen as sacrosanct.

And even if he doesn't actually cut aid money, he still might take other types of revenge in the international arena, former US officials said Wednesday.

On Wednesday, Trump followed a comment by UN envoy Nikki Haley that the US would be "taking names" Thursday of those countries that support a UN General Assembly resolution condemning Washington's Jerusalem decision by cautioning that aid could be cut as a result.

"They take hundreds of millions of dollars and even billions of dollars, and then they vote against us. Well, we're watching those votes. Let them vote against us. We'll save a lot. We don't care," Trump said at his last cabinet meeting of the year.

An actual slashing of funds, though, could seriously impact the national security interests protected by aid money, particularly that which goes to Arab allies Egypt and Jordan — nations that are all but certain to back the resolution.

It is "inconceivable" that the Trump White House would cut aid to either country, said Elliott Abrams, who held multiple high-level positions in the Ronald Reagan and George W. Bush administrations.
PMW:
PMW report sparks Israeli PM's spokesman - Fatah social media confrontation
Following Palestinian Media Watch's exposure that official Palestinian Authority TV was calling for suicide bombings in a music video - which included the lyrics "Al-Aqsa has called... For its sake, life is insignificant... God, grant us Martyrdom" - Ofir Gendelman, Israeli Prime Minister Netanyahu's spokesman to the Arab media, tweeted PMW's report. Gendelman said that PA TV is promoting "ISIS-style Jihadi indoctrination," which "wouldn't have been aired without permission from PA president Abbas' office":
In response, Fatah posted on its official Facebook page PMW's subtitled video from PA TV, stating that "Gendelman, Netanyahu's spokesman, attacks PA TV" [Official Fatah Facebook page, Dec. 20, 2017]

The following are the lyrics of the PA TV music video exposed in PMW's original report that urges Palestinians to become "Martyrs":
PMW:
Girl's antisemitic poem on PA TV: "Jews defile Jerusalem"
A Palestinian girl recited a poem on PA TV, which included antisemitic hate speech about Jews. The girl presented the poem in response to US President "Trump's decision [that] Jerusalem is the capital of Israel."

In her poem the girl stated that Jews "defile Jerusalem and its great mosque."

The poem addresses former British Foreign Secretary, who issued the Balfour Declaration in 1917 that Britain supported "the establishment in Palestine of a national home for the Jewish people:"
"This poem is because of [US President Donald] Trump's decision that Jerusalem is the capital of Israel:
[Former British Foreign Secretary] Balfour, you vile person, what did you do to our people?
Is your conscience quiet?
Go in your grave toward the blazing fire
You are the one that expelled us, do not ask for help
You drank our blood from a goblet, and brought this fate down upon us...
You brought to our people those who orphaned small children
You have turned the best of our people into Martyrs and prisoners
Why did you bring the Jews to us, who defile Jerusalem and its great mosque?"
[Official PA TV, Giants of Endurance, Dec. 15, 2017]
Girl's antisemitic poem on PA TV: "The Jews... defile Jerusalem."
Arab resident of Jerusalem: Jews are "thieves and robbers... the world's stench"
'Trump, Jerusalem is ours' scrawled in Arabic on memorial to soldiers
A monument in Jerusalem to fallen IDF soldiers was discovered to have been covered in Arabic graffiti Thursday, and police launched an investigation into the incident.

The war memorial near Kibbutz Ramat Rachel in southern Jerusalem was covered in red spray-paint reading "Trump, Jerusalem is ours," and "Jerusalem, the capital of Palestine."

Get The Times of Israel's Daily Edition by email and never miss our top stories
Free Sign Up

It was a reference to US President Donald Trump's recent declaration recognizing the city as Israel's capital, which sparked widespread Palestinian protests.

Police said a forensic team had been brought to the site, and officers had opened an investigation and were searching for suspects.

The memorial to 11 members of the Jerusalem Brigade who fell in 1967's Six Day War defending the ceasefire line with Jordan stands alongside the road to the East Jerusalem neighborhood of Sur Baher.
Why Dutch Jews are up in arms over the handling of a kosher restaurant attack
Two weeks ago, a 29-year-old man waving a Palestinian flag smashed the windows of a kosher restaurant with a wooden club, stealing an Israeli flag there. Police arrested the suspect on the spot.

The Dec. 7 incident, which occurred the day after President Donald Trump declared that the United States officially recognizes Jerusalem as Israel's capital, triggered an outpouring of condemnations by Dutch leaders. Prime Minister Mark Rutte called it "terrible," and 15 lawmakers ate there that evening as a gesture of solidarity.

Yet just 60 hours later the suspect — identified in the media as Saleh Ali — was free. Authorities never divulged details about his identity and origins despite the absence of a gag order, and reports that Ali was a former combatant in Syria's civil war in the Netherlands on an asylum-seeker visa.

The lack of clarity on these issues is feeding a growing resentment among the Jewish community here regarding the authorities' handling of the attack itself, along with the aftermath. Some point to the police's apparent inaction during the attack — in a video, authorities appear to witness the violent incident without interfering — as problematic. But to many Dutch Jews, perhaps the most disturbing aspect is that the draft indictment against Ali mentions only vandalism and theft.

In other words, Dutch officials don't consider Ali's actions a hate crime. And that, according to Jewish leaders, is a problem.
Will Saudi Arabia Push Abbas to Curb Campaign Against Trump?
Palestinian Authority President Mahmoud Abbas met on Wednesday with Saudi King Salman in Riyadh, seeking support for his efforts to galvanize Arab, Islamic and international rejection of US President Donald Trump's recognition of Jerusalem as Israel's capital into sustained backing for the Palestinian cause.

But Israeli analysts say the Saudis, given their close alliance with the United States, are likely to press Abbas to halt his campaign against Trump's move and instead to show openness to discussing American ideas for peacemaking that are expected to be presented soon.

The official Palestinian news agency Wafa said Abbas discussed with the Saudi monarch "the latest developments and contacts undertaken to protect Jerusalem from the imminent danger to it" as a result of Trump's declaration. It said that Abbas "praised the international consensus supporting the Palestinian people and its just issue and rejecting the American declaration," and that he commended "the firm positions of the kingdom of Saudi Arabia toward the Palestinian issue and the rights of our people."

Salman, the official Saudi Press Agency reported, "reiterated the kingdom's constant stances toward the Palestinian cause and the legitimate rights of the Palestinian people in establishing an independent state with east Jerusalem as its capital."

Wafa quoted the king as saying the same thing in nearly identical wording.
Bahrain FM seems to call Jerusalem a 'side issue,' urges unity against Iran
Bahrain's foreign minister appeared to downplay as a "side issue" the controversy over US President Donald Trump's decision to recognize Israel's capital, while urging a united front with Washington against "theo-fascists" Iran.

"It's not helpful to pick a fight with the USA over side issues while we together fight the clear and present danger of The Theo-Fascist Islamic republic," Sheikh Khalid Bin Ahmed Al-Khalifa tweeted Wednesday in English.

The Bahrani minister did not specifically mention Jerusalem in his tweet, but the statement coincided with Trump's threat to slash aid to countries that vote to annul his decision to recognize Jerusalem as Israel's capital in a UN General Assembly vote slated for Thursday.

"They take hundreds of millions of dollars and even billions of dollars, and then they vote against us. Well, we're watching those votes. Let them vote against us. We'll save a lot. We don't care," Trump said at the White House.
Hamas urges Arabs to drive Israeli, US ambassadors out of countries
Palestinians resumed violently rioting on Wednesday as they continued to protest against U.S. President Donald Trump's Dec. 6 declaration recognizing Jerusalem as Israel's capital.

The declaration infuriated Palestinians and many in the Arab world who view east Jerusalem as the capital of a future Palestinian state.

"We call on our Arabic and Muslim nations to surround the Israeli and American embassies in the Arab countries then drive the American and Israeli ambassadors out of the Arab countries," Hamas official Ismail Radwan said Wednesday. "We are continuing our way of resistance using all kinds of resistance to break this decision."

Trump reversed decades of U.S. policy on Dec. 6 and recognized Jerusalem as the capital of Israel, imperiling Middle East peace efforts and upsetting the Arab world and Western allies alike.

Protests and clashes between Palestinians and Israeli security forces have persisted since then.
Erdogan: World should teach U.S. a 'very good lesson' after Jerusalem move
Turkey told US President Donald Trump on Thursday he could not buy its support in a United Nations vote on Jerusalem, and said the world should teach the United States a "very good lesson" by resisting US pressure.

Trump has threatened to cut aid to countries that support a draft UN resolution calling for the United States to withdraw its decision to recognize Jerusalem as Israel's capital.

Turkish President Tayyip Erdogan said in Ankara UN member states should not let their decision in Thursday's vote at the UN General Assembly be dictated by money.

"Mr. Trump, you cannot buy Turkey's democratic will with your dollars," he said. "The dollars will come back, but your will won't once it's sold. That is why your stance is important."

Trump's announcement two weeks ago that he was recognizing Jerusalem as Israel's capital broke with decades of US policy and international consensus that the city's status must be left to Israeli-Palestinian talks.

Last week, Erdogan hosted a special meeting of the Organization for Islamic Cooperation, which condemned Trump's decision and called on the world to respond by recognizing East Jerusalem as the capital of Palestine.
Iran: Trump shows contempt for democracy (not satire)
Iranian Foreign Minister Mohammad Javad Zarif on Wednesday blasted the United States for threatening to cut aid to countries that vote at the UN General Assembly to reject President Donald Trump's decision to recognize Jerusalem as Israel's capital.

"Trump regime exposes contempt for democracy through its threats against those who dare resist its thuggish demands at the UN—all while Trump insults Iran crudely as 'dictatorship,'" Zarif tweeted.

"US version of democracy stops at rhetoric of 'either with us or against us,'" he added.
African National Congress Votes to Downgrade South African Embassy in Israel in Presence of Hamas Representatives
South Africa's ruling African National Congress voted on Wednesday for an "immediate and unconditional" downgrade of its embassy in Israel at a special conference that was attended by members of Hamas, the Palestinian terrorist organization.

The unanimous vote – held at a meeting of the ANC's international relations commission during the party's Elective Conference – means that the country's embassy in Tel Aviv could soon be reduced to a "Liaison Office."

A statement from the ANC declared: "In order to give our practical expression of support to the oppressed people of Palestine; the ANC has unanimously resolved to direct the SA government to immediately and unconditionally downgrade the South African Embassy in Israel to a Liaison Office." The ANC further stated that it concurred "with the PLO leader, General Jibril Rajoub, who was at our conference where (he) explained that the downgrade of the SA Embassy in Israel will send a clear message to Israel that there is a price to pay for its human rights abuses and violations of international law."

Although the campaign to sever diplomatic ties with Israel has been waged within the ANC's ranks for several months now by supporters of South Africa's vocal anti-Israel BDS movement, many delegates to the conference insisted that the downgrade was spurred by US President Donald Trump's December 6 decision to recognize Israel as Jerusalem's capital. However, it remains unclear as to whether and how the ANC's vote will be executed; as the Mail and Guardian newspaper noted, the ANC approved a policy to boycott Israel at its 2012 conference, but this was never implemented by the government.

The South African Jewish Board of Deputies (SAJBD) and the South African Zionist Federation (SAZF) "strongly condemned" the decision in a joint statement following the vote.
The ANC's endorsement of Hamas is unnerving
Whilst most of us were watching the ANC's conference in order to see who would be chosen as the next leader of the party, a dangerous side show took place.

The ANC were not only supposed to debate the downgrade of the South African embassy with regard to Israel, but also invited members of terror organisation Hamas to attend the conference.

What could possibly go wrong?

So here are some queries:
Should the ANC be concerned as to whom they invite to attend their national conference? Should they be concerned as to whom they provide a platform to and what, if anything, does the nature of their guests say about them as an organisation?

I am Jew and a Zionist. I support the Jewish right to self-determination and the goal of a two-state solution where Jew and Palestinian live side-by-side in peace.

The simple question that the ANC could ask their 'esteemed' guests – members of terror organisation Hamas – is if they too, support the concept of a Two-State Solution?

We know the answer. Because the Hamas Charter is clear:
There will not be a Jew left in Israel if Hamas has its way.
Three members of Tamimi family under arrest
Three members of the activist Tamimi family from the West Bank village of Nabi Saleh are now under arrest.

A fourth, the father, Bassem, has been summoned by the police for interrogation on Thursday.

The first to be arrested was Ahed Tamimi, 16, who taken from her home in a predawn raid on Tuesday by IDF soldiers and Border Police officers on suspicion of incitement and assault.

On Friday, Ahed and her older cousin Nur, 21, confronted two soldiers near Ahed's home.

Ahed slapped the soldiers several times. A video of the incident has since gone viral.

The interaction occurred after soldiers raided the Tamimi home to evict stone throwers during a riot by Nabi Saleh residents as part of the weekly demonstrations in the village.
IsraellyCool:
Jeremy Corbyn Defends "Shirley Temper" Ahed Tamimi's Right to Assault IDF Soldiers
Jeremy Corbyn continues to be…Jeremy Corbyn.


— Clayton Swisher (@claytonswisher) December 20, 2017



Nothing surprising here; of course Jeremy Corbyn would support anyone trying to hurt, maim or kill IDF soldiers – unless they are called Maccabees, apparently.
Child-exploiting Tamimi Clan back in the news with latest "Shirley Temper" video provocation
Dave Lange of the IsraellyCool website coined the nickname "Shirley Temper" for Ahed Tamimi, of the Tamimi Clan of Nabi Saleh.

While the nickname is humorous, the underlying reality of the video exploitation of Palestinian children by the Tamimi Clan, lauded by Western anti-Israel activists, is not funny at all.

As we have thoroughly documented over the years, the Tamimis, led by father Bassem Tamimi, regularly send children to try to provoke a confrontation with Israeli police and soldiers in order to get a reaction that will be captured on video and in photos.

The children are accompanied by a phalanx of videographers and photographers just waiting to turn the video and images viral. This video, shows how it's done. (For this performance, Ahed gained international fame, and was awarded a medal by the anti-Israel, anti-Semitic Turkish Prime Minister Recep Tayyip Erdogan).

Another Tamimi Clan child, Janna Jihad, has been used since she was 5 years old in such staged scenes. It's an extremely callous exploitation of children, hoping the children will be the subject of retaliatory violence for propaganda purposes.
IsraellyCool:
Where AP Makes a Melee Out of Shirley Temper Arrest Story
AP have a report about the arrest of "Shirley Temper" Ahed Tamimi. Naturally, they parrot the lie about her age. But that's not all.

(AP) – A 16-year-old Palestinian girl is being celebrated by Palestinians as a hero and symbol of a new generation after kicking and slapping two Israeli soldiers.

The melee was caught on a video that has been widely viewed.

A melee is a "confused struggle; especially a hand-to-hand fight among several people." This was no melee – the soldiers did not fight back. No, this was a one-sided assault.
UKMW prompts Indy correction to Gaza amputee death story which omitted IDF statement.
The Independent published a story yesterday on Ibrahim Abu Thuraya, the disabled Palestinian man killed under disputed circumstances during violent protests at the Gaza-Israel border on Friday.

The Dec. 19th piece, written by Indy reporter and deputy social media editor Tom Embury-Dennis, was notable in that it failed to provide the IDF response to the incident, leaving readers with a version based entirely on the unsubstantiated claims of Hamas officials suggesting that the handicapped man was intentionally shot in the head by IDF soldiers.

This one-sided account was especially troubling considering that the IDF issued a report on the incident the evening before the Indy story was published.

We emailed the journalist to complain about the omission and, to his credit, he responded quickly and agreed to amend the article to include the IDF statement.
PreOccupiedTerritory:
Palestinian Philosophers Ponder Whether Stone Thrown Not In Presence Of Cameras Was Actually Thrown (satire)
Some of the Palestinian people's greatest thinkers gathered today to discuss whether an object such as a rock, brick, or firebomb hurled at Jews can truly be said to have been thrown if no video or photographic equipment was available to capture the event.

Theoretical physicists, quantum mechanics experts, philosophers, and other people of letters assembled in this hamlet today, the site of frequent clashes between residents and IDF soldiers, to debate the existential question. A generation of Palestinians has grappled with it, explained one participant, but has yet to come close to a definitive answer.

"The initial stirrings of this inquiry began with the First Intifada," in 1987, recalled Hassan Berj, a quantum physicist. "Back then, folks conducted it mostly as a thought experiment, since the very notion of attacking Jews when no cameras were around to film the reaction was absurd. But through the years, there have been occasional instances in which it could have happened, given the uncertainties of battery power, camera angles, and visibility issues. So there is some practical value to the exploration. I feel like we've made little progress, unfortunately."
Bangladesh rejects Israeli aid offers for Rohingya refugees
The Israeli Foreign Ministry established clandestine contact with Bangladesh—a Muslim country without any diplomatic ties with Jerusalem—to offer a significant humanitarian aid package for the hundreds of thousands of Muslim refugees from the Rohingya minority who fled to the country for fear of the Myanmar (former Burma) military.

Bangladesh expressed gratitude to Israel for the offer, but informed it that it cannot accept aid due to the sensitivity involved and the political ramifications that could ensue.

The Israeli foreign Ministry is reportedly exploring other routes through which to provide humanitarian assistance to the Rohingya refugees, who are still languishing in Myanmar in camps run by the UN or other international organizations.

This year, the Myanmar army launched a vicious assault on the Rohingya minority living in the Buddhist country, and according to various reports, the army has slaughtered at least 10,000 people and ravaged the population by triggering the flight of up to 665,000 more who have sought refuge in neighboring Bangladesh.

Many observers have described the brutality as genocide or ethnic cleansing against the minority.
PreOccupiedTerritory:
Islamic Countries Puzzled Why So Many Trying To Flee To Europe From Sharia Paradise (satire)
Leaders of several Mideast states governed by Islamic Law voiced confusion regarding the phenomenon in which hundreds of thousands of Muslims attempt to escape the Heaven-on-Earth that Sharia law creates, headed for the degenerate infidel lands of Europe, the United States, and Canada, among others.

Millions of Muslims from African and Levantine countries, plus other states further east, have flooded Europe in the last seven years, a hefty portion of them from places governed by one form of Sharia or another. Political and cultural officials admit they remain at a loss to explain why anyone would want to make such a move, which involves abandoning the veritable Jannah – an Edenic existence – of Islamic society, subjecting oneself to an arduous, dangerous, and expensive journey only to reach shores that offer nothing of the purity, virtue, and bliss that Islamic law guarantees.

"All I can say is it must be a plot, a conspiracy," offered Dumm Azzapost, an Iraqi analyst. "A sophisticated propaganda campaign, perhaps, might account for the people streaming out of our Islamic paradise. I can think of no other plausible causes."

"What flummoxes me is how they never try to return once they discover the horrific truth of Western society," exclaimed Yemeni religious official Aima Ful. "The brainwashing or mind control of the plot against them, and us, must be pretty powerful it it can maintain sway over them even in the face of such a manifest hellscape devoid of Islamic law. I shudder at the thought of such a terrible situation."
---
---
We have lots of ideas, but we need more resources to be even more effective. Please
donate today
to help get the message out and to help defend Israel.