From Ian:
---
Saudi Arabia bars Israelis from chess tournament
Israeli chess players on Sunday were denied the visas necessary for them to participate in an international tournament in Saudi Arabia next week, crushing hopes that they could make history by being the first representatives of the Jewish state to take part in such an event hosted by the kingdom.

Seven Israeli players had filed requests for visas to participate in the games to be held in Riyadh on December 26-30 as part of the world rapid and blitz chess championships.

Last month, the World Chess Federation (FIDE), which runs the tournament, said that it was "making a huge effort to assure that all players get their visas."

But on Sunday that international body announced that its efforts were for naught.

Moshe Shalev, the interim head of the Israel Chess Federation, told The Times of Israel that the players had not been granted visas and said his group was discussing taking legal action.

"We are thinking about suing the World Chess Federation," he said.
Prof. Phyllis Chesler:
Europe's betrayal
I am reliving the Evian Conference, held in 1938. No European country was willing to take the Jews.

Eighty years later, on December 21, 2017, twenty six European countries voted to condemn the United States' decision to recognize Jerusalem as Israel's capital. Six abstained. No European country dared to stand with the United States, with Israel, or with reality.

Austria and Germany—Hitler's home base—voted to condemn the United States' decision to recognize Jerusalem as Israel's capital.

Germany—whose shame about the Nazi genocide of six million assimilated, productive, and non-violent Jews led Merkel's Germany tp embrace millions of non-assimilated, non-productive, and very violent Muslim refugees—and why?

Partly to redeem their own soiled reputation and, more diabolically, to continue their traditional Jew-hatred by allowing Muslim refugees to harass, beat, torture, and murder Jews—and by consistently voting for Palestinian terrorists over a peaceful and democratic Israel.

Germany—on whose soil Israeli athletes were murdered in cold blood at the Olympics and whose police could not stop the Palestinian killing spree or apprehend the perpetrators.

Austria and Germany were not the only European countries who voted to condemn the vote on moving the American Embassy to Israel's capital city, Jerusalem.
Israeli experts weigh in on Obama-Hezbollah revelation
In fact, while much of the probe has centered on the potential illegality of Obama's intervention, investigators are scrutinizing the former chief executive's reasons for interfering to Hezbollah's benefit: namely, to examine the assumptions and, more generally, the worldview that shaped his policy toward the organization and, by extension, Iran.

To that end, Politico cited statements made by John Brennan, who would become Obama's top counterterrorism adviser and then CIA director. As early as 2010, just one year after Obama assumed office, Brennan confirmed that the administration was looking for ways to build up "moderate elements" within the "very interesting" Hezbollah group which was no longer considered a "purely terrorist organization."

Obama loyalists see in this interpretation a reasonable justification for the former president's actions as a path to engaging Tehran diplomatically rather than militarily. Critics not only see no reasonable indication to have believed Hezbollah was malleable, and in fact, saw the terrorist group's militancy as intractable. This is supported by the now infamous comments by top Obama aide Ben Rhodes who bragged in an interview of manipulating an uninformed media and populace to ratify the Iranian nuclear agreement. Indeed, it is being reported that the core of the Obama team has been activated to de-toxify the alleged Obama actions vis-à-vis Hezbollah.

Those who rejected the agreement have been strengthened during the ensuing years, as Shiite Tehran continues to foment unrest in Syria, Iraq, Yemen and beyond, arguing that by all indicators—and citing its blatant development of missile delivery systems capable of supporting nuclear weapons and flouting of United Nations Security Council resolutions—the Islamic Republic remains committed to exporting its revolutionary ideology while competing with Sunni Saudi Arabia for regional dominance.

And while proponents of the accord contend that Tehran is abiding by it, opponents continue to warn that the devil is in the existence of "sunset clauses" that will expire after 12 more years, effectively giving Iran a green-light to resume enriching uranium. At that point, the country will have pocketed all of the benefits of sanctions relief and reinforced its so-called "Shiite Crescent," a land corridor stretching through Iraq, Syria and Lebanon and into the Mediterranean.

According to Efraim Kam, a Senior Research Fellow at Israel's Institute for National Security Studies, Iran's unwillingness to change course was predictable. "Obama saw the nuclear deal as a way to get Tehran to modify its strategy," he explained to The Media Line. "In the administration's view it was a jumping off point to more cooperation and dialogue.

"However," Kam highlighted, "even before the accord was concluded Iranian Supreme Leader Khamenei made clear that he was not going to alter his calculus. He left no doubt that coordination would not be extended to other areas and never changed his mind for one minute."
Dr. Mordechai Kedar:
Tsunami in the Arab world
The most popular program on the Qatari-based channel al Jazeera is a weekly debate broadcast Tuesdays at 9p.m called "The Opposite Direction," in which two people of diametrically opposite views on a current political issue are pitted against one another. The anchor, Dr. Faisal al-Qassem, a Syrian Druze, tries to heat up the atmosphere so as to provoke his guests into carrying on a shouting match with one another. There have been instances where guests who were present in the studio attacked one another physically, while sometimes the participants are in different countries and their opinions are beamed live by satellite.

The program is produced by an independent broadcasting company owned by al-Qassem, not by Al Jazeera itself, and is sold to the channel as a finished product. Faisal al-Qassem decides on the participants and edits the program as he wishes to – and if once in a while things are said which do not suit the agenda of Al Jazeera, the Qatari channel chalks that up to its motto: "Opinions - and other opinions."

I received an invitation to participate in the program broadcast on December 12, dealing with President Donald Trump's declaration recognizing Jerusalem as Israel's capital city, an act condemned in the entire Arab and Islamic world. This is not surprising since the declaration grants international recognition to the country that the majority of Arabs and Muslims would like to see erased from the face of the earth.

On the program, I declared that my people, the Jews, monotheists worshipping the One and Only Creator, have been in Jerusalem for 3000 years, establishing their capital city while Muslim antecedents were still drinking wine and hard liquor, burying females alive and worshipping idols. Later on, when the moderator asked if I am not apprehensive about the effect of Trump's declaration on the possibility of a peace process, I told him that the Arab world doesn't have a clue as to what peace is all about, because it is deeply mired in blood, fire and tears resulting from the murderous battles going on within its ranks - between Shiites and Sunnis, against different Arab entities (the Kurds, for example), and among tribes in Libya and Yemen. Try a peace process among yourselves first, I suggested, and when that comes about, we can consider joining it.

What riled viewers the most was when I took a verse from the Quran "You (Muslims), the best nation among mankind" and changed one word, saying: "You (Muslims) are the worst nation among mankind." And I continued: "Who wants to talk to you? The Arab world is a failure, the Islamic world is a failure, mired in blood, fire and tears." The other guest, Sheikh Abed Al-Rachman Koki, a Syrian Islamist whose opinions are somewhere between Hamas and al Qaeda, manifested a profound ignorance on the subject of the history of the Land of Israel and the Jewish people.
Peter Lerner:
Video Of A Palestinian Girl Hitting Soldiers Shows The IDF's Moral Fiber
This is the minefield that the IDF faces in its operational activities in the West Bank. On one hand, terrorist organizations like Hamas are constantly trying to attack, abduct and kill. On the other hand, soldiers are trying to protect Israelis and themselves from a multifaceted, seemingly unorganized volley of lone wolf attacks and violent riots. Then there's the visually appealing confrontations, like the ones staged regularly by the Tamimi family. Indeed, the Tamimi family have made a profession out of the weekly confrontations in Nabi Saleh.

The viral nature of these man-bites-dog type events are a given in the theater that sometimes characterizes the Israeli-Palestinian conflict. These soldiers are forced to perform their duties under the harsh reality of everything being filmed and uploaded or streamed as they happen. The IDF understands this and trains and prepares the forces for this challenge prior to deployment.

Friday's video is a perfect example of this training. It shows the soldiers displaying restraint and a clear understanding that Ahed Tamimi was trying to provoke them into a violent confrontation for the sake of getting it on film. A slap from a screaming teenaged girl was just the tool for another viral escapade from Tamimi Production inc.

The officer and the soldier in the video did not step on to the minefield, remain composed, calm and collected, and maintained a standing. Many of us felt deep pride at their composure. Avi Buskila, Chairman of the Peace Now organization was quoted as saying that "The soldiers acted heroically, exactly how is expected from them."

But others did not. "When I watched that, I felt humiliated, I felt trampled," Miri Regev, an Israeli Cabinet minister and former military spokeswoman, said, calling the incident "damaging to the honor of the military and the state of Israel."

For the soldiers, a young screaming girl doesn't pose a real threat; they've confronted violent riots after all.
HOT debate! Gideon Levy, MK Meirav Ben Ari and HR's Daniel Pomerantz on the Spin Room, i24 News
Do Israeli soldiers deserve to be attacked? Are Israel and its MKs racists? Is the Arab world finally realizing that Jerusalem is holy to Jews and that they've missed opportunities for peace? HR's Daniel Pomerantz debates Gideon Levy with guest MK Meirav Ben Ari (Kulanu) on i24's The Spin Room with host Ami Kaufman.
David Singer:
UN, OIC, EU and PLO invite Trump Retaliation
UNRWA is facing the grim prospect of having to find up to US$400 million annually from other UN member States if Trump cuts America's current voluntary contribution to UNWRA.

President Trump has already announced America will withdraw from UNESCO in 2018 – attributed in part to "anti-Israel bias" – which will require another US$143 million – 22% of UNESCO's annual budget – to be found from other member states.

Biting the hand that feeds you does have consequences.

The catastrophic decisions made by the UN, OIC, EU and PLO over the past two weeks following Trump's Jerusalem Declaration could seriously impact any "ultimate deal" Trump has been putting together to end the Jewish-Arab conflict.

The two-state solution – which envisages a second (democratic) Arab state – in addition to (undemocratic) Jordan – on the land comprised in the 1922 Mandate for Palestine – remains in limbo since the suspension of negotiations between Israel and the PLO in April 2014.

Trump can now justifiably jettison the two state solution – including Abbas and the PLO – from his ultimate deal – after Abbas defiantly declared on 22 December:
"The United States has proven to be a dishonest mediator in the peace process and we will no longer accept any plan from the United States"

Abbas's outburst has effectively consigned the two-state solution to the dustbin of history.

Abbas has once again demonstrated the unerring ability of the Palestinian Arabs to snatch defeat from the jaws of victory – as happened in 1922, 1937, 1947, between 1948 and 1967, 2000/20001 and 2008.

Trump's ultimate deal must now be seriously struggling to see the light of day.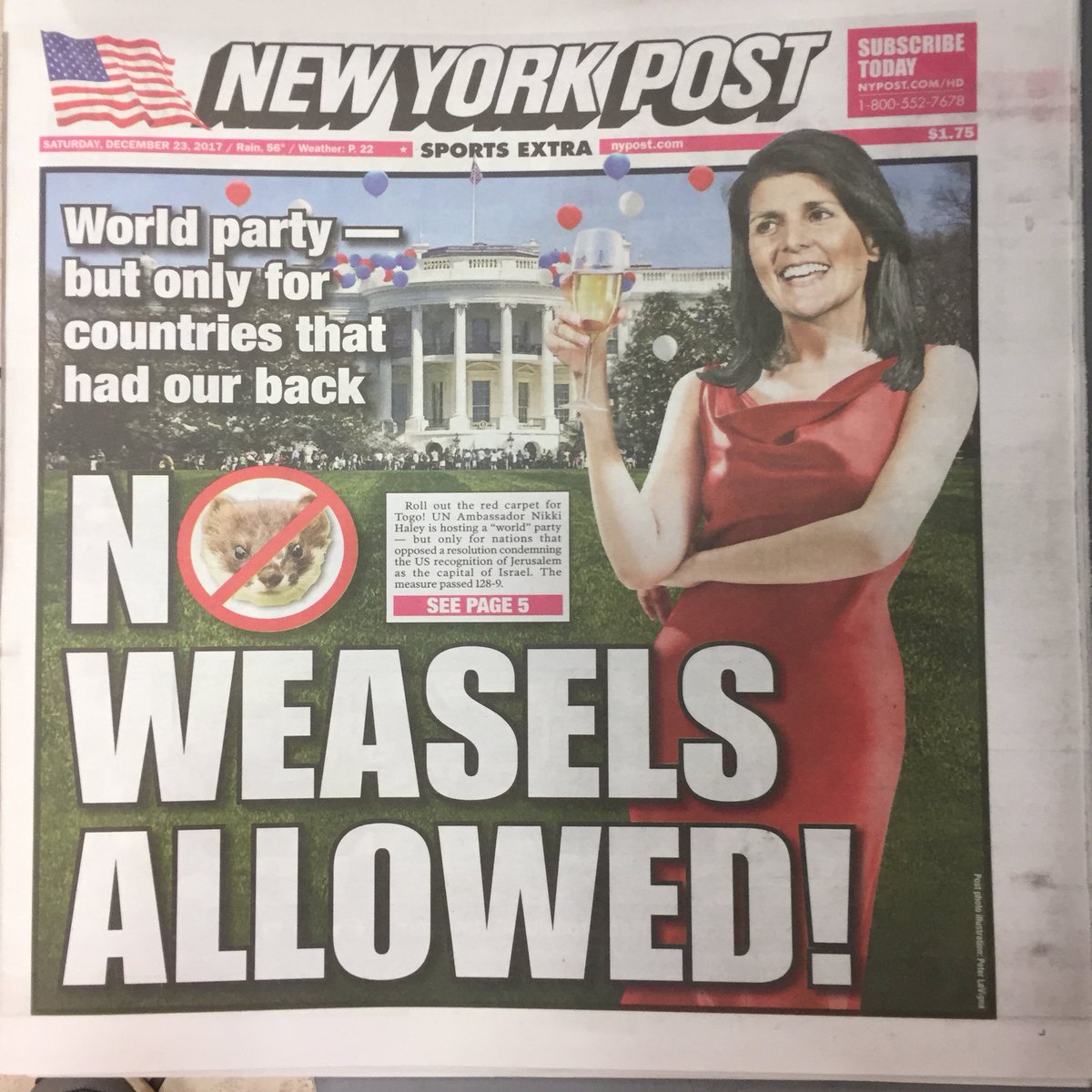 'What kind of mental illness is sweeping through the UN?'
Jewish economist and actor Ben Stein blasted the United Nations General Assembly after it overwhelmingly voted against U.S. President Donald Trump's recognition of Jerusalem as the capital of Israel.

The body on Thursday voted 128 to 9, with 35 abstentions, in favor of a resolution condemning Trump's action.

"It is a shame and a disgrace that the overwhelming majority of negative votes in the United Nations have been against Israel, and I often wonder what kind of mental illness is there sweeping through the United Nations, sweeping through the whole world, that hates Jews so much?" Stein said in an interview on Fox News.

"Israel is so generous, that even when terrorists fighting in Syria are wounded, their fellow terrorists bring them to Israeli medical stations to get treated, and this is the way Israel gets treated? It's a disgrace to humanity!" he added.
Aaron Klein:
Why Trump Should Stop Funding the U.N.'s Palestinian 'Refugee' Agency
Amid the Trump administration's threats about cutting funding to the United Nations and member states, the White House should seriously consider entirely defunding the scandalous U.N. Relief and Works Agency (UNRWA), which ministers to so-called Palestinian refugees.

The U.S. is UNRWA's single largest donor, and the Trump administration has reportedly been mulling whether to continue providing its annual contribution of more than $300 million.

I previously compiled a list of why the U.S. should stop funding UNRWA and instead take the approach recommended by Prime Minister Benjamin Netanyahu, who has called for the dismantlement of the UN's Palestinian "refugee" agency.

On Thursday, U.S. Ambassador to the U.N. Nikki Haley indicated the U.S. could withhold funds from the U.S. in response to an anti-Israel resolution clearly intended to rescind President Donald Trump's historic decision to recognize Jerusalem as Israel's capital. Trump himself advocated in a tweet on Friday that "after having foolishly spent $7 trillion in the Middle East, it is time to start rebuilding our country!"

Considering the latest rhetoric from the Trump administration regarding U.S. funding, it may be instructive to review the six main reasons that I previously documented for why the U.S. should immediately pull its funding from UNRWA, a move that would actually help the Palestinians.

Below, in no particular order, are those six reasons relisted.
AnalysisDespite Jerusalem bluster, Hamas will do whatever it takes to avert war
After several weeks of rising tensions between Gaza and Israel, including the firing of dozens of rockets from the coastal enclave, Israel's southern frontier assumed an appearance of relative calm last week.

Although terrorists fired a rocket on Monday, it didn't make it to Israel and landed inside the Strip. The previous day had seen two rockets, and there was also one last Friday that fell short of the border. That was a far cry from the previous week, which saw multiple attacks, including projectiles that fell in Israeli towns.

The decrease in the number of rockets fired at Israel is apparently not a matter of chance. According to reports from Gaza, the relative (if temporary) calm should be chalked up to intensive work by Hamas, which has been taking a series of steps to prevent a military escalation. As Defense Minister Avigdor Liberman has said, these steps include the arrest of terrorists suspected of involvement in the rocket fire.

In addition to the arrests, sources in Gaza told The Times of Israel, Hamas operatives have been working more forcefully than ever in areas where rocket launches are common. Its forces have been erecting roadblocks, carrying out inspections, and patrolling launching grounds in order to prevent rocket fire.

This policy came from the very top — from Yahya Sinwar, the head of Hamas in the Gaza Strip, and from Ismail Haniyeh, the head of Hamas's political wing, who is working with him.
Ex-Marine cites Trump's Jerusalem decision in planned Christmas attack
A former US Marine and expert marksman was charged Friday in a foiled ISIS-inspired attack planned for Christmas on San Francisco's Pier 39, according to federal court documents.

Everitt Aaron Jameson, a Muslim convert living in Modesto, California, cited President Trump's decision to name Jerusalem the capital of Israel as one of his reasons behind the plot on the famed pier, which the FBI says would have included explosives and guns.

Jameson first attracted FBI attention after the agency received a tip that he'd been interacting with Facebook posts praising the Islamic State, including one showing an image of Santa Claus in New York and a box of dynamite with the words, "We meet at Christmas in New York...soon," a federal affidavit states.

An undercover FBI agent talked with Jameson over the Internet. They eventually met in person and talked about Jameson possibly traveling overseas to fight for ISIS or initiating an attack in the US, a criminal complaint states.

Court documents show Jameson told the undercover agent he was "well versed" in the Anarchist Cookbook, a book detailing the construction of explosives.

The agent told him "to go home and think about what he was saying," the documents say, but Jameson instead said he was ready and wanted to do something similar to recent attacks in New York and San Bernardino, California.

Jameson told the agent he wanted to place explosives on Pier 39 and use them to corral people toward a location where he could continue killing. He said Christmas at the tourist attraction "was the perfect day to commit the attack," according to the federal court documents.

He said he didn't need an escape plan because he "was ready to die," the affidavit states.
Romania 'seriously considering' moving embassy to Jerusalem
The head of Romania's governing Social Democratic Party, Liviu Nicolae Dragnea, has called for Romania to transfer its embassy in Israel from Tel Aviv to Jerusalem.

Dragnea's call follows Romania's abstention from the U.N. General Assembly vote on a resolution condemning the U.S. decision to recognize Jerusalem as the official capital of Israel.

In a statement to the media, Dragnea noted that all of Israel's major institutions are located in Jerusalem, and said, "We are seriously considering transferring the Romanian Embassy to Jerusalem."

His statement carries weight as it constitutes an official statement from the Romanian government, and was confirmed to Israel Hayom by the Romanian Embassy in Tel Aviv.

Romanian media outlets attributed the move to fear of reprisal from the U.S. administration, which has threatened to cut financial aid to countries that voted in favor of the General Assembly resolution.

Romania, which is in dire financial straits and has strained ties with the EU, is in no position to withstand a blow to its economy, particularly after having abstained from the U.N. vote in a move that could hurt it on the continent.
Leah Goldin to the UN: Gaza aid should depend on releasing my son
Slain soldier Lt. Hadar Goldin was not the victim of the 2014 war in Gaza, but of a "humanitarian cease-fire brokered and sponsored by the United Nations," Goldin's mother, Leah, told the Security Council in a special meeting on Friday.

Noting that her son was killed 90 minutes after a humanitarian truce brokered by the UN and the US went into effect, Goldin said: "We all know the difference between maintaining a humanitarian cease-fire sponsored by the United Nations, and cynically exploiting it to murder and kidnap."

The informal session in the Security Council, which was also attended by the representatives of some 30 countries not on the council, was sponsored by the United States and Ukraine with the hope of shedding light on the plight of Lt. Goldin and St.-Sgt. Oron Shaul, another IDF soldier whose remains are being held by Hamas, as well as two Israeli civilians being held in Gaza – Avera Mengistu and Hisham al-Sayed.

Leah Goldin said that three-and-a-half years after the war, Hamas has "thumbed its nose" at the many world leaders who have called for it to return her son's remains.

But despite words of empathy, "Not one member state [of the UN] has done a single deed to help bring him home," she said. The UN, she noted, has "not acted to right this wrong."
Netanyahu: Abbas has shown Palestinians don't want peace
Prime Minister Benjamin Netanyahu on Sunday said Palestinian Authority President Mahmoud Abbas, in rejecting US-led peace efforts, has shown he is not interested in resolving the Israeli-Palestinian conflict.

"[Abbas] declared that he is quitting the process and, in effect, is not interested in any proposal that the US might submit. I think that once again it is becoming clear: It is the Palestinians who do not want to resolve this conflict," said Netanyahu.

Following US President Donald Trump's recognition of Jerusalem as Israel's capital earlier this month, Abbas said he would no longer accept the US as a broker of peace negotiations. He is also refusing to meet with any members of the Trump peace team, and canceled a scheduled meeting with US Vice President Mike Pence last week. (Pence subsequently postponed his visit to the area because of domestic imperatives.)

Speaking alongside France's president in Paris on Friday, Abbas called the US a "dishonest mediator" and firmly ruled out any peace plan the Trump administration may come up with.
UN ingrates
Anything happen this past Thursday? Nothing big…except that the United Nations discredited itself from now till doomsday, along with the entire news media.

At the General Assembly, 128 nations voted whoopee against the United States for its part in recognizing Jerusalem as the capital of Israel. Yes, they stabbed us in the back…even Germany. I mention Germany because when it comes to the United States, let alone Israel, you'd think they'd still be in a mood to atone.

Not when the chips are down.

We know where they live, all 128 of them, so when they come panhandling and schnorring for more money, Nikki Haley already said, don't hold your breath.

President Trump said, azoy, Yiddish for, aha, so that's how it is. In that case, don't get too cozy over there on 1st Avenue. We pay the upkeep at 22 percent per year, far more than any other country. In other words, we are the landlords. You are the tenants. We own you, so watch out.

This prompted various tinhorn delegates to puff out their chests to squeal that their nations won't be intimidated by such threats. No, sir.

Afghanistan voted against the United States on Thursday. Every other day, including Thursdays, they gladly take our money. Billions? No – TRILLIONS over the decades when you add it all up. Not counting the blood we've shed over there, more than 2,000 US military fatalities, to help prevent this group of Muslims from devouring that group of Muslims.
Out with the old
Last week illustrated the speed with which the Trump administration is detaching itself from the legacy of former President Barack Obama.

While Obama decided, as his administration was drawing to a close, not to veto the U.N. Security Council resolution condemning Israel's settlements, his successor has not hesitated to take a strong stance against the traditional, rigid position of most of the Security Council members on the status of Jerusalem. His decision to recognize Jerusalem as the capital of Israel symbolized not only his deep commitment to the "special relations" between the U.S. and Israel, but also his contrarian approach to frameworks and organizations that have allowed Israel to become a regular target of criticism and condemnation. This is in sharp contrast to Obama, who made every effort to lead American foreign policy based on multi-nationalism and cooperation with most of the players in the international arena.

Another sign of de-Obamazation is the decision to leave UNESCO, which Israel has now followed. Given the organization's blatant one-sidedness and the hostility toward Israel it has shown in a long series of resolutions (including the declaration that the Cave of the Patriarchs is a Palestinian heritage site and the infuriating denial of Jewish ties to the Temple Mount) it comes as no surprise that the two allies have formally decided to leave this branch of the United Nations.
Shin Bet chief tells Knesset: Over 400 attacks thwarted in 2017
Shin Bet Chief Nadav Argaman said on Sunday that the security agency has thwarted over 400 terror attacks in 2017, including 13 suicide attacks and 8 kidnappings, as well as 1,100 potential lone wolf attacks.

Argaman spoke at a meeting of the Knesset Foreign Affairs and Defense Committee on Sunday morning and warned that "the [period of] quiet we are experiencing is misleading; Hamas is hard at work trying to execute terrorist attacks."

He also came out against the death penalty, telling lawmakers he opposed Defense Minister Avigdor Liberman's proposal to allow judges to sentence terrorists to death.

Israeli law currently allows military courts to use the death penalty if there is a consensus of all the judges presiding over the trial. Right-wing lawmakers, led by Defense Minister Avigdor Liberman, have called for expanding the death penalty to apply to certain kinds of terrorists.

The death penalty has only been invoked in Israel on Nazi commander Adolf Eichmann, who was hung in 1962.
Emergency medics: 'We will stop serving Judea and Samaria'
Magen David Adom (MDA) Director-General Eli Bin informed Prime Minister Binyamin Netanyahu that MDA would have to stop life-saving services in Judea and Samaria in light of the failure to transfer the budget decided upon by the government.

In December 2016, the government decided to regulate MDAs operational budget for MDA services in Judea and Samaria funded by the Health Ministry.

Recently, in light of the failure to transfer the necessary budgets, MDA decided to reduce activity in Judea and Samaria, but the reduction was not implemented in practice due to the request of former Health Minister Yaakov Litzman to delay the reduction in light of the security situation.

In a letter sent by MDAs Director to Prime Minister Netanyahu about a week-and-a-half ago, Bin warned that "the fiscal year is ending and this absurd situation of uncertainty creates an arrears of close to 13 million shekels in MDA's purse, of which 5.5 million shekels is for the year 2016."
Guillotine and BDS at leftist protest in Tel Aviv
Hundreds of leftist activists demonstrated against corruption on Rothschild Boulevard in Tel Aviv on Saturday night.

This is the fourth consecutive week of demonstrations in Tel Aviv, which have been dubbed the "March of Shame". Previously, demonstrations took place near the home of Attorney General Avichai Mandelblit in Petah Tikva.

Alongside the demonstration, a group of BDS supporters carrying signs also gathered in Habima Square. One of the protesters was seen carrying a mock guillotine, causing an uproar, with the Likud saying it was incitement to murder the prime minister.

"The guillotine tonight at Rothschild is incitement to the murder of Prime Minister Netanyahu, along with derogatory remarks against Zionism," the Likud said. "The leftist demonstration on Rothschild Boulevard crossed all the red lines."
(h/t Elder of Lobby)
Guillotine crosses all boundaries
The public battle against corruption is vital to correcting Israel's path. Even in the 1950s, the poet Nathan Alterman wrote that sometimes society falls asleep because of low-scale corruption, but it has an obligation to make an effort to correct its faults. The effort is understood, and no demonstrations are needed.

The Left's highly publicized demonstrations against corruption are patently mendacious. The leaders of the protest, the main speaker, the signs the protesters hold up, and the massive, overblown media coverage are not motivated by a desire to eliminate corruption. Their one and only goal is to install a new government without the need for free and democratic elections.

The model guillotine that was carried during the latest demonstration in Tel Aviv is clear proof that all boundaries have been crossed and these self-righteous demonstrations have become a clear and present danger, not only to democracy, but to people's lives. We must not be dismissive for a moment – the incitement is serious and dangerous. Hatred blinds and could drag Israeli society into the depths of hopelessness.

The Left and its well-known representatives in the media realized some years ago that a massive public shift to the Right was taking place, and that the public is no longer willing to buy the dangerous delusions that caused it unbearable suffering. The leftist elite, which thinks that it has the sole, official proprietorship of Israel, is frustrated by the fact that for 40 years, the periphery been taking the country away from it.
President raps guillotine sign at anti-corruption rally as 'incitement'
President Reuven Rivlin on Sunday criticized a protester who brandished a cardboard guillotine at an anti-corruption rally in Tel Aviv on Saturday night, calling the use of the prop "clear incitement."

"An act like the one we witnessed last night, of a guillotine at a demonstration in Tel Aviv, was a sin against peaceful protesters and the democratic right to protest," Rivlin said in a statement.

"This is clear incitement, which crosses the boundaries of freedom of expression and protest, and I condemn the clear statements implied by such an exhibit," he added.

Rivlin's condemnation came after the cardboard guillotine was denounced by politicians on both sides of the political aisle, with Prime Minister Benjamin Netanyahu's Likud party saying it constituted incitement to violence against the Israeli premier.
Hamas expresses support for left-wing demonstrations in Tel Aviv
The official Twitter account of the Hamas terrorist organization published a Tweet in support of the left-wing demonstrations on Rothschild Boulevard.

The Tweet included a picture of the rally, with the caption, "Demonstrators against Netanyahu for corruption in Tel Aviv. Stop this war criminal."

This is not the only embarrassment caused this week to organizers of the Rothschild Boulevard rally. Another storm broke out following publication of a picture of one demonstrator carrying a mock guillotine.

The picture's publication led to a series of political denunciations, beginning with President Reuven Rivlin, who stated that this was "clear incitement" and followed by a number of senior officials from various parties.
Egypt detains 15 after dozens attack Coptic church south of Cairo
Egyptian authorities have detained 15 people pending an investigation into an attack on an unlicensed Coptic Christian church in a village south of Cairo, a security source said on Sunday.

Dozens of Muslims from the village of Kafr al-Waslin attacked the church after Friday prayers, smashing the windows and breaking everything inside, the archdiocese of Atfih said in a statement.

The diocese had applied to legalize the status of the church, which has housed worshipers for 15 years after a church building law was passed in 2016, the statement said.

Those detained are accused of stirring sectarian strife, harming national unity and destroying private property, one judicial source told Reuters.

The owner of the building was also in custody pending inquiries into the operations of the facility by state security and the interior ministry, the source added.

Egyptian Christians make up about a tenth of the country's almost 95 million population and are the Middle East's largest Christian community.
After BDS pressure, popster Lorde cancels Israel gig
Pop singer Lorde canceled her upcoming concert in Tel Aviv on Sunday, days after saying she was considering pulling out of the gig. Her decision came following criticism from pro-Palestinian fans in her native New Zealand.

Although the June 5 concert in Tel Aviv was still listed on the singer's Facebook page, tickets were no longer available and Hebrew media reported that the promoter would refund any tickets already purchased.

Concert promoter Naranjah sent a message that it was "sorry to announce" that Lorde's show had been canceled, Hadashot news reported. The promoter did not immediately respond to a request for comment.

The cancellation appears to be the latest in a series of acts to pull out of Israel shows, after pressure from pro-Palestinian activists, who have pushed for a cultural boycott of the Jewish state.

Past cancellations include Elvis Costello, Lauryn Hill and The Gorillaz. Other acts have pushed back against the pressure, including rocker Nick Cave, who recently said his Israel concert was spurred on by the Boycott Divestment Sanctions movement.
IsraellyCool:
USA Today: Looking for Blame in All The Wrong Places
In other words, the Trump announcement is to blame, and not, the violent and otherwise unreasonable reactions to it by Muslims across the region, including Nazareth's own mayor.

The article manages to also bash Israel, naturally. For instance:
Tourism, a critical component of Nazareth's economy, has been weak since the 2014 Israeli war in Gaza scared foreigners from coming to this holy land.

Nope, not a war between Hamas (who kidnapped and murdered three Israel teens and fired rockets into Israel to trigger the conflict) and Israel. Just an Israeli war in Gaza. Plus I am willing to bet foreigners were less scared about coming because of the IDF's operations in Gaza than the rockets being fired into Israel by Hamas.
'Crux' of the Conflict, According to The New York Times
The article itself addresses tension surrounding land between Palestinians and Israelis living in the West Bank, but does not describe this friction as the "crux" of the conflict:
This is the story of one Palestinian village and an adjacent settlement in the hills south of Nablus — formerly friendly communities now tinged with hostility and suspicion. The deterioration reflects the broader strife from a volatile mix of populations, 50 years of Israeli occupation and a competition over the same land that is only intensifying.

Indeed, just six months ago, The Times cited a different issue as the "crux" or core of the conflict. The The Times reported in June:
For Israel, the capture of the Old City, with its ancient holy sites, from Jordanian control was the emotional pinnacle of its swift victory in 1967. It is the nucleus of the city that Israel has declared its sovereign and eternal capital. It is also the hotly contested core of the conflict.

In a lengthy 2015 feature ("Netanyahu and the Settlements"), The Times quoted Israeli Prime Minister Benjamin Netanyahu who rejected the notion that the settlements sit at the crux of the conflict:
Poland donates $28 million to preserve Warsaw Jewish cemetery
The Polish government has donated 100 million zlotys ($28 million) to restore and protect a major Jewish cemetery in Warsaw, one of the country's largest public contributions toward preserving the Jewish culture nearly wiped out in the Holocaust.

The Okopowa Street Jewish Cemetery, established in 1806, is the resting spot of 250,000 Polish Jews who belonged to a once-vibrant community that made up one-third of Warsaw's population before World War II.

Among the notable people buried at the cemetery are Ludwik Zamenhof, the creator of the Esperanto language (1859-1917); Samuel Orgelbrand, publisher of Poland's first modern encyclopedia (1810-1868); Yiddish writer I.L. Peretz (1852-1915), other writers, rabbis, philanthropists, scholars and bankers, as well as ordinary citizens.

Today, decades after Germany uprooted and destroyed the Jewish community, many sections of the cemetery are a desolate sight. Some tombstones are broken or disappearing below decades of decomposing vegetation, and others bear inscriptions rendered unreadable by erosion.
Why N.African Jews are missing from Shoah story
Why is the Mizrahi Holocaust experience missing from Israeli media and art? Very simply, because the deaths of hundreds pale into insignificance compared to the enormity of the genocidal murder of half of European Jewry. Yet Yvonne Kozlovsky Golan, interviewed by Eness Elias, blames 'racism', 'stereotyping', the inablility of European interviewers to probe a culture of silence or understand the Mizrahi shame-honour mentality. Of course, all these factors play a part.

My grandfather was a very proud person. He uttered not a word about the Holocaust he endured in Libya; only once did I hear him talk about the renta, the reparations from Germany, which, by a cruel irony, began arriving a month after his mother died. I heard that his mother's back had been broken in the camp and that from then on she was completely hunched over. So I also understood that there had been Nazis there.

At first, my family's involvement in that incomprehensible event seemed to me improbable, and later negligible. At some point I started to explore the subject more deeply, and heard about the Giado camp, closed in by a barbed-wire fence, with wooden huts holding more than 300 people each. About 2,600 Libyan Jews were transported to the camp and subjected to forced labor. They suffered from hunger and disease, and were the victims of daily abuse. Many were murdered – 562 Jews died there – and dozens more were sent to death camps, notably Bergen-Belsen.
'Racing Against History: The 1940 Campaign for a Jewish Army to Fight Hitler' by Rick Richman
Why wasn't there a Jewish army in World War II to fight the Nazis? No group had more motivation to do so. Well, it's not that they didn't want one. Rick Richman's Racing Against History skillfully recounts the efforts by three major Zionist leaders to raise a Jewish army in America to fight Hitler. Chaim Weizmann, Vladimir Jabotinsky, and David Ben-Gurion, representing the center, right, and left of the political spectrum, came to the United States on separate missions with the same goal in 1940.

But why go to the United States, which was not then in the war? It was England, which had declared war on Nazi Germany after Hitler invaded Poland in September 1939, that needed manpower. And it was England that had experience in creating a Jewish Legion in World War I. But then, England was on the cusp of creating the Jewish National Home. Now it was shutting it down. England had slammed the gates of Palestine to the desperate Jews of Europe in 1939. Intent on appeasing Middle Eastern Arabs, Britain's Foreign and Colonial Office were of no mind to alienate them by creating a Jewish army—or to owe the Jews a political debt in a postwar world.

The goal of the Zionist leaders was precisely to create such a debt. In World War I, Jabotinsky, who spearheaded the drive for the Legion, was nearly alone in seeing that if the cause of the Jewish State were to be accepted as a specific war aim and if the Jews wanted a seat at the postwar table, it was important that they fight alongside the Allies under a Jewish flag. When World War II began, all the major Zionist leaders understood this. And they viewed their mission in America as a way to exert pressure on England to allow such an army and to encourage American Jews to demand to join it.
18 years of Jewish pride
What's the best way for young Jews to explore their heritage? For so many people there can only be one answer: Birthright Israel. This 10-day, life-changing trip in Israel has become a right-of-passage for young Jewish adults worldwide. And this year, the organization is celebrating a significant milestone: 18 years of giving young Jewish adults the gift of Jewish pride and connection to our people and our home.

A year ago, I joined Birthright Israel Foundation as President & CEO and I am so honored to be part of such an incredible organization. There is nothing on earth like the Birthright Israel experience. For each participant, this journey brings them to the heart of who they are and where they come from. And it leads them on a path toward the Jewish community. This could not be more critical for our people than it is today.

Studies by Brandeis University show that participants return home with an increased level of commitment to the state of Israel, marrying a Jewish partner, raising a family in the Jewish tradition and joining local Jewish organizations.

600,000 participants have taken this journey since 1999, which means Birthright Israel is helping an entire generation develop a meaningful connection with their Jewish identity and their homeland. Just take it from our alumni.

Jenna, who attended Birthright Israel in the spring of 2013, says, "My relationship with Judaism made a 180-degree turn since coming back from Birthright Israel. I realized how important my religion is. I met my husband on our trip, and now we can't wait to send our children on Birthright Israel one day!"

For young Jewish adults like Jenna, Birthright Israel has helped them embrace their Jewish identity and given them tremendous pride for their heritage and the State of Israel.
---
---
We have lots of ideas, but we need more resources to be even more effective. Please
donate today
to help get the message out and to help defend Israel.