From Ian:
---
Ben Shapiro:
White House Hosts Historic Meeting Between Israelis And Arab Countries, Signaling First Moves Toward Regional Cooperation
In little-noticed news outside the Middle East, the Trump administration, led by son-in-law Jared Kushner, brokered a historic meeting regarding the situation in the Gaza Strip. According to The Jerusalem Post, the attendees included officials from Saudi Arabia, Egypt, Jordan, Qatar, Bahrain, Oman, and the United Arab Emirates, as well Israel, Canada, and European countries. That means that virtually every major regional power acting in counterbalance to Iran attended the meeting — and that the Palestinians boycotted it, once again demonstrating that they care less about the humanitarian crisis striking their citizens under the rule of terrorist group Hamas, and more about posturing regarding supposed Israeli intransigence.

Jason Greenblatt, Trump's special representative for Middle East negotiations, stated, "We regret that the Palestinian Authority is not here with us today. This is not about politics. This is about the health, safety and happiness of the people of Gaza, and of all Palestinians, Israelis and Egyptians."

This is the first White House event of this sort, ever. But the reason for the Palestinian boycott is obvious: the White House laid the blame for the humanitarian situation in Gaza on the ruling power in Gaza. "Everything we do must be done in a way that ensures we do not put the security of Israelis and Egyptians at risk," Greenblatt stated, "and that we do not inadvertently empower Hamas, which bears responsibility for Gaza's suffering." Those are strong words, particularly considering that Qatar signs checks to Hamas on a regular basis.

But what this meeting truly says is that the most important priority in the Middle East is no longer using the plight of the Palestinians as a club to wield against the Israelis in order to distract from domestic issues in Muslim countries. Instead, the top priority is countering the rising power in Iran, which has extended its reach through Iraq and Syria and to Lebanon, and is moving in Yemen as well. Regional solutions to the Palestinian issue are likely to be far more successful than the false binary of Israelis vs. Palestinians that has predominated for decades.
Special report says IDF followed int'l law in Gaza war, but had major gaps
In the most important legal report to date on the war crimes allegations from the 2014 Gaza war, the State Comptroller has ruled that the IDF's targeting and its probes of its attacks followed international law.

In the same breath, Joseph Shapira's Wednesday report let loose with criticism on a variety of aspects of the IDF's targeting and its investigations of war crimes claims.

Supporters of Israel will look to the report's main headline of compliance with international law, while the UN Human Rights Council and various detractors will likely focus on the many shortcomings the report points out.

The International Criminal Court has taken a range of decisions in examining war crimes allegations viewed by Israel both as fair and unfair to Israel, but if its decision to criminally investigate the US for torture in Afghanistan is any sign, the comptroller's criticisms will be Exhibit A for critiquing Israel's legal system.

During the 2014 Gaza war around 2,125 Palestinians died, around 11,000 were injured, while they launched 4,564 rockets, mortars and projectiles at Israel. 73 Israelis died, thousands were injured and Israel carried out thousands of airstrikes on Gaza.

Underlying much of the comptroller's determinations that international law's minimal requirements had been followed was the idea that fighting in Gaza against Hamas, who regularly used its civilian population as human shields, created an incredible challenge.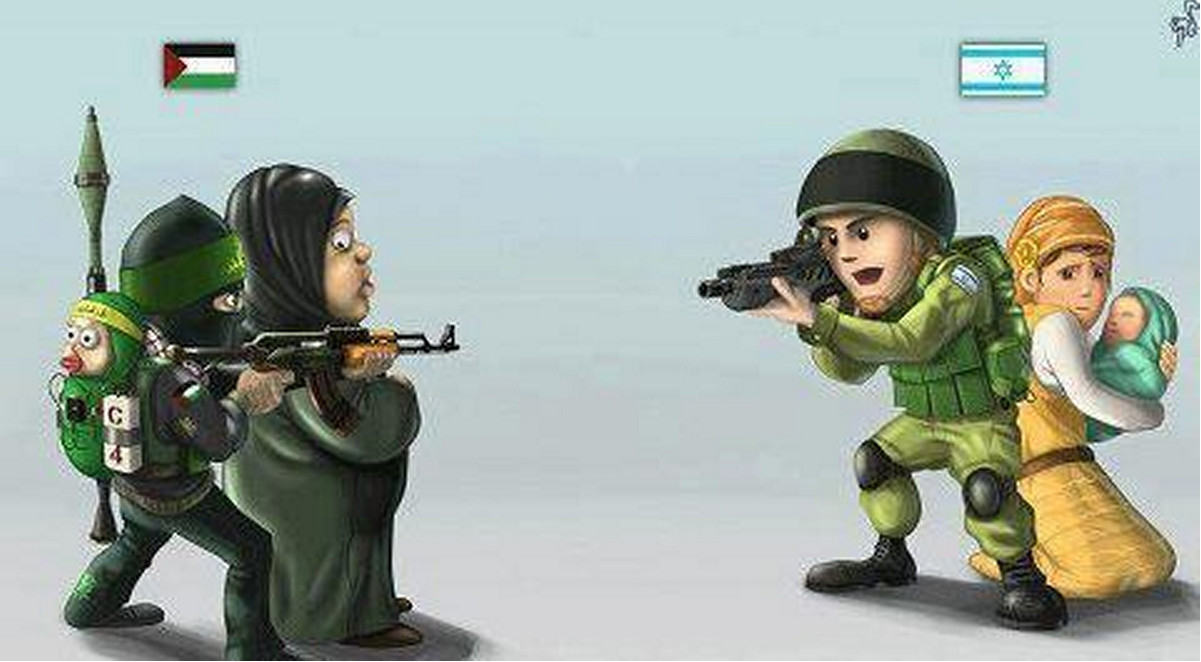 New York Times Falsely Claims Israel Hasn't Tried 'Land For Peace'
A New York Times book review inaccurately claims that Israel hasn't tried trading land for peace.

The review is by Kenneth M. Pollack, a resident scholar at the American Enterprise Institute. He is writing about the book Rise And Kill First: The Secret History Of Israel's Targeted Assassinations, by Ronen Bergman.

Pollack writes, "The deepest truth is that Israel so far has not tried the one thing that could address the underlying grievances that give life to its terrorist enemies, trading land for peace."

Actually, as the Times itself has reported over the years in its news columns, Israel has repeatedly traded land for peace, or at least for promises of peace.

In 1982, Israel withdrew from the Sinai Peninsula under the terms of a peace treaty with Egypt. The Times reported then: "Today's withdrawal completes a phased pullout that really began in 1974, five years before the peace treaty, when the United States helped negotiate a separation of Egyptian and Israeli forces and Israel pulled back from the east bank of the canal. A further step of withdrawal was negotiated in 1975, when Israel gave up the Abu Rodeis oilfields, which were providing most of the country's fuel. Under the subsequent treaty, Israel has pulled out in six steps since May 25, 1979."

In 1994, Israel withdrew from Jericho and most of Gaza under the terms of the Oslo Accord it reached with the Palestine Liberation Organization.

In 1995, Israel withdrew from Nablus, "handing over the West Bank's largest city to an advance team of Palestinian police officers," as The New York Times reported then.

In 2000, Israel withdrew from its security zone in southern Lebanon.

In 2005, Israel withdrew entirely from the Gaza Strip.
How 'The Washington Post' Distorts the Arab-Israeli Conflict
When it comes to the Arab-Israeli conflict, The Washington Post says a lot with what it chooses — and chooses not to — report. Omission-laden reporting and selective coverage are both distorting the Post's depiction of the Jewish state.

The Washington Post continually omits Palestinian rejection of peace offers, while simultaneously ignoring Palestinian leaders who embrace terror.

In the last 18 years alone, the Palestinian Authority has refused US and Israeli proposals for peace in exchange for a Palestinian state on numerous occasions, including 2000 at Camp David, 2001 at Taba and 2008 after the Annapolis Conference. The PA could have accepted any of these numerous opportunities for statehood; they not only refused, but they declined to so much as make a counteroffer.

Similarly,the PA rejected US attempts to restart negotiations in 2014 and 2016, and has refused bilateral talks — a requirement stipulated by the Oslo Accords, which created the PA in the first place and which remains the basis for its funding.

Yet The Washington Post doesn't feel that this continual pattern of Palestinian rejectionism is worthy of news space. The Post failed to detail these rejected offers in the more than 35 reports on the state of the "peace process" that their Jerusalem bureau and World Views section published between January 2016 and February 2018.
Washington Post Defends PA Martyrs Fund
What is the Palestinian Martyrs Fund? Is it a reward for terrorists or a system of social welfare for those in genuine need?

A Washington Post fact-checking analysis attempts to make the case that the fund is not primarily a reward for terrorism but a misunderstood social welfare program, unfairly maligned by Israeli and American researchers:

A big problem is definitional. Netanyahu refers to "terrorists and their families." In the Palestinian Authority's budget, one can find $350* million in annual payments to Palestinian prisoners, "martyrs" and injured, but can one with certainty say they are all terrorists?

(*The Martyrs Fund has recently been increased to $403 Million.)

To this end, journalist Glenn Kessler repeats Palestinian arguments that the fund is a kind of social welfare, cherry picking examples that would appear to support the claim. He also criticizes rigorous Israeli and US research.

Finally, Kessler completely avoids examination of the one thing that would utterly topple his dubious case: Palestinian law itself.
Palestinian Law


Palestinian law requires seven percent of the PA's annual budget be paid to the so called, "Martyrs Fund." About this fact, there is no debate: it is the plain language of existing law.
The Palestinian Budget Book (2017) specifically states that payments to killed or imprisoned Palestinians and their families from the Martyrs Fund are not social welfare but a salary, paid because the recipients constitute a "fighting sector."
The salaries referenced above increase directly in proportion to the severity of the crime involved. For example, murder earns the perpetrator a higher salary than committing bodily injury, which earns a higher salary than possessing a weapon. Again, this not mere opinion or conjecture, this is the Palestinian law.


With no attempt to verify, Kessler repeats the following Palestinian claim:

…the PLO says martyr payments go not only to people who were killed or injured by Israeli forces but also to victims of other events, such as a fiery 2012 bus accident that killed seven children and a teacher.

This, and other similar devices, are the fragile scaffolding upon which Kessler attempts to build his case that the Martyrs Fund is not actually designed around terror, all while ignoring what the law itself actually says, and how it actually works. (h/t abeleehane)
Fundamentalist Terrorists Benefit from "Fundamental Fairness"
An American jury unanimously found the PLO and the Palestinian Authority (PA) liable for the terror that had been inflicted against these American citizens.

Late last year, the U.S. Second Circuit Court of Appeals vacated the verdict. The Circuit's strange reasoning was that "fundamental fairness" does not allow U.S. courts to exercise civil jurisdiction over terrorists who act outside of U.S. territory.

American courts have long held that the Due Process Clause does not bar the federal government from freezing the assets of terrorists, bringing them to face criminal trial, or even imposing the death penalty upon them.

Given the Second Circuit Court's controversial decision, the case warrants an opinion from the Supreme Court.
German aid to UN Palestinian refugee agency soars under Merkel
A day before German Chancellor Angela Merkel's fourth government was sworn in Wednesday, it emerged that over the past 12 years under Merkel, Germany has significantly increased its funding to the United Nations Relief and Works Agency for Palestinian Refugees and to the Palestinian Authority.

The information surfaced in the government's reply to a query from the deputy leader of the far-right Alternative for Germany party, Beatrix von Storch, who in a recent interview with Israel Hayom promised to look into German government aid to the Palestinians and raise the matter for debate.

According to the government, German aid to UNRWA increased from €3 million ($4 million) in 2005 to €56 million ($69 million) in 2017, when the U.S. announced it would be cutting Palestinian aid.

In certain years, increased German financial support for the Palestinians came at the request of Israel, in an attempt to create more comfortable conditions for peace negotiations.

The governmental response to Von Storch's query defended UNRWA, which has been accused of using materials that incite against Israel in its schools.
Palestinians boycott White House meeting on Gaza crisis
The White House on Tuesday hosted 19 nations, including Israel and Arab Gulf states, to address the humanitarian crisis in the Gaza Strip.

But the Palestinian Authority, angered by the Trump administration's policies on Jerusalem, boycotted the meeting.

U.S. President Donald Trump reversed decades of U.S. policy when in December he decided to recognize Jerusalem as Israel's capital and move the U.S. Embassy there from Tel Aviv. The decisions have incensed the Palestinians and other U.S. allies.

The administration is also putting the final touches on a Middle East peace plan. U.S. officials said the White House conference was integral to future negotiations.

"Fixing Gaza is necessary to achieve a peace agreement," a senior administration official said, stressing that the multinational humanitarian and reconstruction effort remains in its initial stages.
With anti-Iran, pro-Israel stances, Pompeo may become Jerusalem's new darling
Preoccupied by the political crisis that threatened to bring down the ruling coalition, politicians in Jerusalem on Tuesday overwhelmingly ignored the news of the United States getting a new secretary of state.

There is no doubt, however, that Prime Minister Benjamin Netanyahu and most members of his government were delighted to learn that US President Donald Trump had fired the incumbent Rex Tillerson and tapped current CIA director Mike Pompeo for the job instead.

News of Pompeo's appointment broke as Israel's political establishment still teetered on the brink of snap elections, but even hours after that crisis had been resolved, neither Netanyahu's office nor the Foreign Ministry or any other top official issued any comments or offered congratulations to America's new top diplomat.

Only Intelligence Minister Israel Katz, who had met Pompeo several times during his 14-month stint as the head of the world's most well-known spy agency, took to Twitter to congratulate Pompeo and "thank him for his support of Israel."

Tillerson, who learned about his unceremonious dismissal from a Trump tweet, was considered by Jerusalem a friendly secretary of state. A former oil tycoon, he had no previous ties to the Jewish state, but seemed on board with the administration's general pro-Israel positions. He was certainly no John Kerry, who pushed and criticized Israel on the peace process and promoted a nuclear deal with Iran that Israel said threatened the peace of the entire world.
Pompeo pick offers a window into Trump's thinking on Israel, Iran
One possible difference: Pompeo is skeptical of Russia.

Much of the speculation Tuesday was that Trump fired Tillerson because the secretary of state forcefully said that the assassination attempt in Britain of a former Russian spy was "clearly" the work of Russia, while Trump has equivocated on the matter.

According to this narrative, Trump wants folks who would alienate Russia off his team. Trump has said that Russia could be an ally in combating Islamist terrorism, and has chafed at the notion that Russia intervened on his behalf in the 2016 election.

The US-Russia relationship is the one aspect of Trump's foreign policy that troubles Israelis, who are concerned that Trump will defer too much to Russia in shaping the outcome of the Syria civil war. Russia's de facto ally in that war is Iran, Israel's deadliest enemy.

Pompeo is a Russia hawk. He repeatedly has endorsed the intelligence community's conclusion that the Russians tried to intervene in the election on Trump's behalf (although he also said, incorrectly, that the report concluded that the Russian intervention did not have an effect; the report stopped short of any conclusion to that effect).

"The Russians attempted to interfere in the United States election in 2016," he said as recently as Sunday on "Fox News Sunday."

The Axios news site on Tuesday recalled that during his confirmation hearings as CIA chief, Pompeo was skeptical, to say the least, of Russia's utility as an anti-terrorism ally. Russia, he said, had "reasserted itself aggressively, invading and occupying Ukraine, threatening Europe, and doing nothing to aid in the destruction and defeat of ISIS."
REPORT: U.N. Aid Workers Preyed On Female Syrian Refugees
A shocking new report — the latest in a string of horrifying revelations about the United Nations peacekeeping and aid efforts — claims that female Syrian refugees, who were fleeing widespread destruction wrought by their country's civil war, were sexually exploited by men serving as U.N. aid workers.

The report, compiled by the BBC, claims that some women were so fearful of being raped or sexually abused by aid workers that they refused to enter U.N. distribution centers and went without food, shelter, and necessary supplies. Others refused to accept aid from the U.N. because they feared those around them, who had heard the rumors about sexual exploitation, would think they had offered their bodies to U.N. workers for cloth or construction materials.

Workers who spoke to the BBC even claimed that local charities turned a blind eye to the sexual abuse because the U.N. was the only organization equipped to serve refugees in the most dangerous parts of Syria — even if those same aid workers were taking advantage of the lack of oversight.

"Examples were given of women or girls marrying officials for a short period of time for 'sexual services' in order to receive meals," the report said.

U.N. workers acting as "distributors ask[ed] for telephone numbers of women and girls; giving them lifts to their houses 'to take something in return' or obtaining distributions 'in exchange for a visit to her home' or 'in exchange for services, such as spending a night with them,'" the report continued.
Prosecution willing to let Hebron shooter go free in May
During a parole hearing, military prosecutors on Wednesday said they would allow Elor Azaria, a former IDF soldier convicted of manslaughter, to be released from prison in May, when he will have served 10 months of his 14-month sentence for killing an incapacitated Palestinian attacker in Hebron in 2016.

Azaria appeared before the military parole board to ask for early release from prison, having served half of his 14-month sentence — the minimum amount of time before such a request can be made in the army criminal system, unlike in civilian proceedings, where convicts have to serve two-thirds of their sentence before seeking parole.

Azaria, the so-called "Hebron shooter," was found guilty last year of killing Abdel Fattah al-Sharif, who several minutes earlier had attacked two IDF soldiers with a knife. In February 2017, Azaria was sentenced to an 18-month prison term, which IDF Chief of Staff Gadi Eisenkot later shortened by four months. Azaria began serving his term on August 9.

During Wednesday's proceedings, which took place in the army's Tel Aviv headquarters, Azaria's attorney Yoram Sheftel argued that his client had behaved well in prison.
In first, MKs barred from traveling on BDS groups' dime
The Knesset Ethics Committee has for the first time barred Knesset members from accepting money from groups affiliated with the boycott, divestment and sanctions movement, implementing new regulations handed down by the Strategic Affairs Ministry in January.

According to a Wednesday report by Walla news, Joint Arab List MKs Yousef Jabareen and Hanin Zoabi were scheduled to fly abroad to address anti-Israel groups in the U.S. and Ireland.

Lawmakers are required to receive the Ethics Committee's approval for trips that are not funded by parliament, to ensure there is no conflict of interest.

The Strategic Affairs Ministry has compiled a list of 20 organizations that will not be able to fund MKs' flights over their call to boycott the Jewish state.
After Gaza summit, White House says ready to pursue projects there without PA
While the White House would like to work with the Palestinian Authority on its initiatives in Gaza, it will move on without the PA if Mahmoud Abbas's authority remains unwilling to cooperate with the Trump administration, senior administration officials said Tuesday shortly after completing a conference with Israeli, Arab and European officials on the battered coastal enclave.

While claiming that many of the projects discussed earlier in a six-hour summit could be easily carried out without the PA governing the Gaza Strip, a US official said that would not be "the ideal situation."

"Our goal is to get the PA in control of Gaza, if that's possible," the official said in a media briefing. "If the PA is unwilling to, or unable to, implement the projects, then we would have to proceed without them."

The summit featured an unusual meetup of representatives from Israel and Arab nations with which the Jewish state does not have formal relations.

Jerusalem was represented by the Defense Ministry's Coordinator of Government Activities in the Territories, Maj. Gen. Yoav Mordechai. Also present were envoys for Saudi Arabia, Bahrain, the United Arab Emirates, Oman and — notably — Qatar, which has close ties to Gaza's Hamas rulers.

Egyptian and Jordanian officials were in attendance as well.

Notably missing from Tuesday's conference was the Palestinian governing body, which has refused to work with the US since President Donald Trump recognized Jerusalem as Israel's capital and announced plans to move the US embassy there from Tel Aviv.
Trump Administration Official: We Must Improve Humanitarian Situation in Gaza, Without Empowering Hamas
At a White House meeting on the humanitarian situation in the Gaza Strip on Tuesday, all participants "left politics at the door" and "focused on practical solutions," a top Trump administration official said afterward.

President Donald Trump's special representative for international negotiations, Jason Greenblatt, tweeted:

In his speech at the gathering, Greenblatt said, "We all know that none of this will be easy. And, everything we do must be done in a way that ensures we do not put the security of Israelis and Egyptians at risk — and that we do not inadvertently empower Hamas, which bears responsibility for Gaza's suffering. But the situation today in Gaza is unacceptable, and spiraling downwards."

Earlier on Tuesday, Palestinian Prime Minister Rami Hamdallah survived an assassination attempt as he traveled to the inauguration of a waste treatment plant in Hamas-ruled Gaza.
JCPA:
The Real Casualties of the Bomb Attack in Gaza
The Palestinian Authority immediately blamed Hamas for the attack. Why?

Because the struggle between Fatah and Hamas also includes economic considerations. Prime Minister Hamdallah represents the economic interests of Ramallah. Hamas wants to distance those interests from Gaza so that it will maintain the economic monopoly over Gaza.

Regarding Majid Faraj, it is obvious why he was targeted. Faraj just returned from a prolonged medical visit to the United States, but his trip has clear political implications. Hamas is concerned that Faraj is planning with the Americans to push them out of Gaza.

Regarding the battle for the succession, it could work in two directions: They want to assassinate Majid Faraj, but he miraculously survived. The question right now is if it will actually advance his candidacy. Will it give him a better starting point against the other candidates, or will it have the opposite effect? He will understand that right now, both Fatah and Hamas are opposed to his candidacy to become Mahmoud Abbas' heir, and the struggle has moved onto violent lines. It's very possible that the next attack on him will occur in Ramallah rather than in Gaza.

With regard to internal Palestinian "reconciliation," it never existed, nor will it. It's fake news from start to finish.
Blast targeting Hamdallah blows Palestinian rift wide open
The explosion that targeted Palestinian Authority Prime Minister Rami Hamdallah's convoy in the Gaza Strip has deepened the crisis between the PA and Hamas, and exposed the high degree of mistrust and animosity between the two parties.

Some Palestinians described the incident as the "final nail in the coffin of Palestinian reconciliation and unity."

They said that Tuesday's explosion reminded them of charges made by PA officials, who claimed that Hamas had plotted to assassinate PA President Mahmoud Abbas in a similar way more than 10 years ago.

Other Palestinians, however, said it was premature to assess the damage the explosion had caused to efforts to end the power struggle between Hamas and the PA's ruling Fatah faction. They expressed hope that the incident would prompt the Egyptians to intensify their efforts to end the Hamas-Fatah rivalry.

"We're now back to square one," remarked a member of the Fatah Revolutionary Council in the West Bank. "This is a very serious crisis, and it will take time to heal the wound. It's now up to the two sides to decide whether they want to escalate the situation of work towards calming things down. We hope that Egypt will not abandon its mediation efforts."

The explosion, which has been denounced by the PA as a "cowardly assassination attempt" by Hamas, is seen as a severe blow to Egypt's ongoing efforts to persuade the two rival parties to implement the "reconciliation" deal they signed in Cairo late last year.
Prof. Eyal Zisser | Hamas can't even protects its guests
Sitting in his office in Ramallah on Tuesday, Palestinian Authority President Mahmoud Abbas surely must have pondered his own possible fate had he – instead of his prime minister, Rami Hamdallah – been the one visiting Gaza on Tuesday. Would he also have survived the assassination attempt; would the perpetrators have placed "only" one bomb on the side of the road? Would they have allowed him to return home in one piece?

Here we have one more reason for Abbas to postpone any further trips to Gaza and to pause before hailing illusory reconciliation with Hamas. It is also safe to assume that Abbas hasn't forgotten or forgiven Hamas for overthrowing him in Gaza in 2007, when members of the terrorist organization seized control of the Strip by ruthlessly killing a large number of Fatah officials working there. Some of them were thrown off buildings.

Hamas, in step with its usual modus operandi, rushed to distance itself from the assassination attempt and harshly condemned it. It even boasted that it had arrested those responsible and, as always, pointed an accusatory finger at Israel – as if it could have been behind such a clumsy, amateurish attack. However, as Israel repeatedly declares every time a rocket is launched at it from Gaza, whether Hamas or one of the recalcitrant terrorist groups operating under its supervision is behind the assassination attempt, responsibility ultimately falls on Hamas' shoulders as the sovereign power in the Strip.

Hamas isn't really interested in advancing intra-Palestinian reconciliation, but at the same time, it wants the PA's help to boost Gaza's sputtering economy. After all, the purpose of Hamdallah's visit to Gaza was to further a sewage treatment and water delivery project.
Billboard advertising annual pro-Hizballah "Al Quds Day" parade through London removed following intervention by Luton Borough Council
A billboard advertising "Al Quds Day", the annual pro-Hizballah parade through some of London"s most iconic streets, has been removed following an intervention by Luton Borough Council.

A Jewish member of the public received a photograph from a friend of a billboard advertising the procession in Luton and immediately contacted the Council. The billboard claimed that the procession, at which organisers hand out placards saying "We are all Hizballah" and Hizballah flags, would be a "rally in support of Palestine". The billboard, which bore no logos, also featured a prominent photograph of antisemitic hate preacher and former supreme leader of Iran, Ayatollah Khomeini, beneath a photograph of Nelson Mandela.

The member of the public wrote an eloquent complaint, informing the Council that the billboard was "inciting and inflaming tensions between the Muslim and Jewish communities". In response, the Council said that it had contacted colleagues from Bedfordshire Police who "were in agreement that it [the billboard] has the potential to be divisive and stir up emotions which could damage the cohesive nature of our communities." The letter continued: "Following discussions with the parties concerned with the operation of the billboard, the posters have now been removed."

Campaign Against Antisemitism wishes to thank the members of the public, who wish to remain anonymous, for their actions, and we commend Bedfordshire Police and Luton Borough Council for swiftly acting to remove the billboard.

The "Al Quds Day" march is nothing more than a celebration of genocidal antisemitic terrorist group Hizballah under the auspices of registered charities which we have reported to the Charity Commission.
Hizbullah Deputy Secretary-General Sheikh Naim Qassem Receives a "Symbolic Gift from the Jewish People," Declares: We Will Be Victorious But Are in No Hurry

https://t.co/F9q4LodYpG

— MEMRI (@MEMRIReports) March 14, 2018
With Red Sea mega-city, Saudis eye economic unity with Egypt, Jordan
To observers, Saudi Crown Prince Muhammad bin Salman Al Saud's flagship idea may seem overly ambitious – to build a mega-city known as Neom along the Gulf of Aqaba and the Red Sea that extends across the borders to Jordan and Egypt.

Indeed, its proponents are describing the planned 26,500 square kilometer city in almost messianic terms. "Neom is positioned to become an aspirational society that heralds the future of human civilization by offering its inhabitants an idyllic lifestyle set against a backdrop of a community founded on modern architecture, lush green spaces, quality of life, safety and technology in the service of humanity paired with excellent economic opportunities," says Neom's website.

That may be overstating Neom's significance, but the project, which is yet to get under way, promises to be extremely important – not only for Saudi Arabia but for the region as a whole. For Riyadh, it is a central component of plans by Muhammad to ween the kingdom off of its dependence on oil exports and diversify the economy by emphasizing, for example, knowledge-based industries. Egypt and Jordan are reacting with enthusiasm to the plan, hoping it can give a boost to their depressed economies.

While Muhammad was in Egypt last week, the two countries set up a $10 billion joint fund to develop the Egyptian side of Neom. Egypt has reportedly earmarked more than a 1,000 square kilometers in southern Sinai for the project. As part of economic integration the two countries are planning to build King Salman Bridge, linking them across the Gulf of Aqaba.

---
---
We have lots of ideas, but we need more resources to be even more effective. Please
donate today
to help get the message out and to help defend Israel.