From Ian:
---
ITP:
New Book Exposes Depth of Anti-Israel Hate on American Campuses
About six months after Andrew Pessin posted on his Facebook profile a defense of Israel during its 2014 war against Hamas, the once popular Connecticut College philosophy professor was subjected to an academic smear campaign. The school paper published articles defaming him. The administration hosted condemnations of Pessin from across the campus community on the school's website, and tolerated other anti-Semitic activities that only worsened the climate for Jews and Israel supporters. Pessin received death threats and, in the spring of 2015, took a medical leave of absence. The Connecticut College administration offered no meaningful protection or support to Pessin, and never issued any apology for its role in his abuse.

The Pessin affair was part of a growing trend of anti-Israel hostility on U.S. campuses, but at least his story has a somewhat happy ending. Pessin resumed teaching last fall after an extended paid sabbatical, and – together with a colleague – convinced the school to establish a Jewish Studies program. Moreover, he has edited a new book with Fordham University's Doron Ben-Atar on the general campus trend: Anti-Zionism on Campus: The University, Free Speech, and BDS. Ben-Atar, who is part of Fordham's American Studies program, protested at a faculty meeting about the 2013 passing of a resolution calling for a boycott, divestment and sanctions (BDS) targeting Israel, only to find himself soon being investigated for unspecified charges, resulting in a Kafkaesque campaign of intimidation and vilification. This volume of essays, by faculty and students who have confronted anti-Israelism on their campuses, documents and analyzes how this movement masks an underlying anti-Semitism that creates a hostile environment for Jews while undermining free speech and civility.

Writer Noah Beck interviewed Pessin via email.

Q: Your book catalogues the many underhanded tactics used to promote the anti-Israel agenda on college campuses, which should help Israel advocates prepare for what awaits them. Did your personal ordeal inspire you to create a potential resource for campus Israel advocates? Or did you have the idea for such a book even before what happened to you?

Pessin: I had been observing the general campus scene for some time, but passively; like many professors, I preferred to spend my time teaching and doing my research, rather than get involved in the mess. And so, when I read about Doron's affair at Fordham, being persecuted for standing up for Israel, I simply thought, "That's terrible," then clicked on the next story. It was only six months later, when I began to receive hundreds of emails of support from around the world, that I realized how important it is to hear from people off campus. So I wrote to him, belatedly, to offer my support—and he wrote back immediately to suggest we collect narratives from faculty members who have been on the receiving end of anti-Israel nastiness on their campuses. Though the book evolved from there—we include several more analytical essays, as well as some narratives from students—that's how it was born.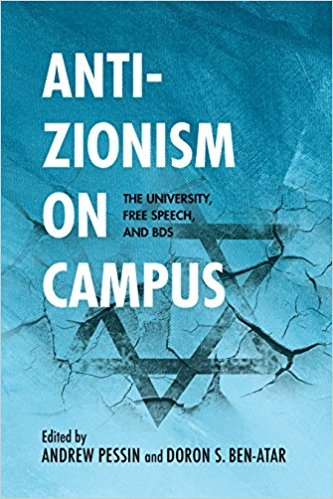 'Zionism Is a Humanist Movement, Not a Colonial One': Prominent French-Tunisian Movie Producer Said Ben Saïd Reflects on Arabs, Jews and Islam
Last November, the Tunisian-born French movie producer Said Ben Saïd briefly found himself thrust into the center of the Arab world's conflict with Israel as a result of his work with Nadav Lapid, an Israeli film director.

In an op-ed for the French daily Le Monde, Ben Saïd revealed that an invitation to preside over the jury of the 28th Carthage Film Festival in Tunisia had been curtly rescinded because of his cooperation with Lapid, as well as his participation on the judges panel at the 2017 Jerusalem Film Festival in Israel. That decision provided an opportunity for Ben Saïd to articulate some home truths.

"[I]t must be admitted that the Arab world is, in its majority, antisemitic," Ben Saïd wrote at the time. "This hatred of Jews has redoubled in intensity and depth not because of the Arab-Israeli conflict, but with the rise of a certain vision of Islam."

Four months on, Ben Saïd, who was on a visit to New York, seemed unfazed that his critique of the widespread, socially acceptable antisemitism that has endured throughout the Arab world for more than a century had not become more commonplace.

"I'm talking as an Arab and as a Muslim, and that's what I am," Ben Saïd explained during an interview with The Algemeiner at his hotel in Manhattan's Soho district. "But I am talking against a majority of people who do not think as I do. Those people who need to think completely differently about their relationship with Israel, they are the same people who are at present convinced that they are not antisemitic. They think they are merely anti-Zionists."
Charles Jacobs:
As Passover Nears, Let's Not Forget Farrakhan's Shameful Stance on Slavery
In 1995, as Research Director of the American Anti-Slavery Group, I co-authored a New York Times op-ed with Mohammed Athie, an African Muslim refugee, that first brought broad national attention to the plight of black chattel slaves in North Africa. In Sudan, for decades, as part of a war waged by the Arab north against the black, mostly Christian south, militia armed by Khartoum stormed African villages, killed the men and captured the women and the children. These served their masters as goat-herds, domestic servants, and sex-slaves. In Mauritania, Arab Berbers who had conquered the area centuries before had always kept African slaves, even though these were Muslims. As our Times piece explained, Western rights groups had thoroughly documented human bondage in these two countries, but did next to nothing to marshal their constituencies to act. No one was trying to free the slaves.

As interest in the issue grew, especially in the black press, Mohammed and I were invited on PBS's Tony Brown's Journal, a popular news show where we described our experience and research. We cited reports on current day slavery from Amnesty International, Human Rights Watch, and the State Department in Sudan, Mauritania, and Libya.

Farrakhan's Nation of Islam immediately demanded to have its spokesperson—Akbar Muhammed—come on the show with a different view. Akbar claimed this was all a "big lie," part of a Jewish conspiracy against Minister Farrakhan. Akbar was particularly upset about our mention of human bondage in Libya; It turned out that he was Farrakhan's emissary to that country. According to the Chicago Tribune's Clarence Page, Khadafi had loaned Farrakhan $5 million in 1984 and later promised to give the Nation of Islam a billion dollars for "Muslim causes" in America which, Clarence Page suggested, was what kept Farrakhan mute on African slavery.
Widespread Muslim anti-Semitism in France
In most European countries no quantitative data is available on Muslim anti-Semitism. Yet it is known that members of the Muslim community are behind much aggression and conduct extreme verbal attacks and slurs against Jews. A number of Jews have been murdered by Muslims in France over the past decades. There have also been attempts at pogroms.

A 2014 study by Fondapol titled Anti-Semitism in French Public Opinion and authored by Dominique Reynié provides many insights into anti-Semitism in France. Muslims are one segment of society on which the study focuses. The authors have also investigated the extreme right and extreme left. These however require separate analysis.

In French general society, 25% of the population has anti-Semitic prejudices. The study concludes that such prejudices against Jews among Muslims are two or three times as widespread. The study's authors have divided the Muslim population into three categories: practicing Muslims, who both believe and practice Islam, those who only believe, and those who are of Muslim origin. The category of those who practice accounts for 42% of Muslims in France. Those who believe are 34% and those of Muslim origin are 21%. Another 3% self-define as not being religious.
French leader slams anti-Semitic murder of Holocaust survivor
French President Emmanuel Macron condemned the brutal murder of an elderly Holocaust survivor at her Paris home last week, saying he was determined to "wipe out anti-Jewish sentiment" in France.

The charred body of Mireille Knoll, 85, was found in her Paris apartment on Friday. She had been stabbed 11 times and her home was set on fire.

Authorities said the murder was most likely anti-Semitic in nature.

"I want to express my deep emotion after the dreadful crime committed against Mrs. Knoll. I reaffirm my total determination in fighting anti-Semitism," Macron tweeted.

Knoll escaped the 1942 roundup of more than 13,000 Jews in Paris, who were handed over to the Nazis and sent to death camps.

British news website The Express quoted a judicial source as saying that two suspects had been arrested in the case and have been charged with "murder motivated by the real or supposed adherence to a religion, as well as aggravated theft and damage to property."

One of the two suspects is said to be Knoll's 28-year-old neighbor. He was recently released from prison, where he served an eight-month sentence for the sexual assault of a young girl, the report said.

Knoll's murder has rattled the French Jewish community.
Thousands march in Paris in memory of murdered Holocaust survivor
Several thousand people took part in a silent march in Paris on Wednesday in memory of an 85-year-old Jewish woman, killed in a grisly attack believed to be anti-Semitic.

The leaders of several political parties joined the march for Mireille Knoll, whose partly burned body was found in her Paris home at the weekend.

Knoll, who escaped the mass deportation of Jews from France during World War II by fleeing abroad, was stabbed 11 times in an attack that the perpetrators apparently tried to conceal by setting fire to the apartment.

She was found dead by firefighters.

A neighbor in his twenties and a homeless youth have been charged over the latest in a series of attacks that have horrified France's 500,000-strong Jewish community, Europe's largest.
New York Times 'Dances Around' Islamist Anti-Semitism in France
A New York Times news article from Paris goes out of its way to obscure the motivation of a series of antisemitic hate crimes.

The Times reports: "A number of anti-Semitic episodes have shaken France, including the murder last year of Sarah Halimi, an elderly Jewish woman, by a man of Malian origin who shouted, 'God is great' before throwing her out a window."

Other press reports describe the murderer as shouting "Allahu akbar" and characterize him as a Muslim.

The Times goes on:
Other anti-Semitic crimes that have rattled France include the 2015 attack on a kosher supermarket in Paris by Amedy Coulibaly, a heavily armed Frenchman, who killed four people, and the 2012 assault on a Jewish school in Toulouse by Mohammed Merah, who killed three children and a teacher after killing three soldiers.

Other press accounts describe Coulibaly as a follower of the Islamic State and describe Merah as an avowed al Qaeda member who also shouted "Allahu akbar."

The Times article, headlined, "She Survived The Holocaust, to Die in a 2018 Hate Crime," goes on for considerable length about all these attacks without mentioning Islamist extremism at all.
IsraellyCool:
Amnesty, Which Of The Tamimis Do You See As Most "Bravely" Standing Against Israel?
"Human rights" organization Amnesty International is urging Israel to free Ahed Tamimi (aka Shirley Temper) with this offensive tweet:


Urge Israel to #FreeAhedTamimi. For years, she and her family have bravely stood up against the Israeli occupation. Now she's spending 8 months in prison. @netanyahu must release her now. Take action 👉 https://t.co/95inhBPiHy pic.twitter.com/s59F6jZlGL

— Amnesty UK (@AmnestyUK) March 26, 2018



Pray tell, Amnesty. Which of the Tamimis do you see as most bravely "standing against the Israeli occupation"?

Ahlam Tamimi?
After Third BDS Defeat in Five Months, University of Ottawa President Speaks Out Against Israel Boycotts
The president and vice-chancellor of the University of Ottawa in Ontario, Canada spoke out against the boycott, divestment, and sanctions (BDS) campaign on Monday, after it was defeated by the student government for the third time in five months.

The Board of Administration — the highest body in uOttawa's Student Federation (SFUO) — voted down a pro-BDS motion at a meeting on Sunday night, less than two weeks after a similar resolution failed to pass SFUO's General Assembly. The board had already rejected a nearly identical BDS motion in November.

"The University of Ottawa will have no part of the BDS movement nor any movement that boycotts academic institutions," wrote President Jacques Frémont in a statement.

The BDS campaign — which seeks to isolate Israel internationally until its government accedes to a number of Palestinian demands — "is divisive and a detriment to an open and welcoming campus environment," he continued.

Frémont argued that boycotts stifle the university's academic mission by limiting the free exchange of ideas, while creating "an environment where some members of our community may feel insecure and ostracized."
IsraellyCool:
Latest Ridiculous Palestinian Propaganda
Old and busted: Seven Jewish Children

New hotness: Eighteen Cows.

Actually, it is not that new..and it is more ridiculous than you think.

The Wanted 18 is a 2014 Canadian-Palestinian animated documentary about the efforts of Palestinians in Beit Sahour to start a small local dairy industry during the First Intifada, hiding a herd of 18 dairy cows from Israeli security forces when the dairy collective was deemed a threat to Israel's national security. The film combines documentary interviews with those involved in the events, archival footage, drawings, black-and-white stop-motion animation as well as re-enactments, and was co-directed by Canadian filmmaker Paul Cowan and Palestinian visual artist and director Amer Shomali. The film was the Palestinian entry for the Best Foreign Language Film at the 88th Academy Awards but was not nominated.
—
In the 1980s, as part of a Palestinian boycott of Israeli taxation and commodities, residents of Beit Sahour decided to form a collective and stop purchasing milk from Israeli companies, in a quest for greater self-sufficiency. They purchased cows from a sympathetic kibbutznik and set about teaching themselves how to care for the animals and milk them—even sending a member to the United States to learn dairy farming. The farm was a success, with strong local demand for "Intifada milk." However, the herd was declared a "threat to the national security of the state of Israel" and Israel sought to impound the cows, forcing Palestinians to devise ways to keep them hidden.
So wait a minute. As part of BDS they stopped purchasing milk from Israeli companies, so they purchased cows from an Israeli man instead. Got it. That's not BDS, that is cheating.
CORBYN IS MEMBER OF TWO MORE ANTI-SEMITIC FACEBOOK GROUPS
Jeremy Corbyn is a member of two more virulently anti-Semitic Facebook groups, Guido can reveal, bringing the total up to five. Jezza has been a member of "Jeremy Corbyn Leads Us to VICTORY" since 2015. It is full of post after post about the Rothschilds, comparisons between Israel and the Nazis and "Antichrist Zionist Rothschild Jews".



And Corbyn has been a member of "Labour for Democratic Socialism" since 2015 as well. The notorious Tony Greenstein is a frequent poster, discussions range from overt Holocaust denial to, once again, the Rotschilds.

Guessing he didn't see any of this either, though it really does show the "sewer of anti-Semitism" that Corbyn inhabits, as the Board of Deputies put it. Jezza really does have the worst luck with his Facebook groups…
Reviewing BBC R4's 'World at One' background on the Labour Party story
Kearney closed that section of the item there, moving on to another related topic. Remarkably though, despite having aired Corbyn's recorded response denying knowing who Dyab Abou Jahjah was, Kearney did not bother to inform listeners that – as the BBC itself reported in August 2015 – Corbyn subsequently claimed that he "must have forgotten meeting him in 2009".

Dyab Abou Jahjah (whose organisation had published a Holocaust denying cartoon three years earlier) was in fact at the same March 2009 'Stop the War Coalition' meeting at which Corbyn called Hamas and Hizballah 'friends'. Abou Jahjah was subsequently banned from visiting the UK by the British government: a decision he blamed on "the lobbying of the Zionists" while claiming that "MP Corbyn is filing a complaint against this disgrace".

Although this programme clearly did attempt to provide the BBC's domestic audiences with more background to the story than other Radio 4 programmes aired on the same day, it is notable that while listeners did hear rather a lot of Jeremy Corbyn's fairly standard evasive responses to the long-standing criticism against him, parts of the story that are highly relevant to full audience understanding of it – such as the fact that he did meet Dyab Abou Jahjah and his self-professed opposition to Jewish self-determination – were airbrushed from the portrayal.
Ex-British PM: Labour chief 'doesn't understand' anti-Semitism
Former British Prime Minister Tony Blair on Tuesday criticizes Labour Party leader Jeremy Corbyn of "failing to understand" anti-Semitism, saying Corbyn has the responsibility to "root out" racist behavior within his party's ranks.

Since unexpectedly becoming Labour leader in 2015 after decades on the left-wing fringes of the party, Corbyn has repeatedly faced accusations of turning a blind eye to anti-Semitic comments in the party and among groups he supports.

On Monday, British Jewish groups held a protest outside the Houses of Parliament in London against Corbyn, accusing him of failing to tackle anti-Semitism in party ranks.

Corbyn responded on Monday with an open letter to both groups in which he recognized that anti-Semitism had surfaced within his party, apologized for the pain this had caused, and pledged to redouble his efforts to stamp it out. He offered to meet both groups' leaders urgently to discuss their concerns.

According to The Sun, however, Blair was unimpressed.

"I don't believe he [Corbyn] is personally anti-Semitic but I do believe that he and the people around him, particularly, do not understand the seriousness of this problem," he said.
Jewish students take moral high ground at the University of Capetown
The annual "Israel Apartheid Week" hate fest was held at the University of Cape Town (UCT) this month. This poisonous event occurs, with the university's consent and cooperation, at the most strategic and high-traffic location on campus, and is designed to beguile impressionable students into the vile world of anti-Israel hostility. It is characterized by an atmosphere of antisemitism, hatred, intimidation and propaganda, and it is left to a brave Jewish minority on campus to stand up for Israel and Jewish identity.

The UCT Palestine Solidarity Forum (PSF), a pressure group aligned with the Boycott, Divestment and Sanctions movement and that organizes IAW, erected a large wall at the center of the university's Jammie Plaza and spray-painted the slogan "From the river to the sea, Palestine will be free." This made it absolutely clear to anyone who might have doubted it that this radical group and its allies call for the extermination of the Jewish state. It is coded hate speech that falls outside the ambit of hate speech law, and the University of Cape Town thus permits it under the banner of freedom of speech.

The university also appears to tolerate incitement, since there will likely be no repercussions for the chanting of the slogan "One settler, one bullet" at the aggressive anti-Israel rally held during the week. A settler, to the PSF and their allies, is any Jew who lives within any part of Israel, not just the West Bank. It is part of group's magical transformation of Jews seeking to live in their historic homeland into "colonialists" and "settlers," and twisting of history.

It is part of their desperate attempt to steal South Africa's apartheid legacy away from those who suffered under it, and paint Israel as an apartheid state that is inherently evil and as a consequence should cease to exist. They will appropriate any in-vogue language representing evil and label Israel the archetype of it. In the past year, this has been the notion of white supremacy, and Israel has thus been depicted as a white-supremacist state. Next year it will no doubt be whatever other hateful term is currently in fashion.
PreOccupiedTerritory:
BDS Advocate Has Already Won Like 6 Arguments In His Head During Shower (satire)
A college student who spends time haranguing administrators, faculty, and fellow students to support divestment from Israel and boycott of the Israeli economy has already emerged victorious in half-a-dozen verbal exchanges with advocates for Israel taking place in his head as he showers, cerebral sources report.

Ayyaf Nobolz, 19, a sociology major at New York University, has conducted six arguments with defenders of Israel inside his head for the last four minutes, each time arriving at a satisfying rebuttal of his opponents' positions, such that any fence-sitters observing the exchanges would certainly have wound up siding with the BDS view. The sources also reported that in the background, a sense of frustration and failure waits to pounce once Mr. Nobolz realizes that actual humans do not make the same straw-man contentions as his mental interlocutors.

In his head, Nobolz sees himself besting a Zionist by making facile analogies to Apartheid-era South Africa and to 1930's and 40's Nazi Germany, and his Zionist opponent wilting before the force of such rhetoric. Separately, he envisions himself satisfying all challengers by arguing that the reason BDS focuses only on Israel and not on any of the many other, worse human-rights-violators because they have to start somewhere, and that any attempt to call attention to atrocities elsewhere is mere "whataboutery" and an attempt to distract from Israel's crimes against humanity.
Tour de France in Gaza?
Reuters published a series of photographs March 26 depicting, according to the captions, "a marathon in the southern Gaza Strip Monday." The full caption on all of the Reuters photographs below reads:

Palestinians attend a marathon near the border with Israel, in the southern Gaza Strip March 26, 2018. REUTERS/Ibraheem Abu Mustafa

Without any additional information and context, readers would assume that these young Palestinian bikers are out for some good wholesome, patriotic (as indicated by the flags) fun exercise, (which should be good news to Hami Almadhoun of American Near East Refugee Aid (ANERA), who has insisted that Gaza's polluted beach provide the only recreation.)

But there's more to the Gaza bike "marathon" than Reuters is saying. The Arabic signs on the boys' bikes state (translation by CAMERA Arabic): The Return March, Islamic Jihad Movement.

The United States, the European Union, Israel and Canada all regard Islamic Jihad as a terror organization. The biking event is part of the preparation for this Friday's Hamas and Islamic Jihad-backed "Right of Return" march, an campaign to formally kick off this Friday, Passover eve, in which thousands of Gazans will converge on Israel's borders.
Senior Adviser to Polish Prime Minister Under Fire From Top Jewish Leaders for 'Antisemitic' Online Campaign
Jewish leaders in the US and Europe have risen to the defense of a leading Polish expert on antisemitism, after he recently became the target of an "antisemitic" online campaign led by an official adviser to Polish Prime Minister Mateusz Morawiecki.

Rafal Pankowski — a Warsaw-based professor who leads the anti-racist "Never Again" Association — was described as a "Polish-speaking Jewish mongrel dog" and threatened with violence by extremists on social media following a speech he delivered to the Global Forum Against Antisemitism in Jerusalem on March 21.

In that presentation, Pankowski highlighted the upsurge of antisemitic rhetoric that has accompanied the recent passage of controversial Holocaust commemoration legislation in Poland. The bill — signed into law by President Andrzej Duda on Feb. 6 — criminalizes public discussion of Polish antisemitism and collusion with the Nazi authorities during the German occupation of 1939-45, with potential violators facing a maximum sentence of three years in prison. (Pankowski, a critic of the legislation, is frequently quoted on this matter and related issues by The Algemeiner and several other international news outlets.)
Russian businessman: Jews caused tragic Kemerovo fire
A Russian businessman on Tuesday blamed the Jewish people for a tragic leisure complex fire in the Siberian city of Kemerovo that killed 64 people, 41 of them children.

The fire tore through the Winter Cherry shopping mall on Sunday, the first weekend of spring school holidays, trapping those inside. CNN quoted Russian investigators as saying the mall's fire exits were blocked and the alarm system had been turned off.

Russian President Vladimir Putin said Tuesday that the deadly fire was a result of "criminal negligence."

He scolded officials for neglecting safety rules that could have prevented the tragedy.

A Russian businessman named Artyom Nikiforov, meanwhile, blamed the Jewish people for the tragedy.

Israeli-Russian journalist Shimon Briman posted Nikiforov's video to his Facebook page. The video has thus far received over 1,400 shares.

"The terrible tragedy in Siberia happened now, near the Jewish Passover holiday," Nikiforov said. He also noted two past disasters that occurred around Jewish holidays – Hanukah and Purim – implying the events were connected.

Jewish blood libels have become increasingly prevalent in various parts of Russia in recent years. Among other things, Jews were accused by an academic researcher of the murder of the Russian royal family.
Europe Approves Israeli-Developed High-Tech Capsule for Colorectal Cancer Screening
Let's face it: Nobody wants to go through a colonoscopy, recommended for people over 50 to screen for colorectal cancer — the third most common cancer, with approximately 1.4 million new cases diagnosed worldwide each year, and the second leading cause of cancer-related deaths.

Because nearly one-third of the eligible US population and more than 60 percent of people outside the US choose to avoid the invasive endoscopic colonoscopy procedure and its laxative preparation, global screening rates remain low. Yet evidence shows the removal of adenomatous polyps found through colonoscopy can reduce colorectal cancer incidence and mortality.

Check-Cap, based in the northern Israeli town of Isfiya, recently received the European Union's CE Mark for its C-Scan system, an ingestible x-ray capsule for preparation-free colorectal cancer screening.

Without undergoing any laxative preparation, the patient swallows the ultra-low dose x-ray capsule along with one tablespoon of a contrast agent and fiber supplements with each meal.

Over the next two or three days, the system collects data enabling generation of 2D and 3D maps of the colon before eliminating the capsule naturally. Physicians look at the maps on a clinical data viewer to identify pre-cancerous polyps and other abnormalities.

Only if a polyp is found, which happens in up to 25% of cases, would the patient have to get a colonoscopy.
Japanese auto-parts firm Denso opens Israel R&D center
The world's largest car parts manufacturer says it will build on Israel's innovative technologies in cybersecurity, telecommunications, AI, sensing, and software.

Japanese auto-parts company Denso, the world's biggest supplier of components for cars, has announced that it is opening an Israeli R&D center. Denso said that starting in April, its Israel R&D satellite will begin collaborating with local startups to pioneer new technologies in automated driving, cybersecurity, and artificial intelligence (AI). Denso already has R&D centers in Japan and Finland.

Denso said that its satellite R&D activities in Israel will build on the country's surge in innovative technologies in fields spanning cybersecurity, telecommunications, AI, sensing, and software. Israeli companies and tech startups, Denso added in its announcement, have an established track record for successful collaboration with companies overseas, and are expected to play a major role in global innovation across a number of fields.

Denso said that it will tap into Israel's technology strengths to quickly develop more competitive technologies, both internally and through collaborative research with local companies and universities. The technologies and products developed in Israel will contribute to Denso's mission to deliver safe and sustainable mobility solutions that improve people's lives and benefit the environment.
Croatia set to buy aging Israeli fighter jets in $500 million deal
Croatia is set to buy a squadron of F-16 fighter jets from Israel to modernize its military, after the country's top defense body backed the deal.

Zagreb launched a tender offer last year to acquire military jets to replace its outdated Russian-made MiG-21s.

Apart from Israel, the countries invited to submit bids included Greece, South Korea, Sweden and the United States.

"The defense council… has accepted that Israel made the best offer and gave a recommendation to the government to decide on acquiring" the Israeli planes, the defense council said in statement late Tuesday.

The deal to buy 12 already used F-16 jets, worth $500 million according to media reports, has yet to be confirmed by the government, but the approval is believed to be just a formality.
Jewish artist recreates in London Iraqi monument destroyed by IS
A reconstruction, made from date syrup cans, of an ancient Iraqi statue destroyed by Islamic State jihadists was unveiled in London's Trafalgar Square on Wednesday.

The artwork will stand for two years on the empty fourth plinth in the British capital's central square as a monument to the destruction of Iraqi culture since the 2003 US-led invasion.

Created by US conceptual artist Michael Rakowitz, who is of Iraqi Jewish descent, the replica is entitled "The Invisible Enemy Should Not Exist."

"I see this work as a ghost of the original and as a placeholder for those human lives that cannot be reconstructed, that are still searching for sanctuary," said Rakowitz.

It recreates a Lamassu — a winged bull and protective deity — that stood at the gates of Nineveh, northern Iraq, from around 700 BCE. It was destroyed by the Islamic State (IS) group in 2015.

The new statue is part of a wider project to recreate more than 7,000 objects looted from the Iraq Museum in 2003 or destroyed at archaeological sites in the aftermath of the Iraq War.
---
---
We have lots of ideas, but we need more resources to be even more effective. Please
donate today
to help get the message out and to help defend Israel.