From Ian:
---
UNHRC report: Settlements are a war crime
Israeli settlement activity in the West Bank and east Jerusalem is a war crime, the UN High Commissioner for Human Rights Zeid Ra'ad al-Hussein charged in a report he issued last week.

"The establishment and expansion of settlements in the Occupied Palestinian Territory by Israel, including the legal and administrative measures that it has taken to provide socioeconomic incentives, security, infrastructure and social services to citizens of Israel residing in the West Bank, including East Jerusalem, amount to the transfer by Israel of its population into the Occupied Palestinian Territory," al-Hussein, who is a Jordanian prince, said.

He continued, "The transfer of the population by an occupying state into an occupied territory is a grave breach of article 147 of the Fourth Geneva Convention and therefore a war crime."

His report on Israeli settlement activity was published on the UN Human Rights Council website on Wednesday.

It is one of six reports on Israel that will be presented to the council on March 19.

Five charge Israel with human rights abuses in the West Bank and east Jerusalem, and the sixth focuses on Israeli actions on the Golan Heights.

One of the reports also dedicates a third of its content to charges of human rights abuses by the Palestinian Authority in the West Bank and by the PA and Hamas in the Gaza Strip.

Israel remains the only country with so many reports issued against it. The Human Rights Council, for example, has issued only a single report each on human rights issues in countries such as Syria and Iran.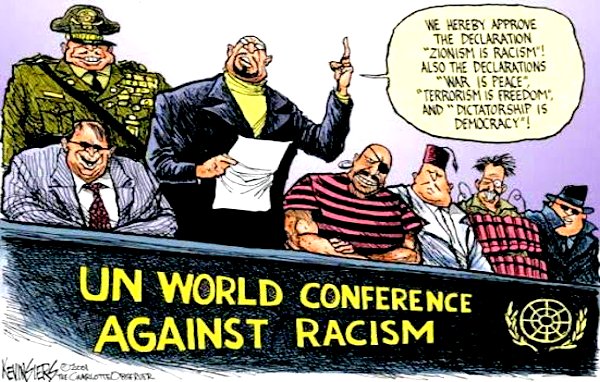 PMW:
PA TV host's libel: Israel "has built itself on the bodies of children"
The host of a program on official PA TV taught viewers that Israel "murders, imprisons, and tortures" Palestinian children, and accordingly "has built itself on the bodies of children."

Director of PLO Commission of Prisoners' Affairs Issa Karake then "confirmed" this, stating that Israel "executes" children:

Official PA TV host Walaa Al-Battat: "The occupation government, (PA euphemism for Israel) which claims it is democratic and has won the support of some of the world's super powers, has built itself on the bodies of children, and it still murders, imprisons, and tortures them with the most extreme types of torture."

Director of PLO Commission of Prisoners' Affairs Issa Karake: "[Israel] is still going further and further with arrests of the [Palestinian] children - not just arrests, but also execution and murder. Children have been summarily executed... This has occurred based on official decisions made by the Israeli government, which has decided that live bullets should be fired at what it calls "the rock throwers." [Official PA TV, Who is the Judge?, Feb. 9, 2018]

The host of the program, Walaa Al-Battat, is well-known from her hosting of PA TV's children's program The Best Home. Palestinian Media Watch has documented that Al-Battat has used this program to teach children the libel that Israel targets and murders children. During the Palestinian terror wave in November 2015, when young Palestinian terrorists were attacking Israelis with knives, the host explicitly told Palestinian children "not to walk alone," because Israel "targets children everywhere... these are barbarians," who "try to kill people for no reason":
Michael Oren:
Getting out of the Iranian check
While Israel is mired in domestic scandals and coalition crises, the greatest threat the country has known since the eve of the Yom Kippur War – perhaps since the War for Independence – is steadily taking shape. This menace, posed of course by Iran, essentially consists of a wide range of growing threats closing in on us. The Iranians, who invented the game of chess, are exceedingly adept at playing several boards simultaneously, with the winner's prize no less than control of the entire Middle East and beyond.

The bottom chessboard is regional. The Iranians cunningly took a step back and allowed the superpowers to destroy their main enemies in the region. The Americans weakened the Taliban and eliminated Saddam Hussein, and, along with Russia, they annihilated the Islamic State group. The Iranians also helped Shiite militias exhaust and chase American forces from Iraq. The resulting vacuum in Iraq and Syria was filled by the Iranians and their proxies.

Today, Iran is penetrating deeper across the Middle East and is guiding the Shiite majorities in eastern Saudi Arabia and Bahrain. It has also established a foothold among the Houthis rebels in Yemen. Just several days ago, Bahraini forces thwarted a coup attempt orchestrated by the Iranian Revolutionary Guard Corps. At the same time, the Iranians have forged unprecedentedly strong alliances with Hamas and Palestinian Islamic Jihad. Together with their complete control over Lebanon, the Iranians have laid siege to virtually the entire Middle East.

The upper chess board is the international sphere, where the Iranians have secured a nuclear deal. This achievement grants them all the advantages of military nuclear capabilities without the costs. While Iran doesn't have to fear a military strike on its nuclear facilities, sanctions relief and lucrative business deals have provided the immense funds it uses to realize its regional aspirations. In around 10 years, when the nuclear deal expires, no country will step in to stop Iran if it continues developing nuclear weapons, for fear of squandering its vast investments in the Islamic republic.
AJC says Putin's comments on Jews like 'Protocols of the Elders of Zion'
A prominent US Jewish group on Saturday slammed Russian President Vladimir Putin for suggesting earlier in the day that Russians who sought to influence the results of the 2016 US presidential elections could have been Jews, saying his remarks were "eerily reminiscent of the Protocols of the Elders of Zion."

The American Jewish Committee called on Putin to "clarify his comments at the earliest opportunity."

The Protocols was a forged text produced in Russia at the end of the 19th century, which purports to outline Jewish plans to take over the world. It has been used by anti-Semites throughout the 20th and 21st centuries as justification for their views.

The Jewish advocacy group was joined in its outrage by opposition lawmakers in Israel, who called on the government to protest to the Russian government.

"We [are] quite familiar with the oldies 'Maybe Jews run the world, maybe Jews use blood for their rituals, maybe Jews had slaughtered Jews in Poland.' Now comes the latest hit 'maybe Jews meddled in US elections,' tweeted Zionist Union MK Ksenia Svetlova, who emigrated to Israel from Russia.
David Singer:
Israel, Trump and United Nations should boycott Abbas and the PLO
Israel's Prime Minister – Benjamin Netanyahu – has used his address to the American Israel Public Affairs Committee (AIPAC) – to savage the Palestine Liberation Organization (PLO) policy that rewards Palestinian murderers of Israelis and other innocent civilians with lifetime payments.

Netanyahu's PLO-onslaught in front of 18000 people attending the annual AIPAC Conference in Washington was unequivocal and unrelenting:
"But to get peace, to get peace President Abbas has to embrace peace and to stop supporting terror. Raise your hands high if you agree with me that President Abbas should stop paying terrorists who murder Jews. You know how much he pays? He pays about $350 million dollars a year to terrorists and their families, each year. That's about a little less than 10% of the total Palestinian budget. That's an incredible number. He pays Hakim Awad. Hakim Awad is the terrorist who murdered this beautiful family of Ehud and Ruth Fogel and their three children, including a 3 month-old baby girl, Hadas. So he pays Hakim Awad, this murderer, and over the lifetime of this killer, he will be receiving two million dollars."

Hakim Awad - aged 18 – and his 19 years old cousin and accomplice Amjad Awad - each received five consecutive life sentences for murdering the five sleeping Fogel family members in March 2011.

Netanyahu's attack on Abbas comes at a particularly sensitive time politically as:


President Trump mulls over the final details of his "ultimate deal" to resolve the Arab - Jewish conflict
PLO chief – Mahmoud Abbas – has already signaled he will not enter into negotiations with Israel mediated by Trump
Abbas has called on the United Nations to convene an international peace conference by mid-2018 to accept the non-existent "State of Palestine" as a full UN member
The US Senate is currently considering the Taylor Force Act – overwhelmingly passed by the House in December 2017 - suspending US financial assistance to the PLO, and any successor or affiliated organizations until these payments are terminated. Taylor Force – a US citizen – was murdered on 8 March 2016 by a Palestinian Arab during a stabbing spree in Tel Aviv that also injured ten other people.
Israel's Knesset has passed the first reading of a bill requiring such blood-money presently being paid to 35000 Palestinian families to be deducted from the US$2.1 billion in taxes and tariffs Israel presently collects for the PLO.
Abbas - 83 and in poor health – faces challengers to his leadership
Is US foreign aid funding terror?
HR's Daniel Pomerantz goes head to head with PLO executive committee member Mustafa Barghouti on the Palestinian martyrs fund; terror or social security?
PA turns down invitation to White House meeting on Gaza crisis
The Palestinian Authority has turned down an invitation from the Trump administration to participate in a meeting at the White House later this week on the humanitarian situation in Gaza, a Palestinian official said Saturday.

Speaking with the Voice of Palestine radio, PLO Executive Committee member Ahmad Majdalani accused the US of trying to undermine the Palestinian Authority and said there was no need for a meeting because Gaza "is a political issue and not a humanitarian one."

"The United States knows very well that the cause of the tragedy of the Gaza Strip is the unjust Israeli siege, and what is needed is political treatment of this issue," he claimed.

Majdalani, who also serves as an adviser to PA President Mahmoud Abbas, told Voice of Palestine that the White House meeting on the Palestinian coastal enclave "does not come in a vacuum" and is part of Washington's broader effort to further isolate the Gaza Strip from the West Bank and "liquidate the Palestinian national project" altogether.

The rejection comes amid ongoing Palestinian anger over the US's recognition of Jerusalem as Israel's capital and the promise to move the embassy from Tel Aviv to Jerusalem in May.
Israel expected to withdraw bid for seat in UN Security Council
Israel is expected to withdraw its bid for a seat on the United Nations Security Council that it had hoped to secure for the first time this June, with chances of winning considered slim.

To win the seat, Prime Minister Benjamin Netanyahu, who also serves as Israel's foreign minister, and Israel's entire diplomatic establishment, would have to launch an aggressive campaign and meet with foreign dignitaries. Such a campaign has yet to be launched and sources in the Foreign Ministry say the chances of being selected have significantly decreased because the process will have begun so late.

The Security Council is comprised of five permanent members – U.S., Russia, China, France and the U.K. – and 10 nonpermanent members that are selected for two-year terms. Two nonpermanent members are selected from each one of the five regional blocs. Israel currently belongs to the 28-country Western Europe and Other Group, which is represented by Sweden and the Netherlands until the end of 2018.

Previously, between 1949 and 2000, Israel belonged to the Asia-Pacific Group, where an Arab majority automatically opposed any effort on Israel's behalf to serving on the council. In 2000, the U.N. agreed to shift Israel into the Western Europe and Other Group, allowing it to vie for one of the two spots reserved on the council for the bloc.
Honduras, Paraguay said ready to open Jerusalem embassies if Netanyahu visits
After the United States, Guatemala and possibly the Czech Republic, two more countries were said on Sunday to be prepared to move their embassies in Israel to Jerusalem.

Paraguay and Honduras are both ready "in principle" to take the step, provided that Prime Minister Benjamin Netanyahu first makes an official visit to their country, Army Radio reported, quoting a "senior Israeli diplomatic source."

In December, sources in Jerusalem were quoted by the Ynet new website as saying that according to "initial assessments," the two Latin American countries were expected to be among the small group of countries following the US in moving their embassies from Tel Aviv to the capital.

Last month, Honduras was one of only eight countries that opposed a UN General Assembly resolution condemning US President Donald Trump's December recognition of Jerusalem as Israel's capital, along with Guatemala, Israel, the Marshall Islands, Micronesia, Nauru, Palau and Togo.

Paraguay abstained, despite having previously displayed a pro-Israel slant on several occasions.
U.S. warns 'unwise' for Syria to use weaponized gas, slams Russia
US Defense Secretary Jim Mattis warned Syria on Sunday it would be "very unwise" for government forces to use weaponized gas, as he cited unconfirmed reports of chlorine attacks in eastern Ghouta and slammed Russian support for Damascus.

Mattis stopped short of threatening to retaliate against Syrian forces if a chlorine attack were confirmed.

But he noted America's cruise missile strike on April 6, 2017, on a Syrian air base over a sarin gas attack and said President Donald Trump had "full political maneuver room" to take whatever decision he believed was appropriate.

"It would be very unwise for them to use weaponized gas. And I think President Trump made that very clear early in his administration," Mattis said, speaking with a small group of reporters before landing in Oman.

Mattis said he did not currently have clear evidence of any recent chlorine gas attacks but noted numerous media reports about chlorine use.

Rescue workers and opposition activists in eastern Ghouta have accused the government of using chlorine gas during the campaign.
Polish senator calls for Israeli ambassador's expulsion
A Polish senator for the ruling party said he would not shake hands with Israel's ambassador and that he favors her expulsion from Poland for saying antisemitism was on the rise there.

Jan Zaryn said this during an interview published Friday by the wPolsce news site.

"If anyone today thinks to equate in any way the rule of the Law and Justice party to the persecution of Jews led by the communist party apparatus in 1968, or by the marshals, then I certainly will not shake hands with such a person. If this is done by the ambassador of a foreign state, then maybe we have to ask this lady to leave this country," he is quoted as saying.

His comments about Anna Azari come amid a diplomatic crisis between Israel and Poland over antisemitism and the Holocaust. The crisis began with the passing of a law in January that criminalizes blaming Poland for Nazi crimes. Several Jewish groups said the law impedes open debate and risks censoring research. Some critics of the law said it whitewashes what they called Polish complicity.

These allegations unleashed a wave of antisemitic hate speech online and several real-life antisemitic incidents, which Azari last month condemned. According to the Never Again watchdog on antisemitism, the volume of anti-Semitic hate speech in Poland since January exceeds that observed in the preceding decade combined.

Israeli Prime Minister Benjamin Netanyahu last month called "outrageous" the remark of his Polish counterpart, Mateusz Morawiecki, who said in an interview that the Holocaust had not only German, Ukrainian and Polish perpetrators, but Jewish ones, too.

The United States has also publicly condemned Poland's legislation on discourse about the Holocaust and, according to one report, is resolved not to host Poland's senior leadership until the crisis is resolved.
Israel privatizes maker of iconic Uzi submachine gun
Israel is selling state-owned IMI Systems, maker of the Uzi submachine gun, to defense company Elbit Systems for more than half a billion dollars, the finance ministry said on Sunday.

The government began the process of privatizing IMI Systems, formerly known as Israel Military Industries, in 2013.

The firm is the manufacturer of the legendary Uzi submachine gun and the Galil assault rifle. It also manufactures armored vehicles and trains security agents.

According to the agreement, Israel-based Elbit will buy IMI for 1.8 billion shekels ($522 million/424 million euros) and could pay the state another 100 million shekels based on IMI's performance.

Elbit would also relocate the IMI facilities from central Israel to the southern Negev area, a move that would allow real estate development in central Israel and economic development in the Negev, the finance ministry said in a statement.
Gaza resident arrested after crossing into Israel with grenade, knife
The IDF arrested two Palestinians early Sunday after they separately crossed the border fence from the Gaza Strip into Israel, one of them carrying weapons.

The military said in a statement that troops apprehended the two Gazans shortly after they had crossed the fence.

One was found carrying a grenade and a knife. The army said he is suspected of planning to carry out a terror attack in Israel.

One of the suspects is from the north of the Strip while the other was from the south.

The army said the two incidents appeared unrelated due to the different locations.

The two were transferred to security forces for interrogation, likely by the Shin Bet security service.
In sixth incident in months, Palestinians caught trying to bomb court
Security forces on Sunday foiled an attempt to smuggle two pipe bombs into the Samaria Military Court, in the latest of a spate of attempted bombings at the West Bank facility.

Two Palestinians, both 16-year-old residents of Jenin, were detained by Border Police guards at the security checkpoint at the entrance to the court, a police statement said.

Each of them was hiding a pipe bomb on his body, and both were taken for questioning, the statement continued.

The suspects were also found to each be holding a lighter, with which officers suspect they intended to ignite the bombs.

The entrance to the court was temporarily blocked while a sapper inspected the devices, which contained explosives, and neutralized them.

The Samaria Military Court has been targeted repeatedly in the past few months by Palestinians carrying pipe bombs.
Palestinians honor Kuwaiti official for heckling Knesset members
A Palestinian group on Saturday declared Kuwaiti parliament speaker Marzouq al Ghanim "Personality of the Year 2018" because of his verbal attack on Knesset members during an international gathering of parliamentarians in Saint Petersburg, Russia, last October.

Palestinian Authority President Mahmoud Abbas "blessed" the decision, according to Talal Abu Afifeh, chairman of the Jerusalem Intellectuals Forum, the non-profit cultural group that honored Ghanim.

Abbas also praised Ghanim for his "national role in supporting the Palestinian cause," Abu Afifeh said in a statement published by the Kuwait News Agency.

Ghanim was honored because of his positions regarding the just rights of the Palestinian people, the forum said.

Video of the incident showed Ghanim denouncing the Israeli lawmakers who attended the Inter-Parliament Union assembly as "occupiers" and "murderers of children."

Likud MK Sharren Heskel, Yesh Atid MK Haim Jelin, Zionist Union MKs Yossi Yonah and Nachman Shai, and Knesset Secretary Yardena Meller-Horowitz complained that they were heckled while trying to speak at the event.
Palestinian intelligence chief undergoes successful heart operation
Majid Faraj, head of the Palestinian Authority's General Intelligence Service, recently underwent a successful heart operation at a hospital in the United States, according to a Palestinian official.

Two stents were inserted into Faraj's coronary arteries, the official, who spoke on the condition of anonymity, said in a phone call.

Stents, small wire mesh tubes, "keep coronary arteries open and reduce the chance of a heart attack," the American Heart Association website says.

Faraj also underwent a cardiac catheterization at an Israeli hospital some six months ago, according to the official.

A cardiac cathereterization "is a procedure to examine how well your heart is working," the American Heart Association website also says.

On Friday, hundreds of Palestinians and Palestinian leaders welcomed Faraj back to his home in the Dehaishe refugee camp in the Bethlehem area, Maan, a Palestinian news site, reported.
Hamas, Islamic Jihad denounce US meeting on Gaza crisis
The Palestinian terror groups Hamas and Islamic Jihad on Saturday denounced the US administration's intention to convene a meeting of "stakeholders" in Washington to discuss ways of improving the humanitarian crisis in the Gaza Strip.

The two groups claimed that the planned meeting was aimed at exempting Israel from responsibility for the "humanitarian and economic crisis" in the Gaza Strip.

Their comments come after the Palestinian Authority said it planned to skip the meeting.

US Middle East envoy Jason Greenblatt said last week that there will be a brainstorming session at the White House this week "to find real solutions to the problems that Hamas has caused" in the Gaza Strip.

Greenblatt did not name the parties that would participate in the meeting. The US does not deal with Hamas or Islamic Jihad, because they are terrorist organizations.

In response, Hamas accused the US of seeking to "exploit the crises in the Gaza Strip and the suffering of its people, to impose its vision for a solution in the Middle East at the expense of the Palestinians."

Hamas spokesperson Sami Abu Zuhri said that the planned meeting in Washington was also aimed at helping Israel, "which realizes that the situation in the Gaza Strip is on the verge of an explosion, as a result of Israel's deadly policies."

Islamic Jihad, the second largest terror group in the Gaza Strip, said that the meeting had "dangerous goals."
Why Do Western Institutions Allow Iranian Officials to Amplify their Deceitful Messages?
Last month Iran's Justice Minister Alireza Avaei was afforded a platform at the United Nations Human Rights Council (UNHRC) in Geneva, Switzerland. Switzerland is not a member of the European Union (EU), and Avaei is under an EU travel ban for human rights violations.

In the 1980s, Avaei, like his predecessor, Mostafa Pour-Mohammadi, the first justice minister under President Hassan Rouhani, was on a panel that pronounced death sentences on thousands of Iranians who were then summarily executed.

There were a number of critics who saw Avaei's presence at the so-called Human Rights Council to be an affront to the concept of human rights. The United States Ambassador to the United Nations Nikki Haley expressed her opposition in typically blunt terms, "Mr. Avaei is responsible for some of the worst human rights violations in Iran, including preventing political freedoms and promoting repression, violence, and extrajudicial killings of political prisoners."

By allowing Avaei to speak, Haley said, the council made "a mockery of its mandate to promote universal human rights."

It's true that the UNHRC has an awful record and perhaps nothing better could be expected from such an institution. But Iranian officials are welcomed not only at international fora, but also at prominent Western institutions and given a platform to spread their propaganda.

The problem is that Iran is a self-proclaimed revolutionary government and is opposed to Western values and norms. For institutions dedicated to preserving Western values, it makes no sense to give representatives of such governments a platform to promote their contempt.
Court allows expanded lawsuit against American Studies Association and lead faculty activists over Israel Boycott
The American Studies Association (ASA) adopted the Boycott, Divestment and Sanction (BDS) academic boycott of Israel in December 2013.

The academic boycott, which is considered a violation of academic freedom by the American Association of University Professors, was condemned by over 250 university presidents and numerous university associations.

No other major academic association has adopted the academic boycott, though a few small groups have done so. There have been failed boycott attempts at major groups such as the Modern Language Association, American Historical Association and American Anthropological Association. Yet the anti-Israel faculty boycott activism continues, and we can expect more attempts in coming years.

The academic boycott is among many tactics used to silence Israeli and pro-Israeli voices on campuses. Other tactics include systematic shout-downs and disruptions of speakers and events, and the hijacking of other causes in order to repurpose them for the anti-Israel cause. Pro-BDS faculty often are behind this anti-academic freedom and anti-free speech student activism.

A lawsuit was filed in April 2016 over the ASA boycott, American Studies Association and its leaders sued over Israel boycott:
A lawsuit just filed by several distinguished members challenges the ASA boycott, seeks damages against individual officers and National Council members who advanced the boycott, as well as injunctive relief, arguing that ASA exceeded its purpose defined under its constitution and bylaws….

The lawsuit could serve as a model for litigation against other faculty organizations which have been hijacked by anti-Israel activists.
So that "Israel critic" who was (wrongly) asked to censor his ideology to speak at Arizona State University? He's the guy who tweeted these insane anti-Semitic memes in November and then gave the world's worst "I have Jewish friends" apology.

https://t.co/SdzbXl18KH pic.twitter.com/nbxOUeLScz

— (((Yair Rosenberg))) (@Yair_Rosenberg) March 11, 2018
Free Speech Hypocrisy

@imraansiddiqi

and CAIR are suing a university for "violating free speech" cuz they blocked a BDS advocate from speaking.

This is the same Imraan Siddiqi who has advocated blocking

@Ayaan

Hirsi Ali and

@billmaher

from universities.

pic.twitter.com/HDB1xqnJvi

— LALO DAGACH (@LaloDagach) March 10, 2018
Will Lorde's Concert in Florida Be Canceled after She Boycotted Israel?
Florida State Representative Randy Fine called for the cancellation of Lorde's upcoming concert in Florida, following the cancellation of her appearance in Israel in June 2018.

The New Zealand-born singer canceled her concert in Tel Aviv following pressure from BDS (Boycott, Divestment, and Sanctions) movement activists. The current attempt to cancel her show in Florida is based on Florida state law, which prohibits the state from conducting business with organizations that boycott Israel. This campaign is an attempt to create the following equation: if you choose to boycott Israel, there is a price to pay.

Taken at face value, this equation seems sensible. It answers the natural aspiration to make those who have chosen to boycott Israel suffer the consequences of their decision. However, the following questions must be addressed: is this equation necessarily beneficial and effective in the battle against the de-legitimization of Israel?
Capital offenseArgentinian TV show confused about Israel's capital
A television quiz show in Argentina was forced to take an unscheduled break from its live broadcast Thursday while it ruled on which city was Israel's capital.

Playing in the final round to win a car in the show "La Tribuna de Guido," two contestants were asked, "Which country has Tel Aviv as its capital?"

One contestant, Rocío, didn't know the answer, suggesting it was perhaps Iran. The other contestant, Lucas, wrote down "Israel" as his answer, but questioned whether it was in fact correct, given that there has been much discussion about whether Jerusalem is in fact the capital of Israel.

The host was forced to take an unscheduled break while staff considered the issue. Eventually it was decided to invalidate the question.

The show's judges said they needed to "continue checking" since "different sources confirm both" cities as Israel's capital.
Anti-Semitic vandalism in Holland rises 40% to highest level since 2007
The number of incidents involving anti-Semitic vandalism recorded in the Netherlands last year increased by 40 percent, to a 10-year high of 28 cases.

The increase in vandalism was part of a small overall rise in anti-Semitic incidents in 2017 over 2016, the Center for Information and Documentation on Israel, or CIDI, wrote in its annual incidents report, which the group published Saturday. CIDI recorded 113 incidents in 2017 compared to 109 in 2016.

The data was published amid unprecedented developments in public debate on anti-Semitism in the Netherlands. This month, almost all of the political parties contending in
the municipal elections in Amsterdam signed a document vowing tougher action against anti-Semitism.

The move followed a Palestinian man's smashing of windows in December of a kosher restaurant in Amsterdam. Holding a Palestinian flag, he then broke in and stole an Israeli one before being arrested.

Last week, the rightist leader of the Party for Freedom, Geert Wilders, visited the restaurant. The Forum for Democracy party produced for the first time in the history of Dutch politics an ad campaign focused exclusively on anti-Semitism ahead of the March 21 municipal elections.

Four incidents recorded by CIDI in 2017 involved physical violence against people.
Athena in Leicester becomes latest venue to cancel David Icke event following contact from CAA, Leicestershire Police and Leicester City Council
The Athena in Leicester has cancelled a show by David Icke following contact from Campaign Against Antisemitism, Leicestershire Police and Leicester City Council. He has now made a terribly dull 17-minute video haranguing us, the venue, a local counter-terrorism police officer and the Council.

Mr Icke preaches to large audiences that the world is run by an evil group mostly consisting of prominent Jews whom he calls "Rothschild Zionists". He tells his disciples that these "Rothschild Zionists" are in fact inhuman "reptilians" conspiring to cheat all of humanity, with governments, media and banks in their grasp.

We contacted the Athena in Leicester in August last year to alert them to Mr Icke's views. Subsequently, representatives from Leicestershire Police and Leicester City Council approached the venue and made their views clear.

A Leicestershire Police spokesman told the Leicester Mercury: "Leicestershire Police and Leicester City Council were made aware of an event due to be held by David Icke and that a number of letters and e-mails from concerned members of the public had already been received by the venue in Leicester. Representatives from both organisations met with the venue's owners to discuss these public concerns and to ensure the owners of the premises were aware of their obligations under licensing legislation. The venue subsequently decided to cancel the event."

We commend Leicestershire Police and Leicester City Council for stepping in, and the management of the Athena for making the right decision.
Israeli water desalination technique could help relieve Cape Town's thirst
For months, Cape Town, a city of four million people, has been facing the doomsday scenario of taps running dry. The city's Theewaterskloof Dam, a water reservoir which once supplied the city 50 percent of its supply, looks more like a desert area.

Two cataclysmic issues are at the center of Cape Town's water crisis. First, the scarcity of rainfall: in the past three years, the once reliable rains that fell during winter months have disappeared.

Second is the inequity in the distribution of water. South Africa's mostly white wealthy populations have access to water from their taps and its poor, primarily black, inhabitants live in informal settlements that are not equipped with infrastructure to receive clean drinking water, experts say.

Since South Africa has a long coastline, two former Israeli rocket scientists, Moshe Tshuva, the head of the Energy Department at the Afeka-Tel Aviv College of Engineering, and Joshua Altman, the co-founders of Tethys Solar Desalinization (TSD), a Tel Aviv-based startup, say they may have a solution to Cape Town's water issues.

"Cape Town has plenty of sun, coastal seawater, and a need for a quick, affordable solution. TSD can be the perfect solution for the city's water shortage. Our system can be placed outside the city in any vacant area, preferably near the seaside to pump freshwater production into the town's reservoirs," Tshuva, who has been involved in the research and development of solar plants and green energy projects since the early 80s, said in an interview.
The 10 most fabulous Bauhaus buildings in Tel Aviv
There's no better place than Tel Aviv to see sterling examples of the Bauhaus "white architecture" style imported to pre-state Palestine by 20th century European modernists. Tel Aviv, the White City, became a UNESCO World Heritage Site on account of its unrivalled abundance of these simple white, rounded structures.
---
---
We have lots of ideas, but we need more resources to be even more effective. Please
donate today
to help get the message out and to help defend Israel.