From Ian:
Do Jews Get to Define Antisemitism? Yes and No
The prejudice plus power definition of racism would mean that Jews, a group deemed powerful, cannot be victims of racism, and groups deemed powerless cannot be guilty of racism. In this conception, Jews are a powerful group with no legitimate gripes. Acceding to such a definition of racism effectively marginalizes Jewish claims of antisemitism.

Moreover, why should anyone be expected to outsource their thinking to anyone else? We live in a free society where people are allowed to hold and articulate their own views and no one gets to define anything for others. We should not want to be bound by a discourse in which we must defer to others and others must defer to us.

While such thinking comes from the left, it's frequently Jews on the political right who draw from the progressive playbook and weaponize IHRA to silence alternative views. Indeed, Jews who accuse IHRA's opponents of antisemitism are engaging in a form of cancel culture, based precisely on the same suppositions that radical leftist voices use to silence opposition to their dogmas. Ironically, there's nothing in IHRA itself that would justify calling anyone who disagrees with the definition an antisemite. Proponents of an alternative definition of antisemitism have every right to advocate for their position and should not be demonized for doing so.

There's nothing remotely unfair or illiberal when the IHRA definition wins out, as it did in the recently released White House national antisemitism strategy.

By the same token — and a point often lost upon IHRA's critics — Jews who do support the IHRA definition have every right to push vigorously for government adoption of their preferred definition of antisemitism and urge governments to ignore competing definitions. Government policy is not like public discourse with multiple voices. Very often contests to set government policy are winner-take-all: Only one definition of antisemitism will be adopted, and the others will be set aside. There's nothing remotely unfair or illiberal when the IHRA definition wins out, as it did in the recently released White House national antisemitism strategy.

Nor does the IHRA definition, used properly, suppress free speech. Kenneth Marcus, who served as Assistant Secretary for Civil Rights at the U.S. Department of Education and has done as much as anyone to advance IHRA on the American front, states in no uncertain terms that IHRA "does not generally ban, regulate, restrict or punish, all activities that may be described as anti-Semitic within the Definition's meaning." Marcus continues, "The E.O. (Executing Order issued by the Trump Administration invoking the use of IHRA in Title VI cases) protects free speech by directing its usage only as a means of discerning intent."

In other words, the proper use of IHRA is not to prosecute those who engage in antisemitic speech or force everyone to sing from the same song sheet about antisemitism, as much as we might wish we all would, but to aid governments in determining antisemitic intent.

So, yes, Jews should have a major role in "defining" antisemitism as government policy, and no, we don't get to insist that everyone accept our views.
'Willful ignorance the most powerful weapon against Israel'
Ignorance, coupled with a "progressive" worldview which disregards historical fact, is the most powerful weapon in the arsenal of those who seek to deny Israel's right to exist, Israel's diaspora and strategic affairs minister said in Canada on Wednesday.

"In a time of 'relative truth,' some portray the people of Israel as foreigners in the Land of Israel," Minister Amichai Chikli told a gathering of pro-Israel Canadian lawmakers at the Parliament in Ottawa.

The event marked Israel's 75th anniversary and the reunification of Jerusalem in the 1967 Six-Day War.

"We are not foreigners in our home," said Chikli.

"Our ancestors knew there would come a day when there would be those who would claim we have no connection or right to Jerusalem," he added, citing the passage in the Book of Samuel describing how King David insisted on purchasing the Temple Mount.

"However, I don't think they could have fully imagined the depths of absurdity we see today, including condemnations of Israel for building in Jerusalem or for Jews visiting the Temple Mount," he continued.

The Likud minister told the gathering, organized by the Canadian Israel Allies Caucus in the first such commemoration of Jerusalem Day in the Canadian Parliament, that "basic historical facts" are the most powerful weapon for those who support Israel and the Zionist idea in the face of such "shameful ignorance."

The event comes at a time of rising global antisemitism, often in the guise of anti-Israel activity.

Indeed, the competing Israeli and Palestinian narratives were on vivid display at the Canadian Parliament on Wednesday, where an anti-Israel event organized by Law for Palestine and the Palestinian General Delegation to Canada was held on Parliament Hill at the very same hour as the gathering of the supporters of Israel.

"At a time when antisemitism is on the rise, it is critical that Canadian parliamentarians, faith and Jewish community leaders stand together in their steadfast support of Israel," said Canadian MP Dr. Leslyn Lewis, who immigrated to Canada as a young child from Jamaica and who now heads the Israel Allies Caucus.

"Israel is a symbol of freedom, resilience and hope to millions who wish to see the peaceful coexistence of all peoples," she said.
How to Fight Antisemitism
The new White House strategy to counter antisemitism means well. It represents an official effort to combat the ancient curse of antisemitism that seems to follow Jews everywhere they live, even in a country as welcoming as the U.S. This administration wants us to know they have our backs, and yes, we ought to be grateful for that.

The elephant in the room no one wants to bring up is the notion that any "strategy" can ever eradicate a sentiment as immutable as hate. Would Jew haters hate Jews any less if they learned more about the history of antisemitism, or if they learned more about the Holocaust? If antisemites resent Jews because they see us as hard-working and successful, how do we make them stop resenting us? By arguing that we're not that successful?

Complaining projects weakness; pride projects confidence. If the Jewish brand in America comes to be defined by obsessive complaining against anyone who hates us, we'll end up looking weak, insecure and humorless. Who'd want to join that tribe?

Jew hatred is a resilient disease without any known cure. Thankfully, we know that there's a powerful, long-term vaccine against the hate: a strong Jewish identity.
Limited Liability Podcast:
Antisemitism Roundtable
On this week's episode, Rich and Jarrod are joined by Elana Broitman of the Jewish Federations of North America, Stephanie Hausner of the Conference of Presidents of Major American Jewish Organizations and Ken Marcus of the Brandeis Center, for a roundtable on the White House's recently released National Strategy To Counter Antisemitism and what it means for the Jewish community.
61% of Israelis support equal rights for LGBTQ people - poll
61% of Israelis support granting equal rights to LGBTQ people, a new poll by Channel 13 found on Wednesday.

Among Jewish Israelis, the rate of support is even higher, with 68% expressing support and only 17% expressing opposition. Among religious Jews, 33% support granting equal rights to LGBTQ people, while 32% oppose doing so.

Among non-Jewish Israelis, the level of opposition is much higher, with 73% expressing opposition and 22% expressing support.

In terms of same-sex marriage, 52% of Israelis expressed support, while 36% expressed opposition. In comparison, a similar poll last year, 45% expressed support, meaning there has been a 7% increase in support since last year.

Among Likud voters, 50% expressed support for same-sex marriage, with 33% expressing opposition.

Support for same-sex marriage rises among Right Among Otzma Yehudit and Religious Zionist party voters, support for same-sex marriage increased substantially, rising from 4% last year to 19% this year.

The poll comes the day before the Jerusalem Pride and Tolerance March is set to take place, marking the start of Pride Month.
Hamas condemns Jerusalem Pride march, calls for confrontation
The Hamas terrorist movement condemned the Jerusalem Pride march which is set to take place on Thursday, calling for Palestinians to "confront" the march in a statement on Wednesday.

"We, the Islamic Resistance Movement Hamas, strongly condemn the fascist occupation authorities for allowing the organization of a provocative march for 'perverts,' which is scheduled to roam the streets of occupied Jerusalem on Thursday," said the movement.

"We call on the masses of our stationed Palestinian people to confront these measures in defense of the Arabism of Jerusalem and the Islamism of Al-Aqsa Mosque," added the movement. "We also call on the Arab League and the Organization of Islamic Cooperation to condemn these violations and put pressure on the occupation in international forums to stop them, and to strengthen the boycott of the occupation at all levels."
Palestinian factions calling to confront the Jerusalem #Pride because they are so homophobic:

"The Palestinian organizations call for confronting these measures [Pride parade] in defense of the Arabism of Jerusalem and the Islamism of Al-Aqsa Mosque, and call on the Arab League… pic.twitter.com/FyDqxyLuqw

— Emily Schrader - ????? ?????? ????? ????? (@emilykschrader) June 1, 2023
In honor of Jerusalem #Pride today, I'd like to highlight two people who would be most bothered by the joyful events ?????? in the holy city, and the fact Israel ???? has a thriving gay community that will not be silenced!
I hope Arafat and Khomeini can see the parade from hell today! pic.twitter.com/1aH4SRkh2q

— Emily Schrader - ????? ?????? ????? ????? (@emilykschrader) June 1, 2023
Alan Dershowitz:
Taxpayers shouldn't foot the bill for CUNY Law's official antisemitism
New York City and state taxpayers should not be required to pay for this institutionalized hate speech. Let the marketplace of ideas prevail, and let students who agree with Fatima Mohammed's view of American law and Jews attend a private law school that advocates such hatred without governmental financial support.

The government has no obligation or indeed legitimate right to lend its imprimatur to ideologically driven bigotry.

Cutting off government financing may help return CUNY law school to its proper mission of teaching students how to think about the law instead of propagandizing the students about who to hate.

CUNY Law is an embarrassment to the city university system.

It is not a credible place of learning. It is a propaganda mill for radical anti-American and anti-Israel students who should have the right to a real legal education that will prepare them to practice law rather than to spew hatred and foment revolution.

No one should try to prevent Fatima Mohammed from exercising her constitutional right to spread falsehoods about America, Israel or Jews.

But she has no right to have her hate speech receive the imprimatur of our government and the financial support of citizens who disagree with her bigotry.

School officials, including Dean Sudha Setty, applauded as Mohammed spoke at the graduation.

The situation does not pass the shoe-on-the-other-foot test: No reasonable person would support a taxpayer institution that officially espoused hated against African-American or Arab-American students.

Yet that is exactly what CUNY Law is doing against patriotic American, Zionist and Jewish students, alumni and all decent people.

This double standard should not be accepted.
A Jewish man leaves two Muslim women speechless. pic.twitter.com/lFNFfkpmQg

— Israel Advocacy Movement (@israel_advocacy) June 1, 2023
Cruz Hammers CUNY Law School Over Student's Anti-Semitic Graduation Speech
Sen. Ted Cruz (R-TX) slammed the City University of New York Law School on Wednesday after a video clip went viral showing an anti-Semitic graduation speech.

Fatima Mousa Mohammed, selected by the graduating class of 2023 to speak, gave her incendiary speech at the May 12 law school commencement.

"As Israel continues to indiscriminately rain bullets and bombs on worshippers, murdering the old, the young, attacking even funerals and graveyards; as it encourages lynch mobs to target Palestinian homes and businesses, as it imprisons its children; as it continues its project of settler colonialism, expelling Palestinians from their homes … our silence is no longer acceptable," she said, later saying she hoped "the rage" in the auditorium would "fuel the fight against capitalism, racism, imperialism, and Zionism around the world."

Cruz responded to the remarks during an episode of his podcast "Verdict" on Wednesday, describing Mohammed as a "hard leftist."

"The speech she gave was virulently anti-Israel – was slandering Israel with lies," Cruz said. "She was reveling in anti-Semitism, and in a way that there really is no other bigotry that would be as welcome at a college graduation as anti-Semitism. She also, by the way, enthusiastically cheerleads open borders and releasing violent criminals from jail, and she refers to police officers as the, quote, 'fascist NYPD.'"

Cruz declared that Mohammed's remarks were "just a wild lie."
Lee Zeldin rips Kathy Hochul for 'hiding in silence' after CUNY law student's 'hate speech'
Former Long Island Rep. and GOP gubernatorial nominee Lee Zeldin on Wednesday ripped Gov. Kathy Hochul for not forcefully condemning a CUNY law graduate's infamous "hate-filled" commencement speech — calling the Democrat a "disgrace for hiding in silence."

Zeldin is the latest high-profile figure to lash out after footage of 2023 law school graduate Fatima Mousa Mohammed's commencement speech sparked widespread outrage and condemnation.

The Republican accused Hochul of staying silent amid the ongoing saga after her office issued a brief statement to The Post a day earlier saying she has "always been a steadfast supporter of Israel and condemns antisemitism in all forms."

"The situation at CUNY merits her serious attention and bold action," Zeldin said in a scathing statement put out Wednesday.

"The CUNY administration needs to be overhauled, and until Jewish students and faculty can all feel welcome again on campus, taxpayer funding must be immediately suspended.

"On brand, Hochul is demonstrating zero passion, zero outrage, and zero vision."

Hochul, during an unrelated event in Brooklyn Wednesday afternoon said, "I condemn all forms of hate speech. It is divisive. It is hurtful. It is cruel. And I'm calling on everyone across the state to join with us in saying no more. No more hate in our state.

"This is a place where we embrace everyone, and espe
It has now been one full day since EVERY JEW has been completely eliminated from CUNY's top-80 Senior Administration.

Count with us.#NoJewishLeadersInCUNY

— SAFE CUNY (@SAFECUNY) June 1, 2023
No college or university should receive a single dollar of federal education funding if they peddle in the promotion of antisemitism at an event on their campus. That is why I have introduced H.R. 3773, the Stop Antisemitism on College Campuses Act. https://t.co/4fl2RyKhBi

— Congressman Mike Lawler (@RepMikeLawler) June 1, 2023
Claiming that Jews are acting in bad faith when they call out antisemitism is an attempt at discrediting and canceling Jews. Just because some Jewish students are louder than others doesn't mean that they are the only valid opinion or are representative of the Jewish student body… https://t.co/UHkb0XwpM9

— HonestReporting (@HonestReporting) May 31, 2023
CAIR last week: *joins White House as "ally" against antisemitism*

CAIR today: defends blatantly antisemitic rhetoric including conspiracy theories and racist blood libels and bashes the Jewish community.

CAIR is only knowledgeable on antisemitism because they ARE antisemites. https://t.co/6o0OgszPb3

— Emily Schrader - ????? ?????? ????? ????? (@emilykschrader) June 1, 2023
This you? https://t.co/HLGRlb31HL pic.twitter.com/jBV7ViWV30

— ????-Amir (@amir_zvi) May 31, 2023
Zionism *and* America saved my great grandparents (not the same ones) from murderous antisemites, btw. But when Zionism saved my maternal grandfather's family from the Nazis, America was turning shiploads of Jews away.

— Lahav Harkov (@LahavHarkov) June 1, 2023
University student union officer slammed after saying 'I'd back Hamas in a conflict with Israel'
A students' union leader at a London university that has launched an investigation into antisemitism on its campus has said she would support terror group Hamas in a conflict with Israel.

Islam Alkhatib, a student official at Goldsmiths, University of London, whose role is to "dismantle the barriers between our members", also recently said she mourned the death of a prominent Palestinian terrorist leader. tweet

Alkhatib's post lamenting the death of Islamic Jihad leader Khader Adnan (Photo: Twitter)

Details of the comments by the welfare and liberation officer come after the university called in a senior barrister to investigate anti-Jewish hate at the institution.

Last month, Goldsmiths announced it had set up the probe after a leading Jewish academic was falsely accused of being a "far-right white supremacist" and Jews complained they had been banned from a student meeting that discussed "defending Palestine".

However, earlier in the same month, Alkhatib posted a social media message lamenting the death of Islamic Jihad leader Khader Adnan, who died after an 86-day hunger strike in an Israeli prison. She wrote: "No words could possibly describe or speak to this loss." goldsmiths

Adnan was a prominent member of Islamic Jihad, which is banned in the UK, and has been linked to a string of suicide bombings. Alkhatib's comments came after she previously registered her sympathy for the now-outlawed terror group Hamas.

Posting on Twitter in 2015, she said: "I clearly don't identify with the ideology Hamas promotes. However, in the event of a conflict between Israel and the Palestinians, I would take Hamas' side. (Duh)."

A spokesperson for Campaign Against Antisemitism said: "We welcome Goldsmiths' investigation into antisemitism on campus.

"This latest revelation of extremist rhetoric from its students' union welfare and liberation officer [shows] that this independent investigation could not come quick enough."

A spokesperson for the Union of Jewish Students said they were concerned by Alkhatib's posts, adding: "Student leaders should be mindful of their language and the impact of their words.
Labour seeking to settle in '£20million' antisemitism legal battle
Labour is hoping to settle a series of legal battles with whistleblowers who exposed antisemitism within the party, the JC can reveal.

An independent mediator has been called to try to find a way of ending the ongoing litigation.

The case could cost Labour, which reported a £5 million deficit in its last accounts, as much as £20 million in costs and payouts were it to lose, legal experts have claimed.

Mediation sessions with two separate groups of claimants are due to take place over the next few weeks in the hope of thrashing out a settlement.

The party is hoping to avoid fighting the politically damaging court cases, which would remind voters of the controversy over antisemitism that dogged Labour when Jeremy Corbyn was its leader.

If settlements cannot be reached, full hearings will take place next year, in the run-up to the next general election.

The cases all involve individuals whose personal details were leaked in a report intended for the Equality and Human Rights Commission (EHRC) which was investigating the Party, in 2020.

The 850-page report, which was never submitted to the watchdog, was leaked shortly after Sir Keir Starmer replaced Corbyn as leader in April 2020.

Nine of the whistleblowers taking the action, who were all members of Labour Against Antisemitism, claim the party breached their data protection rights and left them open to vicious online attacks including chilling "calls to action" from neo-Nazi groups.

A second group of 21 claimants, represented by solicitor Mark Lewis, are suing the party for breaching their data protection rights and for defamation.
David Miller - the man hundreds of
progressive British academics signed a statement of solidarity for because they didn't see his conspiratorial antisemitism as an issue - is now retweeting far-right activists putting Jews in the frame for the JFK assassination.
Yes, really. pic.twitter.com/7pXQP351uB

— Marlon Solomon (@supergutman) May 31, 2023
Ilan Pappe is a suitable speaker for the hateful "Palestine Solidarity Campaign" crowd.

He calls the notorious antisemite and convicted criminal vandal Tony Greenstein "a courageous and committed fighter against antisemitism".

He has also backed the ultra racist David Miller. pic.twitter.com/W5M5iJ8CyW

— habibi (@habibi_uk) June 1, 2023
Roger Waters UK tour: Arenas hosting shows could be vulnerable to legal action, lawyers warn
Arenas hosting the UK leg of Roger Waters' controversial tour have come under mounting pressure to call off the shows.

Venues could be leaving themselves open to legal action if the Pink Floyd musician "stirs up religious hatred" on their premises, lawyers have claimed.

Waters, 79, will play a string of shows in Britain, at the Utilita Arena in Birmingham, Ovo Hydro in Glasgow, O2 in London and the AO Arena in Manchester.

He is currently under investigation by German police after donning an SS-style uniform on stage in Berlin last month, but did not wear this outfit on stage last night in Birmingham, where he kicked off his UK tour.

However, the International Legal Forum (ILF), a network of lawyers and activists, has written to the Birmingham, London and Manchester venues urging them to "consider cancelling" the gigs in light of Waters' "offensive display" abroad.

Such a display could breach UK law, it warned, citing the 1986 Public Order Act, and the 2006 Racial and Religious Hatred Act, which deems it a criminal offence "to stir up religious hatred".

The letter stated: "Whilst we firmly believe in the power of artists to express their freedom and to push boundaries of art, they do not have carte blanche to incite religious or racial hatred, and distort the Holocaust, including the systematic annihilation of six million Jews."

It follows appeals from other organisations to cancel the shows. Ahead of Waters' first UK gig, members of Birmingham City Council wrote to the NEC Group, which owns the arena at which he performed this week, to express their concerns.
Activists plan 'Just Stop Oil' style protests to disrupt Roger Waters' UK tour
Jewish activists are planning a guerrilla campaign to disrupt Pink Floyd musician Roger Waters' British tour, which began this week.

The singer, 79, has provoked controversy in the past by comparing Israel to Nazi Germany, attacking the "Jewish lobby" and, in 2013, flying a pig-shaped balloon emblazoned with a Star of David at a concert.

In February, Polly Samson, wife of Waters' former bandmate Dave Gilmour, called him "antisemitic to your rotten core" and a "Putin apologist". Waters responded by refuting her claim, saying he was "taking advice" as to his position.

The musician is also under investigation by German police after he wore an SS-style uniform on stage in Berlin last month.

The costume included a black leather trench coat and a red armband emblazoned with two crossed hammers. Displaying Nazi symbols, flags and uniforms is illegal in Germany.

British campaigners have told the JC that they plan to crash Waters' UK tour, which will see him perform at major arenas in Birmingham, Glasgow, London and Manchester.

Activists are planning demonstrations and stage invasions involving Israeli flags, banners, leaflets and other means of disruption.

Some said they were inspired by the tactics of radical climate campaign group Just Stop Oil, which has brought motorways to a halt and delayed sporting events to protest against climate change.

"Are we going to throw blue and white powder, like they do? We could do," one activist said, speaking on condition of anonymity. Another added: "We don't support Just Stop Oil, but their protests have been very effective."
This is a disgrace by the @guardian.

Waters' antisemitic rhetoric is not a difficult case where there are reasonable positions on both sides. It's clear when you listen to him speak.

The Guardian shouldn't publish material that whitewashes it him.https://t.co/NjRaXIvRLB

— David Hirsh (@DavidHirsh) June 1, 2023
Roger Waters deepens his antisemitism by accusing Israel of trying to "absolutely destroy" the entire Labour movement in the UK.

The "aspirations of the working class are being thrown down the toilet" because of "Zionists".

Antisemites are always the 'victims' of Jews. pic.twitter.com/sW5VEJF3Ly

— Heidi Bachram (@HeidiBachram) May 31, 2023
I am on my knees *begging* you all to read "People Love Dead Jews" by Dara Horne, which has an entire chapter on Anne Frank. pic.twitter.com/KJtxkQCFCg

— Daniel Sugarman is on holiday (@Daniel_Sugarman) June 1, 2023
Jewish Voice for Peace says they stand with Fatima Mohammed. Of course. Just like they stood with antisemite Walid Khass, a doctor who threatened to kill Jews, Hatem Bazian, Roger Waters, Rasmea Odeh, Linda Sarsour & Ilhan Omar, among many, MANY other antisemites. pic.twitter.com/l1EBB4dyd1

— Canary Mission (@canarymission) May 31, 2023
1/At an anti-Israel rally in Philly last summer, one particularly vile chant stood out from all the "usual" antisemitic vitriol. "Hey, hey! Ho, ho! The yahoodi [Jew] must go!" Here's the culprit: https://t.co/4YTUBuAjNE pic.twitter.com/rJcWYZBs9N

— Canary Mission (@canarymission) June 1, 2023
3/Nada El-Hillal was one of the leaders of the march. She called for the complete destruction of the only Jewish state in the world. On social media, she has promoted a neo-Nazi. https://t.co/Tb0MucCImp pic.twitter.com/MUayPbdG6h

— Canary Mission (@canarymission) June 1, 2023
5/Johara Shamaa, SJP activist @TempleUniv, was also a rally leader. She is a pre-med student, student advisor, volunteers at a hospital & works in a pharmacy. At the rally, she called for violence & Israel's destruction. https://t.co/O6xJz12dU5 pic.twitter.com/EPRGqFCr1R

— Canary Mission (@canarymission) June 1, 2023
Quebec Educational Journal Used By Teachers Spreads Anti-Israel Disinformation
Le Curieux, a Quebec educational journal used by the province's teachers to plan lessons, recently dedicated space to Israel and its recent 75th anniversary.

Unfortunately, rather than providing a neutral, balanced and educational resource for its readers, Le Curieux repeated falsehoods about Israel.

In its May 17 edition, the journal shared with its readers a brief summary of Israel's modern history, titled "Israel exists 75 years." According to the text in Le Curieux: "The United Nations Organization (UN) divided the territory of the Palestinians to give 60% of it to the Jews so that they could create their State (country). Previously, Jews lived in different countries in the world."

This is an inaccurate retelling of history.

The British Mandate, the administration of the land in question, was created on authority of the League of Nations (the precursor to the United Nations) in 1922, and gave the British government control (i.e. a mandate) over the area.

In 1947, the United Nations General Assembly passed Resolution 181, which was the UN Partition Plan for Palestine, which recommended dividing the land into separate Jewish and Arab states, along with an international zone for Jerusalem. While the Jewish community accepted the plan, the Arab leadership rejected it.

In any case, Resolution 181 served as an important basis in international law for the reconstitution of a Jewish state in the Jewish People's ancestral land, in contrast to those who allege that the country exists without legal legitimacy.

Although the text in Le Curieux seems to suggest that Israel was devoid of Jews when it was created, this is untrue. When Israel declared its independence from the United Kingdom in 1948, there were already 600,000 Jews living in the land. But this is also not the full story. Jews have lived in the land of Israel for three thousand years, despite repeated foreign invasions by occupying empires such as the Romans, Greeks, Byzantines, Ottomans and others.
NY Times' Raja Abdulrahim Continues to Whitewash Islamic Jihad
While in college, Raja Abdulrahim brashly defended Hamas and Hezbollah.

While working for the New York Times, she defends Hamas and Islamic Jihad with a touch more subtlety.

As we noted earlier this month, Abdulrahim's May 8 overview of Islamic Jihad absurdly stated that the terror group was created "to fight the Israeli occupation" rather than to fight Israel's existence; concealed the fact that Israel's strike on Islamic Jihad leaders came a week after the group fired barrages of rockets and Israel—and that Islamic Jihad claimed responsibility for those rockets; and ignored the fact that those rockets are war crimes.

Today, the Times reporter continued apace with a follow up piece on the recent fighting.

Yet again, Abdulrahim deceives readers by casting Islamic Jihad, which is sworn to the destruction of Israel and its replacement with an Islamic state, as merely opposed to Israel's occupation: "The groups have wide support among Palestinians for their resistance to the Israeli occupation," she writes in reference to what she calls Gaza's "armed groups."

Yet again — in a story specifically about the impact of Israel's retaliation after Islamic Jihad rocket barrages — Abdulrahim never straightforwardly acknowledges that the group fired those rockets.

Instead, she cultivates doubt by referencing the rockets as mere Israeli claims: "Six senior leaders of the armed group that Israel said had been responsible for rocket attacks on Israel were killed before a cease-fire was reached on May 13," she wrote, ignoring both that Islamic Jihad claimed responsibility for the attacks, and that those attacks, which prompted Israel's operation, happened just a week earlier. (Indeed, every one of the piece's references to Palestinian rockets referenced the rockets as an Israeli allegation.)

And yet again, a New York Times piece discussing Palestinian rockets avoids telling readers that those indiscriminate rocket attacks violate international law.
The Times promotes Jeremy Bowen's misleading charge against Israel
However, in this case, it is the Times reporter who failed to provide "context" about the events in Lebanon to which he alluded. Malvern, echoing the version that Bowen himself has consistently promoted, egregiously misleads readers.

As we've documented here in the past, early on the morning of Tuesday May 23rd 2000 – the day before the completion of the Israeli withdrawal from southern Lebanon – an IDF tank crew stationed on the border fence near Kibbutz Menara received an intelligence alert concerning the likelihood of terrorists firing anti-tank missiles at IDF tanks and armoured vehicles. Later in the day, the crew spotted a Lebanese vehicle transporting men in civilian clothing and suspected that these were Hezbollah terrorists carrying equipment for firing an anti-tank missile. The tank crew was given permission to fire at the suspected terrorists.

Later it emerged that the men were actually a BBC film crew headed by Bowen and that driver Abed Takkoush had been killed. The IDF investigated the incident and issued an apology.

Though Bowen does not accept that it was possible to mistake three men travelling in a war zone in a car with Lebanese plates, and carrying camera equipment, for Hezbollah terrorists dressed – as was very often the case – in civilian clothing, it's egregiously misleading for the Times reporter to omit that version of events.

We've complained to Times editors, asking that they acknowledge Israel's version of events.
Read more of @MaryKenny4's poorly researched words here ??https://t.co/FSX0FdNLQw

— HonestReporting (@HonestReporting) June 1, 2023
CAMERA Letter to the Editor in the Washington Post Don't Trust Hamas
The May 10 news article "3 Islamic Jihad leaders among 15 reported killed in Israeli strikes on Gaza" repeated casualty claims made by "Palestinian health officials" yet failed to provide readers with important context and details.

As the Committee for Accuracy in Middle East Reporting and Analysis and others have documented, the "Palestinian Health Ministry" is an arm of Hamas, the U.S.-designated terrorist group that rules the Gaza Strip. It reports to Hamas and is funded by the group, whose leaders call for the destruction of the Jewish state.

Hamas has a long history of encouraging civilian casualties by using human shields. It has even hidden weapons in schools, according to a 2015 United Nations investigation and, as recently as the 2021 conflict, employed ambulances as "transport vehicles" and hospitals as "command centers."

Along with Islamic Jihad, another Iranian proxy based in Gaza, Hamas routinely fires missiles at Israel from behind the cover of civilians — a double war crime.

In a 2018 interview, Hamas official Mahmoud al-Zahar admitted to Al Jazeera that the group believed in "deceiving the public" for propaganda purposes.

Trusting a Hamas-run "ministry" to provide reliable casualty counts is like trusting a fox to guard a henhouse.

Sean Durns, Washington
Evolving stories told by the BBC's international editor
As noted here previously, on May 30th the Times published an article by Jack Malvern about the promotional appearance the previous day of the BBC's international editor Jeremy Bowen at the Hay literature festival.

In our earlier post we documented the failure of the Times to provide essential context concerning an incident that took place during Israel's withdrawal from southern Lebanon twenty-three years ago which is described in the article as follows:
""It really gets my goat when there's a story with a journalist talking about how they feel," he [Bowen] told an audience at the Hay Festival of literature. "I don't give a damn about how they feel."

He said they should "explain the human challenges, what it's like to be there, what it's like to be the person who's [sic] village has blown up. And at the same time I think you have to put in some context about why it's happening."

Bowen, 63, said that he had often felt distressed by events he reported on, including when he witnessed the death of Abed Takkoush, his driver, who was killed in south Lebanon when the Israeli army fired a tank shell into his car. The tank crew also tried to kill Bowen and his cameraman."

Seeing as Jeremy Bowen has repeatedly written and spoken about that incident (especially around its anniversary in late May), it is possible to look at the evolution of the claim that an Israeli tank crew "tried to kill Bowen and his cameraman".
Yad Vashem: Polish parliamentarian's effort to silence historian 'a new low'
A member of the Polish parliament allegedly assaulted a Polish-Canadian historian on May 31 who suggested that Poland was complicit in Nazi atrocities.

Jan Grabowski was speaking at the German Historical Institute in Warsaw when Grzegorz Braun reportedly took the microphone from his hand, smashed it into the podium and sought to disable the sound system before police intervened.

"This incident represents a new low in attempts to stifle discussion about the complicity of Poles in the persecution and murder of their Jewish neighbors during the Holocaust," stated chair of Yad Vashem Dani Dayan.

"This act of vandalism is more than an ugly attack on an internationally renowned scholar. It is an attack on academic freedom, on the historical record and on Holocaust remembrance," he said.

According to a Google translation of a statement Braun made in Polish, the politician said he was protecting "the Polish nation against a provocative attack on our historical sensitivity."

Braun has been described as far-right and a proponent of antisemitic conspiracy theories. "The American empire here is the political and military tool of Jewish blackmail against Poland," he has said.
Meet Bishop Nathanyel AKA Nathaniel Ray, leader of @IUICOfficial. This is what an antisemitic cult looks like. https://t.co/sp4wWrukdh pic.twitter.com/G2S9VENppQ

— Canary Mission (@canarymission) June 1, 2023
Baltimore County, MD - residents of Monkton, Sparks, & White Hall woke up to antisemitic flyers compliments of the white supremacist group 'Goyim Defense League' (GDL).

GDL leader Jon Minadeo II, currently living in Boca Raton FL, was recently arrested in West Palm Beach. pic.twitter.com/Q2kiDa10lZ

— StopAntisemitism (@StopAntisemites) June 1, 2023
Holocaust memorial project marks milestone with 100,000 'stumbling blocks'
The world's largest grassroots Holocaust memorial project has laid its 100,000th personalized plaque, as the US ambassador to Germany honored her family members who fled the Nazis with an emotional ceremony.

When sculptor Gunter Demnig started the Stolpersteine, or "stumbling blocks," initiative three decades ago, he had little idea it would spread to more than 20 countries in Europe and crystalize many of the fraught contemporary questions around historical remembrance.

Each block, or Stolperstein, the size of a cobblestone, bears a stark engraving with the name of a victim, birthdate, date of deportation or escape and, if known, date and place of death.

The shiny brass of the plaques, embedded in the pavement in front of the victim's last home, catches the light, encouraging passers-by to stop and read the small inscriptions.

Last Friday, Demnig placed the 100,000th plaque in Nuremberg, the German city associated with the Nazis' giant torchlight parades and the 1935 race laws that stripped Jews of their rights.

On Tuesday, he joined US Ambassador Amy Gutmann in the picturesque southern city of Feuchtwangen to lay eight blocks for her German Jewish relatives.

"As the US ambassador, the daughter of Kurt Gutmann, a Jewish refugee from Feuchtwangen, I feel like we have come full circle from trauma to tribute," she said.
Lyn Julius:
The Farhud and the Palestinian 'cause'
Have you heard of the Farhud? Chances are you haven't. This anti-Jewish massacre—Farhud means "forced dispossession" in Arabic—took place 82 years ago this week in Iraq. Yet a recent poll found that only 7% of Israelis have heard about it.

On June 1-2, 1941, at least 180 Jews were murdered in Baghdad and Basra—the figure could have been as many as 600—2,000 were wounded and 900 homes and 586 Jewish-owned businesses were destroyed. There was looting, rape and mutilation. Stories abound of babies murdered and Jewish hospital patients being refused treatment or poisoned. The dead were hurriedly buried in a mass grave.

The Farhudsounded the death knell for the ancient Jewish community of Iraq. More "Farhuds" decimated other Jewish communities in Arab countries, leading to a mass exodus. Most of these Jews fled to Israel, where they and their descendants comprise over half the Jewish population.

Besides the general ignorance of the Farhud, the Palestinian role in it is almost unknown. In fact, the infamous Grand Mufti of Jerusalem, Haj Amin al-Husseini, helped lay the groundwork for the massacre.

The Farhud, in other words, was proof that anti-Zionist "resistance" to the Jews of Palestine had spilled over into unabashed antisemitism directed against the Jews of the Arab world.

The Mufti himself spent two years in Iraq beginning in 1939. He arrived with 400 Syrians and Palestinians, most of them teachers. In April1941, the Mufti backed a pro-Nazi coup led by Rashid Ali al-Gilani and four military officers. Theirs was the only Arab regime to sign a treaty with Nazi Germany.

Throughout the Middle East, Arab public opinion was mostly pro-German. A poll carried out on behalf of the U.S. consulate in Jerusalem in Feb. 1941 found that 88% of Palestinian Arabs wanted the Nazis to win the war.
In 1948 #Iraqi #Jewish millionaire Shafiq Ades was falsely accused of being both a #Communist and a #Zionist by Iraqi authorities

He was hanged in front of his house in Basra #Iraq

This event, 7 years after the #Farhud, marked the tragic end of Iraq's ancient Jewish community https://t.co/KzVT1KhuIV pic.twitter.com/vKs4iJNouQ

— Zechariah Shar'abi | ????? | ????? (@ZechariahSharab) May 31, 2023
Remembering the Farhud - a brutal pogrom against Iraqi Jews incited by Nazi allied gov in Iraq June 1-2, 1941.

Jews were murdered, beaten, raped and robbed by their own Muslim neighbors on the Jewish holiday of Shavuot. 180 killed, 2000 injured, 1500 shops and homes destroyed. pic.twitter.com/WP9J4He1zp

— Emily Schrader - ????? ?????? ????? ????? (@emilykschrader) June 1, 2023
Linda Abdul Aziz Menuhin was born in 1950 to an affluent Jewish family in Baghdad, at a time when most Jews had already fled Iraq.

Jewish roots in Iran go back to 586 B.C.

Jews were an integral part of Iraq's tapestry & in the 1920s were 25% of Bagdad's population. pic.twitter.com/Ib5XjEdvIR

— Israel ????? ???? (@Israel) June 1, 2023
"Jerusalem Police Uncover Stolen Stamped Roman Legion Bricks in the Trunk of a Car"
Dozens of ancient floor tiles bearing the seal impressions of the 10th Roman Legion were seized by the Jerusalem Police last Tuesday night. The tiles were probably used as part of the floor of a public building, possibly a bathhouse.

Jerusalem Police detectives who were operating in the Beit Hanina neighborhood discovered several covered cardboard boxes in the trunk of a vehicle, which aroused their suspicion. Upon inspection of the contents, it became clear that these were archaeological findings. The police arrested the owner of the vehicle and called the supervisors of the Robbery Prevention Unit of the Israel Antiquities Authority. IAA inspector arranged the retrieved stolen 10th Legion bricks. / Robbery Prevention Unit of the Israel Antiquities Authority

When IAA inspectors arrived at the police station, they were amazed to discover that the suspect had in his vehicle dozens of ancient bricks that are approximately 2000 years old, from the Roman era, with seals and imprints of the 10th Legion on them. Evidence found on the bricks suggested they had been recently uprooted from an antiquities site in the area.

According to Amir Ganor, Director of the IAA Robbery Prevention Unit, the bricks were likely used as part of the floor of a public building, or an oven that stood in a bathhouse and was used by the soldiers of the Roman legion.

The 10th Roman Legion (Legio X Fretensis) arrived in Eretz Israel in the year 6 BCE and helped established Roman control of Judea. Between the years 66-70 CE, the 10th Legion fought against Jewish rebels in Galilee, the Judean desert, and the Jerusalem area, until the destruction of the city and the Temple.
Israel celebrates Independence Day in Bahrain
The Israeli Embassy in Bahrain hosted a reception Wednesday evening to celebrate 75 years of the State of Israel.

The event, held at the Wyndham Grand Manama Hotel, featured dishes by the Arab-Israeli chef Elias Mattar, who cooked a fusion of Israeli-Jewish and Arab-Bahraini foods. Entertainment included a "video art" dance show by the group "Tzuza" and an exhibition of photos called "Israel through the eyes of young Bahrainis," taken by the Bahraini young delegation that had visited Israel last year.

Eitan Na'eh, ambassador of Israel to the kingdom of Bahrain, spoke about blossoming Israel-Bahrain ties, notably the first-ever state visit of Israel's President Isaac Herzog last December.

During his stay in Bahrain, Herzog met with King Hamad bin Isa Al Khalifa, Bahraini government officials, and members of the local Jewish community.

Israel, Bahrain signed document to launch formal ties in 2020
Israeli and Bahraini officials signed a normalization declaration in the capital Manama in October 2020 that launched diplomatic relations and peace between the two countries.
Alfred Moses bought the Codex Sassoon for more than $30 million. He just saw it for the first time.
On Wednesday morning, Alfred Moses, 94, sat in a small white armchair at a round wooden table in a Manhattan office building as a historian gingerly turned the pages of a more than 1,000-year-old book in front of him.

Two weeks earlier, Moses had paid a record-setting sum for the book — more than $38 million in total. But this was the first time he had ever seen it.

The book was the Codex Sassoon, the world's oldest nearly-complete copy of the Hebrew Bible, and Moses had purchased it on behalf of the ANU Museum of the Jewish People in Tel Aviv. That morning, in Sotheby's Upper East Side office, Sharon Mintz, the auction house's senior Judaica specialist, was giving Moses and some of his relatives a history lesson on his new acquisition.

Mintz turned the pages with clean, bare hands, noting the scored ruling between the lines of text and the thickness of the parchment pages — made somewhat thinner in places where scribes scratched over each others' notes. Before Moses bought the book at a much-anticipated Sotheby's auction on May 17, the codex passed between multiple owners — most recently through the hands of Jacqui Safra, a member of the prominent banking family, and before him, in the 1920s, Jewish book collector David Solomon Sassoon.

It will now be housed at the ANU Museum, which exhibited the codex earlier this year.

"It's an inspiring book, to see a 1,200 year old manuscript in perfect [condition] — even that we can read today — it's quite amazing," Moses said. "It has the vowels and the trope … it's remarkable. It's something that's been preserved for 1,200 years. And we're the beneficiaries of it."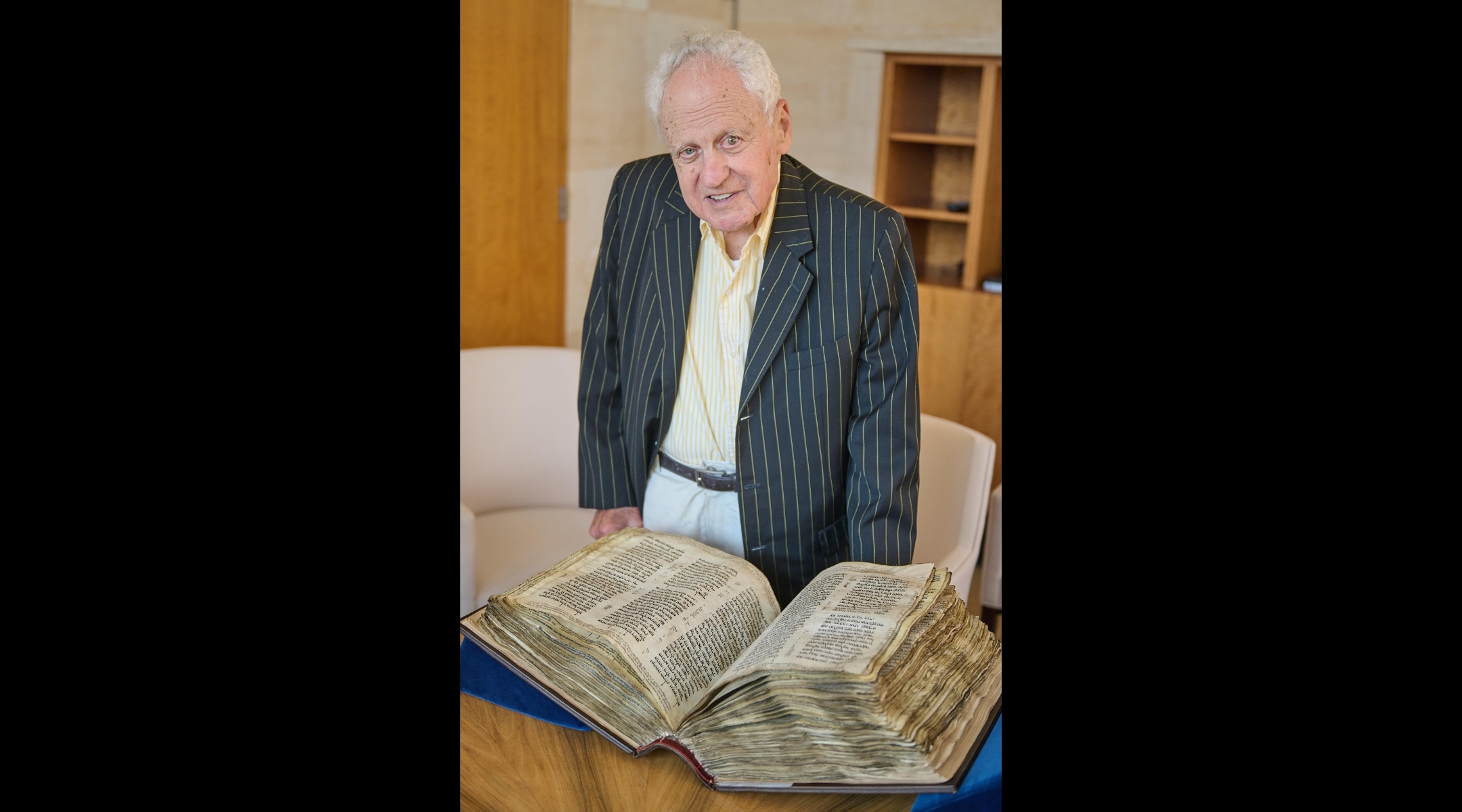 Why Are Israelis So Happy, and Why Isn't It Newsworthy?
The most compelling interpretation was given by Miriam Shaviv in The Jewish Chronicle. She asks how residents of a country subject to wars, existential threats, terrorist attacks, and internal tensions, can be so happy?

The answer lies in the exceptional level of social support, characterized by strong family and community ties, experienced by Israelis: "Even secular Israelis will have Friday night dinner together regularly and come together to celebrate festivals, Independence Day, births, bar and bat mitzvahs and huge weddings."

Shaviv points out that the latest report is based on data collected before the recent judicial review protests engulfed Israel. While it is possible that the rankings will go down, she doubts it. To her, the protests are indicative of the strength of Israel's social fabric, and the demonstrations have only re-enforced the sense of solidarity and kinship among its citizens.

A number of mainstream media outlets have reported the latest Happiness Report results, but there has been little or no notice of the substantial jump in ranking for Israel. The New York Times recently published an article on Finland's consistent number one happiness position, but nothing about Israel.

News stories predicting doom and gloom for the Zionist enterprise are not uncommon. Just look at the titles of recent articles published in The New York Times by Thomas Friedman and Isabel Kirshner. Are these merely examples of good critical journalism, or is there more to it? What is it that makes bad news about Israel so engrossing, while good news is not welcome?
---
---
Buy the EoZ book, PROTOCOLS: Exposing Modern Antisemitism today at Amazon!

Or order from your favorite bookseller, using ISBN 9798985708424.

Read all about it here!