From Ian:
National Review:
Biden's Policy of Weakness Toward Iran
Instead of signaling to the Iranians, as President Trump did, that the U.S. will hold them directly accountable for the actions of the militias under their control, the new team appears to have let it slide without a direct warning to Iran.

And as Yemen's Houthi rebels continued their assault on civilian areas, Biden lifted the Foreign Terrorist Organization designation of the Iran-backed group.

Worst of all, though, the Biden administration has extended this olive branch to Tehran following a report this month revealing that the International Atomic Energy Agency found new Iranian uranium-metal production in excess of JCPOA limits. Meanwhile, Iran is threatening to curtail IAEA inspections following a February 23 deadline set by parliament if the U.S. doesn't cave.

Contrary to what some Iran appeasers argue, this bad behavior is not the result of the Trump-era maximum-pressure campaign. Tehran is escalating now because it sees an opportunity to strong-arm Biden into lifting sanctions first.

Since Thursday, the calls for talks by Jake Sullivan, Blinken, and the president himself have been taken less as a sign of magnanimity than of weakness. Already, Iranian foreign minister Javad Zarif has reiterated his demands for sanctions relief as a prerequisite for any talks about U.S. reentry into the JCPOA.

At least the administration hasn't budged on sanctions — yet. But unless Biden is forceful in pushing back on Iran's tests of his resolve, yet more will come and perhaps force the kind of crisis that the president wants to avert.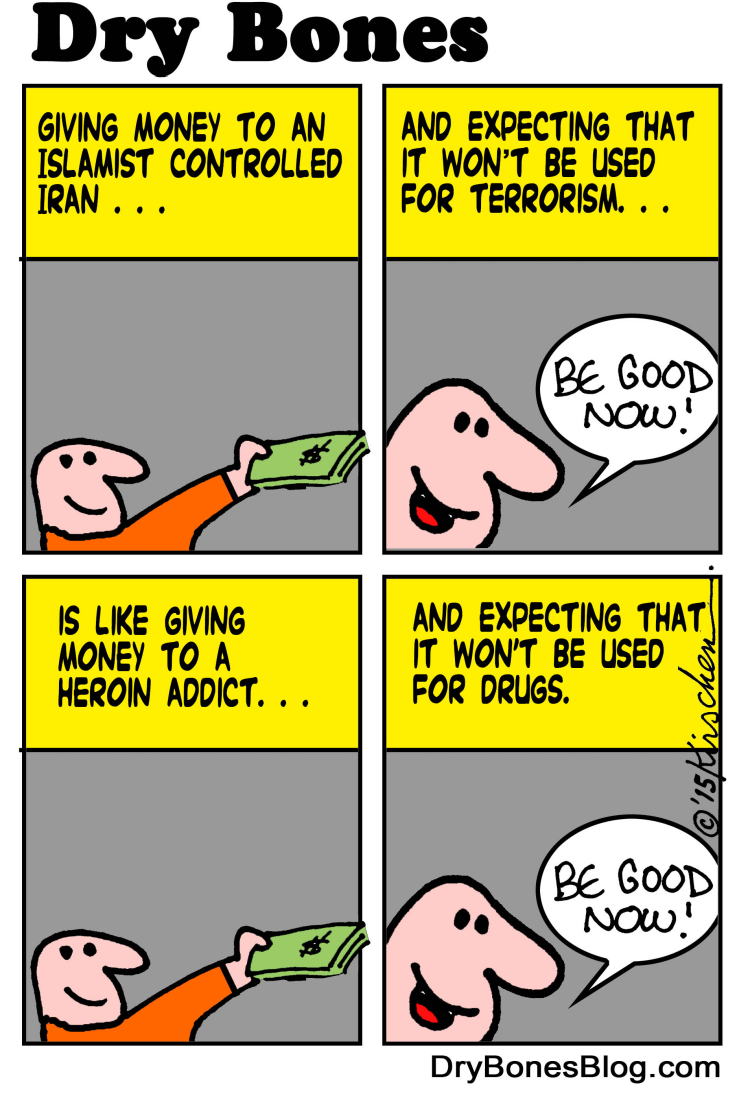 PMW:
How much did PA spend on terror salaries in 2020?
Since the beginning of 2020, the Palestinian Authority (PA) has been trying to hide the financial record of its payments to the Palestinian terrorist prisoners and released terrorists (together hereinafter "the terrorist prisoners"). In 2018 and 2019, the PA monthly budget performance reports clearly listed the transfer expenditures of the "Ministry of Prisoners' Affairs," which was primarily the payments to terrorist prisoners, as 502 and 517 million shekels respectively. In 2020, the budget category of the "Ministry of Prisoners' Affairs" (later by the PA called the Commission for Detainees' Affairs) was removed altogether. However, throughout 2020, numerous statements by PA and PLO officials confirmed that the PA continued to pay hundreds of millions of shekels a year in terror rewards. Consequently, it was clear that the PA had decided to pay terrorists in a roundabout way so that there would be no reference to the salaries at all in their budget.

Palestinian Media Watch has examined the PA's financial reports throughout 2020 and can now report both where the payments are being hidden, and that the amount the PA spent on terrorists salaries in 2020 was no less than 512 million shekels.

The salaries the PA paid to terrorists in 2019 via the Ministry/Commission of Prisoners' Affairs, were paid in 2020 through the PLO. Under the budget listing of PLO "transfer expenditures" the PA's payments through the PLO rose more than 300% in 2020, from 161 million shekels to 673 million shekels. The additional expenditure - 512 million shekels - is the minimum amount the PA paid to the terrorist prisoners and released terrorists in 2020.

Why did the PA make this accounting change in 2020?
As a recipient of international funding, the PA must show full transparency and publicly list all its expenses, whereas the PLO is not accountable to anyone for how it spends its money. The PA wants to prevent the international community from seeing listings like the one below in its "budget performance report" of 2019, which shows 517 million shekels for salaries to terrorist prisoners listed under the "Commission of Detainees' Affairs". (Note: the 517 million shekels in the right column are the salaries to terrorists, while the 619 million shekels in the left column is the full budget of the Commission in 2019.)
The answer is that if the price of each vaccine was $33, the PA could have bought 4,727,272 vaccines.https://t.co/HwDcG1mdl1

— Maurice Hirsch, Adv. 🇮🇱 עו''ד מוריס הירש (@MauriceHirsch4) February 22, 2021
Palestinian COVID vaccine plan faces large funding gap, World Bank says
The Palestinians' COVID-19 vaccination plan faces a $30 million funding shortfall, even after factoring in support from a global vaccine scheme for poorer economies, the World Bank said in a report on Monday.

Israel, a world leader in terms of vaccination speed, could perhaps consider donating surplus doses to the Palestinians to help accelerate a vaccine roll-out in the occupied West Bank and Gaza, the bank said.

"In order to ensure there is an effective vaccination campaign, Palestinian and Israeli authorities should coordinate in the financing, purchase and distribution of safe and effective COVID-19 vaccines," it said.

The Palestinian Authority (PA) plans to cover 20% of Palestinians through the COVAX vaccine-sharing programme. PA officials hope to procure additional vaccines to achieve 60% coverage.

Cost estimates suggest that "a total of about $55 million would be needed to cover 60 percent of the population, of which there is an existing gap of $30 million," the World Bank said, calling for additional donor help.

The Palestinians began vaccinations this month and have received small donations from Israel, Russia and the United Arab Emirates.
Why are Israelis held in Gaza ignored amid Syria prisoner exchange?
It will be difficult to continue to justify not putting an emphasis on Mengistu and Sayed after the measures Israel took to bring a citizen back from Syria. But it doesn't seem like the government will go to great lengths to free these men after so many years.

It leaves one wondering whether more would have been done years ago if they had been born with a different skin color or in a different religious community.

Or is it simply because it is easier to deal with the Syrian regime and Moscow when it comes to getting people back from Syria? Sgt.-Maj. Zachary Baumel's remains were brought back to Israel in April 2019 after he had been missing since the First Lebanon War in 1982.

The Syrian regime is brutal, but it is open to more pragmatic deals than Hamas, in part because Hamas put such a high price on returning Israeli soldier Gilad Schalit, who was held from 2006 to 2011.

Hamas has suffered little international damage due to its sadistic hostage taking. Last year, its leaders got red-carpet treatment twice in visits to NATO-member Turkey. Gaza continues to receive payments from Qatar, and Hamas members have hobnobbed with Malaysian leaders, Iran and other regimes.

The inconsistency in the treatment of hostages has now become harder to explain and accept and will hopefully be resolved so that Mengistu, Sayed, Goldin and Shaul will finally be brought home soon.
Rare visit to Israel by Egypt's oil minister sends signals to Biden, Erdogan
Although the visit of Egypt's Petroleum and Mineral Resources Minister to Israel on Sunday had the trappings of a routine discussion about energy cooperation by regional partners, it also sent a message to rivals and to the United States.

Tarek el-Molla's trip was noteworthy for the mere fact that he was the first Egyptian minister to visit Israel since foreign minister Sameh Shoukry met with Netanyahu in 2016.

And El-Molla is no minor player. "El-Molla is very close to [Egypt's President Abdel Fattah] el-Sisi," pointed out Gabriel Mitchell of the Mitvim Institute, an Israel-based think tank. "He is arguably one of the most visible Egyptian ministers outside the presidency."

There is certainly no shortage of weighty energy issues for El-Molla to discuss with Israel. Israel and Egypt agreed Sunday to link up Israel's Leviathan natural gas field with Egyptian liquid natural gas facilities through an underwater pipeline, from which it can be exported to European markets.

What's more, a UAE-Israel plan to pump oil from Eilat on the Red Sea to Ashkelon on the Mediterranean concerns Egypt, but Cairo has largely refrained from publicly criticizing the project. A deal to provide Israeli natural gas to Gaza is nearing approval, and anything that happens in the coastal enclave could have a direct impact on Egyptian security.

Analysts say that one of the key purposes of the meetings — beyond the energy discussions — was to send a message to Turkey, and its president Recep Tayyip Erdogan.
Actually @KenRoth, the only "blatant, unprincipled affront to the rule of law" is you and @hrw, who are unable to contain your Jew hatred and Israel obsession. https://t.co/SZ3HtJ8ZP8

— Arsen Ostrovsky (@Ostrov_A) February 21, 2021
IDF says it uncovered 'potential threat' to navy ships off Gaza coast
The Israel Defense Forces uncovered a "potential threat" to naval ships off the Gaza coast on Monday morning, the military said, without elaborating on the nature of the threat.

"Earlier today, our troops spotted suspicious naval activity in the maritime zone along the Gaza Strip which posed a potential threat to Israeli Navy vessels," the military said.

"IDF troops detected the activity and thwarted it," the military added.

The Palestinian news site Shehab reported that a boat was destroyed by two missiles off the coast of the Gazan city of Khan Younis.

After initially saying additional information would be released about the incident, the military refrained from commenting further on the nature of the threat.

"The IDF will continue to take action against dangerous threats on the maritime front," the military said.
Israeli forces nab suspects in ramming attack last month
Israeli security forces arrested two Palestinians suspected of carrying out a car-ramming attack in the northern West Bank last month, the military said Monday ahead of their indictment.

On January 9, the two men drove their car to a military checkpoint near the Palestinian village of Yabad armed with a loaded Carlo-style makeshift submachine gun. As they approached, the gun fell out of the car, so no shots were fired, but as they sped away, the driver rammed the vehicle into one of the soldiers at the checkpoint, lightly injuring him, according to the military.

A manhunt was launched to track down the two suspects, and a gag order was placed on the case, barring outlets from publishing further details about it.

That order was lifted Monday, as the Israel Defense Forces announced that the two suspects were arrested in a joint operation with the Shin Bet security service and Border Police days after the attack in the nearby Palestinian village of Qabatiya.

The car used in the attack was located within hours and confiscated, the IDF said.
CLEARED FOR RELEASE: Working together with the ISA, we apprehended suspects who attempted to carry out a car-ramming & shooting attack against IDF troops west of Jenin last month.

We remain ready to operate against all attempted attacks. pic.twitter.com/pIeA5DAlRh

— Israel Defense Forces (@IDF) February 22, 2021
Settlers take on West Bank archaeology as ancient 'Joshua' wall tumbles down
On January 26, Shooki Levine witnessed the aftershocks of what he describes as a "terrorist attack." At an extremely rare early Iron Age archaeological site on Mount Ebal near the West Bank city of Nablus, an outer wall that had stood for over 3,000 years was repeatedly breached during Palestinian Authority roadworks, causing irreversible damage.

While the interpretation of what exactly this cultic site was used for — and by whom — is still up for debate, a consensus of archaeologists date it to somewhere around the 11th century BCE, or when the Israelites evidently began to settle the land of Canaan.

Over three millennia later, the site has become the focal point of a campaign by settlers who want Israel to take a more active role in preserving archaeological sites in Palestinian-controlled areas, and who may have wound up doing harm themselves via a covert attempt to "repair" the ancient wall.

The issue has swiftly snowballed into a political fight that has garnered major headlines and sparked accusations carrying highly charged language, underlining the sensitive push and pull between science and politics surrounding archaeological excavations in the West Bank.

The carnage to the priceless early Israelite site on Mount Ebal occurred during Israel-approved Palestinian Authority roadworks to connect Nablus to the nearby village of Asira al-Shamilya. After it came to light, the mayor of Asira al-Shamilya said any damage was inadvertent.

The site known by locals as "Al-Burnat," or "top hat" in Arabic, is regarded as an exceedingly rare and significant illustration of early Israelite settlement, the only one of its type in the area.
PreOccupiedTerritory:
Planning Error Leads To Palestinian Diggers Only Destroying Part Of Ancient Jewish Site (satire)
Officials in the autonomous government of the Palestinian National Authority voiced dismay today upon discovering that a lack of proper examination of the area and of preparation led to less than a third of a location of archaeological and spiritual importance to Jews suffering damage in the process of excavations for a new road.

A spokesman for the Palestinian Ministry of Infrastructure expressed his office's regret over the incident last week, in which Palestinian construction workers used part of the surrounding wall at the site of a shrine from the days of Joshua – more than a thousand years before the Common Era – to make gravel for a nearby road. The project's intent had been to destroy the entire site and thus eliminate evidence of a Jewish/Israelite presence that preceded the advent of Islam and the use of the term "Palestinian," but improper procedures led to a misidentification of the site's features and poor surveying of the area that led to only partial ruin of the archaeological treasure.

"We are investigating how this unfortunate lapse occurred," assured Assistant to the Deputy Director Graib Rabr. "Normal protocol calls for at least two layers of review before an infrastructure project targets a Jewish archaeological site, to ensure all the expected damage accrues to the site. Initial investigation of this incident appears to bear out that a ministry clerk who was also close relative of the excavation contractor attempted to expedite the process and may have forged documents to accomplish that goal. Under normal circumstances Palestinian culture and government values and rewards such clan loyalty, but in this case, at least at first glance, it resulted in the undesirable outcome of leaving evidence of a Jewish claim on the land partially intact, and that is regrettable."
Barghouti calls for Palestinian leadership primaries as heat turns up for Israel
On Tuesday night, the Palestinian Central Elections Committee finished registering voters.

The Palestinians showed impressive public compliance with the committee's efforts, with 93 percent of potential voters registered. An especially high amount of activity was noted among Hamas activists in the West Bank and Gaza, who were out on the streets encouraging potential voters to register, hoping to translate early interest into votes.

Fatah activists also took up the call, but just like in 2006, during the last Palestinian elections, the color green representing Hamas was displayed much more prominently than Fatah's yellow.

That's not the only way the campaign resembles 2006: Now, as then, Fatah is divided — with early glimmers of breakoff factions emerging within the secular Palestinian movement — while Hamas is united. If they were to compete against each other, the damage to Fatah would be enormous, with Hamas directly pocketing the profits.

The person who seems, at least for now, to be the key player in the upcoming elections, according to the many surveys being conducted in the West Bank and Gaza, is Israel's most notorious political-security prisoner, Marwan Barghouti.

Barghouti, a convicted terrorist, will decide if Fatah will run as a unified faction or if some Fatah candidates will compete with the "official" list, and possibly even splinter off into several factions within the movement.
Palestinian Elections: PA urges Hamas to release 'political' detainees
The Palestinian Authority on Monday urged Hamas to release all "political' detainees as required by PA President Mahmoud Abbas's decree to boost public freedoms ahead of the general elections.

In opening remarks during the weekly meeting of the PA cabinet in Ramallah, Prime Minister Mohammad Shtayyeh said that more than 80 "political" detainees were being held in Hamas prisons in the Gaza Strip.

Most of the detainees belong to Abbas's ruling Fatah faction, according to Palestinian sources.

In response to Shtayyeh's call, Hamas denied that it was holding "political" detainees in its prisons. The Hamas-controlled Ministry of Interior said in a statement that all the detainees and prisoners in Hamas prisons have been convicted of criminal or security offenses. Like Hamas, Shtayyeh claimed that there were no "political detainees" in PA prisons in the West Bank. "Public freedoms are safeguarded in accordance with the Palestinian Basic Law," he said.
What it's like when Palestinian Islamic Jihad's Saraya al-Quds welcomes one of their militants after being released from a 17 year prison sentence. #Gaza pic.twitter.com/mSnNAQ4jBL

— Joe Truzman (@Jtruzmah) February 22, 2021
WSJ:
Saudi Arabia Faces Increasing Air Attacks from Iraq and Yemen
Saudi Arabia is facing more frequent and increasingly precise airborne attacks from Iran-linked groups in neighboring Yemen and Iraq. Drones laden with explosives, launched from Iraq, smashed into the main royal complex in the Saudi capital Riyadh on Jan. 23. At least one hit close to the front gate of al-Yamama Palace, the seat of the Saudi government.

Meanwhile, Yemen's Iran-aligned Houthi rebels have escalated attacks across the kingdom's southern border, including a strike this month that hit an empty passenger jet at a provincial airport. They have also launched drones and missiles against a nearby military base and Jeddah's international airport.

The incidents show the expanding reach of the country's foes. They also point to the difficulties of stemming attacks by Iranian-backed groups in Iraq, which continue to present a security threat despite vows by Iraqi Prime Minister Mustafa al-Kadhimi to rein them in.

President Biden is pushing a fresh initiative to end Yemen's civil war and reviewing billions of dollars in arms sales to Riyadh, and has revoked the Houthis' designation as a foreign terrorist organization.

A Saudi official said, "The U.S decision to revoke the terrorist designation of the Houthis was misinterpreted by them as a license to escalate and continue their barbaric behavior within Yemen and the region with support from Iran."

Saudi-led coalition spokesman Col. Turki al-Maliki claimed the escalation in attacks was orchestrated by Iranian Revolutionary Guard generals based in the Yemeni capital, Sanaa. The coalition has recorded 860 armed drone and ballistic missile attacks against Saudi Arabia since 2015. President Biden has pledged to help Saudi Arabia defend its territory. "We're not going to allow Saudi Arabia to be target practice," Timothy Lenderking, Biden's special envoy for Yemen, said Tuesday.
Former Lebanese Minister of Communications Boutrus Harb: Hizbullah Has No Reason to Exist as an Armed Force After 2000 Israeli Withdrawal from Lebanon #Lebanon #Hizbullah #Iran pic.twitter.com/QLgO8NN4eB

— MEMRI (@MEMRIReports) February 22, 2021
Why Iran Considers Biden a 'Weak' President
The Arabs say they are worried because Iran sees Biden as a "weak" president, and that is why the mullahs in Tehran and their proxies in Syria, Yemen, Iraq and Lebanon have increased their terrorist attacks in the Middle East.

Arabs are turning to the Biden administration with the frank plea: Your weak approach to the Iranian regime is already threatening whatever precarious stability exists in the Middle East. It is already emboldening terrorist groups. We are begging you: do not back down to Iranian threats.

Such messages show that many Arabs share Israel's concern over US and European efforts to revive the 2015 Iran nuclear deal. It is, frankly, the last thing the Arabs want. It will only lead to war and set back the region more years than one would care to count.
Biden team colluded with Iran to foil Trump diplomacy
President Trump in 2019 sought to open a back channel of communication with top Iranian officials and saw the U.N. General Assembly meeting in September as a potential opportunity to defuse escalating tension with Tehran, but the effort failed.

Two months earlier, however, a different back channel was thriving in New York. Iran's smooth, English-speaking foreign minister, Mohammad Javad Zarif, met with Robert Malley, who was President Obama's Middle East adviser, in an apparent bid to undermine the Trump team and lay the groundwork for post-Trump relations.

The attempt at counterdiplomacy offers a window into the deep relationships Mr. Zarif forged with influential U.S. liberals over the past decade. These relationships blossomed into what high-level national security and intelligence sources say allowed the Iranian regime to bypass Mr. Trump and work directly with Obama administration veterans that Tehran hoped would soon return to power in Washington.

One of those was former Secretary of State John F. Kerry, who met with Mr. Zarif during the Trump years. So did Obama-era Energy Secretary Ernest Moniz. They, along with Mr. Malley, were top U.S. negotiators of the 2015 Joint Comprehensive Plan of Action (JCPOA). As part of the deal, Tehran promised to limit its nuclear enrichment activities in exchange for economic sanctions relief and access to tens of billions of dollars in frozen bank accounts.

Mr. Trump pulled the U.S. out of the pact in 2018. He cited the need for a much tougher agreement that also addressed Iran's support for terrorist groups and its destabilizing behavior in the Middle East.
"The script has been flipped" bit is so bizarre and weak. Iran-backed terrorists are back to attacking Americans in the region and the Iran-backed Houthis are attacking Saudi Arabia. Some isolation! But it's all good because Biden and the EU asked for a meeting. https://t.co/Nh0LQJgJBW

— Noah Pollak (@NoahPollak) February 21, 2021
Letter by Lord Alton To UK Foreign Secretary: Hold Iran Accountable for Terrorism
In his letter to Dominic Raab, the United Kingdom Foreign Secretary, Lord Alton of Liverpool urged the UK government to hold the Iranian regime accountable for state-sponsored terrorism, following the conviction of mullahs' diplomat-terrorist Assadollah Assadi, who had attempted to bomb the opposition rally in 2018 in France.

"The court ruling and the pre-trial investigation show beyond any doubt that this was an act of state terrorism by the regime in Iran against the country's organised pro-democracy opposition, the National Council Of Resistance of Iran (NCRI), by targeting their conference, leader and supporters on European soil," reads the letter in part.

"A Global Britain must have the courage to take the lead in Europe to address the serious threats of Iran's state terrorism," Lord Alton adds. An Iranian diplomat convicted to 20 years imprisonment by a court in Belgium - February 2021

The full-text of this letter is below:
The Rt Hon Dominic Raab MP
Secretary of State for Foreign, Commonwealth and Development Affairs

Dear Dominic,

RE: Iranian diplomat convicted on terrorism charges in Belgium

Several weeks has passed since the Criminal Court of Antwerp, Belgium, sentenced an Iranian diplomat Assadolah Assadi to 20 years in prison on charges of terrorism and terrorist murder. His three accomplices, a couple and a man, received between 15 and 18 years imprisonment and had their Belgian nationality withdrawn.

The court ruling and the pre-trial investigation show beyond any doubt that this was an act of state terrorism by the regime in Iran against the country's organised pro-democracy opposition, the National Council Of Resistance of Iran (NCRI), by targeting their conference, leader and supporters on European soil.
IAEA strikes deal with Iran to cushion coming blow of slashed access
A key part of the Iran's plan for reducing cooperation this week is ending implementation of the Additional Protocol, under which the IAEA has the right to carry out snap inspections in member states at sites not declared to the agency. Iran had agreed to implement the protocol under the 2015 nuclear deal.

"This law exists. This law is going to be applied, which means that the Additional Protocol, much to my regret, is going to be suspended," Grossi told the airport news conference.

Before he spoke, the IAEA and Iran issued a joint statement saying Tehran would continue implementing the Comprehensive Safeguards Agreement, its core obligations to the agency that allow for monitoring of its declared nuclear facilities.

The IAEA will also continue "necessary verification and monitoring activities for up to three months", the statement said, without specifying what those activities are.

Grossi said the steps that Iran would take this week would be "to a certain extent mitigated" by the terms of this new, temporary agreement.

"What we agreed is something that is viable, it's useful to bridge this gap that we are having, salvages the situation now. But of course for a stable, sustainable situation there will have to be a political negotiation that is not up to me," Grossi said, suggesting this created a window for talks on salvaging the nuclear deal.
Iranian Lawmakers Criticize Tehran's Deal With IAEA on Snap Inspections
Iranian lawmakers protested on Monday against Tehran's decision to permit "necessary" monitoring by the UB nuclear watchdog for up to three months, saying the move broke a law mandating an end to the agency's snap inspections this week.

"The government has no right to decide and act arbitrarily," said Mojtaba Zolnour, chairman of the parliament's national security committee, according to Iranian state media.

"This arrangement is an insult to the parliament."

Iran has been gradually breaching terms of a 2015 nuclear pact with world powers since then US President Donald Trump withdrew from it in 2018 and reimposed sanctions. The pact aims to keep Iran at arm's length from being able to make nuclear arms, which Tehran says it has never wanted to build.

Under the deal, Tehran agreed to implement the Additional Protocol, which allows the International Atomic Energy Agency (IAEA) to carry out short-notice inspections at locations not declared to it.

But to pressure President Joe Biden's administration to lift sanctions, Iran's hardline-dominated parliament passed a law last year obliging the government to end implementation of the Protocol from Tuesday if US sanctions are not lifted.
FM Zarif: Iran Expects Compensation for $1 Trillion Damage from US Sanctions
Iranian Foreign Minister Mohammad Javad Zarif on Sunday said that the unilateral sanctions that the United States has imposed in his country have cost the Islamic republic's economy over $1 trillion.

Tehran expects to be fully compensated, he told Iran's state-run PressTV.

Zarif said that once the US takes action to re-enter the 2015 nuclear deal with world powers and sanctions are lifted, the issue of compensation "must" be discussed.

"Whether those compensations will take the form of reparation, or whether they take the form of investment, or whether they take the form of measures to prevent a repeat of what Trump did," he said, referring to former US President Donald Trump, who pulled out of the nuclear deal in 2015 and imposed harsh, comprehensive sanctions on Iran's economy.

Zarif argued that the Trump administration had imposed 800 sanctions on all levels of the Iranian economy, saying that all of them would have to be lifted before the US could return to the deal.

He lauded China and Russia, two signatories to the 2015 deal, for "being Iran's friends" during the sanctions era, and admonished Germany, France, and Britain – the deal's European partners – for not pursuing "any tangible efforts" to maintain their ties with Iran.

"The situation Europe has created for itself is that it has to wait for the US to make a decision. It lives at the behest and mercy of the US," he said. "Now, they should convince the US to come back [to the nuclear deal] at least to allow them … to maintain their dignity and allow them to fulfill their obligations. That's not a tall order."

Iran's top diplomat further noted that if the US fails to lift sanctions, his country will leave the Joint Comprehensive Plan of Action and will continue to boost its nuclear program.
Iranian Deputy Foreign Minister Abbas Araghchi: Iran Did Not Agree to Incorporate Its Missile Program into the JCPOA under Trump's Maximum Pressure Policy and It Will Not Allow It under Biden's Negotiations Policy pic.twitter.com/Tbt8L6Hi6C

— MEMRI (@MEMRIReports) February 22, 2021
Biden Demands Iran Undergo Anti-Racism Training to Re-Enter Nuclear Deal (satire)
The US and Iran are on the verge of re-entering the 2015 nuclear deal, but one key sticking point remains.

President Joe Biden has agreed to lift all sanctions and allow the Islamic Republic to develop nuclear weapons but is demanding that Iran's ayatollahs and elected officials undergo weeks of "anti-racism" training. Bestselling author Robin DiAngelo would fly to Tehran to lead a month-long course to help these leaders recognize and rid themselves of their privilege and fragility and identify the ways in which their society is structurally biased against marginalized communities.

"Listen, we are really, really eager to give Iran billions of dollars in exchange for unenforceable half-promises that they will hold off on nuking Tel Aviv until the president is out of office," press secretary Jen Psaki said. "But first, we need to make sure their leaders understand the toxicity of whiteness, and their personal culpability as cisgender straight white-adjacent males."

The Biden team also will require Supreme Leader Ali Khamenei to list his personal pronouns in all future fatwas.
Yemen Friday Sermon by Houthi Islamic Scholar Yaseen Al-Abadi: The Saudi 'Camel Herders' Put their Billions in Jewish and Christian Banks – "May Allah Kill Them!" #yemen #KSA #Antisemitism pic.twitter.com/eCE0IIhTnt

— MEMRI (@MEMRIReports) February 22, 2021
---
---