From Ian:
The Unique Benefits of Israeli-Moroccan Normalization
As with Sadat's famous visit, normalization with Morocco signals the crumbling of walls shunning and isolating Israel from the rest of the Middle East. Nationally, it is an opportunity to celebrate Moroccan Jewry's rich heritage, but it is much more than just that. It has often been hoped that Jews from Arab lands would be the natural bridge builders to the wider Arab world. This is the moment in history to elevate Moroccan Israelis to embrace this role.

Furthermore, the national euphoria over normalization must be the catalyst to finally address the social injustices experienced by Mizrahi Jews. With the establishment of direct flights, Israelis with Moroccan backgrounds will be able to freely visit the cities and towns of their grandparents, and the gravesites of great rabbis and family members. We should expect to see a renaissance of Moroccan Jewish culture as educational and family trips become commonplace. The rediscovery of historical roots will result in an empowerment of those who have often felt marginalized, and lead to a psychological and emotional healing, the importance of which cannot be overstated.

The normalization of relations with Morocco has tremendous significance not only for Moroccan Israelis but also for the wider population. It can be anticipated that visits to Morocco will lead to an interest and appreciation of Maghrebi culture not only while touring Rabat, Casablanca and Fez, but also when travelers return home to Jerusalem, Tiberias and Hadera.

While there are obvious trade, defense and intelligence sharing benefits, a fundamental yet under-appreciated factor is that Israelis with Moroccan ancestry can now proudly explore their heritage and freely visit Morocco as welcomed and respected guests. This will bolster and fortify their cultural identity, which in turn will strengthen Israeli society as a whole.

Successful peace agreements require more than the opening of embassies and direct flights. They can only take root if and when the respective populations take an active interest in each other. We are already seeing signs of this and welcome further initiatives to bring Israel and the wider region closer to a lasting peace.
Trump administration working on another normalization deal in January
The US is pushing for another Arab or Muslim state to normalize relations with Israel in the three weeks before US President Donald Trump leaves office, a Trump administration source said on Wednesday.

"We're working very hard on making it happen," said the source, who has been involved in negotiations for the Abraham Accords, as the agreements are called. A second Trump administration source confirmed the ongoing efforts.

In the past four months, the United Arab Emirates, Bahrain, Sudan and Morocco have all joined the Abraham Accords establishing – or in the case of Morocco renewing – open and official diplomatic ties with Israel.

Sources in Jerusalem and Washington have said in recent weeks that Indonesia, Mauritania or Oman could be next to join the accords. All three have had a certain level of secret or unofficial ties with Jerusalem in the past. There have also been persistent reports of progress with Pakistan.

Secret ties between Israel and Saudi Arabia have been warming in recent years and months, to the extent that Prime Minister Benjamin Netanyahu and Saudi Crown Prince Mohammed bin Salman met in the Saudi city of Neom earlier this month.

The Trump administration approved the sale of $290 million in precision-guided bombs to Saudi Arabia this week and Israeli officials have speculated that the Saudis would seek maximum benefit from the US in exchange for normalization.
Pence's final visit to Israel before leaving office is canceled
A planned visit to Israel by US Vice President Mike Pence was called off less than two weeks before he was due to arrive, the US Embassy confirmed Wednesday.

No reason was given for the cancellation, which was first reported by the Ynet news site.

Pence was reportedly scheduled to make a number of stops on a final world trip before leaving office on January 20. Earlier this month, Politico reported that the vice president planned to take off on January 6 — the same day the US Congress is scheduled to confirm President-elect Joe Biden's electoral victory — visiting a number of countries, including Israel from January 10 to 13.

Though his stop in Israel was never officially confirmed by the US Embassy, the Israel Police and other Israeli authorities had begun preparations for the visit.
Record 152,000 vaccinated in a day, but new cases hit highest rate in months
The Health Ministry on Wednesday said 152,000 coronavirus vaccines were administered the day before, even as Israel recorded its highest number of new COVID-19 cases since early October, in Israel's race between virus and vaccine.

Government officials had set a goal of vaccinating 150,000 Israelis per day by the end of the week.

"On the way to a million vaccinated!" Health Minister Yuli Edelstein tweeted. "Close to 650,000 in total."

Israel has ramped up its vaccination campaign amid a third national lockdown, which took effect on Sunday evening to curb a resurgence in infections.

The Health Ministry said 5,583 new coronavirus cases were confirmed Tuesday, the highest daily increase since early October, during the second lockdown.

Along with another 571 cases since midnight, the number of COVID-19 infections since the pandemic began rose to 414,447.

There were 40,929 active cases, including 609 people in serious condition, with 154 on ventilators. Another 169 Israelis were in moderate condition and the rest had mild or no symptoms. A Maccabi Healthcare Services worker handles a test sample at a coronavirus testing site in Modiin, on December 24, 2020. (Yossi Aloni/Flash90)

The death toll stood at 3,292.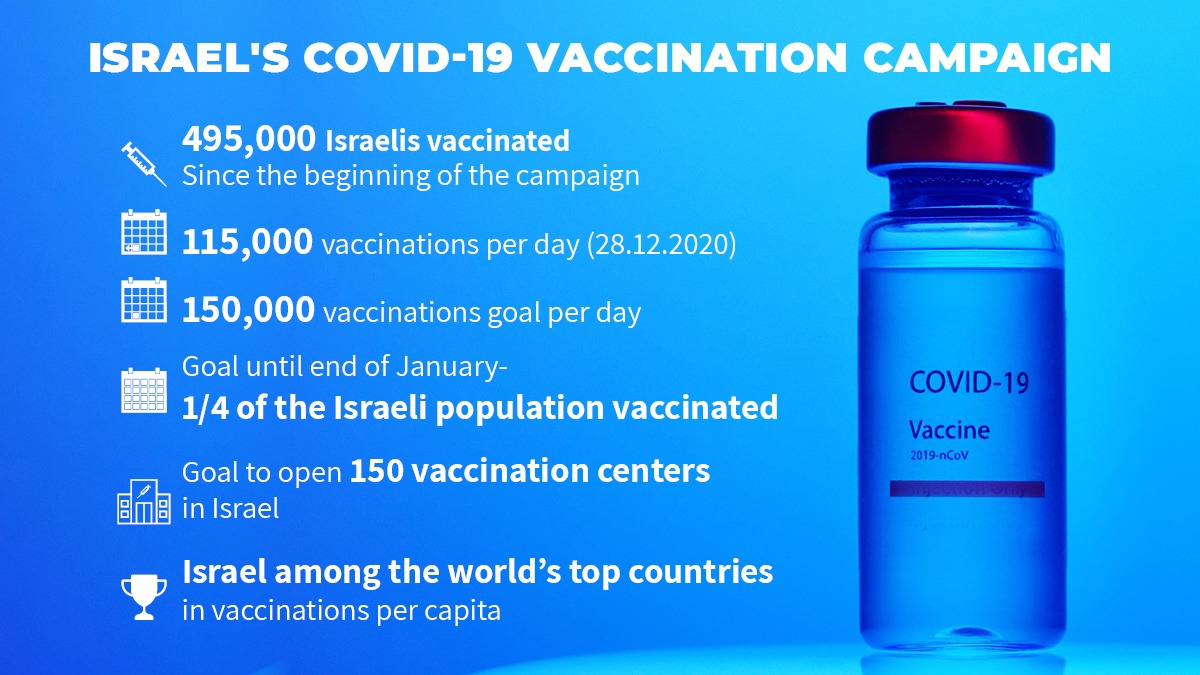 Jonathan Pollard arrives in Israel, 35 years after his arrest for spying
Jonathan Pollard, the former US Navy analyst convicted of spying for Israel, arrived in Israel early Wednesday morning, 35 years after he was first arrested and weeks after his parole ended.

Pollard, 66, arrived in Israel with his wife, Esther. He had long expressed a desire to move to Israel, which granted him citizenship in 1995.

The couple were met on the tarmac by Prime Minister Benjamin Netanyahu, who gave Pollard his new Israeli paperwork and greeted him with the traditional Jewish blessing for when something new happens.

The Pollards walked slowly down the aircraft steps. Pollard then took off his mask and got down on his knees to kiss the tarmac. Esther did the same and was helped up by her husband, as Netanyahu waited alongside.

"Now you can start life anew, with freedom and happiness. Now you are home," the prime minister said.

Pollard responded: "We are excited to be home at last. There is no one who is more proud of this country or its leader than we are. We hope to become productive citizens as soon as possible."
Dr. Miriam Adelson:
Welcome home, Jonathan
Jonathan Pollard has finally come home, and like many homecomings, this day is both happy and sad.

This day was a very long time coming – decades in the making. The years of Jonathan's imprisonment, and later his release under restrictions that did not allow him to leave New York, were excruciatingly long. While his spirit never faltered and his Jewish pride never waned, his body weakened.

Now, after prolonged anticipation, he can build a home in Israel with his beloved wife, Esther, but her failing health will overshadow everything. She needed special, strict medical conditions to make the journey and they are still facing trials and tribulations until, God willing, she will grow stronger and heal.

This day is also bittersweet because as joyous as Jonathan's homecoming is, the actions for which he was imprisoned had marred Israel-US ties.

Israel has never undermined its closest ally, except to save the Jewish people. Israel has learned its lesson, to which the fact that there has never been another case like Jonathan's attests.

But the fact that this was an isolated case is exactly what sets it apart. After all, in every other aspect, Israeli-American relations are rooted in friendship and unconditional mutual trust.

For our American friends, Jonathan is a memory best left to fade, especially at a time when President Donald Trump is showing the Jews in Zion doing kindness in spades.
Prime Minister Benjamin Netanyahu welcomed Jonathan and Esther Pollard upon their arrival in Israel, early this morning. The Prime Minister was moved to meet them on the tarmac next to the plane where they recited the Shehecheyanu blessing together.https://t.co/jfZ4WseH3g pic.twitter.com/6Xno3yJPdY

— PM of Israel (@IsraeliPM) December 30, 2020
A new statement by the US Justice Department, in support of our appeal and introducing the idea that the US stands ready to request the extradition of our son's murderer. https://t.co/9OaWwKIdl9

— Judea Pearl (@yudapearl) December 30, 2020
When Israel and Arab Nations Unite, World Should Take Note, Says UN Ambassador
Israel's Ambassador to the United Nations Gilad Erdan reflected on 2020 and how "Israel's future looks brighter than ever" in his address on Sunday night at the Zionist Organization of America's Virtual Superstar Gala.

Erdan, also Israel's incoming ambassador to the United States, received the ZOA's Woo Kai–Sheng Lifetime Achievement Award for Outstanding Diplomacy. In his acceptance speech, he said that while this past year "supplied a fair amount of hate, it also delivered a fair amount of peace."

He noted that the signing of the Abraham Accords in September "transformed the region" and has resulted in "a flurry of cooperation on a myriad of levels, but there has also been a shift in the way the [countries] view one another and their place within the region."

"Together, we have started to build a brighter future," said Erdan. "For years, the Palestinians held the interests of the Arab world hostage. Arab countries were forbidden from recognizing Israel's existence or having relations with us unless we surrender to outrageous Palestinian demands. The Abraham Accords shattered that paradigm."

He added that perhaps Iran should be thanked for inspiring "this newfound bond" between Israel and Arab countries.

"By continuing to spread its dangerous ideology, the ayatollah regime has united the moderate forces in the Middle East. Today, we stand together in confronting the murderous intentions of the world's No. 1 state sponsor of terrorism. When Israel and Arab countries unite on any issue, then the world should start listening."
Hamas Chief Haniyeh: We Won't Fight With Arab States Over Normalization
Hamas leader Ismail Haniyeh declared on Monday that the normalization accords reached by several Arab nations with Israel in recent months were a "political sin," but added that his group would not fight them over this.

"We reject normalization between any Arab country and the Israeli occupation," Haniyeh said in remarks at a virtual conference, according to the Hamas website. "Hamas will not deviate its compass to get into a conflict with any Arab state even though we consider normalization a political sin."

The Gaza Strip-ruling Islamist terrorist organization has harshly denounced the recent normalization deals. Last month, in response to such criticism, a United Arab Emirates official referred to both Hamas and the Palestinian Authority as "corrupt" and "murderer[s]."

Haniyeh, who has led Hamas' political bureau since 2017, also indicated that the group would benefit from the upcoming transfer of power in the US from President Donald Trump to President-elect Joe Biden.

"We don't bet on successive US administrations, but we [realize] that changes might be in favor of our cause," Haniyeh stated.

Haniyeh's longtime predecessor, Khaled Mashaal, celebrated the result of the US election last month. "An evil has distanced itself from us with the end of the Trump administration," he asserted.
Exposed: Jordanian Org Taking Over Israel's Area C
The Arab Group for the Protection of Nature (APN) is a Jordanian organization based in Amman. It claims to focus on protecting natural resources in Arab countries. However, in practice, most of his activity is in Israel, and it seeks to take over Israeli territory by planting millions of trees.

The organization has set up a comprehensive project called "A Million Trees in Palestine" and through it seeks to take over territories in Jerusalem, the Jordan Valley and Judea and Samaria.

The organization's data shows that it donated 2,434,452 trees. Most of the trees were donated to Gaza, then Hebron, Bethlehem, Jenin, Tulkarm and Jerusalem.

The organization's representative in the Palestinian Authority is Ibrahim Amin Mantsara, who lives in Bethlehem. He said in an interview that they opened an office to "strengthen ties with the Palestinians" in July 2019 and their goal is to "cultivate land within the settlements."

He also talked about the organization's cooperation with the terrorist Razeq Salah, who murdered an IDF soldier, was sentenced to life imprisonment, and was released after 21 years in 2013 as part of an Israeli show of goodwill to PA head Mahmoud Abbas.

According to data from the Im Tirzu watchdog's Arab Research Division, tens of thousands of trees have been planted throughout Israel in recent months.

Some 37,000 fruit trees were planted in the Jordan Valley, where Israeli sovereignty was expected to be declared according to President Donald Trump's Deal of the Century.
1 killed, 3 injured in alleged Israeli airstrike near Syria-Lebanon border
Syrian air defenses responded to an alleged Israeli airstrike near the Syria-Lebanon border on Tuesday night, which has left one soldier dead and three others wounded, according to a Syrian military source, SANA reported.

The source added that the strike targeted an air defense unit in the area.

The open-source intelligence social media account Intelli Times tweeted earlier that the strike targeted a weapons stockpile intended for Hezbollah located along a weapons smuggling route between Syria and Lebanon.

A round-trip Fars Air Qeshm flight between Tehran and Damascus was reported by civilian flight tracking sites on Monday. The airline is suspected of being used to smuggle weapons from Iran to Syria and Lebanon.

The area around the once popular resort city of Al-Zabadani was part of a major supply route for weapons sent by Syria to Hezbollah before the 2011 outbreak of the Syrian conflict, which has killed more than 200,000 people.

The airspace above the Golan Heights east of the Jordan River was closed to flights over 5,000 feet until Wednesday afternoon, shortly after the airstrikes were reported in Syria.
PA to pay three months pay for slay salaries to terrorists
The Palestinian Authority (PA) intends to pay convicted terrorists three months worth of "salary" before the end of the year, according to Palestinian Media Watch (PMW).

The PA holds a practice of paying Palestinians that have committed terrorist acts against Israelis and monthly stipends to the families of the terrorists that died during the attack.

According to the report, a month's stipend for a jailed terrorist can be up to $3,470 a month. A new anti-terror law will be adopted in the West Bank, which will make the "pay for slay" stipends unlawful. The law will state that any person that makes a financial transaction which "supports, promotes, fund or rewards" terror activities will be subject to a prison sentence of up to 10 years.

This law was supposed to come into effect on May 9, 2020, in the West Bank.

Three weeks before the law was to come into effect, PMW warned banks of their liability if they were to continue payments to terrorists. The Association of Banks in Palestine wrote to the PA's Finance Minister to describe the consequences the banks will go through if they maintained accounts that make payments to terrorists.

"Based on the plenary session of the Association of Banks [in Palestine], all the banks hereby ask Your Honor to stop transferring any sums into these accounts," wrote the bank representatives. "The banks will transfer the balances in these accounts to the Ministry of Finance's account."
UNESCO grants university certificates to Palestinian terrorist prisoners via An-Najah University PLO and Fatah run graduate courses in Israeli prisons, 70 prisoners received diplomas Father preferred son stay in prison to complete MA supervised by terrorist who planned murder of 5
Recently Released Palestinian Terrorist Zaher Ghanem to Palestinian Authority TV: Israel Might Poison Palestinian Prisoners and Say That They Have Died of COVID-19 pic.twitter.com/TJGkGWJsYC

— MEMRI (@MEMRIReports) December 30, 2020
Palestinian court orders famous Palestinian DJ Sama Abdel Hadi held in detention for 15 days for organizing a music party at Nabi Musa, an archeological and religious site. She had received written permission from the PA Ministry of Tourism to hold the event. pic.twitter.com/ztMN5xlYMw

— Khaled Abu Toameh (@KhaledAbuToameh) December 29, 2020
How nice. Gaza terrorists dyed the sea red today to simulate Jew murder. pic.twitter.com/oG5sAhLM00

— The Mossad: Zionists and Loving It (@TheMossadIL) December 29, 2020
There. Just improved Hamas's propaganda video's soundtrack. pic.twitter.com/lJrPlMZ4rd

— The Mossad: Zionists and Loving It (@TheMossadIL) December 29, 2020
JCPA:
Egypt Reveals the Financial Terrorist Ties between the Muslim Brotherhood and Hamas
In August 2020, the Egyptian security services achieved an important milestone in its war on radical Islamic terrorism. After seven years of an intense manhunt, Egyptian security arrested Mahmoud Ezzat, the acting general guide of the Muslim Brotherhood in Egypt and head of its military wing responsible for a series of attacks in Egypt.1 Mahmoud Ezzat led the movement from his hideout after Muhammad Badie, the movement's general guide was arrested and imprisoned in 2013. Ezzat was sentenced in absentia to two death sentences and three life sentences.

According to a statement from the Egyptian Interior Ministry, Ezzat was captured on August 28, 2020, hiding in a residential apartment in east Cairo. Egyptian security officials seized cell phones, computers, and documents in the apartment, some of which were encrypted. From the apartment, he operated the movement all over Egypt and maintained contact with the leaders of the Muslim Brotherhood who fled Egypt to Qatar and Turkey after President a-Sisi came to power.

Ezzat is considered the most dangerous figure in the Muslim Brotherhood after military wing leader Mohammed Kamal was killed by Egyptian security officials in 2016. Ezzat, born in 1944, was one of the loyal disciples of Muslim Brotherhood ideologist Sayyid al-Qutb. His nickname in Egypt was "Mr. X" or "the Black Box" of the Muslim Brotherhood. He previously served a 10-year prison sentence in an Egyptian prison because of his activities as part of the Muslim Brotherhood.

In recent years, he has been responsible for a series of attacks on senior Egyptian law enforcement officials who acted on President al-Sisi's orders against the Muslim Brotherhood. Among Ezzat's crimes, he was responsible for the 2015 murder of Egyptian Prosecutor-General Hisham Barakat, Egyptian security chief General Adel Rajaei and police Colonel Wael Tahon in 2016.

Mahmoud Ezzat was the leading funder of the Muslim Brotherhood, coordinating contact with the global Muslim Brotherhood and the movement's leaders, who fled to Qatar and Turkey and were granted asylum.
Hezbollah-affiliated financial org hacked, information leaked
A hacker group called Spiderz claimed that it has succeeded in hacking into Hezbollah's Al-Qard Al-Hassan financial organization and leaked details on depositors and borrowers from the lender, Lebanese media reported on Tuesday.

The group released lists of clients and the organization's annual budget on its website, as well as a video announcing the hack on Saturday. The information leaked included account numbers, government IDs and passport information, as well as registration forms, account statements and additional financial documents.

The leak also included details of bank accounts that the hacker group claims the organization owns in other Lebanese banks, including the Jammal Trust Bank, which was subjected to US sanctions last year for allegedly facilitating the financial activities of Hezbollah. The other banks listed could face US sanctions as well if the information is verified.
Blast rips through Yemen's Aden airport as new cabinet members land
A large explosion struck the airport in the southern Yemeni city of Aden as a plane carrying the newly formed Cabinet landed there, security officials said.

The source of the blast was not immediately clear. There were no reports of casualties among the government delegation but officials at the scene said they have seen bodies lying on the tarmac and elsewhere at the airport.

The officials spoke on condition of anonymity because they were not authorized to talk to the media.

Images shared on social media from the scene showed rubble and broken glass strewn about near the airport building and at least two lifeless bodies, one of them charred, lying on the ground. In another image, a man was trying to help another man whose clothes were torn to get up from the ground.

The ministers, headed by Prime Minister Maeen Abdulmalik Saeed, were returning to Aden after being sworn in last week as part of a reshuffle following a deal with rival southern separatists. Yemen's internationally recognized government has worked mostly from self-imposed exile in the Saudi capital of Riyadh during the country's years-long civil war.
Israel opposes any and all versions of Iran Deal, says PMO - exclusive
Israel opposes any return to the 2015 Iran nuclear deal, contrary to the impression recent statements may have given, a senior Prime Minister's Office official told The Jerusalem Post on Wednesday.

"Israel is unequivocal that under no circumstances should there be a return to that bad deal," the official said.

The remarks came less than a week after AFP published an interview with Israeli Ambassador to Germany Jeremy Issacharoff with the headline: "Israel open to German efforts to expand Iran nuclear deal with more restrictions."

In the AFP article, Issacharoff said that German Foreign Minister Heiko Maas's call to reassess the Joint Comprehensive Plan of Action, as the Iran deal is known, is a "step in the right direction."

The senior Prime Minister's Office official said Issacharoff's remarks were misinterpreted and sought to make amply clear that Israel's position is that the JCPOA is unacceptable, even with changes.

"In contrast to the impression given in the interview with the Israeli ambassador in Germany," the official said, "Israel firmly believes that there should be no return to the Iran nuclear agreement of 2015 – a deal which is flawed to its foundations."
Iran allocates $150,000 for families of victims of Ukraine plane crash
Iran's cabinet on Wednesday allocated $150,000 for the families of each of the 176 victims of a Ukrainian plane shot down in Iranian airspace in January, the official IRNA news agency reported.

Describing Iran's handling of the situation as "unacceptable," Ukraine said the amount of compensation should be negotiated and called for those responsible to be brought to justice.

An Iranian government statement said: "The cabinet approved the provision of $150,000 or the equivalent in euros as soon as possible to the families and survivors of each of the victims of the Ukrainian plan crash," IRNA reported.

Iran's Revolutionary Guards said they accidentally shot down the Ukraine International Airlines plane shortly after take off, mistaking it for a missile when tensions with the United States were high.

Five days earlier, the United States had killed Revolutionary Guards commander Qassem Soleimani with a drone strike in Iraq.

Ukraine's foreign ministry said the compensation amount should be determined through negotiations, taking into account international practice, and that establishing the causes of the tragedy and bringing those responsible to justice was a prerequisite.
Mohsen Rezai, Sec.-Gen. of Iran's Expediency Council: If Biden Does Not Rejoin the JCPOA, Lift Sanctions, We Will Move "Full Steam Ahead" in Nuclear Field pic.twitter.com/TL2Sy2zaYF

— MEMRI (@MEMRIReports) December 30, 2020
The Olympics must ban Iran
The International Olympic Committee (IOC) and United World Wrestling (UWW) — the global governing body for amateur wrestling—squandered a chance to save the life of Navid Afkari, the Iranian champion put to death in September on fraudulent charges by the regime in Tehran.

"There is not one shred of evidence in this damned case that shows I'm guilty," Afkari, 27, said shortly before his execution, but the regime's hanging judges "are looking for a neck for their rope."

The IOC and UWW failed to speak out when they could have saved Afkari's life by warning the regime that murdering its own athletes would make it a pariah, unwelcome at the Olympics and other world championship competitions. To provide a measure of justice for Afkari and repair their own tattered reputations, the two organizations must now banish Iran's regime from international sports competition.

The regime refuses to even grant Navid and his family a semblance of peace after his hanging. Thursday, security forces destroyed Navid's grave and detained his father Hossein and his brother Hamid for preparing the site for a tombstone. Navid's sister published a photograph of his desecrated grave and wrote on Instagram: "You can threaten, destroy, or arrest, what are you going to do with Navid's name and memory in people's hearts?"

A Greco-Roman wrestler, Afkari and his brothers Vahid and Habib protested against the regime's deep-seated economic and political corruption during nationwide demonstrations in 2018. All three brothers were tortured in connection with the invented crime of killing a security officer. Vahid and Habib continue to be held incommunicado.

Navid Afkari won fame in the city of Shiraz in Fars province for achievements which included winning a bronze medal in the Armed Forces Greco-Roman wrestling tournament. In Iran, the sport has a popularity and prestige comparable to basketball, baseball and football here in the United States. The in-ring artistry of the country's greatest wrestlers has made them into Michelangelos of the sport. Thus, Afkari's hanging made him into a national icon.
The United States has applied a campaign of maximum pressure to ensure Iran does not obtain a nuclear weapon. This is U.S. policy on Iran sanctions explained. pic.twitter.com/VbZvPtPNT7

— Department of State (@StateDept) December 29, 2020
Iran-Linked Ship to Aid Construction of Contested Russian Pipeline
A ship linked to the Iranian regime's illicit activities is currently being repurposed to engage in work on a contested Russian-German gas pipeline that has been heavily sanctioned by bipartisan coalitions in Washington, D.C., and is broadly opposed across Europe.

The U.S. government has information indicating Russia may attempt to acquire and modify the Oceanic 5000, a crane ship based in Spain's Canary Islands, for work on the contested Nord Stream 2 pipeline, according to current and former U.S. officials working on the issue. The Oceanic 5000 is known to U.S. officials for helping the Iranian regime build gas pipelines in the Persian Gulf. A senior Trump administration official confirmed the ship's ties to Iran, as well as a recent report by Reuters noting Russia's interest in acquiring it for work on Nord Stream 2.

The new revelations promise to deepen consternation in Washington with Berlin and Moscow's efforts to complete the Nord Stream 2 pipeline. Construction on the project resumed earlier this month after being stalled since December 2019, when President Donald Trump approved sanctions spearheaded by Senators Ted Cruz (R., Texas) and Jeanne Shaheen (D., N.H.). With its final weeks in office, the Trump administration is preparing a new salvo of sanctions on the Nord Stream 2 project to stymie its completion.

The pipeline remains one of the biggest flashpoints between the United States and Russia, which views the project as crucial to its control of Europe's natural gas market. America and its allies, primarily Ukraine, see the pipeline as part of a bid by the Kremlin to wrench control of Europe's energy sources from more Western-oriented countries. As work on the pipeline resumes, the Trump administration is waging a diplomatic push to dissuade European companies from partnering with Moscow on the project.
The Iranian regime has built a cult around a mass murderer responsible for ethnic cleansing of hundreds of thousands of Syrian Sunnis, and everyone acts like that's normal (incl and especially Team Obama-Biden, which lifted sanctions on him then criticized Trump for ending him). https://t.co/xaN5mCz4ID

— Omri Ceren (@omriceren) December 29, 2020
Spotted in Tehran. Recreate the experience of Soleimani's fateful day by trying to put 1000 pieces of him back together again. pic.twitter.com/F9h3nqHyQL

— The Mossad: Zionists and Loving It (@TheMossadIL) December 29, 2020
PreOccupiedTerritory:
Iran: Successful Israeli Missile-Defense Test A 'Grave Provocation' (satire)
Leaders of the Islamic republic of Iran denounced a test of Israel's layered air defense capabilities that took place earlier this month, calling the incident a serious provocation against the forces of justice and peace, who seek to destroy the world's only Jewish state and restore the proper, precarious, contingent, dependent existence to which Jews had been subject for thousands of years under the rule of others.

Minister of Foreign Affairs Javad Zarif referred to the successful test of the Arrow, David's Sling, and Iron Dome systems, in a speech before parliament. The minister vowed to the country's lawmakers that the government under President Rouhani will not tolerate any such demonstrations of commitment to Jewish security, most especially when the avenues toward securing that security neutralize the efforts that Iran has pursued against Israel for more than four decades.

"The Great Satan," stated Zarif, referring to the US, "and the Little Satan," an epithet for Israel, "together have long sought to undermine the righteous cause of Palestinian justice. Only by sacrificing as many Palestinians and other non-Iranians as possible to the maw of our Supreme Leader [Ayatollah Ali Khamenei]'s hegemonic ambitions for the region can historic justice be accomplished. US-funded ballistic missile defense for Israel, or other, closer-range defense systems, can only serve satanic ends. Anything that stands between our glorious vision and smoldering Zionist cities must be defeated."

The test to which Zarif referred constituted an endeavor to check to what extent the various layers of Israeli missile defense, based on disparate systems and infrastructure, could integrate to defeat a mix of simultaneous threats such as ballistic missiles, mortars, suicide drones, short-range rockets, and other weapons that Israel has faced at once or in combination from Iran-backed terrorist groups in the Gaza Strip, such as Islamic Jihad and Hamas, and in Lebanon, such as Hezbollah.
---
---
We have lots of ideas, but we need more resources to be even more effective. Please
donate today
to help get the message out and to help defend Israel.