From Ian:
Mother-of-6 killed in apparent terror attack remembered for her 'joy for life'
Esther Horgen, who was found dead in a northern West Bank forest in an apparent terror attack, was eulogized for her love of life as she was buried on Tuesday morning.

"For 30 years we walked together, and two days ago you went for a walk and didn't return," said her husband Benjamin. Horgen's body was found a day after she went for a run in a forest near their West Bank home.

"How can a few words manage to express the depth of your heart and your generosity, your joy for life and love for others?" he said.

Esther's daughter Odelia mourned the loss of her mother and expressed pain that she would not be at her future wedding.

"My mother is my best friend. She came to visit me at the end of the world, in Australia. Where are you now, mother?" said Odelia. "I am sorry that you will not dance at my wedding."

Dozens of mourners attended the funeral including Settlements Minister Tzachi Hanegbi.

Community leader Rabbi Reuven Uziel said that Horgen's killer would not be able to "sully" Israel.

"On Friday we sat together at a Shabbat meal. Not for a second we did not think this was the last time we would meet. You were a person of love and lightness, of joy and a smile," Uziel said. "The murderers will not be able to sully the land of the Land of Israel, which will remain blessed and holy, and you will remain blessed and pure."

In an interview on Tuesday morning, Benjamin said that his wife had lived life to the full.

"She lived every moment of her life. She had so much to give," Benjamin Horgen told the Kan public broadcaster. "I trust the defense establishment to do their job, they have updated [us] that things are progressing."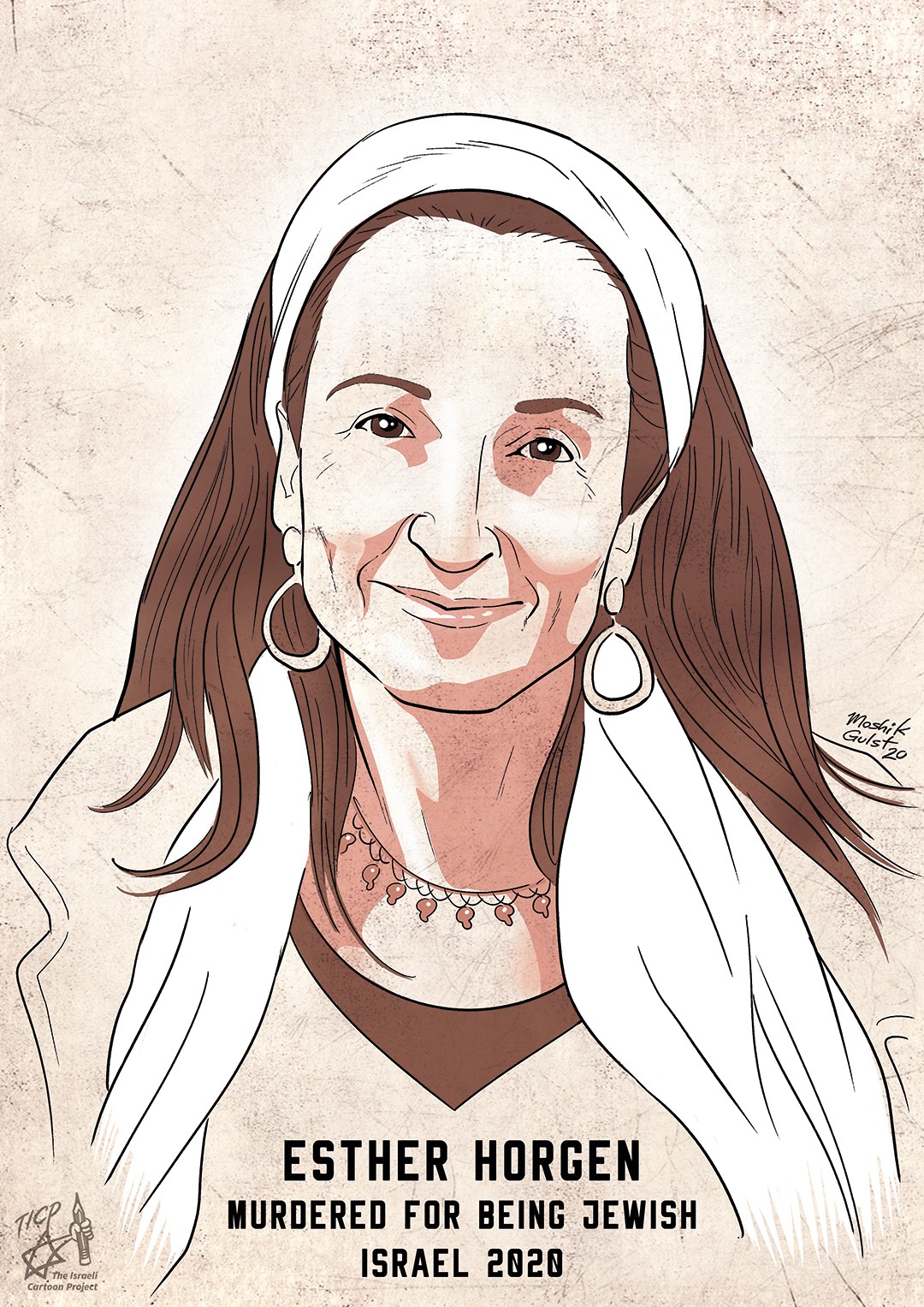 The Moroccan deal with Israel fills me with joy
There were 20 years of silence. And then, last week, Trump announced that Morocco and Israel would be resuming diplomatic relations. In a tweet afterwards, the President reminded the world that Morocco was the first country to recognise the United States as a nation, in 1777 and, simultaneously, urged for an international recognition of Moroccan sovereignty over Western Sahara.

Good news is flowing from the region: the Jewish state, also at the behest of Trump has established ties with Bahrain, the UAE and Sudan. Of course, the most recent news did not please everyone. Some frowned upon the fact that the US released the information before Morocco or Israel; others criticised the power imbalance between Morocco and Israel on one hand, and Palestine and Western Sahara on the other. The latter has been waging a war of independence against Morocco for several decades, led by a socialist separatist group with Islamist ties.

Hamas, naturally, is outraged and denounced the Moroccan treachery; while in its customary partiality against the Moroccan monarchy, the French media — both mainstream, such as Le Monde, and more independent sites such as Mediapart — quickly attacked both Trump and King Mohammed VI of Morocco for an agreement in which both Palestinian and Sahraoui self-determination was jeopardised.

This grumbling contrasts with the elation and relief felt by many Jewish families around the world as the first candle of the Menorah was lit, and by many Muslims in Morocco who can recall what things were like before the 1960s. Having grown up in Morocco, and with a father who remembers those happier times of coexistence, I was moved to tears by the sight of Israelis dancing in the street to traditional Moroccan song, waving flags of both countries and pictures of the King Mohammed.

Almost a million people in the Jewish state are of Moroccan descent, from families who were exiled six decades ago, a mere blip in time compared to the thousands of years they'd spent in the Maghreb. For them, as well as Jewish North African communities in France and increasingly in London, the deal is a hugely welcome Hanukkah gift during a difficult year.
How Moroccans are Reacting to Normalization with Israel
Peace with the Arab world? Tunisian musican sings of peace, is threatened and fired
United Arab Emirates, Morocco, Bahrain and Sudan. The list of countries of the Arab-Islamic world that have made peace with Israel in recent months is impressive.

A Tunisian singer thought it was time to put this atmosphere of normalization into music. So, on December 13, Noamane Chaari uploaded a video of a song he had just recorded with an Israeli musician. The song, in Arabic, speaks of dreams of peace, of olive trees, of the sea, of Tunis, of Jerusalem. Chaari recorded it with Ziv Yehezkel, an Iraqi Jew. An invitation to build bridges between Jews and Arabs.

In the supposedly most moderate country in the region, the only "Arab Spring" of any success, it is still a crime to sing peace with the Jews. Host of a broadcast of the famous radio station Mosaïque Fm, the young musician was the subject of death threats. Stressing that the author of the lyrics, a Yemeni poet, remained anonymous so as not to risk beheading in his country, host Hedi Zaiem asked: "What will happen to the man who sang it?".

Threatened with death, fired by his employer, Channel 1 of public television, Noamane Chaari now tells L'Obs: "I have been accused of espionage and treason. Some media have deliberately tried to antagonize Tunisian public opinion, invoking the violence against me ".

Thus, in the supposedly most moderate country in the region, the only "Arab Spring" of any success, it is still a crime to sing peace with the Jews. Conservative president Kaïs Saïed speaks of a "Zionist entity", like the Iranian ayatollahs. And the Ugtt union, which won the Nobel Peace Prize, has put back on the table the idea of ​​a law that criminalizes the establishment of diplomatic relations with the Jewish state. The union of music professionals, affiliated precisely with the Ugtt, condemned Chaari's "provocation against the Tunisian people and all the Arab people".

The singer had also traveled to Israel with an Arab delegation. His "fault" is also that of having written the song with a Jew of Iraqi origin and a Moroccan mother, while images of Baghdad appear together with those of Tunis in the music video.
JCPA:
The Battle for Washington's Foreign Policy Has Begun
Progressive organizations, some with anti-Israel agendas and some even claiming to be "pro-Israel," have embarked on a well-funded and organized campaign to turn the U.S. ship of state in a new direction, one that re-embraces Iran and the Palestinians while distancing from Israel and Arab states that seek to normalize relations with Israel.

The campaign will fail.

Even during eight years of a progressive-leaning Democratic presidency between 2001 and 2009, the Left's agenda was unsuccessful. Certainly, there was "daylight" on occasion between the White House and Israel, but the core of U.S. policy remained true to preserving Israel's security and appropriating record amounts of military aid – with few hiccups. Congress never flinched from its pro-Israel stand. The recalcitrant Palestinian leadership was as obdurate as ever, despite American pressures on Israel to be generously forthcoming. Similarly, the Iranian regime was militant, radical, and anti-American despite U.S. concessions, including pallets of dollars and loosening sanctions. The Obama administration was so frustrated, it left office with one desperate door-slamming act in December 2016: engineering the passage of UN Security Council Resolution 2334 attacking Israel's settlement and Jerusalem policies. Tant pis!

The last four years have changed the Middle East tableau irreversibly, and not just resulting from White House policy, but that too. The American Embassy went up the hill to Jerusalem, never to come down. Other countries will follow. Many Arab and Muslim countries realized that if they could not beat Israel, it was better to join Israel in economic ventures, intelligence sharing, medical and agricultural cooperation.

Unbeknownst to the progressive cavaliers who have been grounded in America by Corona, their Palestinian subjects have also changed. A majority does not want two states.20 They are fed-up with their ossified and corrupt leadership, and they see, especially those under 40, the vibrancy of the relations their Gulf cousins have with Israel.
Trump 'Overturned' Mideast Peace Assumptions, US Envoy Tells UN Security Council
In an address to the UN Security Council on Monday during a monthly session on the Middle East, US Ambassador Kelly Craft asserted that President Donald Trump's policies had "overturned" long-held views about diplomacy in the region.

"For decades, the prevailing assumption was that the world would only see normalized international relations with Israel following a resolution of the Israeli-Palestinian dispute," Craft told the virtual meeting. "But we have proven this assumption wrong."

She touted the Trump administration's pursuit of "economic and cultural ties" between Israel and its Arab neighbors, which has led to normalization agreements with the United Arab Emirates, Bahrain, Sudan and Morocco. Similar deals with countries such as Saudi Arabia and Oman, among others, could also be in the offing.

"All of us here should think long and hard about what else we may have missed or misinterpreted over the years," said Craft, who also announced on Monday that she would be visiting Israel this week.

"These decades-old approaches have not only fallen short; they have stymied regional economic cooperation and growth, and they have largely prevented Israelis and Palestinians from establishing friendly relations," added Craft, who urged the Palestinians to to return to direct talks with Israel based on the peace plan proposed by Trump earlier this year.

The ambassador's remarks followed a briefing by the UN's special coordinator for the Middle East peace process, Nickolay Mladenov, who called for a "return to the path of meaningful negotiations."
JCPA:
Hanan Ashrawi and the Palestinian Liberation Organization
PA Chairman Mahmoud Abbas made a strategic decision to no longer attack Arab countries that choose to join the process of normalization with Israel. Accordingly, he instructed senior PA officials and the Fatah movement not to make media comments regarding the normalization of Morocco with Israel.

However, Ashrawi, who resigned from the PLO, recently interviewed on a U.S. television channel and sharply attacked Morocco's decision to declare normalization with Israel and President Trump's decision to recognize Morocco's sovereignty in the Western Sahara, saying it contradicted UN resolutions.

Ashrawi's remarks provoked a great deal of anger in Morocco, and she was met with harsh criticism on social media.

Many internet surfers called her remarks a "provocation." Abdessamad Bencherif, director of the al-Maghribia TV channel, wrote on his Facebook page: "Do you want to incite the Palestinian street against Morocco and mobilize the anger and rage against it? Does the Palestinian problem need it? You are wrong when you link the Western Sahara problem to the Palestinian problem, and you hurt the Moroccan people's love for Palestine."

One political activist wrote: "We will not accept your intervention in the internal affairs of Morocco; we will not interfere in the internal affairs of the Palestinians."

It appears we shall be expecting sharp public criticism by Ashrawi of the PA and its head – a criticism she never voiced while she held positions in the PLO. This criticism may be justified on her part, and Ashrawi believes in it, but it stems mainly from her personal anger against PA Chairman Mahmoud Abbas, who refused to appoint her as Saeb Erekat's replacement as head of the negotiating team with Israel.
Does it matter if Israel's located under US Middle East command structure?
The proposition is not necessarily as clear-cut regarding its benefits. For instance, CENTCOM currently includes Pakistan but not India. Yet India and Pakistan logically are both part of South Asia. So why aren't they under the same roof? Perhaps because of the historic rivalry.

That is why Israel and Turkey were in Europe, whereas today they appear to more logically be placed under CENTCOM. It would integrate Israel into the region.

Could having Israel as part of Central Command somehow create controversies for the US role in Iraq or Afghanistan (countries that do not have relations with Israel)?

The US already faces Iranian-backed militia threats in Iraq. Would Iran use this as an excuse to heat things up more? It's not clear. Historically, the process makes sense, say its advocates, and it makes sense as part of the new peace-deal trend, as well as logistically. With former US CENTCOM commander Lloyd Austin as secretary of defense, it could mean that this concept receives more support from the top. Austin was close to Israel during his tenure, and like other CENTCOM commanders, he is keenly aware of Israel's role in the region.
UN Watch:
UNGA Condemned Israel Twice Today for 2020 Total of 17, Rest of World 6
The UN General Assembly condemned Israel today in two separate resolutions, concluding the world body's 2020 legislation with a total of 17 resolutions that either single out or condemn the Jewish state, and six on the rest of the world combined. There was one resolution each adopted for the regimes of North Korea, Iran, Syria, and Myanmar (to be ratified on Wednesday), and two on Crimea. (Click here for texts and voting sheets.)

"The UN's assault on Israel with a torrent of one-sided resolutions is surreal," said Hillel Neuer, executive director of UN Watch, a Geneva-based non-governmental watchdog organization.

"It's absurd that in the year 2020, out of a total 23 of UN General Assembly resolutions that criticize countries, 17 of them—more than 70 percent—were focused on one single country: Israel. Make no mistake: the purpose of the lopsided condemnations is to demonize the Jewish state," said Neuer.

The plenary voted today to ratify two one-sided resolutions against Israel that were adopted in draft form last month by the UNGA's Economic and Financial Committee, known as the Second Committee.

The resolution entitled "Oil slick on Lebanese shores" singled out Israel as the only country to be censured under the "Sustainable Development" agenda item, and refers to an alleged incident from the 2006 war between Hezbollah and Israel. It was adopted today by a vote of 162 to 7, with 6 abstentions.

A second resolution condemned Israel for allegedly exploiting natural resources of the Palestinians, and in the Golan, adopted by a vote of 153 to 6, with 17 abstentions. The text made no mention of Hamas' commandeering international aid money to fund terror tunnels, or Palestinians polluting the environment by burning tires, destruction of flora and fauna with arson balloons and kites; and refusal to develop their own water resources and deal with their own sewage as required by the Oslo Accords.

"The UN's disproportionate assault against the Jewish state undermines the credibility of what is supposed to be an impartial international body. When the General Assembly gives in to politicization and selectivity by discriminating against Israel, it violates the UN Charter's guarantee of equal treatment to all nations, large and small," Neuer added.

"We note that the UK and EU states like France, Germany and Spain voted Yes to more than two thirds of the UNGA resolutions singling out Israel in 2020. Yet these same nations failed to introduce a single UNGA resolution this year on the human rights situation in China, Venezuela, Saudi Arabia, Belarus, Cuba, Turkey, Pakistan, Vietnam, Algeria, or on 175 other countries," Neuer added.
Hezbollah-controlled Lebanon wins seat on U.N. Peacebuilding Commission.

The Islamic Republic of Iran will be coming off the commission, but this way really not. https://t.co/ENaaudn3Ip

— Hillel Neuer (@HillelNeuer) December 21, 2020
Coronavirus Stimulus Bill Funds Hundreds of Millions in Aid to Palestinians
The coronavirus relief bill released Monday includes $250 million in investment aid for the Palestinians and for encouraging Israeli-Palestinian dialogue in a provision titled the "Nita M. Lowey Middle East Partnership for Peace Act of 2020."

The provision, named for retiring Rep. Nita Lowey (D-NY), is buried deep within the nearly 6,000-page legislative text.

Citing economic stagnation in the Palestinian Territories, and the potential for economic development to encourage peace, the Lowey Act would spend $50 million per year for the next five years. A version of the act passed the House in July.

The act would create the "People-to-People Partnership for Peace Fund," run by the U.S. Agency for International Development (USAID) to "provide funding for projects to help build the foundation for peaceful co-existence between Israelis and Palestinians and for a sustainable two-state solution."

It would also support projects that foster dialogue between Arab and Jewish citizens of Israel. The fund would have an advisory board of 13 members, plus two members "who are representatives of foreign governments or international organizations for renewable periods of 3 years."

The act would also create the "Joint Investment for Peace Initiative," which would provide investment funding for "projects that contribute to the development of the Palestinian private sector economy in the West Bank and Gaza."
Palestinian official: Biden administration will reopen PLO diplomatic mission in Washington and the US consulate in East Jerusalem.

— Khaled Abu Toameh (@KhaledAbuToameh) December 22, 2020
This is, of course, a lie.

But it won't stop thousands of people from furiously sharing it, or outright Nazis from accusing (((Israel))) of stealing Covid relief from struggling Americans.

Textbook example of social media fueling misinformation. https://t.co/UkvVRgVgHn

— Shiri Moshe (@shirimoshe) December 21, 2020
Canada announces $70 million in aid for UN's Palestinian refugee agency
Canada announced Monday it will provide some US$70 million in financing to the UN agency for Palestinian refugees, which has been reeling from US funding cuts.

The aid amounting to CAN$90 million will be distributed over three years and comes after the agency's chief warned last month it was facing its "worst financial crisis" ever.

The agency known as UNRWA runs schools and provides health services as well as other humanitarian aid to an estimated 5.7 million Palestinians with refugee status.

"This support will help respond to the rising needs of vulnerable Palestinian refugees in UNRWA's five areas of operation [the West Bank, Gaza, Syria, Lebanon and Jordan]," Canada's foreign ministry said in a statement.

It added that the aid will allow more than half a million children to receive a quality education and will help finance more than 140 primary health clinics, as well as provide shelter and food to refugees.

"The needs of Palestinian refugees are undeniable, especially during a global pandemic: They face high rates of poverty, food insecurity and unemployment," said Karina Gould, minister of international development.

Prime Minister Justin Trudeau's government restored aid to the agency in 2016 after it had been cut four years earlier by his conservative predecessor Stephen Harper.
656 words in this French statement on Middle East to UNSC and not one reference to Hamas or Palestinian Auth obligations. Only blaming #Israel. No wonder Jew hatred and Antisemitism permeates to #France's very core!https://t.co/XThQJyZpNU@franceonu @ambfranceisrael

— Arsen Ostrovsky (@Ostrov_A) December 21, 2020
Seth Frantzman:
Why Indian billionaire Menon's view of UAE matters to Israel - analysis
Not far from the center of Dubai is a new development called Hartland, a sprawling series of residential complexes, including tall buildings and villas. The area is part of a Sobha Realty development and is an element in the vision of its founder, P.N.C. Menon, a billionaire with origins in India who earned his reputation in Oman and is now active in the UAE.

This is important because developers such as Menon and Sobha are part of the success story of the UAE and of Dubai in particular. They also illustrate what the Gulf countries can accomplish by projecting stability and security in the region and making the area ripe for investment. In addition, the globalized cosmopolitan elements of Dubai, with people from almost 200 nationalities and where the government is pushing tolerance and religious diversity, is part of that success.

I sat down with Menon during a briefing with the media in early December. He has pushed for quality construction using innovative methods at Hartland.

Menon is from Karela, India, and speaks with warmth and admiration about Israel and Jewish history, including the Jewish community of India. Looking back on 40 years of experience in real estate, including Sobha's founding in 1994, he speaks with passion about the UAE today.

This has been a complex year due to the pandemic, but Menon is bullish about the growth that will occur in the future in the Emirates. That was evident this month with some 50,000 Israelis arriving in the country.
Khaled Abu Toameh:
Why the US Needs to Help Morocco
Morocco's General Directorate of Territorial Surveillance (DGST) announced last month that the Moroccan authorities have dismantled 207 terrorist cells since 2002.

As for Morocco... it is the Islamists, and not Israel, who have "corrupted the minds of Moroccans, sowed the seeds of discord among them, brought Moroccan education to the brink of bankruptcy and legitimized ignorance." — Ahmed Assid, professor of philosophy and activist, kifache.com, December 15, 2020.

"The rhetoric of hostility and the threat of throwing the Jews into the sea won Israel widespread international sympathy. The Palestinians have missed many opportunities, and they have been chasing the illusions given to them by the [Arab] regimes..." — Sa'id Al-Kahal, a secular Moroccan author, hespress.com, January 23, 2020.

If the new US administration wants peace in the region to hold, it needs to maintain pressure on the mullahs in Tehran and not return to the policy of appeasement. Failure to do so would facilitate the mission of the Islamists to destabilize the Middle East, and especially the courageous countries that are finally opting for peace.
India Rooting for Pakistan-Israel Peace Deal, Here's Why
Israeli-US delegation arrives in Morocco, launches normalization process
The historic flight carrying Israeli and US officials landed in Rabat on Tuesday afternoon, marking a symbolic start to the new era of peace between Israel and Morocco.

The two countries agreed – following US mediation – to normalize ties several weeks ago. On Tuesday, the first-ever official flight from Tel Aviv to the Moroccan capital took place, with Israel National Security Adviser Meir Ben-Shabbat on board along with US President Donald Trump's Senior Adviser Jared Kushner and US Special Representative for International Negotiations Avi Berkowitz. Upon arrival, the captain of the El Al plan greeted the control tower with "As-Salam Aleikum," which means "Peace be upon you" in Arabic.

Prior to their departure from Israel Kushner said that the event turns the normalization deal into a reality, adding that several years ago, when Trump flew from Saudi Arabia to Israel, it was hard to get clearance from traffic controllers so that he could travel directly, but now "this happens on a permanent basis." Kushner thanked President Trump for this development, adding that "this is amazing that we have broken barriers."

Morocco is the fourth country in as many months to normalize ties with Israel. The United Arab Emirates, Bahrain and Sudan also announced they would establish full diplomatic relations with Israel, in what has been regarded as one of the most important regional developments in recent years, which could also signal a shift in Saudi Arabia's approach to the Jewish state.
The historic ELAL flight LY555 took off this morning from Israel's Ben Gurion intl airport to Rabat, #Morocco. Onboard it, a senior 🇮🇱🇺🇸 delegation and the hopes of the entire nation for the successful promotion of the new 🇮🇱🇲🇦 friendship. pic.twitter.com/XytbHmWdS4

— Israel ישראל (@Israel) December 22, 2020
Cover of Moroccan newspaper, featuring Kushner and Israeli National Security Adviser Meir Ben-Shabbat, whose parents moved to Israel from Morocco - both are in Rabat today https://t.co/03H5jsCHqg

— Lahav Harkov (@LahavHarkov) December 22, 2020
US Reinstates Sudan's Sovereign Immunity, Authorizes Funds to Help Pay Debt
The United States on Monday reinstated Sudan's sovereign immunity, as the US Congress passed legislation formalizing the move, following the ending of Sudan's designation as a state sponsor of terrorism.

However, the legislation includes an exemption allowing lawsuits by the families of victims of the Sept. 11, 2001, attacks on the United States already underway in US courts to move forward, although experts say Sudan is unlikely to lose those cases.

The state sponsor of terrorism designation, which was in place for almost three decades, had weighed on Sudan's economy and restricted its ability to receive aid. For investors, the reinstating of sovereign immunity removes another layer of financial risk.

Sudan had been engaged in talks with the United States for months, and paid a negotiated $335 million settlement to victims of al-Qaeda attacks on US embassies in East Africa in 1998 who had been awarded much higher damages by US courts.

The process to release the settlement money and restore Sudan's sovereign immunity — protection against being sued in American courts — had been stalled in the US Congress as it had been tied to the $892 billion coronavirus aid package.
Fantastic news, as Scott Birmingham (@Birmo), the Australian Minister of Finance, announces #Australia is exploring possible free trade agreement with #Israel. Would be great win-win for both 🇦🇺🇮🇱.@IsraelinOZ @AusAmbIsrael @ZC_NSW @aus_jewishnews https://t.co/8pQvBtlfjw

— Arsen Ostrovsky (@Ostrov_A) December 22, 2020
Jpost Editorial:
Israel's success
Israel is vaccinating people against Covid-19 and has done an unprecedented job in obtaining vaccines, bringing them to the country and becoming one of the first countries that seems to be on track to slowing down the pandemic through inoculation.

This is good news and the government of Prime Minister Benjamin Netanyahu and Alternate Prime Minister Benny Gantz deserves credit. They have done the right thing and along with Israeli society, the IDF, the Health Ministry and other institutions, including phenomenal efforts by this nation's medical personnel, deserve our thanks.

Israel has been through a difficult year and we are not out of the shadows yet. Covid-19 is still a major threat – and reports of a new strain in the United Kingdom, Denmark and South Africa causing border closures across Europe show that there remains great uncertainty.

Nevertheless, we have tried to strike a balance between the need to fight the health emergency and to keep some of our services running and open. This has not been easy. People have been unable to travel during holidays, they have missed family, and they have not been able to have normal weddings, celebrations or even funerals. Our lives have been turned upside down. Small business owners, the self-employed, the tourism industry and many others have been hit hard and to some extent even gutted.

We could have done better, but hindsight is always twenty-twenty. We cobbled together a response and went through several phases – and now we are where we are, as a variety of diverse and complex communities.
Israeli study shows generic anti-lipid drug may squelch COVID-19 severity
Jerusalem researchers say they have shown that an existing drug used to lower lipid levels significantly downgrades the intensity of COVID-19, after conducting a comparative study of 1,500 medical records from hospitalized patients.

Fenofibrate, a generic fat-lowering medication that is among the most prescribed drugs in the US, appeared to give patients an "astounding" advantage in fighting the disease, Prof. Yaakov Nahmias of the Hebrew University of Jerusalem told The Times of Israel.

"This is a cheap and widely available drug with minimal side effects, and we were excited to find that all the main biomarkers indicate that it reduces the severity of COVID-19," Nahmias said on Sunday.

Nahmias has spent six months analyzing the impact of the numerous different medicines taken by 1,500 coronavirus patients treated at two Israeli hospitals.

The study included 13 subjects who regularly took fenofibrate, and had been doing so before they caught the coronavirus, to address their lipid levels. The result, quicker-than-expected recovery from virus-induced pneumonia, dovetailed with his earlier hypothesis that lipids play a role in the severity of the disease.
Israeli who died from second bout of COVID-19 confirmed to have different strain
A man who died several weeks ago while suffering from a second bout of the coronavirus has been confirmed to have been infected with two different strains, leading to his fatal illness the second time around, a report said Sunday.

It is the first such case in Israel in which a reinfected patient has died.

The incident came amid growing international alarm at the discovery of mutated and highly infectious variants of the coronavirus in Britain and South Africa, prompting some countries, including Israel, to place strict travel bans on visitors from those countries.

The nursing home resident, 74, became ill in August with COVID-19, the disease cause by the virus. He was treated at Rabin Medical Center in Petah Tivka, where he eventually recovered. Three subsequent virus tests all showed that he was no longer infected.

However, in November he became ill again with COVID-19 symptoms and was admitted to Sheba Medical Center in Ramat Gan. Doctors were unable to save him and he died three weeks ago, the Kan public broadcaster reported at the time.

Doctors wondered if the virus had been hidden in the man's body, undetected by tests, or if he had become reinfected, a circumstance that has been recorded in only a small number of cases around the world.
Election prevention bill fails, Israel headed to elections on March 23
A bill proposed to avoid Knesset dispersal and the fourth elections over the last two years has failed to pass on Monday night, sealing Israel's fate.

47 MKs voted for the bill, while 49 voted against. The 23rd Knesset will be dissolved automatically at midnight on Tuesday night.

Shortly after the vote, Likud MK Michal Shir announced that she would be joining Gideon Sa'ar's New Hope party, after voting against the bill. The heads of Likud and Blue-and-White thought that there would be a majority to pass the bill, but they were surprised when three Blue-and-White MKs and one Likud MK came in and voted against it. MKs Asaf Zamir, Ram Shefa and Miki Haimovich of Blue-and-White, and Michal Shir of Likud voted against the bill while Likud MK Sharren Haskel declined to come to the vote.

"I am at peace with my decision to do the least I can to end this embarrassing show of a stuck and conflicted government which is holding an entire country hostage for political seats, and therefore I will resign from the Knesset and join 'New Hope' led by Gideon Sa'ar," Shir said on Twitter.
Palestinians hope new election would 'end Netanyahu era'
Palestinian officials on Tuesday expressed hope that new Israeli general elections would not disrupt Palestinian Authority President Mahmoud Abbas's initiative to convene an international conference for peace in the Middle East early next year.

The officials, who were responding to news about the possibility that Israel may be headed toward its fourth election in March 2021, also expressed hope that the vote would result in an end to the era of Prime Minister Benjamin Netanyahu.

In October, Abbas sent a letter to United Nations Secretary-General Antonio Gutiérrez urging him to hold urgent consultations in coordination with the Middle East Quartet (US, UN, Russia and European Union) and the UN Security Council on convening an international conference "with full powers and with the participation of all concerned parties."

The Palestinians believe that the prospects of holding the proposed conference have grown after the victory of President-elect Joe Biden in the US presidential election.

"The purpose of the international conference is to revive the two-state solution after Netanyahu and [Outgoing US President Donald] Trump did everything to destroy that option," a Palestinian official told The Jerusalem Post. "We are confident that once Trump is out of the White House, we will go back to the two-state solution. We also hope that Israeli voters, when they go to cast their ballots, would understand that Netanyahu and his government are harming Israeli interests by rejecting the two-state solution.'
Police kill Palestinian terrorist who opens fire on officers in Jerusalem
A Palestinian terrorist who opened fire at a group of police officers in Jerusalem's Old City was shot and killed, Israeli police said Monday night.

According to police, the suspected terrorist approached a police post near the Lion's Gate entrance to the Old City and fired with a rudimentary submachine gun known as a "Carlo."

Officers chased the man on foot "while firing at him and [he] was neutralized," the police said in a statement.

The alleged terrorist later died of his wounds. There was no immediate comment from Palestinian officials.

A Border Police officer was injured when he fell during the chase. He was taken to Hadassah Ein Kerem Hospital for treatment.
Footage of the attack tonight near the Lions Gate in Jerusalem's Old City. The shooter was killed by police. Hamas has praised the shooter. pic.twitter.com/6UM7VOZY4N

— Joe Truzman (@Jtruzmah) December 21, 2020
It would be bad enough if the Associated Press alone published this headline. But because @AP is a wire service, many other leading news outlets have republished this content, often verbatim.

Here's the article on the @WashingtonPost, for example. pic.twitter.com/Ca2Ev005KO

— HonestReporting (@HonestReporting) December 22, 2020
Look at the final paragraph of that article.

So, there were no terrorist attacks on Israelis in Jerusalem's Old City before 2014, @Reuters?! pic.twitter.com/aDYwedtjlX

— HonestReporting (@HonestReporting) December 22, 2020
Defense minister orders seizure of $4 million sent by Iran to Hamas
Defense Minister Benny Gantz on Tuesday signed an order to seize $4 million that had been transferred from Iran to the Hamas terror group via a Gaza Strip money changer, his ministry said in a statement.

"The money was intended for the development of Hamas terror infrastructure in Gaza, including the manufacture of weapons and payments to the organization's activists, and its source was the Iranian regime, which continues to act against the State of Israel," the Defense Ministry statement said.

The order was issued against a Gaza businessman, Zuhir Shamalch, and his money changing business, Almarkesiya Lelitzrafah.

According to the ministry, Shamalch took over as Hamas's chief money changer after the IDF killed his predecessor in a May 2019 targeted killing.

A similar order against Shamalch was already issued in February this year but to disguise his ties with Hamas, he changed the company name, the ministry said.

The updated order contained the new details of the business and enables Israeli authorities to seize whatever cash the company has, wherever it may be located, or property of the same value.
Palestinian Islamic Jihad member Maher al-Akhras who was recently released by Israel after a hunger strike and threats by Palestinian militant factions of conflict has been hospitalized with #COVID19. pic.twitter.com/HXHznpYt03

— Joe Truzman (@Jtruzmah) December 21, 2020
Hamas Official Ahmad Kulab: It Is Forbidden for Muslims to Congratulate Christians on Christmas; Santa Claus Has Invaded Muslim Countries pic.twitter.com/Piq9a2j43z

— MEMRI (@MEMRIReports) December 22, 2020
MEMRI:
Senior Lebanese Columnist In Saudi Daily: The Arab Countries Cannot Be Expected To Sacrifice Their National Interests For The Palestinian Cause
In his December 13, 2020 column in the London-based Saudi daily Al-Sharq Al-Awsat, senior Lebanese journalist Hazem Saghiya defends the countries that recently normalized their relations with Israel. These countries, he says, have crucial existential concerns and national needs of their own, and they cannot be expected to sacrifice them for the sake of the Palestinian cause, "to which nobody ascribes much importance any longer." He stressed that, although everyone recognizes the Palestinians' right to an independent state, their cause is no longer consistent with the national interests of other Arab states, and sometimes even contravenes these interests. He adds that over the years, the gap - and even conflict - between the Palestinian and Arab interests gradually increased, while the number of countries engaged in war with Israel steadily declined. At the same time, various elements in the Arab world, such as Iran and Syria, as well as Islamists, leftists and pan-Arab nationalists, exploited the Palestinian cause for their own ends, brandishing bombastic slogans about Arab unity and defeating the West, which only served to render the Palestinian issue unsolvable. Nostalgia for these slogans will not bring the Palestinians any achievements, he warns.

The following are excerpts from his article.[1] "The reactions condemning the recent Arab moves of normalizing relations with Israel [all] omitted and disregarded one specific point, which had been [extensively] discussed [in other contexts], namely the vital needs of the normalizing countries. Few noted the fact that these countries and their peoples have problems of their own, [including] the danger posed by Iran and its expansionist tendencies; Morocco's [wish] to restore what it regards as its territorial integrity, and the removal of Sudan from the terror list, with all the economic implications this can have. These issues are by no means trivial. Even Lebanon, which has not normalized [its relations with Israel, held] direct negotiations with the Israelis on delineating the border [between the two countries], and explained this by noting the need to produce its own oil.

"As long as the 'Arabs' comprise [different] countries and societies, with [different] interests, it will be difficult to disregard these issues and concerns and claim that normalization is merely the will of some ruling elite, or expect [the Arabs] to sacrifice [their interests] out of loyalty to their 'national duty' [of supporting the Palestinians, a duty] to which nobody ascribes much importance any longer.

"Some opponents of normalization claim that the [Arab] regimes can easily suppress [the will of their] peoples [and force them to accept the normalization]. But what they say when the regimes that most loudly trumpet their hostility towards Israel and their opposition to normalization are [actually] the ones that oppress their peoples the most and inflict the greatest harm on the Palestinians?...
MEMRI:
Emirati Researcher Dr. Ebtesam Al-Ketbi: Iran's Attempts To Export The Islamic Revolution Are What Have Stirred Up Hostilities In The Region
On December 14, 2020, Russia Today TV aired an Arabic-language debate about Iran-UAE relations. Former Iranian diplomat Amir Mousavi said that before Israel, the United States, and Saudi Arabia entered the picture, the UAE and Iran had enjoyed good relations and economic cooperation. He argued that Iran has been preserving the UAE's security, but that these foreign powers have caused the UAE to become hostile toward Iran. Mousavi also said that Iran cannot tolerate the UAE's "provocations" forever. Dr. Ebtesam Al-Ketbi, the President of the Emirates Policy Center, countered that Iran had been the one to provoke hostilities in the entire region when it started "exporting" the Islamic Revolution. She said that the UAE cannot accept Iran's attempts to control it, and that Iran cannot determine who the UAE can or can't sign agreements with.

Former Iranian Diplomat Amir Mousavi: "The Intervention By The Saudis, The Zionists, And The Americans... Has Driven The UAE To Become Hostile Toward Iran"

Former Iranian Diplomat Amir Mousavi: "The UAE does not have any problem with Iran. Before the Zionist entity came into the picture, the commercial exchange [between the UAE and Iran] reached $18 billion a year. There is a large Iranian community in the UAE, and relations that are good and calm. But unfortunately, the intervention by the Saudis, the Zionists, and the Americans, who want to establish themselves in the region and control the Strait of Hormuz, has driven the UAE to become hostile toward Iran. We hope that our brothers in the UAE will see where their sovereign interests lie, and that Iran, until now, has proven to be a loyal neighbor that protects the security of the UAE. Until now, Iran has protected the security of the UAE, and we hope this will continue. Harassing Iran will not benefit the UAE, especially if the Zionists are involved. The Emiratis might lose their security, their stability, and their prosperity, because Iran cannot tolerate this harassment forever."

Emirati Researcher Dr. Ebtesam Al-Ketbi: Iran Declared It Would "Export The Revolution To The Neighboring Countries[;] You Started The Hostility... You Intervened In Their Affairs"

Ebtesam Al-Ketbi: "When the [Iranian] revolution took place, you declared that you would export the revolution to the neighboring countries. You started the hostility. You took the Americans as hostages in the embassy and enraged America.
Do America's Iran experts understand today's Iran and its goals?
Ken Pollack, a resident scholar at the American Enterprise Institute said, "For many years, I have assured people that it is easy to be an expert on Iran because there are really only two answers to any question… 'I don't know' and 'It depends'… Someday we may learn Iran's true rationale and it may have nothing to do with anything that the United States or the West believes."

This lesson in humility is in short supply today, especially among those advocating for President-elect Joe Biden to immediately rejoin the JCPOA (Iran nuclear deal).

According to Politico, "A bipartisan coalition of former defense secretaries and diplomats is calling on Biden to swiftly rejoin the Iran nuclear deal."

In the House of Representatives, the incoming chairman of the House Foreign Affairs Committee, Greg Meeks, spearheaded a letter urging Biden to "rejoin the agreement," which would in effect end sanctions, with "subsequent follow-on negotiations" to address any flaws in the original agreement.

Voluntarily giving up all of the leverage of the punishing sanctions, saying you expect reciprocity and fair play in return, would be equivalent to diplomatic malpractice.

BEFORE WE go headfirst back into an agreement with such profound national security implications for both America and Israel, wouldn't it be wise for all of the experts, diplomats and politicians to take a deep breath and ask themselves, how much do my political views influence my recommendations? Responsibility dictates that all who weigh in, take the time and ask themselves challenging questions before "swiftly" rejoining what even supporters of the JCPOA call an imperfect deal.
FDD:
The Olympics must ban Iran
The International Olympic Committee (IOC) and United World Wrestling (UWW) — the global governing body for amateur wrestling—squandered a chance to save the life of Navid Afkari, the Iranian champion put to death in September on fraudulent charges by the regime in Tehran.

"There is not one shred of evidence in this damned case that shows I'm guilty," Afkari, 27, said shortly before his execution, but the regime's hanging judges "are looking for a neck for their rope."

The IOC and UWW failed to speak out when they could have saved Afkari's life by warning the regime that murdering its own athletes would make it a pariah, unwelcome at the Olympics and other world championship competitions. To provide a measure of justice for Afkari and repair their own tattered reputations, the two organizations must now banish Iran's regime from international sports competition.

The regime refuses to even grant Navid and his family a semblance of peace after his hanging. Thursday, security forces destroyed Navid's grave and detained his father Hossein and his brother Hamid for preparing the site for a tombstone. Navid's sister published a photograph of his desecrated grave and wrote on Instagram: "You can threaten, destroy, or arrest, what are you going to do with Navid's name and memory in people's hearts?"

A Greco-Roman wrestler, Afkari and his brothers Vahid and Habib protested against the regime's deep-seated economic and political corruption during nationwide demonstrations in 2018. All three brothers were tortured in connection with the invented crime of killing a security officer. Vahid and Habib continue to be held incommunicado.

Navid Afkari won fame in the city of Shiraz in Fars province for achievements which included winning a bronze medal in the Armed Forces Greco-Roman wrestling tournament. In Iran, the sport has a popularity and prestige comparable to basketball, baseball and football here in the United States. The in-ring artistry of the country's greatest wrestlers has made them into Michelangelos of the sport. Thus, Afkari's hanging made him into a national icon.
Iranian Hacker Group Claims to Have Penetrated IAI Subsidiary
Iranian hacker group Pay2Key on Sunday claimed to have successfully breached the computer system of Israel Aerospace Industries' subsidiary company Elta Systems, which developed the radar used in the Iron Dome missile defense system, and reportedly leaked sensitive data on the dark web.

"Knock Knock! Tonight is longer than longest night for @ILAerospaceIAI," the group tweeted cryptically on Sunday.

The information thus far leaked to the dark web (a part of the internet not indexed by search engines and that requires special software to access) was not classified but may not be all the hackers seized. State-owned IAI said it was looking into the matter.

A week ago, Pay2Key claimed it had hacked an Intel subsidiary in Israel and 40 companies that import coronavirus vaccines to the country.

Earlier this month, a major cyber attack hit dozens of Israeli logistics companies, with hackers making off with information from servers.

In November, Israeli cyber security firm Check Point revealed that Iranian hackers were behind a Pay2Key ransomware attack on dozens of Israeli companies.
SaNcTiOnS hAvE nO eFfEcT oN bEHaViOr https://t.co/ixsckqRHCJ

— Omri Ceren (@omriceren) December 22, 2020
Sanaa Friday Sermon by Houthi Minister of Health Dr. Taha Al-Mutawakkil: Jews and Satan – Two Sides of the Same Coin; Jewish Companies Control the Drug Trade in the World pic.twitter.com/kDdYoz1nNA

— MEMRI (@MEMRIReports) December 22, 2020
---
---
We have lots of ideas, but we need more resources to be even more effective. Please
donate today
to help get the message out and to help defend Israel.