From Ian:
Caroline Glick:
Time to hold the PLO accountable for its crimes
Erekat's most notorious and successful effort to spread blood libels against Israel occurred in the wake of the bloody battle in Jenin during Operation Defensive Shield in April 2002. Jenin had been the terrorism capital of Judea and Samaria. In March 2002, numerous suicide bombers were deployed to Israeli population centers from the city.

In the course of the battle, IDF reservists fought terrorists everywhere. All the buildings in the area had been booby-trapped. Twenty-three IDF soldiers were killed. Some 53 Palestinians, most of whom were armed terrorists were also killed.

But just as Erekat portrayed his would-be killer cousin as a martyr so he misrepresented the battle in Jenin. In the wake of the battle he appeared on CNN three times and accused Israel of massacring more than 500 innocent Palestinian men, women and children. He likened the battle to the Warsaw Ghetto uprising, the Israelis to Nazis and the Palestinian terrorists to Jewish Holocaust victims.

A few months after President Donald Trump entered office, Erekat received a lung transplant in the US America's lifesaving hospitality didn't provoke any gratitude, or even politeness from Erekat, however. Since recuperating, Erekat has repeatedly condemned and insulted Trump and his senior advisors Jared Kushner, Ambassador David Friedman, former chief negotiator Jason Greenblatt and former Ambassador to the UN Nikki Haley. He wrote an oped in the New York Times insisting that the US has no right to mediate negotiations between Israel and the PLO.

Despite his long and bloody record of lies, and incitement and facilitation of terrorism, Erekat has never been called to account for his actions, much less paid a price for them. Now, perhaps, when it is clear to all that the PLO is irrelevant to peace, the time has finally arrived when he and his PLO colleagues will be treated like the malign terrorists and liars that they are and have always been.

Sher is right. There is no reason to grant Erekat a US visa so he can come to Harvard and share his blood libels and his incitement of terrorism with American students.

And there is no reason to stop with him. America and Israel should both end the joke of PLO moderation. There is no reason for Israel to continue collecting taxes for the PA or transferring the revenues to the PA, which exists to eliminate the Jewish state. There is no reason for the Israeli government to shield the PA from law suits from terror victims. All the taxes that Israel has collected for the PA rightly belong to the 15,000 Israeli families that have been shattered by its terrorist aggression.

The PLO era officially began at the White House on Sept. 13, 1993. It officially ended at the White House on Sept. 15, 2020. It is time for Israel, the US and the rest of the world to recognize this truth and act accordingly.
Caroline Glick on witnessing the historic Abraham Accords from the White House lawn.
Speaking with Caroline Glick about witnessing the historic Abraham Accords from the White House lawn and the Attorney General's efforts to undermine government decisions and so ensure continued spread of coronavirus in Israel.
'Strip Their Funding': Lawmaker Says No Aid for University That Invited Terrorist to Speak
A mainstream California university that hosted an unrepentant Palestinian terrorist caught the attention of one Congressman who says San Francisco State University crossed a red line.

Ranking Member of the House Armed Services Committee, Rep. Doug Lamborn of Colorado, sent a letter this week to Education Secretary Betsy Devos and Treasury Secretary Steven Mnuchin calling on them to investigate the University "for potential breaches of material support [for terrorism] laws."

Lamborn noted that on Wednesday SFSU held an online panel featuring Leila Khaled, who is a proud member of the Popular Front for the Liberation of Palestine (PFLP), a designated terror group. She also brags about her role in two airplane hijackings. The PFLP has a long history of terrorist attacks and as a known terror organizations there are severe sanctions on the group and anyone with ties to it.

"The U.S. State Department has designated [the PFLP] as a terrorist group," Lamborn wrote, adding that Khaled "is an unrepentant terrorist who continues to boast about her terrorist acts."

"This is deeply troubling and requires immediate action, up to and including cutting all federal funding and investigating other potential violations of the law," Lamborn wrote.

The watchdog group StopAntiSemitism.org praised Lamborn for taking a stand.

"We applaud Congressman Lamborn's chutzpah for spotlighting San Francisco State University's outrageous decision to host a convicted terrorist under the guise of 'free speech,'" StopAntisemitism Director Liora Rez said.
I listened to the public comments on the curriculum in August. The Jews calling to protest were high school students, college students, members of the local Jewish community, senior citizens, etc. All of these people are dehumanized by this professor.https://t.co/4x2SHENB7B

— The Conspiracy Libel (@ConspiracyLibel) September 24, 2020
It's a law. US persons are prohibited from providing material support for terrorists, services to designated individuals, etc. Penalties include jail time & millions in fines. And it remains a law even when foreign policy writers feel it shouldn't be, because that's how laws work https://t.co/hkAtusFGDo

— Omri Ceren (@omriceren) September 25, 2020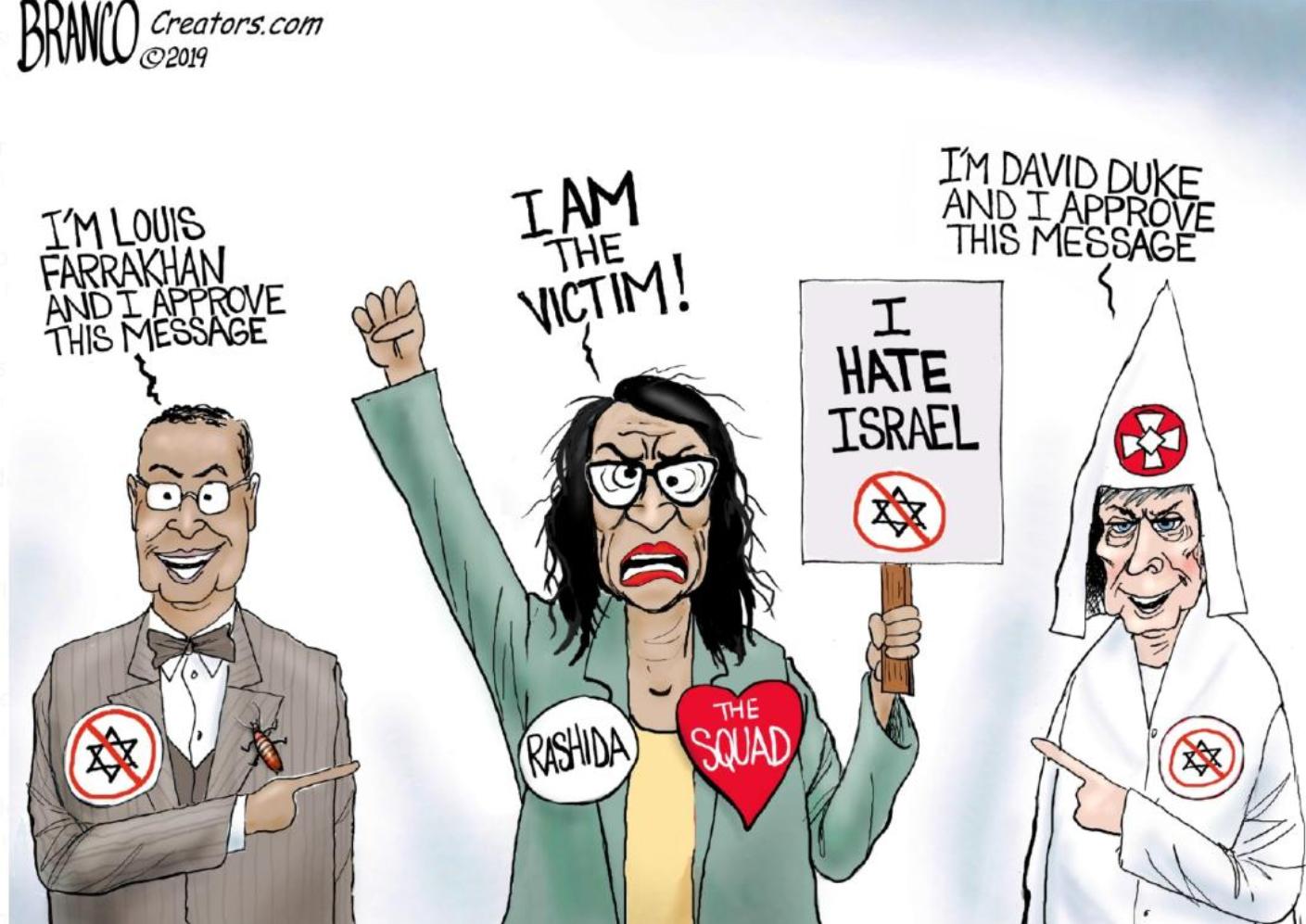 Abbas at UNGA: No peace in region while Israeli occupation continues
The international community must reject the US peace plan and instead hold an international conference at the start of 2021 to resolve the Israeli-Palestinian conflict base on the pre-1967 lines, Palestinian Authority President Mahmoud Abbas told the UN General Assembly Friday.

"I call on the secretary-general of the United Nations to undertake, in cooperation with the Quartet and the Security Council, preparations to convene an international conference with full authority and with the participation of all concerned parties, early next year, to engage in a genuine peace process," Abbas told the opening session of the 75th UNGA.

Any peace deal with Israel, should be "based on international law, UN resolutions and the relevant terms of reference, leading to an end the occupation and the achievement by the Palestinian people of their freedom and independence within their State, with east Jerusalem as its capital, on the 1967 borders, and resolving all final status issues, notably the question of the refugees, based on resolution 194," Abbas said.

He attacked the US led process, under which Israel is making peace with Arab nations prior to the end of the Israeli-Palestinian conflict. It's a move that is contrary to the Arab Peace Initiative, which forbade Arab normalization with Israel until a two-state resolution to the Israeli-Palestinian conflict based on the pre-1967 lines, was achieved.

Palestinians have warned that the US peace initiative under which, both the United Arab Emirates and Bahrain have recognized Israel, has normalized the Israeli "occupation."
#Abbas at #UNGA #UN75, now talking about supposed 'historic injustice since 1917' - which by the way when Palestinians did not even exist.

Note it has never been about '67 borders, but always about #Israel's very existence. pic.twitter.com/7dw9EZXYwT

— Arsen Ostrovsky (@Ostrov_A) September 25, 2020
No joke—50 UN Human Rights Council reps PRAISED China for locking up 1 million Muslims:
🇵🇸 State of Palestine
🇸🇦 Saudi Arabia
🇰🇵 North Korea
🇿🇼 Zimbabwe
🇻🇪 Venezuela
🇨🇩 DR Congo
🇵🇰 Pakistan
🇧🇮 Burundi
🇩🇿 Algeria
🇷🇺 Russia
🇪🇬 Egypt
🇸🇾 Syria
🇮🇷 Iran
🇮🇶 Iraqhttps://t.co/bptWftHyuX

— UN Watch (@UNWatch) September 24, 2020
Who else would love to see this happen? I definitely would! https://t.co/Y69N68ANZG

— Arsen Ostrovsky (@Ostrov_A) September 24, 2020
Dubai Airport Free Zone Signs MOU With Israeli Chambers of Commerce
The Dubai Airport Free Zone Authority (DAFZA) has signed a memorandum of understanding with the Federation of Israeli Chambers of Commerce (FICC), Dubai Media Office said on Friday.

The agreement aims to support Israeli companies in establishing business in Dubai, part of the United Arab Emirates.

The UAE and Israel agreed in August to normalize ties between the two countries.
Emirates Angels Investors Association Looking for Friends and Business in Israel
With Israel and the United Arab Emirates being the two most advanced economies in the region, their partnership is set to have a ripple effect and benefit the entire region, said Yousuf Al Mulla, board member at the Emirates Angels Investors Association and co-founder and managing partner of E11 Capital, a global venture capital firm based in both the UAE and San Francisco.

The Emirates Angels Investors Association recently signed a partnership deal with Israel-based Tel Aviv Capital, which for the last six years has operated as an investment bank and co-manages a VC fund (Brilliance Ventures) that strategically invests in Israeli high-tech companies in their growth stages. Discussions between Tel Aviv Capital and the association started even before US President Donald Trump announced that the UAE and Israel had agreed to establish full diplomatic terms.

"A few months ago, before the peace agreement was signed, we began exploring the possibility of cooperation between investors from the UAE and Israeli high-tech companies," Ron Sade, managing partner of Tel Aviv Capital, told CTech. "We had the honor to meet the Emirates Angels Association and to establish an amazing collaboration bringing Israeli technologies to the biggest and most reputable investors in the world.

"My personal dream is to eventually see young leaders and entrepreneurs from this region co-founding companies together," added Sade. "For this blessed peace process to thrive and to remain sustainable and powerful, there is nothing compared to successful business with mutual interests."
Dubai Soccer Team Signs Israeli Midfielder
The Al-Nasr SC soccer team based in Dubai in the United Arab Emirates will sign Israeli national team midfielder Dia Saba in the coming days in a move that will make him the first Israeli to play on a team in an Arabian Gulf state.

Saba is to sign a three-year contract for $3 million per season after previously playing for the Chinese Super League club Guangzhou R&F, Ynet reported.

The development comes soon after the UAE and Israel signed a normalization agreement that has opened the way for a flurry of cooperation in various fields.

Saba joined the Chinese team in January 2019 after playing with Hapoel Be'er Sheva FC for a reported 5 million euros (nearly $6 million), according to the report.
Israel, UAE Cyber Chiefs Discuss Joining Forces to Combat Common Threats
Israel and the United Arab Emirates share threats to their national online networks, the Israeli cyber-security chief said on Thursday in a rare public discussion of potential cooperation with his counterpart following the normalization of relations.

The establishment of formal Israel-UAE ties over the last month — spurred in part by common worries about Iran — unleashed a flurry of bilateral deals, including on cyber technologies, Israeli exports of which were valued at $6.5 billion in 2019.

"We are threatened by the same threats … because of the nature of the region, because of the nature of our new, 'outed' relations and because of who we are — strong economically and technologically," Igal Unna, head of Israel's National Cyber Directorate, told UAE counterpart Mohamed al-Kuwaiti in an online conference.

"We see already things in fast progress and I am very optimistic that we have a lot in common and a lot to share."

Kuwaiti described the UAE as potentially at risk of online sabotage including ransomware attacks as it develops its digital sphere. He promoted the idea of international cooperation — including in joint exercises — in cyber defense.
Israel, Lebanon agree to hold maritime border negotiations
Israel and Lebanon reached an agreement to hold negotiations on their maritime border, after a years-long impasse, a spokesman for Energy Minister Yuval Steinitz confirmed on Friday.

Talks are expected to begin in mid-October, after the Sukkot holiday, in Naquora, a city in southern Lebanon near Rosh Hanikra, where headquarters for the UN Interim Force in Lebanon (UNIFIL) are located.

A senior American representative, likely Assistant Secretary of State for Near East Affairs David Schenker, will be present, along with a UN rapporteur.

Schenker, who visited Israel last week, has been involved in getting Jerusalem and Beirut to the table, with Energy Minister Yuval Steinitz representing Israel, as the dispute has been over who has the rights to drill for natural gas. On the Lebanese side, Parliament Speaker Nabih Berri and officials in President Michel Aoun's office were involved.

Schenker updated Steinitz and Foreign Minister Gabi Ashkenazi with an updated agreement to launch a new round of talks last week. Rather than have both the US and the UN mediate, as Lebanon originally sought, the current agreement is for the US to mediate and the UN observe.
Norway court okays extradition of suspect in 1982 attack at Jewish deli in Paris
A Norwegian court on Friday approved an extradition request from France for a suspect linked to a terror attack in a Jewish neighborhood in Paris in 1982 that killed six people.

Friday's ruling, which can be appealed, concerns only whether the legal grounds are met for an extradition. Once the judicial process is completed, the decision of whether or not to extradite Walid Abdulrahman Abu Zayed will ultimately be up to Norway's justice ministry, or government.

Six people were killed when a group of men threw a grenade into the Jo Goldenberg restaurant and opened fire, setting off decades of legal wrangling and frustration for families of the victims.

The attack was blamed on the Abu Nidal Organization, a splinter group of the militant Palestinian Fatah group.

France has spent years pursuing Abu Zayed — one of four suspects with international arrest warrants against them — believing him to be one of the shooters.

Abu Zayed has lived in Norway since 1991 and has Norwegian citizenship, and the country has had a policy of not extraditing its nationals.

But a recently implemented deal between Norway, Iceland and the EU has ironed out the difficulties and paved the way for extradition.
Knife Attack Near Former Charlie Hebdo Office In Paris Injures 4, Being Investigated As Terrorist Attack
Four people were stabbed Friday near the former offices of the Charlie Hebdo magazine in Paris in what is now being investigated as a terrorist attack, local media reported.

Local law enforcement reportedly arrested one suspect after a brief manhunt following the person's escape from the initial incident, according to The New York Times. One of the four people stabbed reportedly has "serious" injuries. The Charlie Hebdo magazine was attacked by radical Islamic terrorists in 2015 after it chose to publish satirical images of the prophet Muhammad, a blasphemous act in Islam.

Footage reportedly from the site shows heavily armed officers crowded around the victims.

"Very large police force deployed in the 11th district. Knife attack not far from the premises of Charlie Hebdo. To be continued," French reporter Sami Sfaxi wrote on Twitter.

The reported attack comes less than a month after Charlie Hebdo republished the Muhammad cartoons ahead of the start of trials for suspects in the 2015 attack.

Authorities have not announced whether the incidents are related.
Israel under lockdown as coronavirus cases top 8,000 in a single day
The country headed into a tighter closure at 2 p.m. on Friday just before the Health Ministry released a new set of numbers showing that more than 8,000 people were diagnosed with coronavirus the day before.

Of the 66,640 people screened for coronavirus, some 8,178 were positive - 12.2%. Some 708 people are in serious condition, including 178 on ventilators.

The death toll rose to 1,412.

Among the newly diagnosed: Some 400 Jerusalem yeshiva students who had attended Rosh Hashanah prayers together. The students - married and single - were transferred to coronavirus hotels.

"This state of emergency requires us to make difficult but necessary decisions," Prime Minister Benjamin Netanyahu said in a statement shortly before the start of Shabbat. "It is not easy, neither in Israel nor in European countries, where the disease is also gaining tremendous momentum. But I serve you as the Prime Minister of Israel for the difficult days and for the difficult decisions.
Here are the full Israeli government lockdown guidelines in English for anyone looking. pic.twitter.com/zD32UnpRjR

— Amy Spiro (@AmySpiro) September 24, 2020
This sign was spotted in the AllStock Supermarket in the Israeli town of Harish.

Only in Israel!

🇮🇱 pic.twitter.com/smijnxTS9Y

— Im Tirtzu (@IMTIzionism) September 24, 2020
Czechs Plan to Buy Air Defense From Israel's Rafael
The Czech Defense Ministry will start talks with the Israeli government to buy a short and medium range air defense system made by Israeli state-owned supplier Rafael, the ministry said on Friday.

The government has been raising defense spending to modernize its armed forces, but has admitted it would fall short of its pledge, as a member of the North Atlantic Treaty Organization, to spend 2 percent of gross domestic product on defense by 2024.

The ministry said it expected a government-to-government contract to be signed in early 2021 and supplies from 2023 and had picked Rafael's SPYDER Short Range Air Defense/Medium Range Surface to Air Missile (SHORAD/MRSAM) from nine systems offered by seven producers.

It plans to spend 10 billion crowns ($430 million) on four batteries, each including its own radar, command and control unit.

The SPYDER will replace an over 40-year-old Soviet-made 2K12 KUB air defense system.
The Israeli Navy & @Israel_MOD have been testing the waters...

with our brand new Israeli-made sea-to-sea missile system. Watch exclusive testing footage: pic.twitter.com/aM4j8tjGX6

— Israel Defense Forces (@IDF) September 25, 2020
Hamas charges three Gaza activists for pro-peace video call with Israelis
Hamas military prosecutors on Thursday charged three Palestinian activists in the Gaza Strip with "weakening revolutionary spirit" — a charge that could lead to years in prison — for holding a video conference with Israelis.

Rami Aman, a 38-year-old peace activist and Gaza resident, was detained in early April after holding a public "Skype With Your Enemy" video call in which Israelis participated. He has said his organization seeks to empower young Palestinians and that many in Gaza share his view that speaking to Israelis should not be forbidden.

"If I were to go into the streets and tell people 'let's talk with an Israeli,' thousands of people would be here," Aman said during the videoconference, which was conducted in English.

According to the Palestinian Centre for Human Rights, which is providing legal representation to the defendants, Aman was arrested shortly after the call, along with seven colleagues who also allegedly took part. Five of them were subsequently released.

The activists are members of the Gaza Youth Committee, an organization that sponsors peace-building initiatives. Before Aman's arrest, the group become a member of the Alliance for Middle East Peace, a coalition of Israeli and Arab nonprofit organizations.

Authorities in Gaza, which is controlled by the Hamas terror group, view "normalizing" with Israelis as a criminal offense. While Hamas does permit merchants and those seeking humanitarian assistance inside Israel to communicate with Israeli authorities, it has cracked down on those who have sought to establish person-to-person ties with Israelis.
Terrible: Hamas charges Rami Aman & 2 other Palestinian peace activists with "weakening revolutionary spirit" for their role in holding a video call with Israelis in April. They could face years in prison & hard labor.@mbachelet @kenroth: Speak out now.https://t.co/lne25jMHl3

— Hillel Neuer (@HillelNeuer) September 25, 2020
The first female Israeli Ambassador to Egypt, Her Excellency Amira Oren, presents her credentials to President el-Sisi 🇮🇱 🇪🇬 https://t.co/VbZ9eQXTRD

— Michael Dickson (@michaeldickson) September 24, 2020
Palestinian gets Spanish citizenship after finding Jewish Sephardic roots
As a UK-based academic who was born in Dubai to a Palestinian father and Lebanese mother, Heba Nabil Iskandarani had plenty of potential national identities.

What she lacked, however, was a passport.

A 26-year-old lecturer in architecture at Birmingham City University, Iskandarani has been stateless for most of her life, possessing only a Lebanese travel document that defines her as a Palestinian refugee.

But after discovering that her Palestinian father had Jewish roots going back to Spain, Iskandarani was able to claim Spanish citizenship thanks to a 2015 law that promised to naturalize anyone whose Jewish ancestors fled the Spanish Inquisition.

In an interview with the Jewish Telegraphic Agency, Iskandarani attributed her quest for citizenship as rooted in both an emotional search for an identity and as a practical remedy to the bureaucratic complications that resulted from her lack of national citizenship.
PMW:
Easier than taking candy from a baby
While the Palestinian Authority positively refuses to accept an estimated 2.5 billion shekels (€610,111,437) in taxes that Israel is ready to transfer to it, the EU is again pandering to the PA tantrums and stepping in to pay the salaries of the health and education workers.

An EU press statement on Sept. 2, 2020 declared that the "The European Union has today provided a contribution of €9 million to the July salaries of health and education workers and the pensions of more than 37,500 Palestinian civil servants in the West Bank." [Website of the Office of the European Union Representative (West Bank and Gaza Strip, UNRWA)]

On May 18, 2020, PA Chairman Abbas announced that the PA and the PLO no longer see themselves obligated by the accords the latter signed with Israel. Shortly thereafter, the PA began refusing the tax revenues that Israel collects and transfers every month to the PA as part of the agreements.

Statistics obtained exclusively by Palestinian Media Watch from Israel's Ministry of Finance for the period of May through August 2020 inclusive, show that the PA is refusing to accept funds estimated to be 2.5 billion shekels (€610,111,437). The statistics show 1,902,839,671 shekels have already accrued from import duties and excise duties. An additional sum, for VAT returns, is unclear since the PA is refusing to cooperate with Israel and submit the necessary documentation. In the first four months of 2020, the VAT returns income was, on average, 170,000,000 shekels per month. Even if the income dropped as a result of the Covid-19 pandemic, it is still estimated to be in the region of 150,000,000 per month equaling 600,000,000 shekels for the four month period. The figures were obtained by PMW in response to a request pursuant to Israel's Freedom of Information Act.

The EU press release added that since 2008, the EU has donated several billions of euros to both the PA and to the United Nations Relief and Works Agency for Palestine Refugees in the Near East (UNRWA).
Over the last several weeks, two militants from al-Qaasam Brigades and one from Saraya al-Quds have died from an 'incurable disease' according to the groups. Due to the current #COVID19 outbreak in #Gaza, I suspect their deaths maybe more than what the groups are claiming. pic.twitter.com/fJPrgdrdaw

— Joe Truzman (@Jtruzmah) September 24, 2020
Hezbollah Finance in Lebanon
The government of Lebanon seeks an international bailout to save its financial system, which will require an estimated $93 billion rescue.1 The amount needed is astronomical. But even if a rescue were feasible, other systemic challenges remain. Lebanon's financial system is rife with illicit finance. It is a conduit for money laundering schemes that fund Hezbollah and its nefarious activities, generating billions of dollars per year for the terrorist group.

Hezbollah's illicit financial activities draw upon formal and informal channels. Identifying those channels is not a simple matter. U.S. intelligence agencies investigating Hezbollah's criminal network do not even have a full picture of its revenue streams. Still, certain basics are known:

Hezbollah generates significant proceeds in cash from criminal activities. The terrorist group relies on complex trade-based money laundering schemes spanning from South America to Africa to the United States. But for Hezbollah to repatriate this money, the funds must transit the formal Lebanese and international financial systems.

The purpose of this research memo is to highlight, drawing from open sources, how the Lebanese and international financial systems have become conduits for Hezbollah's illicit financial activities. This memo identifies cases that illustrate how Lebanon's Hezbollah laundromat works, with the Lebanese banking sector and political elite at its center.
Corona, explosions and elections saved us from a nuclear Iran in 5780
So this week's grand battle over the Iran arms embargo and the US snapback sanctions will now reframe the entire nuclear standoff between the Islamic Republic and the US – right? Wrong.

True, the fight over the arms embargo and the US snapback sanctions are big-ticket issues.

Anyone who blows off the US unilateral arms embargo as meaningless does not comprehend the unique economic power that America still wields. American sanctions have unquestionably reduced terrorist activities by Hezbollah and Shi'ite militias in Syria by partially closing the spigot of Iran's terrorist funding.

US Special Representative for Iran Elliott Abrams has echoed numerous times in the past week that many EU and other global companies will follow US sanctions because of their own bottom line. He said this is true even if their governments did not help the US arms embargo campaign at the UN.

But neither the old nor the new sanctions are what saved the world from a nuclear Iran in 2020. The award for that achievement goes to a combination of the coronavirus, a series of summer explosions and the upcoming US elections.

IN MARCH, Israeli intelligence sources told The Jerusalem Post that due to the coronavirus crisis, Iran could not maintain the same pace of uranium enrichment and other related nuclear weapons program activities.

Sources said that Iran was among the hardest hit by the corona crisis, and that there was no part of the country or the leadership, including Iran's nuclear experts, that was not compromised by the crisis.

Israel's intelligence community has argued that the crisis was far worse than even official reports, which themselves painted a horrific picture of death and infection.
Hezbollah's Growing Terror Network in Europe
According to Nathan Sales, the U.S. State Department's counterterrorism coordinator, Hezbollah has been steadily building up its weapons stockpiles in Europe with the aim of preparing for any future acts of terrorism that may be ordered by Tehran.

Describing Hezbollah's arms build-up in Europe as posing a "clear and present danger to the US" and its allies, Mr Sales said that US intelligence reports showed that Hezbollah had weapons based in Belgium, France, Greece, Italy, Spain and Switzerland, while "significant" ammonium nitrate caches had either been discovered or destroyed in France, Greece and Italy.

Further evidence of Hezbollah's expanding terrorist presence in Europe has emerged in Ireland, where ten members of an Irish dissident group known as the New IRA (NIRA) were arrested on terrorism charges last month, following claims they met with Hezbollah officials at Iran's embassy in Dublin.

At a time when tensions are increasing between Iran and the West over Tehran's controversial nuclear programme, the expansion of Hezbollah's terror operation in Europe should certainly be a major cause for concern. Iran, after all, has a long history of resorting to terrorism to put pressure on its adversaries, and Europe is an obvious target for future Iranian terror attacks.
Saudi King Slams Iranian Terror Funding in U.N. Speech
The 84-year-old King Salman of Saudi Arabia blasted Iran for its production of "chaos, extremism, and sectarianism" on Wednesday in his first speech to the United Nations since taking the throne in 2015.

"[Saudi Arabia]'s hands were extended to Iran in peace with a positive and open attitude over the past decades, but to no avail," Salman told his fellow U.N. members.

"Time and again, the entire world witnessed how the Iranian regime exploited these efforts in order to intensify its expansionist activities, create its terrorist networks, and use terrorism, and in the process squandering the resources and wealth of the Iranian people for the purpose of its expansionist projects which produced nothing but chaos, extremism, and sectarianism."

Salman cited Iran's efforts to destabilize Yemen, Lebanon, and its launching of over 700 drone and missile strikes through proxies on Saudi Arabia to date. In Yemen and Lebanon, Iran uses proxy forces such as Houthi militias and the terrorist group Hezbollah to inflict violence. Salman blamed Hezbollah for the massive explosion in Beirut in August that killed nearly 200 people.

The Saudi king also briefly touched on coalition efforts to root out ISIS and al Qaeda groupings in Yemen as a part of the larger efforts Riyadh has made in combating extremism in the region.
US slaps sanctions on Iranians over execution of wrestler
The United States on Thursday imposed sanctions on an Iranian judge who sentenced a wrestler to death over his role in protests — an execution that triggered international outrage.

Navid Afkari, 27, who had won national competitions, was hanged earlier this month after being convicted of murder during demonstrations two years ago in the southern city of Shiraz. The execution was preceded by worldwide appeals for clemency, including from President Donald Trump.

The United States said it was taking action against Judge Seyyed Mahmoud Sadati, voicing alarm over allegations that Afkari was tortured in custody to force a confession.

"His killing was an unconscionable act," Secretary of State Mike Pompeo said in a statement. "Navid's death must not be in vain."

"The United States calls upon all nations to promote accountability for this regime by imposing sanctions like the ones announced today," he added.

The State Department also imposed sanctions on Judge Mohammad Soltani over sentences handed to members of the Baha'i faith, which faces wide restrictions in Iran.

"The actions taken today by the United States expose Iran's Revolutionary courts and their judges for what they really are: tools designed to enforce the Iranian regime's brutal ideology and suppress dissent," Pompeo said.
.@CFR_org you guys should bring Zarif back in so he can explain this one away as well. https://t.co/SpWJ3Z1sPM

— Omri Ceren (@omriceren) September 24, 2020
---
---
We have lots of ideas, but we need more resources to be even more effective. Please
donate today
to help get the message out and to help defend Israel.