From Ian:
---
How Israel Keeps Saving the World
The implication, it seemed, was that Israel had opened a new chapter in its efforts to prevent Iran's acquisition of a nuclear weapon. Some observers speculated about Iran's possible retaliation—including against the U.S.—while others expressed alarm. Indeed, ever since an Iranian opposition group laid bare Iran's secret nuclear program in 2002, much of the world has seemed as anxious about what Israel might do to prevent an Iranian nuclear breakout as about Iran's quest for the bomb. Israel's latest apparent tactic was "audacious and risky," wrote a Washington Post columnist. It amounted to "a dangerous gamble," warned the head of the Rand Corporation's Middle East program.

Perhaps so: Audacious and risky tactics, dangerous gambles, have been hallmarks of Israel's self-defense, which has enabled it to survive in the face of endless threats that few other nations have had to face. It has emerged as the strongest and most stable country in the Middle East, a reality that is recognized universally by unbiased observers. What is less often acknowledged is that actions taken in Israel's self-defense have also redounded to the benefit of America and, indeed, of the world.

Israel has refused to sign the nuclear nonproliferation treaty and is widely believed to possess a nuclear arsenal, an inference it has steadfastly refused to confirm or deny and for which it has often been criticized. Nonetheless, it has been responsible for some of the world's most important measures of what is called "counterproliferation."

THE FIRST was the destruction of Iraq's nuclear reactor at Osirak in 1981. As early as 1974, Saddam Hussein, who was not yet president of Iraq but was already the power behind the throne, was named, or named himself, to head a three-member Strategic Development Committee charged with generating weapons of mass destruction.

That year, France agreed to sell Iraq a light-water "research reactor" together with uranium fuel, after turning down a request for a graphite reactor deemed more conducive to weapons manufacture. Italy provided equipment for recovering plutonium from the reactor's fuel. According to Iraqi scientist Khidhir Hamza, who worked on the program, and David Albright, a former International Atomic Energy Agency (IAEA) inspector of Iraq's nuclear programs, "Iraqi teams calculated that the Osirak reactor could conservatively produce about 5 kilograms to 7 kilograms of weapons-grade plutonium per year," and possibly more, enough for a bomb.

This known potentiality led to its being attacked—by Iran. That was in 1980 at the outset of the war between Iraq and Iran. The Iranians damaged some of the facilities at Osirak but not the reactor. In protest, an Iraqi government newspaper addressed the Iranians rhetorically:
We ask Khomeini and his gang, "Who would derive benefit from damaging the Iraqi nuclear reactor, Iran or the Zionist entity?" It does not stand to reason that this reactor would constitute a danger to Iran, because Iraq sees the Iranian people with a brotherly regard. It is the Zionist entity which is afraid of the Iraqi nuclear reactor … because it constitutes a great danger to Israel.

And so it seemed, too, to Israeli Prime Minister Menachem Begin. The following year, as Iraq was preparing to feed fuel into the reactor, making it "hot," meaning that its destruction would have released radioactivity into the air that might have killed thousands, Begin ordered it destroyed.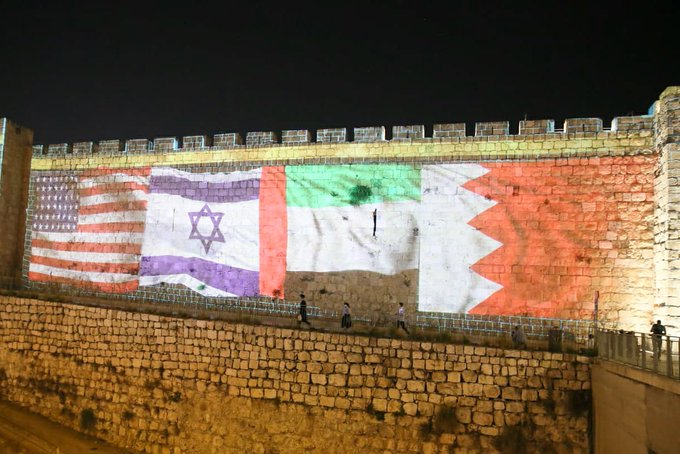 Marking 'dawn of new Middle East,' Israel signs historic deals with UAE, Bahrain
Cementing a regional geopolitical shift few would have thought possible little more than a month ago, Israel on Tuesday signed landmark normalization deals with two Arab nations at a White House ceremony, with leaders hailing a "new dawn" for peace in the Middle East.

Hundreds of people amassed on the sun-washed South Lawn to witness the signing of agreements between Israel and the United Arab Emirates and Bahrain. The bilateral agreements, dubbed the Abraham Accords, formalize the normalization of the Jewish state's already-thawing relations with the two Arab nations, in line with their common opposition to Iran and its aggression in the region.

"We're here this afternoon to change the course of history," US President Donald Trump said from a balcony overlooking the South Lawn. "After decades of division and conflict, we mark the dawn of a new Middle East."

The agreements do not address the decades-long Israeli-Palestinian conflict. While the UAE, Bahrain and other Arab countries support the Palestinians, the Trump administration has persuaded the two countries not to let that conflict keep them from having normal relations with Israel.

Addressing the crowd before signing the agreements, Israeli Prime Minister Benjamin Netanyahu lauded the achievement as "a pivot of history." He said the new peace momentum could end the Arab-Israeli conflict "once and for all."

UAE Foreign Minister Abdullah bin Zayed bin Sultan Al Nahyan thanked Netanyahu for "halting the annexation of the Palestinian territories which reinforces our shared will to achieve a better future for generations to come."

Abu Dhabi has cited stopping annexation as the impetus for agreeing to normalize ties with Israel, though Jerusalem insists that it has only temporarily suspended its plans to extend sovereignty to swaths of the West Bank sought by Palestinians for a state of their own.

The agreements were only the third and fourth peace accords in the Jewish state's 72-year history.
Full text: Netanyahu's address at signing of Israel-UAE-Bahrain peace accords
Full text: UAE foreign minister's speech at the Abraham Accords signing ceremony
FLASHBACK: Experts say moving U.S. embassy to Jerusalem kills Middle East peace
New details on the UN BDS blacklist
In a March 2020 interview posted on a fringe website, BDS activist Shir Hever revealed new details about the creation and operation of the United Nations' BDS blacklist. (For information on the list, known in U.N. parlance as "database," see NGO Monitor's Key Issue page.)

Hever's interview raises the standard BDS claims relating to the list: that doing business in conflict zones and situations of occupation is illegal; that the United States and Israel were responsible for delaying the lists' publication by three years (in fact, the European Union and many other governments were also opposed to the creation of the list and sought to cancel it); and that this list was not an aberration because the United Nations had prepared similar lists for the DRC and Myanmar (again, these comparisons are false).

Yet, in the interview, Hever also made some notable and striking admissions.

Based on several meetings I had between 2016 and 2019 with the United Nations officials responsible for crafting the list at the Office of the High Commissioner for Human Rights (OHCHR), and as reflected in the citations of the relevant U.N. reports, BDS NGOs and activists worked closely with OHCHR to prepare the list. In his interview, Hever confirms this collaboration, noting he was involved along with "many, many, other activists." In other words, the contents of the blacklist appear to have been determined with the help of selected political NGOs and lobbyists chosen by the OHCHR, in violation of basic due diligence requirements.
Subscribe to The JNS Daily Syndicate by email and never miss our top stories

Another important admission made by Hever relates to concerns I raised on multiple occasions via letters to former U.N. High Commissioner for Human Rights Zeid Ra'ad al-Hussein and current Commissioner Michelle Bachelet, and also in person with other responsible officials. It was plain that the United Nations did little to no investigation of the targeted companies and had no capacity to do so. Indeed, Hever states that if a company told the United Nations it was not involved in the West Bank, the United Nations "removed them from the list without checking" and that companies were included because they "didn't bother to answer the Human Rights Committee [sic]."

Notably, the blacklist tarnishes all the companies with the same defamatory brush and provides no evidence to support the United Nations' claims of alleged human rights violations.
Two hurt from Gaza rocket fire as Israel signs historic accords in Washington
At least two rockets were fired from the Gaza Strip at Israel on Tuesday night, one of which struck the city of Ashdod, injuring two people, the military said.

The rockets triggered sirens in the cities of Ashkelon and Ashdod, potentially sending hundreds of thousands of residents rushing to bomb shelters just as the country's leader was signing historic accords with two Gulf states, vociferously opposed by the Palestinians.

According to the Israel Defense Forces, soldiers operating the Iron Dome missile defense system intercepted one of the incoming projectiles.

The second rocket struck a street in Ashdod, lightly damaging it and nearby storefronts and knocking down a tree.

Later on Tuesday night, IDF troops caught two Palestinian men who entered Israel from the southern Gaza Strip. It was not immediately clear if they were armed. "The suspects are being interrogated at the scene," the military said.

Security camera footage from the scene showed the moment of impact in Ashdod, as the rocket exploded as it slammed into the street.

The Magen David Adom ambulance service said one man, 62, was moderately injured, sustaining shrapnel wounds to his upper body from the rocket. The second man, 28, suffered light injuries to his extremities from broken glass. Four other people suffered anxiety attacks as a result of the apparent rocket fire, medics said.

The 62-year-old man was reportedly delivering food to needy families when he was hit by the shrapnel.
Multiple injuries in Ashdod, Israel after rockets fired from Gaza during White House peace accord signing.

We're live next hour on @FoxNews from the scene. Tune in. pic.twitter.com/rTNunByCRF

— Trey Yingst (@TreyYingst) September 15, 2020
Say their names: The forgotten American victims of Palestinian terror
Many of the recent protests over police shootings have focused on a specific victim, Ms. Breonna Taylor. The "Say Her Name" campaign has taught millions of people about Breonna as a person, about her life and what happened to her. The same cannot be said for Grace Cutler or Ann Van Zanten. I wonder if even a single person reading this column will recognize their names. That is a tragedy.

Grace and Ann's names should have been in the news last week because one of their killers was finally arrested after decades of living freely. Yet I could not find a single article, among the many reports of the arrest, which mentioned the victims' names. Of course, they all mentioned the murderers' names.

On Aug. 9, 1982, two Palestinian terrorists—Nizar Tawfiq Mussa Hamada and Walid Abdulrahman Abu Zayed—fired submachine guns and threw hand grenades at the Jo Goldenberg restaurant in the Jewish quarter of Paris. Six people were murdered and 22 wounded.

Among the fatalities were two women from Chicago: 66-year-old Grace Cutler and 31-year-old Ann Van Zanten, the curator of architectural collections at the Chicago Historical Society. Ann's husband, David, a professor at Northwestern University, was among the injured.

Hamada and Abu Zayed escaped. U.S. law permits capturing foreign terrorists who have killed Americans and bringing them to the United States for trial and punishment. Yet the U.S. government has never shown any interest in capturing the murderers of Grace and Ann. Hamada and Abu Zayed are not even included in the State Department's "Rewards for Justice" program, which offers rewards for information leading to the capture of killers of Americans abroad.
The Middle East Transformation
It is hard — but not too hard — to feel sorry for Palestinian Authority President Mahmoud Abbas. Now in the 15th year of his four-year term, he confronts the new reality that two Arab states — the United Arab Emirates and Bahrain — have recognized Israel. The triumphant El Al flight to the UAE, with permission from Saudi Arabia to fly through its air space, was the wedge that opened the gate to a new era of amicable relations between Israel and the Arab world. The ceremonial White House signing marks its affirmation.

Predictably, the New York Times quickly found reasons for caution and criticism. A chorus of four Times reporters, responding to the Israel-UAE accord, noted sharp disapproval from the PLO, whose spokesman called it "a black day in the history of Palestine." Palestinians "have not authorized anyone to make concessions to Israel in exchange for anything," he said, as if Palestinian approval was required.

Focusing on "Democrats and many Middle East analysts in Washington" who dismissed praise for the agreement as "hyperbolic," the Times cited an "expert" who claimed, with no supporting evidence, that "it's hard to credit the Trump administration with this deal." The Times also noted "an immediate backlash" from Jewish settlers, whose opinions are rarely sought by its reporters and columnists for anything but criticism of Israel.

One day later, London Bureau Chief Mark Lander reiterated the Times' denigration of the accord. He hastened to assert that the new agreement was "not the result of months of delicate shuttle diplomacy by the Trump administration." Instead, it represented "an opportunity to make progress on one front after its failure on another: brokering a peace accord between Israel and the Palestinians." In the end, he concluded, Jared Kushner (President Trump's son-in-law and chief Middle East negotiator) was "hungry for success after three years of Middle East diplomacy."

Primacy on the Times opinion page was, predictably, given to Palestinian lawyer Diana Buttu, who has served as a PLO adviser. The give-away Times headline asserted: "The UAE-Israel Flight Is Nothing to Celebrate." For Ms. Buttu, the deal between the UAE and Israel was a failure because it is "normalizing relations with Israel without Israel ending its military rule over Palestinians." She lamented that the United States, Israel, and now even Arab countries "are willing to move ahead with plans that disregard Palestinian rights."
Kosovo's Jews cheer their Muslim-majority state's new deal with Israel
For Flori Dedoni, a member of the tiny Jewish community of Kosovo, the news that his country is establishing formal diplomatic ties with Israel is cause for celebration.

Until last week, Israel was among the dozens of countries that had not recognized the Muslim-majority territory sandwiched between Albania and Serbia.

"When someone learns I'm Jewish, they usually ask sometime during the conversation why Israel doesn't recognize us," Dedoni said. "Now, finally it's happening and the feeling is just festive. Plus, I don't have to explain anymore."

Israel's implied recognition of Kosovo is part of a three-way deal announced on September 4 by the White House. According to the announcement, Serbia, which claims ownership of Kosovo's territory and has fought against international recognition of its declaration of independence in 2008, has agreed to cooperate on some economic issues with the government of the breakaway region.

The deal stipulates that both countries will open embassies in Jerusalem — a development that Israel and the United States are advancing, despite opposition by the Palestinians and the European Union, who say that the city should only be recognized as Israel's capital after a peace deal with the Palestinians.
Exclusive: Israel Advances Bill Allowing Military to Use 'All Means Necessary' to Defend Israeli, U.S. Troops from ICC
New legislation against the International Criminal Court (ICC) in the Hague is being advanced at the Knesset, and would allow Israel to use all means necessary in defending U.S. and Israeli troops from the global tribunal.

It would be the first legislation of its kind by a foreign state that authorizes the use of its own forces to defend American servicemen and women.

The news comes in the wake of sanctions imposed by the U.S. on senior ICC officials, including chief prosecutor Fatou Bensouda (pictured), on charges of "illegitimate attempts to subject Americans to its jurisdiction."

Bensouda is currently leading separate ICC war crime probes against the U.S. and Israel, both of which are not its member states.

The law, which has support from across the Israeli political spectrum, would prevent the Israeli government from cooperating with the court and bar entry to ICC employees into the country.

It protects Israeli residents and servicemembers, as well as U.S. servicemembers "from personal injury by hostile international institutions, seeking to harm them due to acts committed in the territory of Israel or on behalf of the State of Israel, whether the acts constitute an offense under Israeli law or not," the text of the law reads, adding it would do so "by any means necessary."

"The tribunal's built-in bias against Israel already restricts its freedom of action, and poses a threat to its sovereignty," the draft text continues.

The legislation, proposed by Likud MK and former Shin Bet security agency chief Avi Dichter, is modeled on a similar 2002 U.S. bill known as the "American Service-Members' Protection Act," which authorizes the use of military force to free its citizens from incarceration at the Hague.

Although the U.S. legislation has similar clauses for American allies, until now no other country had offered reciprocity in the struggle against the anti-American court.
Israel Sees Nearly 5,000 New COVID Cases in 24 Hours as Death Toll Hits 1,141
Israel's COVID-19 morbidity rate continues to rise, hitting another record from Monday to Tuesday with 4,973 confirmed positives, or 12 percent of all tests processed in that 24-hour period, according to the country's Health Ministry.

Approximately 3,000 of the newly confirmed COVID-19 patients live in cities, towns, or local authorities coded either red or orange under National Coronavirus Project Coordinator Ronni Gamzu's "traffic light" plan.

Two coronavirus patients died of the virus in the early hours of Tuesday, bringing the national death toll to 1,141 since the start of the epidemic in Israel. The number of hospitalized patients listed in serious condition has jumped to 533, 140 of whom were on ventilators as of Tuesday morning, according to ministry data. There were 40,689 active or symptomatic patients in Israel.

The COVID units at the Galilee Medical Center; Shaare Zedek Medical Center in Jerusalem, Hadassah Mount Scopus, Assuta Ashdod, and Hillel Yaffe were at or over full capacity.

Health Ministry Deputy Director-General Itamar Grotto addressed the shrinking number of available hospital beds at a press conference on Monday evening. According to Grotto, the ministry was assessing the situation and there was currently no order in place to cut back on activity, even though over-burdened hospitals in northern Israel and Jerusalem were starting to send patients to other hospitals in central Israel.

"We are dealing with a new disease with new complications and seeing more than a few young patients reach serious condition. The disease is spreading throughout the entire country, and if we don't stop it, we will cause harm to more people. The longer we wait, the worse the situation will get," said Grotto.
Human Rights Watch Claims Palestinian Car-Rammer Was Unlawfully Killed, Demands Israel Return His Body
The notoriously anti-Israel NGO Human Rights Watch (HRW) is claiming that a Palestinian who committed a car-ramming attack at a West Bank crossing earlier this year was unlawfully killed and his body should be returned to his family.

Ahmed Erekat, 27, smashed his vehicle into a booth at the crossing near Abu Dis, close to Jerusalem, on June 23, sending one Border Police officer flying. He then exited the car and was shot dead at the scene.

Video footage of the incident showed Erekat's car slowly approaching the crossing in a line of other vehicles. When an opening appears, he makes a near-90 degree turn and quickly accelerates into the booth.

A statement published on Monday by HRW claimed Erekat was illegally killed because he "no longer appeared to pose an imminent threat to life."

The group also lamented that Israel had not transferred Erekat's body to his family. Israel has a policy of refusing to hand over the bodies of terrorists, partly due to Hamas' refusal to return the bodies of two IDF soldiers killed in the Gaza Strip in 2014.

Omar Shakir — the Israel and Palestine director at HRW — said, "After fatally shooting Ahmed Erekat without apparent justification, Israeli authorities have unlawfully held his body hostage for more than ten weeks."

"Preventing Erekat's family from burying their son in a dignified manner is cruel and without legal justification," he claimed.

HRW also appeared to give credence to the baseless claim that Erekat did not act deliberately, but was rather the victim of a tragic accident.
CAMERA Op-Ed:
While Israel Burns, the Media Fiddles
For weeks while communities in Israel burned, many major U.S. news outlets kept silent. Hamas, the U.S.-designated terror group that rules the Gaza Strip, has been intermittently launching firebombs into the south of Israel for years. Yet Hamas's terrorism by fire was largely ignored during the summer of 2020.

By repeatedly launching incendiary devices into Israel, Hamas and other Gaza-based terror groups have violated numerous ceasefires. The damage has been extensive.

According to an Aug. 28 press release by Jewish National Fund-USA, almost "600 fires caused by incendiary and explosive-laden balloons sent by terrorists in the Gaza Strip have plagued Israel's Gaza Envelope region over the past 19 days as thousands of acres have been destroyed." On Aug. 23 alone, devices launched from Gaza started more than 28 fires. Nor is it merely balloons; as the Times of Israel reported "rockets have also been fired on multiple occasions at Israeli cities and towns, including over a dozen projectiles" on Aug. 20.

JNF-USA has helped to combat the fires by investing in firetrucks and firewagons. The threat to many communities in Israel's south has been so pervasive that JNF-USA has helped develop "new, often fortified playgrounds, schools, parks and other amenity-enhancing projects." Keith Isaacson, the head of security for Israel's Eshkol region, lamented: "You can see that the forests are suffering. The wildlife is suffering. Instead of green behind our houses, we have black."

As Ynet news previously reported, in February 2020 explosives-laden balloons landed in a preschool in the southern Israeli Kibbutz Sa'ad. More recently, others have landed near playgrounds. On several occasions, terrorists have attached the balloons with Disney characters—a tactic meant to entice unsuspecting children.

Israel, meanwhile, has responded with targeted strikes aimed at the terror network and its infrastructure.

Terrorist groups targeting children with balloon bombs and causing massive ecological damage is certainly newsworthy. Yet many major Western news outlets have completely ignored the story.
A dozen EU ambassadors witnessed a Gaza terror tunnel firsthand, were informed on the threats we face, & concluded their day with a briefing with the CO of the Southern Command, MG Herzi Halevi, today.

The IDF will continue defending Israel while seeking to maintain stability. pic.twitter.com/kII65mOuiD

— Israel Defense Forces (@IDF) September 14, 2020
Report: Hezbollah Might Be Providing Weapons to New IRA
The Iran-backed Shi'a terrorist proxy Hezbollah might be providing the New IRA ‐‐ Ireland's biggest dissident republican group ‐‐ with weapons and money, London's Sunday Times reported.

The report was based on information collected by an MI5 agent, Denis McFadden, over the past two decades.

McFadden, the report said, was now in a witness protection program after the arrest of 10 people in Northern Ireland on terrorism-related charges.

Contacts between Hezbollah and the New IRA were alleged to begin in 2017, with members of the Irish group travelling to Lebanon the following year.
Former Lebanese FM Gebran Bassil: Lebanon Cannot Afford Resurgence of Palestinian Attacks on Israel from Its Land pic.twitter.com/Y4ldRWTohF

— MEMRI (@MEMRIReports) September 15, 2020
Israel's Peace Deals Are a Strategic Nightmare for Iran
The new Arab-Israeli alliance will likely make Iran more vulnerable to pressure campaigns and security-intelligence operations by its adversaries. Iran's existing vulnerability was on full display in February 2018, when a team of Mossad agents successfully extracted over half a ton of top-secret nuclear documents from an obscure district in Tehran and flew them to Tel Aviv, according to noteworthy speculations in the Iranian intelligence community, after transferring the haul through the Caspian Sea to Azerbaijan, a key Israeli ally in Iran's northern neighborhood. Iran has historically attached much greater strategic significance to its western and southern flanks than it has to northern neighbors—which are largely viewed in Tehran as Russia's backyard in the first place. Arab-Israeli cooperation, facilitated by the United States under Trump, will further expose these weaknesses.

But these cracks in Iran's regional security buffer haven't only enabled such cloak-and-dagger strikes. They have also made Trump's "maximum pressure" policy of economic asphyxiation against Tehran more effective and painful than his predecessor's sanctions campaign. Increased Arab collaboration with Israel and the United States has helped the latter obstruct clandestine financial channels and escape valves traditionally used by Iranian authorities and institutions to evade U.S. sanctions.

The emerging Arab-Israeli alliance, exemplified by the Emirati-Israeli normalization, also augurs poorly for Iran's typically successful pursuit of strategic depth across the Middle East. According to media sources in Turkey—a major UAE rival and opponent of its rapprochement with Israel—Emiratis are affording Israel a unique opportunity to set up "spy bases" on the UAE-controlled island of Socotra south of Yemen. The UAE's facilitation of Israeli security engagement in the Gulf of Aden could fuel long-standing subterranean tensions in the area even after the Yemen war—pitting Iran-allied Houthi rebels against Saudi-backed forces—potentially ends. A similar kind of covert Iranian-Israeli animosity has already transpired in parts of Africa, with Arab partners traditionally favoring Israel over Iran, and if recent history is any guidance, there is no reason to believe it will not repeat itself in the Horn of Africa and the Arabian Sea, which are of greater strategic importance to Tehran.

It is not surprising, therefore, that a comprehensive opening with regional Arab states, not least the Saudi-led bloc, enjoys cross-partisan backing in Tehran—unlike negotiations with Washington, which are hard for Iranian leaders to rationalize and sell under the humiliating pressure of economic sanctions and following the U.S. assassination of Suleimani. All told, the UAE-Israel diplomatic breakthrough is likely to aggravate Tehran's extant perception of "strategic encirclement" and might provoke it to act more aggressively and with much less restraint in its neighborhood. That's perhaps what Iran's chief of staff, Bagheri, means by a "different calculus"—unless a face-saving off-ramp strategy is devised to break the ongoing cycle of confrontation.
Trump threatens '1,000 times greater' response to any attack by Iran
US President Donald Trump threatened Iran on Monday over reports it was plotting revenge for the US killing in January of top Iranian general Qassem Soleimani.

"According to press reports, Iran may be planning an assassination, or other attack, against the United States in retaliation for the killing of terrorist leader Soleimani," Trump wrote on Twitter.

"Any attack by Iran, in any form, against the United States will be met with an attack on Iran that will be 1,000 times greater in magnitude!" he warned.

The Politico news site reported on Sunday that Iran was planning to assassinate the US ambassador to South Africa, Lana Marks.
Iran summons German envoy over tweet about executed wrestler
Iran on Monday summoned Germany's ambassador, following his embassy's criticism of the execution last weekend of a wrestler, after President Donald Trump asked for the 27-year-old man's life to be spared.

The official IRNA news agency said that a foreign ministry official told Ambassador Hans-Udo Muzel at the meeting that the tweet about the wrestler, Navid Afkari, amounted to an "intervention" in Iran's domestic affairs and strongly protested the move.

"Intervention in Iran's independent judicial affairs is not acceptable," the statement quoted the unnamed official as saying, adding that the ambassador was advised the embassy should not go "beyond its diplomatic" duties.

The embassy had earlier on Monday said on its Twitter account that it was "deeply surprised" about the execution and suggested the wrestler was executed as part of Iran's efforts to "silence opposing voices."
Congressmen and Women for Hamas
As Progressives continue to make the vilification of Israel a core issue for the Democratic Party, members of Congress continue to line up to embrace the hate. On Tuesday, September 15th, American Muslims for Palestine (AMP) will be sponsoring an online virtual advocacy event ('Palestine Advocacy Days') featuring at least five US Representatives. But this is not just an exercise in demanding "Palestinian rights" or supporting the toxic BDS calls for boycotting Israel. AMP is rooted in Hamas, and its leadership does not shy away from its roots, so having numerous Congressmen and women involved in this type of event is beyond outrageous.

Created in 2006. AMP was the byproduct of now-defunct groups that made up the US Palestine Committee, a terror umbrella organization led by then-global head of Hamas, Mousa Abu Marzook. As such, the group celebrates violence against Israelis. During its January 2018 'JERUSALEM IS A RED LINE' rally, AMP repeatedly led chants of "Long live Intifada" – Intifada meaning Palestinian violent uprising. AMP's Chairman, Hatem Bazian, who also founded Students for Justice in Palestine (SJP), notoriously called for an American intifada, at an April 2004 rally in San Francisco. Citing uprisings in "Palestine" and Iraq, he asked, "How come we don't have an intifada in this country?"

One AMP board member, Salah Sarsour, allegedly had involvement with Hamas, itself. According to a December 1998 Israeli Police memo, Salah's brother Jamil Sarsour, in the course of an interview, claimed that Salah was involved with Hamas and did fundraising for Hamas via the Palestine Committee's Holy Land Foundation (HLF). Jamil also claimed that Salah had plotted an attack on Israel, as revenge for the September 1998 killing of Salah's friends – Hamas military wing Qassam Brigades leaders and brothers, Imad and Adel Awadallah – by Israeli soldiers. Previously, Salah had spent eight months in a Ramallah prison.

AMP is a part of the US Council of Muslim Organizations (USCMO). Sitting on the board of USCMO is Mazen Mokhtar, a former US-based administrator for qoqaz.net, a now-defunct al-Qaeda recruitment/financing site. Mokhtar, who has spoken at AMP events, has called Hamas acts "heroic" and suicide bombings "an effective method of attacking the enemy." Also on the board is Siraj Wahhaj, a Brooklyn, New York imam who was cited by the US government as an "unindicted co-conspirator" in the 1993 World Trade Center bombing. Wahhaj has been linked to the bomb maker of the attack, Clement Rodney Hampton-El, and has praised the spiritual leader of the attack, Omar Abdel Rahman.
Florida Latinos flooded with anti-Semitic conspiracy messaging ahead of election
Anti-Semitic conspiracy theories are spreading among Florida's Latino communities ahead of the presidential election, amplified by social media and messaging apps as well as respected mainstream outlets.

According to a report in Politico, much of the anti-Semitism stems from QAnon, the growing, false conspiracy theory that claims Democrats and the "deep state" run a pedophile ring and are working to take down US President Donald Trump. Purveyors of the theory often traffic in classic anti-Semitic tropes, claiming that powerful Jews control the anti-Trump cabal.

The exact origin of the messages — which are circulating in groups on WhatsApp, the Facebook-owned messaging app, or on social media — is unclear. But they reflect both the themes in the QAnon theory and rhetoric deployed widely on the right that urges voters to fear disorder if Trump is unseated.

The theories have also been amplified by more respected outlets. Radio Caracol, a well-regarded Columbian radio network, hosted someone who claimed that Jewish American financier George Soros is "the world's biggest puppet master" and, in August, ran a 16-minute paid segment claiming that if Joe Biden wins the election, it would lead to a dictatorship in the United States run by "Jews and Blacks." Radio Caracol has since apologized.

In another instance on Friday, the Miami Herald's Spanish partner, El Nuevo Herald, included an advertising insert called "Libre" that included anti-Semitic views and attacked Black Lives Matter. The paper apologized and ended its relationship with Libre.
Miami Herald Offers Trenchant Apology for Including Antisemitic Insert in Spanish-Language Edition
The Miami Herald newspaper has cut ties with a Spanish-language publisher whose insert in its latest print edition contained an antisemitic rant that asked, "What kind of people are these Jews?"

In a statement on Monday night, the publishers of el Nuevo Herald — the paper's Spanish-language edition — said they were "deeply sorry that inflammatory, racist and antisemitic commentary reached our el Nuevo Herald subscribers through LIBRE, a Spanish-language publication that paid our company to have the product printed and inserted into our print edition as a weekly supplement."

The statement confirmed that the paper had ended its relationship with LIBRE as a direct consequence.

"We…will never publish, print or distribute its content again," the Herald said.

The offending text appeared next to a photograph and byline belonging to Roberto Luque Escalona — an exiled Cuban writer and poet living in Miami — that railed against Jews and the Black Lives Matter movement by way of a comparison with the Nazis.

"What kind of people are these Jews? They're always talking about the Holocaust, but have they already forgotten Kristallnacht, when Nazi thugs rampaged through Jewish shops all over Germany? So do the BLM and Antifa, only the Nazis didn't steal; they only destroyed," Escalona's text declared.

The Herald's statement admitted that its oversight procedures had failed glaringly to prevent the insert from inclusion in the paper.
3 Synagogue Arsons in 1 Month in the Most Progressive US Cities
After an arson attempt at The Way Christian Church church in Berkeley, the pastor and the media blamed it on a racist who was lashing out at the church's Black Lives Matter banner.

"McBride is now considering whether his decades long work challenging police brutality, registering people of faith to vote, or speaking out against white supremacy irritated the suspected arsonist, or whether they were angered by the Black Lives Matter sign hanging from the church," a press release from The Way Christian Church announced.

"As our nation continues to confront our dark history of racism, I am glad that the parishioners of The Way and Pastor Mike McBride, who have been at the forefront of social justice and the Black Lives Matter movement, are safe," Mayor Jesse Arreguín declared."Anti-Black hate, and all forms of racism, has no place in Berkeley."

A week later, Shameka Latoya Adams was arrested for a similar arson attempt against the Congregation Netivot Shalom synagogue on the same block. It's unknown if Shameka had also tried to set the fire at The Way Christian Church, but the synagogue fire received far less attention. Nor did anyone suggest that trying to set fire to a synagogue might be antisemitic.

The Berkeley synagogue arson was another incident in a violent year, but not an isolated one.

In August, that same month, the Chabad Jewish Center in Portland suffered two arson attempts in 5 days. The first fire had been dismissed as an electrical issue, but afterward, the gas and power had been shut off, and the building had been boarded upwith no one inside.

The second fire was deemed suspicious and led to an FBI investigation.

This was not the first time Chabad centers had been targeted. Last year, two fires were set at the Chabad Center for Jewish Life in Arlington, Massachusetts, and a third fire at the Chabad Jewish Center in Needham.
Systemic anti-Semitism on our nation's college campuses
For decades now, behind the ivory-covered towers of our universities, bias has reared its head against Israel and the United States, particularly within Middle East Studies programs, as is well-documented in Martin Kramer's seminal book, Ivory Towers on Sand. This has led to one-sided politicization of an entire discipline, where paltry propaganda has been substituted (at the taxpayer's expense), for a good, well-rounded education.

This tendency has become even more pronounced as of late because of the phenomena of "cancel culture," where there is an implicit rigid orthodoxy of "acceptable thought." Our students are the real losers here. Today's university experience is a far cry from John Stuart Mill's description as "the marketplace of ideas."

This will ultimately be to America's detriment. Our society is already showing the pernicious effects of this as our citizens have been taught to value "group think" and group conformity over independent inquiry, rigorous analysis and debate. A recent poll shows that 62 percent of Americans are afraid to express their political views. This anticipatory self-censorship portends an appeasement to the tyranny of one societally accepted point of view.

In particular, our Jewish students are the first and biggest losers here. There are three basic categories of Jewish students:
-Those who passionately care about the existence of Israel and have the sufficient vertebrae to stand against the prevailing wind of hatred and risk the consequences. (After all, the power structure is skewed, here. There is a tacit threat that the professor can always punish students with a poor grade and stand in the way of their future).
-Those who just "lay low" and assume our rightful place in history can be called "shtetl Jews" (the obsequies European Jews prior to the Holocaust).
-And a growing proportion who unfortunately are so assimilated that they really don't care about Israel often seem inclined to join in with the anti-Israel protesters.
Anti-BDS Group Provides $25,000 to UC Berkeley Anti-Semitism Initiative
A group aimed at combating the boycott, divestment and sanctions (BDS) movement announced on Sept. 10 that it is providing a $25,000 grant to UC Berkeley's Anti-Semitism Education Initiative.

The group providing the grant, the Academic Engagement Network (AEN), is a nonprofit based in Washington, D.C., that describes itself on its website as a group that aims to empower students and faculty on college campuses to combat the delegitimization of Israel and anti-Semitism.

According to a press release, UC Berkeley's Anti-Semitism Education Initiative will be supported through AEN's nationwide Improving the Campus Climate Initiative program, in which AEN will engage with university officials about how to properly combat anti-Semitism on campus.

"Our new initiative aims to creatively engage an important subset of university administrators and staff members who have an outsized role in addressing the issues that directly impact Jewish student life on campuses, particularly in better identifying and responding to situations where a critique of Israel or Zionism goes well beyond a heated political disagreement and is in fact a dangerous form of antisemitism," AEN's Executive Director Miriam F. Elman said in a statement. "The challenges facing Jewish students on campus today are best addressed not by criticism from the sidelines but by offering support, resources and guidance to those campus officials charged with protecting the rights of all students."

The organization will also work with campus Hillels on the matter.
Why did a university invite a Palestinian terrorist to speak?
In theory, San Francisco State University President Lynn Mahoney is correct in stating that a university is a place where different ideas are presented, discussed and analyzed so that individual conclusions can be drawn. But does that justify giving an unrepentant terrorist a forum to address the students?

What will she teach them? The proper way to hijack an aircraft, based on her success in 1969, and what mistakes to avoid based on her failure in 1970?

When I was a student in university, I often faced new ideas that ran contrary to my beliefs. But these perspectives were presented by knowledgeable, respectable academics. Some were Nobel Prize winners. None were terrorists.

Neither Mahoney, in her published response, nor the university indicated that anyone will be presenting an opposing view, one that is against
terrorism and radicalization. I cannot imagine how Mahoney, or any decent person, can claim Khaled's presentation will be an educational experience.

SFSU is no stranger to antisemitism. They have prevented the presentation of pro-Israel and Jewish ideas. In fact, SFSU had been recently sued by Jewish students who claimed that they were victims of systemic anti-Semitism. Not long ago, SFSU prevented then-Jerusalem Mayor Nir Barkat from speaking at a public event, and San Francisco Hillel was excluded from a fair on campus.

Inviting Leila Khaled to speak is a dishonor to all those who suffered at her and the PFLP's hands — and glorifies terrorism, which is unacceptable. The views and opinions expressed in this article are those of the author and do not necessarily reflect the views of JTA or its parent company, 70 Faces Media.
SFSU on Decision to Invite Leila Khaled to Speak; None of the 9/11 Hijackers Were Available (satire)
San Francisco State University (SFSU) President Lynn Mahoney is under fire after defending the university's decision to invite Palestinian terrorist Leila Khaled to take part in a university event via Zoom later this month.

In an email she explained that "an invitation to a public figure to speak to a class should not be construed as an endorsement of a point of view" and also that "unfortunately none of the 9/11 hijackers were available."

Leila Khaled was a member of the Popular Front for the Liberation of Palestine (PFLP) terrorist group, which played a major role in the wave of suicide bombings during the Second Intifada, or as one SFSU professor referred to it: "Decolonizing public transportation and pizza parlors."

Leila Khaled hijacked an Israel-bound plane in 1969 and attempted another the following year as part of the campaign of Black September. The latter failed and Khaled was arrested. She was eventually released in a prisoner-for-hostage exchange program otherwise knowns as "murderers without borders".
Anti-Israel protesters condemned over factory rooftop demonstration
Police were called to the UAV Engines site in Shenstone, Lichfield, where Palestinian flag-waving protesters clambered onto the roof and poured paint over the front of the building.

Others chained themselves to fencing and lay down on the ground in front of the main entrance, while a giant banner was put on display calling for the firm to be shut down.

The protesters claim the company, which is owned by Israeli firm Elbit Systems, is involved in manufacturing parts for drones used by the Israeli military against Palestinians.

The Lynn Lane site has been targeted on numerous occasions in the past.

'Tedious'
Michael Fabricant, the Conservative MP for Lichfield, said: "This is a fairly regular and tedious demonstration.

"UAV employs local people and supplies equipment to the British armed forces.

"Perhaps if the Palestinians were able to establish a western democracy, like the state of Israel, sever their ties with terrorist organisations Hamas and Hezbollah – which have as their main policy the destruction of Israel – a workable peace treaty between the Palestinians and Israel can be achieved.

"Perhaps the demonstrators should spend their time trying to achieve those ends rather than attempting to damage local property."
When @OhioState grad and senior data analyst at a major insurance company Sami Idries was president of SJP, he spread vicious lies: "The IDF tortures and rapes Palestinians literally every single f**king day." https://t.co/loES7Moh65 pic.twitter.com/omOpIGOul9

— Canary Mission (@canarymission) September 14, 2020
Hacktivist group Anonymous posts antisemitic cartoon by notorious Carlos Latuff suggesting that Israel and the United States use accusations of antisemitism to muzzle criticism of Israel
The hacktivist group known as Anonymous has posted an antisemitic cartoon on Twitter by the notorious Brazilian cartoonist Carlos Latuff.

The cartoon shows two arms, one with an Israeli flag on the cuff and the other with an American flag, using a plaster labelled "antisemitism" to muzzle the mouth of a man wearing a "Free Palestine" bandana. The connotation is that accusations of antisemitism are being cynically used by Israel and the United States to muzzle criticism of Israel.

This notion is an example of the "Livingstone Formulation", which holds that accusations of antisemitism are bad faith attempts by Jews to stifle criticism of Israel. It was deployed by the former Mayor of London, Ken Livingstone, which is how it earned its name, and it is antisemitic.

The post has been liked over 17,000 times. Anonymous has over 7 million followers on Twitter.

Mr Latuff has previously placed second in Iran's Holocaust Denial Cartoon Contest, and has drawn other outrageous cartoons, for example a cartoon comparing Israel's policies to those of the Nazis, in breach of the International Definition of Antisemitism. That cartoon was shared by Baroness Tonge.
Merkel Laments Continuing 'Disgrace' of Antisemitism in Germany in Speech to Jewish Leaders
German Chancellor Angela Merkel admitted that the "disgrace" of antisemitism was increasing in visibility during an address to the local Jewish community's leadership on Monday night.

Speaking at a ceremony in Berlin marking the 70th anniversary of the formation of the Central Council of Jews in Germany, Merkel remarked that the hope symbolized by the revival of Jewish life in Germany did not hide the continuing presence of antisemitic and racist views.

"We can be glad of flourishing Jewish life," Merkel stated. "But that is only one part of today's reality. The other part of today's reality is that many Jews don't feel safe and respected in our country, and it causes me great concern."

Antisemitic outrages increased by 13 percent in Germany during 2019, with more than 2,000 incidents reported — among them the foiled Yom Kippur attack by a neo-Nazi gunman on a synagogue in the city of Halle that claimed the lives of two people who were outside the building.

Antisemitic conspiracy theories have meanwhile surged during the coronavirus pandemic, with opponents of social distancing measures comparing themselves to Jews persecuted in Nazi Germany amid angry demonstrations where far right symbols have been on open display.

"We know how quickly words can become deeds," Merkel said, with reference to the attack in Halle.
Son of Murdered French Holocaust Survivor Mireille Knoll Blasts French Judiciary for 'Unconscionable Treatment' of Jews
The eldest son of the Holocaust survivor who was brutally murdered during an antisemitic assault in her Paris apartment castigated France's judiciary for its alleged indifference to violence against Jews in an emotional speech in the French capital this past weekend.

Allan Knoll — whose 85-year-old mother, Holocaust survivor Mireille Knoll, was stabbed and then burned to death in March 2018 by two intruders who believed that because she was Jewish, she would be hiding large amounts of cash — addressed a small rally on Sunday in the Place de la Republique in Paris.

The demonstration was organized by "The Group Against Silence," a collective of activists that is campaigning for justice in the case of Sarah Halimi — a 65-year-old Jewish widow who was slain in her Paris apartment by an antisemitic assailant eleven months before Mireille Knoll suffered a similar fate.

But while Knoll's accused killers will face trial, the individual charged with Halimi's murder — 29-year-old Kobili Traore — was excused from a criminal trial last December after a court in Paris deemed that his ingestion of cannabis on the night of the killing had rendered him temporarily insane.

Allan Knoll told the rally that he was in attendance in memory of his own mother, as well as Sarah Halimi and the four Jewish victims of the January 2015 terrorist attack on a kosher supermarket in eastern Paris.

"The way that the judicial system has treated the Jewish community is unconscionable," he stated. "The decision reached by the judge [in the Halimi case] was shameful."
Chattanooga Swastika Spate Under Investigation by Police in Southeastern Tennessee City
A bridge in Chattanooga, Tennessee, has been defaced with swastikas, prompting a police investigation and condemnation from the city's mayor.

NBC affiliate Channel 3 reported that the graffiti was found on the Walnut Street Bridge and in the Bluff View Art District.

A Chattanooga Police Department spokesman, Jeremy Eames, said that the incident was under investigation, with security camera footage being examined.

He added that the possibility of hate‐crimes charges against the perpetrators was impossible to determine at this stage.

Chattanooga Mayor Andy Berke said in a statement on Sunday, "Early this morning, I learned that the Walnut Street Bridge and portions of the Bluff View Art District, two of our city's most beloved and beautiful public spaces, had been defaced with swastikas."

"The Chattanooga Police Department is investigating and I have every confidence that the vandals will be identified and brought to justice soon," he added.

"While we do not know the intent of those who perpetrated this act, we know that the end result is residents feeling less comfortable in their home," the mayor noted. "Our city is resolved, as it always has been, to condemn anyone who seeks to intimidate, discriminate, or foment violence against any ethnic or religious group."

The Jewish Federation of Greater Chattanooga said in a statement that it was "disturbed and saddened by the incident."
Tombstones vandalized at 3 Jewish cemeteries in Poland
About 20 tombstones were damaged at a Jewish cemetery in Zabrze in southern Poland, the third case of vandalism at a Polish Jewish cemetery this month.

Dariusz Walerjanski, who has maintained the cemetery for 30 years, described what he said was an act of vandalism in a Facebook post on Sept. 11. In photos he posted online, several of the stones appeared to have broken.

"After many years of peace and tolerance, and understanding for the place where the dead rest, an act of vandalism was committed. It's a rude act of stupidity. I can't find an answer for why someone planned and did it," he wrote.

Police are searching for the perpetrators, he added.

Last week, a 19th century tombstone at the Jewish cemetery in Tarnowskie Gory, near Krakow, was defaced with red spray paint.

Earlier in the month, ten tombstones were knocked down at the Jewish cemetery of Dobrodzien, some 80 miles northwest of Krakow. Some of them were broken.

Poland has about 1,200 Jewish cemeteries. Some are owned by Jewish communities and others are municipally owned.
How Beirut synagogue benefactor mystery was solved
It was serendipity, only possible in this era of social media.

Nagi Zeidan, the historian whose book Juifs du Liban is about to come out, was missing one last piece of information before the book went to press. He was trying to find out about the benefactor who funded the building of Beirut's Maghen Avraham synagogue in 1926.

It was 90 minutes before the port explosion on 4 August 2020 that Nagi' was put in touch with journalist and author Tim Judah via geneaologist Alain Farhi. Tim's daughter Esther Judah travelled to Beirut for the UN agency WFP after the port exploded.

Tim's great-. great-grandfather from Calcutta funded the construction of the Beirut synagogue in 1926 (another benefactor paid for the land.) After the war all contact was lost.

Tim Judah is the son of Joseph-Vivian, son of Emmanuel Judah. Emmanuel was married to Ramah, daughter of Moise, son of Abraham Sasson. Ramah's father Moise paid for the construction of the Maghen Abraham synagogue in memory of his father Abraham Sasson, who was buried in Beirut in 1897.

This photo, in Tim Judah's possession, shows two plaques in memory of Moise Sasson's father on either side of the front entrance to the synagogue. Esther Judah visited the synagogue on 8 September 2020 to ascertain the damage caused by the port explosion. The plaques were missing - probably stolen for their marble.

Nagi Zeidan adds:
Who was Moise, son of Abraham, son of Eliyahu Sasson?
Saving Iraqi Jewish Archives: A Journey of Identity
---
---
We have lots of ideas, but we need more resources to be even more effective. Please
donate today
to help get the message out and to help defend Israel.