From Ian:
David Collier:
The BBC go to war with Jews in Jerusalem
Roman Abramovich has been a leading voice in the UK fight against antisemitism. Abramovich is also a proud Zionist Jew. A wealthy, proud, Zionist Jew who fights antisemitism – what is not for the BBC and Guardian to hate?

On the other side of this argument, the BBC and the Guardian are two media outlets that have done more than any other in the mainstream to belittle the fight against antisemitism. Both have bent over backwards to give voice to fringe and irrelevant Jewish voices – amplifying them beyond recognition until many people were duped to believe that 'anti-Zionist Jews' were an army equal in size to the 'Board of Deputies'. Never forget the persistent publications of letters by the Guardian or the inclusion of JVL voices on the BBC – were editorial choices – not accidents nor a necessity. Both of these outlets are also obsessed with Israel.

So it is of no surprise at all that Roman Abramovich is a target.

The Panorama Story BBC Arabic has been creating a story about the funding of the City of David. It turns out Roman Abramovich has been a heavy backer of Elad – the NGO behind much of the investment in the biblical city. Shock horror – A Jew invests in Jerusalem.

The story broke this week on Panorama. All the usual smears were there. Instead of a Jew investing in Jerusalem, it was 'secret funding', 'evicted Palestinians', 'settlers' and nonsensical propaganda stories. The standard deceptive tactics were also deployed, with BBC Arabic finding a fringe Israeli left-wing politician to claim he was 'shocked' on camera. That politician left the scene 14 years ago after his party failed to gain enough votes to see him re-elected. This is truly desperate stuff.

Jews investing in Jerusalem is like Muslims investing in Mecca or Catholics in the Vatican. It is a non-story. The *only* difference is that Muslims in Mecca or Catholics in the Vatican can do whatever they please – whilst Jews are left to fight for every single cm of Jerusalem. Standing against them is a mammoth, and yes, well-funded propaganda industry – of which the BBC are clearly a part. BBC Arabic released their own extended 'expose', and tripping over their own anti-Israel bias as they did so, the Guardian quickly followed. Camera UK which monitors bias in the UK media, did a thorough take down of several pieces the BBC produced as a result of their 'investigation'. It is worth noting in their article Camera highlight that this is far from the first time, the BBC have focused on the issue.

But what is the true story?
Report: EU governments funding Palestinian legal actions against Israel
European governments are sending money to Palestinian NGOs to help them file lawsuits against Israel in the International Criminal Court in The Hague, the watchdog NGO Monitor reports.

New research from NGO Monitor reveals that from 2018 to 2020, the Swiss government gave $700,000 to the Palestinian Centre for Human Rights (PCHR).

Israel Hayom has learned that the governments – which include Denmark, Ireland, and Sweden – are knowingly and intentionally funding ICC petitions against Israel, especially those submitted by the PCHR. The PCHR states openly that its goal is to "inundate the [Israeli] occupation with hundreds and thousands of legal suits that will incriminate and convict it."

Another example is the organization Al Mezan Center for Human Rights, which also used European governmental funding – from the Netherlands, in this case – to petition the ICC. NGO Monitor underscores that in many other cases, Palestinian NGOs receive funding for unspecified "legal activity," which they then use to sue Israel.

Anne Herzberg, NGO Monitor's legal advisor, said that donor nations must take responsibility for "failures" that prevent Israel from protecting its citizens against Palestinian terrorism.
The Dark Side of Holocaust Education
BEYOND VICTIMHOOD

Representative Maloney doubtless meant well when she introduced the "Never Again Education Act," but her timing replicated President Carter's calculated support for the Holocaust Museum as a cover for anti-Zionism. Just three months after the bill was introduced, the Democratic Party refused to censure Representative Ilhan Omar for overtly anti-Semitic pronouncements. Instead, Democrats in Congress cobbled together a resolution condemning anti-Semitism — along with anti-Muslim discrimination and bigotry against a handful of other minorities — and shoved it onto the president's desk. Yet anti-Zionism flourishes in the party's ranks, to the point that its presidential candidates scorn the gatherings of AIPAC and support anti-Israel legislation in the party platform. Support for Holocaust education was presumably intended to show opposition to anti-Semitism, but intentionally or not, this "opposition to hate" feeds the hideous ideology it pretends to resist.

Unlike other anti-Jewish ventures that are powered by their declared enemies, this one has the backing of many Jews and well-intentioned liberals, who are often one and the same. When there is so much apparent unanimity on a subject, it may seem perverse to oppose it. The fact that supporters of Nazism are also opposed to Holocaust teaching may wrongly suggest that opponents in general are encouraging the Nazi cause. Many docents, teachers, and others involved in this project obviously trust that Holocaust education will protect Jews — and "other threatened minorities" — from harm.

Yet doubts about the Holocaust project were raised from the outset, and — if one needs reminding — consensus does not guarantee the good. The best intentions left untested can have the most damaging results. The decline of formal religion may have created a serious deficiency in moral education, but the Holocaust dare not serve as a lever of conscience. The liberal conscription of the Holocaust as a moral exemplum was misguided from the start, and as presently conceived, it conceals rather than confronts anti-Jewish aggression, falsifies both the nature of anti-Jewish politics and the nature of the Jewish people, advances political causes under false pretenses, and cultivates identification with victims rather than with the soldiers who protect and, if necessary, liberate the victims.

Dawidowicz concluded her study of Holocaust materials by citing the Sixth Commandment: "Thou shalt not murder." This, she wrote, was "the primary lesson of the Holocaust," and if invoking a biblical commandment would violate the doctrine of the separation of church and state, "something is clearly wrong with both our system of education and our standards of morality." I would add to that lesson as it concerns actual or would-be perpetrators a second lesson also — from the side of the victims. As the biblical story of the Exodus has inspired other oppressed peoples to gain their freedom by demanding, "[l]et my people go," the passage of the Jews from Holocaust to Homeland can teach how a people wins and maintains its freedom.

This is the education we need — an education whose meaning is universal. It will take time to revise thinking on this, so we had better begin now.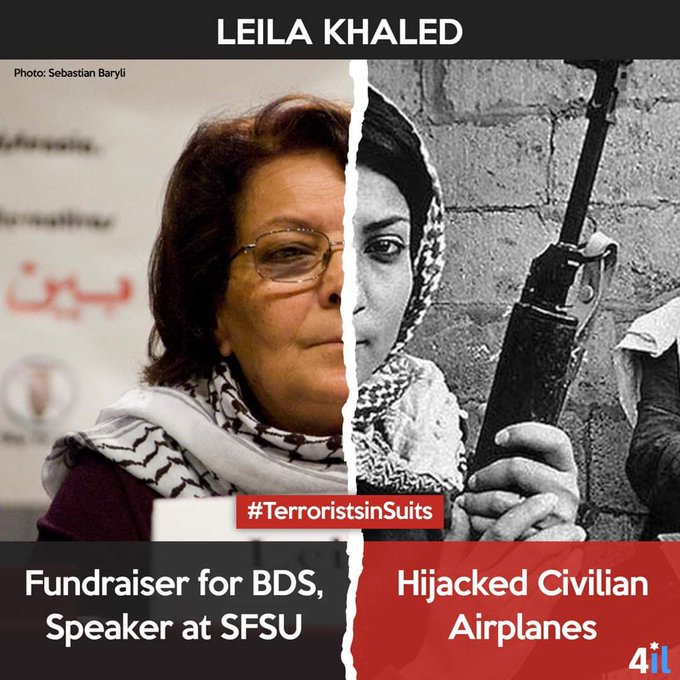 YouTube shuts down livestream of US college event honoring Palestinian hijacker
YouTube took down the livestream of a webinar honoring a Palestinian terrorist just as it was getting started on Wednesday, after organizers at San Francisco State State University had already been forced to shift platforms due to Zoom's similar refusal to host the event.

The university's Department of Arab and Muslim Ethnicities and Diasporas Studies on "Teaching Palestine" had been attempting to move forward with the webinar and had managed to introduce several of the panelists, including Leila Khaled, who helped hijack an Israel-bound flight in 1969, before the stream went black and the caption "this video has been removed for violating YouTube's Terms of Service" appeared.

In the 30 minutes before the stream was taken down, the organizers managed to get in a statement recognizing their own existence on occupied Native American land followed by a series of lengthy introductions, including from SFSU Associate Professor Rabab Ibrahim Abdulhadi, who lionized Khaled as someone she dreamed of becoming as a child.

Khaled is a member of the Popular Front for the Liberation of Palestine, which is a group designated as a terrorist organization by Israel, the US and the European Union.

The organizers then played a video clip of Khaled in which she could be heard saying, "I don't agree with the murder of civilians wherever they are in the world," but "our enemies call any form of popular resistance terrorism," and "as far as I'm concerned occupation is terrorism." Seconds later, the feed was cut.

The webinar had initially been slated to be held over Zoom, but the video conference service notified organizers on Tuesday that they would not be allowed to use its site.

"In light of the speaker's reported affiliation or membership in a US designated foreign terrorist organization, and SFSU's inability to confirm otherwise, we determined the meeting is in violation of Zoom's Terms of Service and told SFSU they may not use Zoom for this particular event," Zoom said in a statement to the The Lawfare Project legal aid organization.
El Al Pilot Recounts Outmaneuvering Palestinian Hijacker Leila Khaled
The recent announcement that Palestinian hijacker Leila Khaled had been invited to speak at San Francisco State University caught the eye of Uri Bar-Lev, an Israeli retiree just shy of 90.

He has crossed paths with Khaled before.

Fifty years ago this month, Bar-Lev was the El Al pilot who foiled Khaled and an accomplice during a violent midair hijacking attempt on a flight from Amsterdam to New York. According to the Times of Israel, he is the only pilot ever to do so.

Khaled is set to join a Sept. 23 online panel discussion hosted by S.F. State's Arab and Muslim Ethnicities and Diasporas Studies program (AMED). The Anti-Defamation League, San Francisco Hillel and the S.F.-based Jewish Community Relations Council have condemned the decision to allow the member of the Popular Front for the Liberation of Palestine, a U.S.-designated terrorist group, to participate in a university-sanctioned event.

Today, an uncontrite Khaled, 76, sits on the Palestinian National Council. Described in AMED's event promotion as a "Palestinian feminist, militant and leader," she frequently does speaking engagements, such as the one at S.F. State.

Bar-Lev isn't having it.

"In America, if you want Leila Khaled to speak, [then] you forgot the awful pain you had in 9/11 by terror," he said from his home in Israel. He believes she is unrepentant for her actions.
We are horrified to see @IfNotNowOrg defending a zoom call with convicted terrorist Leila Khaled! An unrepentant plane hijacker, she is still an active member of the terrorist group the PFLP. This is a new low.https://t.co/sbf4SCJUoz pic.twitter.com/7mVUGM6hVP

— Canary Mission (@canarymission) September 23, 2020
Facts. @COLRICHARDKEMP calls Leila Khaled what she is: a terrorist. #LeilaKhaled #TeachingPalestine #EndJewHatred @EndJewHatred pic.twitter.com/pdXDJKwnLc

— Club Z (@ClubZTeens) September 23, 2020
A "positive" spin on Leila Khaled. Here are things you CAN learn from Leila Khaled, @AmedStudies . Thanks to @OlgaMeshoe.#LeilaKhaled #TeachingPalestine #EndJewHatred @EndJewHatred pic.twitter.com/zoxMO9wWtD

— Club Z (@ClubZTeens) September 23, 2020
Leila Khaled is part of an anti-democratic indoctrination. @AmedStudies should refrain from hosting this terrorist.#LeilaKhaled #TeachingPalestine #EndJewHatred @EndJewHatred pic.twitter.com/Me8psAr3KY

— Club Z (@ClubZTeens) September 23, 2020
Retweeted by INN Chicago leader. You can all go f*ck yourselves. pic.twitter.com/DbUnj39Zzg

— Claire Voltaire (@Claire_Voltaire) September 23, 2020
Palestinian groups in the US and their supporters (JVP tweeted this) have zero clue that they are digging their own graves in the public relations arena.

They might as well make signs saying "PALESTINIANS HATE PEACE."

I hope that this event gets HUGE coverage. pic.twitter.com/hJ3fSJgYtt

— Elder of Ziyon 🇮🇱 (@elderofziyon) September 24, 2020
Haim Saban to Spend Heavily for Joe Biden; Attended Trump's White House Peace Ceremony
As Breitbart News reported last week, Saban was among the guests at last week's peace ceremony at the White House, where President Trump signed the Abraham Accords together with Israel, the United Arab Emirates (UAE), and Bahrain. Saban was responsible for raising $4.5 million for Biden's presidential campaign in a fundraiser he had hosted the day before.

In 2017, Saban said that he was "deeply disturbed" by President Barack Obama's actions toward Israel on his way out of office — actions to which then-Vice President Joe Biden did not object. Obama abstained from a United Nations Security Council resolution declaring Israel's presence across the 1949 armistice lines — including in Jerusalem — to be illegal.

Saban also called then-Secretary of State John Kerry's subsequent speech criticizing Israel "one-sided." As Breitbart News reported, Saban said: "As a longstanding Democrat who has supported and defended President Obama on his treatment of Israel throughout his presidency, I am deeply disturbed by the Administration's decision not to veto UN Security Council Resolution 2334 and Secretary Kerry's subsequent one sided speech."

Still, despite President Trump's decision to reverse Obama's policies, and to forge peace agreements between Israel and its Arab neighbors, Saban is backing Biden in 2020.
Two Labour councillors in Cumbria investigated for alleged antisemitic comments online
Two Labour councillors in Cumbria are reportedly being investigated over alleged antisemitic comments that they posted online.

The investigations into the two Copeland Borough Council councillors – Tom Higgins of Egremont ward and Graham Calvin of Moor Row and Bigrigg ward – follow the expulsion of former Councillor Bill Kirkbride from the Labour Party over "offensive" social media posts.

It is reported that a Facebook account appearing to belong to Cllr Higgins referred to Israel and its "co-conspirators in the USA", while Cllr Calvin apparently made a comment about Jewish donors to the Labour Party, although he reportedly told the BBC that his remarks were making a point about party funding and were not targeted at Jewish people.

A Labour spokesman said: "The Labour Party takes all complaints of antisemitism extremely seriously and they are fully investigated in line with our rules and procedures." The Copeland Labour group reportedly said that it could not comment on individual cases.

Apparently a third investigation is also underway, into Cllr Dave Banks, who objected in a Council meeting in February to the adoption of the International Definition of Antisemitism by the local authority, saying that "antisemitism is not an attack on Jews or the Jewish faith; it is an attack on the Israeli state." He did, however, vote in favour of adoption and has since apologised for his comments, apparently telling a later Council meeting that he had gotten them "all wrong".

Copeland Borough Council adopted the Definition but without explicitly including the integral examples.

Campaign Against Antisemitism recently published its first Audit of Local Authorities, documenting the campaign for widespread adoption of the International Definition of Antisemitism by local authorities.
Former IDF soldier sues BDS activist who slandered her online for $6m.
Former IDF lone soldier Rebecca Ram filed on Tuesday a $6 million lawsuit against Suhair Nafal, a senior member of the Boycott, Divestment and Sanctions (BDS) movement, for slandering her online.

Ram, 26, originally from California, made Aliyah in 2012. She enlisted as an instructor to the IDF Education and Youth Corps.

While Ram never took part in any combat activity, she was accused by the BDS movement of killing the Palestinian paramedic Razan Najjar during one of the March of Return demonstrations that took place near the Gaza Strip border in 2018 - three years after Ram finished her service.

The bizarre story began during Ram's service when a picture of her in basic training was uploaded to the IDF official Facebook page. In the picture, Ram is seen holding a gun and wearing protective gear.

Nafal, a Christian Palestinian who later became a central BDS activist, published in 2018 a Facebook post alleging that Ram was responsible for the death of Najjar.

The post quickly circulated among BDS activists and pro-Palestinian groups in the US, which began sending threats and harassing Ram and her family on a daily basis.

Two years later, Ram decided to fight back. She approached Shurat HaDin, a civil rights NGO that focuses on representing victims of terrorism, and asked for their help in refuting the lie that has been following her for years.

On Tuesday, the answer finally came, as Shurat HaDin filed a $6 million lawsuit against Nafal, currently residing in California, to a California court. After being made aware of the lawsuit, Nafal reportedly blocked her Facebook page in order to conceal any incriminating evidence.
NYC Law Student Threatens to Set Pro-Israel Student on Fire
CNN Revises Oslo Accords Fact Sheet after HR Pressure
Last week, HonestReporting exposed how an article by CNN obscured some basic facts regarding the history of the Second Intifada.

According to the September 2000 entry in the CNN fact sheet about the peace process, "Riots, attacks and suicide bombings end the peace process."

HonestReporting acted swiftly and asked Twitter users to contact the CNN editors and demand that the piece be revised. Within a matter of days, CNN moved to update the article.

Whereas the original piece glibly referred to attacks without mentioning the Palestinians, the article now states that: Clashes erupt between Israeli forces and Palestinians following a visit by Israeli opposition leader Ariel Sharon to Jerusalem's most important holy site, sacred to both Muslims and Jews. The violence escalates to include waves of suicide bombings and becomes known as the Second Intifada, or uprising."

While this language isn't perfect, either, it refers to the Second Intifada by name, and makes clear that the extreme Palestinian violence came after the visit by an Israeli politician to a site holy to Jews. Readers are thus far more likely to understand the reality that the Palestinians severely escalated the situation with extreme violence that persisted for years, resulting in the deaths of over 1,000 Israelis.
Financial Times stubbornly sticks to discredited Mid-East dogmas
Last month, Financial Times joined the small list of media outlets (such as the Guardian) and nations (such as Iran and Turkey) critical of Jerusalem's historic normalisation agreement with UAE. In that piece ("Israel's deal with UAE is a setback for wider peace", Aug. 16) the FT's editorial board argued that the deal was, at best, irrelevant, because it ignored the Israeli-Palestinian conflict, which it framed as the root problem of the Arab-Israel conflict.

However, as we argued in our response to the Guardian editorial which made a similar argument, the UAE-Israel peace deal (and the subsequent agreement with Bahrain) in fact fatally undermines the widely held assumption that the central issue at the heart of the decades-old conflict between Israel and its Arab neighbors is the occupation.

That Aug. 16th editorial is important in placing a more recent FT editorial ("Palestinians face a new reality", Sept. 22) in context.

Whilst insisting that "Palestinians must…see [the Abraham Accords] as a wake-up call to reset their strategy", criticising the PA's "ageing leadership", and acknowledging the PA-Hamas dispute as serious obstacle to progress, the FT editorial board, as they did in August, continues to embrace old dogmas on the failure of Israeli-Palestinian peace, as in this claim:

Much in the failure of the Oslo accords can be blamed on Israeli intransigence and settlement building on Palestinian land.

Though this is only one sentence in the editorial, its impact in obfuscating the reality of the last 27 years is hard to overstate. In addition to erroneously suggesting that every kilometre of territory in the West Bank is "Palestinian land" and greatly exaggerating the role of settlements, their failure to acknowledge Palestinian "intransigence" and their leaders' role in crushing Oslo's promise is staggering.
Boston's 118-year-old Jewish Advocate ceases publication
The Jewish Advocate, a 118-year-old newspaper in Boston founded by Theodor Herzl, is the latest victim of the coronavirus crisis.

The weekly announced Wednesday that it will suspend publication.

"The decline of advertising revenue and now in the current pandemic its virtual disappearance, has not been sufficiently offset by contributions and organizational support, and The Jewish Advocate has been left with no alternative but to suspend publication," the Advocate said on the front page of its Sept. 25 issue.

"Please know that we have done everything in our power to continue for as long as possible, and it is with tears in our eyes that we concluded that our decision to suspend publication is a sad but necessary response to this crisis."

The paper said that plans are being developed to launch a digital edition focusing on advocacy for Jews, the Jewish community and Israel, thus allowing the Advocate "to continue the mission envisioned by Theodor Herzl," the journalist and political activist behind modern Zionism, in founding the paper.
BBC Arabic's FinCEN 'investigation' amplifies a well-worn political narrative
Visitors to the BBC Arabic website found a version of the same film which is three times longer than the one originally promoted on the English language website, together with a written report on the same story. An English language version of the longer film also exists (and was later also posted on the BBC news website) and the topic was the subject of an audio report (from 37:50 here) by BBC Arabic's Murad Shishani aired on the September 21st edition of the BBC World Service radio programme 'Newshour'.

The version of the film appearing on the BBC News website is credited to three people: "Produced by Rosie Garthwaite, Uri Blau and Simon Cox".

BBC Arabic producer Rosie Garthwaite was in the news earlier this month when the Jewish Chronicle exposed her "history of anti-Israel social media activity". Long time readers may recall BBC Arabic's investigations editor Simon Cox and of course Uri Blau is the Israeli 'investigative journalist' usually published at Ha'aretz who in 2012 was convicted of unauthorised possession of classified documents after having fled to London.

As is standard practice in BBC content, portrayal of the area in Jerusalem which is the focus of the BBC's film excludes any mention of events before June 1967. BBC audiences are told nothing about the relevant history of Silwan, including the fact that Yemenite Jews who had lived in what was known as Kfar HaShiloach since the early 1880s were evacuated by British forces in 1938 due to Arab rioting. Neither – also in line with BBC standard practice – do audiences hear even a passing mention of the nineteen-year Jordanian occupation of what the BBC chooses to term 'East Jerusalem' or the legal status of the area prior to the Jordanian invasion.

"In 1967 during the Six Day War, Israel occupied the West Bank and East Jerusalem. There are 220,000 Jewish settlers living in East Jerusalem. They live among at least 341,000 Palestinians. Under international law, the area is considered to be occupied territory and the settlements are deemed illegal. Israel does not accept this view and neither does the Trump administration."

The image shown on screen during that standard BBC portrayal of "international law" shows UNSC resolution 2334, which of course was adopted under the non-binding Chapter VI of the UN Charter and is not international law.
A year after Halle, Jews who were there are still looking for answers
The protective locked door had kept out the shooter.

One year ago, that was the bright spot in the aftermath of the attempted synagogue shooting on Yom Kippur in Halle, a sleepy city of 240,000 located about 100 miles southwest of Berlin.

It was the most frightening terrorist attack targeting Jews on German soil in recent memory, and many saw it as symbolic of rising antisemitism and right-wing extremism across the country. But there was also a somewhat encouraging result: The synagogue's security system had done its job.

The attacker, a neo-Nazi sympathizer named Stephan Balliet, tried to enter the building, but the main door had withstood his guns and homemade explosives. He instead shot and killed a passerby before firing into a nearby Turkish kebab shop, killing a customer. No one inside the synagogue was physically injured — some even kept the Yom Kippur service going through all the turmoil unfolding outside.

However, in the months that followed, a fuller and more disturbing narrative about the attack surfaced.

Local police admitted that they had no idea about the Yom Kippur holiday, which brought a larger than normal number of Jews together. About 20 young Jews had also traveled down from Berlin to observe the holiday in Halle on a trip organized by the Base Berlin/Hillel Deutschland, a pluralistic Jewish home in the city that hosts events and learning sessions.
Declassified: 'Golden' communique that could've averted Yom Kippur War disaster
Nearly 24 hours before the Egyptian military launched a surprise attack on the Israel Defense Forces from the Sinai Peninsula on October 6, 1973, the head of Military Intelligence received a warning that Cairo and Damascus were poised to carry out just such an assault. For over 10 hours, that dire warning, which had the potential to change the course of the conflict, was kept from the government.

On Thursday, the Defense Ministry archives declassified the urgent warning — known as the "golden message" — as well as the intelligence report based on it that was eventually released to the government, along with the heated exchanges after the war between the then-head of Military Intelligence Maj. Gen. Eli Zeira, who made the decision to withhold the communique, and the Agranat Commission, which investigated the government and military's failures to anticipate and prepare for the conflict.

The declassification of these documents on Thursday, coming ahead of the 47th anniversary of the war, sheds fresh light on what had been known by the IDF and Military Intelligence before the outbreak, as well as the finger-pointing that came after it.

Following the war, Zeira received the lion's share of the commission's blame for Israel getting caught off-guard by the Egyptian and Syrian attacks, allegations that he immediately rebuffed and — now a nonagenarian — continues to reject. In his letters to the Agranat Commission, he maintains that it was the government and civilian leadership that bore the blame for not anticipating the attacks and indicates that he did not immediately pass along the "golden message" because he was waiting for better-sourced intelligence.

The records released this week show the military and the government's failure of imagination, their hubris and their unwillingness to revisit underlying, foundational assessments — namely that Syria and Egypt were not prepared for another war — in the face of new information.
Letter confirms that Shafik Ades was a scrap metal merchant
Seventy two years almost the day since the hanging of Shafik Ades in Basra, Iraq, a letter has come to light which corroborates his activities as a scrap metal merchant - and not, as charged by the Iraqi authorities, a weapons smuggler working for the Zionists.

The letter, from the A & C Ades Company, states that a car was donated to the community for the use of the Hevra Kadisha (Burial Society) for the transport of the dead. The letter, dated August 1946, was found in the Iraqi-Jewish archive, a collection of materials confiscated by the Iraqi secret police from the Jewish community and now in the US.

The two letters referring to the gift of a car made by the Ades Company to the Burial Society. Right: Shafik Ades (photos: Babylonian Jewry Heritage Center)

"We are proud to comply with your request and provide you with a large second-hand car purchased from the British army," the letter read. The archive also contains a response from Hakham Sasson Khedouri, chief rabbi of the community, thanking the Ades company.

The existence of the letters was revealed by the Babylonian Jewry Heritage Center in Or Yehuda, Israel.

Shafik Ades had thought that his wealth and connections with the royal family had made him immune to false accusations.

Ades's hanging on 23 September 1948 sent shock waves of terror through the Jews of Iraq and was probably the single most important reason why90 percent fled the country, when emigration became legal in 1950.
BGU-developed technology can filter airborne COVID-19 particles
Laser-induced graphene (LIG) technology, developed by a partnership between Ben-Gurion University of the Negev (BGU) and Houston-based Rice University, is to be commercialized to make filtration systems that can filter out airborne COVID-19 particles.

The commercialization will be done by LIGC Application Ltd., a leader in the field of graphene commercialization, which focuses on adapting the massive and diverse potential of graphene for the commercial sector.

"For the past five years, our lab at the BGU Zuckerberg Institute for Water Research has focused on the development of LIG, specifically in antimicrobial filtration and environmental applications," BGU's Dr. Chris Arnusch said in a statement.

"We are excited to be commercializing our technology in a number of air filtration products for COVID-19 and other specialized filtration applications."

While its existence has been theorized since at least the 1960s, graphene was first properly isolated by University of Manchester researchers Andre Geim and Konstantin Novoselov in 2004, with their subsequent studies on the material earning them the Nobel Prize in Physics in 2010.
Guy Niv becomes first Israeli to complete Tour de France
Guy Niv became the first Israeli to complete the Tour de France, the premier event in world cycling.

Niv, 26, a member of the Israel Start-Up Nation team, finished in 139th place among the 146 cyclists who completed the three-week race on Sunday.

"I felt shivers when I crossed the finish line on the Champs-Elysees," Niv said in a statement. "It was a sense of vast relief and sheer happiness: I have done it for the next generation of young Israeli cyclists. They can now dream of achieving this and more."

The first Israel-based and -owned team to race in the Tour de France finished with seven top 10s in individual stages of the race but never won a stage.

Established in 2015 as the Israel Cycling Academy, Israel Start-Up Nation joined the World Tour, the highest level of professional cycling, last year. That gave it a place in this year's Tour de France, one of cycling's three Grand Tours along with the Giro d'Italia and Vuelta a Espana, also three-week events run in stages.
Visiting USAID deputy says Israeli tech will be key for developing nations
The deputy administrator for the US Agency for International Development said on Wednesday that Israel has a key role to play in the organization's efforts to combat food insecurity and poverty in developing nations.

Israeli cybersecurity technology, and its private sector, will help the aid agency with its planned implementation of 5G technology in the developing world, Bonnie Glick told The Times of Israel while on a visit to the Jewish state.

Jerusalem's normalization agreements with the United Arab Emirates and Bahrain will also open avenues for the countries to collaborate on aid projects, she said.

Glick said that USAID, the US government's development agency, is focused on a digital approach to aid in developing nations.

"It's very different from the old school approach to foreign aid, where people may have considered things like USAID delivering sacks of grain or digging wells. We don't do that any more," said Glick.
Israeli Firefighter in California
Israeli firefighter Idan Braun, who had come halfway around the world to help fight Northern California's wildfires, couldn't believe his eyes.

"The mind can't understand the size of this fire," he said, describing the massive LNU Lightning Complex in Napa and Sonoma counties that spread across more than 360,000 acres at its peak. "It's huge, it's huge."

Braun was part of a team of 10 Israeli firefighters who volunteered to help Cal Fire battle the monster blaze. For nearly two weeks they worked shoulder to shoulder with state firefighters to push back against the LNU wildfire, which began in mid-August and covered five counties. It is nearly fully contained now.

"It's an adventure that you are not doing every day," Braun said.

The Israeli team arrived on Aug. 30, and after some schmoozing and, more importantly, an official briefing, they went straight to work.

"In the first day, we spent 24 hours straight on the mountain," Braun said, speaking to J. from Israel, where he is in quarantine with the rest of the traveling crew.

A career firefighter with 17 years of experience, Braun said it was fascinating to compare the methods of firefighting in Israel with those used in the U.S., such as the utilization of hand crews and controlled burns as tools to control the LNU Lightning Complex Fire.

"It was interesting," Braun said. "We are doing it less here in Israel."

He said that in Israel fires usually are so close to urban areas that it calls for a different approach.
Former IAF pilots offer online combat flight course
An online simulator squadron, the civilian equivalent of the Israeli Air Force (IAF) simulation squadron, is offering a unique, online combat flying course for the first time since its inception.

On normal days, the flight simulator squadron, based in Glilot Mall, offers a variety of different flight simulation courses to civilians.

Former IAF combat pilots and active-duty IAF simulator operators will take part in the new virtual course.

"Following these challenging times, during which we are forced to stay at home and take care of each other, we felt committed to bring the simulation course to people's homes," said IAF Colonel (res.) Kobi Regev, who founded the squadron.

The purpose of this new course is to offer anyone who has always dreamed of feeling what it is like to fly a real combat aircraft a chance to do so, at least virtually. In this case, an F-16 fighter jet.
LISTEN: Israeli band Yamma has millions grooving to ancient Hebrew poetry
It's not every day that President Reuven Rivlin posts a music video to his social media accounts. But it's also not every day that Bahrain makes peace with Israel. The two coincidentally coincided on September 11 when Rivlin posted Israeli band Yamma's aptly named new video, "Atem Shalom" (You Are Peace).

Yamma lead singer Talya G.A. Solan told The Times of Israel Podcast that Rivlin's social media coordinator had reached out earlier in the week to notify the band of her intention to post the video ahead of the Jewish Sabbath — but only if no breaking news preempts it. (The Bahrain announcement came shortly after "Atem Shalom" was posted.)

The video for "Atem Shalom" is a cooperative project between the band, currently locked down in Israel, and dozens of grassroots fans from across the globe. With participants from countries such as Iran, Egypt, Serbia and scenes from the tropics to the deserts, the video embodied a message of peace and cooperation that caught the president's ear. It's a message that is set in an "ear worm," a tune catchy enough that it burrows into listeners' brains.

This week on The Times of Israel Podcast we're speaking with two members of the world music ensemble Yamma (literally, "to the sea"), singer Solan and winds player Yonnie Dror, about how the decade-old band has become viral among world music lovers — and what they're up to during the pandemic lockdown.
---
---
We have lots of ideas, but we need more resources to be even more effective. Please
donate today
to help get the message out and to help defend Israel.