From Ian:
---
Qassem Suleimani's Career of Trying to Kill Jews
Following the U.S. drone strike that resulted in the death of Qassem Soleimani, the leader of the Quds Force ("Jerusalem Force") of Iran's Islamic Revolutionary Guards Corps (IRGC), a select group of Palestinian dignitaries attended his funeral. One of the few non-family members honored with eulogizing Soleimani was Hamas leader Ismail Haniyeh, who lauded him as "Jerusalem's own martyr." Palestinian Islamic Jihad leader Ziad Al-Nakhleh also paid his respects. Subsequent to the funeral, Haniyeh and a high-level Hamas delegation met with Soleimani's successor, Esmail Ghaani. The participation of these terrorist leaders in Soleimani's funeral signals the longtime destructive role that Iran plays throughout the region and worldwide.

Soleimani's Al-Quds Force (AQF) was initially formed a year after Ayatollah Ruhollah Khomeini's 1979 Islamic Revolution as the Organization of Liberation Movements, a unit of the IRGC. Its mission was to fulfil the late ayatollah's declared goal of exporting the Iranian Revolution in order to "liberate Jerusalem." Reflecting the central role that the AQF plays in Iranian military and foreign policy, as commander of the unit Soleimani reported directly to Iran's Supreme Leader Ali Khamenei, not to the commander in chief of the Revolutionary Guards. It is also a demonstration of the official sanction and support for its activities that the IRGC-AQF receives from the highest level of the Iranian leadership.

Among the AQF's first recruits were Lebanese and Syrian followers of Khomeini's ideology who established Hezbollah. Since then the AQF has been responsible for having trained thousands of operatives from Hezbollah, Hamas and Palestinian Islamic Jihad. Additionally, it has long provided logistical support for such organizations, including providing weapons and explosives, training in terrorist tradecraft and cooperation in executing attacks. Throughout the Middle East, AQF has further expanded Iran's hegemony by similarly funding, training and equipping Iraqi Shi'i militias, providing arms, financial support and training to the Taliban, and military advisers and weapons to the Houthis in Yemen.

From their earliest days, organizations trained by the Al-Quds Force have targeted Jews and Israelis. Hezbollah initially targeted Lebanese Jews in the mid-1980s and went on to carry out suicide-bombing attacks against Israeli military installations and personnel in Lebanon. By the early 1990s, AQF together with Hezbollah trained leaders of Hamas and Palestinian Islamic Jihad in executing suicide-bombings, thereby exporting such attacks to Israel. The tactic of such bombings was employed internationally by AQF and Hezbollah, causing the destruction the Israeli embassy in Argentina in 1992, killing 29 and injuring 242. Two years later, two Jewish communities in Latin America were targeted by Hezbollah suicide bombers assisted by the IRGC-AQF. Argentinian Jews were murdered in the AMIA attack in Buenos Aires that killed 85 and wounded more than 300 people. Just 24 hours after the AMIA attack, 21 Panamanians, including 12 prominent Jewish businessmen, were killed aboard a commuter flight by a Hezbollah suicide bomber.
JPost Editorial:
Squeezing Iran
The European development is potentially a game changer. As Yonah Jeremy Bob wrote in The Jerusalem Post, the EU trio has been on the fence about whether to adopt the view of the US and Israel that the 2015 agreement is dangerous and allows Iran to continue its nuclear plans. By triggering the dispute mechanism in the Joint Comprehensive Plan of Action, the trio has made a very tentative move to get off the fence.

The three countries said they still want to see the 2015 deal succeed and are not about to abandon the pact and restore economic sanctions, as the US did in 2018. However, British Prime Minister Boris Johnson said in an interview with the BBC on Tuesday that he wouldn't be averse to the JCPOA being replaced by a new deal, and encouraged Trump to emerge with such a plan.

That's a flurry of activity to absorb, as the Iranian issue seems to be coming to a head. Factor in the continued street protests in Iran calling for the dismissal of Iranian Supreme Leader Ayatollah Ali Khamenei, following the downing of the Ukrainian passenger plane last week which resulted in the deaths of many Iranians, and it looks like Iran is being squeezed from all sides.

That was how US Special Representative for Iran Brian Hook put it in an interview with the Post's Omri Nahmias.

"We have weakened the regime dramatically. We've weakened their proxies, and we have disrupted and deterred many Iranian operations," said Hook.

"Right now, you have the Iranian people putting pressure on the regime from the bottom up. Our maximum pressure is putting pressure on the regime from the top down. This has left the regime with very few options, and all of them are bad. And so at some point the supreme leader, we hope, will start making better decisions for the Iranian people and for the Middle East," Hook continued.

Soleimani's elimination, the EU trio's decision to invoke the JCPOA dispute mechanism and demonstrations by the Iranian people all point to a potential watershed moment that should be exploited to its maximum benefit by the US and its allies.
Realism means preparing for war. And peace
This is a maddeningly confusing moment in Israel's relations with the Middle East. Israel could be headed toward two opposing realities simultaneously: on the one hand, devastating war with Iran and its proxies; on the other, unprecedented possibilities for peace with parts of the region. We need to pay attention to both threat and opportunity.

Since 2012, when the IDF launched its campaign of attacks to prevent Iranian forces and advanced weapons from converging on its borders, Israel and Iran have been effectively at war. So far, Iran has been wary of retaliating, fearful of the Israeli reaction, which will be severe. But as the IDF has repeatedly warned the Israeli public, it is just a matter of time before the conflict escalates. Tens of thousands of missiles and rockets are aimed at Israel's cities and towns; and not even Israel's impressive anti-missile defense system will be able to stop massive devastation.

The US killing of Iran's military chief Qasem Soleimani may have brought the next phase of the Israeli-Iranian war closer. And yet few in Israel opposed the assassination. Israelis take the Iranian regime's genocidal rhetoric seriously, and see in its destabilization of the region proof of its murderous credibility. With Iranian proxy Hezbollah in Lebanon, Iranian Revolutionary Guards in Syria, and Iran-backed Hamas in Gaza, Israel is now effectively surrounded by Iranian and pro-Iranian forces – a process directed by Soleimani.

For Israelis this isn't about Trump or Obama but about facing a potentially existential threat. A near-total consensus exists here on the need to confront Iranian expansionism. The country is now entering round three of this year's interminable election campaign, and yet, for all the bitterness, not one politician across the mainstream spectrum has challenged the wisdom of Israeli attacks against Iranian forces. No one is warning about "recklessness" or "military adventurism."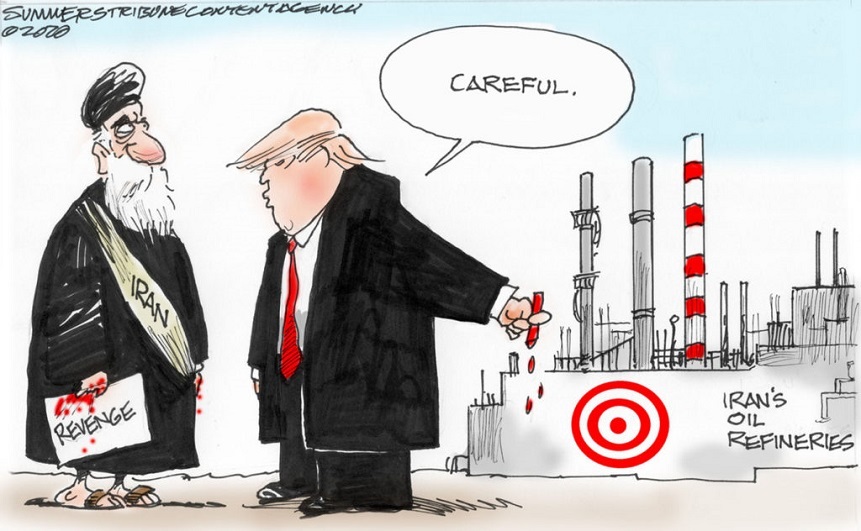 PMW:
Lethal PA libel alive and kicking
One of the most lethal recurring Palestinian Authority libels accuses Israel of planning to destroy and defile the Al-Aqsa Mosque. Many Palestinian terrorists who murdered Israelis have explained that they killed in defense of the Al-Aqsa Mosque.

One version of this libel spread by the PA is that Israel is trying to destroy the Mosque by digging under it as it searches for remnants of the "alleged Jewish Temple" and/or tries to construct the third Temple. This life-endangering libel was repeated recently by a host on official PA TV:

Official PA TV reporter: There is construction work taking place under the Al-Aqsa Mosque to build the alleged Temple of Solomon…
Expert on international law Dr. Ibrahim Al-Rabi: "Regarding this [Western] wall that the Jews claim is the remains of the Temple of Solomon – it must be understood that UNESCO has said that this wall has no connection to Jews, but is rather an Islamic heritage. In other words, it is subject to Palestinian rule and the Jews have no right to it."
[Official PA TV, The Supreme Authority, Dec. 19, 2019]

Entrenching the libel in the Palestinian psyche, the official PA daily printed this cartoon last week:
Viewed from right to left the cartoon shows an Israeli soldier with a pickax in his hands, facing a giant Palestinian protecting the Dome of the Rock and stopping the soldier. When turned away the Israeli soldier is seen digging under the Dome of the Rock with the pickax.
Israel is building "the alleged Temple" under the Al-Aqsa Mosque, says official PA TV reporter

More about this here: https://t.co/NVGqZRGknT pic.twitter.com/UQAyFRFF6C

— Pal Media Watch (@palwatch) January 16, 2020
Khaled Abu Toameh:
The Palestinians and Europe's Secret Agenda
The foreign media and human rights organizations seem quite uninterested in Palestinians who are arrested or tortured to death by PA security forces. After all, they have not been arrested by Israel for security-related offences.

The European Union is said to be pressuring the Palestinians to hold long overdue presidential and parliamentary elections. It is not clear, however, how the Palestinians would hold new elections at a time when the PA and Hamas are busy in the West Bank and Gaza Strip locking up their political opponents.

The "political arrests" are yet another indication of human rights violations perpetrated by Palestinian leaders against their own people. Inexplicably, though, the EU appears unfazed by them. Instead of pressuring the PA and Hamas to hold elections -- that in any case neither side seeks, as it would almost certainly hand a further victory to the terrorist group Hamas -- it would be better for the EU to encourage Palestinian leaders, as a first step towards holding free elections, at least to cease and desist making political arrests.

Failing to hold Palestinian leaders accountable for their human rights violations casts serious doubt on the EU's desire to hold new elections in the West Bank and Gaza Strip, and their deeper, seemingly malign desires for the region as a whole.
Mahmoud Abbas Is a Strategic Threat to Israel
Abbas' approach replaces "armed struggle" with an international diplomatic campaign aimed at forcing Israel to withdraw to the "1967 borders" without a peace settlement, while conceding the "right of return" — the standard Palestinian euphemism for destroying Israel by flooding it with millions of "refugees." As such, Abbas' approach was and continues to be in complete contravention of the PLO's contractual obligations under the 1990s Oslo Accords.

Amazingly, despite 25 years of systematic Palestinian violations of these accords, thousands of casualties, and the turning of Gaza into a terror stronghold that persistently disrupts daily life in Israel, Israeli politicians still cling to the delusion that the PLO is a partner for peace.

For example, former prime minister Ehud Olmert has suggested that the upcoming election campaign focus on the resumption of negotiations with the Palestinian Authority. "The absence of such negotiations," he wrote in Maariv on December 20, "is nothing less than a strategic blow to Israel's supreme existential interest."

Not only were Olmert's peace proposals at the 2007 Annapolis Conference dismissed out of hand by Abbas despite the far-reaching concessions they entailed, but those concessions diverged drastically from the conception of Israeli-Palestinian peace that had led Yitzhak Rabin to sign the Oslo Accords in the first place.

In his last speech to the Knesset on October 5, 1995, about a month before his assassination, Rabin set forth the basic contours of the final settlement:
- "A united Jerusalem, which will include both Maale Adumim and Givat Zeev, as Israel's capital under Israeli sovereignty."
- "The security border for the defense of Israel will be located in the Jordan Valley in the widest sense of the term."
- "[The Palestinian state] will be an entity that is less than a state, which will independently run the lives of the Palestinians under its authority."
Seems fair. pic.twitter.com/VFqV1EnanU

— Hillel Neuer (@HillelNeuer) January 16, 2020
Former professor sues Canada for extradition over synagogue bombing
A former Canadian university professor and his family are suing the Canadian government for $69 million for extraditing him to France in 2014 for allegedly being involved in the deadly 1980 bombing of a Paris synagogue.

Hassan Diab, a Lebanon native who became a Canadian citizen in 1993, was sent back to France six years after a lengthy extradition process. French authorities alleged that Diab was a member of the Popular Front for the Liberation of Palestine and took part in the attack of a synagogue on Rue Copernic that killed four people and injured 40.

Diab, who taught sociology at the University of Ottawa, spent three years in a Paris jail before his release in January 2018 due to compelling evidence that he was in Beirut, Lebanon, at the time of the bombing.

In his lawsuit, which was filed last week, Diab claims damages for a "negligent investigation, malicious prosecution, malfeasance in public office, spoliation of evidence, deceit, abuse of process, and intentional affliction of emotional distress."

Diab, 66, also is seeking damages based on having his Canadian charter rights allegedly breached.
New Guatemalan President to Keep Embassy in Jerusalem, Labels Hezbollah Terror Group
The new president of Guatemala, Alejandro Giammattei, pledged on Tuesday to "keep the [Guatemalan] embassy in Jerusalem and designate Hezbollah as a terrorist organization" during a meeting in Guatemala City with Ofir Akunis, Israeli Minister of Science, Technology and Space.

The Guatemalan embassy opened in Jerusalem in May 2018, shortly after the US one did.

Akunis expressed appreciation for Giammattei's "courageous friendship" with Israel and the Jewish people, as well as for his declaration about the Iranian proxy Hezbollah.

"You express the deep and long-standing friendship between the two countries, Mr. President. Jerusalem has been the heart of the Jewish people for 3,000 years," he said.

He added that "Hezbollah is a terrorist organization and is, in fact, a [proxy] unit of Iran whose objective is the elimination of Israel. Thank you for your courageous decision to declare it a terrorist organization."

Last week, Honduras designated Hezbollah as a terrorist organization, following other countries including the United States, Australia, the United Kingdom, Bahrain, Argentina, Germany, Paraguay, Netherlands and France.
CNN nixes Mike Pence-Wolf Blitzer Israel interview, citing impeachment
In a time when violent anti-Semitism is on the rise, CNN has refused an interview with Vice President Mike Pence in Jerusalem to mark the 75th anniversary of the liberation of Auschwitz — because the network is "all impeachment, all of the time," according to sources.

The White House offered Wolf Blitzer an exclusive interview with Pence at the World Holocaust Forum next Thursday, and the "Situation Room" host enthusiastically agreed. But CNN boss Jeff Zucker then banned Blitzer from leaving the country because of the President Trump impeachment trial in the Senate.

Blitzer's paternal grandparents were killed in the Holocaust and his parents were survivors. He said in an emotional 2018 interview, "My grandparents were murdered at Auschwitz. My dad survived, but two of his brothers and two of his sisters were killed. They weren't separated to go to another facility. They were separated to die."

A CNN source said: "Wolf really wanted to do the Pence interview personally. He cares deeply because of his family background, which is why Wolf was offered it by the White House. But Zucker stepped in and said Wolf isn't going anywhere because the network will be 'all impeachment, all of the time' next week. CNN's anti-Trump bias is so intense, they can't even broadcast a sympathetic interview for Holocaust remembrance." Dozens of world leaders are expected at the forum, including Vladimir Putin and Emmanuel Macron.
Delaware Republican Party Leader Fired for Blaming Jews for Trump's Impeachment
A Republican Party leader in Delaware was ousted on Monday for blaming Jews for being behind the impeachment of US President Donald Trump.

Nelly Jordan was fired by two votes as Sussex County Republican Party vice chairwoman after serving in the position for about a year following a two-hour deliberation at an executive meeting.

"I'm not antisemitic," she said on Monday, contending that her remarks had been "changed."

"I feel I've served the party with the best of my ability and the best of my heart," she added.

Last week, Jordan issued an apology to members of the Sussex County GOP for her December remarks on her Facebook page that has since been deleted.

"After much reflection and thought, I now realize my words were inappropriate. I apologize for raising questions about a people, a faith and a culture whose beliefs span a broad political spectrum," she wrote. "No matter how heated our collective discourse becomes, it should never cross the line as I did."

In the Facebook post, Jordan wrote, "What amazes me the most in these theatrical Congress hearings, is to see how many Jews 'In Name Only' lend themselves to be in the hoaks [sic] of the pure made up story of Impeachment that the Democrats have woven as spiders catching flies and bugs."
For 1st time since Oslo Accords, Israel announces new West Bank nature reserves
Defense Minister Naftali Bennett on Wednesday approved an announcement of seven new nature reserves in the West Bank, the first time Israel has made such a move since the Oslo Accords were signed with the Palestinian Authority in the 1990s, his office said.

In a statement, Bennett's office said that alongside the seven new nature reserves — all located in Area C, areas of the West Bank fully controlled by Israel — 12 existing reserves will be expanded.

The statement said the move orders the Civil Administration, Israel's military liaison to the Palestinians in the West Bank, to advance the move. It added that the Palestinian Authority would be notified.

It said the plan had not been implemented for years since the government previously refused to authorize it.

Following the administrative procedure, the Israel Nature and Parks Authority will oversee the opening of the sites.

The statement identified the seven new locations as the Ariel Cave, Wadi Og, Wadi Malha, the Southern Jordan River, Bitronot Creek, Nahal Tirza, and Rotem-Maskiot in the Arvot Hayarden area.

"Today we provide a big boost for the Land of Israel and continue to develop the Jewish communities in Area C, with actions, not with words," Bennett was quoted in the statement as saying.

"The Judea and Samaria area has nature sites with amazing views. We will expand the existing ones and also open new ones," he added, using the Biblical Jewish term for the West Bank. "I invite all the citizens of Israel to tour and walk the land, to come to Judea and Samaria, sight-see, discover and continue the Zionist enterprise."
Terrorist minor involved in murder of Tuvia Weissman gets life in jail
One of the three Palestinian minors involved in the February 2016 stabbing spree in a Rami Levy supermarket, in which Sgt. Tuvia Yanai Weissman was killed and another victim was wounded, had his sentence stiffened from 35 years to life in prison on Wednesday.

The tougher sentence came after an appeal by the IDF Prosecution from a Judea Military Court decision to the Military Appeals Court.

Lawyer Chaim Bleicher of Honenu, representing Weissman's family, praised the decision and had strongly backed the appeal.

Although the appeals court has rendered a life sentence, due to the fact that the minor in question was only 14 at the time of the crime, there is still a high probability that at some point he will be released for good behavior or in a prisoner exchange.

It is exceedingly rare that a 14-year-old would actually serve a full life sentence, even for murder.
IDF Targets Hamas Sites in Gaza After Rockets Strike Southern Israel
Four rockets were fired at Israel from the Gaza Strip on Wednesday, the IDF said, and it responded with air strikes against Hamas facilities in the coastal enclave.

No casualties were reported on either side of the Israel-Gaza border.

Two of the projectiles launched from Hamas-ruled Gaza were shot down by Israel's Iron Dome air defense system, the military said in a statement. Israel's Channel 13 television said the other two struck uninhabited areas.

Sirens warning of rocket fire sounded in several Israeli communities near the Gaza frontier. Israel's Magen David Adom ambulance service said no injuries or damage were reported in the first such attack in three weeks.

There was no immediate claim of responsibility from Gaza.

The Israeli military said that in response to the rocket attack, its warplanes struck several "Hamas terror targets" in the northern Gaza Strip, including a weapons manufacturing facility and an armed compound.

Hamas's armed wing usually evacuates its facilities in anticipation of Israeli retaliation after cross-border rocket strikes.

A statement by the Israeli military did not accuse Hamas of launching the rockets but said that it holds the group responsible "for all events transpiring in the Gaza Strip."
Palestinians fire at IDF soldiers in Jenin - report
Palestinian residents of the West Bank city of Jenin opened fire at IDF vehicles on Thursday morning, according to Palestinian media.
Terrorists and young residents of the city chased after the vehicles as they were leaving the city and began shooting at them, according to the Palestinian Quds news. No injuries or damage were caused in the incident, according to the IDF.

Muhammad Shadi Jarrar was arrested from his home in Jenin by the IDF before the incident and clashes broke out between IDF soldiers and young residents with tear gas and stun grenades fired.

IDF forces came under fire in Jenin multiple times last year, according to Quds.
Hamas calls for mass attendance at Al-Aqsa, Cave of the Patriarchs prayers
The Hamas terrorist group has called for Palestinians to protest against Israeli "violations" at religious sites in Jerusalem and the West Bank, by performing Friday prayers in Al-Aqsa Mosque and the Ibrahimi Mosque at the Cave of the Patriarchs, along with mosques in the West Bank and Gaza.

The Fajr prayers, the first ones of the day before sunrise, are being held in protest of "Israeli judaization schemes" at religious sites in the West Bank, including the Temple Mount and the Cave of the Patriarchs.

Hamas claimed in a press release that Israeli authorities have escalated the situation at al-Aqsa and have tried to close the Gate of Mercy (Bab al-Rahma) at the Temple Mount complex again. The press release stated that Israel has been "atrociously beating, arresting and threatening" Palestinian worshipers and has banned them from entering the complex.

The terrorist group stressed that Israeli Jews continue to visit the complex and that renovations are occurring along the southern wall of the Temple Mount, warning "against the consequences of these serious Israeli steps."

On Thursday, Jewish visitors visited the Mount and "performed Talmudic rituals," according to the Jordanian Petra news agency. Israeli police entered the Gate of Mercy with shoes on and took pictures of the inside, according to Palestinian media.

"This peaceful campaign is a message to the Israeli occupation and a warning that Palestinian holy sites are a redline," Hamas said.
Why Hamas Supports Turkey's Invasion of Northern Syria
In mid-October, following US President Donald Trump's announcement of a withdrawal of American troops from northern Syria, Turkish President Recep Tayyip Erdoğan's military invaded the Kurdish-held area.

Ankara views the Kurds in northern Syria as PKK-affiliated terrorists who, for wanting freedom, are regarded as a serious threat to Turkish national security. Eliminating Kurdish autonomy has been a key priority for Erdoğan since the beginning of the Syrian civil war in 2011.

The American pullout from the area, which borders on Turkey, was evidently perceived by Erdoğan as a green light for an invasion, for which he had been waiting for nearly a decade. Although there is no doubt about the devastating effect that this move is having and will continue to have on the Kurds, there is a question about whether and to what extent it will affect Israel, a neighboring country that has been a supporter of Kurdish independence and rightly fears an even greater Iranian power-grab in Syria.

Israel's enemies, unsurprisingly, immediately championed Trump's announced exit and praised Erdoğan's invasion. Take Hamas, the terrorist organization that rules the Gaza Strip, for example.

Hamas, like Turkey, not only seeks Israel's destruction, but also has close ties with the Erdoğan government. Hamas's military wing maintains an office in Istanbul, in spite of international pressure on Turkey to shut it down.
Mahmoud Habbash: Our Enmity for America and Israel Cannot Make Us Forget Our Enmity for the Shiites
Mahmoud Habbash, an advisor to Palestinian Authority President Mahmoud Abbas, said in a Friday, January 10, 2020 sermon that aired on Palestine TV that there is something wrong with the judgment and faith of Muslims who "kiss the hands" of Shiites, whom he described as people who slander the Prophet Muhammad, his wives, and his companions in a vile fashion. He said that the Palestinians' enmity towards America, Israel, and those who stand against the Islamic nation cannot make them forget their enmity towards the Shiites, and he criticized those who embrace the Shiites in order to gain money or prestige. He added that people who curse Muhammad's companions and violate the honor of his wives are not Muslims.
Fugitive ex-Nissan boss summoned by Lebanese prosecutor over Israel visit
A Lebanese prosecutor said Wednesday that Nissan's fugitive ex-boss, Carlos Ghosn — who recently fled to Beirut from Japan — would be summoned later in the day over a visit to Israel more than 10 years ago, according to the state-run National News Agency.

Two Lebanese lawyers had submitted a report to the Public Prosecutor's Office against Ghosn last week, saying he violated Lebanese law by visiting Israel. The countries are technically in a state of war.

Prosecutor Ghassan Khoury met Wednesday with the two lawyers who filed the case and asked them to bring additional evidence, adding he would summon Ghosn within hours.

Ghosn — who holds Lebanese, French and Brazilian citizenship — jumped bail in Tokyo last week in an operation worthy of a Hollywood plot, and arrived in his native Lebanon.
59 arrested in Lebanon protests after clashes near central bank
Lebanese security forces arrested 59 people, the police said Wednesday, following clashes overnight outside the central bank as angry protesters vented their fury against the country's ruling elite and the worsening financial crisis.

The hours-long clashes that erupted on Tuesday evening also left 47 policemen injured, the security forces said, as some protesters smashed windows on private banks in Beirut's key commercial district.

Earlier on Tuesday, protesters rallied outside the central bank in the bustling Hamra neighborhood, denouncing the bank governor and policies they say have only deepened the country's financial woes.

The rally turned violent as protesters tried to push their way through the security forces deployed outside the bank. In over five hours of pitched street battles, security forces lobbed volleys of tear gas at the protesters, who responded with rocks and firecrackers.
U.S. Iran Envoy: The Intelligence Was Very Clear that Soleimani Was Plotting Large-Scale, Mass Casualty Attacks Against Americans
U.S. envoy for Iran Brian Hook told the Jerusalem Post: "We have weakened the regime dramatically. We've weakened their proxies, and we have disrupted and deterred many Iranian operations. Now, President Trump has taken Soleimani off the battlefield. He was the glue that really held together Iran's proxies in the gray zone so effectively. And we think that his death is much more likely to make the region more stable."

The American sanctions are "starving the regime of the revenue it needs to fund its proxies," Hook said. During the nuclear deal, "the regime was rich and so were its proxies. When the proxies have less money and the world's leading state sponsor of terrorism has less money, it means fewer attacks....We have put in place a foreign policy that is weakening the regime and its proxies, and the regime knows it."

"I saw the intelligence, and the intelligence was very clear that Soleimani was plotting imminent attacks against American diplomats and soldiers in the region that were large-scale, mass casualty attacks....If we had done nothing and he had killed hundreds of people, the press would be asking me, 'Why didn't we kill Soleimani when we had the chance?'"
Tehran could turn Trump into a regime changer
The President of the United States isn't interested in overthrowing the Iranian regime. That idea has been a virtual political constant since at least 2016, when candidate Donald J. Trump used the presidential campaign trail to rail against the 2015 nuclear deal concluded by Barack Obama, but pointedly didn't advocate the idea of regime change in Tehran as a substitute strategy. In much the same way, the Iran policy pursued by Trump's administration has concentrated on applying "maximum" economic and political pressure on the Iranian regime to cease its malign regional behavior, while holding out the prospect of a new diplomatic bargain with Tehran as a reward for good conduct.

Perhaps the clearest indication of this approach was provided last week, when President Trump — in responding to the Iranian regime's rocketing of military facilities in Iraq — emphasized that the pathway for Iran to return to the negotiating table remained open. In his televised address on Jan. 8, Trump stressed his desire to work toward "making a deal with Iran that makes the world a safer and more peaceful place," and which "allows Iran to thrive and prosper and take advantage of its enormous untapped potential."

Yet, in recent days, the White House has slowly but surely gravitated toward greater support for opposition elements within Iran that are now seeking an end to the Islamic Republic.

Over the weekend, the President put out a Tweet — in Farsi — that unequivocally sought to engage Iran's protestors — and to do so at the expense of the Iranian government. "To the brave and suffering Iranian people," the message said, "I have stood with you since the beginning of my presidency and my government will continue to stand with you. We are following your protests closely. Your courage is inspiring."
Former Iranian Crown Prince: We are beginning to see end of the regime
The "beginning of the end" of the Iranian regime has started, former crown prince of Iran Reza Pahlavi said in a conversation at
the Hudson Institute in Washington with senior fellow Mike Doran on Wednesday.

Pahlavi stated the recent protests in Iran are different than previous demonstrations.

"People smell the opportunity for the first time in 40 years," he added. "This time is very different from 2009, even very different from 1997. The people have had it. Today's generation of young Iranians cannot take it anymore. They want to have an opportunity for a better future. They want to be on the path of modernity and freedom. The only thing that stands between them and the free world is this regime."

Pahlavi said that it is time for Ayatollah Ali Khamenei to step down and allow a peaceful transition, with a minimal number of casualties.

"To the forces that are employing repression as a tool, all I can say is that there are not enough people they can kill to maintain this regime in power. They better stand down and join with their brethren," he highlighted. "This regime cannot be reformed and must be removed," he continued.

"It is long past time for you to hear their voices," he told the audience and emphasized that there is no point in trying to negotiate with the Islamic Republic.
Dave Sharma:
Iran's empire-building ambitions held at bay for now
The broader context for these heightened tensions will continue, however, and that context is the prolonged effort by Iran to become the dominant regional power in the Middle East, and the resistance to this ambition by a coalition of Arab states, Israel and the United States.

Iran has already established a dominant position of influence within Lebanon and Syria. In Lebanon, Iran's proxy Hezbollah is the major political and military actor. In Syria, Iranian intervention rescued the brutal regime of Bashir al-Assad and this debt will serve Iran for years to come.

In Iraq, a struggle is underway. Shiite militias and politicians have been cultivated extensively by Iran, and Soleimani's goal was to muscle out the influence and presence of the United States and other actors, and pull Iraq decisively into Iran's orbit — much as it has done with Lebanon and Syria. This goal has now been set back significantly with Soleimani's death.

The continuation of the US presence in Iraq and Syria is a stabilising presence in the Middle East. Though small in number, it gives countries such as Iraq alternative security partners to Iran, and acts as a deterrent against the predations of others.

Provided the US retains its presence, Australia is right to continue making our own contribution to the training and assistance of the Iraqi security forces.

Similarly we have an interest in ensuring that the major shipping lanes of the Middle East — commercial arteries for the world — remain free and open to all. The frigate HMAS Toowoomba is sailing this week for the Middle East to make just such a contribution.
The Nuclear Deal with Iran Was a Charade Right from the Start
In response to the killing of Iranian General Soleimani by a U.S. airstrike, Iran announced that it would no longer adhere to the 2015 nuclear agreement. Now observers are lamenting that a major opportunity for curbing Iran's nuclear activities has been lost.

Alas, this view gets it wrong. The nuclear deal never had the significance that many attributed to it. The agreement's portended goal of verifiably preventing Iran's military nuclearization for 10 to 15 years could never have been achieved.

In the nuclear deal, Iran demanded that the parties agree that the two known enrichment facilities at Natanz and Fordow were the only ones actively operated by Iran. However, U.S. intelligence had known for quite some time that Iran was operating about a dozen secret facilities, with one or more of them enriching uranium to weapons-grade levels.

Former CIA director Michael Hayden described how at a meeting of the National Security Council in spring 2009, President Obama asked how much fissile material Iran had stored in Natanz. Hayden replied: "Mr. President, I actually know that but let me offer you a different frame of reference. In one sense, it almost doesn't matter. There isn't an electron or a neutron at Natanz that's ever going to end up in a nuclear weapon. They'll spin that uranium at some secret military facility beyond the eyes of the IAEA."

Against this background, it is clear that the nuclear agreement with Iran was a charade from the very beginning. U.S. intelligence had always assumed that enrichment for weapons-grade uranium was carried out in secret facilities. This means that the IAEA's regular statements that Iran was complying with the agreement were utterly worthless.

The Obama Administration, together with its allies, concluded an agreement with Iran that centered on the long-term prevention of the production of weapons-grade uranium in Natanz, even though they knew that weapons-grade uranium was not produced there, but in secret facilities of the Revolutionary Guards.
Canada demands more access in Iran crash probe ahead of victims summit
Canada is demanding official status in Iran's investigation of the crash of a Ukraine International Airlines jet in Tehran last week, as it vows to get to the bottom of the incident ahead of a meeting in London with other countries that lost citizens.

Foreign ministers from Canada, Ukraine, Sweden, Afghanistan and Britain — which all had nationals who died — are scheduled to meet on Thursday to press for "full cooperation from Iranian authorities," Canadian Transport Minister Marc Garneau told a press conference Wednesday.

"Canada will not accept a situation where we feel that we're not being given the information that we're looking for," he said.

"Make no mistake about it, Canada is going to get to the very bottom of this."

Prime Minister Justin Trudeau has said that his government intends to ask Tehran for compensation for the families of Canadian victims, which Ottawa officials said Wednesday was a top priority.
Soleimani's Replacement Has Blood on His Hands
The Iranian mullahs have replaced their fallen idol, Qasem Soleimani, with his deputy, Esmail Ghaani, as commander of the terrorist Quds Force.

With blood on his hands, Gen. Ghaani is the ayatollahs' ideal choice to take command of their equivalent of the Gestapo.

While Soleimani focused on proxy wars in Syria, Yemen, Lebanon and Iraq, Ghaani's job was to bolster terrorist militias in Pakistan, Afghanistan and Africa.

He was placed on America's terrorist blacklist in 2012 after 13 shipping containers destined for The Gambia were intercepted in Nigeria and found to hold Katyusha rockets and other weapons.

In 2015 Ghaani assumed command of Iran's proxy forces in Aleppo, supervising and aiding the bloody massacre of the Syrian civilian population there.

Ghaani will assuredly now be engaged in detailed planning for a major terrorist outrage.
Two Iranians Sentenced for Spying on the U.S.
Ahmadreza Mohammadi-Doostdar, 39, a dual U.S.-Iranian citizen, and Majid Ghorbani, 60, an Iranian citizen, have been sentenced to prison terms of 38 months and 30 months, respectively, for their criminal convictions relating to their surveillance of American citizens who are members of the group Mujahedin-e Khalq (MEK).

"This case illustrates Iran's targeting of Americans in the United States in order to silence those who oppose the Iranian regime," said Assistant Attorney General for National Security John C. Demers.

"The defendants, working for Iran, gathered information on Americans that could then be used by the Iranian intelligence services to intimidate or harm them or their families."
Empty Skies Over Iran Proof That Regime 'Should Never Be Trusted,' Israeli UN Envoy Says
Israel's ambassador to the United Nations seized on a dramatic picture that showed commercial airliners taking extra care to avoid Iranian airspace as proof of the lack of trust in the Islamic Republic across the international community.

"This image speaks volumes," Danny Danon — Israel's envoy to the world body in New York — declared on Twitter. "The world does not — and should never — trust the Iranian regime."

The photo — a screenshot of a map showing real-time air traffic in the skies above the Middle East — revealed Iranian airspace empty of all carriers as hundreds of planes flew over neighboring countries in all directions.

Danon's comment came amid widespread anti-regime protests in Iran, triggered by the admission of Gen. Amir Ali Hajizadeh — commander of the Islamic Revolutionary Guard Corps' (IRGC) Aerospace Division — that his forces "unintentionally" shot down a Ukraine International Airlines flight near Tehran on Jan.8, killing all 176 people on board.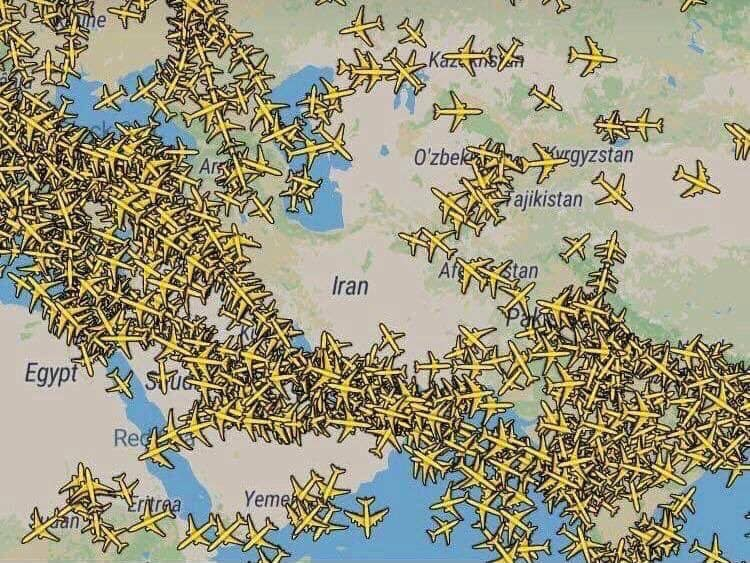 Editor Of Saudi Daily: Eliminating Soleimani Is Not Enough; Iran's Terror Network Spans Iran, Iraq, Syria, Lebanon And Yemen
The assignation of IRGC Qods Force commander Qassem Soleimani by the U.S. met with numerous reactions in the Saudi press that expressed satisfaction at the severe blow dealt to the Iranian leadership, and also at the initiative taken by the U.S. after a long period in which it avoided using military force against Iran, including after the mid-September attack on the Aramco oil facilities in Saudi Arabia. Conspicuous among these reactions was a January 10, 2020 article by Khalid Al-Malik, chief editor of the Al-Jazirah daily. He wrote that the elimination of Soleimani was not enough, because "the Iranian terror network is wide and is not based on any one single terrorist." Al-Malik explained that Iran has many other agents in Iraq, Syria, Lebanon and Yemen, and that if no action is taken against them it will continue its destructive policy. He also directed criticism at the U.S., noting that it is now paying the price for letting Iran take over Iraq and over its decision-making.

"Assuming that the U.S. forces in Iraq have done anything that counts in their favor since the fall of Saddam Hussein's regime and the disappearance of the Ba'th party, then one of these things is the elimination of the ISIS terror organization. [But] one of the things that counts against them is that they covered and continue to cover for the Iranian influence [in Iraq], facilitated Iran's takeover of Iraq's decision-making, and disregarded its employment in Iraq of [organizations] modeled on terror groups, such as the Popular Mobilization Forces [PMF], Asaib Ahl Al-Haqq and others. [The U.S.] even encouraged the relations that most of [Iraq's] Shi'ite parties hold with [Iran], in a manner that serves the interests of the Ayatollah regime, not of the Iraqi people.

"Just as the liberation of Iraq from the Saddam Hussein regime was achieved by the U.S. forces – which is a point in their favor – the U.S. was also the one who handed Iraq to Iran, and this is a point against it. For [the U.S.] drafted an [Iraqi] constitution that places the decision-making and the formulation of Iraqi policy exclusively in the hands of Shi'ite parties that are identified, in terms of their views and operation methods, with the dictates of Iranian authorities and of [Iran's] Rule of the Jurisprudent regime...
Rouhani: Iran's nuclear enrichment at higher level than before 2015 deal
Iran is now enriching more uranium than Tehran did before it agreed to a nuclear deal with world powers in 2015, Iranian President Hassan Rouhani said on Thursday in a televised speech.

"We are enriching more uranium before the deal was reached ... Pressure has increased on Iran but we continue to progress," Rouhani said.

The pact, or JCPOA, was agreed in 2015 between Tehran and world powers. US President Donald Trump withdrew from the deal in 2018 and imposed stringent US sanctions on Iran, telling Tehran he wanted a new broader deal on nuclear and other issues.

Iran has gradually scaled back its commitments under the nuclear deal in retaliation to Washington's withdrawal from the pact in 2018 and its reimposition of sanctions that have crippled the country's economy.

On Wednesday, Rouhani dismissed the proposal for a new "Trump deal" aimed at resolving a nuclear row, saying it was a "strange" offer and criticizing the US president for always breaking promises.
MEMRI:
Grand Ayatollah Ali Al-Sistani Counters Muqtada Al-Sadr's Call For Anti-U.S. March, Warns Against 'Those Seeking To Exploit Protests To Achieve Certain Goals'
Following Muqtada Al-Sadr's call for a one-million-man march to end the presence of the U.S. military in Iraq, a website funded by Grand Ayatollah Ali Al-Sistani's Al-Kafeel International Network released a statement from the Grand Ayatollah made in December 2019 reminding Iraqis that there are some parties that wish to exploit them in order to serve the agendas of others. The following report will examine Al-Sistani's recent warning, instructions from Al-Sadr to his supporters, and related reactions.

On January 15, 2020, a website associated with Iraq's top Shi'ite cleric, Grand Ayatollah Ali Al-Sistani, warned against the call of Muqtada Al-Sadr, whom Iraqi protestors see as Iran's new favorite Shi'ite cleric in Iraq, for a massive demonstration to end the U.S. military presence in Iraq.[1]

The official website of Al-A'taba Al-Abassyia, which covers activities related to Imam Abbas'[2] shrine in Karbala, Iraq, and is sponsored by Al-Sistani's Al-Kafeel International Network, re-published a statement that the Ayatollah made on December 6, 2019, in which he strongly warned "against those who seek to exploit the protests that call for reforms in order to achieve certain goals that will hurt the utmost interests of the Iraqi people, and are not in line with their true values."

"We are here republishing the Highest Authority's sermon from December 6, 2019, as a warning,"[3] the website explains. The website also tweeted the statement using a hashtag[4] that translates to "Tahrir Square," the key location for the anti-government protesters in Baghdad.

Over the past three months, Al-Sistani has been critical of Iran's use of Iraq as a proxy battleground for their war against the U.S., as well as the involvement of Iran-backed Iraqi militias in the killing of protesters. Al-Sistani also condemned the recent American and Iranian attacks in Iraq, saying they represent "flagrant violations of Iraq's sovereignty."
PMU Official Ali Al-Husseini Threatens: We Will Eliminate the Anti-Government Protesters
PMU official Ali Al-Husseini said in a video that was uploaded to the Internet on January 15, 2020, that at the million-man counter-demonstration against the anti-government demonstrations in Iraq and against the presence of U.S. forces in Iraq, which is planned to take place on January 17, the PMU will shut down and eliminate the anti-government protesters' "squares" of prostitution, humiliation, "Joker" gangs, and abasement with the power of God, the power of the Prophet Muhammad's family, the power of the mujahideen, and the power of the resistance axis. He said that Iraq is not a country for espionage or for collaborators, "Jokers", or homosexuals.
JCPA:
Ayatollah Rafsanjani's Daughter Openly Called for Khamenei to Resign
In a brave step, Faezeh Hashemi Rafsanjani, the daughter of the late influential Ayatollah Akbar Rafsanjani and a women's rights activist, called on January 12, 2020, for Ayatollah Khamenei to resign to save Iran from the sure collapse that is already happening. In a speech aired on BBC in Persian, Faezeh Rafsanjani emphasized that Iran is already in the advanced stages of disintegration, and all internal and external policies of the regime have failed. She called on Khamenei to take the example of Michael Gorbachev who, "when he realized that the USSR's policies were not going anywhere, he himself led the removal of the tyrannical and failed regime." She delineated the severe conditions currently in Iran and the unbearable situation imposed on tens of millions of Iranians throughout the country. She pointed out that the regime has survived so far solely because of severe repression and the use of weapons against its own civilians. Faezeh Rafsanjani, who has been arrested and imprisoned in the past, also stressed that the millions who participated in Qasem Soleimani's memorial ceremonies are also disgruntled with the regime.6

Ayatollah Hashemi Rafsanjani, who for many years was considered the most important man in the Iranian regime after the Leader, died three years ago under suspicious circumstances. Based on testimony from doctors, his family and many supporters charged that the conservatives in the regime had strangled Rafsanjani while he was swimming in a pool, and those conservatives had acted on "orders from above" (alluding to Ayatollah Ali Khamenei).

In recent days, dozens of artists, filmmakers, actors, singers, and intellectuals in Iran have canceled their performances in the coming weeks to signal their sympathy with the protests and demonstrations in response to the regime's lies and continued oppression. Massoud Kimias, a prominent and famous film director, is a leader in these protest among the artists. The police also arrested on January 13, 2020, Rakhshan Bani-E'temad, another well-known director, who called on nationalists and citizens to gather in the squares of all the cities, in memory of the plane's victims. She was released after being warned to cancel her protests.

In addition, several newsreaders on the Iranian Broadcasting Authority's television channels resigned in protest over the lies they were told to broadcast about the plane crash. Conservative presenters fiercely attacked their colleagues, accusing them of "playing for the enemy." A conservative supporter of the Revolutionary Guards even called for all disgruntled Iranians to leave Iran forever, leaving the country to those loyal to the Islamic Republic.
Third time this week I've seen Iranian citizens overtly refuse to dishonor the U.S. & Israeli flags, defying the diktat of the murderous Ayatollah Khamenei regime. These men and women are the great hope for a Middle East of peace and tolerance. The free world must support them. https://t.co/OtmUhy6CbP

— Hillel Neuer (@HillelNeuer) January 15, 2020
In the first video of Prof. Zibakalam, he climbs onto a bannister to avoid trampling the U.S. flag painted on the floor of Tehran University. In this video, he pushes away thugs trying to force him to trample the U.S. & Israeli flags in order to exit. This is courage. pic.twitter.com/3LlHn6VrLO

— Hillel Neuer (@HillelNeuer) January 15, 2020
In Iran, defiance starts with a step. Four years ago, one man led the way where thousands now follow. Professor Sadegh Zibakalam publicly refused to walk over U.S. & Israeli flags painted on the floors of Tehran University. One small step for Iran, one giant leap for mankind. pic.twitter.com/2DF45kyUJc

— Hillel Neuer (@HillelNeuer) January 15, 2020
Iranian students refuse to take stairs to avoid trampling U.S. flag
Students at Sanandaj University in Kurdistan Province refusing to take the stairs upon which a large U.S. flag had been painted. January 2020, Iran.
Iranian protester risks life to talk to i24NEWS in exclusive interview
i24NEWS Exclusive: A protester in Iran risks his life to share his thoughts on the ongoing demonstrations in the Islamic Republic, the killing of Qassem Soleimani, and Israeli PM Netanyahu's vow to stop Tehran from acquiring a nuclear weapon
This is the Iranian regime, @JustinTrudeau https://t.co/XKTy7vxpoT

— Rita Panahi (@RitaPanahi) January 15, 2020
Manchester United scraps planned Middle East training camp due to tensions
Manchester United has scrapped a planned midseason training camp in the Middle East amid high tensions in the region, manager Ole Gunnar Solskjaer said Tuesday.

"If there's one thing that worries me, it's not on the football pitch," Solskjaer said. "It's other things that worry me more.

"We were looking at the Middle East but that's definitely not going to happen."

Last week, Iran launched missile attacks on two military bases in Iraq that house US troops. The missiles were a retaliation following an American drone strike that killed Qassem Soleimani, the leader of the Iranian Revolutionary Guard's powerful Quds Force.

In another incident, a Ukrainian passenger jet was shot down as it left Tehran by Iranian military, killing all 176 people aboard. Iran has said the jetliner was brought down "unintentionally" and blamed human error.

Man United, one of the world's most famous soccer teams, has been a frequent visitor to the Nad Al Sheba Sports Complex in Dubai in recent years, and the squad was looking to use the upcoming and newly introduced winter break in the English Premier League schedule for another warm-weather camp.
BBC WS radio gives uncritical amplification to Iranian ally's Israel comments
Presented by Tanya Beckett and produced by John Murphy, that programme – which the webpage states will be "available for over a year" – includes a section (from 11:51) featuring a "witness" described to BBC audiences as follows:
Beckett: "Our third witness, like our American military leaders, also encountered Qasem Soleimani in Iraq but he was on the same side in a militia working to bolster the position of Iraq's Shia population. […] Qais Ghazali sees himself as a resistance fighter but to the Americans he was a terrorist. He was the leader of one of the most hard-line Shia groups in Iraq…"

Later on listeners hear that Ghazali (also spelt Khazali) "was part of a group that was attacking coalition soldiers" and that "in 2007 he was captured in a raid by British forces in southern Iraq". Beckett goes on (from 14:19):
Beckett: "Qais Ghazali was released from prison in early 2010 in exchange for the British hostage Peter Moore, a computer consultant who'd been captured by Shia militiamen…"

As documented at 'The Long War Journal':
"In exchange for Qayis and his men, the U.S. government secured the release of a British hostage, Peter Moore, and the bodies of three of the four men who were kidnapped with him in the spring of 2007. Moore's compatriots had been murdered by Khazali's men; three of the bodies that were returned were riddled with bullet holes; the fourth was never recovered."
I. Just. Can't https://t.co/Kw937aY860

— (((David Lange))) (@Israellycool) January 16, 2020
Uyghur Sheikh Mahmoud Muhammad: The Muslim World Condemns Treatment of Palestinians, Rohingya Muslims, but Supports Chinese Policy against the Uyghurs pic.twitter.com/EJeMTeUnYg

— MEMRI (@MEMRIReports) January 16, 2020
---
---
We have lots of ideas, but we need more resources to be even more effective. Please
donate today
to help get the message out and to help defend Israel.