From Ian:
---
Where Is the Movement to Boycott Turkey?
Advocates of academic boycotts of the Jewish state are fond of claiming that they are motivated by a desire to punish Israel for its restrictions on Palestinian universities—in part, writes Jonathan Marks, as a counterargument to those who would point out that their movement seeks specifically to restrict the free exchange of ideas. But the boycotters have nothing to say about Turkey, where the government has severely restrained the ability of professors to write or teach on sensitive topics:

Turkish President Recep Erdoğan's government, the Times explains, has engaged in a large scale purge of academics. Thousands have been fired. Some have been jailed. Freedom House reports that "academics and students [in Turkey] continued to be prosecuted for expressing critical views of the government or for peaceful political action in 2018." Moreover, "government and university administrations now routinely intervene to prevent academics from researching sensitive topics." In short, academic freedom doesn't exist in Turkey, and its universities are, insofar as the purge has been successful, vehicles for political indoctrination.

Another thing about Turkey, though: it's a great place to hold an International Conference on Palestine. Unfortunately, I was unable to attend this April's conference, but the speakers listed on the roster included well-known BDS advocates like Ali Abunimah, editor of the Electronic Intifada, Rabab Abdulhadi of San Francisco State University, Joseph Massad of Columbia University, and Ilan Pappé of the University of Exeter. The roster also included BDS advocates who are not as well known here, such as Farid Esack, Chairperson of BDS-South Africa, and Frank Barat, former coordinator of a self-appointed anti-Israel "tribunal."

About the only thing the BDS National Committee seems to dislike in Erdogan's repressive government is its incomplete rejection of Israel. But BDS advocates don't mind taking advantage of his hospitality, perhaps because he whispers sweet nothings like, "whoever is on the side of Israel, let everyone know that we are against them."

The indifference of BDS advocates to the academic freedom they pretend to cherish when it suits them is nothing new. But their championship-level hypocrisy continues to impress.
NY Times Stumbles on BDS Antisemitism
The New York Times has long history of whitewashing the extremism of the BDS movement.

BDS stands for "boycotts, divestment, and sanctions," and the BDS campaign seeks to leverage those tools to eliminate Israel and replace it with an Arab-majority state.

Although BDS leaders openly admit they seek to disenfranchise Jews by eliminating the country's Jewish majority — BDS co-founder Omar Barghouti has admitted his goal is "a unitary state where, by definition, Jews will be a minority" — the Times has consistently downplayed the movement's goals by reporting, for example, that BDS merely "seeks to pressure Israel into ending the occupation of the West Bank," or that the its activists are simply "critical of Israel's policies toward the West Bank."

Language of this type had prompted Tablet's Yair Rosenberg to charge the paper with having "dramatically misrepresented [BDS's] stated aims and implicit goals, whitewashing the movement's radicalism."
Another Whitewash?

Days after the U.S. House of Representatives delivered an overwhelming, bipartisan rebuke to BDS with a 398-17 vote explicitly opposing "the Global Boycott, Divestment, and Sanctions Movement," the New York Times jumped in with a piece titled "Is B.D.S. Anti-Semitic? A Closer Look at the Boycott Israel Campaign."

The piece purports to provide "answers to some of the most difficult questions" about BDS. And this time, the paper did manage to acknowledge that the campaign opposes the existence of the Jewish state, an improvement over earlier coverage that falsely cast the Boycott, Divestment, Sanctions movement as merely anti-occupation. In that respect, at least, it is a needed improvement. Still, the article relies on distortions and omissions to make BDS extremism more palatable to readers.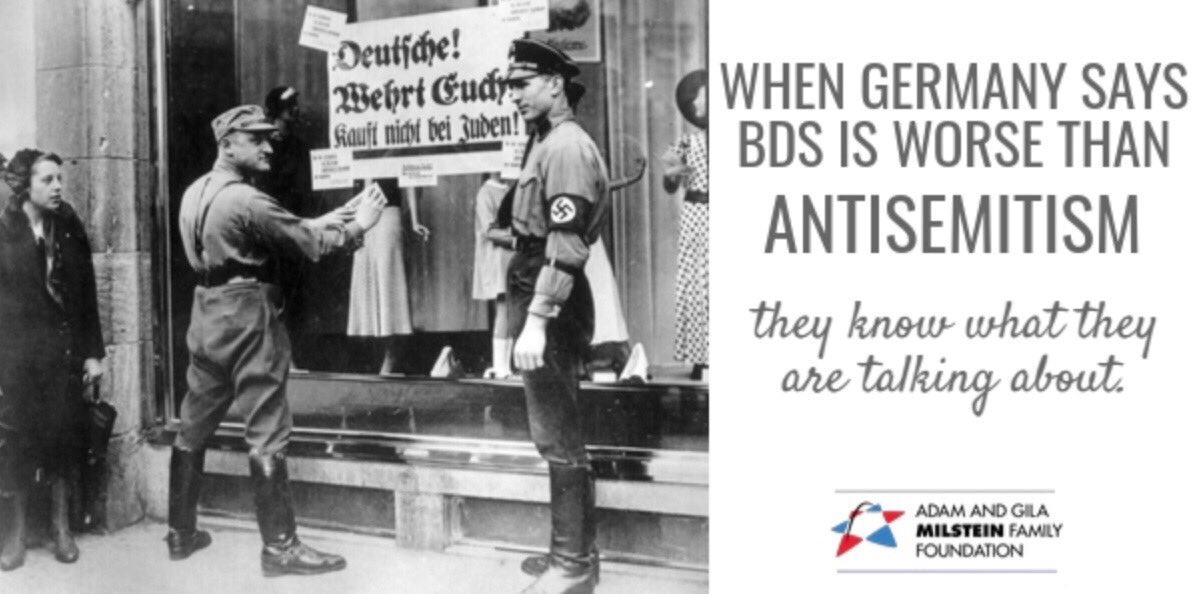 How the Publisher of the "Guardian" Helped Bring About the Balfour Declaration
While the competition may be stiff, few mainstream periodicals in the English language distinguish themselves in their contempt for Israel to the extent of the Guardian. But it was not ever thus, explains Robert Philpot. C.P. Scott, who served as the British newspaper's publisher from 1872 until 1929, was in fact a crucial supporter of Zionism:
That role began in November 1914 when Scott met Chaim Weizmann, a leading player in Zionist politics, by chance at a charity tea party to which the latter's wife had been invited. Thus began the remarkable friendship and partnership between the publisher and Israel's first president. . . . Weizmann instantly impressed the editor. For Scott, he was "extraordinarily interesting, a rare combination of idealism and the severely practical which are the two essentials of statesmanship."

After their second meeting, Scott made Weizmann an offer: "I would like to do something for you. I would like to put you in touch with the chancellor of the exchequer, [David] Lloyd George." He also reminded Weizmann that "you have a Jew in the cabinet, Herbert Samuel."

Unbeknownst to Weizmann, Samuel was a committed Zionist himself, and, thanks to the favorable impression made by Weizmann, Lloyd George soon became one as well. Scott continued to provide the Zionist leader with advice and assistance, once at a highly fortuitous moment:
[I]n April 1917, Scott stumbled across a crucial bit of news. At a meeting with a French journalist he discovered that the French planned to assume control of northern Palestine—areas that the Zionists hoped would become part of a Jewish homeland under British protection—while the rest of the land would fall under international control. . . . Scott immediately tipped off . . . Weizmann and began making inquiries back in London. Weizmann, too, began frantic efforts to uncover more details, pushing at the Whitehall doors Scott had previously unlocked for him.

Critically, Scott's discovery led the Zionists, in [the words of then-Guardian columnist Harry] Sacher, to realize the urgency of getting from the British government "a written definite promise satisfactory to ourselves with regard to Palestine." In November 1917, in the form of that famous letter from Balfour to Lord Rothschild, they finally obtained it. Days later, Scott penned a Guardian editorial welcoming the Balfour Declaration.
It's so refreshing to see an op-ed in the @nytimes that actually says the obvious truth about @TheRevAl that the "progressives" like to whitewash.https://t.co/iOLt7Cb8Oo pic.twitter.com/j9lh9AwL3y

— Elder Of Ziyon ҉ (@elderofziyon) July 31, 2019
Dem lawmaker who disrupted Trump speech has history of anti-Israel remarks
Samirah's protest was apparently in response to Trump's comments about the "Squad" earlier this month, when he suggested that Reps. Ilhan Omar, D-Minn., Rashida Tlaib, D-Mich., Alexandria Ocasio-Cortez, D-N.Y., and Ayanna Pressley, D-Mass., should "go back and help fix the totally broken and crime infested places from which they came," and then return to show how it's done.

But Samirah, a Palestinian-American, has his own history of controversial comments—specifically related to Israel.

The Washington Post, in February, reported on a series of Samirah's social media posts from 2014 that have since been deleted.

In one Facebook post in 2014, Samirah shared an angry letter by musician Brian Eno who claimed that funding Israel was like supporting the Ku Klux Klan.

"I'd say worse," Samirah wrote, sharing the letter. "But I'll go along with Eno on this one."

In another post from 2014, after former Israel Prime Minister Ariel Sharon died, Samirah wrote: "Ariel Sharon, burn. Burn a million times for every innocent soul you killed. Hell is excited to have you."

Samirah also reportedly posted comments about Israeli teenagers, sharing an article about how Israel uses social media and dating apps to "legitimize murder," writing: "Most Israeli teenagers not only want to cover up the murders in their name, but they have young urges that need to be released somehow! Tinder's perfect for that."

Samirah, who was a former volunteer for Tlaib, also is reportedly connected to multiple anti-Semitic organizations.
New Report Highlights Ties Between IfNotNow and Antisemitic Pro-Palestinian Group
The progressive Jewish activist group IfNotNow has generated several headlines in the past year by challenging mainstream American Jewish organizations on its support for Israel, and more recently, for its campaign to bait 2020 Democratic presidential candidates to condemn the so-called "occupation" of the disputed territories by Israel.

While these moves may seem outside of the mainstream consensus on Israel, more troubling evidence has emerged on the group's ties with the virulently antisemitic organization American Muslims for Palestine (AMP).

The investigative organization Canary Mission recently launched a campaign and report revealing a strategic partnership between IfNotNow and AMP, a group that has incited and celebrated violence against Israelis, denied Jewish peoplehood and mocked the Holocaust on social media.

"The Jewish community should find the AMP and IfNotNow partnership particularly worrying," according to Canary Mission. "IfNotNow is not a youthful Jewish organization, but in fact, it's a well-trained, radical fringe group that has no qualms about partnering with antisemites."

Canary Mission's report shows that 58 IfNotNow members have actively partnered or trained with 25 of AMP's most antisemitic professional activists.

At an event co-hosted by the two groups, University of California, Berkeley Professor Hatem Bazian, the antisemitic organizing force behind Students for Justice in Palestine and AMP founder, stated that " … AMP and IfNotNow are coming together," in May 2018. Bazian has previously spread classic antisemitism, denied Jewish peoplehood and compared Israel to Nazi Germany, stating his personal approval of the partnership with IfNotNow.
Ocasio-Cortez Suggests Palestinians 'Have No Choice But to Riot' Against Israel
Rep. Alexandria Ocasio-Cortez (D., N.Y.) agreed with a radio host's description of Israel's treatment of Palestinians as "criminal" during an interview Tuesday and suggested Palestinians had no recourse but violence.

On his hip-hop program "Ebro in the Morning," interviewer Ebro Darden said there was a collection of "corrupt" governments in Israel, the United States, Russia, and Saudi Arabia, "all working in concert," and referred to White House policy adviser Stephen Miller as a white supremacist.

"How do you have white supremacist Jews?" he asked. "How do you have people like Stephen Miller? How do you have these individuals who are legit aligning with racism and white supremacy, but they're Jewish? And it's something that most people can't wrap their brains around. But it's a real thing."

Ocasio-Cortez, a supporter of the Boycott, Divestment, and Sanctions (BDS) movement that has been called anti-Semitic by Senate Minority Leader Chuck Schumer (D., N.Y.), murmured her assent.

"And what's going on with Israel and Palestine, while it's very, very, deep, it is very, very, criminal, and it is very, very unjust," Ebro said.

"Absolutely," she replied. "And I think, too, where we're at as a country when it comes to Israel-Palestine is very much a generational issue."
Until now I gave Ocasio-Cortez benefit of doubt & assumed she's merely ignorant of history and didn't realize extent of her words.

Now, it's clear that she's a calculating Antisemite. She's still ignorant about subjects she speaks of so carelessly, but she's an Antisemite too! pic.twitter.com/hH8nhSnpNJ

— Dov Hikind (@HikindDov) July 31, 2019
Ocasio-Cortez Signs Onto Omar's Pro-BDS Resolution
US Rep Alexandria Ocasio-Cortez (D-NY) has signed onto Rep. Ilhan Omar's (D-Minn.) resolution that supports the anti-Israel BDS movement.

Although the pro-boycott resolution introduced by Omar does not explicitly mention Israel, she told Al-Monitor shortly before filing it, "We are introducing a resolution … to really speak about the American values that support and believe in our ability to exercise our First Amendment rights in regard to boycotting. And it is an opportunity for us to explain why it is we support a nonviolent movement, which is the BDS movement."

Ocasio-Cortez's congressional office did not immediately respond to a request for comment.

The resolution also compares BDS to boycotts of Nazi Germany and the Soviet Union.

It states, "Whereas Americans of conscience have a proud history of participating in boycotts to advocate for human rights abroad, including … boycotting Nazi Germany from March 1933 to October 1941 in response to the dehumanization of the Jewish people in the lead-up to the Holocaust … the United States Olympic Committee boycotting the 1980 summer Olympics in Moscow in protest of the Soviet invasion of Afghanistan in the preceding year; and leading the campaign in the 1980s to boycott South African goods in opposition to apartheid in that country."

Other co-sponsors include Reps. Rashida Tlaib (D-Mich.), John Lewis (D-Ga.), Bonnie Watson Coleman (D-NJ), Donald Payne (D-NJ), Bobby Rush (D-Ill.), Danny Davis (D-Ill.), Ayanna Pressley (D-Mass.), James McGovern (D-Mass.), Earl Blumenauer (D-Ore.), Peter DeFazio (D-Ore.), Andre Carson (D-Ind.), Mark DeSaulnier (D-Calif.) and Joaquin Castro (D-Texas), whose brother, former US Housing and Urban Development Secretary Julian Castro, is running for the 2020 Democratic presidential nomination.
Elizabeth Warren Must Stop Associating With Islamist Radicals
For example, in December 2016, Sen. Warren was a featured speaker at the Islamic Society of Boston Cultural Center (ISBCC) — the infamous "Roxbury Mosque" — at the urging of one of her staffers who attended the mosque. This mosque has deep connections to terrorism: The Islamic Society of Boston was founded by convicted terror financier Abdurahman Alamoudi, the Roxbury Mosque itself had Muslim Brotherhood spiritual leader Yusuf al-Qaradawi as a trustee, and several attendees later joined al-Qaeda and Islamic State. Furthermore, at the time ISBCC was under the direct control of the Boston chapter of the Muslim-American Society (MAS), the American arm of the Muslim Brotherhood.

In her drive to oppose Trump and support an embattled minority, Sen. Warren is actually lending her credibility to radical groups that do not reflect the American Muslim mainstream. This could simply reflect a commitment by Warren to civil rights and equal treatment for all Americans, coupled with a lack of care over with whom she ought to associate.

But it could also be part of a disturbing new trend, in which a former supporter of Israel is ostentatiously embracing political Islamism to slyly court the increasingly anti-Semitic radical wing of the progressive movement. By supporting Islamists, Sen. Warren might be signaling that she's now on board with the hard-left argument of "intersectionality" — that all so-called "marginalized" groups need to be uncritically supported against their supposed oppressors, including the United States itself.

The warning signs have been piling up. Starting with President Trump's election in 2016, Warren also began associating with Islamist groups in order to criticize Trump's "Muslim ban." In January 2017, Warren was one of the featured speakers at a protest against the misnamed "Muslim ban" held by the Massachusetts chapter of the Council on American-Islamic Relations (CAIR), an organization presenting itself as a civil rights champion of Muslims that actually was founded by the covert Palestine Committee of the Muslim Brotherhood. The FBI severed ties with CAIR in 2009, after evidence of its close ties to the terror organization Hamas was presented during the infamous Holy Land Foundation terror-financing trial.
Media Completely Ignore Ilhan Omar Endorsing Violence Against a Senator
Did I just imagine things yesterday, or did Congresswoman Ilhan Omar (D., Minn.) not endorse a tweet mocking violence against a Republican senator and saying it was "no wonder" it happened? I ask because I distinctly remember writing about it, and seeing it appear on other conservative websites. I can't seem to find anything about it on the dozens of mainstream outlets that you'd think would be on top of something like that.

The whole thing got started when Rand Paul publicly offered to pay to send the "ungrateful" Omar back to her native Somalia so she could learn to appreciate the United States. Paul's comment were unquestionably stupid and offensive, but in patented Squad fashion, Omar responded by upping the stupid factor and retweeting a tweet from Resistance Twitterererer and former actor Tom Arnold.

For those who don't recall, Paul was hospitalized in 2017 after being attacked from behind by a disgruntled neighbor. The senator suffered six broken ribs and suffered lung damage which later led to a bout of pneumonia that effectively sidelined him from his congressional duties. His attacker was sentenced to 30 days in prison, and was ordered by a jury to pay Paul $500,000 for the substantial physical and emotional trauma. Hilarious!

A key part of Omar's political narrative revolves around the threats of physical violence she's faced, and in particular how her critics are responsible for those threats. When Republican Texas Rep. David Crenshaw accused Omar of minimizing the 9/11 attacks with her much-parsed "some people did something" comments, that was "dangerous incitement" according to her. When Trump cut a video attacking the same remarks and splicing in 9/11 footage, other Democrats picked up the slack; presidential hopeful Sen. Elizabeth Warren (D., Mass.) said he was "inciting violence." Her primary opponent, Sen. Bernie Sanders (I., VT) called it "dangerous." Not to be outdone, Rep. Alexandria Ocasio-Cortez (D., NY) compared Omar to Holocaust victims and said "[Ilhan's] life is in danger."
J Street Hosts Town Hall With Axne (D)
Liberal Jewish advocacy group J Street president Jeremy Ben-Ami co-hosted a town hall with Rep. Cindy Axne (D., Iowa) on Monday night, discussing the 2020 election and the future of American foreign policy.

In the past, Axne has positioned herself against President Donald Trump's pro-Israel stance, in particular criticizing his 2017 decision to move the American embassy in Israel from Tel Aviv to Jerusalem.

"I think his reckless tweets and the split decisions that he makes and he puts across the media has really put our country at risk," Axne told the Des Moines Register in 2018. "And I don't believe in his idea of moving the U.S. Embassy in Israel."

Since Axne's comments, J Street has backed her campaign, giving $3,700 in the first quarter of 2019 and $6,326 in the second. The group frequently supports Democratic candidates who speak out against Israel and pro-Israel policies. President of the Palestinian Authority Mahmoud Abbas praised J Street in 2018, citing his "appreciation for their efforts to support the peace process within American society."
Inslee Opposes Anti-BDS House Resolution
Democratic presidential candidate and Washington governor Jay Inslee on Tuesday morning signaled that he would have opposed the House anti-BDS resolution.

Inslee met with Muslim leaders during an event at the Islamic Center of Detroit ahead of Tuesday night's debate, including Michigan's failed Democratic gubernatorial candidate Abdul el-Sayed. The event with Inslee was moderated by Dawud Walid, executive director of the Michigan chapter of the Council on American-Islamic Relations.

Walid, who previously said that Jews "incur the wrath of Allah" and headlined a BDS rally, asked Inslee whether he supports Americans having the right to participate in the Boycott, Divestment, and Sanctions (BDS) movement against Israel. While Inslee said he doesn't agree with everything the BDS movement stands for, he supports freedom of speech and freedom of religion.

Washington Post reporter David Weigel tweeted out Inslee's response.

While Inslee is now opposed to the anti-BDS resolution, he used to oppose BDS. Back in 2017, he was one of the 50 governors who signed on to the American Jewish Committee's Governors United Against BDS initiative.
The Corbyn Anti-Semitism Problem Marches On
You could fill many little red books with the words written about the U.K. Labor party's anti-Semitism problem since the socialist Jeremy Corbyn became the party's leader four years ago. As Tanya Gold writes, it is "obvious that anti-Semitism has been slowly overwhelming Labor." And yet Corbyn and his allies continue to deny that fact, hurling slurs at anyone who dares point it out.

The most recent chapter in this depressing story involves a BBC documentary about the scandal, which added party insider testimony and texture, and which the party is attempting to suppress:

Panorama investigators had new material: testimony from non-Jewish Labor staffers who worked in Labor's complaints department, which is supposedly entirely independent of the leadership. Eight former members of staff were interviewed, four of whom broke nondisclosure agreements to do so. Although Labor, which is, after all, supposed to be the party of laborers, generally supports whistle-blowers, it is currently threatening its former employees with legal action.

The response to the testimony given on Panorama was as interesting a lesson in pathological denial as the program itself. . . . The Labor press team tweeted this denial: "These disaffected former officials include those who have always opposed Jeremy Corbyn's leadership, worked actively to undermine it, and have both personal and political axes to grind. This throws into doubt their credibility as sources."

The story continues to unfold, writes Gold, because

Corbyn cannot conceive of himself as a racist. He has no aptitude for self-reflection and, in the impact of his own incompetence, he sees only the sabotage of his enemies. His mantra is: "I oppose anti-Semitism and all forms of racism." The second part reads like a rebuke to a Jewish minority that supports a "racist state" and will not share the Shoah.

Corbyn did issue a seemingly strong statement about anti-Semitism in the party last week. But at this point who can believe him?
EXCLUSIVE – In January 2009, @JeremyCorbyn attended an anti-Israel demo in Birmingham which was, for all intents and purposes, an antisemitic hate rally. Notably, he marched at the front of the demo behind an antisemitic banner that read "Gaza-21st Century Concentration Camp"... pic.twitter.com/CoDEkiejoM

— The Golem (@TheGolem_) July 31, 2019
Labour's Ali Milani Condoned 'Armed Struggle' Against Israel on Press TV
The dubious history of Labour's candidate to take on Boris in Uxbridge has been further exposed, with new footage uncovered showing Ali Milani refusing to rule out "armed struggle" against Israel while also pushing the classic trope of a well-funded Israel lobby. No wonder he fits right in with Corbyn's Labour…


When asked on Corbyn's favourite Iranian state propaganda outlet, Press TV – natch – whether the BDS movement (Boycott, Divestment, Sanctions against Israel) is "an alternative to armed struggle or something alongside it?" Milani responded with an answer condoning both:

"There is no reason why we need to frame the argument as binary, it doesn't have to be either a non-violent economic resistance or an armed resistance…"

In the same interview, alongside another notorious spreader of 9/11 and other conspiracy theories, he claimed that his distasteful views were not easy to argue against "the lobbyists [who] come out very quickly; the other side is much better funded than we are". Unfortunately for Milani he couldn't delete this footage in the same way he did his highly questionable tweets…
Labour's Anti-Boris Candidate Ali Milani Was 9_11 'Truther'
Labour's Uxbridge candidate Ali Milani doesn't just have a history of anti-Semitic remarks on his social media accounts. Despite having deleted tweets calling for the destruction of Israel, using Zionist as an insult, and using the hashtag "#jew" to mock someone being tight with money, Milani has left a host of other extraordinary tweets up on his account. As a student he wrote numerous tweets alleging 9/11 was an inside job involving the US Government…

In three separate posts, the Labour candidate alleged that the September 11th terrorist attacks in New York, Washington DC, and Pennsylvania were "false flag" operations, suggesting that Al Qaeda were not responsible for the event, and that culpability lay with U.S. Government instead. Placing him in the company of 9/11 conspiracy promoters David Icke, the Iranian regime, and Hezbollah…
PreOccupiedTerritory:
Anti-Zionist Hates Assumption He Antisemitic Just Because Anti-Zionism Antisemitic (satire)
An activist opposed to the existence of Israel as a Jewish state resents that people automatically conclude he hates Jews based solely on the fact that opposition to Jewish sovereignty perforce indicates hatred for Jews.

Wata Dumfuq, 22, of Brooklyn Heights, voiced his exasperation today (Monday) at the phenomenon in which his hate for Israel translates in the popular consciousness into hate for the people for whom Israel represents a refuge and a reestablishment of political independence in their ancestral homeland after thousands of years of exile.

"I'm tired of that assumption," he stated in an interview. "I don't see how voicing my opposition to Jewish sovereignty wen I never voice opposition to the sovereignty of any other group somehow makes me an antisemite. I have no problem with Jews. My problem is with Jews who try to make trouble by claiming Jews have the same rights as other nations."

"Besides, Jews aren't even a 'nation' but a religious group," he continued. "And saying that doesn't make me anti-Jewish, even though denying any group's right to self-define would normally indicate prejudice against that group. I mean, you should see how angry I get when Zionists point to evidence that the Palestinian people is an invention of the last fifty or so years, defined only by the desire to destroy Israel. How dare they deny peoplehood to anyone? But Jews are different. That doesn't make me an antisemite."
New Israel Fund Grantees Continue to Act Against Israel and the IDF
Adalah is an Israeli-Arab organization founded in 1996 that works on behalf of Palestinians and accuses Israel of committing war crimes and worse. According to NGO Monitor, from 2014-2017, a radical American non-profit organization, The New Israel Fund, awarded Adalah grants totaling $462,391.

Adalah is active in defending terrorists, supporting the BDS movement, and harming the IDF's ability to defend itself by filing false lawsuits on behalf of Palestinians. These activities include joint actions with the Palestinian organizations Al-Haq, the Al Mezan Center from Human Rights, DCI-P, and PCHR.

These organizations were exposed in a special report, "Terrorists in Suits," published by Israel's Ministry of Strategic Affairs in February 2019. The report details the activities of these Palestinian organizations with respect to the boycott against Israel, as well as the connection between these organizations and terror group.

Adalah is active, together with the Association for Civil Rights in Israel (ACRI), in working to protect terrorists.

On October 11, 2015, Alaa Ziad, an Israeli citizen from Umm al-Fahm, perpetrated a ramming and stabbing attack at the Gan Shmuel intersection. During the attack, the terrorist ran over Israeli soldier Orel Azuri, who was seriously wounded. The terrorist then exited the car and stabbed Azuri and two other people. A total of four Israelis were injured in this attack. The District Court sentenced the terrorist to 25 years in prison. In August 2017, the Haifa District Court approved a request by Interior Minister Aryeh Deri to revoke Ziad's citizenship.
This is the @BDSmovement, folks.
And bad move @MuhammedDesai. REALLY bad move https://t.co/TLFF1yMo2n

— David Lange (((דיויד לנג))) (@Israellycool) July 31, 2019
An entire neighborhood destroyed? Sounds horrifying... unless you know the whole story. What @Multied calls an "entire neighborhood under construction" was more commonly referred to in the media as 12-16 residential buildings.

Such hyperbole is not helpful, @Newsweek. pic.twitter.com/9Bj3PuXG0B

— HonestReporting (@HonestReporting) July 31, 2019
'Anti-Semitism in Germany has developed a life of its own'
The two men spit on Rabbi Teichtal and hurled anti-Semitic epithets.

Rabbi Teichtal was with one of his children at the time of the incident.

Police were called to the scene and detained one of the two suspects, and later opened an investigation into the incident.

On Wednesday, the Jewish community of Berlin revealed that Rabbi Teichtal had been the victim of the incident in question.

Rabbi Teichtal said that anti-Semitism had "developed a life" of its own in Germany, but emphasized that most Germans remain committed to uprooting anti-Semitism.

"Unfortunately we have to state that the aggressions against Jews have developed a life of their own both in the schoolyards and on the streets of Berlin," said Rabbi Teichtal.

"But I remain convinced that most people in Berlin do not want to accept this aggression against Jews as a sad part of everyday Jewish life. Most people in Berlin want Jewish people to be able to live their Judaism openly without being afraid of being insulted, spat at or even beaten. Of course we will not hide now, but continue to build on love, tolerance, dialogue and education."
Tunisian University Professor Ibrahim Al-Rifa'i: The Jews Were Exploited by Antisemites in the West and Were Then Banished to Palestine pic.twitter.com/9rhuEEp59V

— MEMRI (@MEMRIReports) July 31, 2019
Amazon sells 'Mein Kampf,' other items encouraging hate - ADL report
The Anti-Defamation League (ADL) has slammed Amazon for continuing to allow "items and merchandise" promoting white supremacy, right-wing extremism and the anti-government militia movement and to be sold on the site by third-person sellers.

"Hateful books [including paradigmatic white supremacist novel, The Turner Diaries] are easily accessible, usually available without warnings and often proactively 'recommended' by Amazon's algorithm," the ADL wrote in its report about the matter. "Hateful merchandise, including flags and t-shirts, can be a bit harder to find, but it's available, as long as you know which – slightly obscure – search terms to use. None of these [non-book] items should be available, according to Amazon's own policy covering the sale of 'offensive and controversial materials.'"

Their policy, updated in November 2018, states that "Amazon's Offensive Products policies apply to all products except books, music, video and DVD… Amazon does not allow products that promote, incite or glorify hatred, violence, racial, sexual or religious intolerance or promote organizations with such views."

Selling such items clearly goes against this policy.
North Miami Beach Jews: We no longer feel comfortable in our own shul
When Rabbi Mark Rosenberg's family played back the footage on their home's security cameras in North Miami Beach, they could hear the rat-tat-tat of bullets being fired at the synagogue a few blocks away. On Sunday, a man had been shot repeatedly in front of the Young Israel of Greater Miami as he waited for daily services.

On Saturday, Rosenberg attended services, and sat on that very bench, outside the synagogue's front door. A pro-bono police chaplain, he got a call the following evening from the police, and was up into the early morning dealing with the shooting's aftermath.

The victim, Yosef Lipschutz, has had multiple surgeries and is in stable condition. The perpetrator is at large, and police have yet to determine if the shooting was an antisemitic hate crime.

But in the days since, the shooting has shaken the close-knit, Orthodox community of North Miami Beach, and left some wondering whether the sense of safety they previously felt has disappeared. While Rosenberg said the shooting isn't comparable to the fatal attacks on synagogues in Pittsburgh and Poway, California this year, he can't help but see a pattern.

"Because it was a shul, and because of all the antisemitism going on in the world today, we almost got used to it that we no longer feel comfortable in our own shul," said Rosenberg, who is not Young Israel's pulpit rabbi. "People are having these thoughts: Look how easy it is for it to happen. Look how simple it is for someone to come with a gun and start shooting up people."
Florida Synagogue Receives Package With Antisemitic and Threatening Content
A package containing antisemitic and threatening content was received at the Young Israel of Bal Harbour in Southeast Florida on Monday.

Inside the package was a DVD, a photo of someone pointing a gun and antisemitic writing, sources told COLLIVE.

Police are investigating the incident.

"It must be known that the Jewish community will NOT cower in fear. We stand strong, united and proud," Bal Harbour Mayor Gabriel Groisman tweeted.

Just a day earlier, an 68-year-old Jewish man was shot multiple times in front of the Young Israel of Greater Miami.
Israeli startup develops blood pump to help treat heart failure
Magenta Medical, an Israeli developer of a miniaturized blood pump to help treat heart failure, has raised funds from investors led by venture capital firm New Enterprise Associates (NEA), a US-based VC firm.

Existing investors, including Pitango Venture Capital, JVC Investment Partners and a group of private investors led by Prof. Jacques Seguin, also took part in the round.

The financing will be used to advance the development of the company's two products and support the startup toward its first FDA approval, the company said in a statement. The firm did not disclose the amount of funds raised and declined to provide photos of the products.

"Magenta Medical is developing a very unique and potentially disruptive technology that should greatly advance the field of mechanical circulatory support," said Dr. Tak Cheung, a principal at NEA. This is the first medical technology investment in Israel by NEA.
Israel's photo-editing apps maker Lightricks raises $135m at $1b valuation
Jerusalem-based software startup, Lightricks, a maker of photo and video editing apps, said Wednesday it has raised $135 million in Series C funding. The deal values the company at $1 billion, the firm said.

The funding round was led by Goldman Sachs Private Capital Investing, the investment arm of the financial services firm, with additional investors including Insight Partners and ClalTech. The startup has raised a total of $205 million from investors to date, the firm said in a statement.

Lightricks aims to "democratize creativity" by enabling amateurs to create digital content — photos and videos — through its apps, without expensive software.

The award-winning photo and video editing apps the startup has created, including its flagship product Facetune, are used by millions of consumers and businesses worldwide, and revenues at the firm have tripled each year over the past three years, the statement said.
Netflix sinks low with 'The Red Sea Diving Resort'
Though we see hundred of Ethiopians, they are usually portrayed as clumps of frightened, whimpering creatures, huddled or running in wordless desperation, herded by our white Mossad agents. Only one Ethiopian has a name: Kabede, their leader, who is played by Michael Kenneth Williams, wasting his talents in this stock noble character with halting English.

Others who see their acting skills squandered include Greg Kinnear and Ben Kingsley, who is often shown pacing nervously around a situation room or screaming "Well done, chaps!" And Alessandro Nivola, who plays one of the Mossad agents, delivers an achingly nuanced character, easily out-acting Captain America and making viewers wonder why he wasn't cast as Levinson.

Raff has a tendency to wrap things up — even obvious things — in a bow. "Our fake hotel just became a real one," Levinson says after real tourists unknowingly check in. (Yes, we got that.) When the first big group of Ethiopians are smuggled to safety, the agents rejoice by quoting the Talmud: "'Whoever saves one life saves the world entire.' We just saved 174." (Yes, we just saw that, good for you.)

One thing we don't need to see more of is that traditional baddie who too frequently shows up in cheesy films like this — the venal, cigar-smoking, crazy eyed, sexually rapacious, gun-toting African army general. With the exception of Kabede, no African is portrayed as decent or honest or normal. On the other hand, the five Mossad agents have a tendency of dramatically standing in a line on the beach, surveying their good works with wind-swept satisfaction.

Raff ignores history when he constructs his elaborate, very Hollywood ending that incredulously features Americans as last-minute rescuers. The Sudanese army's trucks are hurtling toward our heroes. The plane takes off without a second to spare.

So, of course, the evil general shoots his gun in the air out of frustration, Levinson triumphantly opens a sickly sweet drawing from his estranged daughter, and everyone exhales, safe at last thanks to this bearded white savior.

"You're crazy, you know that?" someone tells him.

No, this filmmaking is crazy.

"The Red Sea Diving Resort," a Netflix release, is rated TV-MA for language, brief nudity and graphic bloodshed. Running time: 129 minutes. Half star out of four. (Ian: It's a solid B TV movie of the week, with good actors enjoying themselves in a story where you already know the ending 3.5 out of 5. 9/10 on the pro-Israel representation, Ethiopian Jews yearning for Jerusalem, IDF reluctant to use any force, only spoiled by Americans saving the day at then end)
JLo and A-Rod explore Tel Aviv
Music and sports superstars JLo and A-Rod – Jennifer Lopez and Alex Rodriguez – toured Israel today, ahead of her performance Thursday night at Hayarkon Park in Tel Aviv as part of her "It's My Party" tour, and seemed to be falling in love with everything they saw.

In a clip posted to Instagram, A-Rod showed JLo and himself looking around at the Mediterranean from the balcony of their Tel Aviv hotel room. The clip is embellished with a heart at the top and the words, "The mother land Israel" next to an Israeli flag and exclamation points, then the words, "First time I'm here. I'm in love!! #energy off the charts!!"

There is barely audible audio with the clip, but JLo seems to be saying, "The sea is insane."

The former Yankees third baseman also took to Twitter to say, "So excited to be in Israel for the first time for @JLo's show!

"How many of you living here are big baseball fans? What would you like to see @mlb do more of? Let me know!!"

Some responded by touting the merits of Israel's fledgling baseball league, while others just sent welcoming messages. Still others used the opportunity to try to school A-Rod in Middle East politics, even chiding him for making this visit.
Church of the Apostles discovered near Sea of Galilee, archaeologists say
The Church of the Apostles, which is said to have been built over the house of Jesus' disciples Peter and Andrew, has been discovered near Israel's Sea of Galilee, according to a team of American and Israeli archaeologists.

Experts from the Kinneret Institute for Galilean Archaeology at Kinneret College, Israel and Nyack College in New York, have been excavating the site of el-Araj on the northern shore of the Sea of Galilee. The archaeologists believe that el-Araj is the site of the ancient Jewish fishing village of Bethsaida, which later became the Roman city of Julias.

Prof. Steven Notley of Nyack College told Fox News that the group's previous annual excavations at the site had uncovered evidence of the church's existence, such as pieces of marble from its chancel screen and small gilded glass blocks called tesserae that were used in ornate church wall mosaics. "These discoveries already informed us that the church was waiting to be found somewhere nearby," he explained, via email.

Following the clues, the archaeologists discovered the church's mosaic floors. "It is always remarkable to bring these beautifully decorated floors to light after being buried for almost 1500 years," Notley explained. (h/t jzaik)
Israeli Experts Upgrade Neo-Natal Units in Ghana, Saving 700 Babies
Israeli experts have upgraded neo-natal facilities in Ghana, saving around 700 babies.

According to Ghana's news site Yen, the neo-natal units were located in the Kumasi South and Suntreso hospitals in the Ashanti region of the country.

Medical staff at the facilities were also trained by Israeli medical personnel from the Soroka Medical Center in the southern Israeli city of Beersheva.

Ghana's health minister, Kweku Agyemang-Manu, and Shani Cooper, the Israeli ambassador to Ghana, Liberia, and Sierra Leone, both pledged that the project will continue.

Agyemang-Manu enthused over the project's success and said it would be expanded throughout the country.
---
---
We have lots of ideas, but we need more resources to be even more effective. Please
donate today
to help get the message out and to help defend Israel.