From Ian:
---
Palestinians Throw Explosives, Hand Grenades During Gaza Border Riots
Thousands of Palestinian rioted along the Gaza-Israel border on Friday, and the Israeli army said some in the crowd hurled explosive devices and grenades toward the border fence in the southern Gaza Strip.

The riots are part of the Hamas-controlled "Great March of Return," which has seen ongoing violence along the border for more than a year.

One military vehicle was reported damaged, though no soldiers were hurt.

A military spokeswoman said troops responded with riot dispersal means and opened fire in accordance with standard operating procedures.

Gaza's Health Ministry said one Palestinian was killed and 40 others were wounded throughout the day.

It was the first fatality in a few weeks, with Egypt, Qatar, and the United Nations working to keep the border calm.

Gaza officials say about 210 Palestinians have been killed since the weekly protests began more than a year ago. In that time an Israeli soldier was also shot dead by a Palestinian sniper along the frontier and another was killed during an undercover raid into Gaza.

Multiple attempts by Palestinian terrorists to infiltrate Israel under cover of the riots have occurred.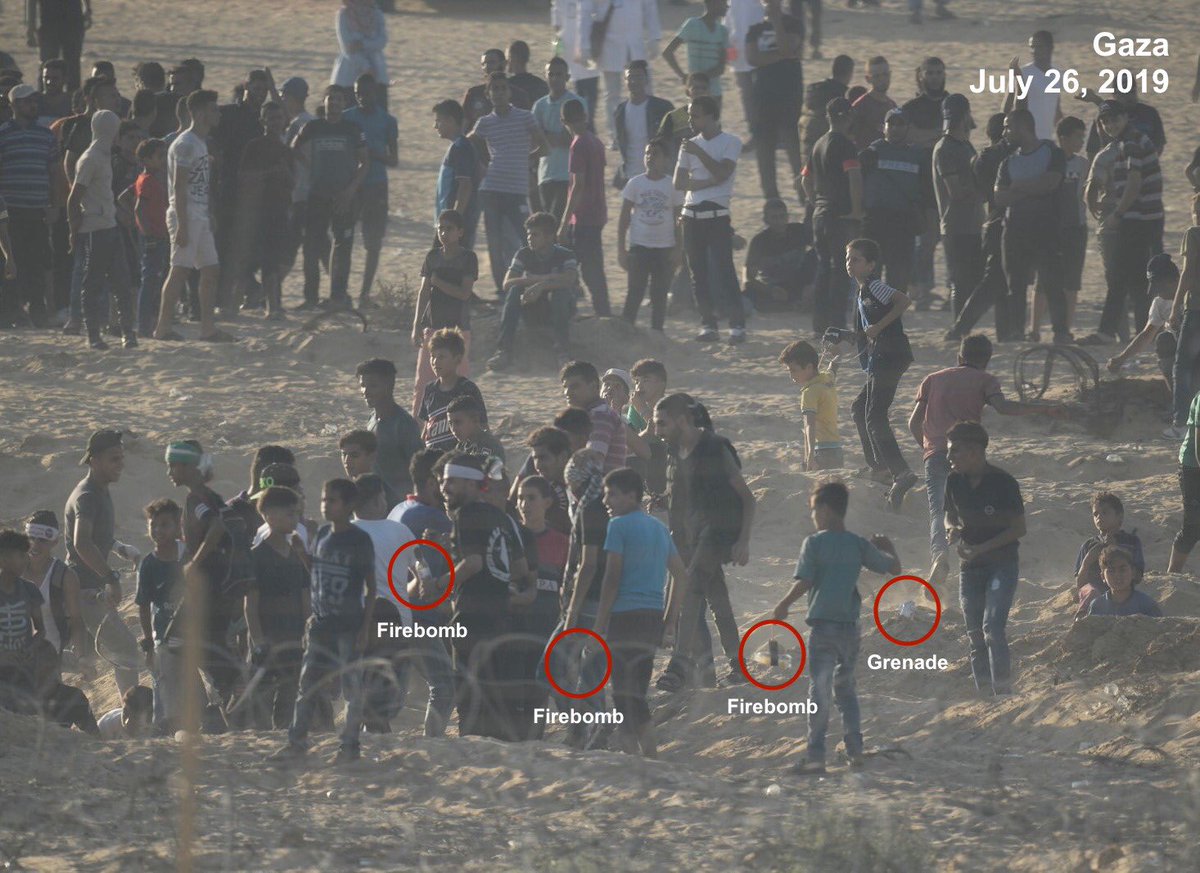 UN: Number of Palestinian children killed by Israel in 2018 highest in 4 years
The likely reason for the high number of Palestinian child casualties in 2018 are the weekly border protests in the Gaza Strip which began in March 2018 and continue to this day, though they have recently been tempered by a reported ceasefire deal between Israel and Hamas.

Israel says the Hamas terror group has used the violence as cover for attacks on troops. The protests, encouraged by Hamas, have consistently included rioting, with Palestinians burning tires and attacking Israeli soldiers with rocks, hand grenades and bombs. Protesters regularly attempt to sabotage and breach the border fence.

Demonstrators have also adopted the tactic of launching incendiary balloons into Israel, burning thousands of acres of forestry and farmlands.

Hamas also formed units tasked with sustaining tensions along the border fence with riots during nighttime and early morning hours.

Earlier this year the Israeli army said Hamas operatives had been heard on loudspeakers promising children at the border NIS 300 ($83) if they get injured at the protests.
New York Rabbis Join Call for Congressional Investigation Into Fugitive Hamas Terrorist Living Freely in Jordan
A group of prominent New York rabbis has joined the call for the US Congress to formally investigate why a Department of Justice extradition request for a Hamas terrorist living in Jordan remains outstanding more than two years after it was unsealed.

As reported exclusively by The Algemeiner on July 17, Arnold and Frimet Roth — whose 15-year-old daughter Malki was murdered in the Aug. 9, 2001 attack at a Sbarro pizza restaurant in downtown Jerusalem — are urging American legislators to probe concerns that efforts to bring to justice Ahlam al-Tamimi, a Hamas terrorist who planned and helped execute the atrocity, had been subordinated to continued good relations with Jordan.

In their letter to Rep. Jerrold Nadler (D-NY), the head of the House Judiciary Committee, the rabbis urged a probe "into whether the State Department is properly coordinating with the Justice Department as well as taking appropriate action necessary to bring Tamimi to America for justice."

"We demand the DoJ stand by its word and enforce its own policies," the letter stated.

New York rabbis who signed the letter included Shlomo Riskin, Menachem Genack, Jason Herman, Dovid Zirkind and Elchanan Poupko.

Jordan's highest court rebuffed a US request for Tamimi's deportation to America in March 2017, despite an extradition treaty agreed on by the two countries in 1995.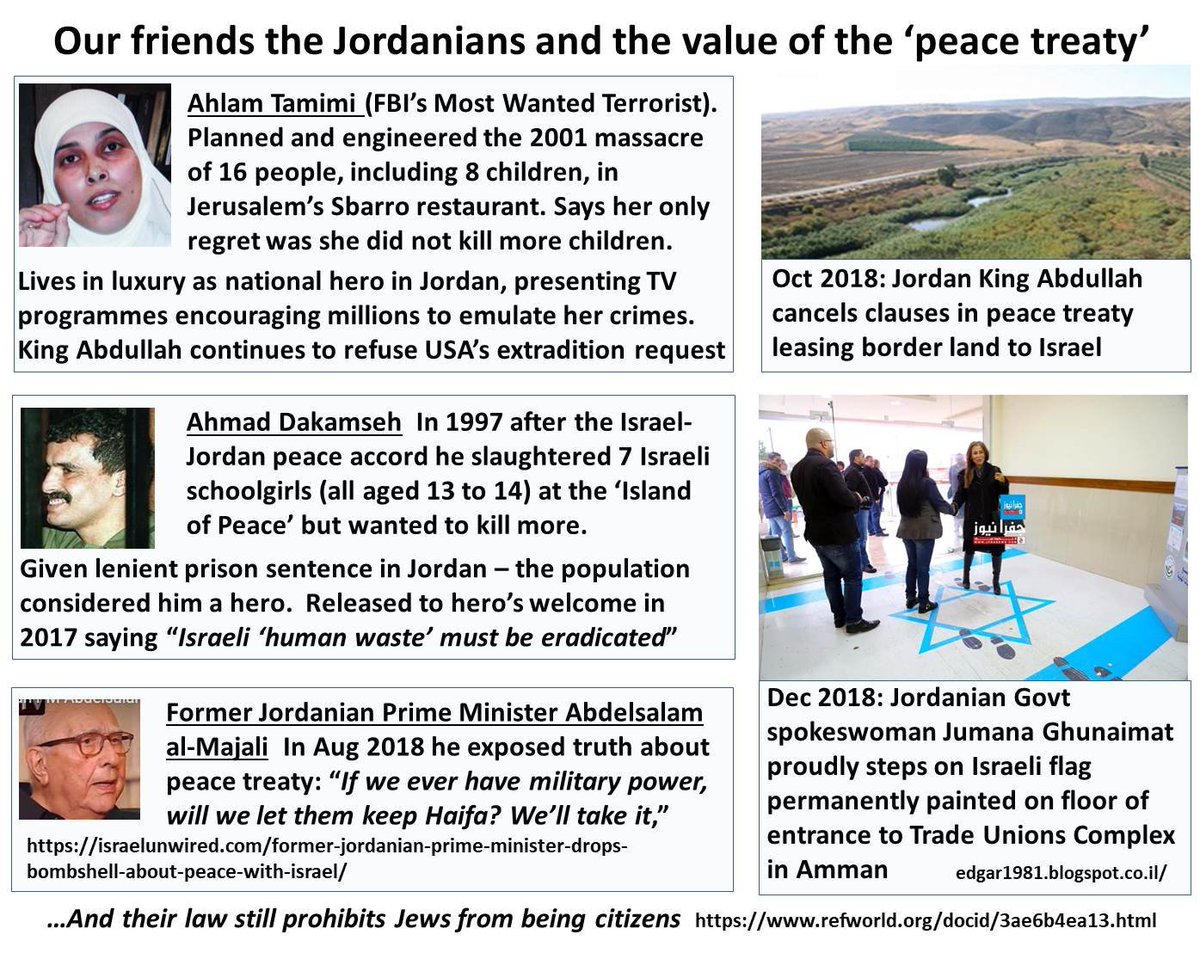 New UK anti-Semitism adviser: Jews are the canary in the coal mine for humanity
According to British Labour MP John Mann, "when it comes to fighting anti-Semitism, it's not enough for us to stand shoulder-to-shoulder with the Jewish community, when the anti-Semites are throwing the stones of hatred, of bitterness, of bile."

"We have to stand in front of [Jews] in this fight. This must not be only the responsibility of the Jewish community," he said.

On Tuesday July 23, in one of her very last acts as prime minister, Theresa May appointed Mann as the government's adviser on anti-Semitism. He joins Lord Tariq Ahmad as adviser on freedom of religion and belief, and Lord Eric Pickles as the special envoy on post-Holocaust issues. All three of the posts are performed pro-bono.

Mann, a tall, fit and burly politician with a well-founded reputation for plain speaking, knows what he is talking about. For the last 15 years he has headed the All-Party Parliamentary Group (APPG) against anti-Semitism, stepping down from his chairmanship only this week.

He co-founded, with Canada's former Justice Minister Irwin Cotler, the International Coalition for Combating Antisemitism. Both bodies have consistently produced deeply researched reports into the nature and level of anti-Semitism, making recommendations to governments.

Perhaps the single act which brought him to national consciousness was his 2016 confrontation with former London mayor Ken Livingstone, who had just claimed on a radio program that Adolf Hitler was initially a supporter of Zionism. Not mincing his words, Mann rounded on Livingstone in a building crammed with TV cameras, calling him "a Nazi apologist." It put him definitively out of kilter with many colleagues in Labour leader Jeremy Corbyn's inner circle, but Mann did not care.
Report: Nearly half of young European Jews victims of anti-Semitism in past year
Nearly half of young Jewish Europeans have been the victim of at least one anti-Semitic incident in the past year, newly published findings from an unprecedented survey reveal.

They are also considerably more likely to experience anti-Semitism than older Jews, the European Union report finds.

The research also suggests that young Jews in Europe are particularly likely to believe that they are accused or blamed by people in their countries for the actions of the Israeli government because they are Jewish. Eighty-five percent of the 16-34 year-olds surveyed said this happens to them at least occasionally; nearly one-quarter said it occurs "all the time."

Researchers speculate that the results may reflect the growing problem of anti-Semitism on European campuses. More than half of the young people who participated in the survey were students.

Michael O'Flaherty, director of the European Union's Agency for Fundamental Rights (FRA), which published the report alongside the European Commission and the London-based Institute for Jewish Policy Research (JPR), called the results "deeply troubling."

"These findings make for grim reading," O'Flaherty writes in a foreword to "Young Jewish Europeans: perceptions and experiences of anti-Semitism." "We must fight anti-Semitism by tackling it at its roots, no matter how difficult that is."
France's return to 1942
Earlier this week, Paris hosted a state memorial ceremony marking the 77th anniversary of the July 16 roundup of Jews in the city during World War II. Over 13,000 Jews – many of them women and children wearing yellow Stars of David – were rounded up by French police officers in organized raids and transferred to the Vélodrome d'Hiver, a bicycle velodrome that was converted into a mass detention center for Paris' Jews ahead of their being deported to German concentration and death camps.

It took the French 50 years to admit their part in those mass arrests and the decimation of France's Jews.

"We must never forget that France betrayed its own children," Defense Minister Florence Parly declared at the memorial ceremony. And yet this very same week, French police forbade fans of the Maccabi Haifa soccer team from waving Israeli flags or wearing shirts or any other items bearing the team of the team they came to support at a game against local club, RC Strasbourg Alsace, Thursday.

There is a direct connection between the yellow badges of 1942 and the ban on waving blue-and-white flags in Strasbourg in 2019, and it is France's French betrayal of the Jews, and even more troubling, France's betrayal of France itself, its values and its national dignity. Out of fear of violence from extremist elements, mainly Arabs and Muslims, and concerns they would be accused of hypocrisy and double standards, the French also banned their own national flag from the match. Through their actions, the French police have in effect hoisted a great white flag of national surrender to a new foreign occupation above Strasbourg, one that also hates the Jews.
In Argentina, Jewish life still is cheap
July 18 marked 25 years since the attack against the AMIA Jewish community center in Buenos Aires. It was the largest attack against the Jewish community in the Diaspora since the Holocaust.

Eighty-five people were murdered; over 300 were injured. To date, the perpetrators have not been apprehended.

Soon after the devastation, I flew to Buenos Aires. The images of family members I met awaiting news about their loved ones will forever remain with me: Jonathan Averbuch, a 12-year-old who collapsed in his father's arms when hearing that his sister Yanina was gone; Damian Goldenberg who demanded "Where is God?" when told that his sister Cynthia Veronica had been found.

From the beginning I instinctively knew that then-president of Argentina, Carlos Menem, was covering up. I came to this conclusion after meeting with him one on one and being present at a full cabinet meeting where Menem tried to convince me that the government was doing all it could to capture the terrorists who had bombed the Israeli embassy two years earlier.

The information that he gave me was bogus. Sharing it with Israeli agents who were on the scene of the AMIA attack, they told me that Menem was out to dupe me.

The Jewish leadership in America failed to denounce Menem. Sadly, he was honored by the Appeal of Conscience Foundation two months after the AMIA attack.

When protesting at the event I was arrested along with a colleague, as Jewish leaders shouted at us that we were bringing shame on the victims of AMIA.
US House's big anti-BDS vote won't be last word on Israel boycott legislation
The resolution does nothing — and a lot

The resolution is non-binding, so it doesn't mean much, right? As a "simple resolution," it does not require passage in the other chamber or the president's signature. Simple resolutions are "used to express the sentiments of a single house, such as offering condolences to the family of a deceased member of Congress, or it may give 'advice' on foreign policy or other executive business," a Senate explainer says, adding that they do not carry the force of law.

So what's the point? Getting folks on the record, and daring them to vote "no" on what their constituents might consider mom-and-apple pie issues.

The BDS resolution was definitely about the politics: Republicans since the beginning of this congressional session have sought repeatedly to embarrass Democrats with bills that would penalize Israel boycotters. A substantial portion of Democrats oppose the Republican measures, which would be legally binding, because the lawmakers say the bills infringe on free speech.

Even as they decried the resolution as toothless, Republicans almost unanimously voted in favor. Democrats control the House, and Republicans could hardly afford not to support a pro-Israel resolution that surely would pass without them.

But the resolution isn't meaningless. Much of the business of the world's most powerful parliament is to create boilerplate language to which it can return to again and again, in large part because overworked staffers would rather not reinvent the wheel every week. When 392 of 435 House members agree on a way to frame an issue, you can bet that policymakers will return to the resolution's language as a reference and template for future legislation, including the binding kind.
Rep. John Lewis backs the right to boycott Israel — even though he opposes BDS
Civil rights icon Rep. John Lewis, D-Ga., explained why he backed a resolution upholding the right to boycott "at home and abroad" — even though he also voted to condemn the Boycott, Divestment and Sanction (BDS) movement aimed at Israel

Lewis was a cosponsor of a House resolution 496, "affirming that all Americans have the right to participate in boycotts in pursuit of civil and human rights at home and abroad." The non-binding resolution was introduced last week by Reps. Ilhan Omar, D-Minn., and Rashida Tlaib, D-Mich., who back BDS.

Resolution 496 does not specifically mention BDS or Israel, but its authors have said that they were moved in part to introduce it because of efforts to penalize Israel boycotters.

Lewis explained his support of this resolution as "a simple demonstration of my ongoing commitment to the ability of every American to exercise the fundamental First Amendment right to protest through nonviolent actions," he said. His statement Thursday noted his role in the civil rights struggles of the 1960s, which included boycotts.

That doesn't mean Lewis personally supports BDS — in fact, he cosponsored a separate resolution, 246, that passed Tuesday condemning the movement.

"However, as a longtime friend of Israel and also as a cosponsor of H. Res. 246, the resolution 'opposing efforts to delegitimize the State of Israel and the Global Boycott, Divestment, and Sanctions Movement targeting Israel,' I want to make it very clear that I disagree strongly with the BDS movement," Lewis said in the same statement.
— (((Ron Kampeas))) (@kampeas) July 25, 2019
Liberman: I left because Netanyahu is paying protection money to Hamas
Former Defense Minister Avigdor Liberman said that he left the position "due to Netanyahu's decision to pay protection money to a terrorist group" - at a cultural event in the city of Hadera on Saturday., Kan News reported.
Liberman was speaking about the money transfers to the Gaza Strip, which is controlled by the Hamas terrorist group. The money is transferred from Qatar.

Netanyahu "showed the entire region that violence against Israel pays" Liberman said.

He also said he knows how a stable, long-term solution to the issue of rockets fired on Israel from Gaza can be achieved and that he "presented this plan in the relevant forums."
Danon to Nasrallah: What you hide we shall find
Israel's Ambassador to the U.N. Danny Danon slammed Hezbollah leader Hasan Nasrallah in an Arabic tweet on Saturday in which he promised that "We will find whatever you are hiding," a press release reported.

Danon suggested Nasrallah check with the Syria Scientific Studies and Research Center (CERS) before claiming that the Israeli claim is "baseless."

Earlier this week, Danon said that "the Iranian regime uses the port of Beirut for military purposes and they are aided by commercial companies, mainly from Europe, in support of Hezbollah to develop its missile program. "

"Unfortunately," Danon said, " the port of Beirut has become Hezbollah's port."
One Palestinian dead, 56 wounded at weekly Gaza riots
One 23-year-old Palestinian died of his wounds of Friday and 56 more were wounded from IDF fire during the latest weekly Gaza protest along the border fence, according to Palestinian Healthy Ministry reports.

The report said that 38 were injured by live ammunition fire; some 22 of the injured were children and three were women.

Thousands gathered along the Gaza border fence on Friday for the weekly "March of Return" protests.

Palestinian Authority President Mahmoud Abbas announced on Thursday that the Palestinian leadership has decided to "halt" all agreements signed with Israel, and has reached out to Hamas offering to end the dispute between the movement and his ruling Fatah faction.

However, Abbas did not say how the PA would "halt work" related to the agreements signed between the Palestinians and Israel.
Palestinians skeptical about Abbas's move to 'halt' agreements with Israel
In 2015, the PLO Executive Committee voted in favor of suspending security coordination with Israel "in light of Israel's non-compliance with its obligations under signed agreements."

The Fatah official told the Post that "no one believes Abbas when he talks about suspending agreements with Israel."

He and other Palestinians said they saw Abbas's announcement in the context of attempts to stave off growing criticism of the Palestinian leadership because of its perceived failure to take tough measures in response to Israeli and American policies toward the Palestinians.

"The decision taken by the Palestinian leadership on July 25 is a complex political deception," said former PA minister Hassan Asfour. "This fake decision represents a continuation of the approach of President Abbas and those who help him in formulating the texts: dealing with the Palestinians as a people who have lost the ability to think and demand accountability."

Ibrahim Daoud, another political analyst, pointed out that Abbas was careful with the words he chose to announce the decision.

"He didn't talk about cancelling the agreements," he told the Post. He's saying that the Palestinians will stop honoring the agreements because of Israel's failure to adhere to the agreements. In other words, he's saying that as long as Israel does not commit to the agreements, the Palestinians will do the same thing."

Other analysts described Abbas's announcement as an "empty threat" and said that cancelling agreements with Israel would effectively lead to the dismantlement of the PA, which was established in accordance with the 1994 Oslo Accords.

"I don't believe Abbas is serious," said a Palestinian academic from east Jerusalem. "How many times have we heard similar statements by Abbas and other Palestinian leaders? They know that if they cancel the agreements, that would lead to the collapse of the Palestinian Authority. I'm not sure they want to go that far."
Iranian President Rouhani Assails 'Usurper Zionist Regime' While Defending 2015 Nuclear Deal
Iranian President Hassan Rouhani has defended the July 2015 nuclear deal reached in Geneva between the Tehran regime, the United States and five other powers by portraying it as too "heavy for Zionists and the regional reactionaries to bear."

Rouhani, a staunch backer of the JCPOA — the technical name for the nuclear deal — spoke up in favor of the deal at a cabinet meeting on Wednesday, arguing that it had greatly enhanced Iran's regional standing and benefited its economy through the lifting of international sanctions. President Donald Trump withdrew from the JCPOA in May 2018, with the US reimposing unprecedentedly strong sanctions on the Iranian regime that are biting the country hard.

Rouhani went on to praise his own cabinet for achieving what, in his view, past cabinets from the 1979 Islamist revolution onward had failed to do.

"We broke the political stalemate on the international stage and this government removed the obstacles in its first 100 days as we promised, leading to the Geneva Agreement [of 2015]," Rouhani said.

Were it not for regional rivalries, the deal would still be in place, Rouhani argued. "Saudi Arabia and the usurper Zionist regime" — a reference to the State of Israel — "spared a lot of effort to prevent the final agreement from happening," he added.
The Classicist with Victor Davis Hanson (podcast):
Thinking Strategically About Iran
Victor Davis Hanson explains why a change in circumstances since the Bush years necessitate a changed approach to the U.S. relationship with Iran.
Iran says its missile tests are 'entirely defensive, not against any country'
An Iranian military official on Saturday said the nation's missile tests were for "defensive needs" only, after US officials said the Islamic Republic had tested a medium-range ballistic missile in violation of Security Council resolutions.

"The missile power of the Islamic Republic is entirely defensive, and is not against any country, and only to respond to possible aggression against the country's territorial integrity," the unnamed source told the Fars news agency.

He added that Iran did not need anyone's permission to maintain its defensive capabilities.

On Thursday US military officials told the New York Times that Tehran test-fired a Shahab-3 missile on Wednesday.

It was launched from southern Iran and flew some 1,100 kilometers (683 miles), landing east of Tehran, the report said.

The US military source said the missile did not pose a threat to US or Western assets in the region, and that US officials had closely monitored the activity that preceded the launch.

The report said that the missile test "appears to be a political statement by Iran, acting both as a carefully calibrated effort at escalation — and as a message to Europe," and that it "seemed meant to drive home the point that Iran had no intention on giving up on its own missile fleet."
Rashida Tlaib's History of Antisemitism
Here is a summary of Tlaib's record:


Opposing Israel's right to exist: Tlaib does not believe Israel has a right to exist. She advocates for a "one-state solution" in which a Palestinian state would replace Israel. The Jewish state is the only state in the world that Talib wants to dismantle. Her position cost her the support of far-left J Street, which generally opposes Israel but prefers to maintain the façade of support for a two-state solution to the Israeli-Palestinian conflict.
Accusing pro-Israel members of Congress of dual loyalty: In January, Tlaib tweeted that Senators who supported a pro-Israel bill "forgot what country they represent." The remark evoked of antisemitic themes of "dual loyalty" — that is, the idea that Jews are not patriotic, or that support for Israel detracts from love for America. The American Jewish Committee tweeted a photo of Tlaib wrapping herself in the Palestinian flag.
Saying the Holocaust gave her a "calming feeling": Tlaib told an interviewer that the Holocaust gave her a "calming feeling" because Palestinians had allowed "a safe haven for Jews, post-the Holocaust, post-the tragedy and the horrific persecution of Jews across the world at that time." The opposite was true: Palestinians wanted Jewish refugees excluded, and Palestinian leader Hajj Amin al-Husseini collaborated with the Nazis.
Comparing border facilities to "concentration camps": Earlier this month, Tlaib endorsed the claim by Rep. Alexandria Ocasio-Cortez (D-NY) that the U.S. is running "concentration camps" along the border with Mexico, a claim that noted legal scholar (and Democrat) Alan Dershowitz has said is a form of Holocaust denial. Both the U.S. Holocaust Museum and Israel's Yad Vashem memorial have opposed the comparison.
Comparing Israel to Nazi Germany: Tlaib, Omar, and Rep. John Lewis (D-GA) introduced a bill this month defending the "boycott, divestment, sanctions" (BDS) movement — which critics consider antisemitic because it singles out the Jewish state, ignoring Palestinian terror and the numerous tyrannical regimes in the region. Tlaib likened anti-Israel BDS to the boycott of Nazi Germans. (An anti-BDS bill ultimately passed 398-17.)
U. of Detroit Mercy Prof Amer Zahr's BDS Campaign Causes Arab-American Burgerim Franchisee to 'Lose Everything'
Amer Zahr, a BDS activist and adjunct law professor at the University of Detroit Mercy, has received a cease-and-desist order for "defamatory statements" from attorneys for Sam Zahr (no relation). The latter is a Lebanese-American franchisee who delayed the opening of his Burgerim restaurant in Dearborn, Michigan, after, as reported by the Detroit Free Press, "his kids were bullied and he received threatening messages from those opposed to the burger chain founded in Israel."

Insisting that, since the "genesis of the company," which is now headquartered in California, "was in Israel," Burgerim was built on "on stolen Palestinian land" and is "connected to Palestinian suffering," Amer Zahr became "a leading voice urging his community to boycott the business when it opens."

Meanwhile, Sam Zahr "said he has lost everything after pouring money into the Dearborn location by signing a five-year lease, having the electricity and plumbing installed, purchasing permits and licenses, and paying the franchise fee."

The professor could learn a thing or two from the businessman, who, despite everything, demonstrated graciousness and wisdom: "God bless this beautiful country that we all came to to make something out of. Not to have this kind of hate and this kind of unprofessionalism and just nonsense.
British Labour member suspended amid anti-Semitism investigation
A member of the British Labour Party has been suspended from his local party chapter amid an anti-Semitism investigation.

Manchester council member Majid Dar was suspended after now-deleted anti-Semitic Facebook posts of his were exposed on Twitter.

Manchester council leader Sir Richard Leese said the posts were "anti-Semitic and, in at least one case, grossly so."

Dar said he was "apologetic," but added that what he posted was a criticism of Israel and Zionism, not Jews.

His suspension comes about six months after police in the United Kingdom have opened up a criminal probe over accusations of anti-Semitic hate crimes within the Labour Party.
Man Changes Position on Israeli-Palestinian Conflict after Reading Facebook Comments (satire)
Former Zionist, Josh Liebowitzstein shocked family and friends this week when he announced that he's changing his position on Israel. The decision came after reading several Facebook comments on an otherwise innocuous post about startups in Tel Aviv.

The Mideast Beast caught up with Mr Liebowitzstein to elaborate on the decision. "Social media is a great place to start a conversation and exchange ideas," he commented. "Due to Facebook's high level of dialogue, thoughtful user community, and of course mutual respect people show each other, I enjoy reading comments about today's meaningful and politically-charged issues."

After an Israeli group posted an article on startups in Tel Aviv, user I.M. Palestine responded with the comment: "r u fucking stupid? how can u support the zionist genocidal murderers? clearly u dont no nothing. israel and its pal Trump r state terrorists"

Mr Liebowitzstein had been diligently following Middle Eastern politics for years, but the comment led him to reevaluate his pro-Israel stance. "I read the comment, and after reflecting, I said to myself, 'ya know, I never thought of it that way before. There was something so eloquent about how I.M. Palestine phrased his argument. And of course, the logic was unbreakable."
— Jordan Schachtel (@JordanSchachtel) July 26, 2019
Laser-targeted mosquito locater aims to keep you bite-free
Nadav Benedek remembers how, when he was growing up in the Israeli town of Pardes Hanna, his father would scour his room for 10 minutes every night before bedtime to track down and kill mosquitos.

Benedek never forgot the hours his father invested in keeping bug bites at bay, and the idea of a better solution buzzed around in his mind for years.

"Killing a mosquito is actually the easy part," Benedek, now 38, tells ISRAEL21c. "Ninety percent of the problem is just knowing where they are." That's because mosquitos come out mainly at night when they're hard to see and are quite adept at avoiding detection.

With degrees in computer science and physics, and engineering expertise from positions at M-Systems and Sandisk, Benedek teamed with serial investor Saar Wilf to create Bzigo.

The company is building a black box about the size of a smartphone with some sophisticated optics and software inside that scans a room for signs of a small insect moving. Once it identifies a flying insect (not just mosquitos), it directs a low-powered laser beam at the bug's location that directs the human to find and kill it.
The real reason Israeli ice cream is the best in the world
Whether you eat it in a cone or cup, Israeli ice cream is rapidly gaining a reputation as some of the best in the world.

In honor of National Ice Cream Day (July 21) come and join us on a quick journey with Yuval Haklai to see how Israelis are using their extraordinary approach to food to conjure up new tastes in ice cream.

Bamba ice cream, ice cream infused with mozzarella and basil, watermelon and Bulgarian cheese, orange, olive oil and salt, and even ice cream for dogs … Israelis aren't afraid to try anything new.

And of course, there are all the regular flavors, too.
Israel's Magen David Adom Conducts Emergency-Response Training in Milwaukee
Following recent armed attacks against religious and public institutions in the U.S., Magen David Adom, Israel's national EMS service, conducted three days of terrorism- and emergency-response training for civilians sponsored by the Milwaukee Jewish Federation. The "First 7 Minutes" training course taught participants how to remain safe during a violent incident and how, in the immediate aftermath, to render critical first aid in the seven minutes it typically takes first responders to arrive. Much of the training is also applicable to other emergency situations, such as building collapses, fires and natural disasters.

Because of the sheer number of terrorist incidents that Magen David Adom has seen in Israel, it has emerged as the most experienced mass-casualty-response organization in the world. While MDA has conducted terrorism-response seminars to first-responder professionals in the U.S., this is the first time it has offered training for civilians. The program will be rolled out across America to any community where institutions fear being targeted for attack.

"Our decision to conduct this training...is about empowering people and providing them with the skills they need to better handle an attack, keep themselves and their loved ones safe, and help save lives should an attack occur. And we can think of few things more in keeping with the values of our community," said Moshe Katz, board chair of the Milwaukee Jewish Federation.
Roman coins might shed light on unknown Holocaust victims
Roughly two and a half thousand gold and silver coins, many from the Roman Empire, were discovered by homeowners in the Hungarian town of Keszthely during a house-repair in February, the Forward reported.

Who owned this buried treasure? The answer is likely to be Jewish residents of the Jewish ghetto of Keszthely, from which many Hungarian Jews were deported to Auschwitz.

As these Jewish victims were not clearly registered, and were later murdered, historians are still looking for material evidence for their names and identities, hence the importance of the finding.

The family gave the coins to the Balatoni Museum in Keszthely, which discovered that jewels were also enclosed in the collection.

These might solve the issue of who the owners were; the Pollak family were important traders in that town before the war.

The Hungarian authorities are now looking for a descendent of the Pollak family to return the found treasure. Should they fail to find one, the state will become its owner.
---
---
We have lots of ideas, but we need more resources to be even more effective. Please
donate today
to help get the message out and to help defend Israel.