From Ian:
---
The Meaning of Occupation
Similarly, the fact that Judea and Samaria have always been considered by Jews to be part of their patrimony of the Land of Israel; or that they were an undisputed part of the territory promised to the Jewish people as its "national home" by the 1917 Balfour Declaration, subsequently ratified by the League of Nations; or that the 1949 armistice line between Israel and Jordan, drawn at the end of Israel's War of Independence, was never recognized by Jordan as more than a makeshift demarcation that would be erased by Israel's destruction; or that it was Jordan that started the 1967 fighting; or that the UN's post-1967 resolution 242 did not require Israel to withdraw from all of the West Bank; or that Jordan ceded its claim to the area to the Palestine Liberation Organization in 1988; or that many of the administrative powers there have been delegated by Israel to the Palestinian Authority (PA); or that the PA itself has not taken the kind of steps that might enable the "Occupation" to end—all of this, though true, doesn't change the letter of the law.

Indeed, starting with 1967, Israel itself repeatedly invoked the Fourth Geneva Convention as a legitimation of its presence in Judea and Samaria, and Israel's High Court of Justice has accepted this as the basis for various rulings on Israel's actions there. This was a convenient position for Israeli governments to take. On the one hand, it made it easier for Europe and the United States to accept Israeli control over the West Bank while objecting to some of its features, such as the settlements. On the other hand, it served as an excuse for government after government in Jerusalem to put off making politically difficult decisions about the ultimate disposition of Judea and Samaria by postponing those decisions to a theoretical day when a peace settlement could be negotiated with the Palestinians and the Arab world.

But how long can a "temporary" occupation last? The French and Belgian occupation of the Rhineland after World War I lasted twelve years. The British occupation of Iceland during World War II lasted five years. The postwar U.S. occupation of Japan lasted seven. So did the Allied occupation of Germany. The Israeli "occupation" of Judea and Samaria has lasted 52 years. This strikes the world, not entirely unreasonably, as a perversion of the concept and contributes to giving "the Occupation" its bad name.

It is interesting to compare Israel with some other countries in this respect. India, when it took possession of Kashmir in its 1948 war with Pakistan, didn't invoke the Fourth Geneva Convention or claim to be "occupying" the territory it conquered. Nor did the Turks in invading Cyprus in 1974 or the Russians in Crimea. All behaved according to the right of conquest. Although all have been or are accused of human-rights violations in these areas, none is today cowering in fear of the wheels of international justice. Nor can they be charged, as Israel repeatedly has been, with hypocritically violating the Fourth Geneva Convention's provisions, which they never agreed to apply.

Perhaps it is indeed time to begin to "end the Occupation"—not by Israel's acceding to the demand that it engage in an impossible and undesirable withdrawal from all of Judea and Samaria as demanded by its enemies (with whom IfNotNow needs to be classed) but by its confronting the need to decide, or at least seriously and openly to debate, the area's permanent future in a way that its governments have avoided doing until now. A 52-year-old occupation, whatever its excuses, is indeed a bit too long.
NGO Monitor Analysis: 41st Session of the UN Human Rights Council
The 41st Session of the UN Human Rights Council (UNHRC) (June 24 – July 12) continued the bias and hypocrisy that has come to define the UN in general and the UNHRC in particular. NGO Monitor was present, speaking before the Council and documenting the numerous false accusations made by self-proclaimed human rights non-governmental organizations (NGOs).

The statements made during the session and side events by NGO officials, many of which receive large portions of their funding from European governments, are summarized below, highlighting the inflammatory and false allegations.
Item 7

UNHRC Permanent Agenda Item 7, purporting to address Israeli human rights violations, is the only permanent agenda item targeting a single country. Numerous Western countries democracies boycott this agenda item because of this discrimination.

In contrast, NGOs used Item 7 as a platform to promote demonization and BDS. In particular, Human Rights Watch (HRW), Defense for Children International (DCI), and Palestinian groups reinforced and echoed the rhetoric of the "vital importance of item 7" promoted by the dictatorships on the Council.

For example, HRW called for the UN High Commissioner for Human Rights to publish the discriminatory database of companies doing business over the 1949 Armistice line, which is being prepared by the Council's bureaucratic arm – the Office of the High Commissioner for Human Rights. The purpose of the list is to bolster BDS campaigns against Israel. HRW also delegitimized the concerns raised by Western countries regarding Item 7.

DCI read a statement prepared by the Popular Front for the Liberation of Palestine (PFLP)-linked Defense for Children International – Palestine (DCI-P), calling on the UN to include the IDF on the UN Secretary-General's list of the worst violators of children's rights. Offenders currently on the list include Boko Haram, Al Qaeda, and ISIS. (See NGO Monitor's report "UNICEF and its NGO Working Group" for more on this campaign).

Finally, Palestinian NGOs BADIL and Al-Haq claimed that Israel is preventing Palestinians from adapting to climate change.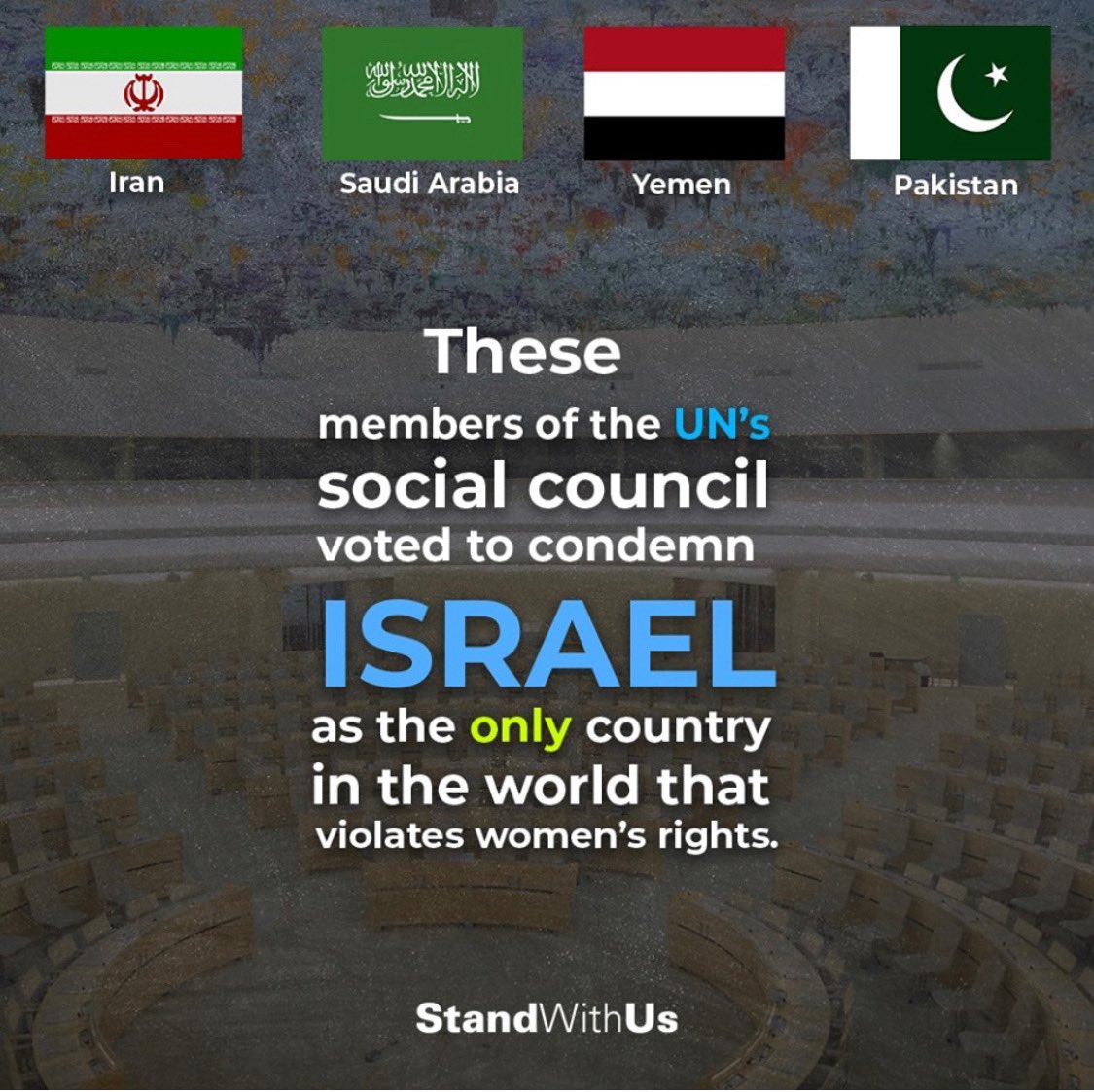 Nikki Haley Blasts UN Council for Condemning Israel's Record on Women's Rights
Former US Ambassador to the UN Nikki Haley blasted a UN council on Thursday for singling out Israel for alleged violations of women's rights.

The UN Economic and Social Council resolution was approved by a 40-2 margin, with nine abstentions. Among the countries voting yes were Iran, Saudi Arabia, Yemen and Pakistan, all notorious for often misogynistic policies and denying basic rights to females.

"It amazes me how the U.N. condones votes like these," Haley tweeted. "It is a total mockery of human rights to allow Saudi Arabia, Iran, Pakistan, and Yemen to name Israel as the world's only violator of women's rights."

Much of the resolution — which only the US and Canada voted against — did not deal with women's rights at all, but rather parroted generic anti-Israel rhetoric, accusing the Jewish state of numerous crimes and alleged violations of human rights.

One clause, however, "[r]eaffirms that the Israeli occupation remains a major obstacle for Palestinian women and girls with regard to the fulfilment of their rights, and their advancement, self-reliance and integration in the development of their society."
LEFT: Morris Abram, civil rights leader & founder of UN Watch, member of UNHRC sub-commission, 1964.

RIGHT: Jean Ziegler, founder of the Moammar Qaddafi Human Rights Prize, member of same body (now called UNHRC Advisory Committee), in session this week.https://t.co/uVAjFGI8Jv pic.twitter.com/uMNUlM5L3I

— Hillel Neuer (@HillelNeuer) July 25, 2019
MEMRI:
Article On Muslim Brotherhood Party Website: Al-Sisi Destroying Egypt In Accordance With Jewish Bible
The Freedom and Justice Party, the political branch of the Egyptian Muslim Brotherhood (MB), recently posted on its website an antisemitic article by journalist Sayyed Tawakkul, formerly a commentator on the Qatari Al-Jazeera channel and currently on the MB-affiliated Mekameleen TV. In the article, titled "Whoever Thinks Al-Sisi Is Failing Should Peruse the Bible of the Jews," Tawakkul accuses Egyptian President 'Abd Al-Fattah Al-Sisi of destroying Egypt in accordance with a plan "that has been set out in the Jewish Bible for over 3,000 years." He explains that an examination of the policy of Al-Sisi, whom he dubs "General Israel," reveals that he is operating according to what is written in the Bible, specifically in the Book of Isaiah. It should be noted that this theme of calling Al-Sisi a Jew and accusing him of serving Israel joins other antisemitic themes which occasionally feature on the MB media, as well as on the media in Qatar, which supports the MB, and especially on Al-Jazeera.[1]

The following are translated excerpts from Tawakkul's article:[2]

Image accompanying Tawakkul's article: "Whoever Thinks Al-Sisi Is Failing Should Peruse the Bible of the Jews"

"The Impudent Al-Sisi Has A Most Ancient Presidential Plan, That Has Been Set Out In The Jewish Bible For Over 3,000 Years"

"The devastation that has reigned for the past six years [since Al-Sisi's] coup against [former Egyptian President Mohamed Morsi] proves that the impudent Al-Sisi has a most ancient presidential plan, that has been set out in the Jewish Bible for over 3,000 years. The following verse appears in one of the books of the Jews, in chapter 19 [Isaiah 19: 5-8]: 'The waters of the River [Nile] will dry up, and the riverbed will be parched and dry.The canals will stink; the streams of Egypt will dwindle and dry up. The reeds and rushes will wither,also the plants along the Nile, at the mouth of the river. Every sown field along the Nile will become parched, will blow away and be no more.The fishermen will groan and lament, all who cast hooks into the Nile; those who throw nets on the water will pine away.' Is that not what Balaha [a derogatory name for Al-Sisi][3] is doing in Egypt[?]…

"It is as if the books of the Bible… describe the destruction of Egypt and the looting of its treasures by the oppressive general who has taken control of it, who is depicted in the Bible as a villain who steals all of [Egypt's] bounty and its treasures of gold and silver. The current situation in Egypt is that a handful of oppressive generals and corrupt tyrants have plundered Egypt's treasures and sold them.
JCPA:
Jordanian and Palestinian Incitement against Saudi Arabia
The PA is inciting against the Saudi royal family, especially against Crown Prince Mohammed bin Salman. And the campaign is very clever. Their platform is mostly social media – no official media channels. Mahmoud Abbas does not want to lose Saudi Arabia's monthly financial aid to the PA.

The Palestinians accuse Crown Prince Muhammad bin Salman of plotting the "deal of the century" together with Jared Kushner, advisor and son-in-law of President Trump. They claim that he came up with the idea of making Abu Dis the Palestinian capital instead of Jerusalem.

Palestinian Authority Chairman Mahmoud Abbas is firmly opposed to anything perceived as Saudi normalization with Israel. He was against the visit to Israel of Maj. Gen. (ret) Anwar Eshki, head of a Saudi Research Institute, as well as statements regarding the normalization with Israel made by senior Saudi officials and the media.

Saudi Prince Turki Al-Faisal, former head of Saudi intelligence, recently stated in an interview for an Israeli television station that he wants to visit Israel.

In another television interview, Saudi journalist Fahd Alshomari declared, "the Palestinians are beggars," "have no honor," and "the Al-Aqsa mosque is a Jewish prayer house."

Saudi researcher Louis Sharif, interviewed by Israeli television during the Bahrain conference in fluent Hebrew, expressed support for Saudi tourism to Israel.
Saudi Influencers Reveal Growing Acceptance for Israel
Israeli government officials on Tuesday condemned the actions of Palestinians who hurled abuse and chairs at a Saudi blogger visiting Jerusalem as a guest of the Jewish state. The Saudi visitor, named by Israeli public radio as Mohammed Saud, was one of six invitees from Arab states brought to Israel by its foreign ministry to give them fresh viewpoints on the country. Such visits have been held before, but Iraq and Saudi Arabia were taking part for the first time, the foreign ministry said.
Israeli Energy Minister Meets Top Egyptian Officials in Cairo
Israeli Energy Minister Yuval Steinitz took part in a forum on natural gas in Cairo, Egypt, on Thursday, during which he met with regional counterparts and Egyptian President Abdel-Fattah al-Sissi.

Steinitz told Sissi that the world needed to appreciate the Egyptian leader's contribution to stability in country, which he said was vital to the region.

Within the framework of the forum, Steinitz also met with Egyptian Energy Minister Tariq al-Mulla to discuss additional initiatives for cooperation once Israel begins to export gas to Egypt later this year.

The two also discussed the possibility of laying down additional pipelines for the transfer of natural gas between the countries, cooperation on exporting gas to the Far East, as well as additional steps to promote the regional forum, a joint initiative of Steinitz and al-Mulla.

Ahead of the forum, al-Mulla and Steinitz took part in a tripartite meeting with US Energy Minister Rick Perry, and also toured the pyramids.
Abbas Announces Cancellation of All Agreements Between PA and Israel
Palestinian Authority leader Mahmoud Abbas declared on Thursday that the PA would cease implementation of all agreements with Israel, including on security coordination, and announced the formation of a special committee to that end.

"After all the violations against our people, we announce the cessation of all agreements signed with Israel," Abbas wrote on Twitter, noting that his statement included security coordination.

Abbas said in a statement that the decision came in the wake of Israel's insistence on negating all agreements signed with the Palestinians. He also spoke out against the "bias" of the US administration.

Abbas also addressed the the demolition on Monday of 12 apartment buildings in the Wadi al-Hummus area of Sur Baher, an eastern Jerusalem neighborhood, calling it "an act of ethnic cleansing and a crime against humanity."

Earlier in the week, he threatened to lodge a complaint in the International Criminal Court in The Hague over the measure.

On Thursday, the United States blocked a UN Security Council proposal condemning the demolitions.
Will Abbas Preserve Security Coordination with Israel?
In October 2018, the PLO Central Committee recommended that security coordination with Israel be severed. President Abbas was selected to head a committee tasked with ceasing security coordination, but cooperation never ended. Abbas hosted Israel Security Agency Director Nadav Argaman at his home in Ramallah and told him explicitly that if Israel implemented the law withholding funds to offset payments to terrorists, the PA would immediately sever all security coordination. But after Israel began implementing the law in February 2019, Abbas never made good on his threat.

An Israeli security source discussed the "network of security coordination" with the PA. "The main thrust of the Israeli effort is to maintain the stability of the PA and to assist it in overcoming internal and external threats from Hamas and cells associated with the Islamic State. In return, they do everything they can to prevent attacks by individuals or groups that could get the Palestinian Authority into trouble with Israel." Even if Abbas announces that he is halting security coordination, past experience shows that there are words and then there are (different) actions.
Melanie Phillips:
Is Boris Johnson 'good for the Jews'
He has always expressed strong support for Jews. As London's mayor, he spoke out strongly against antisemitism and opposed the Boycott, Divestment and Sanctions (BDS) movement.

Yet throughout his tenure as London mayor, Johnson consistently ignored pleas from Jewish groups to ban the Al-Quds Day marches through London, which featured Hezbollah flags and calls to kill Jews.

Israel seems to regard Johnson as a great friend. In a recent interview in Britain's Jewish News, he repeated his claim to be a "passionate Zionist" and said that "wild horses wouldn't keep me away" from visiting Israel as Britain's prime minister.

Yet in 2014, he characterized the Israeli military campaign in Gaza against Hamas as "disproportionate." On a previous visit to the area in 2004, after a Palestinian suicide-bombing attack in Haifa, Johnson observed that, having seen the humiliation of Palestinians living in Nablus at Israeli checkpoints, he could understand "the frustrations that might produce a cult of suicidal martyrdom… It is all about a sense of powerlessness, and rage, and hatred, and a sense of injustice."

Recently, though, he condemned the Palestinian policy of paying salaries to terrorists. "I think it's ludicrous that there should be any kind of financial incentive or compensation for terrorist activities," he said.

So which is the true Boris Johnson? Some believe that he tailors his views to appeal to whichever audience he wants to reach.

That view may be too sweeping. A rather more accurate assessment, although hardly less unsettling, may be that although he does have genuinely warm feelings towards Jews and the State of Israel, he is also (despite his Brexiteer credentials) a liberal universalist.

That means he believes that everyone is a rational actor, which means he thinks everyone is susceptible to appeals to temporal self-interest, that murderous fanaticism is caused by material circumstances, and that therefore deals can and should be done with the devil.

As a result of these illusions, despite his warm feelings he may not always act in the best interests of Israel or the Jewish people.
Boris Johnson criticises Jeremy Corbyn's links to Iranian television channel, Press TV - "How incredible that we should even think about entrusting this gentleman with the stewardship of this country's security"

Live updates: https://t.co/R1hLwM076H pic.twitter.com/j8Nfn8Uubk

— BBC Politics (@BBCPolitics) July 25, 2019
A 'passionate Zionist'
'A passionate Zionist" he has called himself. Boris Johnson, Britain's new prime minister, has often asserted his strong feeling for Israel and his empathy with the historic aspirations of the Jewish people to achieve self-determination in their ancestral homeland.
Johnson's ancestry is unusual. Given its Muslim, Jewish and Christian elements, Johnson has called himself a "one-man melting pot." Through his father he is connected to the German royal house of Württemberg, but also to Ali Kemal, a minister of the Ottoman Empire who was assassinated in 1922 during the Turkish War of Independence. Through his mother, his connections can be traced back to the revered 19th century Lithuanian Rabbi Elijah Ragoler.

His feelings about Israel, though, may stem just as strongly from Jenny Sieff, who became his stepmother when he was 17. The Sieffs are a prominent Anglo-Jewish family. Jenny's stepfather, Teddy, served as chairman of Marks and Spencer and was vice-president of the British Zionist Federation. In 1973, he survived an assassination attempt by the Popular Front for the Liberation of Palestine when he was shot by the assassin known as Carlos the Jackal.

In the summer of 1984 Jenny's family in Israel – distinguished Israeli diplomat Michael Comay and his wife – helped aPrange for Johnson and his sister Rachel to volunteer at Kibbutz Kfar Hanassi for six weeks. Johnson spent his working day in the communal kitchens.

In an article to commemorate the centenary of the Balfour Declaration, Johnson wrote, "I served a stint at a kibbutz in my youth, and… saw enough to understand the miracle of Israel: the bonds of hard work, self-reliance and an audacious and relentless energy that hold together a remarkable country."
Boris Johnson's Ancestral Turkish Village Applauds His 'Ottoman Genes'
A village in central Turkey where Boris Johnson traces his Turkish ancestry to is abuzz with excitement and pride over the news that a man they see as one of their own has become the new prime minister of Britain.

Residents of the mainly farming village of Kalfat, in Cankiri province, 100 kilometers (62 miles) north of the Turkish capital Ankara, gathered at its main assembly place on Tuesday to celebrate after Johnson won a Conservative Party leadership contest triggered by the resignation of Theresa May, according to town administrator, Bayram Tavukcu. Johnson took office as British prime minister on Wednesday.

Residents here dismiss as "political rhetoric" past comments by Johnson that were sometimes deemed to be anti-Muslim or anti-Turkish and said they hope that he will visit Kalfat while in office.

"We were honored that someone who has Ottoman genes, who comes from these lands, has become the prime minister of a prodigious country," said Adem Karaagac, the former administrator of the village of 1,300.

Johnson's paternal great-great-grandfather, Haci Ahmet Riza Efendi, was born there in 1813 and the house he lived in is still standing. The family members were known as the "Sarioglangiller" which roughly translate as "of the family of the blond boy," Karaagac said, though it was not known if Johnson inherited his blond hair from his Turkish ancestry.
The Cowboys of Trump Heights in Israel's Golan
Trump Heights has now been official for a month in Israel's Golan area. What would be more fitting than two cowboys roaming the area? Our Pierre Klochendler has the story.
PMW:
"Auschwitz is here in Palestine" says PA leader Jibril Rajoub
"Auschwitz is here in every city in Palestine," is the latest PA libel about Israel by a PA leader. Fatah Central Committee Secretary Jibril Rajoub, interviewed on Kuwaiti TV worded it this way:

"Auschwitz is here in every city in Palestine because of [Israel's] systematic policy with barbaric and racist living conditions and conduct in order to cause physical and mental harm to these prisoners."
[Sawt Al-Arab (Kuwaiti TV channel), Diwan's Office, July 8, 2019]

This is a repeating libel often voiced by Palestinians and Arabs stating that Israel is "worse than Hitler" and "committing a Holocaust" against the Palestinians in general and against the terrorist prisoners in particular.

The same libel was expressed by Former Jordanian Minister of Education and Advisor at Philadelphia University in Jordan Dr. Ibrahim Badran, who stated on official PA TV that Israel is a "racist state" that "rejects the other in a Nazi, Hitlerian manner" - in fact "has outdone what Hitler did." His statement went unchallenged by the PA TV interviewer. The former education minister expounded this description, stating that the difference between Hitler and Israel is that Hitler "murdered many at once" but Israel "is murdering the others slowly... with Western support":
Erdogan says Turkey will turn elsewhere if U.S. will not sell F-35s
President Tayyip Erdogan said on Friday Turkey would turn elsewhere for fighter jets if the United States will not sell it F-35s, adding that the US decision to cut Ankara from the jet production program would not deter it from meeting its needs.

The United States said last week it was removing NATO ally Turkey from the F-35 program, as it long threatened, after Ankara purchased and received delivery of Russian S-400 missile defenses. US President Donald Trump has yet to decide on sanctions on Turkey that appear to be required by US law.

Erdogan, speaking publicly about Ankara's strained ties with Washington for the first time in 11 days, said he hoped US officials would be "reasonable" on the question of sanctions.
Brig.-Gen. (ret.) Michael Herzog:
Iran across the Border: Israel's Pushback in Syria (PDF)
Iran has embarked on a long-term strategic project to establish itself as the dominant power in the Middle East. Granted legitimacy and room to act by the 2015 nuclear deal, and emboldened by its success in helping turn the tide of war against the Islamic State in Iraq and Syria, Iran has since labored relentlessly to create a contiguous zone of direct influence and power projection toward the Mediterranean.

These Iranian efforts have been based primarily on an active on-the-ground presence, influence over weakened and dependent governments in Iraq, Syria, and Lebanon, military infrastructure and sizable "legions" of armed sectarian proxies serving as its muscle in regional wars, and initiatives to expand its economic leverage and extract economic benefits.

An important part of the Iranian strategy has been upgrading Hizbullah's capabilities by implementing an ambitious "precision project" designed to convert significant numbers of rockets into high-precision ones equipped with guidance systems. In the assessment of Israeli intelligence, the goal is to provide Hizbullah with an arsenal of at least 1,000 medium- and longer-range precise rockets with an error probability of up to ten meters.

Since mid-2017, on three occasions, Iran has itself demonstrated its capabilities in this field by firing salvos of accurate rockets over several hundred kilometers at specific Islamic State and Iranian-Kurdish targets in Syria and Iraq. While some of the missiles landed far afield, others hit their targets with relatively high accuracy. In addition, Iran has provided long-range accurate attack drone capabilities to Hizbullah.

Israeli officials believe strongly that Israel's assertive military campaign played the major role in thwarting Iranian plans to turn Syria into a strong anti-Israel military front. The campaign, moreover, is believed to have effectively rolled back much of Iran's deployment in the Syrian theater. Yet Iran has by no means given up on its ambitions or decided to withdraw militarily from Syria, and it still commands considerable forces and capabilities in the country.
6 Iranians among 9 dead in Israeli strike on Syria, monitor says
Six Iranians fighting for the Syrian regime were among those killed in reported Israeli missile strikes in southern Syria this week, a war monitor said Thursday.

Israeli missiles targeted "military positions and intelligence facilities belonging to Iran and [pro-Iranian] militias" in the southern provinces of Daraa and Quneitra early on Wednesday, the Syrian Observatory for Human Rights said.

Syrian state media had already reported on Wednesday that the "Israeli enemy launched an aggression" against military positions held by the government and its allies in Daraa province, but did not mention casualties.

The Observatory said Thursday the strikes had killed six Iranians and three pro-regime Syrian fighters.

The Britain-based monitor gathers its information from a vast network of contacts across Syria.
Seth J. Frantzman:
Regional Affairs: The West's lack of strategy aids Tehran's aims
Neither the UK nor the US want a military confrontation with Iran. Where does that leave Israel?

Iran has one major advantage over its Western rivals in the recent tensions with the US and UK. It sees its foreign policy and military strategy as a whole, linked by Tehran to involve both a diplomatic series of escalating threats and a series of military jabs at opponents.

Meanwhile, the UK, one of whose flagged tankers was seized by Iran a week ago, clearly does not want to be involved in military confrontation or even military jabs. Iran's major advantage is that it tends to understand its opponents better than they understand Iran. There may be one exception though: Israel.

Israel is a key part of the US and UK confrontation with Iran, but it is also one of the more complex players in this confrontation. Iran's current regime pays constant lip service to confronting Israel, championing the Palestinian cause and arming Hezbollah. For Iran the confrontation with Israel is part of its regional policy, a way that it can transcend what is usually an Islamic Shi'ite theocratic revolutionary zeal by adopting a pan-Arab and pan-Islamic cause. In this sense its regime only follows in the footsteps of the Arab nationalism championed by Gamal Abdel Nasser and the political Islamic opposition to Israel embodied in groups like the Muslim Brotherhood and Hamas.

Once again, Iran here harnesses a diplomatic and military strategy. It builds up groups like Hezbollah militarily while encouraging them to behave like a state within a state. It has done the same in Iraq with its support for Shi'ite militias that are also political groups and have now become official paramilitary groups.

But Iran's confrontation with Israel is also frustrated by Israel's actions and warnings to Western and other countries about Iran's role in the region. For instance, Ambassador to the United Nations Danny Danon spoke at the world body this week, showing evidence that Iran's Islamic Revolutionary Guard Corps sends "dual-use equipment" to Hezbollah while Lebanese civilian authorities remain silent. The IRGC's Quds Force exploits civilian channels to move the items to Beirut. Beirut has become a Hezbollah port, Danon indicated.
An English Misunderstanding of Iran
Jack Straw's misunderstanding, perhaps caused by his "absolute infatuation" with his imaginary Iran, has three aspects.

The first is that he thinks that because Iran is an ancient civilization -- and has produced great poets, weaves exquisite carpets and offers one of the world's hautes cuisines -- it deserves indulgence for its weird activities in other domains such as hostage-taking, hate-mongering, human rights violations and the export of terror in the name of revolution. It is like granting Stalin indulgence because one appreciates Pushkin and Tchaikovsky and enjoys a dish of borscht with a glass of "little water" on the side.

The trouble is that Straw is unable to cite a single reform proposed, let alone carried out, by his "reformist" faction in Tehran. Worse still, he forgets that there have been more executions and political arrests under Khatami and Rouhani than during the presidency of the supposedly "hardline" Mahmoud Ahmadinejad.

Straw offers no evidence than any deal made with the Islamic Republic in the past 40 years has had a long-lasting impact on the Khomeinist strategy and behavior. The Khomeinist rulers of Iran have perfected the art of diplomatic cheat-retreat-advance. Whenever their bones began to creak, they offered some concessions, which were subsequently withdrawn once the crushing of the bones ceased. More importantly, perhaps, Straw fails to realize that his "moderates" including Rouhani and Khatami, lack the popular support base needed to marginalize Khamenei let alone get rid of him.
British Legislator Says Johnson Will Withdraw UK From Iran Nuclear Deal
British legislator Matthew Offord said on Tuesday that new British Prime Minister Boris Johnson will withdraw the United Kingdom from the 2015 Iran nuclear deal, which the United States left in May 2018, reimposing sanctions lifted under it alongside enacting new financial penalties against the regime.

"We've now got to face that the nuclear deal is all but dead," Offord told i24 News after Johnson won the Conservative Party leadership race, which also made him prime minister with his party in the majority.

However, Offord said that a new agreement "can be a way forward by looking at what we can provide the Iranian regime without them losing face, but ensuring that they ratchet down their actions."

Late last week, Iran seized two UK-owned oil tankers amid ongoing tensions in the region.

Earlier this month, Johnson warned Iran to "cease this madness" over violating the 2015 Iran nuclear deal, adding that he's "prepared" to reimpose sanctions on the regime.
Flags of Inconvenience: Noose Tightens Around Iranian Shipping
Somewhere on its journey from the waters off Iran, around Africa's southern tip and into the Mediterranean, the Grace 1 oil tanker lost the flag under which it sailed and ceased to be registered to Panama. Iran later claimed it as its own.

The ship carrying 2 million barrels of Iranian crude was seized by British Royal Marines off Gibraltar, raising tensions in the Gulf where Iran detained a UK-flagged ship in retaliation.

Grace 1 remains impounded, not because of its flag but because it was suspected of taking oil to Syria in breach of EU sanctions, an allegation that Iran denies.

Yet Panama's move on May 29 to strike it from its register mid-voyage was part of a global squeeze on Iranian shipping.

Nations that register vessels under so-called "flags of convenience" allowing them to sail legally have de-listed dozens of tankers owned by Iran in recent months, tightening the economic noose around it.
U.S. Official: Iran Just Fired A Ballistic Missile
On Wednesday, ratcheting up tension between the United States and Iran, Iran successfully test-fired a medium-range ballistic missile that flew 600 miles.

Secretary of State Mike Pompeo told Fox News, "They continue to engage in malign activity; they continue to build out their missile program; they continue to work on their nuclear systems, and yet they want to tell the world that no, they're just defensive and they're just being a normal nation and we all see differently."

A senior administration official commented, "We are aware of reports of a projectile launched from Iran, and have no further comment at this time."

The Shahab-3 missile flew from southern Iran to a desert near Iran's capital, Tehran; the nuclear deal which President Trump walked away from did not deal with Iran's conventional missile program.
Iran Test Fires a Ballistic Missile
Iran reportedly test fired a medium-range ballistic missile, just as tensions have escalated over the seizure of tankers in the Strait of Hormuz. Why did Iran do this? Expert Meir Javedanfar analyzes.
---
---
We have lots of ideas, but we need more resources to be even more effective. Please
donate today
to help get the message out and to help defend Israel.