From Ian:
---
Greenblatt: After four decades of Erekat, Palestinians deserve better
It is time for the Palestinians to be served by leaders other than Saeb Erekat, who for the last 40 years has voiced the same talking points and failed to deliver "anything close" to what the Palestinians want, US Mideast negotiator Jason Greenblatt wrote in an op-ed on Sunday.

Greenblatt, who on a number of occasions has been the target of Erekat's angry rhetorical fusillades, took to the offensive in a Haaretz piece headlined, "Trump Mideast envoy: The Palestinians deserve so much more than Saeb Erekat."
"Dr. Erekat – we have heard your voice for decades and it has not achieved anything close to Palestinian aspirations or anything close to a comprehensive peace agreement," Greenblatt wrote. "Other Palestinian perspectives might help us finally achieve a comprehensive peace agreement where Palestinian and Israeli lives can be better.

"The time for leadership and responsibility is now," he said. "The time for meeting after meeting of government officials repeating the same talking points is over. The Palestinian people want real action, and they need honest, realistic and decisive solutions."

Greenblatt wrote that notions that Israel is going away, or that Jerusalem is not the country's capital, or that the United States is not a critical interlocutor for Mideast peace are all simply "mirages."

"The reality is that there is an opportunity for peace at hand, and that President Trump and his administration are working to help facilitate a peace that will open up the future of the Palestinian people, if they and their leadership have the courage to seize it," he concluded.

The trigger for the piece was an article Erekat wrote on May 17, following the move of the US Embassy in Israel from Tel Aviv to Jerusalem and the most violent day of rioting along the Gaza security fence, when 62 Palestinians were killed.

Erekat accused the US of "moral bankruptcy and complicity with Israel," and accused Greenblatt and US Ambassador to Israel David Friedman of becoming "nothing less than spokespeople for the Israeli occupation."
Rudy Giuliani to PMW: The PA is "not entitled to be a state"
Palestinian Media Watch met with Rudy Giuliani, US President Donald Trump's lawyer, on Wednesday, and documented to him the many ways that the PA glorifies terror and terrorists.

PMW's Director Itamar Marcus and head of Legal Strategies Maurice Hirsch showed the former mayor of New York City PMW's reports on the PA's payment of salaries to terrorist prisoners, 31 PA schools named after terrorists as well as texts presenting terrorists as role models from PA schoolbooks.

Giuliani's response was that these activities show the PA to be a "murder machine." The PA's response to terror including financial support and honor for terrorists makes them "a prime supporter of terrorism."

Most significantly, Giuliani concluded that because of the PA's terror support they are "therefore not entitled to be a state."

In his statement to PMW, Giuliani focused on the PA's policy of paying salaries to terrorists:
"The payment of money by the Palestinian Authority to terrorists who are convicted of terrorism is an absolute human rights outrage and a crime in and of itself. To give money to people who slaughter innocent human beings, including children and women and innocent people of all kinds, is a direct contribution to terrorism... The fact that the Palestinian Authority does this, carries this out on a massive scale, is yet another indication that the Palestinian Authority is a prime supporter of terrorism, and therefore not entitled to be a state." [Giuliani recorded statement to PMW, June 6, 2018]

Giuliani believes that countries must cut off all funding to Palestinian Authority:
"The United States, for example, should not give the Palestinian Authority any money, and not just restrict the use of money, because money is fungible. So if they get money for one purpose, they just don't use it for that purpose and they move it over to paying terrorists for killing Americans, because many of these terrorists have killed Americans as well as Israelis."
Rudy Giuliani: The PA is a "murder machine" and "not entitled to be a state"
Netanyahu bypasses the Ayatollahs - offers water tech to Iranians
Israeli Prime Minister Benjamin Netanyahu went over the heads of the Iranian regime with a message delivered via social media directly to the Iranian public on Sunday.

"Today I am going to make an unprecedented offer to Iran" Netanyahu said after pouring water from a pitcher into a glass and taking a drink in a two minute YouTube video.

"It relates to water" continued Netanyahu.

"The Iranian people are the victims of a cruel and tyrannical regime that denies them vital water. Israel stands with the people of Iran and that is why I want to save countless Iranian lives."

Netanyahu explained that Iran's meteorological organization says that nearly 96% of Iran suffers from some levels of drought and after highlighting Israel's achievements in water management, Netanyahu offers to help: "Sadly, Iran bans Israelis from visiting - so we'll have to get creative. We will launch a Farsi website with detailed plans on how Iranians can recycle their waste-water."

"We will show how Iranian farmers can save their crops and feed their families."
Today I made an unprecedented offer to Iran that can help save countless lives.

For more information:https://t.co/8DJHABqYEYhttps://t.co/PCrkkFn4vC pic.twitter.com/8mDsNWoVNR

— PM of Israel (@IsraeliPM) June 10, 2018
IDF destroyed Hamas undersea tunnel for first time in last week's airstrikes
The Israeli military last week bombed a previously unknown variety of Hamas tunnel in the Gaza Strip, one that extended into the sea and was apparently meant to be used by the terror group's elite naval forces to carry out attacks from the coast, the army revealed Sunday.

On June 3, in response to repeated rocket attacks from Gaza, the Israeli Air Force conducted a series of raids in the Palestinian enclave, striking "a military compound belonging to the naval force of the terror group Hamas in the northern Gaza Strip," the army said at the time.

On Sunday afternoon, the Israel Defense Forces revealed that the specific target of the airstrike on the compound was the naval tunnel.

The Hamas base was located approximately three kilometers (1.9 miles) from the Israeli border. The tunnel in question did not cross the border into Israeli territory, but instead extended dozens of meters underwater into the sea, according to IDF spokesperson Lt. Col. Jonathan Conricus.

The military believes the tunnel was meant to allow frogmen from Hamas's elite naval unit to travel from their base on the shore into the sea underground, and thus undetected. From there, they could travel underwater to their Israeli targets, Conricus told reporters in a phone briefing.

"We know that it was an operational tunnel that has been used, or at least trained in, before," he said.
During IDF strikes in the Gaza Strip on Sunday, June 3rd, 2018, the IDF attacked a military post belonging to Hamas' special naval forces in the northern Gaza Strip. During this strike, an offensive terror tunnel, which leads to the sea, was demolished pic.twitter.com/WKaE6btUXa

— IDF (@IDFSpokesperson) June 10, 2018
The route of this tunnel was identified as part of the ongoing campaign against the Hamas naval forces, which the IDF has conducted over the past year pic.twitter.com/1TlvqgbM2T

— IDF (@IDFSpokesperson) June 10, 2018
IAI develops ground-to-air robot system for border surveillance
Israel Aerospace Industries (IAI) has developed a new hybrid robotic system for reconnaissance and surveillance of borders that combines land and aerial capabilities.

The system allows continuous operation under "complex and challenging" conditions, without risking lives, and helps armies and governments cope with changes in modern battlefield threats, the company said on a statement.

The system's design is combines a ground robot and a small drone: the RoBattle UGV is a robotic terrain-vehicle that has advanced maneuverability capabilities. The vehicle is designed to handle missions under tough conditions and has an advanced autonomous system that lets the vehicle orient itself in the field with real-time 3D mapping and decision support systems.

The RoBattle drives autonomously between points of interest to perform a variety of objectives: observation, detection and attack. In addition, the vehicle sends real-time video on demand, and alerts to any irregularities in real time to command and control centers.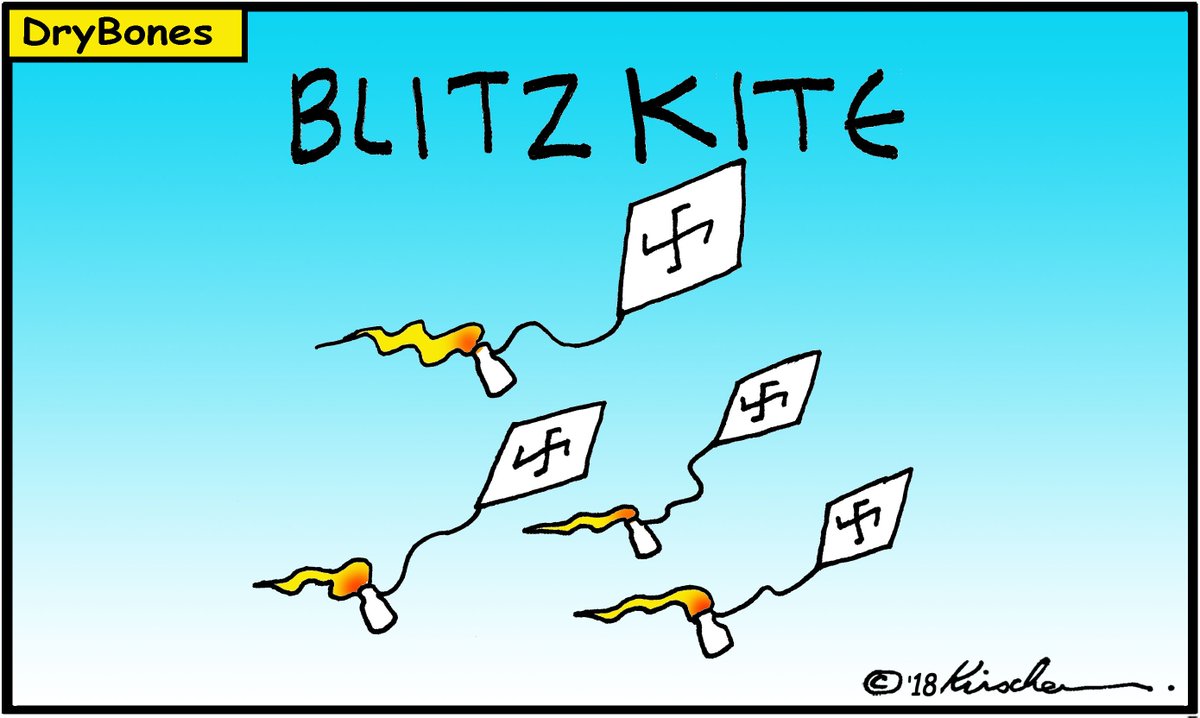 Israeli aircraft fires 'warning shot' at Gazans making incendiary balloons
An Israeli aircraft on Saturday for the first time attacked a group of three Gazans preparing a store of balloons that Palestinians have been using to send incendiary devices over the border during Gaza protests, the army said.

No injuries were reported in the strike near the northern Gaza town of Beit Hanoun. The IDF said the aircraft fired "a warning shot."

"We view the use of incendiary balloons and kites very seriously and will continue to act to prevent their use," the army said.

The report came as Palestinians continued to send flaming kites into Israel, including one that was apparently carrying an explosive device, Israel Radio reported.

The device was safely detonated by sappers and police warned the public not to approach the kites or balloons.
IsraellyCool:
Who Was Haitham Muhammad Khalil al-Jamal? Palestinians Cannot Seem to Stick to One Story
Four palestinians were reportedly killed during Friday's "March of Return" riots. According to the Gaza Health Ministry, one of them was 15-year-old Haytham Muhammad Khalil Aljamal.

But as usual, the palestinians cannot seem to keep their story straight.

Was this Haytham Muhammad Khalil Aljamal?

Or this clearly smaller kid wearing different clothing?

Who was apparently two years younger than reported elsewhere

Or perhaps one year younger

Again, I do not claim to know what happened, but the question needs to be asked: why can't the palestinians stick to one story?
Even Hamas' terrorism costs money. Guess who pays for it? pic.twitter.com/RWI8Ogm9yU

— IDF (@IDFSpokesperson) June 9, 2018
IDF spokesperson to appear before French parliamentary committee
The spokesman for the Israel Defense Forces is set to address the French Parliament for the first time in the coming weeks.

Brig. Gen. Ronen Manelis will appear before the parliament's Foreign Affairs, Defense and Armed Forces Committee in Paris to clarify the IDF's response to riots on the Israel-Gaza Strip border after lawmakers criticized Israel for its actions there in recent weeks.

Foreign Affairs Committee Deputy Chairman and French Jewish MP Meyer Habib came up with the idea of inviting Manelis to address the forum following the most recent meeting of the Foreign Affairs Committee, which was also attended by French Foreign Minister Jean-Yves Le Drian.

According to Habib, although the committee could have focused its attention on any pressing international matter, four out of the six speeches by faction spokespersons "focused solely on Gaza and the slander of Israel."
A Journalist's Wall of Lies
Advocacy journalist Sarah Helm has a nasty habit of distorting facts, embellishment and employing hyperbole to support the Palestinian narrative in her stories.
Sarah Helm

Earlier this year we called her out for using a quote falsely attributed to David Ben Gurion in The Independent. Last year we took Helm to task for an opinion piece in The Guardian that was littered with bias and blatant falsehoods.

Other examples of Helm's bias have been cataloged at UK Media Watch.

On May 13, The Independent published another piece by Helm: "Israel at 70: Why Gaza's refugees and their descendants will never forget their violent expulsion."

It included the following:

Poll shows deep divisions between Israeli and US Jews on Trump, peace, religion
An opinion poll published Sunday shows deep divisions between Israeli and American Jews, particularly in relation to US President Donald Trump, highlighting the growing rift between the world's two largest Jewish communities.

The survey by the American Jewish Committee (AJC) showed 77 percent of Israeli Jews approved of the president's handling of US-Israel relations, while only 34 percent of American Jews did. Fifty-seven percent of US Jews disapproved, while only 10 percent of Israeli Jews did.

Concerning the recognition of Jerusalem as the capital of Israel, and the relocation of the US embassy to the city, 85% of Israeli Jews support the decision, compared to just 46% of US Jews. Forty-seven percent of American Jews opposed the move, a position held by only 7% of Israelis.

Trump's decision to recognize Jerusalem as Israel's capital and move the US embassy upended decades of US foreign policy and an international consensus. The Palestinians, who claim East Jerusalem as their future capital, were outraged by the move and cut all contact with the US in response. Trump's declaration, though, said the city's boundaries would be resolved by the parties involved.
JCPA:
Low Turnout for Al-Quds Day Demonstrations in Iran
Radio Zamaneh, an Amsterdam-based Persian language station, posted a number of clips showing the low, embarrassing turnout of people who were brought to al-Quds (Jerusalem) Day demonstrations in Tehran on June 8, 2018, showing an unprecedented lack of interest in a government-sponsored demonstration.

During the demonstrations, Ali Akbar Salehi, head of the Atomic Energy Organization of Iran, went out in the street with his bodyguards to march with the demonstrators for a few minutes. However, he was ambushed by some who cursed him, accusing him of selling out his homeland, and telling him that he deserved to die.

In one link, a young cleric can be seen dressed in religious garb, wearing a turban on his head. He is carrying a sign saying: "Will the day come when we demonstrate for our homeland Iran and our nation, which is suffering, and not for others?" He shows this sign to others, and anyone who walks past him (meaning those who were forcibly dragged to the demonstration against Israel) blesses him, praises him, and justifies him.
Sidestepping standard procedure, Austrian chancellor to visit Western Wall
Austrian Chancellor Sebastian Kurz is scheduled to go to the Western Wall Sunday afternoon, the first time in recent memory that a leader of an EU country will visit the holy site, even for what is being billed only as a "private visit."

Kurz, the youthful Austrian chancellor who is in a coalition government with a far-right party anathema to Austria's Jewish community, arrived for a three-day visit early Sunday morning. He will visit the Western Wall as part of a visit to the Old City that will take him to the Austrian Hospice on the Via Dolorosa — a guest house established by the Austrian Catholic Church in 1854 — and the Church of the Holy Sepulchre.

Israeli diplomatic officials characterized the visit to the Western Wall as "important," even if it is not a formal one. They noted that while US leaders, beginning last year with US President Donald Trump, now visit the site, it is not on the itinerary for European leaders.

This is Kurz's first visit to Israel as chancellor, though he has visited three times in the past, including twice as foreign minister.

He is scheduled to meet Prime Minister Benjamin Netanyahu, whom he last met in February at a conference in Munich, on Monday. Kurz will not be going to the Palestinian Authority.
IsraellyCool:
Palestinians Reject Iftar Meals Because, Palestinians
I think this next story illustrates the palestinian proclivity to bit off their noses to spite their face.

Perhaps that why is they are "not hungry", come to think of it.
Palestinians have launched a campaign with the hashtag "We are not hungry" on the social media, calling for the boycott of Iftar or the fast-breaking meals offered by the UAE at al-Aqsa mosque in protest at the policies of some Persian Gulf Arab states.

The United Arab Emirates offers Iftar meals to the worshipers at al-Aqsa mosque annually during the Islamic holy month of Ramadan, but this year it was met with Palestinian rejection.

Palestinian activists in Jerusalem al-Quds attributed their rejection to the stance of some Gulf Arab states, including the UAE, Bahrain and Saudi Arabia, towards the Palestinian cause and their complicity with the Israeli regime, citing the participation of Bahraini and Emirati teams in the 101st Giro d'Italia cycling competition which kicked off in Israel.
PM says he secured 'broad agreement' Iran must quit Syria
Prime Minister Benjamin Netanyahu told his cabinet Sunday that his recent trip to Europe last week had resulted in "broad international agreement" that Iranian forces must withdraw from Syria.

Addressing the weekly cabinet meeting, Netanyahu said that in his meetings last week with three key world leaders – German Chancellor Angela Merkel, French President Emmanuel Macron and British Prime Minister Theresa May – he chose to focus on Iranian aggression in the region in general but first and foremost on Iran's attempts to gain a military foothold in Syria.

"These leaders agree with my main objective, which is to put together broad international consensus that Iran must withdraw from Syria – all of Syria," Netanyahu said.

"That was the purpose of the trip, and to a large extent, it was achieved," he said.

"I know that ridding Syria of Iran's presence will be a long process, but I believe that if you set a goal and you know where you're headed, you have a good chance of getting there," Netanyahu told his cabinet.
Hezbollah Leader Vows Forces Will Remain in Syria: Whole World Won't Be Able to Evict Us
Lebanon's Iran-backed terrorist group Hezbollah will remain in Syria as long as Syrian President Bashar al-Assad wants it there, the group's leader said on Friday, defying renewed US and Israeli pressure to force Tehran and its allies to quit the country.

Hezbollah has been a primary ally of Assad in the country's seven-year civil war that has killed over 500,000 people.

"I will tell you that if the whole world comes together to force us to leave Syria, they will not be able to evict us," Hezbollah leader Hassan Nasrallah said in a televised address, adding that only the Syrian leadership could ask them to leave.

Israel has repeatedly struck Hezbollah and Iranian targets in Syria, saying they must leave the country, with which it shares a border. Washington has made similar demands.
Nasrallah to Israel: Admit you've been defeated in Syria
Hezbollah leader Hassan Nasrallah stressed on Friday that the "entire world" cannot force his group to withdraw its fighters from neighboring Syria.

"The biggest part of Syria has become secure and it is clear that the hostile axis is seeking to achieve some gains," he said in a televised address marking Al-Quds Day, according to the Lebanese Naharnet website.

"Israel was betting on (Syrian) President (Bashar) Al-Assad's ouster and it saw its interest in the militants, but today the Zionists have changed their objective in Syria and are saying that the battle's objective in Syria has become to expel Iran and Hezbollah" from the country, Nasrallah added.

"You Zionists have to admit that you have been defeated in Syria and that you have failed to topple the pillar of the resistance," he said, addressing Israelis.

"I also tell the entire axis that fought in Syria to acknowledge its defeat," Nasrallah continued, according to Naharnet.

He claimed that Hezbollah went into Syria to confront "a major conspiracy targeted against Syria's people, state and entity and against the resistance axis," adding that the group does not have a "partisan project" in Syria.
Report: Tension Building Between Russia, Iran Over Demand for Iranian Army to Withdraw From Syrian Areas
A major rift has developed between Russia and Iran in Syria over the former's demand for the withdrawal of Iranian and allied forces from strategic areas of the war-torn country, a new report says.

According to the Syrian Observatory for Human Rights, "reliable sources" have revealed that Russia and Turkey have reached an agreement to push for the removal of all Iranian forces from northern Syria.

Russian Foreign Minister Sergei Lavrov has already called for a "mutual" withdrawal of "all non-Syrian forces" from southern Syria near the border with Israel, saying, "The result of this work which should continue and is continuing should be a situation when representatives of the Syrian Arab Republic's army stand at Syria's border with Israel."

According to the Observatory, Russia is also demanding the withdrawal of Iran's proxy terrorist militia Hezbollah from areas near the strategic city of Homs. Hezbollah has thus far refused to comply.

The Observatory states that these tensions have "created a crack in the ranks of regime forces' leadership and officers, splitting them between pro-Russian and others pro-Iran."
Iranian-Backed Forces In Syria Disguise Themselves As Syrians To Evade Israel
The murderous Syrian regime led by Bashar Assad, dependent on Iranian-backed forces, is disguising Iran-allied militias as Syrian fighters so that Israel won't target them, according to a commander with the rebel Salvation Army.

The Wall Street Journal spoke with that commander, Ahmad Azam, who said, "It's a camouflage. They are leaving … in their Hezbollah uniform and they are returning in regime vehicles and dressed in regular [Syrian] army uniforms."

Israel has been firm in its resolve to prevent forces loyal to Iran to entrench near its border. The Journal quoted several rebel commanders who stated that the Hezbollah members and other Iranian-backed forces pretend to withdraw, then returned to both Daraa and Quneitra provinces near Israel, dressed in Syrian military uniforms and under Syrian flags. In addition, the forces brought rockets and missiles.

Azam said many foreign fighters who were disguised were handed Syrian identification cards; another commander added that those cards were the property of men who had died in previous battles.
C-SPAN Provided Iran's Press TV With an American Platform to Defame Israel
Cable-Satellite Public Affairs Network (C-SPAN), which bills itself as an American "public service" network, offers its millions of viewers anti-Israel propaganda from Iran. It is just one example of the network's chronic journalistic malpractice regarding Jews and Israel.

In a broadcast that aired twice on May 15, 2018 and again on the following day, CSPAN aired an unfiltered, 41-minute anti-Israel broadcast by Press TV, Iran's state-funded and controlled English-language news channel. Press TV regularly reports that Jews are behind all that is wrong with the world. But the TV channel's reputation as mouthpiece for Iran's anti-Semitic Islamist leaders hasn't deterred C-SPAN from including at least 24 Press TV videos in its video library, with no mention of the Iranian government-run TV channel's pre-existing bias and lack of reliability.

The first half of the broadcast featured an interview conducted by Press TV's Ramallah correspondent, Mona Kandil, with two Palestinian men, Saeed Nimer and Salah Khawaja. Saeed Nimer is a professor of political science at Birzeit University near Ramallah, the capital of the Palestinian Authority and Salah Khawaja is alternately described as a "Palestinian human rights defender" and "activist."

Among the defamatory charges against Israel and its supporters was a false assertion by Professor Nimer as part of his analysis of the current American political scene:

To be elected as a Congress person, you have to have a bridge to Israel and to commit to Israel and to the movement of the embassy from Tel Aviv to Jerusalem …

With the deceitful suggestion that allegiance to Israel is a requirement for election to the U.S. Congress, Nimer brings to mind the classic "Protocols of the Elders of Ziyon" canard accusing Jews of global domination and control of world governments.
Second German intelligence report says anti-Israel boycott is antisemitic
A German intelligence agency announced for the second time in 30 days that the boycott, divestment, sanctions (BDS) campaign targeting the Jewish state is an example of contemporary antisemitism.

The Jerusalem Post reviewed a domestic intelligence agency published in Rhineland-Palatinate last week that stated, "An actual example of antisemitic agitation from right-wing extremism is the party The Third Way via its Internet call spreading a boycott of Israel.

"The Third Way's slogan 'Boycott Products from Israel' and the peculiar language of the article betrays significant parallels to the anti-Jewish agitation of the National Socialists," the intelligence report said.

The report quoted an article in which The Third Way declared: "Israel-Boycott: What everyone can do against the Zionist Genocide" and said in the party's writing, "The State of Israel is defamed... among other things, as a 'Zionistic abscess in the Middle East' and as a 'Zionistic robber state' whose policies are 'criminal genocide measures of the Zionists in the Middle East."'

The intelligence officials said the fascist party also termed Israel's government the "Zionist Terror-Regime" and a "devilish genocide system."
Pro-Israel Group Explores Legal Action After Valencia Declares Itself 'Free of Israeli Apartheid'
ACOM, a pro-Israel Spanish group, is exploring legal action against the city council of Valencia, Spain's third-largest city, after it passed a pro-BDS resolution.

The city council of Valencia approved a motion last week to boycott Israeli citizens and companies. The resolution calls for the city to formally adhere to the BDS movement and declare it is "free of Israeli apartheid."

The measure was promoted by the far-left Podemos political party, which recently supported the PSOE's (the Spanish socialist party) efforts to oust former Prime Minister Mariano Rajoy in a "no confidence" vote and replace him with socialist leader Pedro Sanchez.

ACOM said the motion violates the Spanish Constitution and promotes discrimination based on religion, ethnicity and national origin.

"We informed the local press of the illegality of the BDS campaign, detailing dozens of judicial cases won by ACOM in the Spanish Courts that proved the unconstitutionality of exclusionary measures," the group said. "We also engaged the support of leading figures of the local civil society and Cremades & Calvo-Sotelo, the prestigious legal firm that represents ACOM, to explain the judicial consequences of violating the common framework of coexistence and promoting discrimination."
A NJ college professor shares conspiracy theories and anti-Semitic tropes. Is that protected speech?
A sociology professor at William Paterson University of New Jersey in Wayne has been recorded on video espousing a series of anti-Semitic beliefs about Jews. They include the ideas that Ashkenazi Jews are not genetically related to the ancient Israelites; that 175,000 German Jews found safe harbor in the German army during the Holocaust; and that Judaism has degenerated from a universal religion, with roots in ancient Egypt, to a racist religion.

Benny Koval, 18, of Fair Lawn, recorded the videos. Koval, a freshman, was enrolled in Clyde Magarelli's course, Sociology 1020, "Social Problems."

It is not the first time Magarelli has stirred controversy in the classroom.

Last year, another student complained to the department head and filed a formal complaint with the school.

And in 1994, Magarelli was rebuked by his department after handing students a document that downplayed the number of deaths in Nazi concentration camps. According to the Feb. 7, 1994 issue of the Beacon, the school's newspaper, Magarelli's handout said: "In relationship to the media theme of six million concentration camp deaths … a figure of between 700,000 and 800,000 appears more realistic."

The exposure of Magarelli's comments in the classroom comes as Jewish groups have criticized Rutgers University — like William Paterson a New Jersey state university — for continuing to employ two professors who made anti-Semitic and anti-Israel remarks, as well as social media postings outside the classroom.
Guardian cartoonist Steve Bell denies rejected cartoon was antisemitic
Guardian cartoonist Steve Bell has denied his cartoon the newspaper rejected evoked "antisemitic tropes", in an email to the editor that copied in all the newspaper's journalists.

The rejected cartoon shows Theresa May sitting alongside Israeli Prime Minister Benjamin Netanyahu in Downing Street, while Palestinian medic Razan al-Najjar burns in the fireplace behind.

Ms Najjar, 21, was shot and killed by an Israeli soldier on June 4 during a protest in Gaza.

In emails sent to staff, Mr Bell said that he had been "unfairly traduced and censored" and accused Guardian editor Kath Viner of not speaking to him because she "did not really have an argument" for spiking his work.

A Guardian source told the JC Mr Bell sent two emails on Wednesday evening and Thursday morning.
Same plane, two countries, two different BBC News portrayals
On May 22nd the BBC News website published an article titled "F-35 stealth fighter sees first combat, in Israeli operation" (discussed here) in which readers were told that:
"The F-35, from the world's priciest military programme, has been criticised both for cost and combat effectiveness.

Last year, Defence Secretary James Mattis had to defend the programme after then President-elect Donald Trump tweeted criticising its huge price, said to be close to $100m (£74m) per plane. […]

The US has certainly put a lot of faith in a programme that is expected to run through to 2070 and is projected to cost $1.5tn by then.

However, it has also come in for heavy criticism and not just over the price.

An influential military blog in 2015 reported that the F-35 lacked manoeuvrability and was unable to beat an F-16 in a dogfight. It was also reported to have cockpit visibility issues.

Analysts say the emphasis on stealth capabilities may have compromised air-to-air effectiveness."

While the article does refer to the high cost of the aircraft, unlike in the May 22nd report no mention is made of doubts concerning "combat effectiveness", lack of "manoeuvrability", "cockpit visibility" or "air-to-air effectiveness".

Apparently the BBC's portrayal of the aircraft depends upon which country is buying and operating it.
Intel announces 8th-gen processors developed in Israel
At COMPUTEX Taipei 2018 this week, Intel announced the launch this fall of two new-generation processors developed in Israel: the Whiskey Lake for laptops and Amber Lake for 2-in-1 computers.

These processors will enable a double-digit performance improvement and support 1Gbps surfing. They'll be integrated into 140 models of computers, according to a statement from Intel.

Whiskey Lake and Amber Lake are part of the mobile lineup of eighth-generation Intel Core processor family and will be released in October 2018.

"With Intel's 50th anniversary next month, it's a perfect time to celebrate one of the most important technologies of Intel's legacy: the PC. As we transition to the data-centric era, the PC remains a critical facet of Intel's business, and it's an area where we believe there are still so many opportunities ahead," said Intel Corporate Vice President Gregory Bryant.

Intel established a presence in Israel in 1974 in Haifa with five employees. Today the company directly employs about 10,000 Israelis at development centers in Haifa, Yakum, Petah Tikva and Jerusalem, as well as manufacturing-related facilities in Kiryat Gat and Jerusalem. Some 60% of Intel's Israeli employees are in R&D, while half support high-volume manufacturing of microprocessors that power the world's computing devices.
Unique Byzantine-era winepresses unearthed in roofed water cistern in Tzippori
Two subterranean Byzantine period winepresses were discovered in recent excavations at Tzippori National Park. Unearthed inside a massive five-arched water cistern about 200 meters outside of town, they are the only winepresses that have been documented to date that were built inside a covered water reservoir.

Tzippori was home to a flourishing mixed pagan, Christian and Jewish community during the 4th-7th centuries CE. In the third century CE, it was the seat of Rabbi Yehuda Hanasi, aka Judah the Prince, where he began compiling the Mishnah. There is no iconography on the wine presses and, according to National Parks Authority archaeologist Dr. Zvika Tzuk, in such a heterogeneous society, it would be impossible to know who made the wine at these two presses.

However, he told The Times of Israel, based on an obscure Jewish law practiced during the Shmita year (every seventh year in the agricultural calendar when the fields are meant to "rest"), the size of the smaller wine press could be an indication that it was used by Jews of the era.

"But this is just a guess, and we cannot really know," said Tzuk.

There are other examples of roofed Byzantine-era wine presses in the country. Last year, during digs near the Ramat Negev Regional Council, a team of Israel Antiquities Authority archaeologists discovered a large Byzantine-era structure dating to the fourth century CE, inside of which was the remains of a wine press.
---
---
We have lots of ideas, but we need more resources to be even more effective. Please
donate today
to help get the message out and to help defend Israel.