From Ian:
---
Netanyahu invites Abbas to speak at Knesset in UN speech
Prime Minister Benjamin Netanyahu invited Palestinian Authority President Mahmoud Abbas to come "speak to the Israeli people at the Knesset in Jerusalem," during his speech to the United Nations General Assembly in New York on Thursday,
In return, he offered to "gladly come to speak peace with the Palestinian parliament in Ramallah."
"The road to peace runs through Jerusalem and Ramallah, not New York," Netanyahu said.
In reiterating his persistent call for direct negotiations with the Palestinians, Netanyahu rejected any possible United Nations plan to unilaterally impose a solution to the conflict.
"We will not accept any attempt by the UN to dictate terms to Israel," Netanyahu said.
"I call on President Abbas: you have a choice to make. You can continue to stoke hatred as you did today or you can finally confront hatred and work with me to establish peace between our two peoples."
Netanyahu began his UN address by slamming the international body for consistently condemning Israel, calling it "a disgrace" and "a moral farce." He also called the UN Human Rights Council a "joke" and UNESCO a "circus."
"The sooner the UN's obsession with Israel ends, the better.
The better for Israel, the better for your countries, the better for the UN itself," he said.
Prime Minister Benjamin Netanyahu Addresses the UN General Assembly, September 22, 2016 - Full
Abbas vows to submit UN Security Council resolution against Israeli settlements
The Palestinian leadership intends to present a Security Council resolution against settlements, PA President Mahmoud Abbas told the 71st meeting of the United Nations General Assembly on Thursday.
"The settlements are illegal in every aspect and any manifestation.
Therefore, we will continue to exert all efforts for a Security Council resolution on the settlements and the terror of the settlers," the Palestinian Authority president said, adding, "We hope no one will cast a veto."
The United States vetoed a resolution condemning settlements in 2011.
Abbas added that the Palestinian leadership remains committed to all signed agreements with Israel, including the Oslo Accords, but said that the onus is on Israel "to recognize the state of Palestine."
"We remain committed to the agreements reached with Israel since 1993. However, Israel must reciprocate this commitment and must act forthwith to resolve all of the final-status issues," he said.
Abbas and a number of the other Palestinian leaders have threatened to end security cooperation with Israel, a key element of the Oslo Accords, on numerous occasions over the past year.
He also accused Israel of undertaking hostile action against Islamic and Christian holy sites in Jerusalem. "Israel continues to illegally alter the identity and status of occupied east Jerusalem, and to commit aggressions and provocations against our Christian and Muslim holy sites, especially al-Aksa Mosque," he said. "The continuation of the Israeli aggressions against our Muslim and Christian holy sites is playing with fire."
Abbas official: Netanyahu's invitation to address Knesset 'bluff'
A Palestinian Authority official late Thursday dismissed an invitation extended by Prime Minister Benjamin Netanyahu to Palestinian Authority President Mahmoud Abbas to speak at the Knesset as a "bluff."
In his address at the 71st session of the United Nations General Assembly in New York on Thursday, Netanyahu also offered to speak at the PA headquarters in Ramallah to advance peace. At the same time, the prime minister delivered a scathing rebuke of the Palestinian leadership, accusing it of "poisoning the future" by inciting terror through educational and TV programs and blasting it for its refusal to recognize Israel as the Jewish state.
The prime minister insisted that peace talks should resume though direct contact, telling Abbas that he is invited to speak "to the Israeli people in the Knesset in Jerusalem" and that he "would gladly come to speak [at] the Palestinian parliament in Ramallah."
"The speech was designed to placate domestic public opinion," an unnamed Palestinian official told the Ynet news website in response. "It was a predictable speech, including the invitation to the Knesset. In an apparent rejection of the invitation, the Palestinian official termed it "bluff."
Though a perennial pessimist, Netanyahu dreams of peace in our time
If you say it often enough, eventually you start believing it yourself.
Prime Minister Benjamin Netanyahu, during his speech at the United Nations General Assembly Thursday, made plain that he truly believes that Israel is becoming increasingly popular in the world — including the Arab world — and that, therefore, a peace deal on Israel's terms is just around the corner.
In his 40-minute address, which was notably devoid of gadgets, visual aids or over-the-top rhetorical shtick, Netanyahu said Israel's hi-tech prowess and anti-terrorism know-how make it an attractive ally. More and more countries already realize that, leading them to reassess their approach to the Jewish state, he argued.
"Israel's diplomatic relations are undergoing nothing less than a revolution," he declared.
Until now, the UN has been notoriously anti-Israel, he said. "You see, everything will change and a lot sooner than you think. The change will happen in this hall, because back home, your governments are rapidly changing their attitudes towards Israel. And sooner or later, that's going to change the way you vote on Israel at the UN."
The Arab states in particular are warming up to Israel, he asserted.
Netanyahu: Level of Support for Palestinians Among Americans Is 'Flat Like EKG of Dead Person'
The level of support for the Palestinians among Americans is "flat like an EKG of a dead person" Israeli Prime Minister Benjamin Netanyahu told a Manhattan gathering on Thursday evening.
At the same time, Netanyahu said, US public support for Israel is going "up, up and up, even — and this may come as a shock to you — during my tenure."
"This is the source of this tremendous alliance — the identification of the American people with Israel," the prime minister stated.
"We have flourishing relations with many countries around the world and those relationships are based on shared interests," Netanyahu said. "With the United States, we certainly have shared interests…but it's the only alliance we have, except for maybe one or two others, that is based on shared values."
Netanyahu emphasized that there was "no alternative" to Israel's alliance with the US. "It's irreplaceable," he declared.
Netanyahu: The U.N. Is a Global 'Moral Farce'
Israeli Prime Minister Benjamin Netanyahu castigated the United Nations on Thursday in a speech to the U.N. General Assembly, calling the organization a "moral farce."
After stating that he believes Israel has a bright future with the U.N., Netanyahu gave a scathing indictment of the international institution for having a bias against the Jewish state.
"Year after year, I've stood at this very podium and slammed the U.N. for its obsessive bias against Israel and the U.N. deserved every scathing word," Netanyahu said. "For the disgrace of the General Assembly, that last year passed 20 resolutions against the democratic state of Israel and a grand total of three resolutions against all the other countries on the planet. Israel: 20, rest of the world: three."
Netanyahu then lambasted two other U.N. entities, the Human Rights Council and the Educational, Scientific, and Cultural Organization (UNESCO).
"And what about the joke called the U.N. Human Rights Council, which each year condemns Israel more than all the other countries of the world combined. As women are being systematically raped, murdered, sold into slavery across the world, which is the only country that the U.N.'s Commission on Women chose to condemn this year? Yep, you guessed it, Israel," Netanyahu said. "Israel, where women fly fighter jets, lead major corporations, head universities, preside, twice, over the Supreme Court, and have served as speaker of the Knesset and prime minister."
"And this circus continues at UNESCO. UNESCO, the U.N. body charged with preserving world heritage," he continued. "Now, this is hard to believe, but UNESCO just denied the 4,000-year connection between the Jewish people and its holiest site, the Temple Mount. That's just as absurd as denying the connection between the Great Wall of China and China."
Why Abbas Won't Accept Bibi's Offer
During his address to the United Nations General Assembly that seemed largely a challenge to the organization's legitimacy—he described its organs as s a "moral farce," a "disgrace," a "joke" and a "circus"—Israeli Prime Minister Benjamin Netanyahu slipped in a clever invitation. He asked Palestinian Authority President Mahmoud Abbas to come to Jerusalem to address the Israeli people at the Knesset. Abbas's answer to the offer so far has been silence. But since he has repeatedly rejected every past invitation for a one-on-one meeting with the Israeli in recent years—just as he has repeatedly rejected Israeli offers of peace and statehood—there is little likelihood that the answer will be different this time.
If Abbas were serious about peace, going to Jerusalem in that manner would completely change the dynamic of both the stalled peace process and Israeli public opinion about the conflict no matter what the Palestinian said in his remarks. The spectacle of Abbas at the Knesset would undermine the arguments of the majority of Israelis who agree with the prime minister that the Palestinians don't want peace. It would create what would likely be intolerable pressure on Netanyahu to give in to more of the PA's demands on territory and other issues. If the generous terms of peace previously offered by Israel were really inadequate, such a stunt is the best and perhaps the only way for the Palestinians to do better.
So rather than just toss this aside as a meaningless gesture, as Netanyahu's critics are doing, it's worth asking why Abbas won't even consider doing something that is so obviously in the interests of his people? The answer is painfully obvious. He can't do it because his objective isn't really a two-state solution that would end the conflict forever.
Going to the Knesset wouldn't just revive echoes of Anwar Sadat's dramatic 1977 gesture that led to peace between Israel and Egypt. More than anything either he or his predecessor Yasir Arafat has done, it would signal that the century-long Palestinian war on Zionism is over. Speaking there would mean that the Palestinians are acknowledging the legitimacy of the Jewish state and that the only obstacles to peace are details about borders and guarantees against future violence.
But Abbas won't do that because that isn't what he is after. As his own speech illustrated, Abbas's view of the conflict is still fatally mired in a miasma of historical grievances and religious hate. Abbas used the UN GA rostrum to demand Britain apologize for the Balfour Declaration that set in motion international recognition for the right to the Jewish homeland. Just as bad, he recycled the lies he and his official media have been circulating about Israel's intentions to harm the Temple Mount mosques that have served as the principle source of incitement to terrorism during the current "stabbing intifada."
When Did The Partition Plan of 1947 Become Impotent?
The Arabs of the former territories of the Mandate of Palestine must certainly did not do what was asked in that decision.
This was followed by the establishment of a Palestine Conciliation Commission [PCC] in December 1948 but as this article suggests, even before the PCC
Following Israel's emergence, some U.S. officials were openly prepared to jettison the Partition Resolution as obsolete. Philip Jessup, a member of the Policy Planning Staff and the deputy U.S. representative on the Security Council in the summer of 1948, was one of them. He was not the only one who believed that the Resolution was no longer applicable; that its proposal for a Palestinian state and an economic union with Israel was unlikely; and that Israel and the United States would be better served by promoting an increased role for Transjordan's King Abdullah in Palestine.
So, the position that the partition was a dead letter less than a year after it was proposed and cannot be now entered into the diplomatic discourse as, for example, that Jerusalem's fate is till undetermined since the last effective act was its declaration as an international regime, as the US maintains, is contradicted by its own diplomats at that time.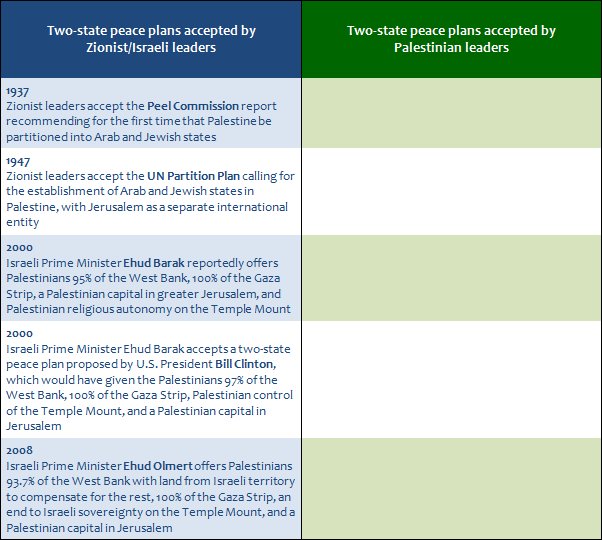 Danon rips Abbas' UN speech as 'ticking time bomb' of incitement
Israeli Ambassador to the United Nations Danny Danon blasted Palestinian Authority President Mahmoud Abbas following his address to the United Nations General Assembly Thursday, in which he accused Israel of committing "extrajudicial killings" of Arabs, and claimed "Israeli aggression against our Muslim and Christian holy sites."
Ambassador Danon condemned the Palestinian Authority leader, warning that his speech could incite young Arabs to violence against Jews.
"Abbas chose to use the UN pulpit to represent Palestinian terror. His dangerous words are sure to lead to even more terror attacks against Israel. The Palestinian youth listening to his speech today, will be the terrorists of tomorrow."
The Israeli Ambassador added that there is a direct link between Abbas's hateful words, and the increase in terror attacks in Israel.
"Abbas's words are like a ticking time-bomb," Ambassador Danon added.
Jewish Groups Condemn Rouhani's UN Speech
The Anti-Defamation League and other Jewish groups are calling on world leaders at the UN to condemn Iranian President Hassan Rouhani's speech, accusing Israel of oppressing Palestinians, and blaming "Zionist pressure groups" for causing the US to violate the nuclear deal.
Rouhani said, "The oppressed Palestinians are still afflicted by a web of apartheid policies and atrocities set by the usurping Zionist regime," referring to Israel in his address to the 71st session of the UN General Assembly on Thursday.
Rouhani also referenced the US Supreme Court's seizing of billions in Iranian assets, emphasizing that "Zionist pressure groups could go as far as having Congress pass indefensible legislations [sic] forcing the highest American judicial institution to violate peremptory norms of international law."
In a veiled threat to the US government, Rouhani warned that America's credibility will be eroded if it continues to allow Zionist groups to influence its ability to uphold Tehran's nuclear deal. And "any failure on the part of the United States in implementing it would constitute an international wrongful act and would be objected to by the international community."
World Jewish Congress president Ronald S. Lauder said that Rouhani's remarks are just as "inflammatory and inciting today as [those made by] former President Mahmoud Ahmadinejad."
JPost Editorial:
The US and Jerusalem
Though there is a nearly wall-to-wall consensus within Israel that in any conceivable two-state arrangement, Jewish neighborhoods built after June 1967 will remain part of the Jewish state, in the international community – even in America, Israel's closest and most important ally – no distinction is made between Jerusalem and settlements in Judea and Samaria. Any and all territories that were not under Israeli control prior to the war instigated by Egypt are considered to be occupied territories. Building there is seen as a provocation and an obstacle to peace.
For instance, in July, the US State Department, the EU and the UN criticized Israel for building in areas of Jerusalem that are not recognized as Israeli by the international community. State Department spokesman John Kirby said at the time that the US remains "troubled that Israel continues this pattern of provocative and counterproductive action, which raises serious questions about Israel's ultimate commitment to a peaceful, negotiated settlement with the Palestinians."
The prime minister was right to be concerned about news reports of projects in Gilo and Ramot that coincided with his meeting with Obama. From a diplomatic point of view he was right to have these meetings postponed.
Netanyahu undoubtedly recalls how back in March 2010, when Obama was just 14 months into his presidency, reports of building in the capital's Ramat Shlomo neighborhood generated a major diplomatic crisis.
NYC Leaders Call on Hamas to Free Israeli Hostages, Release Soldiers' Bodies
Leading political and communal leaders in New York City called on the Palestinian terrorist organization Hamas on Monday to release the two Israeli hostages it is holding captive, as well as the bodies of two Israeli soldiers killed in the Gaza Strip two years ago.
At a Manhattan press conference organized by the Jewish Community Relations Council of New York (JCRC-NY), the politicians and communal leaders called on Hamas to free Israeli citizens Avera Mengistu and Hisham al-Sayed, both of whom suffer from mental illnesses and inadvertently crossed into Gaza. They also demanded the release of the bodies of Israeli soldiers Oron Shaul and Hadar Goldin, who were killed two years during Operation Protective Edge.
Mengistu, an Israeli citizen of Ethiopian descent, climbed the border fence with Gaza in September 2014, while al-Sayed crossed into the territory in April 2015 and was accused of spying for Israel. Both men have been held without access to medical personnel or contact with their families.
Oron Shaul was critically wounded along with six other Israeli soldiers on July 20, 2014, when a Hamas anti-tank missile hit the personnel carrier he was riding in. Hamas fighters then brought his body back to Gaza. Hadar Goldin was killed along with two other soldiers in southern Gaza, where they were ambushed during a ceasefire on August 1, 2014. His body was seized by Hamas and smuggled through a terror tunnel.
Reservists blast government funding of group with BDS ties
Anti-BDS group Reservists On Duty says Israel is funding organizations supportive of the boycott, divestment, and sanctions movement. Israel has described the anti-Israel movement as an expression of modern anti-Semitism.
Despite designating a number of government offices to counter the BDS movement, Israel's Authority for National-Civic Service, which is funded by the Agriculture Ministry, has allocated funds for two national service volunteers to work with Physicians for Human Rights. The founder and president of the organization, Dr. Ruchama Marton, participated in Israeli Apartheid Week, a program whose stated aim is to build support for BDS, and that has been criticized by some as anti-Semitic.
At an Israeli Apartheid Week in London in February of 2008, Marton gave a lecture on unrecognized Bedouin villages in Israel's Negev area. The villages were built without official permission and therefore remain ineligible for municipal services.
Reservists On Duty has demanded that Agriculture Minister Uri Ariel intervene in the matter.
The Beersheba municipality has also allowed Physicians for Human Rights to serve as one of the sponsors of a course it will offer to promote equality and justice in health in Israel's south. Some at the municipality oppose the move to include Physicians for Human Rights out of concern that it will politicize the course.
Israel Plans Prison Hospital for Terrorists, to Separate Them From Their Victims
Israel's Ministry of Public Security and the Israel Prison Service announced on Thursday a plan to transform part of the Ayalon prison into a hospital especially for terrorists, as a way to separate attackers from their victims, Israel Hayom reported.
Public Security Minister Gilad Erdan said he was shocked that "the Israel Prison Service has no means of treating an inmate who goes on a hunger strike or a terrorist [detained after an attack]. This creates a situation where a terrorist lies on a bed next to the person he wounded; this immoral situation does not make sense and must be addressed."
The plan, yet to be finalized, includes 70 beds spread over three floors of the facility. Erdan emphasized that the quality of care will be the same standard as regular hospitals.
The prison hospital will also help authorities counteract prisoners, who try to receive early parole by going on hunger strikes.
Turks Tweet Their Jew-hatred, Following an Attempted Stabbing at the Israeli Embassy in Turkey
On September 21, an attempted stabbing took place at the Israeli Embassy in Ankara, Turkey, when a Muslim man armed with a knife tried to attack before being shot in the leg by a local police officer. According to the Israeli Foreign Ministry, none of the Israelis at the embassy were involved or hurt in the incident.
Turkish police at the scene told Reuters the assailant shouted "Allahu Akbar" outside before he was shot.
The Turkish news site, Avlaremoz, which covers Jewish-related affairs, reported that many Turks rushed to Twitter to proudly and openly show off their Jew-hatred.
Here are some examples of what users wrote:
"We want to hear gunshots not outside, but inside of the Israeli Embassy."
"Has anyone been croaked? This is what we want to learn."
"[It will] Get even worse, the Israeli embassy."
"A prostitute was asked: 'Do you have children?' The prostitute responded: 'All of the population of Israel is my children.'"
"Suicide bombers always target innocent people. Just enter that Israeli embassy and explode it! What the hell is a knife?"
"They call the man who says 'I did this to stop the bloodshed in the Middle East' an 'attacker'. He is the hero of the day. I think he is rational."
"It is not 'the Israeli embassy.' It is the home of murderous Zionism. The attacker has done a good job!!"
14-Year-Old Terrorist Neutralized by Israeli Security Forces After Attempted Stabbing Attack
A 14-year-old terrorist was neutralized by Israeli security forces Friday afternoon after attempting to carry out a stabbing attack at the Elias junction in Kiryat Arba. The terrorist, who was left in serious condition, tried to sneak up on the security force stationed in the area and produced a knife.
The terrorist was evacuated to Shaare Zedek Medical Center in Jerusalem in serious condition after being shot in the leg and the chest.
Elias Junction—the entrance to Kiryat Arba—became a flashpoint of terror attacks during Israel's wave of terror between 2015 and mid-2016. Only last Friday a vehicular attack attempt also took place, when two terrorists—a man and a woman—tried to run over three Israeli teenagers near Kiryat Arba. The man was shot to death and the woman was severely injured during the incident, while the three boys were slightly wounded. The female terrorist's sister had reportedy tried in the past to carry out her own vehicular terrorist attack near Kiryat Arba.
The attack was the fourth to have taken place in just one day, among them an attempted stabbing by a Jordanian national at the Damascus Gate in Jerusalem's Old City.
Earlier in the day last Friday, a soldier was lightly wounded in a stabbing attack at the Gilbert Checkpoint in Hebron before the terrorist was neutralized by security forces. The incident marked the first act of terrorism at the Gilbert Checkpoint since Sgt. Elor Azaria shot and killed an already the neutralized terrorist Abed al Fatah a-Sharif. The attacks continued into Saturday, with an IDF soldier being stabbed by a terrorist before shooting him.
Dozens of Palestinians rounded up in two days of raids
The army and police arrested close to 50 Palestinians on Tuesday and Wednesday night in raids across the West Bank and East Jerusalem, many of them for rock throwing or taking part in violent demonstrations, officials said.
The Israel Police and Israel Defense Forces have stepped up arrest raids, as the West Bank and Jerusalem saw a sharp uptick in attacks and attempted attacks on Israeli security forces by Palestinians over the past week.
Over the course of two nights, police picked up 23 people in the Issawiya neighborhood of East Jerusalem and in the Shuafat refugee camp on charges ranging from taking part in a riot and throwing rocks to drug possession, police said.
In the West Bank, IDF soldiers arrested 11 suspects on Tuesday night and early Wednesday morning. The following night, Israeli forces picked up another 12 Palestinians, the army said.
3 Palestinians said hurt by IDF fire in riots on Gaza border
Riots broke out along the border fence in northern and central Gaza on Friday, with IDF soldiers driving back the participants using both non-lethal dispersal means and live fire against "instigators," the army said.
Sources in the Gaza Strip said three Palestinians were wounded in the clashes.
The television station run by the Hamas terror group, which controls Gaza, said that two of the wounded were in serious condition, Israel Radio reported.
"Several violent riots took place in the northern and central Gaza Strip. In order to prevent the threat of infiltration, forces responded with riot-dispersal means," the army said.
"In one of the riots, three instigators breached the buffer zone" — an area surrounding the border where Palestinians are not allowed to enter — "and in order to prevent their further advance, the forces shot towards them," an IDF spokesperson said.
As of Friday evening, one of the riots was still taking place, while the other had been dispersed, according to the IDF.
PreOccupiedTerritory:
UN Demands Israelites Supply Anti-Arrow Defenses To Philistines (satire)
The United Nations High Commissioner for Refugees weighed in on the Israel-Philistine conflict today with objections to the fact that the Israelites have developed protective measures against enemy arrows but refuse to share those devices or methods with their foes.
In a rare public address today, Filippo Grandi demanded that the Israelites provide their technology to the Philistines, who lack a similar ability to shield themselves from incoming missiles. The high commissioner had harsh words for the Israelites, who have long resisted Philistine efforts to plunder and harass Israelite settlers along the coastal plain and into the Judean Hills. Israelite policy has sparked criticism from the international community.
"It's a question of basic humanity," railed Grandi, who normally busies himself with the more technical aspects of overseeing the UN's main agency for refugees. "I felt compelled to address this injustice, and therefore must speak out. All people of conscience should be moved by the plight of the Philistines, whose chariot corps have no means to counter Israelite arrows and stones."
Grandi suggested the Philistines lodge a protest with the United Nations Human Rights Council, which might be convinced to open a commission of inquiry into the Israelite behavior and refer the results to the International Criminal Court if sufficient evidence is found for war crimes. "I have every reason to believe such a protest would be looked upon favorably by the Council," he predicted.
Obama's Chemical Nightmare
Barack Obama was right. Though, in this case, he almost certainly wishes he weren't.
In what historians may come to regard as the most pivotal speech of Obama's presidency, on the evening of September 10, 2013, the president addressed a nervous and war-weary nation during prime time. In that speech, he explained to the American people why the United States must use military force to punish Bashar al-Assad for deploying chemical weapons in his nation's civil war.
"If we fail to act," Obama warned, "the Assad regime will see no reason to stop using chemical weapons. As the ban against these weapons erodes, other tyrants will have no reason to think twice about acquiring poison gas and using them. Over time, our troops would again face the prospect of chemical warfare on the battlefield. And it could be easier for terrorist organizations to obtain these weapons, and to use them to attack civilians."
This week, the Pentagon revealed that Iraqi soldiers and U.S. troops were believed to have come under chemical attack by ISIS. No U.S. troops were injured in the shelling attack on an Iraqi airbase, nor did anyone display symptoms associated with poisoning by mustard gas—the agent one test concluded was present on a recovered shell. What's more, sources that spoke with reporters suggested that the chemical agent was of poor quality and may have been manufactured by ISIS rather than confiscated from Assad's stockpiles.
This attack on the coalition forces advancing on occupied Mosul should come as no surprise to anyone who has monitored events in the ongoing war against the terrorist caliphate in the Middle East. Over a year ago, Kurdish militants were believed to have come under chemical attack by ISIS insurgents inside Syria. That attack, which utilized chlorine and mustard gas, yielded a series of horrific images evocative of the horrors that characterized trench warfare in the fields of Europe at the start of the last century. What that attack did not produce, however, was any sense of revulsion in the West over the terrible new normal ushered in by Obama's failure to act in 2013.
The Real Syrian 'Moment of Truth'
Secretary of State John Kerry told the UN Security Council on Wednesday that "a moment of truth" had arrived in the efforts to enforce a ceasefire in Syria. He was addressing the fact that his Russian partners, on whom he and President Obama had placed so much trust and responsibility, were actively flouting the halt to fighting. The Russians and their client, the Assad regime, clearly have no intention of halting a war that they are winning. So Kerry is left making melodramatic pronouncements that no one can take seriously.
Kerry's figure of speech was a reminder that, in fact, this moment of truth had already come and gone long ago for the administration with respect to Syria. It happened during the secret negotiations with Iran over its nuclear program when it became apparent to Tehran there was no concession Obama wouldn't make to secure an agreement. It can be fairly said that everything that has happened in the region, both with respect to Washington's effort to appease Iran and the Syrian catastrophe, has flowed from that moment.
The conceit of the administration's policy was a belief that a rapprochement with Iran would end the nuclear threat and help beat back the rise of Islamists in Iraq and Syria. But an essential part of the effort involved America making its peace with the survival of Bashar Assad's barbarous government in Damascus, whose ouster the president had repeatedly demanded. The retreat from that position—and the punting of responsibility for enforcing Obama's empty threat about his crossing a "red line" with the use of chemical weapons to Russia—was part of a process during which the U.S. lost all leverage over Iran. The result was not only a weak agreement that will expire in a decade but also a Syrian civil war that morphed into the greatest human rights disaster of the 21st century.
That is why Kerry is left to vainly cry for cease-fires that do no good as the Russians and the Assad forces stop or bomb humanitarian convoys heading to areas not under their control.
US Congress denounces 'ransom' payments to Iran in new bill
The United States House of Representatives passed a bill on Thursday to ban cash payments to Iran, which The Washington Post called "a rebuke of the Obama administration's decision to send Tehran what Republicans charge was a 'ransom' on the same day American prisoners were released."
The vote passed 254 to 163, almost directly along party lines, according to the Post. The bill bars the United States from paying Iran "cash of any kind" and specifies that the US will not pay to "ransom or release prisoners." Further, the bill demands that the US administration justify any payments to Iran, prove that they are not ransom payments, and give Congress 30 days' advance notice before finalizing transactions between Iran and the US.
The administration has already mentioned vetoing the measure, the Post reported.
Iran released four American prisoners in January, concurrent with a transfer of $400 million from the US to Tehran. Although US officials claimed the funds were an initial payment of a settlement over a disputed arms deal, many have theorized it was ransom for the prisoners.
Senate Hearing Reveals Obama Didn't Ask Military Officials Before Transferring $400 Million Cash to Iran
One might think President Barack Obama would have asked his top military officials to weigh in on his administration's decision in January to send $400 million in cash to Iran. After all, Iran is the world's leading state sponsor of terrorism, and terrorists prefer cash to wire payments because it's so difficult to track. And its armed forces have both directly and indirectly threatened the U.S. military in the Middle East.
But Obama and Secretary of State John Kerry did not consult Secretary of Defense Ash Carter or the Chairman of the Joint Chiefs of Staff, General Joseph Dunford.
This news came out of a hearing Thursday before the Senate Armed Services Committee. In response to a question from Republican Senator Ted Cruz about the cash payment to Iran, Carter made it clear that he had been out of the loop.
"We weren't involved in this," Carter said, adding that it was part of the settlement of a decades-long legal dispute between Iran and the U.S. over arms sales. "I don't know all the details of it, and the chairman and I were not involved in that. It is a decision that was taken by the law enforcement and diplomatic and I would refer you there."
When Dunford was asked about the cash payments, he responded: "I am not trying to be evasive but I don't know the details of that arrangement and it really was a political decision that was made to provide that money and I don't think it's appropriate that I comment on that."
Emmys Snub For ISIS Film Producer Left off In Memoriam Reel (satire)
The 2016 Emmy Awards paid homage to the many stars who died this past year with its "In Memoriam" tribute on Sunday, September 18. However, the Academy of Television Arts & Sciences failed to include several creative powerhouses who passed away in the reel, angering people around the world.
Fans of ISIS propaganda video mega-producer Wa'il Adil Hasan Salman al-Fayad, killed by coalition forces near Raqqa earlier this month, were particularly irate at his exclusion. Al-Fayad oversaw ISIS's production of terror videos showcasing torture and executions, and was best known for such cinematic masterpieces as 'Infidel Burned Alive In Cage and 'Gays Thrown From Roof' as well as the hugely influential viral video 'Beheadings! Beheadings! Beheadings!'
One young Jihadi working as a production assistant on their next blockbuster (working title: 'Ten Things I Hate About Jews') explained to The Mideast Beast why he felt the Emmy's had made a huge mistake in not honoring al-Fayad: "This guy, he was such a mentor to me, and frankly to so many young people trying to get into the infidel-snuff-film genre. He was a perfectionist. Sometimes, we'd do the setup for a shot of a captured journalist about to be hacked to death but if he didn't feel the performance was 'honest' he'd make us do it again and again. He would always personally check to make sure there wasn't any extra sand or arterial blood in the camera lens, and he would measure everyone's beard length for continuity. In this era of CGI dominance, it was truly an honor to work with a traditional, hands-on filmmaker who really respected the craft."
ISIS Father-Daughter Workout as Toddler Plays with a Gun!
---
---
We have lots of ideas, but we need more resources to be even more effective. Please
donate today
to help get the message out and to help defend Israel.