From Ian:
---
The cowardice of politically correct anti-Semitism
Nazis and racists used to spearhead Jewish hatred, based on ancient crackpot defamations that date back to the Jewish Diaspora into Europe after the Roman destruction of Judea.
But lately, anti-Semitism has become more a left-wing pathology. It is driven by the cheap multicultural trashing of the West. Jewish people here and abroad have become convenient targets for those angry with supposedly undeserved Western success and privilege.
Aside from the old envy, and racial and religious hatred, I think cowardice explains the new selective anti-Semitism. Mr. West would not dare slander radical Muslims, given the violence and threats against European cartoonists and filmmakers who have dared to create work perceived as insulting to Islam. The American Studies Association would not call for a boycott of Russia despite its endemic persecution of homosexuals. After all, Russian President Vladimir Putin is as unpredictable as Israeli politicians are forbearing. (h/t Bob Knot)
The Economist: How the Jews control Congress
Peter Schrank's cartoon, which accompanies an article on negotiations with Iran in this week's Economist, depicts President Obama with his ankle shackled to the Judaised seal of the US Congress, thereby prevented from shaking hands with Iran's President Rouhani, who is being restrained by his nefarious-looking, US-flag-burning compatriots.
The message is that either American Jews or Israel (and it is unclear which, because the Star of David is both a Jewish and Israeli symbol) are holding the United States back from making peace with Iran – and moreover, that they are doing so through their control of the machinery of the American government, since the Star of David is incorporated into the official insignia of the US, alongside the stars and stripes. The Israel Lobby, as the cartoon rather nefariously hints, is not a separate influence on the US government – it is a constituent part of it. (h/t Bob Knot)
Chloe Valdary:
The Soldier and the Refusenik: A case study in psychopathic self abhorrence
This is not 1939. The Jewish People Live. No amount of preaching of anti-Semitic propaganda on college campuses will ever be effective, so long as we in the Zionist community fight back. No amount of lies and hatred spewed out of the mouths of cowards and traitors to their own people will ever keep us silent. We, my friends and I, we protested last week. We held up signs that said "False" and "Inaccurate" every time the lecturers said something incorrect. We shouted out, we booed, we asked questions, we were defiant. And we will keep being defiant and you should too. If you ever find out anything like this is happening in your community, speak up, take action, fight back; we must never be made to go down the dark road of pogroms and anti-Jewish laws again, not here, not elsewhere, not ever. But it can start with a pamphlet. It can start with a book. It can start with an anti-Israel organization or a lecture on a college campus in New Orleans, Louisiana. So stand up and be counted. Zion, rise up.
Simon Wiesenthal Center Welcomes U.S. Support for Exhibit Pulled by UNESCO
The exhibit, two years in the making, was a joint project of UNESCO and the SWC to show the 3,500 year relationship of the Jewish people to the Holy Land. It was cancelled because of a last minute protest by the 22-nation Arab Group at UNESCO.
"The exhibition was already positioned in the UNESCO exhibit hall, and invitations were mailed out, when it was cancelled because the Arab Group claimed it would interfere with Secretary of State Kerry's Middle East mission," the SWC said, in a statement. "The fact that Ambassador Power issued her statement shows that the United States feels that the exhibition in no way interferes with Secretary Kerry's mission."
Ileana Ros-Lehtinen:
UNESCO support a bad investment for US taxpayers
Just so we are clear: UNESCO opted to revoke the United States' and Israel's voting privileges for not paying dues, but allowed the brutal dictator Assad and the Syrian regime to remain on its human rights committee – even as the death toll in Syria surpasses 130,000.
Abbas and the Palestinian Authority continue to refuse to recognize Israel as the Jewish State of Israel and is deafeningly silent when it comes time to denounce acts of terror. I am concerned that if we even partially fund UNESCO, we are tacitly agreeing with the UN scheme to undermine the peace process by granting de facto recognition to a Palestinian state without it first coming to an agreement with Israel to resolve the conflict.
A vote to circumvent the existing laws that prohibit U.S. funding to UNESCO not only would set us on a slippery slope and embolden an already intransigent Abu Mazen and Palestinian Authority, but it would also be the impetus for other entities at the U.N. to recognize Palestine and undermine the entire peace process.
Del Singh: Friend of Islamic terrorists of Gaza - killed by Islamic terrorists in Kabul
Del Singh - the prospective Labour MEP was one of 21 people killed in the horrific Taliban terrorist attack in Kabul. Many of the news items about him mentioned his 'humanitarian work' in Gaza which included such helpful activities as running the Hamas organised Gaza marathon. The picture here is from the Palestine Mission UK tribute to him.
As you can see from this message by Graham Morris MP, Singh was a leading member of the Palestine Solidarity Campaign (an organisation that has no interest at all in the welfare of Palestinians but seeks ONLY the destruction of Israel) and also served on the Executive of Labour Friends of Palestine. IsraellyCool recently exposed Graham Morris as a supporter of the "there's no room for Israel or Jews in Palestine" point of view (and here Elder of Ziyon reports Morris saying the Israeli flag is 'Nazi'). This appears to have been the worldview of his friend Del Singh, whose death nevertheless is a terrible tragedy.
Supporter of Muslim Terrorists in Israel Blown Away by Taliban in Afghanistan
Maybe he wasn't wearing his Gaza marathon t-shirt? Or maybe terrorists don't bother to distinguish between the various NGO diners at a restaurant during their killing sprees.
Del Singh did his best for Muslim terrorists in Israel. Not only did he associate with Labour Friends of Palestine, but he was also a former member of the International Solidarity Movement, better known as I Support Murderers, for their history of involvement in terrorism.
Richard Millett:
Families of Rachel Corrie and Tom Hurndall continue their war on Israel.
Yesterday, I was at SOAS in London for the Not Afraid To Look exhibition, which is based on the photos and quotes of Tom Hurndall, aged 22 when he died from his injuries after being shot by an Israeli soldier in Gaza, and Rachel Corrie.
Both were "trained by" the International Solidarity Movement. ISM, the exhibition states, "provided support through non-violent action against arbitrary house demolitions and land theft by the occupying Israeli forces".
Sadly, Rachel and Tom's memories were commemorated by racist, childish songs sung from Edinburgh calling for Israel to be boycotted.
U. Penn students stand up for Israel
Because we focus so much on the Boycott, Divest, Sanction movement on campuses, it's easy to get the impression that such anti-Israeli students are the majority.
They are not. They are just the loud mouths, who scream, call people names, and built idiotic mock walls and checkpoints — for which they never include mock suicide bombers or shrapnel backpack bombs for context.
While it is true that anti-Israel sentiment has grown among some sectors of the student body, students remain mostly pro-Israel or — like students tend to be — apathetic.
A case in point to debunk the myth would be The University of Pennsylvania, which has seen some of the worst of the anti-Israel BDS movement, as detailed in my post in February 2012, Anti-Israel sickness on display at U. Penn:
Hillel's role in fighting BDS on campus
Such boycott-resolutions are not only a clear violation of academic freedom but also part of a global campaign to undermine the moral and political foundations of the State of Israel. The BDS movement openly asserts its opposition to the existence of a Jewish State.
BDS activists have long relied on academic organizations and platforms to promote their cause. The college campus has become a hotbed for anti-Israel activity and while there are examples of students speaking out against student organized anti-Israel and BDS activities, in the classroom, it becomes more difficult. When a professor uses his classroom to espouse lies and hatred against Israel, many students do not speak up for fear of grade retribution.
Big BDS failure in Norway
In spite of hyped up boycott campaigns, with a few high profile "wins" with a very limited if any effect at all, Norway continues to import Israeli goods. Year on year, there is a solid growth. If I were a BDS fund raiser, I would have a long and hard look at whats going wrong in Norway. A typical egg on face situation.
For the Card-carrying BDS-hole
"I instruct the medical authorities , in case I fall ill ensure that no technical equipment is used in treatment which was wholly or partly developed in Israel."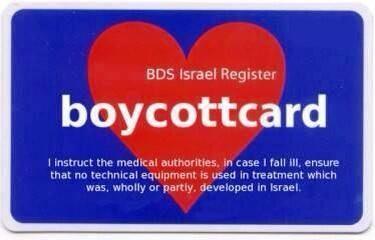 ADL's Foxman critiques hate crimes reporting systems in EU, US
Foxman, who came to Israel for prime minister Ariel Sharon's funeral, lambasted hate-crime-data collection efforts on both sides of the Atlantic in an interview by The Jerusalem Post last Thursday.
"There is no serious monitoring by continental entities," Foxman asserted. "We [the Jewish community] take the poll, we do the measuring and they're not doing their job, they're not monitoring."
Anelka set to face FA charge and possible five-match ban for anti-Semitic 'quenelle' gesture
The FA consulted an academic described as an expert in French politics, anti-Semitism and in the context of the gesture to seek clarification about the quenelle, which resembles an inverted Nazi salute, because they feared a charge would involve 'complex legal arguments' if they did not have a robust independent view on Anelka's use of it.
West Brom and manager Pepe Mel have already come under pressure from sponsors Zoopla, the property website part owned by Jewish businessman Alex Chesterman.
Top 12 agri-tech companies from Israel
The week before, the second annual Agrivest event in Israel showcased the up-and-coming Israeli agriculture technologies for multinational food and seed companies to follow. ISRAEL21c was there, too.
To help bring the world up to speed on agri-tech advances from Israel, we've spoken with the who's who in the field and curated a list of the top 12 companies from Israel.
Nanotech in the Negev: Israeli scientists see big opportunity in tiny tech
Ben-Gurion University's Dr. Yuval Golan sees nanotechnology bringing big advances to IT, medicine, materials science, and more.
A nanometer is one-billionth of a meter, about the length of ten hydrogen atoms placed in a row. Or, as Dr. Yuval Golan described it in a recent talk at the Illinois Science and Technology Park, a nanoparticle is roughly one-millionth the size of ant. TechRepublic spoke with Dr. Golan about the exciting world of nanotechnology, as well as the tech hub in Beer-Sheva, Israel that he and his fellow professors are helping to build.
Welcoming Harper
Pundits have attempted to tie Harper's staunchly pro-Israel stand to his strong Christian faith. However, if that were the case we would expect Harper to take a conservative position on issues such as abortion and homosexuality. But he has done next to nothing on these issues and has actually prevented other lawmakers from doing anything as well.
Nor can Harper said to be gaining significantly at home from his outspoken support for the Jewish state. True, more than half of about 375,000 Canadian Jewish voters voted for Harper's Tories in the 2011 elections, a historic departure from their traditional base in the Liberal Party. Still, those familiar with Canadian politics estimate that Harper probably lost more votes than he gained for his views on Israel.
Rather, Harper's position on Israel seems to be the result of sound reason and personal conviction combined with the courage to speak his mind. Harper has rightly called Israel a "light of freedom and democracy in what is otherwise a region of darkness." He has recognized the values shared by Canada and Israel with emphasis on freedom of expression and democracy.
Netanyahu welcomes PM of 'non-hypocritical' Canada
Harper, accompanied by his wife Laureen and a substantial delegation of leaders from the Canadian government, including several senior ministers, arrived in Israel on Sunday night for his first official visit since taking office in 2006.
"This world is often cynical and hypocritical, and you have shown great moral leadership," Netanyahu said. "When it comes to fighting terrorism, you know that there cannot be any politically correct double talk, but only unequivocal condemnation and united international action."
Building support for Israel the Canadian way
As Canadian Prime Minister Stephen Harper arrives for his first official visit to Israel, he will be rightly celebrated as the leader of Israel's staunchest national ally. On multiple occasions, Canada has demonstrated an exceptional willingness to avoid moral equivalency, to distinguish between what Churchill famously referred to as the "firemen and the arsonists".
In international forums like the UN, the G-8 and La Francophonie, in domestic decisions related to funding of NGOs that oppose Israel's right to exist – under Prime Minister Harper's leadership, Canada's Government has consistently and meaningfully demonstrated its support for Israel's right to affirm its Jewish identity and to ensure the safety of its citizens.