From Ian:
---
My journey from BDS activist to Israel educator
Back home, when I would get into discussions on the issue, I would get incredibly frustrated at the total ignorance and misunderstandings some people displayed. Ignorance that at times would amount to casual Anti-Semitism, simply because people were fed with dogmatic and emotively charged narratives about Israel and the issues surrounding it. This proved to be incredibly frustrating.

What was particularly saddening was being labelled as a "traitor" or a "sell out" whenever I attempted to offer an account of the experience of the Jewish people and the Israeli narrative.

Despite being someone that opposed many aspects of the contemporary Israeli governments, I was still berated for attempting to humanise another side to this issue, a side which entailed another people's suffering, displacement and persecution.

With this, I slowly began to realise that the most toxic elements of this conflict – the absolute segregation of two peoples, incitement and hatred of the other – had leaked into the contemporary discourse and conversations about Israel and Palestine.

Just like in Israel and Palestine, I saw how some people were so entrenched in their hatred for one side that it became impossible for them to fathom a humanised perspective of the other.

I saw the Emerson fellowship as a big opportunity to achieve what I had been seeking to achieve for a long time – education. Education about the issues that mattered to me and many others, on a platform where I would have opportunities to engage with a variety of people from differing backgrounds and discuss the most complex and difficult issues.
Official With Anti-Israel U.N. Group to Help Train BDS Activists in D.C.
An official with a United Nations body supported by Democratic presidential candidate Joe Biden is scheduled to speak next week in Washington, D.C., before a group of Israel boycott supporters, fueling questions about the organization's continued promotion of anti-Israel causes.

Laila Mokhiber, communications director for the U.N. Relief and Works Agency's (UNRWA) U.S. office, is slated to appear Monday at an event sponsored by one of the foremost promoters of the Boycott, Sanctions, and Divestment (BDS) movement, which wages economic warfare on Israel.

The UNRWA official's participation in the event is generating concerns about the U.N. agency, which saw its funding cut by the Trump administration as a result of anti-Israel controversies. Her attendance is evidence the group has made no effort to reform. In stark contrast to the Trump administration's policy, Biden in May vowed to restore more than $350 million to the group if elected. Biden maintains the aid is necessary to boost the Palestinian government and entice it into serious negotiations with Israel on peace.

The conference is billed by organizers as "an in-depth course on legislative advocacy" in the United States that seeks to train activists to lobby Congress on issues such as BDS and other anti-Israel priorities. The host, American Muslims for Palestine (AMP), is a leading BDS group that was formed by alleged Hamas supporters and former leaders of the Holy Land Foundation, a charity shuttered by the FBI in 2001 for acting as a fundraising front for the terrorist group Hamas. Five officials from the Holy Land Foundation were indicted by a federal grand jury for providing material support to Hamas.

UNRWA's Mokhiber is currently scheduled to speak on a panel at the event focusing on the various issues activists should bring up in meetings with lawmakers on Capitol Hill. Mokhiber did not respond to a Washington Free Beacon request for comment on her relationship with AMP and the BDS movement.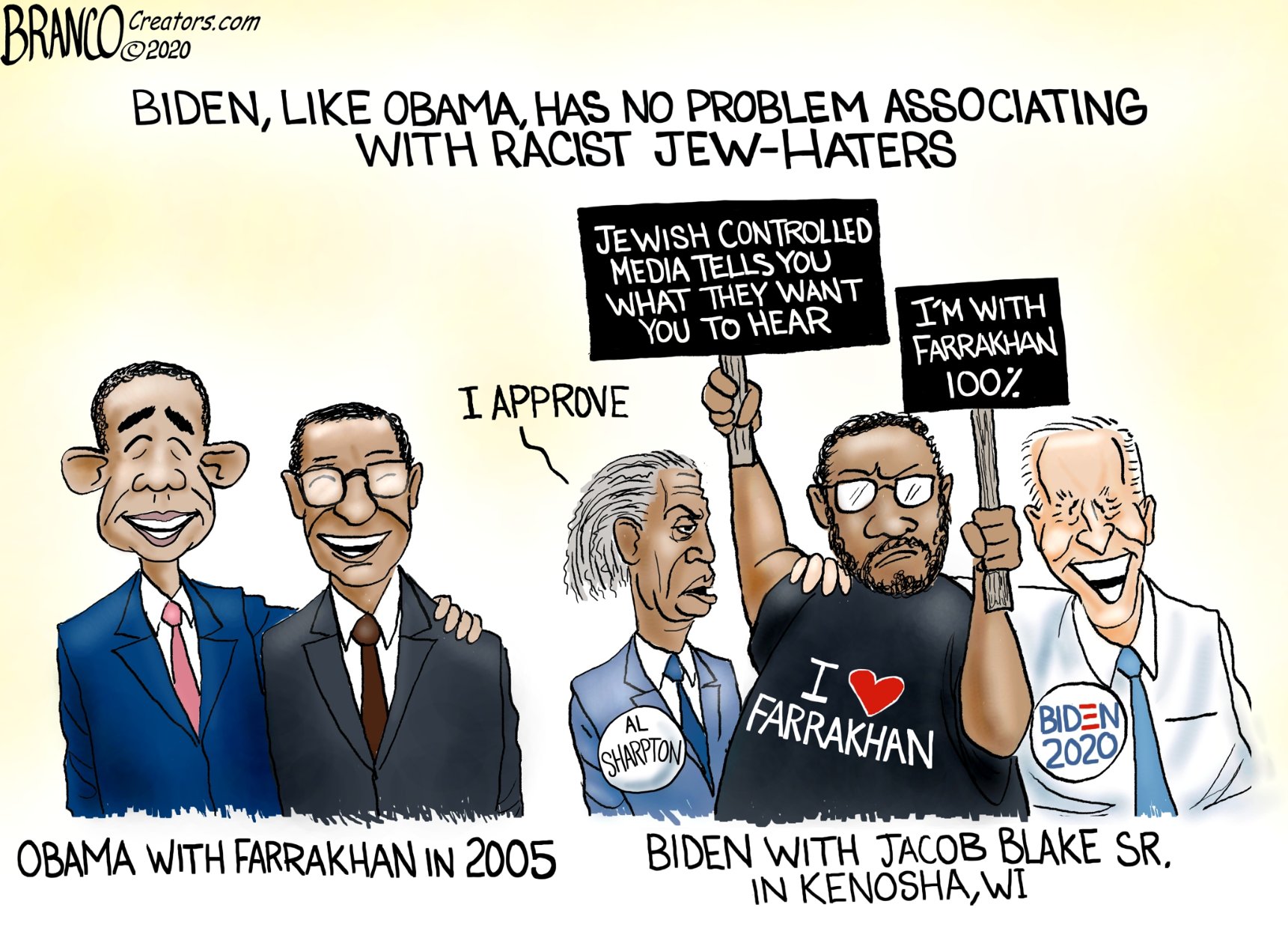 The Times:
How Britain's Jewish Troops Rescued Holocaust Survivors Trying to Reach Palestine
The People on the Beach, by Rosie Whitehouse, describes how Jewish soldiers in the British Army were instrumental in helping more than 1,000 Jews escape from postwar Europe on a ship that got through a Royal Navy blockade of Palestine. The British army's Jewish Brigade, formed in 1944, included thousands of Jewish volunteers from Palestine, mainland Europe and Britain. The unit wore a Star of David as its insignia and was stationed in northern Italy at the end of the war.

The book, published this week, charts how brigade members crossed into Austria, Germany and eastern Europe, against orders, and took survivors in army trucks to displaced-persons camps in Italy. Their actions went directly against British policy seeking to prevent mass migration of Jews to Palestine. "They drove all the way to Lodz in Poland, turned up in the courtyard of the children's home and loaded the kids into the British army trucks to drive them over the border," said Whitehouse.

Akiva Kohane, a survivor of Auschwitz who was 15 at the time, remembered: "I will never forget when they came in with their truck. They had a Star of David marked on the truck. I got a shock when I looked inside the driver's cabin as there were two Tommy guns with the Star of David on them."
Virus cases are snowballing but hospitalizations aren't, reassuring some doctors
Israel's rising number of coronavirus cases isn't causing the expected level of increase in hospitalizations, giving reassurance to those who fear a healthcare system collapse, according to some leading doctors.

In September, the number of active confirmed cases jumped from 20,699 to 31,263. But the number of hospitalized patients at any given time has only risen from 878 to 926. The number of seriously ill COVID-19 patients at any one time has increased from 438 to 478. One of the reasons those numbers are keeping steady has been the daily deaths of seriously ill patients, but these too have remained similar to the previous month so far, at around 12-15 per day.

Some hospital chiefs have reportedly given stark warnings to the government.

In a Zoom conference call on Wednesday with Health Minister Yuli Edelstein, the government's coronavirus czar Prof. Ronni Gamzu and other officials, hospital directors said their crews were "collapsing" under the strain of rising numbers of sick, according to quotes from the closed meeting reported by Channel 12.

But some senior doctors suggest this kind of talk is political posturing designed to force the government to take the needs of the health system seriously.

"The discussion about the situation in hospitals is plagued by politics and interests," Dr. Yoram Maaravi of Hadassah Medical Center told The Times of Israel.

He said hospitalization levels bode well. "Generally, we would expect more people to be hospitalized because you have more spread of the virus, but you don't see a big rise," he commented.
Top EU jurist says countries should not be allowed to ban ritual slaughter
The advocate general of the Court of Justice of the European Union advised the court to prohibit governments from banning kosher and halal ritual slaughter.

The advice on Thursday by Gerard Hogan is "an important development that could spell the end of attempts to ban shechitah in the entire European Union," Hans Knoop, a spokesperson for the Forum of Jewish Organizations in Belgium, told the Jewish Telegraphic Agency, using the Hebrew word for ritual slaughter.

Shechitah involves slashing the animal's throat with a very sharp knife, and the Muslim variant, dbiha, preclude stunning the animal before the slaughter.

Animal welfare activists find this cruel. Opponents of Muslim immigration and of Jewish presence in Europe also protest ritual slaughter, sometimes citing animal welfare arguments.

A similar debate is taking place in Europe and beyond about the nonmedical circumcision of boys.

The Luxembourg-based court "should find that member states are not permitted to adopt rules" […] for a prohibition of the slaughter of animals without stunning," Hogan said.

Hogan was responding to a lawsuit last year by several Jewish groups from Belgium in the aftermath of two of the three autonomous states that make up the federal kingdom of Belgium banned slaughter without stunning.
Honest Reporting:
How Antisemitic 9/11 Conspiracy Theories are Weaponized on Social Media
Confronting Antisemitic 9/11 Conspiracy Theories
Eliminating antisemitic and anti-Zionist conspiracy theories from social media platforms is a tall order, one that requires tech giants develop and introduce tools that can immediately identify hate speech.

But before being defeated, antisemitism in all its forms must be clearly defined.

Recently, an open letter sent by a coalition of over 100 organizations, including HonestReporting, urged Facebook's board of directors to adopt a policy based on the widely accepted working definition of antisemitism – formulated by the International Holocaust Remembrance Alliance.

In response, Facebook announced that the company was updating its hate speech guidelines that will now, for example, ban posts containing stereotypes about Jews controlling the world.

This is an important first step that should put social media companies in a better position to flag and remove whatever antisemetic conspiracy theory is conjured up next.

And as George Orwell famously conveyed, "In a time of deceit telling the truth is a revolutionary act."
MEMRI:
Conspiracy Article In Qatari Daily: Perpetrators Of 9/11 Were Trained In U.S. Military Centers
On September 7, 2020, the Qatari daily Al-Sharq published an article by the country's former ambassador in Tunisia, Ahmad Al-Qadidi, who was also an advisor to Qatar's former prime minister, Hamad bin Jassim, in which he claimed that the perpetrators of the September 11, 2001 attacks had been trained in U.S. military centers and were controlled remotely by supernatural means. The claims in Al-Qadidi's article are taken from a 2005 article in the Executive Intelligence Review magazine, a publication founded by Lyndon Larouche.

It should also be mentioned that many media reports have been published regarding Qatar's long-standing ties with terror organizations and leaders, including Al-Qaeda commanders such as Khalid Sheikh Mohammed (KSM), the mastermind of the 9/11 attacks. KSM sheltered in Qatar for a time, and, according to the 9/11 Commission Report, Qatar also helped him avoid arrest. After an indictment against him was obtained from a U.S. court in January 1996, "an official in the government of Qatar" warned him about it and he successfully "evaded capture (and stayed at large to play a central part in the 9/11 attacks)."[1]

The following are excerpts from Al-Qadidi's article:[2]
"Some of the readers may respond to the information [presented] below by saying that the [September 11, 2001] terror attack in New York is old news and belongs to the past, for the world has changed and developed in the 20 years that have passed since that terrible day and Osama bin Laden has been eliminated, and people have already forgotten those events. People obviously have a right [to say this], but I am an expert on contemporary history, and on September 11, 2001 I was at the Al-Jazeera studios, [on air] from the morning. For hours I commented on that grave incident that would transform international relations and open the door for invading Iraq, destroying Afghanistan and bringing foreign forces into the Middle East! I publish [here] information that was written by an American investigative journalist whom I met at conferences of the international Schiller Institute. I quote it not in order to claim that it is true but in order to examine it, for the effects of that terrible day are still with us and the Arabs still suffer its consequences, which will persist for decades.

"The investigative [article] published by Jeffrey Steinberg in the American Executive Intelligence Review magazine sparked much controversy in Western diplomatic and intelligence circles, and I will present the readers with some of its conclusions…

"According to the writer Jon Ronson, the Pentagon established a unit called First Earth Battalion. Asking who was the most prominent member of that unit, [Ronson] was told that it was Bert Rodriguez, whose friend, Stuart Heller, described him as having 'high-level spiritual and metaphysical powers' and said that he could move people remotely, without touching them, and make them do his bidding…
The 'Woke' Indifference to Jew Hatred
Twitter itself plays a significant role in promoting anti-Semitism.

Despite thousands of complaints, Twitter left most of the rapper's (Wiley's) tweets up for six days and only decided to ban him for life after a 48-hour boycott of the platform by thousands of British users, including Home Secretary Priti Patel.

Twitter has even tried to claim that the genocidal variety of Jew hatred, the kind at which Iran's leaders excel, does not violate its rules.

It appears that the self-righteous outrage of the wokerati is absent when the person at the receiving end of racism is a Jew.
Weeks ago we shared Justice Democratic candidate Marie Newman's problematic platform on Israel, which states that Palestinian citizens of Israel cannot vote.

She subsequently blocked our account, so we know she saw it, and as of this morning her platform remains unchanged: pic.twitter.com/yA32jru0IQ

— The Conspiracy Libel (@ConspiracyLibel) September 10, 2020
A window into global internecine Islamist mafia fueds on our soil:@AliAbunimah is a #Hamas supporter come pro-Assad/Russia/Khomeinist agitpropagandist who here is upset with @EmgageAction the #MB legacy Islamists who toe the MB/Qatar/Turkey line. Got it? https://t.co/DfQbklbCi4

— M. Zuhdi Jasser زهدي جاسر (@DrZuhdiJasser) September 9, 2020
Exposed: lies of the Corbynites' leaked dossier
The central pillar of the internal Labour Party report that seeks to restore Jeremy Corbyn's tarnished reputation over the antisemitism crisis is that neither he nor his office interfered in disciplinary cases out of respect for the independence of party officials tasked to deal with them — and that it was the incompetence and hostility of these self-same officials that was to blame.

The report was intended to show the Equalities Commission how robustly the Corbyn leadership had tried to tackle antisemitism in the face of a right-wing Blairite bureaucracy.

Instead the party's lawyers advised that submitting the report would backfire. Officials loyal to Corbyn then leaked it.

For the Corbynites, the report has become their holy grail, the cup of truth from which history should drink.

However, new documentary and witness testimony gathered by the Jewish Chronicle has found that the report's 851 pages are wreathed in omissions which undermine their preferred narrative.
Antisemitic ideas on Israel 'rise' among Labour voters
An academic study has shown that while the proportion of very antisemitic Labour voters has fallen from a peak in 2018, a belief in 'new' antisemitic ideas about Israel appears be on the rise among supporters of the party.

The study by Daniel Allington, a senior lecturer at the Department of Digital Humanities at King's College London, is one of three peer-reviewed reports on the Corbyn years published by the Journal of Contemporary Antisemitism.

Dr Allington's report takes a statistical look at antisemitism using data collected by the Campaign Against Antisemitism. The CAA has been commissioning representative surveys of classic antisemitic attitudes for six years, using the same standard questions for the last five.

The study found that from 2016, belief in classic antisemitic tropes stayed mostly flat among Conservative voters, declined among Liberal Democrat voters, and rose dramatically among Labour voters, reaching a peak in 2018.

Today, the proportion of very antisemitic Labour voters has fallen, but remains higher than in 2016 — while belief in 'new' antisemitic ideas about Israel appears to be on the rise.

The proportion of Labour voters agreeing with four or more antisemitic statements about Israel and its supporters rose from 11 per cent in 2019 to 16 per cent in 2020.

More detailed analysis will be published by the CAA in the next few weeks.
Two Haringey Labour councillors suspended by Party in relation to antisemitism in the latest of antisemitism scandals at the local authority
It is understood that two Labour councillors in Haringey have been suspended by the Party in connection with antisemitism, which represents just the latest in a string of antisemitism scandals at the local authority over the past few years.

The first suspended councillor, Cllr Preston Tabois, was reported by Guido Fawkes to have appeared to endorse the despicable notion that Jews murdered each other in the Holocaust in some masterplan to create the State of Israel, and other antisemitic conspiracy theories. Cllr Tabois was also slated to be a Labour candidate for the London Assembly.

The Labour Party reportedly said: "The Labour Party takes all complaints of antisemitism extremely seriously and they are fully investigated in line with our rules and procedures, and any appropriate disciplinary action is taken."

The other suspended councillor is Cllr Noah Tucker, who was exposed earlier this year as having told Tottenham's Constituency Labour Party to drop a "zero-tolerance" clause from an antisemitism motion that it was debating. Cllr Tucker is reported to have suggested that Israel was somehow to blame for the racist killing of George Floyd, which is a popular antisemitic conspiracy theory, and he has also defended the disgraced then-Labour MP Chris Williamson.

Cllr Tucker reportedly said: "I am an opponent of racism in all its forms including antisemitism. Social media posts have been collated, including selective editing, seemingly in a malicious attempt to falsely associate me with antisemitism. States and organisations which engage politically are legitimately subjects of discussion and criticism. I am confident that a fair process by the Labour Party will reinstate me soon to full membership."

Another local councillor, Gideon Bull, was previously exposed by Campaign Against Antisemitism as having referred to a Jewish Labour councillor as "Shylock" and consequently withdrew as the Party's prospective parliamentary candidate in Clacton in the 2019 General Election. It is understood that Cllr Bull is intending to seek the Haringey mayoralty.
Board of Deputies renews calls for Welsh Assembly candidate to step down
The Board of Deputies of British Jews have renewed its calls for the Welsh independence party Plaid Cymru to drop a candidate who has been repeatedly accused of antisemitic conduct, calling the case a "test of Plaid Cymru's resolve on anti-racism."

Senior vice president of the board Sheila Gewolb, vice president Amanda Bowman and South Wales Jewish Representative Council chairman Laurence Kahn met this week with the leader of Plaid Cymru, Adam Price MS (Member of the Senedd, Wales's national assembly) to discuss the ongoing case of Sahar Al-Faifi.

The prominent party activist, who has appeared in party political broadcasts for Plaid Cymru, was suspended in November for posting a series of antisemitic tweets and Facebook posts, but was reinstated after she apologized.

At the time of her suspension, she had posted a statement to Twitter saying that she deeply regretted the posts, "as they crossed the boundary of criticism of Israel into antisemitism." She claimed to have deleted the tweets in 2014, and to have undertaking antisemitism training with the Board of Deputies as well as with Jewish colleagues.

However, the board refuted her statement, pointing out that a 2012 Facebook post regarding Hamas leaders giving a victory salute had been altered to say they were greeted by "cheering crowds," an alteration the board said did "little to change the fact that this post is promoting 'a mighty victory' for a proscribed terrorist group."

Similarly, a 2017 post linking the London Bridge attacks to "pro-Zionists" was left on the site. The attack was carried out by ISIS supporters, and left eight dead. Commenting on the post, the board said it was "utterly baseless, and is clearly an antisemitic conspiracy theory."
Israel Needs an Anti-Propaganda Agency
In October 2015, Israel's political-security cabinet charged the Ministry of Strategic Affairs and Public Diplomacy with the responsibility to fight the many delegitimization and boycott campaigns that have been set up against the State of Israel. This was an upgrading of the Israeli government's battle against hate campaigns.

Any strategist knows that one has first to define the main issues at stake and then prioritize them. Studies have revealed that many adult citizens of EU countries believe that "Israel intends to exterminate the Palestinians" or, alternatively, that "Israel behaves like the Nazis." One can extrapolate from a 2011 study by the University of Bielefeld that approximately 150 million out of the 400 million pre-Brexit adults in the EU hold such views.

It would thus have been logical for the Israeli government — i.e., the Ministry of Strategic Affairs — to have approached European governments on this issue. It should have asked them to investigate how these extreme antisemitic perceptions developed and how they can be reduced. This should have been an absolute priority. No such initiative was ever reported, so it does not seem to have occurred.

Another major priority for the Ministry should have been to make clear to the world that antisemitism has been an integral part of Western culture from time immemorial and remains so today. That reality continues to find expression in many ways, both in the West and at supranational organizations. Even the Israeli public does not seem to fully grasp this fact.
Anti-Israel NYU: The Gaza of Greenwich Village
New York University is no longer content to be the second most important anti-Zionist campus in New York City. Columbia University, with its Center for Palestine Studies, has first place locked up. But lately my alma mater has accelerated its anti-Israel activism in an apparent attempt to out-Palestine Columbia, albeit with a cast of lesser-known BDS ideologues.

Columbia has earned the appellation "Ramallah on the Hudson," but NYU is working overtime to become the Gaza of Greenwich Village.

At the core of NYU's transformation is the Hagop Kevorkian Center for Near Eastern Studies, the central hub connecting over a dozen other departments, initiatives, projects, centers, and clubs that demonize Israel and rationalize Palestinian and Iranian atrocities.

Among the Kevorkian associates are the Middle Eastern and Islamic Studies Department, the Social and Cultural Analysis Department, the Skirball Center for the Performing Arts (and its "Practitioners in Residence" associates), the Iranian Studies Initiative, the NYU Abu Dhabi Institute, NYU's chapters of Students for Justice in Palestine (SJP) and the Jewish Voice for Peace (JVP), NYC Solidarity with Palestine, NYU Out of Occupied Palestine, and Israel Apartheid Week. Another associate, the Steinhardt School of Culture, Education, and Human Development, employs noted anti-Israel activist Helga Tawil-Souri and Hamas/Hezbollah apologist Arun Kundnani.

Each ally contributes its own special approach promoting Palestinianism and denigrating Israel, applying its own field-specific veneer of scholarship and just the right jargon to seduce young minds.

Three individuals stand out from the crowd of Palestinophiles at NYU responsible for this metamorphosis: Zachary Lockman, Andrew Ross, and Ali Mirsepassi.
SFSU President: University Condemns Glorification of Terrorism, but Supports 'Academic Freedom'
San Francisco State University (SFSU) President Lynn Mahoney issued a statement on Sept. 5 addressing the upcoming Zoom webinar with Popular Front for the Liberation of Palestine (PFLP) member Leila Khaled.

The Sept. 23 webinar, which is being hosted by the Arab and Muslim Ethnicities Diaspora (AMED) at SFSU, will feature Khaled as well as Acting Director of the Institute for Women's Studies at Birzeit University in the West Bank Rula Abu Dahou, South African politician Ronnie Kasrils, former Black Liberation Army member Sekou Odinga and Jewish Voice for Peace member Laura Whitehorn. SFSU AMED professor Rabab Abdulhadi, who said Zionists were white nationalists in a 2019 UCLA guest lecture, and SFSU Women's Studies professor Tomomi Kinukawa will moderate the panel. Jewish groups have called for the university to condemn Khaled.

Mahoney said in her statement, "SF State and I strongly condemn anti-Semitism, Islamophobia, anti-Blackness, racism, and other hateful ideologies that marginalize people based on their identities, origins or beliefs. Let me say equally emphatically that we support the right of our faculty to academic freedom and to conducting their teaching and scholarship without censorship. And I say this while also condemning the glorification and use of terrorism and violence, particularly against unarmed civilians."

She touted SFSU as "one of the most diverse campuses in the US" and reiterated the university's commitment to an inclusive environment on campus.
This is Malachi Moshe Rosenfeld. He was murdered by #PFLP terrorists in a drive-by shooting attack near Shilo in 2015. He was 26.

This month, @SFSU is hosting well-known PFLP terrorist Leila Khaled. SFSU must explicitly condemn Leila Khaled and the PFLP. pic.twitter.com/wMhBjz0nHV

— StandWithUs (@StandWithUs) September 10, 2020
Powerful words from ?@JoshWashIBSI? thank you for your support to #EndJewHatred at @USC pic.twitter.com/ujb8Zufelz

— BrookeGoldstein (@GoldsteinBrooke) September 8, 2020
Jennifer is 17. Next year she will be attending university.

She has some powerful words for Rick Caruso, President of the Board of Trustees at @USC.

Mr. Caruso, you can learn a lot from this girl! #EndJewHatred #antisemitism pic.twitter.com/yq6dLvdxGD

— Club Z (@ClubZTeens) September 9, 2020
These Human Rights Groups Have Been Silent On Disney Working With China Despite Human Rights Abuses
Human rights groups have largely stayed silent on Disney's collaboration with Communist China despite China's laundry list of human rights abuses.

In the credits of Disney's newly released "Mulan," Disney thanked the Turpan Municipal Bureau of Public Safety, a Chinese agency allegedly responsible for running internment camps that detain Muslim minority groups, according to the BBC.

Disney also filmed "Mulan" in Xinjiang, China, where the Chinese government has reportedly imprisoned Uighurs. (RELATED: 'Disney Is Complicit': Pro-Life Groups Condemn Disney For Working With China After Boycotting Georgia Over Heartbeat Bill)

The Daily Caller News Foundation reached out to multiple human rights groups regarding Disney's collaboration with China, including Human Rights Watch, the Office of the United Nations High Commissioner for Human Rights, the World Health Organization, Anti-Slavery International, Civil Rights Defenders, the American Civil Liberties Union, and several more.

None of these groups addressed Disney's collaboration with China, though the Chinese government is committing "demographic genocide" against Uighur Muslims through forced abortions, birth control, mass detentions, and imprisonment, a June investigation by the Associated Press reported.
SJWs Flummoxed By NGO With No Position On Israel (Satire)
Progressives voiced confusion tinged with shock and outrage today upon discovering that an advocacy group focused on pedestrian safety has never put forth a statement condemning Israel's treatment of Palestinians, and in fact appears to have made no pronouncement at all on Israel or the Palestinians in the association's entire eight-year existence.

Safety First Street, a not-for-profit association that lobbies and petitions Nassau County, Long Island officials to install and maintain traffic signals, has issued not a single statement, press release, or other materials decrying Israel, focusing instead on preventing a recurrence of the hit-and-run that killed an eight-year-old at the intersection of Westminster Avenue and First Street in Garden City in 2011. The complete lack of such a statement has perplexed numerous social justice warriors, whose field of endeavor features the unwritten rule that all advocacy causes must link and subordinate themselves to fighting for Palestinian rights.

"It took me some time to notice it," confessed Ali Abunimah, who runs the anti-Israel propaganda site Electronic Intifada. "I've taken for granted all this time that any NGO serious about its mission hitches itself to the Palestinian cause, or, more accurately, allows the Palestinian cause to be hitched to it. This is like a slap in the face, though, almost as shocking as the normalization between Israel and the United Arab Emirates."
Senior BBC Producer Caught Sharing Anti-Israel Smears on Twitter
Following Garthwaite's admission, the JC delved into her Twitter feed and found a litany of dishonest and antagonistic claims, such as the false assertion that Gaza's "one" border is controlled by Israel. (The Palestinian coastal enclave also shares a land border with Egypt.)

It turns out that the 40 year-old journalist and author "shared several other false or controversial claims about Israel on social media," wrote the JC's Lee Harpin. This included an online post slamming alleged "British duplicity" regarding the Balfour Declaration.

Garthwaite's Twitter account also contained a retweet of an article glorifying violent teen activist Ahed Tamimi as an "icon for Palestinian resistance."

It remains to be seen how the BBC will respond to the revelation that one if its senior employees responsible for the production of a politically sensitive program has shared anti-Israel content on social media.

While a BBC spokesman told the JC that Garthwaite had deleted the post of the series of maps when "she realized it was inaccurate," it is difficult to believe that an individual with years of experience and charged with the responsibility of overseeing a major project could be quite so ignorant as to not realize the blatantly obvious misrepresentations and inaccuracies in the set of maps.

Then again, this is the BBC, an organization that has spent a fortune burying a damning report commissioned in response to allegations that the publicly-funded British media corporation maintains an anti-Israel bias.
Outrageous!! MCB pressures BBC to openly admit the Manchester bomber was praying before the attack on British kids at a concert. - https://t.co/T6gBohH7sI… https://t.co/lCC1LnCOlR

— Eye On Antisemitism (@AntisemitismEye) September 9, 2020
So like...@instagram really needs to do some soul searching pic.twitter.com/Jpji5OlLSz

— Arielle Calvo (@ArielleCalvo) September 9, 2020
US State Department Planning Expanded Campaign Using 'All Legal and Policy Tools' to Combat 'Antisemitic' BDS Movement Against Israel
The United States government is planning to significantly ramp up its efforts to combat the boycott, divestment and sanctions (BDS) campaign against Israel, The Algemeiner has learned.

The initiative, led by the Office of the Special Envoy to Monitor and Combat Anti-Semitism, will include a "diplomatic campaign," "all available legal and policy tools" and the involvement of other government agencies, including the Commerce Department.

Spearheading the project is Deputy Special Envoy David Peyman, who joined the office in May after overseeing economic sanctions enactment at the State Department.

In an exclusive interview with The Algemeiner, Peyman described the new campaign to oppose BDS as an "intentional, strategic objective," and promised a "whole-of-government approach" to implementing anti-BDS policy.

"I'm actively focused, laser-focused on this issue, and we're pursuing it relentlessly," said Peyman. The goal, he added, was "to tackle it, to fight it, to kill it."

US opposition to efforts to boycott Israel and other allies is not, in itself, new. In 2015, for instance, then-President Barack Obama signed into law a bill that conditioned any free trade agreement with the European Union on its rejection of BDS.
Petition against honoring former SS officer gains over 4,300 signatures
A petition to remove a legacy from a New Zealand skiing field honoring a former SS officer has received more than 4,300 signatures.

Willi Huber died in August at the age of 98 in New Zealand, the country where he made his home in the 1950s following the war. A native of Austria, he volunteered to serve in the Waffen-SS at age 17, rising to become a decorated officer.

In his new life in New Zealand, he helped found the Mt. Hutt ski area in Canterbury, spending a winter living alone in a hut he built at 2,000 meters (6,560 feet) while he mapped out ski runs and the route for an access road before installing the infrastructure, online magazine Stuff reported. A lasting legacy remains to him in the form of a plaque and a ski run named after him.

However, Huber is a controversial figure in New Zealand, as he appeared during his lifetime to be unrepentant for his role in the war.
German Police Investigate Elite College Fraternity Over Alleged Antisemitic Assault on Jewish Student
A student fraternity party at Germany's oldest university was the occasion for an antisemitic verbal and physical assault on a Jewish guest, German state prosecutors alleged on Tuesday.

The announcement followed a complaint filed with the police by the victim, a 25-year-old Jewish student.

The student said that when his Jewish ancestry came up during the party hosted by the Burschenschaft Normannia fraternity at Germany's elite Heidelberg University on Aug. 29, he was regaled with antisemitic insults, and several guests pelted him with coins and whipped him on his legs and back using belts.

Police and prosecutors were now trying to ascertain whether the incident had underlying antisemitic motives or was part of a fraternity ritual known as "belting," German broadcaster DW reported.

"We are taking this case very seriously and have devoted a lot of personnel to finding out what happened since first hearing about it," Christopher Weselek of the Mannheim Police Department told DW.

Authorities said police secured a large amount of evidence from the fraternity house after the event.
Antisemitic vandals target Daniel Andrews
VICTORIAN Premier Daniel Andrews was targeted with "appalling" antisemitic graffiti daubed on a Melbourne road on Tuesday morning.

The vandalism reads "Stop Dan Andrews" with a Magen David replacing the "a" in Dan, and a swastika instead of the "s" in Andrews.

It was spotted by Australian Financial Review columnist James Thomson, who tweeted, "Disgusted to see this on a road in Donvale in Melbourne's east this morning.

"Appreciate feelings are running high about the lockdown, but this vile garbage is plain wrong."

The sentiment was echoed by Executive Council of Australian Jewry co-CEO Alex Ryvchin, who lamented, "This is absolutely appalling. When segments of society descend into conspiratorial thinking the evil of antisemitism always surfaces."

The Australia/Israel & Jewish Affairs Council said it was a "sad reminder of how the COVID-19 pandemic has unleashed dangerous antisemitism including conspiracy theories which must be condemned."

Anti-Defamation Commission chairman Dvir Abramovich warned COVID-19 was fuelling "antisemitic and hateful conspiracy theories blaming the Jews for the pandemic".
Austrian government triples security funding for local Jewish community
The Austrian government and the country's Jewish community have signed an agreement that would see federal funds to secure Jewish institutions increase threefold, Chancellor Sebastian Kurz announced on Thursday.

"The last weeks have shown that we have to act together to protect Jewish life in Austria even more determinedly," Kurz wrote on his Twitter profile. "That's why we as a state will support the Jewish community with its increased security costs."

According to the agreement, which will be anchored in legislation, the Austrian government will pay €4 million (NIS 16 million, $4.7 million) to the Jewish community every year.

"With this historic step the Austrian government is manifesting Jewish life as a natural and inseparable part of Austria," Oskar Deutsch, the head of Austria's Jewish community, wrote in a letter sent to community members.

The community has reached a "historic agreement with the federal government of Austria to safeguard and foster Jewish life in the long term," he said.
Israel-South Korea Free-Trade Agreement in Final Stages
Israel and South Korea are in the final stages of reaching a free-trade agreement in the next few weeks.

Israel's business daily Globes reported on Tuesday that talks between Jerusalem and Seoul have been ongoing for a few years but had been delayed for political reasons, are now bearing fruit. This, the report said, is partly due to the recent Abraham Accord between Israel and the United Arab Emirates, "which rendered the agreement acceptable from the point of view of South Korea's trade relations with the Arab world."

An Israeli Foreign Ministry spokesperson told Globes that "the free-trade agreement with South Korea is in the final stages of drafting, and we hope that within a few weeks it will be possible to sign it. Advanced talks on a free-trade area are also taking place with China and Vietnam."

According to the report, one of the key sectors to benefit from the agreement will be Israeli car importers, as the deal would remove the 7 percent duty on vehicles from South Korea and those produced by manufacturers in Europe that use many components made in South Korea.
First-ever Israeli Art Lending Library launched at Northeastern University
With student trips to Israel and in-campus courses being limited due to the coronavirus, the first-ever Israeli Art Lending Library (IALL) was launched at Northeastern University.

The result of a partnership between the university, it's Hillel, the nonprofit Returning the Sparks and Israel's Consulate-General to New England, this innovative new initiative will allow students to bring a piece of Israeli art to their dorms for a year. This is the first such art lending library dedicated to showcasing Israeli artists, with the goal of educating more students about Israel.

"Although Zoom events can do a lot, they can't replace live events and tactile experiences," Northeastern University Hillel executive director Gilad Skolnick said in a statement.

"There's a reason why we are willing to spend so much to go to Broadway or Fenway Park, when it's free and so much easier to see much of the same on TV. Tangible events and things resonate in a different way. We're wired for experience. The genius of this art lending library is that it brings a tangible piece of Israel – something personal and uplifting that the student selects – directly to them for daily enjoyment."

"I listened this spring as foundations shared concerns that short-term immersive Israel trips for college students stood to be compromised for the Fall of 2020, without a clear alternative, due to the need for COVID-19 social distancing," explained Arinne Braverman, executive director of Returning the Sparks, a nonprofit that helps connect Jews with Judaism and Israel.

Braverman, who spearheaded the initiative, added that, "I figured if we couldn't bring students on short trips to Israel, and we couldn't educate through in-person events, we'd bring a piece of Israel home to students and have the process itself be educational, while incorporating their personal preferences. It would be great to see other campuses launch Israel art lending libraries as well."
Aliyah to Israel on the Rise, Despite COVID-19 and Bureaucracy Bottlenecks
Israel is seeing a spike in aliyah (immigration to Israel) this year, with a higher number of people interested in moving to the Jewish state compared to previous years. But with COVID-19 wreaking havoc across the world, it has become more difficult to get through the process and once in the Jewish state, whole families are required to sequester in a hotel for two weeks. Welcome to aliyah in 2020!

According to Yael Katsman, vice president of public relations and communications at Nefesh B'Nefesh, a non-profit organization that promotes and facilitates aliyah to Israel, "aliyah is continuing, and we are seeing a massive spike in interest in the number of applications."

Katsman noted that compared to previous years, this August there was a more than 200 percent increase in applications. The top three states from which people seek to make aliyah are New York, California and New Jersey.

"We've had almost 1,000 people coming in this summer," she told JNS.

"Israel's gates are open to olim [new immigrants]. It's just a question of getting the paperwork in order," she added.

And herein lies the problem.

The global coronavirus pandemic has wreaked havoc on bureaucratic systems since offices are shut and workers are staying home. This means that the process to make aliyah, which requires no shortage of paperwork, signatures and stamps, has essentially slowed to a crawl.

Coupled with that 200 percent increase in applications, and potential immigrants are looking at a major system backup.
Gov't okays immigration of 2,000 Falash Mura from Ethiopia by end of 2020
The government approved on Wednesday night the immigration of 2,000 Falash Mura to Israel by the end of the year.

The NIS 180 million plan was announced as part of the new government budget, which aside from the Falash Mura budget, approved special grants for the disabled population, an aid program to integrate members of the Ethiopian community in Israel, dozens of new educational programs in state and religious education, a security budget increase, a program for the empowerment and development of the Druze and Circassian populations, development and strengthening of settlement building operations in Judea and Samaria, aid budgets for student villages throughout the country, animal-rights programs and more.

Finance Minister Israel Katz backed the decision, and the situation of those waiting in Addis Ababa and Gondar was worsening due to the coronavirus crisis in Ethiopia, Aliyah and Integration Minister Pnina Tamano-Shata said.

Preparations will now begin to bring to Israel before the end of 2020 those members of the community whose immigration is approved.

"It has been 100 days since I became aliyah and integration minister, and I am committed to all those who are waiting in Ethiopia and to shut the [communal] compounds," Tamano-Shata said.
Portuguese Jewish community donates money to Israeli food rescue org
The Jewish community of Porto, the second largest city in Portugal, has donated €15,000 (NIS 60,000) to Leket Israel, the country's largest food rescue organization in wake the the coronavirus outbreak.

The donation was given on Wednesday by Dias Ben Zion, president of the Jewish community in Porto, to Leket CEO Gidi Kroch.

Unlike other food banks, Leket Israel focuses on rescuing surplus food and delivering it straight to those who need it.

The donation is the fruit of an ongoing collaboration between the Jewish and Catholic communities in the Portuguese city.

It was funded using the revenue from the movie, The Light of Judah, which was released about three months ago, and showcases the relationship between the two communities during the Middle Ages.

Ben Zion commented on the decision to donate money to the Israeli food bank: "Our community is committed to the State of Israel, and we are excited that we have been able to fulfill our promise and donate the proceeding from the movie."
Jewish A Capella Group The Maccabeats Cover Popular Hebrew Song Ahead of Rosh Hashanah
The Jewish a cappella group The Maccabeats released on Tuesday its rendition of a popular Hebrew song ahead of Rosh Hashanah, which begins on Sept. 18.

The group's members filmed the music video for "Bashana Haba'a" (Hebrew for "In the Next Year") from their respective homes, and also at the park, because of limitations due to the coronavirus pandemic.

The clip showcases their families, including babies and kids, apples and honey and shofars.

The Maccabeats also added a few of their own lyrics in English that addressed social distancing — they sing, "Soon the day will arrive when we will sing together/And the distance will just disappear" — a wish for a healthy new year and a better future for their children.
---
---
We have lots of ideas, but we need more resources to be even more effective. Please
donate today
to help get the message out and to help defend Israel.