From Ian:
---
Caroline B. Glick:
Donald Trump and the mythmakers
If Trump's reality-based policies succeed, he will dismantle their foreign policy legacy. All their protestations of wisdom, all their fancy resumes and titles as former senior officials will lose their allure and market value.

Since Pompeo's statement regarding the Israeli communities in Judea and Samaria related to an issue which, while critical, is less in the headlines today than it was under Obama, aside from a few peremptory condemnations, the foreign policy aristocrats ignored it. As they saw it, once they return to power and start working with an Israeli government led by someone other than Benjamin Netanyahu, the anti-Israel phony narrative will be restored to its rightful place as the foundation of US policy.

The Iran story is different. Days before the drone strike that killed him, Soleimani tried to re-enact the 1979 "student" takeover of the US Embassy in Tehran with "protesters" in Baghdad. But this time it didn't work. And Soleimani paid with his life for his failure. Iran's half-hearted, failed missile attack against US forces in Iraq showed that the Iranian regime is terrified of Trump and their reversal of fortune.

Trump's policies expose the mendacity and rank insanity of his predecessors' policies towards Iran and Israel. Since Obama's policies were particularly radical, divorced from reality and devastating, Trump has reasonably singled them out for particular rebuke and condemnation. Among other things, reasonably, Trump said the missiles Iran shot at US forces in Iraq were paid for by the 150 billion dollars in sanctions relief and 1.8 billion dollars in cash that flowed to the coffers of the IRGC through the 2015 nuclear agreement.

Rather than keep quiet as their signature policy was exposed as a strategic disaster, Obama administration officials and their supporters in Congress and the media went into very public paroxysms of rage. Ben Rhodes, Obama's deputy national security adviser and chief propagandist, who sold the nuclear deal to a credulous and eager media, said Trump's move would lead to war. House Speaker Nancy Pelosi said that the US strike against Soleimani was "disproportionate," hinting it was a war crime to kill the terrorist who had just ordered the seizure of a US Embassy. She scheduled a Congressional session to curb Trump's power to confront Iranian aggression and nuclear proliferation.

On cue, a group of psychiatrists wrote an open letter to Congress insisting that Trump is crazy and must be restrained. (The same group has written several nearly identical letters since Trump took office.)

To protect and preserve their 40-year old delusion-based policy, Trump's domestic opponents are effectively supporting the Iranian regime against the United States. And as they see it, they have no choice. They are in a race against time. The more successful Trump's reality-based policies towards Iran on the one hand and Israel on the other are, the harder it will be for the foreign policy establishment to restore their delusion-based policies when he leaves power. Given the stakes, we can assume that their attempts to clip Trump's wings and debase him will increase in intensity, churlishness and irrationality as time goes by and as his successes mount.
Flags L-R, via @PhillipSmyth + @abubakrbashir4:

1. Iran
2. IRGC
3. IRGC Aerospace
4. Hizbollah (Lebanon)
5. Houthis (Yemen)
6. Hashd al Sha'abi (Iraq)
7. Hamas (Gaza)
8. Fatemiyoun (Afghanistan)
9. Zainabiyoun (Pakistan) pic.twitter.com/cYm9krGciV

— Raf Sanchez (@rafsanchez) January 9, 2020
American Self-Criticism Borders on Narcissism
Those who said there will be war may not have realized there already was war. This doesn't mean killing Iranian General Qassem Soleimani was good. It almost certainly wasn't. Iran quickly retaliated by targeting two American military bases in Iraq and may find new ways to escalate, but Iran had already been escalating. The regime of the Syrian dictator Bashar al-Assad, with its Iranian patrons, led by Soleimani, has been waging a brutal assault on Syrians for more than eight years. War, in short, has been happening—costing hundreds of thousands of Syrian civilians their lives—since long before Donald Trump ordered the drone strike against Soleimani.

In the aftermath of the strike, critics of the Trump administration's foreign policy, particularly on the left, have described the move as one more rash American intervention that's sure to further destabilize the region. Yet this formulation gives U.S. policy, for all its flaws, too much credit. Not everything is America's fault; others are sometimes to blame; and no one, not even the weaker parties, are devoid of agency or freed of responsibility. The burden of de-escalation does not fall entirely on the United States; Iran, too, can choose to de-escalate.

There is also the problem of Trump himself. Because killing Soleimani was very much his decision—reflecting the impulsiveness and disarray a decision by him implies—it seems fair to assume that one's view of the president will affect how one interprets the fallout from Soleimani's killing. Correcting for subconscious bias isn't easy, but at the very least, observers should be aware of the Trump effect.

Middle East experts, and particularly those from the region, have tended to be less alarmist than most other commentators. These experts are likely to be less fixated on Trump himself and less likely to put the United States at the center of their analysis. And they are more likely to be aware of the sheer scale of brutality, mass murder, and sectarian cleansing that Soleimani helped orchestrate. Soleimani wasn't just another bad guy. He was one of the region's worst. (Yet another humanitarian catastrophe has been unfolding in Syria, but it has garnered little attention. The Assad regime, with crucial military support from Iran and Russia, has been bombing Idlib province. More than 200,000 Syrians have already fled, and hundreds of thousands more could be forced from their homes.)

It is not an overstatement to say that Qassem Soleimani "haunted" the Arab world. As Kim Ghattas wrote here in The Atlantic, "Soleimani was so central to almost every regional event in the past two decades that even people who hate him can't believe he could die." It is a rich irony that as Democrats portrayed the strike as one of the worst foreign-policy blunders of the Trump presidency, a significant number of Syrians and Iraqis rejoiced—one of the very few times they have reacted positively to something, anything, that the United States has done. Their interests, of course, are not the same as Americans', but there should at the very least be an effort to understand why they might have celebrated.
It would be outrageous if:

🇸🇦 Israel launched a "Mecca Force" to conquer Arabia
🇮🇹 Turkey launched a "Vatican Force" to conquer Italy
🇮🇳 France launched a "Sapta Puri Force" to conquer India

But the world's ok with:

🇮🇱 Iran trying to conquer Israel with their "Jerusalem Force"

— Israel Advocacy Movement (@israel_advocacy) January 10, 2020
My despair at those who weep for Quassem Soleimani
A few hours into the new year, pro-Assad forces targeted a school in southern Idlib with a cluster bomb. The bombing took place at 11am when it was clear the school would have been busy. Five children were killed. Two of those who died were just six years old; the oldest child victim was only thirteen. Four adults were also killed. I will forever be haunted by the faces of Yahya and Hour, the innocent six-year-olds who were amongst the child victims who attended – and died at – the school run by the organisation I work for.

This isn't the first time one of our schools has been destroyed. In fact, six of our schools have been hit in as many months in Syria. Make no mistake: this is a clear co-ordinated bombing campaign against children.

Yet with the Syrian civil war entering its ninth year, the reaction to these dreadful, evil crimes is muted. Instead, the outrage appears to be directed elsewhere.

Two days after the New Year's Day attack in Syria, Iran's Quassem Soleimani was killed by a US airstrike near Baghdad airport. Many of my friends were furious. But why?

Were they concerned about the impact it would have on the region? No, they had never heard the name Soleimani until news of his death broke.

They knew little of his influence in Syria, Lebanon, Iraq, Yemen and further afield. Instead, quite simply, they were furious because his death resulted from a decision made by Donald Trump. Trump is bad and therefore this was bad, the logic seemed to be. Few paid heed to the crimes against humanity Soleimani is accused of. Soon, many of my Facebook friends had turned into foreign policy experts queuing up to predict that "WWIII" was inevitable. It was all Trump's fault, they said. In the aftermath of Iran's retaliation against US airbases, this fervour has only increased.
Kindergarten lesson is unlikely to work for Iran, Israel in the long run
The United States learned the "kindergarten lesson" this week, something Israel has sharpened and perfected over the years in the way it formulates policy.

It goes something like this: if Hamas fires a rocket but it doesn't hurt anyone then there is no reason to retaliate aggressively.

What's the "kindergarten lesson?" Since everyone knows that if a rocket were to hit a kindergarten in Sderot, Kfar Aza or somewhere else along the southern border and cause extensive casualties, Israel would have no choice but to launch a large-scale military offensive. As long as that doesn't happen though, Israel doesn't have to.

The problem is that this is no way to formulate policy. If rocket fire is a threat, then it needs to be dealt with whether the rockets hit and hurt someone or don't. A government shouldn't wait for people to be killed before dealing with a threat. That is not a strategy.

A variation of this played out on Wednesday morning, when Iran fired more than a dozen ballistic missiles at bases that house US soldiers in Iraq.
Israeli Analyst: Iran Is Taking a Step Back for Fear of Trump
Iran is pulling back from its latest confrontation with the U.S. because it fears President Donald Trump, veteran Israeli journalist Ehud Yaari wrote on the Mako news site on Thursday.

He said Iran was "taking a step back or maybe just a time out" because Ayatollah Ali Khamenei was "scared of Trump."

Yaari said, "Iran has instructed Shi'a militias in Iraq not to make good on their threats for now to launch a terror campaign against the 5,000 American soldiers in the country."

Even Kataib Hezbollah, the pro-Iran group whose leader was killed along with Soleimani, was "now calling for 'de-escalation' instead of revenge."

"In short: the roar of threats being heard from Tehran should be heard without too much anxiety. When the Iranians talk about 80 American dead as a result of the missile fire, they know very well that they are clinging to lies."
Commentary Magazine Podcast:
Have Cooler Heads Prevailed?
Hosted by Abe Greenwald, Christine Rosen, John Podhoretz, Noah Rothman
Trump seems to have taken Iran's calibrated response to the U.S. strike that took out Qasem Soleimani as an opportunity to take the temperature down in the region. Will cooler heads prevail? And does the Democratic narrative, which suggests that Trump is itching for a war with Iran, make any sense?
Deterring War with Iran
The U.S. MQ-9 Reaper drone strike that eliminated top Iranian military leader Qasem Soleimani on Jan. 3 was a measured, timely, and appropriate combat action.

It occurred after 18 months of U.S. restraint in the face of a series of increasingly provocative Iranian violations of international law, including 11 Hezbollah Brigade attacks on facilities occupied by U.S. personnel who were conducting security training for Iraq's military.

What comes next? To deter Iran, its leaders need to believe the U.S. will use its power. This is akin to pushing back on a bully. At some point, a counteroffensive is required, or the abuse will continue.

Some on the national stage are pandering fear of potential Iranian reaction to Soleimani's death. The fear of possible consequences should not outweigh the logic that forceful action is sometimes necessary to defend U.S. and allied personnel and to shore up the value of deterrence.

The reality is that taking no action would have increased the odds for further Iranian aggression. Peace through strength is key to deterring open conflict with Iran - projecting fear or appeasement is not.
Qasem Soleimani's Final Interview
An extensive interview with Maj.-Gen. Qasem Soleimani appeared in English on the official Khamenei.ir website on Oct. 1, 2019. It raised the question of whether Iran's leadership was grooming Soleimani for higher office, possibly as a candidate for president.

Bragging of his presence in Lebanon throughout the Second Lebanon War in 2006, Soleimani described working with Hizbullah secretary-general Hassan Nasrallah and military commander Imad Mughniyeh. He claimed that the war ended in "a great victory for Hizbullah. In fact, it was not only a victory in that war, but a turning point and an end to the fear of Israeli aggression toward Lebanon."

Soon after the interview, on Oct. 7, Soleimani told a conference of senior IRGC officers: "The IRGC has expanded the resistance in terms of both quantity and quality. It has expanded the resistance from a geographical territory of 2,000 sq. km. in southern Lebanon to a territory of half-a-million sq. km....The IRGC has created territorial continuity for [the different parts] of the resistance. It has connected Iran to Iraq, Iraq to Syria, and Syria to Lebanon."

Soleimani viewed events through the lens of a preordained divine plan guided by the ultimate authority of Iran's religious leadership. This leaves only so much room for accommodation to political realities.
Iran's Attacks Against the U.S. in Iraq Accomplished What Was Intended
The Iranian missile attacks on Ain al-Asad and Erbil in Iraq on Jan. 8 indicate that Iranian Supreme Leader Ali Khamenei has chosen to de-escalate and draw a line under the episode of the killing of Qasem Soleimani.

Finding Americans and killing them in either Iraq or Syria does not present a problem for the Iranians, given their known capabilities. But an attack of sufficient magnitude to settle the account over Soleimani would almost certainly invite further, wider American retribution. This could descend into a direct clash between the U.S. and Iran, which Iran could not possibly win, and which could mean the destruction of much that Iran has gained in the region over the last decade.

The latest round of hostilities indicates that those who helm the Iranian bid for regional hegemony are aware of their limitations in the military arena, are not suicidal, and are capable of formulating policy in line with the prevailing power realities.
Pompeo, Mnuchin Announce Sanctions on Iran's Steel and Iron Industries, Eight Officials
Secretary of State Mike Pompeo and Secretary of Treasury Steve Mnuchin announced President Donald Trump's administration placed sanctions on Iran's textiles, mining, and iron ore sectors.

The sanctions come after Iran attacked two Iraqi military bases with American troops.

Mnuchin stated that the administration chose the eight "senior Iranian officials for their involvement and complicity in Tuesday's ballistic missile strikes."

The eight Iranian officials include " Ali Shamkhani, the Secretary of Iran's Supreme National Security Council; Mohammad Reza Ashtiani, the Deputy Chief of Staff of Iranian armed forces; and Gholamreza Soleimani, the head of the Basij militia of the Islamic Revolutionary Guards Corps (IRGC)."
Iran in 'shock' as its only female Olympic medalist appears to flee country
Concern mounted Thursday in Iran over the fate of the Islamic republic's only woman to have won an Olympic medal, who is believed to want to settle in The Netherlands.

Kimia Alizadeh clinched a taekwondo bronze medal at the Rio Olympics in 2016, drawing praise from her compatriots including the country's President Hassan Rouhani and even conservatives in the Islamic Republic.

In keeping with Iran's strict Muslim custom, Alizadeh, then 18, competed wearing a head scarf over her taekwondo uniform and protective gear.

There were high hopes she would compete at the Tokyo Olympics later this year and bring home another medal, but it appears this is not to be.

The semi-official ISNA news agency on Thursday carried a report saying: "Shock for Iran's Taekwondo. Kimia Alizadeh has emigrated to The Netherlands."

According to ISNA, the coach of the women's national team said that Alizadeh is suffering from an injury.

It said Alizadeh did not show up for trials ahead of the Tokyo Games.
NYTs:
3 Hours from Alert to Attacks: The Race to Protect U.S. Forces from Iran Strikes
The alert came to the White House shortly after 2 p.m. on Tuesday, a flash message from American spy agencies warning that an Iranian attack on American troops was almost certain. Three hours later, a hail of ballistic missiles launched from Iran crashed into two bases in Iraq, including Al Asad, where 1,000 American troops are stationed. The missiles destroyed evacuated aircraft hangars.

Spy satellites had been tracking the movements of Iran's arsenal of missile launchers, and communications among Iranian military leaders were intercepted by the National Security Agency. No Patriot antimissile systems protected Al Asad base. They had been deployed to other countries in the Middle East deemed more susceptible to Iranian missile attacks.

In the days before Gen. Soleimani's death, CIA director Gina Haspel had advised President Trump that the threat the Iranian general presented was greater than the threat of Iran's response if he was killed, according to U.S. officials. Indeed, Haspel had predicted the most likely response would be a missile strike from Iran on bases where American troops were deployed.

Though Haspel took no formal position about whether to kill Soleimani, officials who heard her analysis came away with the clear view that the CIA believed that killing him would improve - not weaken - security in the Middle East.

Around 5:30 p.m. in Washington, the Pentagon detected the first of 16 short- and medium-range Fateh 110 and Shahab missiles, fired from three locations in Iran. At Al Asad they hit a Black Hawk helicopter and a reconnaissance drone, along with parts of the air traffic control tower. A senior American military official dismissed the idea that Iran had intentionally avoided killing American troops.
Video Appears To Show Missile Hitting Passenger Plane In Iran
Video obtained and verified by The New York Times on Thursday appears to show an Iranian missile hitting a plane near Imam Khomeini International Airport in Tehran, the same area where a Ukrainian passenger plane went down earlier this week.

"A small explosion occurred when a missile hit the plane, but the plane did not explode," The New York Times reported. "The jet continued flying for several minutes and turned back toward the airport, The Times has determined. The plane flew toward the airport ablaze before it exploded and crashed quickly, other videos verified by The Times showed."

All 176 people on board the plane were killed in the crash.


BREAKING: New video appears to show missile hitting Flight 752 before it crashed near Tehran, killing 176 people pic.twitter.com/Jb3Cy3OgUT

— BNO News (@BNONews) January 9, 2020



The development comes after a Ukrainian passenger plane, which presumably is the plane shown in The Times video, crashed over Tehran on Tuesday night after Iran fired numerous missiles at U.S. forces in Iraq.
Iran denies its forces shot down passenger jet, calls on West to share data
Iran on Friday denied Western allegations a Ukrainian jetliner that crashed outside Tehran was brought down by an Iranian missile and called on the US and Canada to share any information they have on the crash, which killed all 176 people on board.

Western leaders said the plane appeared to have been unintentionally hit by a surface-to-air missile near Tehran, just hours after Iran launched a series of ballistic missiles at two US bases in Iraq to avenge the killing of its top general in an American airstrike last week.

"What is obvious for us, and what we can say with certainty, is that no missile hit the plane," Abedzadeh, head of Iran's national aviation department, told a press conference.

"If they are really sure, they should come and show their findings to the world" in accordance with international standards, he added.

Hassan Rezaeifar, the head of Iranian investigation team on Friday told the same press conference that recovering data from the black box flight recorders could take more than a month and that the entire investigation could stretch into next year.

He also said Iran may request help from international experts if it is not able to extract the flight recordings.

The ballistic missile attack on the bases in Iraq caused no casualties, raising hopes that the standoff over the killing of Gen. Qassem Soleimani would end relatively peacefully, though Iran has sent mixed signals over whether its retaliation is complete.
Iran has scrubbed the crash site of the civilian jet they downed. Meanwhile they're putting on a show of inviting outside parties to conduct an investigation of the site they've already scrubbed. https://t.co/5NlcWu8jz1

— Omri Ceren (@omriceren) January 10, 2020
U.S. Issued No-Fly Order Over Iran, Iraq Hours Before Ukrainian Plane Downed
Just hours before a Ukrainian plane was shot down Wednesday over Iran, the U.S. Federal Aviation Administration issued a no-fly order over Iran and Iraq, potentially saving scores of American lives.

A Notice to Airmen (NOTAM) warning of potential hazards along flight routes in the war-torn region was first issued Tuesday evening by the FAA, just before a Ukrainian plane crashed near Tehran. U.S. officials believe Iran may have mistakenly shot down the plane in its airspace as tensions with the United States hit new levels.

"Our NOTAMs were published roughly three hours before the accident," an FAA spokesman confirmed to the Washington Free Beacon Thursday.

The no-fly order outlined "flight restrictions that prohibit U.S. civil aviation operators from operating in the airspace over Iraq, Iran, and the waters of the Persian Gulf and the Gulf of Oman."

"The FAA will continue closely monitoring events in the Middle East," the NOTAM said. "We continue coordinating with our national security partners and sharing information with U.S. air carriers and foreign civil aviation authorities."

While the FAA official would not "speculate on what effect [the notice] might have had," one senior congressional official who works on airline issues told the Free Beacon that the order "may well have saved American lives."
Informants in Iraq, Syria helped U.S. kill Iran's Soleimani - sources
Neither Soleimani nor the soldiers were registered on the passenger manifesto, according to a Cham Wings airline employee who described the scene of their departure from the Syrian capital to Reuters. Soleimani avoided using his private plane because of rising concerns about his own security, said an Iraqi security source with knowledge of Soleimani's security arrangements.

The passenger flight would be Soleimani's last. Rockets fired from a U.S. drone killed him as he left the Baghdad airport in a convoy of two armored vehicles. Also killed was the man who met him at the airport: Abu Mahdi Muhandis, deputy head of Iraq's Popular Mobilization Forces (PMF), the Iraqi government's umbrella group for the country's militias.

The Iraqi investigation into the strikes that killed the two men on Jan. 3 started minutes after the U.S. strike, two Iraqi security officials told Reuters. National Security agents sealed off the airport and prevented dozens of security staff from leaving, including police, passport officers and intelligence agents.

Investigators have focused on how suspected informants inside the Damascus and Baghdad airports collaborated with the U.S. military to help track and pinpoint Soleimani's position, according to Reuters interviews with two security officials with direct knowledge of Iraq's investigation, two Baghdad airport employees, two police officials and two employees of Syria's Cham Wings Airlines, a private commercial airline headquartered in Damascus.
Pro-#Iran Satellite Channel Al-Anwar2 Releases Video Inciting To Violence Against Anti-Iran Activists, Bloggers In #Iraq, Claiming They Are U.S.-Funded https://t.co/L4PYNxZ9u7 pic.twitter.com/pJRaV0nhct

— MEMRI (@MEMRIReports) January 9, 2020
MEMRI:
After His Call to End U.S. Military Presence in Iraq, Adel Abdul-Mahdi Seeks To Be Reinstated As Iraq's Prime Minister With The Support of Pro-Iran Lawmakers
One day after the Iranian missile strike against U.S. military bases in Iraq, Iraqi media reported that caretaker Prime Minister Adel Abdul-Mahdi appears to be attempting, along with the support of pro-Iran lawmakers, to win the parliament's blessings to stay in his position, or to head the upcoming government.

Abdul-Mahdi, the son of a Shi'ite cleric who had served as a minister in Iraq's monarchy, announced his resignation on November 3, 2019, after Iraq's top Shi'ite cleric, Ayatollah Ali Al-Sistani, urged legislators to withdraw support for the government over its use of violence against Iraqi protesters.

However, reports in Iraqi media[1] quote a lawmaker from the Al-Bena' bloc, who said that "many Shi'ite MPs are in favor of ​​reinstating Adel Abdul-Mahdi to form the new government". The Al-Bena' bloc is a pro-Iran coalition that claims to be the largest parliamentary bloc, and is therefore entitled to select a new premier according to the Iraqi Constitution.

"Political blocs have begun to accept the idea of reinstating the resigned prime minister Adel Abdul-Mahdi to form the new government," MP Salem Al-Tufayli of Al-Bena' bloc said on January 9.

Al-Tufayli also said that "this scenario surfaced after the prime minister showed up in the parliament and opposed the presence of U.S. forces," in reference to Abdul-Mahdi's speech to the parliament about ending the U.S. military presence in Iraq following the assassination of Iranian General Qassem Soleimani.
Iraqi PM tells Pompeo that US must decide mechanism for troop withdrawal
Iraqi Prime Minister Adel Abdul-Mahdi has told the US secretary of state to send a delegation to Iraq tasked with formulating the mechanism for the withdrawal of American troops from Iraq, according to a statement released Friday.

The statement, from the office of the Iraqi caretaker prime minister, said the request came in a telephone call between Abdul-Mahdi and US Secretary of State Mike Pompeo on Thursday night. It says Pompeo called the Iraqi premier.

Abdul-Mahdi's comments to Pompeo suggests he was standing by his previous statements that US troops should leave Iraq despite recent signals toward de-escalation between Tehran and Washington following the tit-for-tat attacks that brought Iraq to the brink of a proxy war.

Abdul-Mahdi confirmed Tuesday that he had received what the US said was a draft letter describing steps its military would take to "move out" of Iraq.

The Pentagon had said an unsigned draft version of the letter had been mistakenly sent, but the Iraqi premier disputed that claim.
Michigan imam eulogizes Soleimani for backing Syria against US, 'Zionists'
An imam in Michigan eulogized Qassem Soleimani, praising him for propping up the Assad regime against what he called efforts by the United States and the "Zionists" to destabilize Syria.

Soleimani, who was killed in Baghdad on January 3 in an American airstrike, oversaw Iran's support for militias and terror groups in his capacity as head of the Islamic Revolutionary Guard Corps' Quds Force. He has been blamed by the US for the deaths of hundreds of American soldiers during the Iraq War.

In a sermon following Soleimani's death that same day, Sheikh Ibrahim Kazerooni of Dearborn, Michigan, recited a prayer of mourning for Soleimani and Abu Mahdi al-Muhandis, an Iraqi paramilitary commander who was also killed in the strike

"Who was this general? His presence brought hope to the marginalized and to those who were afraid, and it brought hatred and fear to the enemies of Islam – particularly the United States," Kazerooni said of Soleimani.

"He was instrumental in keeping the government in Syria intact against all attempts and the billions of dollars that were spent on arms and guidance that were given by the United States, Zionists, and everybody else [in order] to destabilize and turn Syria into a dysfunctional state," he added, according to a transcript of his remarks by the Middle East Media Research Institute.
EU foreign ministers gather in Brussels to salvage Iran nuclear deal
European foreign affairs ministers and the NATO secretary general are gathering in Brussels for an emergency meeting during which they are expected to reiterate their support for the nuclear deal brokered with Iran.

Despite calls from US President Donald Trump to break away from the deal, which is aimed at preventing Iran from getting atomic weapons, the European Union remains committed to the treaty amid an escalation of tensions in the region.

Iran struck the deal in 2015 with the United States, France, Germany, the United Kingdom, Russia and China. It has, however, been damaged by Trump's decision to unilaterally abandon it in 2018, triggering sanctions that have badly hurt Iran's economy.

Iran has gradually rolled back its commitment to the accord and the recent exchange of hostilities between Iran and the US has dealt further blows to the pact.
Al Jazeera host mocks Iranian vow to 'liberate' Jerusalem
In an interview that aired earlier this week, firebrand Al Jazeera presenter Faisal al-Qassem attacked his guest, an Iranian diplomat and journalist, and questioned the Islamic Republic's fixation on supposedly liberating Jerusalem from Israel, while appearing to criticize the competence of Iran in its proxy activities throughout the Middle East.

Qassem, who hosts a show in which he presents opposing views on issues, and who often acts as devil's advocate with his subjects, hosted Amir Mousawi, who has served as Iran's cultural attaché in Brussels, Sudan and Algeria and is a frequent guest on panels as a defender of the Lebanese terror group Hezbollah.

The host ridiculed Iran's vow of revenge against the US and Israel for Washington's killing of top general Qassem Soleimani, noting Hezbollah leader Hassan Nasrallah's promise in 2008 to avenge the death of top Hezbollah commander Imad Mughniyeh (reportedly killed in a joint Israel-US operation in Damascus).

"What did Nasrallah do? He poured two buckets of water on Israel," Qassem said.

Mousawi began explaining that Iran's response would come, while noting that "the abilities of the resistance axis are not [equal to] those of the big devil and its collaborators," a reference to the US and its allies.

Qassem continued his attack against Iran's bluster, and its frequent vow to liberate Jerusalem from the Jewish state.

"You want to liberate Jerusalem, right? And what will you do with Jerusalem? Who will you join Jerusalem with?" he said.

"Will you join Jerusalem, after its liberation, with Baghdad, which is characterized by the world — these are not my words — as the world's dirtiest capital? Will you join it with Beirut, which has become the Middle East's biggest dump? Will you join it with Damascus whose residents are starving? Will you join it with the Houthi [rebels in] Sanaa?"
Democrats on Soleimani's death: "He was a murderer and terrorist BUT" | SUPERcuts! #732
Democrats point out Iranian general Qassem Soleimani was a terrorist who killed Americans, but .... The Washington Free Beacon is a privately owned, for-profit online newspaper dedicated to uncovering the stories that the powers that be hope will never see the light of day.
Democrat Rep. Pramila Jayapal defends Iran, says "had we not assassinated Gen. Soleimani…we would be in a safer place." pic.twitter.com/zB1md8HLrq

— Steve Guest (@SteveGuest) January 9, 2020
Democrats And The Media Are Blaming America Because Iran Shot Down A Passenger Plane. This Is Beyond Despicable.
Democratic presidential candidate Pete Buttigieg declined to condemn our enemies for killing a plane-load of civilians and instead blamed "an unnecessary and unwanted military tit for tat." Democratic Representative Jackie Speier called the tragedy "collateral damage from the actions that have been taken in a provocative way by the President of the United States." Various members of the media said that the plane had been caught in the "crossfire" between Iran and the US. Canadian media personalities called it an "unintended consequence" of Trump's actions. Seth Abramson, never willing to a lose a Who's The Biggest Hack contest, pointed the finger at both Trump and Sean Hannity, suggesting that the Iranian government may have been spooked by the cable news host's broadcast on the night of the missile launch, prompting them to shoot down a plane in panic.

This is all nonsense, obviously. There was no "crossfire" because the United States was not returning fire. Trump has expressly declined to participate in a "military tit for tat," as Buttigieg calls it. Trump ordered the strike on Soleimani because he was a dangerous terrorist who had killed many Americans and had, just days earlier, staged an assault on our embassy. The justified and lawful killing of war criminal in a war zone in Iraq on January 3 clearly did not cause a plane in Iran to crash on January 8. If Iran is too incompetent or reckless to launch missiles without running them into passenger airlines, the fault lies completely and totally with them. The missile strike was nothing but a face-saving gesture in the first place. That they blew up 176 civilians in an effort to soothe their bruised ego is only a further indictment of our enemy, not us.

I shouldn't need to explain this, and I won't. The media understands it. So do the Democrats. But they are both possessed of a pathological need to hate Trump and blame America at all costs and under all circumstances. Normally these antics can be shrugged off. But not this time. They are providing PR cover to a foreign enemy that has murdered an American, attacked our embassy, and now blown up a commercial aircraft, all in the span of a month. This is despicable bordering on treasonous. And it further demonstrates why Democrats can never be given control of the government. They do not have the interests of Americans at heart. They do not love our country. And we cannot trust them.
Dem Rep Blames Trump for Iranian Plane Crash
Rep. Jackie Speier (D., Calif.) on Thursday said that Iran's shooting down of a Ukrainian airliner was collateral damage from President Donald Trump's killing of Iranian general Qassem Soleimani.

"If what is being projected is true, this is yet another example of collateral damage from the actions that have been taken in a provocative way by the president of the United States," Speier told CNN.

CNN anchor Wolf Blitzer had asked Speier if she believed Iran confused the commercial flight for a U.S. military plane, suggesting that "it certainly sounds like it was a mistake by the Iranians." Speier did not mention Iran in her response, only implicating Trump in the downed flight.

U.S. officials are confident the crash, which resulted in the deaths of all 176 people on board, was caused by an Iranian missile, possibly fired accidentally. The plane was shot down just hours after Iran launched missiles at a U.S. base in Iraq.
Kerry would have us believe that the JCPOA contained rather than enabled Iran. In response to this ludicrous and reckless contention, I must become a whistleblower. I know for a fact that the Obama admin sent letters - plural - directly to Soleimani. https://t.co/yY3NPCZ7Q6

— Mike (@Doranimated) January 10, 2020
Ocasio-Cortez Cries 'Racism' After Being Called Ayatollah Sympathizer, Spreading Iranian Propaganda
Socialist Rep. Alexandria Ocasio-Cortez (D-NY) cried "racism" on Thursday after a member of Congress accused her and her far-left cohorts of being Ayatollah sympathizers and spreading Iranian propaganda.

Rep. John Rutherford (R-FL) called out far-left Rep. Pramila Jayapal (D-WA) on Wednesday after Jayapal spread Iranian propaganda during a press conference, falsely calling the drone strike on Qasem Soleimani an "assassination."

"President Trump recklessly assassinated Qasem Soleimani," Jayapal falsely claimed. "He had no evidence of an imminent threat or attack."

In an interview with The Daily Wire on Thursday, Rep. Mo Brooks (R-AL) said that U.S. officials withheld sensitive information about the U.S. military operation to take out Soleimani from being released to members of Congress because they were apparently concerned that certain members of Congress would leak the information to the news media or to America's enemies.

Rutherford responded to Jayapal's comments by writing on Twitter: "I was in the same briefing as you, @RepJayapal, and this is absolutely false. You and your squad of Ayatollah sympathizers are spreading propaganda that divides our nation and strengthens our enemies. #Iran"

Standing behind Jayapal was Ocasio-Cortez, who responded, "I find it highly amusing that my coworkers angrily yell stuff like this and then clutch their pearls and cry when they are called out for their racism."

Rutherford responded, "It's honestly pretty simple. @realDonaldTrump eliminated a dangerous terrorist. If you don't want to be called an Ayatollah sympathizer, don't sympathize with the Ayatollah."
Omar draws ire for condemning Iran sanctions as 'crippling' while backing anti-Israel BDS movement
Trump addressed the nation the morning after Iran fired more than a dozen missiles at two bases in Iraq where U.S. service members are stationed. He also announced the U.S. would impose new "powerful" sanctions against Iran until "Iran changes its behavior."

"This makes no sense. Sanctions are economic warfare," Omar also tweeted after Trump's address. "They have already caused medical shortages and countless deaths in Iran. You cannot claim to want deescalation and then announce new sanctions with no clear goal. This is not a measured response!"

Meanwhile, Omar and Rep. Rashida Tlaib, D-Mich. -- the first two Muslim women to be elected to Congress -- have come out in support of the BDS movement since they were first sworn into Congress last January following the 2018 midterm elections. Tlaib is Palestinian-American, whereas Omar fled the Somali Civil War in 1991 and spent four years at a Kenyan refugee camp before immigrating to the U.S. in 1995. She later became a U.S. citizen.

Critics on social media said Omar's positions regarding Iran and Israel didn't add up.

"Ilhan Omar views sanctions on terror regimes to be 'economic warfare' but supports them when aimed at the world's only Jewish state. Must just be a coincidence," one Twitter user quipped in response to Omar's tweet.

"Ilhan Omar has now decried sanctions on the Castros in Cuba, Maduro in Venezuela, and the Ayatollah in Iran," Michael Abrams, a GOP communications director, wrote. "At the same time, she's the leading voice in Congress on sanctioning the Jewish people in the world's only Jewish state. Wonder why."

"Yes, constitutionally intl boycotts & sanctions are tools of war and NOT 'free speech.' @IlhanMN should remember that next time she advocates for BDS (Boycott Divestment & Sanctions) against Israel: a US ally," Daniel Pomerantz, an on-air law expert, also chimed in. "We don't fight wars against allies. We do against enemies."

The Democrat-led House of Representative overwhelmingly approved a bipartisan resolution in July opposing the "anti-Semitic" BDS movement aimed at encouraging a boycott against the longtime U.S. ally. Omar, Tlaib and Rep. Alexandria Ocasio-Cortez, D-N.Y., were among the 16 Democrats who voted against the resolution.
After the #US imposed additional economic sanctions on Iran, Congresswoman @IlhanMN condemned the decision, tweeting that "sanctions are economic warfare."

Which is an interesting point, given that Omar is one of the #BDS movement's biggest supporters... pic.twitter.com/cEIYZCHyBS

— HonestReporting (@HonestReporting) January 10, 2020
Jim Geraghty:
The Good and Bad of the Western Media's Iran Coverage
On the menu today: In light of the recent military tensions with Iran, it's worth looking back at how the major U.S. and other Western media covered the attack on the Saudi Arabian oil facilities in September, and how they consistently suggested the administration's claims were flimsy and that Iranian denials were worth keeping in mind; some terrific reporting on how the administration responded to intelligence that Iran was planning a missile attack; and Senator Mike Lee just wants a little consultation that's consistent with the Constitution.

How the Media Botched Their Coverage of Iran's Attack on Saudi Arabia in September
Foreign affairs are covered and discussed poorly in the Western media, and the habits, instincts, and mental framework of those who cover these events work to the benefit of dishonest and authoritarian entities such as the Iranian regime. Let's look back at the Iranian attack on Saudi Arabian oil facilities from this September.

On September 14, 2019, drones attacked two key oil installations inside Saudi Arabia, damaging facilities that process most of the country's crude oil and briefly disrupting world oil supplies. America's intelligence community quickly determined this was an Iranian attack. Despite the Iranian regime's long sponsorship of terror, aggression against its neighbors, and well-established history of lying about all of it, the Western media treated the Tehran's denial of responsibility as sufficiently plausible to doubt claims of U.S. intelligence officials. Few Western media entities came out and outright denied that Iran launched the attacks, but almost none were willing to spotlight the implausibility of the Iranian regime's denials. The net effect was to create a blurry gray area and confusion about who launched the attack, which was exactly what Tehran wanted.

The day of the attack, Secretary Pompeo declared on Twitter, "There is no evidence the attacks came from Yemen."

"This is such irresponsible simplification, and it's how we get into dumb wars of choice," Senator Chris Murphy, (D., Conn.) said about Pompeo's tweet to ABC News. "The Saudis and Houthis are at war. The Saudis attack the Houthis and the Houthis attack back. Iran is backing the Houthis and has been a bad actor, but it's just not as simple as Houthis [equal] Iran."

On September 15, a tweet from Iran's foreign minister, Javad Zarif, claimed, "having failed at 'max pressure,' Secretary Pompeo's turning to 'max deceit.' US & its clients are stuck in Yemen because of illusion that weapon superiority will lead to military victory. Blaming Iran won't end disaster." That denial was all it took to get the Western news media to treat the U.S. claims about the attack with a consistently skeptical tone.
The (AMERICAN!) Media Praises Iran & Soleimani For 3 Minutes Straight
The mainstream media and Democrats praise Iran and mass-genocider Qassem Soleimani for 3 minutes straight.
This is journalism today pic.twitter.com/6tVtjOaQig

— Comfortably Smug (@ComfortablySmug) January 10, 2020
Quest: Ukraine airline needs to explain why it allowed flight just hours after Iran fired missiles @richardquest reports https://t.co/lozqKbxhY6 pic.twitter.com/zVxzALppCZ

— The Lead CNN (@TheLeadCNN) January 9, 2020
The Nation should let us know where Obama, who ordered hundreds of drone strikes on nations where we were not at war- killing many civilians- falls into their ranking of "blood on his hands" https://t.co/3cDB5eGsne

— Buck Sexton (@BuckSexton) January 9, 2020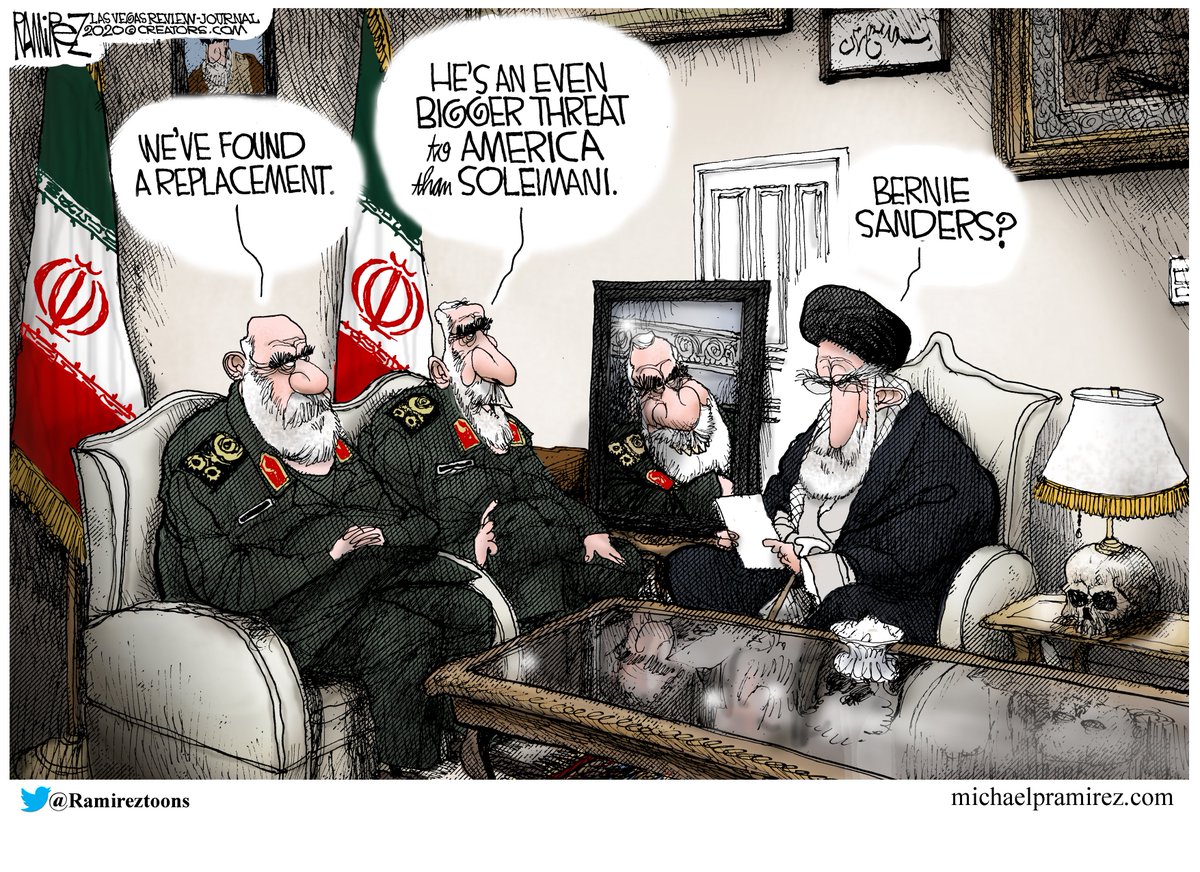 ---
---
We have lots of ideas, but we need more resources to be even more effective. Please
donate today
to help get the message out and to help defend Israel.