From Ian:
---
Inside the Plot by Iran's Soleimani to Attack US Forces in Iraq
In mid-October, Iranian Major-General Qassem Soleimani met with his Iraqi Shi'ite militia allies at a villa on the banks of the Tigris River, looking across at the US embassy complex in Baghdad.

The Revolutionary Guards commander instructed his top ally in Iraq, Abu Mahdi al-Muhandis, and other powerful militia leaders to step up attacks on US targets in the country using sophisticated new weapons provided by Iran, two militia commanders and two security sources briefed on the gathering told Reuters.

The strategy session, which has not been previously reported, came as mass protests against Iran's growing influence in Iraq were gaining momentum, putting the Islamic Republic in an unwelcome spotlight. Soleimani's plans to attack US forces aimed to provoke a military response that would redirect that rising anger toward the United States, according to the sources briefed on the gathering, Iraqi Shi'ite politicians, and government officials close to Iraqi Prime Minister Adel Abdul Mahdi.

Soleimani's efforts ended up provoking the US attack on Friday that killed him and Muhandis, marking a major escalation of tensions between the United States and Iran. The two men died in air strikes on their convoy at a Baghdad airport as they headed to the capital, dealing a major blow to the Islamic Republic and the Iraqi paramilitary groups it supports.

Interviews with the Iraqi security sources and Shi'ite militia commanders offer a rare glimpse of how Soleimani operated in Iraq, which he once told a Reuters reporter he knew like the back of his hand.

Two weeks before the October meeting, Soleimani ordered Iranian Revolutionary Guards to move more sophisticated weapons — such as Katyusha rockets and shoulder-fired missiles that could bring down helicopters — to Iraq through two border crossings, the militia commanders and Iraqi security sources told Reuters. (h/t Zvi)
John Podhoretz:
Attack on Qassem Soleimani was deterrence, not escalation
To all those terrified by the prospect of the Iranian response to the killing of Iran's terror master, Qassem Soleimani, consider the horrors visited upon the United States after these events:

- The Seal Team Six killing of al Qaeda leader Osama bin Laden in 2010.
- The killing of ISIS leader Abu Bakr Al-Baghdadi in October 2019.

Hmmm. No horrors, actually. Those killings seem to have hollowed out the heart of those monstrous organizations.

Well, surely there are even worse examples that have been visited upon Israel due to its aggressive military acts. Let's take a look:

- Israel destroyed an aborning nuclear reactor in Iraq in 1981 and one in Syria in 2007.
- Israel targeted and killed father-and-son Hezbollah commanders, the Mughniyahs, in 2008 and 2015, as well as Hamas No. 2 Ahmed al-Jabari in 2012.

In all these cases, the organizations and governments struck by Israel vowed hellish revenge. But while hostilities persisted, the hellish specific revenge that was promised — even guaranteed — never came.

Why?

For peaceable people, the idea that the use of force is sometimes the only possible counter to the use of force can be hard to take. If a cycle is begun by acts of destruction, how can addressing it through other acts of destruction be anything but … destructive?

The answer is that all acts of destruction are not equal.

Those who destroy first do so because they are not peaceable — or rather, they do not see peace as the most desirous condition.
Sorry. Here's a second video where my son helped boost the audio. pic.twitter.com/fbWSL55Oji

— JJ PI (@PoliticalIntent) January 5, 2020
Trump name-checks 'Squad' at evangelical rally: 'They hate Jewish people'
President Trump blasted three of the four freshmen congressional Democrats known as "The Squad" in front of an audience of his evangelical supporters in Miami on Friday, accusing them of holding anti-Semitic views.

"These people hate Israel. They hate Jewish people," Trump said at the launch of his "Evangelicals for Trump" group inside a megachurch. "I won't name them. I won't bring up the name of Omar, Tlaib, AOC. I won't bring that name up. Won't bring it up. I will not bring it up."

The president was referring to U.S. Reps. Ilhan Omar, D-Minn.; Rashida Tlaib, D-Mich.; and Alexandria Ocasio-Cortez, D-N.Y. The Squad member he did not mention was U.S. Rep. Ayanna Pressley, D-Mass.

The three lawmakers have drawn the ire of conservatives for their criticism of Israel since taking office last January. Omar and Tlaib were among 17 members of Congress who voted against a resolution to condemn the Boycott, Divestment and Sanctions (BDS) movement in July.

Omar was accused of anti-Semitism last year for her criticism of Israel and tweeting that a prominent lobbying group was paying members of Congress to support the country. The comment drew rebuke from Democrats as well as Republicans.
Jerusalem: Hundreds rally in solidarity with 'No Hate No Fear' march
Hundreds of people gathered in Jerusalem Sunday for a rally in solidarity with the "No Hate. No Fear" march in New York.

Taking place in The Jewish Agency's courtyard, the event was in support of the U.S. march organized by UJA-Federation of New York, which comes in light of the recent wave of hate crimes against Jews in the New York area.

The Jerusalem rally, held in parallel with the march in New York, was organized by The Jewish Agency for Israel, World Zionist Organization (WZO) and the Anti-Defamation League (ADL).

The Israeli solidarity event was initiated to send a clear message of support to U.S. Jews, particularly following the most recent attacks in Monsey and Jersey City. Sunday's No Hate. No Fear march in New York began in Lower Manhattan and followed with a march across the Brooklyn Bridge. Thousands of New Yorkers of all backgrounds attended, along with hundreds of Jewish Agency shlichim (emissaries) serving in U.S. communities, as well as a special ADL delegation.

Chairman of the Executive of The Jewish Agency for Israel, Isaac Herzog: "Thousands are marching in New York, Jews and non-Jews alike, from a deep sense of both outrage and responsibility in the face of the horrific venom that has recently reared its head - hatred of Jews in the United States. Jews are no longer as safe on the streets of the US as they were over the past hundreds of years. We are here in Jerusalem standing together with them in solidarity declaring: No Fear! No hate!"
Amar'e Stoudemire pleads for end to African-American antisemitism
Former Hapoel Jerusalem and NBA star Amar'e Stoudemire pleaded for an end to antisemitism in the African-American community in a video he posted to his Instagram account on Saturday.

Walking through the snow in Aspen, Colorado, where he is on vacation with his family, Stoudemire said he wanted to "address the situation that happened in Monsey, with the brother that [committed] attacks on the Jewish people," referring to the stabbing attacks at the home of hassidic rabbi Chaim Rottenberg at a celebration on the seventh night of Hanukkah on December 28.

"One thing we gotta realize is that African Americans are also semitic people, being that they are from the lost tribes of Israel, so therefore if you have any antisemitic comments, you are actually showing your ignorance because you are speaking against yourself. Secondly, for you to attack someone who's trying to keep the ordinance of God, who's trying to keep the commandments, trying to reach a high level of righteousness, for you to attack someone in that manner shows another level of ignorance. So therefore, it's unacceptable to have antisemitic slurs or any hate crime, especially if you are a man of God."

Stoudemire, an African-American/Israeli is in a unique position to appeal for calm under the circumstances. He became an Israeli citizen in March 2019, is in the process of converting to Judaism, co-owns the Hapoel basketball team and frequently posts on his Instagram account about his Torah study. He also has a wine label, Stoudemire Cellars, that is produced at the Tulip Winery in Kfar HaTikvah.
"Times Pick" Comment Calls For Conditional Solidarity Jews, Leave Your Zionism at Home
A Jan. 1 New York Times editorial urging New Yorkers to join in a solidarity march in Brooklyn today rejecting antisemitism and affirming the city's "deep spirit of pluralism and tolerance" was encouraging, but that spirit of pluralism of tolerance was under attack by a deeply troubling reader comment in response to the editorial which a Times editor outrageously selected to highlight as a "Times Pick" ("It's an Old and Insidious Hatred. And New Yorkers Can't Stand for It") The intolerant comment, which fuels more hatred, appears at the very top of the 556 comments, and instructs that Zionists should neither be welcomed nor tolerated at the march. Greg of Lyon wrote:


Stamping out anti-semitism is definitely a good idea. Attempting to stamp out criticism of Israel is definitely a bad idea, and could well lead to more anti-semitism.
Be VERY VERY CAREFUL not to allow any part of this march to be seen as a pro-Israel demonstration. Israeli flags or blue and white banners will do much more harm than good.

Given that a strong majority of American Jews agree that "caring about Israel is a very important part of my being a Jew," Greg's comment, now officially endorsed by The Times, is that more than 60 percent of American Jews are persona non grata unless they check an important part of their identity at the door.

The exclusion of Zionist Jews in the city-wide hug for Jews is particularly hurtful and misguided given that the Monsey Hanukah attacker, who stabbed five Jews celebrating the holiday at a rabbi's home, specifically sought out Zionists. As The Times itself reported: "In recent weeks, the criminal complaint said, the man, Grafton E. Thomas, had also searched for 'German Jewish Temples near me,' and 'Zionist Temples' in Elizabeth, N.J., and in Staten Island."
.@nytopinion posts editorial urging mass participation in today's march against antisemitism, 4 tolerance & pluralism . . . & then gives top marks to comment calling for exclusion of Zionism, key part of identity for majority of US Jews @CAMERAorg @nytimes https://t.co/UJA4mqW20F pic.twitter.com/vu3s5sSwEm

— Tamar Sternthal (@TamarSternthal) January 5, 2020
Jersey City school official who called Jews 'brutes' in Facebook post gets support at meeting
It was advertised as a reorganization of the Jersey City Board of Education. Instead, it was the words of a board member that took the spotlight.

Trustee Joan Terrell-Paige, who referred to some Hasidic Jewish people as "brutes" in a social media post after the Dec. 10 kosher supermarket killings, got a show of support from a small group of residents who rallied before the Thursday night meeting.

And during public comments, the residents were vocal about Terrell-Paige staying on the board, saying they saw her post as honest, not anti-Semitic.

Neal Brunson, an attorney and head of the Afro-American Historical and Cultural Society Museum in Jersey City, said Terrell-Paige's post was not broadly targeting Jewish people.

"If I can put my lawyer's hat on for a second, what Joan said, the literal meanings of what Joan said, were directly applicable not to a Jewish community, but to individuals of the Jewish community," Brunson said. "This is important because when you label someone anti-Semitic, you must do your homework."

Terrell-Paige said in a since-deleted Facebook post that some Hasidic Jews had threatened to bring prostitutes and drug dealers to the Greenville neighborhood if African Americans didn't sell their homes to Jews.

She also expressed sympathy for the shooters, David Anderson and Francine Graham, who were killed in a gunbattle with police.
Watch: Chabadniks Overcome Black Thief-Turned-Attacker in Crown Heights
In an update later in the day, ColLive reported that the man was allegedly a package thief. He was being followed by the Chabad Chassidim Shomrim, when he then turned and attacked them, punching one of the men in the face.

At which point the thief-turned-assailant was knocked down and warned by the Chabad men to not get back up again. According to Moshe, a reader on ColLive, the man was initially knocked down by a Jewish driver who saw what happened and got out of his car to take the guy down from behind.

The assailant then got up and continued on his way to his apartment, as the Shomrim followed right behind him.

ColLive reports: "Police found drugs and drug paraphernalia on the man and in the apartment. The thief and his accomplice were arrested. The man faces 2 charges of assault and 1 charge for theft, in addition to drug charges."
French Jew who survived 2016 stabbing by assailant who shouted about Allah dies at 65
A French-Jewish man who was critically injured in a 2016 stabbing attack by a man who shouted about Allah succumbed to his injuries and died, his lawyer said.

Chalom Levy died on Dec. 29 in an airplane that took him to France from Israel, where he had just celebrated his daughter's wedding, Actualite Juive reported Thursday. He was 65.

"He had never recovered from the attack, not physically or psychologically," Levy's lawyer, Raphael Nisand, said.

The attacker's blade pierced Levy's liver and one of his kidneys. The Tribune report suggested that Levy died of complications from that injury but did not indicate the exact cause of death.

The assault was the assailant's second stabbing of a Jew in Strasbourg, France. He was deemed too mentally ill to stand trial in the first attack, from 2010, the Jewish newspaper reported. After the second stabbing, he was incarcerated for six months and again deemed unfit to stand trial.

The assailant's name was not reported in the French media and his whereabouts are unknown, Nisand told the DNA local news site.

"This is a man who's on his second stabbing of a Jew in Strasbourg. What has the judiciary got to say about this?" the lawyer asked. "All traceability of the man is lost when he's declared irresponsible for his actions."
Netanyahu, in Apparent Stumble, Calls Israel 'Nuclear Power'
In an apparent slip of the tongue on Sunday, Prime Minister Benjamin Netanyahu described Israel as a nuclear power before correcting himself with a bashful nod and an embarrassed smile.

Israel is widely believed to have an atomic arsenal but has never confirmed or denied that it has nuclear weapons, maintaining a so-called policy of ambiguity on the issue for decades.

Netanyahu stumbled at the weekly cabinet meeting while reading in Hebrew prepared remarks on a deal with Greece and Cyprus on a subsea gas pipeline.

"The significance of this project is that we are turning Israel into a nuclear power," he said, before quickly correcting himself to say "energy power."

He then paused for a beat, acknowledging his mistake with a smile, and then plowed on with his comments.

The rare blooper from one of Israel's most polished politicians swiftly proliferated on social media.
Israel to Buy an Additional 50 F-35 Fighter Jets
Why are you using a Hamas-affiliated propaganda outlet as a news source in your latest @Newsweek article, @jameswalkernw?

(And why do you not make clear that the Golan Heights is under Israeli control?) pic.twitter.com/shuXr1lEP9

— HonestReporting (@HonestReporting) January 5, 2020
Hanna Isa, Sec.-Gen. of Islamic-Christian Council for the Protection of Jerusalem: Our Goal in ICC Proceedings against Israel Is to Convict Ordinary Israelis of War Crimes; Palestinians, PA Are Also Legally Exposed to Accusations of War Crimes pic.twitter.com/51elOrjOlv

— MEMRI (@MEMRIReports) January 5, 2020
The rise, unrivaled reach and inevitable fiery death of Qassam Soleimani
For Iranians whose icons since the Islamic Revolution have been stern-faced clergy, Gen. Qassem Soleimani was a popular figure of national resilience in the face of four decades of US pressure.

For the US and Israel, he was a shadowy figure in command of Iran's proxy forces, responsible for fighters in Syria backing President Bashar Assad and for the deaths of American troops in Iraq. In a rare interview aired on Iranian state television in October, he said he was in Lebanon for almost the entire 34-day duration of the 2006 Israel-Hezbollah war, overseeing the conflict. Western leaders saw him as central to Iran's ties with terror groups including Hezbollah and Hamas. He was active in Iraq, central to its current politics, and consequently loathed by Iraqis who have demonstrated for months against a government they see as beholden to Iran.

A 2013 New Yorker profile quoted John Maguire, a former CIA officer in Iraq, describing him as "the single most powerful operative in the Middle East today." The piece said that since he took over the Quds Force, whose numbers it put at 10,000-20,000, Soleimani "has sought to reshape the Middle East in Iran's favor, working as a power broker and as a military force: assassinating rivals, arming allies, and, for most of a decade, directing a network of militant groups that killed hundreds of Americans in Iraq."

Penned by Dexter Filkins, the article described Soleimani flying repeatedly to Damascus and assuming "personal control of the Iranian intervention" that ultimately enabled Assad to retain power — orchestrating arms shipments, deploying Hezbollah, turning the tide of the conflict in Assad's favor. The article also quoted the late Mossad chief Meir Dagan calling him "politically clever." Inside the Iranian regime, "he has a relationship with everyone," said Dagan. "When I called Dagan… and mentioned Soleimani's name," wrote Filkins, "there was a long pause on the line. 'Ah,' he said, in a tone of weary irony, 'a very good friend.'"

"To Middle Eastern Shiites, he is James Bond, Erwin Rommel and Lady Gaga rolled into one," wrote former CIA analyst Kenneth Pollack in a profile for Time's 100 most influential people in 2017. "To the West, he is… responsible for exporting Iran's Islamic revolution, supporting terrorists, subverting pro-Western governments and waging Iran's foreign wars," Pollack added.

A Foreign Policy profile last year, headlined "Iran's Deadly Puppet Master," called him "arguably the most powerful and unconstrained actor in the Middle East today."
Striking Soleimani: the head of the octopus - analysis
Israel's conclusion, as judged by its actions over the years, has been that while everyone is technically replaceable, while another terrorist may take over from a killed leader, there is a qualitative difference among leaders, and the person next-in-line may not have the same "skills," abilities, charisma or ideological purity of the person who was assassinated.

Or, as former head of Military Intelligence Amos Yadlin said in a KAN Bet interview on Friday, there are certain leaders of militaries and terrorist organization whereby if you hit them, the chance of someone taking their place right away is slim. Mugniyeh was one such leader, and Soleimani – he said – is likely another.

Iran's Quds Force is a military power spanning borders and even continents. It was not all Soleimani. But he was the leader who held it all together, who had the leverage, the history, the abilities, the contacts, and the trust of Iran's leader Ayatollah Ali Khamenei. All of a sudden the most active terrorist force in the Middle East is without the man who made it such.

The Quds Force without Soleimani remains a deadly force, but it is not the same. Just as, deputy Mossad Chief Ram Ben-Barak said in an Army Radio interview, Hezbollah after Mughniyeh is not the same as it was before he was killed. And that, Ben-Barak said, has been good for Israel.
Over the next few days the Iranians will scream and rant and threaten Apocalypse Now, but while everyone should take their threats seriously, there is no reason for panic.

The Iranians may act against the US, and against US allies such as Israel, but they surely must understand that the US may respond – and as Trump now has shown – with more force than the Islamic Republic can muster.

The supreme interest of Iran's supreme leader, and the ayatollahs surrounding him, is survival. Following Soleimani's assassination, Khamenei must now know that if he overplays his hand again, his personal survival – and that of his regime – may be under threat.
Qassem Soleimani brought about the death of many American citizens and many other innocents in recent decades and at present. Soleimani initiated, planned and carried out many terrorist attacks throughout the Middle East and beyond. pic.twitter.com/uhGNsST0Yo

— PM of Israel (@IsraeliPM) January 5, 2020
Here are the links for my interview on Qassem Soleimani's assasination on Sound Cloud and the Land of Israel Network's website.https://t.co/brbAgNqSg7https://t.co/D084EzU6y6

— Caroline Glick (@CarolineGlick) January 5, 2020
Trump Vows to Hit 52 Iranian Targets If Iran Retaliates After Drone Strike
US President Donald Trump on Saturday threatened to hit 52 Iranian sites "very hard" if Iran attacks Americans or US assets after a drone strike that killed Iranian military commander Qassem Soleimani and an Iraqi militia leader, as tens of thousands of people marched in Iraq to mourn their deaths.

Showing no signs of seeking to ease tensions raised by the strike he ordered that killed Soleimani and Iranian-backed Iraqi militia leader Abu Mahdi al-Muhandis at Baghdad airport on Friday, Trump issued a threat to Iran on Twitter. The strike has raised the specter of wider conflict in the Middle East.

Iran, Trump wrote, "is talking very boldly about targeting certain USA assets" in revenge for Soleimani's death. Trump said the United States has "targeted 52 Iranian sites" and that some were "at a very high level & important to Iran & the Iranian culture, and those targets, and Iran itself, WILL BE HIT VERY FAST AND VERY HARD."

"The USA wants no more threats!" Trump said, adding that the 52 targets represented the 52 Americans who were held hostage in Iran for 444 days after being seized at the US Embassy in Tehran in November 1979 — an enduring sore spot in US-Iranian relations.

Trump did not identify the sites. The Pentagon referred questions about the matter to the White House, which did not immediately respond to a request for comment.

Among the mourners in Iraq included many militiamen in uniform for whom Muhandis and Soleimani were heroes. They carried portraits of both men and plastered them on walls and armored personnel carriers in the procession. Chants of "Death to America" and "No No Israel" rang out.
Iraq's Parliament votes to expel US troops after drone attack that killed Iranian general
Iraqi lawmakers approved a resolution Sunday calling to expel U.S. troops from the country, following an American drone attack that killed Iranian Gen. Qassem Soleimani.

The resolution asks the Iraqi government to end the agreement under which Washington sent forces to Iraq more than four years ago to help in the fight against the Islamic State terror group.

"The Iraqi government has an obligation to end the presence of all foreign forces on Iraqi soil and prevent it from using Iraqi lands, waters, and airspace or any other reason," Iraqi Parliament Speaker Mohammed al-Halboosi said in an address to lawmakers before the vote.

The majority of about 180 legislators present in Parliament voted in favor of the resolution. It was backed by most Shiite members of parliament, who hold a majority of seats. Many Sunni and Kurdish legislators did not show up for the session, apparently because they oppose abolishing the deal.

But the Iraqi Parliament vote doesn't mean that the U.S. military has to leave the country immediately. It's a non-binding vote, which is seen as mostly symbolic.

The 5,000 U.S. troops are in Iraq at the invitation fo the country's executive branch, the Prime Minister's officer -- not Parliament. It is up to the Iraqi Prime Minister whether the troops will be expelled.
Islamist Group Al Shabaab Attacks Kenya Base Used by Kenyan, US Forces
Somalia's al Shabaab militant group attacked on Sunday a military base in Kenya used by both US and Kenyan forces and published pictures of masked gunmen standing next to an aircraft in flames.

US Africa Command (AFRICOM) confirmed an attack on the Manda Bay Airfield in Lamu county, close to the Somali border. The Kenyan military said the attack was repelled and that four militants had been killed. There were no immediate reports of Kenyan or US casualties.

"Seven aircraft and three military vehicles were destroyed in the attack," al Shabaab said in a statement in which it claimed responsibility for the assault.

Major Karl Wiest from AFRICOM told Reuters less than 150 US personnel were at the base, where they provide training and counter-terrorism support to East African partners.

"Initial reports reflect damage to infrastructure and equipment. An accountability of personnel assessment is underway," AFRICOM said in a press release.

The assault that began before dawn lasted around four hours, witnesses and military sources told Reuters.
To understand #Soliemani's command of Iran's military expansionism and threat to the world, this is ?@COLRICHARDKEMP? on the "land bridge" he created through terror proxies https://t.co/y75sETWjrJ

— Jonny Gould's Jewish State podcast (@jonnygouldpod) January 5, 2020
Petraeus: US Soleimani strike more important than Bin Laden killing
Former CIA director and US General David Petraeus stressed that the assassination of IRGC Quds Force commander Qasem Soleimani is more important than the killings of Osama bin Laden or ISIS leader Abu Bakr al-Baghdadi, according to Foreign Policy.

"It is impossible to overstate the importance of this particular action," said Petraeus. "It is more significant than the killing of Osama bin Laden or even the death of [ISIS leader Abu Bakr] al-Baghdadi."

The former CIA director stressed that Soleimani was the "architect and operational commander" of Iran's efforts to establish control over the region. The Quds Force commander provided arms and munitions that killed over 600 American soldiers and many other coalition partners in Iraq, Syria and other countries.

Petraeus told Foreign Policy that it seems that the airstrike was carried out to show that the US "is just not going to allow the continued violence," including rocket attacks on US bases and attacks on shipping routes and unarmed drones, "without a very significant response."
Britain Backs Trump on Iran, Deploys Royal Navy to Persian Gulf
The United Kingdom defended the actions of the Trump administration in Iran, saying the United States is "entitled to defend itself" against Iranian aggression and deploying the Royal Navy to the Persian Gulf to protect shipping vessels flying the British flag.

The Secretary of State for Defence, Ben Wallace, expressed support for America's decision to take out Islamic Revolutionary Guard Corps commander Qasem Soleimani, citing the violence committed in Iraq by Iran-backed militias.

"During the last few months U.S. forces in Iraq, who are based in Iraq at the invitation of the Iraqi government, have been repeatedly attacked by Iranian-backed militia", Wallace said, in comments reported by The Telegraph.

"General Soleimani has been at the heart of the use of proxies to undermine neighbouring sovereign nations and target Iran's enemies. Under international law the United States is entitled to defend itself against those posing an imminent threat to their citizens", the Defence Secretary concluded.

In response to escalating tensions after the death of Soleimani, the United Kingdom has deployed the Royal Navy to the Strait of Hormuz, to protect British shipping vessels in the Persian Gulf from retaliatory strikes from Iran.

Royal Navy warships have not patrolled the strait since November, when the navy had been protecting British ships after Iran seized a British-flagged oil tanker, the Stena Impero, in July of last year. The ship was finally released by Iran in September.
Every single word in this letter from Iran to the UN is a lie including the opening five words "In the name of God..." pic.twitter.com/4HX4Nt0thl

— Hillel Neuer (@HillelNeuer) January 4, 2020
My interview with Fox News

How does the regime set the narrative about #QassemSoleimani ?

1) Threaten journalists on the ground to cover the news their way

2) Ban any anti-regime rally

3) Declare a 3-day mourning

Then, Western journalists claim Soleimani is very popular! pic.twitter.com/jBtNszneoH

— Masih Alinejad 🏳️ (@AlinejadMasih) January 4, 2020
Former Iranian Diplomat Amir Musawi: Iran has a Black List of U.S. Politicians and Military Officers; The Iranian Hand will Reach Them pic.twitter.com/5mG66iTYUQ

— MEMRI (@MEMRIReports) January 5, 2020
Iranian President Hassan Rouhani to Family of Qasem Soleimani: Everybody Will Avenge His Blood; America's Evil Hand Will Be Severed from the Region pic.twitter.com/qqoDZV3vAj

— MEMRI (@MEMRIReports) January 5, 2020
Mohammad Marandi, Head of American Studies at Tehran University: American, Western Citizens Should Leave the Region Immediately pic.twitter.com/2ozOyPkxRX

— MEMRI (@MEMRIReports) January 5, 2020
Erdogan denies telling Rouhani slain general was a 'martyr'
A spokesman for Recep Tayyip Erdogan denied that the Turkish president had called Iranian Gen. Qassem Soleimani a "martyr" on Sunday following a Russian media report that he had used the laudatory term.

Citing an unnamed Turkish official, Turkish state news network TRT World reported that Erdogan had offered his condolences to Iranian President Hassan Rouhani and urged him to avoid an escalation with the US following the airstrike that killed the top commander, but "did not use 'martyr' to describe him."

Turkish Media reported that Turkey, a NATO member and official US ally, had been working to defuse tensions between Tehran and Washington. Tensions have risen between Turkey and the US in recent months over the former's 2018 incursion into norther Syria.

Ankara's denial came after the Arabic-language service of Russian state media outlet RT reported on a condolence call between Erdogan and Rouhani.
Nasrallah Threatening from Safety of Beirut Bunker: US Will 'Pay the Price' for Killing Soleimani
Speaking to thousands of Hezbollah supporters at a Sunday rally in southern Beirut – who were viewing him on a television broadcast from his bunker – because Mother Nasrallah didn't raise a fool – Shiite mega terrorist and Hezbollah chairman Hassan Nasrallah vowed to take revenge against America's forces in the Middle East: bases, warships, soldiers, you name it.

"America will pay the price," vowed Nasrallah, who has remained in his bunker since 2006, knowing that if he dared show his face outside, someone would tell Israel and he would be ushered to a better world, courtesy of the IDF. He should have advised his late friend, Iranian terror mastermind Qasem Soleimani, who met his maker last Friday morning.

"The suicide bombers who forced the Americans to leave our region in the past are still here and their numbers have increased," Nasrallah threatened, referring to the October 23, 1983, suicide truck bombs that struck buildings that housed American and French service members of the multinational peacekeeping force, killing 241 US and 58 French military personnel. Before that, there was the April 18, 1983 US embassy in Beirut suicide bombing that killed 32 Lebanese, 17 Americans, and 14 visitors and passers-by.

Neither operation was carried out by Hezbollah, which was only founded in 1985.

"Soleimani's assassination was not an isolated incident," Nasrallah told his adoring audience. "This is the start of a new US war in the region. Qasem Soleimani was the glue that held the axis of resistance together, which is why they decided to kill him, and did it in the open," in order to intimidate the pro-Iranian forces.
This more or less encapsulates what international law has become - a bunch of rules bad guys can demand of others but which cannot be enforced against them.

— Haviv Rettig Gur (@havivrettiggur) January 5, 2020
Cruz pushes Senate resolution praising Soleimani mission, daring Dems to oppose
Texas Sen. Ted Cruz, a noted Iran hawk, is circulating a resolution in the Senate that would commend the Trump administration for killing Iranian Gen. Qassem Soleimani, aides told Fox News on Friday.

An aide said the resolution is "structured and worded the same way as a 2011 resolution that commended the Obama administration for killing Bin Laden, which received unanimous support in the Senate." Cruz is trying to get Democrats on the record supporting the mission.

It's an apparent effort by Republicans to try to dare Democrats to oppose virtually the same resolution the Senate adopted to applaud then President Barack Obama in 2011 after the killing of Osama bin Laden.
Ilhan Omar and Corbyn react to Soleimani's death
Ilhan Omar and Jeremy Corbyn react to the death of Qasem Soleimani by condemning the US ?????
Anti-war rally turns antisemitic

"..racist monstrous state that sits on the land of Palestine that is known as Israel...free free Palestine end all aid to Israel"pic.twitter.com/bVpK7wgZPD

— Eytan Sosnovich (@EytanSosnovich) January 4, 2020
The Anti-Imperialism of the Left Doesn't Care About Victims, It Just Hates The West
Stop The War coalition are now being supported by a number of Labour MPs, for example, Richard Burgon. This is the MP that claimed in a YouTube clip that "Zionism is the enemy of peace." In the same clip, he also seems to refuse to be a member of Labour Friends of Israel yet simultaneously appears to be happy to stand against an unlikely war because the aggressor is the U.S.

The Left is usually seen as opposing wars and supporting victims, but this doesn't appear to be the case anymore. It seems the bogeyman for them will always be the West because they are guided by their so-called anti-imperialist stance. But what happens to the victims of authoritarian regimes? They get ignored. The value of their lives exists only when offering an opportunity to oppose "the West".

Thousands of people have been murdered on the direct orders of General Qasem Soleimani, yet nonsense such as this from Max Blumenthal where he claims General Qasem Soleimani was killed because he pushed back against "U.S. backed ISIS" is being taken as serious commentary. Have some on the Left lost their minds?

Whatever the strategic reasons are for taking out General Qasem Soleimani, we must always remind ourselves of the victims. Our solidarity must always be with them, whether we identify ourselves as right, left or in between. The threat posed to the West by homegrown or foreign terrorists is slim, based on the evidence.

Jeremy Corbyn should caution himself on matters that he appears not to have expertise in. Furthermore, if his concern is a potential escalation on homegrown terrorism, then he should be focussing on supporting initiatives such as PREVENT and de-radicalisation programs. There are a number of individuals and organisations on the frontline, every day risking their lives to make the U.K. a safer place, and they are not helped when an the leader of Her Majesty's Opposition appears to scaremonger whenever the West takes steps to save lives against despotic regimes like that of Iran.
This afternoon two members of the Shadow Cabinet, including John McDonnell, attended a protest against the killing of Qasem Soleimani. Thousands of Syrians, Iraqis and Iranians were killed by forces under Soleimani's direction. McDonnell didn't go to any protests for them. pic.twitter.com/V5yCstgd65

— James Bickerton (@JBickertonUK) January 4, 2020
"Iran's support for Iraqi insurgents led to the deaths of an estimated 1100 U.S. soldiers as well as other Coalition troops in Iraq, including British forces. Former US amb to Iraq James Jeffery, said: "Up to a quarter of the American casualties..."
Pics from Iranian handbook. pic.twitter.com/G5ZlNrZZh1

— Lenny Ben-David (@lennybendavid) January 4, 2020
MSNBC Guest: America Is 'Pretty Murderous' Compared to Iran
Columbia University professor Jeffrey Sachs said Friday that the United States should not push for regime change in Iran because of America's "murderous" history.

MSNBC host Katy Tur asked if there was a peaceful way the United States could help Iranians overthrow the murderous regime that's ruled them for decades, but Sachs rejected her premise.

"I wouldn't put it that way because we're pretty murderous also," Sachs said. "We've launched more wars than any other country in modern times. We've launched war after war after war. So I don't think it's really our business to change the regime."

Sachs argued the United States has been creating instability in the Middle East for decades while blaming the Iranian government.

"I hope Americans remember we overthrew the government in 1953, bringing in an authoritarian state, overthrowing a democracy," he said. "Why? Because they were interested in having some of their own oil in their own budget coffers. So we've played games for so long, and then the region is unstable and we say, 'Oh look, it's their fault.' We're creating this instability."
After Soleimani death, Colin Kaepernick decries US 'terrorist attacks against Black and Brown people'
Former NFL player Colin Kaepernick on Saturday accused the United States of targeting minorities "at home and abroad," just days after the administration ordered a drone strike that killed Iranian Gen. Qassem Soleimani.

"There is nothing new about American terrorist attacks against Black and Brown people for the expansion of American imperialism," he tweeted.

In a separate tweet, Kaepernick decried "American imperialism" and its "policing and plundering of the nonwhite world."

"America has always sanctioned and besieged Black and Brown bodies both at home and abroad," he wrote. "America militarism is the weapon wielded by American imperialism, to enforce its policing and plundering of the nonwhite world."

It's unclear what specifically Kaepernick was referring to, but his comments came amid left-leaning criticism of President Trump's decision to kill Soleimani, who led the elite Quds Force within the Islamic Revolutionary Guard Corps (IRGC); the U.S. government has long considered him a terrorist.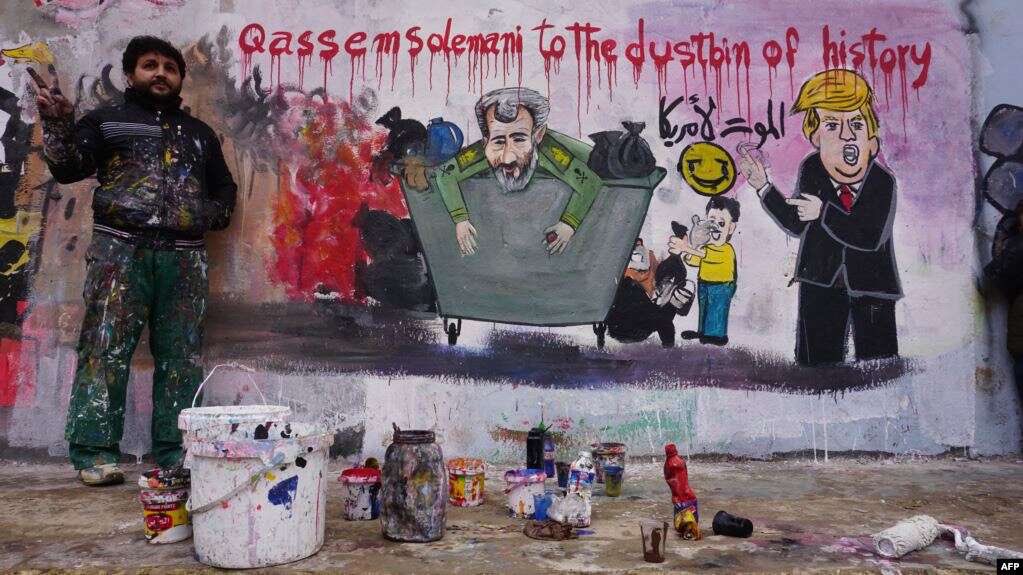 BBC deletes Tweet promoting programme about Yiddish
A BBC World Service Tweet advertising a radio programme about Yiddish caused quite a stir on January 3rd.



Several hours later that Tweet was deleted.

Such crass euphemism is fortunately absent from the programme itself – "Yiddish: A story of survival" – and its synopsis states:

"At its height, Yiddish, the language of the European Jews, was spoken by more than ten million people, from Russia in the east to the Netherlands in the West. But by the mid -20th century, these numbers were severely depleted following the Holocaust, and then the creation of the modern-day state of Israel where the speaking of Yiddish was discouraged."

From 20:35 listeners to the programme get a more comprehensive explanation of "the factors that led to the demise of Yiddish around the mid-twentieth century" from one of the programme's contributors.

That of course raises the question of whether whoever was operating the BBC World Service Twitter account at the time actually bothered to listen to the programme or at least read its synopsis before composing that miserable Tweet.
Guatemala loves Israel – the inside story
A visit to see Israeli relief work following a volcano disaster in Guatemala revealed a country with a great affection for the Jewish state.
Being in the tourism industry, I have traveled to numerous countries all over the world, but no country left more of an indelible a mark on me than Guatemala. Its leaders and citizens exuded an abounding love of Israel and the Jewish people that I have not seen anywhere else.

While attending the AIPAC conference, I heard a presentation from the NGO IsraAid, which sends expertise of all kinds to support relief efforts all over the world. After hearing about the impact they were making on a limited budget I asked if it was possible to see their project work first hand. They suggested I join a visit to Guatemala where an IsraAid team was helping in the aftermath of a deadly 2018 volcano eruption. I readily accepted, packed my bags and took the flight from Miami to Guatemala City, where I was met by an IsraAid representative.

The De Fuego eruption
The De Fuego volcano erupted on May 3, 2018, sending rivers of smoldering ash into the plains and valleys below, destroying entire villages and resulting in 250 deaths. The region of Escuintla bore the brunt of the destruction, with 12,800 people evacuated, thousands of them with nowhere to go, and housed in makeshift shelters.

The Israeli relief effort
One of the first international teams to arrive – landing two days after the eruption – IsraAid distributed hundreds of urgent hygiene kits to families. With thousands of villagers reeling from the huge loss of life, homes and livelihood, a team of mental health professionals gave specialized trauma and bereavement training to 300 psychologists, nurses, shelter coordinators and volunteers.
6 Common Foods Popularized by Jews
Some of the most commonplace foods we take for granted weren't always so easy to come by. In many cases, it was Jewish traders or businesspeople who introduced basic ingredients to new markets. Take artichokes – for years, Italians called this vegetable "Jewish food", because Jews introduced it to the region. In Spain, Jews introduced eggplant; the vegetable was so associated with Jews that during the Spanish Inquisition, eating eggplant was even grounds for accusing someone of being a secret Jew.

Here are six other common foods whose popularity was spread by Jews.

Growing Oranges in Europe
Surprisingly, the Jewish holiday of Sukkot helped popularize oranges in Europe. Because Jews use etrogs to celebrate Sukkot, Jews in Southern Europe were adept at tending to citrus trees and orchards. (In fact, in the chaotic period after the fall of the Roman Empire, Jews are thought to have been the only people continuing to grow citrus fruit in Europe.) When Arab traders started bringing the first oranges from India to Europe to sell in the Middle Ages, Jewish citrus growers added the new fruit to their orchards.

Soon, oranges became a quintessential Sephardi Jewish food, used in cakes, meat dishes, and salads. Food history writer Gil Marks notes that "It was by no coincidence that the centers of medieval citrus cultivation directly corresponded to the centers of Jewish population." (Quoted in Encyclopedia of Jewish Food by Gil Marks, John Wiley & Sons: 2010.) Jewish traders brought oranges – as well as etrogs and other citrus fruit – to Jewish communities in northern Europe, where they were a coveted treat. In some Ashkenazi Jewish communities, an orange was a popular Hanukkah gift. Later, Sephardi Jews introduced orange cultivation to South America and the Caribbean, as well.

In more recent times, Jewish peddlers introduced oranges to mass markets in western Europe. In a book about London's poor published in 1851, the author Henry Mayhew noted that "the (orange) trade was, not many years ago, confined almost entirely to the Jew boys who kept aloof from the vagrant lads of the streets". (London Labour and the London Poor by Henry Mayhew, 1861.)

Jewish vendors sold oranges from baskets or stalls on busy streets, and later branched into the wholesale and import markets, ensuring that oranges became available widely in Europe and beyond. (h/t Zvi)
Highlights in Israel's relations with the Arab world in 2019
Of all the many video summaries marking the end of the year and the end of the decade, we're especially excited about this one: 2019 was a landmark year in the relations between Israel and countries in the Arab world. From diplomacy to tourism, through innovation & sports, this year leaves us with great hope for a future of enhanced cooperation between Israel and its neighbors. Check out some of last year's major highlights:
---
---
We have lots of ideas, but we need more resources to be even more effective. Please
donate today
to help get the message out and to help defend Israel.