From Ian:
---
Eugene Kontorovich:
Why President Trump is keeping the promise made at San Remo in 1920
It is easy to criticize the artificiality of the countries established by the League of Nations. But in a world, and particularly a region, where ethnic and religious groups live intermixed and not separated into grid-like boxes, some arbitrariness of borders is inevitable.
Every League of Nations-mandated territory lumped an unhappy minority in with a majority: the Muslims in with Lebanon's Christians, the Kurds with Iraq's Arabs, everyone with everyone in Syria. The process was imperfect, but the known alternatives are what existed before – a vast pan-ethnic empire – or every group trying to carve out its own sliver of territory, which ends up looking like Syria over the past eight years.
THIS IS why the post-World War I borders are overwhelmingly accepted as the binding sovereign borders of the countries that arose in the British Mandatory territories. Both Kurdish secession and Syrian annexation of Lebanon get no international support because they would call into question Mandatory borders.

There is one place in the Middle East where the international community takes the entirely opposite position about Mandatory borders. And that, of course, is Israel.

While the Pompeo statement did not say anything about borders, it did reclaim the San Remo principle that Jewish settlement is not illegal. The legal basis for this deserves some discussion.

Pompeo repudiated the conclusions of a 1978 memorandum by the State Department legal advisor Herbert Hansell. The memo's conclusions had already been rejected by then-president Ronald Reagan, but it had never been formally retracted.

The four-page memo jumped in broad strokes across major issues, and cited no precedent for its major conclusions. Indeed, in the decades since, its legal analysis of occupation and settlements has consistently not been applied by the US, or other nations, to any other comparable geopolitical facts. It was always what lawyers call a "one-ride ticket" applicable just for Israel.

Hansell's memo had two analytic steps. First, he concluded that Israel was an "occupying power" in the West Bank. That triggers the application of the Geneva Conventions. He then invoked an obscure provision of the Fourth Geneva Convention that had never been applied to any other situation before (or since). It says the "occupying power shall not deport or transfer its civilian population" into the territory it occupies.

Hansell, without much discussion, concluded that Jews who move just over the Green Line have somehow been "deported or transferred" there by the State of Israel. In short, he read a prohibition on Turkish-style population transfer schemes as requirement that Israel permanently prevent its Jews from living in those areas that Jordan had ethnically cleansed during its administration.

Under international law, occupation occurs when a country takes over territory that is under the sovereignty of another country. This is why borders of countries arising in former Mandatory territories are those of the relevant Mandate. That, for example, is why Russia is considered an occupying power in Crimea, even though most of its population is Russian and it has historically been part of Russia. Yet due to internal Soviet reallocations, when Ukraine became independent, Crimea was incorporated into the borders of its predecessor, the Ukrainian Soviet Socialist Republic. For international law, this establishes clear Ukrainian sovereignty, even over the self-determination objections of a local ethnic majority.
PodCast:
Clifford D. May on Antisemitism, Iran, and Israel
Middle East Forum Radio host Gregg Roman spoke on December 18 with Clifford D. May, founder and president of the Foundation for Defense of Democracies (FDD), about the recent British election and the fight against antisemitism and radical Islamist actors in the Middle East.

According to May, the victory of Boris Johnson and the defeat of Jeremy Corbyn, was first and foremost a resounding public endorsement of Brexit – the UK's withdrawal from the European Union. Though approved in a popular referendum three and a half years ago, parliament has voted against ratification three times, causing seething resentment across the political spectrum.

However, the scale of the Conservative victory underscored the public's rejection of the Labour Party's increasingly socialist platform and the virulent antisemitism of its leader, Jeremy Corbyn. According to May, Corbyn's embrace of Hamas and Hezbollah alienated British Jews, long a mainstay of Labour's political base. Jews "had been leaving the Labour Party, some of them were packing their bags to go elsewhere – to Israel, the United States, Australia somewhere they feel safer," he said. "They can now unpack."

But the fight against antisemitism, an "ancient and shape-shifting pathology," is "not over in Britain by any means," May warned. Antisemitism, both in Britain and in the rest of the world, "is not going away, we're not going to cure this pathology. It can, however, be treated." He pointed to President Trump's recent executive order strengthening the protection of Jewish university students under Title VI of the Civil Rights Act as model of such treatment:
What President Trump did is to say antisemitism is rampant on American college campuses. As the laws are now interpreted, Jews are not protected as other minorities are. This executive order says Jews also should be protected as are other minorities facing discrimination.

May expects Prime Minister Johnson to use his stronger parliamentary mandate to promote policies combating antisemitism:
They're already talking about an anti-BDS resolution or law, understanding the extent to which BDS – a campaign of boycott, divestment and sanctions [against] Israel – is based on antisemitism and is fundamentally antisemitic in its intent. Boris Johnson seems to understand this. So this is good news. Both of these are battles won in this this endless war against this very specific brand of bigotry.
The Tikvah Podcast:
Arthur Herman on China and the U.S.-Israel "Special Relationship"
In both Israel and the United States, most politicians, foreign-policy experts, and citizens desire a strong and ever-closer relationship between the two nations. Israel and America share values, interests, and a deeply rooted biblical heritage that ties them inextricably together. But lately, U.S.-Israel relations have hit an impasse of sorts. As the Jewish state pursues greater economic ties with the People's Republic of China, it has created new friction with America, which views China—rightly—as a geopolitical and economic rival.

In his December 2019 Mosaic essay, Hudson Institute scholar Arthur Herman delves into the sources of the U.S.-Israel tension caused by China and suggests a path forward. This new piece follows up on his 2018 essay, "Israel and China Take a Leap Forward-but to Where?" In this podcast, Herman joins host Jonathan Silver to discuss the evolving nature of Israel's relationship with China, how that relationship has strained relations with Israel's most reliable ally, and how Israel and the United States can best preserve their special relationship as they both seek to meet the challenge of China's rise.
Heading to Greece to ink gas deal, PM says it will bring in hundreds of billions
Prime Minister Benjamin Netanyahu on Thursday flew to Greece, where he was set to sign an agreement for a huge pipeline project with Cyprus and Greece that is designed to ship gas from the eastern Mediterranean to Europe.

The move comes amid tensions with Turkey over its own activities in the area and a contentious maritime deal with Libya, expanding Ankara's claims over a large gas-rich area of the sea.

"We are going to an important summit with the president of Cyprus and the new Prime Minister of Greece," Netanyahu told the press before boarding his plane.

The EastMed pipeline deal, to be signed in Athens on Thursday evening by the prime minister, Cypriot President Nicos Anastasiades and Greek Prime Minister Kyriakos Mitsotakis, will "bring hundreds of billions" into state coffers, Netanyahu predicted.

"We have established an alliance in the Middle East, an alliance that is of enormous importance to the energy future of Israel, to it becoming an energy power, and for stability in the region," Netanyhau said.

The 2,000-kilometer (1,200-mile) pipeline will be able to transfer nine to 12 billion cubic meters a year from offshore gas reserves between Israel and Cyprus to Greece, and then on to Italy and other southeastern European countries.
Netanyahu Arrives in Athens to Sign Eastern Mediterranean Pipeline Deal
Israeli Prime Minister Benjamin Netanyahu and Energy Minister Yuval Steinitz are set to visit Greece on Thursday to sign a three-way agreement with Cyprus, that will lay the ground for natural gas exportation to Europe, Hebrew media reported. Under the agreement, Israel and Cyprus will jointly export gas found in their territorial waters through Greece to Italy -- and from there the gas should reach different locations in Europe. Italy will not attend the summit, but is expected to sign the agreement at a later date. "We are headed to a very important summit with the president of Cyprus and the newly-elected Greek prime minister," Netanyahu said before taking off to Athens. "We established an alliance in the Middle East of tremendous importance for the future of Israel's energy and turning it into an energy superpower."
Jordan Begins Receiving Natural Gas from Israel
Natural gas from Israel's offshore Leviathan field has begun flowing to Jordan, the kingdom's National Electricity Company (NEPCO) said Wednesday.

According to a $10 billion deal struck with Noble Energy in 2016, a U.S.-Israeli consortium will supply Jordan gas for 15 years.

The Jordanian government said that securing stable energy prices for the next decade can achieve savings of at least $500 million annually.
Israel to EU: Don't Give Funds to NGOs with Terror Ties
The EU must not give in to Palestinian organizations' demands that it allow aid to go to groups with ties to designated terrorist groups, Strategic Affairs Minister Gilad Erdan wrote in a letter to the EU's new Foreign Minister Josep Borrell.

Erdan's letter, sent on Tuesday, referred to the many ties between the Popular Front for the Liberation of Palestine, designated a terrorist group in the European Union, United States, Canada and Israel, and Palestinian NGOs that call themselves human rights or civil society organizations.

The minister pointed to recent media reports that Palestinian NGOs have demanded the EU erase a stipulation that aid must be sent only to organizations with no ties to EU-designated terrorist groups, claiming that the PFLP and others are political parties, according to NGO Monitor.

Two weeks ago, the Shin Bet (Israel Security Agency) arrested about 50 members of the PFLP in relation to the August 2019 bombing that took the life of 17-year-old Rina Schnerb and wounded her brother and father.

Among those arrested were senior officials in the Palestinian NGO Addameer, such as Khalida Jarrar, former vice president of the organization and head of the PFLP in the West Bank.

"Alongside [Addameer's] ongoing campaign to boycott and delegitimize the State of Israel, [it] calls for the release of PFLP terrorists while providing them with legal representation," Erdan wrote.

Erdan expressed concern that Al-Haq, a Palestinian NGO that receives significant aid from the EU, transferred funds to the PFLP. Al-Haq's director, Shawan Jabarin, is a convicted PFLP terrorist.
Barghouti is a convicted terrorist and murderer, who has shown not an iota of remorse. To compare him to Mandela, is not only absurd, but grossly offensive! https://t.co/GZr4i7rGy3

— Arsen Ostrovsky (@Ostrov_A) January 2, 2020
Belgian lawmaker takes heat for lighting menorah in Parliament
A video by the only Orthodox Jewish lawmaker in the Belgium Federal Parliament lighting candles there on Hanukkah near a nativity scene is provoking angry reactions, including from members of his own party.

Michael Freilich is seen walking through Parliament with a menorah as he passes multiple Christmas trees and other holiday symbols. Then he lights the menorah in a smaller room with a Christmas tree and nativity scene,which celebrates the birth of Jesus, in the background.

Two local politicians representing Freilich's center-right N-VA party complained that his actions go against the separation of religion and state.

"Secularism is for everyone or for none at all," one of the politicians, Pinar Akbas, wrote on Twitter. He also demanded "clarification," De Morgen reported Friday.

Pieter Boudry, another party representative, also protested.

"No religious clothes and symbols for politicians and civil servants," he wrote about the video.
Lebanese lawyers want ex-chief of Nissan prosecuted over 2008 Israel trip
Lebanese lawyers on Thursday filed a report to the judiciary demanding fugitive auto tycoon Carlos Ghosn be prosecuted over a trip he made to Israel as Renault-Nissan chairman in 2008.

Ghosn — who holds Lebanese, French and Brazilian citizenship — jumped bail in Tokyo in mysterious circumstances and arrived in his native Lebanon early on Monday.

The tycoon had traveled to Israel in 2008 to support a partnership with Shai Agassi, an Israeli entrepreneur who had launched an ill-fated electric vehicle venture called "Project Better Place."

Three lawyers "submitted a report to the public prosecutor against businessman Carlos Ghosn for the crime of having entered an enemy country and violated the boycott law," the state news agency reported.

They said several contracts had been signed during his January 2008 trip and added that Ghosn had taken part in several economic conferences.

"Doing business with Israel is not a matter of opinion — any normalization is forbidden by law," Hassan Bazzi, one of the lawyers, told AFP.
IDF: Palestinian tries to stab soldiers in West Bank, is shot
The Israel Defense forces said that soldiers thwarted an attempted stabbing attack at the West Bank's Gush Etzion Junction on Thursday.

The troops fired at the Palestinian suspect, who was armed with a knife, and managed to neutralize him while preventing casualties, the army said.

Photos from the scene in the southern West Bank showed emergency medics and soldiers crowded around the injured attacker, whose condition wasn't immediately clear.

The army later released a statement saying that its initial inquiry found that a soldier identified an assailant running toward him with a knife and shot the attacker in the leg in order to neutralize him.

The Gush Etzion Junction and nearby shopping area, which are used by both Israelis and Palestinians, have been the site of several deadly terror attacks in recent years.
Stepping up financial warfare bid, Israel seizes funds from 32 families of terrorists
Defense Minister Naftali Bennett on Wednesday evening ordered the seizure of funds from 32 families of terrorists with Jewish blood on their hands, who possess Israeli citizenship.

Bennett said in a statement that the confiscation would go into effect immediately. The families had received the funds for years from the Palestinian Authority as a reward for their terrorist relatives' murderous acts.

"The murder of Jews will stop being profitable," the defense minister's statement said.

Last week, for the first time, Bennett signed a confiscation decree totaling in the hundreds of thousands of shekels from eight convicted terrorists. These are Israeli citizens convicted of terrorist crimes, five of whom were sentenced to life in prison.

The confiscation order targets the monthly salaries these terrorists receive from the Palestinian Authority for the crimes they committed and also applies to their beneficiaries (i.e. their families), who receive the funds on their behalf.

Upon taking office, Bennett said he would step up the war on terror, including by employing what he called "targeted financial warfare."

Within that framework, last Tuesday he also signed a ministerial decree imposing financial sanctions on a London-based terror suspect believed to have ties to Hamas.
Shin Bet head: Don't allow Hamas to turn into Hezbollah
As Israel moves towards a ceasefire agreement with Hamas in Gaza, the head of Israel's Shin Bet Nadav Argaman has warned the Security Cabinet against allowing Hamas to turn into the second Hezbollah by not limiting the terror group's military buildup as part of the arrangement.

According to a report by Yedioth Ahronoth, during the security cabinet meeting on Wednesday that was attended by Prime Minister Benjamin Netanyahu, Defense Minister Naftali Bennett and IDF Chief of Staff Lt.-Gen. Aviv Kochavi, Argaman read an article which discussed Israel's failure to stop Hezbollah's intensive military buildup following the Second Lebanon War and warned of a similar possibility in Gaza.

Most of the clauses in the ceasefire moderated by the Egyptians are reported to have already been agreed upon by defense and government officials and it's expected to be signed before Israel once again goes to the polls in March.

As part of the agreement, Israel will reportedly increase the number of entry permits for Gazan laborers and merchants as well as widen the fishing zone off of the blockaded coastal enclave, currently set at 14 nautical miles.

Infrastructure projects like the construction of a natural gas pipeline and increased medical assistance and equipment for hospitals as well as other goods are also reported to be part of Israel's concessions.

The ceasefire agreement does not require Hamas to return the remains of Lt. Hadar Goldin and St.-Sgt. Oron Shaul, which they have held since 2014, or Israeli civilian captives Avera Mengistu and Hisham al-Sayed.
Coming soon: App that displays rocket alerts on streaming services
A new Israeli app developed by two youths will allow for rocket alarms alerts to show on Android-supported streaming services and Internet apps. "Who wouldn't want to know that what they're doing helps save lives?" the two told Mako.

15-year-old Sderot resident Nir Vaknin realized that smart TVs and streaming services require an alert system for the many Gaza border community residents who use those services. He contacted 15-year-old Itai Goli from Ness Ziona to develop the app.

"I am a customer of one of the streaming services and I realized that the broadcast, and subsequently the alert, is 30 seconds late," Vaknin explained to Mako about how he came up with the idea. "In Sderot, there are 15 seconds between the alert and when the rocket falls, so such a late alert on TV becomes irrelevant. There are areas in the city where the alarm is less audible – and of course there are times when people are listening to music, watching a movie, or are with many people at home, and because of the noise created, they cannot hear the alarm outside."

"The app can be downloaded from the Android app store on the TV," Vaknin explained. "There are smart TVs like Sony and Toshiba that support it, as well as some streamers, like Cellcom, Sting and of course Xiaomi, as well as Nvidia Shield. After downloading the app, you can choose the area where the app would alert when the alarm goes off, unlike Home Front Command alerts on new channels that show alerts for all areas in Israel.
PMW:
PA rewards teaching that "Palestine" erases all of Israel
As 2019 ended, the Palestinian Authority emphasized that it views the entire State of Israel as "Palestine" and rewards anyone who reinforces this message. Accordingly the PA Ministry of Education awarded first prize in an art competition to a student who in her painting included the PA map of "Palestine," which presents all of Israel as part of "Palestine" together with the PA areas and the Gaza Strip.

The painting – representing "the Palestinian teacher's struggle in building the pillars of knowledge" – shows a teacher inside the map of "Palestine" holding a book with the Palestinian flag while building a boy out of puzzle pieces. [Official PA daily Al-Hayat Al-Jadida, Dec. 27, 2019]

Joining the PA Ministry of Education in awarding this painting first prize were several PA officials, including Fatah Central Committee Secretary Jibril Rajoub (far left in photo above), Ramallah District Governor Laila Ghannam (right of artist Maira Ghneim) and PA Prime Minister Dr. Muhammad Shtayyeh who presented the prize at a ceremony for Palestinian Teacher's Day in Ramallah.

The PA uses this map denying Israel's existence in all contexts, as documented repeatedly by Palestinian Media Watch.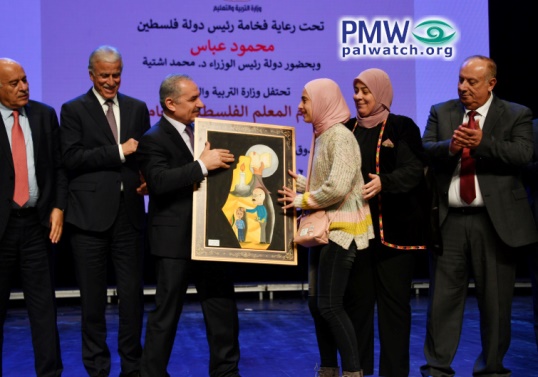 PMW: "The American tyranny" is Pharaoh in this generation, says preacher on official PA TV
PA Shari'ah Judge Muhannad Abu Rumi: "'[Allah] saved you from the people of Pharaoh, who were afflicting you [the children of Israel] with the worst torment and were slaughtering your [newborn] sons and keeping your females alive' [Quran, Sura 14:6]. Serious affliction, killing – from the people of Pharaoh, who is represented in this generation by the American tyranny that wants to impose its rule. And we as the Palestinian people are in the situation of Moses: [Moses] struck him and killed him… They want to impose rule with iron and fire on our people and our children. We say to them: America is not our fate... We will not submit to them. We will not agree and will not accept the occupation… However long it takes, they will be defeated, and we will overcome them, Allah willing… But dear ones, we are required to take initiative." [Official PA TV, Oct. 4, 2019]
This is pic of the densest refugee camp, Balata, in Nablus (Schem). Notice all the uninhabited land around it.
The Palestinian leadership want to keep them refugees; the refugees don't want to lose their UNRWA grants. pic.twitter.com/rvTYgMm4Ly

— Lenny Ben-David (@lennybendavid) January 2, 2020
Seth Frantzman:
The Ottomans are back - what does that mean for Israel?
In late November, Turkey set its sights on a new goal.

In Libya, a long-forgotten civil war was raging. The government in Tripoli, often called the Government of the National Accord, was losing ground to the Libyan National Army, led by a man named Khalifa Haftar, whose forces were based in eastern Libya.

Turkey supports Tripoli; Egypt supports Haftar. It is part of a much wider struggle that represents Turkey's attempt to revive influence not seen since the end of the First World War. A century ago, the European powers thought that the Ottoman Empire could be easily chopped up and its territories given away.

Today Turkey is back, moving into areas like northern Iraq, northern Syria, Libya and even the Gulf and Somalia.

The Paris Peace Conference that ended in January 1920, 100 years ago, helped the stage for many of the issues still facing the Middle East. It is hard to remember now, but much of what we take for granted regarding the borders of the Middle East is in some ways arbitrary. They were decided on partly after World War I in a series of treaties, such as the Treaty of Sevres of 1920 and Treaty of Lausanne of 1923.

Why is Hatay province, once called Alexandretta, in Turkey, when it could have been in Syria? Why is Mosul in Iraq and not in Turkey, as Turkey once claimed it? Why do the Kurds lack a state? The recent tensions in the Middle East, the unresolved questions from Lebanon to Iraq, Libya, Turkey and Gaza, are all part of this.

LET US begin where Turkey now ends its recent ambitions – in Libya. Libya was once the setting for a quiet proxy war that reflects divisions in the Muslim world between the Muslim Brotherhood, which Turkey's ruling party has roots in, and countries that oppose the Brotherhood.
Turkey's Gunboat Gambit in the Mediterranean
Erdoğan seems to think that his best defense in the Mediterranean power game is an offense. On December 15, Turkish Naval Forces intercepted an Israeli research ship, the Bat Galim, in Cypriot waters and escorted it away, as tension over natural resource exploration continued to rise in the region.

On December 16, Turkey dispatched a surveillance and reconnaissance drone to the Turkish-controlled north of the divided island of Cyprus. A week before the drone deployment, Turkish Foreign Minister Mevlüt Çavuşoğlu said that Ankara could use its military forces to halt gas drilling in waters off Cyprus that it claims as its own.

Libya is another risky proxy war theater for Turkey. Its deals with the al-Sarraj government over troop deployment and maritime borders will become null and void if the Libyan civil war, begun in 2014, ends with Gen. Haftar's victory. The chief of staff of the LNA, Farag Al-Mahdawi, announced that his forces would sink any Turkish ship approaching the Libyan coast. "I have an order; as soon as the Turkish research vessels arrive, I will have a solution. I will sink them myself," Al-Mahdawi warned, noting that the order was coming from Haftar. On December 21, Haftar's forces seized a Grenada-flagged ship with Turkish crew aboard, on the suspicion that it was carrying arms. The ship was later released.

The European Union is another factor why Erdoğan, once again, is probably betting on the wrong horse. Technically speaking, Turkey is a candidate for full EU membership, but it is an open secret that accession talks have not moved an inch during the past several years, and with no prospects of progress in sight. Making membership prospects even gloomier, EU foreign ministers in November agreed on economic sanctions for Ankara for violating Cyprus' maritime economic zone by drilling off the island.

The Mediterranean chess game leaves Turkey in alliance with the breakaway Turkish Cypriot statelet and one of the warring factions in Libya, versus a strategic grouping of Greece, Cyprus, Egypt (and the UAE), Israel, and the other warring Libyan group.
Turkey parliament approves Libya military deployment
Turkey's parliament passed a bill on Thursday approving a military deployment to Libya, aimed at shoring up the UN-backed government in Tripoli.

The beleaguered Tripoli government has been under sustained attack since April by military strongman General Khalifa Haftar, who is backed by Turkey's regional rivals Saudi Arabia, Egypt and the United Arab Emirates.

President Recep Tayyip Erdogan's office confirmed last Friday that a request for military support had been received from the Tripoli-based Government of National Accord (GNA).

No details have been given on the scale of the potential deployment, and Vice President Fuat Oktay told state news agency Anadolu on Wednesday that no date had yet been set.

"We are ready. Our armed forces and our defense ministry are ready," he said, adding that parliamentary approval would be valid for a year.

He described the parliament motion as a "political signal" aimed at deterring Haftar's army.

"After it passes, if the other side changes its attitude and says, 'OK, we are withdrawing, we are abandoning our offensive,' then what should we go there for?"

The bill passed easily through Turkey's parliament, by 325 votes to 184.
JCPA:
The Turkish-Libyan Maritime Agreement and the Struggle over the Mediterranean
Turkey's AKP Party, which has ruled for nearly 20 years, has increasingly become preoccupied with the nation's Ottoman past, especially under the leadership of President Erdogan. At its zenith, the Ottoman Empire stretched from Algiers in the west to Iraq in the east. The Ottomans seized Jerusalem in 1517.

A new opportunity for restoring what are viewed as former Ottoman territorial claims has recently arisen with the Turkish-Libyan maritime agreements concluded on November 27, 2019. While Libya is split between two governments, Prime Minister Fayez al-Sarraj based in Tripoli, with Turkish support, created an Exclusive Economic Zone for Libya extending 200 nautical miles into the Mediterranean Sea.

Libya's Exclusive Economic Zone now touches the Exclusive Economic Zone of Turkey, making their maritime borders contiguous in the middle of the Mediterranean Sea. These agreements do not establish sovereignty over the Mediterranean seabed, but they do help define the rights of Mediterranean states to exploit hydrocarbon resources.

The Libyan move was opposed by many states; Egypt registered its objections to the UN Security Council. Israeli leaders privately called the Libyan-Turkish deal illegal.
Israel: Iran made 'grave mistake' with attack on US embassy in Baghdad
Israel on Wednesday condemned an attack by pro-Iranian groups on the US embassy in Baghdad, accusing Tehran of erring by ordering the coordinated assault.

The comments by Foreign Minister Israel Katz came hours after pro-Iran demonstrators left the besieged US embassy in Baghdad after the Hashed al-Shaabi paramilitary force ordered them to withdraw a day after their dramatic incursion.

Thousands of Iraqi supporters of the largely Iranian-trained Hashed had encircled and vandalized the embassy compound Tuesday, outraged by US airstrikes that killed 25 Hashed fighters over the weekend.

"Iran made a grave mistake by attempting to harm American diplomats in Iraq," Katz said in a statement.

"We call on the international community to stand determinedly against the crimes of the murderous regime in Tehran," he added.

Katz linked the latest incident to Iran-linked attacks on diplomatic missions worldwide, including the deadly 1992 bombing of Israel's embassy in Buenos Aires by the Iran-backed Hezbollah terrorist group, in which 29 people were killed.

In a radio interview Wednesday, the foreign minister said Iran could attack Israeli interests next, though he acknowledged the possibility was slim.
Pompeo speaks with Netanyahu following attack on US Embassy in Baghdad
Following the attack on the US embassy in Baghdad, US Secretary of State Mike Pompeo spoke with Prime Minister Benjamin Netanyahu, the prime minister of Iraq and the emir of Qatar on Tuesday via phone.

According to US State Department Spokesperson Morgan Ortagus, in his conversation, Pompeo thanked Netanyahu "for Israel's unwavering commitment to countering Iran's malign regional influence and its condemnation of the December 31 attack on the US Embassy in Baghdad."

"The secretary and prime minister reaffirmed the unbreakable bonds between the United States and Israel," Ortagus said.

It is the second time that Pompeo and Netanyahu have discussed the situation with Iran this week – the two spoke on the phone on Monday as well.
Israel's Strikes in Syria Hurt Iran
Israel's offensive posture toward the Iranian build-up in Syria stems from its desire to prevent the introduction on a mass scale of precision-guided missiles and the establishment of an Iranian-run weapons industry there.

But there is another reason behind Israel's resolve: to increase the costs of Iran's imperialism.

U.S. sanctions against Iran have struck hard: the Iranian economy contracted by 9% in 2019, especially due to the decline of oil exports.
China has recently diversified its oil imports away from Iran, choosing instead to increasingly rely on Russian energy sources.
Maximum Pressure on Iran Is Working. That's Why It's Lashing Out
In a clear sign that the Islamic regime in Iran is worried about its survival, it has increased its attacks on American interests in Iraq.
In response, the U.S. engaged in some signaling of its own, hitting five targets in Iraq and Syria on Sunday. Washington is calling the regime's bluff.

Good. Exposing the regime's weaknesses, economically and now militarily, may be the best strategy yet for putting the squeeze on Tehran. The 13th century Iranian poet Saadi Shirazi had a saying: "If you want to bring a mullah down from his high horse, make sure both he and the four-legged animal are hungry."

The campaign of "maximum pressure" is wreaking economic and psychological havoc on the regime and the mullahs are scared. During the recent uprisings, the Revolutionary Guards killed more than 1,500 protestors in the deadliest uprising since the Iranian Revolution.

Decades of economic mismanagement and political isolation have ruined the lives of Iranians and dashed the hopes of young people. To make matters worse, recent droughts and destructive floods have hurt the farmers and low-income households who traditionally form the base of the regime's support.

The Iranian regime has long been running on ideological fumes, imposing strict Islamic law on one of the Middle East's most moderate, well-educated populations.
Honest Reporting: Barricade In Baghdad
Hezbollah and Iranian backed militia groups stormed the US embassy in Baghdad, Iraq, and violently barricaded the US marine guards entrapping them in the embassy" should be just "trapping US Marines and other personnel inside.

But why? What is Iran's goal?
Iraq Is a Key Battleground for Tehran
The U.S. war in Iraq achieved exactly the opposite of what it was meant to: Instead of creating a staunch and reliable partner to help encircle Iran, it has created an ally of Tehran.

Iran was much more helpful to Baghdad in its fight against ISIS than was the U.S., and so the Iraqi government owes a debt of gratitude to the Iranian Revolutionary Guards and their Shiite militia proxies.

Yet the Iranians seem to be repeating the mistakes of the U.S. in Iraq, overplaying their hand regarding how much leverage they have in the country, and how much they should try to exert.

It turns out that the people of Iraq are in no mood to be pawns of Iran either.
JCPA:
Iran Is Trying to Divert Attention from Growing Criticism in Iraq
The Supreme Leader of Iran, Ali Khamenei, spoke for the first time about the attacks on the bases of the Hizbullah Brigades (Kataib Hizbullah) in Iraq and Syria. He said, retweeting President Trump,1 that the American airstrike against the Popular Mobilization Forces (al-Hasdh al-Shabi) was "revenge for the central role that the Hizbullah Brigades played in the struggle to defeat the Islamic State, which is the handiwork of the United States."

Khameini, who was addressing a gathering of male and female nurses to mark the birthday of Zainab, granddaughter of the Prophet Muhammad whose gravesite mosque is a Shiite shrine located in the southern suburbs of Damascus). He roundly condemned the U.S. operation by "Satan on Earth" (i.e., the United States).

Khameini said that the assault on the American embassy in Baghdad testifies that there is fierce anti-American sentiment in Iraqis' hearts. The incident also signals, he claimed, that Trump who charged Iran2 with responsibility for the killing of an American citizen and the breach of the U.S. embassy, does not understand that all the peoples in the Iraqi, Afghani, and Syrian regions hate the United States, and "eventually this hatred erupts somewhere." Khamenei warned that Iran would strike back ruthlessly at whoever tries to harm its people and its values.3

The Iranian media, for its part, gave substantial and boastful coverage to the breach of the American embassy compound in Baghdad, which came on the heels of the funerals of those killed in the American attack. Members and leaders of the PMF and Iraqi Shiite militias took part in the demonstrations outside of the embassy and stormed the compound. Some of the pictures from the breach of the compound show members of the Hizbullah Brigades militia attacking the United States Embassy and expressing support for Qasem Soleimani, commander of the Quds Force of the Iranian Revolutionary Guard Corps.
British-Palestinian Journalist Abdel Bari Atwan Responds to U.S. Airstrike against Iran-Backed Militias in Iraq: America Has Opened the Gates of Hell; It Will Miss the Days of ISIS pic.twitter.com/1Suhsp3j25

— MEMRI (@MEMRIReports) January 2, 2020
Tehran Friday Sermon by Ayatollah Mohammad Emami Kashani: If the Americans Re-Elect Trump in 2020, They Will Be Partners to His Crimes and Bloodshed pic.twitter.com/6H7nhO1GZR

— MEMRI (@MEMRIReports) January 2, 2020
JCPA:
Iraq Pays the Price of Iran's Strategy with the Blood of Its Citizens
The Iranian Policy Costs Iraqi Blood

Iran continues to view Iraq and the Shiite militias operating there as critical elements in its efforts to store and transfer weapons to Syria and Lebanon, particularly precision rockets and missiles, and as a way to mobilize Shiite fighters for future battles with Israel and the United States. The ongoing Israeli efforts to prevent Iranian entrenchment in Syria have prompted Iran to redeploy and store some of its weaponry in Iraq, thereby advancing its plans in the region with the help of the militias under its authority. This strategy has provoked widespread criticism in Iraq of this conduct, in particular, and Iran's overall activity and presence in Iraq, in general. This resentment erupted in the ongoing demonstrations in Iraqi cities and in the attacks on the Iranian consulates in southern Iraq,5 along with recent calls by Iraqi demonstrators to boycott Iranian products.

Iraqi demonstrators calling for Iran's expulsion from the country assert that Iraq is paying for Iran's wars with the blood of Iraqi citizens, and Iran strives to promote its interests at Iraq's expense.7

Al-Sadr Condemns the Behavior of Shiite Militias under Iran's Sponsorship
After the American attack on December 29, 2019, Muqtada al-Sadr, leader of the Sadrist movement and one of Iraq's senior Shiite figures, said he had warned in the past of Iraq being pulled into regional and international conflicts and emphasized that Iraq's citizens would not accept such reckless behavior. Al-Sadr criticized the conduct of "some of the military militias" (meaning those loyal to Iran) that prefer alignment with Iran to being part of the Iraqi security forces. He criticized the American attack and President Trump as well, but also those who handed the U.S. administration a justification to carry out a strike in Iraq.8

In mid-September 2019, al-Sadr visited Iran to commemorate Ashura and met with its top echelon, including Supreme Leader Khamenei and Gen. Qasem Soleimani, commander of the Quds Force. Some analysts believe al-Sadr was summoned to Tehran.

Al-Sadr visited Iran after Iraq began to be targeted in the Israeli response to Iran's efforts involving Syria and Lebanon. As attacks in Iraq were attributed to Israel, al-Hashd al-Shabi and other Shiite militias linked to Iran stepped up their activity on Iraqi soil, ignoring the Iraqi governmental and military frameworks. This was a dangerous development that al-Sadr warned about and even more so recently in his public statements and on social networks.

Over the past year, and particularly after the recent strikes attributed to Israel, al-Sadr has criticized Iran's regional policy and support for the Iraqi Shiite militias and called for those based in Syria to return to Iraq. He asserted that the cost of these wars – which, he implies, Iran is waging using these militias, including on Iraqi territory – is ultimately paid by the Iraqi people with their blood.9
Al-Jazeera Report on Aftermath of Riots at U.S. Embassy in Baghdad: U.S. Troop Increase in Iraq Shows that Trump Administration Does Not Understand That Iraqis Are Angry about American Policies pic.twitter.com/tWEHSQfwfG

— MEMRI (@MEMRIReports) January 2, 2020
Iran Can No Longer Rely on Shia Militias to Fight its Wars
The intense pressure Iran is facing over its continued meddling in Iraq is the key factor behind the recent upsurge of violence in the Middle East that has resulted in American warplanes carrying out their biggest attack in a decade on Iran-backed militias.

Ever since the ayatollahs came to power more than 40 years ago, they have sought to distract attention away from their domestic unpopularity by getting Iran-backed Shia militias to carry out high profile attacks.

From the devastating car bomb attacks the Iranian-backed Hizbollah militia carried out against American bases in Beirut in the 1980s to the more recent attacks on Saudi Arabia's Aramco oil facilities in October 2019, the Iranian regime has repeatedly used its proxy Shia militias to great effect to distract attention away from its domestic travails.

The beauty of this arrangement, so far as the ayatollahs are concerned, is that, by relying on Shia militias to do their dirty work, whether it is firing missiles at Israel or carrying out assassinations in Europe, Tehran is able to deny any involvement in wrongdoing.

No longer. By launching a series of air strikes against Iranian-backed militias in Iraq and Syria on Sunday night, the Trump administration has made it abundantly clear that it will no longer tolerate Tehran's denials of its involvement in attacks against the US and its allies.
All hands on deck at @nytimes, pushing simply false narrative that attack on US Iraq embassy was -

(1) Done by "protesters." It was Iran militias.

(2) Resp to air strikes. It was months-long escalation.

(3) Shift from anti-Iran protests. It was condemned by those protesters. pic.twitter.com/UizaOhDMby

— Omri Ceren (@omriceren) January 1, 2020
---
---
We have lots of ideas, but we need more resources to be even more effective. Please
donate today
to help get the message out and to help defend Israel.