From Ian:
---
PMW:
PA Holocaust abuse: Photo of concentration camp victims misrepresented as Arab victims of Jews
PA Holocaust abuse: PA TV misrepresented a photo of concentration camp victims as Arabs, and wrote Jews burned Arabs in ovens

PA TV lie #1: PA TV distorted a photo of victims murdered in a concentration camp. PA erased the images of corpses in striped concentration camp uniforms; erased images of the American soldiers who had liberated the camp; erased images of the concentration camp buildings; and presented photo of the remaining dead bodies as Arab victims of Jews in 1948.

PA TV lie #2: PA TV claimed that the Jewish fighters burned Arabs in ovens in 1948:
"And they [the Jews] burned the women and children in the village's oven"

PA TV lie #3: Photo of victims of massacre in the Sabra and Shatila refugee camp by Christian Lebanese was likewise presented as Arab victims of Jews in 1948

Just days before Israel's Holocaust Memorial Day, Palestinian Authority Holocaust abuse and exploitation has reached a new low. PA TV misappropriated a photo showing hundreds of dead bodies at the Nazi concentration camp at Nordhausen, originally a subcamp of Buchenwald, presenting them as Arabs killed by Jews on April 9, 1948 in the Arab village of Deir Yassin.

The actual picture, which was taken right after liberation of the concentration camp by the American army, was carefully distorted by PA TV so that the images of the corpses in the striped concentration camp uniforms, the American soldiers, and the concentration camp buildings were not seen. The following caption was added by PA TV: "When they killed and mutilated the bodies of 250 women, children and elderly residents."
Responding to a Saudi public figure's condemnation of the Holocaust, 'Isam Shawar said Arabs should support the Palestinians "before sympathizing with the Jews and their lies."https://t.co/VvYgCZIxf9 pic.twitter.com/3sXvin5Tll

— MEMRI (@MEMRIReports) April 11, 2018
Michael Doran:
Trump Needs to Be More Trumpian in Syria
A precipitous departure will also cede leverage to Iran at the very moment when United States-Iranian conflict is set to escalate. On May 12, Mr. Trump may well decide to reimpose nuclear sanctions on the Islamic Republic. Restructuring the nuclear deal to American specifications requires convincing Iran's supreme leader, Ali Khamenei, that America is resolute in its determination to pare down the Iranian nuclear program. Retreating from Syria will foster the opposite impression. Mr. Trump should be thinking instead of exploiting Iranian weaknesses.

Here the Israelis are the key. Their attack on Monday on an Iranian base in the Syrian desert is striking not just for the military and intelligence capabilities it demonstrated but also for the defiance of Mr. Putin. Boldness and ability of this magnitude in an ally is a four-star asset that Mr. Trump's Mideast policy has so far failed to exploit.

Imagine if Washington and Jerusalem were to develop a joint military plan designed to contain and degrade Iranian forces in Syria.

Even a limited American military commitment to a coordinated United States-Israeli strategy would immediately change the balance of power on the ground. It would most likely engender more diplomatic cooperation from Mr. Putin while sending a powerful message to Tehran about the necessity of respecting American demands regarding its nuclear program.

Going forward, Mr. Trump should stick to his campaign promise and keep mum about his plans. Meantime, he should reconsider his intention to withdraw. As it is, the United States has a small footprint in Syria — an estimated 2,000 troops. The right strategy could reduce those numbers further while gaining even more of that precious commodity over Iran and Russia: leverage.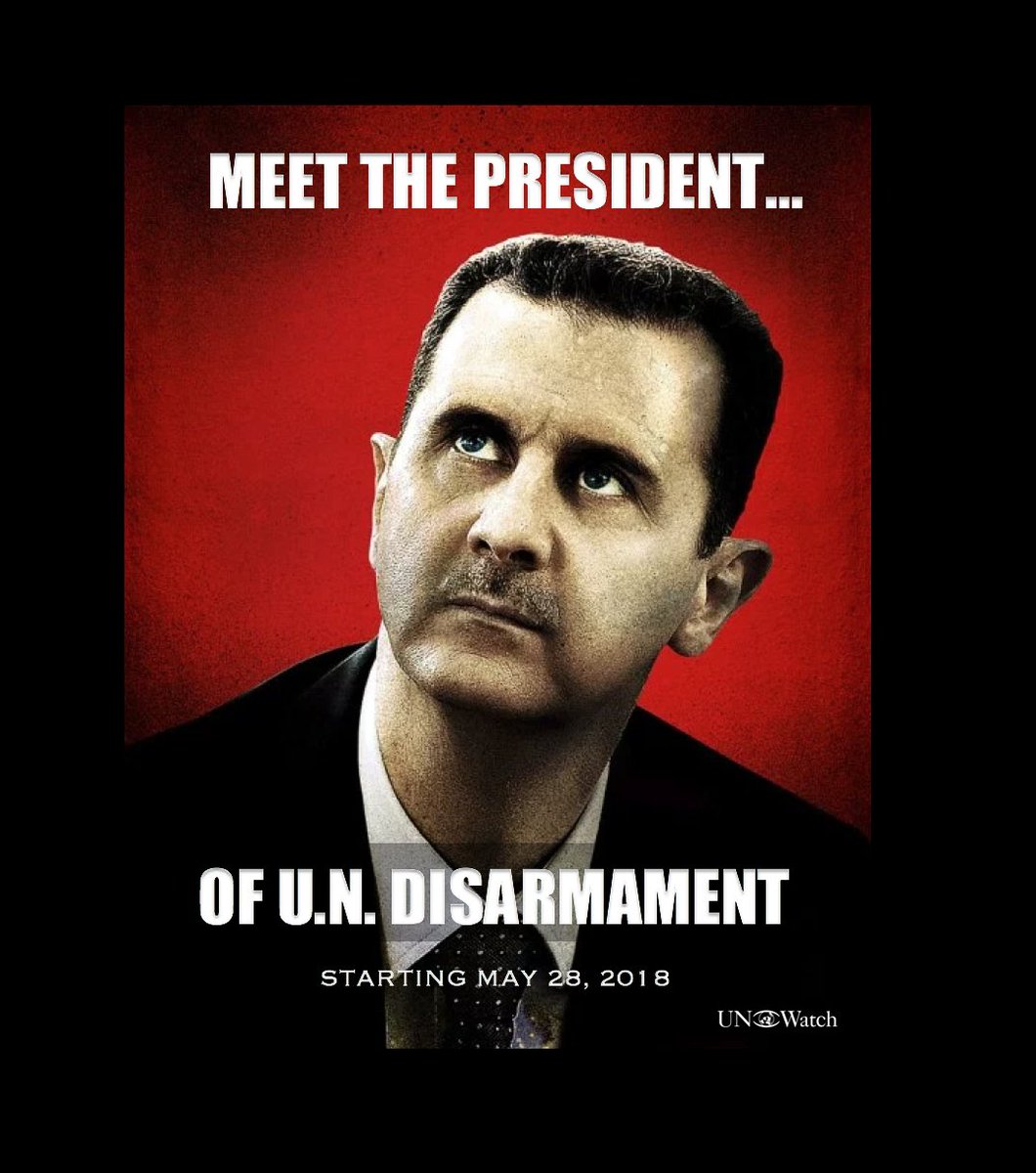 State Department Spokesperson Condemns U.N. for Letting Syria Chair Disarmament Forum
State Department Spokesperson Heather Nauert condemned the United Nations' (U.N.) decision to allow Syria to chair the organization's disarmament forum in May.

In response to U.N. Watch's question on the matter, Nauert called the U.N. decision an "outrage."

"That would be an outrage if Syria were to take control of that," Nauert said. "We have seen these types of things happen at the United Nations before, where suspicious countries, countries that run against everything that an individual committee should stand for, will then head up that committee."

Nauert added that she didn't know what United Nations Ambassador Nikki Haley is going to do in response to this U.N. decision.

Hillel Neuer, the president of U.N. Watch, called out European countries for not speaking out against the U.N. on this matter.

"If UK, France, Germany & others stay silent as Syria assumes presidency of UN's Conference on Disarmament—the body which produced the treaty against chemical weapons—this will make a mockery of everything they said this week," Neuer tweeted.
"That Would be An Outrage" — State Dept. on UN Watch protest of Syria heading UN disarmament forum
Report: 80% of Palestinians killed in Gaza border crisis were terrorists
Around 80% of the 32 Palestinians killed so far by the IDF during the Gaza border protests were terrorist operatives or identified with terrorist organizations, a new report asserts.

The report by the Meir Amit Intelligence and Terrorism Information Center said that 26 of the 32 Palestinians fit into those categories.

According to the report, nine of the dead Palestinians were part of military terror cells and four were part of Gazan security services.

The report said that the other 17 identified as connected with terrorist groups were identified as such based on public statements made by various terror groups taking credit for the loyalties or activities of those individuals.

The last six killed Palestinians were not mentioned by any terror groups and are presumed to be civilians. The Meir Amit center is viewed by many as unusually credible because it has ongoing connections to current military intelligence and is filled with top former Israeli intelligence officials.

According to the report, five of the dead were part of Hamas' Izzadin Kassam military unit, while four were part of security services controlled by Hamas. Hamas took credit for the loyalties and actions of another seven of the dead and their bodies were wrapped in Hamas flags. One individual from that group was identified as an activist in Hamas' student support group.
Lock, Stock, and Blame Israel
International reactions to the recent Hamas-organized Gaza border aggression against Israel have followed the predictable script.

The purpose of Hamas' "March of Return" was to erase the border and flood Israel with Gaza Arabs. Israel did what it had to do to defend its border and its citizens. The international community, however, turned reality upside down, portraying Israel as the "villain" and the Palestinian attackers as "victims."

The attack on Israel's border also destroyed whatever remained of the cherished leftist fairy tale of extremists on both sides undermining peace.

The European Union, especially, again found itself on the wrong side of history. Its foreign-policy chief Federica Mogherini summarized the endemic international hypocrisy against Israel with the Orwellian words: "Freedom of expression and freedom of assembly are fundamental rights that must be respected."

Threatening Israel's internationally recognized border and attacking Israeli soldiers with machine guns and Molotov cocktails hardly qualifies as "freedom of expression." And the only "freedom of assembly" that Gaza's terrorist regime permits is violent incitement against Israel and Jews. By contrast, the EU and most of the world ignore the Kurdish people's freedom of expression and national freedom, as well as that of countless other oppressed nations worldwide.

Once again, Mogherini emphasized the EU's longstanding anti-Israel policy of "do as we say, not as we do."
Amid Heightened Gaza Border Tensions, Hamas Reportedly Training Fighters to Kidnap IDF Soldiers
Amid heightened tensions on the Israel-Gaza border, the Hamas terrorist group is openly training its fighters to take over Israeli military posts, infiltrate border communities and kidnap IDF soldiers, the Hebrew news site Walla reported on Tuesday.

The IDF, according to Walla, is busily preparing for further Hamas-organized disturbances on the border in coming weeks, including this Friday. The past two Fridays have seen violent encounters on the border between Israeli troops and Palestinian rioters.

Hamas, the IDF believes, could use such clashes as cover to launch cross-border attacks.

Many of the several dozen rioters killed in recent weeks were members of terrorist organizations.

Based on social media monitoring, the IDF believes the main focus of rioters this Friday will be to hurl Molotov cocktails into Israeli territory. This has raised the concern that wheat fields on the Israeli side of the border fence could be set ablaze.

To prevent this, the IDF plans to use force to keep rioters out of throwing range of the border fence.
Palestinians set off bomb near IDF vehicle in Gaza buffer zone; army retaliates
Palestinians detonated a bomb near an Israeli construction vehicle adjacent to the security fence in the northern Gaza Strip on Wednesday, causing neither injury nor damage, the army said.

In retaliation, the Israel Defense Forces targeted "a number" of positions belonging to the Hamas terrorist group, which rules the Gaza Strip, the army said.

Palestinian media reported that Israeli tanks fired shells at the positions.

The army said the bulldozer was located on the Gaza side of the security fence, but within the buffer zone that Israel still considers to be formally part of its territory. According to the IDF, the improvised explosive device was planted in the area during one of the demonstrations held along the security fence in recent weeks.

"During routine activity in northern Gaza, an explosive device that was placed under the guise of the riots was detonated against an (army) engineering vehicle on the western side of the security fence," an IDF statement said. "In response, the Israel Defense Forces struck a number of Hamas military targets," it added.
Gazan who says he was shot in IDF sniper video denies he posed a threat
A Palestinian man who says he was shot by an IDF sniper along the Gaza border said Wednesday he was posing no threat to soldiers at the time.

Tamer Abu Daqqa, 28, said a video filmed during a violent demonstration on December 22 in southern Gaza captured the moment he was shot. He said he recognized himself in the video due to the red jacket he was wearing at the time.

Abu Daqqa said he had thrown stones at Israeli soldiers over the border during the day, but denied he was armed or posed any threat at the time of the gunshot.

"When they shot me I was not throwing stones. I was yelling at friends near the fence to leave and return to our homes," he told AFP at his home in Khan Younis in the southern Gaza Strip.

Footage from that day shows him in a hospital after being shot in the leg, which is still in a cast four months after the incident.
Hamas Culture of Martyrdom - Preacher Mahmoud Al-Khila: Those Next to the Martyr Receive Divine Reward Too, of a Lesser Degree pic.twitter.com/l3EeXsUcNp

— MEMRI (@MEMRIReports) April 11, 2018
Time Forgets "Return March" Is About "Return"
Time magazine might want to take a second look at the name Palestinians have given to the recent demonstrations and clashes along the Gaza Strip's border with Israel.

Organizers have dubbed the campaign the "March of Return." So when Time, in an April 6 story, described it only as "a six-week protest against the long-standing blockade" on the Hamas-ruled territory, they missed the main point. As the "March of Return" moniker makes clear, the protests are primarily meant to promote the Palestinian demand for a "right of return" — the influx into Israel of thousands of Palestinian refugees from the 1948 war and their millions of descendants.

The stated purpose of the campaign is no minor detail. The demand for "return" is widely understood as a call for the elimination of Israel by demographic means. "Implementing the 'right of return' means eradicating Israel," explained Israeli author Amos Oz, a leader in the country's peace movement. Or as Palestinian activist Omar Barghouti has approvingly acknowledged, "If the refugees were to return, you would not have a two-state solution, you'd have a Palestine next to a Palestine."

This — the "return" and the consequent "Palestine next to a Palestine" — is the primary goal of the March of Return. The Associated Press correctly reported at the start of the demonstrations that "the protest campaign is meant to spotlight Palestinian demands for a 'right of return' to what is now Israel." And per Reuters, "The demonstrators are demanding that Palestinian refugees be allowed the right of return."
Netanyahu slams Israeli left-wing activists who called IDF soldiers 'terrorists'
Prime Minister Benjamin Netanyahu on Wednesday criticized Israeli-left wing activists who were seen in a video clip berating IDF soldiers on the Gaza border.

Speaking at the weekly cabinet meeting in Jerusalem, Netanyahu said that the protesters' words were an "outrageous absurdity," and that the soldiers have the full backing of all cabinet ministers.

"They do not call Hamas 'terrorists.' Those who openly declare their plan to destroy the State of Israel, including those same activists — them they do not call 'terrorists.' Instead they are attacking the IDF soldiers who are working to prevent that annihilation," he said.

"I think that every day, but especially today, we are all aware of the great contribution that the soldiers of the IDF make to the security and future of Israel," said Netanyahu, hours before Israel was to usher in Holocaust Remembrance Day. "I am proud of our soldiers and together with all cabinet ministers we give them all the backing they need to do their holy work."

In footage that emerged this week, activists could be heard telling the soldiers serving close to the Gaza Strip that they are "terrorists" who are participating in a "massacre of innocent civilians."
Students at Hebrew University call for new Intifada
Arab students held a protest Monday at the Hebrew University campus on Mount Scopus in Jerusalem, calling for a new violent uprising against Israel to liberate 'Palestine'.

The student protesters held the demonstration in solidarity with rioters who have clashed with Israeli forces on the Israel-Gaza border since March 30th. Gaza activists launched a six-week mass-protest on the Israel-Gaza frontier, set to culminate on May 15th, the day after Israel's 70th Independence Day and the opening of the new US embassy in Jerusalem.

Some 30 Gazans have been killed in the clashes, which have included firebomb attacks and attempts to cross into Israeli territory. More than a dozen of those killed have been identified by Israeli security officials as Hamas terrorists.

On Monday, a group of Arab students at the Hebrew University in Jerusalem gathered in solidarity with the Gaza rioters at the university's Mount Scopus campus to call for a new intifada.

"From Gaza a decision was made: intifada and victory; Oh Shahid, rest in your bed, we will continue the struggle; Zionists get out, our land is Arab and free," demonstrators chanted during the protest.

Activists from the Im Tirtzu movement held a counter demonstration across from the protest.

"Instead of standing with the State of Israel that provides them with equal rights and opportunity under law, these students opt to incite against Israel and the IDF, and to support terrorism," said Im Tirtzu's policy director, Alon Schvartzer.
B'Tselem to continue utilizing National Service volunteers
The National Service Authority's Legal Advisor does not allow authority head Sarshalom Jerbi to summon B'Tselem's director to a hearing before cancelling rights granted to the organization.

Arutz Sheva revealed that Jerbi had sought to summon the Director to a hearing following the organization's call to IDF commanders and soldiers to refuse open-fire orders at rioters taking part in violent marches near the Gaza border at the end of the week. However, it now turns out that National Service's Legal Advisor is impairing the process.

This is not the first time legal elements have made it difficult for National Service to act against B'Tselem.

As early as 2014 Jerbi asked to cancel the status granted to B'Tselem as a body utilizing National Service volunteers, against the background of problematic statements and conduct by senior and other figures in the organization.

At the time, Jerbi sent a harsh letter to B'Tselem Director Hagai Elad, in which he criticized the organization's conduct in all activities related to the State of Israel and IDF soldiers in Israel and around the world.
Left-wing American Jews arrested protesting Israeli actions on Gaza border
Members of a left-wing group protesting Israel's actions along its border with Gaza were arrested recently at protests in Boston and New York.

Reports said police in Boston arrested eight members of IfNotNow after they chained themselves to Israel's consulate in Boston on April 3, and seven on Monday as they blockaded the entrance to the New York office of Democrat Senator Chuck Schumer of New York, the minority leader.

"We always welcome hearing from our constituents on critical matters such as this, and support their right to express their views," Marisa Kaufman, Schumer's spokeswoman, told JTA. Schumer is a leading defender of Israel in the Senate.

Another four were arrested Tuesday in Minneapolis outside that city's Jewish Community Relations Council office, an IfNotNow spokesman said.
PreOccupiedTerritory:
Outrage As Video Shows IDF Following Rules, Holding Fire Near Children (satire)
Anger surfaced this week following a short clip of an Israeli military sniper aiming for non-lethal shots at a violent protest leader's body and refraining from taking shots when the target was in the presence of children, in an incident that activists call a flagrant violation of what they have conditioned themselves to expect of the Israeli army.

Amnesty International spokesman Ali Latdam told reporters the sniper's actions demonstrate Israel's blatant disregard of the human rights NGO industry's creed. "This can only be understood as an attempt to sanitize, or 'non-lethal-wash' the Israeli Occupation Forces' behavior," he charged, using propaganda terms typical of Palestinian rhetoric. "IOF behavior must conform to the brutality standards the NGO community imputes to it, and not adhere to its own ethical code. Certainly not when the zero-sum, black-and-white, Jews-bad-Arabs-good narrative is at stake."

In the incident, which took place over the weekend, a group of Palestinian demonstrators ignore IDF attempts to distance them from the border fence by means of firing in the air and warnings over loudspeaker. Such groups, which include known terrorists, have repeatedly tried to breach the fence and enter Israel. A sniper can be heard requesting permission to fire at the ringleader, and having permission refused because the target was near a small child. Only when he had a clear shot did the sniper fire at the man's legs. The man survived. The procedure and non-fatal result of the episode parked ire from several NGOs that rely on monstrous depictions of the IDF to spread their message, secure Palestinian cooperation, and attract funding.
What to do about Syria — and its chief accomplice, Iran
Rather than use the windfall of sanctions relief provided under the nuclear deal to stabilize its economy, Iran's central bank doubled down on sponsoring terrorism. In addition to financing the regime's illicit missile program, proxy war in Yemen and repression at home, the Central Bank of Iran underwrites Hezbollah and the Revolutionary Guard Corps in the war for Assad's survival.

In effect, Assad's use of chemical weapons is enabled if not directly subsidized by the bank.

If terrorism, missiles and domestic repression weren't enough reasons for France, Germany and Britain to support the re-imposition of sanctions against the bank, perhaps the financing of crimes against humanity will be. When French President Emmanuel Macron and German Chancellor Angela Merkel visit the White House later this month to ask for exceptions to these sanctions, Trump should push back hard.

Making exceptions to our Iran sanctions isn't like making exceptions to steel tariffs. Every waiver helps Iran build another missile to wipe Israel off the map. Every exception increases the budget for Iranian terrorism. Every carve-out brings us more Shia militias and the threat of an ISIS resurgence in Syria.

The pressure campaign Trump built against North Korea should be replicated against the Islamic Republic — and that means not giving out exceptions.

The timing is perfect for the re-imposition of sanctions on the bank. This weekend, Iran's currency cratered to a new record low. Protests are continuing throughout the country. The signs of regime instability and vulnerability to outside pressure are growing. Now is the ideal time to hit Iran's central bank and shake the regime to its core.

For Trump, Iran's use of the nuclear deal to expand its sponsorship of terrorism, missile development and proliferation were already reason enough to bring back these sanctions. This weekend's barbaric attack in Syria gives him one more.
PANIC IN IRANIAN GOVERNMENT: Rial Plunges As Trump Might Reimpose Sanctions
Could President Trump signal the end of Iran's despotic theocratic regime which has sponsored terrorism around the globe by reimposing sanctions in May?

There's a good case to be made that he could; there's significant trouble brewing in Iran, as its currency is in crisis, and the possibility of Trump reinstating sanctions is causing the rial to depreciate even further, which could eventually help rid Iranians of their regime.

On Tuesday, there was chaos in the Iranian Parliament over the currency crisis:

Bloomberg reported that the rial plunged to a record low, depreciating from 50,000 rials to the dollar in February to 60,000 on Monday on the unregulated market. Bloomberg noted the pressure on President Hassan Rouhani to help the economy for ordinary Iranians. One source told Bloomberg, "Political pressure coming from the Americans is one of the factors. Maybe in name sanctions have been lifted, but in practice countries that can work with us still see Iran as high risk."
Ben-Dror Yemini:
World's silence on Syria is a license to kill
We know the world is hypocritical, but if we needed further proof that the human rights discourse and the rights organizations have nothing to do with human ethics, the past few days have provided that proof.

The volume of criticism against Israel over the casualties of the "March of Return" is larger than the volume of criticism against Syrian President Bashar Assad's ongoing massacre of his own citizens. And in general, there are more international demands for an investigation against Israel than demands for an investigation against the butcher of Damascus.

Make no mistake. The Muslim world is the victim of this moral and human distortion. Because when everyone involved in the massacre in Syria, Iraq, Sudan, Somalia and many other centers of friction is allowed to carry out crimes against humanity without any international criticism—the massacre continues.

Israel is hit with hypocritical criticism. The Muslims are hit with massacres. The hypocrisy doesn't benefit them. It's their enemy.

The problem isn't the international bodies, like the United Nations Human Rights Council. The automatic majority there has turned Israel into the most criminal country on earth. The number of anti-Israel resolutions leads to the conclusion that Israel kills thousands of Muslims a week, for no reason.

The problem is with the "human rights organizations." They are cooperating with this great deception. They are joining the criticism against Israel. They are pointing an accusing finger. They are talking about crimes. And they are barely talking about the great massacre being carried out by Assad. This silence is a license to massacre.
'Nice, new and smart': Five ways the Syrian strike could unfold
On April 8 US President Donald Trump accused Syrian regime leader Bashar Assad of carrying out a chemical weapons attack near Damascus. He accused Iran and Russia of responsibility for supporting the Assad regime and said there would be a "big price" to pay. On Wednesday he vowed to send "nice and new and 'smart'" missiles to strike Syria, despite Russian vows to shoot them down. What will the big price and missile strikes look like, if they materialize?


Russia vows to shoot down any and all missiles fired at Syria. Get ready Russia, because they will be coming, nice and new and "smart!" You shouldn't be partners with a Gas Killing Animal who kills his people and enjoys it!
— Donald J. Trump (@realDonaldTrump) April 11, 2018


What will the big price and missile strikes look like, if they materialize?

Trump said Monday he would make a decision within 48 hours. US Ambassador Nikki Haley went to the UN to call for "justice" to be done. But Russia vetoed any action on Tuesday. Now the ball is in Washington's court. Here are five ways that Washington's desire to move the ball forward could unfold.
Ex-security official: Israel seeks to avoid Russian interests in Syria
Israel has been careful in its military activities in Syria over the last few years to not damage Russian interests there, including not hitting the government of President Bashar Assad, which Moscow is determined to see remain in power, former National Security Council head Yaakov Amidror said on Tuesday.

Propping up Assad, Amidror said in an interview, is the reason the Russians became involved in the Syrian civil war in the first place in 2015.

Israel's actions in Syria are designed to protect its own interests, said Amidror, who today is a fellow at the Jerusalem Institute for Strategic Studies. But it does so in a way meant to "limit damage to Russian interests, without giving up on our real need to stop the Iranians from creating a second Lebanon in Syria. "Since Iran is the close ally of Russia in Syria, this certainly creates tensions," he said. "And for this you have the open hotline between Israel and Russia to prevent accidental and unnecessary confrontation."

Asked if the recent events in Syria, where the Russians blamed Israel for an attack on the T4 Air Base, aka the Tiyas Military Air Base, near Homs on Monday, was a turning point in Israeli-Russian ties, Amidor said this depended very much on the Russians.

"They allowed the Iranians to operate from a base where their [Russian] forces are located," he said. "So they can't complain if we hit those same Iranians."

Amidror said Moscow understands that Israel is not trying to bring down the Assad government – which is the key Russian interest in Syria – or to harm Russian soldiers. At the same time, he said, "We are defending our ability to live here in the region."
Senior security officials: If Iran acts against Israel, we'll topple Assad
"If the Iranians act against Israel from Syrian territory, Syrian President Bashar Assad and his regime will be those that pay the price."

That is the clear message from senior officials in the Israeli defense establishment and IDF after the top adviser to Iran's Supreme Leader Ali Khamenei called a strike on the Syrian T-4 air base "Israel's crime" and said the alleged act would "not remain without response."

"Assad's regime and Assad himself will disappear from the map and the world if the Iranians do try to harm Israel or its interests from Syrian territory," said senior officials in the defense establishment.

"Our recommendation to Iran is that it does not try to act, because Israel is determined to continue on this issue to the very end," the officials said.

Israeli Defense Minister Avigdor Liberman said Tuesday that Israel will take all necessary steps to prevent Iran from establishing a permanent military base in Syria.

"No matter what the price, we will not allow Iran to have a permanent [military] foothold in Syria. We have no other choice," said Liberman.
First photos emerge of Syrian base allegedly targeted by Israeli air strike
The first photos to emerge from a Syrian air base targeted by an air strike early Monday morning were published Wednesday by the Iranian Tasnim news agency.

Syria, Iran and Russia all said Israel was responsible for carrying out the attack at the T-4 air base near Homs, although Israel has refused to confirm or deny the accusations.

Photos from the air base seem to show a Syrian soldier inspecting a large hangar-style building with heavy damage.

The Syrian Observatory for Human Rights reported that at least 14 people were killed in the strike, with Iran's semi-official Fars news agency saying that four Iranian soldiers were among the casualties.

Foreign sources cited by Israel's Channel Two News suggested that the air strike targeted systems that sought to disrupt the ability of the Israeli Air Force to conduct operations over Lebanon and Syria.

The attack took place hours after US President Donald Trump warned of a "big price to pay" following the reports of a poison gas attack on the rebel-held town of Douma which killed dozens of people, including children. Trump and Western allies have been discussing possible military action to punish Syria's President Bashar Assad for the attack.
U.S., Russia clash at U.N. over chemical weapons attacks in Syria
Russia and the United States tangled on Tuesday at the United Nations over the use of chemical weapons in Syria as Washington and its allies considered whether to strike at President Bashar Assad's forces over a suspected poison gas attack last weekend.

Moscow and Washington halted attempts by each other in the UN Security Council to set up international investigations into chemical weapons attacks in Syria, which is in the throes of a seven-year-old civil war.

US President Donald Trump and Western allies are discussing possible military action to punish Assad for a suspected poison gas attack on Saturday on a rebel-held town that long had held out against government forces.

Trump on Tuesday canceled a planned trip to Latin America later this week to focus instead on responding to the Syria incident, the White House said. Trump had on Monday warned of a quick, forceful response once responsibility for the Syria attack was established.

On the diplomatic front, the United Nations Security Council failed to approve three draft resolutions on chemical weapons attacks in Syria. Russia vetoed a US text, while two Russian-drafted resolutions failed to get a minimum nine votes to pass.
German company involved in Syrian chemical attacks defies U.S. warnings
After a Syrian photographer found parts made by the German company Krempel in Iranian-produced chemical rockets that resulted in scores of gassed Syrians in January and February, the firm rejected on Wednesday new US warnings about the dangers of conducting business with the Islamic Republic of Iran.

"There continue to be ongoing risks with doing business there because the Iranians have not reformed their system," the US Under Secretary of the Treasury for Terrorism and Financial Intelligence Sigal Mandelker said on Tuesday. Speaking in London, Mandelker said Iran was using money to support Hezbollah, Hamas and Syrian President Bashar Assad.

She said there was no transparency in the Iranian banking system. "The onus of responsibility lies in Iran and we're going to continue to highlight the risks of doing business there because they haven't taken the actions that they have promised they would take," she said.

When asked if Krempel ignored the US warning, the company conceded to The Jerusalem Post on Wednesday that it has continued business deals with Iran but maintained "Krempel GmbH complies strictly with legal guidelines. In unclear situations, we seek legal advice and apply corresponding measures in order to remain in compliance."

Krempel, based near the southern German city of Stuttgart, sold electronic press boards to Iranian companies that were used in the production of Iranian rockets. The press boards are frequently inserted in motors.
Syria braces for US attack, said to evacuate airports and military bases
Syrian President Bashar Assad was bracing Wednesday for an American strike, after President Donald Trump tweeted that the US would be launching missiles at Syria in response to a suspected chemical attack on the rebel-held town of Douma over the weekend.

The Syrian Observatory for Human Rights reported that pro-government forces were evacuating major airports and military airbases.

The Syrian foreign ministry described the US threats to attack it as "reckless," saying it would endanger international peace and security.

The statement by the foreign ministry in Damascus came as a war of words is raging between Washington and Moscow.

Activists and first responders say the attack in Douma killed more than 40 people. Both Syria and Russia deny such an attack happened.

Trump's threats of retaliatory military action prompted a slew of Russian comments that warned that US strikes could trigger direct military clash between the two former Cold War adversaries.
'Russia, get ready': Trump says 'nice and new' missiles will strike Syria
US President Donald Trump on Wednesday warned Russia that "nice and new" missiles would be heading to Syria and Moscow should "get ready."

In a tweet, Trump also said Russia shouldn't be allied with a "Gas Killing Animal," a reference to Syrian President Bashar Assad whose regime is accused of killing dozens of people in an alleged chemical weapons attack on rebel-held Douma over the weekend.

Russian lawmakers have warned the United States that Moscow would view an airstrike on Syria as a war crime, saying it could trigger a direct military clash between the two former Cold War adversaries.

"Russia vows to shoot down any and all missiles fired at Syria," Trump tweeted. "Get ready Russia, because they will be coming, nice and new and 'smart!' You shouldn't be partners with a Gas Killing Animal who kills his people and enjoys it!"

Trump has threatened military action in response to Syria's suspected chemical attack, which activists and rescuers say killed at least 40 people. The Syrian government and its ally Russia have denied that such an attack ever happened.
After gas attack, US, UK, France weigh strike on Syria by end of week
Trump administration officials have consulted with global allies on a possible joint military response to Syria's alleged poison gas attack, as US President Donald Trump canceled a foreign trip in order to manage a crisis that is testing his vow to stand up to Syrian President Bashar Assad.

Trump spoke with other world leaders, and other US officials said the US, France and Britain were in extensive consultations about launching a military strike as early as the end of this week. None of the three countries' leaders had made a firm decision, according to the officials, who were not authorized to discuss military planning by name.

A joint military operation, possibly with France rather than the US in the lead, could send a message of international unity about enforcing the prohibitions on chemical weapons and counter Syria's political and military support from Russia and Iran.
European airlines warned of possible Syria strike within 72 hours
European airspace authorities are warning aircraft to be careful over the next days when flying close to Syria because of possible military action against President Bashar Assad's forces.

The Eurocontrol airspace organization said that the European Aviation Safety Agency had sent a "Rapid Alert Notification" that flight operations needed to consider the possibility of air or missile strikes into Syria.

US officials have consulted with global allies on a possible joint military response to Syria's alleged poison gas attack on a rebel-held town.

In a notice posted to Eurocontrol's website, EASA said: "Due to the possible launch of air strikes into Syria with air-to-ground and/or cruise missiles within the next 72 hours, and the possibility of intermittent disruption of radio navigation equipment, due consideration needs to be taken."

The US maintained the threat of missile strikes Wednesday in response to alleged chemical attacks in Syria, despite the risk of triggering a head-on clash with Damascus ally Russia.
Report: Russian Military Jamming U.S. Drones Over Syria
The Russian military is jamming U.S. military drones operating over Syria, creating problems for American operations, according to a new report.

Four U.S. officials told NBC News that the Russians began jamming smaller U.S. drones several weeks ago, after multiple suspected chemical weapons attacks perpetrated by the Syrian government on civilians in Syria's rebel-held eastern Ghouta.

Russia, which supports the regime of Syrian President Bashar al-Assad, was concerned that the U.S. would retaliate for the attacks with military force, so it began jamming the GPS systems of drones operating in the area.

Jamming involves blocking or scrambling a drone's reception of a signal from a GPS satellite.

Drones play a vital role in gathering intelligence in war-torn Syria, where it can be difficult to obtain reliable information on the ground.

Pentagon spokesman Eric Pahon told NBC News that the U.S. military has the means to protect its drones.

"The U.S. military maintains sufficient countermeasures and protections to ensure the safety of our manned and unmanned aircraft, our forces, and the missions they support," he said.
Russian Ambassador to Lebanon Alexander Zasypkin: If There Is an American Strike in Syria, the Missiles Will Be Shot Down and the Launch Sites Targeted pic.twitter.com/EZpIdW4Rfs

— MEMRI (@MEMRIReports) April 11, 2018
Egyptian TV Host Sayyed Ali Defends Al-Assad: Trump Is a Lunatic; Russia, Syria, Iran Kicked America's Ass pic.twitter.com/jVXcxRGnMo

— MEMRI (@MEMRIReports) April 11, 2018
Israel to expand Gaza sailing zone for spring fishing season
Israel on Tuesday announced that it would be expanding the permitted Gaza sailing zone for the three-month spring fishing season.

Ordinarily, Israel allows Gazan fishermen to operate up to six nautical miles (seven miles) from the coast. Beginning on Tuesday, Palestinian sailors in the southern Gaza Strip will be allowed to travel up to nine nautical miles (10.4 miles) from the shore, the army said.

There will be no change for fishermen in the northern Gaza Strip.

Though it does not necessarily occur every spring and fall, Israel has regularly expanded the permitted sailing zone during the peak fishing season in recent years.
Egypt to temporarily open Rafah border crossing
Egypt will open the Rafah crossing temporarily for Palestinians to enter and exit the Gaza Strip, the PLO Embassy in Cairo announced on Wednesday.

Egyptian authorities last opened Rafah, the sole pedestrian passageway between Gaza and Egypt, more than two weeks ago.

Cairo decided to open the crossing from Thursday until Saturday, the embassy in Cairo announced, according to the official Palestinian Authority news site Wafa.

Since Egyptian president Mohamed Morsi was removed from office in July 2013, Cairo has seldom opened Rafah. The crossing was open for 42 days in 2016 and for 36 days in 2017, according to Gisha – Legal Center for Freedom of Movement, an Israeli NGO that tracks human rights issues related to Gaza.

Tens of thousands of Gazans including students, business people and ill persons are on a waiting list to travel to Egypt through Rafah, Gisha said.

Palestinian officials have said Egypt frequently keeps the crossing closed because of the unstable security situation in the Sinai Peninsula.
Saudi Arabia said seeking to physically cut off Qatar from mainland
Saudi Arabia has plans to dig a canal the length of its border with Gulf rival Qatar, to turn the peninsula into an island and further isolate it, Saudi media have said.

"The project is to be funded entirely by Saudi and Emirati private sector investment — under full Saudi authority," Sabq Online Newspaper reported on Monday.

The planned "Salwa Canal" is to be dug by Egyptian companies, benefiting from the "Egyptian experience" in widening the Suez Canal, it said.

The blueprint — its details leaked in successive days in the Saudi press — has yet to elicit an official denial from Riyadh.

It is the latest twist in the 10-month Gulf crisis, which has pitted Saudi Arabia, the UAE, Egypt, and Bahrain against Qatar.

Last June, Riyadh and its allies broke off relations with Doha, accusing it of fostering close links with Tehran and supporting Islamist extremists — a charge Qatar denies.
Report: U.S. intel discloses details of Hezbollah financing in Colombia
A joint US-DEA and Colombia intelligence report was recently leaked to Colombia outlets with new details of Hezbollah's criminal financing schemes in Colombia.

For years, it has been known that Hezbollah used a combination of legitimate cover businesses, drug networks and other criminal enterprises in Colombia to raise funds for its terror operations.

But in November and December, a book by Shurat Hadin Director Nitsana Darshan-Leitner and an article in Politico revealed a range of new details about how the US and Israeli intelligence communities tried to thwart Hezbollah's international terror financing schemes as well as complex counter-terrorism operations considered by the Obama administration.

According to the Colombia outlets and Hebrew media reports on the issue, the new disclosures are more specific than past information in identifying exactly which legitimate and illegitimate businesses Hezbollah operated, how it procured forged Colombian documents for operatives and how it recruited Colombians to its cause.

The reports also say that as much as 80% of the revenue from legitimate businesses were used for terror purposes.
---
---
We have lots of ideas, but we need more resources to be even more effective. Please
donate today
to help get the message out and to help defend Israel.