From Ian:
If you want peace, reform the Palestinian Authority
That is why, when Abbas is taken at his word by a senior American diplomat in terms of his commitment to non-violence and a negotiated compromise, serious questions need to be asked. In terms of bloodcurdling rhetoric targeting Israel, Abbas is not the worst Palestinian leader, but his willingness to promote some of the ugliest slanders against the Jewish state compels one to ask just how genuine his support for two states and non-violence actually is.

Like all Palestinian leaders, whether from nationalist or Islamist factions, Abbas was formed politically by the Arab world's decision, following Israel's creation in 1948, to live in a permanent state of conflict with the Jewish state as a step towards its eventual elimination. This fact alone marked out the Palestinian cause from other nationalist struggles around the world. In most other post-World War II conflicts—such as in Northern Ireland, where the Irish Republican Army (IRA) waged a bitter struggle for the expulsion of the British Army, but not the dissolution of the United Kingdom itself—the goals of the nationalist parties were limited to ridding their countries of the colonial presence without destroying the colonizing power. By contrast, for the Palestinians, the message was that their liberation would be incomplete as long as Israel remained on the map.

Abbas has never disavowed the notion that Israel is an interloper and a colonizer. In his most recent speech to the U.N. General Assembly, he denounced the Jewish state for its alleged "apartheid" policies. In Germany only last month, he caused a scandal when he stood alongside Chancellor Olaf Scholz and sullenly declared that Israel was guilty of perpetrating "50 holocausts" upon the Palestinians. This was in response to a journalist's query about whether he would finally apologize to the families of the 11 Israeli athletes murdered in a Palestinian terrorist operation at the Munich Olympics in 1972.

What Thomas-Greenfield's statement elides is that Abbas is far more wedded to these dubious ideas—the bedrock of the Palestinian eliminationist program—than he is to the diplomatic goals articulated at the Security Council. The rhetoric about two states can only be seen as lip service, unless one is prepared to accept the bizarre contention that having denounced Israel as a racist open-air prison for Palestinians, they would happily live alongside it. The rhetoric about Israel's lack of legitimacy, however, is firmly in keeping with the Palestinians' own ideology.

Yet there are many Israelis who, despite having no illusions about Abbas and his cohorts, rue the prospect of indefinitely ruling over three million Palestinians. Under certain circumstances, they might even be relieved to see the creation of a Palestinian state. For that to happen, the international community has to understand that while the emergence of a "strong and legitimate Palestinian Authority" might well be "in the interest of the entire region"—as Thomas-Greenfield put it—as long as Abbas and those like him are running the show, we are fated to remain with the present situation: Eliminationist rhetoric against Israel and attacks on Israeli civilians, widespread corruption within the P.A. and appalling abuse of human rights in P.A.-run prisons and detention centers.

A courageous diplomatic initiative would propose root and branch reform of the PA as the first necessary measure towards securing a permanent peace with Israel. Such reform would then be followed by fresh elections in a voting process that would be monitored by international organizations to ensure fairness and transparency. At the same time, the P.A.'s various departments, and particularly its Education Ministry, would undergo a fundamental reset, so that a lasting peace with Israel is the overarching goal to work towards.

There will be those who say this is all wishful thinking, and perhaps they are right. But the responsibility for testing the theory lies with the U.S. and indeed any state desirous of a final settlement. Because right now, the P.A. is not strong, nor legitimate, nor an entity whose continued existence is in "the interest of the entire region." Thomas-Greenfield needs to grasp that the address for these vital changes is located in Ramallah, not Jerusalem.
Johnathan Tobin:
Americans prefer Arab extremists to Jewish ones in Israeli governments
Whether or not that happens, the huffing and puffing about Ben-Gvir's compromising Israel's reputation needs to be placed in perspective. The idea of having a party like Ra'am join a government was in some ways a realization of the Zionist dream of the Arab minority making its peace with the reality of a Jewish state and fully participating in its politics, rather than standing to the side and hoping for its destruction.

Yet the agenda of Abbas's party, which wants a state run according to Muslim religious law, is far more radical than anything Ben-Gvir advocates. If Abbas's decision to join forces with Lapid and Bennett can be considered as proof that he has transcended his political origins, why can't Ben-Gvir's attempts to distance himself from Kahanist ideology be treated in the same manner?

The problem is not just hypocrisy. Articles like the one in Axios that broke the news about the confrontation with Menendez referred to Ben-Gvir as a "Jewish supremacist," a not-so-subtle way to associate him with violent anti-Semitic, radical right-wingers in the United States.

The stands that are cited by those who think a coalition with him would be illegitimate include his support for construction in Jewish communities in Judea and Samaria, Jewish prayer on the Temple Mount and the right to live in Jewish-owned property in Jerusalem neighborhoods that Arabs demand be Jew-free. Yet those are entirely legitimate positions that a great many Israelis understandably consider to be very much in the mainstream.

Even if you think, as many understandably do, that the Knesset would be better off without Ben-Gvir in it, Israelis need not atone for the sin of voting for him in the expectation that he will be an uncompromising defender of Jewish rights. The message to American critics of Israel should be clear: If you thought the inclusion in Israel's governing coalition of an Islamist party that openly advocates for the end of Zionism and the Jewish state in its platform was a good idea, then you have no business lecturing anyone about Ben-Gvir.
Ukraine Military Chief Urges His Country to Learn From Israel
The commander in chief of Ukraine's armed forces has urged his country to adopt Israel's strong emphasis on self-defense in the face of the ongoing Russian invasion, arguing that political conditions in the region require Ukraine to be a "military state."

Following a meeting with Ukrainian Chief Rabbi Moshe Reuven Azman to mark the Jewish Rosh Hashanah holiday, Gen. Valerii Zaluzhny stated that "in the conditions of such a neighborhood, Ukraine should become, by analogy with Israel, a military state."

Zaluzhny took the opportunity to recall the 81st anniversary of the Babyn Yar massacre of Sept.29-30 1941, when more than 33,000 Jews were executed by Nazi officers at a ravine just outside Kyiv.

"On the day of remembrance of the Babyn Yar tragedy, it is painfully difficult to talk about its repetition in Mariupol, Buchi, Irpin, Izyum and other cities," Zaluzhny said, referring to the Russian onslaught on several major population centers.

"This war showed who is on the side of good and who is the personification of evil. Rebbe Moshe Reuven Azman clearly says that today it is Russia that is a fascist state. And his authoritative opinion carries a lot of weight in the modern world," Zaluzhny said.

Zaluzhny added that he and Azman discussed the appointment of a Jewish military chaplain to serve Jewish soldiers fighting with Ukrainian forces. He also emphasized that he was "deeply grateful for the treatment of our wounded soldiers in Israel and the humanitarian aid provided."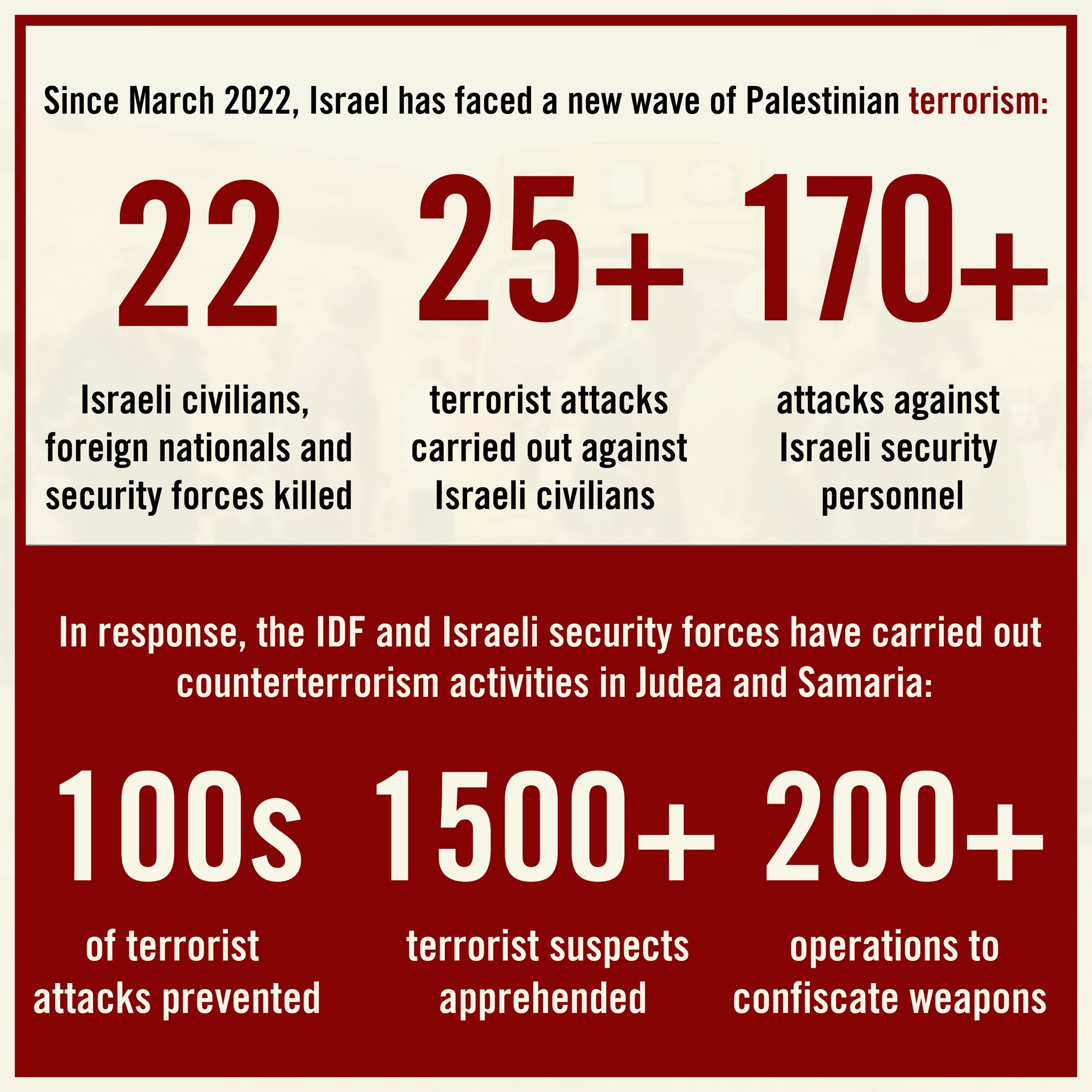 Iranian Mullahs Target Women, the West; Palestinians Target Jews
This latest wave of terrorism is the direct result of the massive campaign of incitement against Israel and Jews by many Palestinians, including those belonging to the Palestinian Authority headed by President Mahmoud Abbas.

Palestinians have already made it clear that their true goal is to replace Israel, not live alongside it. The plan is to replace Israel with a fundamentalist Islamist state, controlled by the mullahs in Iran, who have no compunctions about beating an Iranian woman to death for not covering her hair.

If Iran's mullahs are committing such atrocities against their own people, it is not hard to imagine what they will do to their much-hated enemies... Iranian missiles, eventually with nuclear warheads, are clearly being developed not just for Israel.

Consider the "new Axis of Evil," Russia and Iran, complete with Iranian drones now being used by Russia against Ukraine. Imagine if those drones were, instead, nuclear-tipped ballistic missiles from Iran -- especially as Russia will reportedly be in charge of Iran's "compliance" and "excess" enriched uranium. An Iran with nuclear weapons would doubtless be a most welcome addition to Russia's proxy arsenal.

The Biden administration would be doing a great service to Jews and Arabs alike by calling out the Palestinians for their continued campaign of incitement to violence against Jews.
Sanders Foreign Policy Adviser Departs To Join Koch-Funded Think Tank
Sen. Bernie Sanders's (I., Vt.) senior foreign policy adviser, Matt Duss, is leaving his office to join a think tank bankrolled by Charles Koch, a longtime nemesis-cum-ally of the progressive left.

Duss, who since 2017 has served as a top adviser to Sanders, is headed to the Carnegie Endowment for International Peace's American Statecraft Program, which received a $4.5 million grant last year from the Charles Koch Foundation.

Sanders and Duss have—at least until recently—been vocal critics of Charles Koch and his late brother, David, accusing the billionaires of using their political and philanthropic donations to "buy elections," install an "oligarchy," and push a "right-wing Koch brothers ideology." But Duss, a longtime Israel critic who has defended me economic boycotts of the Jewish state, appears to have found common ground with Koch's vision for American retrenchment.

"The Koch Brothers are preparing to try to buy the Democratic Party and buy the 2020 election," Sanders tweeted in June 2019. "We cannot let them. The only way we will stop them is to build a grassroots progressive campaign that rejects their right-wing ideology." Sanders also said in 2016, during his presidential run, "There is nobody in the United States Congress who has taken on the Koch Brothers more than Bernie Sanders." He added later that year: "Our great nation can no longer be hijacked by right-wing billionaires like the Koch brothers."

Duss has at times struck the same notes, casting his soon-to-be-patron in an unflattering light. In response to a May 2018 article about purported Koch brothers influence at the Federal Communications Commission, Duss wrote, "Today in oligarchy."

Although Duss has spent years promoting the Koch brothers as the nation's top Republican boogeymen, his foreign policy views have become more closely aligned in recent years with those of Charles Koch, who has attempted to unite the a left hostile to American military power with the isolationist right.
There's a Democrat on the Ballot This November Who Once Referred to Holocaust as a 'Supposedly Accepted Historical Fact'
"Supposedly accepted historical fact." That is how Pennsylvania state legislative candidate Mark Moffa (D.) referred to the Holocaust in a 1999 editorial in his college newspaper defending his decision to publish an ad from one of the country's leading purveyors of Holocaust denial propaganda.

Moffa, who is now running for Pennsylvania's 142nd district House seat, published an ad from the Committee for Open Debate on the Holocaust in the March 15, 1999, edition of Franklin & Marshall College's newspaper. In the ad, committee founder Bradley Smith offered the Anti-Defamation League $250,000 to debate whether Nazis used gas chambers during the Holocaust and murdered millions of Jews, and whether Anne Frank's diary was authentic. The ad drew an angry response on campus, with one group of students launching an alternative campus newspaper in protest. Moffa doubled down on his decision in an editorial entitled "Damned If I Do," claiming that rejecting the ad would be "censorship."

The Moffa campaign did not respond to a request for comment.

Moffa's campus controversy could hinder Democrats' efforts to flip Pennsylvania's state legislature in November. Democrats believe they can gain control of the legislature for the first time since 2011 following a favorable round of redistricting. Moffa, who runs a small media publishing company, has received endorsements from national groups including Planned Parenthood and Human Rights Campaign as he runs largely on the abortion issue against Republican Joe Hogan.

The Franklin & Marshall ad was part of the Committee for Open Debate on the Holocaust's aggressive campaign in the 1990s to plant anti-Semitic propaganda in campus newspapers across the country. The Anti-Defamation League said Smith used the ad campaign to disseminate Holocaust denialism and to "garner the free publicity" from the controversy that often followed campus debates on whether to publish the ads. Smith also sought to "entice young people onto his website" for the Committee for Open Debate on the Holocaust. The site's address was featured prominently in the Franklin & Marshall ad Moffa published.

Smith's ad was particularly controversial at Franklin & Marshall because it appeared just days after anti-Semitic graffiti was found on campus and as the school hosted a Holocaust remembrance event. A group of students said in a letter to the editor that the ad showed a "lack of judgment" and a "lack of respect for those connected to the Holocaust."
Caroline Glick:
Israel's devastating capitulation to Hezbollah
It is almost impossible to grasp the danger of Israel's present moment. A month before the Knesset elections, the caretaker government led by Prime Minister Yair Lapid and Defense Minister Benny Gantz is moving full speed ahead with a maritime agreement with an enemy state that it insists will obligate Israel in perpetuity. The Exclusive Economic Zone (EEZ) agreement Israel is concluding with Hezbollah-controlled Lebanon will fundamentally alter Israel's maritime borders, deny the Jewish state tens of billions of dollars, which will go instead to a government controlled by Iran's Lebanese foreign legion, Hezbollah, and transform Hezbollah and Iran into actors in the eastern Mediterranean.

The deal in question has been under negotiation for more than a decade. In 2010, as the natural gas deposits in the eastern Mediterranean were being rapidly explored and developed by Israel, Cyprus, Greece and Egypt, Israel signed agreements with its neighbors to delineate the boundaries of each state's EEZ. Since Israel and Lebanon are enemy states, Israel did not negotiate an agreement with Lebanon. Lebanon did however negotiate an agreement with Cyprus, as part of which it drew a line delineating the southern boundary of its maritime waters. Israel accepted the Lebanese line and submitted its maritime economic zone borders to the United Nations on the basis of the Lebanese/Cypriot agreement and the bilateral agreement it had concluded with Cyprus.

Given that Hezbollah rejects Israel's right to exist, Hezbollah-controlled Lebanon surprised no one when it immediately objected to Israel's map, even though it was based on Lebanon's own demarcation.

Lebanon demanded 854 square kilometers of Mediterranean waters that formally belonged to Israel. The Lebanese demand included complete control over the massive Qana natural gas field, much of which extends into Israel's waters. Fred Hoff, who served at the time as the Obama administration's point man for the eastern Mediterranean, offered a compromise deal which would have given around 55 percent of the area to Lebanon and left 45 percent under Israeli sovereignty. Hezbollah-controlled Lebanon rejected the deal, and there the negotiations stood, more or less, until last July.

In the meantime, Israel began developing the Karish gas field, which by all accounts is located in its EEZ. Karish was scheduled to go online last month, but in July, Hezbollah boss Hassan Nasrallah threatened to attack Karish if Israel began production before reaching a deal with Lebanon. Hezbollah then attacked Karish with four drones, which were intercepted by the Israel Defense Forces.

Rather than retaliate for Hezbollah's aggression, fearful of Hezbollah, Israel delayed the start of work at Karish, and Biden administration envoy Amos Hochstein swooped into action. As Lebanon expert Tony Badran from the Foundation for Defense of Democracy has copiously documented, the Biden administration is dead set on giving as much money as possible to Lebanon—with full knowledge that money to Lebanon is money to Hezbollah. The administration's desire to enrich a state dominated by Hezbollah/Iran stems from what Badran and the Hudson Institute's Michael Doran described in May 2021 as its overarching goal of realigning the United States away from its traditional allies—Israel and the Sunni states—and towards Iran.
Bennett on the Lebanon Agreement: This Is Not the Deal I Approved
Alternate Prime Minister Naftali Bennett on Monday expressed his disapproval of the agreement being formed between Israel and Lebanon regarding the marking of the maritime border between the countries, News 13 reported. Among other things, Bennet said in talks he held Monday that the agreement is different from what had been presented to his cabinet. Much like former US Ambassador David Friedman, Bennett points out that, unlike the previous version, in this one Lebanon gets everything (Netanyahu: Lapid's Gas Deal a Surrender to Hezbollah, We Are Not Bound by It).

Bennett held several discussions on Monday, examining the agreement in terms of security and political aspects, and he will share his conclusions in the next cabinet meeting immediately following Yom Kippur this week. As alternate prime minister, he has veto rights in the Lapid government, but he may not need to use them in light of the legal proceedings being conducted against the agreement.

Among other things, Bennett said the original agreement instituted an official and recognized border line between Israel and Lebanon, but the agreement being presented now by Lapid and Gantz only talks about a status quo.

Senior government officials told News 13 that Bennet was aware of the principle outline according to which Israel would give up ownership of the Kana gas reservoir, but would receive royalties from the company that would produce the gas there. They wondered why Bennett changed his position precisely when the deal is about to come through. They also noted that the government is conducting financial simulations to be presented to the cabinet in its post-Yom Kippur session, on the income that Israel would receive from the company operating the Lebanese rig.
On the Biden-Lapid capitulation to Hezbollah | pic.twitter.com/xKAoXKt1S2

— Mike (@Doranimated) October 3, 2022
Former US point man on Israel-Lebanon maritime talks says chances of war remain high, even with a deal
The former State Department point man on the Israel-Lebanon maritime border negotiations thinks the current deal on the table is "overall, pretty good for Lebanon."

David Schenker served as the assistant secretary of state for Near Eastern affairs under former U.S. President Donald Trump, helping to relaunch negotiations on maritime border demarcations between Israel and Lebanon, two bitter enemies still technically at war.

The effort proved futile, as the Lebanese dramatically inflated their claims to territorial waters well beyond the internationally-accepted starting point for negotiations.

The disputed waters encompass 860 square kilometers between the southern boundary of the Lebanese claim, known as "line 23," which it formally asserted under the U.N. Convention on the Law of the Sea, and the boundary Israel sought to draw to the north, known as "line 1." In 2012, U.S. mediator Frederic Hof proposed a compromise that would have split up the area at a ratio of 55% for Lebanon and 45% for Israel. But without offering clear reasons, the Lebanese government failed to approve the proposal and the negotiations lapsed. When indirect talks resumed in late 2020, the Lebanese delegation presented new legal and hydrographical studies to support an expanded claim (bounded by what is known as "line 29"), including an additional 1,430 square kilometers south of line 23.

"At the second round of negotiations, the Lebanese proffered an extreme demand, which was to extend their previously filed line at the United Nations—the 23 line—and make a claim for the 29 line. It was really a maximalist demand that basically stalled the negotiations and they remained frozen for the next year, year-and-a-half until [State Department Special Envoy and Coordinator for International Energy Affairs Amos] Hochstein got in there and the Lebanese started moving off that point," Schenker told JNS.

The new deal, as reported, places the Lebanese boundary back at line 23, but nothing more.

"I think that Lebanon is going to be very pleased. It appears that Israel has agreed to the 23 lines, so that's 100%, basically, of what the Lebanese demand was, plus a negotiation on the Qana field," a prospective gas field that Lebanon will take over, with possible royalties being paid to Israel should the field be developed. "What Israel gets is a buffer zone for seven kilometers out and maybe a little bit of peace of mind taking away one area of contention between Hezbollah and Israel. But I think overall, it's pretty good for Lebanon here," said Schenker.
Lebanon said to object to key points in maritime border deal with Israel
Lebanese authorities have crucial reservations about several key points of a US-brokered proposal to solve a maritime border dispute with Israel, Lebanese media reported on Tuesday.

Citing unnamed government officials, the pro-Hezbollah daily Al-Akhbar reported that Beirut did not agree to recognize Israel's buoy-marked boundary — which Jerusalem unilaterally placed five kilometers off of the coast of the northern town of Rosh Hanikra in 2000 — as an international border.

The report claims Israel's northern neighbor is also against the idea of demarcating a land border as part of the agreement, and insists that the issue must instead be reserved for discussions with the United Nations.

Furthermore, Beirut wants the French Total Energy company to work with Lebanon independently from its work with Israel, likely taking issue with the reported compensation Israel will receive from energy companies in exchange for giving up rights to the Qana offshore gas field.

Finally, Lebanon reportedly objects to a proposed signing ceremony alongside Israeli officials in the Lebanese city of Naqoura. Instead, officials countered that a deal should be signed with officials from the two sides in separate rooms, since Israel and Lebanon do not have any diplomatic relations and are technically at war.
No Cruz is too generous. The Israeli govt wanted to show Biden it wasn't Bibi so it put revenge politics ahead of national security and let the same people who pushed 2334 tie their maritime border to the whims of a terror group. https://t.co/gq1IqeMpMb

— Lee Smith (@LeeSmithDC) October 2, 2022
Interesting that this is the only fossil fuels development project the Biden Administration supports around the globe, contradicting their own stated policy. What makes this one so special, so different? https://t.co/TBbKy4kNhh

— Victoria Coates (@VictoriaCoates) October 2, 2022
Benjamin Netanyahu accuses Israeli Prime Minister of giving into Hezbollah's blackmail
Jerusalem Correspondent Daniel Cohen has the latest on Israel's Prime Minister Yair Lapid latest move of possible deal that would pump billions of dollars into Lebanon. A deal that the Biden Administration is also pushing.
Israel Now News - Episode 427 - Eugene Kontorovitch
Israel Now News is a creative and innovative weekly TV news magazine presenting a unique perspective of Israel's current events, politics, and culture to an English speaking audience. Israel Now News consists of a dynamic format offering its viewers an exciting educational experience unparalleled by any other news source.
Seth Frantzman:
Why Israel-Azerbaijan ties matter to the region
Azerbaijan-Israel relations are not new and Baku has been a key partner in Israel's strategy. A recent article by Tel Aviv University's Moshe Dayan Center argued that "Israel has made Azerbaijan its primary source of energy…As one of the main importers of Azerbaijani oil via the Baku-Tbilisi-Ceyhan pipeline, Israel receives over half of its petroleum demands from the Caspian country."

The article further noted Azerbaijan-Israel cooperation in the military and defense sector. "Due to the long-running armed conflict with Armenia, many advanced Western nations refused to supply Azerbaijan with weaponry. In addition to that, in the past, Türkiye's defense industry could not provide and develop state-of-the-art products. Therefore, in order to break away from its former dependence on Russian-made weapons, Baku turned to Israel for military technology….This partnership has grown to the point that in 2019 Azerbaijan became the second largest customer of the Israeli military industry (17 percent) after India."

This is a big deal and much of this trade occurs without a lot of attention and headlines. Israel has supplied Azerbaijan with loitering munitions, a type of drone, for many years. These have proved very important for Baku. Azerbaijan has put Israeli drones on parade.

There are also many other aspects to these ties, including the fact that Azerbaijan is located in an important place. It is near Iran and Turkey. Israel-Turkey ties were reduced greatly over the last decade primarily due to Ankara's negative and hostile view of Israel. But Azerbaijan ties remained strong. This illustrated that they weathered many other changes.
Israel shuts down for Yom Kippur; security forces on high alert amid terror threats
Israel shut down beginning Tuesday afternoon for Yom Kippur, the Jewish Day of Atonement and the holiest day of the Jewish calendar, as security forces remain on high alert for the holiday amid a spike in terror warnings.

All flights in and out of Ben Gurion airport ceased at 2:00 p.m on Tuesday. The airport will reopen Wednesday night with arrivals starting at 10:30 p.m., while departures will resume an hour later. During this period Israel's air space is also closed to flights passing through.

Border crossings were also shut and will reopen late Wednesday.

Trains stopped operating at 1:00 p.m. and will only resume on Thursday morning, as inner-city buses and inter-city transport also halted their routes starting at 2:00 p.m. They will gradually restart Wednesday evening.

As sundown approached, all local radio and television broadcasts also gradually fell silent.

Roads will largely clear of cars by early Tuesday evening as is the national tradition — to be replaced with multitudes of people on bicycles and other non-motorized vehicles. Driving during the Jewish Day of Atonement is considered taboo, and many secular Israelis have turned the day into a biking holiday, taking advantage of the car-free roads.

For religious and traditional Jews, the 25-hour period of fasting and praying is set to begin at 5:45 p.m. in Jerusalem and 6:01 p.m. in Tel Aviv. It will end on Wednesday at 6:55 p.m. and 6:57 p.m., respectively.

Meanwhile, security and rescue services will remain on high alert throughout the day. The IDF will also impose a closure on the West Bank and Gaza, a standard practice over Jewish and Israeli holidays.
2 Israeli women, kids enter Palestinian city of Nablus, escorted out by local forces
Two Israeli women and two children who had entered the Palestinian city of Nablus in the West Bank were detained by Palestinian security forces and handed over to Israeli authorities unharmed, just hours before the start of Yom Kippur on Tuesday evening.

It is not yet clear why the women and children drove into the Palestinian city which is located inside Area A of the West Bank, officially under complete Palestinian Authority control, though the Israeli military conducts activities there. The IDF bars Israeli citizens from entering Area A without prior authorization.

According to Hebrew-language media, armed Palestinians had shot in the air upon seeing the Israeli vehicle with the women and children and questioned them before transferring them to Palestinian security forces. They were questioned again and escorted outside the city to be handed over to Israeli security forces.

A source in the Israeli security establishment praised the quick response of the Palestinian authorities, telling Ynet that "without the quick and sharp reaction of the [Palestinian security forces]…the event would have ended with four bodies."

The military spokesperson's office said in a statement that "Israeli citizens had entered the city of Nablus and left accompanied by the Palestinian security forces," adding that the Israelis will be questioned by Israeli authorities.

"We emphasize that entering Area A is prohibited and dangerous for Israelis," the IDF said in the statement.

According to the Ynet report, the two women and children were stopped by a Nablus-based militia dubbed "Lion's Den" in the West Bank city. The militia said in a statement that the Israeli citizens were accompanied by a Palestinian resident of Qalqilya, also in the West Bank, and that they were "dealing with the person who brought them."

The group said the women and children were strolling in the old city of Nablus when they were spotted by militia members who proceeded to detain them.
A major event happened in Nablus that drew this crowd.

What happened?

A Jewish mother and her children accidentally entered the city and were held by gunmen.

This. Is. Antisemitism.

(Thankfully, they have been rescued and transferred to IDF) pic.twitter.com/8TLPMmQGrC

— The Mossad: The Social Media Account (@TheMossadIL) October 4, 2022
Spotlight on Jenin: Part Three: Everything You Need to Know About the Palestinian 'Terror Capital'
MEMRI:
Palestinian Authority, Fatah Glorify Fathi Khazem, Father Of Two Terrorists Killed In Clashes With Israeli Armed Forces: He Is A 'Palestinian Icon' And An Emblem Of Sacrifice
On September 28, 2022, four Palestinian terrorists – 'Abd Al-Rahman Al-Khazem, Ahmad 'Alawneh, Muhammad Barahama and Muhammad Abu Na'sa – who were wanted by Israel for planning terror attacks were killed in exchanges of fire with the Israeli security forces in the Jenin refugee camp.[1] One of the four, Ahmad 'Alawneh, was an officer in the Palestinian Authority's (PA) military intelligence. Another, 'Abd Al-Rahman Al-Khazem, was the brother of Ra'd Khazem, a member of Fatah's military wing who was killed in April 2022 after perpetrating a shooting in downtown Tel Aviv in which three Israeli civilians, Eytam Magini, Tomer Morad and Barak Lufan, were killed.

As on past occasions, PA and Fatah officials and media praised the terrorists and their actions, describing them as martyrs.[2] In addition, Fatah and PA officials paid condolence visits to their homes and lavished praise upon their families, especially on Fathi Khazem, the father of the two terrorists 'Abd Al-Rahman and Ra'd. Fathi Khazem is himself a former officer in the PA National Security Forces. Since the shooting attack carried out by his son Ra'd in Tel Aviv he has incited to perpetrate more attacks of this kind, and as a result he too is wanted by the Israeli security forces. In the recent days, after the death of his second son 'Abd Al-Rahman, he has been calling on the members of the Palestinian security forces to join the fighting against Israel. Palestinian papers and social media described him as "a new Palestinian icon," "an emblem of the struggle" against Israel, and a model of "sacrifice" worthy of being the "popular" president of Palestine.

A conspicuous aspect of the praise bestowed by Fatah on Fathi Khazem is the emphasis on his status as a former senior officer in the PA security forces. This is intended to encourage more members of these forces to take part in terrorism against Israel, a phenomenon that has become more prevalent recently.[3] It was even stressed that Fathi Khazem has shared his expertise with operatives in the Jenin refugee camp and that his home served as "a Fatah military school, whose graduates were fighters and fidayyoun."

This report reviews the praise lavished by the PA and Fatah on Fathi Khazem and on his sons and their actions.

Fathi Khazem: I Thank Allah For The Martyrdom Of My Sons, Urge Members Of PA Security Forces To Join This Path
Following the death of his second son, 'Abd Al-Rahman Khazem, in clashes with the Israeli security forces in Jenin, Fathi Khazem told the Al-Quds daily: "Praise Allah, 'Abd Al-Rahman and Ra'd were martyred for the sake of Allah, and for the sake of Palestine and Jerusalem. The only banner they raised was the banner of 'there is no God but Allah,' wishing to defend their faith, their land and their holy sites from this oppressive aggression and from the occupation, which attacks men, stones and trees [in Palestine]. But we are stronger than [the occupation] and will not surrender… Our young people will not give up, and they bow to Allah alone. They fight in a single [rank]… Today we exhort the youth of Palestine to rise up and defend their soil and their homeland… All the people of Palestine must support Jenin, which is standing fast and bleeding…"[4]

On another occasion, Fathi Khazem called on the PA security forces to direct their weapons at Israel, saying: "I urge you to turn to the path of Abu' Ammar [i.e., Yasser Arafat], of the sheikh of the jihad fighters, [Hamas founder] Ahmad Yassin, and of the sheikh of the resistance fighters, [Fathi] Al-Shqaqi, [founder of the Palestinian Islamic Jihad]…"[5]
Caroline Glick Show: Are the Iran protests going to bring the regime down?
The demonstrations in Iran have now reached their third week.

How worried are the Iranian authorities? How is this wave of protests different from those in the past? And what needs to happen for the demonstrations to become a revolution and overthrow the regime?

On this week's Caroline Glick Show, she discusses these issues with Ahmad Obali, founder and director of Gunaz TV.

Gunaz TV is a U.S.-based Azerbaijani satellite television channel that broadcasts into Iran, Europe and the Middle East. According to Obali, the regime will be brought down if students, tradesmen and oil workers go on strike, paralyzing the state.
The obvious question for any White House reporter. Are you rescinding all offers of sanctions relief for the regime as part of the nuclear deal talks? https://t.co/ejgnPaNBXI

— Richard Goldberg (@rich_goldberg) October 3, 2022
He can blame "Zionists," the U.S., or anyone else, but it's clear to the world and the Iranian people that his regime's violent misogyny ignited these women-led protests. pic.twitter.com/j8Tw8seXLo

— Special Envoy Deborah Lipstadt (@StateSEAS) October 4, 2022
Texas Islamic Scholar @YasirQadhi Compares Iranian Hijab Protests to "Fighting for Nudity Rights in Texas," Adds: Criticism of Iranian Regime - Double Standard by a Country That Caused the Death of Over One Million People in Iraq and Afghanistan #Mahsa_Amini #Iran pic.twitter.com/oKSCewATBW

— MEMRI (@MEMRIReports) October 4, 2022
See the new @HamdiAMalik #MilitiaSpotlight @WashInstitute piece here on Alwiyat al-Waad al-Haq's new anti-GCC threat. AWH have a 1:1 ratio of claims to strikes on the Gulf States from Iraq. Strong combat indicator, among many others of an impending strike https://t.co/lIPaymYlgX

— Michael Knights (@Mikeknightsiraq) October 3, 2022
Are Iranians and Israelis enemies? 1,404 views Oct 4, 2022 While the Iranian government has a problem with Israel one thing is for sure the people of Iran don't and we (Israelis) stand with them!
Today in Iran, schoolgirls remove their compulsory hejab and chant "death to the dictator" while stomping on the photos of their rulers pic.twitter.com/ipQPSZhsvC

— Karim Sadjadpour (@ksadjadpour) October 3, 2022
Can you believe @instagram deems this sensitive content?

This is beautiful, uplifting, and inspiring content ?????? pic.twitter.com/Xrikro3YCN

— Yasmine Mohammed ?? ?????? ???? (@YasMohammedxx) October 3, 2022
Meanwhile in Amsterdam this week: Iranians and Israelis meet and support the people of #Iran! pic.twitter.com/YjaKW3Ze1R

— Emily Schrader - ????? ?????? (@emilykschrader) October 4, 2022
---
---
Buy the EoZ book, PROTOCOLS: Exposing Modern Antisemitism today at Amazon!

Or order from your favorite bookseller, using ISBN 9798985708424.

Read all about it here!