From Ian:
Bernard-Henri Levy:
Socialism for Imbeciles
Just a few days after the miserable provocation—in the midst of commemorating the Vel' d'Hiv' Roundup—by Mathilde Panot, the head of the left-wing party La France Insoumise in the Assembly, 38 of her colleagues from La Nupes (the New Ecological and Social People's Union left-wing alliance) piled on in abjection.

The resolution they were planning to present must have been truly disgusting for it to have disappeared from the National Assembly's site.

But agencies have provided enough extracts for us to know that we were dealing with an unprecedentedly violent attack against the "apartheid regime" supposedly imposed by Israel on the "Palestinian people," calling for BDS-style reprisals.

We should first note that such calls for boycott are illegal in France: Two memorandums said this in 2010 and 2012 … it was confirmed in 2020 in a dispatch dedicated to the "suppression of discriminatory calls for boycotts of Israeli products …"

Then we might note that the delegitimization of the State of Israel is also not very legal: Doesn't it go against a resolution initiated by President Macron that, using the definition of antisemitism promulgated by the International Holocaust Remembrance Alliance, criminalizes anti-Zionism?

And so we observe that we have, in France, 38 elected legislators whose first initiative would have been to place themselves, twice over, outside the law.

The will to annihilate Israel is not lacking champions in my country. But never before, in this body, had we gone so far. Recognizing immediately a unitary Palestinian state? To be clear, that would include everything between Gaza and the West Bank—and therefore, if words mean anything, the full territory of Israel.

We can then observe the push of a fully uninhibited left-wing antisemitism.
French Jewish leaders condemn Israel 'apartheid' bill as dangerous leftist obsession
A senior French rabbi has criticized 37 left-wing members of parliament who signed a draft resolution condemning the Israeli government for "practicing apartheid and committing war crimes against Palestinians."

Moshe Lewin, senior advisor to France's Chief Rabbi and Vice President of the Conference of European Rabbis responded to the draft, saying that "the dangerous obsession of the leftist parties against Israel broke new records.

"Member of Parliament Jean-Luc Mélenchon feels an inexplicable phobia towards Israel," Lewin said about the leader of the extreme-left wing France Unbowed Party. Mélenchon ran for president in the 2022 elections and ended up in third place.

It's quieter in this place. Studying in the classroom, the forest, the lab, or the sea, you can hear yourself think It's quieter in this place. Studying in the classroom, the forest, the lab, or the sea, you can hear yourself think

"While France is facing a big economic crisis, a war in Ukraine and diplomatic tensions in Taiwan, the members of the left-wing parties found time to propose a scandalous bill, the likes of which have not yet been seen [in French history]," Lewin said.

"The Palestinian lobby is working behind the scenes to incite and strengthen the flames of incitement. This proposal could increase the manifestations of hatred and antisemitism toward the Jewish community throughout France."

A proposed resolution by French members of parliament from the leftist parties condemning the Israeli "apartheid regime", demanding a boycott and imposing sanctions on Israel, has caused an uproar among political circles and the Jewish community, the senior adviser said.
Frimet Roth:
As Biden is applauded, we're left wondering
Recent blatant discrimination against our murdered Jewish child, Malki Roth, is a hard pill to swallow.

First came the preferential treatment of the Abu Akleh family which was granted a private meeting with U.S. Secretary of State Antony Blinken in Washington. The latter followed that up with a phone call to Israeli Defense Minister Benny Gantz on Saturday to pressure him to publicize the conclusions of Israel's investigation into Shireen Abu Akleh's killing. And to do so asap!

On the heels of those attempts to appease Palestinian supporters came the assassination of Ayman al-Zawahiri. In its wake, President Biden's speech was replete with assurances regarding his administration's commitment to eliminate terrorists.

But they rang hollow for us. We heard him declare:
The United States continues to demonstrate our resolve and our capacity to defend the American people against those who seek to do us harm. You know, we – we make it clear again tonight that no matter how long it takes, no matter where you hide, if you are a threat to our people, the United States will find you and take you out.

Where is that resolve vis a vis Ahlam Tamimi? Why isn't the President determined to defend Americans from her incitement to terror and to bring her to justice for the murders she has committed?

Tamimi need not be found – because she isn't hiding. The regime granting her refuge – the Hashemite Kingdom of Jordan – has a valid extradition treaty with the U.S. and is a revered ally.

In fact, there is a State Department reward of $5 million for Tamimi's capture. She has been indicted by the Department of Justice and her extradition has been formally demanded. The pieces are all in place for justice to happen.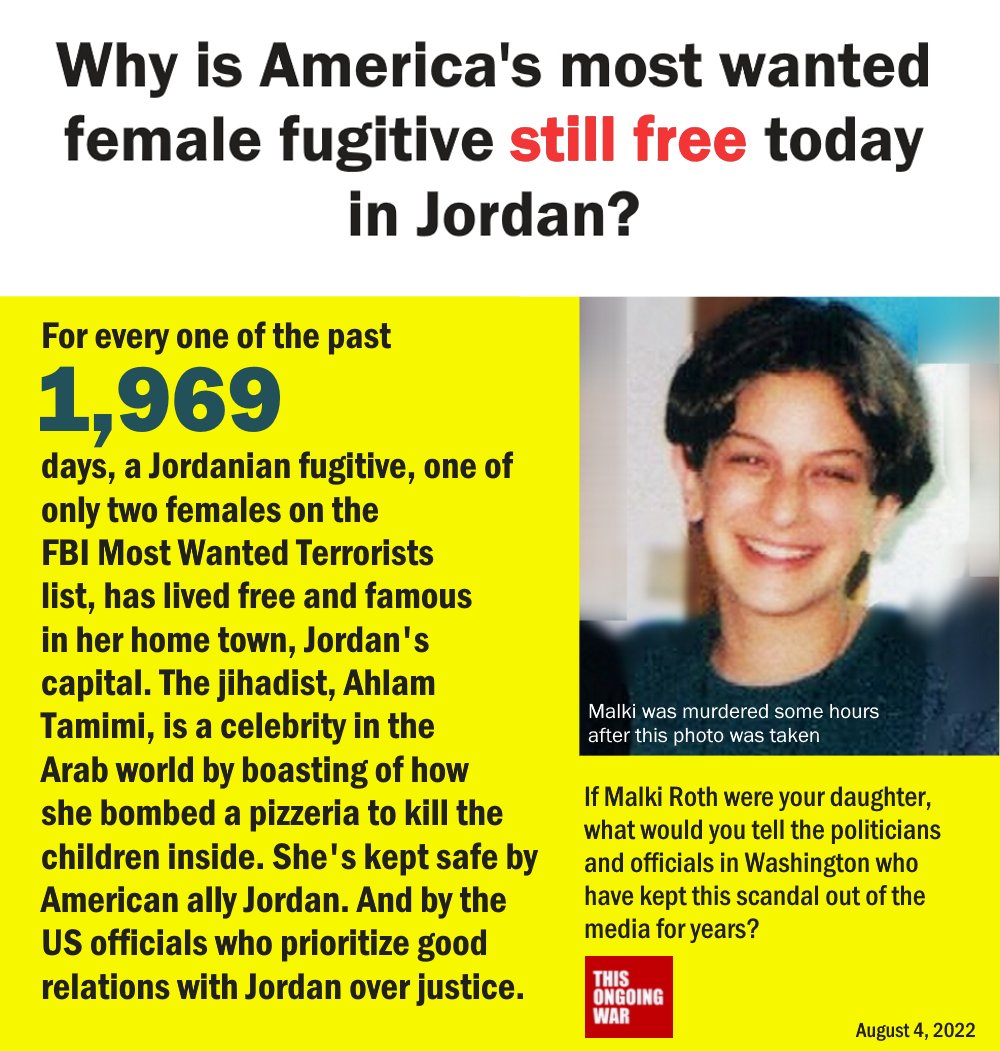 Noa Tishby:
As President Biden said, you don't have to be Jewish to be a Zionist
While the restoration of Jewish nationhood in the Land of Israel has deep roots, most Americans support the Jewish state, the only democracy in the Middle East. From the very beginning, Zionism - the movement for the re-establishment of a sovereign Jewish nation - has counted non-Jews among its most enthusiastic supporters.

Due to a well-organized campaign against it, Zionism is now considered a slur in certain circles. But Zionism is in fact a progressive movement, created to progress Jews from two millennia of discrimination, pogroms and persecution to self-governance and self-determination in their indigenous land. Zionism is not in opposition to anyone else's self-governance and self-determination, Palestinians included.

On the other hand, "Free Palestine from the river to the sea," the chant adopted by BDS and its celebrity followers, is a call for the destruction of the single Jewish state in the world, a shamelessly antisemitic goal.

Lovers of democracy around the world understand that Israel is fighting the battle for all free people to live in peace and dignity. The truth is that while there are only a few million Jews in the world, there are hundreds of millions of Zionists.
A Great American Jewish Writer Examines Her Youthful Correspondence with a German Soldier Who Fought for Hitler
It was then that my correspondence with Karl Gustav Specht began. Precisely how it happened I can no longer recall, but I surmise that it came about through one of those postwar exchanges, Americans writing to their foreign counterparts, who replied in their own language. Each would enrich the other's skills. Each knew nothing about the other. But at the very start, Karl Gustav Specht told me that he was a soldier who had been at the Eastern Front. A soldier? This meant the Wehrmacht, the so-called regular army, soon to be exposed as a force as fully implicated in overt criminality as the SS itself. The Eastern Front? This meant Stalingrad, the battle that devastated and routed the German military—fatally short of supplies, its straggling troops unfed and shoeless and dying in the Russian cold, more than 700,000 killed, wounded, or captured. (Supply trains elsewhere were at the same time industriously moving their human cargoes.) On May 7, 1945, the Germans officially surrendered to the Allies, and on May 9 to the Soviet Union.

Once, only once, he had written, "Ich hasse keine Rasse." "I hate no race." It was a sentence that was left floating like a wayward mote in the middle of a vacuum.

To Karl Gustav Specht's introductory greeting, I wrote back politely. Beyond this one biographical datum—his presence at the Eastern Front—nothing else of his experience appeared in his letter. Nor did I pursue more. My own circumstances spoke for themselves: I was an American student with a literary bent who was attracted to foreign languages. I was also attracted to Karl Gustav Specht's voice, impressively bookish and high-minded. If I stripped him of his recent history, I might think of him as kind and enlightened. An idealist. A humanist. But he had no irony, or avoided it, and his tone, even when it carried a smile, was clear of humor. He was above all earnest. And it was plain that he delighted in our exchanges; so did I.

Looking back at a distance of decades, it seems perverse—even lunatic—that a young Jewish woman in New York was corresponding, in a friendly way, with a soldier loyal to his national duty, a German who had only a short time before served at the Eastern Front, who belonged to the nation that had conceived and carried out the Decree Against Folk Pests. Of which I was one. And still I knew nothing: not his age, nothing of his family, no inkling of his inward thought. Of his outward thought I learned much: art, philosophy, Roman history, his mastery of languages, English and French and Greek and Latin. We had the Aeneid in common; we could speak feelingly of infelix Dido on her pyre. At the center of it all was an unnamed silence.

But once, only once, he had written, "Ich hasse keine Rasse." "I hate no race." It was a sentence that was left floating like a wayward mote in the middle of a vacuum.
BLM responsible for rise in US hate crimes
BLM and destabilization
I theorized that BLM's well-funded radical agenda would destabilize the country, if left unchecked. Unfortunately, six years later, those fears would materialize in the wake of the George Floyd riots. BLM's radical agenda led to more than two billion dollars in property damage across 140 cities and several police officers being injured in riots. Because many of these crimes were not prosecuted, hate crimes spiked, especially in Jewish communities.

In February of this year, a 21-year-old Black civil rights activist and BLM supporter was charged with attempting to assassinate a Jewish mayoral candidate in Kentucky. The shooter's social media posts were similar to the radical ideology of the Black Lives Matter-inspired Dallas shooter more than six years ago.

Dating back to 2014, I warned about the antisemitic and racist Black Nationalist agenda and propaganda being promoted online by BLM, but no one listened. By 2016, BLM had become a household name. The movement was raising significant amounts of money from corporations and it was being used in coordination with attacks on government interests. America's reluctance to condemn BLM out of fear of being labeled racists or facing mob retaliation gave BLM a free pass to carry out countless hate-driven attacks on ethnic communities and even the police.

Based on the behavior and radical ideologies of BLM, it's simply time to formally condemn the group as a domestic terrorist organization by definition and to seek federal prosecution. Under 18 U.S. Code 2331 (5), the Justice Department defines a domestic terrorist group as a group that uses force and intimidation for the purposes of coercing individuals or changing government policy.

No community should be forced to live in fear, which is why I have openly advocated for greater accountability in efforts to protect our ethnic communities through education and criminal prosecutions.
Ben & Jerry's says Unilever froze directors' salaries
Ben & Jerry's independent board said parent company Unilever Plc, ULVR.L with which it is locked in a dispute over the sale of its Israeli business, had frozen its directors' salaries in July as a pressure tactic ahead of a mediation on the matter.

The Cherry Garcia ice cream maker surpassed $1 billion in sales last year for the first time, becoming one of 13 Unilever brands to achieve such a scale, the board also said.

Ben & Jerry's sued Unilever, which has owned the Burlington, Vermont-based company since 2000, on July 5 to try to stop the sale of its business in Israel to local licensee Avi Zinger.

Ben & Jerry's last year said it no longer wanted to sell its products in the occupied West Bank because it was "inconsistent" with its values, which prompted Unilever to make the sale. The deal with Zinger made the ice cream available to all consumers in Israel and the occupied West Bank.

Going to court
"This decision for us to go to court is because of Unilever's sale without our input, which is a clear violation of the letter and the spirit of our original acquisition agreement with Unilever," board chairperson Anuradha Mittal said in an interview with Reuters. "If Unilever is willing to so blatantly violate the agreement that has governed the parties' conduct for over two decades, then we believe it won't stop with this issue."
Canary Mission: Antisemites Celebrate the Death of Jews
On July 21, 2022, a sinkhole opened up in a swimming pool in Israel killing one man. Anti-Israel activists immediately began to celebrate his death on Twitter. The same happened after the Meron tragedy in 2021 when 45 Israelis died. The pattern of antisemites celebrating the death of Jews repeats itself every time Israelis are killed.
New York Times Hit Piece Erases Palestinian Flag From Jerusalem… And the Violence That Comes With It
Anyone who has ever visited Jerusalem can attest to the omnipresence of the Palestinian flag in Israel's capital. Indeed, the Palestine Liberation Organization's (PLO) banner can be seen at pro-Palestinian protests, on t-shirts sold in the Old City, and even at the entrance of some taxpayer-funded Israeli hospitals in Arab-majority neighborhoods.

Furthermore, before the last round of peace talks fell apart over Palestinian Authority (PA) President Mahmoud Abbas' efforts to reconcile with the US-designated Hamas terror group, the Palestinian flag was repeatedly put on display at then-prime minister Benjamin Netanyahu's residence and in the halls of Israel's parliament, the Knesset.

More recently, in April of this year, as the Jewish state faced the deadliest terror wave in over a decade, the Palestinian flag flew over the Temple Mount for more than ten days. Asked why the Israeli government turned a blind eye to this clear violation of the status quo at the flashpoint holy site, Communications Minister Yoaz Hendel was quoted by local media as saying, "We don't fight flags. We fight terrorism, and I don't want to divert attention to some flag."

And yet The New York Times told its readers in a July 30 piece that the Palestinian flag is "practically absent" from the streets of the capital and that Arab residents of the city are somehow "unable to erect their flag at their homes."

Seemingly, NYT correspondent Raja Abdulrahim didn't even bother to take a stroll through Jerusalem — or, more likely, she is deliberately misleading the publication's ten million subscribers to suit her anti-Israel narrative.
What They Also Got Wrong: Examining The New York Times' Coverage of Israel
The New York Times opinion section recently published a collection of eight pieces from different columnists entitled, 'I Was Wrong.' The publication's description of this group of articles, published on July 21, explained that NYT contributors "hold on to the idea that good-faith intellectual debate is possible, that we should all be able to rethink our positions on issues, from the most serious to the most trivial."

The newspaper further stated that the writers of these articles "can be models of how valuable it can be to admit when you get things wrong."

This seemed a perfect opportunity for the Times to admit its perpetual bias against Israel, and correct factually inaccurate reporting on the Arab-Israeli conflict, which has led to its ten million subscribers often being misinformed about the Jewish state.

Unfortunately – and surprisingly for a newspaper that covers the Jewish State as if it is local news – the 'I Was Wrong' series did not mention Israel at all, not even in passing. HonestReporting zoomed in on five key instances in which The New York Times and its journalists have faltered in accurately covering Israel.

1. Michelle Goldberg Downplays BDS' Anti-Jewish Hatred
Michelle Goldberg used her 'I Was Wrong' article to reevaluate her 2017 coverage of Al Franken. However, she seemingly stands by her favorable portrayal of the Boycott, Divestment and Sanctions (BDS) movement in her 2019 op-ed, 'Anti-Zionists Deserve Free Speech.'

After detailing some of the pushback the controversial movement had received in certain states and on certain campuses, Goldberg naively wrote "What are pro-Israel forces afraid of? The BDS movement doesn't engage in or promote violence. Its leaders make an effort to separate anti-Zionism from antisemitism."

No, Goldberg was not being sarcastic. Perhaps she just chose to omit the fact that the movement's West Bank-based National Committee counts as a member the Council of National and Islamist Forces in Palestine, composed of member groups such as Hamas, the Palestinian Islamic Jihad, and the Popular Front for the Liberation of Palestine, all of which are widely classified as terrorist organizations.

She also left out that BDS co-founder Omar Barghouti has stated that "we [BDS] oppose a Jewish state in any part of [British Mandate] Palestine."
BBC Arabic host politicises Middle Eastern food
Mira Sidawi is an actress, writer and director born in the refugee camp of Burj al-Barajneh in Lebanon to a Palestinian family. She regularly participates in BBC Arabic's women's magazine "Dunyana", where she is presented as coming from "Palestine" despite the instructions on the use of that term in the BBC Academy's style guide on Israel and the Palestinians (since May 2021 online access to the guide is restricted to BBC personnel only; latest publicly visible edition is from February 2021).

BBC caption reads: "Mira Sidawi, Palestine"
Although none of the contributors of "Dunyana" officially bears the title "host", in many episodes Sidawi is the person opening the program and letting the viewers know that "our time is up" when it concludes. Hence in practice she is the show's host in these cases and should be regarded as such in relation to the BBC's impartiality standards.

In one episode with the theme of traditional Middle Eastern food which was originally broadcast in January 2022, Sidawi said the following:
Sidawi: "The Palestinian cuisine in particular, it also engages in resistance, like the Palestinian people as a whole. Because it is a cuisine subject to domination, and to- they try-"

Guest: "correct, correct"

Sidawi: "Israel tries to assume domination over the Palestinian cuisine, with a view that- I mean, it is funny that usually the occupation leaves a mark on the peoples. I mean, it leaves…the French leave their mark on the food, in different [parts of] the world. The occupier, I mean. Israel does not leave any mark of its own, because it does not have any [mark to leave], it is compelled to take from the original peoples."

As short as this segment is, Sidawi's claims – especially her assertion that Israel "does not have any [mark to leave]" – illustrate a widespread Arab nationalist perception of Jews in Israel also found among BBC Arabic staff.
Publisher Bertelsmann to investigate magazine founder's Nazi ties
The publisher of the German weekly current-affairs magazine Stern has commissioned historians to conduct an independent review into the publication and its late founder, who allegedly had ties to Nazi Germany during World War II.

Bertelsmann announced on Monday that it has hired experts from the Leibniz Institute for Contemporary History in Munich to examine "the history" of Stern magazine, as well as Henri Nannen and his role during Germany's Nazi era.

Nannen, who died in 1996, was Stern's founder, longtime publisher and editor-in-chief.

The independent review was launched by Bertelsmann's executive board in cooperation with related parties, including the editors-in-chief of Stern and the Henri Nannen School of Journalism. The research period will cover the years starting from Nannen's founding of Stern in 1948 until his retirement in 1983. "It will focus on the question of political, personal and content-related entanglements and connections to the National Socialist era," said Bertelsmann in a statement.

The project is expected to take several years.
Radical Malmö Imam Faces Hate Charges Over Antisemitic Preaching
A Malmö imam has been charged with incitement to racial hatred by Swedish prosecutors after antisemitic sermons in which he claimed Jews run the west and the Muslims who collude with Jews are "traitors."

Imam Basem Mahmoud is accused of spreading hateful rhetoric from his sermons in a basement mosque in the notorious no-go area of Rosengård for at least two years before being charged with spreading hate and is expected to face trial in September.

Religious studies researcher Simon Sorgenfrei was brought in by prosecutor Magdalena Tesfai to examine the rhetoric of the imam and stated the sermons allude to passages of the Qur'an but also tie into a "broader anti-Semitic conspiracy narrative that suggests there is a plot, in this case against Muslims, between 'Jews' and the 'West'," Expressen reports.

Last year, Mahmoud claimed that Muslims carrying Swedish flags were "heretics" as the flag contains a Christian cross, stating, "Those who carry crosses should not be offered prayer because it is our belief that these people are perfect heretics."

Mahmoud has also been forced to give up his basement mosque as the property management company MKB refused to extend his lease on the property.
World-class tennis coming back to Israel after 26 years
The Association of Tennis Professionals (ATP) has announced its new tournament in the ATP 250 category: The Tel Aviv Watergen Open 2022, featuring the world's top-20 ranked male pro players.

More than 26 years after Israel last hosted a major tennis competition, the tourney will begin at Expo Tel Aviv on September 25. Singles and doubles finals are scheduled for October 2, with players such as Rafael Nadal and Joe Salisbury vying for nearly $1,200,000 in prize money.

The top-tier ATP 250 tournament is coming to Israel thanks to a joint effort by the Israel Tennis Association and water-from-air technology company Watergen, the competition's official sponsor.

"We are very excited that a tournament of this magnitude is coming to Israel," said the Israel Tennis Association in a statement.
Israel, Bahrain organizations ink fintech cooperation deal
The Israel Advanced Technology Industries (IATI), an umbrella organization of high-tech and life sciences firms, is partnering with a fintech (financial tech) hub in Bahrain to develop joint initiatives and support the fintech industry in both countries and regionally.

According to the new cooperation agreement, announced on Tuesday, IATI and Manama-based Bahrain FinTech Bay will work together to facilitate introductions and communications between startups, companies, and venture capital firms seeking investments and expansion in both countries.

Israel and Bahrain normalized ties in 2020 as part of the US-brokered Abraham Accords, which also established diplomatic relations between the Jewish state and the United Arab Emirates. The accord paved the way for normalization with Morocco months later.

Bahrain and Israel has been working to strengthen bilateral ties. In February, Israel signed a tech and science cooperation deal with Bahrain, though details were scarce, followed by an agreement to cooperate on health and medical innovations, and medical research.

The two countries are believed to have maintained covert ties on security and defense over the years.

The new fintech agreement was signed on Tuesday in Tel Aviv with senior officials from the Bahrain fintech industry and leaders from the Israeli fintech ecosystem. They were joined at the event by Bahraini Ambassador to Israel Khaled Yousif al-Jalahma, former Mossad chief Yossi Cohen, who now heads SoftBank's Israel operations, and IATI CEO and President Karin Mayer Rubinstein.
Romania to compensate Holocaust survivors in Israel via social-security system
Israel announced a deal with Romania on Monday that will allow Holocaust survivors to receive a compensatory pension from Bucharest's social-security system.

The agreement, announced by Israeli Prime Minister Yair Lapid and Israel's Minister for Social Equality Meirav Cohen, establishes a system for Israelis who fled Romania to file compensation claims.

Lapid stated that "as the son of a Holocaust survivor, I am moved by the signing of this important agreement. The State of Israel must do everything so Holocaust survivors can live here in the country with the dignity they deserve."

"We are correcting decades of injustice," he said. "Our basic duty as a society is to see that the survivors live out the rest of their lives in the best way possible."
A witness to the Constantine pogrom of 1934
It was a hot August day almost exactly 88 years ago that some 25 Jews were killed in a pogrom in Constantine, Algeria. Josy Adida-Goldberg was too young to be told what was happening, but sensed that things were not right. Here is her account, from Morial, the Association representing Algerian jews in France.

In my childhood, there was that terrible day of August 5, 1934.

I was five and a half years old. It was a hot summer day. We were all gathered at my grandfather's house and Bouchareb, our trusted servant, did the shopping alone, so dangerous was it to go out into town.

Our customary car ride had been cancelled. At the time, I didn't understand why. To the questions that we children asked – we who were gathered at my grandfather's house – there was only one answer: "you are too young to understand."

When we were allowed to play, we felt we had to do it quietly. On August 5, 1934, things puzzled me. What was going on? The front door was never locked: it could be opened only by turning the latch. It was now locked and the iron bar in place. The phone often rang in the hallway. At times, by straining our ears, we managed to catch snippets of adult conversation: basin, blood, throat cut.

Later, when I was old enough to understand, the tragedy was explained to me at length: Jewish families had been slaughtered by Arab rioters. The French government had done nothing to stop the massacre. I had been particularly struck by the murder of an entire friendly family, with the exception of an eleven-year-old child, hidden by his father in the attic of their house. Crouching and dazed in the attic, he witnessed the killing without crying out.
Decades after World War II service, Jewish lieutenant receives medals
Gerald Teldon, 97, nicknamed himself "Mr. Lucky," flying more than 60 missions for the U.S. Army during World War II. What he never received, however, were his service medals.

That changed on July 29, when—surrounded by three generations of his family—the 97-year-old Teldon was decorated with six medals for his service, including an Air Medal, European-African-Middle Eastern Campaign with three bronze service stars, National Defense and a World War II Victory medal.

The ceremony was held at the Chabad Center for Jewish Life & Learning in San Antonio, Texas, where several of his grandchildren serve as Chabad-Lubavitch emissaries.

"It was truly the honor of a lifetime to be present when my grandfather, who risked his life countless times to protect the world from tyranny, accepted the medals he earned in World War II," said one of those grandchildren, Rabbi Levi Teldon, who got to pin one of the medals on his grandfather. "The whole family feels so grateful and humbled."

Teldon, who is from Long Island, N.Y., joined the service in April 1944. He initially applied for the Navy Air Force, but it was over its "Jewish" quota, so he was denied a spot.

Determined to serve his country, Teldon applied for the Army Air Force. While the medical doctor sought to exclude him because of an ear issue, Teldon signed the papers himself and he was in. He served in the 79th Fighter Group, the 85th Fighter Squadron and 87th Fighter Squadron. He was honorably discharged as a first lieutenant in March 1946.
Israel consul in Midwest lauds father and daughter who hid Jews during Holocaust
The Consulate General of Israel to the Midwest hosted a "Righteous Among the Nations" ceremony last week to recognize a father and daughter who saved the lives of six Jews in the Netherlands during the Holocaust.

Family members of Hans Boersma and his daughter, Grietja, both of whom have since passed away, came in from across the United States for the momentous event, which was held at the Illinois Holocaust Museum and Education Center in Skokie, Ill., just outside of Chicago.

People who are designated as "Righteous Among the Nations," are internationally recognized by Yad Vashem in Jerusalem for protecting Jews from the Nazis while risking their lives.

"In Jewish tradition, it is said that when a person saves one life, it is as if he or she has saved the whole world. Hans Boerma and his daughter Grietje Boersma risked their own survival to save the world—six times over," said Consul General of Israel to the Midwest Yinam Cohen.

According to Yad Vashem, after the Germans invaded Holland in 1940, a Protestant female reverend asked Boerma, 73, to hide some Jews on his property. He agreed to take in two little boys, Ronnie Samuel and Eric Flesseman. He also hid a married couple, Benjamin Wolf and Nanny De Jongh, and two girls were hidden by Grietje.

From 1943 until 1945, the two Dutch citizens cared for the Jews on their remote farm. Hans Boerma died in 1951 at the age of 83, while Grietje passed away in 1975 at age 72.

Accepting the medal and certificate of honor on behalf of the Yad Vashem commission for designation of the Righteous and the State of Israel, was Hans Boerma's grandson, Sam Heeringa.
I had an opportunity to go to @yadvashem; World Holocaust Center.

Every child of every religion must learn about the #Holocaust.
It is not enough that we never forget.
We must never let it happen again!

May we all remember the 6 million innocent that were killed.#NeverAgain pic.twitter.com/OLKJ0vhntk

— Enes FREEDOM (@EnesFreedom) August 2, 2022
---
---
Buy the EoZ book, PROTOCOLS: Exposing Modern Antisemitism today at Amazon!

Or order from your favorite bookseller, using ISBN 9798985708424.

Read all about it here!