From Ian:
Anti-Israel orgs plan to protest 125th anniversary of the first Zionist Congress
BDS Movement-affiliated organizations are planning a number of demonstrations at the end of the month in Basel, Switzerland, opposing a series of events commemorating 125 years since the first Zionist Congress.

The World Zionist Organization will be marking 125 years since the historic first Zionist Congress in Basel on August 28. The events will take place at different sites related to the 1897 congress.

"This commemorative political event, supported by the Basel government and secured by a massive police and military presence, affirms the supremacy of right-wing organizations over the importance and history of Zionism," the official Swiss BDS Facebook page stated.

"We once again urge the Basel government to withdraw from any involvement in the Zionism celebrations and to end any cooperation with official Israeli institutions and state representatives."
Swiss BDS

"Along with the WZO, this anniversary is also organized by an organization that plays an important role in illegal settlement building and systematic expropriation of Palestinian land," the BDS group claimed, but didn't specify which organization it was referring to. BDS Switzerland's post on Facebook regarding their upcoming demonstrations. Posted 9 August, 2022. (credit: Zvika Klein) BDS Switzerland's post on Facebook regarding their upcoming demonstrations. Posted 9 August, 2022. (credit: Zvika Klein)

"The history of violence of Zionism is denied at the celebration," the Facebook post said, adding that "the colonial character of the Zionist occupation in Palestine is obscured and, in continuity with the Zionists of the time, the mere existence of Palestinians made their suffering invisible."

Two major events are planned to take place as a demonstration against the Zionist events in Basel and the existence of Israel. The first event will take place on Saturday evening, where a "panel discussion on Palestine will relate to the critical contributions to the situation in Palestine," the Swiss BDS site has disclosed.

In addition, a protest will take place on Sunday afternoon against the Zionist Congress events. Swiss BDS shared that "the route will be discussed with the authorities, any expression of antisemitism is prohibited; only flags of Palestine desired."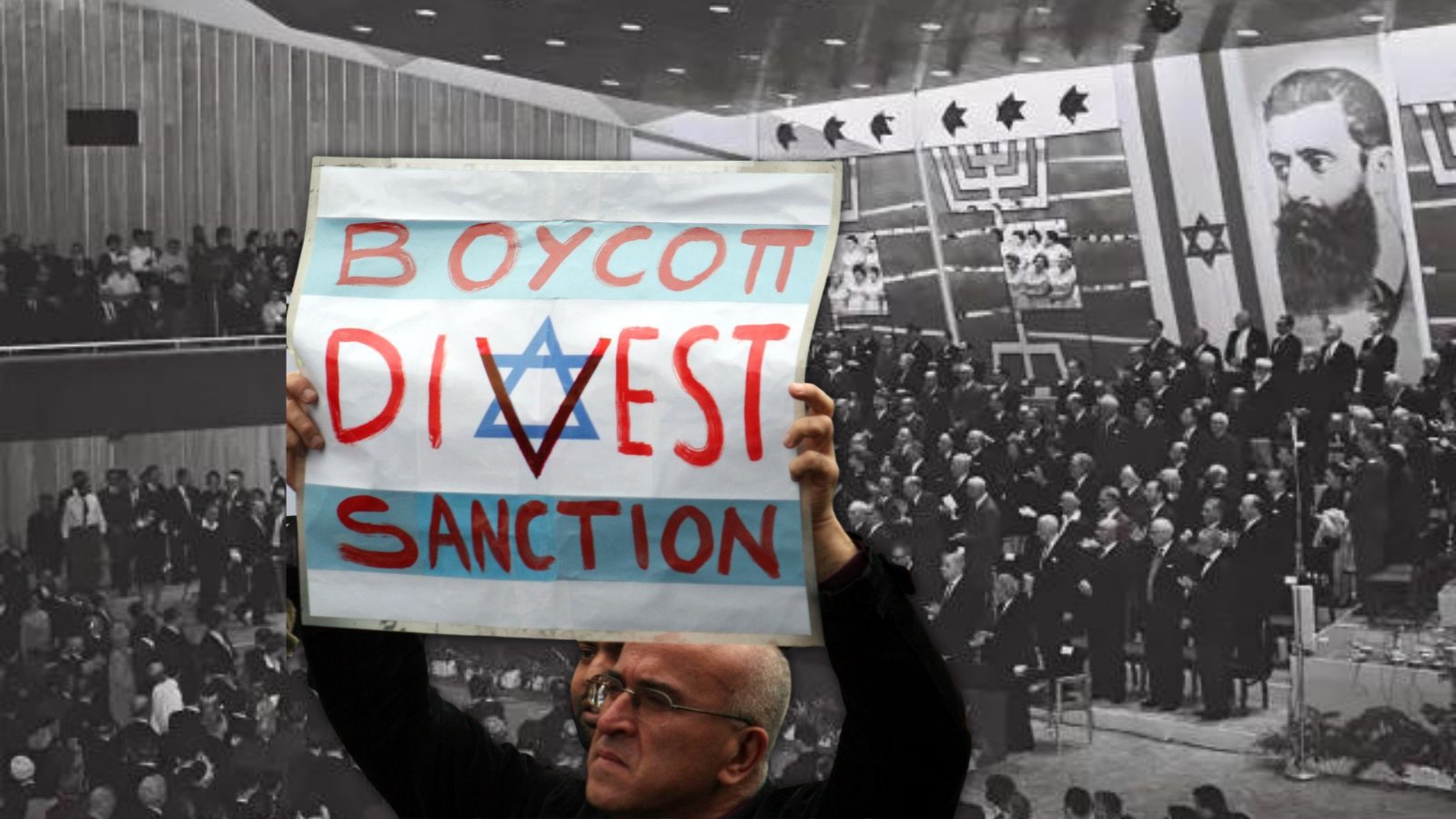 Gil Troy:
If you're being silenced, ask yourselves: What would Salman Rushdie do?
Iran's ayatollahs, the countries that banned The Satanic Verses and the twitterdummies, who applauded Rushdie's butchering, all want to create what the Soviet-born human rights activist Natan Sharansky calls fear-societies. Traditionally, fear-societies, like Iran, impose terror from the top down. Increasingly in Western democracies, fear-societies are springing from the bottom-up, as peer-censorship and self-censorship spread. Even if they defend basic liberties, democracies falter if their loudest and most influential citizens lose faith in the free marketplace of ideas.

Building trust combats such grassroots fear and bullying. We need to trust one another. We must remember the basic democratic lesson that those who come to different political conclusions are not evil, while fostering more faith in the democratic process. Vigorous, respectful debate among different political factions can keep us talking together, then building together.

In that spirit of candor, we also should acknowledge that we are in a civilizational war with brutal enemies. As hard as it is to imagine any 24-year-old attacking a 75-year-old author, it is even harder to imagine anyone stabbing a person again and again in the eye, the abdomen and the chest, as the blood spurts and people yell. What kind of incitement riles someone up like that and what kind of people cheer such evil?

Similarly, closer to home, it's hard to conceive how a 26-year-old east Jerusalemite this Sunday morning could shoot a pregnant woman in the stomach, an older man in the neck and head, and five other Western Wall worshipers waiting to board a bus and a taxi also wins applause.

It's not just Hamas and so many others who have called that terrorist heroic, the masquerading moderates of the Palestinian Liberation Organization's (PLO) Popular Front for the Liberation of Palestine (PFLP) called this latest attack proof that "the resistance of our people continues in all forms and throughout the occupied Palestinian land." Although their Western enablers don't like noticing, these maximalists define "the occupied Palestinian land," as every inch of territory they covet, leaving zero room for Jews or anyone else they detest.

Ultimately, we can only fight fear and cultivate trust by regaining confidence in ourselves and our Western democratic values. Confidence is not arrogance. It can include self-criticism. But today's new nihilism, with unpatriotic patriots and illiberal liberals, with conservatives who don't conserve institutions, progressives who don't appreciate progress and uber-partisans who don't respect their rivals' democratic rights, reflects a crisis of democratic faith, a vacuum of trust and totalitarian culture of fear that spawned Rushdie's attacker. Right now, only doctors can save his body, but all of us must preserve and expand Rushdie's bold, freedom-fighting, democracy-affirming legacy.
'Different rules' apply with Islam
Society has just agreed people can't publish novels criticising Mohammed as "different rules apply" with Islam, says author Douglas Murray.

It follows the stabbing attack on novelist Sir Salman Rushdie in New York.

Mr Rushdie has had a fatwa calling for his death for his novel The Satanic Verses since 1989.

"This is of course intolerable," he told Sky News Australia.

"It's the demand of one fanatical sect of Islam to dictate not only what all Muslims will be able to say, but what everybody else is too.

"And that should be deemed totally intolerable with any sense of pride."
Jonathan Tobin:
Is Judaism or any faith tradition inherently conservative?
Of greatest interest for those watching the Tory leadership contest from afar was Truss's willingness to speak out against the woke anti-Semitism in the British bureaucracy. She has also mentioned possibly moving the British embassy from Tel Aviv to Jerusalem, though whether she will defy establishment opinion by going that far remains to be seen.

During her short tenure at the foreign office which she took over in September, Truss has earned a reputation as a friend of Israel, especially when it came to supporting it in international forums like the United Nations. To her credit, she denounced the U.N. Human Rights Council in her JC interview, saying that it had been, "used to peddle a particular agenda which frankly have strong elements of anti-Semitism."

More to the point, she said that the career civil servants that run the Foreign Ministry had opposed her efforts to stand up against this campaign of hate against Israel. In Britain, even more than in the United States, the government is run by the civil service who—as the 1980s classic television comedy "Yes, Minister" showed—tend to lead the politicians around by the nose. The "deep state," as many American conservatives refer to the U.S. version in the federal bureaucracy, is no myth. So, it is a measure of her willingness to act on her convictions with respect to supporting Israel that she has had to "overrule" the civil service at the United Nations when she was told that doing so would "isolate" Britain.

Speaking of the Foreign Office's long tradition of support for the Arabs against Zionism, "every organization has its culture, but it's not fixed, it can be changed."

Supporters of Israel may not be entirely happy with everything a Truss government does in the Middle East. Despite her promise to prevent Iran from getting nuclear weapons and saying that the use of military force is still on the table, Britain is certain to support a nuclear deal with Tehran if President Joe Biden is able to succeed in getting it to agree to a new and weaker pact.

But Truss's willingness to speak not just about the U.N.'s anti-Semitism but to continue to push for legislation to outlaw BDS discrimination against Israel makes the Jewish state's foes unhappy.

For all of the philo-Semitism of some British leaders throughout the last century, such as those who promulgated the Balfour Declaration, Winston Churchill and Margaret Thatcher (Truss's primary role model), anti-Semitism has always been far more of a factor in British life than in the United States.

British Jews understood the stakes involved when an anti-Semite like Corbyn was a serious threat to become Britain's prime minister in the last decade. He was replaced by Keir Starmer, who doesn't share Corbyn's hateful attitudes toward Jews and Israel. But the left wing of the Labour Party, which continues to support Corbyn and everything he stood for, is still a potent force in British politics. As is the case in the United States, Jew-hatred is being enabled by woke ideology that is also becoming an increasingly powerful force in that country's media and popular culture. If, as polls currently indicate, Truss becomes Britain's third female prime minister next month, one can only hope that she will stick to her determination to continue to stand up against anti-Semitism in the face of such formidable opposition.
Netanyahu autobiography 'Bibi: My Story' due out in November
Former prime minister Benjamin Netanyahu has a memoir coming out this fall. "Bibi: My Story" will be published November 22, three weeks after parliamentary elections are to be held in Israel.

"Born a year after the founding of the Jewish state, I have dedicated my life to combat the forces that seek its destruction and make peace with those that do not," Netanyahu, 72, said in a statement released Tuesday by Threshold Editions, a division of Simon & Schuster that publishes conservative books.

"My story is one of tragedy and triumph, setbacks and successes, lessons learned and loved ones cherished. It is woven with that of Israel, which has proven that faith and resolve can overcome insurmountable odds to forge a brilliant future."

Other Threshold authors have included former US vice president Dick Cheney and former US president Donald Trump, a close ally of Netanyahu's while he was in the White House. Netanyahu has previously written "A Durable Peace" and "Fighting Terrorism," among other books.

Before being ousted in elections in 2021, Netanyahu was Israel's longest-serving leader — and its most polarizing, supported and condemned for his hard-line stance against the Palestinians. He now stands at the center of Israel's protracted political crisis, where a cluster of parties has refused to sit with him in government because he is on trial for corruption; as such, Israel has held five elections in less than four years.

Netanyahu's 12-year tenure included heightened settlement building in the West Bank and presiding over three wars against the Hamas terror group ruling Gaza. He was also a leading opponent of the 2015 nuclear accord between Iran and several world powers, including the United States. Iran resumed some of its nuclear activities after Trump withdrew from the agreement in 2018.

Netanyahu is the son of a prominent Zionist and educator, Benzion Netanyahu, and brother of Jonathan Netanyahu, who was killed while leading the famed 1976 rescue of hostages on a hijacked plane in Entebbe, Uganda. A longtime leader of the nationalist Likud party, Benjamin Netanyahu also served as prime minister from 1996-1999.
The Pinsker Centre:
Ep. 24 - From Begin to Netanyahu - Discussing Legacy and Likud with Paul Gross People Talk... Politics
In this episode of People Talk… Politics, Pinsker Policy Fellow Mackenzie France interviewed Paul Gross, a senior fellow at The Menachem Begin Heritage Center in Jerusalem. He has previously worked on religious discrimination legislation for the British Government and has also worked for the Israeli Embassy in London.

They discuss the politics and historical legacy of Menachem Begin, the sixth Prime Minister of Israel who famously made peace with Egypt. Mackenzie and Paul also analyse the shorter-term political events which will result in Israel's fifth election in three years.
A wake-up call or time to give up on Germany? - opinion
There has always been antisemitism in Germany. This is nothing new. Nonetheless, recently something has changed, and a process – a worrying new trend – has been set off. A series of troubling incidents by pro-BDS entities has made Germans feel as though long-simmering antisemitism has been let out of the closet. This is the reason many Jews are asking themselves whether the time has come to leave, or if they can still safely stay in Germany.

My answer is simple: stay and fight.

Currently, the renowned international art fair Documenta is taking place in Kassel. In the months prior to the fair, organizations and individuals active in the fight against antisemitism warned of predictable Jew-hatred. True to their concerns, the fair has been riddled with scandal after scandal since it opened.

For example, the Indonesian collective curating the fair, which has been accused of supporting the boycott, divestment, and sanctions movement targeting Israel (BDS), did not allow the invitation of Israeli artists and even uninvited previously invited guests. Uncoincidentally, Indonesia does not recognize the State of Israel. Additionally, although disgusting antisemitic imagery has been repeatedly displayed at the fair, every individual in a position of authority has denied responsibility and downplayed each and every disgrace.

Finally, after several months, the director resigned, only for the new interim director to declare that there would be no more investigations into antisemitic art on display at the fair. Even after more antisemitic images were later found in the fair's brochure – which had apparently already been "checked" after complaints and nonetheless approved for display – the interim director shirked his responsibility to ensure a cultural event free from bigotry. The mayor of the City of Kassel, as well as the German Cultural Minister, Claudia Roth, who authorized and provided over 42 million Euros in funding for the fair, have likewise denied any responsibility for the antisemitism exhibited.

Concerned citizens who sounded the alarm and called for consequences and the fair to be shut down, including the Central Council of Jews in Germany, the American Jewish Committee, members of the Liberal Democratic Party (FDP), and over 600 people who have thus far signed an online petition in support of such measures, have all been ignored.

In addition to the Documenta debacle, there has been a vast increase in the number of pro-BDS events across Germany in the last weeks and months, often organized by the Israeli-designated terror group, Samidoun, which has been organizing more and more "Free Palestine from the River to the Sea" events across the country. In other words, events that openly call for the violent destruction of the Jewish State.
Jewish Groups Urge SEC to Fight Anti-Israel Bias in ESG Ratings
The Louis D. Brandeis Center for Human Rights Under Law, The Jewish Federations of North America, and the American Jewish Committee on Tuesday each urged the Securities and Exchange Commission to take action on anti-Israel bias in financial ratings.

Financial rating firms that provide specialized ratings based on environmental, social, and governance (ESG) factors have been found to incorporate biased methodologies and sources that systematically produce worse ratings for Israeli companies and companies doing business related to Israel, potentially without full knowledge of the investors who rely on those ratings.

These outcomes have been hailed as victories by the Boycott, Divestment, and Sanctions (BDS) campaign to delegitimize Israel.

The ESG investment sector has grown to reach one-third of funds under advisement globally, making it a significant source of investment for companies.

As the SEC prepares a regulatory rule on ESG ratings, Jewish Federations, AJC, and the Brandeis Center provided public comment ahead of Tuesday's deadline urging the regulator to take concrete actions to ensure that anti-Israel bias does not creep into ESG ratings.

The best practices outlined for ESG raters included: more critical use of media sources, creating stronger processes for evaluating reputational risk, addressing fundamental assumptions in their methodologies and increasing transparency around them, and establishing training for analysts to help them avoid bias.

"Israel deserves to be held to the same standards as every other country, whether it's at international bodies or in financial ratings," said Eric Fingerhut, President and CEO of the Jewish Federations of North America. "We hope the SEC fulfills its responsibility to regulate financial institutions fairly and ensure they don't become party to discrimination and falsehoods."
Cori Bush Fights All Types of Bigotry — Except Antisemitism
On August 4 2021, Bush claimed in a speech to Congress that the US' aid to Israel was to blame for homelessness in St. Louis. She claimed that by providing aid to Israel, the US was taking away money that could have gone to her constituency. She did not criticize US aid to Egypt — which has the highest rate of female genital mutilation in the world — or even Afghanistan, which was about to come under the control of the Taliban — just Israel. With the list of recipients of US aid including a slew of countries with egregious human rights abuses, Bush zeroed in on the only Jewish country. I recognized a trend in Bush's words that is engrained in the historical memory of my community: being scapegoated for a country's troubles.

Even worse, Bush has repeatedly endorsed boycotts and sanctions against Israel, but has vocally opposed imposing broad-based sanctions on Russia and Cuba, citing that such measures are inhumane and punitive to the people. Is the population of Israel, most of whom are Jewish, not deserving of the same concern she voices for Russians and Cubans? Skeptics may accuse me of "whataboutism," but it is difficult to write-off her fixation on Israel and the double standard she applies to it as merely a coincidence.

Most recently and most disturbingly, it was discovered that a fundraising partner of Rep. Bush, Neveen Ayesh, has tweeted horrific antisemitic vitriol, calling for the death of Jews and even expressing a desire to join Hamas' military wing.

Cori Bush and Neveen Ayesh began fundraising together in 2017, and have continued their partnership to this day. In 2014, Ayesh tweeted: "I want to set Israel on fire with my own hands and watch it burn to ashes along with every Israeli in it." Chillingly, she also tweeted: "#crimesworthyoftherope being a Jew" — stating point-blank that being Jewish is a crime worthy of death in her eyes.

When Ayesh's vile tweets resurfaced, she took to Twitter to defend herself rather than to apologize. She claimed that every one of her tweets coincided with times of unrest and violence in Israel and the Palestinian territories, insinuating that her antisemitic outbursts online were a form of catharsis for her trauma and anger.

Cori Bush's failure to condemn Neveen Ayesh or to distance herself from her — along with her extensive track-record of anti-Israel measures — speaks volumes about her priorities. Bush's silence in the face of blatant antisemitism stands starkly in contrast to her respect and activism for other minority groups.

I am not just disappointed in Bush and her supporters for their hypocrisy and self-righteousness — I am angry. How can they claim to be anti-racist and morally superior to the right when they themselves perpetuate a form of racism and bigotry? How can she advertise herself as a champion of human rights when she neglects and ostracizes a demographic that has one of the longest histories of persecution?

Jews make up 2% of the US population and are disproportionately targeted by hate crimes — according to FBI data — but Bush has decided that we are not a minority group worthy of the same sensitivity and respect as other minority groups. That Bush's hate is tolerated in Congress and American politics is a worrisome sign for the future. In the words of the CEO of the American Jewish Committee, David Harris: "antisemitism may begin with Jews, but, ultimately, targets the fabric and fiber of any democratic society."
Texas school district orders removal of Anne Frank's diary from shelves
A school district in suburban Fort Worth, Texas, has ordered its librarians to remove an illustrated adaptation of "The Diary of Anne Frank" from their shelves and digital libraries, along with the Bible and dozens of other books that were challenged by parents last year.

The book purge at the Keller Independent School District in Keller, Texas, was requested Tuesday by a district executive in an email, a copy of which was obtained by the Jewish Telegraphic Agency. A copy of the email also circulated on social media.

"By the end of today, I need all books pulled from the library and classrooms," wrote Jennifer Price, Keller ISD's executive director of curriculum and instruction.

It was the latest in a string of book removals being implemented at schools at the behest of conservative activist parents and school board members who are challenging a slew of texts on grounds ranging from their LGBT-friendly content to their supposed connections to "critical race theory." Some of these challenges have ensnared books with Jewish themes in the past.

Ban on Anne Frank's diary "disgusting, devastating"

"It's disgusting. It's devastating. It's legitimate book banning, there's no way around it," Laney Hawes, a parent of four children in the Keller district, told JTA about the order. "I feel bad for the teachers and the librarians."

"Anne Frank's Diary: The Graphic Adaptation," by Israeli filmmaker Ari Folman and illustrator David Polonsky, is a 2019 illustrated adaptation of the bestselling diary by the teenage Holocaust victim. The New York Times called the book "so engaging and effective that it's easy to imagine it replacing the [original] 'Diary' in classrooms and among younger readers."
Israel Studies Has an Israel Problem
The larger fact is that Israel and Jewish Studies, like nearly every other academic department, are being swept up and swallowed whole in the powerful ideological tide of modern academia. On most American campuses, Jewish students, academics, and administrators feel enormous pressure to align themselves directly against the interests of the Jewish state and its Israeli citizens. This is why Jewish Studies and Israel Studies scholars increasingly adopt a position deeply sympathetic to the uncritically pro-Palestinian position taken by the Middle East Studies Association and seven other regional-specialty university associations affiliated with it. Instead of serving as a bulwark (or at least a shelter) against such thinking, Israel Studies is becoming an adjunct to it.

These academics may be great at teaching Yiddish or Ladino, but they are terrible at standing up for Jews.

I wish I could suggest one simple and easy step toward reforming Israel and Jewish Studies. But the timorousness that afflicts so many Israel and Jewish Studies professors is hard to cure, as is the ideological fellow-traveling and dogmatism of their more radical colleagues. These academics may be great at teaching Yiddish or Ladino, but they are terrible at standing up for Jews. The University of Toronto's Antisemitism Taskforce explicitly voted against adopting the International Holocaust Remembrance Alliance definition of antisemitism adopted by the Canadian government.

That leaves two choices.

The first is hinted at in a 2015 report from Brandeis's Cohen Center for Modern Jewish Studies. It notes that "one of the strongest predictors of perceiving a hostile climate toward Israel and Jews is the presence of an active Students for Justice in Palestine (SJP) group on campus." Faculty, students, and staff on any campus should do everything possible to challenge the activities of this group whenever they can, because small activist groups have an outsize effect on the overall climate.

This may seem quixotic. It is worth noting, therefore, that Fordham University successfully refused an application from a group of students in 2016 to form an SJP chapter, and it prevailed in the long court battle that followed; that the University of California, Irvine, issued a written warning to its SJP student group at around the same time for violation of the UCI Code of Conduct's provision prohibiting "obstruction or disruption of teaching, research, administration, disciplinary procedures, or other University activities"; and that Northeastern University suspended its SJP chapter for one academic year, from 2014 to 2015, after it slipped 600 mock eviction notices under dorm-room doors to symbolize what the chapter considered arbitrary evictions of Arab residents in Israel. SJP's extremism, designed to enforce the idea that only its view is acceptable, leads it into activities that make it vulnerable to official complaint.

The second choice is for Jews to start voting with their feet.

If you are a supporter of Israel, what are you doing at an institution that routinely demonizes it? The Brandeis research suggests that there are universities where a Zionist student can get a fair shake and enjoy a solid education. Give Columbia and Harvard a pass. At the University of Miami, Washington University, Syracuse University, and other schools mentioned in the Brandeis report, antisemitism and hostility to Israel are negligible. These sorts of environments aren't just good for pro-Israel students. They can also be better homes to Israel and Jewish Studies professors who don't have to risk their careers in order to advance their own scholarship.

These schools may not always have the same prestige of some of their more celebrated peers. Then again, prestige usually catches up with those who pursue truth for its own sake — just as truth catches up with those who pursue prestige for its own sake. Those who want to save Israel Studies, even from itself, will choose the former path.
Calling for the Death of Jews on campus
In their zeal to create "safe" campus environments, universities have attempted to create an educational environment where students from approved victim groups are coddled, nurtured, and shielded from any criticism or intellectual or emotional challenges.

So-called hate speech—which now includes any expression that contradicts the prevailing progressive orthodoxy on campuses—is said to be harmful, even violent, by those forced to listen to others' ideas.

Not content with simply acknowledging disparities between races, the orthodoxy on campuses now forces everyone to confront racism—including their own—with talk of implicit bias, invisible racism, "white privilege," and microaggressions, together with a consequential battery of programs and initiatives to protect minority students from this alleged bigotry: mandatory sensitivity training for all faculty and students, publicly announced, school-wide solidarity with the Black Lives Matter movement, and campus-wide initiatives to increase the recruitment of minority students and faculty.

Anyone who questions or challenges these sweeping, unproved allegations of systemic racism can be accused of white supremacy and the promotion of injurious hate speech which further marginalizes and harms a victim group.

Conservative speakers or faculty who challenge issues such as illegal immigration, abortion, gay rights, race-based admissions quotas, or even radical Islam can find themselves vilified, shouted down at lectures, censured and denounced by their academic departments or the university administration, or even purged from campus—all as a result of the belief that chosen student victim groups—LGBTQs, Hispanics, Muslims, blacks—have to be shielded from any critique and that anyone who "harms" these groups with alleged hate speech is unwelcome at the university.

There is, however, one victim group that is rarely protected from vilification and ideological assault, namely, Jewish students who are supporters of Israel.

Progressive students have decided, from within their own moral self-righteousness, that the Palestinian Arab campaign for self-determination is such a sacred cause that anyone who defends Israel is a moral retrograde. To support Israel is to risk being deemed a racist, an imperialist, a tacit supporter of apartheid, or even a white supremacist now that Jews are considered to enjoy white privilege.
...It is of course David Miller who works for a fascist regime. He writes antisemitic propaganda and he appears scholarly on its English language Press TV channel. He is paid by the same people who paid a man to slice a knife through Salman Rushdie's throat, arm and liver...

— David Hirsh (@DavidHirsh) August 17, 2022
...Miller had a Chair at Bristol, a prestigious UK University.

He led big publicly funded research projects.

The discipline of Sociology, via peer review, in its conferences and in its journals, legitimized his antisemitic writing as scholarly, sociological research...

— David Hirsh (@DavidHirsh) August 17, 2022
Anti-Israel groups lash out at Sierra Club for reinstating trips to Israel
The environmentalist Sierra Club has reopened its Israel travel program five months after canceling a pair of trips to the Jewish state in the wake of pressure from anti-Israel activists.

Last weekend, the Oakland, Calif.-based nonprofit, which has been running programs in Israel for a decade, posted details of a new excursion set for March.

The "Natural and Historical Highlights of Israel" program will include many of the traditional Sierra Club activities planned on previous visits. This time around, the itinerary will include a meeting with Palestinian conservationists and a visit to the Arava Institute for Environmental Studies, which features Israeli, Arab and Jordanian students.

The Sierra Club presented the reasoning behind its change of heart in a statement, posting late last week that its original decision "confused and angered participants who had already spent money and devoted time to prepare." The organization lamented that its "decision to postpone was met with confusion, disappointment and frustration from many members of our community."

It had announced its intention to reinstate the Israel program in March, though the webpage promoting Sierra Club's travel to Israel had been offline until late last week.

Anti-Israel groups, furious with the reversal, lashed out, with Adalah Justice Project and the indigenous rights group NDN Collective writing that they "condemn Sierra Club's upcoming trips to apartheid Israel that green light Israeli colonialism and harm indigenous Palestinians," labeling the trips as "apartheid tours."

The two-week trip is scheduled to depart on March 14, 2023, and will include Dead Sea exploration, a Masada hike and an excursion to the southern port city of Eilat, along with a visit to a Druze village, the Bahai Temple in Haifa and a so-called "eco-village," where Israelis and Palestinians combine their efforts on water conservation.
Report highlights 'glaring' antisemitism in entertainment, sports, music
In a discussion about music, CCFP doesn't only document the widely known anti-Zionism of founding Pink Floyd member Roger Waters, whose concerts have featured animated scenes of Israel dropping bombs in the shapes of Stars of David and dollar signs. CCFP also notes the prevalence of antisemitic hip-hop lyrics.

The report also found that Rappers, including Jay Electronica, Mos Def and Freeze Corleone, are perpetuating stereotypes and conspiracies about Jews controlling the media. Corleone, a French recording artist, has released blatantly antisemitic lyrics, including about Holocaust denial.

Ari Ingel, director of CCFP, previously worked as a music manager and attorney. In a phone interview, he said hip-hop lyrics often feature philosemitism, a notable admiration for the Jewish people.

"I don't think when Jay Z [raps about earning wealth like Jews], he means it as a negative," said Ingel. "He means it as aspirational. But when he and other rappers don't realize, it is furthering tropes that Jews are all wealthy, and that's obviously not the case."

CCFP documents antisemitism in the digital community, including on TikTok, Spotify, YouTube, Soundcloud and Clubhouse, among other platforms. The report omits antisemitism on larger social-media platforms, including Facebook and Twitter. CCFP did not have the bandwidth for reporting on the larger platforms, Ingel told JNS.org.

On TikTok, "Jewish teens say they are bombarded daily with spam and death threats in the comments," the report says.

On Spotify, problematic podcasts from Nation of Islam leader Louis Farrakhan are posted, along with songs by musical artists with clearly anti-Semitic lyrics, including National Socialists Black Metal Bands.

And on Clubhouse, a newer app, "the conversations are live and monitoring spoken language is difficult in real-time," according to the report. The names of audio-only chat rooms on Clubhouse have included "White Jews have more power than blacks in America," "The Jews & Asians vs Black Reparation is the REAL BATLE" and "Were 6 million Jews really killed (serious topic)."

The report offers practical reforms for companies and corporations, from adding an expert on antisemitism to Diversity, Equity and Inclusion (DEI) teams to holding mandatory annual training sessions on anti-Semitism for human-resources departments.

CCFP recommends that entertainment companies, sports leagues and digital services adopt the IHRA definition. This way, executives can identify when statements, events, content or actions cross the line into anti-Semitism.
Senator Marco Rubio:
Will Miami Media Ignore Roger Waters' Antisemitism?
Pink Floyd co-founder Roger Waters describes himself as "pro dialogue, pro peace, [and] anti authoritarian." Maybe he should listen to his own music more, because he clearly can't tell heaven from hell. Far from standing "in defense of Mistress Liberty," Waters has become an advocate for antisemitism, Vladimir Putin's imperialism, and the Chinese Communist Party's genocide.

For years, the British rocker has expressed violent, unjustified hatred for the state of Israel, referring to it as an "apartheid state" and the construction of a "settler-colonialist cabal." He accuses Israel of ethnic cleansing and genocide and publicly supports the radical Boycott, Divestment, and Sanctions (BDS) movement, known to harbor many antisemites. Meanwhile, he refuses to condemn Palestinian terrorist organizations like Hamas.

Waters may have escaped mainstream criticism, but the Anti-Defamation League makes clear Waters' rhetoric and activism is antisemitic. That shouldn't come as a surprise. When you tell interviewers that an "Israel lobby" is responsible for Jeremy Corbyn's electoral loss in Britain, that there is a Zionist conspiracy to block criticism of Israel in America's news and music industry, and that believing the Jews are God's chosen people is the same as saying Arab lives "are worthless," you can't be surprised that people take you for an antisemite.

Sadly, left-wing celebrities tend to get a pass. However, Miami's vibrant media landscape will have a chance to hold Waters accountable when he comes to FTX arena on August 23. Every reporter covering the concert should note, at a minimum, that Waters has a history of antisemitic comments.
???? China tweets Roger Waters, Amnesty International's 2013 Ambassador of Conscience Award presenter: "If the Chinese people want to live under a Communist regime, or the Russians, or anyone else, let them. Why shouldn't they be allowed self-determination?" https://t.co/5WkdKjjUtB

— Hillel Neuer (@HillelNeuer) August 17, 2022
ABC News Falsely Blames Israeli Airstrikes for All Gaza Fatalities
Contrary to de la Cuetara's assertion that Israeli airstrikes are responsible for the 49 fatalities, including 17 children, many were killed by failed Islamic Jihad rockets. As The Associated Press recently reported ("Misfired rockets may have killed over a dozen in Gaza battle"): "Close to one-third of the Palestinians who died in the latest outbreak of violence between Israel and Gaza militants may have been killed by errant rockets fired by the Palestinian side, according to an Israeli military assessment that appears consistent with independent reporting by The Associated Press."

Other sources give different figures for the percentage of the 49 Gazans killed by Islamic Jihad's failed rockets. For instance, Haaretz's Amira Hass, a veteran critic of Israel, reported Sunday: "Botched launches of Palestinian rockets killed 19 non-combatants, including 12 children." She provides a detailed account of each fatality: their name, date, place and circumstances of death. A subsequent Haaretz report then said Israeli defense officials speaking off the record acknowledged an Israeli strike was responsible for five deaths Aug. 7 in Jabalya, thereby revising Haaretz's figure to 14 Palestinians killed by failed rockets.

The Meir Amit Intelligence and Terrorism Information Center identifies 11 Gazans were killed by Palestinian rockets. The Israeli military believes that 12 children in Gaza were killed by Islamic Jihad rockets, according to Times of Israel.

Thus, while there is uncertainty about the precise number of Palestinians killed by misfired Islamic Jihad rockets, there is no uncertainty that the failed attacks against Israel ended up taking numerous Palestinian lives. CAMERA's Israel office communicated this information to ABC very early Monday morning (ET). Nevertheless, a second ABC journalist repeated the same falsehood later that day using wording identical to de la Cuetara's though she reduced the number of Palestinians allegedly killed by Israeli airstrikes (48 instead of 49). ABC correspondent Reena Roy falsely reported on Aug. 15 on "ABC News Today" at 12:19 pm ET:
The attack comes just a week after a ceasefire ended some of the worst fighting in the region in the year, Israeli airstrikes killing 48 Palestinians, including 17 children and the Islamic militant group firing more than 1000 rockets at Israel.

CAMERA continues to urge ABC to broadcast on-air corrections both on programs in which the false charge was reported, making clear that a significant portion of the Palestinian fatalities in Gaza last week were killed by Islamic Jihad rockets aimed at Israel but which veered off course, and that Israel is not responsible for all 49 (or 48) deaths.
The Washington Post and Operation Breaking Dawn
On Aug. 5, 2022, Israel launched a military operation to take out the leaders of Palestinian Islamic Jihad, a Gaza-based, Iranian-backed terrorist group. Dubbed Operation Breaking Dawn, Israeli Defense Forces (IDF) preemptively struck top PIJ operatives who were planning a major attack. On Aug. 7, 2022 an Egyptian-brokered ceasefire was declared.

It is worth examining how one major U.S. newspaper, the Washington Post, covered the conflict.

The Post's Aug. 5 dispatch, "Israeli strikes in Gaza kill senior militant leader, at least nine others" detailed the opening stages of the operation. Jerusalem bureau chief Steve Hendrix and reporters Shira Rubin and Hazem Balousha pointed out that the IDF strikes were launched after "several days of threats from militants in Gaza after the arrest of an Islamic Jihad leader in the West Bank earlier in the week."

Yet, "militants" is hardly an accurate description of PIJ, a U.S.-designated terrorist group that calls for a Jewish genocide and Israel's destruction. As CAMERA has previously detailed, numerous news outlets, including the Washington Post, have a long-evidenced tendency to minimize the terrorist groups whose chief target is the Jewish state, often referring to them as "militants" instead of using a more precise term.

The Post also continued another long-running tradition. The newspaper uncritically cited casualty statistics provided by the "Palestinian Health Ministry" but failed to inform readers that that entity is wholly controlled and directed by Hamas, the U.S.-designated terrorist organization that rules the Gaza Strip and which sometimes cooperates with its sometime rival, PIJ. Both Hamas and Islamic Jihad are backed by the Islamic Republic of Iran, the world's foremost state sponsor of terror.

The Post did note that tensions had been "growing" in the region after a "spate" of terrorist attacks perpetrated by Palestinians. In response, the IDF has been carrying out anti-terrorist raids. It was during one of these raids, the Post told readers, that "Al Jazeera journalist Shireen Abu Akleh was shot, most likely by an Israeli soldier, according to investigations by the Palestinian Authority, the Washington Post and several international media organizations." However, this tidbit is noteworthy for what it doesn't say.
Shoehorning Gaza into BBC reports on Jerusalem terror attack
Once again we see uncritical BBC amplification of information provided by "Gaza's health ministry" without any clarification of the fact that it is run and controlled by the Hamas terrorist organisation. Interestingly, the previous version of the report told readers that "Israeli officials have said many civilians were killed by PIJ rockets that failed to clear Gaza" but that reference to shortfall missiles was removed from the version currently appearing online.

The unrelated topic of Operation Breaking Dawn also featured prominently in a radio report by Anna Foster aired in the August 14th edition of BBC Radio 4's 'Six O'Clock News'. One sentence in that item (from 07:28 here) related to the victims of the Jerusalem attack while three sentences described the "attacker" and his actions and a further three sentences related to the recent hostilities between Israel and the Palestinian Islamic Jihad terrorist organisation.

Newsreader: "Eight people including a pregnant woman were wounded in Jerusalem in the early hours of this morning when a gunman opened fire. The attacker, reportedly a Palestinian man, fled the scene but Israeli police later said he'd turned himself in. Here's our Middle East correspondent Anna Foster."

Foster: "The attacker opened fire at two locations in the city, targeting a bus as well as people waiting in a car park near the Western Wall. The 26-year-old, who lives in East Jerusalem, has a criminal record but no known affiliations with militant groups. Police believe he acted alone but fear the incident might inspire copycat attacks. The shooting comes a week after the latest violent escalation in Gaza. Israeli forces targeted the leadership of Palestinian Islamic Jihad whose militants fired around a thousand rockets at Israel. The ministry of health in Gaza says 35 civilians died."

Once again the BBC's shoehorning of that recent conflict into another story altogether failed to clarify that Hamas controls Foster's quoted source of casualty figures and erased the relevant issue of shortfall missiles from the picture entirely.
UPDATE:

Following communication with CAMERA, the @nytimes edited its recent piece "Eight Injured in Shooting in Jerusalem" to note that the Temple Mount is Jerusalem's holiest site. https://t.co/RU2pnwT79C

— CAMERAorg (@CAMERAorg) August 17, 2022
New Mexico adopts IHRA definition of antisemitism
New Mexico Gov. Michelle Lujan Grisham signed an executive order on Tuesday establishing the International Holocaust Remembrance Alliance (IHRA) definition of antisemitism as the state's legal standard for determining when unlawful discriminatory conduct is motivated by antisemitism.

New Mexico is the first state to integrate the IHRA definition into law via executive order, and the sixth state overall to incorporate it into law. Florida, South Carolina, Iowa, Arizona and Tennessee enacted laws using the definition through legislation. Twenty-two other states (Alabama, Alaska, Connecticut, Idaho, Kansas, Kentucky, Maine, Massachusetts, Montana, Nebraska, Nevada, New Hampshire, Ohio, Oklahoma, Rhode Island, South Dakota, Texas, Utah, Vermont, Virginia, West Virginia and Wyoming) have endorsed the IHRA definition as an educational tool through resolutions or executive orders.

The Israeli-American Coalition for Action (IAC for Action) applauded Grisham for her "groundbreaking executive order."

"All State agencies within the Executive Department of the State of New Mexico shall adopt and use the IHRA's Working Definition of Antisemitism, including its contemporary examples," the executive order stated.

"In reviewing, investigating or deciding whether there has been a violation of any relevant policy, law or regulation prohibiting discriminatory acts, state agencies shall take into consideration the definition for purposes of determining whether the alleged act was motivated by discriminatory antisemitic intent."
Outrage Among Jewish Activists as Yet Another Antisemitic Image Is Discovered at Leading German Art Festival
Yet another antisemitic artwork has been identified at the Documenta festival of contemporary art in Germany, leading to renewed calls from Jewish activists for the festival's organizers to face the consequences of their alleged neglect.

Since announcing in January that ruangrupa — an Indonesian artists collective — would be curating the 15th edition of the festival, held in the city of Kassel every five years, Documenta has been immersed in a series of scandals around antisemitism relating to ruangrupa's endorsement of the anti-Zionist BDS campaign targeting Israel as well as the presence of antisemitic iconography in several works on display.

On Tuesday, Jewish activists independently inspecting the exhibition for examples of antisemitic tropes discovered a triptych displaying a classic antisemitic caricature that had been hastily covered with adhesive tape.

The artists behind this work, a separate Indonesian collective known as Taring Padi, were also responsible for a mural that sparked outrage when the festival opened in June, as it featured images of a fanged Orthodox Jew wearing a fedora hat embossed with the letters "SS," and an Israeli soldier with the face of a pig and a helmet marked with the word "Mossad."

The triptych highlighted on Tuesday contained an image of a craftily-smiling man with a long nose proffering bags of cash to skeptical onlookers. When it was originally mounted, the image showed the Jewish caricature wearing a kippa — however, the activists who inspected the artwork on Tuesday realized that the kippa had been covered over by a strip of black tape.

"At least one openly antisemitic depiction of the Taring Padi group was pasted over," tweeted the activists from the German-Israel Friendship Society (DIG). "You can see the caricature of a greedy, long-nosed Jew, which is known from Nazi publications. Taring Padi must be immediately excluded from the Documenta!"
German guard detained for Hitler salute to Israeli athletes visiting Munich memorial
A German security guard has been arrested for making a Hitler salute in front of a group of Israeli athletes visiting a memorial to the 1972 Munich Olympics massacre, police said on Wednesday.

The 16 athletes from the Israeli European Championships team were visiting the Olympic Park in Munich on Tuesday evening when the banned gesture was made, police said in a statement.

"One of the four security guards present was observed at around 7:20 pm making a National Socialist gesture [forbidden 'Hitler salute']," the statement said.

Police immediately arrested the suspect, a 19-year-old from Berlin, and he has been banned from all further European Championships events.

The athletes themselves had not noticed the gesture, police said.

The arrest comes at a sensitive time, with Munich hosting the European Championships ahead of the 50th anniversary of the Olympics massacre, in which 11 Israelis were murdered.
Flyers asserting that "challenging Jewish privilege" is "social justice" distributed to homes in Brighton and Hove
lyers claiming that "challenging Jewish privilege" is "social justice" were distributed to homes in Brighton and Hove recently.

The flyers utilise classic antisemitic tropes of power and control in asking why Jewish people "get special privilege when it comes to top universities?"

It goes on to state: "Challenging White Privilege and Jewish Privilege is not antisemitic. It is not defamatory. It does not insult anyone. It is social justice."

The flyers also depict the yellow star containing the word German 'Jude', meaning 'Jew', that was forced upon Jewish people during the Holocaust and advertises the online domain of the Goyim Defense League (GDL).

The GDL is a hate group whose membership reportedly contains several neo-Nazis and is understood to be led by Jon Minadeo II, who created t-shirts carrying antisemitic slogans such as the Holocaust was "a hoax". The GDL is responsible for stunts such as hanging a banner from a bridge in Austin, Texas that read "Vax the Jews" and driving around Los Angeles dressed as Nazis.
A Jew in France singlehandedly kick 3 robbers pic.twitter.com/dno2XfDai2

— Adin - ???? (@AdinHaykin1) August 16, 2022
Meta's Antisemitic Chatbot Highlights Challenges of Toxic Content in Evolving AI Industry
An artificially intelligent chatbot that shared antisemitic conspiracy theories and anti-Israel messages in conversations with users highlights the challenges of bias and discrimination within the booming AI industry as it continues to grow, an Israeli AI expert told The Algemeiner on Monday.

BlenderBot 3, a chatbot released by Facebook and Instagram's parent company Meta Platforms Inc. on Aug. 5, was found saying in one conversation with a Wall Street Journal reporter last week that it believes Jewish people control the economy and that Jews have "been a force in American finance and are overrepresented among America's super rich."

"This recent Meta experience underscores the need for being vigilant," Yoav Shoham, CEO of AI21, an AI product company, told The Algemeiner. "But at the end of the day it's solvable. Cars today are much safer than they were 20 years ago. Language models — and systems built on them — will be that way too, and sooner than 20 years from now."

Artificial intelligence, which uses computer science, machines and data to copy the problem-solving and decision-making capabilities of humans, is a rapidly growing industry. Globally, it is valued at over $65 billion and is expected to reach over a trillion dollars by 2030, according to a report cited by Yahoo in June. Seventy percent of businesses around the world are expected to use AI by the end of the decade.

But AI remains a relatively young technology and it faces considerable growing pains, especially with chatbots, an artificial intelligence conversational software that can converse with people. In 2016, Microsoft pulled its chatbot called Tay offline within 48 hours after it praised Nazi leader Adolf Hitler and made other racist and misogynist comments.
🚨 HITLER 🚨 Is the message Holocaust Survivors who saw and experienced the atrocities of WWII have have to see at Congregation Bet Shalom this morning when they go to pray. Happening right here in our own backyards. America in 2022. pic.twitter.com/kL8sDIhlTp

— Councilwoman Inna Vernikov (@InnaVernikov) August 17, 2022
ZIM shipping nets profit of $1.34 billion in second quarter
The Israeli ZIM shipping company reported a net profit of $1.34 billion in the second quarter of 2022, a 50% increase compared to the same period in 2021, it announced on Wednesday.

Total second-quarter revenues reached $3.43 billion, a 44% increase compared to the same period last year ($2.38 billion). The increase was primarily driven by elevated freight rates and offset by slightly lower freight volumes.

ZIM carried 856,000 TEUs (Twenty-foot Equivalent Units - a measurement equivalent to the dimensions of a 20-ft standardized shipping container) in the second quarter, a drop of over 7% compared to the same period last year (921,000 TEUs). The average freight rate per TEU was $3,596 for the second quarter, an increase of more than $1,250 compared to the same period in 2021 ($2,341).

The company carried 1.715 million TEUs in the first half of 2022, compared to 1.739 million in the first half of 2021.

Tax expenses also rose in 2022, costing the company $401 million in the second quarter compared to $224 m. in the second quarter of 2021.
Israeli space tech startup Helios partners with Eta Space to make oxygen on Moon
Israeli space tech startup Helios announced a partnership this month with Florida's Eta Space to create and store oxygen on the Moon in a bid to make space missions more cost-effective and offer a better solution for refueling while in orbit.

Helios was set up in 2018 in an innovation workshop held by the Israeli Space Agency during Israel's Space Week that year. The company developed an electrochemical reactor that can extract oxygen from lunar regolith (a mixture of soil, powdery dust and broken rock on the surface of the moon), which it says will make multiple and long-term missions to the moon economically viable, as it will allow moon colonies to "live off the land" instead of having to carry all of their fuel and other resources from Earth.

One of the main obstacles in sending missions to the moon is the cost of transporting items from Earth to the lunar surface. Launching rockets with cargo requires fuel; the heavier the cargo, the more fuel needed. That extra fuel adds to the weight, and this requires even more fuel. Oxygen is a vital component for fuel combustion.

As part of the new agreement, Helios will leverage Eta Space's expertise in cryogenic technologies, specifically liquid oxygen and liquid hydrogen, to produce and store oxygen. Together, they plan to develop a lunar oxygen production and liquefaction plant.

"Eta Space would play the important role of liquifying and storing the oxygen produced by the Helios reactor in cryogenic tanks," explained Dr. William Notardonato, founder and CEO of Eta Space, based on the Space Coast of Florida near the Kennedy Space Center and Cape Canaveral Space Force Station.

"The two companies complement each other with their mission to reduce costs in space even further, a key step to make beyond earth presence sustainable," said Notardonato, who worked for NASA for 30 years.
Desert regions may be best predictors of climate change in wetter areas, says Hebrew U
Severe forest fires on the US West Coast, deadly rainstorms and floods, record-breaking heat spells in Europe, early snowmelts at the poles and other extreme weather have become regular – and shocking – news items in recent years.

When it comes to the world's climate in the past decade, planet Earth keeps sending us worrisome reminders of the effects of man's pollution and global warming.

According to NASA, 10 of the hottest years have occurred since 2000, with 2016 and 2020 tied for the hottest on record. Even cool England had summer temperatures above 40 degrees Celsius (104°F).

If heat waves and severe droughts continue to hold across the globe, what will the future bring to temperate and tropical forests and croplands?

Scientists are looking at the unique adaptations of desert life, which functions by its own set of rules long considered unique to dry areas.

Now, new research by an international team of scientists led by Hebrew University of Jerusalem Prof. José Grünzweig and co-authored by his university colleagues Prof. Efrat Sheffer and Prof. Ori Adam and Dr. David Helman, suggests that climate change is causing these dryland mechanisms to increasingly affect Earth's wetter areas.

Their findings were published in Nature Ecology and Evolution under the title "Dryland mechanisms could widely control ecosystem functioning in a drier and warmer world."
'Israel has built an exceptional, resilient water economy'
For years, Israel has been known worldwide as the leader in water, agriculture and energy innovation. This is largely due to Mekorot, Israel's national water company, which uses advanced technologies that attract the attention of water corporations and organizations from around the world.

Mekorot is responsible for the Israeli water sector. Throughout the year, dozens of delegations from various countries, such as the United States, Germany, Italy and Australia, come to Israel to learn from Mekorot's Innovation Department about the advanced developments that help Israel lead in desalination and proper energy management of the water sector. Dudi Balsar, head of Mekorot's Innovation Unit, points out that the climate crisis, which has intensified in recent years, alongside the need for energy efficiency, requires those countries to learn the do's and don'ts from Israel, at the informational level and on the business and managerial side.

"The Mekorot Innovation Unit conducts several areas of activities," explains Balsar. "The first is investment in start-ups and location of technologies in all areas relating to the water and wastewater treatment industry. This includes technologies in the areas of energy, agriculture, food and more – Mekorot creates a large ecosystem.

"For the past three years, we have been functioning as a kind of investment fund," he adds. "We locate the start-ups and technologies relevant to Mekorot's needs and invest in them. We have already investigated more than 300 technologies and start-ups, and by the end of the year, we will invest in 13 of them.

"We are setting up an ecosystem of technologies and companies that deal with water and wastewater," he states.

"This is something that did not exist here until today. In the beginning, we collaborated with huge companies such as Microsoft, Amazon and other partners, in order to bring new talent and technologies to the world of water, such as the use of Big Data, artificial intelligence, machine learning and more. It was a strategy that we developed for three years, and now it's coming to fruition with a number of our investments, primarily in Big Data."
Lost for decades, 3 minutes of pre-Holocaust life becomes a full-length documentary
In 1938, David Kurtz, a Polish-born Jew who came to the United States as a child, took his wife on a "grand tour" of Europe. A successful businessman, he brought along with him a brand new movie camera.

In between typical stops like Paris and Rome, he visited Nasielsk, the small village where he had grown up. Nasielsk had a significant Jewish population (over 40 percent of the town) and a thriving community. The day he visited, people were out in full force, eager to show off due to the novelty of the camera.

Kurtz shot a little over three minutes of footage, trying to capture the buildings of his youth, but the people — fortunately, in retrospect — kept getting in his way. Then he packed up and went to his next destination. The film lingered in storage for decades, untouched.

What Kurtz never realized was that he captured one of the last moments of vibrant Jewish life in this part of the world. Months later, all of Nasielsk's Jews were rounded up, sent to ghettoes and, eventually, extermination camps. Very few survived the war.

Decades later, Kurtz's grandson, Glenn Kurtz, a New York-based author, found the film and had it restored. (And not a moment too soon. It was almost beyond repair.) He placed it with the United States Holocaust Memorial Museum and, eventually, a woman watched it on their website and recognized her grandfather. Over time, some of the faces thought lost to the ashes of history became clearer in view. Glenn Kurtz wrote a book about the experience, "Three Minutes in Poland: Discovering a Lost World in a 1938 Family Film."

One day, while poking around Facebook, Dutch critic and film producer Bianca Stigter learned the story. Her new film, "Three Minutes — A Lengthening" isn't exactly an adaptation of Kurtz's book about recovering lost history. It's an examination of his examination.
---
---
Buy the EoZ book, PROTOCOLS: Exposing Modern Antisemitism today at Amazon!

Or order from your favorite bookseller, using ISBN 9798985708424.

Read all about it here!