From Ian:
Prof. Anne Bayefsky:
The UN Human Rights Council's "Commission of Inquiry" Goes Openly Antisemitic
In May 2021, after an 11-day conflict between Palestinian terrorists in Gaza and Israelis, the UN established a "Commission of Inquiry" on Israel with a permanent "ongoing" mandate to ferret out "systematic discrimination and repression."

Three well-known biased actors were appointed as members of the inquiry who could be counted on to manufacture a guilty verdict: Navi Pillay as chair (former UN High Commissioner for Human Rights), Miloon Kothari (a former UN "expert"), and Chris Sidoti (a close associate of a top Palestinian organization and of Israel-bashing NGOs).

While UN rules specifically require that UN human rights "experts" are independent, impartial, and objective, each one was on record promoting the libel of apartheid and crimes against humanity regarding Israel and a proven anti-Israel zealot. In June 2022, the inquiry members presented their first report, which concluded that the actions of "Jewish Israelis" were the "root cause" of the conflict.

On July 25, 2022, an interview with commission member Miloon Kothari appeared on the anti-Israel website Mondoweiss where, referring to Israel, he said: "I would go so far as to raise the question as why are they even a member of the United Nations." He referred to social media reaction to the inquiry controlled by "the Jewish lobby."

Human Rights Council President Federico Villegas of Argentina called Kothari's remarks "unfortunate" and said they "could reasonably be interpreted as the stigmatization of the Jewish people." He suggested Kothari "consider the possibility" of "publicly clarifying" his comments. In a letter to Villegas, Israel's Prime Minister Yair Lapid wrote, "The fight against antisemitism cannot be waged with words alone. It requires action. This is the time for action; it is time to disband the Commission. This Commission does not just endorse antisemitism - it fuels it."

The Biden administration has officially and repeatedly objected to the UN "inquiry." On June 29, the House Appropriations Committee adopted an amendment prohibiting the use of any American funds for the inquiry. Defunding would be entirely consistent with current American legislation prohibiting the use of taxpayer dollars for other anti-Israel UN bodies.
JPost Editorial:
UN bias toward Israel does nothing to achieve peace
The comments by the UN's Miloon Kothari last week were shocking but not surprising. Kothari is on a three-member panel appointed by the UN last year to conduct an unprecedented open-ended war-crimes probe against Israel. Along with Kothari, the panel comprises chairwoman Navi Pillay, a former UN high commissioner for Human Rights, who in the past has supported calls to boycott and sanction Israel, and Australian legal expert Chris Sidoti, who has also made disturbing remarks recently.

The "UN Independent International Commission of Inquiry on the Occupied Palestinian Territory, including east Jerusalem, and in Israel" was initially approved in May 2021 by the Geneva-based UN Human Rights Council. It followed in the wake of the 11-day war that started when Hamas in Gaza launched thousands of rockets on Israel, starting with Jerusalem, and Israel in response launched Operation Guardian of the Walls.

The creation of the commission of inquiry (COI) to investigate Israel – and not Hamas – in perpetuity, is itself shameful. That the panel is composed of three people known to have voiced negative views about Israel, the subject of their investigation, compounds the problems. Nothing the commission or its members have done or said in the meantime even partially mitigates concerns of the built-in bias against Israel. Sidoti rejected criticism when the first report was published in June saying some Jews were throwing around accusations of antisemitism "like rice at a wedding."

Last week, however, Kothari raised the rhetoric and did away with the last vestiges of pretense of impartiality. Upset by criticism of the COI, including by some governments, Kothari said in an interview with the Mondoweiss website: "We are very disheartened by the social media that is controlled largely by – whether it is the Jewish lobby or specific NGOs – a lot of money is being thrown into trying to discredit us." The Indian lawyer, in addition, said "I would go as far as to raise the question of why Israel is even a member of the United Nations."

Kothari's comments combine the abhorrent but frequently heard antisemitic tropes of Jewish control of the media backed by Jewish money. For good measure, he also clearly questions Israel's right to exist along with its membership in the 193-member United Nations.
Sign Our Petition: Help End UN-Backed Hate Campaign Against Israel and the Jewish People (with VIDEO)
On July 25, a UN expert tasked with investigating the Jewish state told an anti-Israel website that the "Jewish lobby" controls social media.

"We are very disheartened by the social media that is controlled largely by — whether it is the Jewish lobby or specific NGOs… A lot of money is being thrown into trying to discredit us," Miloon Kothari said in an interview with Mondoweiss' David Kattenburg. A long-time pro-Palestinian activist, Kattenburg once asserted that "the Nazis would have been impressed" with what he described as the Israeli "terrorist apartheid regime."

Miloon Kothari is one of three members of the controversial 'UN Commission of Inquiry on the Occupied Palestinian Territory, including East Jerusalem, and in Israel' (COI), which is currently carrying out an unprecedented open-ended probe into Israel's treatment of Palestinians, set up following 2021's 11-day Hamas-initiated conflict.

The COI's first 18-page report, published on June 7 of this year, charged the government in Jerusalem with everything from "gender-based violence" to hindering "Palestinian democratic processes."

At the time, leading news organizations were all too eager to parrot the UN's slanted conclusions. Yet these same outlets have refused to univocally condemn the antisemitic tropes in Kothari's most recent statements, even as they fall within the widely-adopted IHRA working definition of antisemitism.

Over the past months, the media have also failed to note that the commission's head, Navi Pillay, has expressed support for the BDS movement, which according to its leaders is meant to put an end to the Jewish state. Pillay has furthermore advocated for the blacklisting of companies that do business with Jewish communities located over the Green Line, and went on record as saying that Israel has "enforced segregation on racial lines."

Similarly, mainstream journalists did not report that COI member Chris Sidoti on June 14 at the UN Human Rights Council downplayed modern-day Judeophobia, claiming that some Jews throw ​​around "accusations of antisemitism" like "rice at a wedding." Before his stint at the UN, Sidoti worked closely with Palestinian NGOs for over 15 years.

Notably, Pillay defended Kothari's anti-Jewish remarks in a letter to UN Human Rights Council President Federico Villegas, falsely asserting that the quotes about the "Jewish lobby" were taken out of context.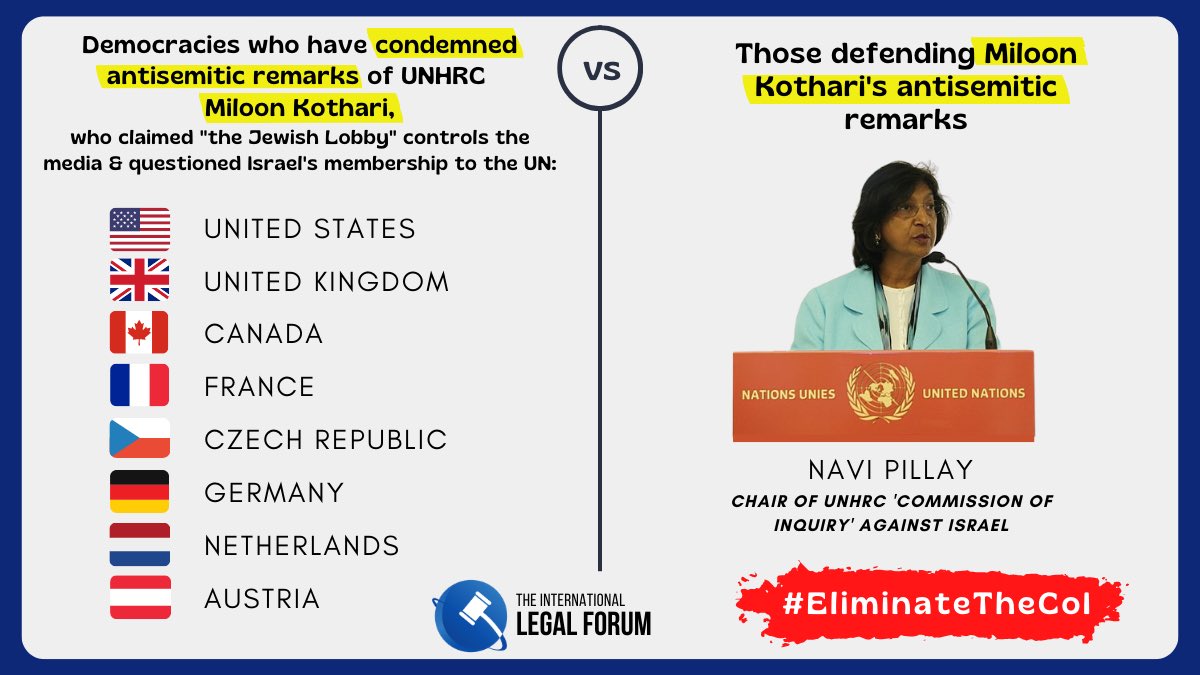 Lapid calls on UN chief to disband commission of inquiry on Israel over member's anti-Semitic comments
Prime Minister Yair Lapid on Sunday sent a letter to United Nations Secretary General António Guterres demanding the immediate dissolution of the Human Rights Council's Commission of Inquiry (COI) tasked with investigating Israel.

The letter, released by Lapid's office, states: "Excellency, I call on you today to honor your word in this egregious case, to set the record straight. This cannot stand. Slurs about a 'Jewish lobby' that acts to 'control' the media are reminiscent of the darkest days of modern history."

It continued: "The fight against anti-Semitism cannot be waged with words alone, it requires action. This is the time for action; it is time to disband the Commission. From (member of the COI) Mr. (Milloon) Kothari's outrageous slurs to (member of the COI Navi) Pillay's defense of the indefensible, this Commission does not just endorse anti-Semitism—it fuels it."

Lapid's demand follows comments by Kothari that the media is controlled by the "Jewish lobby," which join a string of previous anti-Semitic incidents and anti-Israel bias within the Commission, said Lapid in the statement.

In an interview last week with Mondoweiss contributor David Kattenburg, Kothari said, "We are very disheartened by the social media that is controlled largely by the Jewish lobby or specific NGOs."

Lapid's statement noted that representatives of several countries, including the United States, France, Canada, Germany, the United Kingdom, the Netherlands, the Czech Republic, and Austria, as well as the European Union, criticized Kothari's anti-Semitic remarks.
Lapid urges UN to dismantle commission of inquiry into Gaza operation
Prime Minister Lapid demands that the UN disband the commission of inquiry into the May 2021 military operation in Gaza over anti-Semitic comments made by one of the commission members
May 20, 2021—Pakistan FM says Jews have "deep pockets" & "they control media."

May 27, 2021—Pakistan sponsors UNHRC inquiry targeting Israel.

July 25, 2022—Miloon Kothari, member of the Pakistan-sponsored UNHRC inquiry, rants about "the Jewish Lobby."https://t.co/K1nykm0apA

— Hillel Neuer (@HillelNeuer) July 31, 2022
UN official blasted for making anti-Semitic remarks
Israel is calling for the UN to dissolve its commission of inquiry into the 2021 military operation in Gaza, after one of its members questioned Israel's legitimacy as a UN member state.

Hillel Neuer, Executive Director of UN Watch, tells David Matlin about the growing condemnation of the official, as well as elaborates on the systemic anti-Israel bias that pervades the United Nations
#Hungary becomes latest country to condemn the "anti-Israel and anti-Jewish" statements of @UN_HRC Commission of Inquiry member Miloon Kothari. https://t.co/RNUJwvfnjL pic.twitter.com/bB6C9kvqIB

— Arsen Ostrovsky (@Ostrov_A) July 31, 2022
#Australia becomes latest democracy to condemn @UN_HRC's Miloon Kothari's deplorable antisemitic remarks. Thank you Australia for this important statement!@AustraliaUN_GVA @IsraelinGeneva @AusAmbIsrael @MaimonAmir @EmmanuelNahshon @giladerdan1 @aus_jewishnews https://t.co/eMwmfGTn4R

— Arsen Ostrovsky (@Ostrov_A) August 1, 2022
You know who hasn't said a word to condemn @UN_HRC's Miloon Kothari's abhorrent antisemitic remarks that "the Jewish lobby" controls the media?

That would be @KenRoth of @hrw and @AgnesCallamard of @amnesty. I know, you are probably equally as shocked as I am! pic.twitter.com/fw0MrmtQPU

— Arsen Ostrovsky (@Ostrov_A) July 31, 2022
"Alleged anti-Semitism", @Reuters? The UN official flat-out claimed "the Jewish lobby" controls media. There is no 'alleged' here. This is antisemitism and Jew hatred, full stop! https://t.co/mh1B5VTGse

— Arsen Ostrovsky (@Ostrov_A) July 31, 2022
Israeli delegation 'disappointed' as Jewish Agency Russia talks reach dead end
The meeting between the Israeli delegation sent to Moscow and Russian officials from the Justice and Foreign ministries hit a dead end regarding the status of the Jewish Agency in Russia.

Diplomatic sources familiar with the meeting have told The Jerusalem Post that "the meeting took place on Monday morning between public servants and not with the political echelon that actually makes decisions. Therefore, as expected, the meeting was very technical and discussed the legal implications of the Russian privacy laws."

The official explained that "the hope was that the Russians would give a hint towards a direction that would help the Israelis understand what can be done in order to save the Jewish Agency in Russia from liquidation. Unfortunately, it didn't happen." No further meetings were scheduled and no decisions were made.

"If there is any chance to advance the issue of the agency in a positive direction, it can now only happen on a diplomatic or political level," the diplomatic source said, and suggested that "an Israeli leader such as President Isaac Herzog, Alternate Prime Minister Naftali Bennett or Prime Minister Yair Lapid can possibly affect the situation." Herzog hinted that he is involved behind the scenes, but would not specify if he was actually in dialogue with the Kremlin.

"The only thing we can do now is wait for the trial on August 19. There is no basis for hoping that the trial will be fair and professional, but you never know," the diplomatic source said.

Prior to the Israeli delegation's meeting, Israeli Ambassador to Russia Alexander Ben Zvi met with Deputy Foreign Minister Mikhail Bogdanov on the same matter. According to Israeli sources, Bogdanov is the one who asked for the meeting.

Moscow's Basmanny Court began considering a lawsuit on Thursday, which was filed by the Russian Justice Ministry concerning the liquidation of the Jewish Agency office in Russia. The court hearing was set for August 19, and Thursday's session was considered a preliminary hearing; pre-trial verification ended without any decision being made.
Chabad movement suing Russia for return of archives
The lawyer representing the Chabad movement, Steven Lieberman, spoke with our senior US correspondent Mike Wagenheim about the collection of holy books that belonged to Chabad leader, Rebbe Menachem Mendel Schneerson, and which he says are being held 'captive'.

Chabad is calling on the Israeli delegation, which is currently in Moscow to negotiate the Jewish Agency crisis, to put pressure on the Kremlin to deliver on their promise to return the archives.
Israeli settlers purchase Hebron home from Palestinian owner
Jewish settlers announced their purchase of a three-story Palestinian building in Hebron near the Tomb of the Patriarchs on Sunday, in what is the second such publication of a property acquisition this year.

"By the grace of God, the Jewish community in Hebron is expanding," tweeted MK Orit Struck (Religious Zionist Party).

The move is part of a long-term campaign by Hebron's Jewish community and its supporters to expand its property holding in the section of the city under IDF military control.

This particular building is located in Hebron's Old Town, which the United Nations Educational, Scientific and Cultural Organization inscribed on its World Heritage in Danger list and registered it under the name of the "State of Palestine."

The building has been named "House of Liberty" by settlers. Its purchase from its Palestinian owner was organized by the right-wing organization Harchvi.

It's located near the pharmacy checkpoint, not far from the four-story building called Beit HaMachpela, which settlers purchased from Palestinians and were given permission to move into in 2019, seven years after they first attempted to move into the structure.

The Hebron Jewish community's English-language spokesman Yishai Fleisher tweeted about the latest property acquisition, stating, "New Jewish home in Hebron acquired by the Harchvi organization. We're calling it 'House of Liberty' – purchased from Arabs about a year ago. [Three] floors, close to the Tomb of the Patriarchs and Matriarchs."
Hamas Continues Propaganda Campaign Involving Israeli POWs
In the last few weeks, Hamas has launched a propaganda campaign to pressure the Israeli government to accept a deal to swap Palestinian prisoners for Israeli POWs. In early July, Hamas published a video of Hisham al-Sayyed, an Israeli who crossed into Gaza in 2015. The group claimed Sayyed's health was deteriorating and published pictures of him connected to an IV and breathing with the assistance of an oxygen mask. [See FDD's Long War Journal: Analysis: Hamas Publishes Information on an Israeli Held Captive Since 2015.]

Hamas currently holds four Israelis (two of those are the bodies of IDF soldiers) as bargaining chips to reproduce the 2011 Wafa al-Ahrar (Faithful to the Free) prisoner exchange where 1,027 Palestinian prisoners were released by Israel for a kidnapped IDF soldier.

While the information about the killing and injury of Hamas' shadow unit members is new information, Obeida's main message, though not explicitly stated, is that Israel bombed the site where an IDF prisoner was being held, possibly causing him injury. And this is where the propaganda part of the message comes into play.

Obeida purposely omitted key details of the strike and the status of the POW in an attempt to create urgency and press the Israeli government to accept a prisoner swap with Hamas.

The latest round of videos and statements published by Hamas signals the group understands that time is not on its side. Approximately eight years have gone by without reaching an agreement with Israel on a prisoner exchange. This is likely one of the major factors in the latest push by Hamas. Though, it's unlikely the Israeli government will be compelled by Hamas' latest overtures and propaganda.

Israel has learned from the mistakes it made in the 2011 prisoner exchange with Hamas, particularly with the release of current Hamas chief in Gaza, Yahya Sinwar. Until Israel is satisfied with who they release, and the number of Palestinians prisoners exchanged for the Israeli captives, it's unlikely Hamas propaganda videos or statements will move the government to accept a deal until it feels it won't repeat the errors of past prisoner exchanges.
Hezbollah has published a video saying it can target ships and gas rigs off the coast of #Israel and #Lebanon with anti-ship missiles. Hezbollah is sending a message to Israel and companies working with it that it can target the disputed gas field if a deal is not made. pic.twitter.com/3wo7ZvnOIP

— Joe Truzman (@JoeTruzman) July 31, 2022
Yesterday was the 20th anniversary of the bombing of the Frank Sinatra cafeteria at Hebrew Univeristy, in which Palestinian terrorists killed 9 and injured 80. The Palestinian Authority marked the occasion by giving the terrorists more money, of course. https://t.co/beYytZ5RPi

— Lahav Harkov (@LahavHarkov) August 1, 2022
Generation Jihad Ep. 74 — Zawahiri: Alive and well in Afghanistan - https://t.co/saVMt0otzE pic.twitter.com/eW1wByVRyl

— Long War Journal (@LongWarJournal) August 1, 2022
The shadowy economics of ISIS resurgence in Syria
Despite ISIS's territorial defeat in Syria more than two years ago, the group has continued to terrorise people, particularly in the northeast. In June, ISIS sleeper cells were linked to 18 attacks and 16 deaths, on par with ISIS-linked violence in May, when 14 died in 26 attacks.

The group's survival is due, in part, to its ability to extort business owners to finance their operations and regrow their networks.

For months, ISIS has been using the threat of violence to operate extensive protection rackets in Raqqa and Deir Ezzor governorates. The inability of local authorities to provide sufficient protection from ISIS has left many people with no choice but to pay.

More importantly, fear of retaliation from both ISIS and the Syrian Democratic Forces (SDF) has allowed these extortion activities to go largely undetected, making it more difficult to counter. Unless the conditions that enable the group to finance itself are addressed, the group's survival will almost certainly be guaranteed.

ISIS is reliant on its extensive knowledge of local communities to identify targets and determine the amount of tribute. The group typically flags professionals (such as doctors and pharmacists) and business owners (including prominent farmers, shepherds, shop owners, traders and investors) who are considered well off. In a series of interviews that I conducted in recent months, those affected told me that ISIS uses a well-informed human intelligence network to track targets and estimate their income.

The scale and frequency of these forced payments varies. Some of the group's victims said they pay between $700 and $1,500 annually, while investors overseeing oil fields in eastern Deir Ezzor reportedly pay more than $5,000 per well per month (or between ten percent and 20 percent of the well's monthly profits).

Once targets are selected, ISIS uses various methods to communicate demands. Victims told me that the group relies primarily on messaging applications, particularly WhatsApp, which uses end-to-end encryption and provides ISIS affiliates with anonymity. But ISIS also delivers written notices stamped with the group's logo to the homes of its targets, an intimidation tactic that is arguably more effective.
Khaled Abu Toameh:
Lebanon's Leaders 'Out of Touch with Reality'
The Lebanese authorities are accusing Bishop al-Hajj of treason for bringing money to the poor and the sick, at a time when Iran is delivering -- through Hezbollah -- money and weapons to be used in the next war against Israel.

The money and the weapons that the Iranians are sending to Lebanon are designed to strengthen the mullahs' control over the country. Iran, incidentally, is already occupying three other Arab countries: Syria, Yemen and Iraq.

"In our days, a bishop is being arrested and interrogated as if he was a foreign agent, while Hamas leader Ismail Haniyeh is received with full honor." — Joseph Abu Fadel, Lebanese political analyst, Twitter, July 19, 2022.

[T]he Lebanese people are being forced to seek aid from their families and relatives in Israel "because of the failure of the Lebanese states at all levels." — Alain Dargham, reporter for MTV Lebanon News, Twitter, July 21, 2022.

The Christians who fled to Israel did so out of fear for their lives and the lives of their families. They ran away from the terrorism and intimidation of Hezbollah and other terrorist groups.

If the Christian families living in Israel are able to send money and medicine to their relatives in Lebanon, it shows that those who moved to Israel are doing much better than the Christians they left behind in Lebanon.

Bishop al-Hajj is not a traitor. He is a hero to his community and the rest of the Lebanese people.

Iran and Hezbollah are afraid that such aid would open the eyes of the Lebanese people and make them realize that Israel is not their enemy. God forbid, they may even see that life in Israel is not so bad after all -- and that their Israeli neighbors are prepared to help them.

The leaders of Lebanon, who have to report to their masters in Tehran, are evidently seeking to keep their people living in misery and poverty. The leaders are worried that if the people lead good and comfortable lives, they will stop thinking about violence and jihad (holy war) against Israel because they would have a lot to lose. The leaders also want their people to continue living in misery and poverty so that they can shift the blame for it to Israel.
Why Economic Carrots Won't Appease Iran
There is no way that anyone can help the Iranian people return to normalcy as long as the present regime is in place in Tehran. A people that finds itself in the hands of a brutal authoritarian regime that claims a divine mandate and is ready to do whatever it takes to remain in power is beyond help by any outsider with the best of intentions.

If you help the Islamic Republic improve its economy, the bulk of the proceeds will go to strengthening the apparatus of repression, with the people receiving mere crumbs to keep their mouths shut. At the same time, regime propaganda will spread the tale that it was thanks to its "revolutionary ardor" that the evil foreigners had to offer concessions, as they retreated under the blows of the new rising power of Islam destined to conquer the whole world.

Over the past four decades, more than two dozen countries have tried to sweeten the Tehran mullahs with all manner of carrots. Germany gave the Islamic Republic a most-favored-nation status. France offered exceptional trade guarantees. The U.S. apologized for unknown and non-existent "wrongs" it was supposed to have done. It is interesting that President Joe Biden still thinks he can normalize the quintessentially abnormal.
At atomic agency ceremony, Lapid says Israel's 'other capabilities' keep it safe
Prime Minister Yair Lapid on Monday said that Israel has "other capabilities" to ensure the survival of the Jewish state against all threats, in a thinly veiled reference to Israel's widely reported stockpile of nuclear weapons.

Lapid spoke at a ceremony marking the installation of a new head of the Israel Atomic Energy Commission (IAEC). Alternate Prime Minister Naftali Bennett, who has been largely quiet since resigning as prime minister — but who continues to hold the "Iran file" in the government — also spoke at the event.

Lapid said that Israel's field of operation is made up of "defensive capabilities and offensive capabilities, and what the foreign media tends to call 'other capabilities,'" an apparent reference to Israel's reported nuclear weapons, which the Jewish state has never officially confirmed it possesses.

"These other capabilities keep us alive and will keep us alive so long as we and our children are here," Lapid said.

Bennett said Monday said that Israel has for the past year been working hard to counter the threat of a nuclear-armed Iran, investing "enormous resources" in the effort.

"A year ago we made a series of decisions whose aim was to refine assessments on our side to deal with the Iranian nuclear [weapons]," Bennett said. "We allocated enormous resources to close gaps that kept me awake [at night]."

"The Iranians are making progress, but the Israeli system has been working at full strength for the past year," Bennett continued. "I know you will continue to work, regardless of the political upheavals in the country."
As Iranian nuclear clock ticks down, Biden administration refuses to set deadline for talks
Despite repeated refrains by Biden administration officials that negotiations to revive the Iran nuclear deal cannot go on indefinitely, which the U.S. president himself reiterated during the Israel leg of his Middle East trip in mid-July, Washington has refused to set a deadline for ending talks even though they appear to be on life support and are possibly unsalvagable given Tehran's recent claims that it could easily build a bomb.

Richard Goldberg, a senior adviser at the Washington, D.C.-based Foundation for Defense of Democracies (FDD), told JNS that the fact the Biden administration continues to make such statements "raises serious doubts as to whether they will ever walk away from the agreement, and if the policy is merely to continue indefinitely to show a willingness to make a deal."

Secretary of State Antony Blinken as far back as June 2021 said that there would come a point at which it would "be very hard" to return to the Joint Comprehensive Plan of Action (JCPOA), the 2015 nuclear agreement signed between Iran and world powers.

"When the administration was pushed to explain what it meant by such remarks, it would clarify that there's a point at which the non-proliferation value of the JCPOA is so diminished that it would no longer be in U.S. interests to return to it," FDD's Goldberg explained.

"It would appear that Iran has already passed the threshold of diminished value of even the narrow, short-term restrictions that were contained in the JCPOA," he said. "Iran at this point has been allowed by the Biden administration over the last year-and-a-half to advance its nuclear program so far that the capabilities and knowledge it has acquired to let it very quickly move to weapons-grade uranium and potentially break out [to a nuclear bomb] are no longer something that can be prevented by the JCPOA."
Think a nuclear deal with Iran is a good idea?
FDD's @SGhasseminejad estimates that Tehran will receive a financial package worth up to $275 billion within one year — just for complying.
(More in @mdubowitz's recent testimony: https://t.co/vfarYDSYJw) pic.twitter.com/hiRS2DK8vv

— FDD's Iran Program (@FDD_Iran) July 29, 2022
Iran arrests members of Baha'i faith for being 'Israeli spies'
Iran's Intelligence Ministry arrested several members of the Baha'i faith on spying charges, state TV reported Monday.

The ministry said in a statement that the suspects were linked to the Baha'i center in Israel, where the religious group's international headquarters are located and had collected and transferred information there.

It is rare for the ministry to report the arrests of members of the Baha'i. The report did not say how many had been detained. State TV footage showed one of the suspects saying he was being monitored by agents of the ministry.

The detentions raised concerns about potential crackdowns on followers of the religion. Members of the faith in Iran complain about occasional mistreatment and prosecutions in Iran.

Iran already bans the Baha'i, a religion founded in the 1860s by a Persian nobleman considered a prophet by his followers. Muslims consider Muhammad the highest prophet. Since the 19th century, many Iranians have converted to the Baha'i sect.
Evidence to indict Iran's President Ebrahim Raisi on war crimes and crimes against humanity are so solid that one of Raisi's deputies was sentenced to life imprisonment.
It's time to drag Raisi to the ICC.
Share this compelling & important interview. https://t.co/DBOP6NmBlu

— The View from Israel (@netre25) July 31, 2022
Iranian IRGC-Affiliated Online Video: When Will Iran's Nuclear Bombs Wake Up?
Iranian Supreme Leader Ali Khamenei: The West Is a Mafia Headed by Zionists, Jewish Merchants
Shiite Children in Houston, TX Pledge to Be the Soldiers of Iranian Supreme Leader Ali Khamenei
Now Human Rights Watch and the Economist are fat-shaming Arab women. The Economist used this cover art for a deeply racist piece they published a few days ago. They've always been racist against Arabs and particularly Saudi, but what explains this recent supercharged crusade? https://t.co/dCAj3PVKGt pic.twitter.com/ZxY7TveMQ0

— Mohammed Alyahya ???? ?????? (@7yhy) August 1, 2022
---
---
Buy the EoZ book, PROTOCOLS: Exposing Modern Antisemitism today at Amazon!

Or order from your favorite bookseller, using ISBN 9798985708424.

Read all about it here!