From Ian:
Arnold Roth:
Put justice back on the agenda: Sec. Pompeo, it's not too late
We did something yesterday that we have never done before.

We ordered a display advertisement to appear on the front-page of a major print newspaper - today's (Thursday's) Jerusalem Post. Our message is on its front page.

The timing of our ad is intended to coincide with U.S. Secretary of State Mike Pompeo's visit to Israel that began yesterday afternoon (Wednesday November 18).

Our hope is that he will see it at breakfast. And that perhaps he will think about the images we included, as well as the scriptural quote at the top of the text: "Justice, justice thou shalt pursue".

The words from Deuteronomy (Devarim in Hebrew) will be recited in the annual cycle of Torah reading when we get to Parshat Shoftim, the weekly portion called "Judges". That happens next in August 2021. By coincidence, the same week will include the twentieth anniversary of the Sbarro pizzeria massacre.

There are two images in our Pompeo advertisement. One shows Malki. The other is of the devastated Sbarro pizzeria in the center of Jerusalem, minutes after a bomb placed by Ahlam Tamimi exploded inside.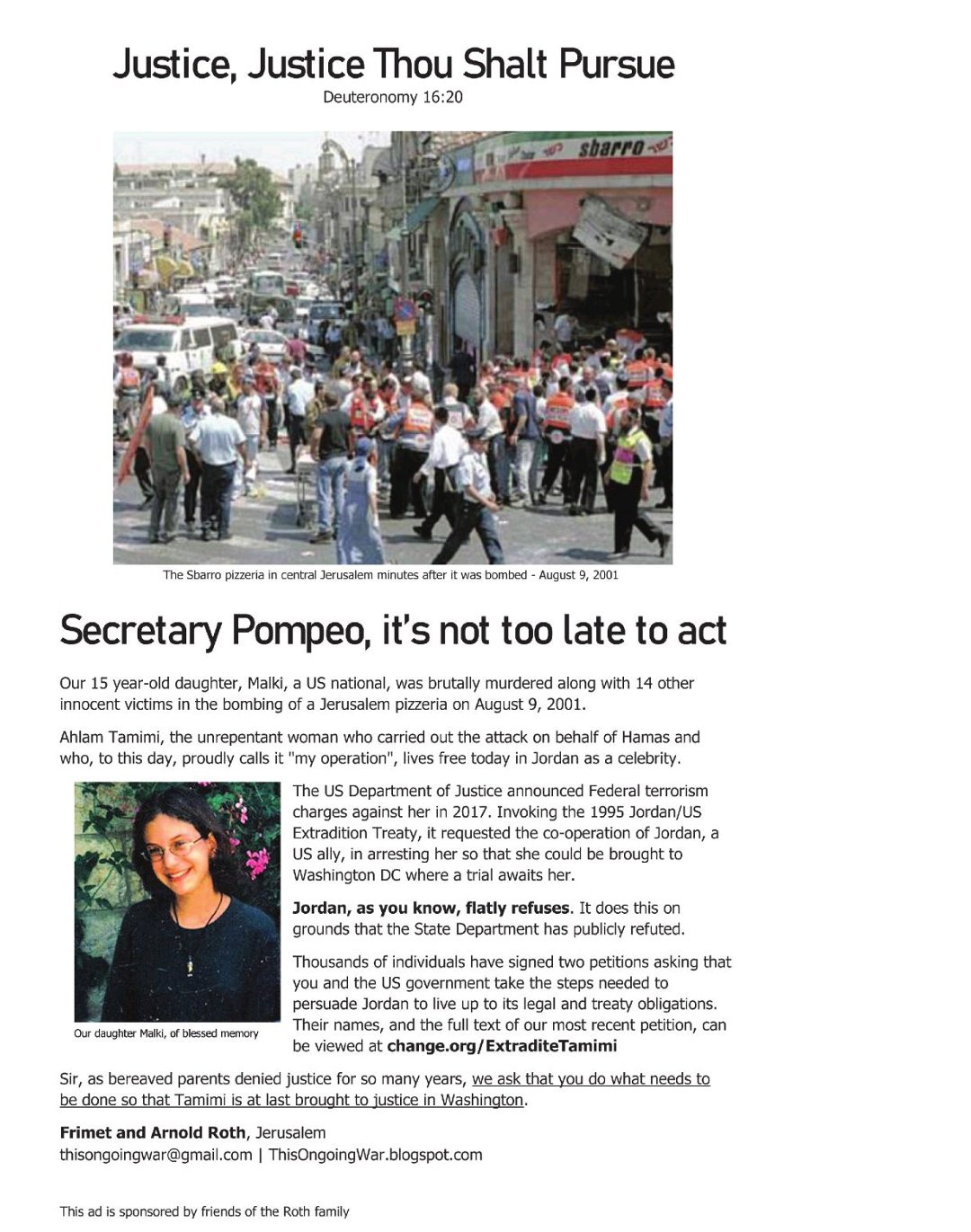 Brendan O'Neill:
CNN's shameless assault on the memory of the Holocaust
Such moral instability has been widespread among the anti-Trump elites these past four years. Trump is 'literally Hitler', in these people's eyes. 'Donald Trump is a fascist', serious outlets have suggested, denuding that word of all meaning. A British MP spoke of Trump in the same breath as 'fascist dictators Mussolini and Hitler'.

Alexandria Ocasio-Cortez said Trump was running 'concentration camps' on the America-Mexico border and, for good measure, she said the phrase 'Never Again' has to 'mean something'. That's a phrase used about the Holocaust. AOC was suggesting that something akin to the Holocaust happened in the US under the Trump administration. No doubt she and her fawning followers think such Holocaust-talk lands a blow against Trump, but the truth is it lands a far greater blow on the memory of the Holocaust, which once again is reduced to a mundane event, like temporarily placing illegal immigrants in a camp.

Even historians who ought to know better embraced the Trump-as-Hitler meme. Ron Rosenbaum, author of Explaining Hitler, says he was initially reluctant to talk to the media about Trump's 'fascistic tendencies', because however bad Trump might be, 'he did not seem bent on genocide'. Then he changed his mind and declared that Trump seems to be working from the 'playbook of Mein Kampf'.

All these people – and this includes the many anti-Trump protesters who waved placards mentioning Hitler and the Holocaust – seem alarmingly unaware of how much damage they have done to historical memory. Holocaust Relativism is a close cousin of Holocaust Denial. As the Open University's guide to the Holocaust rightly says: 'Relativising the Holocaust has been one of the classic techniques of some of those engaged in Holocaust Denial.' Much of the new anti-Semitism is drenched in Holocaust Relativism. From left-wing anti-Semites to radical Islamists, the cry often goes out: 'Why do we talk about the Holocaust so much? It wasn't that special. Bad things happen all the time.' Amanpour and a host of other anti-Trump obsessives in the media and political elites are unwittingly stirring up this cynical and often racist minimisation of the Holocaust with their cheap, ahistorical shots at Trump.

We hear a lot about the political wreckage left by Trump after his four years in the White House. But one of the worst kinds of damage done over the past four years was to the memory of the Holocaust, and it was done by Trump-bashers. Their reduction of the Holocaust to a political plaything, an exclamation mark to emphasise just how much they hate Trump, has been devastating to the cause of truth. Restoring the reality of the Holocaust will be essential if we are to defend truth in the 21st century and challenge the racist minimisation of the new anti-Semites.
Douglas Murray:
The Nobel Peace Prize has become an ignoble joke
For those of us who have long been suspicious of the Nobel Peace Prize, there is nothing quite like the sight of the prize committee struggling to rein in one of their former honourees. Last year, the committee gave its award to Abiy Ahmed, the Ethiopian Prime Minister. In the citation, it especially noted Mr Ahmed's laudable efforts "to achieve peace and international cooperation".

That citation might now need to be carefully edited, since Mr Ahmed has declared war on the leaders of the Tigray region and Ethiopia looks like it is sliding into a wider conflagration. Last year's Peace Prize recipient has this year refused all requests for dialogue and attempts to de-escalate the conflict. Some critics are even making claims of ethnic cleansing.

Yet in some ways Mr Ahmed stands in a long and ignoble Nobel tradition. This is not the first time that the committee would appear to have backed a wrong-un. Aung San Suu Kyi was given the award in 1991. Now she is an international pariah accused of defending genocide in Burma. In 1994, the committee gave the Peace Prize to Yasser Arafat, then probably the most notorious terrorist in the world. True this was a few years after the first "Intifada". But having collected his gong and his Nobel loot (not the only loot Arafat managed to acquire in his criminal career), he gave it a couple of years before declaring another Intifada. Just having the gong doesn't appear to bring about peaceful instincts. Surprising that.

A friendly observer might put this down to bad luck on the part of the Nobel committee: an over-eagerness, perhaps even a blind desire to see the best in people. But any reasonable critic would have to admit that there has been something off with the prize for years. It has become a victim of John O'Sullivan's law: that all institutions that aren't statedly conservative drift Left-wards as the years go on.

In 2009, the committee famously gave the prize to Barack Obama, when he was not yet one year into office, and when he had still not achieved anything of note. But the Nobel committee seemed to want to congratulate Obama on just being Obama. In the same way that a few years ago almost every award in the world was given to Caitlyn (formerly Bruce) Jenner, simply for being stunning and brave. If you are a Left-wing politician like Obama, the Nobel Peace Prize has become just another of those gongs you collect on your endless victory laps of the world.
Understanding the hypocrisy of the Muslim world – opinion
IN FACT, in 2019, when most European countries condemned the persecution the Uighurs faced, most Muslim countries – such as Saudi Arabia, Egypt, the Palestinian Authority, Iran and Pakistan – cowardly commended China's measures to combat extremism, even going as far as to participate in the state's rhetoric that "all ethnic groups enjoy their happy life in a peaceful and stable environment" and stating that China had maintained "openness and transparency." Erdogan's Turkey, once a champion of Uighurs' rights, has started arresting and deporting exiled Uighurs in order to safeguard its economic and political interests with China.

The hypocrisy demonstrated by these leaders proves that their aim isn't to tackle Islamophobia but to attack freedom of speech. Freedom of speech is the bedrock of democracy and it represents an existential threat to autocratic regimes, especially those that pretend to be democracies. The countries that attacked France for Islamophobia are merely attempting to distract their populations from their mishandling of the COVID-19 pandemic, and their countries' excessive corruption and worsening economic conditions.

This is nothing more than a cheap political ploy to consolidate power. It should come as no surprise that the most fervent opponents to France's laïcité (secularism) are also the countries with the strictest censorship and restrictions on freedom of speech.

The right to blasphemy, regardless of how disrespectful it may be to some, is a core value that allows us to hold and debate different interpretations of all religions. When we allow the demagogues and fanatics to impose what should and should not be tolerated, we also allow them to define what Islam is for nearly two billion people.

Most Muslims reject this radical interpretation of Islam. It is time for them to stand in solidarity with France in defense of freedom of speech. Instead of attributing the blame on the cartoonists for drawing caricatures of the prophet, they should unequivocally condemn those who incite violence. The ability to criticize and mock all ideologies, religions and political figures allows us to engage in open discourse. Democracy isn't simply about being allowed to vote, but also about having the freedom to express our minds and choose our beliefs, even if it might at times be uncomfortable.
'The Occupation Made Me Beat My Wife'
Jews have been accused of harming and murdering non-Jews since the twelfth century in England, when Jewish convert to Catholicism, Theobald of Cambridge, mendaciously announced that European Jews ritually slaughtered Christian children each year and drank their blood during Passover season.

That medieval blood libel, largely abandoned in the contemporary West, does, however, still appear as part of Arab world's vilification of Jews—now transmogrified into a slander against Israel, the Jew of nations. But in the regular chorus of defamation against Israel by a world infected with Palestinianism, a new, more odious trend has begun to show itself: the blood libel has been revivified; however, to position Israel (and by extension Jews) as demonic agents in the community of nations, the primitive fantasies of the blood libel are now masked with a veneer of academic scholarship and published as politicized scientific study.

At a November 12th session at the UN's annual assembly, for example, The World Health Organization (WHO) used the gathering to again bash Israel and accuse it of compromising the health rights of Palestinian during the COVID-19 pandemic.

Even Iran—where gays are still hanged from cranes and women are stoned to death—chimed in, asserting that Israel's pernicious role in Palestinian health conditions was worse than the fall-out from the pandemic in all other countries, and that Israel's "chronic occupation has profound implications for the health of Palestinians. More than 12 years of inhuman blockade has had a profound effect on the health sector, worsening an already dire situation."
Anti-Israel Radical Karine Jean-Pierre Named as Possible Joe Biden Press Secretary
Karine Jean-Pierre, an anti-Israel radical who praised Democrats for shunning a pro-Israel conference last year, has emerged as a top contender to be Joe Biden's White House press secretary, according to several news sources.

NBC News' Geoff Bennett cited "multiple sources" Wednesday as saying that Jean-Pierre, currently an aide to Biden's running mate Kamala Harris, was the top candidate for the position. If Jean-Pierre is chosen, she would be the first woman of color to serve as press secretary.

Jean-Pierre, then a national spokesperson and senior adviser for the George Soros-funded left-wing group MoveOn.org, lauded the 2020 presidential candidates for boycotting AIPAC, the annual bipartisan pro-Israel gathering, in 2019. (AIPAC stands for American-Israel Public Affairs Committee).

Writing in Newsweek, Jean-Pierre maintained that the Democratic candidates "made the right call," and that AIPAC's policies and values "are not progressive."

You cannot call yourself a progressive while continuing to associate yourself with an organization like AIPAC that has often been the antithesis of what it means to be progressive," she wrote.

She blasted AIPAC's opposition to the Iran nuclear deal, as well as its decision to invite Israeli Prime Minister Benjamin Netanyahu to speak (as it does with every Israeli prime minister), saying that "under his leadership of Israel, according to the United Nations, Israel may have committed war crimes in its attacks on Gazan protesters."

The protests she referred to along the Gaza border were violent riots in which firebombs, rocks and explosive devices were routinely hurled at Israeli soldiers. Rioters also made holes in the border fence and infiltrated into Israeli territory.
Agudath Israel Files Suit in US Supreme Court to Reopen Synagogues Amid Heightened COVID Rates
Agudath Israel of America and two affiliated congregations have taken their lawsuit against New York Gov. Andrew Cuomo to the US Supreme Court as they seek to overturn his closure of houses of worship as part of the state's COVID-19 "cluster initiative" to prevent the spread of ongoing coronavirus pandemic.

The filing for an emergency injunction by the national Agudath organization and two of its local congregations—Agudath Israel of Kew Garden Hills in Queens and Agudath Israel of Midwood in Brooklyn—against Cuomo's orders comes nearly a week after a panel from the Second Circuit Court of Appeals denied the plaintiff's motion for injunctive relief.

Agudath's suit is one of several filed in recent weeks after the governor divided the state up into different "zones" based on the severity of COVID-19 in that region. Each zone had different rules and regulations. However, the most severe rules appear aimed at neighborhoods with large Orthodox populations in Orange and Rockland counties, and in Brooklyn and Queens, NY.

"It's bad enough when the government puts religion in the back of the line when it comes to reopening during the pandemic. It's even worse when the government targets a particular religion for special disfavor," said Joe Davis, counsel at Becket Fund for Religious Liberty, one of two firms acting as counsel for Agudath Israel. "A ruling for the synagogues will show that, even during a pandemic, governments in this country aren't permitted to scapegoat Orthodox Jews based on little more than irrational fear and spite."

Also representing the plaintiffs is the firm of Troutman Pepper Hamilton Sander LLP in New York.
A thorn by any other name: UK Jewish groups may be rebranding 'anti-Semitism'
In the maelstrom and vitriol that followed the Equality and Human Rights Commission's damning report into the Labour Party under Jeremy Corbyn last month, few noticed the near total omission in the response from the Jewish community of the very word the EHRC had just reported on: "Anti-Semitism."

In a joint statement, the Board of Deputies and the Jewish Leadership Council said the report "disgraces those who attacked us for speaking out against anti-Jewish racism," calling Jeremy Corbyn "a figurehead for old and new anti-Jewish attitudes."

The Jewish Labour Movement said it had been warning of a "deepening casual culture of anti-Jewish racism" since 2015. The Holocaust Educational Trust said it confirmed "the depth of the endemic anti-Jewish racism in Labour."

Labour Friends of Israel praised Keir Starmer for starting "to root out anti-Jewish racism." Even Labour Against Antisemitism (LAAS) distanced itself from its own name, talking about the party's "institutional anti-Jewish racism."

Commentators soon picked up the baton. In his searing column, Jonathan Freedland of the Guardian began with "antisemitism" but ended up asking "why anti-Jewish racism might take root."
Success for CAA as backbench MPs will today debate a resolution calling for Government to bring forward Online Harms Bill, echoing our petition signed by thousands
In response to our petition calling for the Government to bring forward its Online Harms Bill, we have received confirmation that there will be a debate in Parliament today on "regulation and prevention of online harms".

The subject of the debate was determined not by the Government, however, but by the Backbench Business Committee.

Specifically, the debate is on a motion that proposes "that the House recognises the need to take urgent action to reduce and prevent online harms and urges the Government to bring forward the Online Harms Bill as soon as possible".

Campaign Against Antisemitism launched a petition in August, in the aftermath of the Wiley episode, calling for new legislation urgently to introduce a requirement for technology companies to remove racist incitement within set timeframes, a duty of care for social networks with personal liability for executives, and tighter requirements to provide evidence to police under warrant.
Bahrain, UAE vote against Israeli sponsored UN entrepreneurship resolution
The United Arab Emirates and Bahrain voted against an Israeli sponsored resolution on entrepreneurship for sustainable development, even though both countries are themselves in the midst of promoting joint business ties with the Jewish state.

The resolution passed 144-26, with nine abstentions. Arab countries that voted against the resolution also included Egypt, Jordan, Oman, Qatar and Saudi Arabia. Among the nine countries that abstained were Turkey and South Africa. Sudan and South Sudan were absent.

The resolution itself had over 50 co-sponsors, was global in nature and was not connected to the Israeli-Palestinian conflict or the burgeoning Israeli normalization deals with the Arab world. The text's focus was global accessibility of entrepreneurship. But the issue of Israel and antagonism to the Jewish state were reflected in some of the votes taken.

Mauritania, in the name of the Arab group, accused Israel of being disingenuous in its annual sponsorship of this resolution, given the steps it takes to prevent Palestinian development such as the destruction of infrastructure.

"The occupation also violates numerous human rights of the Palestinian people," the country said.
BDS calls to boycott those involved in normalization
The Boycott, Divestment and Sanctions (BDS) movement against Israel has updated its boycott criteria, now calling for boycotts against anyone involved in normalized ties with Israel.

As published on the official BDS website by the BDS National Committee (BNC), its members and supporters are now called on to refrain from "displaying or promoting the works or products of those who their involvement in normalization practices are proven, until such involvement is ended in a convincing manner and in public, including a declaration of commitment to anti-normalization and cultural boycott."

The statement also includes "not dealing with any product or activity of a person or institution that has previously been involved in normalization and has not withdrawn from it."

The announcement was made following longstanding criticisms directed at the United Arab Emirates, Bahrain and Sudan for their official normalization of ties with Israel, something that was perceived by many as a "betrayal" of the Palestinian cause. In fact, on September 15, the day ties with the UAE and Bahrain were officially normalized, the BNC published an update on the English-language BDS site titled "The UAE and Bahrain's dictators are selling out the Palestinian people."
Brooklyn College Adopts Universal Definition of Antisemitism
The student senate at Brooklyn College in New York adopted the widely accepted International Holocaust Remembrance Alliance (IHRA) definition of antisemitism on Tuesday.

The IHRA definition says: "Antisemitism is a certain perception of Jews, which may be expressed as hatred toward Jews. Rhetorical and physical manifestations of antisemitism are directed toward Jewish or non-Jewish individuals and/or their property, toward Jewish community institutions and religious facilities."

Of the 14,970 undergraduates at Brooklyn College, as many as 4,000 of them are Jewish, or 27 percent of the student body, while out of the school's 2,841 graduates, some 500, or 18 percent, are Jewish, according to Hillel International.
'Cheating' Jew replaced in video
THE removal of a visibly Orthodox Jewish character from an animated video about plagiarism, collusion and contract cheating on the Monash University website has been hailed as a "victory for people power" by the Anti-Defamation Commission (ADC).

Discussing different scenarios, the short cartoon's first case study featured a bearded IT student wearing a kippah asking a fellow student if he could use her code, while a narrator asked, "What do you think about students sharing programming code and then submitting this as individual work? Is this collusion?"

The video prompted a storm of criticism when it was posted on Facebook by the ADC over the weekend.

Within a few hours, the Jewish student had been replaced by a new cartoon character who didn't appear to belong to any particular religion or ethnicity.

Expressing his concern that the original video focused on "a religious Jew who is negatively portrayed as trying to cheat", ADC chair Dvir Abramovich said, "While we are pleased that Monash University addressed our concerns quickly, it is troubling that this gratuitous depiction did not raise any red flags."
MEF Plays Key Role in Designation of Al Jazeera Subsidiary as Qatari Agent
The U.S. Department of Justice has ordered AJ+, a US-based subsidiary of Al Jazeera Media Network, to register as a foreign agent under the Foreign Agents Registration Act (FARA), because it is "engaged in political activities within the United States ... on behalf of the Government of Qatar."

This culminates a multi-year effort by the Middle East Forum to counter Qatar's toxic influence campaign in the U.S. through its media arm. For example, Al Jazeera had 175 staffers in the U.S. Capitol in 2016, according to the Congressional Directory; in contrast, the New York Times had only 43.

Qatar is a malign Islamist influence across the globe. In the Middle East, it is at odds with moderate Sunni states and finances Palestinian rejectionism. In the United States, the Qatar Foundation invests millions in schools and universities, using curricula that encourag anti-Americanism and hatred of Jews. In response, MEF's Counter-Qatar Team launched a Counter-Qatar Campaign.

In 2018, President Trump signed the 2019 National Defense Authorization Act (NDAA) that includes Forum-supported language requiring foreign-owned media outlets to report on their funding by "foreign principals."
Indy fails to correct false claim Israel was rebuked by UN Security Council
It's been ten days since our complaint to the Independent, but editors still haven't corrected a false claim that the UN Security Council condemned Israel over the eviction of Bedouins from an encampment in the Jordan Valley.

Here's the relevant sentence in the Indy article ("UN condemns Israel over 'grave breach' of international law after biggest demolition of Palestinian homes in decade, Nov. 9): Israel has been rebuked by the United Nations for carrying out widespread demolition of Palestinian homes, the largest in the occupied West Bank for more than a decade.

the security council are calling the demolition a "grave breach" of the Fourth Geneva Convention – international law that protects civilian populations in occupied territories.

However, there was no UN Security Council resolution condemning the eviction. Nor was there even a UN General Assembly resolution criticising Jerusalem.

The criticism came merely from a UN spokesperson.
Anti-Jewish Discrimination 'Totally Unacceptable,' European Parliament President Tells Top Rabbinical Group
In remarks to the Conference of European Rabbis (CER) on Wednesday, European Parliament President David Sassoli urged unity in the fight against religious discrimination.

"We need to invest in greater equality and justice. Too many of our cities are stained with blood," Sassoli said, referring to recent terrorist incidents in France and Austria. "These tragic events remind us once again that the health and economic crisis is not the only crisis that we need to address."

"Every attack is an attack on our values," he added. "We need to work more for the safety of our Jewish communities. Feelings of discrimination against the Jewish people continues to linger on and this is totally unacceptable."

"The European Union must set an example to those who want to defy us. Freedom of religion is a founding value of Europe. The contribution of the Jewish people is the contribution to the greater good of Europe," Sassoli concluded.

Sassoli's remarks were made at CER's winter Standing Committee meeting, held on Zoom due to the ongoing coronavirus pandemic.
Swastikas carved into Jewish headstones, memorials daubed with paint in Germany
Amid a recent spate of incidents against Jewish targets in Germany, swastikas were etched into headstones at a cemetery.

The vandalism discovered this week in Haren, a northwestern town about 220 miles (354 kilometers) west of Berlin, is being treated as an anti-Semitic hate crime by police, the dpa news agency reported Tuesday. There are no suspects in custody.

Separately on Monday, unidentified individuals in Chemnitz, 120 miles (193 kilometers) south of Berlin, spray-painted a swastika in purple on memorial Stolperstein, or "stumbling stones" – brass street tiles that were placed at the former homes of Holocaust victims to commemorate them.

"We have had similar incidents when stumbling blocks were damaged or even cemented over," a local politician, Katharina Weyandt, told the Tag24 news site.

On Sunday, red paint was poured over other memorial cobblestones in Eilenburg, a city located 40 miles (64 kilometers) north of Chemnitz, Tag24 reported.

In Ukraine, an incident involving Nazi symbols and Jewish sites was recorded in Uzhhorod, in the southwest. Swastikas were etched into the walls of a former synagogue building and a Celtic cross was spray-painted on it.
Israeli start-ups in New York raised more than $1 billion during COVID-19
While the world economy has been heavily hurt by the coronavirus pandemic, it seems that New York-based Israelis start-ups were mostly spared.

Indeed, no less than $1 billion was raised by them during the COVID-19 crisis, according to Israel Mapped in NY, an interactive map created by Israeli entrepreneur Guy Franklin in 2013, listing about 350 Israeli start-ups currently operating in New York City.

Operating for seven years now, and listing only 60 when the platform was launched in 2013 compared to almost six times as many today, the map is revealing what the hottest trends and sectors are.

Between 2013 and 2017, Video, Adtech and B2C were the hot sectors, but since 2018 the focus shifted to Cyber, Fintech, Big Data & Analytics and B2B companies, along with Proptech, another thriving sector of tech applied to real estate, reported Calcalist.

The interactive map features all the start-ups in which at least one of the founders is Israeli and has a team in New York. Alongside a detailed list of companies and their fields of activities, the map also displays relevant local investors, Israeli investors that operate in New York and accelerators, according to Calcalist.
With new 'elegant chemo,' Israeli scientists edit genome to destroy cancer DNA
Israeli scientists say they have destroyed cancerous cells in mice with a method so pinpointed it's as if "tiny scissors" were being used to target only affected cells, while leaving everything around them intact.

"This is the first study in the world to prove that the CRISPR genome editing system, which works by cutting DNA, can effectively be used to treat cancer in an animal," said Prof. Dan Peer, a cancer expert from Tel Aviv University, after his peer-reviewed research was published in the Science Advances journal.

"There are no side effects, and we believe that a cancer cell treated in this way will never become active again." He added: "This technology can extend the life expectancy of cancer patients and we hope, one day, cure the disease."

He told The Times of Israel: "If we can use this technology, then within three treatments we can destroy a tumor. This technology can physically cut the DNA in cancerous cells, and those cells will not survive."

Peer called it "a more elegant chemotherapy" and said he dreams that it will replace that treatment, which can take a drastic toll on cancer patients because it is administered to the whole body.

The research uses genome editing technology that is currently used only for rare diseases and only on cells that are removed from the body. It has been adapted to edit — or "delete" — cancer cells.
Washington Wizards take Israel's Deni Avdija as 9th pick in NBA draft
Israeli teenager Deni Avdija was taken by the Washington Wizards with the No. 9 overall pick in the NBA draft Wednesday night, becoming the first top-10 NBA draft pick from Israel.

"For me just to represent my country and to make history, that's a blessing," Avdija said from Tel Aviv during a video conference with reporters Wednesday. "I have the whole nation behind me. I hope I'm going to represent well."

As for the idea of inspiring young Israelis to pursue basketball, he said: "I'm just glad they have somebody to look at and learn (from) — and just be motivated to see that us being a small country doesn't mean that we can't do big things."

The 6-foot-9, 225-pound Avdija then kissed his mother Sharon and father Zufer Avdija, who played for the Yugoslavian national team and later moved to Israel, where he played professionally for a number of Israeli clubs.
Snoop Dogg teams up with SodaStream to help save the environment
The Israeli subsidiary of PepsiCo, SodaStream, decided to employ the talents of rapper Snoop Dogg to explain how the "small things," such as switching to reusable bottles, can make a large impact on reducing a person's carbon footprint with regard to plastic waste.

Accompanied by his "nearly extinct friend," a sea turtle sporting an Israeli accent, Snoop Dogg noted that "smalls things" are the most meaningful, adding that amid the coronavirus pandemic the rapper would be dialing back his normally lavish lifestyle to enjoy the little things in life, such as dinner with the family instead of a big holiday party, and in lieu of his family's culinary trip, they would be opting for a little baking right at home.

The change in lifestyle ties in with the message of the advertisement: that using the SodaStream home carbonated sparkling water system and its multi-use bottle can help avoid the disposal of countless single-use plastic bottles every year, and even save countless marine critters in the process.

"I don't need to start a nature relief fund to help save the planet from plastic waste," Snoop Dogg says in the commercial as he starts up his personal Sodastream system. "I simply enjoy fresh sparkling water with a nearly extinct friend."

"Think small, baby," said Snoop Dogg. To which the sea turtle replied, "love you, brother."

"By the way, one SodaStream bottle can save..." Snoop Dogg said as he begins to veer off, to which the sea turtle added: "1, 2, 3, 4, 5, 6... I don't know, thousands?"

"Yeah thousands of single use plastic bottles," Snoop Dogg added. "So who's thinking small now? Gotcha. I just saved the planet."
Israel Philharmonic to host virtual pre-Hanukkah global music celebration
American Friends of the Israel Philharmonic Orchestra and the Israel Philharmonic Foundation will premiere the "Israel Philharmonic Pre-Hanukkah Global Celebration," a multidisciplinary program of instrumental performances and behind-the-scenes interviews, coupled with powerful messages of hope.

The Dec. 6 event will stream internationally, free of charge, to bring music and holiday light from Israel's world-class Philharmonic to audiences around the world amid the global coronavirus pandemic.

The event will weave together word and song, featuring Academy Award-winning composer Hans Zimmer; Grammy and Tony Award-winning actress and singer Bette Midler; actress and star of the TV series "Fauda" Ronalee Shimon; actress and model Dar Zuzovsky; music manager Kenny Hamilton; and other special guests.

The Israel Philharmonic and its conductor, Lahav Shani, will perform pieces from Zimmer's acclaimed works.

"The Israel Philharmonic is a shining light for humanitarian principles, artistic freedom and the tireless pursuit of excellence – and for continuing to provide accessible, inspiring digital musical content despite the pandemic," said Danielle Ames Spivak, AFIPO executive vice president and CEO.

Tali Gottlieb, Israel Philharmonic Foundation executive director, said "2020 has been an extremely difficult year. We are making every effort to assist the philharmonic, and I am moved by the heartwarming response of its friends in Israel and throughout the world. In an end-of-the-year effort and in light of the exceptional success of our Global Gala this past June, which was viewed by more than 500,000 people worldwide, I hope this event will provide the support it needs to grapple with the enormous challenges still ahead."

Registration is free. Donations will offset critical Philharmonic revenue losses due to forced closures due to the ongoing pandemic.
Wonderful to see the work being done to preserve the ancient @City_of_David and the new discoveries by archaeologists working in the area. Thank you to Ze'ev Orenstein for the fascinating tour of the site of three thousand years of ancient history. pic.twitter.com/oA0FFQ3maP

— Secretary Pompeo (@SecPompeo) November 19, 2020
---
---
We have lots of ideas, but we need more resources to be even more effective. Please
donate today
to help get the message out and to help defend Israel.