From Ian:
'It's a cancer': Pompeo says US will brand BDS 'anti-Semitic,' crack down on it
The United States government will formally designate the anti-Israel boycott movement "anti-Semitic" and immediately start cracking down on groups affiliated with it, US Secretary of State Mike Pompeo announced Thursday during a visit to Israel, calling BDS a "cancer."

"Today I want to make one announcement with respect to a decision by the State Department that we will regard the global anti-Israel BDS campaign as anti-Semitic," he said, standing next to Prime Minister Benjamin Netanyahu during a joint statement to the press.

"I know this may sound simple to you, Mr. Prime Minister, it seems like a statement of fact, but I want you to know that we will immediately take steps to identify organizations that engage in hateful BDS conduct and withdraw US government support for such groups. The time is right," Pompeo declared.

At that point, Netanyahu interrupted the US top diplomat's comments, saying, "It doesn't sound simple, it sounds simply wonderful."

"Look," Pompeo went on, "we want to stand with all other nations that recognize the BDS movement for the cancer that it is. And we're committed to combating it. Our record speaks for itself. During the Trump administration, America stands with Israel like never before."

BDS, which stands for Boycott, Divestment and Sanctions, is not a registered organization but rather a term for a worldwide movement of pro-Palestinian activists who embrace economic sanctions against Israel as the best nonviolent means to fight what they consider unjust policies of the government in Jerusalem.

Leading European politicians have rejected the BDS movement on ideological grounds but have stopped short of banning it due to free speech laws.
Proud to support American policy and stand with our great ally Israel. New guidelines outlined today protect Israeli producers and put the United States, and the world, on track towards recognizing reality. https://t.co/AlMHGPY7WF

— Secretary Pompeo (@SecPompeo) November 19, 2020
Secretary Mike Pompeo in Israel, Announces US Action Against BDS movement
Pompeo: Products from West Bank to be labelled 'Made in Israel'
The US will allow goods produced in West Bank settlements to be labeled products of Israel as opposed to the West Bank, US Secretary of State Mike Pompeo announced on Thursday, during the first-ever visit by someone in his position to an Israeli entity in Judea and Samaria.

The new guidelines "ensure that country of origin markings for Israeli and Palestinian good are consistent with our reality-based foreign policy approach," Pompeo said.

He added: "This approach recognizes that Area C producers operate within the economic and administrative framework of Israel and their goods should be treated accordingly. This update will also eliminate confusion by recognizing that producers in other parts of the West Bank are for all practical purposes administratively separate and that their goods should be marked accordingly."

The US will also no longer accept labels that say "West Bank\Gaza" for Palestinian-made goods; they must say either West Bank or Gaza because the areas are "politically and administratively separate."

Pompeo reversed 25 years of policy requiring such products to be labeled as made in the West Bank. The Clinton administration required goods from settlements to be labeled as coming from the West Bank following the Oslo Accords. Those rules were not enforced, but in 2016, the Obama administration warned that labeling settlement goods as products of Israel could carry a fine.
Pompeo in first Golan visit: Israel has right to defend its sovereignty
Secretary of State Mike Pompeo paid the first-ever visit by a US secretary of state to the Golan Heights on Thursday.

Standing on Mount Bental, where the borders of Israel, Lebanon and Syria intersect, Pompeo said he chose to go to there to "tell the world that the US has it right, that Israel has it right, that each nation has the right to defend its sovereignty.

"We will make sure Israel has what it needs to do just that," he added. "We will honor the right to defend your people."

Israel extended its law to the Golan Heights in 1981, but the US only recognized it as part of sovereign Israel in 2019 under US President Donald Trump.

The secretary of state said that, from his vantage point atop the mountain, "you cannot stand here and stare out across the border and deny the thing President Trump recognized and other presidents refused to do, that this is part of Israel – and a central part of Israel."

Pompeo mocked the members of "the salons in Europe and elites in the US" who wanted Israel to concede the Golan to Syria.

"Imagine with [Syrian President Bashar] Assad in charge of this place, the risk to Israel and the people of Israel," he said.
Pompeo Becomes First US Secretary of State to Visit Judea and Samaria
US Secretary of State Mike Pompeo made history Thursday when he became the first US top diplomat to make an official visit to Judea and Samaria.

Pompeo visited the Psagot Winery in the Shaar Binyamin Commercial Center and the Qasr al-Yahud baptism site in the Jordan River Valley. Advertisement

The Regavim Movement, which is based in Shaar Binyamin, welcomed Pompeo with signs: "Thank you in the name of the people of Israel."

"Secretary Pompeo is a true friend of the State of Israel and the Jewish communities of Judea and Samaria," says Meir Deutsch, Director General of the Regavim Movement. "The policy statement issued last year, now known as the Pompeo Doctrine, is an expression of truth and moral clarity regarding the State of Israel, and sets aside a gross distortion of history and international law. On behalf of all citizens of Israel, we thank him for his courageous stance and for his friendship."

During the visit to the winery, Pompeo was gifted with an ancient coin inscribed in ancient Hebrew that was discovered in wine cellar caves, as well as copies of the declaration of King Cyrus, the Balfour Declaration, and Pompeo's own declaration of the US government's position on Israel's presence in Judea and Samaria.

"The three historic declarations establish the eternal, unbreakable bond between the Land of Israel and the Jewish nation," the Benyamin Regional Council explained. "We consider this visit to be an important message that sees Binyamin as a valuable and significant region for the State of Israel."
Giulio Meotti:
Pompeo in Psagot and a Democrat-led America
Psagot has many reasons for its importance. Security, since it is in front of Ramallah. Geographic, since it halted the expansion of Ramallah southward toward Jerusalem. And religious, since we are in the land of the Bible.

I thought about Pompeo's visit and what Israel can expect from the next US Democratic administration, if it comes to pass. Nothing good.

This is probably what we will have to expect: American aid to Israel will continue, as will any military and intelligence cooperation. But the United States will return to the old Obama paradigm: to achieve "peace", Israel must make sacrifices and the Palestinians are called to sit at the negotiating table without first having given up on wanting to destroy the Jewish state.

We will return to talk of "occupation". Important voices of the Democrat Left will accuse Israel of "apartheid". Maybe it will be a breeze, maybe Joe Biden will be able to silence it. But we do not know what effects that breeze will generate in the region where Israel is located.

These years under Donald Trump have been four spectacular years for Israel: A terrorism that has never disappeared but has been more taciturn than usual, alongwith the recognition of Jerusalem as the capital of Israel and the Golan, the end of the Iranian nuclear deal and a new peace with many Arab and African countries, most recently the recognition of the Golan.

It was four years in which one American officer after another was not ashamed not only to visit, but also to defend the right of Jews to Eretz Israel. We may have to forget all this in January.
Notes from @SecPompeo and @USAmbIsrael in the Psagot Winery guestbook, from the first-ever visit of a US Secretary of State to an Israeli town in the West Bank.

Pompeo: May I not be the last Secretary of State to visit this beautiful land pic.twitter.com/PKLeMLou90

— Lahav Harkov (@LahavHarkov) November 19, 2020
'Pompeo Wine' to Be Served to Visiting Secretary of State in Binyamin Winery
Israelis get a last-time opportunity to raise a glass of Psagot wine in a robust Lechayim to US Secretary of State Mike Pompeo, who is paying a visit to the winery this week. The brand, "Pompeo," has been sold by this winery for about a year, it is a blend of Cabernet Sauvignon, Syrah, and Merlot, with a label bearing the secretary's name – a thank you gift, if you will, for his statement that the settlement enterprise does not violate international law.

This will be the first time ever that a US Secretary of State visits an Israeli settlement in Judea and Samaria, seeing as until 2019 the US position was that these settlements actually were in violation of international law. In addition, Pompeo is expected to visit the Golan Heights, including, possibly, Trump Heights, the town named as a show of gratitude for the administration's recognition of Israeli sovereignty over the Golan Heights.

The president already owns a winery – Trump Winery, in Virginia, which is owned and operated by Trump's son Eric, under the name Eric Trump Wine Manufacturing LLC.

The Psagot Winery website posted this note, alongside an image of its Pompeo wine: Following the European Court of Justice ruling that products manufactured in Judea and Samaria, East Jerusalem, and the Golan Heights must not say Made in Israel, US Secretary of State Mike Pompeo issued a proclamation indicating the legality of Israel's position in these areas. As a show of gratitude and appreciation, we at Psagot Winery produced a limited edition of wine named Pompeo.
For maker of West Bank 'Pompeo' wine, emphasizing product's legitimacy is key
Winemaker Yaakov Berg captured attention by naming his red blend after US Secretary Mike Pompeo, but he said the tag on the label's top right corner — #madeinlegality — is as important as the name.

Berg's immaculately appointed Psagot Winery sits on a hilltop in the West Bank, with a stunning panoramic view overlooking the Palestinian village of Mukhmas.

For much of the international community, the winery is located in Palestinian territory illegally held by the Jewish settlers.

Pompeo went to the winery on Thursday, becoming the first top American diplomat to visit a West Bank settlement on a tour that has outraged the Palestinians.

Berg spoke to AFP the day before Pompeo's visit, as his staff organized flowers, set tables in the restaurant and decorated the cobblestoned property with US and Israeli flags.

Berg exports his products to Europe and has waged an unsuccessful legal campaign against guidelines on labeling products identifying their origin as territories occupied by Israel.
Enjoyed lunch at the scenic Psagot Winery today. Unfortunately, Psagot and other businesses have been targeted by pernicious EU labeling efforts that facilitate the boycott of Israeli companies. The U.S. stands with Israel and will not tolerate any form of delegitimization. pic.twitter.com/7jo2TazehH

— Secretary Pompeo (@SecPompeo) November 19, 2020
Designating anti-Semitism: Positives and pitfalls
One of the more reprehensible aspects of the global campaign to strip Israel of its legitimacy is the fact that so many leading human-rights organizations have been co-opted by it.

Under the cover of concern about Israeli policies towards Palestinians in the West Bank and Gaza Strip, groups like Amnesty International, Human Rights Watch and Oxfam have recast Israel as a rogue state that is founded upon Jewish supremacy, apartheid legislation and land-grabbing.

All of these organizations will point out in response that these are not their "official" views. Yet these same views have become so embedded in the numerous condemnatory reports and statements about Israel they've collectively issued over the last 20 years that the distinction is an academic one.

In the process, these three organizations—and many others in the human-rights world—earned the enmity of the grassroots communities of pro-Israel activists that cemented over a similar period of time. From the U.N.'s Durban Conference on racism in 2001 to the coronavirus in 2020 via the 2009 war in Gaza, pro-Israel activists and Jewish advocates have been forced to confront the crudest forms of anti-Semitism either in outright opposition to the human-rights establishment or, more mildly, without their sympathy, support or even interest.

Even so, in countless significant ways, the pro-Israel community has prevailed against the current. To take one example, the so-called BDS campaign to subject Israel to permanent social distancing has run afoul of legislators in more than half the states in America. Another example is the adoption by dozens of countries and hundreds of international organizations, among them the U.S. government, of the International Holocaust Remembrance Alliance (IHRA) definition of anti-Semitism. This sets out how anti-Semitic attitudes and policies can manifest in many different ways, among them through attacks on Israel's right to exist or the lurid comparisons between Israel's armed forces and those of Nazi Germany.
Palestinians slam Pompeo move labeling West Bank goods as 'made in Israel'
The Palestinians on Thursday condemned US Secretary of State Mike Pompeo's visit to the settlement of Psagot.

They also condemned the US administration's decision to consider goods made in settlements as Israeli products.

The Palestinian attacks on Pompeo and the US administration came as the Palestinian Authority announced it had reached an agreement with Israel on the tax revenues Israel collects on behalf of the Palestinians.

The announcement came 48 hours after the PA announced it had decided to restore relations with Israel, including security coordination.

Hussein al-Sheikh, head of the Palestinian General Authority for Civil Affairs, said he met on Thursday with Israeli officials.

"It was agreed to transfer all funds belonging to the PA," he said, referring to the tax revenues.

The PA had refused since May to accept the tax revenues due to Israel's decision to deduct sums paid by the Palestinians to families of security prisoners and "martyrs."
BDS outraged by 'fraudulent,' 'McCarthyite' US declaration it is anti-Semitic
The anti-Israel boycott movement and some international rights activists on Thursday condemned the US declaration that it will formally designate BDS anti-Semitic and immediately start cracking down on groups affiliated with it.

US Secretary of State Mike Pompeo made the announcement as he stood alongside Prime Minister Benjamin Netanyahu during a visit to Jerusalem, calling the Boycott, Divestment and Sanctions movement a "cancer" and promising to withdraw US government funding from groups that engage in BDS conduct.

Pompeo later tweeted that he was directing Elan Carr, the US envoy to Monitor and Combat Anti-Semitism, "to identify organizations engaged in politically motivated actions intended to penalize or limit commercial relations with Israel."

He also said the US would recognize exports from West Bank settlements as "made in Israel." He made that announcement while making a visit to the Psagot Winery, which is located in the West Bank, marking the first time an American secretary of state visited an Israeli settlement.

"It's quite ironic that the Trump Administration, prompted by Israel's apartheid regime, continues to enable and normalize white supremacy and antisemitism in the US and worldwide while simultaneously smearing BDS, a leading Palestinian-led human rights movement and its millions of supporters worldwide as 'antisemitic,'" the Palestinian BDS National Committee, the movement's coordinating body, said in a statement.

"BDS has consistently and categorically rejected all forms of racism, including anti-Jewish racism, as a matter of principle," it said.

"The fanatic Trump-Netanyahu alliance is intentionally conflating opposition to Israel's regime of occupation, colonization and apartheid… with anti-Jewish racism… in order to suppress advocacy of Palestinian rights under international law," the statement said.
Pompeo West Bank Visit: Here's How ABC News and AP Erased Jewish History
Recent coverage of US Secretary of State Mike Pompeo's scheduled arrival in the West Bank has fueled a steady stream of misleading reporting on the actual connection of Jews and Palestinians to the area. A piece written by Associated Press' Joseph Krauss, "Pompeo expected to visit Israeli settlement in parting gift," and published by ABC News, weaponizes the story of a visit by America's top diplomat to push the Palestinian victim narrative.

Spoils of War Portrayal Nullifies Historic Jewish Claims Krauss' story opens with a loaded description of Samaria and Judea, areas won in the 1967 Six-Day War, that have deep Jewish connections and form an integral part of the Jewish homeland: … a parting gift from an administration that has taken unprecedented steps to support Israel's claims to war-won territory."

The insinuation is that the Jewish people's only relationship to the West Bank is via conquest. There is no mention made of this people's historical roots in the area. Whether it is Beit El and Shiloh in Samaria or Hebron and Beitar in Judea, numerous archaeological finds prove that Jewish life in this region dates back thousands of years.

The quote above also ignores another fact with regards to this 'war-won territory.' The Six-Day War, which indeed resulted in Israel gaining control of the West Bank, was a preemptive battle of survival. Egyptian President Gamal Abdel Nasser had ordered a withdrawal of the UN forces on the border and announced a blockade of Israeli goods through the Straits of Tiran.

At the same time, Syria increased border clashes along the Golan Heights and mobilized its troops. Israel had no choice but to strike first: An Arab attack was imminent. This was confirmed when within hours of the Jewish state's airstrikes against Egyptian airfields, Jordan and Syrian forces attacked Israelis forces.
The @nytimes, handing Israel one more slanderous headline, implies BDS is otherwise justifiable. pic.twitter.com/N7wWVslRc6

— Michael Granoff (@mikejgr) November 19, 2020
Yes. Good edit. https://t.co/ykYCkG2dEz pic.twitter.com/BII62wI534

— Noah Rothman (@NoahCRothman) November 19, 2020
Reminder, @OmarSShakir was kicked out of Israel because he was promoting BDS, which he denied then - but is clearly just proving Israel was right here. https://t.co/ThIwlMnAdX

— Arsen Ostrovsky (@Ostrov_A) November 19, 2020
JPost Editorial:
Keep peace momentum alive
On Wednesday, an event occurred that just over three months ago hardly anyone would have imagined was probable: Bahraini Foreign Minister Abdullatif bin Rashid Al Zayani visited Jerusalem.

It's worth emphasizing how momentous this occasion is. Sometimes it can seem like after three months of a constant drip of news about Israeli ties to the United Arab Emirates, Bahrain and, most recently, Sudan that it has become routine. But that should not be the case. We are watching history unfold before our eyes.

Israel was once effectively an island, isolated in the Middle East. Slowly, over the past 43 years, we made peace with only two of our neighbors out of the entire Arab world. The Arab League said no to recognition, no to negotiations, no to peace. They gave the Palestinians veto power over Israel's ability to establish ties with Arab states.

And then, suddenly, in three months, three more countries decided to join that circle of peace and normalization.

Israel is slowly, but surely, becoming part of the region.
How to Build upon Recent Progress in the Middle East
The Abraham Accords was the first in a wave of peace agreements by countries that made the decision to de-prioritize their pointless historical animosities with Israel and to instead emphasize their own national priorities - namely, to look at how Israel and the U.S. can advance their own interests.

The incoming administration should see that diplomacy with countries peripheral to the Israeli-Palestinian conflict has a greater chance of success than does direct engagement with the Palestinians themselves. The more countries on the path to normalizing with Israel, the more the Palestinians will feel the pressure to negotiate and compromise. Blindly yielding back leverage to the intransigent Palestinian leadership is not likely to encourage successful diplomacy.

The incoming administration should enlist the Arab states that normalized ties with Israel to play an intermediary role. Helpful allies can convey the friendly, yet tough, messages to the sclerotic Palestinian leadership that those leaders need to hear. Specifically, calls to conquer Israel must be seen for what they are: unrealistic and silly. No less outlandish is the Palestinian call for the "right of return" of five million Palestinians to live in Israel. This narrative must finally be put to rest.
Khaled Abu Toameh:
Arabs Warn Biden: Do Not Embrace Islamists
"These observers pointed out that, behind the Council's statement, there is a Saudi message saying that the Brotherhood's rush to welcome and embrace Biden and its attempt to win his sympathy while inciting against important countries in the region will not change Saudi Arabia's steadfast position of considering the group a terrorist organization and a real incubator for all militant groups." — The Arab Weekly, November 12, 2020.

Abdullatif Al-Sheikh, the Saudi Minister of Islamic Affairs, responding to the Council's statement, said .... that his warning came out of concern for "our religion, our country, our citizens, and all Muslims." — Twitter, November 10, 2020.

The statement of the [Saudi] Council of Senior Scholars came after a long and careful study of the methodology and thinking of the terrorist Muslim Brotherhood organization, which views non-Muslims as infidels."

"The group's [Muslim Brotherhood's] extremism and violence are an inherent feature of its ideology, and there is no point in reforming or changing it." — Dar-Alifta.org, November 11, 2020.

The analysts and experts added that the world has realized that the existence of this terrorist organization represents a real threat to the identity and stability of states, and stress that the Brotherhood group does not represent the approach of Islam.

Several Arab political analysts and columnists, particularly in the Gulf, have voiced similar sentiments. The message they are sending to Biden and the Democrats: We do not want to go back to the bad old days when the US administration aligned itself with Islamist terrorist groups.

These Arabs are determined to prevent the Islamists from returning to power in Egypt or raising their heads in other Arab countries. It remains to be seen if the future US administration will cooperate in this effort.
Report: Bahraini king offers to host Israel, Palestinians for talks in Manama
Jordan's King Abdullah II arrived in the United Arab Emirates on Wednesday for a short visit during which he met with Bahraini King Hamad bin Isa Al Khalifa and Abu Dhabi Crown Prince Mohammed bin Zayed al-Nahyan.

Senior officials from Manama, Abu Dhabi, and Amman told Israel Hayom that the tripartite meeting focused mainly on consolidating a unified Arab front to contend with the Iranian threat to the region, as well as consolidating a future strategy for working with the incoming US administration. US President-elect Joe Biden has made clear he intends to return to the 2015 Iran nuclear accord, a move that has raised concerns among Persian Gulf and moderate Sunni Arab states.

Jordan and Egypt have recently had their requests to join the Gulf Cooperation Council, of which Saudi Arabia, the UAE, Bahrain, Oman, Qatar, and Kuwait are members, approved.

A senior Bahraini Foreign Ministry official told Israel Hayom that during the meeting in Abu Dhabi, the possibility was raised that Bahrain would act to renew negotiations between Israel and the Palestinian Authority. As part of these efforts, the Bahraini king proposed hosting a meeting of Israeli and Palestinian officials in Manama in an attempt to kick-start the stalled peace process.

According to a senior Bahraini official, Abdullah gave his blessing to the proposed Israeli-Palestinian summit in Manama, and emphasized to the Bahraini king and the UAE crown prince that Amman would do whatever it could to renew peace talks between Jerusalem and Ramallah and restore Abu Dhabi's and Bahraini's ties to Ramallah, which had been negatively impacted by the signing of the Abraham Accords.
His Highness Sheikh Mohamed bin Zayed Al Nahyan's name in #Hebrew and #Arabic

Made to commemorate the mutual invitation with @PresidentRuvi@MohamedBinZayed @ABZayed@HazzaBinZayed@NouraAlKaabi @uaetolerance @alali1976 @HSajwanization pic.twitter.com/HwY7zkk7PB

— Thoufeek Zakriya (@thoufeekzak) November 18, 2020
If I forget thee? Bahrain claims its minister's Jerusalem talks were in Tel Aviv
Bahraini Foreign Minister Abdullatif bin Rashid al-Zayani spent nearly 12 hours in Jerusalem on Wednesday, hailing the new friendship between his country and Israel in several meetings at various locations throughout the capital. But somehow he appeared to manage to go the whole day without publicly mentioning the name of the city he was in.

Indeed, those who listened to his speeches and read readouts of his meetings on official Bahraini websites — in both English and Arabic — would actually be forgiven for thinking he spent the day in Tel Aviv, a city in which he did not set foot.

The websites of the Foreign Ministry in Manama and the state-owned Bahrain News Agency each ran five items about the trip — none of which mention that it took place in Jerusalem. Indeed both sites, which publish the same articles, went so far as to falsely state that al-Zayani's sit-down with Prime Minister Benjamin Netanyahu was in Tel Aviv, when it took place in Jerusalem.

The Bahraini Foreign Ministry did not reply to a request for comment.

"Time has come to depart from the conflicts and instability that afflicted the Middle East for decades and pursue other policies to reach a comprehensive solution that achieves prosperity and development for all, Foreign Minister Abdullatif Al Zayani has said," a text on the ministry website read. "Al Zayani made the statement as an official Bahraini delegation arrived in Tel Aviv on the first visit of its kind to Israel."

The Bahraini diplomat landed at Ben Gurion Airport, near Lod outside Tel Aviv, where he was welcomed by his Israeli counterpart, Gabi Ashkenazi. After a brief elbow bump and a few photos with a Gulf Air Dreamliner in the background, Al-Zayani headed to the capital for his first meeting, which took place at the Foreign Ministry.

"Al Zayani has conveyed to his Israeli counterpart Gabi Ashkenazi Bahrain's approval of the request by Tel Aviv to open an embassy in Manama," the Bahrain Foreign Ministry's readout of their conversation stated.
156 UN nations affirm West Bank settlements, east J'lem not part of Israel
The UN General Assembly's Second Committee pushed back at the concept of de-facto Israeli annexation on Wednesday night, approving a draft resolution by 156-6 member states that called on nations to ensure that they do not treat the West Bank settlements and east Jerusalem as a part of sovereign Israel.

The six countries that opposed the resolution were Canada, Israel, the Marshall Islands, Micronesia, Nauru and the United States.

Israel formally annexed east Jerusalem in 1980, a move that has never been recognized by the US or the international community. It has, however, never annexed the West Bank settlements.

Still, it has expected that the international community would treat the settlements as if sovereignty had been applied and if these areas are part of Israel.

The 2016 UN Security Council Resolution 2334 called on its member states to ensure that they do not participate in actions of de facto annexation.

The resolution "underscored, in this regard, the call by the Security Council, in its resolution 2334 (2016), upon all States to distinguish, in their relevant dealings, between the territory of the State of Israel and the territories occupied since 1967."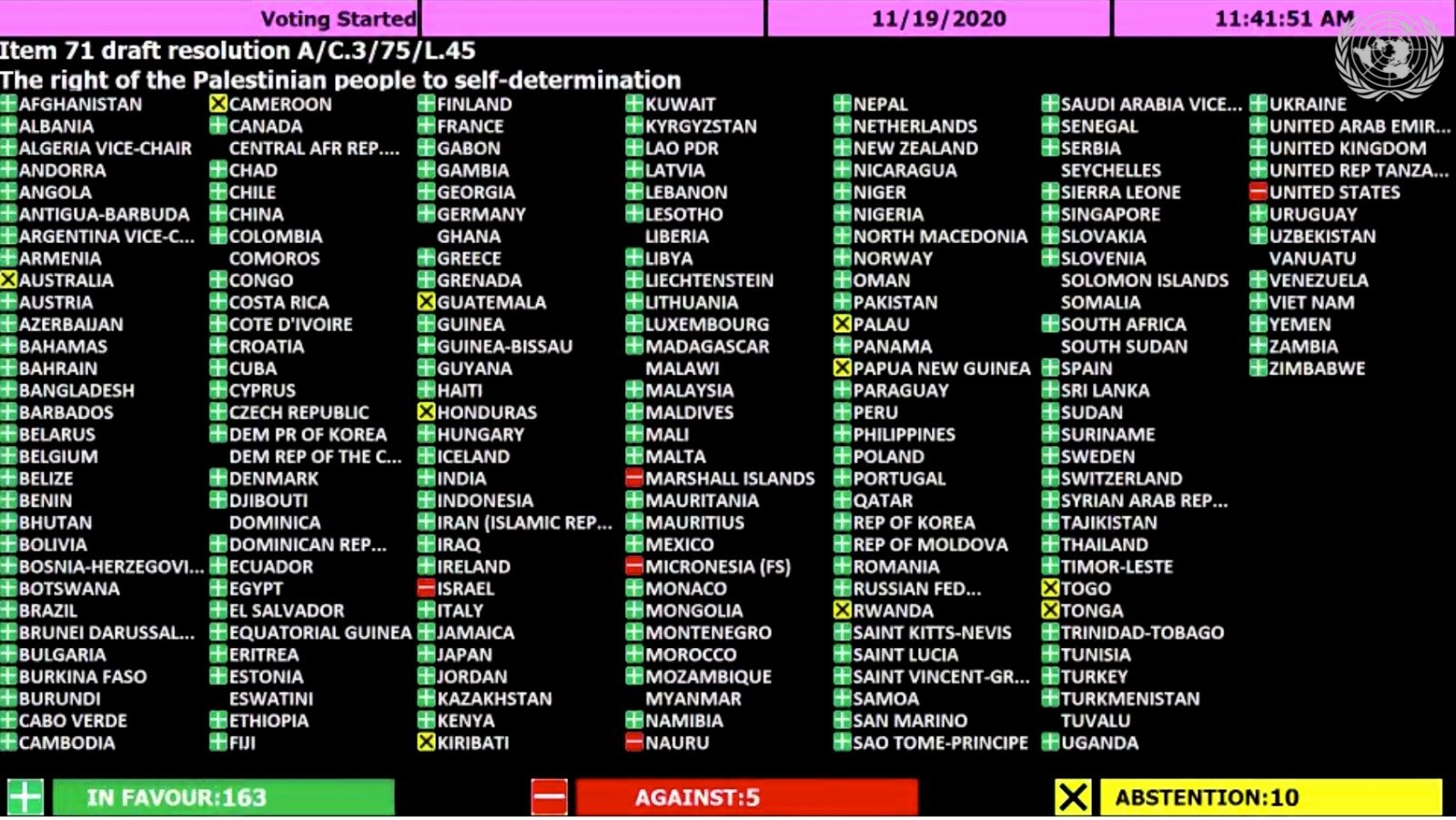 All of these peace deals have been deeply problematic https://t.co/SflcHpUfcF

— Tom Elliott (@tomselliott) November 18, 2020
Important @StateDept announcement on Israeli product labelling also makes groundbreaking announcement, recognising reality, that West Bank & Gaza are distinct political and administrative entities that should not be treated as unitary https://t.co/Vp2Jz7rysy cc @opiniojuris

— Eugene Kontorovich (@EVKontorovich) November 19, 2020
Likud MK calls on state comptroller to investigate New Israel Fund
Likud MK May Golan has asked State Comptroller Matanyahu Englman to look into the New Israel Fund following an Israel Hayom report earlier this week that found the left-wing non-governmental organization had meddled in Israel's elections.

According to the report, in 2019, the NIF gave 75% more than it did in 2018, donating to four different organizations that were involved in the election campaigns through social media posts, field activities, and even legal assistance to candidates from left-wing lists, including the Joint Arab List.

In response to a request from Israel Hayom, the state comptroller said that the request had been received and would be examined.

In her request to Englman, Golan wrote that, "according to reports in the media, the New Israel Fund, a non-profit registered in the US, donated some 2.3 million shekels (around $687,000) to organizations that attempted to influence the outcome of the elections in Israel; Zazim, Standing Together, and Adalah – The Legal Center for Arab Minority Rights in Israel.

NIF has denied the claims, calling them "entirely unfounded."

"The New Israel Fund does not promote political candidates," the organization said.
Former Balad MK calls for 'revolt against Israeli occupation'
Yanima MK Bezalel Smotrich on Wednesday called on Attorney General Avichai Mendelblit to investigate former Balad lawmaker Jamal Zahalka for incitement over remarks he made Tuesday saying that Arab Israelis "should take actions to end the Israeli occupation, like a revolt in the West Bank."

Zahalka further noted that "100,000 Palestinian can surround a settlement and cut if off from the rest of the world."

In his appeal, Smotrich said that Zahalka's remarks constitute "very clear incitement to violence. If 100,000 Palestinian ever surround a settlement, they will not be chanting slogans calling for peace and harmony. This calls for a criminal investigation."
OPERATIONAL FOOTAGE: The moment our fighter jets struck military targets belonging to the Iranian Quds Force & Syrian Armed Forces in Syria last night hours after we exposed an Iranian-led Syrian attack.

Let this be a warning: If you attack Israel, we will defend ourselves. pic.twitter.com/nLIwfyMZlG

— Israel Defense Forces (@IDF) November 18, 2020
IDF's Arabic spokesperson derides the IRGC's Qods Force and Syrian Arab Army by revealing satellite images of Israeli airstrikes against its facilities Wednesday morning. Adraee chastised SAA leadership by asking what its 7th division looked like before and after Israeli strikes. https://t.co/LVmIp1MpCQ

— Joe Truzman (@Jtruzmah) November 19, 2020
At a memorial service held today in Egypt, IDF International Cooperation Unit Commander BG Efraim Defrin paid tribute to the seven MFO personnel who tragically died in a helicopter crash last week.

May their memory be a blessing. pic.twitter.com/vulOifvN4R

— Israel Defense Forces (@IDF) November 19, 2020
Latest tunnel was Hamas's deepest; it's not what worries Israel most about Gaza
The Gaza Strip is a powder keg, alternately relatively calm and getting ready to blow. It is ruled by an authoritarian terrorist group, and it has an incredibly poor economy, limited access to electricity and virtually no potable water sources and only now is starting to be able to treat its sewage. It is struggling to contain a coronavirus outbreak, which the Israeli military believes is worse than the already-bad official tally indicates. And this situation does not appear likely to improve anytime soon.

While the threats from Hezbollah in Lebanon and Iranian proxies in Syria are considered far more significant in terms of their potential damage to Israel, the Israel Defense Forces views the likelihood for conflict to be much greater with terror groups in Gaza.

To that end, the bulk of the IDF Southern Command's time is dedicated to preparing for the next war under an updated fighting approach dubbed Spirit of the South — Ru'ah Darom, in Hebrew — which is meant to end the conflict more quickly and effectively than previous strategies, relying on massive barrages to rapidly knock out enemy capabilities, improved use of intelligence and fast raids instead of longer ground maneuvers that would leave troops more vulnerable to attack.

In addition to these preparations, Israel has also nearly completed construction of an underground concrete barrier studded with sensors around the Gaza Strip to detect tunnels from the enclave, a move that is expected to deny Hamas a powerful weapon in any future war.
Army chief: Uncovered Gaza attack tunnel was 'major asset' to the enemy
Military chief Aviv Kohavi described the cross-border attack tunnel uncovered by the Israel Defense Forces this week on the Gaza border as a "highly significant asset" to terror groups in the Strip on Wednesday.

"I don't want to get into the technical details about the tunnel, but I can say that it was a highly significant asset for the enemy, and we will continue to take care of it and the subterranean threat with every method and every advanced means — from technology to intelligence," Kohavi said.

Without providing additional details, he repeated that the tunnel was a "very, very significant terror tunnel."

The military has yet to say which terror group it believes dug the tunnel, which was found dozens of meters inside Israeli territory, but on the Gaza side of the Israel-built underground border barrier.

The IDF chief made his remarks in military-run coronavirus treatment wards established earlier this month in Haifa's Rambam Medical Center. During the visit, Kohavi met with a number of patients in the wards, where 100 IDF doctors, nurses and medics work.

Kohavi said the discovery of the passage by the sensor-studded subterranean concrete barrier demonstrated that the threat posed by tunnels "had not disappeared."
Arab Israeli indicted for planning stabbing attack at Jerusalem's Temple Mount
An Arab Israeli man was indicted Thursday for allegedly planning a terror attack against security forces at Jerusalem's Temple Mount holy site earlier this month.

Walid Abu Madiam, 20, from the predominantly Bedouin city of Rahat in southern Israel, is accused of planning to murder a police officer or a soldier by stabbing them in the neck, prosecutors said in a statement. He was indicted for terror-motivated attempted murder and possession of a knife.

According to the indictment, Abu Madiam came to Jerusalem's Old City with a utility knife and a screwdriver on November 6, after deciding to commit the attack and die as a "martyr." He had also tried to purchase a knife and tear gas but it was too late at night.

Abu Madiam had told his wife the plan before heading to Jerusalem and asked her not to tell anyone, according to the indictment. She tried to dissuade him, but he warned that he would divorce her if she revealed the plan to anyone.

He called a friend and asked him to give him a ride to Jerusalem to pray. On the way, Abu Madiam's behavior prompted the friend to ask whether he was planning an attack, and he confessed.

According to the indictment, the friend immediately stopped the car and told him to rethink his plan. Abu Madiam then claimed he had been joking and was in fact going to attack a man who had disrespected his wife. That persuaded the friend to continue.
Palestinians Quietly Return Ambassadors to UAE, Bahrain
The Palestinian Authority has quietly returned its ambassadors to Bahrain and the United Arab Emirates after it recalled them in protest of the two states' decision to normalize ties with Israel, according to media reports Wednesday.

Ramallah did not officially confirm the reports, which were carried in Reuters, Saudi-backed al-Arabiya, and the major Palestinian news agency Ma'an. A spokesperson for the PA Foreign Ministry did not respond to a request for comment.

The ambassadors to the Emirates and Bahrain were first recalled in August and September, respectively, in the immediate aftermath of the Gulf states' announcement that they were normalizing ties with Israel. The move infuriated the Palestinians, who condemned it as a "stab in the back" and a "betrayal."

"The Palestinian leadership rejects the actions of the Emirati government, considering it to be a betrayal of the Palestinian people and Jerusalem and al-Aqsa," PA spokesperson Nabil Abu Rudeineh said in a statement read aloud on Palestine TV in the immediate aftermath of the trilateral Emirati-Israeli-American announcement of a deal.

PA President Mahmoud Abbas immediately ordered the PA Foreign Ministry to recall the Palestinian envoys to both countries. The attempt to bring diplomatic pressure to bear so as to force Abu Dhabi and Manama to retract their move, however, proved unsuccessful.
Senior Israeli and PA officials meet, agree on transfer of critical tax revenue
Senior Israeli and Palestinian officials tasked with handling coordination between the two sides held their first public meeting Thursday since Ramallah severed ties in May, the Palestinian Authority official tasked with managing relations with Israel said in a statement.

"Today I held a meeting with the Israeli side. We emphasized that the bilateral agreements signed, which are based on international law, are what governs this relationship," Hussein al-Sheikh said in a tweet

Al-Sheikh said the Palestinians had reached an agreement with Israel which will see the transfer of hundreds of millions of dollars in tax revenues that Israel collects on its behalf.

The PA cut off relations in protest of a since-shelved Israeli plan to annex parts of the West Bank.

Al-Sheikh announced that Ramallah was renewing its ties with Israel on Tuesday night, ending a six-month-long crisis that saw coordination between Israel and the Palestinians collapse and hundreds of thousands of Palestinian civil servants go without their salaries.
If only Saeb Erekat was alive to see:

* Palestinians sending Ambassadors back to UAE and Bahrain.

* PA renewing coordination with Israel.

* Israel continuing normalization with Arab countries.

Perhaps it was Saeb that was the impediment all along? https://t.co/n99C1y7MNx

— Arsen Ostrovsky (@Ostrov_A) November 18, 2020
JCPA:
Will the Palestinian Authority Stop Paying Terrorists? End the "Pay to Slay" Program?
In a bold move to refurbish their sullied image in Washington, the Palestinians are laying the groundwork for an overhaul to one of their most cherished but controversial practices: compensating those who serve time in Israeli prisons, including for violent attacks ["Pay to Slay"] …. The plan, which has not been publicly announced, is only the latest in a flurry of moves the Palestinians are making to try to reboot their international relations. – (The New York Times, November 19, 20201)

Did the Palestinian Authority (PA) get the message that the world and the United States will not tolerate their "Pay to Slay" policy anymore? News reports claim that the change is under consideration, but we have to watch carefully what they actually do. Recruiting ex-terrorists to the PA, just because they were convicted terrorists, and especially recruiting them to the security apparatuses, is dangerous in many respects. It does not change anything in the context of rewarding them; it gives them access to weapons and even intelligence information.

Such recruitment is the exact opposite of fighting terror, which is the mission of the security forces. It means that the Americans and Europeans who finance the PA's security forces will now pay salaries directly to the terrorists.

Regarding setting the payments to the arrested terrorists based on economic needs, if it means that the welfare allocations will be similar to those of needy families, which are less than a tenth of what the terrorists earn, it is a step forward. If not, this is a trick.
Prediction: They're not going to end the payment system and Biden will restore the funding after the PA provides some sort of rhetorical fig leaf https://t.co/sRQRx8hZSK

— Ben Shapiro (@benshapiro) November 19, 2020
MEMRI:
Former Palestinian Authority Official: ' Israeli Auschwitz State' Is Waging 'Holocaust' Against The Palestinians
In a September 2, 2020 article titled "Prisoner Maher Younis Is Incarcerated In The Israeli Auschwitz State," published in the East Jerusalem-based Al-Quds daily, 'Issa Qaraqe', former director of the PLO's Prisoners and Released Prisoners Authority, wrote that Zionism is allied with Nazism and that the Israelis are the new Nazis. There is no difference, he stressed, between Nazi SS troops and the Israel Defense Force, because the "Israeli Auschwitz state" is setting up camps and waging a "holocaust" against the Palestinian people.

In 1980, Maher Younes and his cousin Karim Younes kidnapped and murdered an Israeli soldier; both were sentenced to 40 years in prison. The Palestinian Authority and Fatah regularly praise their deed and lionize them, and in 2017 Karim Younes, who like Maher is still in prison, was appointed to Fatah's Central Committee.[1]

The following are excerpts of Qaraqe's article: [2]

"The reasons why prisoner Maher Younes, from the village of 'Ara in the 1948 territories, has been imprisoned for 38 years by the occupation, along with the thousands of prisoners who [were unlucky enough] not to be freed by the international justice [organizations] or by the serial wars, and were not rescued by any of the [prisoner] exchange deals are: loathsome racism; the claim of racial and genetic superiority; identification with the myth [that the Jews are] the Chosen People [and Israel is] the Promised Land; the policy of seeing others as subhuman and treating them as slaves; inciting calls by the Israeli right for establishing extermination camps for the Palestinians; incitement to murder the prisoners and to spray them with poison gas; comparing them to cockroaches; and turning Israel into a religious militaristic state in which the fanatical settlers' barbaric outlook is growing.

"No one writes about the modern Israeli Holocaust that is burying [the Palestinian prisoners] alive, in a coffin of heavy sentences. The Nazis set up a limited number of concentration and extermination camps during World War II, but from 1948 to this day, the Israeli occupiers have set up hundreds of camps, prisons, and detention centers, and sent to them more than a million and a half Palestinians, young and old, men and women. Historians have confirmed that Palestinians who were not sent to prison were expelled from their land and scattered all over, as happened during the Nakba. This is reminiscent of the death marches, when the Nazis led the prisoners on foot towards the expulsion point, shot them, and executed them...
PMW:
The PA adapts old libel to new political reality
Like putting old wine in new bottles, the PA has adapted one of its repeating libels about Israel to the new political reality.

Palestinian Media Watch has reported for years on the PA claim that the two blue stripes on the Israeli flag represent the Nile and Euphrates rivers and constitute "proof" of the Israeli/Jewish goal to rule "from the Nile to the Euphrates."

But following Israel's recent peace agreements with the UAE, Bahrain, and Sudan, the PA has adapted the libel and now claims – in the cartoon above - that Israel's goal is to rule "from the Atlantic Ocean to the Persian Gulf." This cartoon follows repeated PA claims that the peace agreements are part of an Israeli plan to take control of the entire region:

Text on cartoon: "Israeli flag" Israeli soldier: "It's not true that [the blue stripes] mean from the Nile River to the Euphrates River. They mean from the [Atlantic] Ocean to the [Persian] Gulf." [Official PA daily Al-Hayat Al-Jadida, Nov. 16, 2020]
PA libel: Israel murdered Arafat by poisoning him with Polonium
Fatah Central Committee member and Chairman of the PA-supported Yasser Arafat Foundation Nasser Al-Qidwa: Israel is the one that poisoned Yasser Arafat and that is the cause of his death… From the first moment, we as an organization and as the Palestinian leadership have said this death is not a natural death. This death is a political assassination that Israel decided to carry out. Afterwards we learned that the method of the political assassination was poison, and specifically polonium-210. [Official PA TV, Nov. 9, 2020]
Israel, its new allies are imploring Biden: Don't repeat Obama's mistake on Iran
Bahrain's Foreign Minister Abdullatif bin Rashid Al Zayani flew into Ben Gurion Airport late Wednesday morning on the first-ever official visit to Israel by a minister from his country, and spent the day in Jerusalem meeting with Israeli leaders and participating in a tripartite summit with Prime Minister Benjamin Netanyahu and US Secretary of State Mike Pompeo.

Such developments would have been unthinkable until very recently. But Al Zayani's visit was evidently deemed so unremarkable — after Israel reached accords with the United Arab Emirates, Bahrain and Sudan in the past three months, and everybody started sending delegations back and forth to finalize, formalize and develop the fresh ties — that none of Israel's three main TV stations deemed it worth interrupting their banal late-morning output in order to broadcast his airport arrival live.

Brokered under the Trump administration, Israel's latest accords were not born of a new zest for Zion in Abu Dhabi and Manama, but rather, primarily, of the widening realization in the Gulf that in the face of the rapacious Islamic Republic regime, Iran's enemies would do well to make friends.

US President Donald Trump declared three weeks ago that up to 10 more countries were preparing to warm their ties with Israel, with five of them firmly on course and the others also "right in the mix." But that was before the November 3 presidential election.

Trump's defeat to Joe Biden, and Biden's explicitly stated intention to "rejoin" the 2015 Iran nuclear agreement — negotiated when he was Barack Obama's vice president, and from which Trump withdrew — has at a stroke remade the region's calculations on Iran. The question of which other countries, and when, might now decide to normalize their relations with Israel is only one aspect of the wider recalibration triggered immediately by Biden's victory.
IAEA and US Pressure Iran Over Uranium Particles at 'Atomic Warehouse'
The UN nuclear watchdog and the United States pressured Iran on Wednesday to finally explain the origin of uranium particles found almost two years ago at an old but undeclared site that Israel has called a "secret atomic warehouse."

Israeli Prime Minister Benjamin Netanyahu drew attention to the Turqazabad site in Tehran in a speech to the United Nations in September 2018, urging the International Atomic Energy Agency to visit it. Iran called it a carpet-cleaning facility.

IAEA inspectors went there in February 2019 and took environmental samples that showed traces of processed uranium. The Vienna-based UN watchdog has been seeking answers on where those traces came from ever since; it says only part of Iran's explanations have held water.

"We believe they need to give us information which is credible. What they are telling us from a technical point of view doesn't add up, so they need to clarify this," IAEA Director General Rafael Grossi told a news conference during a quarterly meeting of his agency's 35-nation Board of Governors.

The IAEA and US intelligence services have long believed Iran had a coordinated, clandestine nuclear weapons program that it halted in 2003. Iran's 2015 nuclear deal with major powers effectively drew a line under much of its past.

Irrespective of the deal, however, the IAEA is in charge of accounting for all nuclear material in countries that have ratified the global Non-Proliferation Treaty to ensure none is being diverted to make nuclear weapons, even if evidence of previously unknown material is many years old.

Israel has said it seized part of an Iranian "archive" of its past nuclear work, and has used that to call attention to Iranian activities long predating the 2015 deal.
Will Biden Forge His Own Path on Iran?
Asaf Romirowsky, executive director of Scholars for Peace in the Middle East and a senior fellow at Bar-Ilan University's Begin-Sadat Center, told JNS that President-elect Joe Biden is entering "a very different Middle East landscape that he and his advisers cannot ignore, specifically regarding Israel and its newfound Arab relations and collaboration in particular, as it relates to the threat of Iran, illustrated by security and military ties between Israel, the Egyptians and the Saudis."

"Iran and its proxies are still the largest destabilizing factors to the region. A Biden administration will contend with a more unified Middle East - a Sunni Crescent that includes Israel." Moving forward, Biden will need to "convince Israelis that he will have their best interests in mind when it comes to Iran."

Uzi Rabi, director of the Moshe Dayan Center for Middle Eastern Studies at Tel Aviv University, told JNS, "The question is what sort of agreement [with Iran] Biden has in mind. Will it have modifications with regard to Iran's ballistic-missile program, Iran's aggression in the region and bringing in more monitoring?" The Americans "cannot get to the negotiating table and play it by ear. They must have a clear end game."
US Imposes Fresh Iran-Related Sanctions, Targets Khamenei-Linked Foundation
The United States on Wednesday imposed sweeping new sanctions targeting Iran, blacklisting a foundation controlled by Supreme Leader Ayatollah Ali Khamenei and taking aim at what Washington called Iran's human rights abuses a year after a deadly crackdown on anti-government demonstrators.

The sanctions announced by the US Treasury Department, which also targeted Iran's intelligence minister, marked the latest action to reinforce the "maximum pressure" campaign on Iran pursued by President Donald Trump's administration. They came just over two months before Trump is due to leave office after his Nov. 3 election loss.

The department imposed sanctions on what it described as a key patronage network for Khamenei. It said it blacklisted the Bonyad Mostazafan, or the Foundation of the Oppressed, which is controlled by Khamenei, in the move also targeting 10 individuals and 50 entities associated with the foundation in sectors including energy, mining and financial services.

The sanctions freeze any US assets of the targeted individuals and entities and generally bar Americans from doing business with them.

The charitable foundation — an economic, cultural and social welfare institution — has amassed vast amounts of wealth to the detriment of the rest of the Iranian economy and controls hundreds of companies and properties confiscated since the 1979 Islamic Revolution.
LIST OF SHAME: Countries who just voted NO to U.N. General Assembly condemnation of #Iran's human rights abuses.
🇰🇵 North Korea
🇵🇭 Philippines
🇻🇪 Venezuela
🇿🇼 Zimbabwe
🇳🇮 Nicaragua
🇱🇧 Lebanon
🇵🇰 Pakistan
🇧🇾 Belarus
🇪🇷 Eritrea
🇷🇺 Russia
🇴🇲 Oman
🇨🇳 China
🇨🇺 Cuba
🇮🇳 India
🇮🇶 Iraq pic.twitter.com/88M3u0Tb0s

— UN Watch (@UNWatch) November 18, 2020
MEMRI: Canadian Imam: Canada's Remembrance Day, U.S. Veterans' Day Mark Destruction of Ottoman Caliphate
Islamic scholar Mazin Abdul-Adhim of Hizb ut-Tahrir Canada, said in a Friday, November 13, 2020 sermon that was uploaded to his YouTube channel that Canada's Remembrance Day and America's Veterans' Day are holidays that commemorate the destruction of the Ottoman Caliphate in World War I and the colonial invasion of North Africa and Palestine. He said that Muslims are unable to liberate Palestine because their governments are "colonized." He added that Muslims are the only nation that is helpless while its members are being humiliated, insulted, and killed
Al-Qaeda Magazine: No Difference Between Biden, Trump on Islam
According to Al-Qaeda's Al-Khalusa magazine, as far as America's relationship with the Muslim world is concerned, a Biden administration will differ from the Trump administration in tone only, not in substance.

An article in the magazine's Nov. 15 issue claims that the conflict between the United States and Islam is being directed by the "Zionist-Crusader alliance through their agents among Arab leaders and the Shi'ites, who are the donkeys of the Christians," according to a report shared exclusively with JNS by the Middle East Media Research Institute (MEMRI).

The article goes on to state that US Middle East policy is clear "for those who understand the real nature of the conflict," and notes that no US president will condemn Israel and side with the Palestinians.

"US discourse and the political narrative cannot change," it stated, going on to note that Trump has "boasted about his Zionism and enmity towards Muslims."

"Any difference in the formula after any US election," the article stated, can be understood as "propaganda" that only "flirts" with the possibility of change.
---
---
We have lots of ideas, but we need more resources to be even more effective. Please
donate today
to help get the message out and to help defend Israel.