From Ian:
---
Israeli-Palestinian Conflict: When Concessions Are Impossible
One of the issues of consistent consensus in Israel is that the government should not concede on issues of its citizens' security. Therefore, it was no surprise that Israel acted to demolish structures illegally built in proximity to the security barrier, which has saved hundreds of lives since its construction, to prevent terrorist groups from compromising its efficacy.
Although the Palestinian Authority maintains a somewhat hostile position toward Israel, it is able to cooperate more closely on issues of security with the "Zionist regime" than with its Palestinian brethren in Hamas. A decision by PA President Mahmoud Abbas to end security cooperation with Israel would reduce his own capability to deal with threats from his Hamas rivals at a time when his administration is wildly unpopular.

As for the prospects for the U.S. peace deal, the long-term factors impeding an agreement between Israel and the Palestinians include the political, geographical, and ideological divide among Palestinians, and the inability of the Arab Quartet (Saudi Arabia, UAE, Bahrain and Egypt) to "deliver" the Palestinians.

As long as the West Bank and Gaza remain separate political entities under different leadership, any peace agreement would necessitate a prior Hamas-PA reconciliation agreement. There have been countless failed efforts over the last 12 years to broker such a deal.

While Israelis should root for the U.S.-led peace effort to succeed, a backup plan should include the following components: maintain security by rejecting any compromise of Israel's operational freedom to counter terrorism in the West Bank; promote capacity-building and economic development for Palestinians; and seek to revive bilateral negotiations with a credible Palestinian counterpart.
Ben-Dror Yemini:
There might be something to 'deal of the century' after all
There is no Palestinian statehood in the "deal of the century," only autonomy, as U.S. Ambassador to Israel David Friedman, a silent member of the administration's Mideast peace team, has revealed.

Friedman warned the Palestinians that the Clinton, Olmert, Kerry and Obama proposals are no longer on the table.

This is a blow to Saeb Erakat's vision of Israeli-Palestinian peace as told to the Jordanian Ad-Dustour daily newspaper in 2009: "At Camp David (in 2000) we were offered 90% (of the West Bank) and Olmert offered 100% (in 2008)."

Now the architects of the peace plan are making clear that all those proposals are a thing of the past and there is no better deal on its way.

When Arab countries are disintegrating because of jihad on one hand and Iran on the other, no stable Arab government would see the formation of a new Arab state as a dream come true. A bold new peace plan should propose taking a completely different direction.

Given all of the above, there may be some logic to holding a summit at Camp David as a continuation of the Bahrain conference. And maybe, just maybe, some Arab states would be supportive of that.

Jordan will continue to release statements in support of a Palestinian state, but it is actually the last thing Abdullah's kingdom needs. Such an entity would be prone to expansion to its east as well as its west and could threaten Jordan.

Additionally, Hamas would try and most likely succeed in seizing control of such a state.

Netanyahu's plan to build 700 housing units for Palestinians in Area C can be seen as a gesture of good will, if a proposal of autonomy is considered.

Regardless of whatever left-wing or right-wing political views its population may hold, a proposed peace settlement that would ensure Israel's continued existence as a Jewish and democratic state - and prevent a bi-national state down the road - is the best option.
Melanie Phillips:
The incendiary balloon of international law
For months now, Israel has been attacked by aerial incendiary weapons launched by Hamas during riots at the Gaza border fence.

These weapons – balloons or kites attached to flammable material – are driven by the winds off the sea towards southern Israel.

In just one week in June, they started nearly 100 fires in farmland and forests, in playgrounds and private yards. By last month, Hamas had burned more than 7,400 acres of Israeli land.

At the same time, Israeli communities near the border are also routinely attacked with rockets and mortars from terrorist groups stationed inside the Gaza Strip.

An American lawyer, Col. Matthew Aiesi, an associate professor at the Judge Advocate General's Legal Center and School in Charlottesville, Va., was among a group of national security lawyers who recently witnessed these attacks for themselves.

As he has written, these are indisputably war crimes, violating numerous rules of warfare by deliberately targeting civilians and using indiscriminate weapons.

Aiesi says the United Nations or countries like Egypt working towards peace in the region should seek the surrender of those committing these war crimes to stand trial before a fair and competent jurisdiction.

Yet beyond Israel, these attacks are scarcely reported at all. And virtually no one is even stating that they are self-evidently war crimes.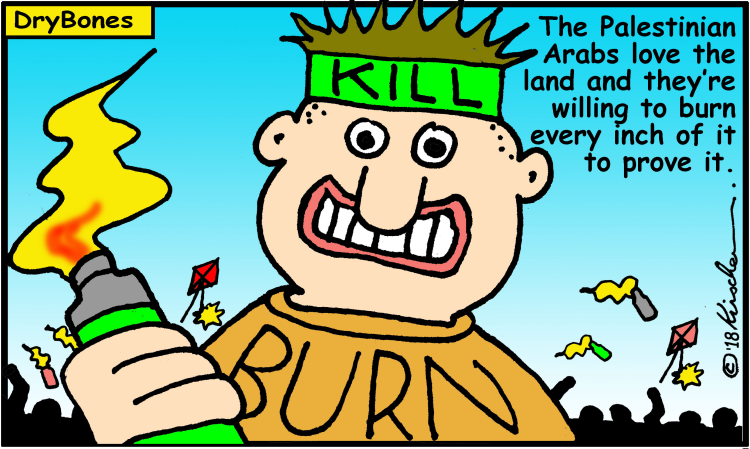 Holland and Belgium Freeze Funding to UNRWA Amid Major Corruption Scandal
The Netherlands and Belgium have joined Switzerland in freezing funds to the United Nations Relief and Works Agency for Palestine Refugees (UNRWA) amid reports of a major corruption and sexual misconduct scandal surrounding the organization.

The report included names of top UNRWA officials, such as Director-General Pierre Krähenbühl.

Krähenbühl and other senior officials were involved in "sexual misconduct, nepotism, retaliation, discrimination and other abuses of authority, for personal gain, to suppress legitimate dissent, and to otherwise achieve their personal objectives," a leaked internal report disclosed earlier Tuesday.

Amid mounting evidence "[t]op officials are now resigning from UNRWA, the UN relief agency for Palestinians, or being forced out," the independent watchdog group UN Watch confirmed on Twitter. The agency's "chief Kraehenbuehl will soon be fired for sexual misconduct and nepotism," Hillel Neuer, head of the UN Watch, predicted.

The development vindicates President Donald Trump's decision to end the funding for UNRWA last year. The United States shouldered nearly one-third of the UN agency's billion-dollar budget.

The mainstream media attacked Trump when he chose to stop payments to the UN agency. The president's decision "singles out Palestinian refugees and holds them, hostage," the Washington Post commented. The New York Times called it a "vengeful and short-sighted act." Another Times columnist wondered: "Does Trump Knows what UNRWA Does?"

As it turns out, President Trump understood the scam the UN ran under the name of 'Palestinian relief agency,' better than those sitting in the NYT or WaPo editorial boards.
.@PKraehenbuehl Report accuses you of nepotism, corruption & sexual misconduct.

You "unreservedly" reject these "rumors or fabrications."

Yet your top officials resigned in disgrace. Swiss & Dutch froze funding.

Only Hamas believes you. Reflect on that.https://t.co/0jYV5eQ0MQ

— Hillel Neuer (@HillelNeuer) August 1, 2019
After Switzerland and Netherlands freeze payments to @UNRWA over corruption scandal, Czech government calls out "misuse of power" by UNRWA management, and calls for thorough investigation.

When will other donors—EU, Germany, UK, Sweden, Spain, Canada & Australia—also speak out? https://t.co/A1jksqNUHa

— Hillel Neuer (@HillelNeuer) August 1, 2019
ZFA calls on Australian government to pull UNRWA funding.
The Zionist Federation of Australia (ZFA) has called on the Australian government to reconsider funding for the United Nations Relief and Works Agency (UNRWA) following the revelation of rampant corruption at the highest levels of the scandal-riddled organisation.

A recent internal UN ethics report was found to have documented "credible and corroborated reports" that members of an inner circle at the top of UNRWA, including chief Pierre Krähenbühl have "engaged in misconduct, nepotism, retaliation… and other abuses of authority". It is alleged that the situation escalated markedly from the beginning of 2018, which coincides with a decision by the United States to cut its contributions from $360 million in 2017 to $60 million for 2018 and then to zero in 2019. In the wake of these revelations, Switzerland and the Netherlands have followed suit.

President of the ZFA, Jeremy Leibler said, "this most recent story of corruption is the final straw in a long line of indiscretions on the part of UNRWA. It is as tragic as it is ironic that as the organisation charged with solving the issue of the Palestinian refugees, UNRWA has played a major role in perpetuating the problem."

Leibler pointed out that the root of the problem is UNWRA's alternate definition for refugees. The definition applied to Palestinians is different all other refugees around the world.
.@JustinTrudeau Your government rationalized handing tens of millions of dollars to UNRWA by saying you would gain "oversight and influence" over the agency. (https://t.co/6DWOskpgY4)

If so, how did you not see the massive and systemic corruption that so many sought to protest? https://t.co/Thi4yAk7Pe

— Hillel Neuer (@HillelNeuer) August 2, 2019
In the name of international law, EU states in the past year voted for more than 20 resolutions against Israel in the UN General Assembly, UNHRC, WHO & other UN bodies.

And here is a list of all the EU resolutions on China for locking up 1 million Muslims in re-education camps. pic.twitter.com/vMJqoJ3kgW

— Hillel Neuer (@HillelNeuer) August 2, 2019
Jewish Groups Encourage New US Ambassador to UN Kelly Craft to 'Continue the Efforts' of Predecessor Nikki Haley to Fight Anti-Israel Bias
Jewish organizations on Thursday welcomed the confirmation of diplomat Kelly Craft as the new US ambassador to the United Nations.

The appointment of Craft, who previously served as the American ambassador to Canada, was finalized on Wednesday by a Senate vote of 56-34 in favor. Craft's predecessor, Nikki Haley, announced in October 2018 that she was stepping down as UN envoy and the post has remained vacant for most of the interim.

The Conference of Presidents of Major American Jewish Organizations said on Thursday that it was "confident" that Craft would "represent America's interests with distinction at the UN."

In their statement of congratulation to Craft, Arthur Stark, chairman, and Malcolm Hoenlein, executive vice chairman and CEO of the Conference of Presidents emphasized that they "look forward to her continuing the efforts of Ambassador Nikki Haley to call out and confront the blatant and discriminatory anti-Israel bias in that international body."

World Jewish Congress President Ronald S. Lauder also praised Craft's appointment.

"We trust that Ambassador Craft will fulfill her pledge to fight the double standards and unconscionable biases that pervade against Israel throughout the bodies of the United Nations," Lauder said. "The State of Israel, and the Jewish people, rely on the continued support and friendship of the United States in these perilous times of rising antisemitism and anti-Zionist sentiments."
Israel and Jordan Are Allies. But Jordan's Parliament Doesn't Act Like It
In 2016, after five years of U.S.-brokered negotiations, Jerusalem and Amman concluded an agreement to build a pipeline that would bring natural gas from Israel's coastal waters to Jordanian power plants. The deal is mutually beneficial, and construction is expected to be completed next year. But many Jordanian parliamentarians have condemned it; most recently, one called on his colleagues "to sacrifice their lives and their children's lives in order to blow up" the pipeline. Edy Cohen comments:

Despite the peace treaty and two-and-a-half decades of diplomatic relations, many in Jordan continue to regard Israel as an illegitimate enemy state. The government is playing a double game: its public hostility toward Israel enables it to preserve its popularity while, behind the scenes, it maintains good relations with Israel. These covert relations are intended among other things to please the [U.S.] and to ensure the supply of water and other resources.

Thus, despite the fiery rhetoric, the Jordanian government behaves rationally. It is in no hurry to make declarations that would lead to the canceling of the deal, which is vital to the kingdom. [But] King Abdullah has yet to make a statement on the issue. At the end of April the Jordanian media reported that the monarch had been given a report analyzing the gas deal with Israel and the ramifications of continuing or freezing it.

It is unlikely Jordan will back out of the deal. Whether Abdullah will publicly affirm the importance of his country's alliance with Israel is another matter entirely.
Two attacks on two borders in one day: Is the IDF ready for war on 3 fronts?
Two attacks on two borders in less than 24 hours. One targeted IDF troops stationed along Gaza, while another targeted Hezbollah positions in Syria's Golan Heights. Two incidents, miles apart. Just a small indication of the major challenge Chief of Staff Lt.-Gen. Aviv Kochavi faces in the next war.

Before dawn on Thursday, hours after the army completed the largest drill since Operation Protective Edge five years ago, a Hamas terrorist armed with grenades and a Kalashnikov infiltrated into southern Israel near the community of Kissufim and injured an officer and two soldiers before being killed by IDF reinforcements.

Several hours later, Israel was accused of striking a Syrian Arab Army position in al-Bariqa west of Queintra on the Golan Heights.

What's the connection?

Iran, Iran, Iran.

With fronts ripe for conflict to break out at any moment, the IDF's ability to operate effectively on multiple fronts simultaneously is crucial for Israel to deal with the region's unpredictable and explosive nature.

According to a report in Haaretz, Iran and Hamas have agreed to open a southern front should a war break out in the North. Israeli officials have warned that any northern war will not be confined to one border, but rather both the Lebanese and Syrian border.
That means war on three fronts.
We've become traffic cops on the Temple Mount
The flood of reports, articles, and analyses about the Saudi blogger who was ousted from the Temple Mount exposed – not for the first time – an Israeli syndrome that gets little attention – the amount of attention we devote to the interests, status, rights, and feelings of Muslim players on the Temple Mount, compared to the little we focus on what the Temple Mount is to us – our own interests, goals, and feelings there. Sometimes we don't even take ourselves into account.

For years, pundits, politicians and experts have been putting out plans that get shelved and laying out scenarios that mainly address the interests and conduct of the Arab Muslims, who want to gain a foothold on the Temple Mount, but spend little time on the Jewish-Israeli discourse about the Mount. The various plans from research institutes and political officials in Israel and abroad almost always only focus on the status the Muslims would have on the Mount. Israel and the Jews are barely taken note of.

For 52 years, Israel has been enslaved to the status quo on the Temple Mount, but for years that status quo has changed dramatically, mostly to the benefit of the Muslim side. Israel just "puts out fires" or manages the conflict about links to the compound, but has never assembled a long-term policy about the area.

When, for example, did the government last address the question of what the Temple Mount is for the Jewish state and what the state's goals there are, if any? When did we last ask ourselves if the type of Israeli sovereignty that exists on the Mount, which is often virtual, is going to remain that way for eternity? Or, 50 years from now, will we be satisfied with a division that leaves the Western Wall to the Jews and the Temple Mount to the Muslims? Whether under any future peace plan, if there is one, will Israel maintain the prohibition against Jews praying on the Mount? (Motta Gur and Mapam leader Yaakov Hazan, for example, saw Jewish prayer on the Mount as inappropriate.) We also haven't asked whether we will continue to be satisfied with tens of thousands of Jewish visitors to the Mount per year, or whether Israel might have an interest in increasing the number of visitors there and allowing in at least the same number who visit the nearby City of David.
Chuckle and sigh at new film about checkpoints, occupation and unhappy neighbors
"Tel Aviv on Fire" sounds like it could be a disaster film, or perhaps an adventure, or maybe even some sort of issue-oriented documentary. (Recycle!) The one thing you don't expect it to be is a laugh-out-loud comedy.

Arab-Israeli director Sameh Zoabi has found a way, however, to bring a chuckle-and-sigh to a story about checkpoints, occupation and unhappy neighbors. "You have to laugh!" my mother likes to say when everything starts to go wrong at once, though in the case of this story, that's as much a declaration as an order.

Salem (Kais Nashef) is a directionless young man who lives in East Jerusalem, but whose uncle is a television producer in Ramallah. He gets a job as a production assistant. Since he speaks fluent Hebrew, his main job is to check for mistakes in the dialogue of the show they are shooting called (you guessed it), "Tel Aviv on Fire." It is a pro-Arab soap opera set in the build-up to the 1967 conflict.

Meanwhile there's Asi (Yaniv Bitton), the bored officer who runs the checkpoint. He hates his job, as would anyone who gets yelled at all day. As it happens, his wife is among the many Israelis who are obsessed with "Tel Aviv on Fire" (their favorite anti-Semitic show) and can't wait to see how it ends.

Thanks to a series of weird circumstances, Salem and Asi end up collaborating on the scripts. While Asi is basically a good guy, his desire for an ending that portrays Israel in a righteous light makes him mad with power. He's got Salem's ID papers and can make his life miserable. On the other hand, there's Salem's uncle, and the pride of the Palestinian people, who want the show to depict their version of the struggle. How do you translate "oy vey" into both Hebrew and Arabic?
Evelyn Gordon:
The Case of a Palestinian Accused of Raping a Child Proves the Strength, not the Weakness, of Israeli Democracy
In May, Mahmoud Qatusa, a Palestinian, was arrested on charges of raping a seven-year-old girl who attended the Jewish school where he worked as a janitor. His lawyer compared his case with that of Leo Frank, a Jew from Atlanta who in 1913 was accused of raping a thirteen-year-old Christian. After Frank was convicted and sentenced to death, the governor of Georgia—because of the cloud of anti-Semitism hanging over the case—commuted his sentence to life in prison, only for a mob to break into Frank's cell and lynch him. The comparison appeals to those fond of bemoaning the imminent death of Israeli democracy. But, writes Evelyn Gordon, the two cases are different in every important way, and Israeli democracy is as healthy as ever:

After [Qatusa's] indictment hit the headlines on June 17, social media erupted with anti-Arab incitement, including from several politicians who accused him—with zero evidence—of intending the rape as a terror attack. But then, Israeli democracy's self-correcting mechanisms kicked in. Senior officials from Israel's independent police and prosecution, who weren't previously involved in the case, reviewed it and discovered numerous problems. The country's free press investigated and reported additional problems. On June 25, after top law-enforcement officials concluded the evidence was insufficient, charges were dropped, and Qatusa was freed.

Additionally, while anti-Arab racism undoubtedly exists in Israel, it doesn't seem to have been a factor in Qatusa's case. Even the senior legal officials who withdrew the charges remain convinced that a rape occurred and that some evidence points to him, just not enough for criminal conviction. Moreover, he was just one of several Palestinians employed at the girl's school; many others worked elsewhere in [the Jewish town of Modi'in Ilit]. Relations between [the town and Qatusa's village, Deir Qaddis] were good, as evidenced both by the Modi'in Ilit residents who publicly protested Qatusa's arrest and by those who danced at the wedding of Deir Qaddis's mayor's son on June 13.

What distinguishes democracies from dictatorships is that democracies have self-correcting mechanisms to address [their] problems. And Qatusa's case shows that despite a real problem of police incompetence, Israel's self-correcting mechanisms work; consequently, Leo Frank-style travesties of justice don't happen. Nor, incidentally, do lynchings.
Palestinians: What Is Wrong With Building a Hospital?
One would expect Palestinian leaders to have welcomed a new hospital that would serve the two million residents of the Gaza Strip. These leaders, however, have no problem sacrificing the lives of Palestinian patients on the altar of their hatred of the peace plan.

The Palestinian Authority leadership is right about one thing: one party in this conflict is indeed using the dispute for its own ends – but it is not the Trump administration. The only party that deserves blame is Abbas and his associates. They are rejecting a desperately needed medical facility solely in order to be able to continue to lay the blame for the suffering of the Palestinians in the Gaza Strip at the doorstep of Israel.

The Palestinian Authority is probably the only government worldwide that views establishing a modern hospital as a "conspiracy." It now remains to be seen whether the international community will cave in to Abbas's campaign and ditch the hospital project, or decide actually to help the Palestinian people, whose leaders know only how to help themselves.
Why Doesn't Hamas Make More Extensive Use of Drones?
In the last decade, unmanned aerial vehicles (drones) have become inexpensive and easy to operate. In 2012 the IDF destroyed buildings in Khan Yunis in Gaza used to manufacture and store high quality drones with a range of dozens of kilometers.

Israel develops solutions in response to every means Hamas adopts for extensive use. This is due to Israel's technological superiority. In the last decade, Israel has used technology to prevent and foil attacks, it developed the Iron Dome interception system, it has applied advanced technologies to identify and destroy tunnels, and it is currently seeking technological solutions to the problem of incendiary kites and drones.

Given the availability of drones, it was expected that Hamas would employ them under the cover of the civilian demonstrations at the Gaza border. In May 2018, Hamas deployed a booby-trapped drone under the cover of rioting near the fence. In May 2019, a pair of armed drones was used during a round of high-intensity fighting. However, Hamas actions indicate that it prefers to employ more primitive methods of warfare. Data from mid-2018 to mid-2019 show that of a total of 1,923 attacks from Gaza on Israel (including the use of live birds to start fires on two occasions), drone and model airplane bombs were used only 6 times.

A number of factors restrain Hamas' use of advanced technologies:
1) Deterrence - The fatal outcome of a technologically advanced attack could generate a massive reaction given Israel's internal public support and even international legitimacy for a response.
2) Psychology - Using advanced technologies could harm Hamas' image as the weak side or the victim.
3) Political restraint - Hamas now depends on Egypt's help and Israel's willingness to compromise in exchange for a period of calm. The use of advanced technologies might upset the balance.
4) More primitive means have proved that they cause damage that Israel finds hard to foil, providing incentive for Hamas to use these means.
Abbas honors the head of the office of the EU with the 'Star of Jerusalem'
Palestinian President Mahmoud Abbas awarded Ralph Tarraf the "star of Jerusalem." Tarraf is the current European Union representative in Jerusalem.

He is being recognized for his helping to strengthen the relationship between the EU and Palestine. He was honored for his efforts in helping the Palestinian peoples "just cause for freedom and independence."

The award was established in 2009 to honor those who support the Palestinian cause and "just peace in the region." Since then dozens of Heads of States and governments, diplomats and international figures have been given the award.

Tarraf has served as the German ambassador to Jordan and also as the deputy head of the mission of the German Embassy in Sudan.
Palestinians Are Leaving Gaza in Droves
Yarub Ikhdeh and his friends had been waiting half their lives to get on a bus. The six young men had never left Gaza. "We're all recent graduates in business and IT, and we're all unemployed," he says. They would soon board a bus for Cairo, then a flight to Dubai. In 2018 there were 60,900 crossings into Egypt. There were another 33,000 crossings in the first half of 2019.

Hamas does not release statistics on emigration, lest they highlight how bad life in Gaza has become during its rule. But those leaving seem to be mostly recent university graduates. A poll in December found that 48% of Gaza residents want to emigrate, compared with 22% in the West Bank. Egypt still caps the number of daily travelers at 300. A waiting list runs to more than 10,000 people.
You have to your head in the sand to not see the real truth about #Gaza https://t.co/QDmwYCDmsl

— (((David Lange))) (@Israellycool) August 2, 2019
Behind the Lines: Turkey sets course against the West in the Mediterranean
Turkey's ambitions to assert itself as a Middle East power are currently in evidence across the western part of the region.

Ankara occupies a chunk of northwest Syria. Its troops are currently massing on the border of Syria further east. President Recep Tayyip Erdogan has threatened that his troops may arrive "suddenly in one night," unless the US-supported Syrian Democratic Forces concedes to the establishment of a Turkish-maintained "safe zone" 30 km. into Syria and along the breadth of the border.

Turkish forces are also present in northern Iraq, where they are engaged in action against the PKK presence in the Kurdish-controlled north.

In addition, Turkey offers active support to the Muslim Brotherhood-associated government in Libya, supplying drones to Tripoli in violation of a UN embargo in place since 2011.

And, of course, Ankara supports the Hamas regime in Gaza. The Palestinian Islamist movement maintains an active office in Istanbul that according to recent defector Sohaib Hassan Yousif, "operates security and military operations on Turkish soil under the cover of civil society."

Turkey's efforts to build influence in Jerusalem by way of the activity of government-linked aid agencies such as the Turkish Cooperation and Coordination Agency are also a matter of public record.
Turkey and NATO - the End?
Turkish President Erdogan's determination to buy the Russian S-400 antimissile system in spite of American opposition and the subsequent suspension of Turkey's participation in the F-35 fighter plane program raises the question of Turkey's continued NATO membership.

Turkey was admitted to NATO in 1952 at the height of the Cold War on the strength of its participation in the Korean War; it had been one of the first countries to answer the UN call and send troops to fight the invading north. Today, the Turkish army is the second largest in NATO after that of America. Its purpose then had been to secure the support of the West against Soviet territorial demands following WWII.

For many years, Turkey was a faithful ally. The huge Incirlik Air Base was put at America's disposal and tactical nuclear weapons were stocked there. Nevertheless, seeds of discord appeared as early as 1974, when Turkey occupied northern Cyprus, home to a largely Turkish population, forcibly exiling 180,000 ethnic Greeks in a move condemned by the UN Security Council. Great Britain, which maintained military camps in the island, was prevented by the U.S. from launching an attack to dislodge the invaders.

Erdogan's regime is openly pursuing an agenda based on the greatness of the Ottoman Empire and on the extremist creed of the Muslim Brotherhood. With the outbreak of the Syrian civil war in 2011, Erdogan let thousands of Muslims transit his country to join the insurgency. He wanted to help ISIS defeat Bashar Assad's secular regime and establish an Islamic entity friendly to Turkey.

As part of growing Turkish-Russian cooperation, the Turkstream natural gas pipeline from Russia to Turkey was completed last November. A nuclear power plant being built in Akkuyu under the auspices of Russia's Rosatom is expected to become operational in 2023.

Can Turkey Be Kicked Out of NATO?
It is now a known fact that the Kurecik Radar Station was established in 2012 to deter Iranian ballistic missile threats against Israel. In fact Kurecik, in tandem with its twin the US X-band station on Mount Keren in the Negev Desert, provide an unprecedented early warning capability for Israel, considering that mere minutes matter in an Iranian ballistic missile attack. Therefore Washington wouldn't want to risk Israel's security by provoking Turkey any further. The US hesitation to slap sanctions on Turkey after the S400 hardware began to touch down in Ankara last week coincides with the Turkish foreign minister's threat that such a move would result in closing both Incirlik and Kurecik.

Being the only Muslim-majority member-state, Turkey provides a unique role within NATO. It has been the case particularly in Afghanistan, with which Turkey has historic and religious ties. For instance, then Kabul provincial governor Dr. Zabibullah Mojadid (2009-2011) said, "Contrary to some other international forces here, the Turks don't march through our streets with their guns and their caravans, ready to fire. When you see other forces with their hands on their triggers, people are very intimidated. Afghans don't look at the Turkish forces as foreign forces here, they somehow view them as their own."

Turkey has drifted toward Russia because NATO (the US in particular) hasn't appeased Turkey's concerns emanating from Syria. The Turks now believe it is the US that is undermining Turkey's security by cooperating with Turkey's enemy – the Kurdistan Workers' Party, or PKK. The US actions toward Turkey are adversely affecting the transatlantic alliance.

The current state of Turkish-American relations is like a couple living separately but compelled to stay married for insurance and tax benefits. It takes all sides working together to save the marriage. In spite of the current challenges in the relationship with the US/NATO, Turkey is likely to continue to be a part of NATO. A divorce would prove too detrimental for both sides.
CAIR Embraces Iranian Regime Enthusiast
So why would an organization such as CAIR, which is so closely connected to Sunni Islamism, invite a Shia cleric who so openly supports the hardline regime in Iran and the terrorist group Hezbollah?

Part of the reason may lie in the complicated politics of the Middle East. Over the past few years, despite its institutional Wahabbi ideology, Qatar has increasingly served as a meeting point for both the Shia Iranian regime and Sunni Islamist networks. CAIR itself has received hundreds of thousands of dollars in funding from the Qatar government, which has enjoyed an increasingly friendly relationship with Iran.

More simply, however, extremists seek each other's company. And in an effort to make fundamentalist Islam mainstream, Islamist groups such as CAIR work hard to convince others they are the spokespeople for all Muslim Americans, both Sunni and Shia.

By inviting hardline anti-American, anti-Semitic clerics and activists such as Abdulghani, CAIR aims to consolidate the varied strains of Islamism under its purview while also publicly positioning itself as the most representative forum for American Muslims.
After Condoning Hamas, CAIR Slams Pro-Israel Saudi Blogger
Some people commenting on CAIR's Facebook post called Saud's visit "evil," and one said, "These Arabs are no different from those zionazis."

In his Haaretz op-ed, Shehada called Saud's visit a "love-fest with Israel to demonize Palestinians." He noted that the visit coincided with Israel's demolition of 70 Palestinian homes in East Jerusalem, and that Saudi Arabia was silent. He complained about Saudi Arabia's "severe repression of civil liberties," pointing to its control over internal dissent while allowing criticism of the Palestinians and the arrests of Saudis opposed to normalization with Israel.

But Shehada also has kept silent about human rights abuses. Amnesty International reported last year that Hamas authorities in Gaza cracked down on peaceful demonstrators, beating them with batons, and that Hamas security forces used torture with "impunity." In March, Amnesty International complained about an "alarming" crackdown on press freedom and the activities of human rights activists concerned about how Hamas runs Gaza.

"The Saudi regime seems desperate to systematically sow the conviction that there's a sudden, yet mainstream, popular pro-normalization current in the kingdom. That current is apparently infatuated with Israel, while pro-Palestinian solidarity has abruptly diminished to zero. It's the 'true' voice of the people, not the regime, and they've grown tired and weary of the Israel-Palestine conflict," Shehada wrote.

What Saud's visit has to do with Muslim civil rights in America is far from clear. But by posting about it, CAIR certainly inflames anti-Israel passions. It will do that voluntarily, but says it doesn't want to be "dragged" into honestly answering questions about Hamas.
Iran sentences 3 detained women to a total of 55 years in prison for "disrespecting the compulsory hijab."

In April 2019 they were arrested after walking without headscarves through a Tehran metro train, handing flowers to female passengers.

.@FedericaMog, why are you silent? pic.twitter.com/hYfnleNshq

— Hillel Neuer (@HillelNeuer) August 2, 2019
---
---
We have lots of ideas, but we need more resources to be even more effective. Please
donate today
to help get the message out and to help defend Israel.