From Ian:
---
Meet some of the people the UN calls "civilians" killed in Gaza border clashes
Joe Truzman presented his findings, which are at odds with a UN Report, on the identity of many of those killed — they were military members of terrorist groups including Hamas and Islamic Jihad.



We have extensively documented how the supposedly "peaceful protests" at the Gaza-Israel border fence are, in reality, Hamas and Islamic Jihad military terror operations using some civilians as cover, including women and children.

The so-called 'Great March of Return' is turned on and off by Hamas as its needs require.

Over 80% of the Gazans killed at the border have been military members of terrorist groups, the best evidence that these are not really civilian protests. Even some of the "children" involved, and who have been killed or injured, were teenage military members of terrorist groups.

Joe Truzman has been a leader in documenting the identity of the terrorists involved at the border, and the violent actions directed at Israel, as we noted in Meet Joe Truzman, our go-to source on Gaza and Palestinian terror groups.

Increasingly, Joe is being recognized for his work, including by UN Watch, which fights anti-Israel bias at the UN, including the UN Human Rights Council. UN Watch organized an alternative program on the day the UN Human Right Council was holding another on of its anti-Israel hatefests. This most recent hatefest included release of a biased report about the Gaza border protests and the death of Palestinians, portraying the events as civilian protests.
One-sided UNHRC report ignores Hamas' Aggression
Instead of condemning Hamas as the prime source of violence and instability in Gaza - the United Nations Human Right Council is blaming the victims of Hamas terrorism for acting in self-defence.

Any council member which holds peace dear must REJECT this resolution!
UK, Austria to oppose UN Human Rights Council condemnations of Israel
The United Kingdom said Thursday it will automatically oppose all proposals made to the United Nations Human Rights Council under a fixed item exclusively devoted to Israel's treatment of the Palestinians.

The announcement came as Austrian Chancellor Sebastian Kurz declared that his country will vote against a key resolution lashing Israel, which is up for a vote this week.

Britain's Foreign Secretary Jeremy Hunt said the council's so-called Agenda Item 7 "undermines the credibility of the world's leading human rights forum" and "obstructs the quest for peace in the Middle East."

As a permanent item on the agenda, Item 7 means no session of the Geneva-based council can be held without specifically discussing Israel.

The council was set to vote on four resolutions Friday condemning Israel for alleged war crimes and crimes against humanity.

"Two years ago, the United Kingdom said that unless the situation changed, we would vote against all texts proposed under Item 7," Hunt wrote in an op-ed published Thursday in the UK's Jewish Chronicle weekly.

"Sadly, our concerns have not been heeded. So I have decided that we will do exactly what we said: Britain will now oppose every Item 7 resolution. On Friday we will vote against all four texts proposed in this way."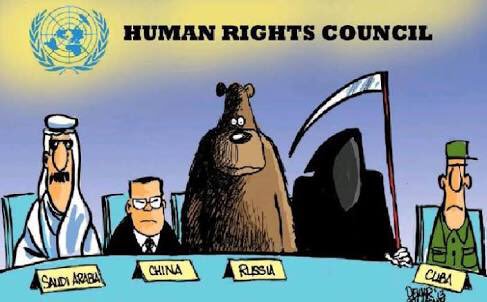 Jeremy Hunt:
The UN Human Rights Council ignored our concerns on its Israel approach. Now we must act
In some countries in the Middle East, the result of the next election is a foregone conclusion. Yet on April 9, millions of voters in Israel will decide the fate of their leaders – and no-one can predict the outcome.

A fair-minded observer would find it curious that, of all the situations in the world, only Israel and the Occupied Palestinian Territories are permanently on the agenda of the United Nations Human Rights Council (HRC).

The horrors of Syria's civil war, the brutal detention camps in North Korea, the ethnic cleansing of Rohingya Muslims in Burma – all these human tragedies have been the subject of important HRC Resolutions, passed with Britain's full support.

But amid such catastrophes, a dedicated place on the HRC agenda - known as Item 7 – is reserved solely for Israel and the Occupied Palestinian Territories. This means no session can take place without a specific discussion of this subject.

By any standard of fairness or proportion, elevating this dispute above all others cannot be sensible; indeed it is an unhelpful illusion to suppose that Israel's conduct deserves special scrutiny.

When Item 7 was first introduced, Ban Ki-Moon, then UN Secretary General, voiced his disappointment "given the range and scope of allegations of human rights violations throughout the world".

Far from serving any useful purpose, I fear that this dedicated place obstructs the quest for peace in the Middle East.
The text, entitled "Accountability," also invokes the discredited 2009 Goldstone Report, and seeks to cast all Israeli defense against Hamas terrorism as "war crimes."

The UK voted No on this absurd text last year & we urge @Jeremy_Hunt to vote No again.https://t.co/O2PTusATza pic.twitter.com/cn4aVsRkwh

— Hillel Neuer (@HillelNeuer) March 21, 2019
Jeremy Hunt's move today shows Britain has failed to reform the UN Human Rights Council from within
When the United States stormed out of the UN Human Rights Council over its treatment of Israel last summer, Britain's then chief diplomat Boris Johnson vowed to stay put.

Washington's view in June 2018 was that it was plainly unjust for Israel to be only country whose alleged human rights abuses are discussed at every regular meeting without fail.

"The world's most inhumane regimes continue to escape scrutiny," one American official said as her country ended its HRC membership 18 months early.

But the United Kingdom — which became a member at the same time at the US — said it would not be staging a walkout of its own.

Mr Johnson said the HRC had many failings and Israel's permanent place on the agenda was one of them. A "disproportionate and damaging to the cause of peace", he called it.

But, he went on, the world needed a forum where countries could talk to each other about human rights abuses.Thus the HRC was the "best tool available...to address impunity in an imperfect world and to advance many of our international goals."
Bret Stephens (NYTs):
Palestinian Lives Don't Matter unless Israel Is to Blame
Some media outlets are prepared to devote months of journalistic effort in order to trace the trajectory of a single bullet that accidentally kills a Palestinian - provided the bullet is Israeli. But when the shots are being fired by Hamas, the story barely rates in most Western news accounts.

The current round of demonstrations in Gaza comes in reaction to years of Hamas' economic mismanagement. This is not for lack of funds on Hamas' part: Since 2012, the group has taken in over a billion dollars from Qatar alone to pay the costs of fuel, humanitarian aid and civil-servant salaries.

In 2014, the Wall Street Journal reported that Hamas had spent $90 million building attack tunnels into Israel, at an average cost of nearly $3 million a tunnel. The material devoted to each tunnel was "enough to build 86 homes, seven mosques, six schools or 19 medical clinics." Three wars against Israel, each started by Hamas, have also taken their toll in lives, injuries, and infrastructure.

You shouldn't be surprised by the scantiness of Western coverage: It would complicate a convenient narrative of the Israel-Palestinian conflict that holds that the former is the oppressor. Yet more Palestinians have died in Syria in the last decade, mainly on account of the depredations of Bashar al-Assad, than have been killed by Israel.

And Palestinians continue to be the victims of leaders who see no reason to subject themselves to regular elections, or financial audits, or criminal investigations, or any other mechanism of political or moral accountability. That lack of accountability is abetted by Western journalism that has been depressingly incurious about any form of Palestinian suffering for which Israel cannot be held responsible.

Palestinian lives and livelihoods should matter despite who harms them. A world that shrugs at Hamas' abuse of its own people merely licenses the abuse to continue, unchecked.
It's Scandalous that Hate-Filled Palestinian Textbooks Are Funded by the UK
I am a strong supporter of Britain's international aid budget and for the money which the UK gives to the Palestinian Authority being used to promote a two-state solution.

Our government is currently giving millions of pounds each year to Palestinian schools which are teaching a curriculum which incites hatred, glorifies violence and promotes terror; nothing could do more to harm the cause for peace than fostering old hatreds and prejudices in another generation of children and young people.

This has to stop, that is why I have published my International Development Assistance (Values Promoted in Palestinian Authority Schools) bill this week.

My LFI colleagues and I warned the government in September 2017 about the pernicious content of the new curriculum which the PA was about to introduce in its schools. As the Institute for Monitoring Peace and Cultural Tolerance in School Education has suggested, this curriculum is "more radical than ever, purposefully and strategically encouraging Palestinian children to sacrifice themselves to martyrdom".

Some of the content is truly horrifying. Five-year-olds are taught the word for "martyr" as part of their first lessons in Arabic; 11-year-olds taught that martyrdom and jihad are "the most important meanings of life"; and teenagers taught those who sacrifice themselves will be rewarded with "72 virgin brides in paradise".

The massacre of 11 Israeli athletes at the Munich Olympics is endorsed as "the Munich Operation" and cited as a good example of "Palestinian Resistance" against "Zionist interests abroad".
Organizations Supported by the New Israel Fund Facilitate the UN's Anti-Israel Attacks
The investigative commission of the United Nations Human Rights Council, which examined the most recent round of violence on the Israel-Gaza border, presented its findings on Thursday, saying it found "reasonable grounds" that Israeli security forces violated international law.

The panel recommended that UN members consider imposing individual sanctions, such as travel bans or freezing assets, of those identified as responsible by the commission. The UN commission also recommended that materials it collected be transferred to the International Criminal Court in The Hague for possible prosecution.

These findings were rejected by Israeli officials across the political spectrum, including Prime Minister Benjamin Netanyahu, who said,"The council has set new records of hypocrisy and lies out of an obsessive hatred for Israel."

Naturally, organizations funded by the New Israel Fund (NIF) contributed to this report. The NIF has contributed more than $10 million to the Association for Civil Rights in Israel (ACRI) — which called for the Israeli government to establish a commission of inquiry to examine the events that took place along the border.

"It is impossible to ignore the death and injury of dozens of civilians, among them women and children, by claiming self-defense," said the ACRI — even though almost all of those killed were actually Hamas terrorists.
Khaled Abu Toameh:
Palestinians: The Other Peace Deal
Hamas is now accusing the Palestinian Authority (PA) and Fatah of exploiting the economic crisis in the Gaza Strip to call on Palestinians to overthrow the Hamas regime. Fatah, for its part, is accusing the "dark forces" of Hamas of acting on orders from outside parties to establish a separate Palestinian state in the Gaza Strip.

The US administration says it will publish its long-awaited plan for peace in the Middle East, known as the "Deal of the Century," after the general elections in Israel on April 9. Perhaps it would be a good idea if the US administration came up with a plan to make peace between Palestinians and Palestinians before attempting to make peace between the Palestinians and Israel.

What is clear, meanwhile, is that the Fatah and Hamas leaders are more interested in warring with each other than improving the living conditions of their people. The two groups have already rejected the upcoming "Deal of the Century": for now, that is the only deal they seem ready to make.
NYTs:
Natural Born Settlers
I'd never understood the Israeli settlers. So I moved in with them.

To someone like me, the Israeli settlements in the Palestinian territories had always seemed like a burden, and an obstacle to peace. They annoyed me when I read the news and embarrassed me when I introduced myself as an Israeli. I had so many opinions about them. But, I realized, I'd never actually met a settler in person.

So I decided to move from my home in cosmopolitan Tel Aviv to the settlement of Tekoa in the West Bank for a summer. I wanted to make a film about my experiences as I got to know the settlers I'd formed so many conclusions about. These settlements are widely considered illegal under international law, and tend to be depicted in extreme ways that don't seem realistic.

Many films have been made about the violent settlers of Hebron and about the founders of the settlement movement, as well as about rare stories of friendship between Jews and Palestinians. For my film, I decided to focus on the gray area in between, to sit down and chat with settlers my age over coffee. Maybe we had more in common than I thought?

So I crossed the border — both the actual border between Israel and the settlements in the West Bank, and the boundaries of my own comfort zone. I wanted to hear about settlers' experiences, and about their justifications for choosing to live where they do. At the same time, I figured the experience would let me share my uneasiness with the consequences of their decision for the Palestinians and for Israeli society. As long as the settlements exist, peace in the Middle East remains a tenuous prospect.
Trump to host PM Netanyahu at White House next week
U.S. President Donald Trump will host Prime Minister Benjamin Netanyahu at the White House next Monday and Tuesday, the White House said, reaffirming the two leaders' close ties.

The announcement came shortly after U.S. Secretary of State Mike Pompeo landed in Tel Aviv on Wednesday and planned to deliver remarks alongside Netanyahu.

"The president and the prime minister will discuss their countries' shared interests and actions in the Middle East during a working meeting on March 25," the White House said in a statement. Trump will host a dinner for Netanyahu on Tuesday night.

"Relations with the United States have never been this strong," Netanyahu said in a speech earlier Wednesday.

Officials in Jerusalem hope that during their meeting, Trump will officially recognize Israeli sovereignty over the Golan Heights.

On a tour of the strategic plateau last week, U.S. Senator Lindsey Graham vowed to work toward recognition of the Israeli Golan Heights.
Thanks to Trump, diplomatic taboo around Western Wall comes tumbling down
On May 22, 2017, Donald Trump became the first sitting US president to visit the Western Wall. "Words fail to capture the experience," he said a few hours later. "It will leave an impression on me forever."

The historic visit took place several months before Trump formally recognized Jerusalem as Israel's capital, and, following what was standard diplomatic protocol at the time — and, to some degree, still is — the stopover at the Wall was billed as "private."

Like all foreign leaders who went to the site before him, Trump was unaccompanied by high-ranking Israeli officials, lest anyone misinterpret their presence as a tacit recognition of Israeli sovereignty over the city's disputed eastern section.

According to a well-placed source, American officials were worried that Prime Minister Benjamin Netanyahu, who had escorted Trump on every previous stop of his Israel trip, would unexpectedly appear at the Western Wall as well.

Netanyahu didn't do so, however, respecting the time-honored diplomatic tradition under which foreign dignitaries who visit Jerusalem's Old City do so in an entirely private capacity, with no Israeli diplomats by their side.

But since Trump's visit to the Wall, his December 6, 2017, recognition of Jerusalem as Israel's capital, and the May 14, 2018, move of the US embassy there, this hitherto ironclad rule has slowly but surely crumbled.
.@netanyahu and I had far-ranging discussion of regional issues, including efforts to counter the Iranian regime's malign influence. The U.S. is firmly committed to Israel's security. pic.twitter.com/EOqRUvfVac

— Secretary Pompeo (@SecPompeo) March 21, 2019
Pompeo in Jerusalem jabs at Democrats on anti-Semitism
US Secretary of State Mike Pompeo issued a thinly veiled jab at Democrats over anti-Semitism on Wednesday, following controversial comments by a Muslim congresswoman over American support for Israel.

Speaking from Jerusalem during a Middle East tour largely focused on countering Iran, Pompeo also noted the "dark wave of anti-Semitism" in Europe and the US.

"All nations, especially those in the West, must go to the barricades against bigotry, " he told Prime Minister Benjamin Netanyahu.

"Sadly, we in the United States have seen anti-Semitic language even in the great halls of our own Capitol," he said.

His remarks came after Democratic Representative Ilhan Omar of Minnesota suggested last month that supporters of Israel are urging lawmakers to have "allegiance to a foreign country."
Journalists Say They Were 'Barred' From a Roundtable With Mike Pompeo. Here's the Transcript.
Over the past 24 hours, a minor controversy has been bubbling among members of the Washington, DC press corps over a telephonic roundtable hosted by Secretary of State Mike Pompeo on Monday. The 13 minute invitation-only discussion included a small group of "faith-based" publications who asked questions about Middle East policy ahead of Pompeo's upcoming trip to the region.

Over the day that followed, critics accused the State Department of an "attack" on the press by "barring" journalists from attending and "breaking with regular protocol" in not publishing a list of attendees and not releasing a transcript of the call. Even the House Committee on Foreign Relations joined in the criticism.

In response to inquiries from members of the press, The Algemeiner, which did participate in the call, has elected to publish the full transcript below:
Netanyahu, Pompeo talk energy with Cypriot, Greek leaders
U.S. Secretary of State Mike Pompeo and Prime Minister Benjamin Netanyahu met with Cyprus President Nicos Anastasiades and Greek Prime Minister Alexis Tsipras at the David Citadel Hotel in Jerusalem on Wednesday to discuss cooperation between the countries, including the upcoming East-Med pipeline connecting Israel and the European Union.

"This is the sixth summit meeting between Israel, Cyprus and Greece. We began this a few years ago, and it's blossomed into one of the best regional associations in the world," said Netanyahu.

"We cooperate in everything, from firefighting now to energy," Netanyahu said.

"We are planning to lay down a pipeline called the East-Med Pipeline, from Israel, through Cyprus, through Greece, to Europe, something that will benefit our economies greatly, provide stability for the region and prosperity to our peoples, but also we think would diversify the energy supplies to Europe," Netanyahu said.

Netanyahu added that Pompeo's participation "signifies the fact that the United States supports this regional effort, and it has many, many facets that we're going to discuss. And I think that it says that this is something for the long haul."
MEMRI:
Article On Hizbullah Website In Advance Of U.S. Secretary Of State Pompeo's Lebanon Visit: Lebanon Must Not Submit To American Dictates
About a month and a half after the formation of the Lebanese government, with a majority for the pro-Syria and pro-Iran Hizbullah-led March 8 Alliance, the U.S. is increasing its pressure on Lebanon, with the aim of preventing Hizbullah from becoming even stronger in the Lebanese political arena and preventing Lebanon from moving closer to Russia.

This pressure is manifested in statements by U.S. Ambassador to Lebanon Elizabeth Richard, who at the conclusion of her February 19, 2019, meeting with Lebanese Prime Minister Sa'd Al-Hariri expressed concern about Hizbullah's growing role, that she said is destabilizing the country. However, she clarified that the U.S. intends to continue its aid to Lebanon.[1] U.S. Assistant Secretary of State for Near Eastern Affairs David Satterfield, who visited Lebanon in early March 2019, further underlined the link between American aid and the efforts required of Lebanon to stop Hizbullah from growing stronger. He stressed that his and other countries' approach to Lebanon depended on "how Lebanon makes its decisions, which we hope will be positive for the good of Lebanon, and not for the good of external elements" – that is, Iran.[2] According to one report, Satterfield also said that the continuation of U.S. aid to Lebanon was conditional upon a cessation of its rapprochement with Russia.[3] Satterfield's visit was in advance of the planned March 23 visit of U.S. Secretary of State Mike Pompeo.

According to reports in the Lebanese press, Pompeo is expected, in his meetings with Lebanese leaders, including President Michel Aoun and Prime Minister Al-Hariri, to raise the American concern about the strengthening of Hizbullah's position in the political arena; the concern that as a result Iran will increase its influence in Lebanon, via Hizbullah or by means of penetration into government institutions like the army and also into its spheres of health and energy; and also the concern that Lebanon will thus become a conduit for bypassing the sanctions imposed on Hizbullah and Iran.[4] Pompeo is also expected to express the American reservations about Lebanon's increasing closeness to Russia, which over the past year has been working to establish its presence in Lebanon through joint military agreements, agreements regarding oil, and through the initiative to return the Syrian refugees in Lebanon to Syria. It is noteworthy that Pompeo is set to arrive in Lebanon just three days before Lebanese President Michel Aoun is due to go to Russia to meet with President Putin. Another topic to be discussed by Pompeo and senior Lebanese officials is the setting of the economic water border between Lebanon and Israel, a step that the U.S. would like to speed up, apparently due to concern that a stronger Hizbullah will harm the chances of doing so in the future.
Israel closes French cultural center in Jerusalem for hosting group tied to PA
Israeli authorities entered a French culture center in Jerusalem on Thursday to cancel an event, alleging it was to involve an association supported by the Palestinian Authority, a diplomatic source said.

In a rare move, police entered the center in East Jerusalem, the source with the French consulate said.

An order posted on the door of the building said that the center, which is connected to the French foreign ministry, intended to host an event organized with a women's association "sponsored or financed by the Palestinian Authority" and "without authorization."

The center remained open after the police operation.

Israel banned the Palestinian Authority from carrying out official business in East Jerusalem in 2001, in accordance with the 1995 Israeli-Palestinian Interim Agreement on the West Bank and the Gaza Strip that prohibits the PA from operating in Israeli territory.

The consulate could not confirm if the association was indeed financed by the PA, but Palestinians who were to participate in the event said the allegation was false.
Dem presidential hopeful Yang agrees to interview with Ben Shapiro over anti-circumcision stance
Democratic presidential long shot Andrew Yang agreed on Twitter to be interviewed by conservative radio host Ben Shapiro on Wednesday about Yang's stance against circumcision.

The invitation from Shapiro to Yang, an entrepreneur jumping into the political ring with the hope of ultimately taking on President Trump, comes after Yang told the Daily Beast in an interview published earlier this week that circumcision of babies is "sort of pushed on parents in many situations."

Yang added that he agreed with "intactivists," who are against snipping the foreskin of male babies.

"I'm highly aligned with the intactivists. History will prove them even more correct," he told Daily Beast.

"From what I've seen, the evidence on it being a positive health choice for the infant is quite shaky," he added.
UNIFIL confirms existence of six tunnels in South Lebanon
The UN Interim Force in Lebanon has confirmed the existence of six tunnels in southern Lebanon, two of which violated the Blue Line and crossed into Israeli territory.

While UNIFIL said it could not determine who built the tunnels or when, they were recorded by UNIFIL in the region of Kafr Kila after UNIFIL engineers used verification tools such as laser range finders to confirm their existence.

Though the IDF reported the existence of six cross-border tunnels, UNIFIL was able to visit only five of them, as one was destroyed by Israel's military before it notified UNIFIL.

UNIFIL is said to have requested to enter one disused brick factory across from Metulla, after Israel filled it with liquid concrete, but the government of Lebanon refused to give it access, as it was private property. The property was said to then be completely covered in blue tarpaulins within 24 hours of UNIFIL's request.

Israel launched Operation Northern Shield in early December and destroyed at least five cross-border tunnels, either by explosives or by flooding with liquid concrete.
PMW:
Fatah honors this week's terrorist murderer on Facebook
Last night, Omar Abu Laila, the terrorist who murdered 2 Israelis earlier this week, was killed by Israeli forces during a gunfire exchange when the forces came to arrest him.

In keeping with Palestinian Authority and Fatah tradition, Abbas' Fatah Movement immediately glorified the dead murderer as "the perfect person," in addition to his being a "heroic Martyr" deserving of a "military salute."

Once again, Fatah used Facebook as the means to disseminate its support for murder of Israelis and to broadcast its message of support for terror to the hundreds of thousands of Palestinian Facebook users. Fatah's official page alone has more than 170,000 followers.

PMW is surprised and disappointed that Facebook knowingly allows itself to continue to be an important platform for support of Palestinian terror. In February, PMW sent Facebook our 40 page report documenting the repeated terror support by Fatah on its Facebook page throughout 2018. By allowing itself to be used to honor and glorify terrorist murderers in real time, Facebook serves as a platform for encouraging more terrorists and literally endangering lives, even if Facebook removes the terror supporting posts at a later date.
Egyptian proposal: Gaza will demilitarize if blockade is lifted
A new Egyptian proposal would see the Gaza Strip demilitarized in return for Israel and Egypt lifting the blockade currently in place and a series of international projects to improve the situation in the coastal enclave, Egyptian security forces and senior Palestinian officials in Gaza and Ramallah report.

According to the plan, the Palestinian organizations, under the leadership of either Hamas or an umbrella political group representing all the organizations in Gaza, would remain in charge of internal affairs in the Gaza Strip through the use of the security mechanisms already in place in there.

The plan would allow some light weaponry to remain in Gaza to be used mostly for domestic security purposes. The number of those weapons would be reduced and strictly monitored.

Once these steps were implemented, Israeli and Egypt would lift their blockade on Gaza and introduce large-scale infrastructure, employment, economic, health, and education projects. Project funding would come from the U.N., the EU, and Arab states, in particular the Persian Gulf states. The proposed plan would also see the opening of a maritime channel to a port in Gaza, which in its first stages would allow Gaza to directly import and export goods.

According to Egyptian security officials as well as senior Palestinian officials in Gaza and Ramallah, Jerusalem and Cairo have come to realize that Hamas is not going anywhere. They say that Egypt and Israel have also come to terms with the fact that the Palestinian Authority will be hard-pressed to return to power in Gaza, either under a Palestinian unity agreement or as a result of the collapse of the Hamas regime in light of the dire humanitarian situation and the continued military conflict with Israel.
Hamas Prisoners Set Fire to Cells after Israel Jams their Mobile Phones
Palestinian security prisoners at the Ramon Prison in southern Israel set fire to their cells on Tuesday, after Israel introduced a jamming signal that blocks illicit mobile phones.

The prisoners, all from the Hamas terrorist organization, set alight the mattresses in 14 cells, lightly wounding a staff member and an inmate.

For more than a month, the Israel Prison Service has been on high alert due to the threat of arson or violence against guards over the new method of blocking calls from smuggled cell phones. Security prisoners viewed the step as a serious blow to their quality of life, as the phones were used to communicate with their families.

The prisoners, however, also used these same cell phones to communicate with members of terrorist organizations in the West Bank and Gaza.

The leaders of the prisoners at Ramon resigned about a month ago, which the IPS saw as a very serious protest measure. Following the resignations, the IPS became concerned that the prisoners will make good on their threats to harm prison guards, cause damage to prison installations or cause riots.
Hamas targets more than 70 journalists in anti-protest measures
More than 70 Palestinian journalists have been targeted by Hamas during the recent protests against economic hardship in the Gaza Strip, the Palestinian Journalists Syndicate said on Thursday.

Mohammed Al-Lahham, as senior official with the syndicate, said during a press conference in Ramallah that Hamas's actions were tantamount to "crimes." He said he believed that the number of journalists who were arrested, beaten or summoned for interrogation by Hamas security forces in the past week was much higher than the figures published thus far.

Several Palestinian journalists who fell victim to Hamas's tough security measures have refused to have their names published by the Ramallah-based syndicate out of fear of being punished by Hamas, the official revealed.

"We have collected testimonies from several journalists who were subjected to various forms of assaults, including arrests, beatings, confiscation of equipment, raids on their homes and threats," Latham said. "A number of journalists have been placed under house arrest and warned not to cover the protests. This ban has affected hundreds of media organizations in the Gaza Strip and is a sign of the magnitude of Hamas terror and intimidation against the media."

Hamas, he added, has also been threatening families of journalists who are currently working outside the Gaza Strip.

The Palestinian Authority Ministry of Information strongly condemned Hamas's assaults on journalists and said such actions distort the image of the Palestinians in front of the international community.
Palestinian Journalist Nasser Al-Laham Slams Hamas and Fatah Gov'ts: We Are Worse than the Occupation pic.twitter.com/v9JsuDpHTA

— MEMRI (@MEMRIReports) March 21, 2019
PA President Abbas Curses Hamas "Dogs" during Hospital Visit to Fatah Official Beaten Up in Gaza pic.twitter.com/9xpIjjibg5

— MEMRI (@MEMRIReports) March 21, 2019
Fatah Central Committee Member Jamal Muhaisen: Hamas Is ISIS in Palestine pic.twitter.com/sBXNb0M6qM

— MEMRI (@MEMRIReports) March 21, 2019
Waqf Insists That Palestinian Temple Mount Rioters Are Just In "Purim Fancy Dress" (satire)
The Jordanian Waqf, the Islamic body that administers Jerusalem's Temple Mount complex, has insisted that the balaclava-donning Palestinian youths armed with rocks and Molotov cocktails gathering at the site are simply engaging in "harmless Purim fancy dress".

In anticipation of another crackdown in Muslim areas of the Old City by the Israeli Army, the Waqf has sought to downplay reports that groups of young Palestinians are once again seeking to cause bedlam by hurling rocks and bombs at Israeli soldiers.

"The youth are simply embracing the festive spirit of Israel by dressing up for Purim. Surely that's something that should be celebrated, yes?", one Waqf spokesman said. "It just so happens that this year's theme is 'angry Palestinian rioter armed with rocks and homemade bombs'. I simply wouldn't read too much into it. As for violence following afternoon prayers on Friday? Nonsense! I wouldn't expect anything of the sort. Thousands of young men are simply gathering on the Temple Mount to listen to the Megillah! OK, so maybe they'll get a little excited when Haman's name is called and they start throwing rocks instead of just shaking their rattles… but that's to be expected from eager young men!"

The Israeli military simply responded to say that "on our part, we'll take part in the Purim festivities, with our young men dressing up as soldiers arresting and dispelling violent rioters. Two can play at that game."
MEMRI:
Article On Egyptian Muslim Brotherhood Website: Arab Leaders Are Promoting The Jewish Plot To Take Over The World
In an antisemitic article published on the website of the Egyptian Muslim Brotherhood (MB), [1] journalist Hamza Hussein attacked the Arab leaders who had attended the U.S.-led Warsaw Conference in mid-February, 2019, which was also attended by Israeli Prime Minister Binyamin Netanyahu and dealt with the Iranian threat. Hussein wrote that these leaders were serving the Jewish plan, which has been ongoing since the days of the Prophet Muhammad and whose goal is to dominate the Muslims and take over the world's resources. The Jews, he explained, are motivated by hatred for Islam, and achieve their goals through covert activity and with the help of Muslim dictators who serve their agenda without even knowing it. He promised, however, that after the Jews achieve dominance in the world, they and all their helpers are destined to experience a "resounding collapse."

The following are excerpts from his article:
"[Although certain] factors change, the conflicts, wars and destruction currently prevailing in the world are nothing unusual and are nothing new for the people around the globe. The cruel war against Islam and everything related to it is only one in a long series of conflicts that began with the birth of the Prophet Muhammad, and continued as the leadership passed from the Children of Israel to the Muslims, and the Jews' hatred toward Muhammad and the Muslims intensified...

"Whoever follows the plot planned and organized by the Jewish nation will find that it firmly relies on the rabbinic tradition, according to which [the Jews] will eventually rule the world, will attain superior status and will control the world's resources, [but] later a resounding collapse will come,[3] with grave repercussions for anyone who collaborated and helped the Zionists to establish themselves in the world...

"The fierce war that flared... in 2013 [with the ouster of Egyptian president Muhammad Mursi], was not a war against the MB, as some think. Its purpose was to lay siege to Islam... so that the light of the Jewish nation would shine forth...
Syrian Analyst Taleb Ibrahim: We Welcome War to Annihilate Zionist Enemy pic.twitter.com/FtCb8UIMZt

— MEMRI (@MEMRIReports) March 21, 2019
---
---
We have lots of ideas, but we need more resources to be even more effective. Please
donate today
to help get the message out and to help defend Israel.