From Ian:
---
Two rockets fired at Tel Aviv from Gaza for first time since 2014 war
Rocket sirens were triggered Thursday evening in the Tel Aviv area in central Israel, as two rockets from the Gaza Strip were fired at the heart of the country for the first time since the war of 2014, signalling a possible dramatic escalation of violence by terror groups in the Strip just weeks before the Knesset elections.

Residents of Israel's second-largest city and the surrounding metropolis of Gush Dan rushed to bomb shelters and reported hearing explosions. The rockets both hit open areas, and did not cause casualties. However, five people were treated for shock by paramedics.

Initial reports indicated that the Iron Dome missile defense system was launched to intercept an oncoming rocket. However, the Israel Defense Force said no interception had taken place, and it was not clear whether an interceptor had been launched.

"Two rockets were launched from the Gaza Strip towards Israeli territory. The alert and warning systems operated as required," the army said. "No interceptions were made by aerial defense systems. No damage or injuries were reported. There are no special instructions for the civilian home front."
Rockets fired from Gaza to Tel Aviv
IDF hits more than 100 Hamas targets in Gaza after rockets fired at Tel Aviv
Israeli war planes hit over 100 Hamas targets in the Gaza Strip in a night of strikes after two rockets were fired at Tel Aviv for the first time since the 2014 war, the Israel Defense Forces said.

The strikes came after an urgent late night consultation between Prime Minister Benjamin Netanyahu and his defense chiefs in Tel Aviv. "Decisions were taken," an Israeli official said without elaborating.

Shortly after the strikes began, the IDF issued a statement saying the "Hamas terror group carried out the rocket fire." Hamas has denied it was behind the move.

On Friday morning, IDF spokesman Ronen Manelis said that over 100 Hamas targets were hit in response to the fire on Tel Aviv; air strikes went on throughout the night.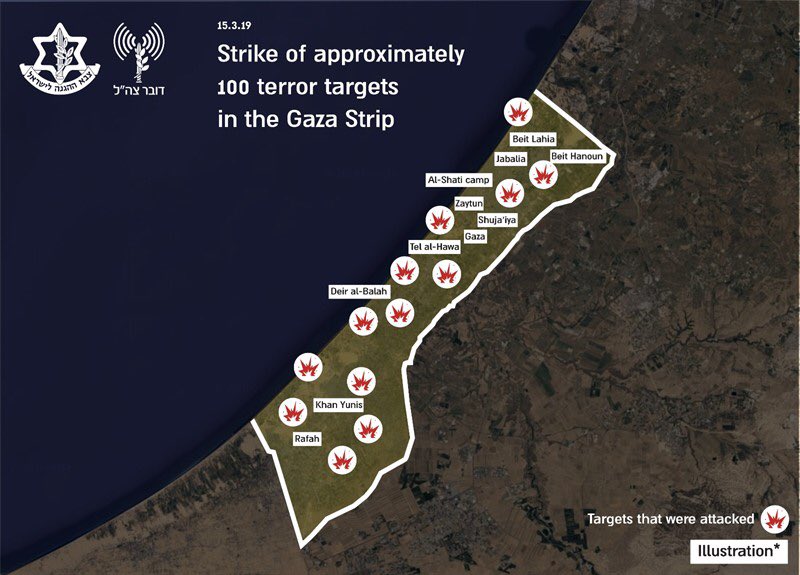 We hit 100 Hamas military targets in Gaza in response to the rockets they fired at Israeli civilians. Among them:
• Underground rocket manufacturing site
• HQ responsible for orchestrating Hamas terrorism in Judea & Samaria
• Hamas center of unmanned aerial aircraft#StopHamas pic.twitter.com/Iy3DwpNpTU

— Israel Defense Forces (@IDF) March 15, 2019
Iranian fingerprints in Gaza
Palestinian Islamic Jihad fired the missiles at central Israel from Gaza on Thursday night. But Iran, which controls the terrorist group and its leaders and which gives it money and provides it with the type of missiles used in Thursday's attack, is directly responsible. Iran doesn't hide its desire to spark a conflagration in Gaza with the aim of sabotaging and even halting Israel's efforts to dislodge the Islamic republic from Syria. The Iranians also want to embarrass Israel and harm it, by exploiting the fact that this is a sensitive period, ahead of the upcoming April 9 general election.

Hamas, however, is also responsible for the missile attack, because it hasn't taken action against Islamic Jihad and other recalcitrant groups in Gaza, which continue targeting Israel. Hamas lends a hand to the escalation along the border as a matter of routine, hoping to improve its negotiating position with Israel and receive aid dollars from Qatar.

In this regard, the missile attack on Gush Dan indicates the collapse of this conception and essentially the illusion – created by Hamas and Israel alike – that it's possible to control the flames Hamas is fanning along the Gaza border and prevent them from spreading. At the end of the day, those who shoot at Israeli communities near Gaza will also shoot at Tel Aviv.

It is also evident that Hamas isn't omnipotent in Gaza. Just yesterday, even before the missile attack, demonstrations erupted in Gaza against the organization over the grim economic situation there. In light of these protests, Hamas has no interest in even trying to control the rioters on the border with Israel or restraining Islamic Jihad and other like-minded groups.
After Tel Aviv Rocket Attack, Israel's UN Envoy Renews Call for Security Council to Condemn Hamas as Terror Group
Israel's United Nations envoy on Friday issued a fresh call on the Security Council to denounce Hamas as a terrorist organization and not question or undermine Israel's right of self-defense.

In a letter to the Security Council that followed Thursday's rocket attack on Tel Aviv, Israeli Ambassador Danny Danon pointed out that the "terrorists that fired these rockets into Israel's most populated civilian area did so while hiding behind Palestinian civilians in Gaza and exploiting them as human shields."

Danon continued: "Such an act constitutes a double war crime. Israel will take any and all necessary actions to protect itself and its citizens from the unrelenting Palestinian terrorism we face. A terrorist organization that tries to harm Israel will encounter a relentless and uncompromising force."

Mindful of the historic use of the UN as a platform to condemn Israel for its military response to Palestinian violence, Danon emphasized: "Any other nation facing this daily onslaught of terror attacks would not hesitate to act on behalf of the safety and security of its people."

He concluded: "Israel must not be held to a different standard."
Silence here at the UN Human Rights Council tonight after Palestinian rockets from Gaza attacked Tel Aviv.

They're carefully saving their voice and moral outrage for when Israel responds. pic.twitter.com/Eb8LpvNmMz

— Hillel Neuer (@HillelNeuer) March 14, 2019
9 rockets fired at border towns; IDF assesses Tel Aviv rocket attack was mistake
The growing assumption among Israeli army officials is that Thursday's rockets were fired from Gaza toward Tel Aviv by mistake, a defense official said Friday.

Low-level Hamas forces are believed to have been responsible for the launches.

In response to the two rockets fired at Tel Aviv, which did not hit residential areas and caused no direct injury, Israeli war planes hit over 100 Hamas targets in the Gaza Strip overnight Thursday-Friday. Israel holds Hamas, the Islamist terror group that rules the Strip, responsible for any attacks emanating from the coastal enclave.

Warning sirens went off three times during the night in Israeli border communities near Gaza and once more on Friday morning, with Palestinians firing nine rockets at Israel.

The army said six were intercepted by Israel's Iron Dome missile-defense system and one failed to clear the border. A further two rockets apparently fell in an open field. There were no reports of injuries or damage, although rocket fragments were discovered in a Sderot school.
In rare move, Hamas-run Interior Ministry criticizes rocket attack on Israel
In a rare move, the Hamas-run Interior Ministry criticized the firing of rockets at Tel Aviv on Thursday evening and vowed to take action against those who launched them.

For the first time since the 2014 Gaza war, two rockets from the Gaza Strip were fired at the heart of Israel.

Residents of Israel's second-largest city Tel Aviv and the surrounding metropolis of Gush Dan rushed to bomb shelters and reported hearing explosions. The rockets both hit open areas, and did not cause casualties. However, five people were treated for shock by paramedics.

"We are following up on the firing of rockets from Gaza against the national consensus and the ministry will take measures against the violators," the Hamas Interior Ministry said in a statement.

Hamas-run institutions seldom take public positions against rocket fire at Israel. Hamas is an Islamist terror group that openly calls for Israel's destruction.

Earlier in the evening, the Izz ad-Din al-Qassam Brigades, Hamas's armed wing denied that it launched the rockets, emphasizing that they were shot off when the Hamas leadership and an Egyptian security delegation were meeting in Gaza.
Anti-Zionist 'IfNotNow' Prays for Gaza When IDF Responds to Rocket Attack
The anti-Zionist IfNotNow organization tweeted its strong support early Friday morning for the "people of Gaza" and Hamas terrorist group that fired rocket attacks at Tel Aviv.

"We are praying for the people of Gaza as they endure another assault from Israel's military, and demand that our communal leadership stand against this violence," the group posted on the Twitter social networking site, adding the hashtag, #GazaUnderAttack .

There was no condemnation of the terrorist rocket attack that targeted hundreds of thousands in the greater Tel Aviv metro area and for that matter, no condemnation of the Hamas leadership against whom its own starving population has finally begun to rebel as well, for the misuse of funds and other resources.
Israel, Hamas reportedly agree to ceasefire after rockets fired at Tel Aviv
Israel and Hamas have agreed to a ceasefire, the Kan public broadcaster and Palestinian media reported Friday. Israel has not confirmed the reports.

The reported de-escalation came after two rockets were fired from the Strip at Tel Aviv on Thursday and the IDF hit over 100 targets in the coastal enclave in response. Nine rockets were then fired from Gaza at border communities in Israel, six of which were intercepted.

Sources in Gaza told Kan the agreement was negotiated with the help of Egyptian mediators.

A spokesperson for the Palestinian Islamic Jihad terror group, Daoud Shehab, said his organization is "committed to the ceasefire understandings" as long as Israel "halts its aggression against the Palestinian people."
Screen capture from video showing the Tel Aviv skyline on March 14 as rocket warning sirens blare after the launch of two rockets from the Gaza Strip (IDF)

The rockets fired toward Tel Aviv were the first such occurrence since a major conflict in 2014, and did not hit residential areas and caused no direct injury. An IDF assessment found that the rockets were possibly fired toward the coastal city by mistake, and that low-level Hamas forces were responsible for the launches.

It was not immediately clarified if the IDF believed it was a technical malfunction or human error.
For first time in nearly a year, Hamas calls off weekly Gaza border protest
Weekly protests along the Gaza-Israel border were called off Friday after a serious escalation overnight between Israel and Palestinian terrorists, organizers announced, the first time they have not been held in almost a year.

"In keeping with the public interest, the commission has decided to exceptionally postpone its activities scheduled for this day," the body which organizes the protests said in a statement.

Protests will resume in the coming weeks, with particular preparation for the one-year anniversary of their beginning on March 30, it said.

The cancellation, the first of its kind in a year, came after Israel said its aircraft struck more than 100 Hamas targets in Gaza overnight in response to the firing of two rockets at Tel Aviv, for the first time since the 2014 Gaza War.

An official from the organizing committee, speaking on condition of anonymity, said the protests were delayed "to protect our people due to the escalation and the Israeli aggression."
Many of the rocket and missile attacks on Israel are double war crimes, launched at Israeli civilians from behind Palestinian civilians.

— Senator Ted Cruz (@SenTedCruz) March 14, 2019
I urge the Trump administration to robustly implement the Sanctioning the Use of Civilians as Defenseless Shields Act, which includes my legislation imposing mandatory sanctions on Iran-backed Hamas and Hezbollah for the use of human shields. --> https://t.co/BmcKwGLx6e

— Senator Ted Cruz (@SenTedCruz) March 14, 2019
Disgusting cartoon. Israel is attacked..defends itself..Israel blamed.. again. Hamas/other terrorist groups: it doesn't work anymore. The game is up. Keep trying to play & lose more & more for the Palestinians of Gaza. Understand reality, then we can talk about improving lives. pic.twitter.com/8iO76yJP4Z

— Jason D. Greenblatt (@jdgreenblatt45) March 15, 2019
Rocket attack on Tel Aviv ignored by BBC News website
Some two hours after the attack on Tel Aviv, listeners to the BBC World Service radio programme 'Newshour' heard a report from the Jerusalem bureau's Tom Bateman.

However, twelve hours after Hamas terrorists launched two missiles at Tel Aviv, the BBC News website still had nothing to tell its readers about that story.
Melanie Phillips:
The New Zealand mosque attacks
The horrific terrorist attacks in New Zealand, in which at least 49 Muslims have been murdered after being gunned down at two Christchurch mosques, are appalling and frightening.

One gunman, said to be an Australian who has been charged with murder, is reported to have written a manifesto ranting about "white genocide", quoting Dylan Thomas and associating himself with recent white racist murderers, and declaring his aim to "create an atmosphere of fear" and to "incite violence" against Muslims.

New Zealand police also reportedly defused "a number of IEDs (explosive devices) attached to vehicles". Clearly, the scale and precise nature of what happened are still unclear.

Once again, the ease with which such people can obtain weapons and carry out such attacks is shocking and alarming.

Some of us have been warning for years of a lethal spiral of violence and social and cultural breakdown that will develop in a western world that is fragmenting into warring groups, victimising the innocent of whatever background. This latest attack is further terrifying evidence of this pattern. There are deeply worrying signs that, while Islamist terrorism remains an acute concern, white racist attacks are on the increase.

All decent people, of whatever faith, culture or creed, must unequivocally denounce such atrocities as the Christchurch mosque attacks and all other acts of violence against the innocent. We must end our culture of selective impunity and excuses for evil. Time to form an axis of truth-telling and decency against all fanaticism wherever it is found.

Qanta Ahmed:
My grief for the victims of the New Zealand mosque attack
'We belong to Allah and to Allah we shall return'. Muslims around the world, including me, are now reciting the verse from the Quran that Muslims say on hearing of the death of a fellow believer. Taking in news of the murder of 49 worshippers at a mosque in sleepy, safe New Zealand at the hands of a white supremacist, this verse came to my lips again and again.

I felt the same grief when I watched the attacks on 9/11 unfolding. In the days afterwards, I also struggled with the reaction of others in Riyadh, where I was living at the time, and their shameful sense of schadenfreude. This was hard to deal with as I struggled to comprehend the attacks on New York, a city I love and call home. Four years later on a steamy July day in London, providence stopped me from boarding the tube to get to work at Newham General Hospital in east London.

This spectre of being targeted by terrorists haunts us all. The deeper fear that we Muslims feel – but rarely articulate – is that an attack might have been carried out by a fellow Muslim. So learning of a mass shooting targeting Muslims praying in a secular pluralist democracy is a staggering shock. The loss of life is appalling; this is an evil assault against the Muslim community of Christchurch. It is also an attack on New Zealand, the ramifications of which will reverberate globally.
Israel condemns 'depraved and despicable' mosque massacre in New Zealand
Israel's president and prime minister on Friday joined with world leaders to express condolences and condemnation following the deadly attacks on mosques in New Zealand.

"I condemn the terrorist attack on the mosques in Christchurch in the strongest possible terms and send my condolences on behalf of the people of Israel to the families of the victims, the injured, the government and the people of New Zealand," said President Reuven Rivlin.

"Murder of people at prayer, in their most holy and sacred place, is a depraved and despicable act. For people of all religions and of none, a red line has been crossed. Our thoughts and prayers for the full recovery of the injured in the New Zealand terror attack," he said.

Prime Minister Benjamin Netanyahu also condemned the attack, saying that "Israel mourns the wanton murder of innocent worshippers in Christchurch and condemns the brazen act of terror in New Zealand."
In solidarity with Muslims, NZ Jews shut synagogues on Shabbat for first time
The New Zealand Jewish community decided to shut its synagogues on Shabbat for the first time ever in an act of solidarity with the Muslim community in the country in the wake of the slaying of at least 49 people at two mosques in Christchurch.

"For the first time in history synagogues in NZ are closed on Shabbat following the shocking massacre of Muslims in Christchurch," Tweeted Isaac Herzog, head of the Jewish Agency for Israel.

"The Jewish Agency and the NZ Jewish Council stand in solidarity with the bereaved families. We are united in fighting violent hatred and racism," he said.

The New Zealand Jewish Council is "sickened and devastated" by the attacks, in which at least one armed individual killed dozens of people by shooting them at close distance with a semi-automatic rifle.

"We offer our full assistance and support to the Muslim community and stand united with it against the scourge of terrorism and racism, which we must do all we can to banish from New Zealand," Stephen Goodman, the president of the New Zealand Jewish Council told the Jewish Telegraphic Agency.
US Should Recognize Israel's Sovereignty Over the Golan Heights
Whenever an incident or an idea related to the Middle East arises, former State Department officials are quick to comment. Those who are Arabists can be counted on to be critical of Israel and to dismiss the views of its officials and supporters. What is striking about these people is that a) they are consistently wrong; b) their policies failed and frequently damaged American interests when they were in power; c) they never admit their errors; d) they insist on repeating their mistakes; and e) they advise their successors to adopt their failed policies and criticize them if they do not.

Fear of the Arab reaction to US support for Israel is a staple of Arabist thought. For the last 80-odd years, they've been selling the same balderdash — that the Arab world will punish us if we do not abandon Israel. If, however, you look at the trajectory of US relations between Israel and the Arab states over the decades, it is clear that our ties with both have grown stronger, precisely the opposite of what the Arabists predict.

Many of us remember when former US Ambassador to Israel Martin Indyk and other foreign policy brahmins warned of a cataclysm if Trump recognized Jerusalem as Israel's capital and moved the American embassy there.

Indyk predicted that this would likely spark an explosion of anger in the Palestinian, Arab, and Muslim worlds, and generate a rallying cry for Islamic extremists everywhere. American embassies and American citizens in Muslim countries would likely be targeted by violent demonstrators. Confrontations between Palestinians and Israelis would likely erupt in the West Bank, and the Palestinian security forces would likely stand aside, unable or unwilling to continue cooperating with their Israeli counterparts to tamp down the violence. Hamas might resume rocket attacks from Gaza, but because of fear of an Israeli response, they would more likely seek to stoke the fires of violent resistance in the West Bank and Jerusalem. Arab and Muslim states would likely demand that Trump rescind the decision.
"Rally for Equal Rights" at the United Nations
A coalition of 24 organizations that oppose antisemitism and anti-Israeli prejudice—from Sweden, Ireland, France, Belgium, Israel, Italy, Germany and Switzerland—led by the non-governmental human rights group UN Watch, will be holding a "Rally for Equal Rights" this Monday, March 18, facing the UN Human Rights Council, on the same day it launches an unprecedented assault on Israel.

Eminent diplomats, authors, parliamentarians, national security experts and activists will address the event, to be broadcast live at www.unwatch.org at 12:30 pm Geneva time (7:30 am Eastern).

Chartered buses of rally participants are coming from Zurich, Lausanne, Milan, Lyon and Grenoble, with additional activists and student leaders flying in from London, Paris, Amsterdam, Brussels, Stockholm, Budapest, Vienna, Tbilisi and Jerusalem.

The 47-nation body is set to release seven biased reports accusing the Jewish state of "war crimes," and giving a free pass to Hamas. A few days later, the council will condemn Israel in five unbalanced resolutions that likewise make no mention of Hamas, Islamic Jihad or the Palestinian Authority.

One thousand activists from across Europe are expected to join UN Watch's international protest against anti-Israeli hatred—the Rally for Equal Rights at the United Nations—with another 10,000 signing the petition that will be presented before the UN that day.

The new Commission of Inquiry will present its one-sided report on Israel's "assault" on "civilian protesters" at the Gaza border, accusing Israeli soldiers of "crimes against humanity." The UNHRC will call on the UN High Commissioner for Human Rights "to manage the dossiers on alleged perpetrators"—IDF soldiers—"to be provided to the International Criminal Court."
Jewish groups prepare to protest UN's anti-Israel bias in Geneva
Several Jewish and pro-Israel organizations will rally in Geneva on March 18 to protest the demonization of Israel by the United Nations, and in particular the U.N. Human Rights Council, which is based in the Swiss city.

The protest, to be held at the Place des Nations across from the UNHRC building, is being organized by U.N. Watch, a nongovernmental organization whose stated mandate is "to monitor the performance of the United Nations by the yardstick of its own charter."

On that day, the 47-nation UNHRC is planning to launch an unprecedented assault against Israel when the Jewish state will be singled out for an entire day, a pariah treatment meted out to no other nation, as the council will present seven separate reports alleging Israeli war crimes. The UNHRC will release a report by its Commission of Inquiry into Israel's "large-scale assault" on "civilian" Palestinian protesters on the Israel's border with the Gaza Strip.

It will also release a report on a blacklist of companies that do business over the Green Line. U.N. Watch has called the compilation of the database "an act of economic warfare against Israel and its allies, which does nothing to further human rights."

"The U.N. should not devote further resources to this charade," the organization said.
Four Facts About the UNHRC's Resolution on the COI Report on Gaza
If the UN Human Rights Council passes its resolution on the COI report on #Gaza, it will serve as a complicit to Hamas, which is terrorizing Israelis and Gazans alike. Any peace-loving member of the council must say NO to the UNHRC resolution on this report. Get the facts!
Good post on the principle of complementarily and ICC inquiry into Israeli settlements (see my comment at the bottom). https://t.co/TrYZiu6gjm

— Eugene Kontorovich (@EVKontorovich) March 14, 2019
Germany's parliament favors Merkel's anti-Israel U.N. voting pattern
The Free Democratic Party (FDP) MPS Bijan Djir-Sarai and Frank Müller-Rosentritt introduced the pro-Israel resolution calling on the federal government "in the bodies and specialized agencies of the United Nations (such as the UN General Assembly, the UN Human Rights Council or UNESCO) dissociate from unilateral, primarily politically motivated initiatives and alliances of anti-Israeli Member States, and protect Israel and legitimate Israeli interests from unilateral condemnation."

The resolution, which was reviewed by The Jerusalem Post, said that Chancellor Merkel's administration should seek to change its voting pattern in this context.

Merkel, who said in Israel in 2008 that Israel's security is "non-negotiable," for her administration, voted with authoritarian regimes like the Islamic Republic of Iran 16 times in 2018 to condemn the Jewish state. Germany's UN ambassador Christoph Heusgen and the country's UN diplomats voted 16 against Israel from a total of 21 anti-Israel resolutions in 2018. Germany abstained from four anti-Jewish state resolutions.
71% of Israeli Jews find Israeli control over the Palestinians immoral
A new survey by the Van Leer Institute, in cooperation with the Citizens Accord Forum and the Shaharit Institute, revealed on Thursday that 71% of the Jewish public in Israel thinks there is a moral problem with Israel's control over the Palestinians.

Moreover, 78% of Israeli Jews think that control over the Palestinians in Judea and Samaria is not good for Israel.

The survey, which was presented under the headline "Religious Faith, Peace and Coexistence," examined the Israeli public's stands regarding peace and the control of Israel over Palestinians in Judea and Samaria.

Despite the high percentage who claim that control of the Palestinians is not good for Israel, only 12% think it should be stopped immediately, while the majority of the public (66%) thinks that there is no alternative at present.

The poll also showed that 78% of the Jewish public and 93% of the Arab public in Israel agree that peace with people of other faiths is an important value in their religion, and 51% of the Jews and 72% of the Arabs agree that religious leaders representing different religions in the region should take part in making decisions related to peace.
14-Mar-19: Two years after Federal charges are unsealed, Ahlam Tamimi remains free. How is this happening?
Two years ago today, on March 14, 2017, the United States Department of Justice made an official announcement about the legal status of the woman who for years has boasted of bombing Jerusalem's Sbarro pizzeria and everyone in it.

Fifteen people were killed there that hot summer afternoon in 2001. One was our daughter, Malki. A sixteenth victim has been alive but unconscious all these years. Many more people were left maimed with injuries of a hideous nature.

We - Frimet and Arnold Roth who write this blog - campaigned for years for charges to be brought against Ahlam Tamimi after her freedom was extorted by Hamas in the catastrophic Shalit Deal. We even took it to the US Congress ["08-Feb-16: Terror is now a legitimate career option in Pal Arab society but its enablers barely notice" - text and video]

And then, with almost no advance notice, serious terrorism charges against her were suddenly unveiled. (The official text of that March 14, 2017 announcement is online here.)

Tamimi, a woman of 21, is Hamas' first female terror operative. Today she is 39, married (to another convicted and unrepentant murderer), a mother, a Jordanian celebrity, a prominent spokesperson for Islamism and jihad. She does not live in hiding, and is frequently interviewed by the media; not only by the Jordanian media or the Arabic media but by respected news agencies like Associated Press that have sent reporters to her home to interview her on video.
Iran said to have hacked cellphone of Blue and White chief Gantz
Iranian hackers in recent months broke into the personal phone of Benny Gantz, a leading candidate in next month's elections, and obtained its entire contents, according to a report Thursday.

Two senior Shin Bet security service officials approached the Blue and White party chairman last month to inform him that his cellular phone had been hacked shortly after he announced his political bid, with programmers in Iran getting hold of his personal details and texts, Channel 12 news reported.

The Shin Bet agents noted to Gantz that any sensitive info could be used against him in the future and told him to proceed as he sees fit.

Channel 12 noted that no classified information is likely to have been on the device.

In light of the Channel 12 report, Gantz canceled a series of campaign appearances in bars scheduled for Thursday evening.

Blue and White declined to comment on the details of the report, saying that its timing weeks before the election "raises questions."

"We do not comment on issues pertaining to the core of Israeli security… the incident occurred four years after Gantz ended his [military] service. The timing of the publication raises questions," the party said in a statement.

The report came amid concerns of foreign election meddling and cyber-attacks affecting the democratic process and the campaigns. (h/t Elder of Lobby)
PMW:
Palestinian Red Crescent to host BDS conference
In direct breach of its commitments, the Palestinian Red Crescent Society (PRCS) is set to host a BDS conference. (March 15, 2019)
In direct breach of its commitments, the Palestinian Red Crescent Society (PRCS), which is a member of the International Federation of the Red Cross and Red Crescent Societies (IFRC), is set to host a BDS conference.

In a notice posted on its Facebook page, the Boycott, Divest and Sanction (BDS) movement announced that it will hold its bi-annual conference on Saturday March 16, on the premises of the Palestinian Red Crescent.

Posted text: "Under the auspices of the Palestinian people, the Palestinian National Boycott Movement invites you to participate in the Sixth National Conference of the Movement to Boycott, Divest, and Sanction (BDS) Israel, under the title 'Another boycott and struggle against normalization in order to resist the colonialist and racist Israeli regime and to isolate it.' This is on Saturday, March 16, 2019, from 10:30 a.m. until 3:00 p.m., at the Congress Hall in the Palestinian Red Crescent [Building] in El-Bireh." [Facebook page of BDS Arabic, March 10, 2019]

The PRCS is a member of the International Federation of the Red Cross and Red Crescent Societies (IFRC) that is associated with the International Committee of the Red Cross (ICRC).

In order for the PRCS to join the IFRC, it had to commit to upholding seven fundamental principles set down by the latter, which mirror the same fundamental principles set down by the ICRC.
Review of Palestinian Textbooks Launched amid British Concern Curriculum Promotes Anti-Israel Violence
The UK government is to play a central role in a review of Palestinian school textbooks amid concern British aid money is funding a curriculum that allegedly incites violence against Israelis.

The Department for International Development (DFID) confirmed it had "successfully pushed" for the review of the Palestinian Authority's (PA) current curriculum for primary and secondary school children.

DFID announced the Georg Eckert Institute - a leading international institute for analysing education media based in Germany - had been commissioned to produce an initial scoping report to expedite the full review.

An international group, including representatives from the UK, will work on the review, which is to due to be concluded by September 2019.

The PA agreed to "engage constructively" with the findings. DFID said that if evidence of material which incites violence is found they will take action.

International Development Secretary Penny Mordaunt said: "The UK is rightly at the forefront of the international community on this issue. We are working closely with the PA to ensure that all Palestinian children receive a decent education and are able to fulfil their potential."

The UK will donate £125 million to the PA by 2021 with £20 million of the total budget spent on education.
Israeli, Palestinian Institutes Join Forces to Counter Radicalization in PA Curriculum
On Thursday, the Institute for Monitoring Peace and Cultural Tolerance in School Education (IMPACT-se) said it will be working with Prof. Mohammed Dajani Daoudi of the Wasatia Academic Institute (WAI) in Jerusalem.

Daoudi founded the Wasatia movement in January 2007 to promote religious and political moderation among Palestinians, co-existence with Israelis, and education on the Holocaust and other topics considered taboo in Palestinian society. In 2014 he led a student delegation from Palestinian Al-Quds University to visit Auschwitz, after which he was expelled from the school and his car was torched.

Daoudi identified five "problematic categories" within current Palestinian textbooks: "[Encouragement] to violence; subliminal violent messaging; demonization of the Other; indoctrination to militancy; and degradation of women." "It is hoped that the Palestinian Authority will revise its curriculum along the lines of the international standards for peace education," he said.
Hamas's security forces disperse rare Gaza protests against its rule
Hamas-run security forces broke up protests against the terror group in the Gaza Strip Thursday, eyewitnesses said, cracking down on a rare public show of dissent in the coastal enclave.

Dozens of security officials, many in plain clothes, dispersed a demonstration in northern Gaza, the eyewitnesses said. Dozens of people had been protesting there.

Journalists were prevented from filming or taking pictures at the protest, an AFP reporter said.

In a separate protest in central Gaza, dozens of people demonstrated, including by setting tires on fire.

Hamas-run police spokesman Ayman al-Batniji said in a statement that "police in the area of Deir Balah dealt with a group of citizens who closed roads and ignited fires," referring to the protest in central Gaza.
Hamas police spokesman: "A group of people with no permits went into a protest today. Some of them closed roads and burned tires, we had to maintain discipline. Some were arrested". Via @abubakrbashir4

— Raf Sanchez (@rafsanchez) March 14, 2019
---
---
We have lots of ideas, but we need more resources to be even more effective. Please
donate today
to help get the message out and to help defend Israel.