From Ian:
---
Melanie Phillips:
An odious political symmetry
We are being led to believe that a fearful political symmetry is developing which has to be avoided at all costs, exemplified by the seven MPs who resigned the Labour whip on Monday.

The seven MPs – Chuka Umunna, Luciana Berger, Chris Leslie, Angela Smith, Mike Gapes, Gavin Shuker, and Ann Coffey — said they were resigning the Labour whip to sit as independent MPs in protest at two issues: that the party leader, Jeremy Corbyn, is facilitating Brexit rather than pressing for the second referendum that they want to see take place; and that he has failed to tackle the antisemitism displayed by hundreds of Labour members.

The latter is undeniably true. Luciana Berger, the Jewish MP who has endured sustained abuse and threats from both inside and outside her Liverpool Wavertree constituency with death threats and taunts of "filthy Jew bitch" and "a Zionist extremist who hates civilised people", said the party was "institutionally antisemitic".

As if to prove the point, the very next day Labour MP Ruth George astoundingly suggested that the seven MPs – most of who aren't even Jews – were in the pay of the State of Israel. After an outcry, George deleted her comment and apologised, saying she had "no intention of invoking a conspiracy theory".

But she did. You can't just apologise such jaw-dropping antisemitism away.

That Labour is now institutionally not merely vilely antisemitic but extremist and tyrannical, having been captured by the hard left who pose a danger to the entire country if the party were ever to be elected to government, is demonstrably the case.

But astonishingly, an attempt is being made to draw a parallel with the Conservative party. Just as Labour has been captured by extremists, goes the argument, so too have the Tories from the other side of the political spectrum.
Jews Must Not Embrace Powerlessness
To many observers, Israel's military strength, thriving First World economy, and democratic institutions seem to mark it as a conventional Western power—albeit one located in the Middle East. Nothing could be further from the truth. The Zionism that gave birth to Israel was a radical and revolutionary movement not only to return the Jewish people to sovereignty in their ancestral homeland, but to eradicate the narrative of victimhood that had come to define the Jews of the Diaspora after centuries of oppression and second-class citizenship. That is why Israel is one of the greatest progressive success stories of modern times.

Thus, it makes sense that many left-leaning pro-Israel activists are making valiant efforts to create a space for Zionist groups within the American social-justice movement. On the surface, the fit is an obvious one. Formerly disempowered Jews, who had been oppressed for thousands of years and had lost millions to the Holocaust, now have agency. No longer at the whim of tyrannical regimes, Israel is a powerful, if small, nation-state where the Jews can finally exercise the same rights and privileges as all other peoples.

Yet, as these well-intentioned pro-Israel groups are discovering, intersectionality—the new framework for social-justice movements and the religion of the progressive left—is inherently irreconcilable with Zionism. Pro-Israel groups will fail in their attempts at inclusion precisely because Israel did not fail in its efforts to reverse the condition of the Jew in history. Within the social-justice movement, there is no place for an ideology or an identity that is premised on the idea that Jews will no longer be victims.

In a recent article in the New York Times, columnist Michele Alexander suggested that the only reason Martin Luther King Jr. had been supportive of a homeland for Jews in his day was that "he recognized European Jewry as a persecuted, oppressed, and homeless people." King would never, she argued, support Israel today.
In 2016 Bernie Sanders pushed the Democrats on Israel. Is he now mainstream?
This may be hard to remember, but three years ago it was a big deal when Bernie Sanders criticized Israel in public.

During a debate in New York City with Hillary Clinton, Sanders generated headlines when he said the United States should care about Palestinian rights. Sometimes, he added, Prime Minister Benjamin Netanyahu was wrong.

"In the long run, if we are ever going to bring peace to that region, we are going to have to treat the Palestinian people with respect and dignity," the longtime Vermont senator said at the April 14 Democratic presidential primary debate. "There comes a time when we pursue justice and peace that we will have to say Netanyahu is not right all the time."

During the campaign, Sanders also described himself as "100 percent pro-Israel." He spoke about living on an Israeli kibbutz when he was younger and defended Israel's right to self-defense. But he also broke norms on Israel.

Sanders was the only major candidate not to speak at the annual convention of AIPAC, the pro-Israel lobby (he offered to appear on video, but AIPAC said its doesn't do that). For a hot second, his director of Jewish outreach was a co-founder of IfNotNow, a millennial Jewish group that is deeply critical of Israeli actions (and takes no "unified stance" on Zionism, the boycott Israel movement or the "question of statehood"). He said Israel's actions were "disproportionate" during the 2014 Gaza war and overstated the number of Palestinians who were killed.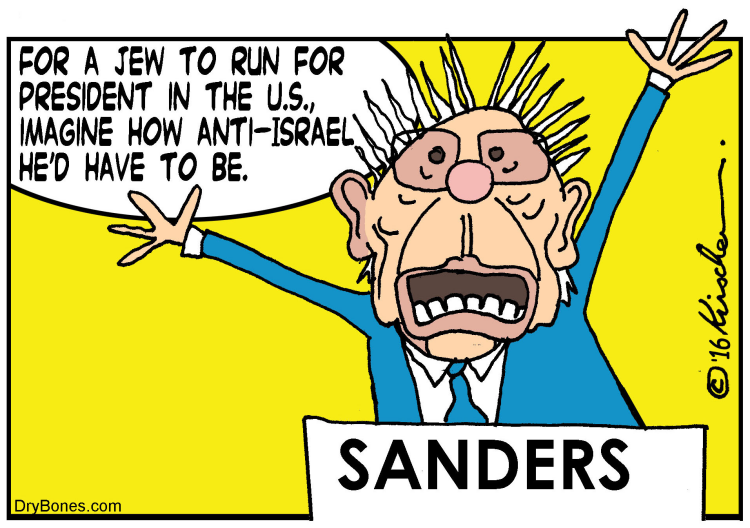 Luciana Berger's departure is the beginning of the end for Labour
Manny Shinwell knew how to deal with anti-Semites. Born in London's East End, reared in Glasgow, and once jailed for inciting a riot on Red Clydeside, the pipe-smoking pugilist was a tough, proud Jew. During a debate in parliament in 1938, Shinwell (then Labour MP for Seaham) was jabbing at the government when Tory MP Robert Bower heckled: 'Go back to Poland'. Shinwell got up, crossed the floor and thumped Bower clean in the face, then turned to the Speaker and said: 'May I make a personal explanation?'.

Eight decades later, his great-niece has delivered another bloody nose to the face of anti-Semitism. Only now, the anti-Semitism was in her party, a defining characteristic of its ethos, and the only real contribution its leader has made to public life. Luciana Berger's is the most powerful of the seven defections from the Labour party because she tried harder than most to get behind Jeremy Corbyn. She was rewarded with a campaign of racial vilification by his supporters. Three factors made Berger's departure from Corbyn Labour inevitable: she is a Jew, she is a Jew who will not pretend Labour has no problem with Jews, and she is a Jew who recognises that left-wing anti-Semitism is no less a threat than the other end of the horseshoe.

The enormity of what has happened cannot be overstated. In living memory of the Holocaust, a Jewish MP has been driven out of the Labour party by anti-Semites whose grip on the institution is total and irreversible. That last sentence stirs a sulphurous nausea and, 1,255 days after the Corbyn disaster began, still sounds too horrific to be true — and yet it is. The decent who remain imagine this stain will be scrubbed away one day, under a new leader, but it will not because it cannot. Labour is history's latest persecutor of the Jews, heir to a long and miserable tradition stretching all the way back to Haman. The Jews remain and their tormentors are gone, a fate that awaits Labour too. This is not a dark chapter in the party's history; it is the final chapter, even if it proves to be a long one.
Citing anti-Semitism, UK Labour Friends of Israel head is 8th MP to quit party
An eighth lawmaker quit Britain's Labour Party over its handling of anti-Semitism and Brexit, boosting a new breakaway group from the UK's main opposition party.

Joan Ryan, who headed the Labour Friends of Israel, announced late Tuesday that after four decades in the party she was leaving Labour to sit with the newly formed Independent Group in Parliament.

Ryan, the MP for Enfield North in London, said the party had become "infected with the scourge of anti-Jewish racism" under left-wing Labour leader Jeremy Corbyn, a longtime supporter of the Palestinians.

"I cannot remain a member of the Labour party while this requires me to suggest that I believe Jeremy Corbyn – a man who has presided over the culture of anti-Jewish racism and hatred of Israel that now afflicts my former party – is fit to be prime minister of this country. He is not," she wrote.

Ryan, who is not Jewish, had chaired Labour Friends of Israel (LFI) since June 2015. She had long expressed concerns about Corbyn.
Isabel Hardman:
Joan Ryan quits Labour and joins the Independent Group
Another Labour MP, Joan Ryan, has tonight announced she is leaving the party to join the Independent Group. This is significant, and not just because it creates a sense of momentum. Ryan is the first Labourite to leave who wasn't involved in the months of secret planning meetings. She was, until fairly recently, arguing that the best thing to do would be to stay and fight to change the party back. Now, she has gone, releasing a potent statement about her reasons.

Those reasons include what she calls 'the scourge of anti-Jewish racism', which 'simply did not exist in the party before his election as leader'. She argues that she has 'fought for as long as I can within the Labour Party'. Ryan is the parliamentary chair of Labour Friends of Israel, and the organisation has already said that she will remain in that role. It would have been difficult for anyone in her position to hear Luciana Berger's description of the anti-Semitism within the party and argue that staying was a good idea, unless they had evidence that Berger's assessment was wrong.

And this is another reason why Ryan's departure is significant. There are other MPs who have been very vocal on the way the Labour Party has approached anti-Semitism, chief among them Ian Austin, who has been on resignation watch for a while. His views on Europe are somewhat different to the rest of the group, though, which makes the move less easy. Then there's Margaret Hodge, who was threatened with disciplinary action after engaging in a furious row with Jeremy Corbyn in the Commons.
Labour Party stands to lose control of Brighton and Hove City Council as Councillor Anne Meadows defects over antisemitism
The Labour Party is set to lose control over Brighton and Hove City Council as one of its councillors, Anne Meadows, has told the BBC that she is leaving the Labour Party and joining the Conservative Party after what she described as "18 months of antisemitism and abuse". Her defection means that the Conservative grouping on the Council is now larger than the Labour one. The Council has been led by the Labour Party since 2015.

This week the Labour Party has been rocked by a major split as eight MPs left the Labour Party over antisemitism to join The Independent Group, bringing the total number of MPs quitting the Labour Party over Jew-hatred to ten.

Campaign Against Antisemitism has referred the Labour Party to the Equality and Human Rights Commission, which is now due to decide whether to open a full statutory investigation into antisemitic discrimination and victimisation within the Party.
Three UK Conservative lawmakers defect to join Labour rebels' Independent Group
Cracks in Britain's political party system yawned wider Wednesday as three pro-European lawmakers quit the governing Conservatives to join a newly formed centrist group of legislators.

The new faction, called the Independent Group, is opposed to the government's handling of Brexit and Labour's failure to stamp out anti-Semitism in the party.

MPs Anna Soubry, Heidi Allen and Sarah Wollaston said they will join eight ex-opposition Labour Party lawmakers in the new group.

In a letter to Prime Minister Theresa May, the trio accused the Conservative Party of abandoning the political center ground, and said "the final straw for us has been this government's disastrous handling of Brexit."

Britain is scheduled to split from the EU on March 29 and still has not reached a deal for its departure.

The three lawmakers accused the government of "recklessly marching the country to the cliff edge of no deal."
Galloway's Extraordinary Goebbels Rant

George Galloway's Sky News interview this morning took an unexpected turn. He was invited on to talk about his application to re-join the Labour Party, but ended up shouting "The Goebbels is you!" at Sky News' Niall Paterson. Seemingly not content with Ken Livingstone's Hitler obsession, the former Respect MP brought a new Nazi into the field…
Letter to UNC Dean against anti-Semite Sarsour as keynote speaker
We are appalled by the choice of anti-Semitic bigot Linda Sarsour as the keynote speaker at the Minority Health Conference, which is taking place on February 22, 2019, at the University of North Carolina-Chapel Hill (the "University").
You and the Gillings School of Global Public Health (the "School") have denied responsibility for choosing Ms. Sarsour and put the onus entirely on the students who are planning and executing this conference. But the School and the University bear responsibility as well. The School is a co-sponsor of the conference, and the University is providing a venue and – we presume –financial and other support. The University and the School therefore have the right and the moral obligation to
(1) speak out and condemn the student organizers' poor choice of a keynote speaker; and

(2) urge that the invitation to Ms. Sarsour be rescinded and that this honor be conferred on someone else who is truly worthy.

Please consider these facts about Linda Sarsour:
Ms. Sarsour has aligned herself and extolled a terrorist who murdered innocent Jews in Israel. When she shared a podium with Rasmea Odeh – who had been convicted of murdering two college students in a 1969 supermarket bombing in Israel and who was deported for concealing her terrorist crimes on her U.S. immigration forms – Sarsour said she was "honored and privileged to be here in this space, and honored to be on this stage with Rasmea."

Ms. Sarsour promotes violence against Jews and terror wars against Israel. She posted a photo of a young Arab child walking toward Israeli soldiers, holding rocks in both hands, and praised it as "the definition of courage." When there was justifiable backlash from New York City Council Member Rory Lancman and others, Ms. Sarsour tweeted, "The Zionist trolls are out to play. Bring it." Ms. Sarsour also tweeted her support for the intifada – the term for the Palestinian Arab terror war against Jews in Israel – describing it as "invaluable on many fronts."
Ilhan Omar 'Apologizes' to AIPAC's Leftist Enemies for Anti-Semitic Tweet
Rep. Ilhan Omar (D-Minn.) on Tuesday apologized for the hurt her Sunday's anti-Semitic tweet may have caused Jews wherever they may be. Here's the thing, though: the Jew hating Somali congresswoman accused the American Israel Public Affairs Committee (AIPAC) of controlling US politics by bribing lawmakers with their "Benjamins" (a paraphrase on rapper Puff Daddy's song). But she did not include AIPAC in her apologetic and confidential conference call with Jewish-American organizations.

Instead, the rabid anti-Semite representing everything that has gone terrifyingly wrong with my Democratic party (I happen to be a registered member) apologized to Jews who agree with her on the role of AIPAC in deciding US foreign policy: the Anti-Defamation League, the Jewish Democratic Council of America, HIAS, Americans for Peace Now, and Bend the Arc.

There's the very essence of anti-Semitism, as determined by the International Holocaust Remembrance Alliance "Working Definition of Anti-Semitism" – Accusing Jews as a people of being responsible for real or imagined wrongdoing committed by a single Jewish person or group, or even for acts committed by non-Jews.
ACLU Official Urged Support for Rep. Ilhan Omar as Jewish Community Condemned Her Antisemitic Comments
A leading official with the American Civil Liberties Union (ACLU) urged support for Democratic Congresswoman Ilhan Omar last week, while major Jewish communal leaders and party heads condemned the lawmaker for using an antisemitic trope.

Jamil Dakwar, the director of the American Civil Liberties Union's Human Rights Program, claimed in a Twitter post last Tuesday that the "pressure on @IlhanMN to apologize is only the tip of the iceberg."

"The ultimate goal is to silence her and boot her out of Congress for her courageous positions on foreign policy issues including her support to the BDS movement," he wrote, referencing the lawmaker's support for the Palestinian-led boycott, divestment, and sanctions (BDS) campaign against Israel, which she rejected before her election but endorsed shortly after assuming office.
Undercover Interviews: Hamas Has 'Done A Lot Of Good'
Julia Ganson, a speaker at an event called "Palestine Behind the Wall" hosted by a group called the Syracuse Peace Council, said that Hamas has done "a lot of good," reported Campus Reform.

When told that Israel invented SMS texting (a lie) and asked if she would boycott it, Ganson answered in the affirmative. Doesn't this just epitomize the pro-BDS and general leftist attitude towards goods and services? It doesn't matter how ubiquitous something is, if Israelis built it, benefit from it, etc., it's a no-go. I wouldn't be surprised if pro-Palestinians start boycotting air next week because Israelis also breathe it, don't you know.

Avigyle Carmeli, another speaker, suggested that violence can be used to retaliate against ideologies perceived as racist.

Now, here's the thing: I don't think this Syracuse Peace Council event happened on campus. But two majors at Syracuse University — a citizenship one and then a writing one — offer credit to students who intern for the Council.
Undercover Interviews: Hamas Has 'Done A Lot Of Good'

So like I mentioned before, Syracuse students can get credit for two of their majors by interning for this group. And none of this is really shocking from the school that splurged $5 million on a social justice center and suspended 16 frat students after seeing video from a vulgar, but satirical skit.
Anti-Semitic fliers appear again on University of Montana campus
Anti-Semitic fliers appeared around the University of Montana campus for the fourth time since November.

The fliers discovered Monday included an image of a disfigured member of the military with a quote from the late Sephardic chief rabbi of Israel Rabbi Ovadia Yosef that read "Goyim were born only to serve us," NBC Montana reported.

Previous fliers pictured US President Donald Trump with the flag of Israel, said "Jews attack First Amendment" and referred to circumcision.

"There is a line that can be crossed, but as for putting out literature that is hateful or untrue, people get to do that because of the free speech amendment," the rabbi from the area's Har Shalom synagogue told NBC Montana.
Columbia Grad Union Reps to Call for BDS in Negotiations With Administration
As Columbia University prepares to negotiate with its graduate student union on Monday, members of the union's bargaining committee are looking to urge support for "social justice" causes including the Palestinian-led boycott, divestment, and sanctions campaign against Israel.

A referendum held in February by the Graduate Workers of Columbia (GWC) — which Columbia's administration recognized in November, after refusing bargaining efforts for years — saw the election of six new committee members, four of them from Columbia Academic Workers for a Democratic Union (AWDU) slate, the student-run Columbia Daily Spectator reported.

According to its platform, the committee seeks to address issues beyond those immediately impacting the GWC, including by advancing "struggles" for solutions to "the climate crisis, immigrant rights and dignity, free on-demand abortion, Medicare for All, civil rights for all people, no matter race, religion, gender, sexuality, national origin, physical ability, immigration status."

It described BDS as a movement to force the Israeli government to end "its military occupation of Palestinian land," dismantle the West Bank security barrier — which Israeli officials say was erected to stop suicide bombings and other Palestinian terrorist attacks during the Second Intifada — and respect the rights of "Arab-Palestinian citizens" and "Palestinian refugees and exiles." Critics of the movement — including top Jewish leaders in the United States and globally — warn that it uses antisemitic tactics and denies Jewish rights to self-determination.
Pink Floyd's Waters condemns Venezuela border aid concert
Pink Floyd co-founder Roger Waters slammed an upcoming "Live Aid"-style concert to raise funds for humanitarian aid for Venezuela, calling the event a U.S.-backed effort to tarnish the socialist government in a video circulating on Tuesday.

Billionaire Richard Branson is backing the Friday show in the Colombian border city of Cucuta with a fundraising target of $100 million to provide food and medicine for Venezuelans suffering widespread shortages.

Latin singers Alejandro Sanz, Nacho, Luis Fonsi and Maluma have so far confirmed they will perform in the concert, which has evoked comparisons to Irish rock star Bob Geldof's 1985 global "Live Aid" concert to raise money for famine relief in Ethiopia.

"It has nothing to do with humanitarian aid at all," the 75-year old Waters said. "It has to do with Richard Branson ... having bought the US saying, 'We have decided to take over Venezuela, for whatever our reasons may be.'"

"Venezuela Aid Live" is part of a broader western relief effort organized by Venezuela's opposition, that blames the ruling Socialists for the economy's hyperinflationary downwards spiral that has sparked the exodus of millions.

Canadian Arabic Newspaper Called Terrorist Attack on Synagogue a "Qualitative Attack"
An article on Al Forqan newspaper distributed in Canada and the United States described a terrorist attack against a synagogue in Jerusalem as a "qualitative attack" carried out by "two heroes." Six were killed in the attack: five worshippers and a policeman.

The Palestinian Front for the Liberation of Palestine (PFLP) took responsibility for the attack.

Al Forqan is a Canadian Arabic newspaper based in Windsor, Ontario. According to its website,1 "Al Forqan is a daily online newspaper and a monthly printed newspaper issued by the Al Forqan Media Foundation, Editor and Managing Director Mohamad Hisham Khalifeh, and a group of administrators and highly qualified individuals."
BBC Arabic's tendentious Hebron feature – part one
On February 18th a feature titled "Hebron: One street, two sides" (erroneously dated February 14th) appeared on the BBC News website's 'Middle East' page.

The link leads to an English language BBC Arabic project, a version of which was also promoted on the BBC Arabic website with additional Arabic and Hebrew versions.

The feature commences by showing three separate screens of 'background information', including promotion of the BBC's usual partisan mantra on 'settlements' and 'international law' and portrayal of the subject matter as being all about 'narratives'.

BBC audiences next reach a screen which offers several short videos reached by clicking on arrows termed "hotspots". In order to see all eight videos it is necessary to click and drag to rotate the screen.
BBC Arabic's tendentious Hebron feature – part two
At no point during the 51 and a half-minute film are any of the PHRD interviewees asked how their alleged concern for 'human rights' aligns with their campaign for the ethnic cleansing of Jews from Hebron.

In two different showcased examples of PHRD filming, the BBC's 'documentary' promotes the falsehood that Israeli soldiers planted knives next to Palestinians in order to frame them as terrorists. The aim of that falsehood is to promote the notion of 'extra-judicial killings'.

The two main protagonists in this film are PHRD founder Emad Abu Shamsiya (with viewers not told that he spent several years in prison) and Zidan Sharabati. No mention is made of both those men's links to the political NGO B'tselem and specifically its 'camera project' which has also included Palestinian political activists such as the Tamimi family. At no point are viewers informed of the origins of PHRD's funding.

Notably the BBC commissioned film crew did not interview any Palestinians involved in terror attacks against Israelis in Hebron or any members of that city's armed factions and so the story told in these two 'documentaries' is one of extremist settlers and non-violent Palestinian victims protected only by children carrying video cameras.

In other words the BBC did not try to give audiences an accurate and impartial picture of the "two sides" of the story of Hebron but rather framed that story in a manner conducive to the amplification of its chosen political narrative.
Daphne Anson:
Anti-Israel Bias: Australia's Channel Nine Needs Watching
Viewers of Australia's National Nine News will be familiar with the network's not infrequent tendency to carry stories, in the second half of its bulletins where international reports tend to appear, that are decidedly unfair to Israel.

Such reports habitually inform the viewer that x number of Palestinians has been killed/ wounded in Gaza/the West Bank yesterday/today without presenting Israel's side of the story, and characteristically with no background at all.

That there's someone in Channel Nine's newsroom who's biased against Israel seems a given, and viewers of yesterday's 4 pm bulletin, at least in Melbourne, were treated to a seemingly sinister dose of anti-Israel propaganda.

The report in question concerned the big news of Monday in Oz, news still in the headlines, namely that there had been a serious malicious cyber attack on the computer network of federal Parliament in Canberra, and that the culprit must be a foreign power.

No sooner was the involvement of a foreign power being aired in Nine's 4 pm Monday bulletin than an Israeli flag flashed up up on the screen, covering the latter's entire left half.

The shocking implication was clear: Israel did it! Mossad's tentacles have reached out to harm Australia!
The Thin Line between Philo-Semitism and Anti-Semitism in 20th-Century Japan
Traits ascribed to Jews that are seen as negative in the West, such as a disproportionate control over world events and finances, are welcomed and valued in Japan, claims a Japanese history professor from Jerusalem.

Professor Ben Ami Shiloni, professor emeritus of Japanese history at the Hebrew University of Jerusalem, has published a book about Jewish-Japanese ties and believes that the two peoples have developed a consciousness and feel uniqueness compared to other nations.

For centuries Japan was closed to the outside world and only in the 19th century did the country open up to commerce with the West. Accordingly, Japan had no Jewish community, or anti-Semitism, but with the opening of the country to outsiders, European Jewish businessmen formed ties with the country.

According to Shiloni, it was — ironically — only after Jewish investment helped Japan beat Russia in their 1904-5 war that European anti-Semitic literature began to enter the country.

"The interesting thing is that the Japanese reached entirely different conclusions from European anti-Semitic theories. While the Germans believed that the solution to the anti-Semitic claim that "the Jews rule the world" is expulsion and annihilation, the Japanese concluded that they must learn from the Jews, connect with them and implement the good things they do. In other words, their anti-Semitism became philo-Semitism — affection and respect.
What lies behind the spate of antisemitic attacks in France?- Analysis
Arfi notes that although antisemitic incidents in the "yellow vest" movement have become a serious phenomenon, Muslim antisemitism is still one of the central causes of antisemitism in the country and has been ever since the outbreak of the Second Intifada in Israel in 2000.

He points out that before this time, antisemitic incidents in France every year numbered in the dozens, but since then have numbered in the hundreds as a result of Muslim anger with Israeli policies and the expression of this anger against French Jews.

He says, however, that it is very hard to know the precise origin of the attacks given that the authorities do not release data on the identities of the perpetrators.

Regardless of the precise breakdown of antisemitic attacks by social grouping, France is clearly in the throes of a worrying assault on its Jewish community and its place in the republic.

Politicians from across the political spectrum have spoken out against the phenomenon and the rallies on Tuesday night demonstrate that large swaths of the population still stand against antisemitism.

But antisemitism in various forms and guises has also become more legitimate in the eyes of many who feel so liberated from its stigmas as to repeat ancient libels and slanders against their fellow citizens.

As Jewish Agency Chairman Isaac Herzog put it on Tuesday, the antisemitism virus has returned once again to the heart of Europe.
Rivlin praises Macron for taking rising French anti-Semitism 'seriously'
President Reuven Rivlin on Wednesday praised French President Emmanuel Macron for "how seriously you take the issue of anti-Semitism," amid a dramatic rise in anti-Semitic attacks and vandalism throughout the country.

"Mr. President, times like these demand clear and strong leadership," Rivlin wrote in what his office described as an "urgent letter" to his French counterpart. "Your actions, as well as your words, show how seriously you take the issue of anti-Semitism," he added.

The letter comes a day after thousands rallied in Paris and other French cities against a spate of attacks against Jewish communities and individuals, including most recently the spray-painting of swastikas on some 80 gravestones at a Paris cemetery late Monday.

Rivlin thanked Macron for visiting the cemetery on Tuesday.

"I am writing, both personally and on behalf of the State of Israel, to express my appreciation to you for visiting the Jewish cemetery at Quatzenheim and the Holocaust memorial in Paris yesterday," he wrote.
EJC applauds French Parliament discussions on criminalizing anti-Zionism
The European Jewish Congress (EJC) has applauded discussions within the French Parliament about how to criminalize anti-Zionism as a form of antisemitism.

The debate about the matter was held by a 30-member cross-party study group on antisemitism in the French National Assembly chaired Sylvain Maillard, a member of President Emmanuel Macron's ruling party.

The group discussed the type of legislation that should be used to make anti-Zionism an offense.

Following the debate, EJC president Dr. Moshe Kantor said the organization "absolutely welcome this discussion and hope to see it leads to concrete action because it is clear that the overwhelming majority of those who claim to be anti-Zionist use it merely as a cover for their antisemitism,"

"We are, of course, making a huge differentiation between completely legitimate criticism of Israel and its policies, and singling out and isolating the Jewish people as not being allowed to express its right to self-determination and to live in its national homeland," he said.
French TV stops FB stream from Jewish cemetery after antisemitic comments
A French TV channel said on Wednesday it had been forced to cut short a live Facebook broadcast from a desecrated Jewish cemetery in eastern France because of an onslaught of antisemitic commentary.

France 3 said it went live from the cemetery in the village of Quatzenheim on Tuesday as President Emmanuel Macron was visiting to pay his respects after more than 90 graves were vandalized with swastikas and antisemitic abuse.

But as it broadcast footage online to its more than 1.3 million Facebook followers, the feed was inundated with antisemitic commentary and abuse.

"We are talking about explicit death threats, comments that were openly antisemitic and racist, including 'Heil Hitler,' 'dirty Jew' or 'dirty Jews,' comments that were addressed at Emmanuel Macron and representatives of the Jewish community," the channel said in a statement explaining its decision.

"Within minutes, the number of vile and illegal comments had gone well beyond our capacity to moderate them," it explained, adding that it would have taken 10 or 20 staff to handle the onslaught. "We refuse to traffic in hatred."

Anti-Semitism and the Yellow-Vest Demonstrations Illustrate the Depth of Europe's Problem
On Saturday, a group of "yellow-vest" protestors in Paris recognized the philosopher and public intellectual Alain Finkielkraut and turned on him, yelling anti-Semitic epithets. Finkielkraut, who has never hesitated to identify himself as a Jew and a Zionist, has from its inception supported the yellow-vest movement's criticism of Emmanuel Macron's economic policies. But this was not the first or only instance of anti-Semitism in the movement—and elsewhere in Europe. Daniel Johnson comments:
As many as 44 percent of self-identified "yellow vests" believe that the world is ruled by Zionists. They see Macron as a puppet of his former employer, the Rothschild bank. Some 22 percent of the French public as a whole agrees with them. . . .
A]ll over Europe, Jews repeatedly tell pollsters that they are experiencing anti-Semitism as a fact of everyday life. Many are considering emigration to Israel or the United States. None feels safe on a continent with a fast-growing Muslim population, many of whom have imported hostile attitudes toward Jews from their countries of origin. The problem, though, goes wider and deeper. Finkielkraut is among those to have criticized the European establishment for its craven attitude toward Islamists and its betrayal of Israel.

What is to be done? Clearly, Europe has done a lousy job of educating young people, whatever their origins. But we are also confused about how to go about this task. A distinguished Jewish academic in America recently told me that the constant reiteration of images of the Holocaust, reinforced by school visits to camps, museums, and memorials, might be counterproductive. "I don't want people to be indoctrinated with the idea that the Jews can all be killed," she said. "I want them to see that we are normal people, that Israel is a normal country, that Jews are neither victims nor manipulators, but just like everyone else."

She has a point. It is essential that Europeans learn about the Holocaust, yet it is not enough. They also need to learn how Jews have survived and flourished since. And that means accepting and, yes, embracing the state of Israel as the Jewish homeland promised by the Balfour Declaration a century ago. A specter is haunting Europe—the specter of anti-Semitism. Unless it is exorcised, it will destroy us.
Slammed as 'Holocaust denier,' David Icke barred from Australia
Controversial British personality David Icke has been blocked from entering Australia, opposition parliamentarians said Wednesday, after the conspiracy theorist was blasted as a Holocaust denier.

Icke, who denies widespread charges of anti-Semitism and believes the world is run by giant shape-shifting reptiles, was due to start a speaking tour in major Australian cities next month.

Opposition Labor MP Tim Watts on Wednesday warned that Icke "could be spouting his vitriol" in Melbourne, home to Australia's largest Jewish community, within weeks if he were allowed into the country.

"David Icke, a well-known British Holocaust denier, should not be allowed entry into Australia to preach his toxic message," he told parliament.

Icke's 1995 book, "And the Truth Shall Set You Free," focused on a global conspiracy by "Rothschilds and Rockefellers" and contained a chapter questioning aspects of the Holocaust and criticizing society for suppressing "alternative information to the official line of the Second World War."
1/3 NY Cleric Abul Baraa Amreeki: Do Not Take Jews and Christians as Allies; FBI and Police Hire Informants in Mosques; Islam Forbids Spying For the Authorities; Some Scholars Say Punishable By Death pic.twitter.com/zWijAdVeXF

— MEMRI (@MEMRIReports) February 20, 2019
2/3 NY Cleric Abul Baraa Amreeki: Do Not Take Jews and Christians as Allies; FBI and Police Hire Informants in Mosques; Islam Forbids Spying For the Authorities; Some Scholars Say Punishable By Death pic.twitter.com/ntv1OboEfb

— MEMRI (@MEMRIReports) February 20, 2019
3/3 NY Cleric Abul Baraa Amreeki: Do Not Take Jews and Christians as Allies; FBI and Police Hire Informants in Mosques; Islam Forbids Spying For the Authorities; Some Scholars Say Punishable By Death pic.twitter.com/o3U3dIo8AX

— MEMRI (@MEMRIReports) February 20, 2019
Trump spending bill includes funds for synagogue security
Jewish groups praised the new spending bill signed by President Donald Trump for approving funds to help non-profit groups pay for security at their institutions,

The $60 million for fiscal year 2019 to fund the Nonprofit Security Grant Program, or NSGP, which helps synagogues, other houses of worship, religious day schools and a variety of nonprofits improve the security of their buildings was part of the larger $330 billion spending bill signed on Friday that averts a government shutdown.

The Department of Homeland Security, which administers the program, awards grants of as much as $150,000 to eligible nonprofits at risk of terrorist attacks. The nonprofits use the funding to acquire and install items ranging from fences, lighting and video surveillance to metal detectors and blast-resistant doors, locks and windows.

The spending bill also increased defense aid to Israel by $200 million for fiscal year 2019 and extends US loan guarantees for five years.
Save the Children Tests Israeli Lifesaving Tech in Africa
EarlySense, an Israel pioneer in contact-free continuous monitoring solutions in healthcare, was selected for a pilot project with Save the Children, an international nonprofit that works in 120 countries.

Supported by a grant from the Bill & Melinda Gates Foundation, EarlySense's contact-free sensor — placed under the mattress with no patient contact — will be tested at a teaching hospital and a maternity hospital to monitor neonates in Nairobi, Kenya.

According to USAID, Sub-Saharan Africa has the world's highest newborn death rate (34 per 1,000 births). EarlySense will enable nurses and physicians to track heart rate, respiratory rate and motion continuously and be alerted to potential adverse events.

"EarlySense's contact-free continuous monitoring technology is a novel approach in newborn care," said Rasa Izadnegahdar, deputy director on the Maternal Newborn Child Health Discovery & Tools team at the Bill & Melinda Gates Foundation. "We look forward to the evaluation by Save the Children and using the results to inform best practices in the clinical care of vulnerable newborns born in low and middle-income countries."
Israel's ReWalk seeks FDA nod for robotic suit to help rehab stroke victims
Israel's ReWalk Robotics Ltd., the Israeli developer of a robotic exoskeleton system that helps people who are paralyzed to walk, has asked the US Food and Drug Administration for clearance to market another robotic exoskeleton suit, this one aiming to help stroke sufferers regain their ability to walk.

The move is a "significant milestone" toward commercialization of the so-called ReStore suit, the company said in a statement.

Strokes are a major cause of serious long-term disability, with over 795,000 people suffering a stroke each year in the US alone. Five million people are permanently disabled each year by strokes globally, according to the World Health Organization (WHO) figures.

Unveiled in 2017, the ReStore soft suit helps rehabilitate individuals with lower limb disability due to stroke. The ReStore seeks to be a "versatile, cost-effective gait therapy solution" for use in rehabilitation centers, and is meant to allow therapists to deliver treatment with real time analytics, allowing them to adjust the treatment as they get feedback. The ReStore suit transmits power to key joints of the legs via cables, powered with software and mechanics that are similar to the technologies used in the earlier ReWalk exoskeleton system. The cables are connected to fabric-based designs that attach to the patient's leg and foot, hence the name "soft suit."
A tale of Ethiopian heroism finally makes it to Israel
It required perseverance to get "Yuvi's Candy Tree," a children's tale of Ethiopian pluck and heroism, translated into Hebrew. But that was simply part of the journey for the book's protagonist.

The illustrated book, originally written in English, was written by Canadian writer Lesley Simpson and inspired by the story of 5-year-old Yuvi Tashome who outwitted robbers during her family's exodus from Ethiopia to a Sudanese refugee camp.

In 2009, Tashome was visiting North America to raise awareness and funds for Friends by Nature, her nonprofit organization that creates communities of Ethiopian immigrants across Israel. She was interviewed by Simpson and shared her story.

The tale, of a journey taken with her grandmother on a mule across the desert, captured Simpson's imagination.

"It's a story about agency and a really savvy girl and her grandmother and a vision that was kept alive," said Simpson. "It's a story about radical hope."
---
---
We have lots of ideas, but we need more resources to be even more effective. Please
donate today
to help get the message out and to help defend Israel.