From Ian:
---
PMW:
As Israel grieves a brutal murder, PA TV sings: "We have given them a taste of grief"
Two days after the brutal murder of the 19-year-old Israeli woman Ori Ansbacher, official Palestinian Authority TV broadcast a song celebrating that Palestinians cause Israelis grief:
"A bone in the throat of the Zionists... We have given them a taste of grief"
[Official PA TV, Feb. 9, 2019]

The song tacitly promises 10 times more terror than Israel has suffered until now by promising there will be 10 times more Palestinian prisoners:
"We swear in the name of the prisoners In place of one [prisoner], here are ten"

While singing the words promising more prisoners, the singer points to a young child he is holding as if to say: This child is the future terrorist; this child is the future prisoner. The song's message is that today's children are the future terrorists and prisoners - those who will grow up to give "a taste of grief" and be "a bone in the throat of the Zionists."

"We are not afraid of the enemy - a bone in the throat of the Zionists
Palestinians - We are! We are!
The people of Jerusalem - We are! We are!
The people of Jenin - We are! We are! ...
O Al-Aqsa [Mosque], your wounds will heal
Victory is certain, it's inevitable
A rock thrown with expertise...
The people of Jaffa - We are! We are!
The people of Haifa - We are! We are!
The people of Lod - We are! We are!
The people of Ramle
The people of Acre - We are! We are!
The people of Nazareth - We are! We are! ...
We swear in the name of the prisoners
In place of one [prisoner], here are ten
We have given them [the Israelis] a taste of grief
We have given them a taste of grief - a bone in the throat of the Zionists"
[Official PA TV, Feb. 9, 2019; July 30 and Aug. 6, 2016]
The Palestinians incite to rape, too
In response to the horrifying rape and murder of Ori Ansbacher by a Palestinian terrorist, MK Aida Touma-Sliman, chairwoman of the Knesset Committee on the Status of Women and Gender Equality, claimed that "the crime should be called what it is: The rape and murder of Ori Ansbacher is a gender-based crime. The criminal being Palestinian doesn't make the crime less horrifying and it cannot be part of the struggle for [Palestinian] national liberation."

The Palestinians Knesset member and Israeli citizens, like her friends in the various Palestinian terrorist organizations, were prepared for a public relations battle to characterize the rape and murder of Ori as another woman being murdered. In other words, some nameless killer with a knife just raped her for the heck of it on a chilly morning, just because she was a woman – not because she was Jewish. Why did the Palestinian criminal arm himself with a knife, cross the security barrier, rape and fatally stab Ori, rather than some random Palestinian woman?

The reason is simple: Every Palestinian who is exposed to incitement in some mosque, on social media, or in speeches by Palestinian leaders, knows that the enemy's blood can be shed. But if he rapes a Palestinian woman (a gender crime) or even secretly has his way with her in private, he'll be slaughtered and his immediate family members will follow him to hell.

After all, Muslims have honor and they are permitted to commit murder to uphold it. So whom are they allowed to rape and murder on the basis of their gender? Jews and Christians, who are defined as weak and out of bounds of the Arab code of vengeance.
Ori's blood cries out to deaf ears
If I didn't know any better, I'd say the lack of coverage was purposeful…a blanket wall-to-wall blackout.

But I do know better and I still call it a confederacy of silence, beginning at The New York Times.

They are all in it together. I cannot prove it; rather it's for them to prove that they are not carriers of journalistic malpractice. I know that scoffers' smell of theirs from my own years in the newsroom and travelling with them to Israel where they went, and came back, like the Spies, to curse the land.

I saw it firsthand, their scandals of playing hide and seek with the truth. It's in this and this book. They won't tell it; I did.

Yes, the topic is Ori Ansbacher, a beautiful 19-year-old daughter of Israel who was found in the Ein Yael forest in south Jerusalem, dead from a particularly horrific act of rape and murder.

Did you read about it in the Times, in the Post, or in any other major (even minor) newspaper? Neither did I? Zero.

Did you watch any of it from CNN, the BBC, ABC, NBC, CBS or any other network? Same here. Nada. Zilch.

Ori's blood cries out to deaf ears. A nation is in distress, the world shrugs, the media yawns.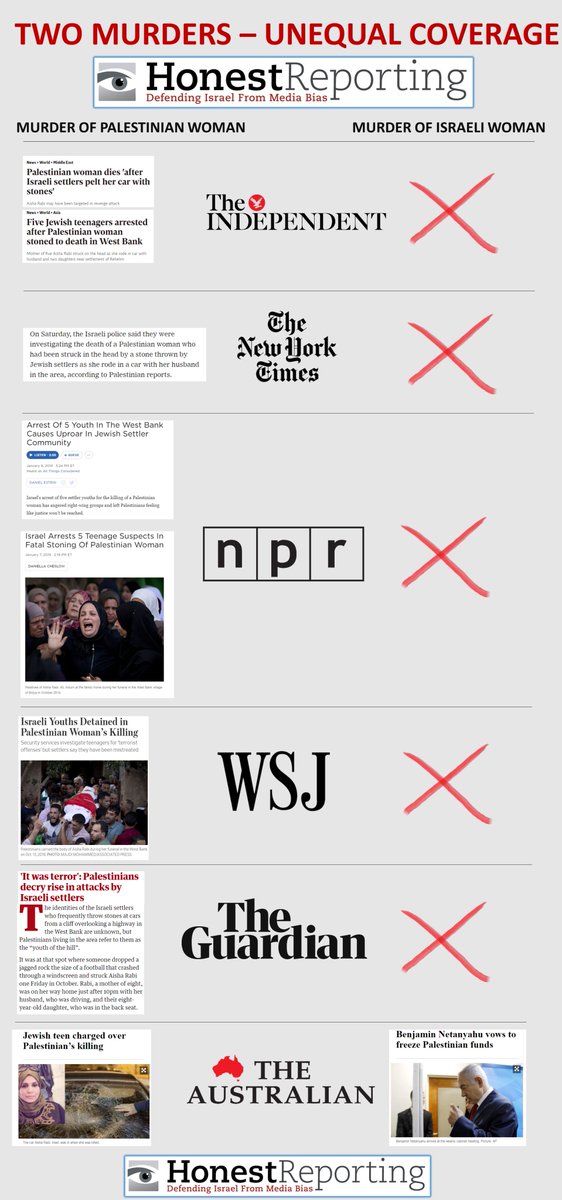 PMW:
"There is an Israeli Auschwitz to massacre Palestinians" - Senior Fatah official condemns Warsaw Conference
Editorial in official PA daily:
Warsaw Conference is "a plan to carry out a 'holocaust' against this [Palestinian] cause"
"Perhaps it is not a coincidence that Warsaw will serve as the site for the convening of this conference"
"This is the just ruse of history, which wishes to remind humanity that the holocausts of racist eradication that Nazi Germany carried out in Poland can happen again today as a result of this American policy."
"It wishes to turn Warsaw - as the Nazis did - into an arena of holocaust of eradication against a small, oppressed, and tortured people, the Palestinian people"
atah and other groups call on Arab countries to boycott the conference because it is "normalization" with Israel

Attacking this week's Warsaw Conference on Peace and Security in the Middle East, senior Fatah official Jibril Rajoub stated that the fact that Israeli Prime Minister Netanyahu is welcomed at the conference is to "remind us of the Holocaust," and that "there is an Israeli Auschwitz to massacre Palestinians":

Rajoub: "They are welcoming Netanyahu in Warsaw in order to remind us of the Holocaust and Auschwitz (i.e., in Poland). In every city in Palestine, from Rafah to Jenin, there is an Israeli Auschwitz to massacre Palestinians."
[Facebook page of Fatah Central Committee Secretary Jibril Rajoub, Feb. 10, 2019]

The Warsaw Conference is a US-sponsored event on Feb. 13-14, 2019, to discuss peace and security in the Middle East. Israeli Prime Minister Benjamin Netanyahu will be attending the conference. The PA was invited to attend but has refused the invitation and requests that Arab countries boycott the conference.

A similar Holocaust-linked attack on the conference was expressed in an editorial in the official PA daily. It accused the US of using the Warsaw Conference to implement US President Trump's yet unpublished Middle East peace plan - "the deal of the century" - "which is nothing but a plan to carry out a 'holocaust' against this cause, the most just cause of the current age." [Official PA daily Al-Hayat Al-Jadida, Feb. 10, 2019]

In this light, the editorial further speculated that it "is not a coincidence that Warsaw will serve as the site for the conference" and charged that the US will copy what "the Nazis did" and turn the city of Warsaw into "an arena of holocaust of eradication against a small, oppressed, and tortured people":
"Perhaps it is not a coincidence that Warsaw will serve as the site for the convening of this conference [on] the American administration's failed deal; this is the just ruse of history, which wishes to remind humanity that the holocausts of racist eradication that Nazi Germany carried out in Poland can happen again today as a result of this American policy. It wishes to turn Warsaw - as the Nazis did - into an arena of holocaust of eradication against a small, oppressed, and tortured people, the Palestinian people." [Official PA daily Al-Hayat Al-Jadida, Feb. 10, 2019]
Khaled Abu Toameh:
Palestinians: Warsaw summit is a huge U.S. conspiracy
Palestinians stepped up their criticism yesterday of the US-led summit on peace and security in the Middle East that will take place in Warsaw on Wednesday and Thursday and said that the main purpose of the conference was to "eliminate" the Palestinian cause and their rights.

Palestinian officials belonging to various political factions warned that the US and Israel were planning to use the conference to impose US President Donald Trump's soon-to-be-announced plan for peace in the Middle East, which is also being referred to as the "deal of the century."

Palestinian attempts in the past few weeks to persuade several Arab countries to boycott the conference were unsuccessful, some officials in Ramallah admitted.

The officials said that they also see the conference in the context of US and Israeli efforts to divert attention from the Israeli-Palestinian conflict by placing Iran on top of the world's list of priorities.

The Warsaw conference is part of the "deal of the century," which aims to liquidate the Palestinian cause, end the Israeli-Arab conflict, replacing it with the conflict with Iran," said Jamal Muheissen, a senior official with the ruling Fatah faction in the West Bank.

The US administration and Israel, he charged "are trying to subjugate the Palestinians and exert political and financial pressure on the Palestinian leadership to force it to accept Trump's plan to eliminate the Palestinian cause."
Abbas embarks on trip to wage battle over Trump's 'Deal of the Century'
Palestinian Authority President Mahmoud Abbas has embarked on a trip to moderate Arab countries to wage a battle against US President Donald Trump's "Deal of the Century," according to a report published by Israel Hayom on Wednesday.

Abbas is traveling from one Arab country to another in an attempt to prevent Middle East countries from supporting Trump's peace plan.

Palestinian news agency, Ma'an, carried pictures from Abbas's trip to Saudi Arabia on Tuesday where he met with Saudi king Salman in Riyadh. Salman said that " Saudi Arabia permanently stands by Palestine and its people's right to an independent state with the occupied East Jerusalem as its capital," according to Ma'an.

Abbas is also trying to convince Arab leaders to support Palestinian demands on core issues, including Israel's withdrawal to the 1967 borders and recognition of east Jerusalem as the capital of an independent Palestinian state.


Senior Advisor Jared Kushner and Special Representative for International Negotiations, Jason Greenblatt, are expected to travel to the Middle East in the near future to present the plan to the relevant countries.
Top companies face UN blacklist over operations in settlements
A number of prominent Israeli and international companies — among them Coca Cola and Teva — have been threatened with inclusion on a United Nations blacklist over their operations in Israeli settlements. One of the Israeli companies warned of its potential inclusion has appealed to Prime Minister Benjamin Netanyahu for government intervention.

The UN Human Rights Council says it intends to release an updated blacklist of corporations operating directly or indirectly in West Bank settlements, East Jerusalem and on the Golan Heights. Major corporations including Africa Israel, Bank Hapoalim, Bank Leumi, Bezeq and Bezeq International, Coca Cola, Africa Israel, Teva, Egged, Mekorot and Elbit Systems have been informed they could be on the new list.

Despite Israeli and American efforts to prevent it, the list is apparently set to be published at the 40th UN Human Rights Council session in Geneva in March. In 2016, the council approved a resolution to gather a blacklist of Israeli and international companies operating in the settlements. The list is updated annually.

In January, senior officials from the Hot Telecommunication Systems Ltd. received letters from the Council stating that the cable company would be included in the blacklist since it provides its services beyond the Green Line.

Hot CEO Tal Granot-Goldstein sent an urgent letter appealing to Netanyahu and Foreign Ministry Director-General Yuval Rotem in an effort to prevent Hot's inclusion on the list.
Israel working to delay UNHRC blacklist
Israel is working behind the scenes to delay publication of the United Nations Human Rights blacklist of companies doing business with areas of Israel over the pre-1967 lines, The Jerusalem Post has learned from official sources.

The Office of the High Commissioner for Human Rights is expected to publish the list either before, or during the session, which is scheduled to run from February 25 to March 22.

The Hebrew daily Yediot Aharonot reported Tuesday that some 100 companies are on the list, including HOT Telecommunication Systems Ltd.

It's CEO, Tal Granot-Goldstein, appealed in writing to Prime Minister Benjamin Netanyahu and Foreign Ministry director-general Yuval Rotem to halt publication of the list, noting that it would be in Israel's national interest to do so, Yediot reported.

The list, she said, could make Israeli companies vulnerable to international legal proceedings and investors to halt funding.

Last year, the UN said that it had whittled a list of 321 Israeli and international companies down to 206, out of which 64 had been contacted.

The UNHRC first called for the creation of such a list at its March meeting three years ago. Companies operating in Area C of the West Bank, east Jerusalem and the Golan Heights are expected to be on the list.

Publication of the list was initially delayed in an attempt to sway the US not to leave the UNHRC.
In Warsaw, Netanyahu and Omani FM vow to 'seize the future'
Prime Minister Benjamin Netanyahu met with Omani Foreign Minister Yusuf bin Alawi bin Abdullah Wednesday on the sidelines of Warsaw's Middle East conference, telling him that the recent rapprochement between the two countries was "changing the world."

"I have to tell you that the courageous decision of Sultan Qaboos to invite me to Oman is changing the world," Netanyahu said, referring to his October 2018 visit to Muscat.

"It's paving the way for many others to do what you said — not to be stuck in the past but to seize the future."

Netanyahu said many Arab countries were following Oman's lead in moving toward more open interaction with Israel, "including at this conference."

"I want to thank you for this forward-looking, positive policy that can lead to peace and prosperity for all," Netanyahu said.

"Indeed, this is an an important, new vision for the future," the Omani foreign minister responded, speaking in English. "People in the Middle East have suffered a lot, because they have [been stuck in] the past. This is a new era for the future, and for prosperity for all the nations."
Mike Pence to make first visit to Auschwitz, meet Netanyahu in Poland
Vice President Mike Pence will visit Auschwitz, his first visit to the Nazi death camp in Poland.

Pence will visit the site on Friday with Polish President Andrzej Duda, The Washington Post reported Tuesday, citing a senior White House official.

The vice president will be in Warsaw for a joint US-Poland conference on Middle East peace and security on Thursday and Friday. On Sunday, Israeli Prime Minister Benjamin Netanyahu told government ministers at the weekly Cabinet meeting that he will meet with Pence there, as well as Secretary of State Mike Pompeo and other leaders.

Pence and Netanyahu are scheduled to visit together a memorial to the 1943 Warsaw Ghetto uprising.

Pence also is scheduled to hold defense meetings in Poland, where the US military is considering placing a permanent base for US force, according to the Post.
Abbas proves once again he is not a partner for peace
The Palestinians are hoping to keep the U.S. from presenting its Middle East peace plan. To this end, Palestinian Authority President Mahmoud Abbas has embarked on a tour of Arab states, to try and keep them from supporting the so-called "deal of the century" and to ensure the Arab leaders stick to their promise to support Palestinian demands on the core issues of the conflict, chief among them the recognition of east Jerusalem as the capital of an independent Palestinian state.

Israel Hayom learned of U.S. President Donald Trump's plans to consolidate a regional peace plan in collaboration with the moderate Arab states, in lieu of the two-state solution following a meeting between U.S. President Donald Trump and Abbas in Bethlehem in which the American president said he intends to cut the "deal of the century." Trump noted the deal had earned the support of the moderate Arab states.

Now, senior government officials in Egypt, Jordan and the PA have confirmed to Israel Hayom that Abbas was recently informed by senior officials in Washington that Trump's peace team is in the final stages of consolidating the plan. Once Trump approves it, senior U.S. adviser and son-in-law Jared Kushner and U.S. Special Representative for International Negotiations Jason Greenblatt will visit the moderate Persian Gulf Arab states to present them with the details of the plan. Ramallah's assessment is that the Trump administration will try to earn the support of the Arab states in order to attempt to execute the plan following the Israeli elections and once a new government has been formed in Jerusalem.

A senior Arab diplomat told Israel Hayom that the regional peace plan was largely expected to include economic incentives, to be integrated within the main points of the Arab peace plan. The plan's framework would lead to a peace agreement between Israel and the Palestinians and a normalization of ties between Israel and the Persian Gulf Arab states.
Meeting Abbas, MBS backs Palestinian state with East Jerusalem as its capital
Saudi Crown Prince Mohammed bin Salman gave Saudi Arabia's support for the establishment of an independent Palestinian state with East Jerusalem as its capital on Tuesday, the official Palestinian Authority news site Wafa reported.

"The Saudi crown prince affirmed Saudi Arabia's support for Palestine in all forums and the Palestinian people's right to an independent state with East Jerusalem as its capital," Wafa reported after a meeting between the prince and visiting Palestinian Authority President Mahmoud Abbas in Riyadh.

Earlier on Tuesday in a separate meeting with Abbas, Saudi King Salman made a similar remark, according to the state-run Saudi Press Agency (SPA).

Salman said Saudi Arabia "permanently stands with Palestine and the brotherly Palestinian people's right to an independent state with East Jerusalem as its capital," SPA reported.
Palestinian Authority President Mahmoud Abbas and Saudi King Salman in Riyadh on February 12, 2019. (Credit: Wafa)

Abbas's meetings with the Saudi leaders comes a day before an international conference on the Middle East in Warsaw co-hosted by the US and Poland.
Guatemalan minister: If you're a friend of Israel, show with embassy move
If countries want to be considered a friend of the State of Israel, they need to demonstrate their friendship by moving their embassy to Jerusalem, said Guatemala's Tourism Minister, Jorge Mario Chajón.

"We encourage other countries to make an important decision and transfer their embassy, because friendships must be shown in practical terms," Chajón told The Jerusalem Post during his week-long visit to Israel.

Guatemalan Minister of Tourism Jorge Mario Chajón (Eytan Halon)Guatemalan Minister of Tourism Jorge Mario Chajón (Eytan Halon)

"We are a friend of Israel, so we need to show that we are a friend. Don't be pareve (neutral), be tachles (practical). If you are a friend, show it," he added.

In May 2018, Guatemala became the second country, after the United States, to open its embassy in Jerusalem. It remains one of only a few countries that have vocally supported President Donald Trump's decision to formally recognize Jerusalem as Israel's capital.

"The relationship between Israel and Guatemala is not just about the states or governments, but about the people. The populations of each country have been friends for many years, since even before the creation of the State of Israel," Chajón said.
Venezuelan challenger Guaido says he's working to renew ties with Israel
Venezuela's self-proclaimed leader Juan Guaido is working to re-establish diplomatic relations with Israel and isn't ruling out placing his country's embassy in Jerusalem, according to an interview with an Israeli newspaper published Tuesday.

Israel last month officially recognized the Venezuelan opposition leader's interim government, with Prime Minister Benjamin Netanyahu saying in a short statement that "Israel joins the United States, Canada, most of the countries of Latin America and countries in Europe in recognizing the new leadership in Venezuela."

The announcement earned immediate praise from US Ambassador to Israel David Friedman, who hailed the Jewish state for "standing with the people of Venezuela and the forces of freedom and democracy." US President Donald Trump's administration has been pushing for the international community — including Israel — to back President Nicolas Maduro's ouster.

Venezuela's then-president Hugo Chavez broke off ties with Israel in 2009 after Operation Cast Lead in Gaza. Chavez and his successor, Maduro, have both been strident critics of Israel, and some Jewish community leaders have expressed fears of the government stoking anti-Semitism.

On Tuesday, the Israel Hayom daily published a short interview with Guaido, who indicated that his government would take a very different stance toward the Jewish state from his predecessor.

"We have begun working toward renewing the ties, and I'm very happy to announce that the process of stabilizing the relations with Israel is at its height," Guaido said.

"It is very important to us," he continued. "First we'll restore the relations, then we'll announce the appointment of an ambassador to Israel, and we very much hope an envoy will come here from Israel."
Guaidó adviser: Israel can help us remove Hezbollah, Iran
A senior member of Venezuela's opposition, which supports interim President Juan Guaidó, told Israel Hayom on Tuesday that the presence of Iran, Hezbollah and other Arab terrorist elements in the country "is very concerning" to the democratic opposition and will pose an "immense challenge" to the new government after the socialist regime of Nicolás Maduro is ousted.

"We are presently formulating policy pertaining to defending Venezuela's internal security and are looking for help and advice," the senior official said. "And Israel can help us establish the necessary apparatuses to contend with this problem when the political change in Venezuela realized."

Venezuela's socialist regime has close relations with Iran and has allowed Hezbollah to establish operational hubs in the country. Additionally, the Maduro regime maintains close ties with Hamas and the Palestinian Authority and sends them money – even as the people of Venezuela are themselves desperate for humanitarian aid due to an increasing scarcity of food and medicine.

Extremist elements in the Arab and Muslim worlds – Iran, the Palestinian Authority and Turkey – have declared their support for the tyrant Maduro in his current standoff with the popular uprising against his rule. Israel, meanwhile, is the only country outside of America to stand by Guaidó, whose exclusive interview with Israel Hayom on Tuesday reverberated across the globe.

In an effort to amplify economic pressure on the Maduro regime, the senior Venezuelan opposition figure called on the American administration to pressure U.S. allies in the Arab world to end their financial support for the regime and sever commercial ties with it.
Israeli President Rivlin Visits Cyprus, Says Security Cooperation Makes the Middle East "Safer"
Israel's President Reuven Rivlin paid a brief visit to Cyprus and hailed the alliance between the two nations, The Jerusalem Post reported Tuesday.

Rivlin, the third Israeli president to visit the island nation — previously Ezer Weizman visited in 1998 and Shimon Peres in 2011 — was received by President Nicos Anastasiades.

After joking that the meeting could have been a little tense because Israel beat out Cyprus in last year's Eurovision song contest, Rivlin expressed his wishes to meet Anastasiades in Tel Aviv during this year's competition.

"The relations between our two countries have never been better," Rivlin said, referring to the cooperation between Israel and Cyprus in the field of security cooperation and the fight against terror. This cooperation means that "Cyprus, Israel and the Middle East are safer," the president said. "Now we looking forward to share the fruits of growth and prosperity."

Rivlin also noted the economic cooperation between the two nations, including more than $650 million in trade and 250,000 Israelis visiting Cyprus each year.

"This bilateral strategic partnership is now a trilateral one, together with Greece, and it can be expanded in to a larger partnership," Rivlin observed. "Energy cooperation with parties in the eastern Mediterranean can make a great difference for the people of Cyprus, Israel, Greece, Italy, Egypt, Jordan and the Palestinian Authority. We look forward to making progress in all these areas of cooperation for the security and prosperity of our two nations and for the stability of the Mediterranean."
President visits family of Ori Ansbacher, vows to 'light up' world in her memory
In a condolence visit at the home of Ori Anbacher's family on Wednesday, President Reuven Rivlin assured the terror victim's relatives and friends that Israelis would continue "lighting" the world in her memory.

Speaking to the children the 19-year-old had volunteered with during the past year of her national service, Rivlin said, "We have lost a great light, but we will not stop lighting more and more lights after her."

Ansbacher, whose first name Ori means "my light" in Hebrew, was brutally murdered by a Palestinian man while walking through a forest on the outskirts of Jerusalem on Thursday.

"In every interview about Ori, people talk about the light that shone from her. People are going out to walk along the paths that she walked, people are talking about the good they see around them – and this is a great gift that she gave us without even knowing it," the president added.

"I do not know many people whose name became the meaning of their life. I have read a lot about Ori since we lost her. In every story, every memory, there is such great light. She lit up her friends, light shone from her, and she left light behind."
Israel confirms strike in Syrian Golan, further cracking ambiguity policy
Prime Minister Benjamin Netanyahu on Tuesday confirmed that Israel had carried out a military strike in the Syrian Golan Heights the night before, further breaking from Israel's previous policy of ambiguity around its activities against Iran in Syria.

"We are working all the time to block Iran. We operate every day, including yesterday, against Iran and its efforts to entrench itself in the region," Netanyahu said before boarding a flight to Poland for a conference focused on Tehran's activities in the Middle East.

On Monday night, Syrian state media reported that Israel had shelled targets in the deserted Syrian city of Quneitra.

According to the state-run SANA news agency, an Israeli tank or tanks shelled an abandoned hospital in Quneitra and a nearby observation post.

Quneitra lies just across the border on the Golan Heights, in the demilitarized zone between the countries.

The Israeli military did not immediately respond to the reports at the time.

According to SANA, the shelling caused material damage but no casualties.
Israel might expand covert war against Iran beyond Syria in coming year
With Iran continuing to entrench itself throughout the Middle East, Israel might have to consider expanding it's covert war against the Islamic Republic over the next year in order to prevent harm to the Jewish State.

Israel has repeatedly warned that it would not allow Iran to establish a presence in Syria and has claimed responsibility for hundreds of airstrikes in the country aimed at preventing the transfer of weapons - such as surface-to-air missile kits - to Hezbollah in Lebanon as well as the entrenchment of Iranian forces on the Syrian side of the Golan Heights.

Due to recent Israeli strikes, the defense establishment has noticed a reduction in Iranian weapons shipments through Syria, a decrease of funds available to Iranian Revolutionary Guard Corps Qud's Force Commander Qassem Soleimani for his project in Syria and a decline in militia fighters in the war-torn country.

Iran has also began moving its assets from areas repeatedly struck by Israel to locations closer to the border with Iraq, specifically the T4 Airbase located between Homs and Palmyra.

It is believed that Iran will attempt to entrench itself in Iraq, a mainly Shia Muslim country, as it did in Syria where they have managed to establish, shape and consolidate a solid parallel security structure in the country.

Shin Bet: Al-Aqsa TV used on-air signals to help Hamas coordinate terror attacks
The Shin Bet security service on Wednesday accused the Palestinian Al-Aqsa broadcaster and Gaza-based journalists of acting as agents of the Hamas terror group's military wing in an effort to recruit young Palestinians with Israeli ID cards to carry out terror attacks inside Israel.

According to the security service, the Al-Aqsa television station was used to pass clandestine messages to Hamas operatives in the West Bank and East Jerusalem, using quotes from the Quran or subtle gestures by the presenters. The Shin Bet named two presenters who it said conveyed messages from Gaza via signals on air, and cited an instance in which a presenter did so by placing a cup of tea on a desk and reciting a line from a poem.

In one case, a 21-year-old from the Hebron suburb of Yatta was "asked by Hamas operatives in the [Gaza] Strip to carry out a suicide bombing with an explosive vest on a bus in the city of Lod," the Shin Bet said.

In all, five Palestinians in the West Bank and East Jerusalem were arrested since December in the operation, on suspicion of having been been recruited by Hamas to carry out terror attacks against Israeli targets.

The Shin Bet said the recruitment plot was a key factor in the decision made by the Israel Defense Forces to bomb Al-Aqsa TV's headquarters in Gaza in November.
PMW report reveals PA paid NIS 230 million to families of dead terrorists
A new report by Palestinian Media Watch reveals that the Palestinian Authority is paying no less than 732 million shekels in financial rewards to terrorists and their relatives.

The report is based on data gathered from the B'Tselem organization in combination with information from the Palestinian Authority, the Israeli Security Agency and noted historians. It is an update to a study the organization released earlier this month that looked at the amount of money being paid by the PA to terrorists who are in Israeli prisons and terrorists who were jailed and are currently released.

This report now adds the layer of relatives of dead terrorists who receive a monthly stipend and wounded terrorists.

"This is a much more difficult category to understand," said Maurice Hirsch, a lawyer with PMW who prepared the report over the course of the last three weeks.

Hirsch said that the PA allocated 1.2 billion shekels to its annual budget for rewarding terrorists and people wounded or killed in terror and non-terror related incidents. Around 502 million shekels was used to pay prisoners and released prisoners. The rest was used for the families of the dead and the wounded. However, this amount includes payments not only to those who died or were hurt carrying out an attack, but also non-combatants.

Further, unlike how the jailed terrorists and released terrorists' eligibility to receive a monthly salary and their additional rights are determined by the PA's laws and regulations, which are published publicly, the money that is paid to the families of dead terrorists is not determined by the PA's laws but rather by the PLO's internal practices.

MEMRI:
Former Jordanian Minister: Hamas Is A Branch Of The Muslim Brotherhood, Not A Palestinian National Liberation Movement
In a December 6, 2018 article in the London-based daily Al-Sharq Al-Awsat, Saleh Al-Qallab, a former Jordanian minister and currently a columnist for the government daily Al-Rai, contested the claim that Hamas is a Palestinian national liberation movement.[1] Qallab wrote that Hamas is the Palestinian branch of the global Muslim Brotherhood (MB) organization and acts on the orders of this organization, of Qatar and of MB ideologue Sheikh Yousuf Al-Qaradawi. He added that Hamas is part of a regional axis that includes Iran, Turkey, Qatar, the Assad regime, Hizbullah, the Iraqi Popular Mobilization Units (PMU) and the Houthis in Yemen. Had Hamas really been a Palestinian liberation movement, he said, it would not have impeded the reconciliation efforts with Fatah and fought to maintain its separate rule in Gaza, and would not have consistently sided with Qatar, Iran and the MB while turning its back on Saudi Arabia.

The following are excerpts from his article:[2]
"It is in no way accurate or correct to call Hamas a national liberation movement. Had Hamas been a national liberation movement, it would have remained neutral with respect to the conflicts in the region. Hamas is a branch of the MB; this is a known and proven [fact], and Hamas admits it. Hamas is bound by and committed to the orders, directives and commands of the global MB organization, just like all the other branches of this organization...

"Fatah, the Popular Front [for the Liberation of Palestine] and the other factions that have joined the PLO can be defined as national liberation movements, which have permission to distance themselves from all the conflicts that have been taking place in the region, especially since 2011. But this is not true of Hamas as long as it belongs to the global MB organization and constitutes one of its branches – for Hamas is known to be involved in all of these conflicts and has never been neutral [regarding them]...

"Had Hamas's claims been true, it would not have taken the side of any axis or bloc in the region, and it would not have been so strictly committed to every move of the MB. Moreover, its leaders would not be living in Qatar alongside [MB ideologue] Yousuf Al-Qaradawi and would not have been welcomed there. Hamas would not have fought all the wars of [its] sister Qatar and joined all its alliances, and would not have turned its back on Saudi Arabia – which has been and continues to be the staunchest supporter of the Palestinian cause, financially, politically and on every other level.
Senior Fatah official: Normalization with Israel in sports and economy are taboo
Hamas attempts to recruit West Bank, Jerusalem residents - via satellite
A secret Hamas unit in the Gaza Strip used Al-Aqsa TV to direct Palestinians in the West Bank to carry out attacks inside Israel, the Shin Bet General Security Service said on Wednesday.

According to the Shin Bet, dozens of young Palestinian men and women from the West Bank and east Jerusalem who were in contact with the unit have been arrested in recent years.

The unit used the official Hamas satellite television channel to convey coded messages to recruit and direct sleeper cells to carry out terrorist attacks, including a suicide bombing on a bus in the central Israeli city of Lod.

One of the cell members arrested by the Shin Bet, 21 year-old Yatta resident Qutayba Alnoega, was first recruited via Facebook last year by Hamas agent Muhammad Arbeed. Arbeen put Alnoega in touch with a Hamas operative who tried to enlist Alnoega to carry out a suicide bombing on behalf of the terrorist group.

While al-Nawaja'a "believed Arbid was a journalist" since he wore a yellow "PRESS" vest during protests along the Gaza border, to prove that they were indeed Hamas operatives, the second Hamas operative who spoke with al-Noega told him to tell them which verse from the Quran to recite, then watch for it on a specific show on Al Aqsa the following day.
Gazan Scholar Dr. Muhammad Suleiman Al-Farra: It Is Our Religious Duty to Fight the Jews
Gazan scholar Dr. Muhammad Suleiman Al-Farra, a lecturer at the Shari'a and Law College of the Islamic University of Gaza, said in a February 3, 2019 interview on Al-Aqsa TV (Hamas/Gaza) that it is a religious duty to fight the Jews in Palestine who, he said, occupy the land, violate Muslim holy sites, and kill Muslims. Dr. Al-Farra said that the the Quranic verse that says "kill the polytheists wherever you may find them" applies to the Jews, and that all of Palestine is a battlefield between the Muslims and the Jews. He added that the Muslims must use any effective means to fight the "criminal enemy." He also said that the Jews may be captured for purposes of prisoner swaps. Dr. Al-Farra is a member of the Palestine Islamic Scholars Association and the International Union of Muslim Scholars, which is headed by Yusuf Al-Qaradawi.
Hamas Announces New Rockets Capable of Hitting Their Own Schools (satire)
Leaders of Hamas' armed military wing announced this week that its engineers had produced a new type of rocket with a maximum range of about 500 meters capable of reaching the Gaza Strip's Hamas and United Nations-run schools.

One Hamas commander, Mahmoud Al-Tahabri, emphasized that in the past Hamas had tried to extend the range of its rockets to reach all Israeli cities, but that ultimately this was a failed strategy. He continued, "the rockets that we launch into Israel ultimately have little practical damage, other than the occasional bullseye. But every time a school blows up in Gaza, the entire world turns against Israel. Usually we have to bait the Israelis by launching rockets from either near or actually at the schools, and just pray for a stray Jewish missile. But now we've streamlined the process by firing the rockets directly at the schools. We expect that this will contribute heavily to winning the media battle in future conflicts with Israel."

Reactions from Israeli officials have been mixed. Most have simply accepted the fact that these school attacks will be attributed to Israel despite the fact that Hamas admitted to these rockets on multiple international media platforms. Others on the ultra right-wing were quoted as saying "at least the Arabs are killing each other and not us."
U.S. delivers missiles to Lebanese army
As US officials flew to Warsaw for a conference that was initially supposed to concentrate on Iran, US military planes unloaded a shipment of Advanced Precision Kill Weapons System (APKWS) in Lebanon. Hezbollah, an Iranian ally, plays a key role in Lebanon's government, making the shipment and timing all the more strange.

In a series of tweets the US Embassy in Beirut said that the APKWS laser-guided rockets were valued at more than $16 million and were destined for the Lebanese armed forces. "These APKWS laser-guided rockets are a key component for the Lebanese Air Force's new A-29 Super Tucano attack aircraft." Washington said that the delivery "demonstrates the US government's firm and steady commitment to support to the Lebanese Army in their capacity as the sole, legitimate defender of Lebanon." The US has supplied $2 billion since 2005 to the Lebanese Armed Forces.

Lebanon neglected to attend the Warsaw conference, claiming that it didn't want to appear with Israel. On Monday Lebanon's Foreign Minister Jebran Bassil met with his Iranian counterpart in Beirut where he said that Lebanon welcomed economic cooperation with Iran. The US has sanctioned Iran and the Trump administration has opposed Iran's role in the region. However Lebanon appears to be a close ally of Iran, not only its official foreign minister, but also because of Hezbollah's close ties to Iran. Although the US says that it is committed to the Lebanese army being the sole armed force in Lebanon, Hezbollah keeps growing in power. It recently received the Health ministry in coalition negotiations, one of the most well-endowed ministries in the country.
Signs mocking IDF put up along Lebanese border in apparent bid to scare troops
A number of signs mocking the Israel Defense Forces were placed on the Lebanese border on Tuesday, in the latest provocative move that appeared to have been carried out by the Hezbollah terrorist group along the volatile frontier.

The signs, written in Arabic and Hebrew, referred to the recent criticism heard in Israel concerning the IDF Ground Forces' readiness for war, or alleged lack thereof.

"If you don't trust your Ground Forces, who were beaten in Lebanon, you need to send them to your search-and-rescue forces. You'll need them," the signs read, in a somewhat stilted Hebrew.

The signs also featured photographs of Israeli soldiers crying and a tank on fire.

They were placed along the security fence where IDF troops regularly patrol and where construction of a new concrete border wall was underway.
Antisemitic Statements by Lebanese Sunni Cleric Ahmad Al-Zein: Jews Are Cowards, Control the Economy
In a February 8, 2019 interview on Al-Nujaba TV (Iraq), Sunni cleric and Chairman of the Society of Muslim Scholars in Lebanon Ahmad Al-Zein said that he believed in Khomeini and Khamenei's vision that Israel's demise is inevitable. He said that the "twisted logic" of 15 million Jews facing 1.6 billion Muslims "runs contrary to logic and history" and "must vanish." He said that the Jews have backward moral values and are cowards to their core, and accused them controlling the economy and using it as a weapon.
Jpost Editorial:
40 years of hate
The Iranian regime is using the 40th anniversary of the Islamic Revolution to boast about its accomplishments in seeking to dominate the Middle East and threaten Israel and the United States.

Iranian Foreign Minister Javad Zarif traveled to Lebanon this week and met with Hezbollah leader Sheikh Hassan Nasrallah. Iran's President Hassan Rouhani has been holding rallies in Tehran, seeking to bolster the country's image, while people in Iran are increasingly suffering under the burden of a failing economy and US sanctions.

Commander of Iran's armed forces General Mohammad Baqeri condemned on Tuesday a conference in Warsaw to be held later this week focusing on the Middle East and Iran. He called the conference "worthless and insignificant." However, it is clear that Tehran is taking the meeting seriously. "It will fail to affect the Islamic republic's policy and power," Baqeri claimed.

US acting Secretary of Defense Patrick Shanahan arrived in Iraq on an unannounced visit aimed at shoring up US-Iraq relations. Since President Donald Trump spoke at Al-Asad airbase in December, there have been calls by Iranian-backed militias in Iraq for the US to withdraw its forces. Those militias increasingly hold sway throughout parts of Iraq, coming in second in Iraq's elections last year. The US says that it wants to build on Iraqi security after the war on ISIS; Iran wants to erode Iraq's security and strangle the country in its tentacles.

Iraq is already sinking under the weight of Iranian demands. Oil is smuggled to Iran. Drugs peddled by Iranian networks enter Iraq, according to locals. In Basra, much of the economy has been squandered and stripped by corrupt Iranian-backed local leaders, leading to anti-regime protests last summer.
40 Years After…Why I Still Speak Out Against the Iranian Regime
Several weeks ago an American Jewish friend of mine who is not Iranian really surprised me when he questioned why I continue to speak out and write against the current radical Islamic regime in Iran. He questioned why I continue to publicly discuss the horrors Iranian Jews have been facing at the hands of this brutal regime for the last 40 years. "I'm tired of hearing about their hostage stories and what happened to them back then… can't we just move on?" he asked me. My answer was a simple "no." The nightmarish hell unleashed upon Iran's Jews at the hands of the current ayatollahs regime in Iran is something I, as an Iranian Jew, can never forget and will never stop speaking out against for as long as this brutal regime remains in power. This is a pain that many in my Iranian Jewish community in America still carry because we had loved ones executed, we were imprisoned, we were tortured, we had our livelihoods and properties randomly confiscated by this regime in Iran all because of the "crime" of being born Jews in that country. With this same Iranian regime actively pursuing the goal of another Jewish genocide through nuclear weapons attacks on Israel, I cannot remain silent. With this regime in Iran continuously denying the Holocaust and actively supporting Holocaust deniers, I cannot remain silent. Other Jews may never fully understand the depth of our painful experiences since February of 1979, but as the first victims of this evil Iranian regime, we Iranian American Jews have a duty to educate the world about the very real dangers of this regime and stop this regime's quest for another Jewish genocide.

This month marks the 40th anniversary of the Ayatollah Khomeini landing in Iran after years of exile and establishing a radical Islamic regime in the country. His new regime lead to a very violent revolution that has not only destroyed the lives of millions of innocent Iranians but after 40 years has plunged much of the Middle East into unnecessary bloodshed. My community of Jews that has been living in Iran for 2,700 years and in 1979 was 80,000 strong, had their lives totally turned upside down when the Khomeini regime came to power in Iran. The new Islamic Sharia laws of Iran established in 1979 basically treated Jews and other religious minorities as third class citizens and with this inferior status, the regime's leaders and thugs were permitted randomly to take lives, torture and imprison Jews, confiscate Jewish properties or businesses and to create sheer chaos for Iran's Jews and all other non-Muslims in Iran.
Iran could get nuclear weapon within two years, intel assessments find
Iran is capable of producing a nuclear weapon within two years if it steps up work on its nuclear program and violates the 2015 deal with the West, according to a recent Israeli intelligence assessment.

Israel considers Iran's nuclear program as the nation's No. 1 concern, and, according to the assessment, if the Islamic Republic does decide to renege on the agreement, it would take it one year to produce enough fissionable material to make a nuclear bomb and then another year to actually make the weapon device.

According to the assessment, Iran is contemplating how to deal with American sanctions in the hope that President Donald Trump will not be reelected in 2020 and a new and more pragmatic president would be elected, or to signal to the West that if the current status quo remains, it, too, will leave the agreement and return to enriching uranium.

The assessment was released as a US-led summit against Iran opened in Warsaw, where Israel is expected to pressure the European Union against trying to prop up the Joint Comprehensive Plan of Action following the American withdrawal last May.

Under the JCPOA, Tehran is prohibited from transferring any weapons to third countries, but Iran, which possesses more than 1,000 short- and medium-range ballistic missiles, is suspected of continuing to smuggle weapons to countries and non-state actors such as Lebanon's Hezbollah and Hamas in the Gaza Strip.
IRGC Unveils Dezful Smart SSM, Top-Secret Underground Missile Factory
On February 7, 2019, Channel 1 TV (Iran) aired a report about the IRGC's unveiling of a top-secret underground ballistic missile factory and the Dezful smart surface-to-surface ballistic missile. The factory and missile were unveiled in honor of the 40th anniversary of the Islamic Revolution and of the Fajr decade. Major-General Mohammad Ali Jafari, the commander of the IRGC, said that Iran's ability to deter is "certain," and that Iran's ballistic missiles are for the protection of Iran and the "oppressed and downtrodden nations in the region." General Amir Ali Hajizadeh, the commander of the IRGC's Aerospace Force, was also present at the unveiling, and he explained that the Dezful missile is engineered in a fashion similar to the Zolfaghar missile, but that it has twice the destructive capacity and a range of 1,000 kilometers. The reporter assertively said that Iran answers "to no one but God and [its] conscience," and he added: "May those who are jealous be blinded by their envy."
German foreign ministry celebrates Iran's Islamic revolution in Berlin
The German Foreign Ministry sent representatives to Iran's Embassy in Berlin to celebrate the 40th anniversary of the Islamic Republic of Iran – a regime that frequently urges the destruction of the Jewish state and spreads Holocaust denial.

Mass circulation daily Bild reported on Tuesday that Foreign Ministry State Minister Niels Annen, from the Social Democratic Party, and an official from the Iran desk at the ministry, attended the pro-mullah regime event.

The foreign policy spokesman of the Free Democratic Party in the Bundestag, Bijan Djir-Sarai told Bild, "the fact that a representative of the federal government participates in celebrations of the 40th anniversary of the Islamic Revolution of the Iranian Embassy is embarrassing." He added that "A certain distance would have been helpful here. It is a mystery to me which message the federal government wanted to send with this performance. "

In response to a Jerusalem Post press query to German Foreign Minister Heiko Maas regarding his ministry's presence at the pro-Iran regime celebration, a spokesperson said the ministry said it sent officials to the embassy to keep "dialogue channels" open. Maas, a member of the SDP, claims he went into politics "because of Auschwitz."

German Jews accuse Maas of failing to internalize the lesson of the Holocaust with his robust support of Iran's regime.
Iran's regime is the leading international state-sponsor of terrorism, according to the US Department of State. Chancellor Angela Merkel's administration, which has declared Israel's security to be "non-negotiable," refuses to join US sanctions against the Islamic Republic.
Iranian Children at Revolution Anniversary Rallies: "Death to America;" We Stand Behind Khamenei
A February 11, 2019 report on Kerman TV (Iran) showed Iranian children participating in rallies marking the 40th anniversary of the Islamic Revolution. Various children told the reporter that they respond to the call of the Leader, that they are willing to "pay with [their] lives," and that Trump would not dare do anything in Iran. The reporter asked some parents why they brought their children to the rally and they responded that it is because their children are soldiers for Iran and in order to teach them "Death to America" so that it "flows in their very being," and to tell the enemy that their children are "ready." Several children chanted "Death to America," and a puppet interviewed a girl named Fatemeh, who chanted: "Death to America! Death to Israel! Death to England!"
---
---
We have lots of ideas, but we need more resources to be even more effective. Please
donate today
to help get the message out and to help defend Israel.