From Ian:
---
Ben Judah:
Bibi Was Right
The arc of history was not supposed to look like this, I thought, as I followed Matteo Salvini, the most powerful man in Italy, through the Mahane Yehuda market in Jerusalem. Another day, another world leader was in Israel to meet Benjamin Netanyahu, known to most here simply as "Bibi." And just like Donald Trump, Narendra Modi, Rodrigo Duterte, and Jair Bolsonaro before him, Italy's populist interior minister was not coming to scold the Israeli prime minister. Here was another strongman both happy to be in Jerusalem and ready to work with Bibi.

That night, as Salvini relaxed on his market walkabout and shared a beer with his Israeli handlers, he smiled for the cameras in order to show how safe he felt in the hands of such an expert counterterror force. "I love the people," he said, telling me how much he was looking forward to working with Bibi. I felt a crushing weight on my shoulders: the feeling of having been wrong.

Without a resolution to the Palestinian question, the arc of history was supposed to have bent toward consigning Israel to pariah status—not this. The U.S. embassy has transferred to Jerusalem. A slew of other nations have moved to support some or all of Israel's claims to the city, including Guatemala, Brazil, the Czech Republic, and even Australia. Meanwhile, the threat of a common anti-Israel European foreign policy, sanctions and all, has imploded so utterly that Bibi can snub Federica Mogherini, the bloc's foreign envoy, as though she were an irritating pro-Iranian NGO chief—then play the lavish host to Viktor Orbán, the Hungarian strongman.

And there is more: the love-in with India; senior Chinese officials flying in; not-so-secret talks, and even coordination, with Saudi Arabia; photo ops with the sultan of Oman; regular audiences with Vladimir Putin. And all with not even a hint of the peace process or pressure over settlements. Israel, it seems, is paying no price for its treatment of the Palestinians.

In Ramallah, too, pessimism is the order of the day. There is a deep sense of abandonment. Nasser al-Qudwa, a senior Fatah official and a nephew of Yasser Arafat, dejectedly told me he feared that the populist, anti-Arab "transformation" of the West had only just begun. "There has been an unexpected rise of Christian Zionism in countries like Brazil," he lamented. "America succeeded in persuading Saudi Arabia," he added, "that Israel and the United States can protect them from Iran."

Salvini met with nobody from the Palestinian Authority.

Watching Salvini's press conference, I felt forced to admit that Bibi was right and I was wrong about the shape of the 2010s. My theory of history had failed me. Back when Bibi was elected in 2009, I believed fervently that Obama was on the right side of history—and that Netanyahu, and Israel, were destined to suffer for their failure to reach a just settlement with the Palestinians.

I was convinced that Obama and yet more Obama was the future of Western politics; that demographic and generational change would lead, inevitably, to a more liberal, less Israel-friendly approach. Bibi, it was clear to me, was endangering the future of his country by resisting.
PMW:
Killing 3 innocent Israelis "is a great thing," says Fatah official
Last week, a terrorist shot and murdered 2 Israelis and seriously wounded 2 others in a shooting attack next to Givat Assaf, near Ramallah. The terrorist fled the scene and as of Dec. 20, 2018, has not been apprehended.

Responding to these murders, senior Fatah official Abbas Zaki said it was "a great thing." Applying a twisted logic, Zaki indicated that this terrorist shooting was legitimate "blood vengeance" for Palestinians killed by Israel. However, he did not differentiate between deaths of innocent Israelis targeted by terrorists and the deaths of the terrorists who had murdered Israelis and were killed during Israel's attempt to capture them:
"We are proudly following the events in the West Bank. The young Palestinians are avenging a blood vengeance - three Martyrs (Shahids) for three Israelis. This is a great thing."
[SHMS News Agency, Dec. 13, 2018; official Facebook page of Fatah Central Committee member Abbas Zaki, Dec. 13, 2018;
official PA daily Al-Hayat Al-Jadida, Dec. 16, 2018]

The "three Martyrs" are the terrorist murderers Ashraf Na'alwa, who murdered two of his Israeli coworkers in Barkan, and Saleh Barghouti who murdered a baby and wounded 7 others near Ofra. They were both killed while resisting arrest. The third "Martyr" is possibly terrorist Majdi Mteir who was killed while committing a stabbing attack. (See notes below.)

The three Israeli victims referred to by Zaki are probably the baby Amiad Yisrael Ish-Ran who died three days after he was born prematurely by emergency c-section after his mother was shot and critically wounded, and the two victims from Givat Assaf.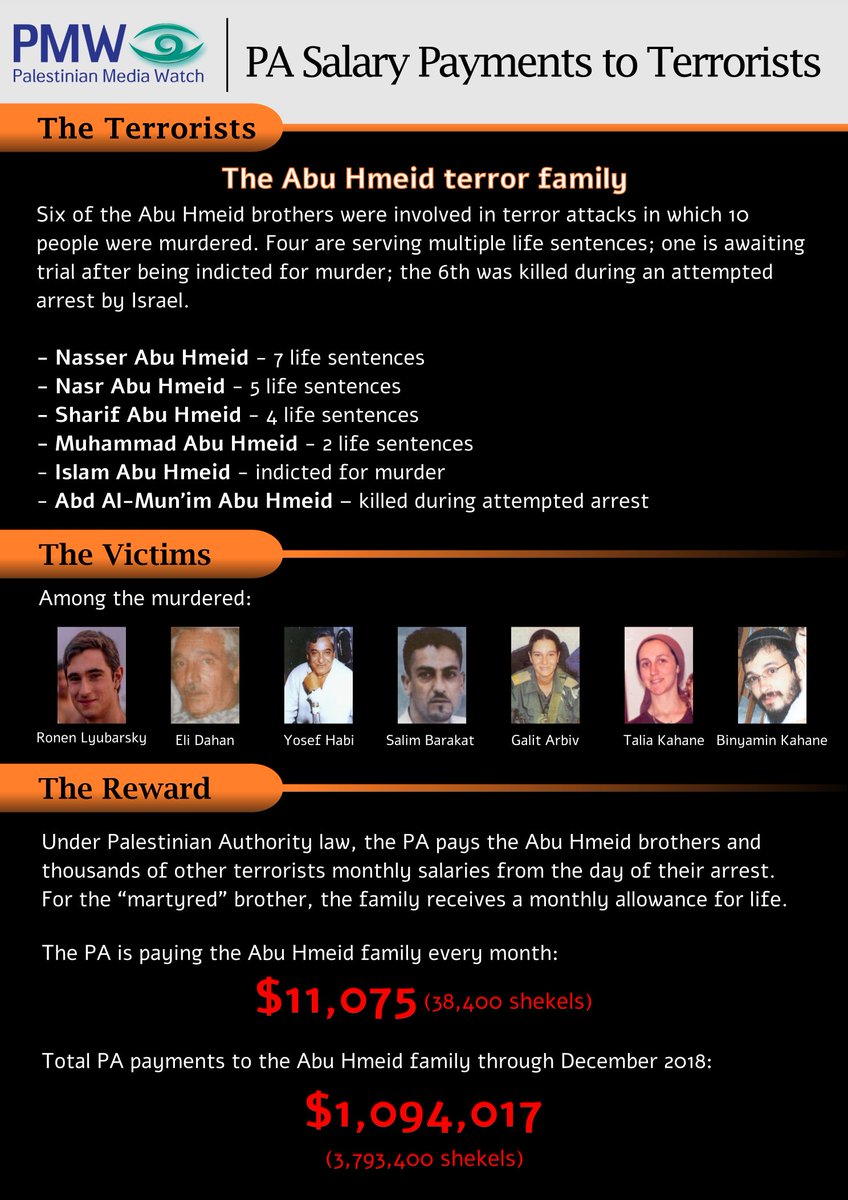 PMW:
Israelis are "blood suckers," says mother of 6 terrorists who murdered at least 10
For Fatah and the PA, the fact that Um Nasser Abu Hmeid's 6 sons are terrorist murderers responsible for the deaths of at least 10 Israelis, is something to brag about.

This cartoon (above) that Fatah publicized shows Abu Hmeid heroically for being a mother with numerous armed men emanating from her and going on the attack with their weapons poised.

Posted text: "The Khansa of Palestine, Um Nasser Abu Hmeid" [Official Fatah Facebook page, Dec. 15, 2018]

The name of honor "Khansa of Palestine" given by the PA to Abu Hmeid is yet another expression of the PA's encouragement of Palestinians to willingly sacrifice their sons as "Martyrs." The name refers to the woman Al-Khansa who lived in the earliest period of Islam who sent her four sons to battle and rejoiced when they all died as "Martyrs".

Abu Hmeid is the mother of 4 convicted terrorist murderers serving 18 life sentences combined for having murdered at least 10 Israelis. Another terrorist son was killed while resisting arrest after he murdered a member of the Israeli security forces, and the PA refers to him a "Martyr." The Abu Hmeid family's house was demolished on Dec. 15, 2018 after a sixth son admitted to murdering an Israeli soldier, and is now standing trial. (Israel has shown cases in which Palestinians have stopped terror attacks by their sons for fear their homes would be destroyed.)

The PA has turned mother of 6 terrorists Abu Hmeid into an icon and frequently honors her, as Palestinian Media Watch has documented. Recently, Abbas invited her to meet with him in the PA headquarters. Director of PLO Commission of Prisoners' Affairs Qadri Abu Bakr and District Governor of Ramallah and El-Bireh Laila Ghannam headed a "solidarity visit" to Abu Hmeid's home before it was demolished by Israel. The Palestinian officials praised her and glorified her terrorist sons as "a crown of honor":
Israelis are "blood suckers," says mother of 6 terrorists who murdered at least 10 Israelis

Read more about this here: https://t.co/xDa6bQCTTz pic.twitter.com/Kn7cOAWZnP

— Pal Media Watch (@palwatch) December 19, 2018
NEWS: In mid-January—as Palestinian President Abbas begins 15th year of his 4-year term—he'll head to UN as State of Palestine (still legally represented by the PLO) replaces Egypt as Chair of G-77, a coalition of 134 developing nations. Let's see how long his 1-year term lasts. pic.twitter.com/rBG44LE1LH

— Hillel Neuer (@HillelNeuer) December 20, 2018
Khaled Abu Toameh:
Palestinians: Give Greenblatt a Nobel for 'falsifying facts' (not satire)
Palestinian Authority President Mahmoud Abbas's ruling Fatah faction said on Wednesday that US President Donald Trump's special envoy, Jason Greenblatt, "deserves to win the Nobel Prize for the falsification of the facts."

Fatah was responding to a statement Greenblatt made on Twitter in which he condemned the Palestinian faction for hailing Saleh Barghouti and Ashraf Na'awla, who were killed by the IDF last week for their respective roles in the Ofra drive-by shooting attack and the killing of two Israelis in the Barkan Industrial Park near Ariel. Commenting on a Fatah poster describing the two Palestinians as "martyrs and heroes," Greenblatt said: "Shame on Fatah! What part of killing a baby or shooting your co-workers is heroic? This is disgraceful, vile and contemptible."

Greenblatt was referring to the death of the prematurely born baby, whose mother was wounded in the attack outside Ofra, and the killing of Kim Levengrod-Yehezkel, 29, of Rosh Ha'ayin, and Ziv Hajbi, 35, from Rishon Lezion in the Barkan Industrial Park.

Osama Qawassmeh, a Fatah spokesman and member of its "Revolutionary Council," said in response that Greenblatt's "statements and actions, as well as his siding with the Israeli oppressor and killer against the victim – the Palestinian people who are fighting for freedom and independence – were harmful to the American people and their values and principles, which we respect and appreciate."

Accusing Greenblatt of lying and misleading, Qawassmeh claimed that the US envoy was "acting in accordance with a Zionist agenda that justifies the killing and expulsion of Palestinians, as well as collective punishment."
The PA leadership has been boycotting Greenblatt and all representatives of the US administration since President Donald Trump's decision to recognize Jerusalem as Israel's capital in December 2017. PA and Fatah officials have since been strongly condemning Greenblatt, US Ambassador to Israel David Friedman and Trump's son-in-law, Jared Kushner, calling them "Zionist extremists and settlers."
Khaled Abu Toameh:
Palestinian Children: Victims of Arab Apartheid
According to the Office of the UN High Commissioner for Refugees (UNHCR), "legal prohibitions persist on access for Palestinian refugees to 36 liberal or syndicated professions (including in medicine, farming, fishery, and public transportation)... In order to work, Palestinian refugees in Lebanon are required to obtain an annual work permit. Following a change in the law in 2001, Palestinian refugees are reportedly prevented from legal acquiring, transferring or inheriting real property in Lebanon."

The latest failure serves as a reminder of the apartheid and discrimination Palestinians face in Lebanon. According to various human rights organizations, Palestinians there suffer systematic discrimination in nearly every aspect of daily life. The UNHCR also points out that the Palestinians in Lebanon do not have access to Lebanese public health services and rely mostly on UNRWA for health services, as well as non-profit organizations and the Palestinian Red Crescent Society. The Palestinians are also denied access to Lebanese public schools.

Where are all the international human rights organizations and pro-Palestinian groups around the world that feign concern for the suffering of the Palestinians? Will they remain silent over the neglect of Wahbeh because because he died in an Arab country and Israel had nothing to do with his death?
The Palestinian Authority's Contradictory Claims about Jerusalem
Since 2011, the Palestinian Authority (PA) president Mahmoud Abbas has been pursuing a status of "internationalization," in which the PA seeks to join various international bodies as the "state of Palestine" and then file lawsuits against Israel. Currently, the Palestine Liberation Organization (PLO)—which, for technical reasons, is the body doing the suing—has one complaint before the International Criminal Court (ICC) and another before the International Court of Justice (ICJ). Avi Bell notes that the claims it makes in the two courts regarding the status of Jerusalem contradict each other:

In the ICJ, the PLO claims that Jerusalem is an internationalized area called a "corpus separatum" [or "separate body"], over which no state can legally claim sovereignty. In the ICC, the PLO claims that just over half of Jerusalem (the part it calls "East Jerusalem") is sovereign territory of what it calls the state of Palestine. Neither claim is meritorious. And more importantly, it's impossible for both claims to be true simultaneously.

The PLO's claim in the ICJ emerged in a lawsuit against the United States, in which the PLO claims that the U.S. violated the Vienna Convention on Diplomatic Relations by locating its embassy within Israel's capital. [It] claims (incorrectly) that any state can invoke the court's jurisdiction when an embassy is located in the wrong place. The PLO then claims (also incorrectly) that the Vienna Convention only permits embassies to be located within the territory of the "receiving state," and (incorrectly) that none of Jerusalem is territory of the "receiving state" because all of Jerusalem is a "corpus separatum"—an internationalized territory to which no state can claim sovereignty. The grounds on which the PLO claims this unique status for Jerusalem are unclear but appear to be a mistaken belief that the failed UN General Assembly [partition] proposals of 1947 and 1949 altered the law of territorial sovereignty.

It is an unfortunate commentary on the politicization of both courts that meritless PLO claims have gone as far as they have in the ICJ and ICC. . . . But it is far more damning that international legal observers have remained silent about the irreconcilable contradiction between the PLO's arguments to the two courts.
Noah Rothman:
Trump's Syrian Retreat: A Disaster in the Making
The United States never wanted to get involved in Syria. Barack Obama did everything in his power to avoid committing American troops to the muddled civil conflict, even at the cost of national prestige and his administration's credibility. But while Obama dithered, chemical warfare again became the status quo of the battlefield, the greatest humanitarian tragedy of the 21st century unfolded, a human tide shattered the European political consensus, Russian and Iranian troops increasingly came into dangerous contact with NATO-allied forces, and a vicious terrorist network captured vast swaths of territory and brutalized thousands. It was only the threat of genocide and the prospect of the Iraqi state's collapse that compelled Obama to confront his myopia. Though valuable time and tactical advantages were lost in the interim, Obama eventually learned that the world's only superpower cannot sit idly by as local conflicts explode into regional crises.

Donald Trump inherited Barack Obama's reluctant war against ISIS, but he also absorbed into the U.S. defense portfolio the broader unspoken mission in Syria: preventing great power conflict from breaking out in a war zone governed by competing states operating without delineated zones of control. Iran, Israel, Russia, Turkey, France, Britain, the United States, a variety of Middle Eastern nations, and their proxies are all executing military operations around Syria, shooting at one another in an extremely high-stakes contest that has next to nothing to do with containing Islamist terrorism.

That is not to say that the anti-terror mission in Syria is accomplished. The so-called Islamic State Caliphate maintains a stronghold in the Middle Euphrates River Valley and regularly exports terrorism to Syria, Iraq, and elsewhere in the region. As recently as late November, coalition forces "repelled a coordinated attack by ISIS elements near Deir ez-Zor. American forces conducted over 200 air and artillery strikes in Syria between December 8 and 15 alone.

Though the mission's deputy commanding general insists that the estimated 2,000 ISIS forces operating in the area are "not enough" to make "significant or lasting gains," the Islamic State and al-Qaeda affiliates in Syria are poised to reconstitute their forces in rural and remote areas where they represent the only stabilizing sources of authority. "It will not be difficult for them to tap into a pool of human and material resources to fight against a vicious, deeply unpopular dictatorship controlled by an Iranian-backed minority sect," wrote the author and analyst Hassan Hassan. That would be even more likely in America's absence.
Analysis: Iran benefits, Israel loses from U.S. withdrawal from Syria
Islamic State, though it is far from it's height of power when it controlled territory the size of Great Britain, is still a significant threat and to say that the war against the Sunni jihadist group has been won is far from correct.

But Islamic State is not the biggest concern following the withdrawal of some 2,000 American troops. It is Iran and their continued attempts to entrench themselves in Syria, a significant threat that Israel has been contending with for the past six years.

"The security challenge vis-a-vis the Iranian presence in Syria and its influence on the northern front becomes more complex for us when the US soldiers will abandon Syrian soil," said former defense minister and IDF chief of staff Lt.-Gen. (res.) Moshe Ya'alon on Thursday.

Nevertheless he said, Israel "can also deal with the new reality if we continue with an active policy in accordance with our redlines and our national interests. The United States has many other ways to act and influence even without forces on the ground."

Sagnic told the Post that Israel's freedom of operations in Syrian skies is what has prevented the Iranians from having their way in Syria. This, he said, was "because of the lack of a legitimate government in Damascus."

But, he warned, Russian President Vladimir Putin has mastered how to fill the gaps left by the Americans in other countries and he will likely try to do the same in Syria.

"If Russia assumes control of all of Syria in the absence of American influence and becomes the only place to go for peace negotiations, it would be much easier to build a legitimate regime in favor of the Assad regime as well as for Iran and Hezbollah," Sagnic said, adding that unlike with Washington, "Israel has no influence over Russia and once there is a legitimate Syrian regime then Israel's freedom of operations could be limited."

The timing of the withdrawal, shortly after Israel began Operation Northern Shield to discover and destroy cross-border attack tunnels dug by Hezbollah from southern Lebanon into northern Israel, is also of concern.

Israeli officials have repeatedly voiced concerns over the smuggling of sophisticated weaponry from Iran to Hezbollah – which would allow the Lebanese Shi'ite terrorist group to produce accurate precision-guided missiles – and the helping of Hezbollah and other Shi'ite militias strengthen their foothold on the Golan Heights and have stressed that both are redlines for the Jewish State.

According to Ya'alon, Washington should recognize Israeli sovereignty on the Golan Heights "not as compensation, but as an expression of continued backing."
Israel to Escalate Fight Against Iran in Syria After US Exit, Netanyahu Says
Israel will escalate its fight against Iranian-aligned forces in Syria after the withdrawal of US troops from the country, Israeli Prime Minister Benjamin Netanyahu said on Thursday.

Some Israeli officials have said US President Donald Trump's move, announced on Wednesday, could help Iran by removing an American garrison that stems the movement of Iranian forces and weaponry into Syria from Iraq.

Israel also worries that its main ally's exit could reduce its diplomatic leverage with Russia, the Syrian government's big-power backer.

"We will continue to act very aggressively against Iran's efforts to entrench in Syria," Netanyahu said in televised remarks, referring to an Israeli air campaign in Syria against Iranian deployments and arms transfers to Lebanese Hezbollah guerrillas, carried out with Moscow often turning a blind eye.

"We do not intend to reduce our efforts. We will intensify them, and I know that we do so with the full support and backing of the United States."
Israel, Australia, and Jerusalem
The Australian government has decided that Israel's capital should be torn in half, resuming the apartheid-like status that prevailed the last time the Arabs occupied part of Jerusalem.

Would the Temple Mount be in Israel's part of Jerusalem? Nope. Judaism's holiest site is "Palestinian," according to the Australians.

What about the Western Wall? Not that either. It's "occupied territory."

How about the Old City's Jewish Quarter, where Jews have lived since time immemorial? Off-limits to Jews.

The Mount of Olives, the world's oldest Jewish cemetery? Not a chance.

What about other Jewish sacred sites in and around the Old City walls, such as Solomon's Pools or the Tower of David? If Australia has its way, they will be renamed Suleiman's Pools and the Tower of Daoud.

Australia's decision to recognize only "western Jerusalem" as Israel's capital is not "a step in the right direction," as some pundits have claimed. It's an outrageous attempt to promote the redivision of Jerusalem — to give the most Jewishly significant part of the city to the Palestinian Authority.
Who is really being irresponsible? Scott Morrison's recognition of Jerusalem hardly warrants the hysteria
In a conflict so polarised, so ideologically magnetic, it is the clear affirmation of support for Israel, and the unmasking of those who seek the demise of the Jewish State, that was perhaps the most telling statement of all. The Prime Minister's remarks dealt a clear blow to the strategy pursued by the Palestinians since the 1970s, articulated by Abu Iyad, the Palestine Liberation Organisation's former head of security, in the following terms: "If one could succeed in changing public opinion in the Western world, then the overthrow of Zionism would be just a matter of time." Prime Minister Morrison bluntly delivered the message that this strategy will not succeed.

The strategy was borne of a realisation that, following the failed invasions of Israel in 1948, 1967 and 1973, the Jewish state had largely grown impervious to conventional military attack. Its downfall therefore could only be achieved through the long-game of chipping away at its legitimacy and undermining its ability to engage with the world around it: the resolution passed by the UN General Assembly in 1975, which determined Zionism ― the foundational movement of the State of Israel and the national liberation movement of the Jewish people ― to be "a form of racism"; the boycott, divestment and sanctions (BDS) campaign; and the seemingly permanent presence of anti-Israel resolutions on the agendas of some church synods in the West, trade union assemblies and party conventions, are all outgrowths of this strategy.

The aim is to keep Israel in focus, to associate it with the most heinous concepts imaginable ― from child-killing and organ harvesting to apartheid and ethnic cleansing ― and to gradually convince new generations of opinion leaders that this State is so far outside the bounds of decency and morality that it has to be dismantled. BDS activist and executive director of the Arab Resource and Organizing Center, Lara Kiswani, made the appeal directly: "Bringing down Israel will really benefit everyone in the world and everyone in society."

The Bahraini Foreign Minister was able to look past the hysteria and comment on the merit of Prime Minister Morrison's announcement because he serves a government that has slowly come to terms with Israel's permanence and has grown weary of a destructive agenda that holds international forums captive, and that privileges the Palestinian cause above all others. His nation has come to see Israel as a key ally in the battle against Iranian regional malignancy, and a treasured source of innovation and technology that can help transform the economies of the Middle-East.

In this way, the responses to the Morrison announcement revealed far more about the agenda of the respondents than the actual policy being announced. It showed us who seeks an end to the impasse and a resumption of negotiations to finally end this conflict, and who merely favours a perpetuation of war by other means.
Israel, Greece, and Cyprus Emerge as a Bulwark of Freedom in the Eastern Mediterranean
Today, the leaders of Cyprus, Greece, and Israel are meeting for what will be the fifth such summit of this new alliance, which has been built in part on plans to cooperate in the extraction of natural gas. The three countries also share concerns about the increasing influence of Russia, Turkey, and Iran in the eastern Mediterranean. Each of the latter three has established a presence in both Syria and the Balkans, and both Turkey and Iran have significant influence in the Gaza Strip. Meanwhile the U.S. no longer maintains an aircraft carrier in the area and appears to have decided to withdraw its troops from Syria. Efraim Inbar comments:

The eastern Mediterranean has always been important to Israel because over 90 percent of Israel's foreign trade traverses this area. The gas fields discovered and now being mined in Israel's Mediterranean economic waters have magnified [its] importance. . . . However, Israel's gas riches are under threat. Hamas and Hizballah are investing in their naval forces. Hamas already has fired missiles against an Israeli-operated gas rig, and Hizballah has threatened to do so. The Russian and Turkish navies might yet adopt more adventurous postures, too. There may soon be an Iranian naval presence commensurate with Tehran's hegemonic ambitions.

Thus, Israel has one more strategic flank to protect. Unfortunately, the naval component in the Israeli military has not been sufficiently prioritized. Israel needs a bigger and stronger navy. The rationale for a larger Israeli naval force is even more compelling given the enormous missile threat aimed at Israel, making Israel's airfields and strategic ground assets ever more vulnerable.

Israel's military deficit in the eastern Mediterranean [stands in sharp contrast to] its diplomatic success. It became a close partner in an eastern Mediterranean alignment that consists of Greece and Cyprus. Egypt is indirectly also a member [of this alliance], although it prefers to interact separately with Israel. The four countries share similar concerns about Turkish foreign-policy directions and have similar energy interests. Cooperation in Washington on eastern Mediterranean issues is also important.
Albania expels Iranian diplomats over foiled plot to attack Israelis — report
Albania said it has expelled two Iranian diplomats for alleged illegal activities that threaten the country's security, reportedly related to a plot to attack an Israeli soccer match.

A spokesman from the Foreign Ministry told The Associated Press on Wednesday that the two diplomats were expelled for "violating their diplomatic status."

The spokesman said the move followed talks with other countries, including Israel.

Private Top Channel television said the Iranians are suspected of illegal activities related to a World Cup qualification soccer match between Albania and Israel two years ago.

About 20 people were arrested in Albania and Kosovo following that match, which was threatened with an alleged terrorist attack.

Albanian officials would not confirm that report.

The planned attack in November 2016 was said to have been coordinated by two Albanians in Syria fighting with the Islamic State group.

The World Cup qualifier was originally due to take place in the northern town of Shkodra. The match eventually took place in Elbasan, about 45 kilometers (28 miles) from the Albanian capital Tirana, under a massive security presence.

It's unclear what connection Iran, which is traditionally seen as an enemy of the Islamic State, may have had to the attack plot.
Israel at UN: Tunnels info we gave UNIFIL ended up in Hezbollah hands
Israel rapped the United Nations peacekeeping force in Lebanon on Wednesday, as the UN Security Council gathered in New York to discuss the issue of Hezbollah tunnels dug into Israeli territory.

Israeli Ambassador to the UN Danny Danon said information Israel provided to UNIFIL, the UN's peacekeepers in Lebanon, had been passed to the Lebanese Army, which then passed it to Hezbollah, who then attempted to conceal the tunnels on the Lebanese side. He said Hezbollah planned to use the tunnels to carry out a five-point attack on Israeli civilians at five different locations in the Galilee. He also displayed an image of a tunnel that ran directly under the feet of the UNIFIL troops, claiming that there were areas where the peacekeepers could not go.

UNIFIL's chief, Jean-Pierre Lacroix, earlier confirmed the organization has asked Lebanon to assist in tracking the tunnels on the Lebanese side of the border.

The Lebanese envoy denied that the country had violated UN Security Council Resolution 1701, which ended the 2006 Second Lebanon War fought between Israel and Hezbollah. She said that the world turned a blind eye to Israeli violations of international law, charging that a double standard was in play.

Lebanon, the envoy said, has no aggressive ambitions, but carries the memories of four Israeli invasions. The country was determined to uphold security in southern Lebanon and said there would be patrols along the shared border with Israel.

The Iranian-backed and heavily armed Hezbollah, meanwhile, found itself in the crosshairs as nation after nation called for Lebanon's army to be the only military force in the country.
Hezbollah Terror Tunnels into Israel 2018
UN fails to take action against Hezbollah terror tunnels
The United Nations failed to take action during a special Security Council session Wednesday against cross-border attack tunnels that Israel says were dug by Lebanon's Hezbollah terror group.

Ahead of the meeting, Israel had urged the council to condemn the Iran-backed Hezbollah and designate it a terrorist organization.

Though the council took no action on the Israeli request, several members sided with Israel and expressed concerns over Hezbollah's violation of a UN Security Council resolution that ended a 2006 war between the bitter enemies.

Sweden said Hezbollah's military capabilities pose a "clear risk" to regional stability. The Netherlands strongly condemned the tunnel activities as a "flagrant violation" of Israeli sovereignty and international law.

Israel has previously urged the UN's most powerful body to condemn Hezbollah, but has never succeeded because of divisions in the council, and there was no move Wednesday to circulate a draft resolution on the tunnels. A key reason for the lack of council action is that some members would insist that alleged Israeli violations of the 2006 resolution also be included in a resolution.
Ofra and Givat Assaf terrorists reported to be Barghouti brothers
Twelve hours after the Ofra terrorist, Saleh Omar Barghouti was assassinated, it's suspected that his brother As'am Barghouti was the terrorist who carried out the attack in Givat Assaf, Palestinian media reported on Thursday.

Saleh Omar Barghouti, 29, the son of West Bank Hamas leader Omar Barghouti, from the village of Kobar, shot and injured seven Israeli civilians at a bus stop outside of the Ofra settlement on December 9. Among the wounded was a pregnant woman who gave birth prematurely. Her baby boy died three days later.

Security forces are now conducting a wide-scale hunt for his brother As'am Barghouti, 32, who murdered two IDF soldiers, and critically wounded another soldier at Givat Assaf on December 13.

The Barghouti brothers belong to a clan whose members are famous for carrying out a series of terrorist attacks against Israel in the past four decades.

Saleh was the most recent member of the prominent Barghouti clan to be involved in terrorist attacks against Israel. The clan has several families that live in the villages of Kobar, Aboud, Bani Zeid and Beit Rima in the Ramallah area. Saleh was from Kobar.

Saleh's father, Omar, 65, spent more than 25 years in Israeli prison for his role in terrorism. The father was first arrested by the IDF in 1978 for killing an Israeli citizen and was sentenced to life in prison. However, Omar, who is known as Abu Asef, was released seven years later in a prison exchange. Since then, he has been repeatedly held in administrative detention for several years. Omar entered Israeli prison as a member of Fatah, but later became a prominent leader of Hamas.
Video taken on Friday at the #Gaza border near Shujaiya. Palestinian border unit cutting wire and throwing explosives. #Israel pic.twitter.com/KhXa2knRwY

— Joe Truzman (@Jtruzmah) December 19, 2018
Russia said to make push for intra-Palestinian reconciliation
Russia plans to make efforts to assist embittered rivals Fatah and Hamas in achieving reconciliation, Al-Sharq Al-Awsat, a London-based Arabic daily, reported on Thursday, citing "well-placed" sources.

Fatah and Hamas have been at loggerheads since 2007 when the latter forcibly ousted the Fatah-dominated Palestinian Authority from the Gaza Strip.

Over the past several years, the two parties have agreed to a number of reconciliation deals, but have failed to implement them.

Russia's intention to advance a possible rapprochement was a "major reason" for its recent decision to invite Hamas Politburo chief Ismail Haniyeh to Moscow, the sources told Al-Sharq Al-Awsat.

Haidar Rashid, Russia's representative in Ramallah, on November 28 delivered an invitation to Haniyeh, according to Hamas's official website.

Haniyeh is expected to leave for Egypt this weekend or at the beginning of next week before traveling to Moscow, the sources said, adding he may also visit Qatar, Turkey, Lebanon, Sudan, Kuwait and other countries while abroad.

Haniyeh has not traveled to any country other than Egypt since he became Hamas chief in May 2017.
On 31st Anniversary, Hamas Compares Palestinian Terrorism to Warsaw Ghetto Uprising, Pledges to Resist Israel 'With All Means Possible'
The Palestinian terrorist organization Hamas compared itself on Sunday to Jews who revolted against the Nazis during the Holocaust, amid a public relations effort on the 31st anniversary of its establishment.

In a message posted to its English-language Twitter account, the group wrote, "If the Palestinian resistance is considered acts of terror, Can we call Nelson Mandela, who resisted the apartheid repression a hero? What can we call the Warsaw Ghetto uprising by the Jewish population against the Nazi repression?"

Hamas, which controls the Gaza Strip, often uses the term "resistance" as a euphemism for acts of violence against Israelis, including civilians. One of the group's officials reportedly called a Dec. 9 shooting attack in the West Bank that wounded seven people — including a pregnant Israeli woman whose infant was delivered prematurely and later died — an "expression of the spirit of resistance."

The tweet was part of a series published by Hamas under the hashtags #WhatsHamas and #Hamas31, which also featured quotes from its leader Ismail Haniyeh, who spoke at a Sunday rally marking the group's anniversary. Tens of thousands of Palestinians were in attendance, among them some children wearing military fatigues and holding mock weapons.

"This is the day of resistance in Gaza, West Bank, Jerusalem and everywhere," Haniyeh said, according to one tweet. "We are happy with the West Bank, which is the most important battlefield."
Palestinians: Arab journalists' visit to Israel a 'crime' and 'sin'
The Palestinian Authority condemned the visit to Israel by seven Arab journalists and accused them of violating Arab policies that reject normalization with Israel.

The PA on Thursday called for punishing the journalists for allegedly supporting Israel, and said that normalization was an "unacceptable and unjustified disgrace." Such visits, the PA added, are a "political and national sin and an unacceptable crime."

A delegation of seven journalists of Arab origin visited the Knesset on Tuesday. The journalists work in France and Belgium, and some hail from Egypt, Lebanon, Algeria and Morocco. The Israel Embassy in France organized the three-day trip to Israel.

The PA Ministry of Information said that it "rejects all forms of media normalization with the Israeli occupation, which is considered an unacceptable crime."

According to the Ramallah-based ministry, the visit of the Arab journalists to Israel "coincided with the fierce onslaught on our people" – a reference to Israeli security measures that came in response to recent terrorist attacks.
MEMRI:
For Years, Qatar Funded Hamas Schools In Gaza Where Children Receive Weapons Training
On September 15, 2018, the Saudi London-based daily Al-Sharq Al-Awsat reported that, in May, Qatar had stopped funding a group of Gaza schools operated by Hamas's Dar Al-Arqam association. According to the report, the Qatari institution that had funded the schools gradually decreased its support for them in 2017, until finally ceasing all of its activity in Gaza in August of that year. The Qatari institution that provided the aid to the DarAl-Arqam schools for over a decade is the Sheikh Eid Bin Muhammad Aal Thani Charitable Association, which is subordinate to Qatar's Labor and Social Services Ministry, and according to many reports is close to Qatari regime circles.[1]

The London-based Saudi daily Al-Sharq Al-Awsat reported that, after the aid ceased, Hamas urged Qatar to provide it through some other organization or to a different Hamas body, noting that they are attended by "hundreds of sons and daughters of Palestinian martyrs," but Qatar refused this request. The report speculated that Qatar was concerned that the funding of the schools could be construed as support for terrorism.[2]

The Dar Al-Arqam association was founded in 2000 by Hamas officials, among them the movement's late leader Sheikh Ahmad Yasin.[3] The four schools it runs, which received Qatari funding for years, are attended inter alia by children of Hamas and Palestinian Islamic Jihad (PIJ) operatives killed in confrontations with Israel. The schools inculcate Hamas's ideology and glorify its founders and the jihad against Israel, and provide students with military training, including weapons training, conducted by members of Hamas's security apparatuses.
IsraellyCool:
Family of Akram Salameh Blames Israel for His Death. But Are We Responsible For It?
A number of Israel haters are sharing a link to this fundraising effort:

We're raising £2,000 to support our sister Nawal Gassan Salameh in her tragic bereavment of her husband, Akram.
Our dear friend and sister Nawal Gassan Salameh has recently lost her beloved husband Akram. He died in hospital from tear gas inhalation after trying to diffuse a situation involving some youths at the village check point.

Let me just start by saying that it gives me no joy to know this man died. He was a human being, and I have no proof that he was a terrorist or a bad person. I feel for his family.

But what makes me feel compelled to blog about his death is the accusation that we somehow killed him – albeit not deliberately – via tear gas. There is simply no proof this is what happened.

For a start, had this been the case, then we would have heard from it in both the palestinian press but also the likes of B'tselem. But nothing, not a peep from them. Just this fundraising page.

I had a look at the deceased's Facebook profile to see if there were any clues as to what may have happened. All I have is the fact that he seems to have been affiliated with the Palestinian Authority, perhaps in their police force:



Given the absence of any mention of his death in the palestinian press or B'tselem, as well as his seeming history of health issues coupled with fact healthy people do not die from tear gas, I am calling this out as fake news.

I wish his family well but not at the cost of defaming Israel.
JCPA:
Iranian Regime Faces Most Serious Threat in 40 Years with Worsening Economy and Strengthening Opposition Forces
Former President Mahmoud Ahmadinejad has recently become one of the most vocal critics of the Iranian regime, while Reza Pahlavi, exiled son of the late Shah, has been stepping up his activities in the United States for putting an end to the rule of the ayatollahs, and a considerable percentage of the Iranian people are distancing themselves from the government.

With all of this going on, the leaders in Tehran not only feel that the threats to overthrow their government are become more tangible than they have ever been, but the leaders of Iran are actually referring to this possibility openly, and the various factions within the regime are in total agreement that the government is facing a new, unprecedented situation.

On December 12, 2018, the supreme leader of the regime, Ayatollah Ali Khamenei, called upon all government systems to be more alert than ever because, according to him, their enemies are scheming to turn the coming year into the year of the overthrow of the Iranian regime.

According to Khamenei, these enemies hoped that the summer of 2018 would be a "hot summer" for the Iranian regime. However, he said, now that the summer is behind us and the Iranian Islamic Republic draws closer to February 2019, when it enters its 40th year, all the signs and facts show that the enemies have postponed the deadline for the fulfillment of their schemes against Iran to the coming year – therefore making it a critical year.1
Egyptian TV Debates: Sheikh Claims There Is a Jewish Plot to Decrease Egypt's Population
During a November 13, 2018 show that aired on Sada Al-Balad TV (Egypt) discussing population growth in Egypt, TV host Ahmed Moussa claimed that Egypt's "terrible and unparalleled" population growth is leading the country to catastrophe. Sheikh Saeed Numan, who is a cleric at Al-Azhar University and a former member of the Al-Azhar Fatwa Committee, read a quote from what he claimed is the "oldest version of the Torah in the world." The quote, which is from the Book of Ezekiel, mentions diminishing Egypt and making it desolate, and Numan said that it reveals a Jewish scheme to decrease Egypt's birthrate. Numan said that his responsibility as a religious scholar is to prevent destructive Jewish principles such as Darwinian evolution, Freudian concepts about sex, and Marxist ideas about religion from infiltrating Egyptian society. He also said that The Protocols of the Elders of Zion, which he claimed were created by Theodor Herzl, have destroyed the world and that they are among these principles. Roughly two weeks later, on December 5, Egyptian journalist and political sociologist Dr. Hoda Zakariya appeared in a show on Ten TV (Egypt) in which she criticized Numan's claims, saying instead that the Jewish scheme is in fact to increase Egypt's population. TV host Nashat Al-Dahi agreed with her. Sheikh Saeed Numan has previously said that unborn fetuses can be married off by their guardians.
Egyptian Animated Video Encourages Muslims to Extend Christmas Greetings
On December 13, 2018, Dar al-Ifta' al-Misriyyah (The Egyptian Fatwa Institute) uploaded an animated video to their YouTube channel encouraging Muslims to greet Christians on their holidays. The narrator said that congratulating non-Muslims during their holidays is encouraged by Islam and in keeping with the manners of the Prophet Muhammad. She said that Islam acknowledges the principle of peaceful coexistence with all people regardless of their faith, and that it has instructed Muslims to befriend non-Muslims, to treat them with decency, and to exchange gifts with them. She also warned viewers not to fall prey to extremists who take from Islam only that which suits their whims.
---
---
We have lots of ideas, but we need more resources to be even more effective. Please
donate today
to help get the message out and to help defend Israel.