From Ian:
---
NSJP Conference Attendees Chant 'Long Live the Intifada!'
A video from Students Supporting Israel (SSI) shows attendees at the National Students for Justice in Palestine (NSJP) conference in UCLA chanting "Long live the intifada!" when a couple of pro-Israel activists infiltrated the conference.

The conference, which was held on Nov. 16-18, was "hermetically sealed" off from the public, but SSI President Ilan Sinelnikov and activist Rudy Rochman were able to sneak in and come on stage holding an Israeli flag and a sign reading "Jews are indigenous to Judea" before being escorted out by security.

SSI's video shows one of the attendees, identified by the Algemeiner as Mohammed Nabulsi, leading chants of "Long live the intifada! Intifada intifada!"

Sinelnikov can be seen saying, as security is about to escort him out, "These guys scream 'intifada' over here, that's [the] murder of the Jews."

Intifada has typically been associated with waves of Palestinian terrorism against Israeli Jews.

Sinelnikov told the Journal in a phone interview that they were able to find an area where they were able to get by security and enter the building where the conference was being held. When they walked in, the attendees were dancing and chanting "Free Palestine!" before being led back to the main program, where Sinelnikov and Rochman went onstage.

He added that the conference attendees were "shocked" by them coming on stage.
NGO Monitor:
Letter to Airbnb Re. "Listings in Disputed Regions"
On November 20, following Airbnb's announcement that it was "removing listings" in "Israeli settlements in the Occupied West Bank," NGO Monitor sent a letter to the company, asking it to clarify key aspects of its new policy. (See here for more information on the NGOs involved in this campaign.)

Airbnb Corporate Relations
888 Brannan Street, 4th Floor
San Francisco, CA 94107
United States

We have read your policy, "Listings in Disputed Regions" and have the following questions:



How does Airbnb define "Israeli settlements in the Occupied West Bank"? Does this mean Airbnb will be delisting properties in Jerusalem? The Old City of Jerusalem? The Jewish Quarter of Jerusalem?
You write, you "Consult with a range of experts and our community of stakeholders." With which "experts" and "stakeholders" did Airbnb consult on this policy?
Please specify what constitutes a "safety risk" as mentioned in your release?
What other "disputed regions" is Airbnb currently evaluating to determine whether to remove listings?

Sincerely.
Brooke Goldstein on Airbnb dropping apartments in the West Bank "settlements"
Dear

@Airbnb

,

My Jewish grandfather, along with many thousands others, fled from Iraq, losing property there, as a result of the Farhud (murderous pogrom in 1941).

Please delist all stolen Jewish lands in Iraq.

And Syria. And Egypt, Yemen, Lebanon, Libya, Morroco, Jordan, etc.

— (((Emanuel Miller))) (@emanumiller) November 21, 2018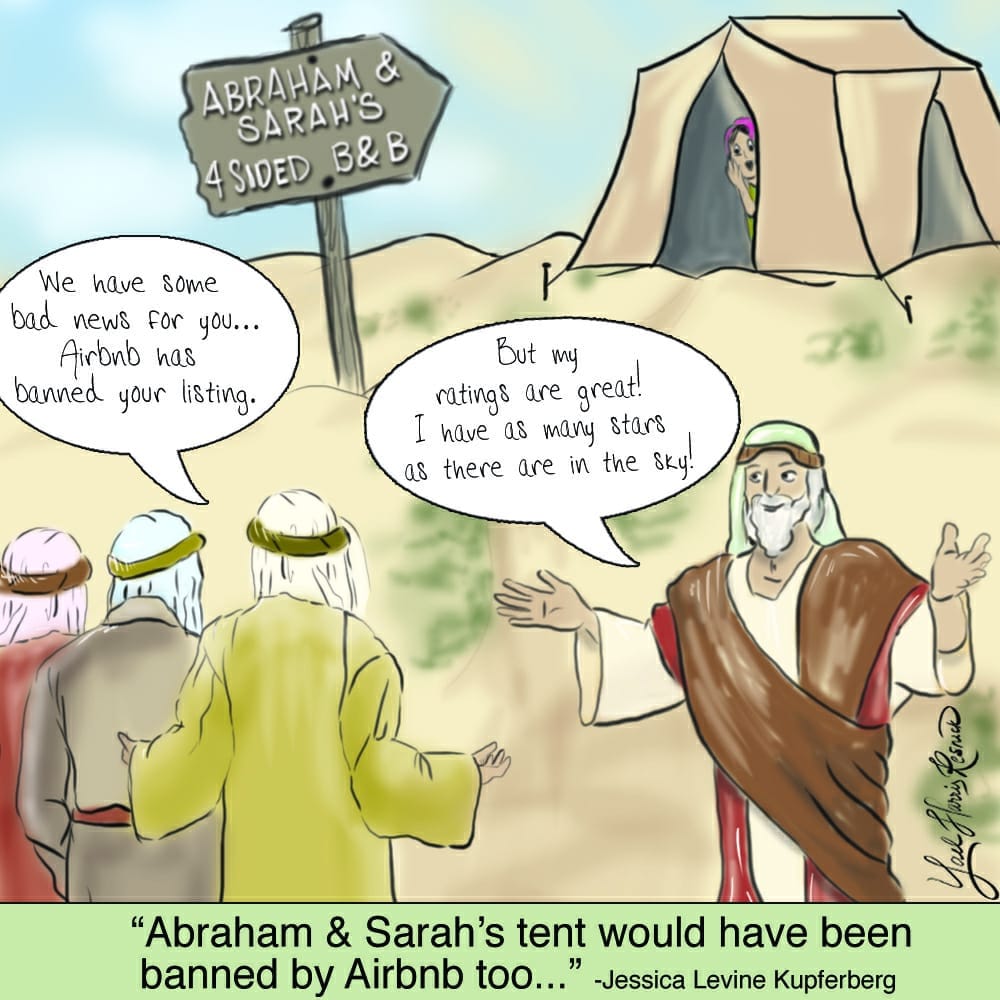 A UK Corbyn government will be a major existential threat to Israel
Revelations expose Labour Party members at all levels holding deeply felt and widespread anti-Jewish and anti-Zionist tendencies. The outing of this anti-Semitism has come about to a large extent by the actions and utterances of their leaders. The rank and file feel emboldened to express themselves by calling Israel a "racist endeavor" and anyone who supports the Zionist state as being complicit with an illegitimate regime.

It hasn't helped that the IHRC definition of anti-Semitism was imposed on the National Executive Council of the Labour Party though a loophole was granted to them that will allow them to "criticize" Israeli policies.

Indisputably, Jeremy Corbyn holds the most public anti-Israel vehemence since the days of Ernest Bevin in the late 40s. The anti-Semitic Bevin vigorously opposed the establishment of the Jewish State. As Prime Minister, Corbyn will vigorously try to delegitimize the Jewish State.

For decades Corbyn has cobbled together a coalition of radical forces who are allied to his hard left political theology. Organizations such as the Socialist Workers Party, the Palestine Solidarity Movement, and the Islamic Human Rights Council allied to the Muslim Brotherhood rally to Corbyn's anti-Israel cause.
Mark Regev appearance at London uni shelved over security concerns
A talk by Israeli Ambassador Mark Regev at City, University of London on Wednesday night has been shelved after concerns over security.

Jewish students in the City and Cass Israel Society said they were "appalled" that the envoy was forced to cancel and accused the university of "refusing basic security requirements" as outlined by the police.

In a joint statement with the Union of Jewish Students, the society said: "Israeli diplomats have spoken on campus more than 150 times over the past four years, where all host institutions have managed to balance freedom of speech with the legitimate right to peaceful protest. It seems City have deliberately failed in their obligation to do both."

Regev and his team have spoken at dozens of universities already this year, with pro-Palestinian demonstrations such as those at Queen's University Belfast largely peaceful, but there had been warnings of trouble at City, where students passed an Israel boycott motion earlier this year.

"The past few years have seen a series of events and developments at City that have caused Jewish students to feel threatened," said the society and union in a joint statement on Wednesday afternoon.

"We are appalled by the levels of intimidation and bigotry to which Jewish students have been subjected, and today's cancellation only reinforces this already unacceptable situation."
In 'Apology,' Women's March Leader Linda Sarsour Fails to Mention Her Own Antisemitic Statements or Farrakhan
Women's March co-chair and prominent anti-Israel activist Linda Sarsour expressed "regret" on Tuesday over the antisemitism scandal rocking her movement, though she did not mention her own problematic statements or the links between Women's March officials and Nation of Islam leader Louis Farrakhan.

In her statement, Sarsour asserted, "The Women's March exists to fight bigotry and discrimination in all their forms — including homophobia and anti-semitism."

Appearing to blame the press for the situation, Sarsour said, "It's become clear, amidst this media storm, that our values and our message have — too often — been lost. That loss caused a lot of harm, and a lot [sic] pain. We should have been faster and clearer in helping people understand our values and our commitment to fighting anti-semitism. We regret that."

"Every member of our movement matters to us — including our incredible Jewish and LGBTQ members," she added. "We are deeply sorry for the harm we have caused, but we see you, we love you, and we are fighting for you."

"We are deeply invested in building better and deeper relationships with the Jewish community," Sarsour claimed.
So woke: Lay off the Women's March, says writer who once wished cancer on the Jerusalem Post's staff
You know the Women's March has become toxic when not even Alyssa Milano will associate with the group until it rids its leadership team of those who are buddy-buddy with notorious anti-Semite Louis Farrakhan.

In fact, pressure has become so great on the group that its founder, Teresa Shook, has called on co-chairs Bob Bland, Tamika Mallory, Linda Sarsour, and Carmen Perez to step down over "racist, hateful beliefs," although Sarsour did offer a personal "sorry you misunderstood us" non-apology.

Now the Women's March has found a defender in writer Daniel Sieradski, who argues in the Jewish Telegraphic Agency's Jewish news that anyone who wants to rail against someone who's anti-Semitic should be angry with President Trump, not the Women's March:

What about the Women's March's leadership's embrace of Louis Farrakhan? Sieradski calls Farrakhan "a virtual nobody with virtually no power in the broader American context."

It's a lousy argument, but it did catch the eye of the Jerusalem Post's Lahav Harkov, who remembers Sieradski as the guy who once tweeted his wish that the Post would burn down and all its employees contract cancer. (h/t MtTB)
Palestinian Journalists Syndicate calls to boycott Eurovision
The Palestinian Journalists Syndicate on Wednesday called to boycott the 2019 Eurovision Contest, which is scheduled to take place in Tel Aviv.

In a letter to the European Broadcasting Union, the Ramallah-based syndicate, which is dominated by Fatah loyalists, claimed that the Eurovision "may be held in Jerusalem or any part of occupied Palestine, and this is harmful to the rights of the Palestinian people, especially their right to self-determination."

Copies of the letter were also sent to the International Federation of Journalists and the European Union for Journalists.

It was possible that the Eurovision would be staged in Jerusalem, with ministers calling for such a move. However, Tel Aviv was eventually selected after months of speculation.

It was not clear why the Palestinian Journalists Syndicate chose to call for boycotting the song contest despite the decision to hold it in Tel Aviv.
The Israeli team consists of:

13 Jewish players (Mizrahim, Ashkenazim and Ethiopians)

7 Arab players

1 Bedouin player

1 Circassian player

'apartheid' עאלק

https://t.co/ltZAxVV66d

— Noy (@noyalevy_) November 21, 2018
European social anthropologists to boycott Israeli colleges in settlements
The European Association of Social Anthropologists (EASA) has ratified a motion to boycott Israeli academic institutions in the West Bank.

The motion was proposed in August at EASA's annual general meeting in Stockholm, and was overwhelmingly ratified this month by the organization's members, passing by a vote of 830 in favor, 21 opposed and 37 abstentions.

In September, the head of the Israeli Anthropological Association (IAA), Prof. Nir Avieli, sent a letter written on behalf of the association to the EASA president urging its members to vote in favor of the motion.

This followed a decision by IAA itself in June to adopt a motion to refuse cooperation with the three institutions of higher education in the settlements: Ariel University, Orot College in Elkana, and Herzog College in Alon Shvut.

This decision was taken after a law was passed in Knesset in February, placing institutes of higher education in the settlements under the authority of the Israel Council for Higher Education instead of the separate council for Judea and Samaria they had previously been under until then.
Canadian Jewish Groups Launch Campaign Against National Student Federation's Endorsement of BDS
Canadian Jewish groups have launched a campaign against the Canadian Federation of Students' (CFS) decision to back the anti-Israel boycott, divestment and sanctions (BDS) movement.

The representative of 500,000 students in Canada, CFS approved a resolution on Nov. 15 endorsing BDS, and called for the condemnation of "the ongoing occupation of Palestine."

It also recommended "a statement be released to our membership condemning the recent atrocities against Palestinians in Gaza," an apparent reference to this year's unrest on the Israel-Gaza border.

The CFS backed up its endorsement of BDS with support for financial donations to "different Palestine-solidarity organizations" of up to $500.

In response, Hasbara Fellowships, The International Jewish Fraternity, and B'nai Brith Canada authored a petition calling the CFS resolution a "shameful decision, which in no way reflects the views of the broad majority of Canadian students."

The petition also condemned "the abuse of funds to support the antisemitic discrimination of Jewish students."
Why Won't Hyatt Stand Up to Anti-Israel Hate?
On September 26, Mark Hoplamazian, the CEO of Hyatt Hotels, announced that the chain would no longer host hate groups, declaring that if an organization "is primarily focused on disparaging a group by virtue of their identity … that's really where we need to draw the line."

While Hoplamazian's statement was welcome, there are concerns that his policy will not be applied equitably. After all, over the last four years, the extremist organization American Muslims for Palestine (AMP) has hosted its annual conference at the Hyatt Regency O'Hare in Chicago. These events have featured a parade of antisemitic speakers advocating the destruction of the world's only Jewish state. Hyatt has never objected. Indeed, this year's convention is scheduled for November 22-24 at the same location.

On November 13, armed with sourced quotes and screenshots of AMP's extremism, Islamist Watch wrote to Mark Hoplamazian and asked him to prevent AMP from using Hyatt hotels to spread its hateful ideology. Hoplamazian did not respond.

A few days later, we wrote to Mr. Hoplamazian again. This time, we did receive a reply, but it was nothing more than a boilerplate brush-off. In the letter, a Hyatt "Senior Guest Care Specialist" advised us, "To protect the privacy of our guest, we would be unable to share information about upcoming groups at our hotels."
Columbia University's Center for Palestine Studies: Ramallah on the Hudson
The Trump administration may have closed the PLO's Mission in Washington, D.C., but its Morningside Heights Mission is open for business. I refer to Columbia University's Center for Palestine Studies (CPS), an Ivy League clearinghouse for PLO propaganda and the demonization of Israel. Call it the PLO's American academic wing.

When the CPS opened more than eight years ago, founding co-director Rashid Khalidi promised that it would avoid doing "anything that's directly related to any political activism." This is laughable. What Khalidi meant is that the CSP would not participate in anti-Israel activism, but this is a lie. The faculty members who comprise the center's experts are rivaled only by the faculty of Birzeit University for their anti-Israel advocacy.

It might, in fact, take a Center for Palestine Studies to examine thoroughly the history of Palestinian organizations devoted to political violence. But instead, Columbia has assembled the anti-Israel all-stars of academia, such as Joseph Massad, who has called for "the continuing resistance of Palestinians in Israel and the Occupied Territories to all the civil and military institutions that uphold Jewish supremacy." Another member of CPS is Hamid Dabashi, who wrote that Israel is a "key actor" in "every dirty treacherous ugly and pernicious act happening in the world."

In addition to being a professor at Columbia's Middle East Institute and co-director of the CPS, Khalidi also happens to be a former member of the PLO, as Martin Kramer has shown. Not since Columbia hired former Weather Underground member Kathy Boudin at its School of Social Work has it so blatantly flirted with endorsing political violence. At least Boudin expressed remorse, even if it was insincere. Not so Khalidi, a Boycott, Divestment, and Sanctions (BDS ) advocate whose views have remained consistent since his PLO days, though they are now masked in the academic patois of post-colonialism.
Board of Deputies of British Jews Condemns Quakers' Israel Divestment Policy
Board of Deputies President Marie van der Zyl has condemned the decision of Quakers in Britain to divest from, in its words, "any companies profiting from the occupation of Palestine".

Marie said: "The appalling decision of the Friends House hierarchy to divest from just one country in the world – the only Jewish state – despite everything else going on around the globe, shows the dangers of the obsessive and tunnel-visioned approach that a narrow clique of church officials have taken in recent years.

"There was no particular trigger incident for this decision, just the ongoing insistence of certain Quaker bureaucrats of feeding a diet of one-sided propaganda to those unfortunate enough to rely on them for information.

"While other churches have reached out to the Jewish community at this time of rising antisemitism and polarisation to work together to tackle prejudice and promote peace in the region, the Quaker leadership has chosen to import a divisive conflict into our country, rather than export the peace that we all want to see.
Who wants to hear the highest paid Quacker in the land - Paul Parker - admit they ONLY boycott the Jewish state because 'they don't know enough about the rest of the world?'

Oh, go on then...

Might I suggest they turn on a TV occasionally or open a paper!

@Bicom @Jsorene pic.twitter.com/g7CglFcy0A

— SussexFriendsIsrael (@SussexFriends) November 22, 2018
CBS issues on-air correction about nature of Hamas rockets
CBS News on Wednesday corrected an earlier report that falsely claimed Hamas had fired rockets at Israeli military targets.

Last week, CBSN anchor Anne-Marie Green – in a report about the resignation of defense minister Avigdor Liberman – stated that "Palestinians have fired hundreds of rockets at Israel's military."

But on Wednesday, Green issued an on-air correction to that report.

"In a report on November 14 we said that Palestinians had fired hundreds of rockets at Israel's military," she said. "In fact, the rockets were fired into Israel, including several cities and civilian targets."
BBC Jerusalem correspondent's 'analysis' meets reality
On November 18th an article originally headlined "Netanyahu faces key meeting amid Israel early polls call" and later re-titled "Netanyahu warns of danger of early Israel election" appeared on the website's 'Middle East' page. On November 19th a report titled "Israel's Netanyahu survives early poll threat" was published on the same page.

Both those reports told BBC audiences that:
"All Israeli governments are coalitions because of Israel's system of proportional representation, meaning no single party can govern alone."

That statement is of course misleading. The electoral system in Israel is indeed based on nation-wide proportional representation and all Israeli governments to date have been coalitions – not least due to the relatively low qualifying threshold.

However, were a list to gain sufficient votes to secure a majority of seats in the Knesset, that electoral system would not preclude it from 'governing alone' as the BBC suggests is inherent.

BBC Watch has written to the BBC News website to request an amendment to that inaccurate and misleading statement.
When the BBC's 'context' fails to make the grade
Obviously BBC reporters such as Tom Bateman know full well that the context to Israel's policy is the Palestinian terrorism which increased after Hamas' violent take-over of the territory in 2007 and yet we nevertheless continue to see BBC journalists whitewashing that terrorism (even in a week following unprecedented terror attacks against Israeli civilians) by repeatedly describing the actions taken to counter it in terms of a 'narrative'.

Viewers were also told that:
"Live music is rare in Gaza, which is run by the Islamist group Hamas"

No effort was made to explain to audiences the connection between the decline in live music events (and other social freedoms) and the fact that the Gaza Strip was violently taken over by an Islamist faction over a decade ago.

Although in both the above examples the BBC has ostensibly ticked boxes by providing audiences with background information relevant to the story, that 'context' is actually nothing of the sort. Rather than providing the full range of information required for proper enhancement of audience understanding, in both cases the BBC elected to skirt around 'sensitive' topics: Hamas' terrorism and Hamas' repression of the people who live under its extremist rule.
2 Jewish cops sue Philly Police Department claiming anti-Semitic acts by district colleagues
Two Jewish police officers have filed a federal lawsuit against the Philadelphia Police Department, claiming a pattern of anti-Semitism by colleagues in their Franklintown-based district, including scratching a Nazi "SS" symbol into a locker and drawing a Star of David and the phrase "Hebrew Hammer" onto a door of a patrol car.

In the suit, Officers Stacey Gonzalez, a 21-year department veteran, and Pavel Reznik, a Russian immigrant with 12 years on the force, allege that racist comments and anti-Semitic acts by a supervisor, Cpl. Karen Church, and more than 10 officers in the Ninth District at 401 N. 21st St., created an unsafe working environment and violated their civil rights.
Related stories

Mostly, the lawsuit says, co-workers would address the Jewish officers using ethnic slurs, and the officers endured daily off-color jokes at their expense.

Their attorney, Brian Mildenberg of Center City, who filed the suit Monday night in U.S. District Court in Philadelphia, included in the lawsuit photos allegedly showing anti-Semitic acts. "It's bad," Mildenberg said. The officers also filed a complaint with the department's Internal Affairs unit in August, Mildenberg said.
Three Swastikas in 9 Days: Anti-Semitic Incidents on Cornell's North Campus Stoke Fear
In just nine days, three swastikas were reported on North Campus — two in dorms and one near a dining hall.

The anti-Semitic signs were found across the residential area and provoked a mixture of surprise, concern and disgust amongst the Jewish community, freshmen and other Cornellians aware of the incidents.

A Cornell spokesperson confirmed that the University and Cornell Police are reviewing three bias incidents that took place in Clara Dickson Hall, Court-Kay-Bauer Hall and Appel Commons. It is still unclear whether these three incidents are connected or who is behind them.

In a statement sent to students, faculty and staff on Tuesday morning — after the article was first published — Vice President of Student & Campus Life Ryan Lombardi communicated the University's "revulsion" at the incidents.

"I vehemently denounce such acts, which are clearly intended to intimidate members of our community," Lombardi said. "I specifically want to acknowledge and affirm our support for the Jewish members of our community who have faced the impact of anti-Semitism nationally and, unfortunately, now locally as well."
Man wearing Jewish prayer shawl arrested for 'anti-Semitic tirade' on airplane
A George Washington University senior has said that a man "went on an anti-Semitic tirade" on his plane to Atlanta, posting a video of the suspect's altercation with police officers after the flight landed.

Jordan Dale, who was traveling on Thanksgiving eve, tweeted that the man "demanded 'all Jews raise their hands' so he could 'identify them.'"

The man, identified as David Toaff, a home loan officer in Bethesda, Maryland, was arrested by police when he got off the Delta Air Lines plane at the Atlanta airport, and can be seen struggling with the officers in the video taken by Dale.

What also is obvious from the video, however, is that Toaff is wearing a tallit, or Jewish prayer shawl. His Facebook page includes pictures of the city of Jerusalem drawn by his father, as well as inspirational videos and a Washington Post article about the recent synagogue shooting in Pittsburgh.
Putin Plays With the Holocaust
That decision was enabled by legislation from 2015 that also permits Russia's rulers to — in the words of culture minister Vladimir Medinsky — "set financial, political, or ideological priorities" for Russia's own film industry. Nine out of every 10 films produced in Russia are funded by the regime, under regulations that forbid movies "defiling the national culture, posing a threat to national unity, and undermining the foundations of the constitutional order."

Russia's use of film as an instrument of propaganda is nothing new. The same policy prevailed in its Soviet predecessor. That doesn't mean that the films lack artistic merit — Sergei Eisenstein's Battleship Potemkin, about a 1905 mutiny of Russian sailors, is regarded by some critics as the greatest film of all time — but it does mean that Western audiences should understand that their fundamental purpose goes far beyond entertaining or informing. According to culture minister Medinsky — a Russian nationalist and admirer of the late Soviet dictator Josef Stalin — the goal of films, art, and other media in Russia is to "consolidate the state and society on the basis of values instilled by our history."

Those of you planning to see the Russian movie about the uprising of inmates in the Nazi death camp of Sobibor in October 1943, which is being released in the United States this week, may wish to bear that quote in mind as you take your seats. The film, titled Sobibor, was, according to the publicity accompanying it, "largely funded by the Russian government." Why? Apparently, continued the press release, "Russia [read: Putin] hopes to raise awareness of the uprising, which a Jewish Red Army officer led, but which has never received wide public recognition."

Putin's regime sadly resembles the tyrannical Soviet Union in many ways, but differs in one important respect. Unlike his predecessors from the days when Russia was the USSR — Stalin, Brezhnev, and Andropov, especially — Putin himself has shown little evidence of personal antisemitism, and seems well-disposed toward his country's Jewish community.

But he is also a former KGB officer and a current dictator — one who is wedded to the ideology and theology of Russia's elevated place in the world, in common with Tsarist ministers, Russian Orthodox clergy, Communist Party apparatchiks, and, not least, his own culture minister. So giving a Russian dictator control over how a historical episode — like the awe-inspiring Sobibor uprising — is reconstructed for a modern audience is a bit like appointing an arsonist as a fire-safety warden: really the last person you want in charge in a situation like that.
Pupils call out Amazon for selling anti-Semitic propaganda
After stumbling upon copies of "Mein Kampf" and other Nazi and alt-right paraphernalia for sale on Amazon.com during a routine websearch for a Holocaust education class, students at a Chabad all girls' school are reaching out to CEO Jeff Bezos to put an end to the sale of anti-Semitic propaganda on the site.

The pupils are studying the Holocaust ahead of a class trip to Poland. Led by 16-year-old Adina Katz, the senior class at New Haven, Connecticut's Bais Chana Academy High School for Girls sent an email to Bezos. In it, they requested that he "remove these hateful products from [the] website," which "facilitate the diffusion of antisemitic mindset and violent speech… specifically Hitler's 'Mein Kampf.'"

Unlike in Germany, where its publication was banned until the copyright expired in 2016, the sale of Hitler's manifesto is not illegal in the United States, nor has it ever been. In fact, US publisher Houghton Mifflin encouraged people to read "Mein Kampf" during World War II to highlight the degree of evil embodied by the Nazi enemy.

But a report by the Partnership for Working Families together with the Action Center on Race & the Economy from July of this year asserted that some items up for sale on the website are unmistakably malicious and aimed at educating people to hate.

"Amazon enables the celebration of ideologies that promote hate and violence by allowing the sale of hate symbols and imagery on its site," the report says, citing the sale of swastika jewelry, a lynch-noose car decal and baby onesies with burning crosses on the front, as a few examples. (The products listed in the report have since been removed.)

The report also points out that Amazon provides a platform for white supremacy, anti-Semitism, Islamophobia, and homophobia as a publisher through its e-book, print, and streaming media formats.
Philadelphia Jewish Museum Gets Surge of Donations After Far-Right Rally Held Nearby
The National Museum of American Jewish History (NMAJH) in Philadelphia has received a surge of donations after a far-right demonstration was held across the street this past weekend.

According to media reports, only around two dozen people showed up at the "We the People" rally at historic Independence Mall on Saturday, and they were met by hundreds of counter-protesters.

Ahead of the event, Penzeys Spices — a Wisconsin-based company that has a location next to the museum — published a lengthy Facebook post in which it called on customers to contribute to the NMAJH.

"Sadly, Saturday won't be a good day to visit our Philadelphia Store, as the building we are in will be closed because of actual Nazis actually marching right outside our actual front door," the post said. "We aren't the draw, it's Independence Hall and the Liberty Bell across the street that they will be there for. Our next-door neighbor is the National Museum of American Jewish History. In the wake of the Tree of Life synagogue shooting not even a month ago, Saturday will be a tough day for them. Can we stop pretending that this president or the Republican Party that is now fully in his control are anything good people should still support?"
PM Netanyahu to the Conf. on the Fight against Antisemitism and Anti-Zionism in Vienna: "The lesson of the Holocaust is that we must never forget the importance of fighting hate, barbarism an radicalism, and to do so early on, when you can still stop bad things from getting worse

pic.twitter.com/dYbcPGEA6R

— PM of Israel (@IsraeliPM) November 21, 2018
The Holocaust did not begin, of course, in the gas chambers of Auschwitz. The Holocaust began with hateful words, burning books, shattering storefronts.
The lesson of the Holocaust is that we must never forget the importance of fighting hate, barbarism and radicalism, and to do so early on when you can still stop bad things from getting worse.
Today, we are experiencing a resurgence of anti-Semitism worldwide. We once again hear false and dehumanizing allegations against Jews. We see attempts to kill or harm Jews in the name of radical ideologies.
And since the establishment of the State of Israel, we face a new form of anti-Semitism: vicious efforts to demonize the Jewish State and deny the Jewish people the right to self-determination in our ancestral homeland, the Land of Israel.
When every nation is allowed to define its flag, its national anthem, its national identity, except for the Jewish people, this is anti-Semitism.
The first step to combat anti-Semitism is to define it. The Israeli government, along with seven other European governments, including Austria, has adopted the IHRA [International Holocaust Remembrance Alliance] definition of anti-Semitism. I urge all countries to adopt this definition and to increase their efforts to combat anti-Semitism and its modern manifestation, anti-Zionism.
Austrian Kurz: We can't undo history but we can do justice to our history
Detailed proposals and recommendations for combating antisemitism in Europe were presented on Wednesday at a conference in Vienna arranged by the Federal Chancellery of Austria led by Austrian Chancellor Sebastian Kurz.

The recommendations, called the "Catalogue of Policies to Combat Antisemitism," were drawn up by the European Jewish Congress with the assistance of academics from universities in Vienna, Tel Aviv and New York.

Kurz said at the conference that he intends to bring the document before the European Council, the body comprising the 28 EU member heads of state that determines policy direction, at its next summit in December.

Raising the issue at the European Council would represent a serious effort in pushing for the adoption of the recommendations around the continent.

"Antisemitism and anti-Zionism are getting blurred, but they are two sides of the same coin," Kurz said during his opening address at the high level conference, titled "Europe beyond antisemitism and anti-Zionism – securing Jewish life in Europe."
Survey of European Jewish Leaders Shows Rising Concern About Antisemitism, Growing Support for Israel, With Jewish Education as Top Priority
Concern about antisemitism is growing, support for Israel is increasing, and the vast majority of Jews intend to stay where they are — these are among the main conclusions of the Fourth Survey of European Jewish Community Leaders and Professionals carried out by the American Jewish Joint Distribution Committee (JDC) released this week.

Conducted every three years, the JDC survey has established itself as a trusty barometer of how Jewish communal professionals in Europe view the key issues facing their communities. In all, the 2018 survey combined responses from 893 respondents in 29 countries – running the gamut from organizational directors and educators to rabbis, opinion-formers and donors.

"We do this survey partly as a service to the rest of the Jewish world, because we think it's crucial that all of us know as much as we can about the communities around Europe," David Schizer – the Chief Executive Officer of JDC, a leading US Jewish humanitarian organization with a global footprint – told The Algemeiner on Wednesday. "And then at JDC in particular, we work very hard to shape our programmatic priorities based on the expressed needs and concerns of communal leaders in Europe."

Among the key findings of this latest survey are that 66 percent of European Jewish leaders expect a further rise in antisemitism over the next decade (a figure consistent with the 2015 survey) and that 68 percent "fully support Israel, regardless of its government's behavior" (a leap of 13 points compared with 2015). At the same time, 76 percent of the respondents had no plans to personally emigrate from Europe, and just under half of them believed that there would be no significant Jewish exodus from Europe in the coming period.
Anne Frank House renovated to tell story to new generation
In a major overhaul spanning two years, the museum got a new entrance and made changes to rooms including the darkened space that displays the iconic books that made up Anne's diary.

The museum also has revamped the way it tells the story of the Frank family, and by extension the Nazi persecution of Jews.

"What we tried to do is ... use the family history as a kind of a window into a larger history," said Tom Brink, the museum's head of publications and presentations.

That larger history includes the Nazi-occupied Dutch capital during the war "and, of course, European history because all Europe was affected by the Nazi rule," Brink said.

In addition to physical changes, the museum now has an audio tour which pieces together fragments from the diary, family stories and historical perspective. This allowed curators to keep physical exhibits sparse while still explaining the Franks' story and putting it in historical context.

"We wanted to preserve the character of the house, which is very much its emptiness," said Leopold. "I think its emptiness is probably the most powerful feature of the Anne Frank House."

For example, a room that served as Otto's office used to contain office furnishings. Now it is virtually empty with just a few photos on the wall. One photo features a group of Jewish men in Amsterdam kneeling, their hands on their heads, watched over by a Nazi soldier carrying a rifle.

On another wall is a map drawn up by Amsterdam civil servants for the city's Nazi occupiers, with black dots representing the places where Jews lived.

The museum remained open throughout the renovations. Dutch King Willem-Alexander will formally open the refurbished landmark on Thursday.
NUS president joins 130 student leaders on landmark Auschwitz educational visit
Senior leaders and student union sabbatical officers from UK universities learnt not to be bystanders this week as they visited the former Nazi concentration and death camp Auschwitz-Birkenau.

The intense visit was part of the Holocaust Educational Trust's (HET) Lessons from Auschwitz Universities Project in partnership with the Union of Jewish Students (UJS).

Monday's visit, where the 132 participants landed in Krakow early in the morning and returned to London late that night, was the first of its kind and came after a seminar where they heard first-hand evidence from a survivor, Susan Pollack.

During the visit, participants learned that there is no evidence that any German soldier was shot for refusing to kill Jews – some were sent to the Eastern Front, but others were even later promoted.

"People did have a choice," one of the HET educators told one group. "They could choose, like Rudolf Hoess, the commandant of Auschwitz, to live a completely 'normal' life, going home to his wife and children who lived next door to the camp while overseeing the murder of 1.1 million Jews.

"Or they could choose not to be perpetrators and not be punished for refusing to kill Jews."
Students rediscover antisemitism on Auschwitz field trip - The Guardian
People hunched against the biting cold of late November, later reflecting on the contrast between their stout boots and padded coats and the thin striped pyjamas and meagre rations of the camp's inmates.

In a wooden hut at Birkenau, they contemplated sleeping on hard wooden bunks and defecating in rows of open latrines. They imagined the pain of selection by the SS guards: parents, children, siblings, husband, wives arbitrarily separated; some to live, most to die.

Personal items most starkly illustrated the human tragedy. A cabinet full of hair and shaving brushes. Another piled up with twisted pairs of spectacles. A jumble of cooking pots; a tangle of women's plaits, cut from their owners' heads.

For Muhammad Omar Hijazi, the president of the students' union at St George's, university of London, the day was an overwhelming barrage of images and emotions.

"I have no background in history, and I wanted to see this for myself," he said. "It's made me wonder about the people who let this happen. Where was their moral compass?"

There were many Muslims among the students he represents, he said. "It's 100% important for all of us to understand what happened in the Holocaust. When I get back, my main goal will be to get people to talk to one another."

Martin said the key message she had taken from the visit was "not to be a bystander". (h/t Zvi)
'Righteous Among the Nations' nun dies at 110
Born in Poland in 1908 as Maria Roszak, Sister Cecylia Roszak is best known for her heroism in saving Jewish children during the Holocaust. The sister died on Friday, November 16 at the age of 110.

The sister with the others at the convent near Vilna risked their lives to hide 17 members of a Jewish Zionist underground movement. It was the convent that also helped smuggle grenades into the Vilna Ghetto to help with the Resistance. Their actions resulted in their mother superior being arrested by the Nazis.

Six of the nuns and their mother superior were honored by Yad Vashem Holocaust museum in Jerusalem as "Righteous Among the Nations" in 1984 for their heroism.

The World Holocaust Remembrance Center, also known as Yad Vashem, is also the only organization that recognizes non-Jews who risks their lives to save Jews. Since the 1960s ,about 24, 355 people from 47 countries have been recognized for their heroism as "Righteous Among the Nations". The trees planted on the Avenue of the Righteous on the Mount of Remembrance are each labeled for a different "Righteous" person, including the nuns in question. (h/t Zvi)
---
---
We have lots of ideas, but we need more resources to be even more effective. Please
donate today
to help get the message out and to help defend Israel.