From Ian:
---
Ben Shapiro:
AirBNB Goes Anti-Semitic, Targets Jewish Businesses In Judea, Samaria
This is absurd. As Dr. Michael Oren points out, AirBNB lists apartments in Turkish-occupied Cyprus, the Moroccan-occupied Sahara, Chinese-occupied Tibet and Russian-occupied Crimea. Not only that, but AirBNB allows listings in a wide variety of countries without any democratic rights and with wildly discriminatory policies.

Judea and Samaria are disputed territories, not "occupied" territories. Israel controls those territories thanks to repeated refusal by Arab states that repeatedly declared war on Israel to accept any peace deal. Radical Muslim anti-Semites and their left-wing apologists insist not only that these territories be turned over to the terrorist Palestinian Authority for control, but that Jews evacuate those territories entirely, making them Judenrein. Remember, this AirBNB policy isn't targeting the Israeli government — it's targeting Jews themselves for living in areas under international dispute.

Leaders of the BDS movement are explicitly anti-Semitic, calling openly for the end of Israel's existence. The very notion of labeling Jewish products from particular areas for boycott is reminiscent of Nazi policy directed against Jews. As Alan Dershowitz writes:

The boycott against Israel and its Jewish supporters (to many Palestinians, all of Israel is one big "settlement"; just look at any map of Palestine) began before any "occupation" or "settlements" and picked up steam just as Israel offered to end the "occupation" and settlements as part of a two-state solution that the Palestinians rejected. BDS is not a protest against Israel's policies. It is a protest against Israel's very existence.

Still, the boycott, divestment and sanctions movement (BDS) is gaining serious steam on the mainstream Left these days thanks to the intersectional notion that Jews rank high on the hierarchy of privilege. Such thinking allows anti-Semitism to thrive across the world, and particularly in the Middle East. AirBNB's latest move is simply the best evidence yet that the intersectional Leftist ideology has invaded the corporate world, and that anti-Semitism is perfectly acceptable among otherwise "woke" actors on the Left.
NGO Monitor:
The NGOs and Funders Behind Airbnb's BDS Policy
On November 19, 2018, Airbnb issued a press release announcing it was "removing listings" in "Israeli settlements in the Occupied West Bank." The company provided no details as to how it defines "Israeli settlements" or the "Occupied West Bank" and whether its decision relates to Jerusalem, and in particular, the Jewish Quarter of the Old City. This change in policy was a clear result of a coordinated and well-financed campaign targeting the company by NGOs involved in BDS (boycott, divestment, and sanctions) campaigns against Israel, led by Human Rights Watch (HRW) and Jewish Voice for Peace (JVP), in concert with the UN Human Rights Council (HRC), at least three Israeli groups, and the Palestinian Authority. The funders responsible for this campaign include a number of European governments as well as the US-based Rockefeller Brothers Fund.

Airbnb faced an intensive multi-year attack and threats of being included in the forthcoming UN HRC "blacklist," boycotts, and other forms of negative publicity. Indeed, the company acknowledged that offering listings in West Bank "settlements" was not illegal, meaning that its decision was the result of political pressure.

The company provided five vague criteria used in the process of making this decision:
"1. Recognize that each situation is unique and requires a case-by-case approach.
2. Consult with a range of experts and our community of stakeholders.
3. Assess any potential safety risks for our hosts and guests.
4. Evaluate whether the existence of listings is contributing to existing human suffering.
5. Determine whether the existence of listings in the occupied territory has a direct connection to the larger dispute in the region."

Airbnb did not disclose details of how these criteria were implemented, how it analyzed these factors, nor identify the supposed "experts" and "community of stakeholders" consulted.
After Airbnb, watchdog calls for Booking.com to remove settlement listings
Human Rights Watch on Tuesday urged Booking.com to follow the example of Airbnb and withdraw listings for rentals located in settlements in the West Bank.

Airbnb said Monday it will remove such listings, just ahead of the release of an HRW report criticizing them.

Israel strongly denounced Airbnb's decision and threatened legal action against the company, while Palestinian officials welcomed it.

The US-based rights group issued its report on Tuesday and called on Booking.com to follow Airbnb's "positive step."

"By ending its brokering of rentals in illegal settlements on land off-limits to Palestinians, Airbnb has taken a stand against discrimination and land confiscation and theft," Omar Shakir, HRW's director for Israel and the Palestinian territories, told AFP.

"It is an important and welcome step and we encourage other companies like Booking.com to follow their lead and stop listing in settlements."

HRW issued the report on the online reservations firms, entitled "Bed and Breakfast on Stolen Land," along with Israeli NGO Kerem Navot.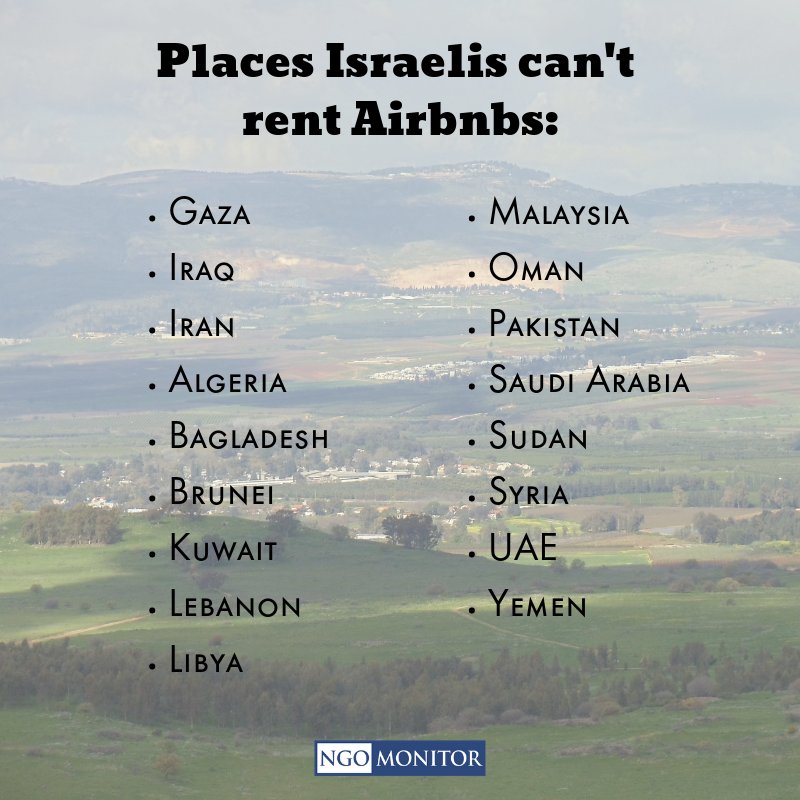 Prominent Israeli Official Calls for Boycott of Airbnb Over Delisting of Settlements
A prominent Israeli official is calling for a boycott of Airbnb after the home-renting company announced on Monday it would remove listings in West Bank settlements.

"Airbnb blacklists Jewish apartments in Judea and Samaria — not Palestinian apartments, not apartments in Turkish occupied Cyprus, in Moroccan occupied Sahara, not in Tibet or the Crimea," Michael Oren — a Kulanu MK and deputy minister in the Prime Minister's Office who served as Israel's envoy in Washington, DC, from 2009-2013 — tweeted. "Airbnb's policy is the very definition of anti-Semitism. No one should use its services."


Airbnb blacklists Jewish apartments in Judea and Samaria - not Palestinian apartments, not apartments in Turkish occupied Cyprus, in Moroccan occupied Sahara, not in Tibet or the Crimea. Airbnb's policy is the very definition of anti-Semitism. No one should use its services.

— Michael Oren (@DrMichaelOren) November 19, 2018



Tourism Minister Yariv Levin — a member of Prime Minister Benjamin Netanyahu's Likud party — called Airbnb's decision "discriminatory," and he ordered ministry staff to formulate a plan to limit the company's activities in Israel.

Strategic Affairs Minister Gilad Erdan — also a Likud member — described Airbnb's move as "submission to the anti-Semitic BDS organizations," and he charged it was motivated by "political considerations rather than business considerations."

"I call on the property owners affected by the decision to examine the filing of claims against Airbnb in accordance with the law to prevent harm to the State of Israel through a boycott, and I intend to contact the most senior political officials in the United States to examine whether this decision violates legislation against boycotts in more than 25 states in the United States," Erdan said.
IsraellyCool:
Airbnb Becomes HotAirBDS
Remember this?


Who would have thought two years later that Airbnb would cave in to BDS.

As stated by the Simon Weisenthal Center, which has urged its 400,000 constituent members and Jews the world over to boycott Airbnb:

"This is double standard anti-Semitism pure and simple. Nowhere else on the planet has Airbnb stopped making its service available in disputed territories, except Judea and Samaria."

True: Airbnb continues to list properties in "occupied" places all over the world, including Northern Cyprus, and the Western Sahara, yet sees fit to implement this policy only in Judea and Samaria, which are "disputed", not "occupied."

The inherent antisemitism in this measure can be illustrated better by an example: take two people who live in the Old City of Jerusalem: a Jew in the Jewish Quarter and an Arab in the Muslim Quarter. If both want to list their dwellings on Airbnb, only one of them would be allowed.
BBC News website framing of the Airbnb listings story
Without clarification of the fact that a PLO representative has in the past threatened legal action against Airbnb, readers were told that:

"Airbnb has previously been criticised by Palestinian officials and human rights campaigners for allowing listings of homes to rent in Israeli settlements."

While those so-called "human rights campaigners" remained unidentified by the BBC, readers were not informed that Airbnb does business in numerous other disputed locations (for example northern Cyprus, Western Sahara) or whether or not those same campaigners have "criticised" those operations.

Unsurprisingly, the BBC found it appropriate to cite one of its most frequently quoted and promoted political NGOs – including images.

"The decision was announced the day before Human Rights Watch was set to publish a report examining Airbnb's business in the settlements.

The organisation praised Airbnb's decision on Twitter, hailing it as "a breakthrough"."

The BBC did not bother to clarify to its audiences that the said 'report' produced by the political NGOs 'Human Rights Watch' and 'Kerem Navot' is actually a political campaign focusing exclusively on Jewish Israelis which makes no mention whatsoever of Airbnb's business in additional disputed locations around the world.
Please RT and sign petition against AirBnB's discrimination of Jews https://t.co/GQOXsywsYb

— Conrad Myrland (@miffno) November 20, 2018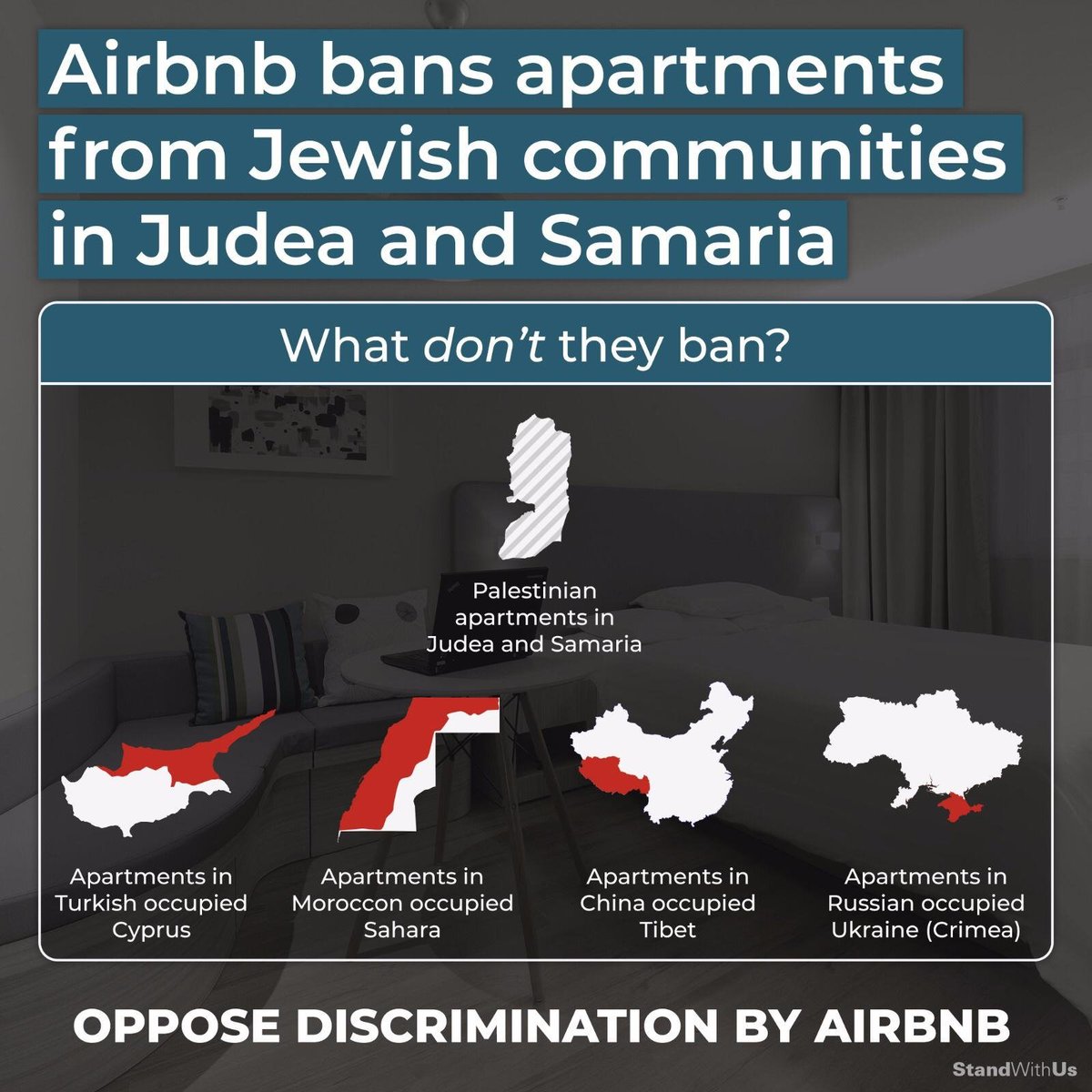 .@Airbnb has no problem listing tons of properties in Turkish-occupied N.Cyprus, where all Greek inhabitants ethnically cleansed, homes expropriated. Their "disputed territories" policy gets more interesting by the minute. Lots more info in forthcoming @KoheletForum report pic.twitter.com/uwVK9cHLjl

— Eugene Kontorovich (@EVKontorovich) November 19, 2018
Airbnb blacklists Jewish apartments in Judea and Samaria - not Palestinian apartments, not apartments in Turkish occupied Cyprus, in Moroccan occupied Sahara, not in Tibet or the Crimea. Airbnb's policy is the very definition of anti-Semitism. No one should use its services.

— Michael Oren (@DrMichaelOren) November 19, 2018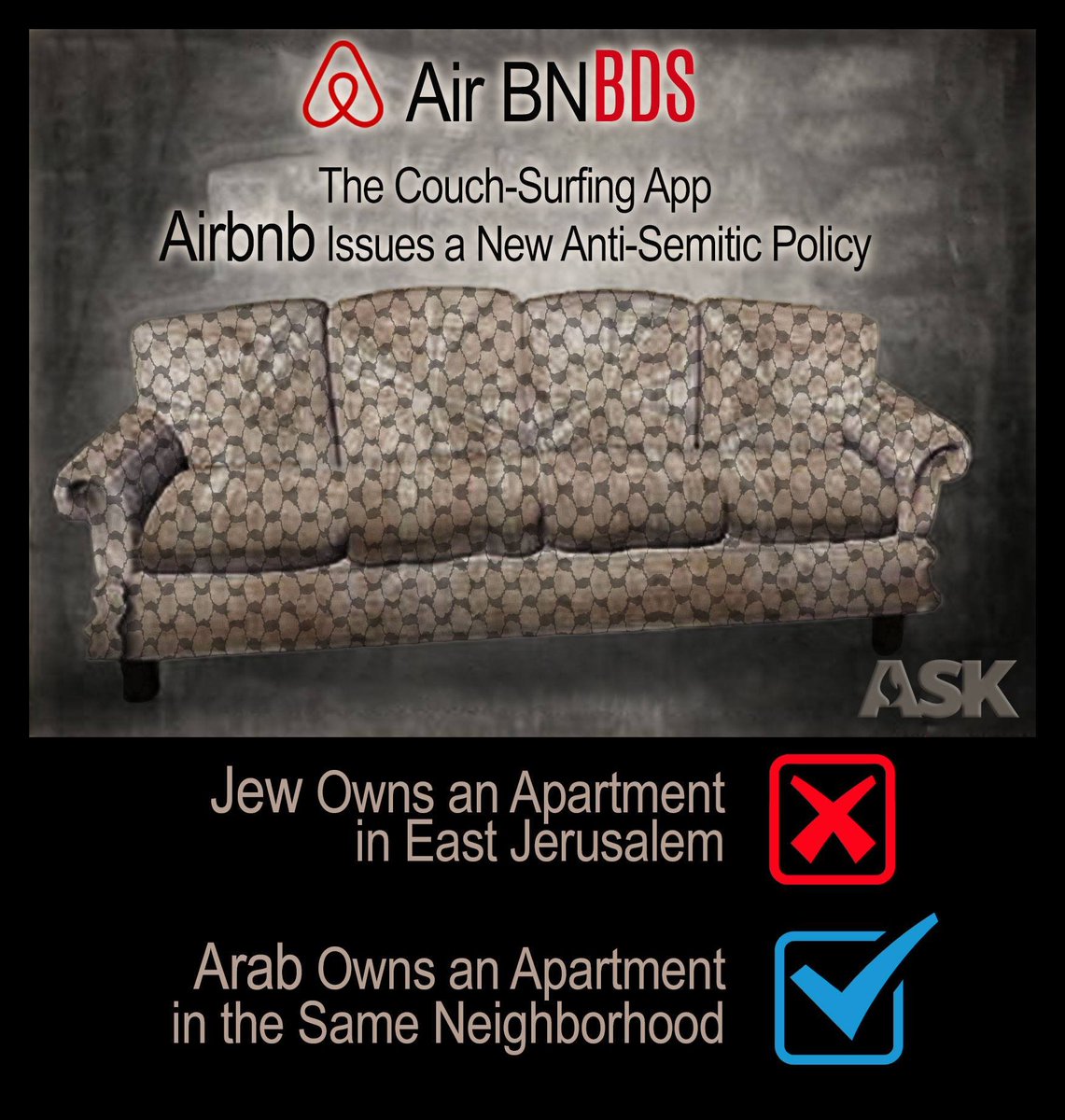 Abbas rejected billions of dollars in return for J'lem concessions
Palestinian Authority President Mahmoud Abbas turned down an offer of billions of dollars in return for making concessions on Jerusalem and accepting the city as the united capital of Israel, Mahmoud Habbash, a senior adviser to the PA president, said on Monday.

"President Abbas was offered billions of dollars to just say that we are prepared to reach understandings on Jerusalem so that it would become the united capital of Israel," Habbash said in a speech during a ceremony marking the Prophet Mohammed's birthday.

"President Abbas told them: All the billions of dollars in the world will not make me give up one inch of the soil of Jerusalem."

Habbash, who serves as Abbas's adviser on religious affairs, did not say who made the purported offer to the PA president.

The adviser delivered his speech on behalf of Abbas during a celebration in the PA Mukata presidential compound marking the Prophet Mohammed's birthday. The ceremony was attended by Abbas and several senior PA officials.

"We're not slaves to the dollar or solar," Habbash said – a eference to the recent Qatari decision to fund fuel for the power plant in the Hamas-ruled Gaza Strip. He was also referring to the recent delivery of a $15 million Qatari cash grant to the Gaza Strip. The PA leadership has expressed strong reservations about the Qatari initiative, saying it will embolden Hamas and "consolidate" the split between the Gaza Strip and the West Bank.

"Jerusalem has been sold for $15 million," he said in an implicit attack on Hamas. "The blood of the [Palestinian] martyrs has been sold for $15 million."

The PA official again repeated the Palestinian leadership's vehement opposition to US President Donald Trump's yet-to-be-unveiled plan for peace in the Middle East, which is also known as the "deal of the century." He called the unseen plan a "lie" and the "slap of the century."
Netanyahu: Israel won't sign global migration pact, must protect its borders
Prime Minister Benjamin Netanyahu announced on Tuesday that Israel would not be joining the United Nations' global migration pact, set to be signed next month in Marrakech, Morocco, by most of the world's governments. The US is among several other countries that have also rejected the pact.

"I instructed the Foreign Ministry to announce that Israel won't participate [in the Marrakech gathering] and won't sign the migration pact," Netanyahu said in a statement to the press.

"We have a duty to protect our borders against illegal infiltrators. That's what we've done, and that's what we will continue to do," the terse statement concluded.

The Global Compact for Safe, Orderly and Regular Migration, which will not be legally binding, was finalized under UN auspices in July. It is due to be formally approved at a December 11-12 meeting in Marrakech.

In September 2016, all 193 UN member states, including the United States under former president Barack Obama, adopted a declaration saying no country can manage international migration on its own, and agreed to launch a process leading to the adoption of a global compact in 2018.
Mossad said to thwart Hezbollah terror plot against Jewish targets in Argentina
A terror plot against Jewish targets was thwarted when the Mossad intelligence service passed information to Argentinian security officials which led to the arrest of suspected members of the Hezbollah terrorist group, Hadashot TV reported Monday.

According to the report, police arrested two brothers and their cousin at a hideout in Buenos Aires which was found to contain an arsenal of weapons and explosives. The suspects were said to have admitted they planned to attack Jewish targets in the country.

Argentinian police announced Thursday they had arrested two Argentinian men on suspicion of ties to the terrorist group and that in the course of the investigation, they had discovered evidence of foreign travel "along with credentials in Arabic and an image of the Hezbollah flag," the Reuters news agency reported.

No further details were given on the credentials or travel, and the discrepancy in the number of individuals arrested has not been clarified.

The two men, aged 23 and 25, were arrested at a Buenos Aires residence, and were also found to be in possession of a "small arsenal" including a rifle, a shotgun and a number of handguns.

A Hezbollah suicide bomber carried out the 1994 attack on the AMIA Jewish center in Buenos Aires. The attack, orchestrated by Iran, killed 85.
Howard supports Israeli embassy move
I can't accept that Australian foreign policy, particularly on something as basic as where we put an embassy, should be determined by other countries

2018-11-19 by Friends of Israel Initiative
Former Prime Minister John Howard is strongly backing Scott Morrison's interest in moving Australia's embassy in Israel. Mr Howard has told The Australian that the government must establish its own foreign policy following criticism from international partners. Indonesia's Trade Minister has signalled the nation will not sign a Free Trade Agreement with Australia while Malaysia's Prime Minister has warned a global terror threat could occur if the embassy were to be moved from Tel Aviv to Jerusalem.
Ex-Australia PM Tony Abbott Says Move Embassy to Jerusalem, Defy Muslim Backlash
Former Australia Prime Minister Tony Abbott says the time has come to move Australia's embassy in Israel to Jerusalem in defiance of threats from Muslim-majority neighbours Indonesia and Malaysia.

Mr. Abbott has joined fellow Liberal Party elder John Howard and Treasurer Josh Frydenberg in backing the move, announced by Prime Minister Scott Morrison during a recent by-election campaign.

The former premier said Monday that the embassy should be moved to Jerusalem so Australia can show its support for the "only functioning liberal pluralist democracy" in the Middle East.

"I think by far the preferable course of action, particularly now that we've announced that we are considering it, is to do what should be done and that is, put our embassy in the capital of this very friendly country that deserves our support," he told Sky News.

"Israel is a country under existential threat, it is a sibling pluralist democracy, it's a country which shares our values, which in important respects, metaphorically at least, speaks our language.

"And why shouldn't we be showing solidarity with the only functioning liberal pluralist democracy in the Middle East, by supporting them and putting our embassy in their capital?"
Haley blasts U.N. for equating Israel with Hamas in call for restraint
There is no equivalence between the terror group Hamas and the legitimate State of Israel, US Ambassador Nikki Haley told the UN Security Council on Monday during its monthly debate on the Israeli-Palestinian conflict.

She spoke out in response to a call on "all parties to exercise maximum restraint" made by UN Special Coordinator to the Middle East Peace Process Nickolay Mladenov during his briefing to the council in New York through the help of a video hookup from Israel.

"Fact: There is only one side that attacks indiscriminately [Hamas]. One side that targets civilians. One side that terrorizes to achieve its objectives," Haley said.

Both she and Mladenov referenced the violent flare up between Hamas in Gaza and Israel that almost led to war last week.
She described how Palestinian groups in Gaza had indiscriminately launched over 400 rockets and mortars at Israel, sending families into bomb shelters.

"Even if you accept Hamas's excuse that it launched its missiles in response to an Israeli covert operation, you cannot escape the fact that the Gaza terrorists targeted civilians in response. Their actions were not actions of a nation exercising self-defense, but of a terrorist group seizing a pretext to kill civilians," Haley said.
Thank you to Ambassador @nikkihaley for, once again, revealing the #truth that there is no such thing as "two sides to the conflict," there is Hamas that fires missiles at civilian populations, and there is #Israel that protects its citizens. Thank you for standing by Israel! pic.twitter.com/xqzfHov6tH

— Ambassador Danon (@dannydanon) November 19, 2018
Israeli man lightly injured in West Bank stabbing
An Israeli man was stabbed in the face and lightly injured in a suspected terror attack Tuesday south of Jerusalem, medics said.

Border Police officers began sweeping the area after the suspected stabber fled the scene of the attack.

"The motive for the attack is being investigated," a Border Police spokesperson said.

The attack was said to have occurred near the bypass tunnel next to the Palestinian town of Beit Jala, northwest of Bethlehem.

Eyewitnesses said the Israeli man was attacked when he walked into a story in the area, according to one of the medics who treated the victim.

The 30-year-old victim was treated on the scene by medics from the Magen David Adom ambulance service and the Israel Defense Forces, who worked to stop the bleeding and bandage his wounds.
IDF Says It Thwarted Terror Attack When It Uncovered Knife in Pringles Container
The Israeli military said it thwarted a terror attack near Jerusalem on Monday when it uncovered a knife concealed in a Pringles container being held by a woman.

The incident took place at the Qalandiya checkpoint, north of the Israeli capital.

"An IDF soldier just found this knife….in a box of @Pringles," the IDF said in a tweet. "Our intel says the woman carrying it intended use it for a stabbing attack. Our soldiers at the Qalandiya security crossing stopped her from doing so."

"This is why security checks are necessary," the IDF concluded.

Palestinian terrorists have perpetrated hundreds of stabbing attacks against Israeli civilians and soldiers in recent years.
IDF says efforts to keep Iran from Syrian foothold succeeding
Iran's military capabilities in Syria are far from what the Islamic Republic had sought, thanks to Israeli action, IDF Chief of Staff Gadi Eisenkot said Tuesday.

The comment was the clearest indication yet that Israel believes it is nearing victory after a several-year campaign to keep Tehran from gaining a foothold near the Golan Heights, though other officials have warned Iran and its proxies still pose a challenge in the area.

The army chief praised the IDF Northern Command for its effort in blocking Iranian forces from establishing a permanent military presence in southern Syria, near the Israeli border, and from transferring precision-guided missiles to the Hezbollah terrorist group in Lebanon.

"The fact that their abilities are far from what Iran and terror groups desired is the result of high-quality, ongoing operational activity," Eisenkot said, while visiting the Northern Command's Bashan Division in the Golan Heights.

"The IDF will continue to thwart these efforts [by Iran and Hezbollah], while preserving the security situation in the north in the long term, from a dedication to defending citizens of the State of Israel," he said.
Report: Hamas preparing for Israeli operation despite ceasefire
Palestinian terror organizations in the Gaza Strip are preparing for a possible military operation by Israel, the Lebanese newspaper Al-Akhbar reported on Tuesday, following Prime Minister Benjamin Netanyahu's hints at what he called the "second stage of the last round in the Gaza Strip."

Meanwhile, Hamas and Islamic Jihad leaders were invited to Cairo to discuss several issues. According to reports from the coastal enclave, a Hamas delegation is scheduled to arrive in Cairo today, while an Islamic Jihad delegation will arrive in the Egyptian capital tomorrow to meet with intelligence chiefs in the country and discuss further understandings of the ceasefire between Israel and the Gaza Strip.

Last week, violence between Gaza and Israel escalated after a botched Israeli operation in the Strip led to an exchange of fire and the death of a senior Israeli officer.

Hamas subsequently fired more than 500 rockets and mortars into Israel killing one person and wounding dozens of others. Israel in turn struck hundreds of targets in Gaza.

A ceasefire agreed upon by Israel and Hamas the next day led to the resignation of Defense Minister Avigdor Liberman and a shake-up in Israel's coalition.
Palestinian flag balloon lands in northern Israeli yard
The Police were notified of a balloon with a Palestinian flag attached to it that had landed in Moshav Mle'a in the North's Ta'anach region, the Police Spokesperson's Unit said on Tuesday.

While police are currently investigating the situation, it is likely that no explosive device was found. However, ostensibly, the balloon appears similar to ones that have carried incendiary devices.

"In every event where a suspicious item is located, please report to the police," the Police Spokesperson's Unit announced. "Move away from the area and leave the suspicious item for the police."

A week before, Security guards at the Kerem Shalom crossing found thousands of balloons going into the Gaza Strip.

The Defense Ministry believed these balloons would likely have been used to launch incendiary devices into Israel.

Half of forested land near the Gaza border has burned as a result of Palestinian-launched incendiary devices, according to a study published in October.
Hamas Leader Yahya Sinwar Flaunts Gun Allegedly Taken from Israeli Soldiers, Saying: Gaza Will Only Give Israel Fire, Martyrdom, Death, And Killing pic.twitter.com/4YGnubaTQQ

— MEMRI (@MEMRIReports) November 20, 2018
Diplomats: EU Open to Iran Sanctions After Foiled France, Denmark Plots
European Union foreign ministers showed cautious support on Monday for possible new economic sanctions on Iran in a shift of policy after accusations of Iranian attack plots in France and Denmark, diplomats said.

Denmark and France briefed their EU counterparts at a meeting in Brussels on the alleged plots and ministers agreed to consider targeted sanctions on Iranians in response, although no details or names were discussed, five diplomats told Reuters.

Though still at an early stage, the EU's readiness to penalize Iranians would be the first such move in years after months of internal division over how to punish Iranians accused of destabilizing activities in Europe and the Middle East.

Until now, the EU has been straining to uphold the 2015 nuclear accord between Iran and world powers that US President Donald Trump pulled out of in May. It has been less willing to consider sanctions, instead seeking talks with Tehran.

Iran has warned it could ditch the nuclear deal if EU powers do not protect its trade and financial benefits.

France has already imposed sanctions on two Iranians and Iran's intelligence service over what it says was a failed plot to carry out a bomb attack at a rally near Paris organized by an exiled Iranian opposition group. One option is to establish those asset freezes at an EU-wide level, diplomats said.
Iranian Jobs Go as US Sanctions Start to Bite
Tamnoush, an Iranian company that makes fizzy drinks, has shut down its production line after 16 years and laid off dozens of workers. It was facing massive losses as US sanctions pushed up the price of imported raw materials.

"All our 45 workers are jobless now. The men are driving taxis and women are back to being housewives," said CEO Farzad Rashidi.

Reuters interviews with dozens of business owners across Iran show hundreds of companies have suspended production and thousands of workers are being laid off because of a hostile business climate mainly caused by new US sanctions.

The Iranian rial has fallen to record lows and economic activity has slowed dramatically since US President Donald Trump withdrew from the big powers' nuclear deal with Tehran in May.

He imposed sanctions directed at purchases of US dollars, gold trading, and the automotive industry in August. Iran's vital oil and banking sectors were hit in November.

"We have lost around five billion rials ($120,000 at the official rate) in the last few months, so the board decided to suspend all activities for as long as the fluctuations in the currency market continue. It is stupid to keep driving when you see it's a dead end," Rashidi said.
PreOccupiedTerritory:
US Urged To Shift From Alliance With Repressive Monarchy To Alliance With Repressive Theocracy (satire)
Diplomats, politicians, and activists have seized upon last month's grisly kidnap and murder of a Saudi journalist to argue that the United States must distance itself from the autocratic state that ordered the assassination, and instead mend ties with a rival state that engages in a different cocktail of violent persecution.

Jamal Khashoggi's death and dismemberment several weeks ago led to a surge of calls to reassess the American strategic relationship with the Kingdom of Saudi Arabia, which oppresses numerous political, religious, and other groups, in favor of improved bilateral relations with theocratic Iran, which oppresses most of the same political, religious, and other groups, albeit with a different overt rationale. Moreover, they contend, Iran has merely had a hand in the deaths of more than 500 American soldiers in Iraq and Afghanistan since 2003.

Saudi Arabia, they argue, either directly persecutes or restricts the behavior and rights of women, non-Muslims, homosexuals, and political dissenters, and the United States must not reward such barbarity with lucrative oil contracts, military sales, or security guarantees. It makes more political and moral sense to engage with the Islamic Republic of Iran instead, which only persecutes or restricts the rights of women, non-Muslims, homosexuals, and political dissenters, justifying such policies in theological terms.

"Saudi Arabia' export of Wahhabist Islam has led to worldwide terrorism and instability," noted former Secretary of State John Jerry. "Principle demands that we distance ourselves from such a regime unless and until it changes its ways. A much more appropriate choice of ally would be the mullahs of Tehran, who export an entirely different type of ideology that has led to entirely different worldwide terrorism and instability."
---
---
We have lots of ideas, but we need more resources to be even more effective. Please
donate today
to help get the message out and to help defend Israel.