From Ian:
---
How Jordan's mainstream media showcase a couple of role-model jihadist murderers
Being the parents of a child murdered by a proud and pleased woman who doesn't stop boasting about what she did was never going to be easy.

Regular readers know that Malki, our sweet, vivacious fifteen year-old eldest daughter was one of the victims of the Hamas bombing of the Jerusalem Sbarro pizzeria on August 9, 2001. The mastermind of the attack, convicted for her role in scoping out the target site because of the attractive number of Jewish children who frequented it and planting the human bomb there before fleeing, was sentenced to 16 terms of life imprisonment. She was the first-ever Hamas female jihadist. Her name is Ahlam Tamimi.

Tamimi walked free, along with 1,026 other Arab terrorists - most of them killers - in the catastrophic deal Israel made with the Hamas terrorists to secure the freedom of an Israeli hostage, Gilad Shalit, in October 2011. She has been living free-as-a-bird in Jordan, not under cover, not in hiding, ever since.

She married another convicted Arab terrorist/murderer, Nizar Tamimi, in the summer of 2012. He is her cousin. (Another cousin is Ahed Tamimi, the 17 year old blondish "icon" of Palestinian "resistance" recently released from an Israeli prison.)

The United States Department of Justice unsealed terrorist charges against Ahlam Tamimi on March 14, 2017. That same day, her name was added to the FBI Most Wanted Terrorists list and the US let it be known it was asking Jordan to extradite her to face charges in a Washington courtroom. The two countries have had an active extradition treaty since 1995.
Giving Tuesday: World Vision Must Answer Terror Finance Questions
On Giving Tuesday, the Middle East Forum is warning Americans about the risks of giving to charities that are active in areas of the world where terrorist groups operate. This comes in the wake of an investigation into World Vision, the international evangelical aid charity, and its continued refusal to acknowledge the depths of its involvement in the financing of a designated terrorist-funding Sudanese charity linked to Osama Bin Laden, or to take any corrective measures to ensure it doesn't happen again.

Writing in the Christian Post on November 3, the Forum revealed the full extent of the role played by World Vision in a 2015 decision by the Obama administration to approve the transfer of $115,000 of taxpayers' money to the Islamic Relief Agency (ISRA), which the U.S. government designated as a terrorist organization in 2004 because of its close links to Bin Laden. The Christian Post article followed a July 2018 report the Forum wrote in National Review first uncovering the scandal, which was covered by media all around the world.

In response to the Christian Post article, World Vision referred to the Forum's evidence as "false," "unfair" and "outrageous." World Vision declined, however, to address the Forum's questions about the history of its financial relationship with the Bin Laden-linked charity, or the matter of a fraudulent identification number submitted to the U.S. government as part of World Vision's grant application.

The Middle East Forum has now responded to World Vision's latest obfuscation with a detailed post refuting World Vision's attempt to muddy the waters.

Cliff Smith, Director of the Middle East Forum's Washington Project, said: "It is not our intention to impugn any of the good work that World Vision does. But an appropriate response to the discovery that your charity has been working with a designated terrorist entity connected to Bin Laden is not denial and obfuscation, but reflection and internal investigation. World Vision should answer, substantively, without dodging questions, the issues raised by the documented facts we discuss, and let the chips fall where they may. Taxpayers and other World Vision supporters would better welcome a charity that could admit making such a serious mistake."
Driver tried to hit men leaving LA synagogue: cops
Authorities arrested a motorist suspected of trying to run down two men leaving a Los Angeles synagogue, and detectives are investigating the case as a hate crime, police officials said Monday.

The driver yelled anti-Semitic remarks at the men Friday night, made a U-turn and drove at the pair, who took cover behind a car and an electrical box, said Deputy Chief Horace Frank.

The suspect made another U-turn and targeted the men, then tried to speed away but crashed into another car in the largely Jewish Wilshire-area neighborhood, Frank said.

No injuries were reported.

The suspect, Mohamed Mohamed Abdi, was born in Mogadishu, Somalia, but is now a U.S. citizen, officials said. The 32-year-old was arrested for investigation of assault with a deadly weapon and remained jailed. It wasn't known Monday if he has an attorney.

The FBI joined the investigation, and Abdi could face federal charges, Frank said.
Frankfurt Hosts Europe's Biggest Pro-Israel Event
Amid rising antisemitism and anti-Israel activism in Europe, over 3000 members of Jewish diaspora and supporters of Israel gathered in Frankfurt, Germany, for the 5th German Israel Congress this weekend. Widely regarded as the biggest pro-Israel event in Europe, the conference was attended by leading politicians, government officials, and public figures from Germany and Israel.

Israel's Strategic Affairs Minister Gilad Erdan took the opportunity to urge the German government to take a tougher stance on Iran.

"Germany should take a more aggressive stance against the Iranian regime," Minister Erdan said. "It was only yesterday that President Rouhani called Israel metastatic cancer. History has taught us that anti-Semitic threats from fanatical leaders, and exporters of terror who have hegemonic aspirations, must be taken seriously."

Presently, Chancellor Angela Merkel is spearheading a European campaign to circumvent the latest round of U.S. sanctions against Iran in an attempt to coax the regime into keeping the Obama-era nuclear deal alive. With backing from Germany and France, the European Union is scrambling to create a non-dollar trading mechanism to shield European companies and banks engaged in sanctions-busting with Tehran.

Erdan also raised the issue of European and EU funding for the anti-Israel boycott movement (BDS).

"German states and cities have taken steps to ensure that public funds are not transferred to BDS initiatives," Israeli minister said. "The EU would never finance organizations that promote racism, so too, it should cease funding organizations that promote boycotts against the State of Israel. Germany can lead the way in halting the flow of funds to these organizations." (h/t vwVwwVwv)
A third of Europeans say Jews too politically influential, poll finds
A new poll by CNN has demonstrated a worryingly high prevalence of antisemitic attitudes around Europe, with significant percentages of people believing that Jews are too influential in politics and media.

In addition, high numbers of Europeans blame antisemitism on Jews, saying it is a reaction to how they behave, while a disturbingly high number of young Europeans have not heard of the Holocaust.

Numerous Jewish leaders around the world expressed deep concern over the findings, with Jewish Agency chairman Isaac Herzog insisting that the results of the poll underline the importance of Holocaust education and government action to combat antisemitism.

The results emerged from a comprehensive poll conducted by CNN/ComRes, which sampled 7,000 Europeans from Austria, France, Germany, the UK, Hungary, Poland and Sweden.

According to the poll, only 10% said they had an unfavorable attitude toward Jews, although that figure rose to 15% in Poland and 19% in Hungary.

Despite this, traditionally antisemitic opinions remain widespread.

According to the poll, approximately 33% of those surveyed said Jews were too influential in political affairs around the world, and more than 25% of Poles and Hungarians said they had too much influence in the media.

A third of Austrians said Jews have too much influence over financial matters, as well as 25% of all French and Germans who agreed.

Additionally, 20% of all Europeans believe Jews have too much influence over media, while 25% said they had too much influence over wars and conflicts.
43% of Dutch Jews say they hide their ethnic identity
Nearly half of 557 respondents in a survey of Dutch Jews said they were afraid of identifying as such.

Of the respondents, 43 percent said they take active steps to hide their Jewish identity, such as wear a hat over their kippah or hide Star of David pendants.

Many respondents cited their perception of a rise in the prevalence of anti-Semitic sentiment, with 48% saying they avoid situations where they suspect they may be exposed to anti-Semitic reactions.

The results of the survey were published Monday.

Other key findings were that 52% of respondents said anti-Semitism on the street has become more common, 59% said it extends also to media and 82% see it rising online.

When it came to experiencing anti-Semitism, 34% said they had experienced racially offensive remarks directed against them, and of those, 89% said that those remarks were connected to Israel. 11% of respondents said they had experienced anti-Semitic violence directed against them.
British Prime Minister Theresa May Launches Scathing Attack on Anti-Semitism
Prime Minister Theresa May launched a scathing attack on antisemitism and misogyny at the end of Monday's Sara Conference on gendered antisemitism, which explored the relationship between hatred of Jews and discrimination of women.

The Prime Minister arrived at the reception at Number 10 after rushing from Parliament where she faced a harrowing two-hour grilling by MPs on her Brexit deal at the Dispatch Box.

In a passionate speech, made despite spending hours in Parliament, Mrs May said: "I have no time for equivocation. Antisemitism is racism – and any 'equality' movement that indulges or ignores it is not worthy of the name."

May confessed that her "emotions are somewhat mixed. Throughout 2018, I've had the privilege of taking in part in many celebrations of women and women's rights. Events marking the centenary of British women winning the vote.

"The unveiling of the Millicent Fawcett statue. An unprecedented gathering of women MPs from around the world. But the joy of those occasions has been tempered by the resurgence of two age-old hatreds that many had dared to hope were becoming a thing of the past."
Australia:
Antisemitism report shows marked increase in incidents and neo-Nazi activity
The Executive Council of Australian Jewry has reported an unprecedented 60 per cent rise in antisemitic incidents across Australia in 2018, compared to 2017.

The Report on Antisemitism in Australia also identified an increase in overtly neo-Nazi activity by groups like Antipodean Resistance, who describe themselves as "the Hitlers you've been waiting for".

Of the 366 incidents logged by state branches of the Executive Council of Australian Jewry and other Jewish community groups, 156, or 43 per cent, were categorised as attacks — assault, abuse, vandalism, and graffiti — and 210, or 57 per cent, as threats via email, letters, telephone calls, or leaflets, posters and stickers.

There were more incidents reported in New South Wales than in any other state, at 166.

While the number of attacks increased only marginally, the threats increased by 147 per cent, particularly due to concerted campaigns of placing stickers and posters around synagogues and schools.

"The evidence points clearly to a sharp increase in the number of antisemitic incidents in Australia," report's author Julie Nathan said.

"Jews continue to be verbally abused and harassed around synagogues on a regular basis, as well as on the streets in suburban areas."

As in previous years, the report noted,
World's Largest Youth Organization Adopts Official IHRA Definition of Antisemitism
The European Youth Forum (YFG) has passed a motion condemning antisemitism and adopting the official International Holocaust Remembrance Alliance (IHRA) definition of it.

At a meeting of its General Assembly on November 24, YFJ delegates voted in favor of the motion, "Combating Antisemitism: Young people's responsibility," by an overwhelming margin.

The YFJ is the largest youth organization in the world, representing 104 smaller groups, including tens of millions of young Europeans.

According to a European Union of Jewish Students (EUJS) press statement, the motion:


Adopts the IHRA working definition of antisemitism.
Commits to address instances of antisemitism among lay leadership, secretariat, and member organizations.
Encourages all its 41 National Youth Councils and 63 International Non-Governmental Youth Organisations to adopt and apply the IHRA working definition of antisemitism.
Commits to provide opportunities for educational trainings on antisemitism to member organizations.
Encourages alliances in youth organizations be it value based, youth branches of the political parties, or national youth councils.
The Hypocrisy of Airbnb's West Bank Ban
Last week, Airbnb announced that it would remove listings in Jewish settlements in the occupied West Bank.

The company explained the decision in a statement on its website: "We concluded that we should remove listings in Israeli settlements in the occupied West Bank that are at the core of the dispute between Israelis and Palestinians." While some Palestinian groups have welcomed the decision, Israel's Tourism Minister Yariv Levin called it "the most wretched of wretched capitulations to the boycott efforts." This is the same argument made in a recent article in the Jewish News Syndicate, which describes the new policy as "a clear result of a coordinated and well-financed campaign targeting the company by NGOs involved in BDS (boycott, divestment, and sanctions) campaigns against Israel, led by Human Rights Watch (HRW) and Jewish Voice for Peace (JVP), in concert with the U.N. Human Rights Council (HRC), at least three Israeli groups, and the Palestinian Authority." The article, further claims that the sources of funding for the campaign, "include a number of European governments as well as the U.S.-based Rockefeller Brothers Fund."

The 10-year-old company is clearly not opposed to allowing homeowners to rent in disputed lands, as its own press release on "Listings in Disputed Regions" inadvertently made clear. In Northern Cyprus, which has been occupied by the Turkish military since the 1970s, the company has no issue providing its services. The same goes for Tibet which has been struggling for independence from the Chinese government for more than half a century and where Tibetans are routinely harassed by Chinese military forces. And in China itself there are no restrictions on Airbnb listings despite the government's exhaustively documented repressive measures and the fact that it has forcibly interned some one million Muslims from the ethnic minority Uighur group in "reeducation" camps.

Travelers can also rent in countries with horrendous human rights records like Myanmar, where the government continues to commit ethnic cleansings on the Karen, Rohinga, Shan, and other ethnic minorities.

Increased international scrutiny on the Israeli government is not new, but here, where its citizens are being punished, it feels more personal. The decision also goes against the company's own ethos. Its goal, found in its site, is "creating a door to an open world—where everyone's at home and can belong."

Airbnb brought together visiting Israelis into Arab homes and vice versa, which has the potential to build bridges and foster mutual goals. There's real value in the kind of cultural exchange that comes from sharing a home; of learning to be a guest and acting as a host, which is something I experienced myself, as a couch-surfing wanderer.
Incoming FL Governor DeSantis Blasts Airbnb For Anti-Semitic Policy, Says He'll Take Action
On Monday, incoming governor Ron DeSantis of Florida stated bluntly that if Airbnb does not rescind its recently-instituted policy of delisting listings from Israeli Jews in Judea and Samaria (the West Bank), he will work to make sure that Florida state officials are not permitted to use Airbnb for official travel.

DeSantis stated:
The other issue that's now coming to the forefront is this new policy by Airbnb to basically discriminate against Jews in the West Bank. They delisted all Jewish listings in the West Bank. They do not treat anybody else in the entire world like this; it's only targeted in these Jewish communities. I think that that likely runs afoul of Florida's BDS legislation; we're reviewing that now. We're also going to review how Florida interacts with Airbnb; I know that state workers are allowed to use Airbnbn for official travel. That is not going to be acceptable with me as governor, so I think Airbnb should reevaluate and reverse this policy. If they don't do that, then it's going to be rough sledding here in the state of Florida, and we'll review our options of what we can do with that.

Last Monday, Airbnb announced its new openly-anti-Semitic policy, stating, "We concluded that we should remove listings in Israeli settlements in the occupied West Bank that are at the core of the dispute between Israelis and Palestinians. Our hope is that someday sooner rather than later, a framework is put in place where the entire global community is aligned so there will be a resolution to this historic conflict and a clear path forward for everybody to follow."
— Joseph Sabag (@josephsabag) November 26, 2018
Will anyone stand up to Airbnb's anti-Semitic boycott?
If Airbnb is found to be in violation of anti-boycott laws, the company could be subject to fines, tax consequences or even criminal action. Doubtless, Airbnb has smart lawyers on the payroll who know all this, but it risked it anyway, likely on a too-big-to-fail presumption that may in fact be justified.

After all, Airbnb boasts 150 million app and website users, with 15 million Facebook followers and 590,000 participants on its own community forum. The company's affirmation that boycotting certain Jewish Israeli citizens will advance peace in the Middle East will result in many credulous people, uninformed on this issue's legal and political complexities, accepting Airbnb as a trustworthy political actor.

In its resolution, Beverly Hills city council also stated, "In the event that Airbnb does not stop (the blacklisting of Israeli homes), we call upon all civilized people across the globe to boycott Airbnb until such time as they desist from these despicable anti-Semitic actions." But is there any chance people — even pro-Israel Jews — will make such a sacrifice in numbers critical enough to dent Airbnb's massive suit of market armour?

In 1975, the UN General Assembly passed a motion that equated Zionism with "racism and racial discrimination." Mexico, usually supportive of Israel, voted for the resolution. American Jews spontaneously cancelled their Mexican vacations by the thousands, to an estimated loss of "hundreds of millions of dollars." Mexico's rattled president Luis Echeverría Alvarez assured a delegation of American Jews that in future, Mexico's votes would not "be misinterpreted or misunderstood as equating Zionism with racism or opposing the national aspirations of the Jewish people."

The Mexican boycott worked, because Mexico did not hold a monopoly on sunny winter travel destinations. Airbnb's dominance of its domain is near-monopolistic. Competition is the key. Perhaps those clever "startup" Israelis could create domestic competition for Airbnb. (AirNnN — "nest and nosh"?)

Meanwhile, should you seek to sojourn in occupied Crimea, Airbnb offers a charming seaside home with 16 beds for only $21 a night. Anti-aircraft missiles not included.
Airbnb Breaks the Law, HR Takes Action
Airbnb's boycott violates a number of American laws, and pro-Israel organizations are preparing various types of legal actions in this regard. One such organization is represented by international law expert Eugene Kontorovich of the Kohelet Forum, who explains his position in the Wall Street Journal (the Journal article is pay-walled, but you can access it for free via the Tweet below):

We too are no strangers to legal action against media outlets when appropriate. For example, in 2012 HonestReporting launched legal proceedings and successfully forced The Guardian to reverse its policy of claiming that Tel Aviv is the capital of Israel.

And now we are launching proceedings once again: this time via the United States Office of Antiboycott Compliance (the "OAC") which enforces America's numerous antiboycott laws.

If found to be in violation of the relevant laws, Airbnb could be subject to significant fines, tax consequences or even criminal action. Through its illegal acts, the online platform is even risking its ability to continue doing business in the United States.

And watch this space for further updates on HonestReporting's action against Airbnb's discriminatory and illegal policy toward Israel.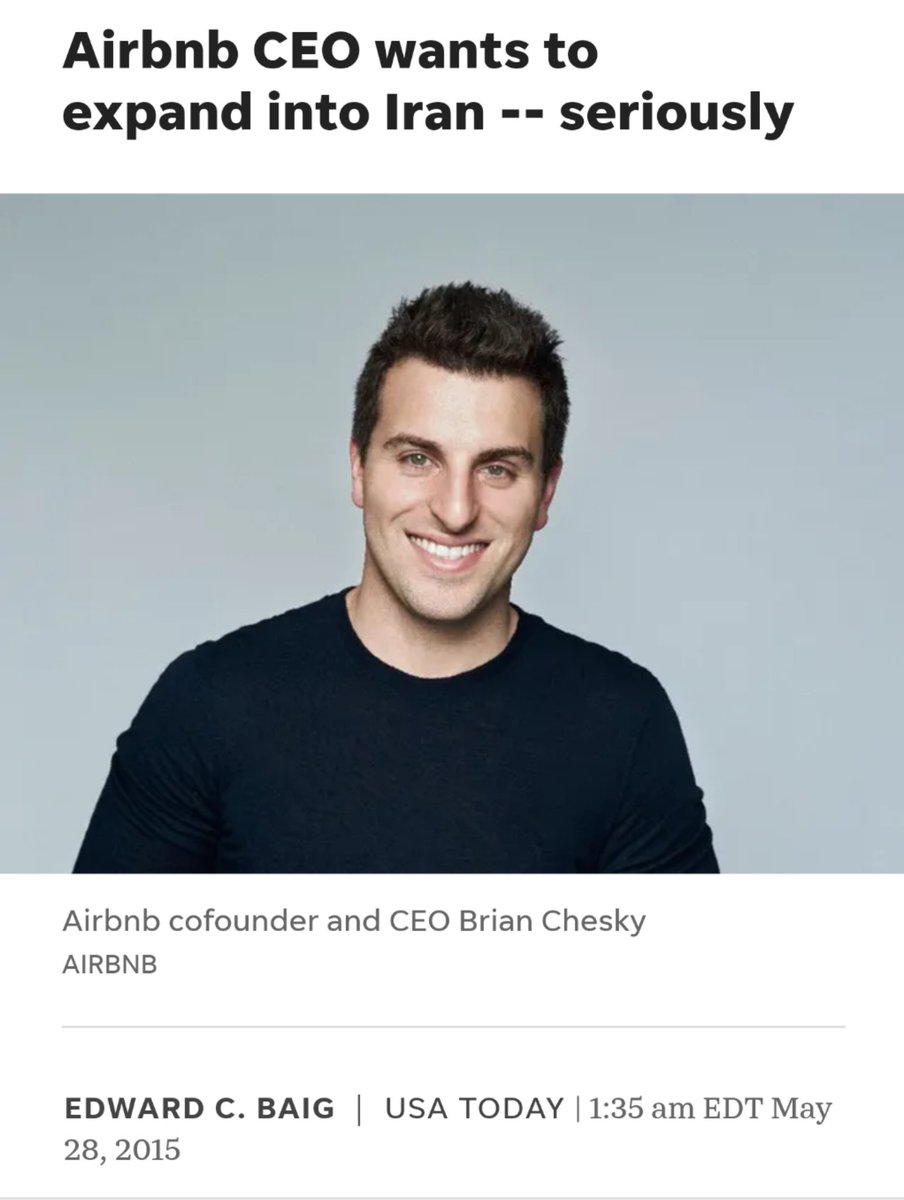 Warren and Controversial Women's March Leader to Speak at Immigration Conference
Sen. Elizabeth Warren (D., Mass.) will attend an immigration conference next month with Women's March organizer and liberal activist Linda Sarsour, who has come under increased scrutiny for her ties to radical Nation of Islam Minister Louis Farrakhan.

Both Warren and Sarsour are slated to speak at the National Immigrant Integration Conference in Arlington, Virginia. The conference, which will run from Dec. 9 to 11, is the largest immigration conference in the United States and "plays a central role in the powerful, diverse and broad immigrant and refugee rights and integration field," according to its website.

"At the NIIC, the many different spokes of this field gather to develop relationships, build campaigns, amplify shared values, be inspired, build relationships, and share ideas, strategies, lessons learned and new information and innovations," the website reads. "It is an important space for leaders and organizations, and strengthens collaborations and partnerships that power work at the local, regional and national level."

Sarsour, a Palestinian-American, has a long history of anti-Israel rhetoric, including a speech in 2015 at a Nation Of Islam event. She has also discounted anti-Semitism, saying that "while anti-Semitism is something that impacts Jewish Americans, it's different than anti-black racism or Islamophobia because it's not systemic."

At a June 2018 event hosted by the Center for Constitutional Rights and the Justice Delegation, Sarsour said "Palestine is the global social justice cause of our generation" and that there is an "apartheid happening in Palestine, funded by our taxpayers' money." At the same event, she pushed back against people calling her anti-Semitic, saying, "When you hear people calling me an anti-Semite, or saying that the CCR [Center for Constitutional Rights] is an anti-Semitic organization, you have to stand up and say no! Because actually it's a disservice to Jews to call people like us anti-Semites when there are true anti-Semites in the White House!"
— Teresa Shook (@TeresaShookWM) November 26, 2018
Top US Jewish Groups Call for Sponsors to Pull Support of Roger Waters' Mexico Tour
Top US Jewish groups are urging sponsors of anti-Israel activist and ex-Pink Floyd frontman Roger Water's upcoming concert tour in Mexico to withdraw their support.

In recent years, the aging rock star has spoken out against Israel's West Bank security barrier and become a vocal proponent of the boycott, divestment and sanctions (BDS) movement.

Waters is set to perform seven times over the next two weeks in Mexico City, Guadalajara and Monterrey. He has spent the past month and a half touring South America and Central America, including stops in Brazil, Uruguay, Argentina, Chile, Peru, Colombia and Costa Rica.

Conference of Presidents of Major American Jewish Organizations (CoP) Chairman Arthur Stark and Executive Vice Chairman and CEO Malcolm Hoenlein said their appeal to the sponsors was based on the "hostile, bigoted, and antisemitic comments made by Mr. Waters on numerous occasions."

"He continues to espouse these offensive views — and should not be given a stage to spread his anti-Israel and anti-Jewish messages," Stark and Hoenlein declared.
BDS Is a Bust in the Middle East, but It's Alive in America
BDS activists who think they are succeeding in isolating the State of Israel aren't paying attention to the news. On Sunday, reports surfaced that negotiations about building a gas pipeline that connects Israel's natural-gas resources to Cyprus, Greece, and Italy have finally succeeded. The pipeline network will reportedly be the longest and deepest ever built. Initial estimates of the cost to build it start at $7 billion.

And the good news for friends of Israel doesn't stop there. And that should influence the way we think about BDS and its purpose.

Part of the background to this deal is the fact that the European Union invested $100 million in a feasibility study on importing Israeli natural gas to the continent. That's why the plan, dubbed the EastMed Pipeline Project, will give both Cyprus and Israel preference over other potential importers of gas into Europe.

The project, which will hopefully be completed over the next five years, will provide Israel's already prosperous economy with another boost. But the preference for Israeli imports also signals that Arab influence over Europe that is rooted in its ability to export oil and gas is waning. With Europeans wanting alternatives to both Arab and Iranian oil, as well as Russian natural gas, Israel will not only profit from the transaction; its standing as an important economic and military power will also grow.

The fact that Italy, Greece, and Cyprus are now prepared to join Israel and Egypt in joint military and civil exercises to protect both the pipeline and regional security is equally important. Despite continued threats from Iran, Hezbollah, and Hamas, the notion that the Jewish state stands alone can no longer be sustained.
When I was 12 I was almost killed in the Intifada, Palestinian terrorist killed Israeli woman&her granddaughter, mins before I got to the store. Last week American students at NSJP conference in

@UCLA

called for more violence against Israelis. This is more than just hate speech:

pic.twitter.com/Ux8kMRSBCZ

— Hen Mazzig (@HenMazzig) November 25, 2018
Vilification of Israel on Campus Persists Amid Gaza Rocket Attacks
Given this reality, the persistent vilification of Israel by Greenberg, SJP, and the Islamic Alliance for Justice is of grave concern. Greenberg makes two especially offensive allegations in his article: First, he absurdly contends that the State of Israel is "predicated on the primacy of white people," and likens Zionism to "Richard Spencer's calls for the creation of a hypothetical white ethnostate in America." Second, as evidence of Israeli white supremacy, Greenberg points to "the forced sterilization of African Jews." While Israel is certainly not above criticism, this rhetoric crosses the line into wrongful accusation, historical obfuscation, and yes, antisemitism.

The African sterilization myth was debunked in 2016 at the conclusion of a three-year investigation that found no evidence of forced injections. Similarly, equating Zionism to white supremacy is blatantly false. Zionist ideology does not advocate for a white-only Jewish state, the adoption of a legal definition of Judaism based on white skin color, or the implementation of white Israeli segregation laws.

Modern-day Israel has upheld these founding egalitarian principles: 20 percent of the Israeli population is Arab, many of whom occupy senior positions in the police force, parliament, and judiciary; and 61 percent of Israeli Jews are non-white Mizrahim. Finally, 11 Jews were massacred in Pittsburgh by a white supremacist for the crime of being Jewish. How then can anyone logically claim that Jews, in trying to protect themselves from white supremacist violence, are engaging in white supremacy? The reality is that Israel was not founded for the benefit of white people, but for the freedom and security of the Jewish people.

To reiterate, SJP accused Israel of pursuing similar goals to a white ethno-nationalist, neo-Nazi-affiliated leader, and of carrying out racially motivated injections of non-whites. These accusations go well beyond those typically levied against other world nations. Drawing parallels to the Holocaust and invoking a variation of the Jewish blood libel is not a condemnation of Israeli government activity, but the deliberate use of historically sensitive language to attack the Jewish people. In other words, it is antisemitism.

Rather than take a page out of The Protocols of the Elders of Zion playbook — causing Zionist students to feel unsafe — well-meaning critics of Israel should engage in civil and substantive dialogue. I urge all Cornellians to stay true to our university's motto of accepting "any person," and rejecting hate-filled, insensitive attacks in favor of constructive discourse.

Whether in Cornell lecture halls or the chambers of Knesset, meaningful disputation is a prerequisite for peace.
Pitzer College Faculty Goes Full Anti-Israel, Votes Against Israel Study Program
On November 8, the Pitzer College faculty voted to suspend its study abroad program with the University of Haifa in Israel. As The Claremont Independent reported, the motion called for the "suspension of the College's exchange with Haifa University, until (a) the Israeli state ends its restrictions on entry to Israel based on ancestry and/or political speech and (b) the Israeli state adopts policies granting visas for exchanges to Palestinian universities on a fully equal basis as it does to Israeli universities."

In addition, the faculty also attacked Israel by dissenting from the college president and trustees, who had nullified a Student Senate resolution that was similar to demands from the BDS movement, calling for a boycott of Israel until it withdraws from Judea and Samaria , pulls down the security wall that protects it against Palestinian terrorists, and promotes the suicidal (for Israel) "right to return" of Palestinians. The student vote was taken during Passover, when Jews were unavailable to vote.

The faculty stated, "[i]ndependent of agreeing or disagreeing with that resolution, we the Faculty object to the president and trustees singling out this one issue as a basis for not accepting the Senate's longstanding autonomy in controlling its funds, in the context of Pitzer's governance system."

The Claremont Students for Justice in Palestine (Claremont SJP) expressed "great joy" at the actions of the faculty, adding, "it is imperative that the colleges withdraw this program from their study abroad curriculums."
Anti-Israel Indoctrination Continues In Newton Public High School
In late September 2018, David Fleishman, Superintendent of Public Schools in Newton, Massachusetts, sent an email to every school parent offering reassurance that complaints about anti-Israel bias in the high school history curriculum were without merit. But even as Fleishman sought to quash the seven-year-long controversy over how Israel was portrayed in the 10th grade World History course, one Newton teacher was busily intensifying the bias in another course.

In 2017, David Bedar, an outspoken history teacher at Newton North High School, devised a senior elective entitled "Middle East, Asia and Latin America" (MEALA), which included a unit on "The Israeli-Palestinian conflict." The course presents competing Palestinian and Zionist accounts of the history of the conflict. However, the Zionist version contains errors and deficiencies that render it less persuasive than the Palestinian account:


The Arab-Israeli conflict is misleadingly reframed as the Israeli-Palestinian conflict
The religious basis of Muslim opposition to the Jewish state is dismissed1
The Jewish link to the land is obscured while Palestinian claims are advanced
Aggression against the Jewish state, through military force, terrorism and a well-funded worldwide propaganda campaign is brushed aside

In response to a Freedom of Information Act (FOIA) submission to the Newton Public School system by Americans For Peace and Tolerance (APT) requesting all Israel-related materials in use, including in the MEALA course,2 officials provided a Power Point presentation, outline notes, instructional plans, email communications among faculty and administration and accompanying materials. The Power Point presentation with some accompanying information is reviewed here.
Spain apologizes for canceling water polo match against Israel due to BDS
Spain's minister for sports apologized for the canceling of a water polo match in Barcelona against an Israeli team due to the organizer's decision to boycott it.

Minister José Girao apologized to his Israeli counterpart Thursday over the canceling earlier this month of an Israeli team's match against the national women's team of Spain because the Nautical Club Molins de Rei in a suburb of Barcelona refused to host it.

Amid pressures over the refusal to host the match, organizers offered the Israeli team the choice to play but to refrain from displaying its national flag, in violation of the team's right under the charter of the Water Polo international federation. The Israeli team declined and the organizers said it had forfeited.

But following more pressure, including by the federation, the hosts finally agreed to host the match with flags, though the stadium was mostly empty, the Israeli news site One reported.
UKMW prompts correction to Scottish paper's claim that Israeli Knesset is in Tel Aviv
A Nov. 25th article in the Scotland Herald maintained that the paper's Jerusalem correspondent interview with Israeli Deputy Minister Michael Oren took place at the Knesset – in Tel Aviv.



We tweeted the journalist, Peter Swindon, to alert him to the error. A couple of hours later we received a reply apologising and informing us that it was corrected.
BBC R4's 'Today' highlights Quaker hypocrisy but still fails listeners
Webb did however manage to place the existence of Israeli communities in a region designated by the League of Nations for the creation of a Jewish homeland in the same category as "terrible things" including genocide.

Webb: "And the point being of course that there are all sorts of governments who do terrible things around the world. Are you also disinvesting from companies that, for instance, have investments in Myanmar which is accused of genocide?"

When Parker replied that "our policy is at the moment specific to the occupation of Palestine", Webb asked:

Webb: "Are you saying that you would not invest in other places where governments are, in your view, oppressing people or is it just in Palestine?"

As noted here on numerous occasions in the past, the BBC's 'style guide' instructs journalists not to use the term Palestine because "[t]here is no independent state of Palestine today…rather, it is still an aspiration or an historical entity".

While Justin Webb's focus on the hypocrisy of this latest announcement from the Quakers is obviously relevant to the story, it is unfortunate that he made no effort to provide listeners with additional essential information. The fact that for so many years BBC audiences have been denied information concerning the aim of the BDS campaign, denied information concerning legal opinions which do not follow the BBC's chosen narrative on 'international law' and presented with a monochrome and politically partisan view of 'settlements' clearly hampers the ability of listeners to reach an informed opinion of this story.
BBC issues correction to inaccurate Jerusalem elections claim
As documented here at the beginning of the month, an audio report concerning the municipal elections in Jerusalem that was aired on the BBC Radio 4 'Today' programme and in two editions of the BBC World Service radio programme 'Newshour' on October 30th included the inaccurate claim that for the first time, a Palestinian candidate was running for a seat on the city council.

BBC erases crucial background from report on Jerusalem election

BBC Watch submitted a complaint concerning that inaccurate claim, pointing out that even Palestinian sources acknowledge that this is far from the first time that an Arab resident of Jerusalem has been on the ballot paper.

The response we received includes the following:
"Thanks for getting in touch about our report on October 30.

We looked into this for you and appreciate you raising the matter with us. You're correct about a precedent lying elsewhere, so we've published a correction in line with our complaints framework:
German foreign minister condemns attack on Israeli reporter in Berlin
Germany's Foreign Minister Heiko Maas condemned a Sunday attack against a reporter for the Israeli public broadcaster KAN in Berlin.

"The assault against journalist Antonia Yamin is not acceptable," Maas wrote on Twitter Tuesday. "That an Israeli reporter cannot report undisturbed in Hebrew from some places must not be allowed. In Germany, journalists must be able to work safely - in no matter what language."

Antonia Yamin, the Europe correspondent for KAN, was speaking to the camera in Hebrew in the Neukölln neighborhood of Berlin when a rowdy group of four teenagers passed by. At first they attempted to disrupt her broadcast, shouting and blocking the camera. Yamin paused and asked the group to move along. The video then shows her running after one of the men who threw a firecracker at her and her cameraman. The firecracker is then seen burning on the sidewalk.

"The truth is I had a very nice day at work today," Yamin tweeted on Sunday evening with a video of the incident. "But between one interview and another I had to stop to report about the Brexit deal. As you can see on the video you can't report in Hebrew in Neukölln, Berlin without being disturbed and without people throwing firecrackers at you."
The Neukölln neighborhood is known for having a high concentration of immigrants.

Yamin told The Jerusalem Post on Monday that she didn't report the incident to the police.
Former Georgian president calls candidate's Israeli aide 'dirty Jew'
Georgia's former President Mikheil Saakashvili has come under fire for anti-Semitic comments he made about the ruling Georgian Dream party's Israeli political strategist Moshe Klughaft last week.

Klughaft, who is known for employing smear campaigns, has been hired to help the party in the country's upcoming presidential elections.

Saakashvili, who heads the main opposition United National Movement party, called Klughaft a "dirty Jew" and accused him of "working for the communists in Romania," among other things.

Georgia's government has provided Klughaft with security and afforded him the status of protected person since arriving in the country last week. Klughaft has said that for his part, he doesn't intend to let the comments impact his work.

The local Jewish community condemned the remarks, with 40 community leaders signing a letter that noted "this is not the first time that Mikheil Saakashvili has used hate speech against Jews, and we therefore expect a response from political officials, the media and non-governmental organizations."
Meet Carlos Lopez-Cantera: Florida's first Jewish governor (for five days)
With Florida Democratic Sen. Bill Nelson conceding his re-election bid on Sunday to Republican Gov. Rick Scott, the state will have its first Jewish governor on an interim basis for five days when Scott is sworn into the Senate on Jan. 3, 2019.

Lt. Gov. Carlos Lopez-Cantera, a Republican who will also become the Sunshine State's first Cuban-American governor when Scott becomes senator until former Florida Rep. Ron DeSantis, a fellow Republican who defeated Democratic Tallahassee Mayor Andrew Gillum in a contentious race, is sworn in as governor on Jan. 8, 2019.

"Theoretically, Scott could delay being sworn in as a senator, but that risks his seniority in the Senate, placing him in a tier below every other senator elected this fall, instead of on equal footing with them," according to The Capitolist.

Lopez-Cantera—whose wife, Renee, and mother are Jewish, while his father is Catholic—had a bar mitzvah at the Western Wall in 2016 and put on tefillin two years beforehand as Republican Majority Leader. (h/t IsaacStorm)
Magician and actor Ricky Jay, of 'Boogie Nights,' dies at 72
Jay appeared in several films and television series, including as a cameraman in "Boogie Nights," in "Magnolia," "Tomorrow Never Dies," and in HBO's "Deadwood." He consulted on "Ocean's Thirteen" and "Forrest Gump," and collected rare books on unusual entertainers and performers dating back hundreds of years.

His one-man shows played to packed audiences, where his sleight-of-hand artistry impressed even fellow magicians. In one famous trick, he would pierce a watermelon with a card flung through the air.

He also wrote several books on games, magic and magicians, including "Dice: Deception, Fate and Rotten Luck."

Jay, who was Jewish, was fond of stories of oddball characters, gamblers and con men in history, and wrote a book celebrating the artistry of Matthias Buchinger, an 18th-century German magician born without legs and hands.

Buchinger artifacts collected by Jay were featured in a 2015 exhibit at New York's Metropolitan Museum of Art.

"The breadth of his knowledge and appreciation for magic and the allied arts was truly remarkable," fellow actor and magician Neil Patrick Harris tweeted. "Such sad news, such a profound loss."

Jay frequently worked with the playwright David Mamet, who produced his one-man show "Ricky Jay & His 52 Assistants." That sold out all its New York City performances and won an Obie Award for off-Broadway theater productions.

A later Mamet-produced off-Broadway show, "Ricky Jay: On the Stem," played to packed houses for six months. The Associated Press called it a "whirlwind, rollicking journey through forgotten New York history — with specific attention paid to the oddball characters who thrived decades ago on Broadway."

Jay also appeared in Mamet films such as "House of Games," "State and Main" and "Heist."

Survivors include Jay's wife, Chrisann Verges. (h/t steelraptor from Saturn)
Here's a Video of Recently Deceased Magician Ricky Jay Performing a Poem Written for Him by Shel Silverstein
The illusionist, sleight of hand artist, actor, storyteller and professional magician, Ricky Jay, has died. News reports can't say for sure whether he was 70 or 72 at the time of his death. That's fitting, perhaps, given that Jay liked to keep the details of his personal life shrouded in mystery.

Before hitting the road, the magic and matchstick man was born Richard Jay Potash on an undetermined date to a middle-class Jewish family in Brooklyn. Over the years, Jay's magic act, which featured both his card tricks and gifts as a monologist, earned him a devoted following that included the writer David Mamet and set the stage for his later career as an actor.

The video below of Jay reading Shel Silverstein's poem, 'The Game in the Windowless Room," comes from a 2012 documentary about the magician's life, "Deceptive Practices."
William Shatner reminisces about his Hanukkah traditions
He remembers watching his mother cook sizzling hot latkes. He recalls the family menorah displayed all year long on the mantelpiece. And William Shatner said he considered including a Hanukkah song on his new Christmas album, but ultimately decided against it.

Shatner, the legendary actor known for playing the iconic Captain Kirk in Star Trek, appears in a new PBS documentary on Hanukkah airing next week. The film, Hanukkah: A Festival of DeLights by David Anton, "traces the evolution of Hanukkah from its origin as a small holiday within Judaism... to one of major prominence in assimilated American Jewish life," said PBS.

Alongside Shatner, actress and singer Lainie Kazan, writer Abigail Pogrebin and a range of scholars, rabbis and historians discuss the meaning of the holiday and its importance in American Jewish life.

"It's the tradition and the celebration of of something brave and victorious," Shatner, 87, says of the holiday in the film. "Those are the things I think Jews think about."

Shatner, who grew up in a Jewish family in Montreal, reminisced about his family's Hanukkah traditions.

"The menorah was silver and blackened a little by years of use - the places where the candles went in were black no matter how much polishing had been done," he said. "It was something that sat somewhere on the mantelpiece all year long until it was used - and then it was used with great reverence."
IsraellyCool:
Indigenous People Supporting Another Indigenous People
On Sunday in New Zealand, indigenous solidarity reached a crescendo in as the Northland Ngapuhi hosted Israeli Ambassador, HE Dr Itzhak Gerberg, for a powerful Powhiri and Hakari Banquet. Held at the Kohewhata Marae in Kaikohe, Northland, the "Heart to Heart Powhiri" held in Māori tradition included a ceremony, songs and performances by local groups.

The purpose was to make "a clear stand" and embrace Israel further tightening the bonds between the Māori and Israel, "reconciling whenua to whenua – with Tangata whenua!"

---
---
We have lots of ideas, but we need more resources to be even more effective. Please
donate today
to help get the message out and to help defend Israel.